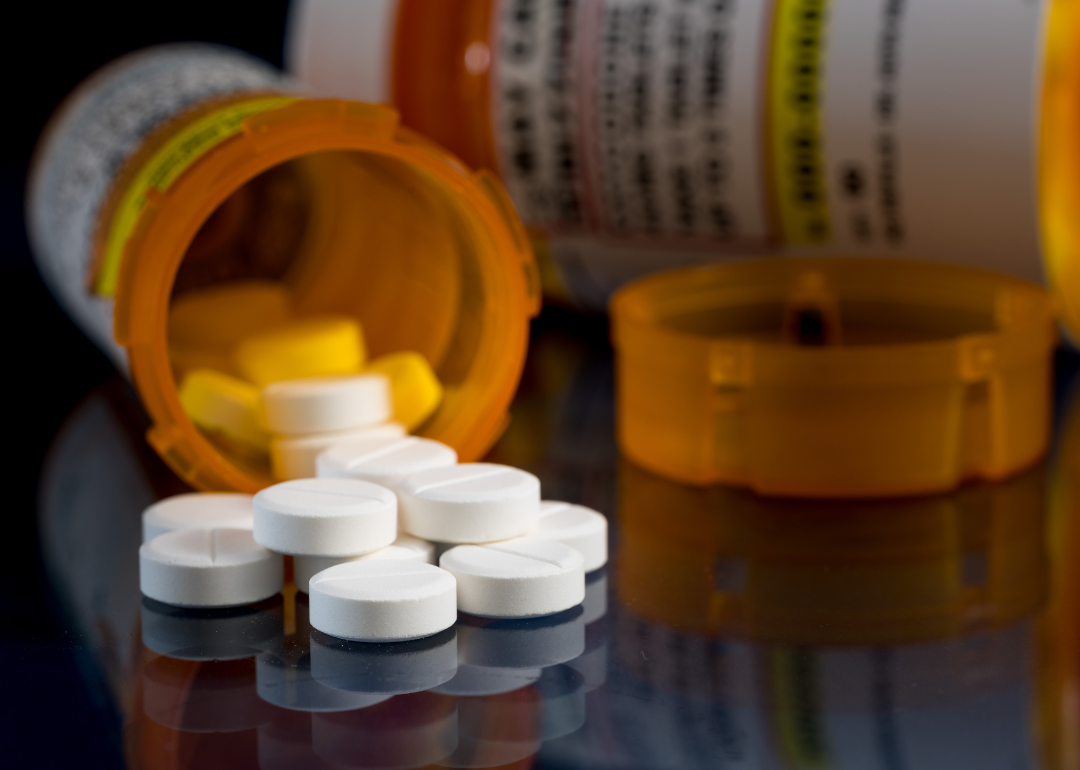 States where the opioid crisis is growing the most
States where the opioid crisis is growing the most
At its peak in 1995, the HIV/AIDS crisis killed more than 40,000 Americans, and lives on in the country's memory as one of its most devastating public health crisis. America's opioid crisis will, too. In 2016, there were over 63,600 drug overdose deaths. Two-thirds were caused by opioids: either prescription painkillers like Oxycontin, or heroin or fentanyl. Millions more are estimated to be addicted.
Despite the Trump administration declaring it a public health emergency, the crisis still growing. The social stigma surrounding addiction makes it difficult for those struggling to seek treatment; it's estimated that in 2017, overdoses killed 72,000 Americans, with nearly 50,000 attributed to opioids.
Communities across the country have been devastated by this catastrophe and Stacker analyzed data from the Kaiser Family Foundation (KFF) to determine the states where it's growing the fastest. KFF used the National Vital Statistics system's multiple cause-of-death mortality files to determine which deaths were caused by drug overdoses, as they were classified using the International Classification of Disease, Tenth Revision (ICD-10), and could be identified using ICD-10's underlying cause of death codes: X40–44 (unintentional), X60–64 (suicide), X85 (homicide), or Y10–Y14 (undetermined intent).
Death rates are deaths per 100,000 people, adjusted for age by applying death rates for different age ranges to the standard distribution of ages in the U.S. in 2000. All 50 states and the District of Columbia are ranked by highest percent change in opioid overdose death rate, with any ties broken by the highest overdose death rate.
Read through to see how your state has been impacted by this deadly crisis.
#51. Nebraska
Percent change in opioid overdose death rate from prior year: -23%
Opioid overdose death rate (age-adjusted, per 100,000 people): 2.4 deaths
Percent change in all drug overdose death rate from prior year: -7%
All drug overdose death rate (age-adjusted, per 100,000 people): 6.4 deaths
#50. Arkansas
Percent change in opioid overdose death rate from prior year: -18%
Opioid overdose death rate (age-adjusted, per 100,000 people): 5.9 deaths
Percent change in all drug overdose death rate from prior year: 1%
All drug overdose death rate (age-adjusted, per 100,000 people): 14 deaths
#49. Montana
Percent change in opioid overdose death rate from prior year: -16%
Opioid overdose death rate (age-adjusted, per 100,000 people): 4.2 deaths
Percent change in all drug overdose death rate from prior year: -15%
All drug overdose death rate (age-adjusted, per 100,000 people): 11.7 deaths
#48. Kansas
Percent change in opioid overdose death rate from prior year: -6%
Opioid overdose death rate (age-adjusted, per 100,000 people): 5.1 deaths
Percent change in all drug overdose death rate from prior year: -6%
All drug overdose death rate (age-adjusted, per 100,000 people): 11.1 deaths
#47. Oregon
Percent change in opioid overdose death rate from prior year: -4%
Opioid overdose death rate (age-adjusted, per 100,000 people): 7.6 deaths
Percent change in all drug overdose death rate from prior year: -1%
All drug overdose death rate (age-adjusted, per 100,000 people): 11.9 deaths
#46. Nevada
Percent change in opioid overdose death rate from prior year: -4%
Opioid overdose death rate (age-adjusted, per 100,000 people): 13.3 deaths
Percent change in all drug overdose death rate from prior year: 6%
All drug overdose death rate (age-adjusted, per 100,000 people): 21.7 deaths
#45. New Mexico
Percent change in opioid overdose death rate from prior year: -2%
Opioid overdose death rate (age-adjusted, per 100,000 people): 17.5 deaths
Percent change in all drug overdose death rate from prior year: 0%
All drug overdose death rate (age-adjusted, per 100,000 people): 25.2 deaths
#44. California
Percent change in opioid overdose death rate from prior year: 0%
Opioid overdose death rate (age-adjusted, per 100,000 people): 4.9 deaths
Percent change in all drug overdose death rate from prior year: -1%
All drug overdose death rate (age-adjusted, per 100,000 people): 11.2 deaths
#43. Washington
Percent change in opioid overdose death rate from prior year: 1%
Opioid overdose death rate (age-adjusted, per 100,000 people): 9.4 deaths
Percent change in all drug overdose death rate from prior year: -1%
All drug overdose death rate (age-adjusted, per 100,000 people): 14.5 deaths
#42. Utah
Percent change in opioid overdose death rate from prior year: 3%
Opioid overdose death rate (age-adjusted, per 100,000 people): 16.4 deaths
Percent change in all drug overdose death rate from prior year: -4%
All drug overdose death rate (age-adjusted, per 100,000 people): 22.4 deaths
#41. Texas
Percent change in opioid overdose death rate from prior year: 4%
Opioid overdose death rate (age-adjusted, per 100,000 people): 4.9 deaths
Percent change in all drug overdose death rate from prior year: 7%
All drug overdose death rate (age-adjusted, per 100,000 people): 10.1 deaths
#40. Oklahoma
Percent change in opioid overdose death rate from prior year: 4%
Opioid overdose death rate (age-adjusted, per 100,000 people): 11.6 deaths
Percent change in all drug overdose death rate from prior year: 13%
All drug overdose death rate (age-adjusted, per 100,000 people): 21.5 deaths
#39. Georgia
Percent change in opioid overdose death rate from prior year: 5%
Opioid overdose death rate (age-adjusted, per 100,000 people): 8.8 deaths
Percent change in all drug overdose death rate from prior year: 5%
All drug overdose death rate (age-adjusted, per 100,000 people): 13.3 deaths
#38. Iowa
Percent change in opioid overdose death rate from prior year: 7%
Opioid overdose death rate (age-adjusted, per 100,000 people): 6.2 deaths
Percent change in all drug overdose death rate from prior year: 3%
All drug overdose death rate (age-adjusted, per 100,000 people): 10.6 deaths
#37. Colorado
Percent change in opioid overdose death rate from prior year: 9%
Opioid overdose death rate (age-adjusted, per 100,000 people): 9.5 deaths
Percent change in all drug overdose death rate from prior year: 8%
All drug overdose death rate (age-adjusted, per 100,000 people): 16.6 deaths
#36. Wyoming
Percent change in opioid overdose death rate from prior year: 10%
Opioid overdose death rate (age-adjusted, per 100,000 people): 8.7 deaths
Percent change in all drug overdose death rate from prior year: 7%
All drug overdose death rate (age-adjusted, per 100,000 people): 17.6 deaths
#35. Arizona
Percent change in opioid overdose death rate from prior year: 12%
Opioid overdose death rate (age-adjusted, per 100,000 people): 11.4 deaths
Percent change in all drug overdose death rate from prior year: 7%
All drug overdose death rate (age-adjusted, per 100,000 people): 20.3 deaths
#34. Kentucky
Percent change in opioid overdose death rate from prior year: 12%
Opioid overdose death rate (age-adjusted, per 100,000 people): 23.6 deaths
Percent change in all drug overdose death rate from prior year: 12%
All drug overdose death rate (age-adjusted, per 100,000 people): 33.5 deaths
#33. Tennessee
Percent change in opioid overdose death rate from prior year: 13%
Opioid overdose death rate (age-adjusted, per 100,000 people): 18.1 deaths
Percent change in all drug overdose death rate from prior year: 10%
All drug overdose death rate (age-adjusted, per 100,000 people): 24.5 deaths
#32. Alaska
Percent change in opioid overdose death rate from prior year: 14.%
Opioid overdose death rate (age-adjusted, per 100,000 people): 12.5 deaths
Percent change in all drug overdose death rate from prior year: 5%
All drug overdose death rate (age-adjusted, per 100,000 people): 16.8 deaths
#31. Delaware
Percent change in opioid overdose death rate from prior year: 14.%
Opioid overdose death rate (age-adjusted, per 100,000 people): 16.9 deaths
Percent change in all drug overdose death rate from prior year: 40%
All drug overdose death rate (age-adjusted, per 100,000 people): 30.8 deaths
#30. Rhode Island
Percent change in opioid overdose death rate from prior year: 14.%
Opioid overdose death rate (age-adjusted, per 100,000 people): 26.7 deaths
Percent change in all drug overdose death rate from prior year: 9%
All drug overdose death rate (age-adjusted, per 100,000 people): 30.8 deaths
#29. New Hampshire
Percent change in opioid overdose death rate from prior year: 14.%
Opioid overdose death rate (age-adjusted, per 100,000 people): 35.8 deaths
Percent change in all drug overdose death rate from prior year: 14.%
All drug overdose death rate (age-adjusted, per 100,000 people): 39 deaths
#28. South Carolina
Percent change in opioid overdose death rate from prior year: 15%
Opioid overdose death rate (age-adjusted, per 100,000 people): 13.1 deaths
Percent change in all drug overdose death rate from prior year: 15%
All drug overdose death rate (age-adjusted, per 100,000 people): 18.1 deaths
#27. Mississippi
Percent change in opioid overdose death rate from prior year: 17%
Opioid overdose death rate (age-adjusted, per 100,000 people): 6.2 deaths
Percent change in all drug overdose death rate from prior year: -2%
All drug overdose death rate (age-adjusted, per 100,000 people): 12.1 deaths
#26. Minnesota
Percent change in opioid overdose death rate from prior year: 19%
Opioid overdose death rate (age-adjusted, per 100,000 people): 7.4 deaths
Percent change in all drug overdose death rate from prior year: 18%
All drug overdose death rate (age-adjusted, per 100,000 people): 12.5 deaths
#25. West Virginia
Percent change in opioid overdose death rate from prior year: 21%
Opioid overdose death rate (age-adjusted, per 100,000 people): 43.4 deaths
Percent change in all drug overdose death rate from prior year: 25%
All drug overdose death rate (age-adjusted, per 100,000 people): 52 deaths
#24. Louisiana
Percent change in opioid overdose death rate from prior year: 22%
Opioid overdose death rate (age-adjusted, per 100,000 people): 7.7 deaths
Percent change in all drug overdose death rate from prior year: 15%
All drug overdose death rate (age-adjusted, per 100,000 people): 21.8 deaths
#23. Idaho
Percent change in opioid overdose death rate from prior year: 23%
Opioid overdose death rate (age-adjusted, per 100,000 people): 7.4 deaths
Percent change in all drug overdose death rate from prior year: 7%
All drug overdose death rate (age-adjusted, per 100,000 people): 15.2 deaths
#22. Alabama
Percent change in opioid overdose death rate from prior year: 23%
Opioid overdose death rate (age-adjusted, per 100,000 people): 7.5 deaths
Percent change in all drug overdose death rate from prior year: 3%
All drug overdose death rate (age-adjusted, per 100,000 people): 16.2 deaths
#21. Hawaii
Percent change in opioid overdose death rate from prior year: 27%
Opioid overdose death rate (age-adjusted, per 100,000 people): 5.2 deaths
Percent change in all drug overdose death rate from prior year: 13%
All drug overdose death rate (age-adjusted, per 100,000 people): 12.8 deaths
#20. Massachusetts
Percent change in opioid overdose death rate from prior year: 27%
Opioid overdose death rate (age-adjusted, per 100,000 people): 29.7 deaths
Percent change in all drug overdose death rate from prior year: 28.%
All drug overdose death rate (age-adjusted, per 100,000 people): 33 deaths
#19. Connecticut
Percent change in opioid overdose death rate from prior year: 28%
Opioid overdose death rate (age-adjusted, per 100,000 people): 24.5 deaths
Percent change in all drug overdose death rate from prior year: 24%
All drug overdose death rate (age-adjusted, per 100,000 people): 27.4 deaths
#18. North Carolina
Percent change in opioid overdose death rate from prior year: 29.%
Opioid overdose death rate (age-adjusted, per 100,000 people): 15.4 deaths
Percent change in all drug overdose death rate from prior year: 25%
All drug overdose death rate (age-adjusted, per 100,000 people): 19.7 deaths
#17. Maine
Percent change in opioid overdose death rate from prior year: 31%
Opioid overdose death rate (age-adjusted, per 100,000 people): 25.2 deaths
Percent change in all drug overdose death rate from prior year: 35%
All drug overdose death rate (age-adjusted, per 100,000 people): 28.7 deaths
#16. Ohio
Percent change in opioid overdose death rate from prior year: 33%
Opioid overdose death rate (age-adjusted, per 100,000 people): 32.9 deaths
Percent change in all drug overdose death rate from prior year: 31%
All drug overdose death rate (age-adjusted, per 100,000 people): 39.1 deaths
#15. Virginia
Percent change in opioid overdose death rate from prior year: 36%
Opioid overdose death rate (age-adjusted, per 100,000 people): 13.5 deaths
Percent change in all drug overdose death rate from prior year: 35%
All drug overdose death rate (age-adjusted, per 100,000 people): 16.7 deaths
#14. Missouri
Percent change in opioid overdose death rate from prior year: 36%
Opioid overdose death rate (age-adjusted, per 100,000 people): 15.9 deaths
Percent change in all drug overdose death rate from prior year: 32%
All drug overdose death rate (age-adjusted, per 100,000 people): 23.6 deaths
#13. Michigan
Percent change in opioid overdose death rate from prior year: 36%
Opioid overdose death rate (age-adjusted, per 100,000 people): 18.5 deaths
Percent change in all drug overdose death rate from prior year: 20%
All drug overdose death rate (age-adjusted, per 100,000 people): 24.4 deaths
#12. Vermont
Percent change in opioid overdose death rate from prior year: 37%
Opioid overdose death rate (age-adjusted, per 100,000 people): 18.4 deaths
Percent change in all drug overdose death rate from prior year: 33%
All drug overdose death rate (age-adjusted, per 100,000 people): 22.2 deaths
#11. New York
Percent change in opioid overdose death rate from prior year: 40%
Opioid overdose death rate (age-adjusted, per 100,000 people): 15.1 deaths
Percent change in all drug overdose death rate from prior year: 32%
All drug overdose death rate (age-adjusted, per 100,000 people): 18 deaths
#10. Wisconsin
Percent change in opioid overdose death rate from prior year: 41%
Opioid overdose death rate (age-adjusted, per 100,000 people): 15.8 deaths
Percent change in all drug overdose death rate from prior year: 25%
All drug overdose death rate (age-adjusted, per 100,000 people): 19.3 deaths
#9. South Dakota
Percent change in opioid overdose death rate from prior year: 43%
Opioid overdose death rate (age-adjusted, per 100,000 people): 5 deaths
Percent change in all drug overdose death rate from prior year: 0%
All drug overdose death rate (age-adjusted, per 100,000 people): 8.4 deaths
#8. Illinois
Percent change in opioid overdose death rate from prior year: 43%
Opioid overdose death rate (age-adjusted, per 100,000 people): 15.3 deaths
Percent change in all drug overdose death rate from prior year: 34%
All drug overdose death rate (age-adjusted, per 100,000 people): 18.9 deaths
#7. Indiana
Percent change in opioid overdose death rate from prior year: 48%
Opioid overdose death rate (age-adjusted, per 100,000 people): 12.6 deaths
Percent change in all drug overdose death rate from prior year: 23%
All drug overdose death rate (age-adjusted, per 100,000 people): 24 deaths
#6. Florida
Percent change in opioid overdose death rate from prior year: 53%
Opioid overdose death rate (age-adjusted, per 100,000 people): 14.4 deaths
Percent change in all drug overdose death rate from prior year: 46%
All drug overdose death rate (age-adjusted, per 100,000 people): 23.7 deaths
#5. North Dakota
Percent change in opioid overdose death rate from prior year: 58.%
Opioid overdose death rate (age-adjusted, per 100,000 people): 7.6 deaths
Percent change in all drug overdose death rate from prior year: 23%
All drug overdose death rate (age-adjusted, per 100,000 people): 10.6 deaths
#4. New Jersey
Percent change in opioid overdose death rate from prior year: 63%
Opioid overdose death rate (age-adjusted, per 100,000 people): 16 deaths
Percent change in all drug overdose death rate from prior year: 42%
All drug overdose death rate (age-adjusted, per 100,000 people): 23.2 deaths
#3. Pennsylvania
Percent change in opioid overdose death rate from prior year: 65%
Opioid overdose death rate (age-adjusted, per 100,000 people): 18.5 deaths
Percent change in all drug overdose death rate from prior year: 44%
All drug overdose death rate (age-adjusted, per 100,000 people): 37.9 deaths
#2. Maryland
Percent change in opioid overdose death rate from prior year: 68%
Opioid overdose death rate (age-adjusted, per 100,000 people): 29.7 deaths
Percent change in all drug overdose death rate from prior year: 59%
All drug overdose death rate (age-adjusted, per 100,000 people): 33.2 deaths
#1. District of Columbia
Percent change in opioid overdose death rate from prior year: 107%
Opioid overdose death rate (age-adjusted, per 100,000 people): 30 deaths
Percent change in all drug overdose death rate from prior year: 109.%
All drug overdose death rate (age-adjusted, per 100,000 people): 38.8 deaths