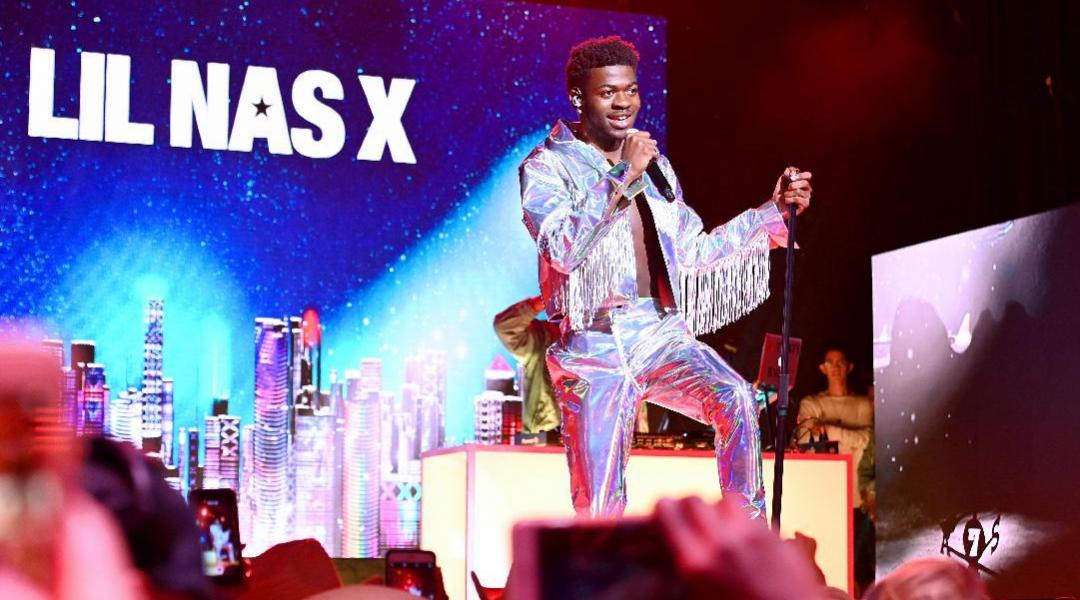 How Lil Nas X broke all-time music streaming records with 'Old Town Road'
Twenty-year-old rapper, singer, and songwriter Lil Nas X defied virtually every musical odd when his single "Old Town Road" hit 17 weeks as the top song on Billboard's Hot 100 chart on July 29, 2019. As of August, the song has dominated Billboard's chart for 19 weeks and broken many other records along the way. The young artist's rise from streaming sites to stardom was part luck and part calculation as he leveraged memes, social media, and four genre-crossing remixes to keep "Old Town Road" riding.
Humble origins
Lil Nas X was born Montero Lamar Hill in Lithia Springs, Ga., a small town 30 minutes west of the Atlanta rap scene that gave rise to artists like Childish Gambino and Outkast. In the summer after his freshman year at the University of West Georgia, Nas posted his first song to free music-streaming site SoundCloud. As the song gained more traction, Nas found his footing and chose to pursue music over returning to school in the fall.
A few months later in October 2018, the artist was living with his sister and struggling to promote his music online. While searching for inspiration on YouTube, Nas came across a beat by Dutch producer YoungKio. As he listened to the beat on his sister's back porch, a lyric came to him: "I'm gonna take my horse to the old town road, I'm gonna ride 'til I can't no more."
Nas bought YoungKio's beat for $30 and used it as the basis for his song about escape, which he called "Old Town Road." The recording was posted on Nas' social media in December.
Master of memes
"Old Town Road" was made for memes. Nas was already popular on Twitter when he produced the song, and he understood the viral potential of a catchy phrase and a universal image. He used images of horses and cowboys to promote the song, capitalizing on social media trends while engaging with followers who related to "Old Town Road" lyrics about facing challenges and finding success.
The song reached viral status when it found a home on TikTok, a video app that has become a popular source for teenagers to share short lip-sync and comedy videos. Nas uploaded cuts of "Old Town Road" to TikTok himself, encouraging the app's users to build on it as a backing track for their videos. The song spawned a meme called "Yee Yee Juice," in which TikTok users bemoan their boring lives and then transform into cowboys—people (and pets) from around the world donned their best plaid shirts and cowboy boots, and danced to Nas' track. 
Nas' audience grew as the song continued its now-meteoric climb. In the time since "Old Town Road" first appeared on Billboard's charts in March 2019, Nas has gained 2.2 million Twitter followers and 3.1 million Instagram followers (and counting). Despite his broad platform, he continues to post memes and engage with followers as though he is still an undiscovered artist who values every stream. Nas retweets fan art, pokes fun at his quick rise to fame, and takes advantage of national events like the Democratic presidential debates to promote his music.
Country trap controversy
The March arrival of "Old Town Road" on Billboard charts happened simultaneously on Billboard's Hot 100 chart, the Hot Country Songs chart, and the Hot R&B/Hip-Hop chart. The track reached #19 on the country chart before being disqualified on the grounds of not featuring "enough elements of today's country music," according to a statement Billboard released to Rolling Stone. Nas had originally classified the song as country music on SoundCloud and iTunes. He credits Young Thug, another rapper, singer, and songwriter from Atlanta, for pioneering country trap, a subgenre combining the instruments and rural themes of country music with the beats and vocal styles of hip-hop.
The song's disqualification from Billboard's country chart stirred controversy, as musicians and reviewers wondered if Nas' identity as an African American man played into his song's classification. But the song also caught the attention of Billy Ray Cyrus, a country singer, songwriter, and actor, who collaborated with Nas on the first "Old Town Road" remix and co-starred in his eventual music video. The song reached #1 on Billboard's Hot 100 chart the week of April 13, just before Cyrus' remix dropped. The original song and remix combined yielded 143 million streams in one week, shattering Drake's previous record of 116 million.
Four hit genre-crossing remixes
Billboard's charts are based on music sales, radio play, and online streaming—and remixes are counted toward their source tracks. As Billboard chart director Gary Trust explained in an interview with NPR, if the remix of a song has enough similarities in lyrics, music, and production, its streaming numbers will be "rolled into" the original track.
Nas understood the potential of a good remix early: In December 2018, he tweeted a video of the song captioned, "twitter please help me get billy ray cyrus on this." After scoring a winning collaboration with Cyrus, Nas released three more remixes. The first features Cyrus and Diplo, a DJ, songwriter, and producer; the second features Cyrus, Young Thug, and Mason Ramsey, also known as the "Walmart yodeling kid"; and the third features RM, a South Korean rapper and leader of the popular boy band BTS. 
Each "Old Town Road" remix plays with the song's versatility and viral lyrics, drawing in new fans of other musical genres while keeping the triumphant heart of the song intact. The last remix, called "Seoul Town Road" and released just four days before the song hit 17 weeks on Billboard's chart, was particularly lauded for winning Nas the support of BTS' fan army. BTS has one of the largest and most passionate fanbases of any band worldwide, and these dedicated fans are eager to stream any music involving their bandleader—especially when he's rapping a special verse about Seoul.
Cowboy summer
In its time at the top of the Billboard Hot 100 chart, "Old Town Road" stayed cool during the hottest month in recorded history: The track beat singles from Taylor Swift, Shawn Mendes, and Justin Bieber. Nas himself has gained a dedicated following, including legends from Dolly Parton to Gordon Ramsay and elementary school students across America. 
The artist has also been embraced by the LGBTQ+ community after coming out as gay on the last day of Pride Month. When "Old Town Road" broke Billboard's record with 17 weeks at #1, one of the songs it beat out was "One Sweet Day," a collaboration by Mariah Carey and Boyz II Men honoring lives lost in the AIDS epidemic. Afropunk writer Myles E. Johnson suggests this transfer of musical leadership—from a song honoring LGBTQ+ tragedy to a black, gay man's song about triumph—is "a fantastic exchange from grief to escape."
Whatever Lil Nas X does next, and whatever his song means to you, it is undeniable that 2019 has been the summer of the cowboy.
You may also like: VMAs: Most popular music videos in 2019