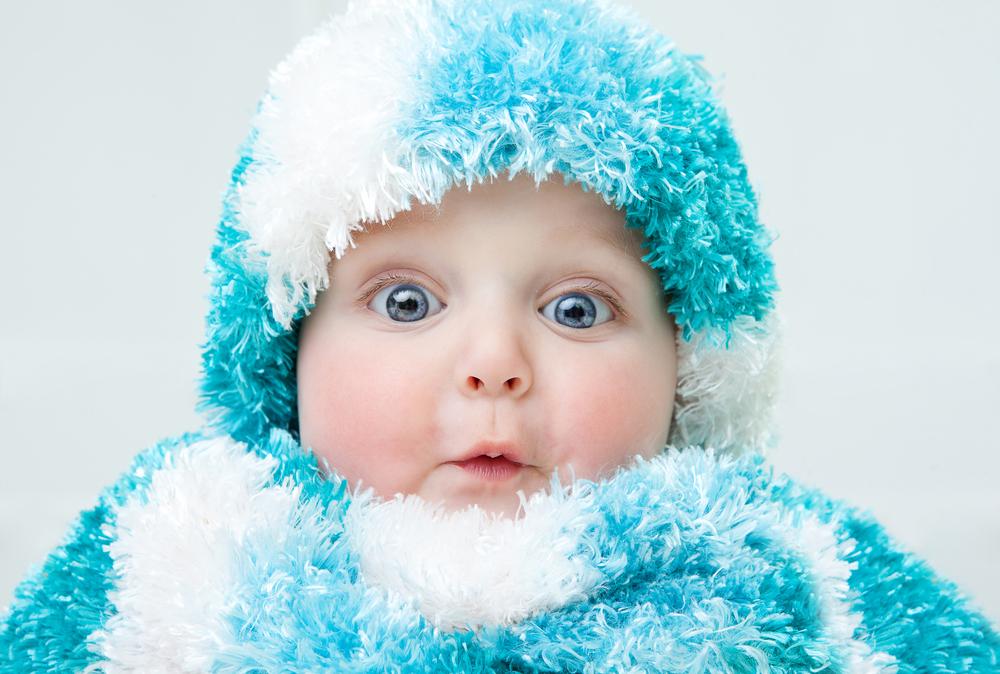 40 winter baby names to get the season started
My Good Images // Shutterstock
40 winter baby names to get the season started
If you are expecting a little bundle of joy between December and March, you may want to consider a name inspired by the season. Winter conjures up images of holly trees laden with fluffy white snow, cozy nights spent with family, and some of the most festive holidays—all lovely images to incorporate into your baby's name.
Our list of the best winter baby names includes names inspired by the holidays, classic movies, natural phenomena, and sly allusions to the season. Whether you'd like to name your child something more mainstream like Nicholas or Holly, or you're looking for an unusual baby name like Vale or Epiphany, there's something for every type of family on this list. Stacker consulted data from the Social Security Administration to find out the popularity of each name in the United States in 2016. Click through to see the rank, meaning, and inspiration for 40 of the best winter baby names.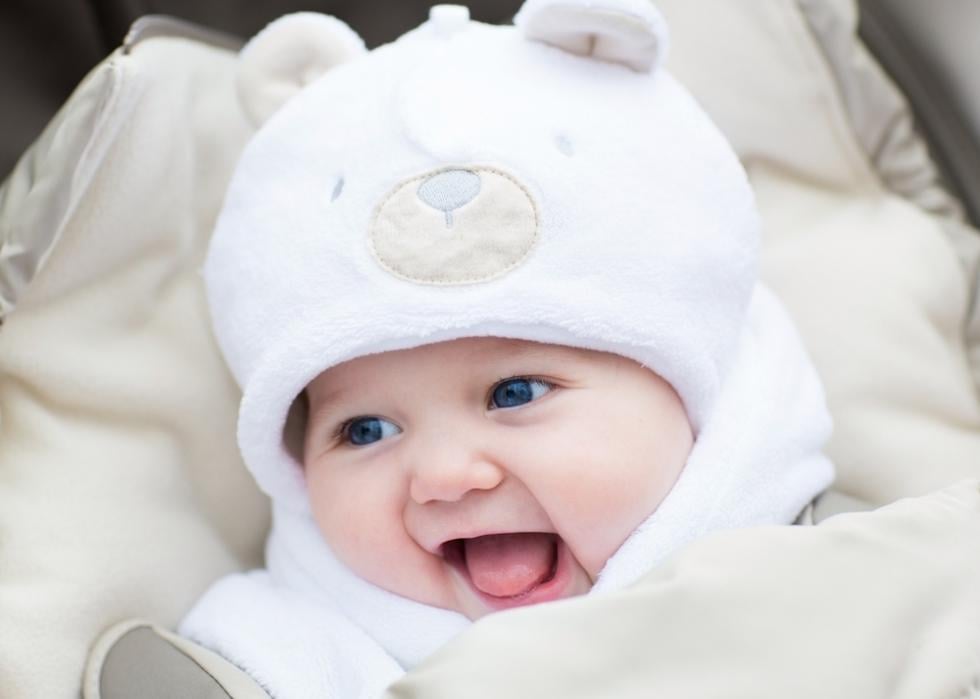 1 / 40
40. Elsa
2016 Name Rank: #623 (Female)
Disney fans might recognize the name Elsa from Frozen, the smash hit children's movie about two princesses in the wintry land of Arendelle. 476 baby girls born in 2016 were named Elsa, so apparently, the movie is just as popular with parents as it is with kids.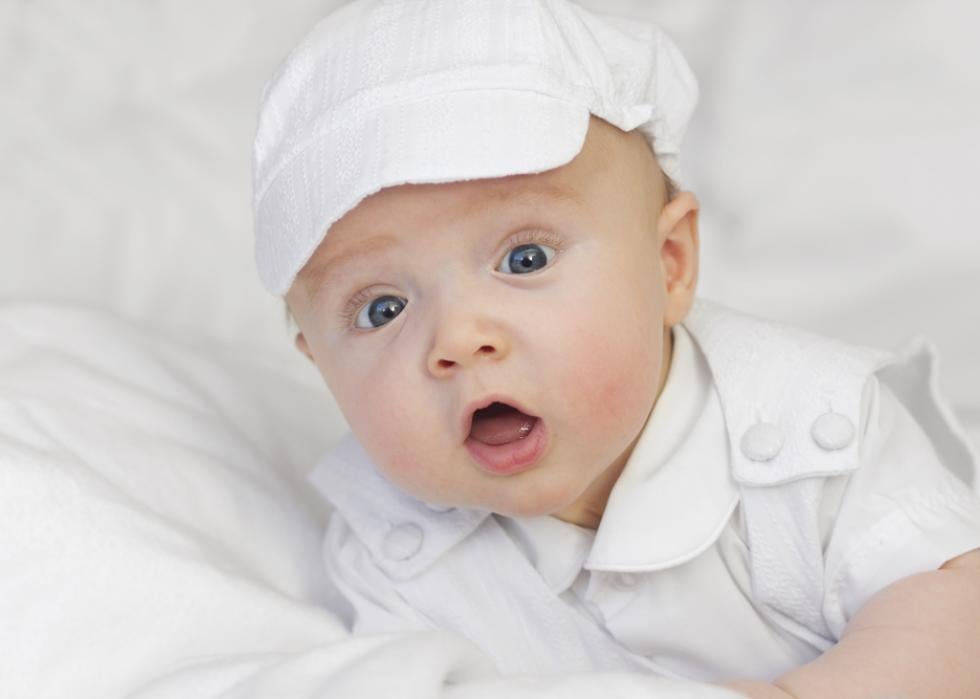 2 / 40
Brocreative // Shutterstock
39. Jonas
2016 Name Rank: #150 (Male)
The Hebrew name Jonas means "dove" or "peaceful being," making it a perfect name for a New Year's Day baby. Doves are a symbol of peace and wishing for peace on December 31 is a traditional way to usher in a benevolent year. Teenagers from the early aughts will also enjoy the reference to the Jonas Brothers, one of the most popular boy bands of the decade.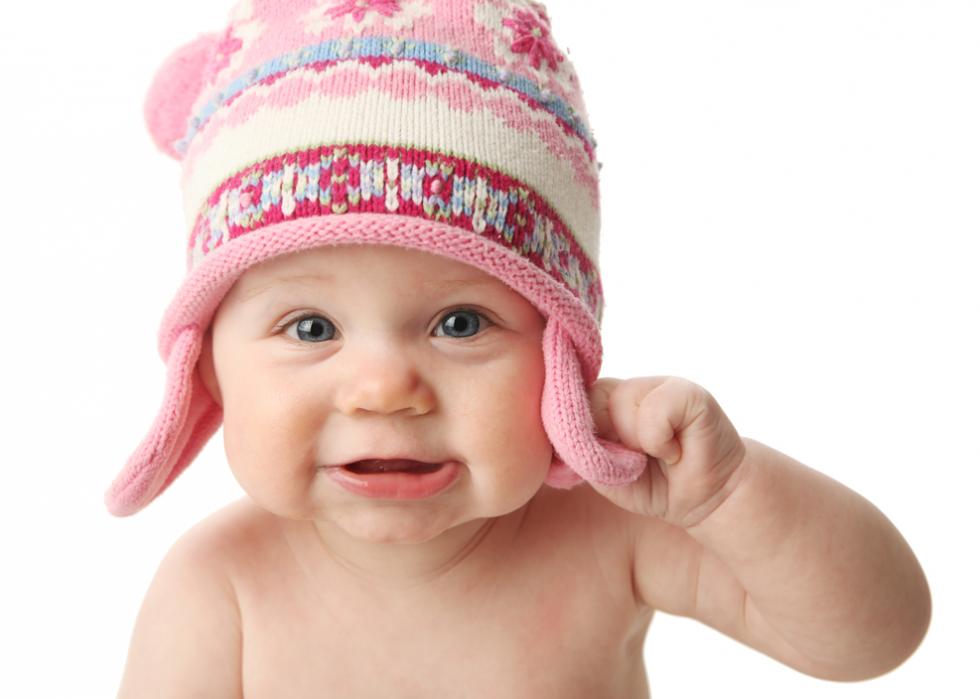 3 / 40
blessings // Shutterstock
38. Epiphany
2016 Name Rank: #8575 (Female)
Epiphany is the Christian holiday celebrated on Jan. 6—the 12th day of Christmas. Also known as Three Kings Day, it marks the end of the Christmas season and commemorates the arrival of the three wise men with gifts for baby Jesus. Only 18 girls born in 2016 were named Epiphany, so it's a much less common name.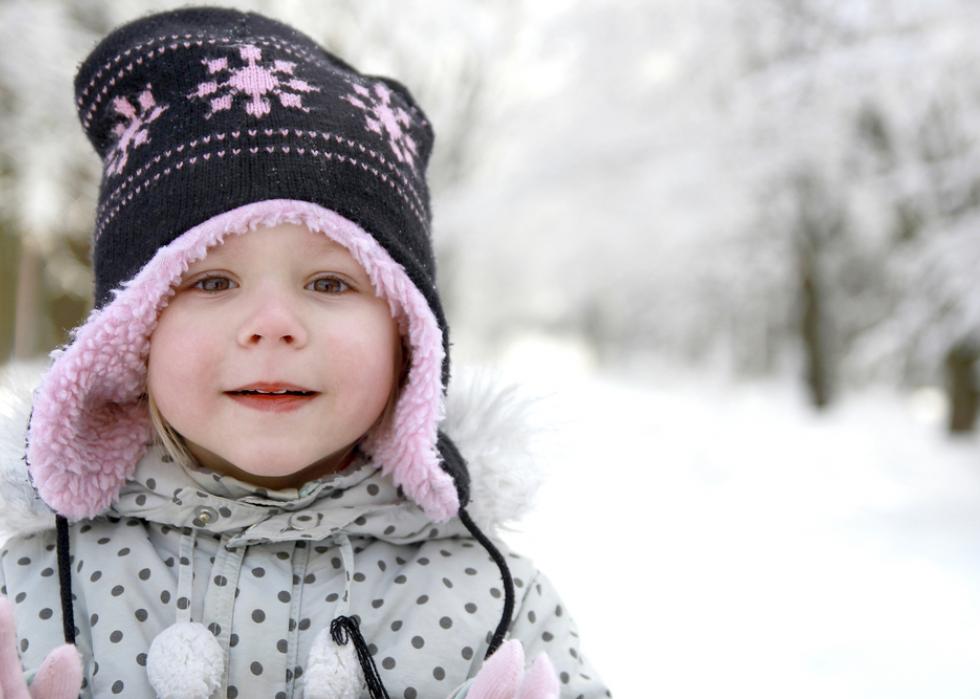 4 / 40
KonstantinChristian // Shutterstock
37. Neve
2016 Name Rank: #2870 (Female)
Conan O'Brien fans might recognize this Irish name: he gave it to his daughter. Since it means snow in Portuguese, Italian, and Irish, it's a lovely winter name. 59 children were named Neve in 2016.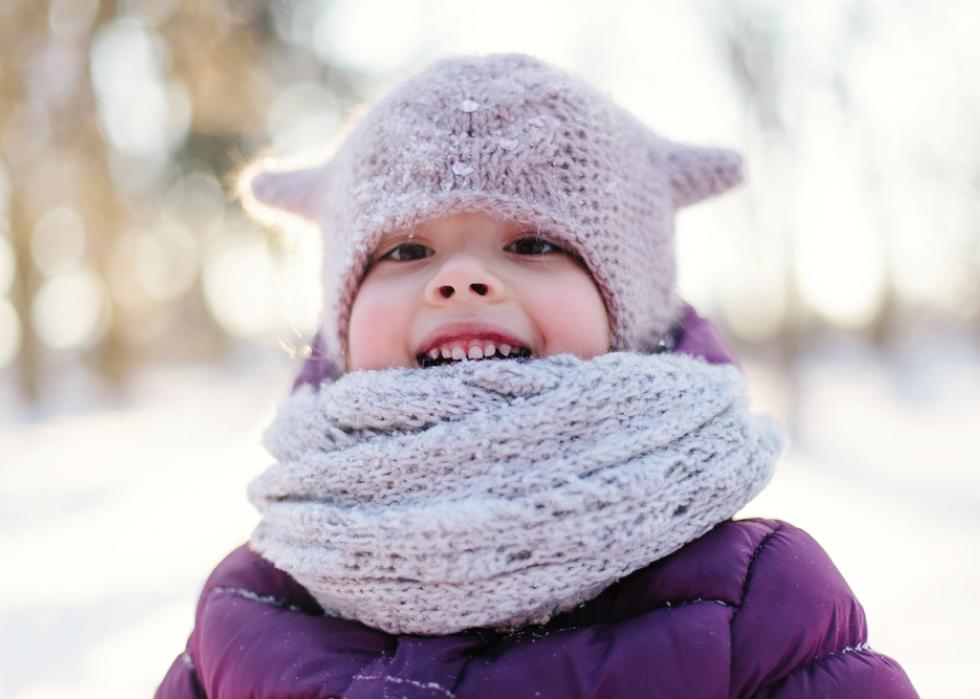 5 / 40
Hrynevich Yury // Shutterstock
36. Juniper
2016 Name Rank: #352 (Female)
The evergreen shrub bearing small blue berries is often used in wreaths and other winter decorations, since it flourishes in cold weather. It's no surprise, then, that the name Juniper means "youth producing" or evergreen.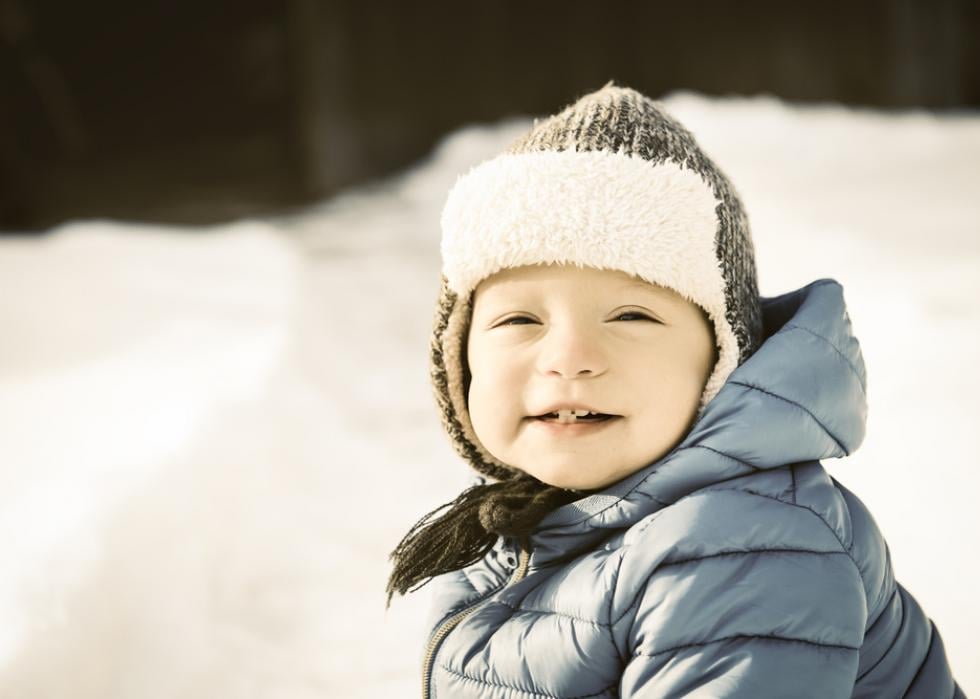 6 / 40
35. Aspen
2016 Name Rank: #361 (Female), #1699 (Male)
With their white striped trunks and fluttering leaves, aspens are some of the most striking trees in North America. As a baby name, Aspen could work for both genders: 896 girls and 94 boys were given the name in 2016.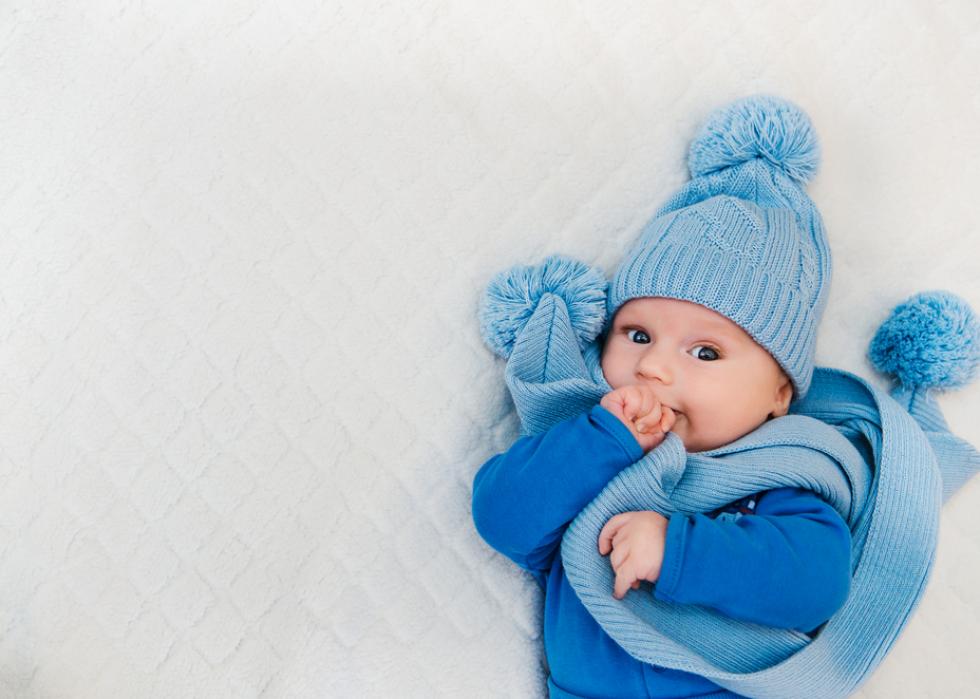 7 / 40
Dima Sobko // Shutterstock
34. Jay
2016 Name Rank: #395 (Male)
The name Jay can refer to several different things, depending on your interpretation. In the English tradition, it means "to rejoice" and refers to blue jays. In German, it means "swift," and in Sanskrit it means "victorious." However you choose to think of the name, it's fairly popular with American parents: 800 boys were named Jay in 2016.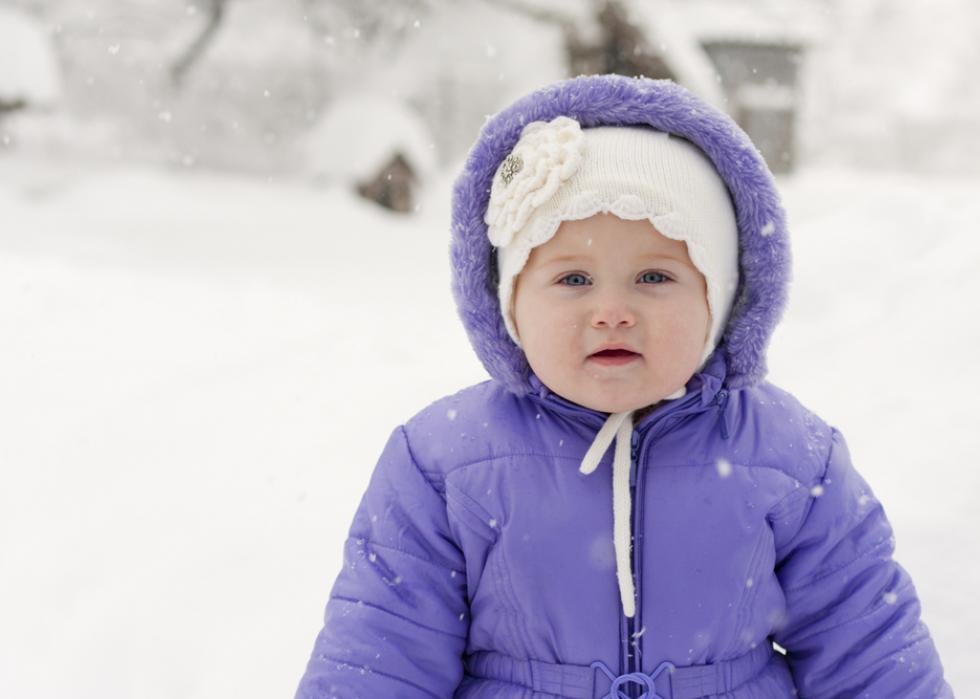 8 / 40
Kozub Vasyl // Shutterstock
33. Eira
2016 Name Rank: #4,008 (Female)
Eira comes from the Welsh word meaning "snow" and would be a perfect name for a baby born during a snowstorm or blizzard. It's also quite unique—37 girls were given this wintry name in 2016.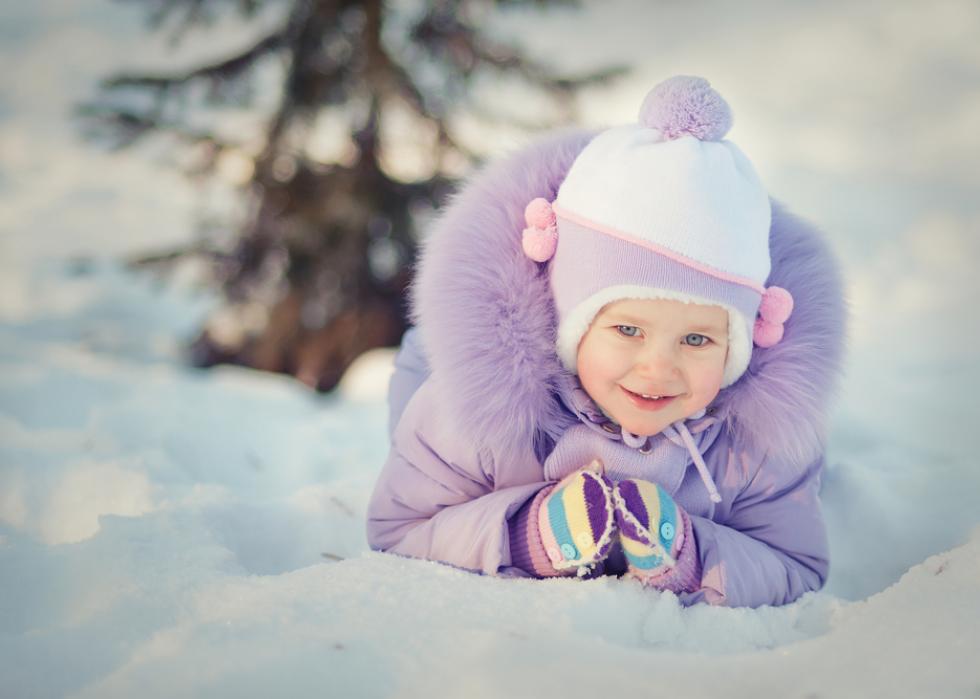 9 / 40
Juliana Jus // Shutterstock
32. Garnet
2016 Name Rank: #7738 (Female)
In the world of crystals, garnets are known as spiritual, grounding stones. Their deep crimson hue is what inspired the name, which comes from the Latin word for pomegranate. Garnets are the birthstone for January, making it a very appropriate name for a winter baby.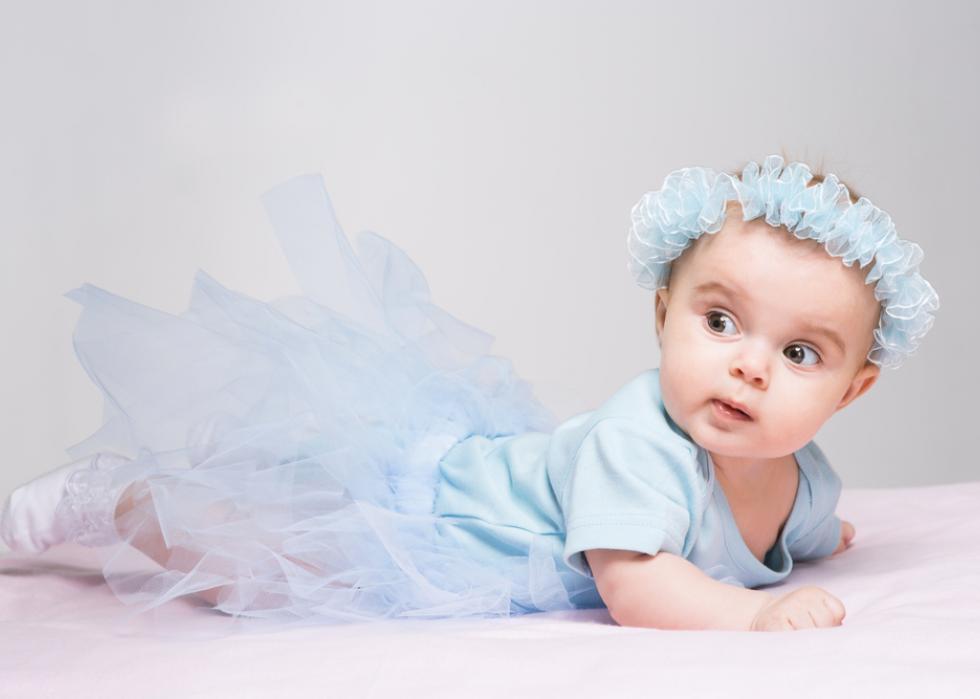 10 / 40
Tiplyashina Evgeniya // Shutterstock
31. Ivy
2016 Name Rank: #112 (Female)
Thanks to the Christmas carol "The Holly and the Ivy," this green creeping plant will forever be associated with the holidays. The name is also traditionally associated with faithfulness in England. As a girl's name, it's quite popular: 2,797 baby girls were named Ivy in 2016.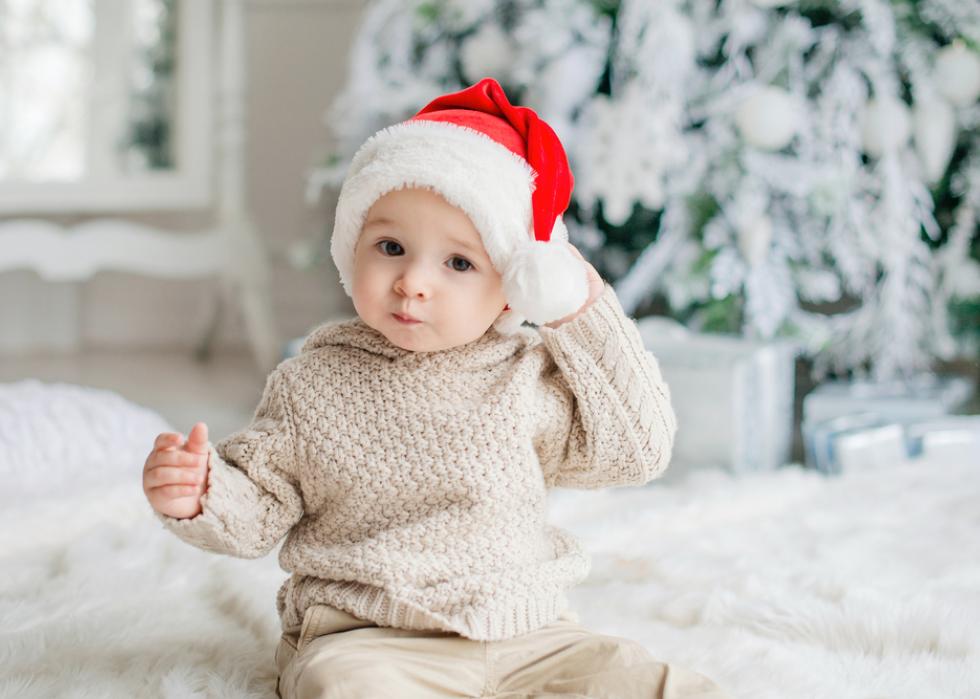 11 / 40
Minnikova Mariia // Shutterstock
30. Nicholas
2016 Name Rank: #63 (Male)
If you'd like to give your son a name that just hints at his birth season, try Nicholas. The name not only refers to jolly old St. Nick but also means "victory of the people" in Greek. Nicholas is a popular name for boys no matter the season: In 2016, 5,716 boys named Nicholas were born in the United States.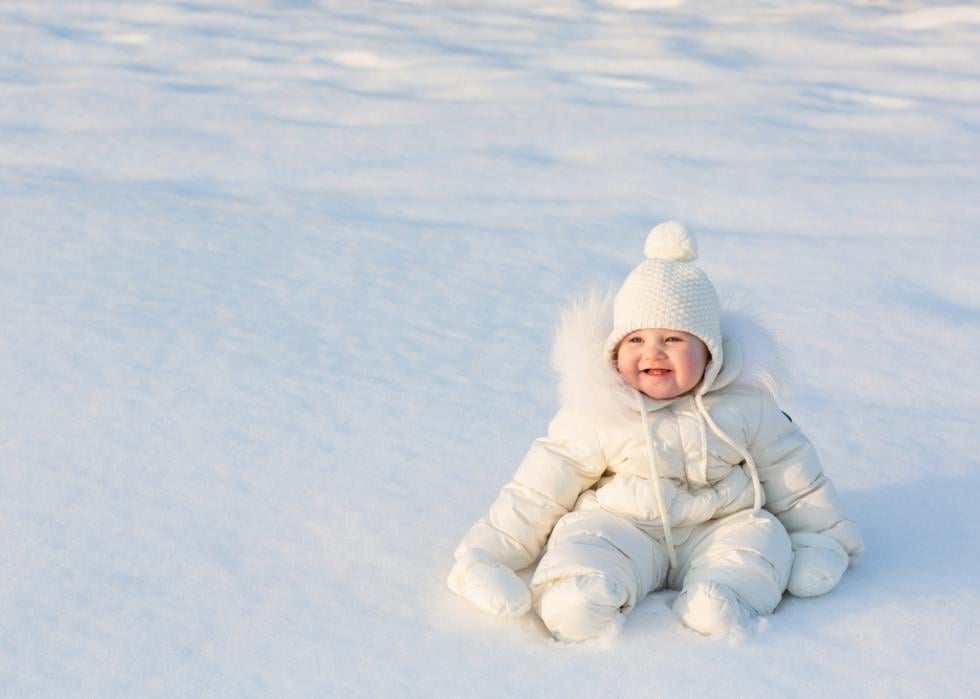 12 / 40
29. Holly
2016 Name Rank: #527 (Female)
This flowering plant's shiny green leaves and bright red berries are gorgeous in wreaths and holiday garlands—it's a perennial favorite at Christmas time. Holly makes a beautiful name for winter babies, which is likely why 585 girls were given the moniker in 2016.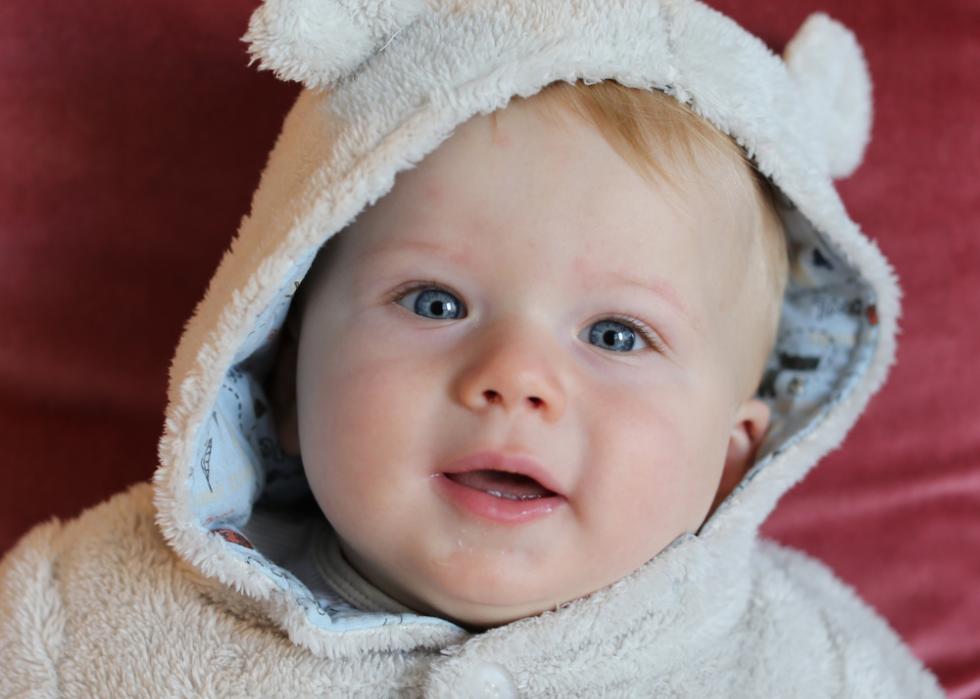 13 / 40
Gina Smith // Shutterstock
28. Rudolph
2016 Name Rank: #3377 (Male)
Though you're likely more familiar with the red-nosed reindeer named Rudolph, the name actually stems from the Germanic words meaning "fame" and "wolf." In addition to being a unique choice for a baby name, it's likely your little boy will get a kick out of singing the Christmas carol about his namesake.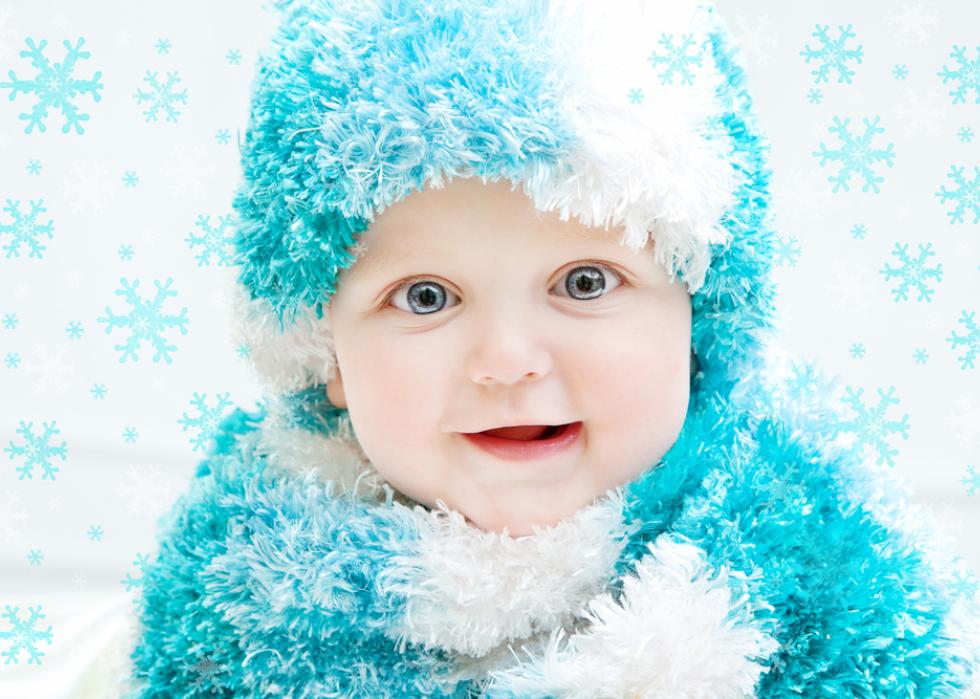 14 / 40
My Good Images // Shutterstock
27. Emmanuel
2016 Name Rank: #157 (Male)
The foretold name of the Messiah in the Old Testament, Emmanuel means "God is with us" in Hebrew. And it's associated with a beautiful Christmas hymn, "O Come, O Come Emmanuel." For religious families, it makes a wonderful name for a baby boy.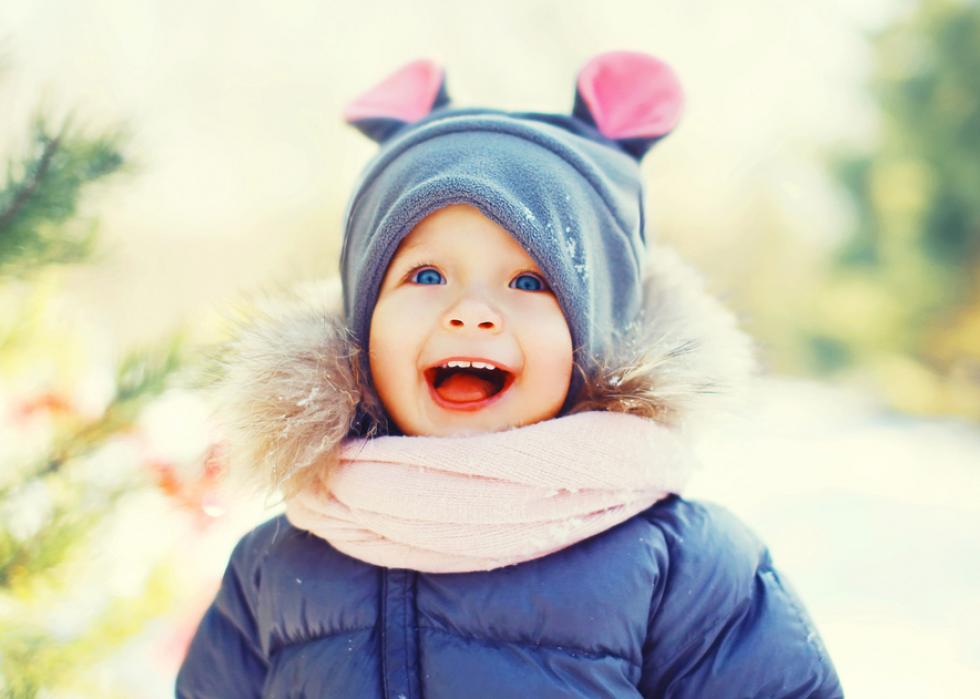 15 / 40
26. Robin
2016 Name Rank: #1087 (Female), #1138 (Male)
The sight of a red-breasted robin against pure white snow is truly something beautiful to behold, and the word itself means "bright" or "shining." Maybe that's why it works so well as a baby name. Though Robin is slightly more common for girls, 169 boys were also named Robin last year.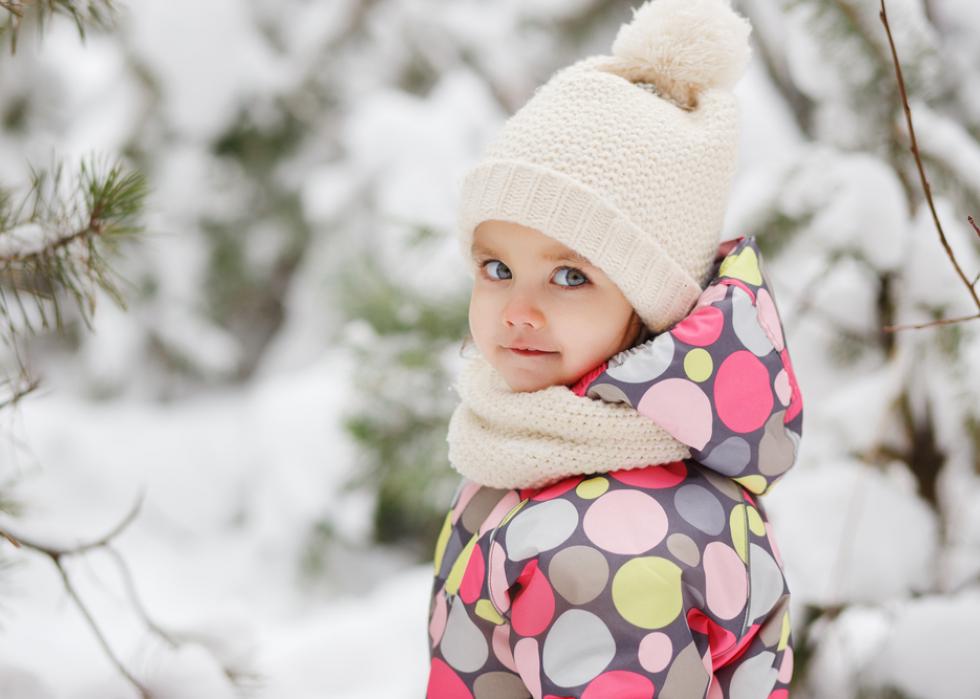 16 / 40
Kruglova Inna // Shutterstock
25. Crystal
2016 Name Rank: #572 (Female)
Icicles, snowflakes, frost: all wintry images that go with the name Crystal. Several spellings of the name—Crystal (539 babies), Krystal (218 babies), and Chrystal (23 babies)—appear on the list of the most popular girls' names.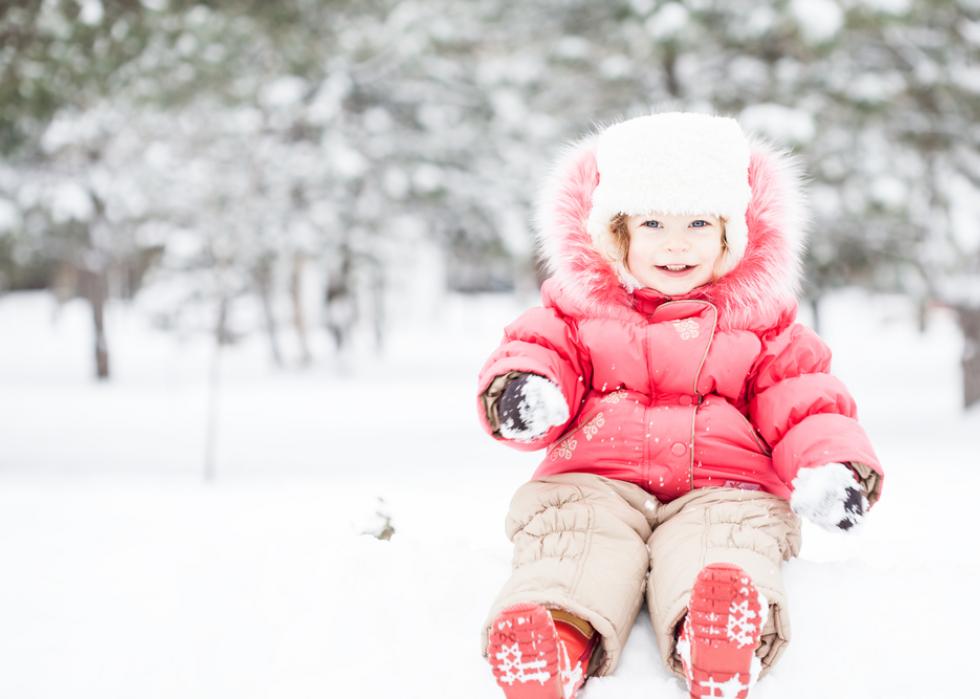 17 / 40
Sunny studio // Shutterstock
24. January
2016 Name Rank: #6251 (Female)
The first month of the year is also known as the "month of the wolf," perhaps a reference to the wolves that often prowl the winter landscape. While it might be a bit literal to name your child after the month of her birth, January could be a striking name for a girl. In fact, Mad Men fans will note that the actress January Jones (a classic beauty who resembles Grace Kelly) bears the name. Only 20 girls were named January in 2016—wonder how many were actually born in the month?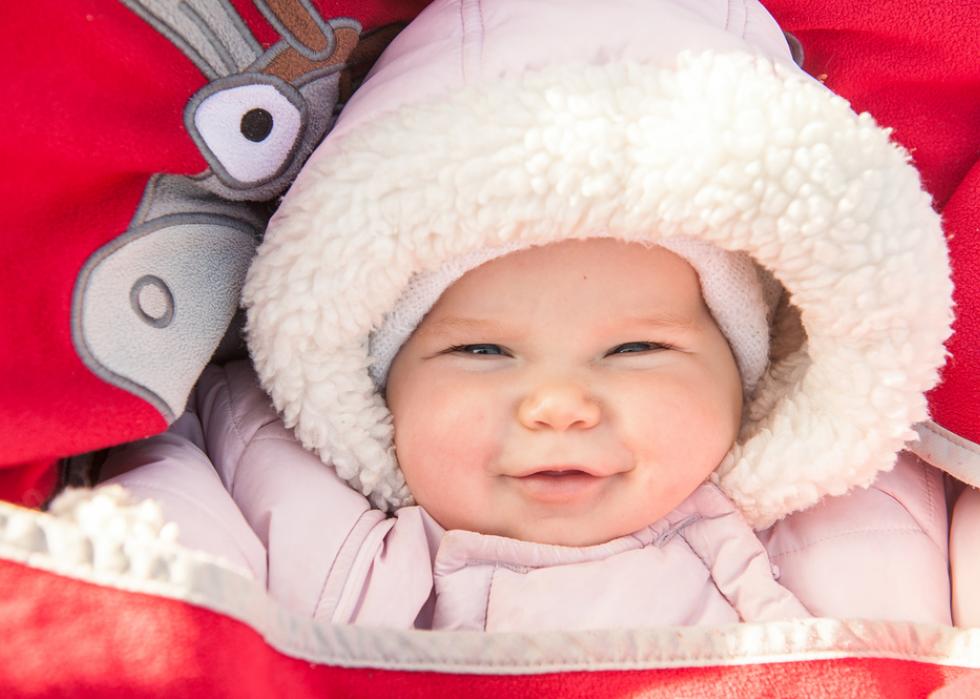 18 / 40
23. Cole
2016 Name Rank: #110 (Male)
While parents probably don't want to inspire the kind of behavior that leads to Santa leaving coal in their kids' stockings, there's something sweet about the sly allusion to Christmas in the name Cole. It remains a very popular name for boys, with 3,580 babies named Cole in 2016.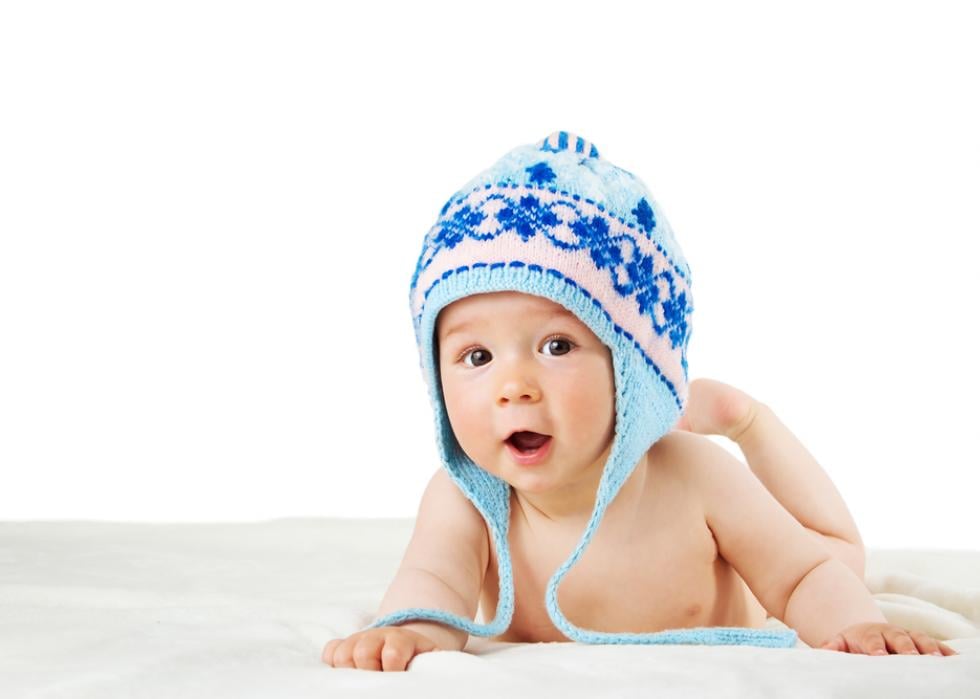 19 / 40
Anna Grigorjeva // Shutterstock
22. Gabriel
2016 Name Rank: #25 (Male)
In the Christmas story, the angel Gabriel visits the Virgin Mary in Nazareth to tell her that she would give birth to the baby Jesus. It makes sense, then, that the name means "hero of God." It's a hugely popular name for boys, with 10,142 babies named Gabriel in 2016. 12 baby boys were even named Angelgabriel.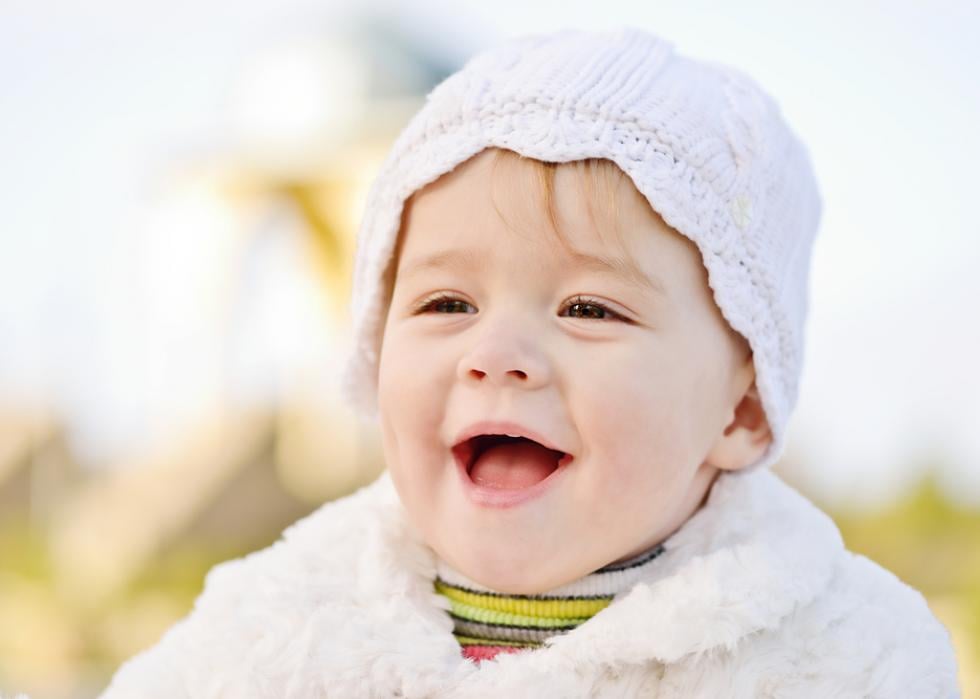 20 / 40
Elena Stepanova // Shutterstock
21. Mary
2016 Name Rank: #127 (Female)
Mary is a perennially popular name: 2,487 babies were given the name in 2016. As mentioned above,  Mary was the name of Jesus' mother in the Bible, so it's particularly fitting for children born into religious families around Christmas. The name also means "wished-for child" in Hebrew, which is quite sweet.    
21 / 40
Geir Olav Lyngfjell // Shutterstock
20. Douglas
2016 Name Rank: #601 (Male)
Majestic douglas firs make wonderful Christmas trees, thanks to their soft needles and evenly distributed branches. Give a baby boy born during the holiday season the name Douglas as a tribute to this noble tree. He won't be alone: 445 babies were named Douglas in 2016. Douglas is originally a Gaelic name meaning "dark river" or "dark water."
22 / 40
Stockforlife // Shutterstock
19. Carol
2016 Name Rank: #1657 (Female)
Celebrate festive tunes like "Deck the Halls" and "Jingle Bells" by naming your baby girl Carol, which also means "strong." Although popular in decades past, only 129 Carols were born in the U.S. in 2016—so you can feel confident that your bundle of joy will have a unique name.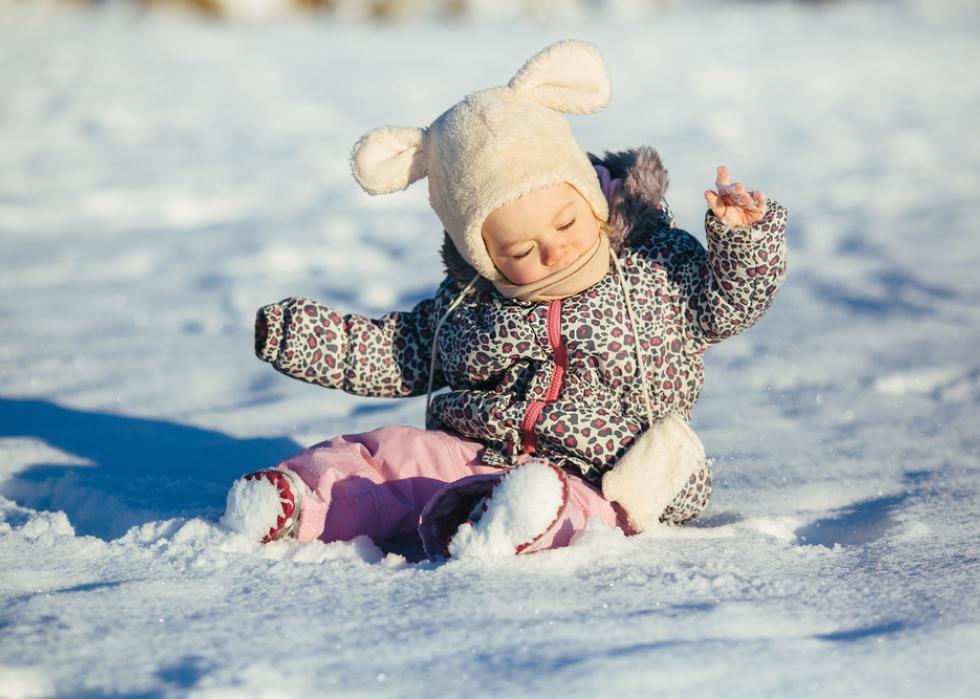 23 / 40
Hrecheniuk Oleksii // Shutterstock
18. Belle
2016 Name Rank: #934 (Female)
The holiday season is full of bells: Jingle bells, sleigh bells, church bells, you name it. The name Belle, which means "beautiful" in French, celebrates the joyful noise of bells ringing all over town during the winter. It could also allude to the heroine in the Disney film Beauty and the Beast, which has a few gorgeously animated winter scenes.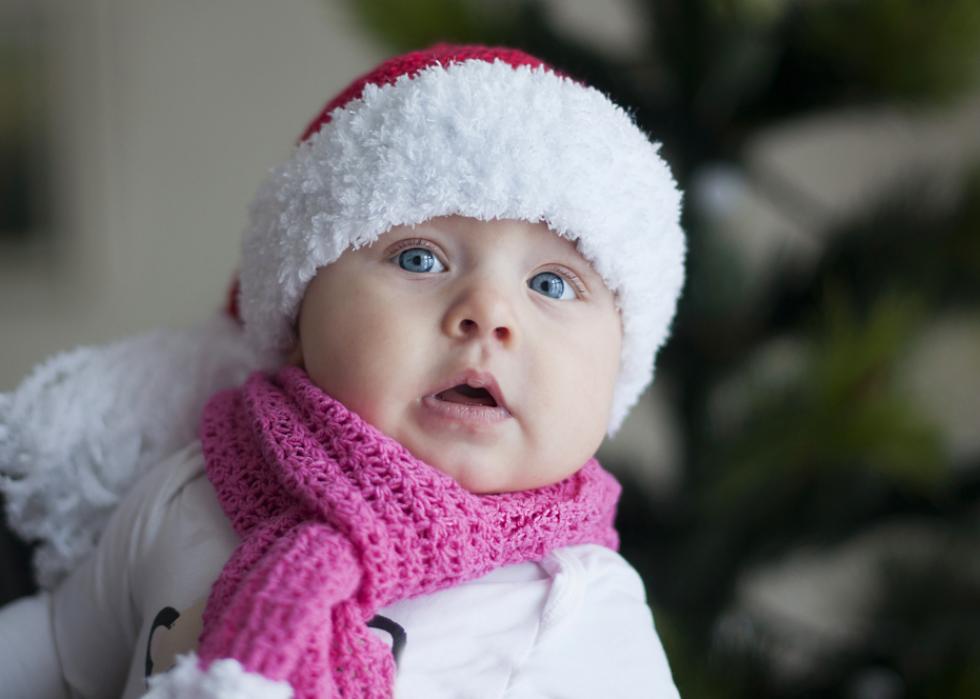 24 / 40
17. Joy
2016 Name Rank: #351 (Female)
Joy to the world! Your baby girl has been born. Commemorate your feelings of happiness—and the festive nature of the season—by naming her Joy. The name comes from the French word joie, which means "delight" or "happiness."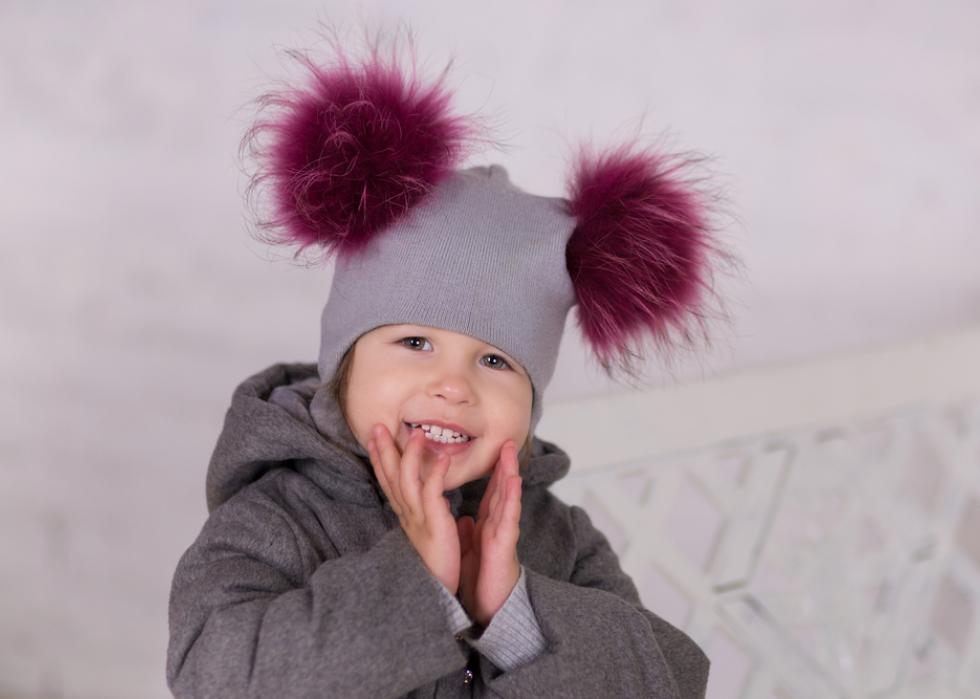 25 / 40
Twinkle Studio // Shutterstock
16. Noelle (or Noel)
2016 Name Rank: #249 (Female), #380 (Male)
As a word signifying the Christmas season, Noel makes an excellent name for babies born in December. In 2016, 1,260 babies were named the feminine version, Noelle, while 844 were named Noel, the masculine variant.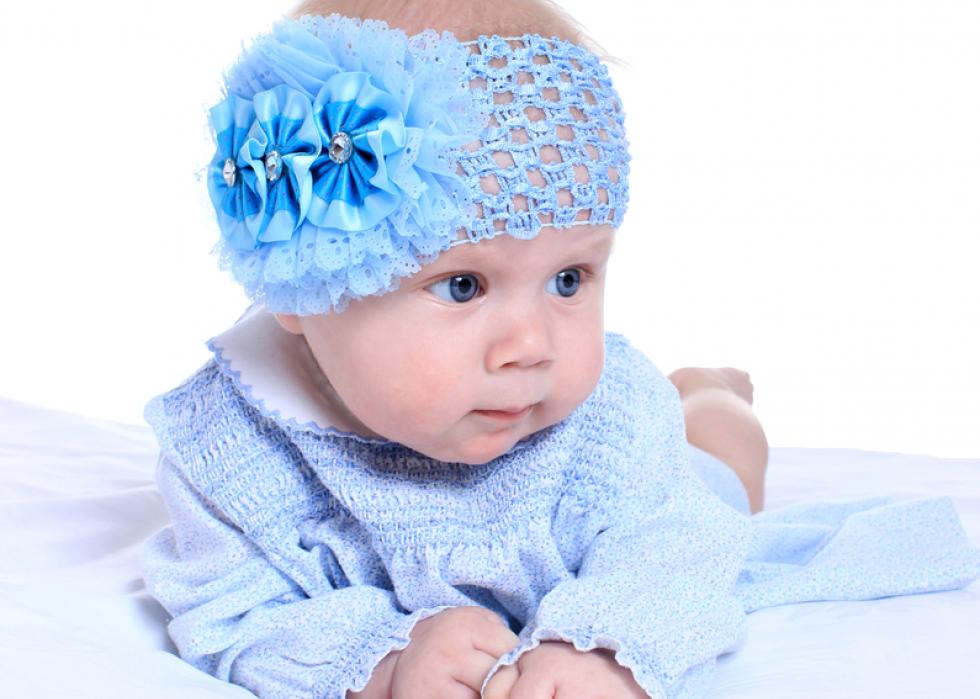 26 / 40
privilege // Shutterstock
15. Ember
2016 Name Rank: #320 (Female)
Channel thoughts of crackling logs on the fireplace, cable-knit sweaters, and all things cozy with the name Ember. A term for a small piece of burning coal, Ember would be a fitting name for a baby girl born during an especially cold winter.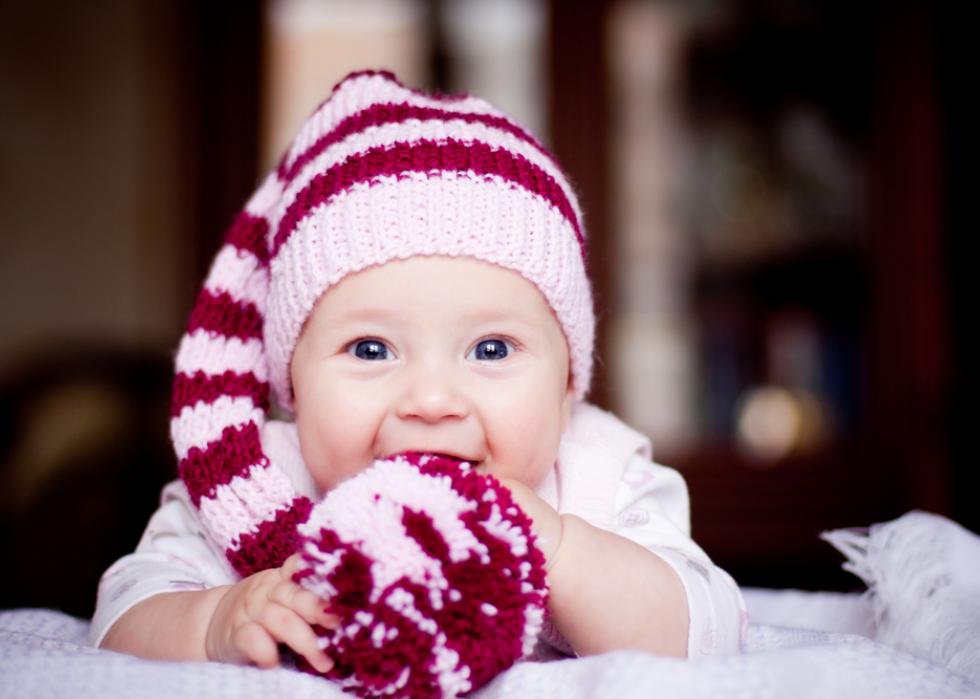 27 / 40
Yulia Sribna // Shutterstock
14. Jasper
2016 Name Rank: #209 (Male)
The name Jasper references treasure and wealth in a few ways. First, it's the name for a type of gemstone mottled with various colors of rust red, bright blue, mustard yellow, and other earthy tones. It also means "bringer of treasure" in Persian, and was the name of one of the three wise men who brought tribute to the baby Jesus in the Christmas story.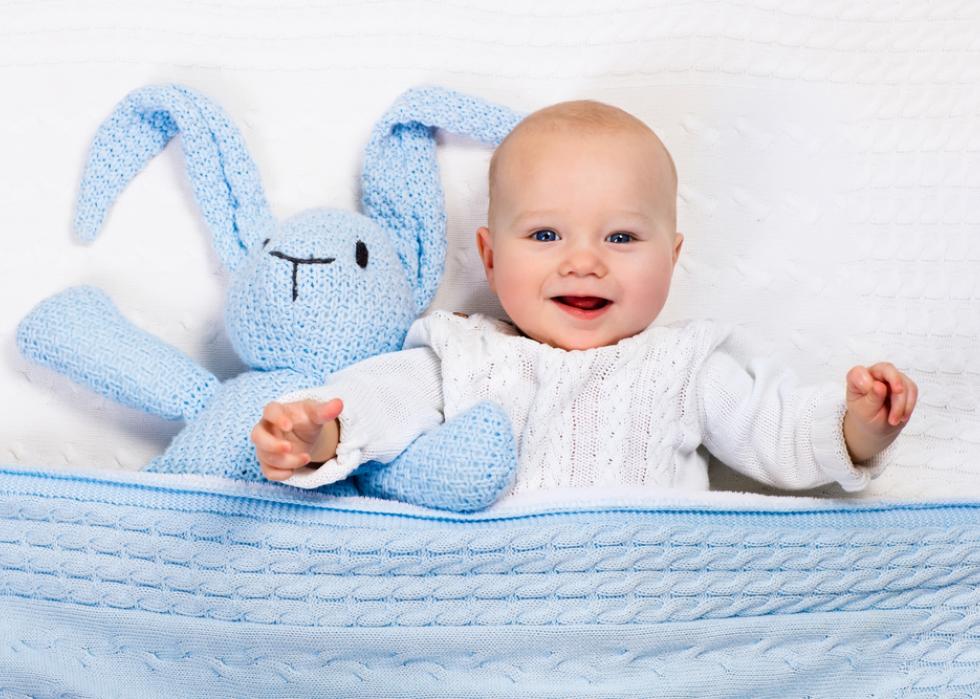 28 / 40
13. Colden
2016 Name Rank: #2332 (Male)
The name Colden just sounds like winter—the first part of the word is "cold," after all. It actually comes from two Old English words, cald and denu, meaning "charcoal" and "valley." Still, it gives the sense of a frozen midwinter day, suitable for parents with babies due from December to March.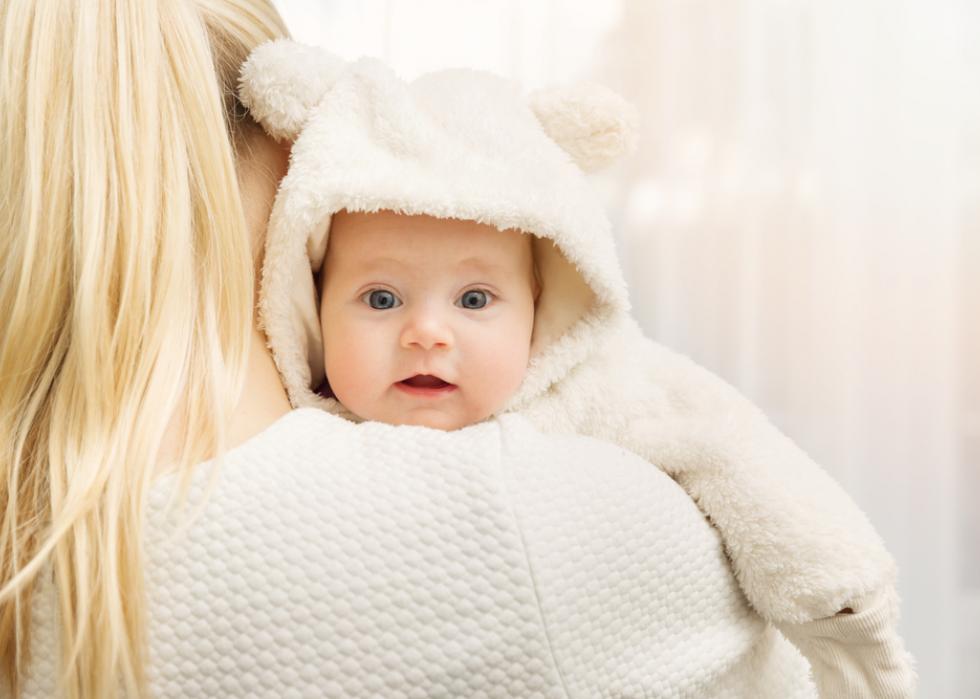 29 / 40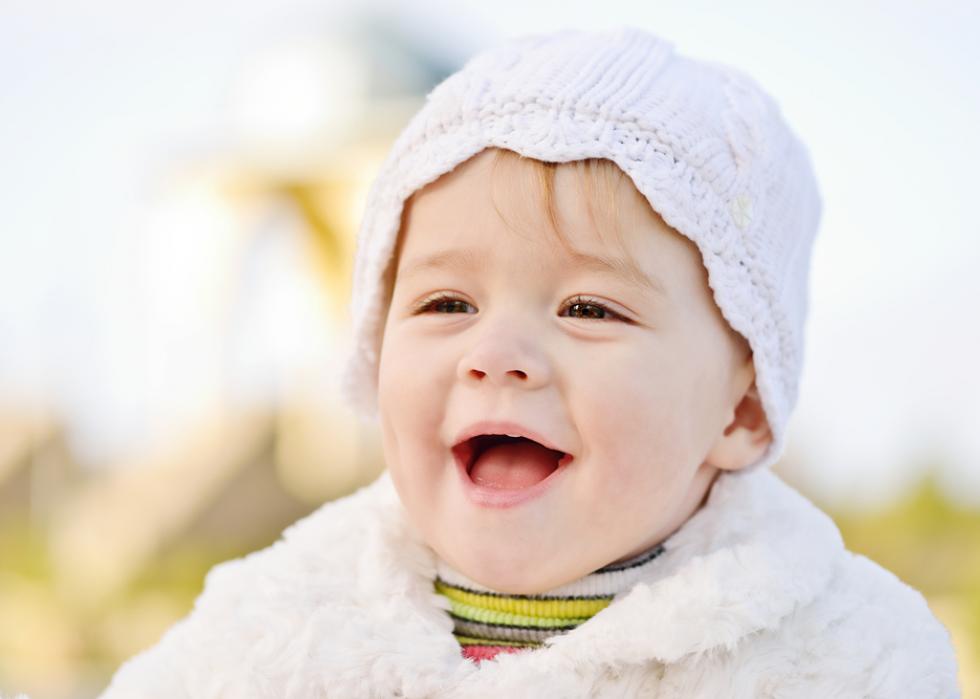 30 / 40
Elena Stepanova // Shutterstock
11. Natalie
2016 Name Rank: #31 (Female)
Derived from "natali," the Latin word for Christmas Day the name is a longtime favorite for girls born on or around December 25. It's also a less obvious homage to the holiday than other winter names, so it's perfect for parents who want a subtle reference to their child's birth month.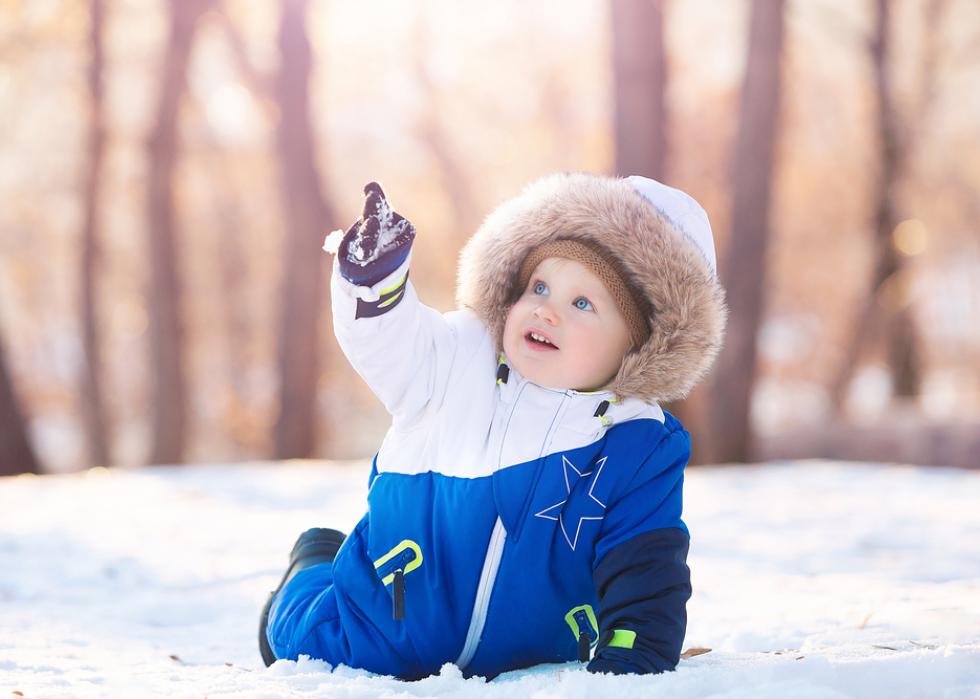 31 / 40
ZephyrMedia // Shutterstock
10. Christian
2016 Name Rank: #46 (Male)
Religious families might want to name a baby boy Christian in an allusion to the Christmas season. Famous men name Christian include designers Christian Dior and Christian Louboutin, as well as actors Christian Bale and Christian Slater.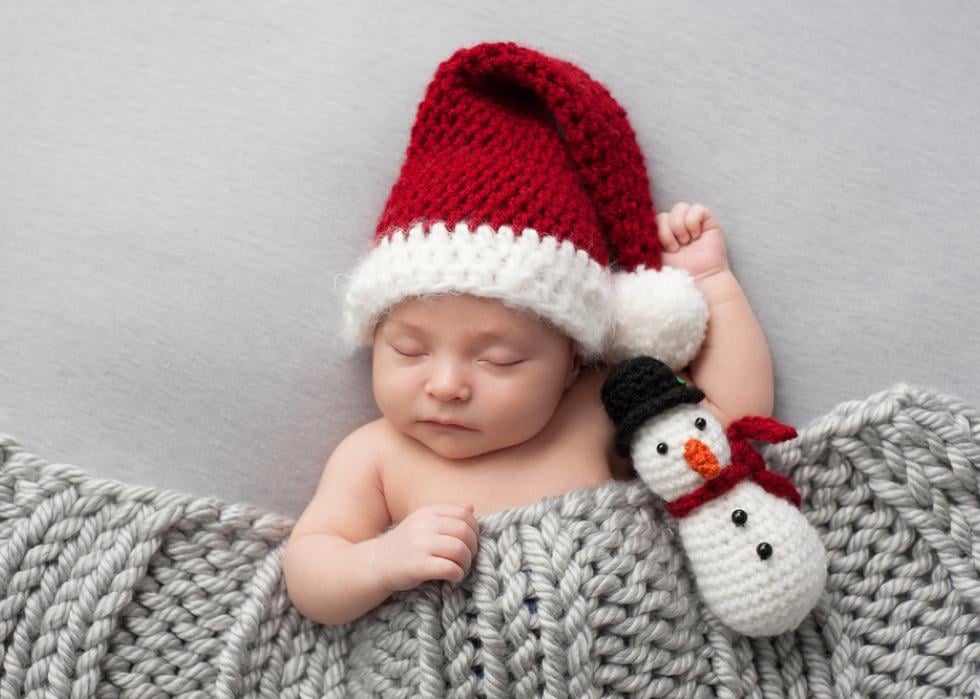 32 / 40
Katrina Elena // Shutterstock
9. Aster
2016 Name Rank: #5023 (Female), #13105 (Male)
A derivative of asteri, the Greek word for star, this name could be given to either a boy or a girl—though it's more popular as a female name. Christians will recognize it as a nod to the Star of Bethlehem, while secular families could simply see this as a reference to a winter's night sky.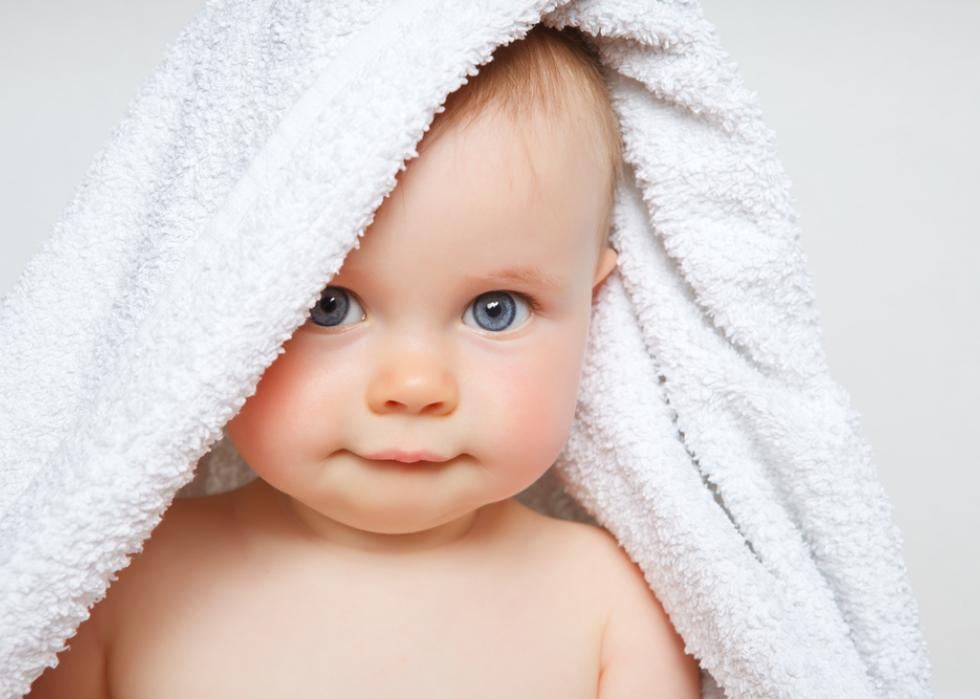 33 / 40
Ramona Heim // Shutterstock
8. Judah
2016 Name Rank: #234 (Male)
According to the Talmud, Judah Maccabee witnessed the Hanukkah miracle: when the menorah in the sacred temple continued to burn for eight nights, even though they only had enough oil to light it for one. The name Judah means also means "praised" in Hebrew.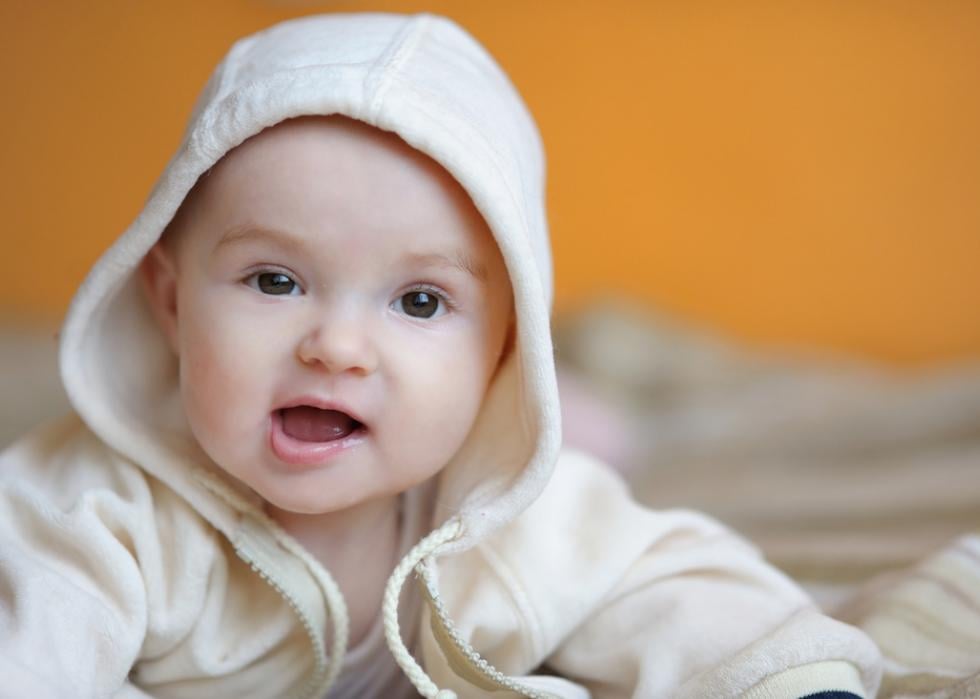 34 / 40
7. Crispin
2016 Name Rank: #5880 (Male)
Crispin means "curly haired" in Latin, but that doesn't mean only babies with ringlets can have the name—it also conjures up images of a crisp, dry winter's day.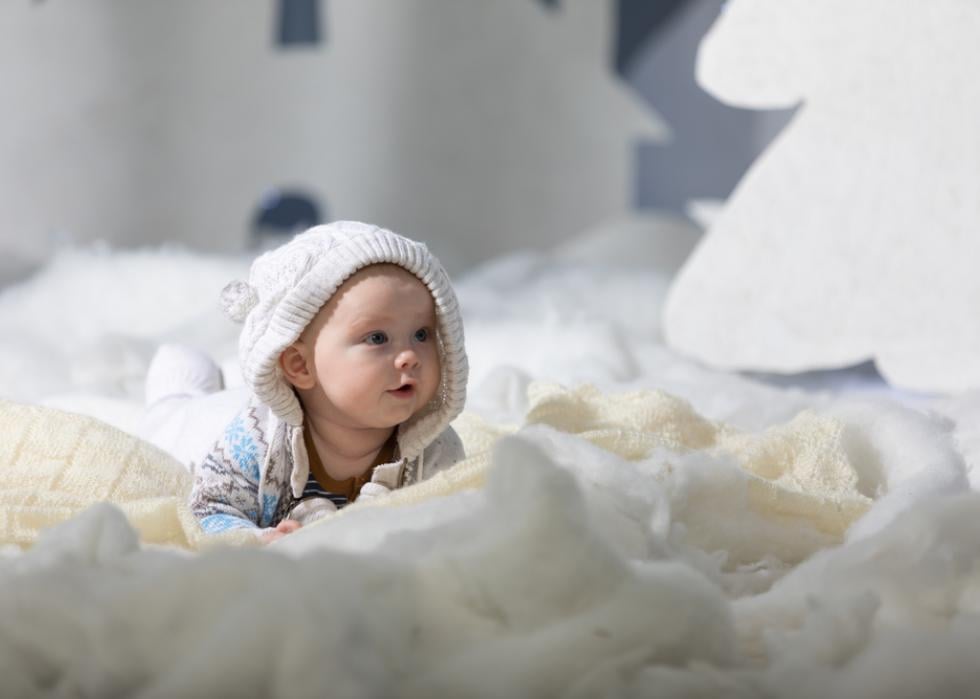 35 / 40
Dmitrii Erekhinskii // Shutterstock
6. Frost
2016 Name Rank: #9101 (Male)
The theme of natural names continues with Frost, a reference to the character Jack Frost and frigid winter temps. You could even decorate the nursery in icy blues, metallic silver, and pure white to continue the winter theme.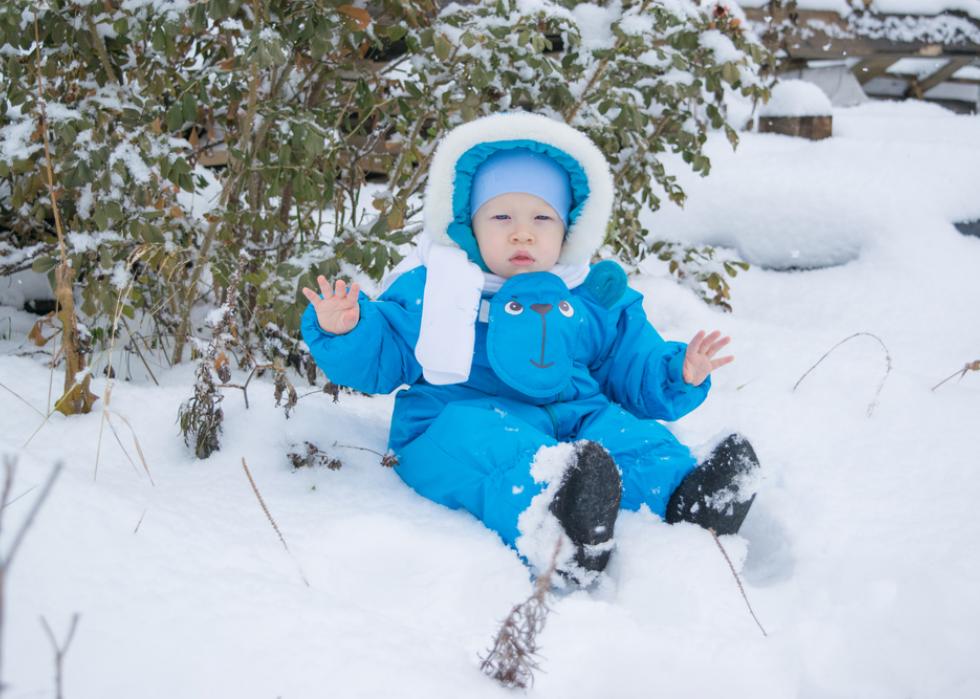 36 / 40
Anastasia Davydova // Shutterstock
5. Claus
2016 Name Rank: #12939 (Male)
Americans might hear the name Claus and immediately think of Santa Claus, but the name also means "people's victory" in Greek. And presents for every good little boy and girl on Christmas Day is a sort of people's victory, isn't it?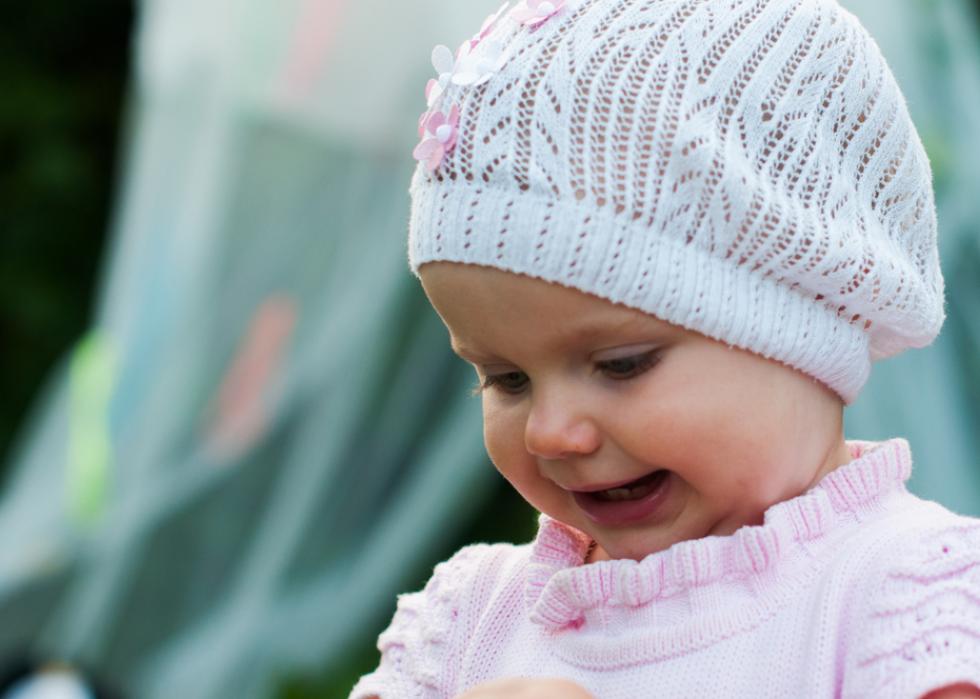 37 / 40
ShevarevAlex // Shutterstock
4. Solstice
2016 Name Rank: #12514 (Female)
December 21 marks  Winter Solstice, the day of the year when the earth receives the least daylight. As a name, Solstice means "the point at which the sun stands still"—an especially moving description of the feeling new parents get when their first child is born.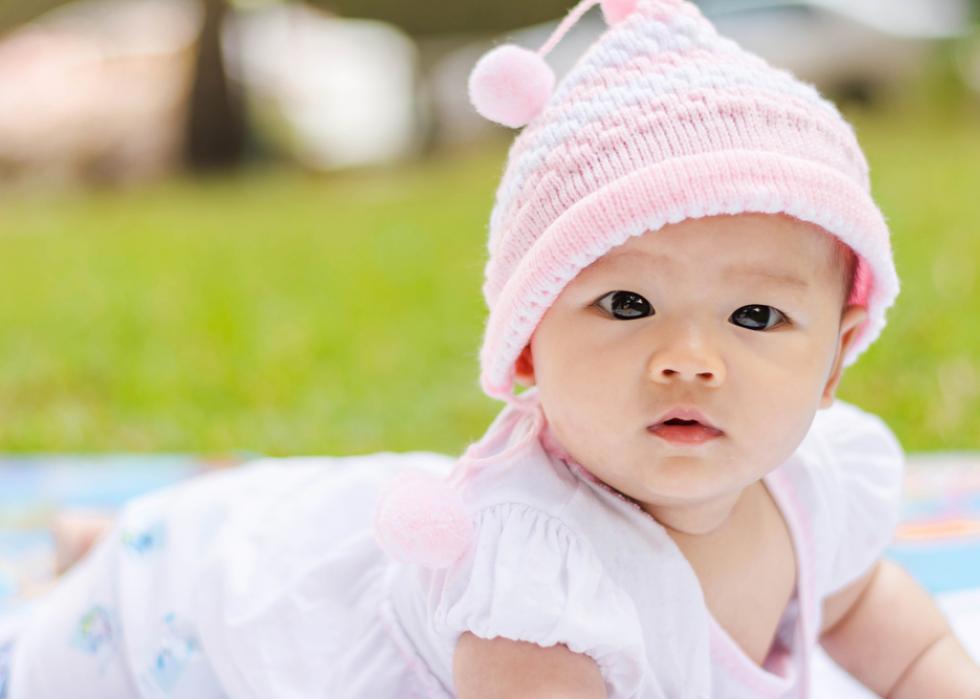 38 / 40
Yupa Watchanakit // Shutterstock
3. Alba
2016 Name Rank: #1725 (Female)
Since the name Alba comes from the Latin root meaning "white," it would be a poetic way to commemorate the snowy winter's day of your daughter's birth. As it's also the feminine form of Albus, fans of the Harry Potter series could use the name as a way to pay tribute to beloved Professor Albus Dumbledore.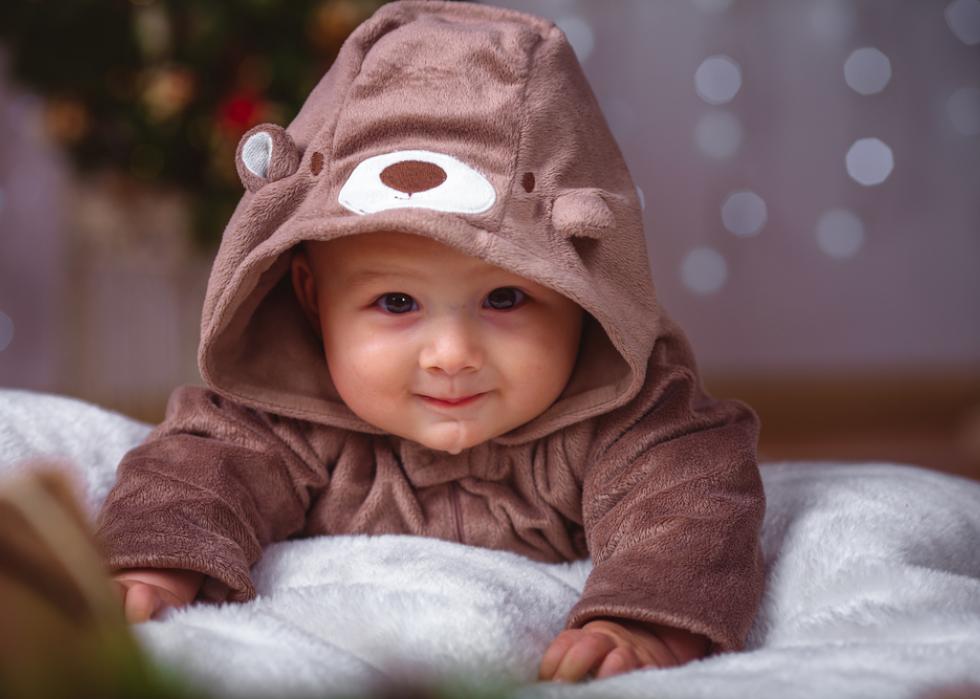 39 / 40
milaphotos // Shutterstock
2. Whittaker
2016 Name Rank: #4120 (Male)
Though Whittaker sounds more like a surname, it also works nicely as a first name—which originates in the United Kingdom and means "of the white field." If Whittaker feels like too much of a mouthful for everyday use, you could always give your son the nickname Whit.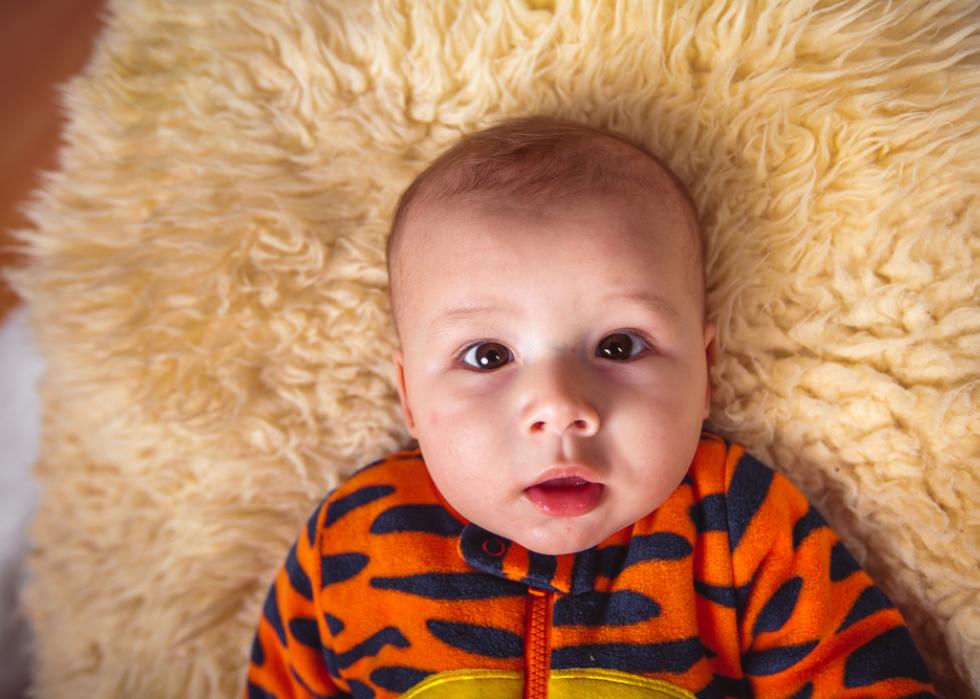 40 / 40
milaphotos // Shutterstock
1. Vale
2016 Name Rank: #3283 (Female), #11385 (Male)
Today show viewers might recognize this name: anchor Savannah Guthrie named her daughter Vale in 2014. The unisex name, which originated as an archaic term for a valley, is still fairly rare. Only 49 girls and 6 boys were named Vale in the U.S. in 2016. All you have to do is imagine a sparkling valley between two snow-covered hills to understand why Vale makes such a lovely name for a winter baby.