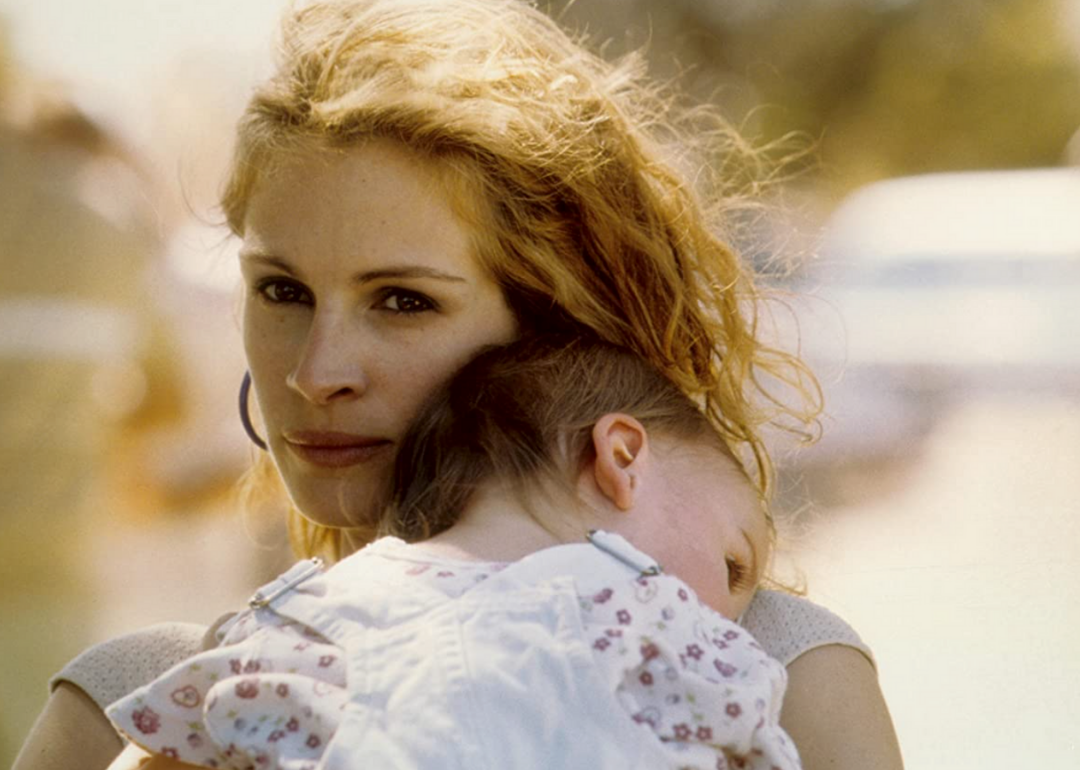 25 memorable mothers across film history
25 memorable mothers across film history
Mothers come in all shapes and sizes: Some are maternal mavens baking cookies and healing every hurt. Others are wicked warriors balancing work and childcare. These women sacrifice, juggle, and give everything to raise their children. In films, mothers are equally as diverse.
Stacker surveyed film history and compiled a list of movies across decades, countries, and genres with memorable mothers. The films on the list are ranked by IMDb user rating, with ties broken by votes. To qualify, the film had to have at least 5,000 IMDb votes.
These films represent the cultural diversity of motherhood throughout the world. They are single, widowed, and married. They portray the wide spectrum of emotions every mother feels when doing one of the hardest and most rewarding jobs in the world, raising a child. The women on this list fight to balance dreams they thought were long dead with meeting the demands of caring for another human. They go to any means necessary to protect their children—they save, advocate, and nurture.
Join Stacker as we visit some of the most memorable mothers ever captured on celluloid.
You may also like: The best streaming services in 2021
#25. Mrs. O'Brien in 'The Tree of Life' (2011)
- Director: Terrence Malick
- IMDb user rating: 6.8
- Metascore: 85
- Runtime: 139 minutes
Awarded the Palme d'Or at the 2011 Cannes Film Festival, "The Tree of Life" relays a man's memories of his childhood in Texas while interspersing imagery of the evolution of life and the universe. Jessica Chastain portrays the mother of three boys in the 1950s, and she is both gentle and loving. As Mrs. O'Brien, Chastain is a typical woman of her time and a softer version of her strict husband played by Brad Pitt.
#24. Amelia Vanek in 'The Babadook' (2014)
- Director: Jennifer Kent
- IMDb user rating: 6.8
- Metascore: 86
- Runtime: 94 minutes
Amelia Vanek has lived in a perpetual state of unrest since her husband's death on the night she gave birth to their son Samuel, who has proven to be a difficult child. When a strange book called "Mister Babadook" arrives, it seems to cause unnatural things to happen to Samuel and Amelia. In the film, Amelia is a complicated portrait of a mother trying to raise her child alone, while wading through the muddy waters of grief and depression.
#23. Carolyn in 'Crooklyn' (1994)
- Director: Spike Lee
- IMDb user rating: 7.0
- Metascore: 65
- Runtime: 115 minutes
In this semi-autobiographical film about a large family in 1970s Brooklyn, Alfre Woodard plays the mother, Carolyn. A school teacher, she cares for her large brood, and is both loving and strict. Carolyn is based on director Spike Lee's own mother; the film was co-written with his sister, Joie Lee, and brother, Cinqué Lee.
#22. Tish in 'If Beale Street Could Talk' (2018)
- Director: Barry Jenkins
- IMDb user rating: 7.1
- Metascore: 87
- Runtime: 119 minutes
Based on James Baldwin's novel, "If Beale Street Could Talk" is the story of a young couple, Tish and Fonny, whose lives are derailed when Fonny is accused of a crime he did not commit. The film is powerful not only in its portrayal of mother-to-be Tish, but also of the mothers who rally around her and hold her up including her own mother in the film, played by Regina King, who won an Oscar for the role.
#21. Roz in 'Eve's Bayou' (1997)
- Director: Kasi Lemmons
- IMDb user rating: 7.3
- Metascore: 78
- Runtime: 109 minutes
"Eve's Bayou" marked the debut of writer-director Kasi Lemmons and tells the story of 10-year-old Eve Batiste, who leads a seemingly idyllic life in rural Louisiana until she learns of her father's infidelity. Eve's mother Roz is played by Lynn Whitfield, who does her best to keep the family intact as it falls apart under the weight of secrets that threaten to destroy them. Writing for Vulture, Angelica Jade Bastién notes of Whitfield's performance, "She plays Roz with a cool, manicured façade that gives way to a primal scream roiling underneath."
You may also like: 100 best John Wayne movies
#20. Alice in 'Alice Doesn't Live Here Anymore' (1974)
- Director: Martin Scorsese
- IMDb user rating: 7.3
- Metascore: 78
- Runtime: 112 minutes
Ellen Burstyn plays a widowed woman who tries to build a brand new life with her 12-year-old son after her abusive husband is killed in an accident. Alice struggles with balancing her own dreams of a singing career with her responsibilities as a mother, reflecting the burgeoning women's movement of the time and the difficult balance motherhood often requires. The film saw a spinoff with the 1976 sitcom "Alice" starring Linda Lavin.
#19. Dorothea Fields in '20th Century Women' (2016)
- Director: Mike Mills
- IMDb user rating: 7.3
- Metascore: 83
- Runtime: 119 minutes
This film set in the late 1970s in Southern California focuses on three women living communally and working together to raise a teenage boy. Annette Bening plays divorced mother Dorothea Fields, a Birkenstocked force. Writing for the New York Times, Manohla Dargis calls Dorothea "satisfyingly complex, especially for a movie mother."
#18. Ed in 'Raising Arizona' (1987)
- Directors: Joel Coen, Ethan Coen
- IMDb user rating: 7.3
- Metascore: 69
- Runtime: 94 minutes
A former police officer, played by Holly Hunter, and an ex-convict, played by Nicolas Cage, steal a baby who is one of quintuplets in this dark comedy crime caper. Hunter plays a woman who wants motherhood so badly that she will do anything (including kidnapping) to make that happen. Though her maternal instincts are strong, she often goes about things in the wrong way, like when she sings Nathan Junior a lullaby that is an Appalachian murder ballad.
#17. Erin in 'Erin Brockovich' (2000)
- Director: Steven Soderbergh
- IMDb user rating: 7.4
- Metascore: 73
- Runtime: 131 minutes
Julia Roberts plays an unemployed, down on her luck single mom turned legal assistant and advocate Erin Brockovich in this award-winning film, which snagged Roberts the Oscar for Best Actress in a Leading Role. The film was memorable not only for portraying Brockovich as a tougher than nails single mother getting things done, but also for earning Roberts an unprecedented salary for a female actor.
#16. Eva Khatchadourian in 'We Need to Talk About Kevin' (2011)
- Director: Lynne Ramsay
- IMDb user rating: 7.5
- Metascore: 68
- Runtime: 112 minutes
Based on the novel by Lionel Shriver, "We Need to Talk About Kevin" taps into the darkest aspects of motherhood and what it would be like to raise a criminally violent child. While Kevin has a seemingly loving relationship with his father, he is hostile toward his mother, played by Tilda Swinton, and she feels an unattached ambivalence toward him. When trying to find a publisher for his book, Shriver had difficulty because of her portrayal of Kevin's mother in the book.
You may also like: The stories behind your favorite Wes Anderson movies
#15. Cary in 'All That Heaven Allows' (1955)
- Director: Douglas Sirk
- IMDb user rating: 7.6
- Metascore: data not available
- Runtime: 89 minutes
In this classic film, wealthy widow Cary falls in love with her much younger gardener Ron, much to the chagrin of her friends and grown children. When she decides to marry him and sell the family home, her children vow to never speak to her again. Cary chooses her children and her social standing in the community over Ron, and soon is upset to learn the children she sacrificed for are both going off on their own and want to sell the family house.
#14. Nai Nai and Lu Jian in 'The Farewell' (2019)
- Director: Lulu Wang
- IMDb user rating: 7.6
- Metascore: 89
- Runtime: 100 minutes
Ripped from the director's own experiences, "The Farewell" first aired in 2016 as an episode of "This American Life." The film is a fictionalized version of the true story, following a young woman, Billi, who returns to China when she finds out her grandmother, Nai Nai, is dying of cancer. The family decides not to tell Nai Nai about her diagnosis and they get together under the pretense of a big wedding. Some of the most poignant scenes are those shared between Billi and her mother, who do not share the closeness Billi shares with her grandmother.
#13. Jeanne in 'Jeanne Dielman, 23, quai du commerce, 1080 Bruxelles' (1975)
- Director: Chantal Akerman
- IMDb user rating: 7.8
- Metascore: data not available
- Runtime: 202 minutes
In this French film, a widowed housewife and mother, Jeanne Dielman, turns the occasional trick while toiling the days away. The film, shot with an all-female cast in real-time, focuses on Jeanne's life. Her obsessive behaviors were supposedly inspired by the filmmaker's mother, actress Natalia Akerman.
#12. Mother in 'Mother' (2009)
- Director: Bong Joon Ho
- IMDb user rating: 7.8
- Metascore: 79
- Runtime: 129 minutes
This South Korean thriller finds a young man of limited intellect charged with murder. His mother, known only as Mother in the film, works tirelessly to prove his innocence. Roger Ebert called the mother, played by South Korean actress Kim Hye-ja, "a force of nature."
#11. Manuela in 'All About My Mother' (1999)
- Director: Pedro Almodóvar
- IMDb user rating: 7.8
- Metascore: 87
- Runtime: 101 minutes
In the Spanish film "All About My Mother," a mother looks for her son's father, many years after she had the child in secret. The relationships that result on her journey are a major focus of the film. Director Pedro Almodóvar dedicated the film to Bette Davis, Gena Rowlands, and Romy Schneider.
You may also like: The best streaming services for sports in 2021
#10. Joanna in 'Kramer vs. Kramer' (1979)
- Director: Robert Benton
- IMDb user rating: 7.8
- Metascore: 77
- Runtime: 105 minutes
Starring Meryl Streep and Dustin Hoffman, this film features a couple weathering divorce and the custody battle for their child. Streep plays a mother tired of her advertising executive husband, who is not invested in their family. Feeling both underwhelmed and overwhelmed by her situation at home, she walks out on him and their son Billy to go find herself. Streep won an Oscar for her portrayal of Joanna Kramer, a character drawn from Avery Corman's 1977 novel.
#9. Marmee in 'Little Women' (2019)
- Director: Greta Gerwig
- IMDb user rating: 7.8
- Metascore: 91
- Runtime: 135 minutes
Based on the novel by Louisa May Alcott, the film chronicles the lives of the four March sisters, Meg, Jo, Beth, and Amy, as they live and love during and following the Civil War. The girls' mother is known simply as Marmee, just as Abigail May Alcott, Louisa's mother, was. In the 2019 adaptation, Laura Dern plays Mrs. March as a benevolent and wise matriarch keeping her family together during the war.
#8. Melinda Dillon in 'A Christmas Story' (1983)
- Director: Bob Clark
- IMDb user rating: 7.9
- Metascore: 77
- Runtime: 93 minutes
Melinda Dillon plays the patient wife and mother who protects her boys from the local bully and their father's potential scorn in this Christmas classic set in the 1940s. The film focuses on young Ralphie, a boy who does his best to convince his parents, teachers, and Santa that he needs a Red Ryder BB gun under his Christmas tree.
#7. Mildred in 'Mildred Pierce' (1945)
- Director: Michael Curtiz
- IMDb user rating: 8.0
- Metascore: 88
- Runtime: 111 minutes
Based on the novel by James M. Cain, "Mildred Pierce" stars Joan Crawford in an Oscar-winning role. Mildred is a mother who toils as a waitress to provide the best for her family, and eventually becomes a restaurateur, all in an effort to impress her snobbish teenage daughter Veda. Writing for the Criterion Collection, Imogen Sara Smith notes, "In this fatally unhealthy relationship, it is the mother who fears the daughter's judgment."
#6. Mrs. Robinson in 'The Graduate' (1967)
- Director: Mike Nichols
- IMDb user rating: 8.0
- Metascore: 83
- Runtime: 106 minutes
The film focuses on Benjamin Braddock, a recent college graduate, and the summer he spends upon his return home. Benjamin is seduced by the older and more experienced Mrs. Robinson, who tells him to stay away from her college-aged daughter. A love triangle ensues between mother, daughter, and Benjamin, with Mrs. Robinson doing everything in her power to control her daughter and her young lover.
You may also like: Best Picture-winner from the year you were born
#5. Liu's mother in 'Minding the Gap' (2018)
- Director: Bing Liu
- IMDb user rating: 8.1
- Metascore: 90
- Runtime: 93 minutes
"Minding the Gap" focuses on three young men who escape the harsh realities of their lives in a declining Rust Belt town through skateboarding. The documentary is not only an exploration of skateboarding and friendship, but also a way for Liu to reveal the abuse he suffered at the hands of his stepfather, which he does in a frank discussion with his mother.
#4. Maria Vishnyakova in 'Mirror' (1975)
- Director: Andrei Tarkovsky
- IMDb user rating: 8.1
- Metascore: 80
- Runtime: 107 minutes
A dying man reflects on his life, including his childhood during World War II and his relationship with his mother, in this somewhat autobiographical Russian film. The younger version of the filmmaker's mother is played by actress Margarita Terekhova while his actual mother, Maria Vishnyakova, also appears as her older self in the film.
#3. Mabel in 'A Woman Under the Influence' (1974)
- Director: John Cassavetes
- IMDb user rating: 8.2
- Metascore: 88
- Runtime: 155 minutes
Nick (Peter Falk) loves his wife Mabel (Gena Rowlands), but he also realizes her mental illness is debilitating, and that she seems unsure of her abilities to mother her children. Afraid she may pose a danger to their children, he has her committed and is left alone to care for the kids. Writing for The New York Times, Nora Sayre says of the director, "Mr. Cassavetes is unquestionably sympathetic to the rootless state of the middle-American housewife."
#2. Wendy in 'The Shining' (1980)
- Director: Stanley Kubrick
- IMDb user rating: 8.4
- Metascore: 66
- Runtime: 146 minutes
In this film based on the classic horror novel by Stephen King, a family in crisis heads to a remote hotel where the father, Jack Torrance, works as a winter caretaker. Shelley Duvall plays Wendy, his wife, and the mother to their son, Danny, who has special abilities that add to the horror. Wendy is a woman on the edge trying to balance her husband's issues, while trying to care for her son, and she ultimately finds strength she didn't even know she had.
#1. Mrs. Gump in 'Forrest Gump' (1994)
- Director: Robert Zemeckis
- IMDb user rating: 8.8
- Metascore: 82
- Runtime: 142 minutes
"Forrest Gump" chronicles the unbelievable adventures of a man from Alabama with a low IQ. His mother, played by Sally Field, becomes his protector, advocate, and biggest cheerleader, showing him that all the wonders of the world can still belong to him, despite his challenges.
You may also like: 50 best space movies of all time