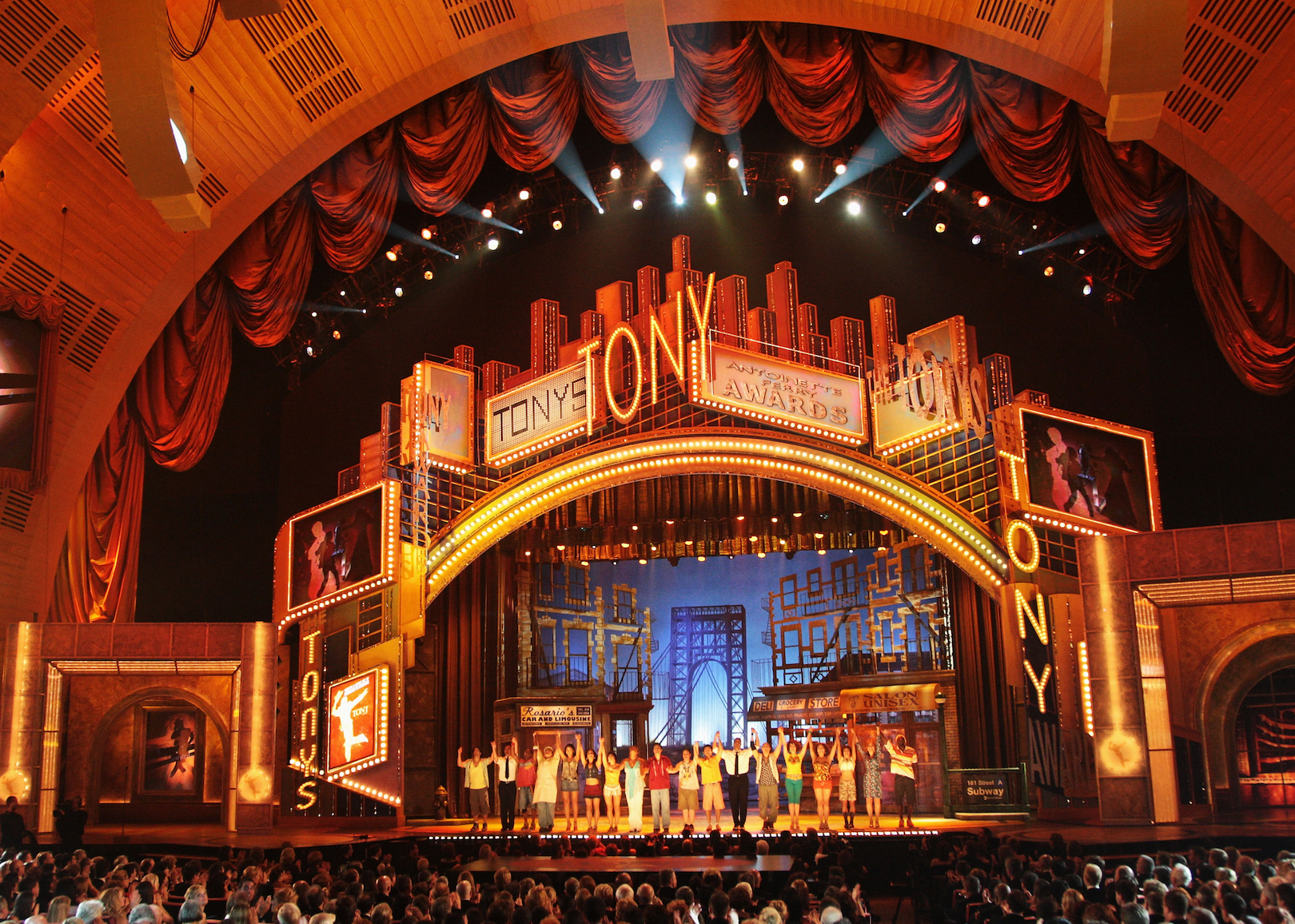 Movie actresses who have won a Tony Award for Leading Actress
Andrew H. Walker // Getty Images
Movie actresses who have won a Tony Award for Leading Actress
Despite some general commonalities, the respective worlds of Broadway theater and Hollywood cinema take starkly different approaches toward acting. Whereas movie actors are largely tasked with fulfilling a director's vision of the material, stage actors rely on a distinct set of physical and visceral skills to forge a direct connection with the audience. Additionally, there are no cuts or camera angles in the average play, meaning each performer has to be completely impactful and on-point from beginning to end through their performance skills alone. It's then all the more impressive when well-known film actresses transition into theater to award-winning effect.
Since many professional acting journeys begin on the stage, it also marks a return to one's roots when a popular film actress forays into theater. That's, of course, in reference to the actresses who are in the midst of Hollywood careers when they decide to headline a major play. Just as plentiful are the examples of talented thespians who launched their careers on stage before making it big in Hollywood. Ultimately, there is no set of rules by which to abide, since an actor rarely knows which scripts or roles will inspire her, or where the next opportunity will come from.
Today, Stacker celebrates movie actresses who have won a Tony Award for Best Actress in a Musical or Best Actress in a Play up through 2018. For the list, Stacker went through the Internet Broadway Database (IBDB) and manually picked out 50 actresses who are also Hollywood stars. The majority of these actresses remain best known for their film output, though a handful are (or were) stage veterans who occasionally appeared on the big screen. Without further delay, here are 50 movie actresses who have won a Tony Award for Leading Actress.
You may also like: Most successful musical artists of all time
Ingrid Bergman
- Title: "Joan of Lorraine" (Play)
- Year: 1947
Swedish icon Ingrid Bergman tackled dual roles for this play-within-a-play, starring as both Joan of Arc and the actress who portrayed her. For her performance, Bergman received one of the first-ever Tony Awards for Best Actress. She reprised her role as Joan of Arc in a subsequent film adaptation, which delivered a more straightforward account of the martyr's life.
Judith Anderson
- Title: "Medea" (Play)
- Year: 1948
British actress Judith Anderson portrayed the title character in this adaptation of a Greek tragedy, about a former princess who takes revenge upon her unfaithful husband. It first ran in London's National Theatre before moving to Broadway's Royale Theatre (now known as Bernard B. Jacobs Theatre), delivering 214 performances in total. In 1982, Anderson starred as the nurse in yet another adaptation of the same source material.
Ethel Merman
- Title: "Call Me Madam" (Musical)
- Year: 1951
Ethel Merman was already "the Undisputed First Lady of the musical comedy stage" by the time she headlined the original production of this Broadway musical. Centering on the exploits of a Washington D.C. hostess-turned-political-ambassador, it sold a record-breaking number of advance tickets. No stranger to the big screen, Merman also starred in the 1953 film adaptation.
Rosalind Russell
- Title: "Wonderful Town" (Musical)
- Year: 1953
Featuring music from composer Leonard Bernstein, "Wonderful Town" premiered on Broadway in 1953 and went on to win five Tony Awards. Rosalind Russell appeared in both the original production and a subsequent TV movie version as Ruth Sherwood, an aspiring actress and singer who lives in New York City with her sister. This was one of four Broadway productions to star Russell, whose career in film was far more prolific.
Audrey Hepburn
- Title: "Ondine" (Play)
- Year: 1954
The same year she won an Oscar for her breakout role in "Roman Holiday," Audrey Hepburn snagged a Tony Award for her turn in this Broadway play. She starred as the title character, a magical water-sprite who gets lured into the world of mortal men. The second of two acclaimed Broadway performances, it marked her last appearance as a stage actress.
Nancy Kelly
- Title: "The Bad Seed" (Play)
- Year: 1955
William March's 1954 novel provided the inspiration for this hit Broadway play, starring former child actress Nancy Kelly as a mother named Christine Penmark. After a young girl mysteriously drowns, Christine suspects that her seemingly perfect daughter, Rhoda, might actually be a homicidal maniac. Kelly also starred in the 1956 film adaptation, which sparked a horror trope so classic that it's since become a long-running sub-genre.
Judy Holliday
- Title: "Bells Are Ringing" (Musical)
- Year: 1957
Judy Holliday was best known for playing Billie Dawn in both the stage and screen versions of "Born Yesterday" by the time she headlined this Broadway musical. Her Tony-Award-winning turn as Ella Peterson came on the heels of a publicized investigation, during which she purposefully played dumb while answering for her supposed communist ties. In 1960, Holliday reprised the role of Peterson for a film adaptation.
Anne Bancroft
- Title: "The Miracle Worker" (Play)
- Year: 1960
After snagging a Tony Award for her performance in this celebrated Broadway play, Anne Bancroft went on to win an Oscar in the film adaptation. In both versions she played Annie Sullivan, the blind tutor to Helen Keller. A genuinely versatile talent, Bancroft would star in multiple plays, TV shows, and films throughout her career.
Joan Plowright
- Title: "A Taste of Honey" (Play)
- Year: 1961
In the midst of a meteoric stage career, Dame Joan Plowright played working-class teen Josephine in the Broadway production of this poignant drama. Set largely in a squalid flat in 1950s England, it chronicles the exploits of Josephine and her crude mother (Angela Lansbury). British dramatist Shelagh Delaney was just 19 years old when she wrote the play, which originally debuted in London with a different cast.
Vivien Leigh
- Title: "Tovarich" (Musical)
- Year: 1963
With a number of iconic stage and screen performances already under her belt, actress Vivien Leigh starred as Russian exile Tatiana in this Broadway musical. Set in the wake of the Russian Revolution, the story follows Tatiana and her consort (Jean-Pierre Aumont) as they struggle to survive in Paris. Leigh dropped out of the production early due to a bout of depression, but still snagged a Tony Award for her performance.
Sandy Dennis
- Title: "Any Wednesday" (Play)
- Year: 1964
This classic romantic comedy ran for 983 performances on Broadway and paved the way for a big screen adaptation. Accomplished actress Sandy Dennis earned a second Tony Award for her turn as Ellen, a Manhattan woman who must decide between two suitors. Playing one of the suitors was Gene Hackman, in a role that helped launch his film career.
Rosemary Harris
- Title: "The Lion in Winter" (Play)
- Year: 1966
Stage veteran Rosemary Harris has no less than 27 Broadway credits to her name, including the role of Eleanor in the original production of this oft-revived play. Set on Christmas in 1183, the story depicts the ongoing drama between King Henry II (Robert Preston) and his various family members. An official inductee in the American Theatre Hall of Fame, Harris can currently be seen in the Broadway revival of "My Fair Lady."
Tammy Grimes
- Title: "Private Lives" (Play)
- Year: 1970
A decade after winning her first Tony Award (for Best Featured Actress in a Musical), Tammy Grimes earned a second one for her portrayal of Amanda Prynne in this Broadway revival. It finds the remarried members of a divorced couple taking their respective honeymoons at the same hotel. Grimes is just one among a number of famous actresses to have tackled the role of Prynne, who's also been played by Elizabeth Taylor, Tallulah Bankhead, Elaine Stritch, Maggie Smith, Kim Cattrall, and many others.
Maureen Stapleton
- Title: "The Gingerbread Lady" (Play)
- Year: 1971
At the height of her career, Maureen Stapleton starred as recovering alcoholic singer Evy Meara in this Neil Simon drama. Upon returning from rehab, Meara struggles to put the pieces of her life back together. It was reported that Simon based the character on Stapleton's own tumultuous life, though they would both refute this claim. Stapleton would go on to star in films and TV, winning both an Emmy and an Oscar.
Alexis Smith
- Title: "Follies" (Musical)
- Year: 1972
Alexis Smith starred in multiple films and stage productions before making her Broadway debut in this Stephen Sondheim musical, about the exploits of two former showgirls. The original production ran for a total of 522 performances at the Winter Garden Theatre and won seven Tony Awards. It has since been revived numerous times.
Virginia Capers
- Title: "Raisin" (Musical)
- Year: 1974
Modern audiences might recognize Virginia Capers from her multiple appearances in movies and on TV shows, including a recurring role as Hattie Banks on "The Fresh Prince of Bel-Air." She played Mama Lena Younger in "Raisin," a musical version of the iconic play "A Raisin in the Sun." The show ran on Broadway for a total of 847 performances.
Ellen Burstyn
- Title: "Same Time, Next Year" (Play)
- Year: 1975
Actress Ellen Burstyn is among the relative few to achieve the Triple Crown of Acting, having won an Academy Award, Emmy Award, and Tony Award. Her film career was in full swing when she starred opposite Charles Grodin in the original production of this Broadway hit, which centers on the annual trysts between two cheating spouses. She would go on to win a Golden Globe Award and receive an Academy Award nomination for the same role in a big screen adaptation.
Constance Cummings
- Title: "Wings" (Play)
- Year: 1979
What began as a radio play hit the stage at the Yale Repertory Theatre in New Haven, Conn., before moving to Broadway's Lyceum Theatre in 1979. Seasoned stage actress Constance Cummings—who was part of the original cast—tackled the challenging role of stroke victim Emily Stilson. The show ended after just 113 performances, but it was revived and filmed in 1983 for an episode of "American Playhouse."
Lily Tomlin
- Title: "The Search for Signs of Intelligent Life in the Universe" (Play)
- Year: 1986
Comedy legend Lily Tomlin returned to Broadway in the 1980s for her second one-woman show, written by then-partner (now wife) Jane Wagner. The performance featured Tomlin playing a variety of classic characters, while also examining prescient themes through a critical lens. It was followed by a filmed version in 1991 and a revival in 2000.
Bernadette Peters
- Title: "Song and Dance" (Musical)
- Year: 1986
Bernadette Peters starred in a slew of Broadway musicals throughout her accomplished career, winning big for this one from Andrew Lloyd Webber. Chronicling the romantic misadventures of a young British woman, it dedicates one act entirely to "Song" and the other act entirely to "Dance." The show premiered in London and ran for 781 performances before making its way to Broadway, which was when Peters joined the cast.
Joan Allen
- Title: "Burn This" (Play)
- Year: 1988
Joan Allen honed her craft at the prestigious Steppenwolf Theatre Company before joining the original production of this harrowing drama, which explored themes of gay identity in lower Manhattan. It opened off-Broadway in New York's Theater 890 and later moved to Plymouth Theatre, where it ran for 437 performances. Actor John Malkovich was also featured in the original cast.
Joanna Gleason
- Title: "Into the Woods" (Musical)
- Year: 1988
"Into the Woods" ranks among the most iconic musicals of the modern era, and actress Joanna Gleason was part of the original cast. She tackled the role of the Baker's Wife and experienced whiplash when her name was announced at the Tony Awards. The Stephen Sondheim musical was followed by numerous revivals and a big screen adaptation starring Meryl Streep.
Maggie Smith
- Title: "Lettice and Lovage" (Play)
- Year(s): 1990
Playwright Peter Shaffer wrote the part of Lettice Douffet specifically for Maggie Smith, one of England's most recognizable actresses. She starred in both the original London production and subsequent American production, bringing her back to Broadway for the first time in 10 years. Rife with quintessential British humor, the play centers on the relationship between a flamboyant tour guide (Smith) and a stodgy official.
Faith Prince
- Title: "Guys and Dolls" (Musical)
- Year: 1992
Broadway regular Faith Prince is no stranger to popular revivals, including this one from the early to mid-1990s. The thespian's performance as Miss Adelaide earned her not just a Tony Award, but a Drama Desk and an Outer Critics Circle Award as well. The acclaimed musical first premiered in 1950 and has seen numerous adaptations in the time since.
Madeline Kahn
- Title: "The Sisters Rosensweig" (Play)
- Year: 1993
Distinguished by her singular voice and brilliant comedic talent, Madeline Kahn enjoyed a long career on both stage and screen. She was nominated for two Tony Awards before landing the role of Gorgeous Teitelbaum in this Broadway play, finally taking home the honor. Written by Wendy Wasserstein, the story chronicles the lives of three Jewish-American sisters.
Bebe Neuwirth
- Title: "Chicago" (Musical)
- Year: 1997
Reuniting with theater legend Bob Fosse, "Frasier" regular Bebe Neuwirth starred in what eventually became the second-longest-running musical revival in Broadway history. She would later claim that playing the role of Velma was "like performing microsurgery from 8–10:20." After leaving the production, Neuwirth returned on two separate occasions to portray the characters of Roxie Hart and "Mama" Morton, respectively.
Judi Dench
- Title: "Amy's View" (Play)
- Year: 1999
An accomplished actress in every conceivable sense, Dame Judi Dench began her professional stage career at England's distinguished Old Vic Company. She later won a Tony Award for her performance as Esme Allen in the original production of "Amy's View," which premiered in London before moving to Broadway. As with a number of works by Sir David Hare, the play delivered a critique of British society while exploring themes of love, sacrifice, and redemption.
Jennifer Ehle
- Title: "The Real Thing" (Play)
- Year: 2000
Actress Jennifer Ehle won the first of two Tony Awards for her Broadway debut, starring as Annie in this revival of a Tom Stoppard drama. Employing a range of unconventional narrative devices, the play chronicles the romance between a political activist (Ehle) and a struggling writer. During the play's initial run on Broadway, actress Glenn Close won a Tony Award for the same role.
Mary-Louise Parker
- Title: "Proof" (Play)
- Year: 2001
Mary-Louise Parker is such a fixture on screens both big and small that audiences might be surprised by her impressive stage resumé. She played math genius Catherine in the original production of this powerful drama, which was later adapted as a feature film. In addition to winning a Tony Award for Best Actress in a Play, Parker snagged an Outer Critics Circle Award, a Drama League Award, and a Drama Desk Award for her performance.
Vanessa Redgrave
- Title: "Long Day's Journey into Night" (Play)
- Year: 2003
Despite her successful career as a film actress, American Theatre Hall of Fame inductee Vanessa Redgrave rarely strayed too far from the stage. She starred as Mary Cavan Tyrone in the Broadway revival of Eugene O'Neill's drama, "Long Day's Journey into Night." Set over the course of a single day, the semi-autobiographical play centers on the grueling conflicts between various members of the Tyrone family.
Idina Menzel
- Title: "Wicked" (Musical)
- Year: 2004
Singer and actress Idina Menzel first caught the public eye for her performance as Maureen Johnson in the hit musical "Rent," paving the way for plenty of subsequent work. In 2004, she won a Tony Award for the role of Elphaba in the original production of "Wicked." The legendary musical debuted at the Gershwin Theatre, where it still runs to this day (with a different cast).
Cynthia Nixon
- Title: "Rabbit Hole" (Play)
- Year: 2006
Two years after the series finale of "Sex and the City," actress and politician Cynthia Nixon returned to the stage for this Pulitzer Prize-winning drama. Depicting tragic circumstances and the occasional comic relief, it follows a woman and her family as they cope with a major loss. The play ran on Broadway for 77 performances and was later turned into a feature film.
Viola Davis
- Title: "Fences" (Play)
- Year: 2010
Viola Davis won both a Tony Award and an Academy Award for this Broadway revival and its follow-up movie adaptation, respectively. Starring opposite Denzel Washington in both versions, she played the wife of a struggling blue-collar worker. The production itself was part of writer August Wilson's "Pittsburgh Cycle" (alternately known as the "Century Cycle"), which examined race relations in the U.S. over time.
Catherine Zeta-Jones
- Title: "A Little Night Music" (Musical)
- Year: 2010
After both the lead actress and first understudy were unable to perform in a West End revival of "42nd Street," 17-year-old Catherine Zeta-Jones landed her first major stage role. Her award-winning Broadway debut came decades later, when she played Desiree in a revival of Stephen Sondheim's "A Little Night Music." Upon leaving the production, Zeta-Jones was replaced by actress Bernadette Peters.
Frances McDormand
- Title: "Good People" (Play)
- Year: 2011
Screen legend Frances McDormand exhibits the kind of talent that nearly every actor aspires to, so it's no surprise that she's just as adept on stage. She played a struggling single mother named Margaret in this blue-collar drama, which debuted at the Manhattan Theatre Club and then moved to Broadway's Samuel J. Friedman Theatre. After winning an Emmy in 2015, McDormand joined the coveted ranks of the Triple Crown of Acting club.
Helen Mirren
- Title: "The Audience" (Play)
- Year: 2015
Peter Morgan's play about the weekly meetings between Queen Elizabeth II and her prime ministers debuted in London's West End and then migrated over to Broadway. Helen Mirren played the queen herself in both iterations, making her the only actress to portray three different queens of England throughout the course of her career. Her accomplishments during various awards seasons are no less prestigious, with a Triple Crown of Acting to show for it.
Jessica Lange
- Title: "Long Day's Journey into Night" (Play)
- Year: 2016
Thanks in part to her Tony-Award-winning performance in this 2016 revival, Jessica Lange is yet another actress with Triple Crown status. Like Vanessa Redgrave (and numerous others) before her, Lange tackled the role of drug-addicted matriarch Mary Tyrone. As these numerous revivals go to show, the play's stark depiction of human struggle is as poignant now as it was when it first appeared over six decades ago.
Cynthia Erivo
- Title: "The Color Purple" (Musical)
- Year: 2016
British actress Cynthia Erivo first played Celie Harris in the original West End revival of "The Color Purple," reprising the role for her Broadway debut. Based on a novel by Alice Walker, the story chronicles Celie's journey as an African American woman living in the South during the first half of the 20th century. It won a 2016 Tony Award for Best Revival of a Musical, with Erivo going home with the trophy for Best Actress.
Laurie Metcalf
- Title: "A Doll's House, Part 2" (Play)
- Year: 2017
Laurie Metcalf has received six Tony Award nominations throughout her long-running career, winning twice. The first award came for her role in the original production of this poignant drama, which picks things up where Henrik Ibsen's iconic play left off. It premiered at the South Coast Repertory before moving to Broadway's John Golden Theatre, where it ran for a total of 172 performances.
Bette Midler
- Title: "Hello, Dolly!" (Musical)
- Year: 2017
With impressive vocal chops and no shortage of acting talent at her disposal, Bette Midler has delivered a number of iconic performances in her lifetime. Among them was her turn as Dolly Gallagher Levi in this acclaimed musical revival, which premiered at the Shubert Theatre on Broadway. The original 1964 production of this same play won a whopping 10 Tony Awards, setting a record at the time.
Helen Hayes
- Titles: "Happy Birthday," "Time Remembered" (Plays)
- Years: 1947, 1958
Widely considered the "First Lady of The American Theatre," Helen Hayes was so prolific that she has both a Broadway theater and an awards ceremony named in her honor. A recipient of the Triple Crown of Acting (plus a Grammy), she starred in approximately 50 Broadway productions. The two plays for which she won a Tony Award for Best Performance by a Lead Actress made deft use of her comedic timing.
Jessica Tandy
- Titles: "A Streetcar Named Desire," "The Gin Game," "Foxfire" (Plays)
- Years: 1948, 1978, 1983
Modern audiences might recognize Jessica Tandy from movies like "Driving Miss Daisy" and "Fried Green Tomatoes," but those performances came at the tail end of a 67-year career. She snagged her first Tony after starring in the original production of "A Streetcar Named Desire," sharing the award with two other actresses in a three-way tie. Upon winning an Oscar in 1990, Tandy achieved the Triple Crown of Acting.
Julie Harris
- Titles: "I Am a Camera," "The Lark, Forty Carats," "The Last of Mrs. Lincoln," "The Belle of Amherst" (Plays)
- Years: 1952, 1956, 1969, 1973, 1977
Stage veteran Julie Harris made her Broadway debut in 1945 and won her first Tony Award seven years later, for the role of Sally Bowles in "I Am a Camera." The play was based on Christopher Isherwood's novel "Goodbye to Berlin," which later inspired the hit musical "Cabaret." Over the course of her legendary career, Harris took home a total of five Tony Awards for Best Performance by a Lead Actress.
Liza Minnelli
- Titles: "Flora the Red Menace," "The Act" (Musicals)
- Years: 1965, 1978
Liza Minnelli's energetic presence and signature vocals have earned her a slate of iconic roles on both stage and screen. She made her Broadway debut as a Depression-era fashion designer named Flora, earning her first Tony Award for the effort. Her second Tony Award was for the role of Vegas nightclub singer Michelle Craig in "The Act," directed by Martin Scorsese.
Angela Lansbury
- Titles: "Mame," "Dear World," "Gypsy," "Sweeney Todd: The Demon Barber of Fleet Street" (Musicals)
- Years: 1966, 1969, 1975, 1979
According to biographer Margaret Bonanno, Angela Lansbury's Tony-Award winning performance in "Mame" made her a "superstar" at the age of 41. The hit musical required Lansbury to undergo extensive song-and-dance training, which paid off in spades. Four more Tony Awards—three of which were for Best Performance by a Lead Actress—would follow.
Lauren Bacall
- Titles: "Applause," "Woman of the Year" (Musicals)
- Years: 1970, 1981
Pivoting from an A-list Hollywood career, Lauren Bacall made just as formidable an impression on the Broadway stage. She won her first Tony Award for the role of Margo Channing in "Applause," a musical adaptation of the 1950 film "All About Eve." Her second Tony came after she starred in "Woman of the Year" as TV newswoman Tess Harding, who struggles to balance her personal and professional life.
Patti LuPone
- Titles: "Evita," "Gypsy" (Musicals)
- Years: 1980, 2008
American Theater Hall of Fame inductee Patti LuPone once described the 1980 musical "Evita" as "the worst experience of my life," despite the fact that she won her first Tony for playing the title role. She later starred as Rose in a revival of "Gypsy," which opened at City Center and then migrated to Broadway's St. James Theatre. That performance earned LuPone not just a Tony Award but also an Outer Critics Circle Award Drama League Award and a Drama Desk Award.
Glenn Close
- Titles: "The Real Thing," "Death and the Maiden," "Sunset Boulevard" (Plays, Musical)
- Years: 1984, 1992, 1995
Actress Glenn Close has famously struggled to walk home with Oscar gold, but she's fared far better at the Tony Awards. On the heels of her 1982 film debut, she starred opposite Jeremy Irons in the original Broadway production of "The Real Thing." She later played the role of Norma Desmond in two separate revivals of "Sunset Boulevard," winning for her performance in the first one.
Donna Murphy
- Titles: "Passion," "The King and I" (Musicals)
- Years: 1994, 1996
Donna Murphy has landed a number of film roles throughout her career, but she's best known as a master of the stage. She scored her first Tony for the role of Fosca in Stephen Sondheim's one-act musical "Passion," about the romance between a young soldier and an ailing woman (Murphy). With its run of 280 performances, the show is the shortest-running winner of the Tony Award for Best Musical.
Cherry Jones
- Titles: "The Heiress," "Doubt" (Plays)
- Years: 1995, 2005
Before it was an acclaimed film starring Philip Seymour Hoffman and Meryl Streep, "Doubt" (also known as "Doubt: A Parable") was a harrowing one-act play. Actress Cherry Jones tackled the role of Sister Aloysius in the original production, which opened off-Broadway before transferring to the Walter Kerr Theatre. It ran for 525 performances and earned Jones her second Tony Award.