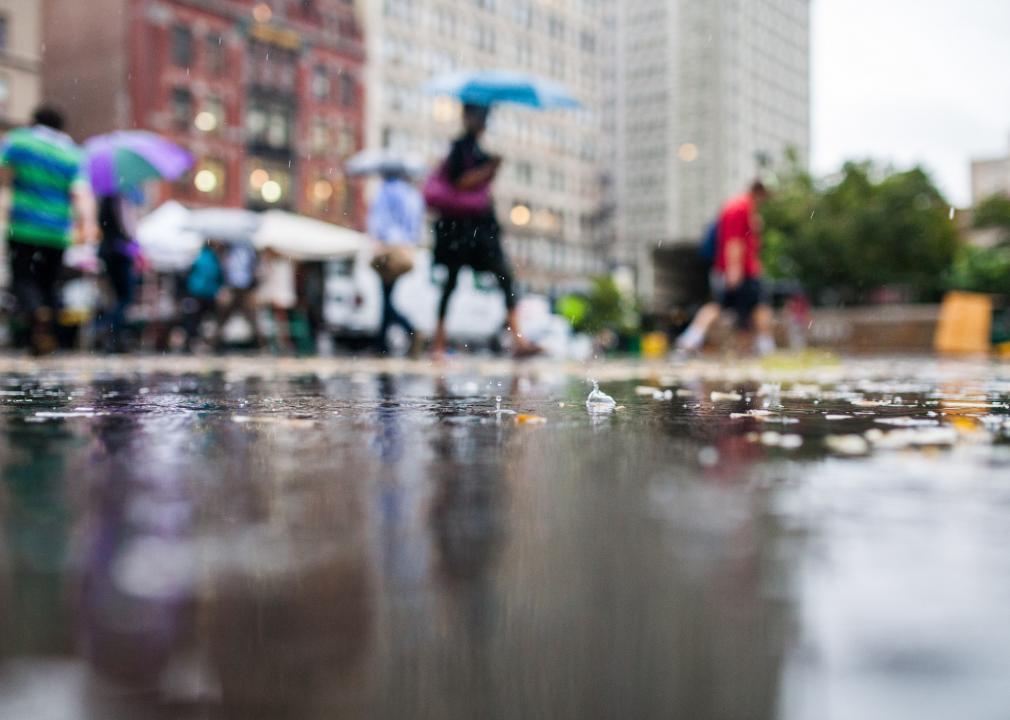 Counties in New York with the fastest-rising temperatures in the last 100 years
tradville // Shutterstock
Counties in New York with the fastest-rising temperatures in the last 100 years
Hitting 116 degrees F in normally temperate Portland, Oregon. 105 degrees in Reno in September, just as summer is meant to be waning. And in California's Death Valley National Park, temperatures hit almost 130 degrees in the aptly named Furnace Creek, marking a world record for the hottest September day in history.
2021 and 2022 saw some of the hottest temperatures ever recorded, as across the country extreme heat waves wreaked havoc on communities accustomed to more moderate weather. For many regions, the consequences were grave: in the 2021 Western heatwave, hundreds lost their lives, largely due to a lack of air conditioning, and wildfires ravaged the area.
Map of the past year's temperatures compared to the 100-year average
While not every county in the nation has experienced such extreme heat, climate change has dramatically changed the heat landscape in nearly every state. Coastal regions and the Southern U.S. are particularly vulnerable to rising temperatures, and are also frequently targets of extreme weather events like hurricanes and tornadoes.
Just as all states are not impacted equally by rising temperatures, regions within states have also seen widely different temperature changes over the last decades. Factors such as proximity to urban areas, bodies of water, and mountains can dramatically change the climate of a region. Stacker cited data from the National Oceanic and Atmospheric Administration's National Center for Environmental Information to identify the counties in New York with the greatest departure from average temperatures during the period December 2021 to November 2022 compared to the 1901-2000 average. Average temperature over the past year served as a tiebreaker. Additional data on recent average high and low temperatures for each county is also included.
#50. Oneida County
- Average temperature, Dec. 2021-Nov. 2022: 46 degrees Fahrenheit (2 F above 1901-2000 average)
- #19 warmest year since 1895
- Recent average low: 35.3 F (1.4 F above century average)
- Recent average high: 56.8 F (2.7 F above century average)

#49. Chemung County
- Average temperature, Dec. 2021-Nov. 2022: 47.9 degrees Fahrenheit (2 F above 1901-2000 average)
- #17 warmest year since 1895
- Recent average low: 36.8 F (1.2 F above century average)
- Recent average high: 59 F (2.8 F above century average)

#48. Madison County
- Average temperature, Dec. 2021-Nov. 2022: 46.2 degrees Fahrenheit (2.1 F above 1901-2000 average)
- #17 warmest year since 1895
- Recent average low: 35.8 F (1.4 F above century average)
- Recent average high: 56.6 F (2.7 F above century average)

#47. Steuben County
- Average temperature, Dec. 2021-Nov. 2022: 47.3 degrees Fahrenheit (2.1 F above 1901-2000 average)
- #13 warmest year since 1895
- Recent average low: 36.4 F (1.8 F above century average)
- Recent average high: 58.1 F (2.4 F above century average)

#46. Schuyler County
- Average temperature, Dec. 2021-Nov. 2022: 47.6 degrees Fahrenheit (2.1 F above 1901-2000 average)
- #16 warmest year since 1895
- Recent average low: 37.2 F (1.5 F above century average)
- Recent average high: 58.1 F (2.7 F above century average)

#45. Montgomery County
- Average temperature, Dec. 2021-Nov. 2022: 48 degrees Fahrenheit (2.1 F above 1901-2000 average)
- #15 warmest year since 1895
- Recent average low: 36.9 F (1.4 F above century average)
- Recent average high: 59.2 F (2.8 F above century average)

#44. Seneca County
- Average temperature, Dec. 2021-Nov. 2022: 49 degrees Fahrenheit (2.1 F above 1901-2000 average)
- #16 warmest year since 1895
- Recent average low: 39.3 F (1.9 F above century average)
- Recent average high: 58.8 F (2.3 F above century average)

#43. Niagara County
- Average temperature, Dec. 2021-Nov. 2022: 49.1 degrees Fahrenheit (2.1 F above 1901-2000 average)
- #18 warmest year since 1895
- Recent average low: 40.2 F (2 F above century average)
- Recent average high: 57.9 F (2.2 F above century average)

#42. Fulton County
- Average temperature, Dec. 2021-Nov. 2022: 45.9 degrees Fahrenheit (2.2 F above 1901-2000 average)
- #16 warmest year since 1895
- Recent average low: 35 F (1.7 F above century average)
- Recent average high: 56.8 F (2.7 F above century average)

#41. Genesee County
- Average temperature, Dec. 2021-Nov. 2022: 48.2 degrees Fahrenheit (2.2 F above 1901-2000 average)
- #16 warmest year since 1895
- Recent average low: 38.5 F (1.8 F above century average)
- Recent average high: 58 F (2.6 F above century average)

#40. Cayuga County
- Average temperature, Dec. 2021-Nov. 2022: 48.3 degrees Fahrenheit (2.2 F above 1901-2000 average)
- #15 warmest year since 1895
- Recent average low: 38.8 F (2.1 F above century average)
- Recent average high: 57.7 F (2.2 F above century average)

#39. Warren County
- Average temperature, Dec. 2021-Nov. 2022: 44.6 degrees Fahrenheit (2.3 F above 1901-2000 average)
- #16 warmest year since 1895
- Recent average low: 33.5 F (2.2 F above century average)
- Recent average high: 55.7 F (2.5 F above century average)

#38. Allegany County
- Average temperature, Dec. 2021-Nov. 2022: 47 degrees Fahrenheit (2.3 F above 1901-2000 average)
- #11 warmest year since 1895
- Recent average low: 36.1 F (2 F above century average)
- Recent average high: 58 F (2.6 F above century average)

#37. Yates County
- Average temperature, Dec. 2021-Nov. 2022: 48.5 degrees Fahrenheit (2.3 F above 1901-2000 average)
- #13 warmest year since 1895
- Recent average low: 38.4 F (1.9 F above century average)
- Recent average high: 58.6 F (2.6 F above century average)

#36. Ontario County
- Average temperature, Dec. 2021-Nov. 2022: 48.6 degrees Fahrenheit (2.3 F above 1901-2000 average)
- #15 warmest year since 1895
- Recent average low: 38.7 F (2 F above century average)
- Recent average high: 58.4 F (2.5 F above century average)

#35. Orleans County
- Average temperature, Dec. 2021-Nov. 2022: 48.9 degrees Fahrenheit (2.3 F above 1901-2000 average)
- #15 warmest year since 1895
- Recent average low: 39.8 F (1.8 F above century average)
- Recent average high: 58 F (2.8 F above century average)

#34. Monroe County
- Average temperature, Dec. 2021-Nov. 2022: 49.2 degrees Fahrenheit (2.3 F above 1901-2000 average)
- #14 warmest year since 1895
- Recent average low: 40 F (2.1 F above century average)
- Recent average high: 58.4 F (2.5 F above century average)

#33. Lewis County
- Average temperature, Dec. 2021-Nov. 2022: 43.7 degrees Fahrenheit (2.4 F above 1901-2000 average)
- #16 warmest year since 1895
- Recent average low: 33 F (2.2 F above century average)
- Recent average high: 54.4 F (2.6 F above century average)

#32. Jefferson County
- Average temperature, Dec. 2021-Nov. 2022: 46 degrees Fahrenheit (2.4 F above 1901-2000 average)
- #16 warmest year since 1895
- Recent average low: 36.1 F (2.2 F above century average)
- Recent average high: 56 F (2.7 F above century average)

#31. Cattaraugus County
- Average temperature, Dec. 2021-Nov. 2022: 47.1 degrees Fahrenheit (2.4 F above 1901-2000 average)
- #12 warmest year since 1895
- Recent average low: 36.3 F (2.3 F above century average)
- Recent average high: 57.9 F (2.5 F above century average)

#30. Wyoming County
- Average temperature, Dec. 2021-Nov. 2022: 47.1 degrees Fahrenheit (2.4 F above 1901-2000 average)
- #12 warmest year since 1895
- Recent average low: 37.2 F (2.1 F above century average)
- Recent average high: 56.9 F (2.7 F above century average)

#29. Sullivan County
- Average temperature, Dec. 2021-Nov. 2022: 47.6 degrees Fahrenheit (2.4 F above 1901-2000 average)
- #13 warmest year since 1895
- Recent average low: 36.9 F (2.2 F above century average)
- Recent average high: 58.3 F (2.7 F above century average)

#28. Chautauqua County
- Average temperature, Dec. 2021-Nov. 2022: 48.3 degrees Fahrenheit (2.4 F above 1901-2000 average)
- #12 warmest year since 1895
- Recent average low: 38.4 F (2.2 F above century average)
- Recent average high: 58.2 F (2.6 F above century average)

#27. Livingston County
- Average temperature, Dec. 2021-Nov. 2022: 48.7 degrees Fahrenheit (2.4 F above 1901-2000 average)
- #13 warmest year since 1895
- Recent average low: 38.4 F (2.1 F above century average)
- Recent average high: 59 F (2.7 F above century average)

#26. Franklin County
- Average temperature, Dec. 2021-Nov. 2022: 42.8 degrees Fahrenheit (2.5 F above 1901-2000 average)
- #15 warmest year since 1895
- Recent average low: 31.6 F (1.8 F above century average)
- Recent average high: 54 F (3.3 F above century average)

#25. St. Lawrence County
- Average temperature, Dec. 2021-Nov. 2022: 44.3 degrees Fahrenheit (2.5 F above 1901-2000 average)
- #17 warmest year since 1895
- Recent average low: 33.5 F (2 F above century average)
- Recent average high: 55.2 F (3 F above century average)

#24. Onondaga County
- Average temperature, Dec. 2021-Nov. 2022: 48.2 degrees Fahrenheit (2.5 F above 1901-2000 average)
- #13 warmest year since 1895
- Recent average low: 38.3 F (2.3 F above century average)
- Recent average high: 58.1 F (2.7 F above century average)

#23. Clinton County
- Average temperature, Dec. 2021-Nov. 2022: 44.4 degrees Fahrenheit (2.6 F above 1901-2000 average)
- #13 warmest year since 1895
- Recent average low: 34.3 F (2.1 F above century average)
- Recent average high: 54.5 F (3.2 F above century average)

#22. Erie County
- Average temperature, Dec. 2021-Nov. 2022: 48.8 degrees Fahrenheit (2.6 F above 1901-2000 average)
- #11 warmest year since 1895
- Recent average low: 39 F (2.4 F above century average)
- Recent average high: 58.5 F (2.7 F above century average)

#21. Oswego County
- Average temperature, Dec. 2021-Nov. 2022: 47.6 degrees Fahrenheit (2.7 F above 1901-2000 average)
- #14 warmest year since 1895
- Recent average low: 37.8 F (2.5 F above century average)
- Recent average high: 57.4 F (2.9 F above century average)

#20. Greene County
- Average temperature, Dec. 2021-Nov. 2022: 47.7 degrees Fahrenheit (2.7 F above 1901-2000 average)
- #10 warmest year since 1895
- Recent average low: 37.1 F (2.6 F above century average)
- Recent average high: 58.3 F (2.8 F above century average)

#19. Washington County
- Average temperature, Dec. 2021-Nov. 2022: 47.3 degrees Fahrenheit (2.8 F above 1901-2000 average)
- #11 warmest year since 1895
- Recent average low: 36 F (2.6 F above century average)
- Recent average high: 58.6 F (2.9 F above century average)

#18. Saratoga County
- Average temperature, Dec. 2021-Nov. 2022: 47.8 degrees Fahrenheit (2.9 F above 1901-2000 average)
- #9 warmest year since 1895
- Recent average low: 37 F (2.9 F above century average)
- Recent average high: 58.5 F (2.9 F above century average)

#17. Schenectady County
- Average temperature, Dec. 2021-Nov. 2022: 48.9 degrees Fahrenheit (2.9 F above 1901-2000 average)
- #5 warmest year since 1895
- Recent average low: 38.4 F (2.8 F above century average)
- Recent average high: 59.4 F (3.1 F above century average)

#16. Albany County
- Average temperature, Dec. 2021-Nov. 2022: 49.3 degrees Fahrenheit (3 F above 1901-2000 average)
- #7 warmest year since 1895
- Recent average low: 38.9 F (2.9 F above century average)
- Recent average high: 59.7 F (3 F above century average)

#15. Ulster County
- Average temperature, Dec. 2021-Nov. 2022: 49.1 degrees Fahrenheit (3.1 F above 1901-2000 average)
- #10 warmest year since 1895
- Recent average low: 38.8 F (3 F above century average)
- Recent average high: 59.4 F (3.1 F above century average)

#14. Columbia County
- Average temperature, Dec. 2021-Nov. 2022: 50.2 degrees Fahrenheit (3.1 F above 1901-2000 average)
- #7 warmest year since 1895
- Recent average low: 39.8 F (3.4 F above century average)
- Recent average high: 60.6 F (2.9 F above century average)

#13. Rensselaer County
- Average temperature, Dec. 2021-Nov. 2022: 49 degrees Fahrenheit (3.3 F above 1901-2000 average)
- #5 warmest year since 1895
- Recent average low: 38.5 F (3.2 F above century average)
- Recent average high: 59.5 F (3.4 F above century average)

#12. Orange County
- Average temperature, Dec. 2021-Nov. 2022: 51.2 degrees Fahrenheit (3.3 F above 1901-2000 average)
- #7 warmest year since 1895
- Recent average low: 40.9 F (3.1 F above century average)
- Recent average high: 61.4 F (3.4 F above century average)

#11. Queens County
- Average temperature, Dec. 2021-Nov. 2022: 56.1 degrees Fahrenheit (3.3 F above 1901-2000 average)
- #8 warmest year since 1895
- Recent average low: 47.7 F (3.3 F above century average)
- Recent average high: 64.4 F (3.4 F above century average)

#10. Suffolk County
- Average temperature, Dec. 2021-Nov. 2022: 53.8 degrees Fahrenheit (3.4 F above 1901-2000 average)
- #8 warmest year since 1895
- Recent average low: 45 F (3.2 F above century average)
- Recent average high: 62.6 F (3.6 F above century average)

#9. Kings County
- Average temperature, Dec. 2021-Nov. 2022: 56.5 degrees Fahrenheit (3.4 F above 1901-2000 average)
- #7 warmest year since 1895
- Recent average low: 48.4 F (3.4 F above century average)
- Recent average high: 64.5 F (3.5 F above century average)

#8. Rockland County
- Average temperature, Dec. 2021-Nov. 2022: 53.2 degrees Fahrenheit (3.5 F above 1901-2000 average)
- #6 warmest year since 1895
- Recent average low: 43.5 F (3.6 F above century average)
- Recent average high: 63 F (3.4 F above century average)

#7. Nassau County
- Average temperature, Dec. 2021-Nov. 2022: 55.4 degrees Fahrenheit (3.5 F above 1901-2000 average)
- #8 warmest year since 1895
- Recent average low: 46.8 F (3.5 F above century average)
- Recent average high: 64 F (3.6 F above century average)

#6. Bronx County
- Average temperature, Dec. 2021-Nov. 2022: 56.1 degrees Fahrenheit (3.5 F above 1901-2000 average)
- #8 warmest year since 1895
- Recent average low: 47.8 F (3.5 F above century average)
- Recent average high: 64.4 F (3.5 F above century average)

#5. New York County
- Average temperature, Dec. 2021-Nov. 2022: 56.3 degrees Fahrenheit (3.5 F above 1901-2000 average)
- #8 warmest year since 1895
- Recent average low: 48.1 F (3.5 F above century average)
- Recent average high: 64.6 F (3.5 F above century average)

#4. Dutchess County
- Average temperature, Dec. 2021-Nov. 2022: 51.4 degrees Fahrenheit (3.6 F above 1901-2000 average)
- #5 warmest year since 1895
- Recent average low: 40.8 F (3.7 F above century average)
- Recent average high: 62 F (3.5 F above century average)

#3. Westchester County
- Average temperature, Dec. 2021-Nov. 2022: 53.7 degrees Fahrenheit (3.6 F above 1901-2000 average)
- #5 warmest year since 1895
- Recent average low: 44 F (3.8 F above century average)
- Recent average high: 63.3 F (3.5 F above century average)

#2. Putnam County
- Average temperature, Dec. 2021-Nov. 2022: 52 degrees Fahrenheit (3.7 F above 1901-2000 average)
- #5 warmest year since 1895
- Recent average low: 42 F (3.9 F above century average)
- Recent average high: 61.9 F (3.5 F above century average)

#1. Richmond County
- Average temperature, Dec. 2021-Nov. 2022: 56.5 degrees Fahrenheit (3.7 F above 1901-2000 average)
- #6 warmest year since 1895
- Recent average low: 47.8 F (3.7 F above century average)
- Recent average high: 65.1 F (3.6 F above century average)