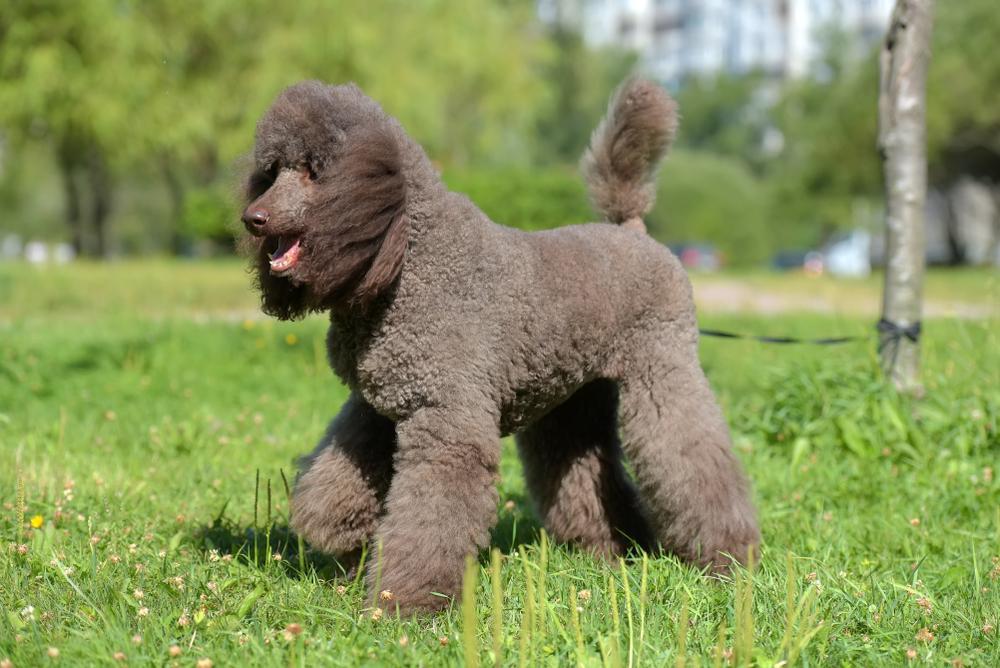 Most popular female dog names
Evdoha_spb // Shutterstock
Most popular female dog names
Sure, the phrase "good boy" might usually be associated with dogs—but girl dogs are everywhere, and they are still man's (or woman's) best friend. The American Pet Products Association survey revealed that approximately 48.5% of households own at least one pet dog, so some of those must be girls, and all of them are going to need the perfect name.
There are millions of names to choose from, whether they're kitschy and cute or something you'd name your own child.  Pop culture has always been a huge influence on what pet owners choose to name their four-legged friends. The late 2000s "Twilight" craze saw crowds of Bellas hit the dog park, named after the series' protagonist. "Game of Thrones" has given us plenty of canine inspiration: Arya, Sansa, and Khaleesi have all surged in popularity since HBO's hit series started airing in 2011.
While some experts discourage pet owners from giving their new family members "human" names, those have also become increasingly popular: According to Rover.com user data, 94% of people consider their pets part of the family, so it makes sense that more pets would have names that make them seem even more like part of the family. As more young people wait to have children of their own and adopt "fur babies" to brighten their lives, these human names might become even more popular than they already are.
The more you look, the more overwhelming the search for the perfect name for your pup becomes. To narrow down the list, Stacker tallied data from Rover in order to rank the 50 most popular female dog names of 2017. The ranks are listed along with their 2016 rank for context, as well as their change in rank between 2016 and 2017.
Read on to see "human" names, names inspired by pop culture and more. Your new dog's name might already be on this list—or maybe you'll want to get a dog after reading this.
#50. Cali
Rank in 2017: #50
Rank in 2016: #44
Change in rank: -6
#49. Kona
Rank in 2017: #49
Rank in 2016: #50
Change in rank: +1
#48. Maddie
Rank in 2017: #48
Rank in 2016: #41
Change in rank: -7
#47. Charlie
Rank in 2017: #47
Rank in 2016: #51
Change in rank: +4
#46. Princess
Rank in 2017: #46
Rank in 2016: #43
Change in rank: -3
#45. Willow
Rank in 2017: #45
Rank in 2016: #52
Change in rank: +7
#44. Millie
Rank in 2017: #44
Rank in 2016: #45
Change in rank: +1
#43. Dixie
Rank in 2017: #43
Rank in 2016: #42
Change in rank: -1
#42. Belle
Rank in 2017: #42
Rank in 2016: #46
Change in rank: +4
#41. Harley
Rank in 2017: #41
Rank in 2016: #48
Change in rank: +7
#40. Olive
Rank in 2017: #40
Rank in 2016: #37
Change in rank: -3
#39. Annie
Rank in 2017: #39
Rank in 2016: #38
Change in rank: -1
#38. Lady
Rank in 2017: #38
Rank in 2016: #34
Change in rank: -4
#37. Izzy
Rank in 2017: #37
Rank in 2016: #39
Change in rank: +2
#36. Maya
Rank in 2017: #36
Rank in 2016: #40
Change in rank: +4
#35. Layla
Rank in 2017: #35
Rank in 2016: #35
Change in rank: 0
#34. Emma
Rank in 2017: #34
Rank in 2016: #33
Change in rank: -1
#33. Pepper
Rank in 2017: #33
Rank in 2016: #31
Change in rank: -2
#32. Lexi
Rank in 2017: #32
Rank in 2016: #36
Change in rank: +4
#31. Sasha
Rank in 2017: #31
Rank in 2016: #29
Change in rank: -2
#30. Riley
Rank in 2017: #30
Rank in 2016: #30
Change in rank: 0
#29. Lulu
Rank in 2017: #29
Rank in 2016: #32
Change in rank: +3
#28. Lilly
Rank in 2017: #28
Rank in 2016: #27
Change in rank: -1
#27. Ginger
Rank in 2017: #27
Rank in 2016: #25
Change in rank: -2
#26. Piper
Rank in 2017: #26
Rank in 2016: #28
Change in rank: +2
#25. Zoe
Rank in 2017: #25
Rank in 2016: #21
Change in rank: -4
#24. Abby
Rank in 2017: #24
Rank in 2016: #26
Change in rank: +2
#23. Ellie
Rank in 2017: #23
Rank in 2016: #22
Change in rank: -1
#22. Rosie
Rank in 2017: #22
Rank in 2016: #24
Change in rank: +2
#21. Ruby
Rank in 2017: #21
Rank in 2016: #19
Change in rank: -2
#20. Nala
Rank in 2017: #20
Rank in 2016: #23
Change in rank: +3
#19. Mia
Rank in 2017: #19
Rank in 2016: #20
Change in rank: +1
#18. Gracie
Rank in 2017: #18
Rank in 2016: #18
Change in rank: 0
#17. Roxy
Rank in 2017: #17
Rank in 2016: #16
Change in rank: -1
#16. Coco
Rank in 2017: #16
Rank in 2016: #17
Change in rank: +1
#15. Zoey
Rank in 2017: #15
Rank in 2016: #14
Change in rank: -1
#14. Penny
Rank in 2017: #14
Rank in 2016: #15
Change in rank: +1
#13. Lily
Rank in 2017: #13
Rank in 2016: #12
Change in rank: -1
#12. Stella
Rank in 2017: #12
Rank in 2016: #13
Change in rank: +1
#11. Chloe
Rank in 2017: #11
Rank in 2016: #11
Change in rank: 0
#10. Sophie
Rank in 2017: #10
Rank in 2016: #8
Change in rank: -2
#9. Maggie
Rank in 2017: #9
Rank in 2016: #10
Change in rank: +1
#8. Bailey
Rank in 2017: #8
Rank in 2016: #9
Change in rank: +1
#7. Molly
Rank in 2017: #7
Rank in 2016: #6
Change in rank: -1
#6. Sadie
Rank in 2017: #6
Rank in 2016: #7
Change in rank: +1
#5. Lola
Rank in 2017: #5
Rank in 2016: #4
Change in rank: -1
#4. Luna
Rank in 2017: #4
Rank in 2016: #5
Change in rank: +1
#3. Daisy
Rank in 2017: #3
Rank in 2016: #3
Change in rank: 0
#2. Lucy
Rank in 2017: #2
Rank in 2016: #2
Change in rank: 0
#1. Bella
Rank in 2017: #1
Rank in 2016: #1
Change in rank: 0