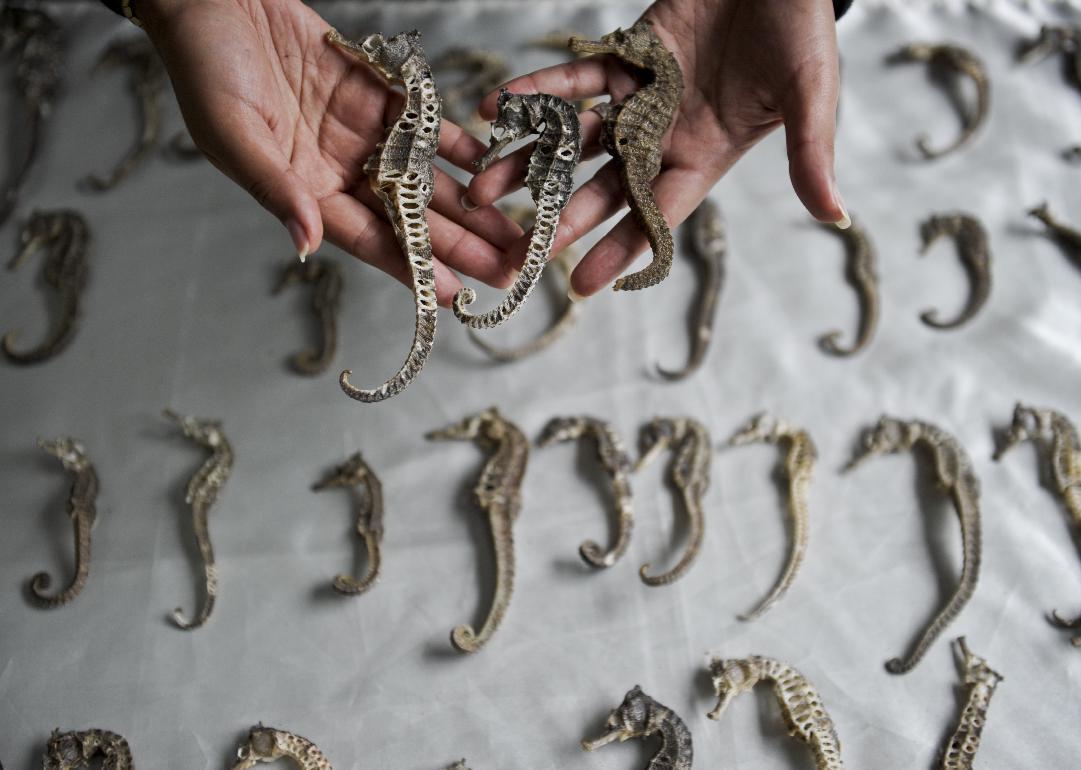 Countries exporting the most endangered species to America
ERNESTO BENAVIDES/AFP // GettyImages
Countries exporting the most endangered species to America
Human activity of all kinds is putting pressure on the species that share our planet. We bulldoze the land they live on to build homes and plant crops, we dump trash into the water they live in, we pollute the air they breathe, and we are changing the climate that entire ecosystems are built around.
Humans have also always made use of animals for a wide range of purposes—some fairly basic to our survival, and others far less practical. Meat to eat, leather to wear, feathers for decoration, sea life for curios and jewelry, just to name a few. We still use the products of wild animals for all of these uses and increasingly they're also collected for the exotic pet trade.
Some of the items in the following slideshow aren't as bad as they look. You'll see sturgeon over and over again—that's the fish that produces caviar. Caviar is so lucrative that restrictions on fishing for sturgeon inspired an industry that raises them in captivity for their precious eggs.
This kind of legal trade has its downsides, however; whenever there's a legal way to sell an animal product, there's the risk of criminals using that to whitewash the products of poaching. For example, while international trade in elephant ivory is banned, antiques are still allowed to be sold in some places, and the risk that products from today's elephants will be passed off as antiques has inspired some countries to pass stricter rules, as the U.K. did recently. It's also important to remember that there's also a huge amount of trade in wildlife products that is just plain outside the law. Our figures, from the Convention on International Trade in Endangered Species (CITES) Trade Database, do not account for the thousands of items smuggled into the U.S. illegally every year.
To examine the importation of endangered species to the U.S., Stacker consulted the CITES Trade Database and the International Union for Conservation of Nature (IUCN) Red List. We found the top 50 countries that have exported the most endangered animal species (in the form of live animals as well as animal products) to the U.S. between 2008–2018, according to importer/exporter reported quantity. Endangered species here are species listed as Vulnerable, Endangered, or Critically Endangered by the IUCN Red List. For each country, we give the top three species exported to the U.S. and the total number of specimens imported.
You may also like: Most imported endangered animals to America