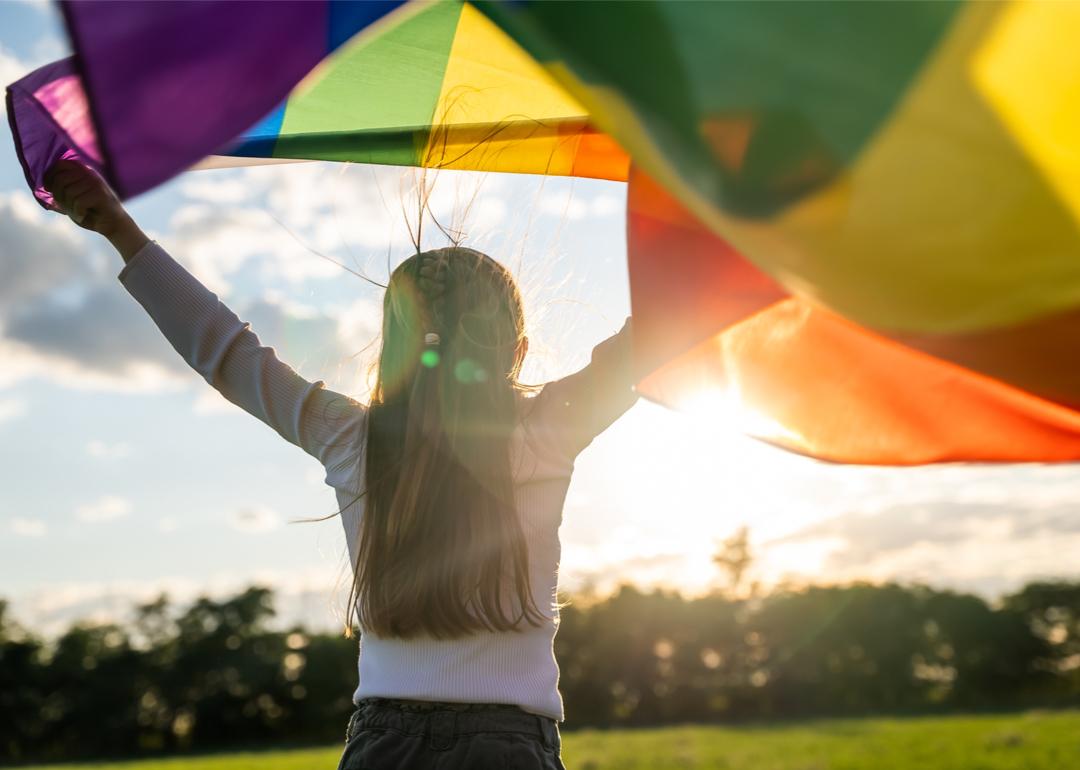 Here's how legislation in every state affects trans youth
dariatorchukova // Shutterstock
Here's how legislation in every state affects trans youth
On the surface, Americans and their legislators accept and understand LGBTQ+ individuals more now than even a decade ago. The Supreme Court's 2015 decision to legalize same-gender marriage remains one of the most tangible and significant wins for LGBTQ+ rights—yet many Americans continue to have complex (and sometimes contradictory) views on transgender issues, suggesting much of the growing acceptance of LGBTQ+ people has not extended to the trans community.
Trans, nonbinary, and gender-nonconforming people have long been marginalized in the U.S., both through legislation dating as far back as mid-19th century anti-cross-dressing laws and through cultural representation, such as the long-standing portrayal of trans characters as villains in film and television.
More recently, after several decades of increased visibility and some legislative wins for the LGBTQ+ community in the aftermath of Stonewall, a wave of conservative backlash targeting trans rights has fully materialized. Already as of March 2023, there are over 400 bills targeting transgender rights active across 46 state legislatures. Nineteen anti-trans laws have been passed since the beginning of the year, according to the Trans Legislation Tracker. Within the past several years, however, one group within the trans community has become the center of what many have dubbed the most recent moral panic: trans youth.
Legislation specifically targeting transgender youth began cropping up in state legislatures in 2020. By 2021, laws claiming to "protect children" from the "dangers" of gender-affirming medical care entered the cultural zeitgeist in earnest—claims that are flatly contradicted by leading scientists and medical organizations' findings that this type of care is not only safe but medically necessary. Some proposed legislation goes as far as naming parental support for a young person's gender-affirming care as child abuse and gives the state the right to take trans children away from their parents.
While anti-trans youth legislation outnumbers legislation to protect trans youth, several states have enacted or are considering laws intended to protect trans children. In August 2022, California passed a law providing refuge and gender-affirming care to families escaping anti-trans youth legislation. Colorado—formerly known as the "Hate State" for its history of passing anti-LGBTQ+ legislation throughout the 90s—made history when it passed legislation in January 2023 protecting gender-affirming medical care as an essential health benefit, becoming the first state to do so. In 2022, Hawaii passed legislation that requires health insurance companies to cover gender-affirming care deemed medically necessary.
Stacker took a look at state-by-state data from the Movement Advancement Project on sexual orientation and gender identity policies that affect transgender youth. All 50 states and Washington D.C. were then ranked by their total policy tallies—the number of laws and policies driving equality for LGBTQ+ people—with #51 being the most restrictive state and #1 being the most protective state for trans youth. Tallies are compared to totals from 2022 and ties are broken, when possible, by the tally for gender-inclusive laws and policies. Negative tallies mean more discrimination laws exist than protection laws.
The Movement Advancement Project's policy tally only accounts for passed legislation in each state. It does not take into account activism efforts, public sentiment, or whether these laws are implemented, all of which can potentially differ from the legislative actions of elected officials. Major categories of laws analyzed include "Relationship and Parental Recognition, Nondiscrimination, Religious Exemptions, LGBTQ Youth, Health Care, Criminal Justice, and Identity Documents." Both gender identity and sexual orientation policy tallies are included since many trans individuals are also impacted by sexual orientation legislation.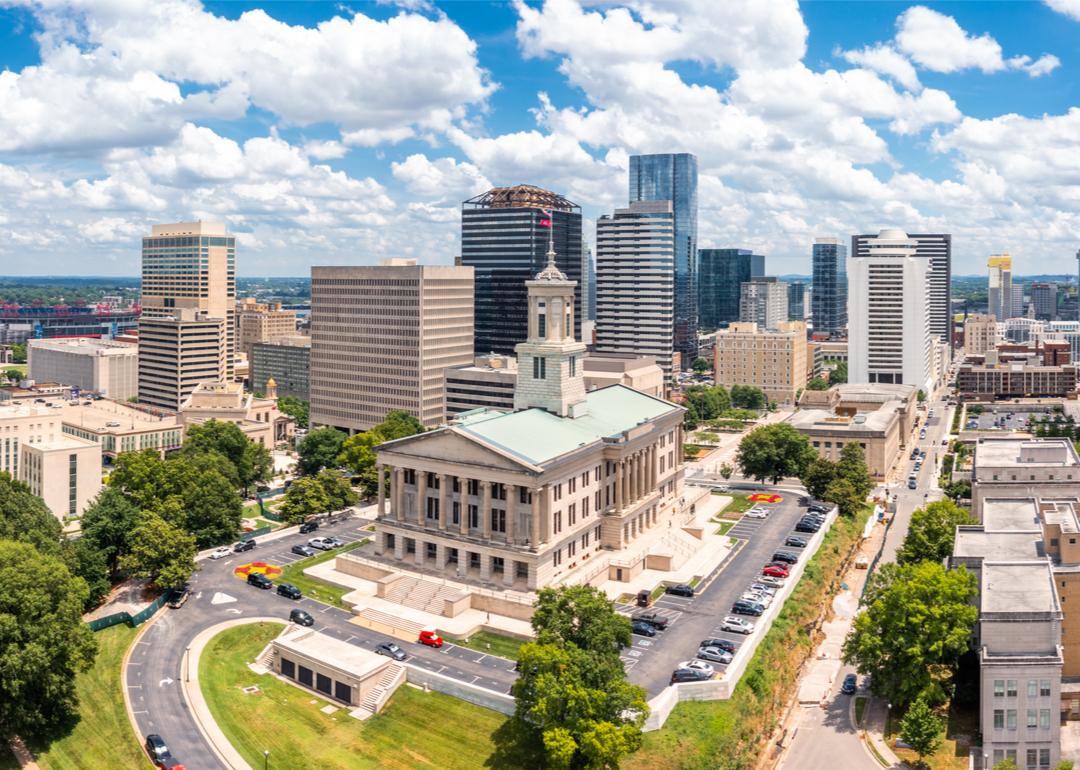 1 / 51
Mihai_Andritoiu // Shutterstock
#51. Tennessee
- Overall LGBTQ-related laws and policies tally: -10.50 (4.5 point decrease from 2022)
--- Gender identity policy tally: -8.75 (3 point decrease)
--- Sexual orientation policy tally: -1.75 (1.5 point decrease)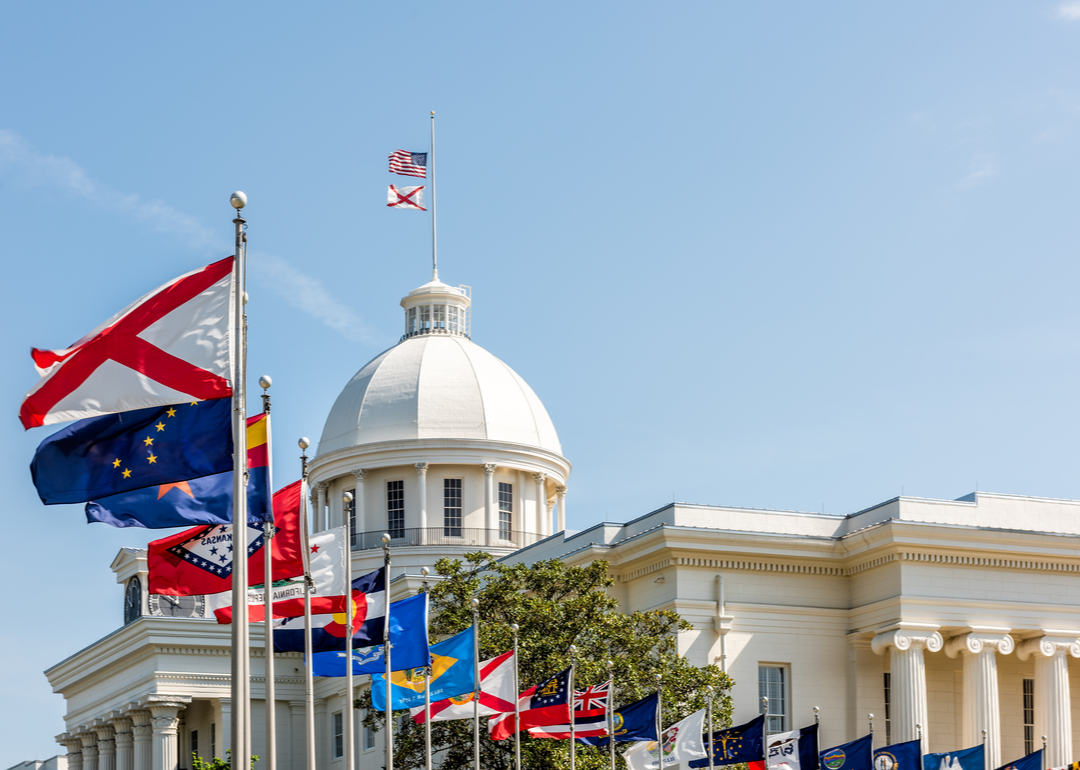 2 / 51
Kristi Blokhin // Shutterstock
#50. Alabama
- Overall LGBTQ-related laws and policies tally: -9.50 (5.5 point decrease)
--- Gender identity policy tally: -7.50 (4 point decrease)
--- Sexual orientation policy tally: -2.00 (1.5 point decrease)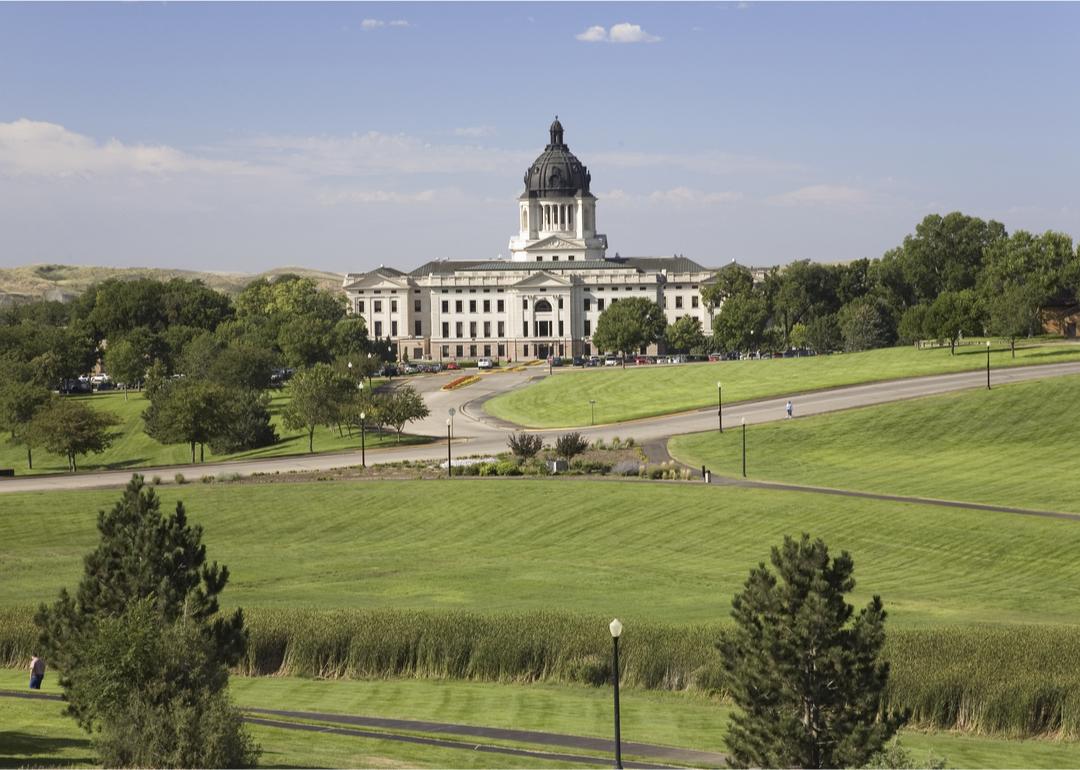 3 / 51
Joseph Sohm // Shutterstock
#49. South Dakota
- Overall LGBTQ-related laws and policies tally: -5.50 (1 point decrease)
--- Gender identity policy tally: -5.00 (1 point decrease)
--- Sexual orientation policy tally: -0.50 (no change)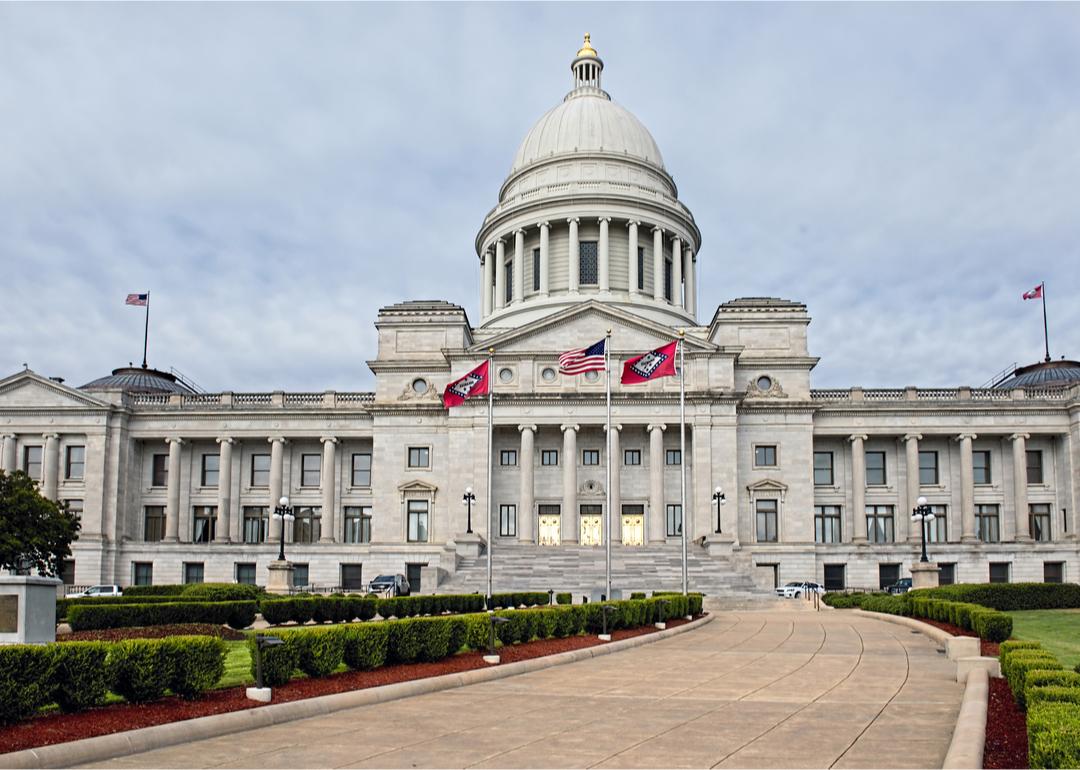 4 / 51
W. Scott McGill // Shutterstock
#48. Arkansas
- Overall LGBTQ-related laws and policies tally: -5.00 (0.5 point increase)
--- Gender identity policy tally: -4.50 (0.5 point increase)
--- Sexual orientation policy tally: -0.50 (no change)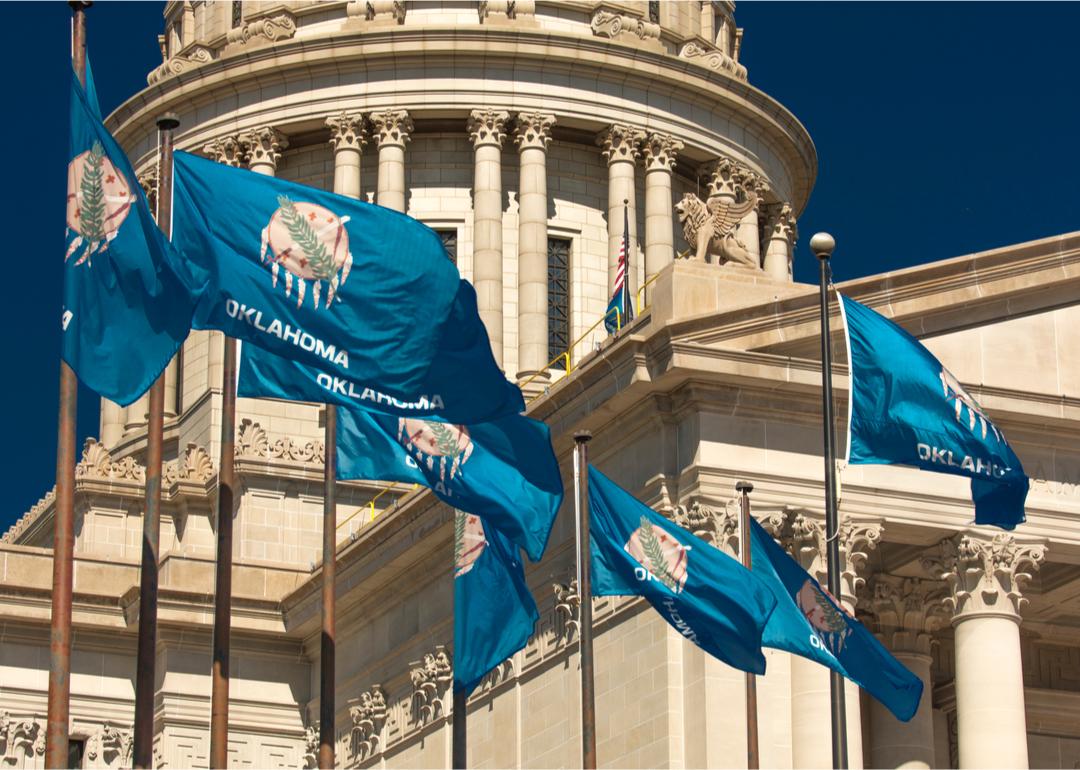 5 / 51
Joseph Sohm // Shutterstock
#47. Oklahoma
- Overall LGBTQ-related laws and policies tally: -4.00 (1 point decrease)
--- Gender identity policy tally: -6.00 (1 point decrease)
--- Sexual orientation policy tally: 2.00 (no change)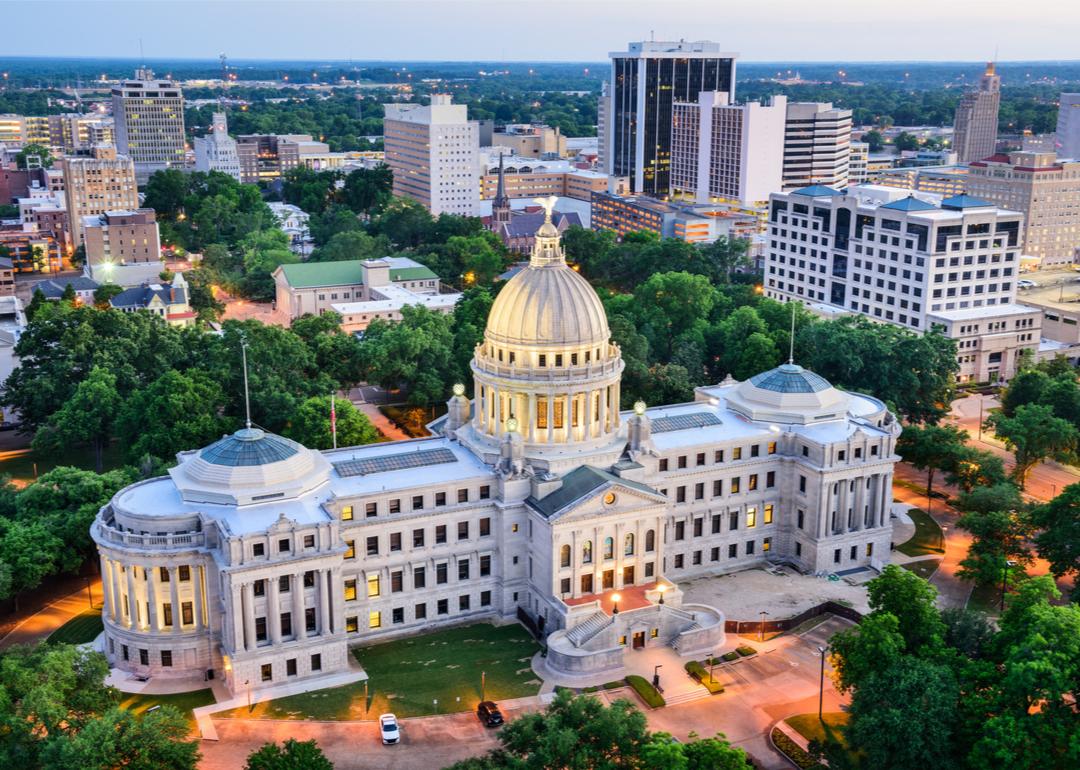 6 / 51
Sean Pavone // Shutterstock
#46. Mississippi
- Overall LGBTQ-related laws and policies tally: -4.00 (0.5 point decrease)
--- Gender identity policy tally: -4.00 (1 point decrease)
--- Sexual orientation policy tally: 0.00 (0.5 point increase)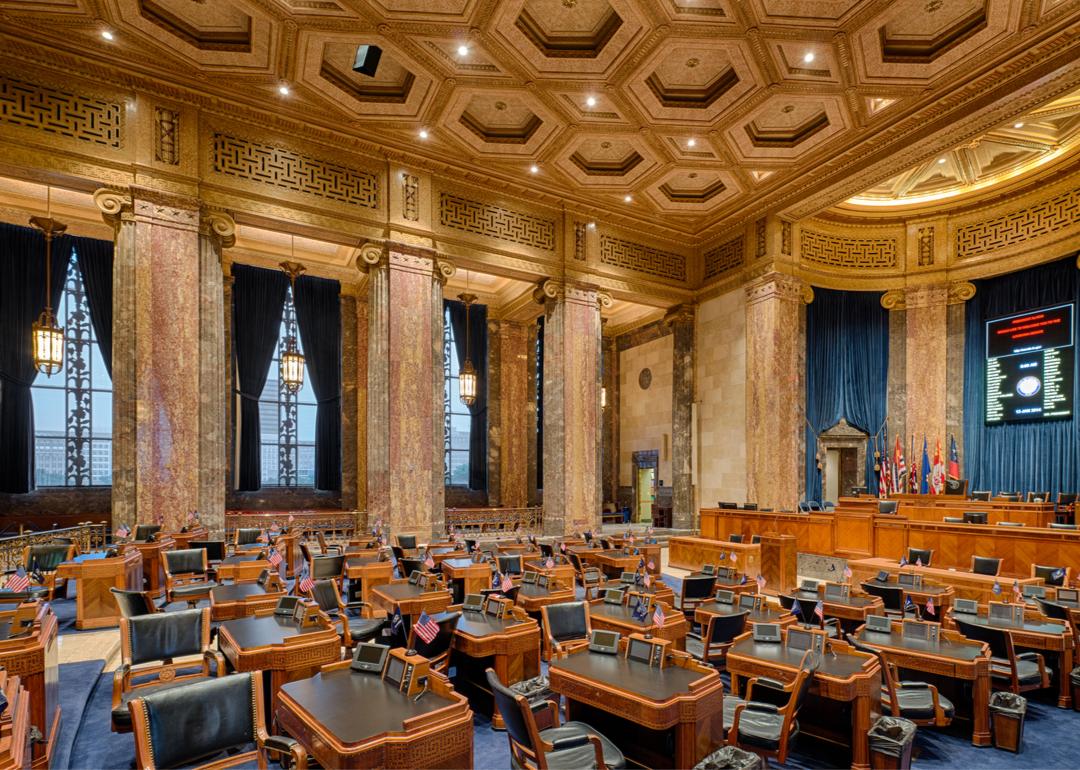 7 / 51
Nagel Photography // Shutterstock
#45. Louisiana
- Overall LGBTQ-related laws and policies tally: -3.50 (1 point decrease)
--- Gender identity policy tally: -4.50 (1 point decrease)
--- Sexual orientation policy tally: 1.00 (no change)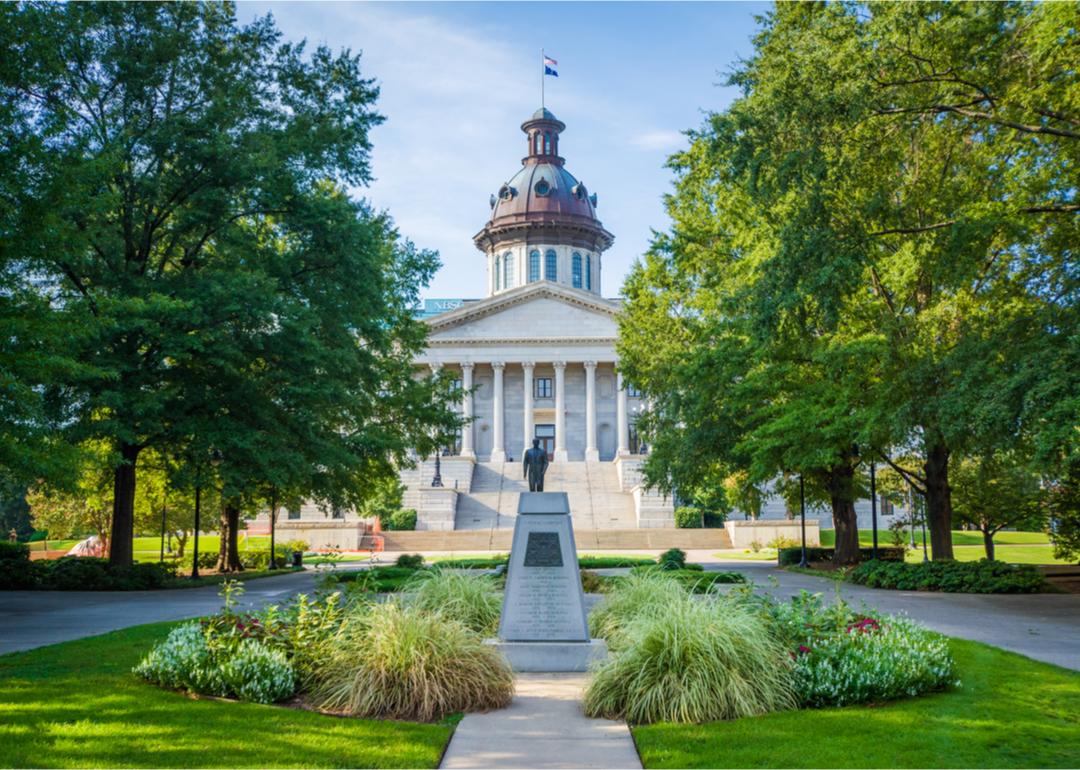 8 / 51
Jon Bilous // Shutterstock
#44. South Carolina
- Overall LGBTQ-related laws and policies tally: -2.50 (2 point decrease)
--- Gender identity policy tally: -4.50 (3 point decrease)
--- Sexual orientation policy tally: 2.00 (1 point increase)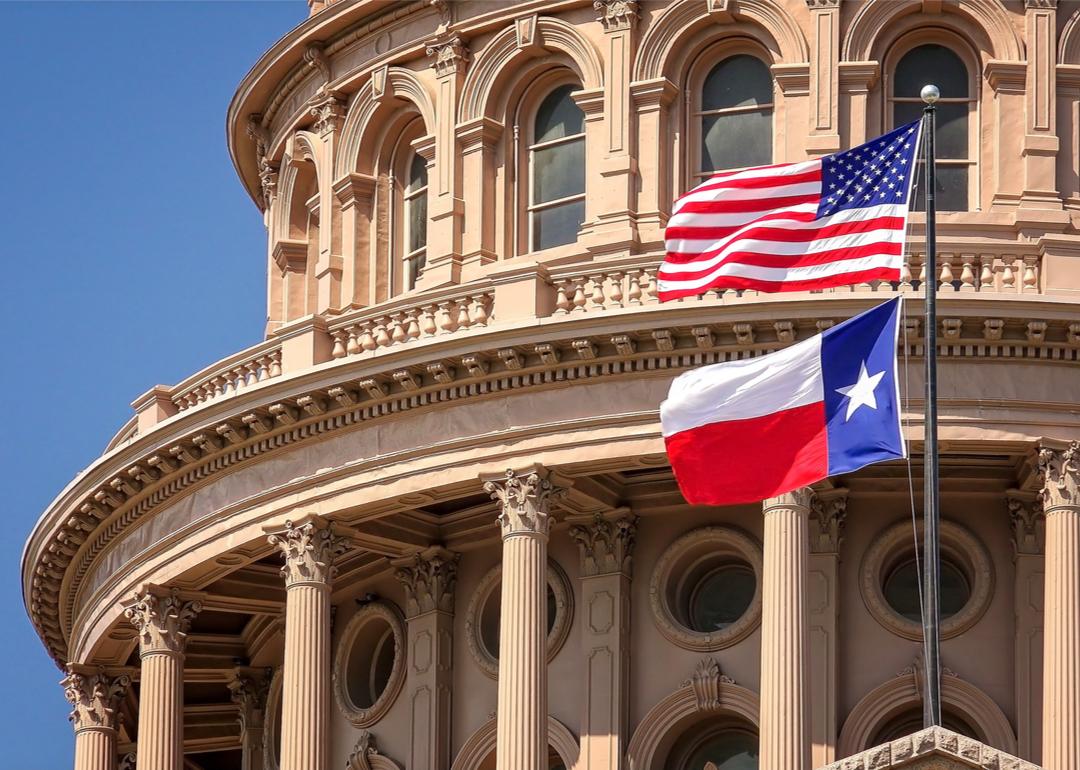 9 / 51
CrackerClips Stock Media // Shutterstock
#43. Texas
- Overall LGBTQ-related laws and policies tally: 0.00 (0.5 point decrease)
--- Gender identity policy tally: -2.75 (0.5 point decrease)
--- Sexual orientation policy tally: 2.75 (no change)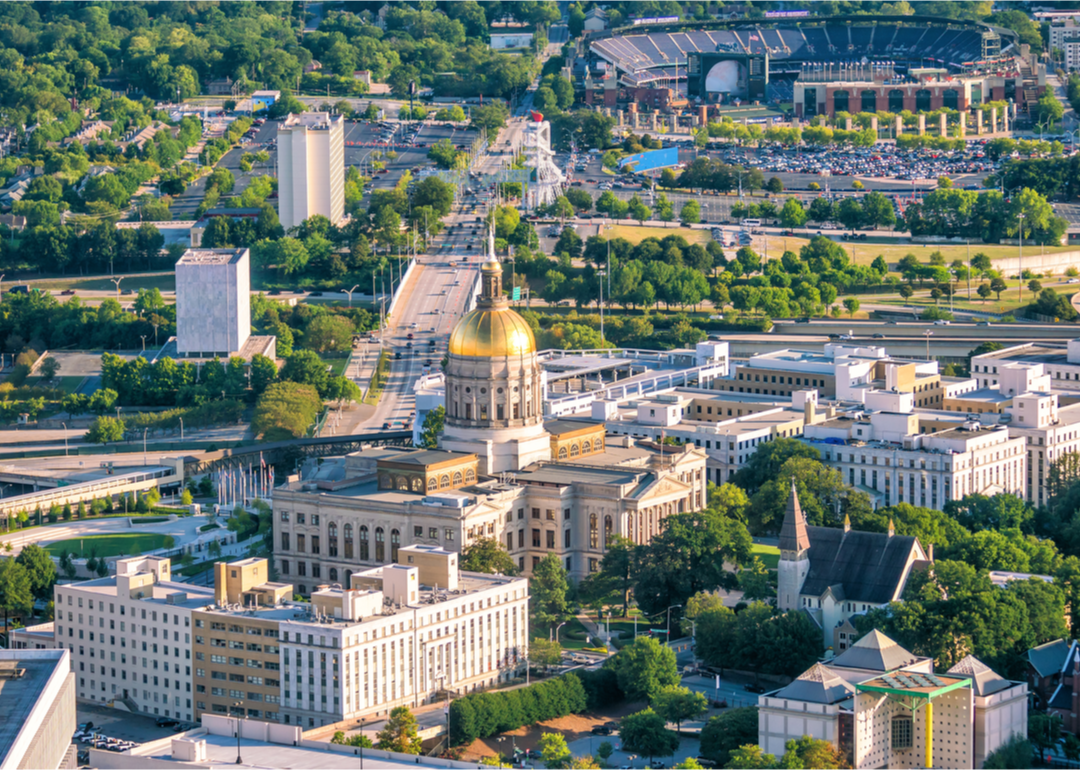 10 / 51
#42. Georgia
- Overall LGBTQ-related laws and policies tally: 0.50 (1 point increase)
--- Gender identity policy tally: -1.50 (1.5 point increase)
--- Sexual orientation policy tally: 2.00 (0.5 point decrease)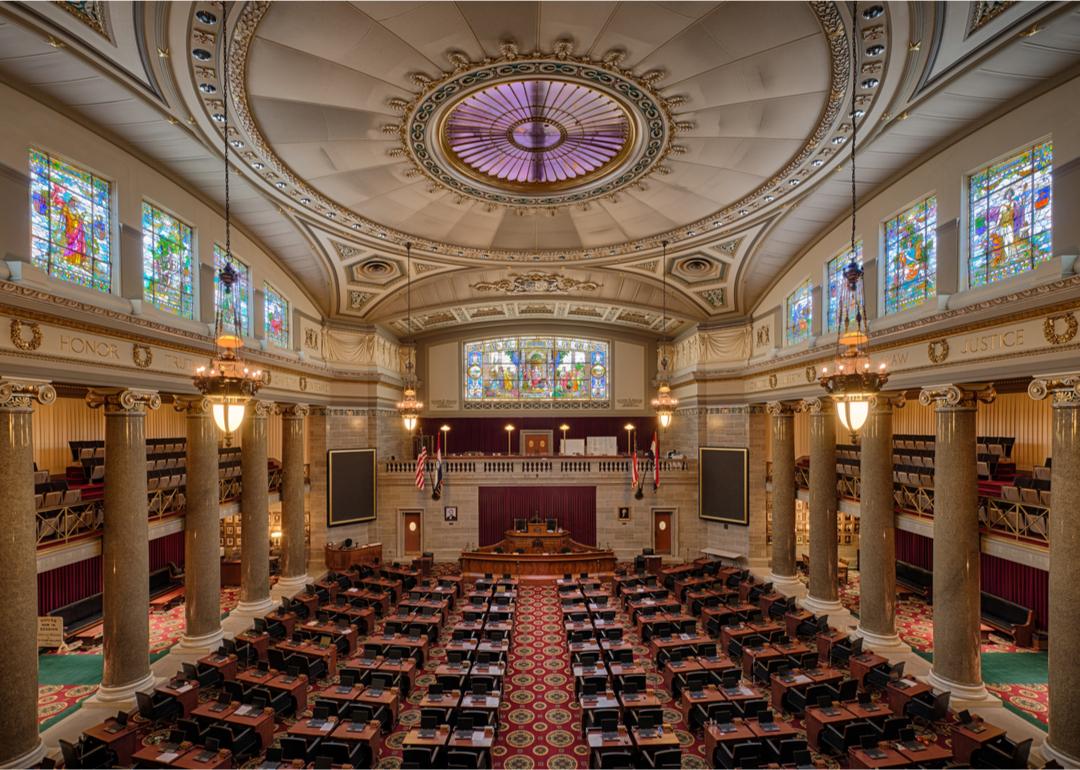 11 / 51
Nagel Photography // Shutterstock
#41. Missouri
- Overall LGBTQ-related laws and policies tally: 1.75 (1 point increase)
--- Gender identity policy tally: -2.75 (no change)
--- Sexual orientation policy tally: 4.50 (1 point increase)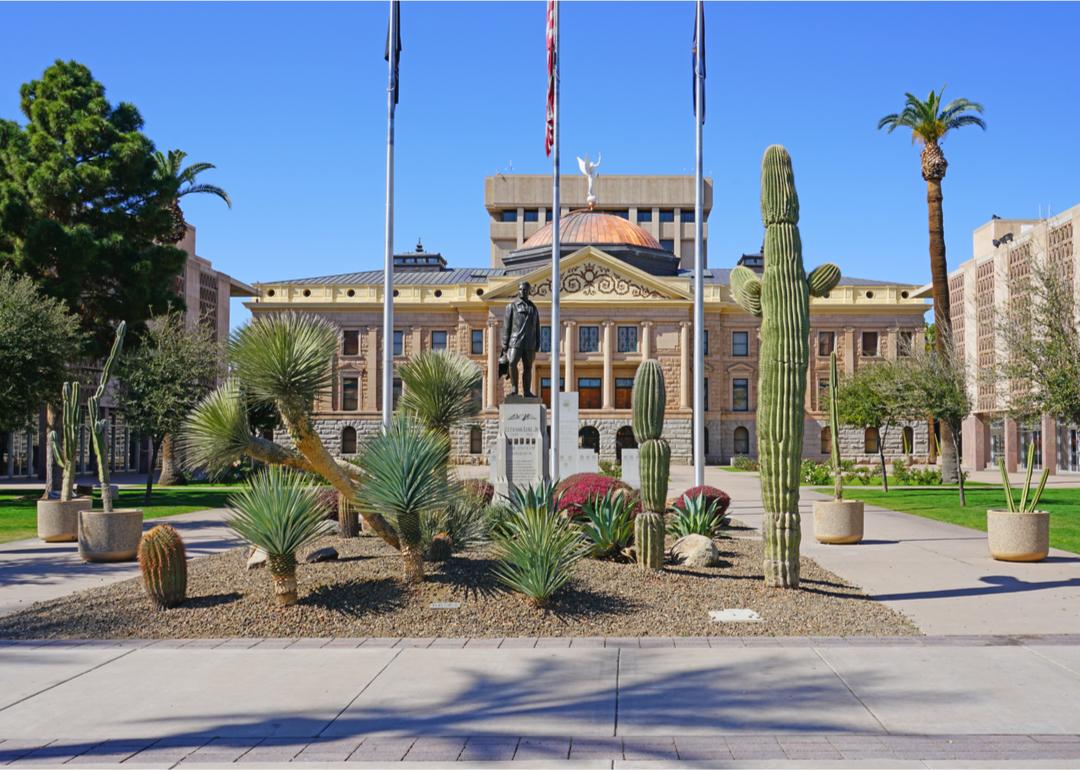 12 / 51
#40. Arizona
- Overall LGBTQ-related laws and policies tally: 3.25 (1 point increase)
--- Gender identity policy tally: -3.00 (0.5 point increase)
--- Sexual orientation policy tally: 6.25 (0.5 point increase)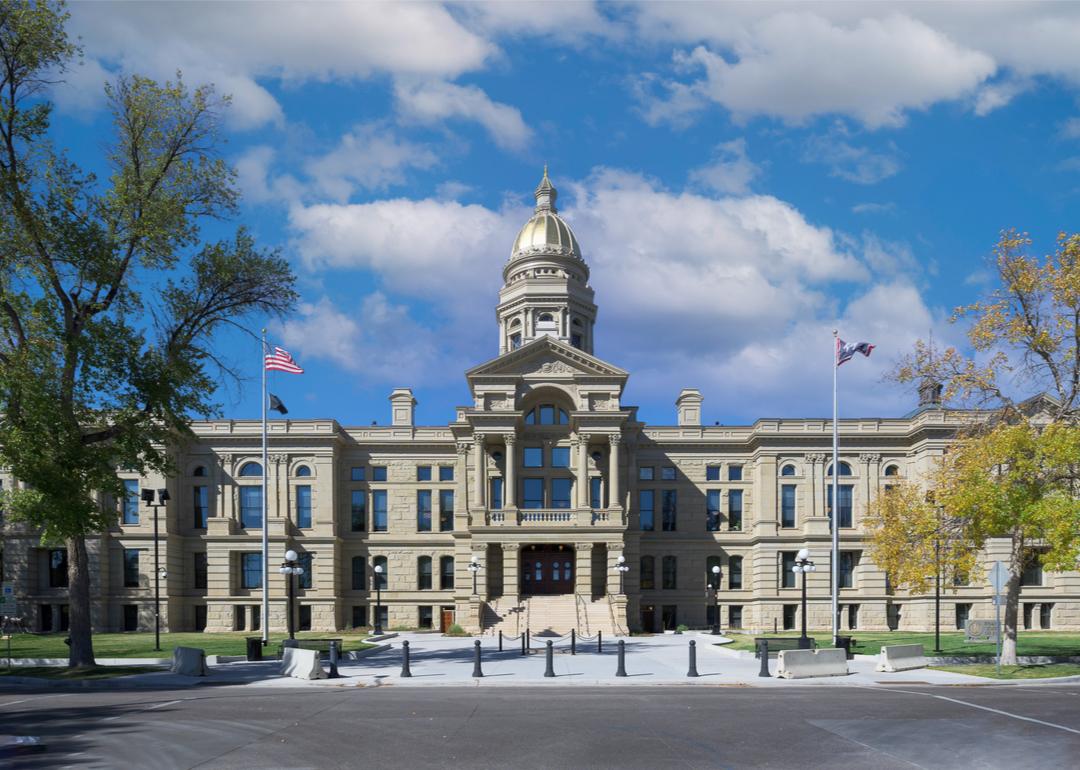 13 / 51
Nagel Photography // Shutterstock
#39. Wyoming
- Overall LGBTQ-related laws and policies tally: 3.25 (1.5 point increase)
--- Gender identity policy tally: 0.25 (1 point increase)
--- Sexual orientation policy tally: 3.00 (0.5 point increase)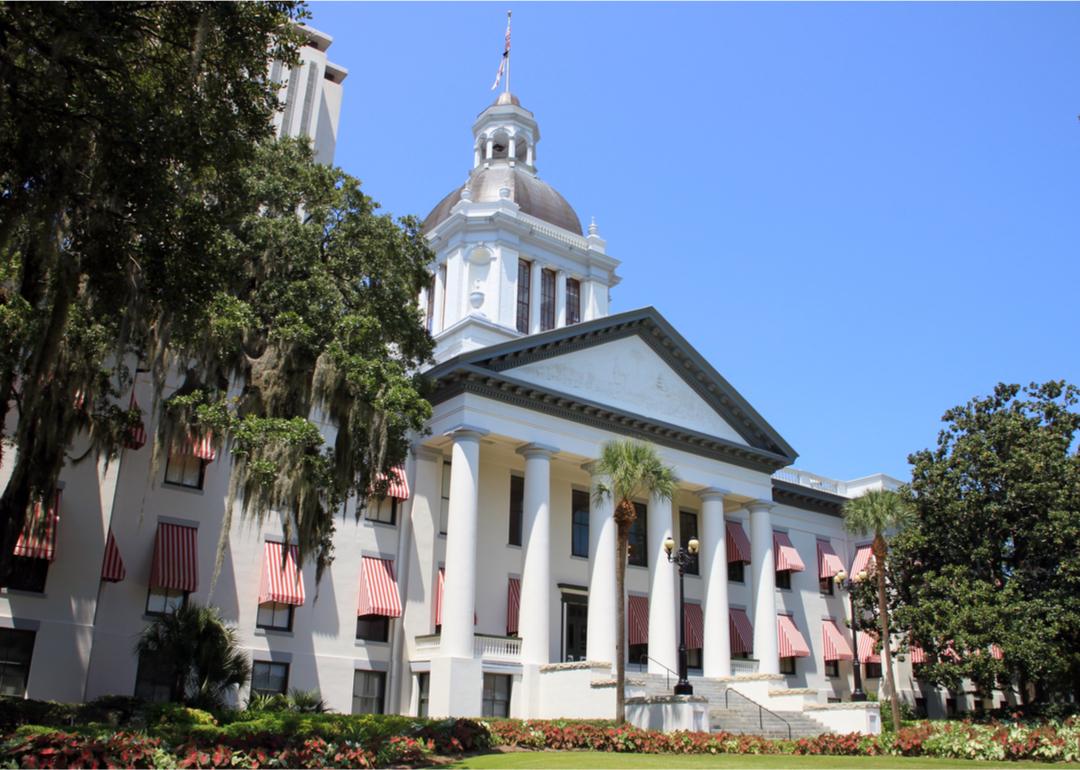 14 / 51
#38. Florida
- Overall LGBTQ-related laws and policies tally: 3.25 (2.5 point decrease)
--- Gender identity policy tally: 0.00 (2 point decrease)
--- Sexual orientation policy tally: 3.25 (0.5 point decrease)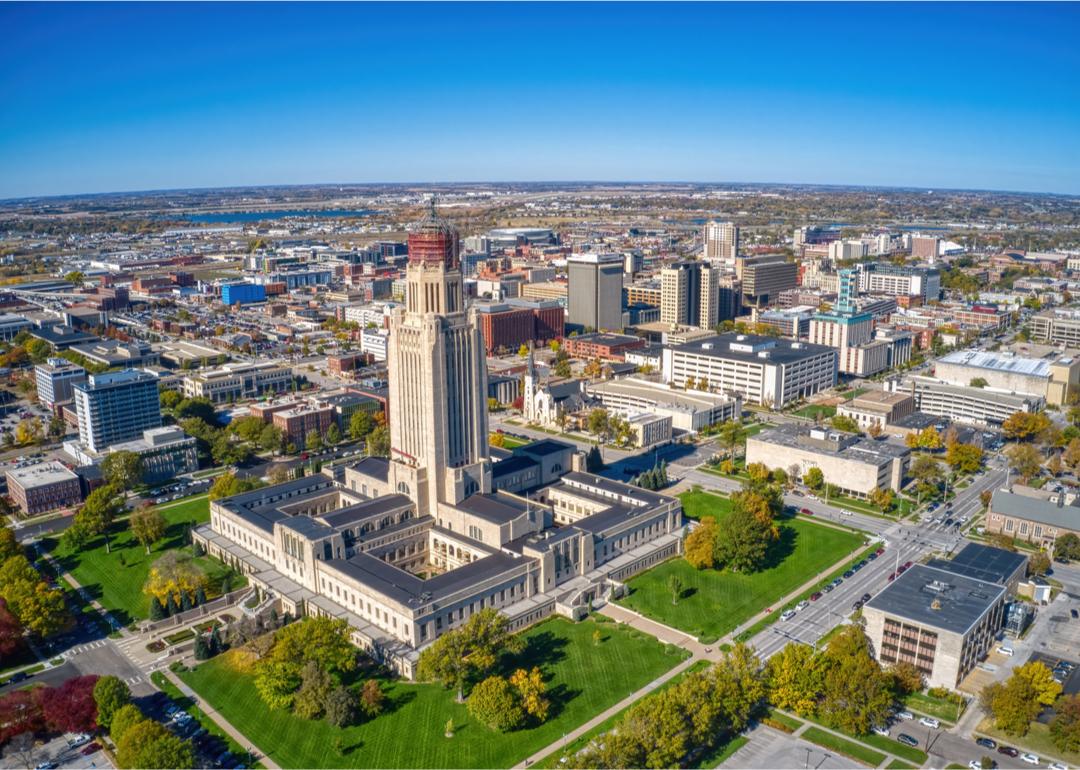 15 / 51
Jacob Boomsma // Shutterstock
#37. Nebraska
- Overall LGBTQ-related laws and policies tally: 4.00 (no change)
--- Gender identity policy tally: -1.25 (no change)
--- Sexual orientation policy tally: 5.25 (no change)
16 / 51
Mihai_Andritoiu // Shutterstock
#36. Montana
- Overall LGBTQ-related laws and policies tally: 4.50 (0.5 point increase)
--- Gender identity policy tally: -0.50 (no change)
--- Sexual orientation policy tally: 5.00 (0.5 point increase)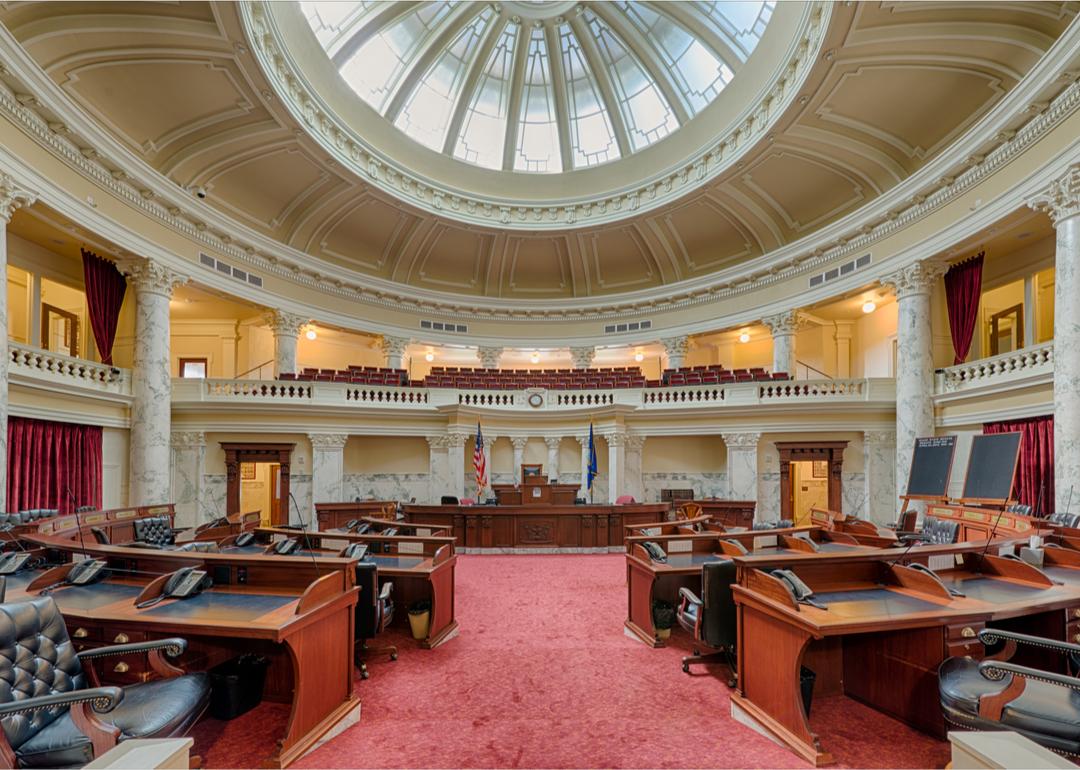 17 / 51
Nagel Photography // Shutterstock
#35. Idaho
- Overall LGBTQ-related laws and policies tally: 5.25 (1.5 point increase)
--- Gender identity policy tally: 1.00 (1.5 point increase)
--- Sexual orientation policy tally: 4.25 (no change)
18 / 51
Sean Pavone // Shutterstock
#34. Indiana
- Overall LGBTQ-related laws and policies tally: 6.00 (0.5 point decrease)
--- Gender identity policy tally: 0.25 (1 point decrease)
--- Sexual orientation policy tally: 5.75 (0.5 point increase)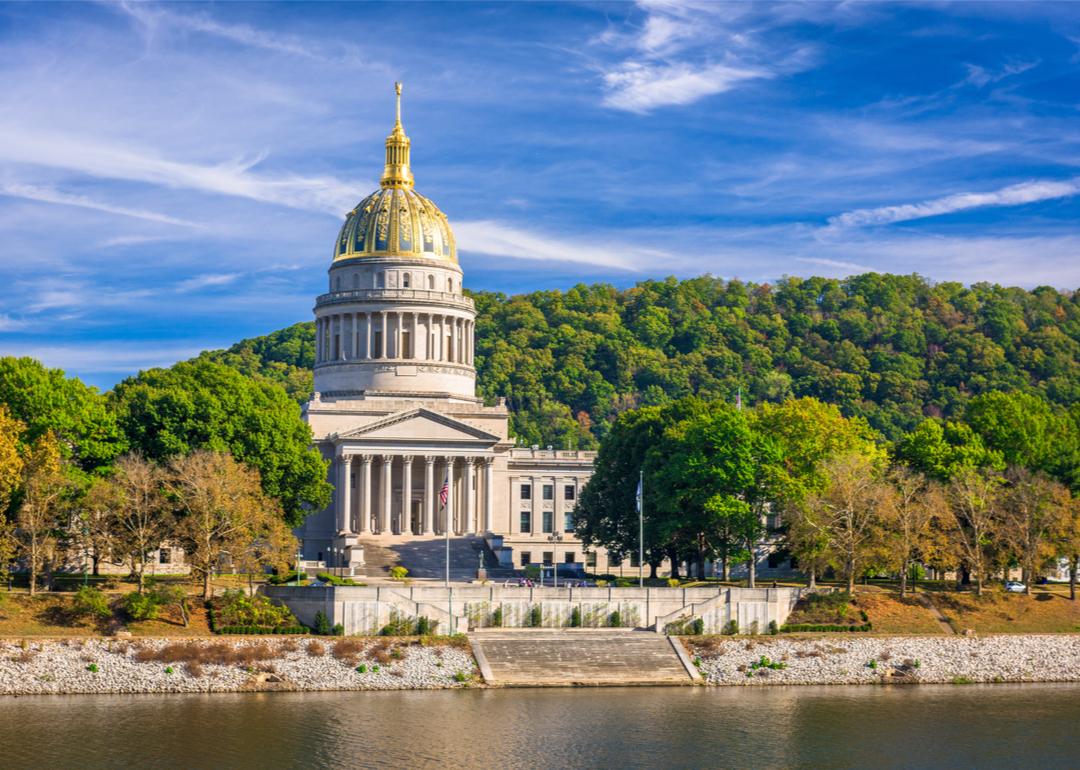 19 / 51
Sean Pavone // Shutterstock
#33. West Virginia
- Overall LGBTQ-related laws and policies tally: 7.50 (3.5 point increase)
--- Gender identity policy tally: 2.00 (3.5 point increase)
--- Sexual orientation policy tally: 5.50 (no change)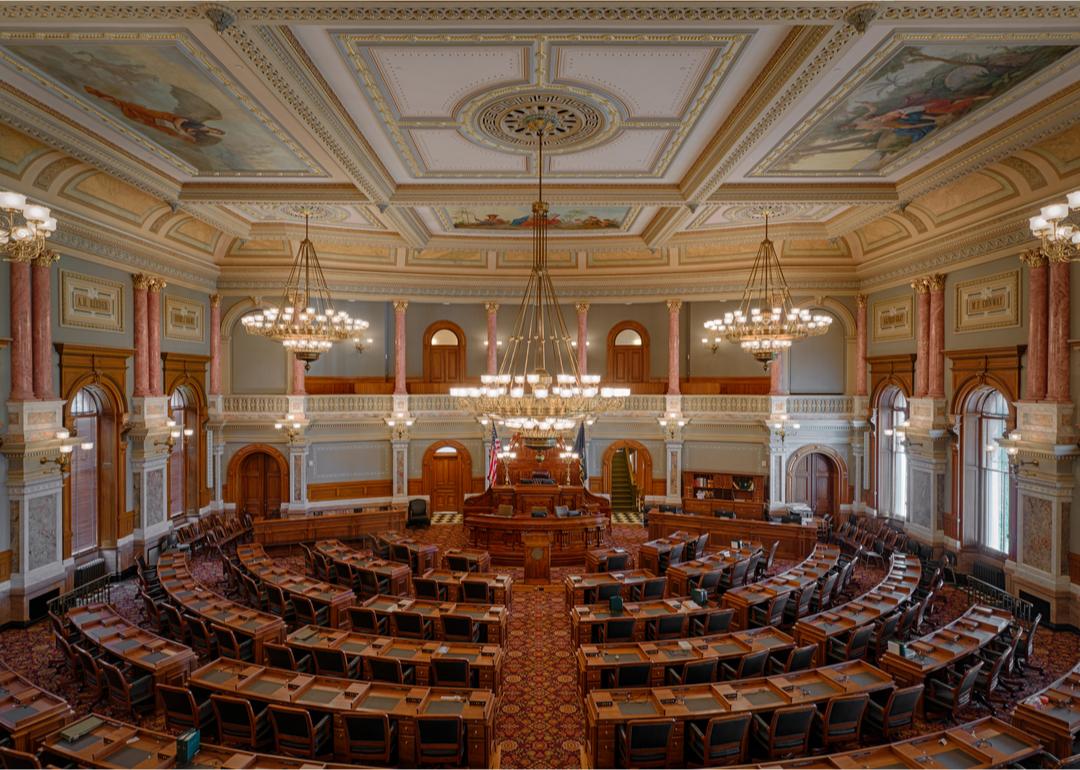 20 / 51
Nagel Photography // Shutterstock
#32. Kansas
- Overall LGBTQ-related laws and policies tally: 7.75 (no change)
--- Gender identity policy tally: 3.50 (0.5 point increase)
--- Sexual orientation policy tally: 4.25 (0.5 point decrease)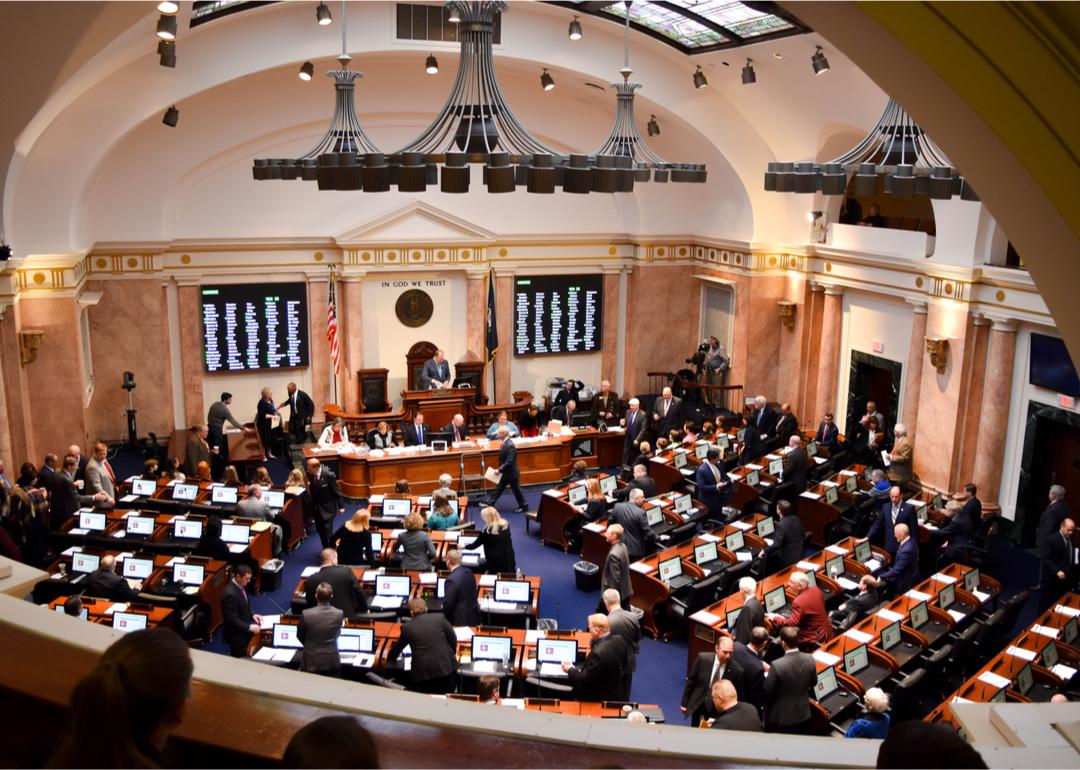 21 / 51
Susan M Hall // Shutterstock
#31. Kentucky
- Overall LGBTQ-related laws and policies tally: 9.25 (1 point decrease)
--- Gender identity policy tally: 1.50 (1.5 point decrease)
--- Sexual orientation policy tally: 7.75 (0.5 point increase)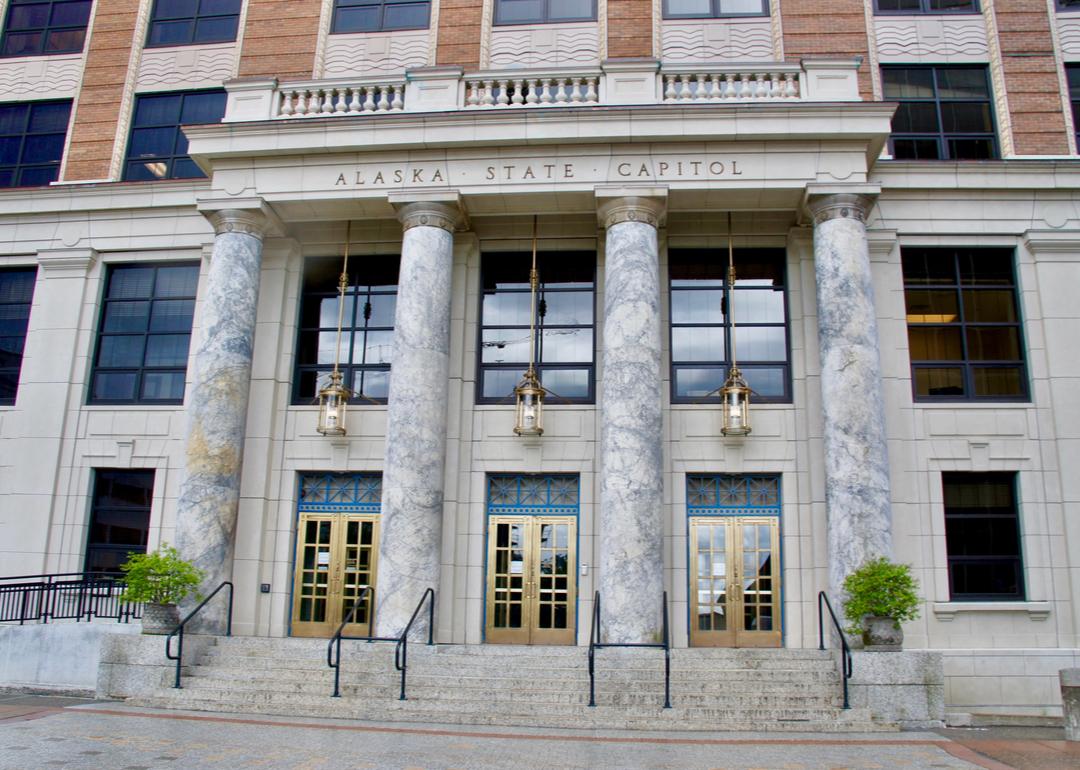 22 / 51
Rob Pauley // Shutterstock
#30. Alaska
- Overall LGBTQ-related laws and policies tally: 10.25 (7.5 point decrease)
--- Gender identity policy tally: 5.00 (4 point decrease)
--- Sexual orientation policy tally: 5.25 (3.5 point decrease)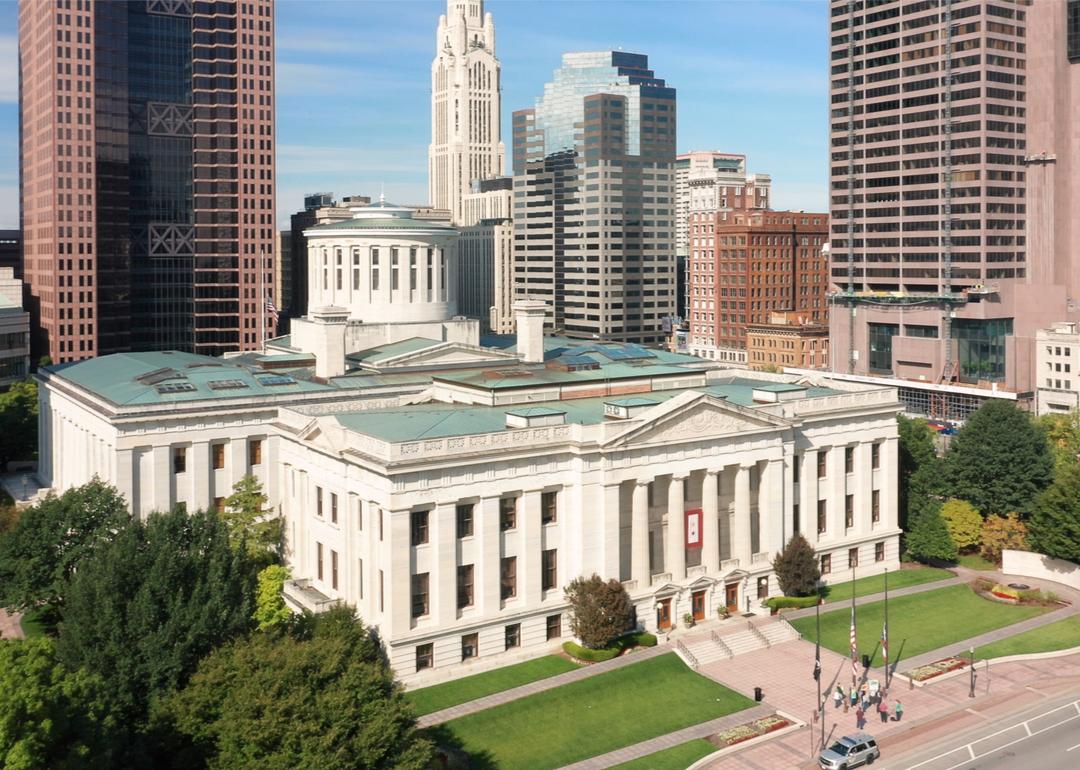 23 / 51
Mihai_Andritoiu // Shutterstock
#29. Ohio
- Overall LGBTQ-related laws and policies tally: 10.75 (1 point increase)
--- Gender identity policy tally: 4.25 (0.5 point increase)
--- Sexual orientation policy tally: 6.50 (0.5 point increase)
24 / 51
Zack Frank // Shutterstock
#28. North Carolina
- Overall LGBTQ-related laws and policies tally: 12.75 (7 point increase)
--- Gender identity policy tally: 6.00 (5 point increase)
--- Sexual orientation policy tally: 6.75 (2 point increase)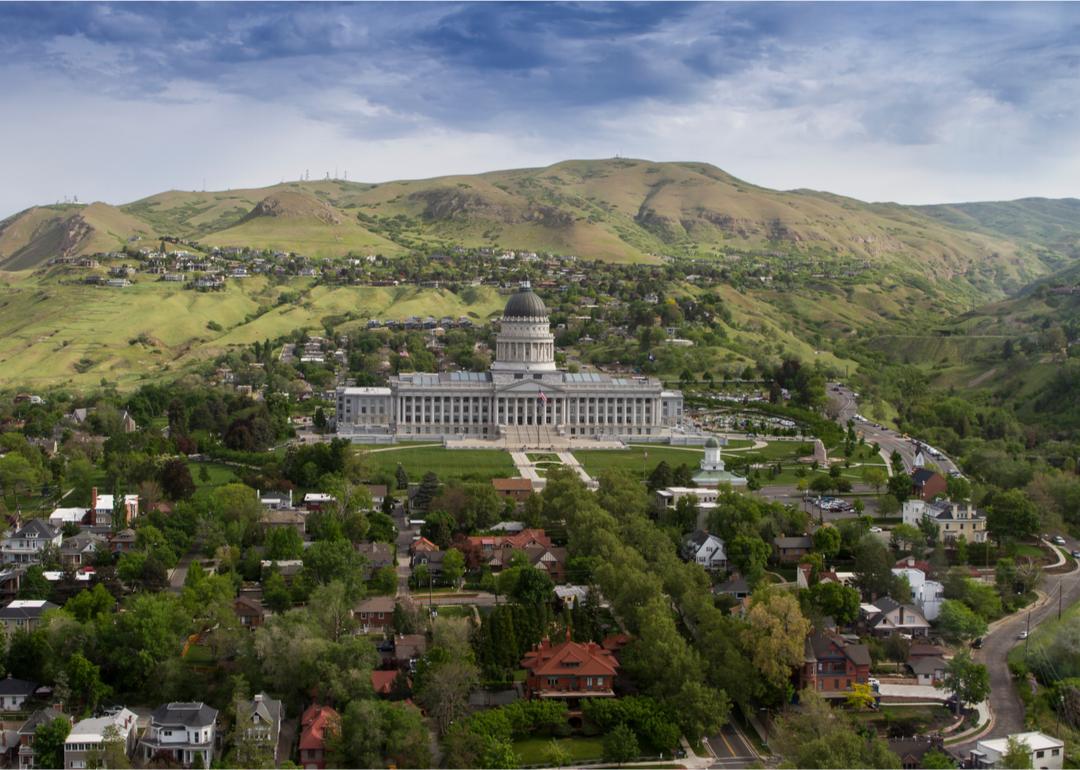 25 / 51
InnovativeImages // Shutterstock
#27. Utah
- Overall LGBTQ-related laws and policies tally: 12.75 (1.5 point decrease)
--- Gender identity policy tally: 5.25 (1 point decrease)
--- Sexual orientation policy tally: 7.50 (0.5 point decrease)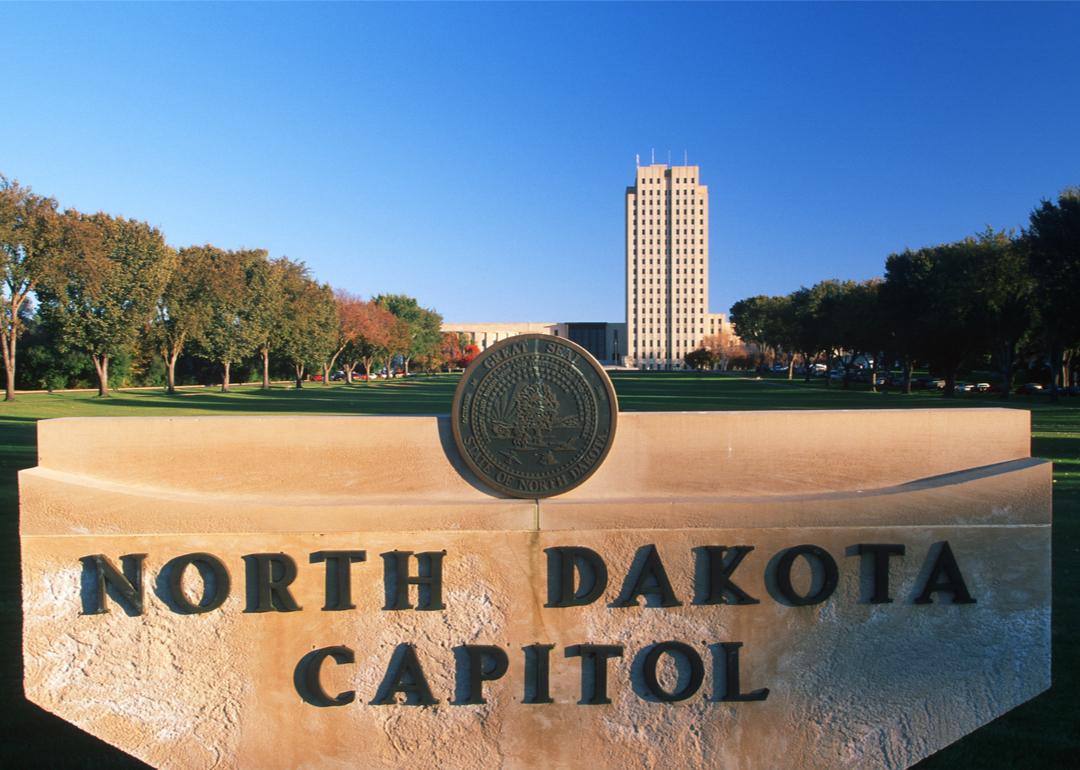 26 / 51
Joseph Sohm // Shutterstock
#26. North Dakota
- Overall LGBTQ-related laws and policies tally: 14.75 (3 point increase)
--- Gender identity policy tally: 5.75 (1.5 point increase)
--- Sexual orientation policy tally: 9.00 (1.5 point increase)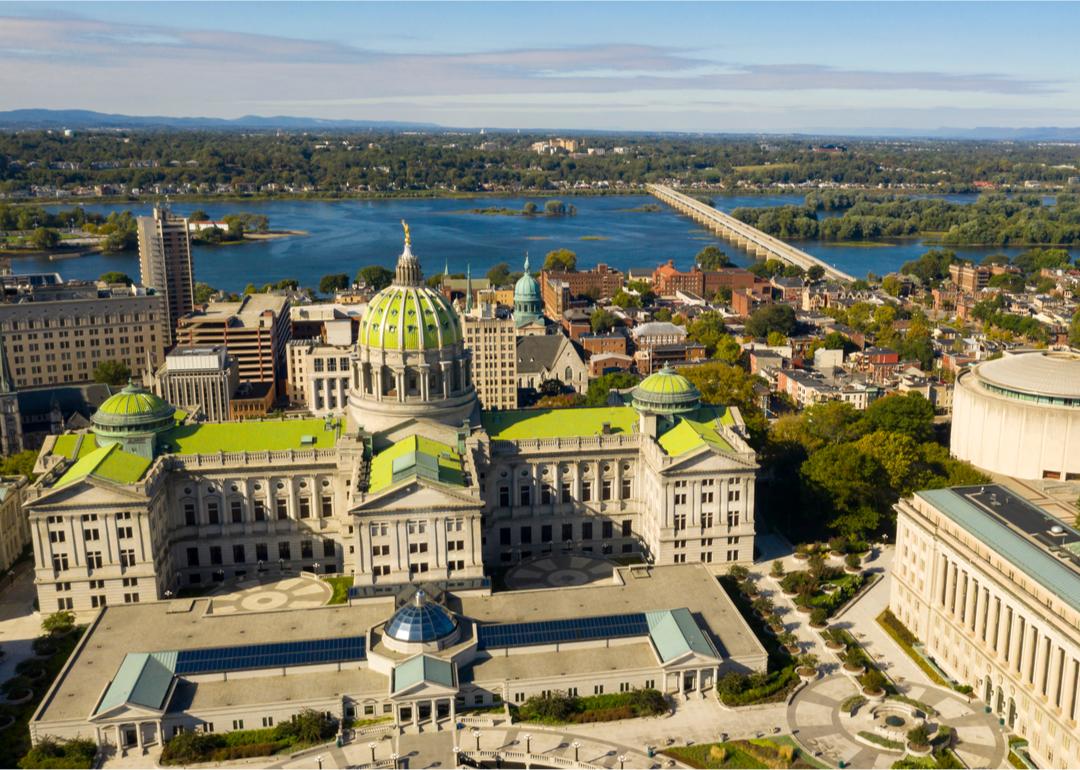 27 / 51
Real Window Creative // Shutterstock
#25. Pennsylvania
- Overall LGBTQ-related laws and policies tally: 16.50 (1 point increase)
--- Gender identity policy tally: 9.75 (0.5 point increase)
--- Sexual orientation policy tally: 6.75 (0.5 point increase)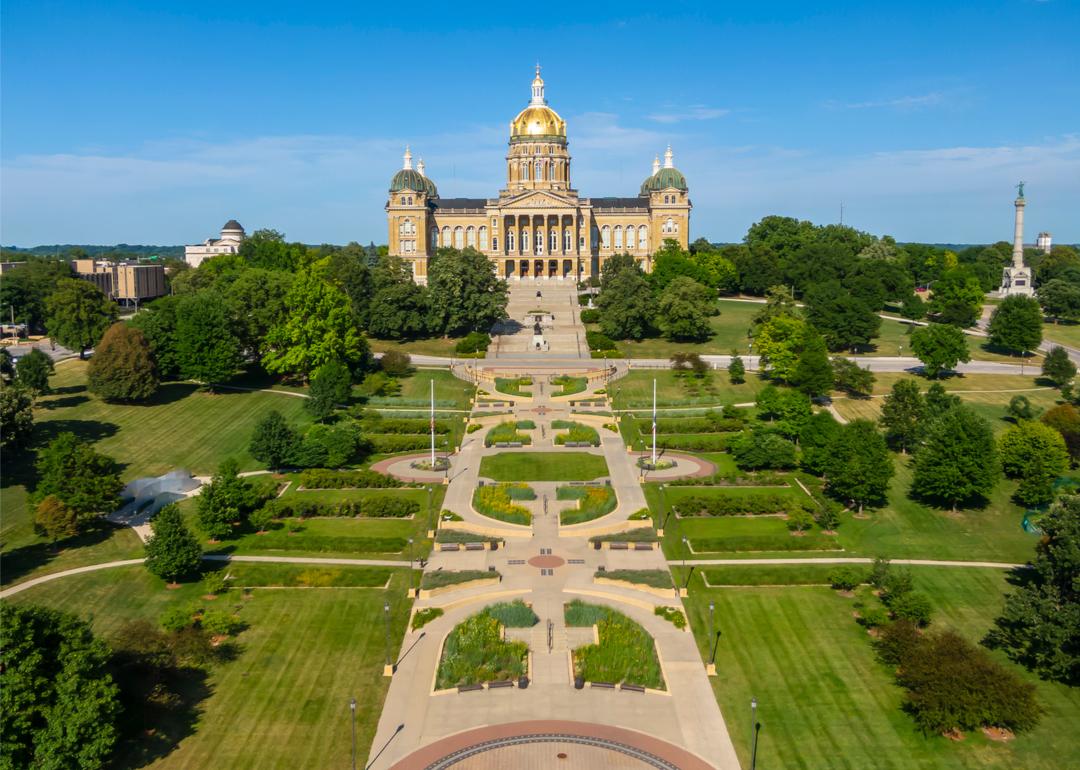 28 / 51
Grindstone Media Group // Shutterstock
#24. Iowa
- Overall LGBTQ-related laws and policies tally: 17.50 (0.5 point increase)
--- Gender identity policy tally: 6.50 (0.5 point increase)
--- Sexual orientation policy tally: 11.00 (no change)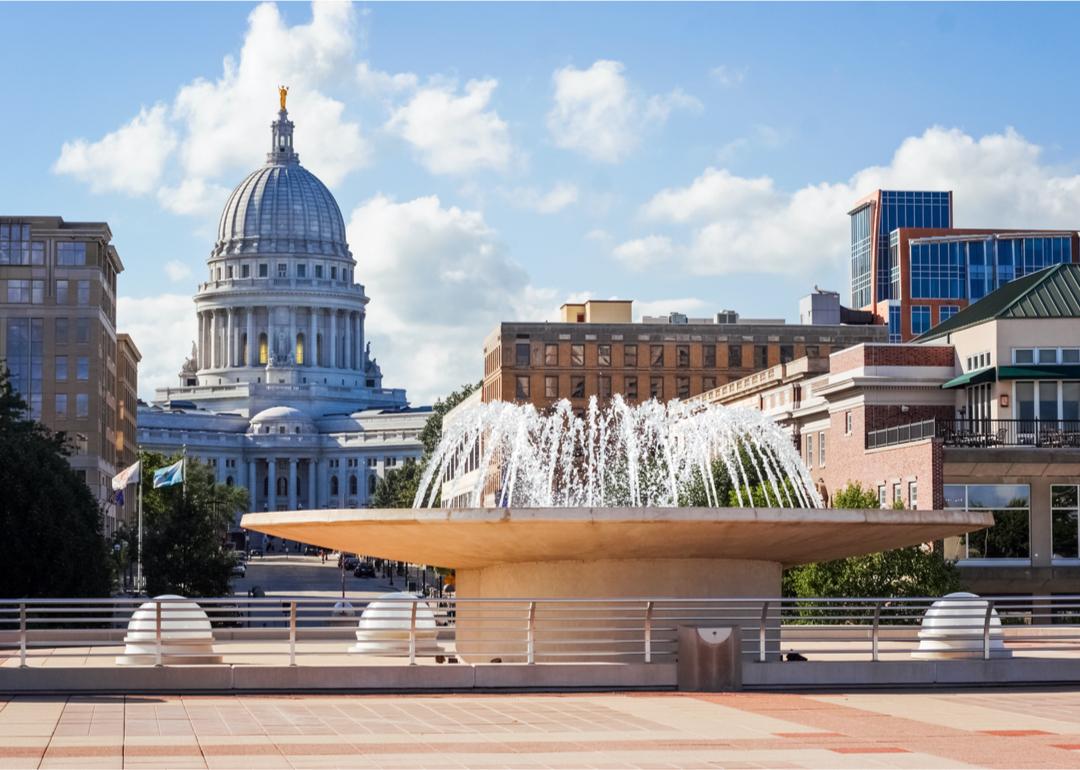 29 / 51
Suzanne Tucker // Shutterstock
#23. Wisconsin
- Overall LGBTQ-related laws and policies tally: 18.50 (0.5 point increase)
--- Gender identity policy tally: 5.25 (no change)
--- Sexual orientation policy tally: 13.25 (0.5 point increase)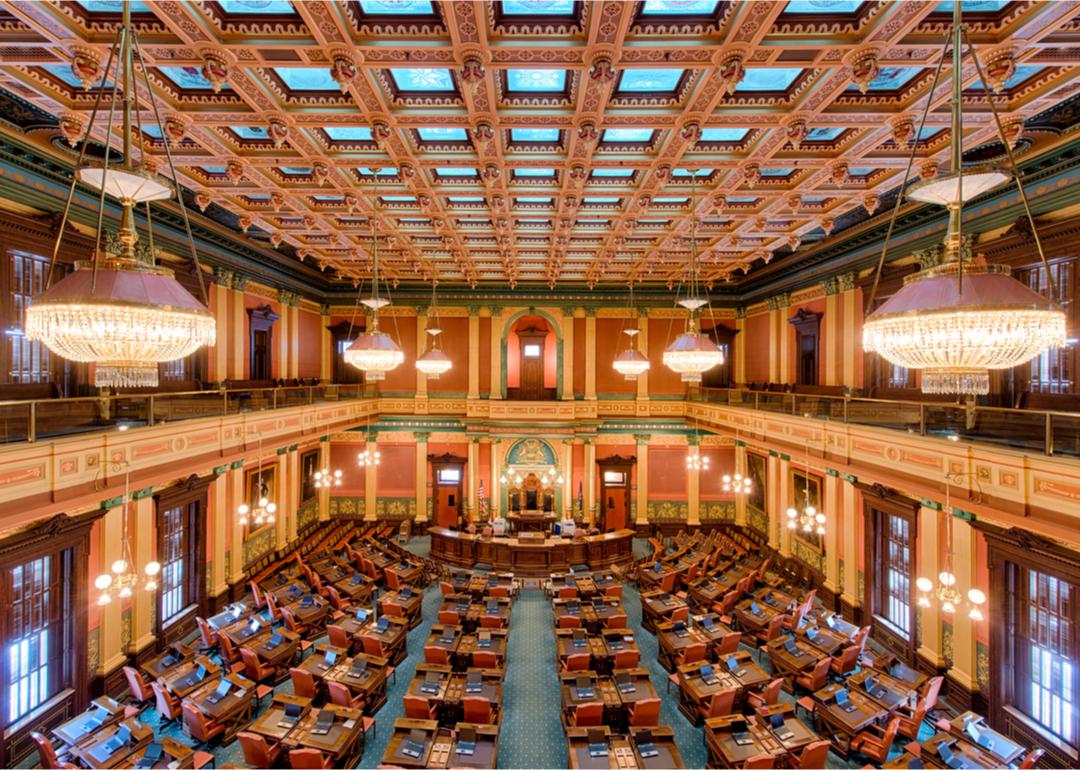 30 / 51
Nagel Photography // Shutterstock
#22. Michigan
- Overall LGBTQ-related laws and policies tally: 21.50 (2.5 point increase)
--- Gender identity policy tally: 12.75 (1.5 point increase)
--- Sexual orientation policy tally: 8.75 (1 point increase)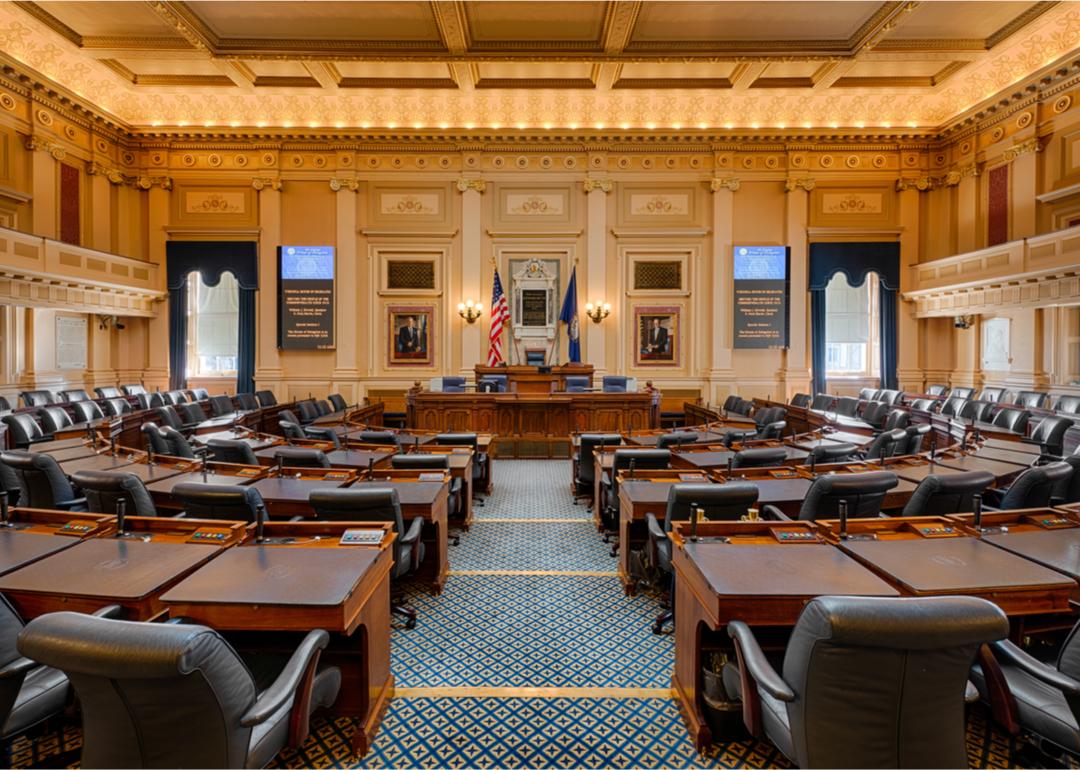 31 / 51
Nagel Photography // Shutterstock
#21. Virginia
- Overall LGBTQ-related laws and policies tally: 25.50 (0.5 point decrease)
--- Gender identity policy tally: 14.50 (no change)
--- Sexual orientation policy tally: 11.00 (0.5 point decrease)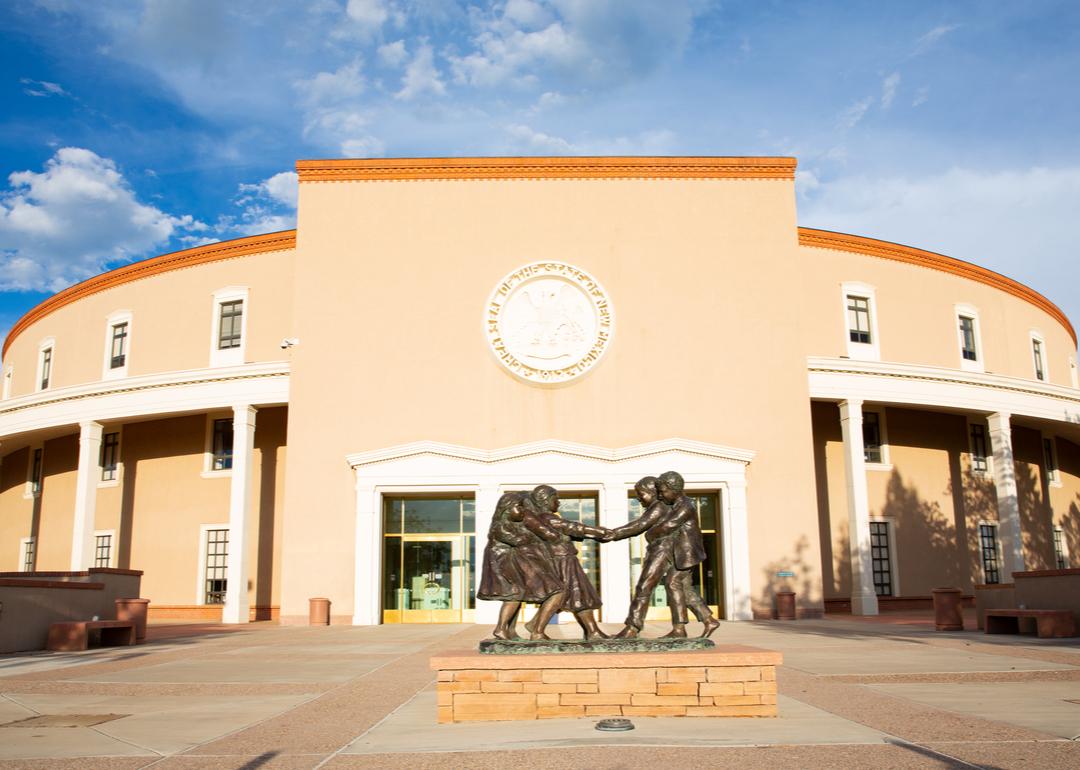 32 / 51
Traveller70 // Shutterstock
#20. New Mexico
- Overall LGBTQ-related laws and policies tally: 28.50 (0.5 point increase)
--- Gender identity policy tally: 15.00 (0.5 point increase)
--- Sexual orientation policy tally: 13.50 (no change)
33 / 51
Nagel Photography // Shutterstock
#19. Delaware
- Overall LGBTQ-related laws and policies tally: 29.00 (3.75 point increase)
--- Gender identity policy tally: 15.25 (2.5 point increase)
--- Sexual orientation policy tally: 13.75 (1.25 point increase)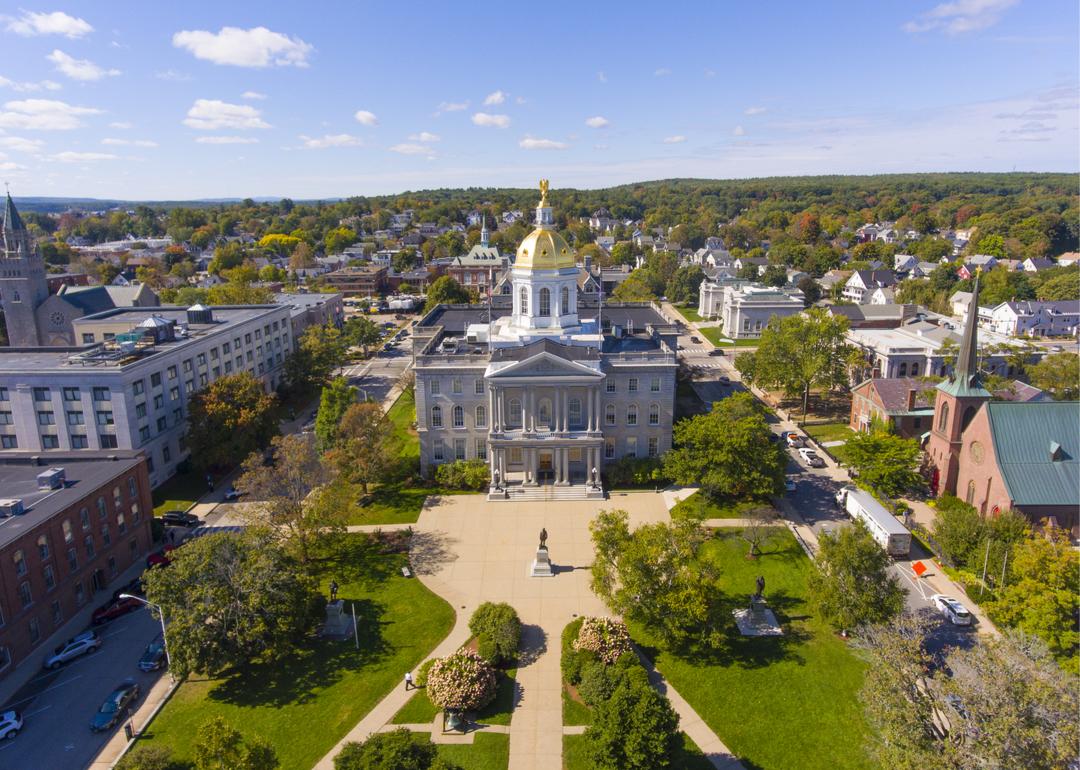 34 / 51
Wangkun Jia // Shutterstock
#18. New Hampshire
- Overall LGBTQ-related laws and policies tally: 29.50 (2 point increase)
--- Gender identity policy tally: 14.50 (0.5 point increase)
--- Sexual orientation policy tally: 15.00 (1.5 point increase)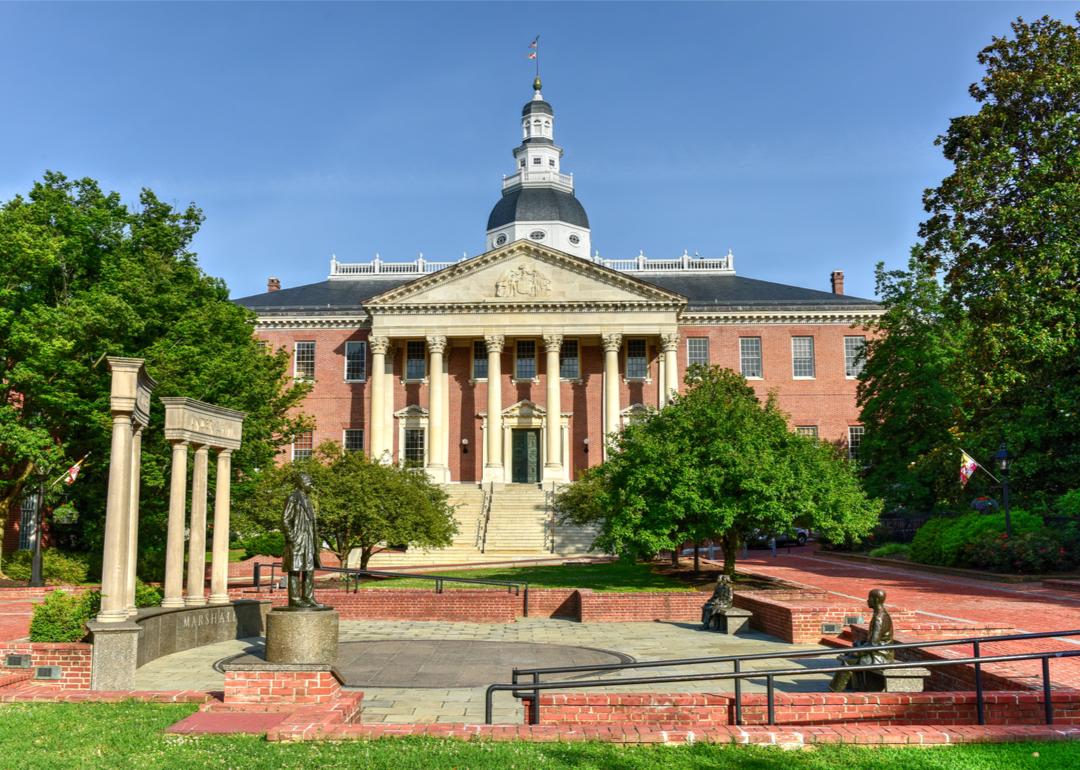 35 / 51
Felix Lipov // Shutterstock
#17. Maryland
- Overall LGBTQ-related laws and policies tally: 30.75 (1 point increase)
--- Gender identity policy tally: 17.00 (0.5 point increase)
--- Sexual orientation policy tally: 13.75 (0.5 point increase)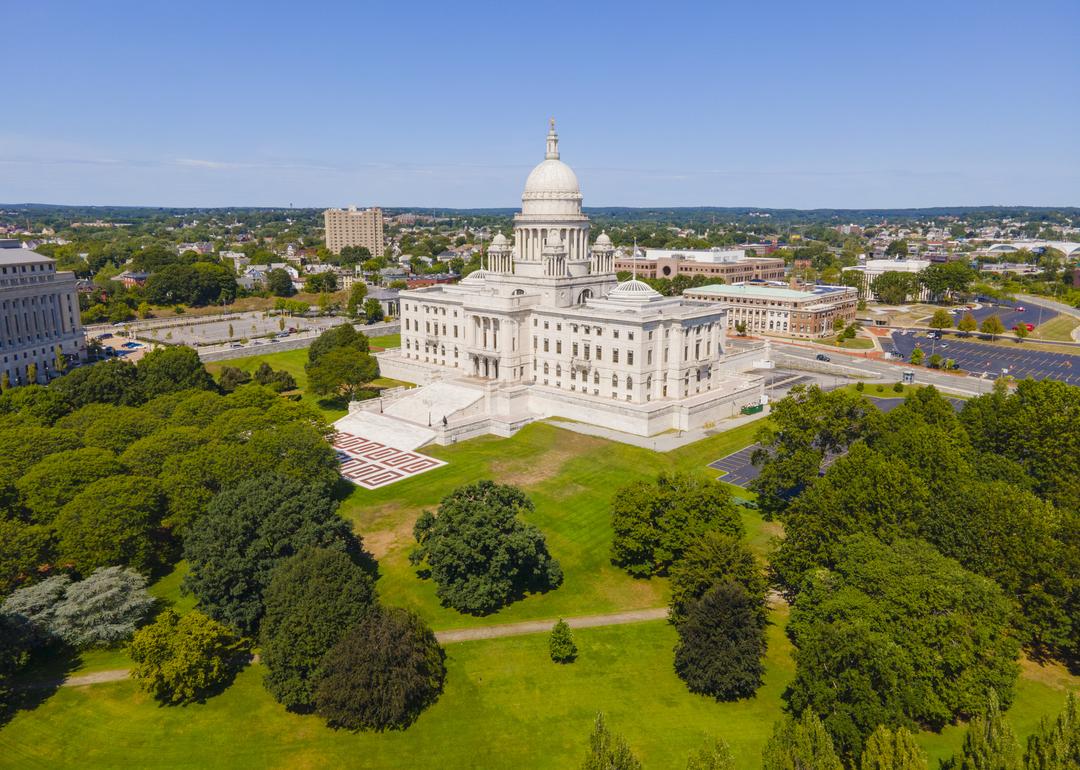 36 / 51
Wangkun Jia // Shutterstock
#16. Rhode Island
- Overall LGBTQ-related laws and policies tally: 33.00 (0.5 point increase)
--- Gender identity policy tally: 17.00 (1 point increase)
--- Sexual orientation policy tally: 16.00 (0.5 point decrease)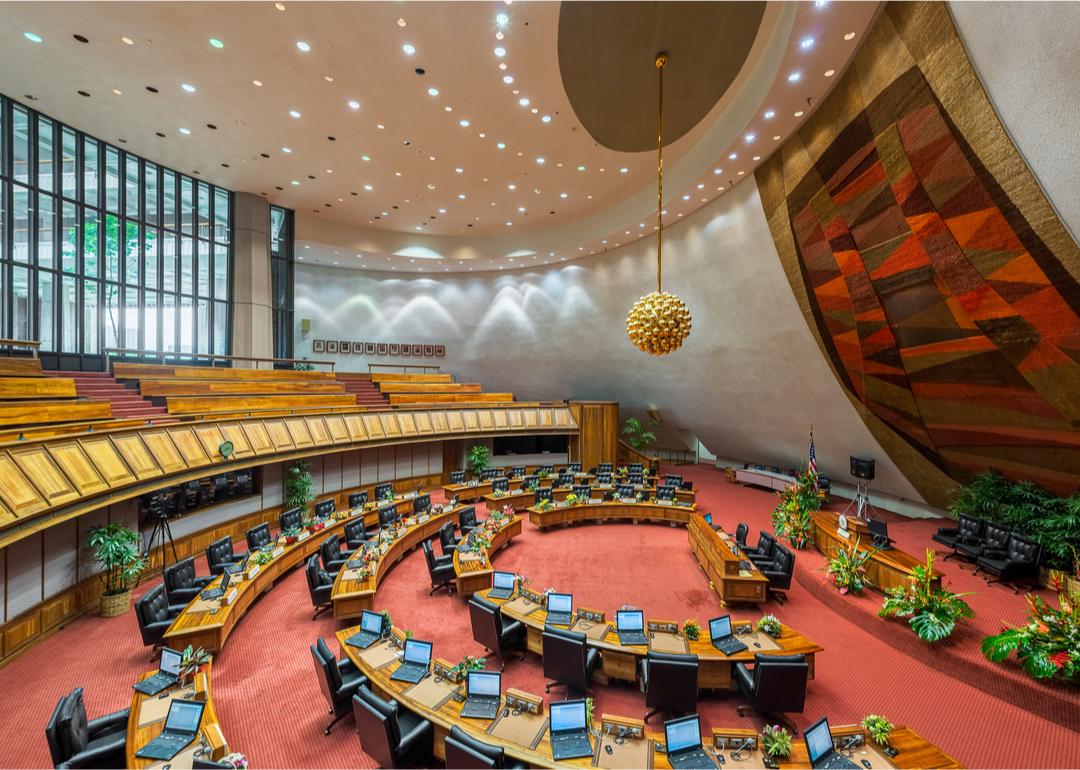 37 / 51
Nagel Photography // Shutterstock
#15. Hawaii
- Overall LGBTQ-related laws and policies tally: 33.50 (2.5 point increase)
--- Gender identity policy tally: 17.50 (1.5 point increase)
--- Sexual orientation policy tally: 16.00 (1 point increase)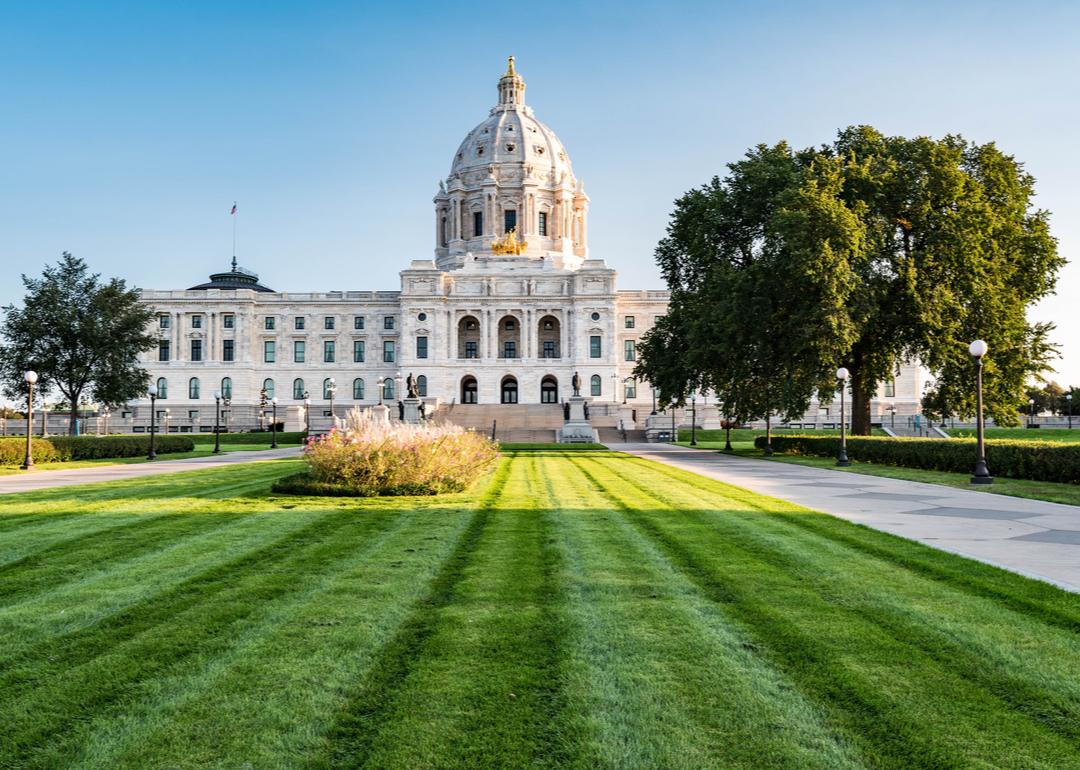 38 / 51
Randy Runtsch // Shutterstock
#14. Minnesota
- Overall LGBTQ-related laws and policies tally: 34.00 (0.5 point increase)
--- Gender identity policy tally: 18.75 (0.5 point increase)
--- Sexual orientation policy tally: 15.25 (no change)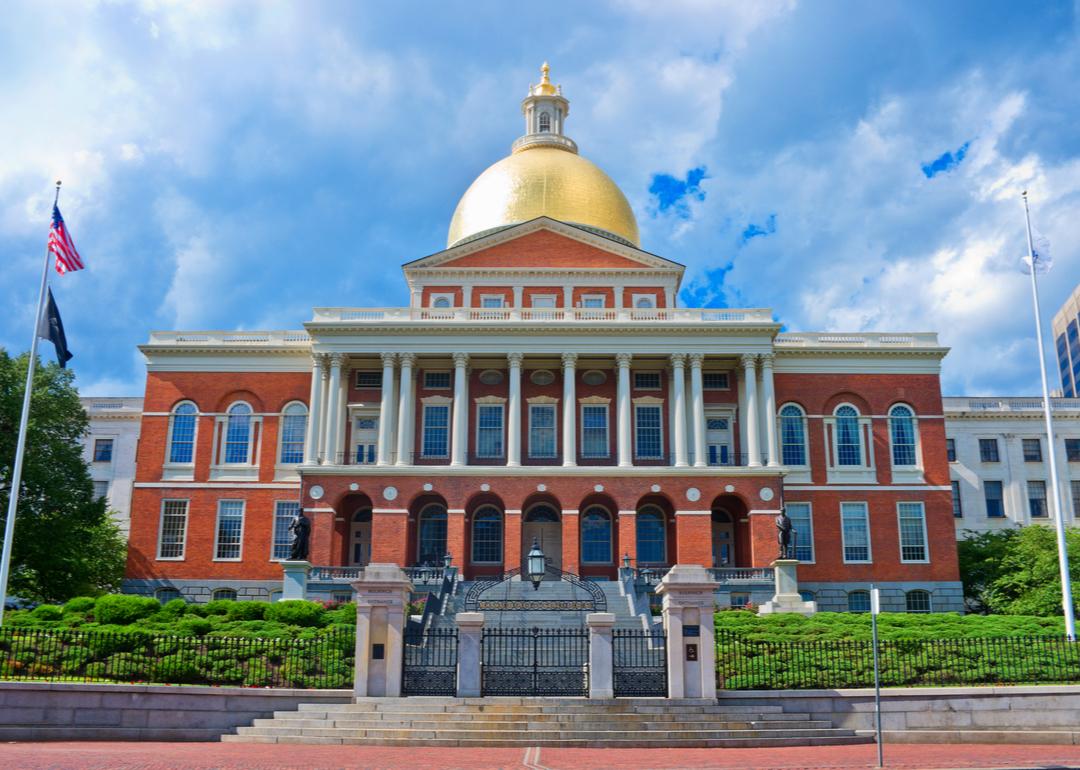 39 / 51
Belikova Oksana // Shutterstock
#13. Massachusetts
- Overall LGBTQ-related laws and policies tally: 35.00 (1.5 point increase)
--- Gender identity policy tally: 17.50 (0.25 point increase)
--- Sexual orientation policy tally: 17.50 (1.25 point increase)
40 / 51
Moab Republic // Shutterstock
#12. Illinois
- Overall LGBTQ-related laws and policies tally: 35.50 (0.5 point increase)
--- Gender identity policy tally: 18.50 (0.5 point increase)
--- Sexual orientation policy tally: 17.00 (no change)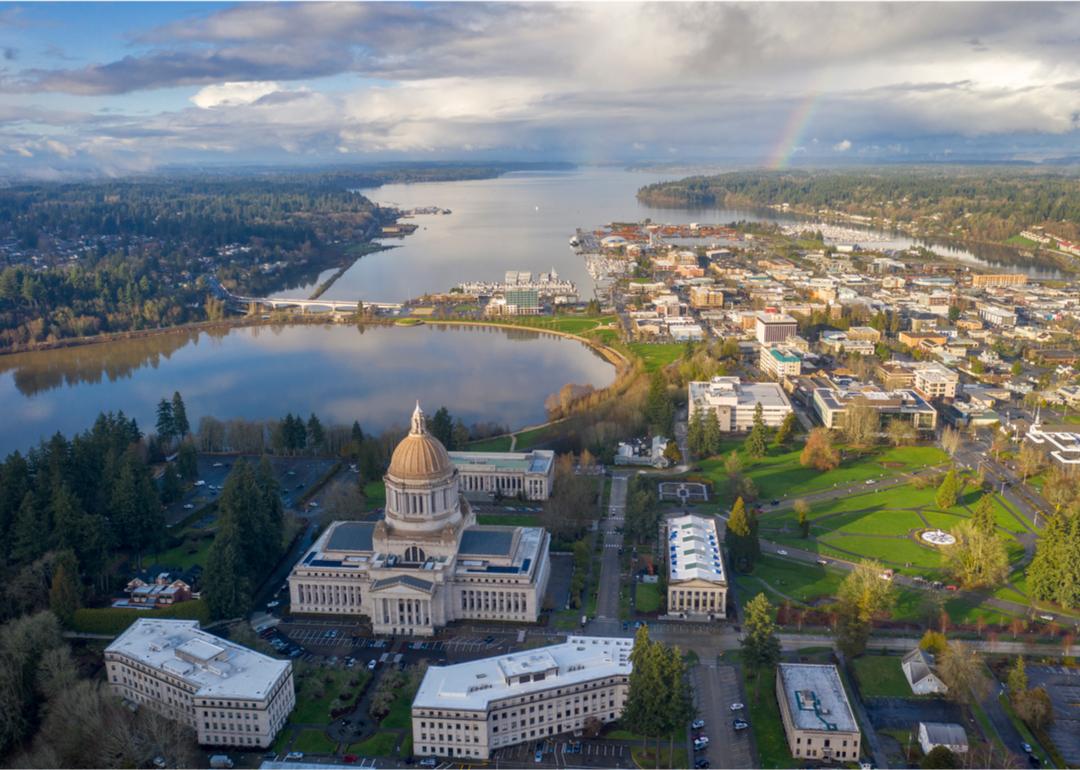 41 / 51
Always Wanderlust / Shutterstock
#11. Washington
- Overall LGBTQ-related laws and policies tally: 37.25 (0.5 point increase)
--- Gender identity policy tally: 20.00 (no change)
--- Sexual orientation policy tally: 17.25 (0.5 point increase)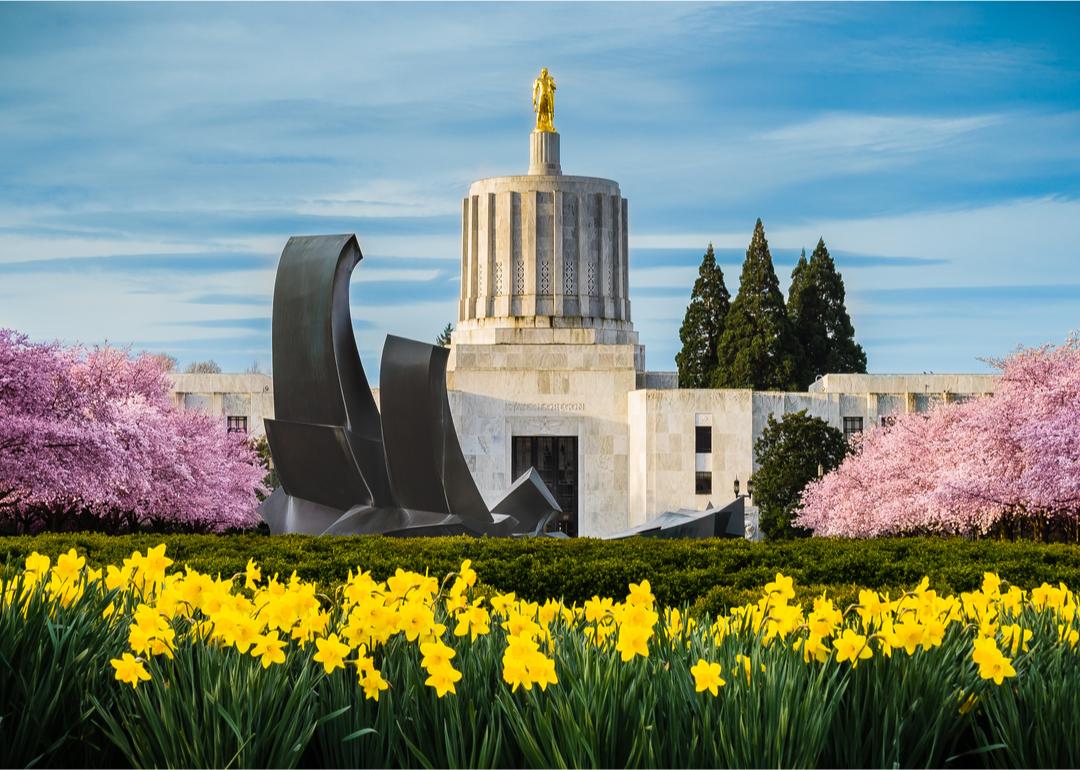 42 / 51
James Curzio // Shutterstock
#10. Oregon
- Overall LGBTQ-related laws and policies tally: 37.50 (1 point increase)
--- Gender identity policy tally: 20.00 (0.5 point increase)
--- Sexual orientation policy tally: 17.50 (0.5 point increase)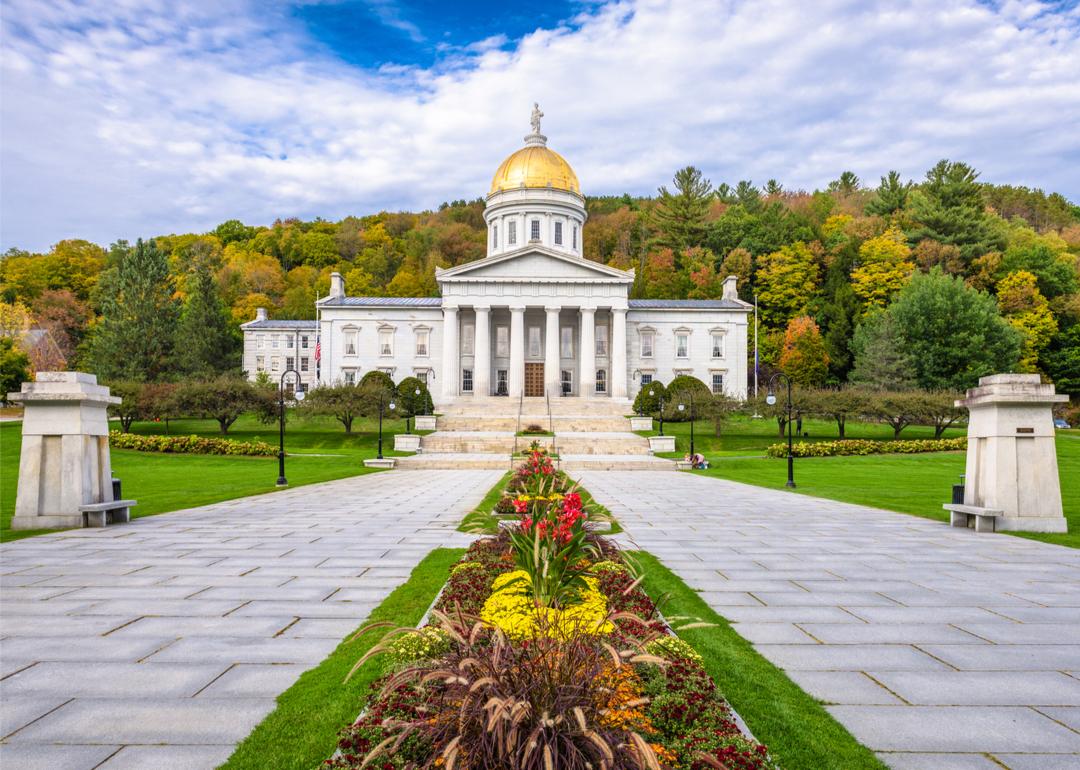 43 / 51
Sean Pavone // Shutterstock
#8. Vermont (tie)
- Overall LGBTQ-related laws and policies tally: 37.50 (1.5 point increase)
--- Gender identity policy tally: 19.50 (1 point increase)
--- Sexual orientation policy tally: 18.00 (0.5 point increase)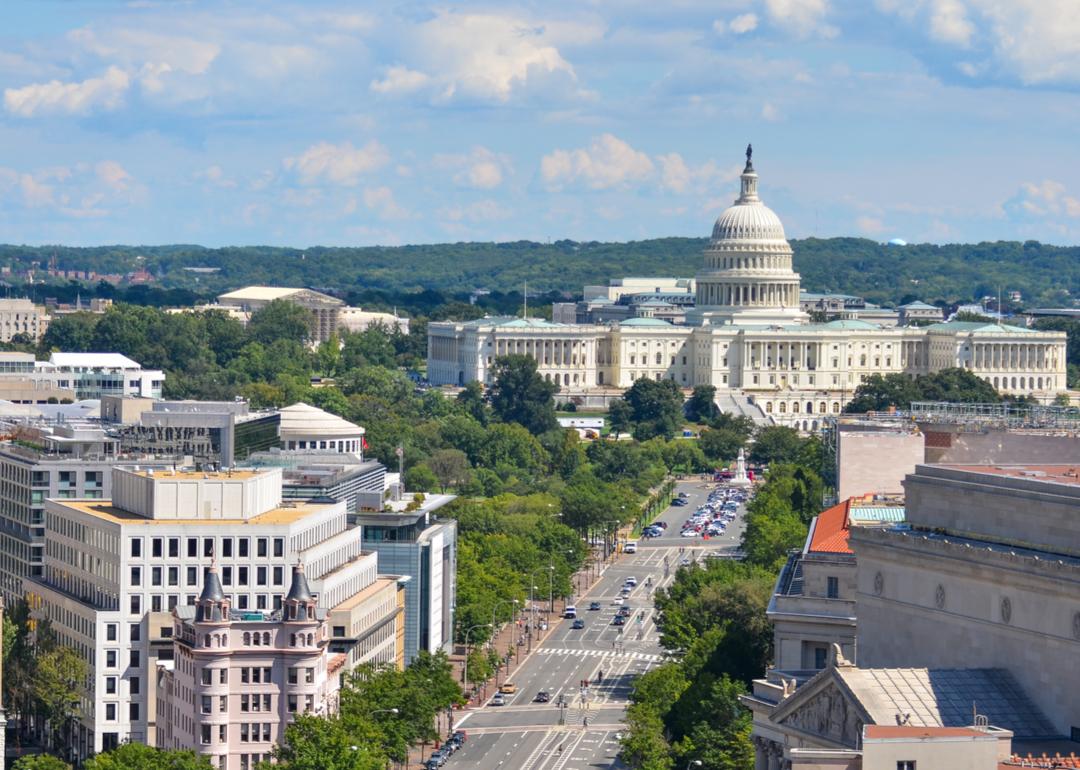 44 / 51
Orhan Cam // Shutterstock
#8. Washington D.C. (tie)
- Overall LGBTQ-related laws and policies tally: 37.50 (1.5 point increase)
--- Gender identity policy tally: 19.50 (0.5 point increase)
--- Sexual orientation policy tally: 18.00 (1 point increase)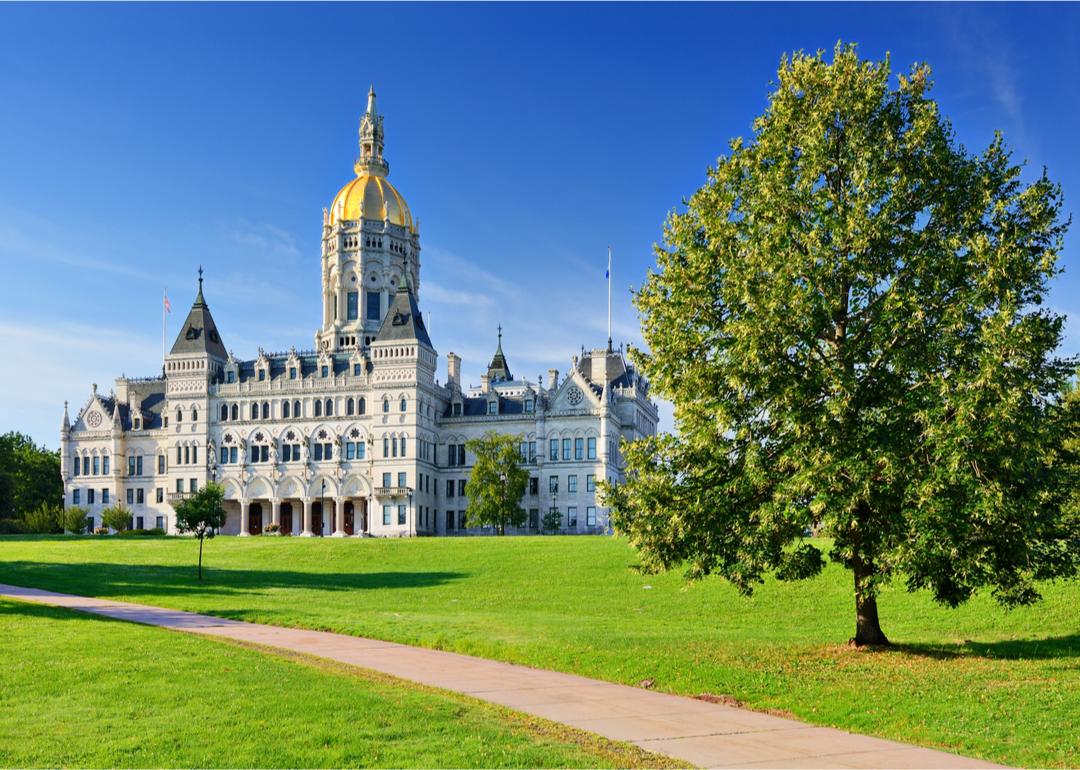 45 / 51
Sean Pavone // Shutterstock
#7. Connecticut
- Overall LGBTQ-related laws and policies tally: 38.00 (0.5 point increase)
--- Gender identity policy tally: 20.00 (no change)
--- Sexual orientation policy tally: 18.00 (0.5 point increase)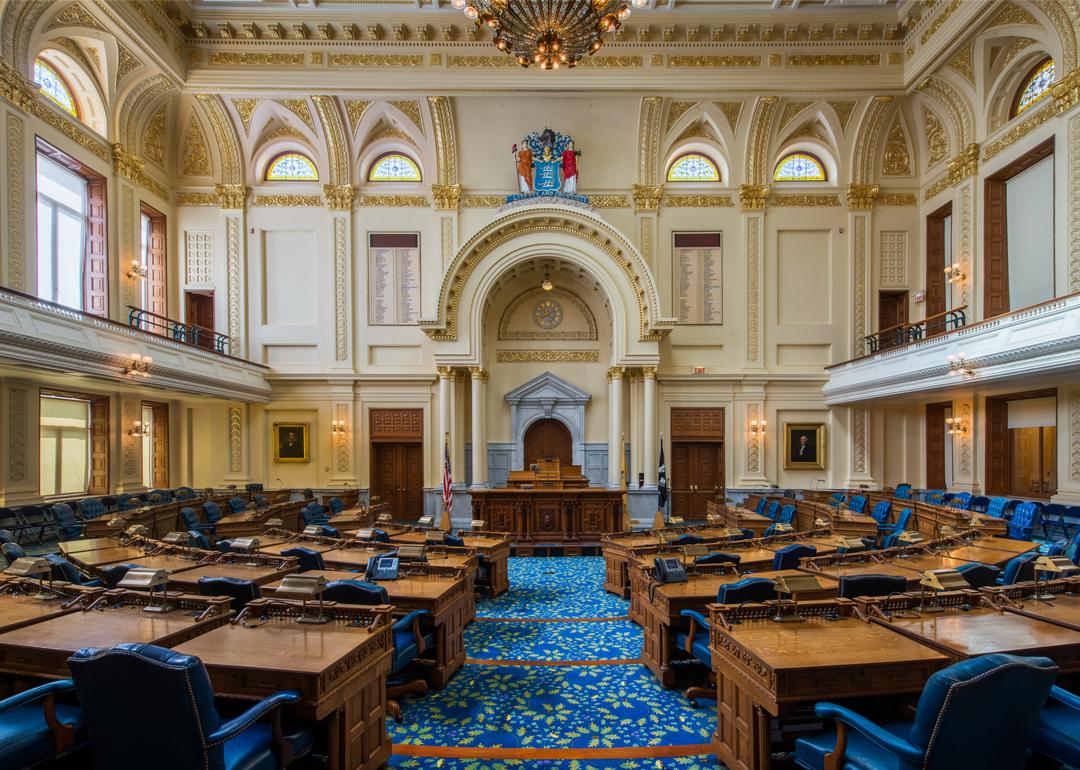 46 / 51
Nagel Photography // Shutterstock
#6. New Jersey
- Overall LGBTQ-related laws and policies tally: 38.50 (1.5 point increase)
--- Gender identity policy tally: 21.00 (1 point increase)
--- Sexual orientation policy tally: 17.50 (0.5 point increase)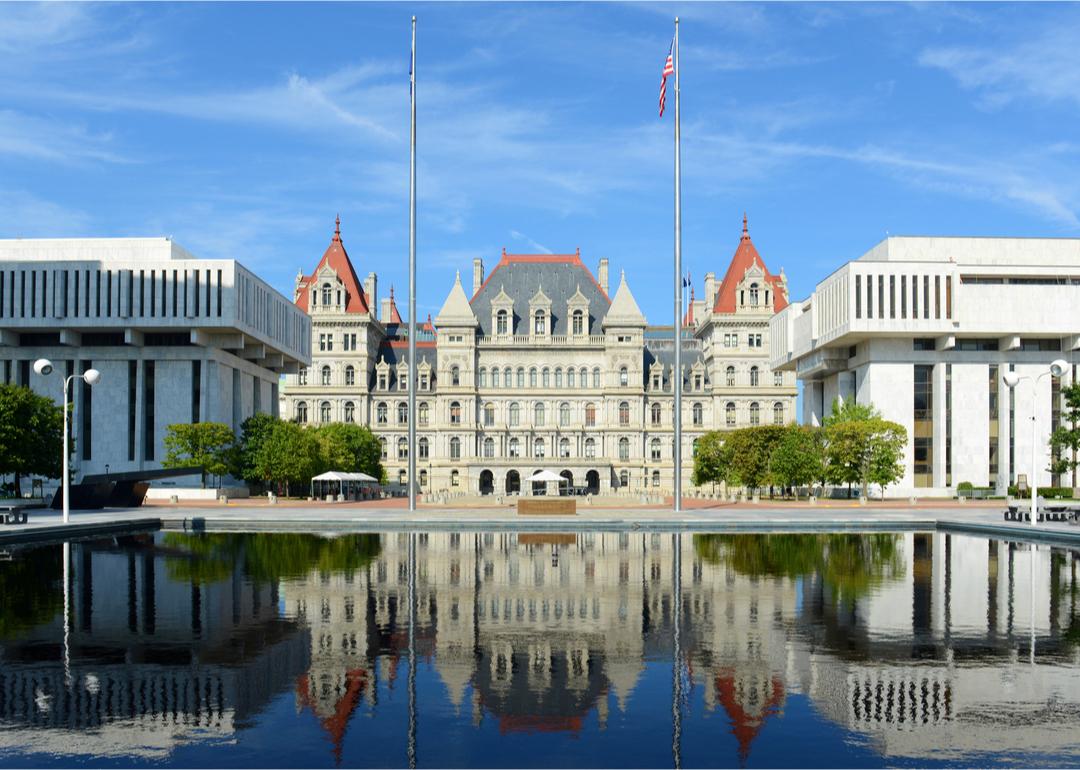 47 / 51
Wangkun Jia // Shutterstock
#5. New York
- Overall LGBTQ-related laws and policies tally: 39.50 (0.5 point increase)
--- Gender identity policy tally: 21.00 (0.5 point increase)
--- Sexual orientation policy tally: 18.50 (no change)
48 / 51
Wangkun Jia // Shutterstock
#3. Maine (tie)
- Overall LGBTQ-related laws and policies tally: 39.50 (2.5 point increase)
--- Gender identity policy tally: 20.50 (2 point increase)
--- Sexual orientation policy tally: 19.00 (0.5 point increase)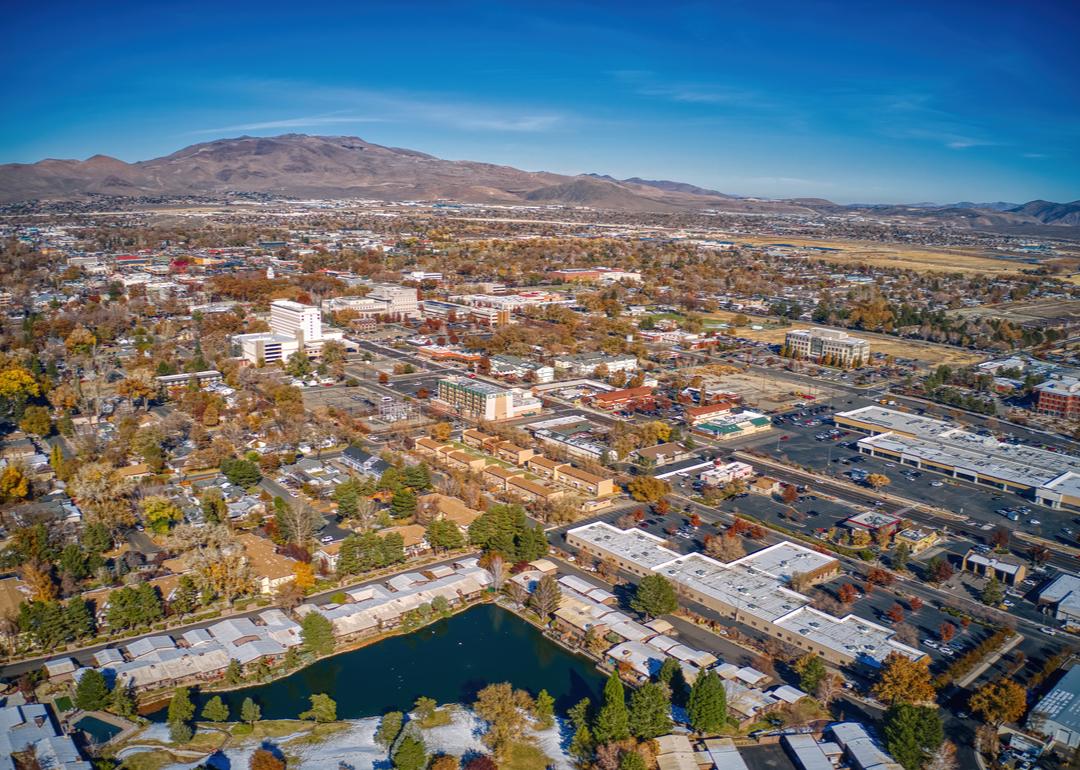 49 / 51
Jacob Boomsma // Shutterstock
#3. Nevada (tie)
- Overall LGBTQ-related laws and policies tally: 39.50 (1.5 point increase)
--- Gender identity policy tally: 20.50 (no change)
--- Sexual orientation policy tally: 19.00 (1.5 point increase)
50 / 51
Creative Family // Shutterstock
#2. Colorado
- Overall LGBTQ-related laws and policies tally: 41.50 (2 point increase)
--- Gender identity policy tally: 21.25 (0.5 point increase)
--- Sexual orientation policy tally: 20.25 (1.5 point increase)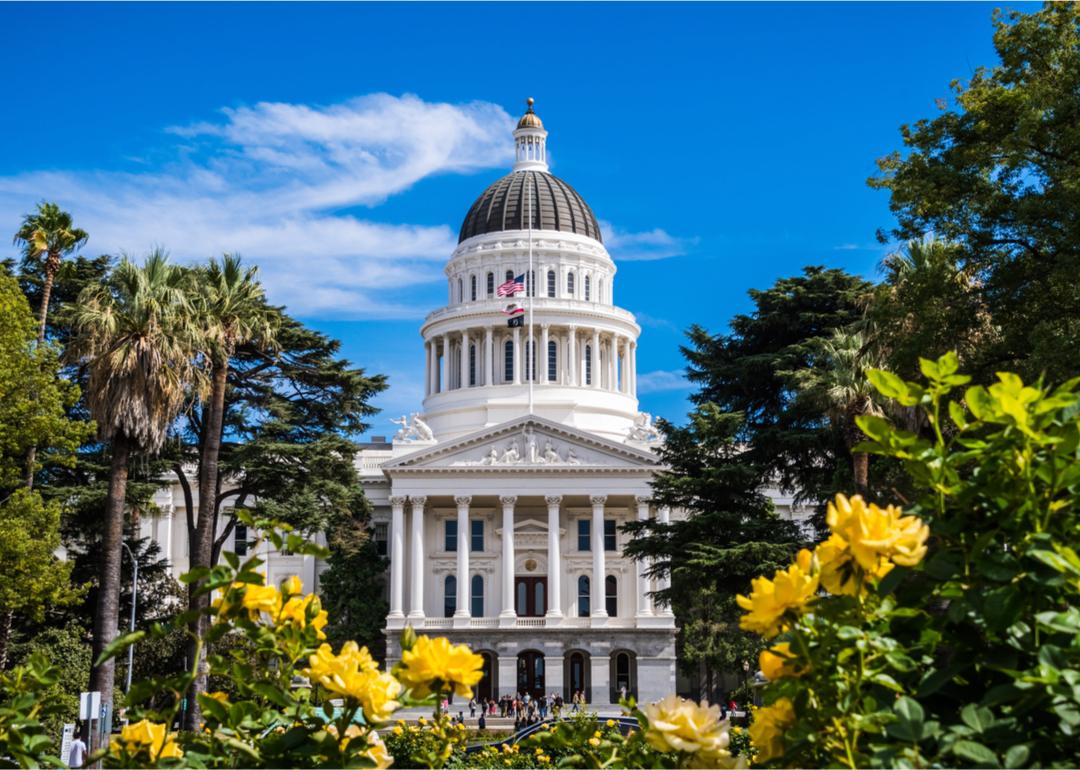 51 / 51
Sundry Photography // Shutterstock
#1. California
- Overall LGBTQ-related laws and policies tally: 41.75 (2.5 point increase)
--- Gender identity policy tally: 21.75 (1 point increase)
--- Sexual orientation policy tally: 20.00 (1.5 point increase)