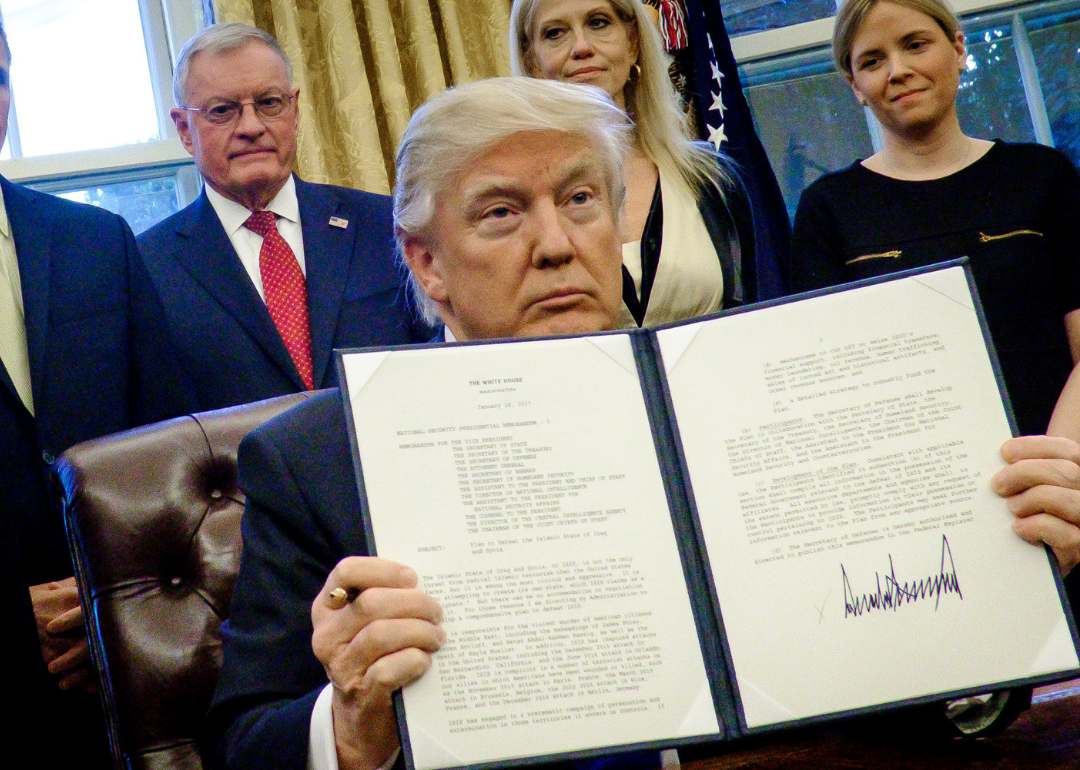 Presidency in review: Which campaign promises did Trump uphold?
Pete Marovich // Getty Images
Presidency in review: Which campaign promises did Trump uphold?
On the campaign trail in 2016, President Donald Trump made numerous promises about what he would do when he reached the White House.
Stacker compiled data from PolitiFact's Trump-o-Meter, which continually tracks the promises President Donald Trump made in his 2016 campaign for president. For four years, PolitiFact's reporters kept track of the promises and researched whether each promise was kept, broken, compromised on, stalled, or in the works. Each slide provides a description of the promise, the status of the promise, a link to more information from PolitiFact's researchers on the promise, and our own research into the promise.
Among Trump's campaign promises was a pledge to roll back regulations implemented by his predecessor, President Barack Obama, and renegotiate the Iran nuclear deal, which Trump roundly criticized. Trump also pledged to withdraw the United States immediately from the Paris climate accord and redo NAFTA.
Some promises he was able to keep, while others have landed in court, among them many efforts to end environmental protections, or were dropped after he won the election, such as changing libel law to make it easier to sue media outlets.
Many of Trump's promises involved trying to deport undocumented immigrants or limiting immigrants or the entry of refugees. Others focused on bolstering American businesses or manufacturers. And some were entirely personal, such as when he threatened to sue the women who accused him of sexual misconduct, or refused to release his tax returns. While many of his pledges involved the functioning of government, some were expressions of his view of the country's cultural battles, such as the so-called "war on Christmas."
.Keep reading to see which campaign promises President Trump upheld, and details about each.
You may also like: The only 7 countries that are on track to meet the Paris Agreement—and how they're doing it