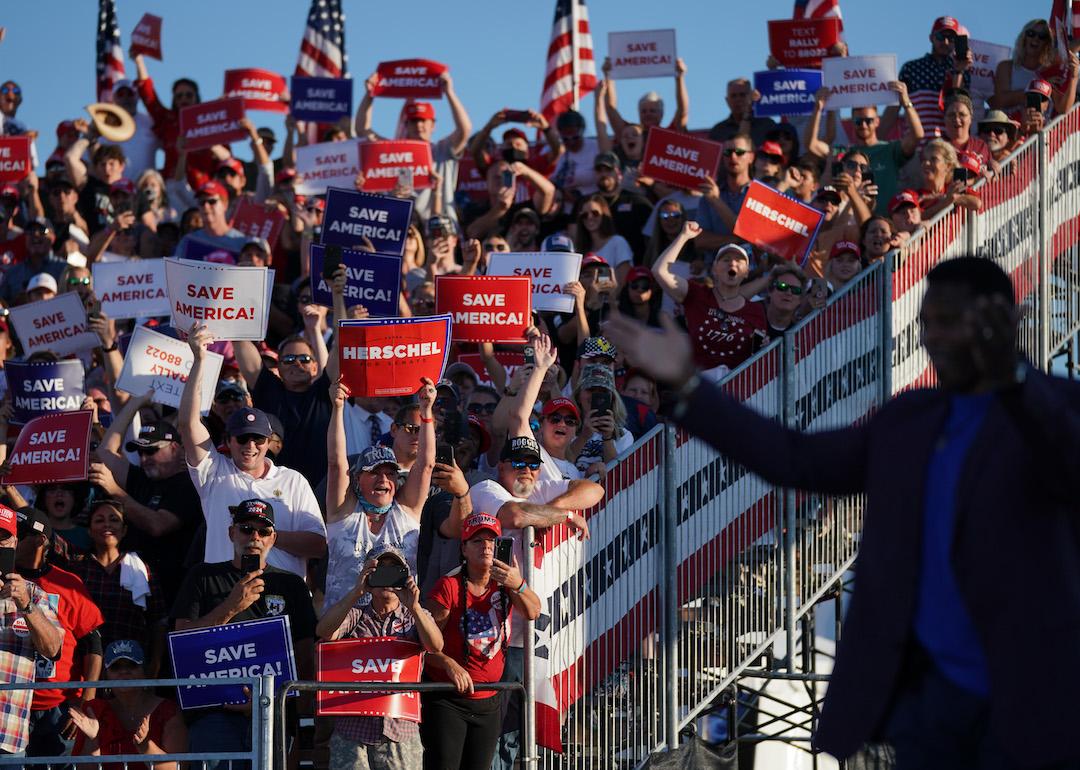 States with the most conservatives
Sean Rayford // Getty Images
States with the most conservatives
With a few rare exceptions, one thing is all but certain in American elections: the winner will likely be a Republican or a Democrat. America's two-party system is characterized by a liberal-conservative split that essentially forces even moderates to pick a side.
In many cases, the side you pick can have a lot to do with where you live. In 2021, The New York Times reported that America has spent the last few decades "self-segregating" into "blue" (liberal-leaning) states and "red" (conservative-leaning) states. And while this may not seem to be that big of a deal on the surface, research shows that it is actually quite troubling: In addition to exacerbating existing partisan squabbling, this type of extreme polarization may very well be a threat to democracy itself. 
In addition to the conflict between the two dominant parties, many conservatives find themselves at a crossroads of sorts within their own party this midterms season: Some are fine with following the rhetoric of Donald Trump, including the proliferation of "the Big Lie;" but others understand and accept the legitimacy of the last presidential election and prefer to follow a more traditional form of modern-day Republicanism.  
Stacker used data from Gallup to rank all 50 states by the percent of conservative residents, then by the percent of residents who identify as moderate. If both percentages were the same for more than one state, that ranking is denoted as a tie. Additionally, data from 270toWin and the Cook Political Report's 2020 National Popular Vote Tracker was used to show how many times the state voted for a Republican presidential candidate since 1964, and how many votes were cast for Donald Trump in the 2020 presidential election.
It might not come as a surprise that the states with the lowest concentrations of conservatives are on the West Coast, in the Northeast, and in New England. Sparsely populated rural states and Southern states dominated the list of those with the most conservatives. 
You may also like: States with the most liberals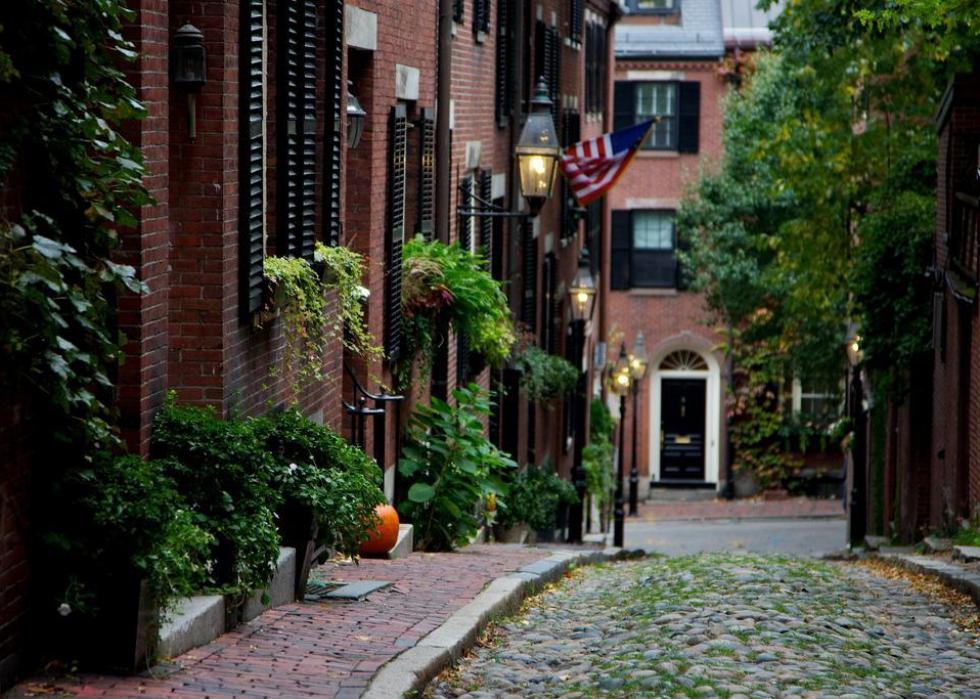 1 / 50
#50. Massachusetts
- Residents who consider themselves conservative: 21%
- Residents who consider themselves moderate: 38%
- Presidential election outcome between 1964-2020: voted Republican 2 times (out of 15)
- Votes cast for Donald Trump in 2020: 1,167,202 (32.1%)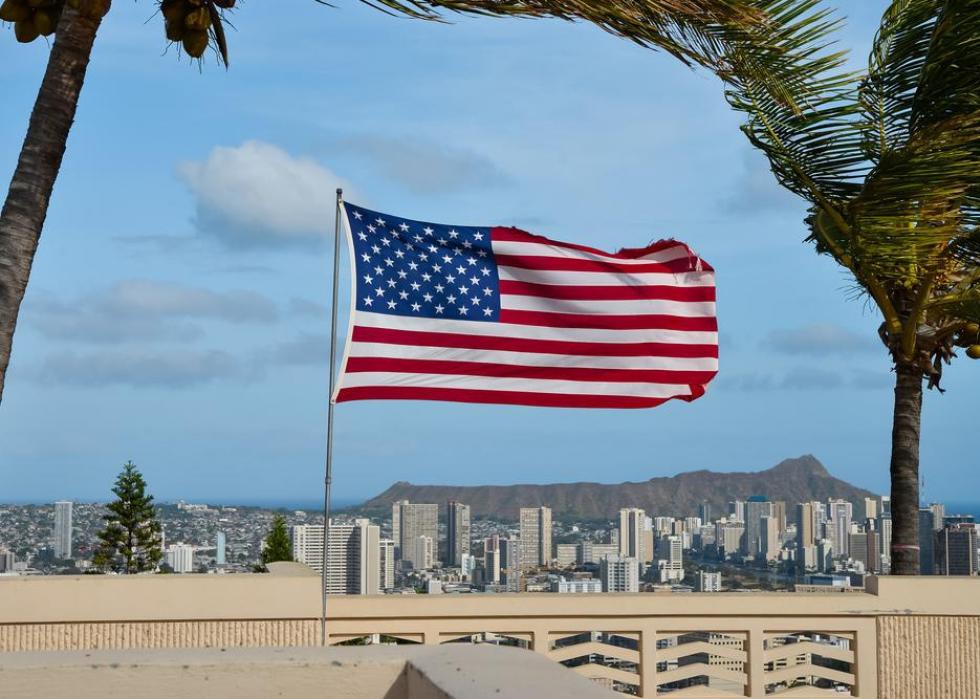 2 / 50
Forefront Images // Shutterstock
#49. Hawaii
- Residents who consider themselves conservative: 22%
- Residents who consider themselves moderate: 45%
- Presidential election outcome between 1964-2020: voted Republican 2 times (out of 15)
- Votes cast for Donald Trump in 2020: 196,864 (34.3%)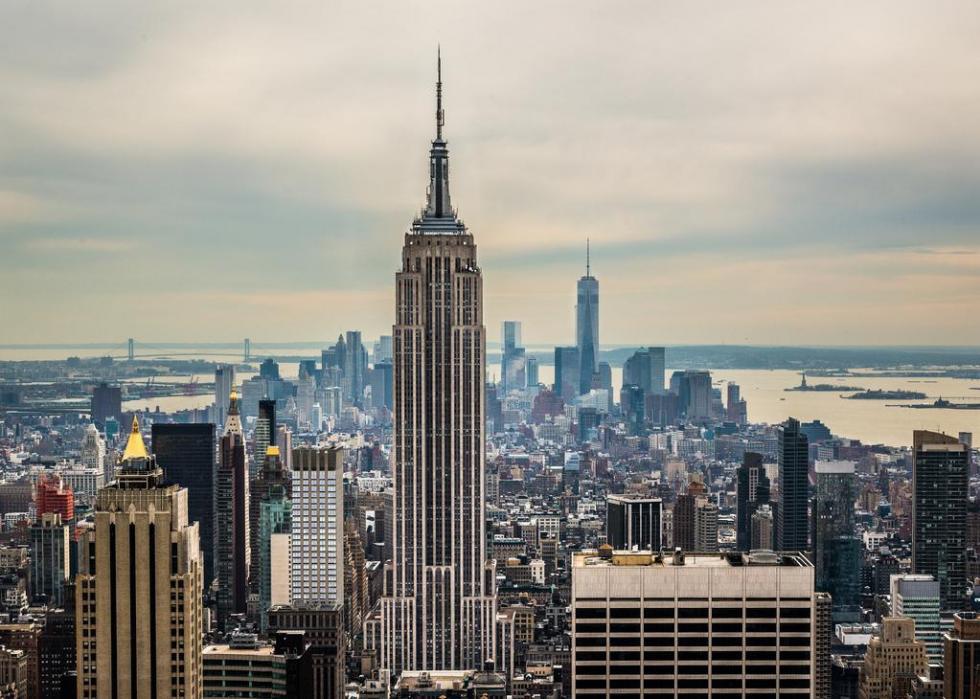 3 / 50
#48. New York
- Residents who consider themselves conservative: 27%
- Residents who consider themselves moderate: 35%
- Presidential election outcome between 1964-2020: voted Republican 3 times (out of 15)
- Votes cast for Donald Trump in 2020: 3,250,075 (37.7%)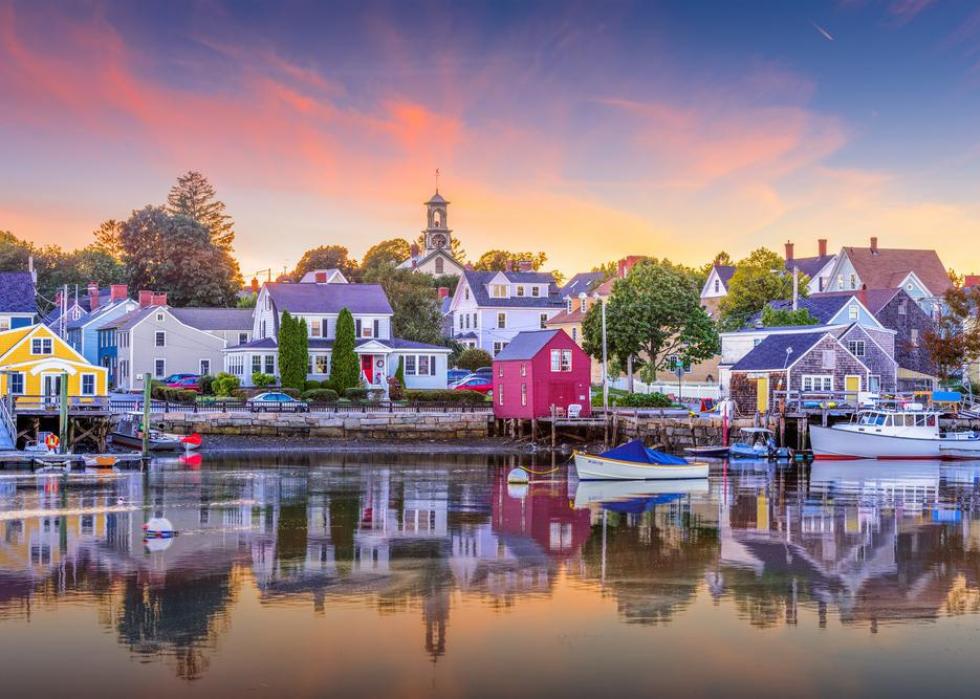 4 / 50
Sean Pavone // Shutterstock
#46. New Hampshire (tie)
- Residents who consider themselves conservative: 28%
- Residents who consider themselves moderate: 36%
- Presidential election outcome between 1964-2020: voted Republican 7 times (out of 15)
- Votes cast for Donald Trump in 2020: 365,654 (45.4%)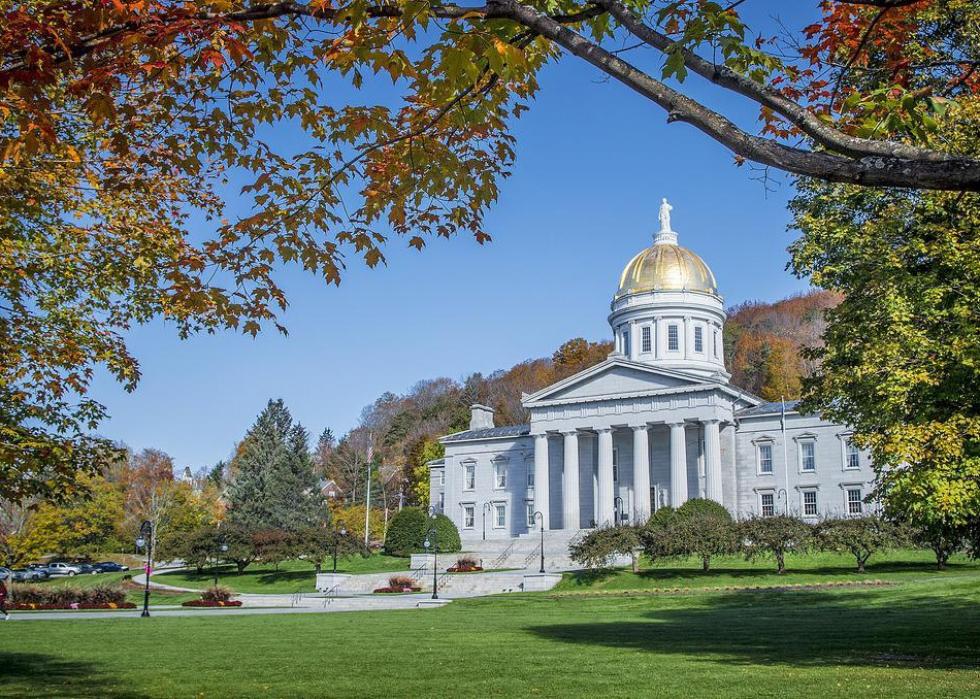 5 / 50
#46. Vermont (tie)
- Residents who consider themselves conservative: 28%
- Residents who consider themselves moderate: 36%
- Presidential election outcome between 1964-2020: voted Republican 6 times (out of 15)
- Votes cast for Donald Trump in 2020: 112,704 (30.7%)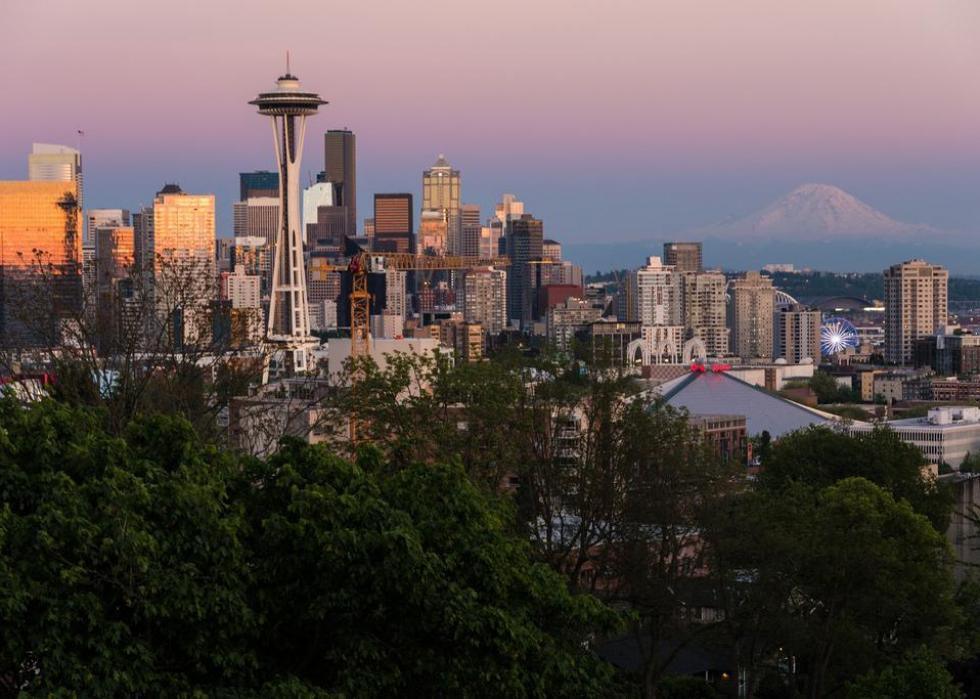 6 / 50
#45. Washington
- Residents who consider themselves conservative: 28%
- Residents who consider themselves moderate: 37%
- Presidential election outcome between 1964-2020: voted Republican 4 times (out of 15)
- Votes cast for Donald Trump in 2020: 1,584,651 (38.8%)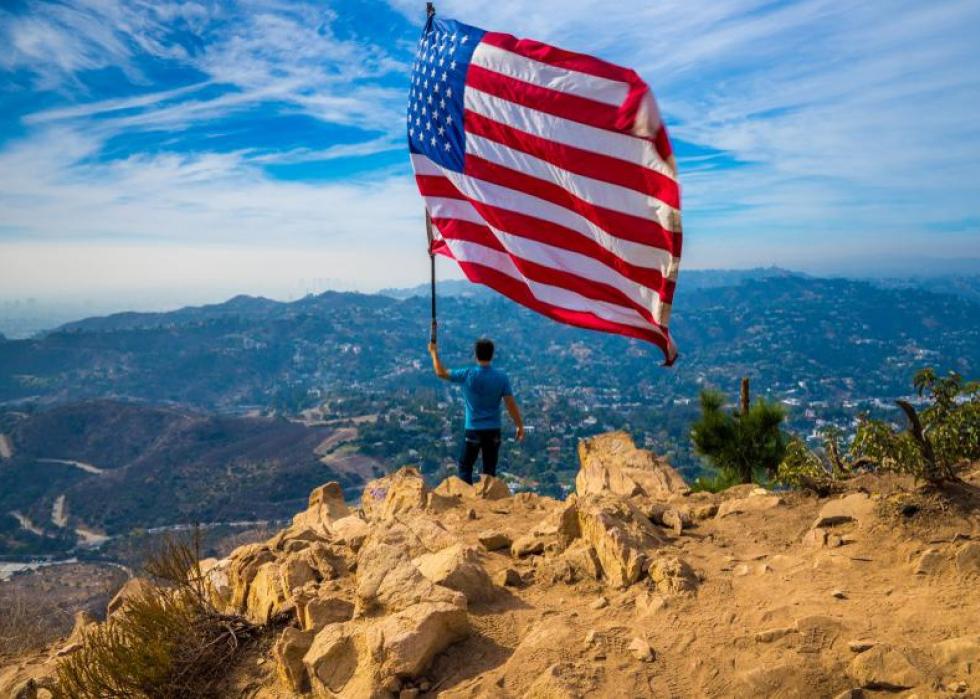 7 / 50
Daniel Avram // Shutterstock
#44. California
- Residents who consider themselves conservative: 29%
- Residents who consider themselves moderate: 36%
- Presidential election outcome between 1964-2020: voted Republican 6 times (out of 15)
- Votes cast for Donald Trump in 2020: 6,006,429 (34.3%)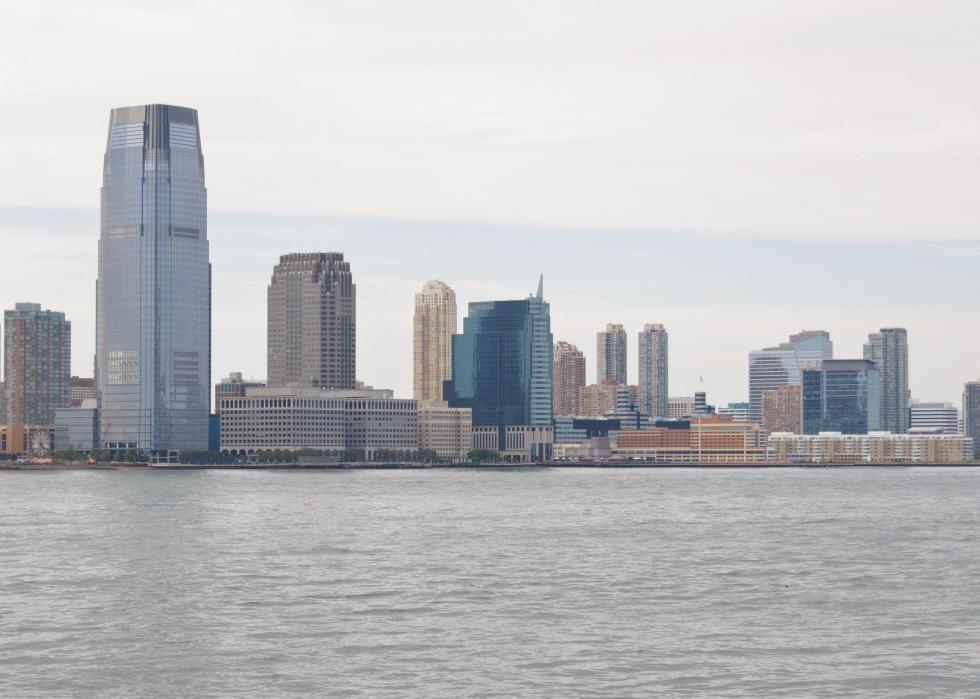 8 / 50
King of Hearts // Wikimedia Commons
#43. New Jersey
- Residents who consider themselves conservative: 29%
- Residents who consider themselves moderate: 37%
- Presidential election outcome between 1964-2020: voted Republican 6 times (out of 15)
- Votes cast for Donald Trump in 2020: 1,883,274 (41.4%)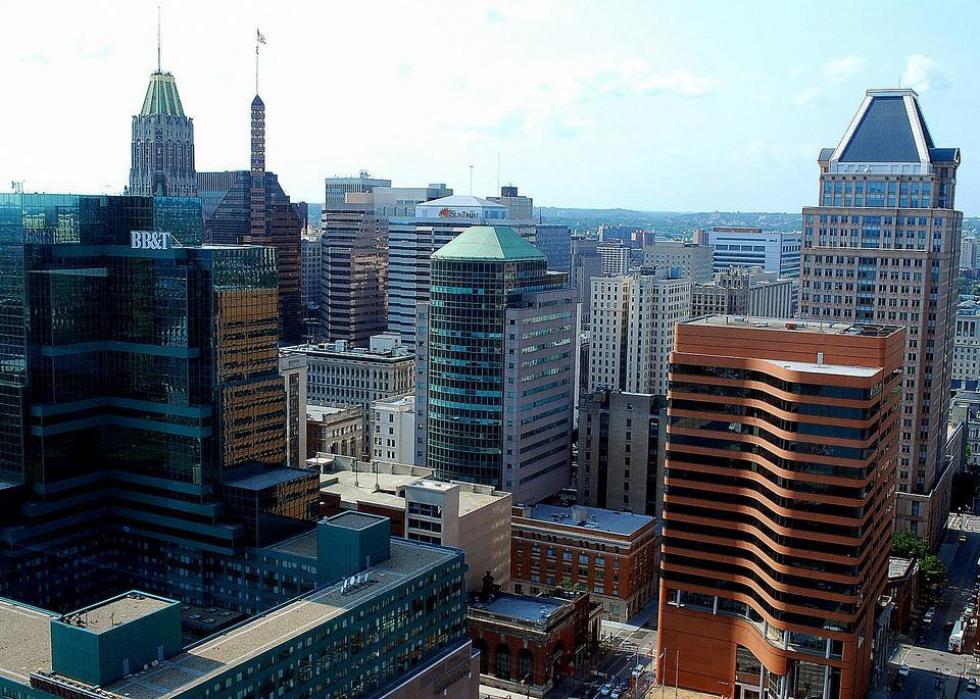 9 / 50
#42. Maryland
- Residents who consider themselves conservative: 29%
- Residents who consider themselves moderate: 39%
- Presidential election outcome between 1964-2020: voted Republican 3 times (out of 15)
- Votes cast for Donald Trump in 2020: 976,414 (32.2%)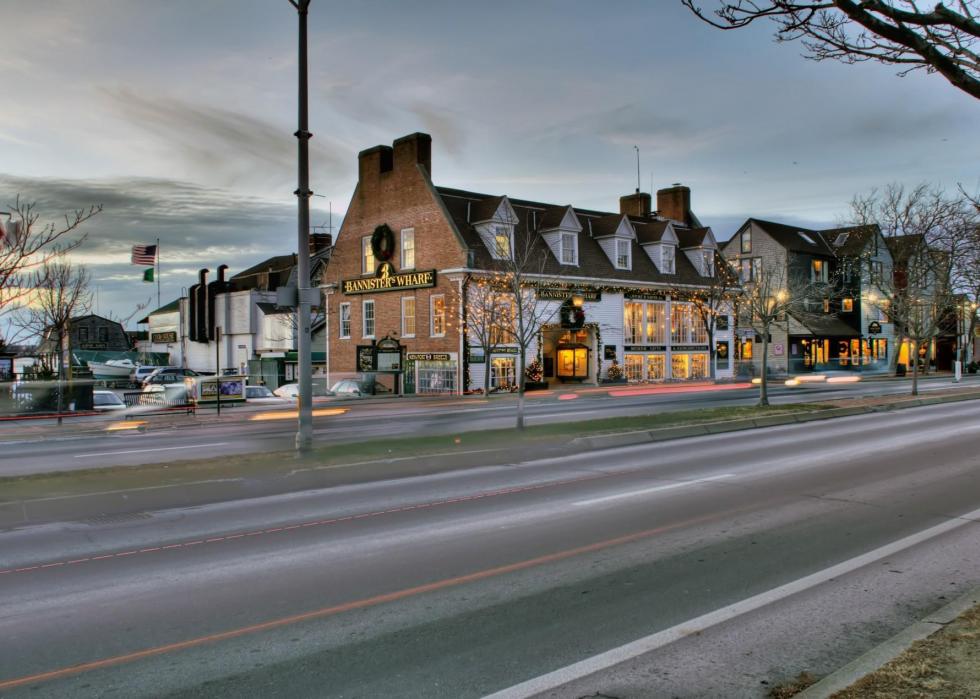 10 / 50
#41. Rhode Island
- Residents who consider themselves conservative: 29%
- Residents who consider themselves moderate: 40%
- Presidential election outcome between 1964-2020: voted Republican 2 times (out of 15)
- Votes cast for Donald Trump in 2020: 199,922 (38.6%)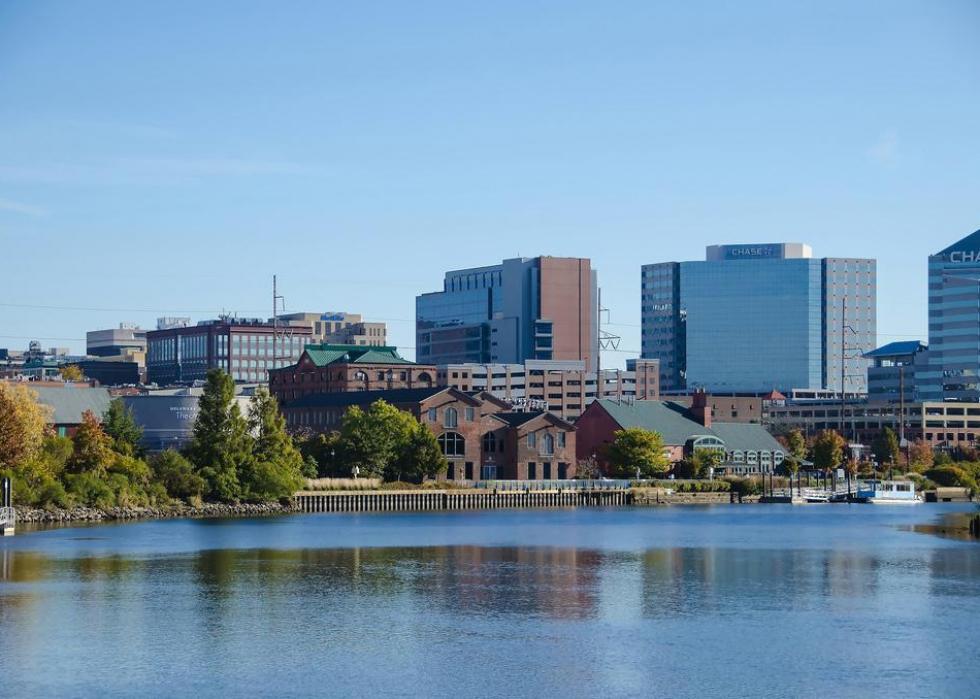 11 / 50
#40. Delaware
- Residents who consider themselves conservative: 29%
- Residents who consider themselves moderate: 43%
- Presidential election outcome between 1964-2020: voted Republican 5 times (out of 15)
- Votes cast for Donald Trump in 2020: 200,603 (39.8%)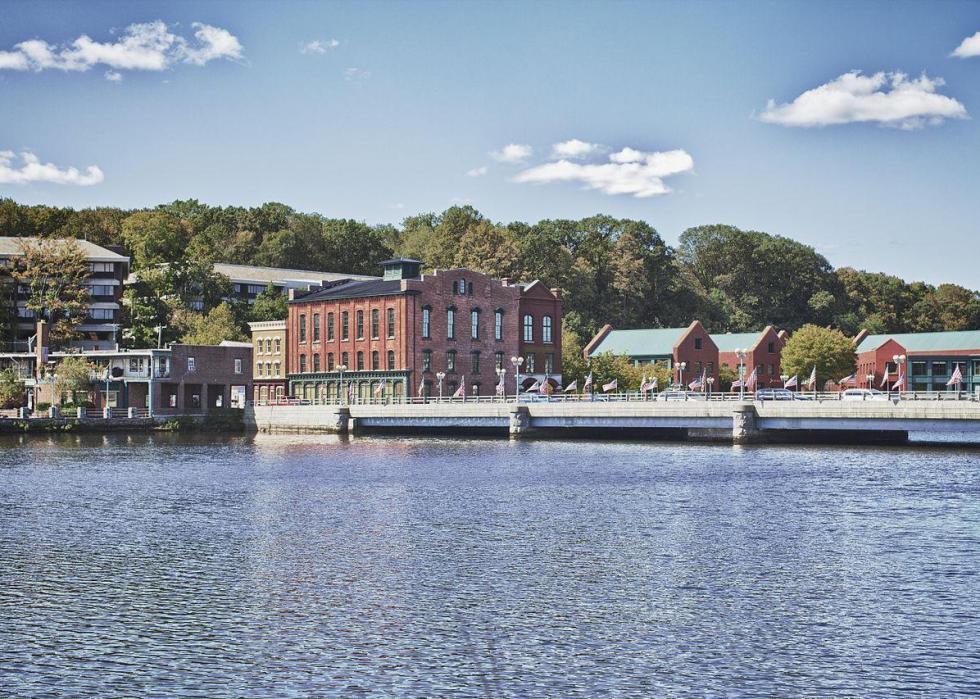 12 / 50
WestportWiki // Wikimedia Commons
#39. Connecticut
- Residents who consider themselves conservative: 30%
- Residents who consider themselves moderate: 38%
- Presidential election outcome between 1964-2020: voted Republican 5 times (out of 15)
- Votes cast for Donald Trump in 2020: 715,291 (39.2%)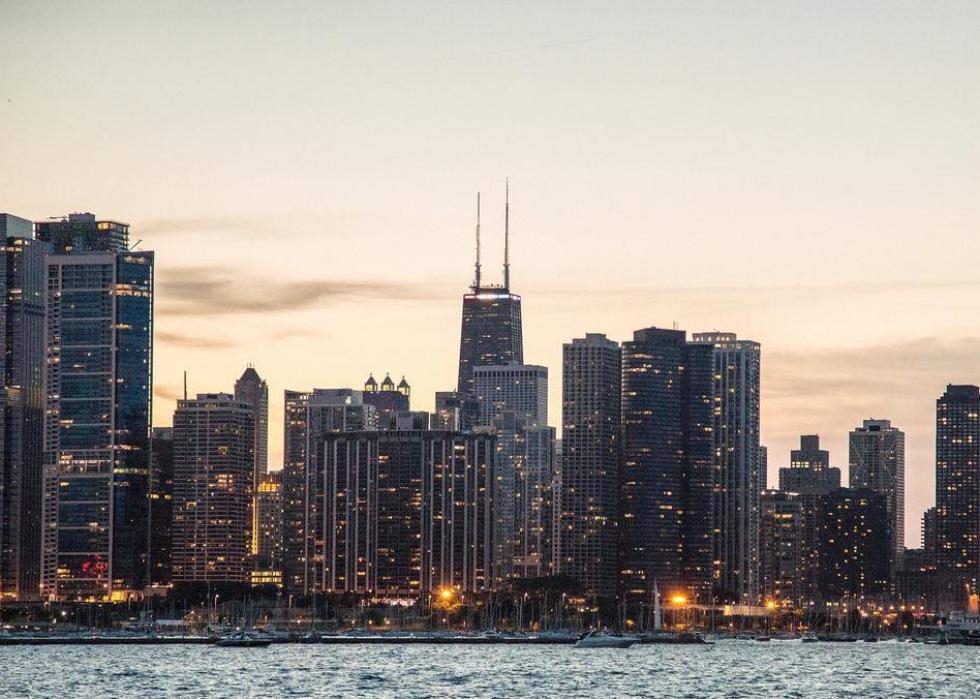 13 / 50
#38. Illinois
- Residents who consider themselves conservative: 31%
- Residents who consider themselves moderate: 36%
- Presidential election outcome between 1964-2020: voted Republican 6 times (out of 15)
- Votes cast for Donald Trump in 2020: 2,446,891 (40.6%)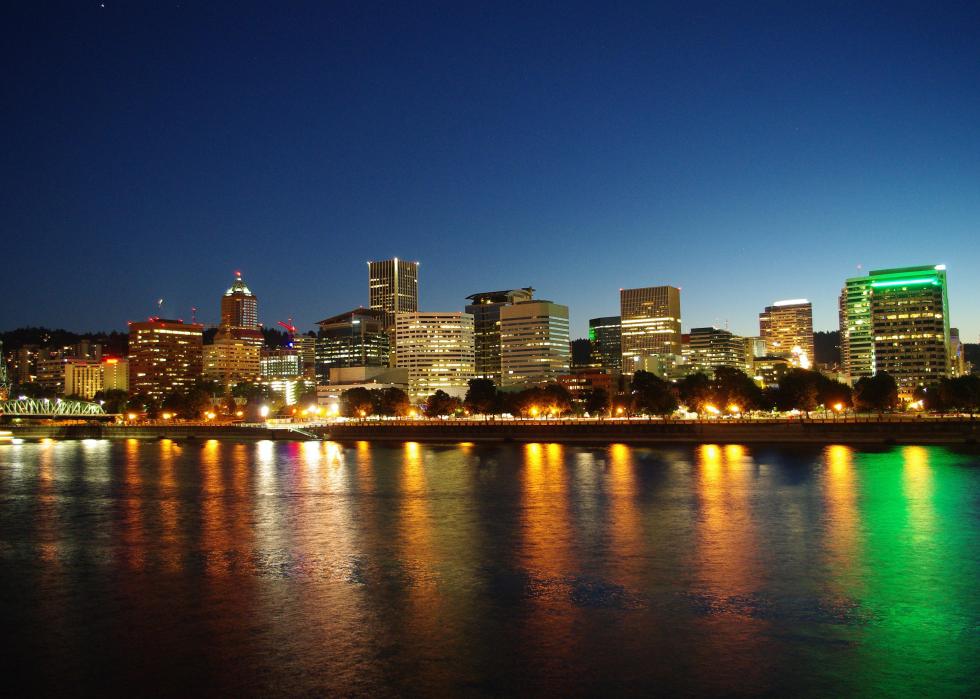 14 / 50
M.O. Stevens // Wikimedia Commons
#37. Oregon
- Residents who consider themselves conservative: 32%
- Residents who consider themselves moderate: 35%
- Presidential election outcome between 1964-2020: voted Republican 5 times (out of 15)
- Votes cast for Donald Trump in 2020: 958,448 (40.4%)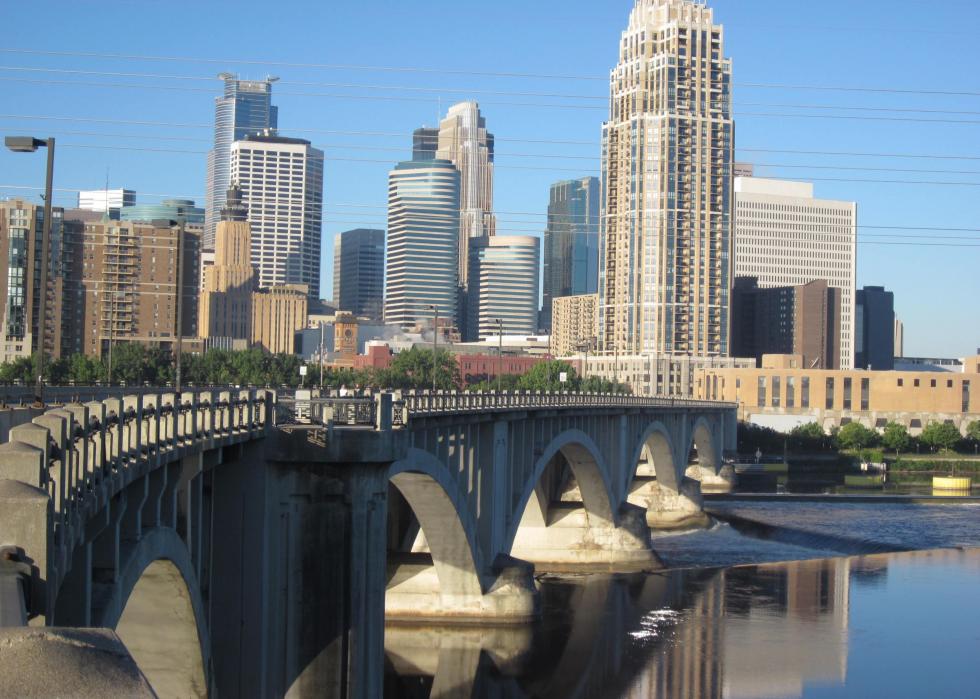 15 / 50
Doug Kerr // Wikimedia Commons
#36. Minnesota
- Residents who consider themselves conservative: 32%
- Residents who consider themselves moderate: 37%
- Presidential election outcome between 1964-2020: voted Republican 1 time (out of 15)
- Votes cast for Donald Trump in 2020: 1,484,048 (45.3%)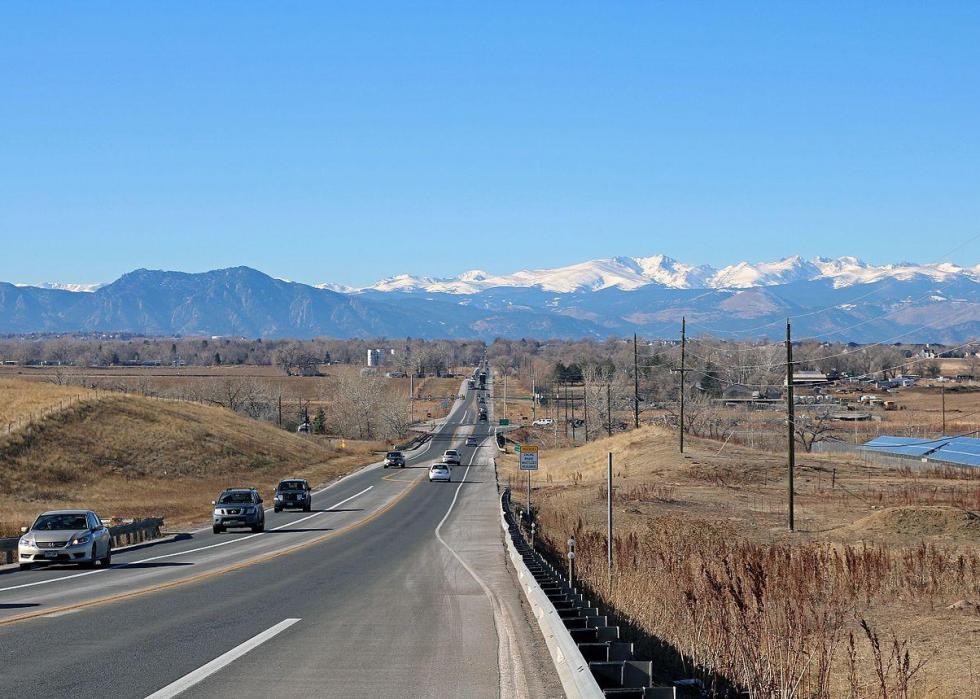 16 / 50
Jeffrey Beall // Wikimedia Commons
#34. Colorado (tie)
- Residents who consider themselves conservative: 33%
- Residents who consider themselves moderate: 37%
- Presidential election outcome between 1964-2020: voted Republican 9 times (out of 15)
- Votes cast for Donald Trump in 2020: 1,364,607 (41.9%)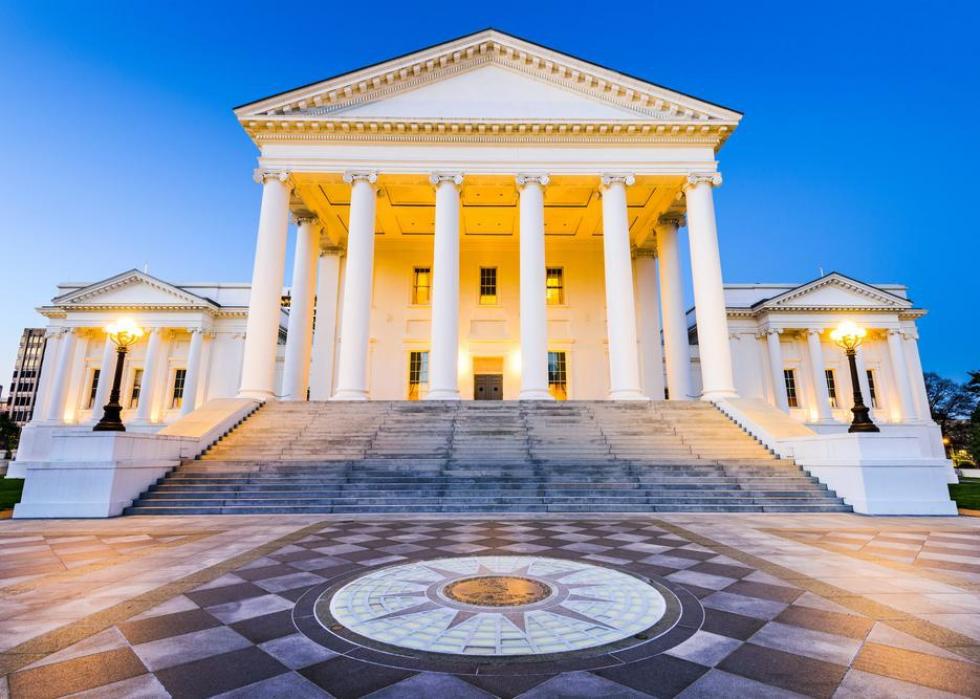 17 / 50
Sean Pavone // Shutterstock
#34. Virginia (tie)
- Residents who consider themselves conservative: 33%
- Residents who consider themselves moderate: 37%
- Presidential election outcome between 1964-2020: voted Republican 10 times (out of 15)
- Votes cast for Donald Trump in 2020: 1,962,430 (44.0%)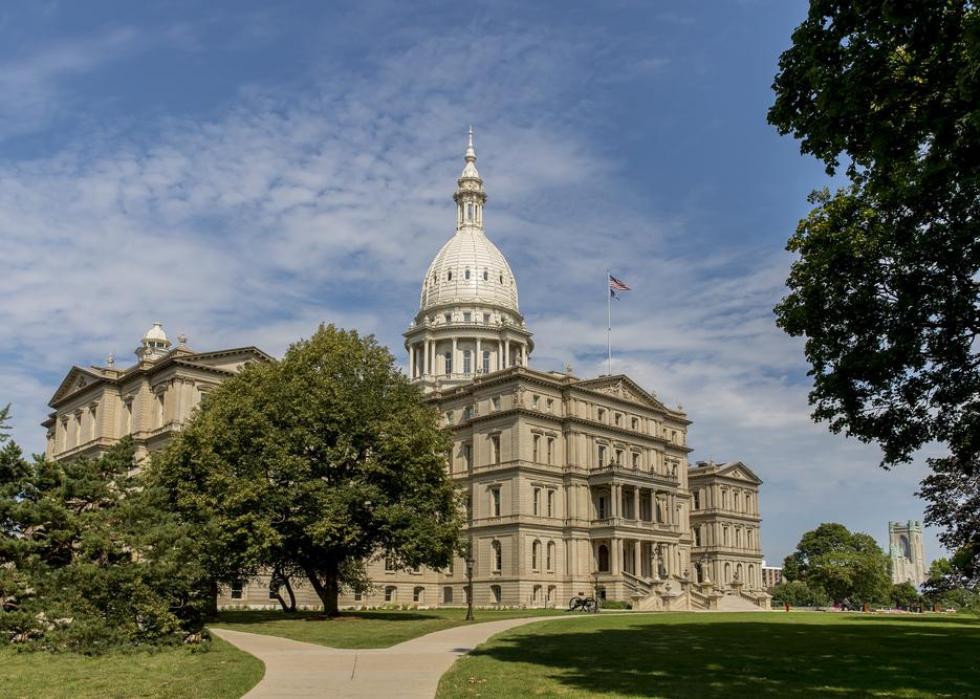 18 / 50
Action Sports Photography // Shutterstock
#32. Michigan (tie)
- Residents who consider themselves conservative: 33%
- Residents who consider themselves moderate: 38%
- Presidential election outcome between 1964-2020: voted Republican 6 times (out of 15)
- Votes cast for Donald Trump in 2020: 2,649,852 (47.8%)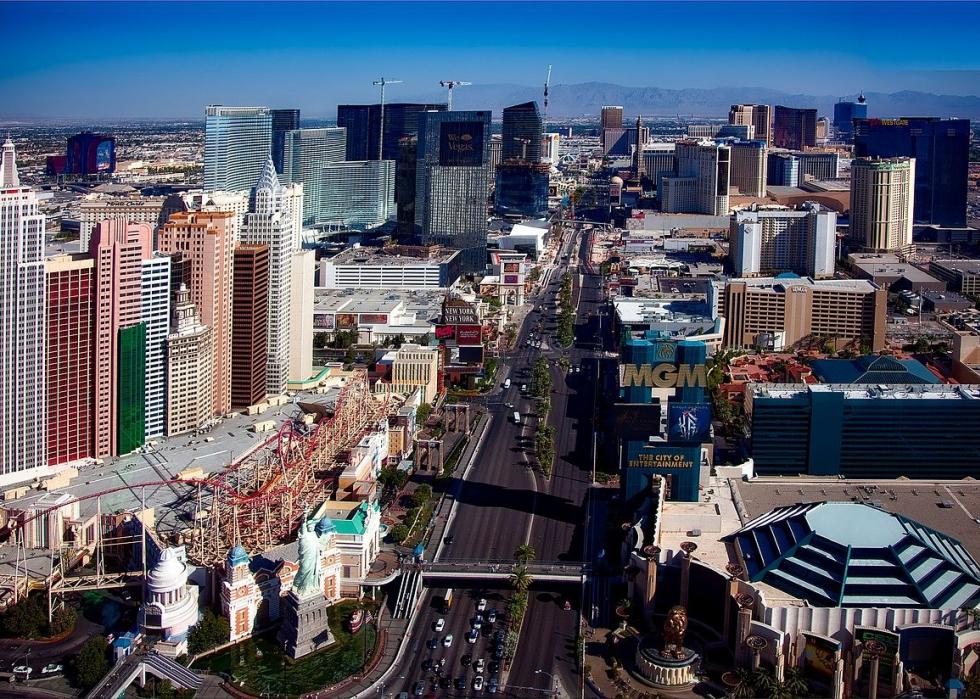 19 / 50
#32. Nevada (tie)
- Residents who consider themselves conservative: 33%
- Residents who consider themselves moderate: 38%
- Presidential election outcome between 1964-2020: voted Republican 8 times (out of 15)
- Votes cast for Donald Trump in 2020: 669,890 (47.7%)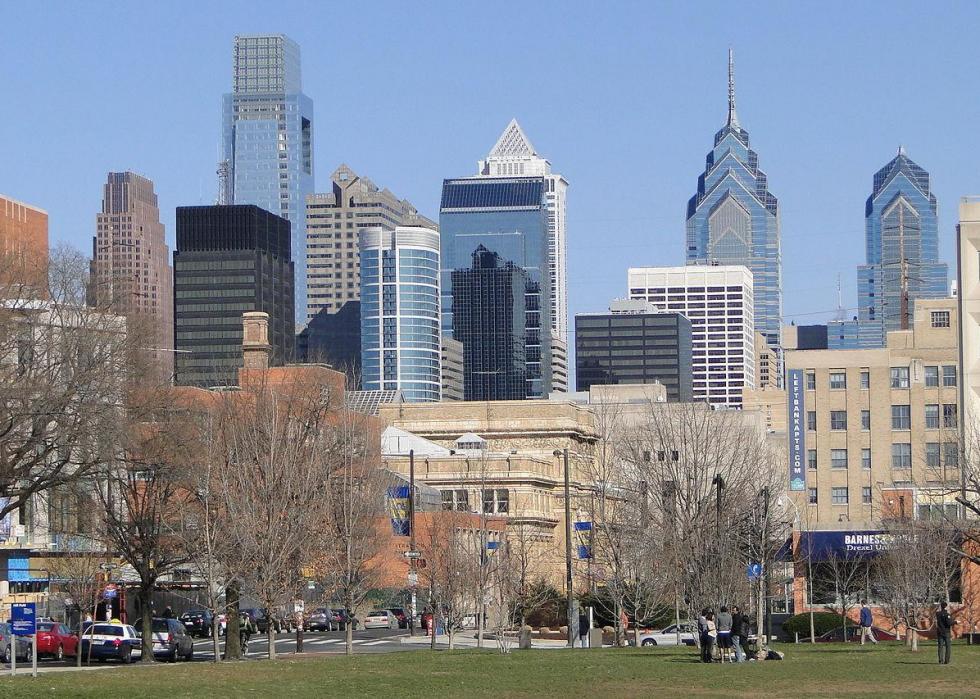 20 / 50
Adam Jones // Wikimedia Commons
#31. Pennsylvania
- Residents who consider themselves conservative: 34%
- Residents who consider themselves moderate: 36%
- Presidential election outcome between 1964-2020: voted Republican 5 times (out of 15)
- Votes cast for Donald Trump in 2020: 3,378,263 (48.8%)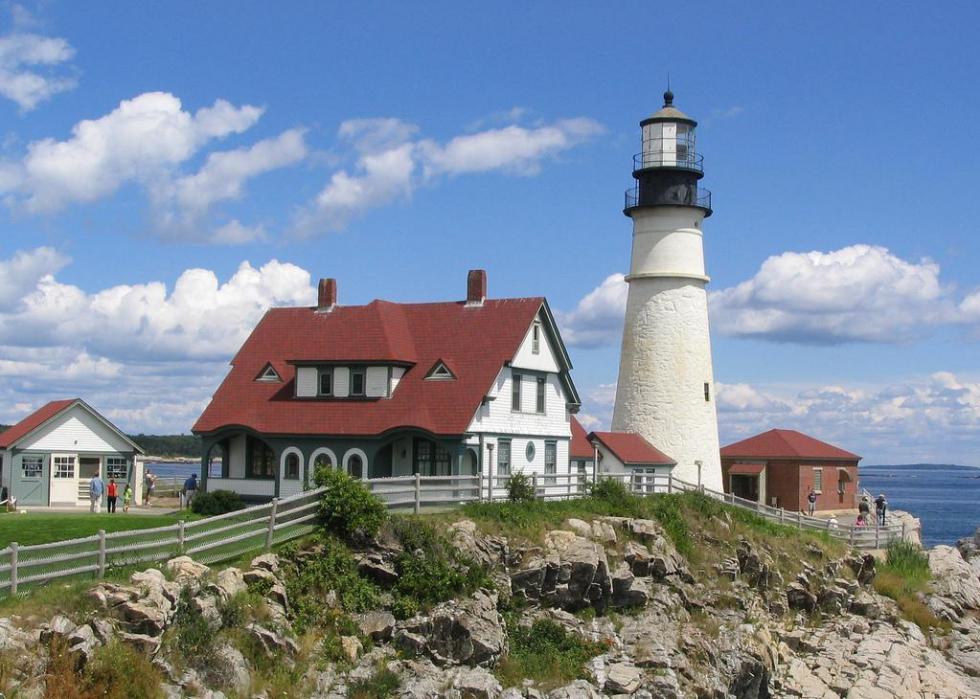 21 / 50
#30. Maine
- Residents who consider themselves conservative: 35%
- Residents who consider themselves moderate: 29%
- Presidential election outcome between 1964-2020: voted Republican 5 times (out of 15)
- Votes cast for Donald Trump in 2020: 360,737 (44.0%)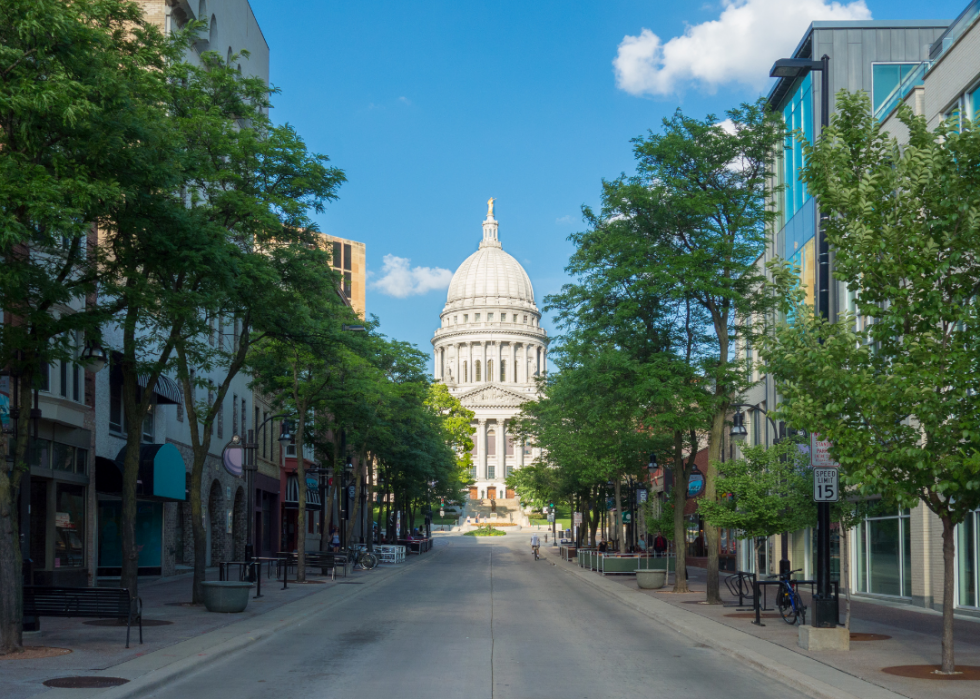 22 / 50
#29. Wisconsin
- Residents who consider themselves conservative: 35%
- Residents who consider themselves moderate: 37%
- Presidential election outcome between 1964-2020: voted Republican 5 times (out of 15)
- Votes cast for Donald Trump in 2020: 1,610,184 (48.8%)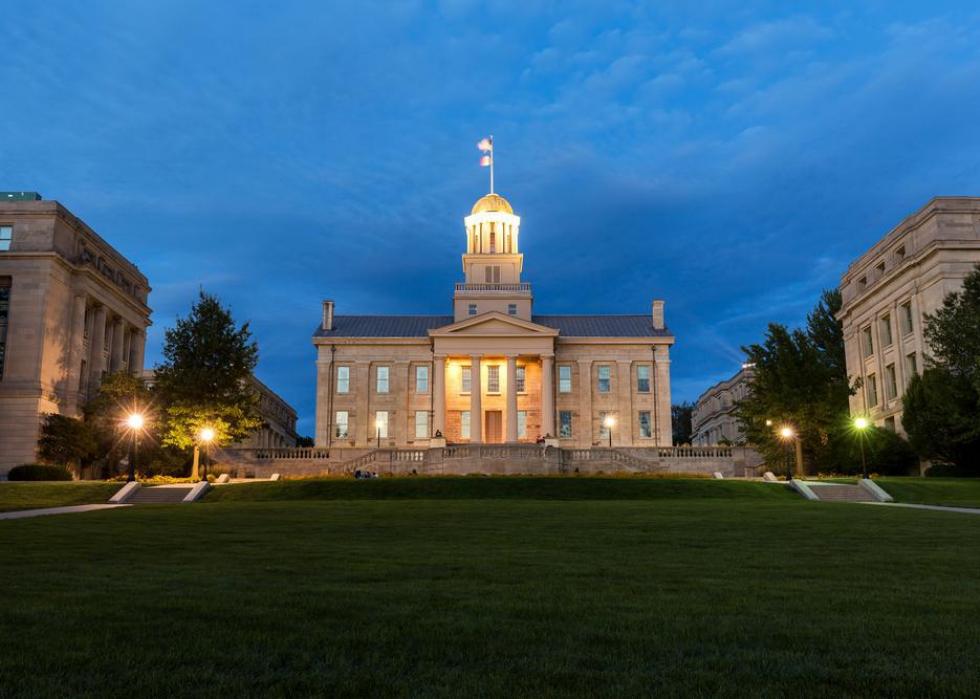 23 / 50
David Harmantas // Shutterstock
#28. Iowa
- Residents who consider themselves conservative: 35%
- Residents who consider themselves moderate: 39%
- Presidential election outcome between 1964-2020: voted Republican 8 times (out of 15)
- Votes cast for Donald Trump in 2020: 897,672 (53.1%)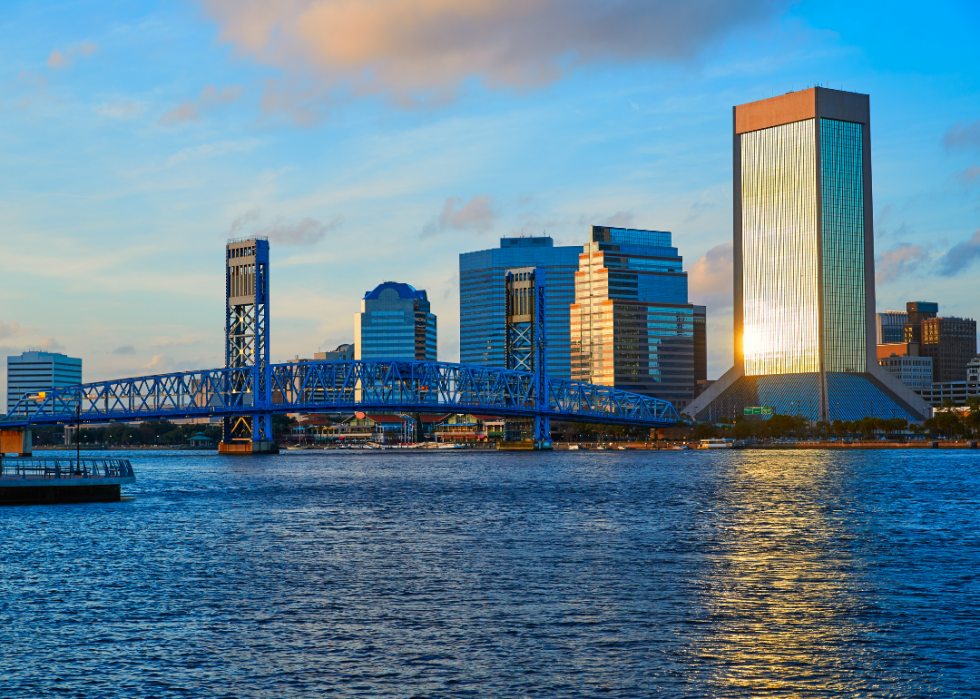 24 / 50
#27. Florida
- Residents who consider themselves conservative: 36%
- Residents who consider themselves moderate: 36%
- Presidential election outcome between 1964-2020: voted Republican 10 times (out of 15)
- Votes cast for Donald Trump in 2020: 5,668,731 (51.2%)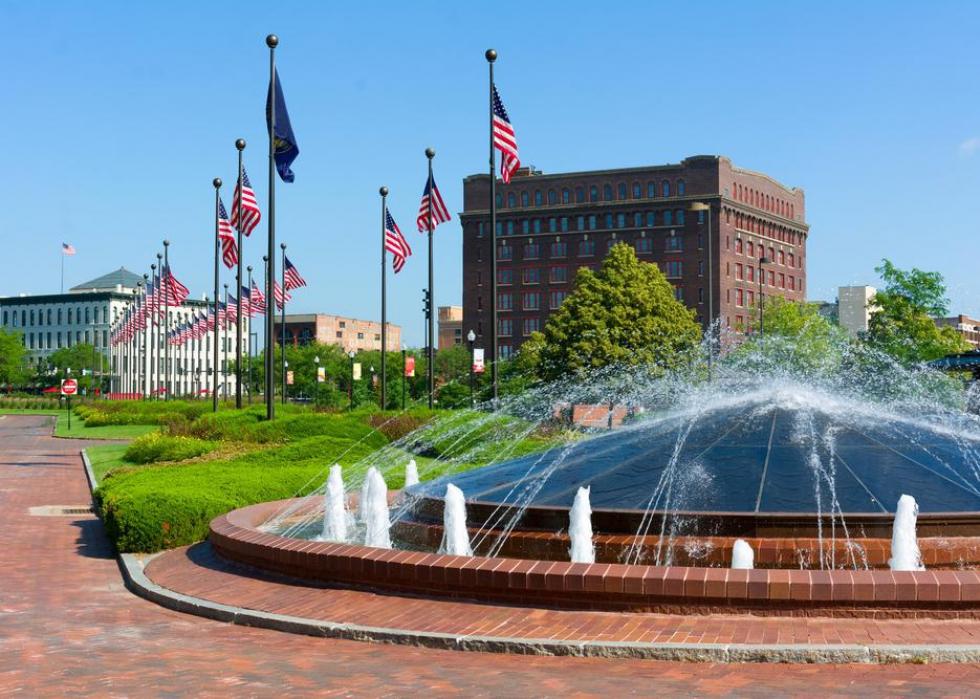 25 / 50
Scruggelgreen // Shutterstock
#26. Nebraska
- Residents who consider themselves conservative: 36%
- Residents who consider themselves moderate: 38%
- Presidential election outcome between 1964-2020: voted Republican 14 times (out of 15)
- Votes cast for Donald Trump in 2020: 556,846 (58.5%)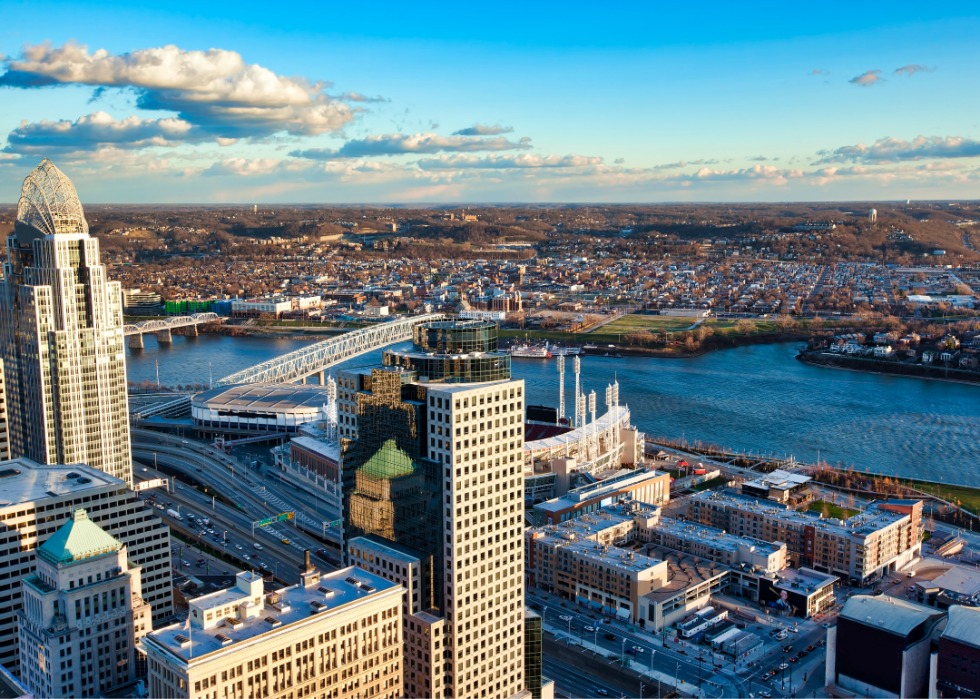 26 / 50
#25. Ohio
- Residents who consider themselves conservative: 37%
- Residents who consider themselves moderate: 35%
- Presidential election outcome between 1964-2020: voted Republican 9 times (out of 15)
- Votes cast for Donald Trump in 2020: 3,154,834 (53.3%)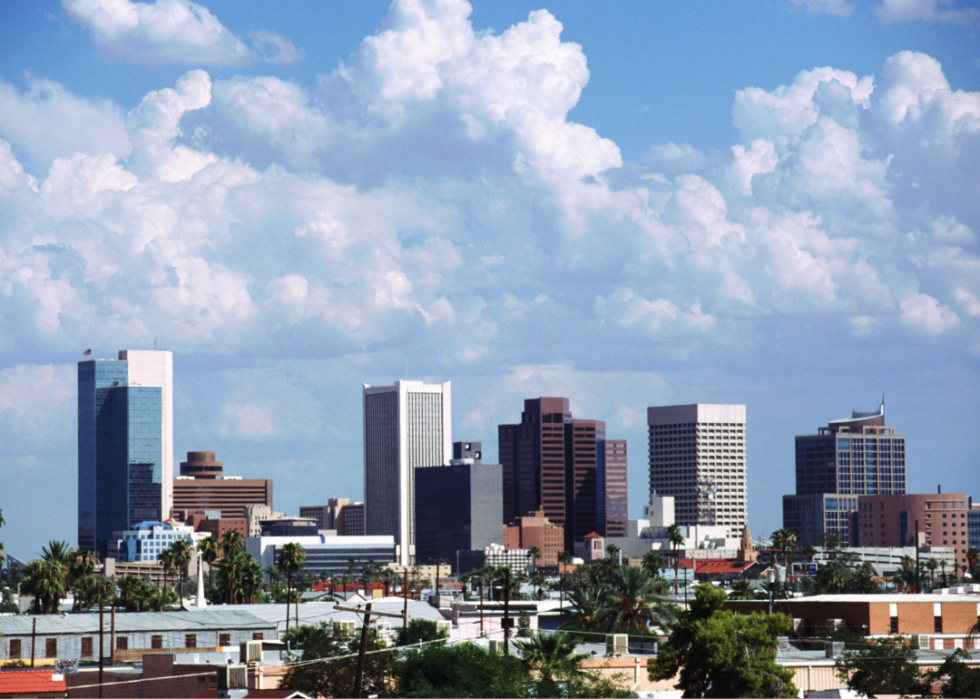 27 / 50
#24. Arizona
- Residents who consider themselves conservative: 37%
- Residents who consider themselves moderate: 36%
- Presidential election outcome between 1964-2020: voted Republican 13 times (out of 15)
- Votes cast for Donald Trump in 2020: 1,661,686 (49.1%)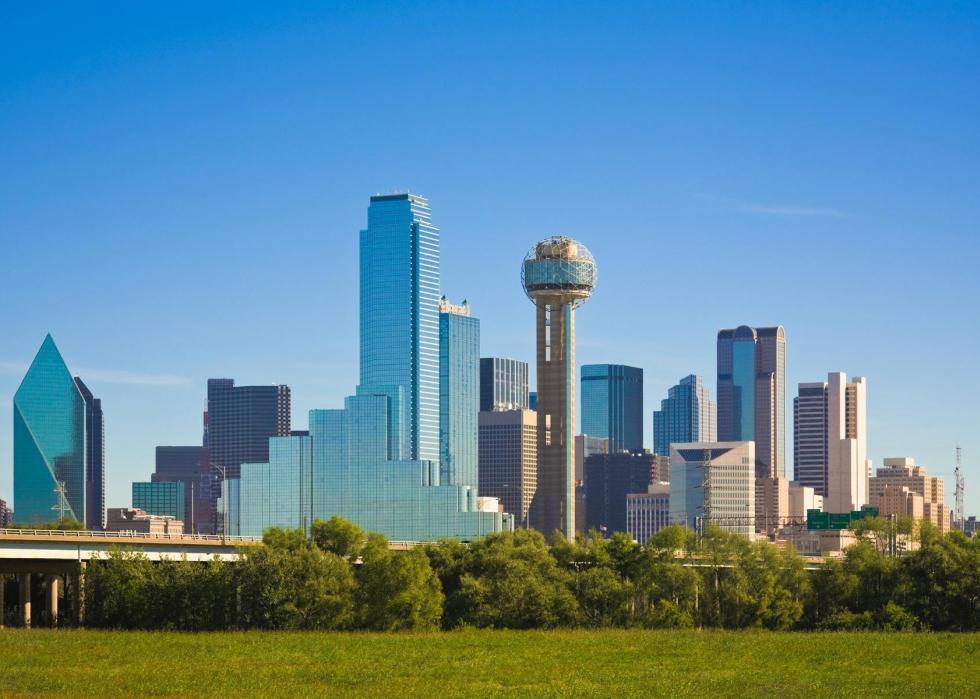 28 / 50
Alan Botting // Wikimedia Commons
#23. Texas
- Residents who consider themselves conservative: 38%
- Residents who consider themselves moderate: 36%
- Presidential election outcome between 1964-2020: voted Republican 12 times (out of 15)
- Votes cast for Donald Trump in 2020: 5,890,347 (52.1%)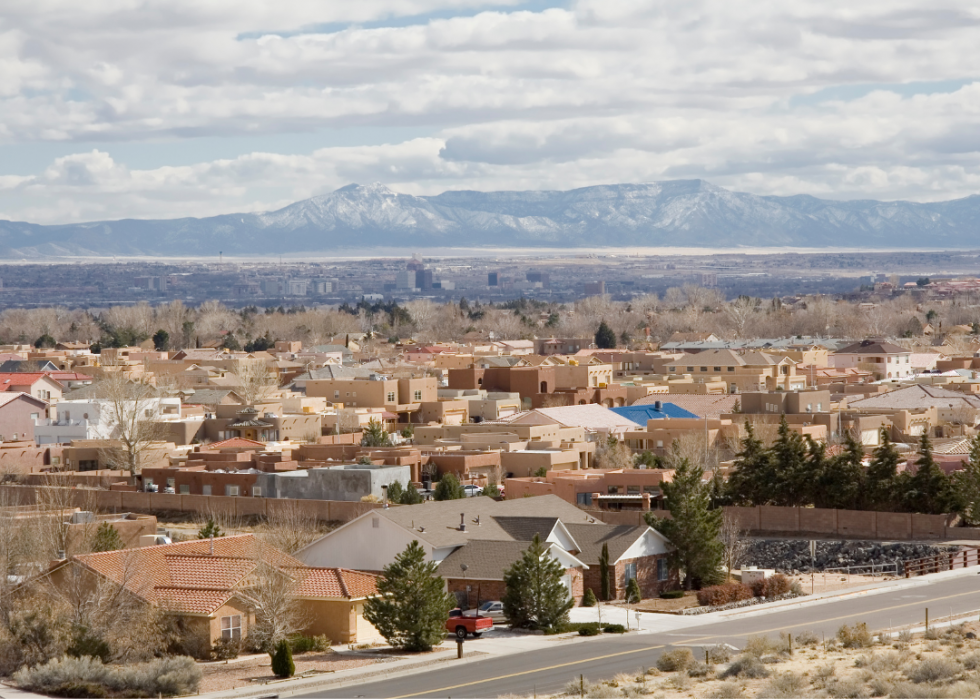 29 / 50
#22. New Mexico
- Residents who consider themselves conservative: 38%
- Residents who consider themselves moderate: 37%
- Presidential election outcome between 1964-2020: voted Republican 7 times (out of 15)
- Votes cast for Donald Trump in 2020: 401,894 (43.5%)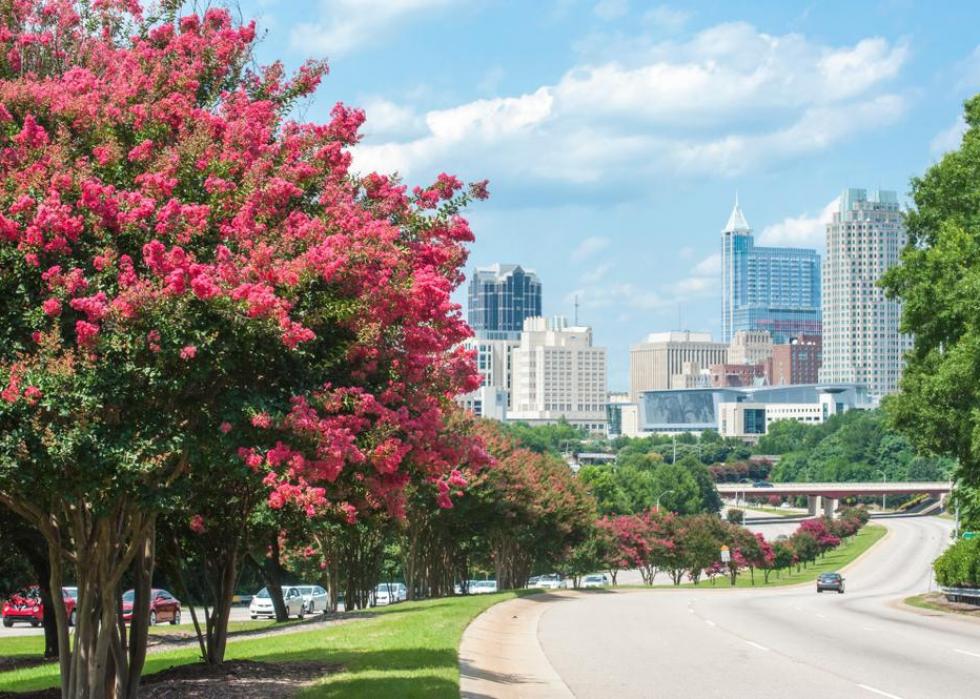 30 / 50
Sharkshock // Shutterstock
#21. North Carolina
- Residents who consider themselves conservative: 39%
- Residents who consider themselves moderate: 33%
- Presidential election outcome between 1964-2020: voted Republican 12 times (out of 15)
- Votes cast for Donald Trump in 2020: 2,758,775 (49.9%)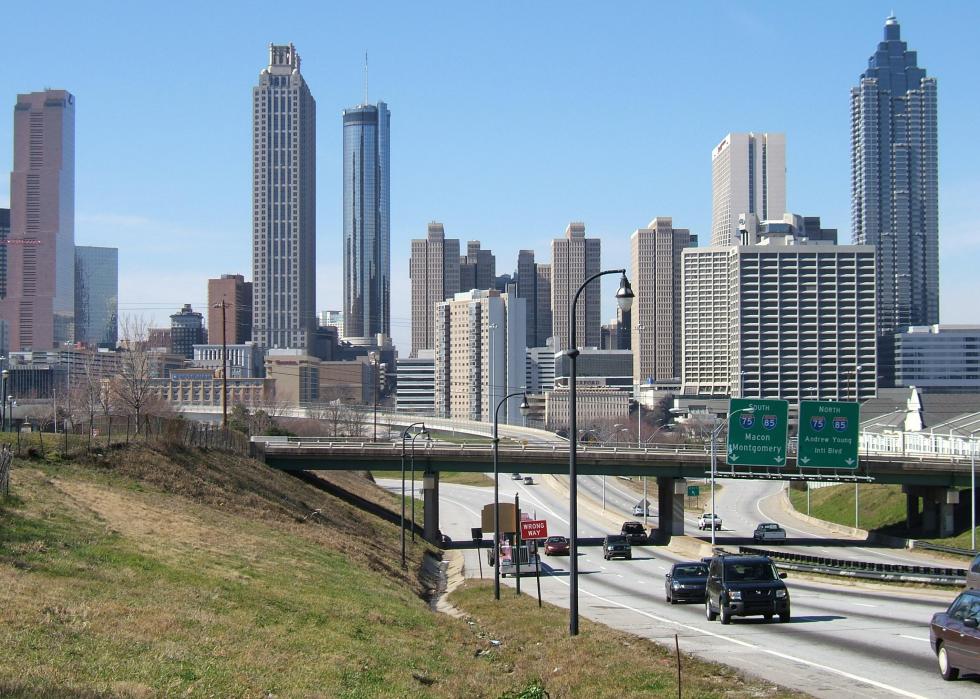 31 / 50
Reinhard Kraasch // Wikimedia Commons
#19. Georgia (tie)
- Residents who consider themselves conservative: 39%
- Residents who consider themselves moderate: 35%
- Presidential election outcome between 1964-2020: voted Republican 10 times (out of 15)
- Votes cast for Donald Trump in 2020: 2,461,854 (49.3%)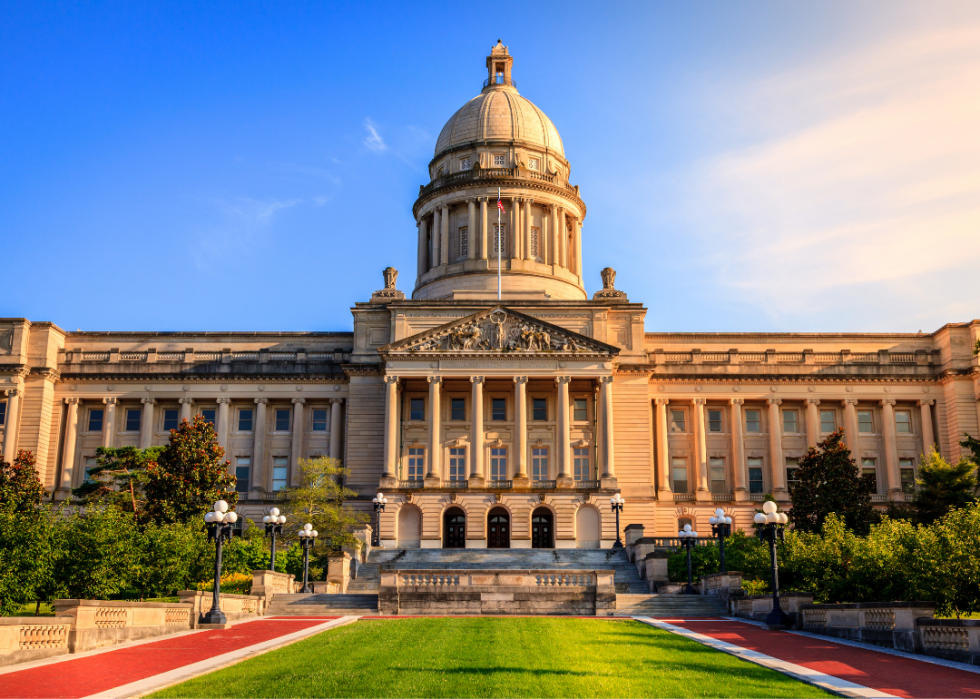 32 / 50
#19. Kentucky (tie)
- Residents who consider themselves conservative: 39%
- Residents who consider themselves moderate: 35%
- Presidential election outcome between 1964-2020: voted Republican 11 time (out of 15)
- Votes cast for Donald Trump in 2020: 1,326,646 (62.1%)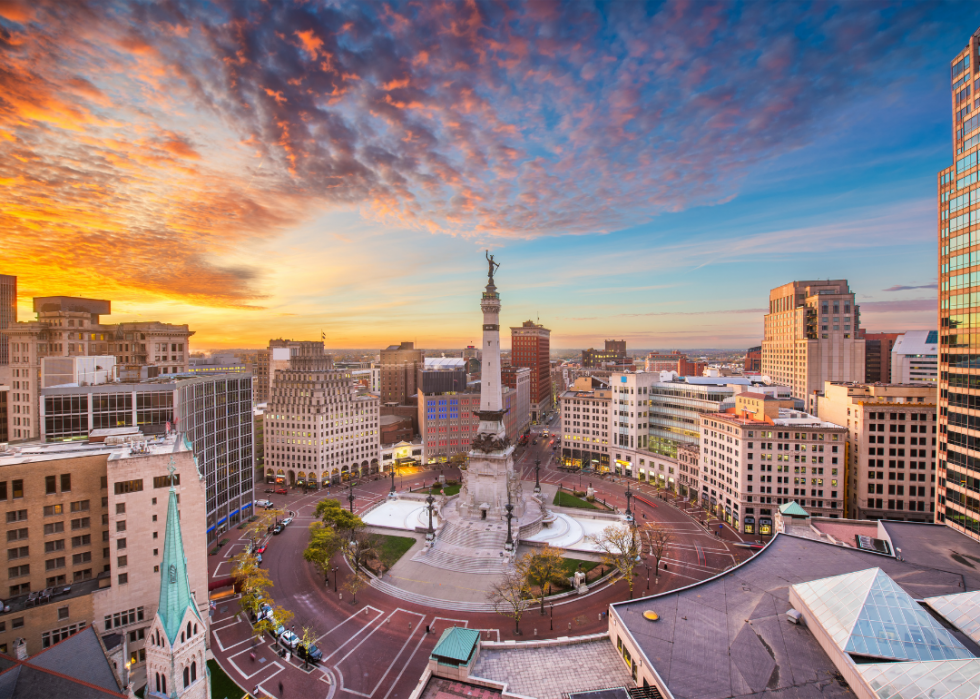 33 / 50
#16. Indiana (tie)
- Residents who consider themselves conservative: 39%
- Residents who consider themselves moderate: 38%
- Presidential election outcome between 1964-2020: voted Republican 13 times (out of 15)
- Votes cast for Donald Trump in 2020: 1,729,516 (57.0%)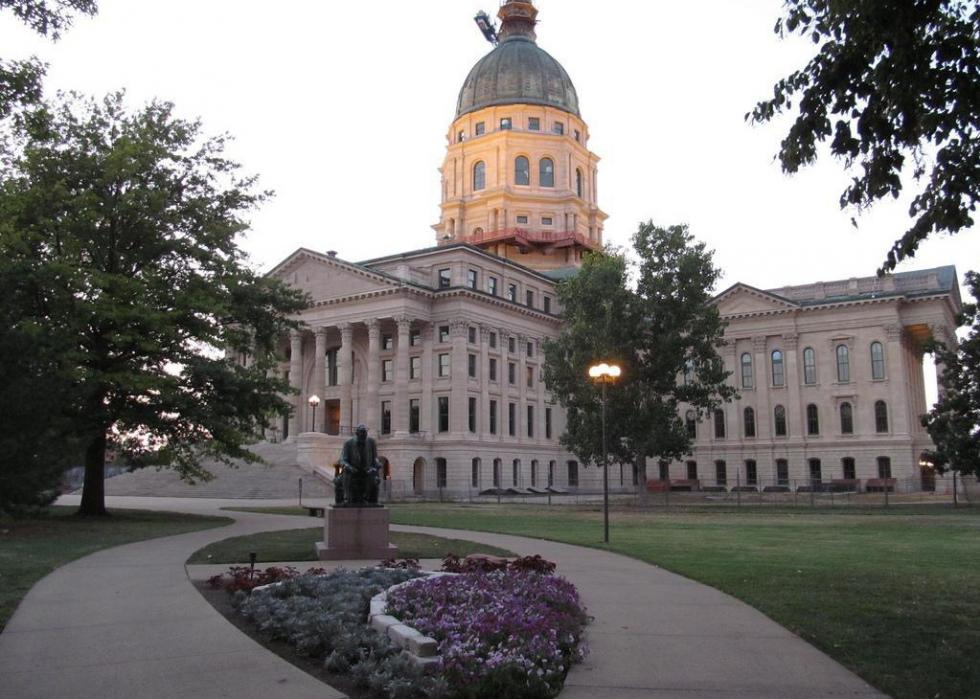 34 / 50
#16. Kansas (tie)
- Residents who consider themselves conservative: 39%
- Residents who consider themselves moderate: 38%
- Presidential election outcome between 1964-2020: voted Republican 14 times (out of 15)
- Votes cast for Donald Trump in 2020: 771,406 (56.2%)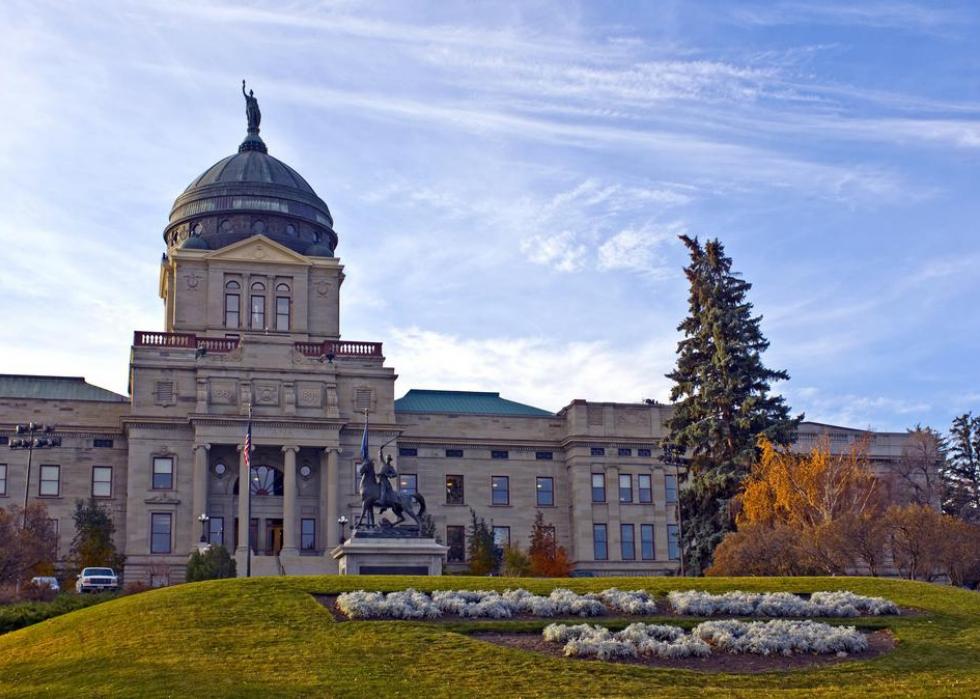 35 / 50
Katherine Welles // Shutterstock
#16. Montana (tie)
- Residents who consider themselves conservative: 39%
- Residents who consider themselves moderate: 38%
- Presidential election outcome between 1964-2020: voted Republican 13 times (out of 15)
- Votes cast for Donald Trump in 2020: 343,602 (56.9%)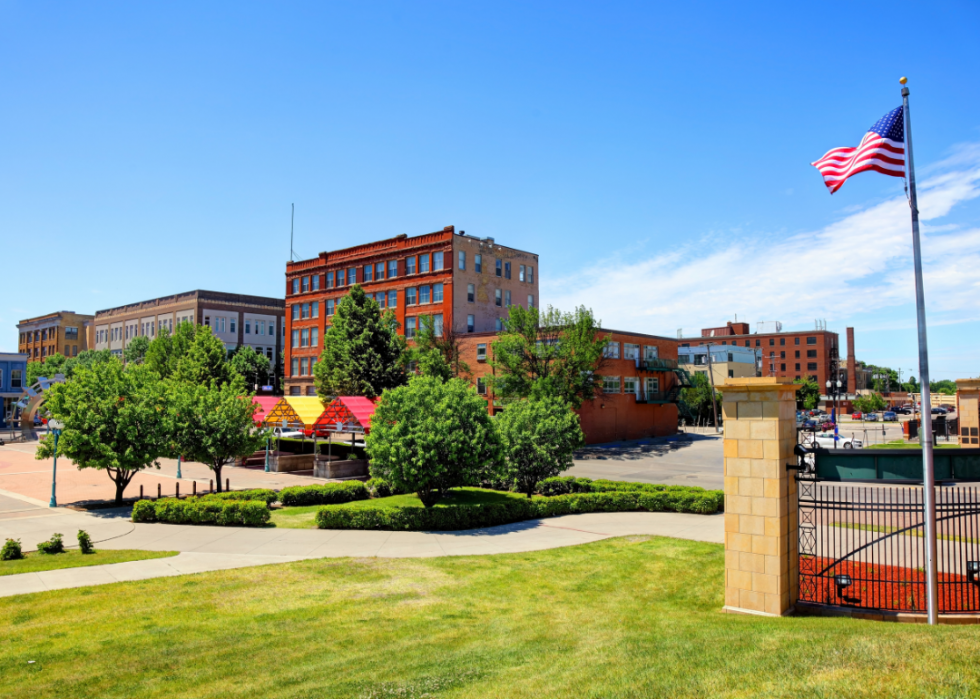 36 / 50
#15. North Dakota
- Residents who consider themselves conservative: 39%
- Residents who consider themselves moderate: 41%
- Presidential election outcome between 1964-2020: voted Republican 14 times (out of 15)
- Votes cast for Donald Trump in 2020: 235,595 (65.1%)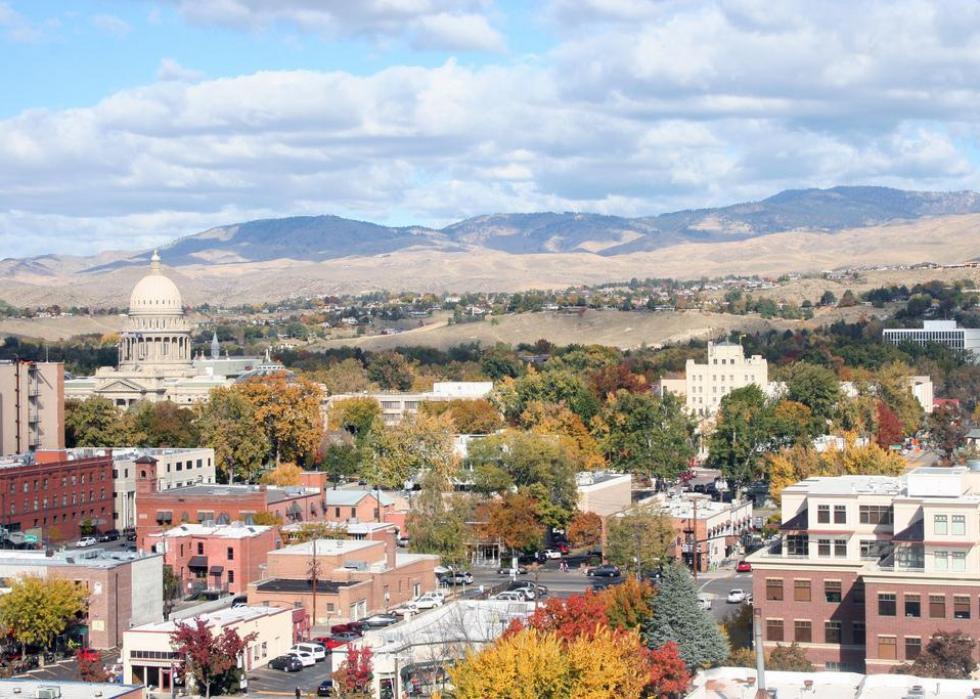 37 / 50
Boise Metro Chamber of Commerce // Flickr
#14. Idaho
- Residents who consider themselves conservative: 40%
- Residents who consider themselves moderate: 37%
- Presidential election outcome between 1964-2020: voted Republican 14 times (out of 15)
- Votes cast for Donald Trump in 2020: 554,119 (63.9%)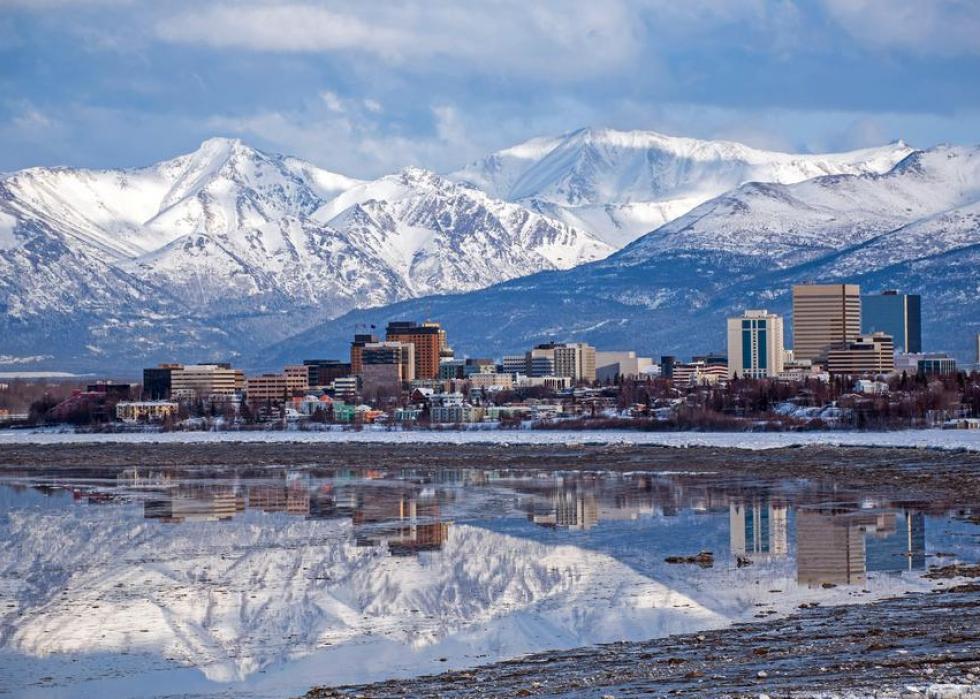 38 / 50
Rocky Grimes // Shutterstock
#13. Alaska
- Residents who consider themselves conservative: 40%
- Residents who consider themselves moderate: 38%
- Presidential election outcome between 1964-2020: voted Republican 14 times (out of 15)
- Votes cast for Donald Trump in 2020: 189,951 (52.8%)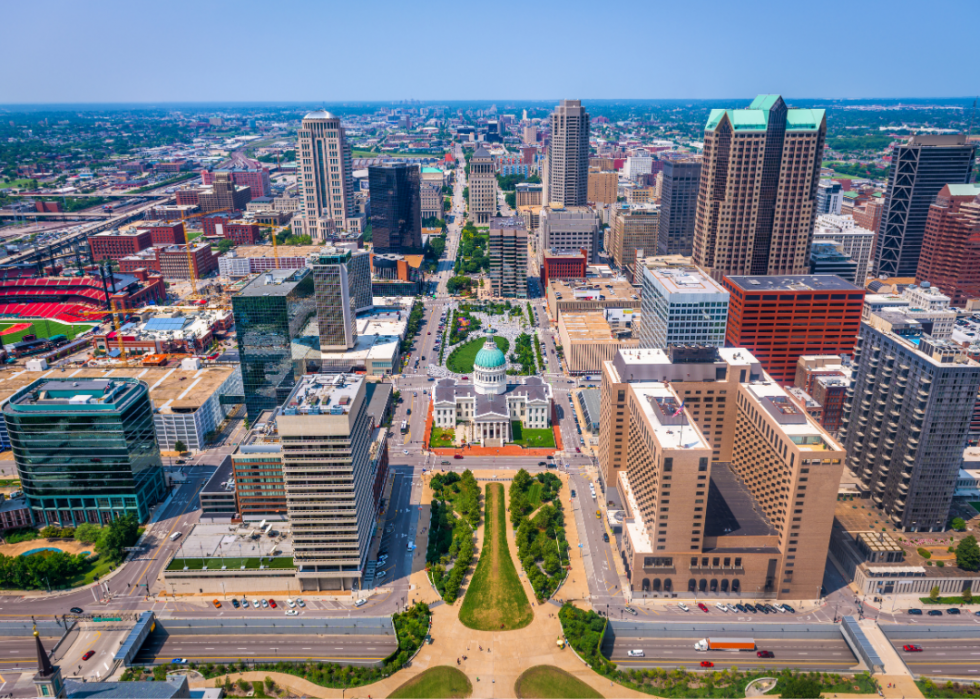 39 / 50
#12. Missouri
- Residents who consider themselves conservative: 41%
- Residents who consider themselves moderate: 34%
- Presidential election outcome between 1964-2020: voted Republican 11 time (out of 15)
- Votes cast for Donald Trump in 2020: 1,718,736 (56.8%)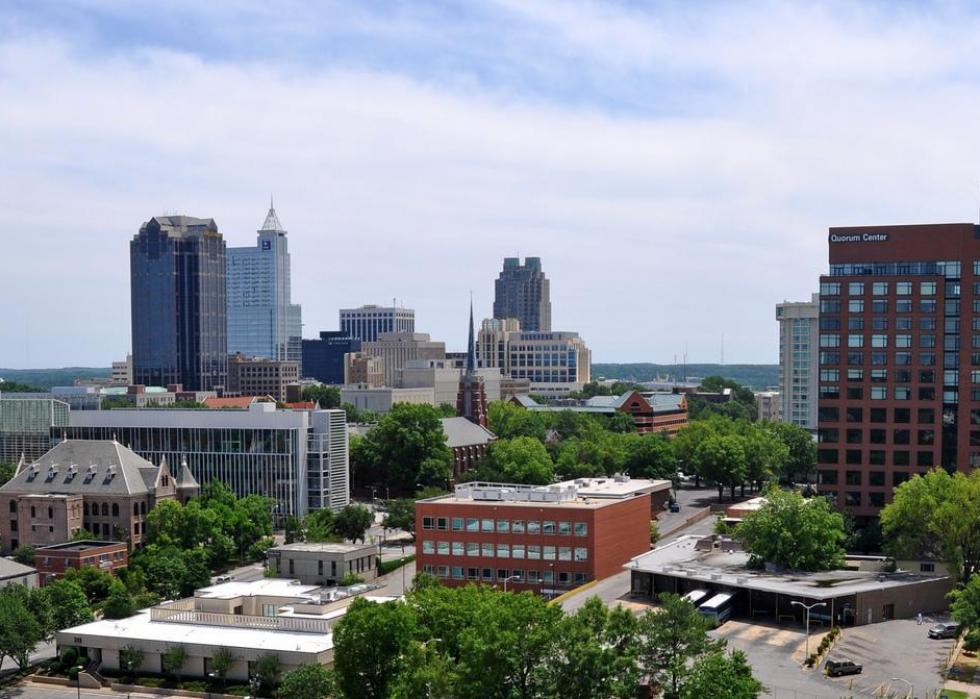 40 / 50
#11. South Carolina
- Residents who consider themselves conservative: 41%
- Residents who consider themselves moderate: 37%
- Presidential election outcome between 1964-2020: voted Republican 14 times (out of 15)
- Votes cast for Donald Trump in 2020: 1,385,103 (55.1%)
41 / 50
#10. Arkansas
- Residents who consider themselves conservative: 41%
- Residents who consider themselves moderate: 38%
- Presidential election outcome between 1964-2020: voted Republican 10 times (out of 15)
- Votes cast for Donald Trump in 2020: 760,647 (62.4%)
42 / 50
Garrett // Wikimedia Commons
#9. Utah
- Residents who consider themselves conservative: 41%
- Residents who consider themselves moderate: 40%
- Presidential election outcome between 1964-2020: voted Republican 14 times (out of 15)
- Votes cast for Donald Trump in 2020: 865,140 (58.1%)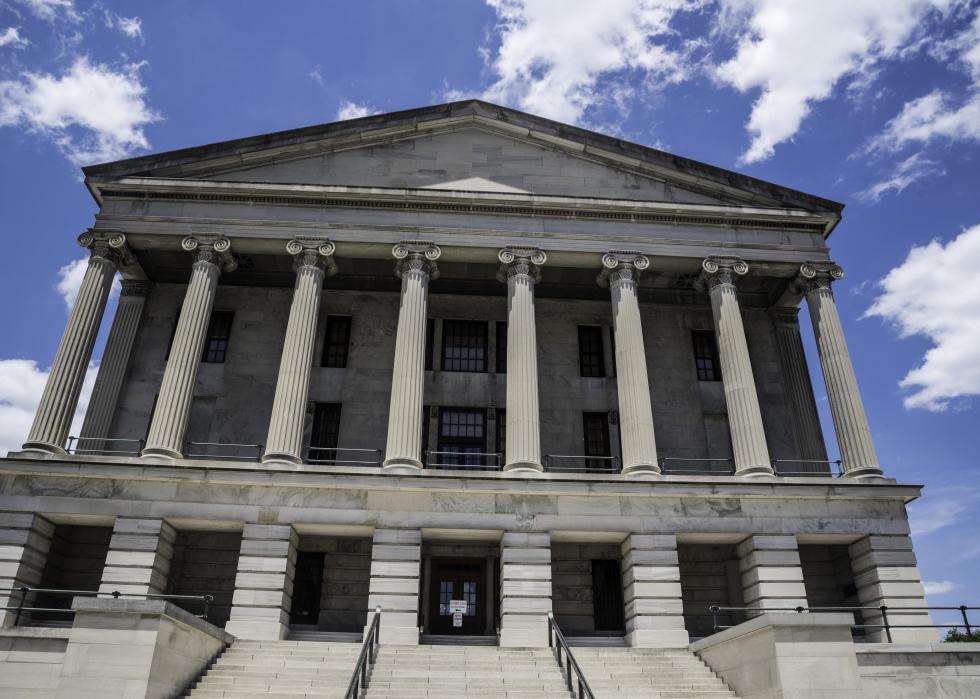 43 / 50
#8. Tennessee
- Residents who consider themselves conservative: 43%
- Residents who consider themselves moderate: 34%
- Presidential election outcome between 1964-2020: voted Republican 11 time (out of 15)
- Votes cast for Donald Trump in 2020: 1,852,475 (60.7%)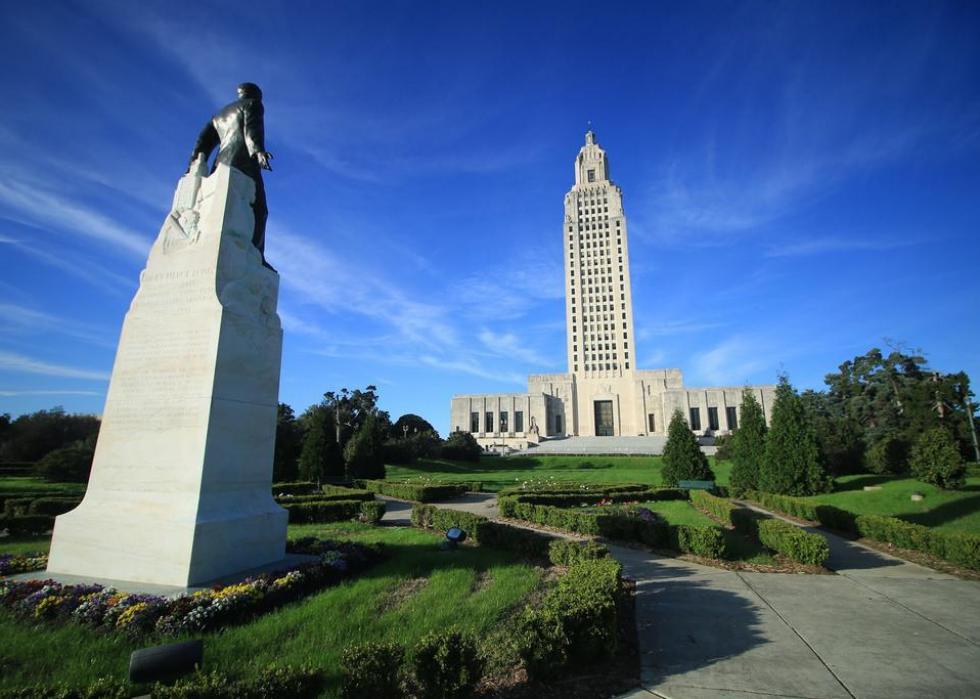 44 / 50
Antrell Williams // Flickr
#6. Louisiana (tie)
- Residents who consider themselves conservative: 43%
- Residents who consider themselves moderate: 35%
- Presidential election outcome between 1964-2020: voted Republican 11 time (out of 15)
- Votes cast for Donald Trump in 2020: 1,255,776 (58.5%)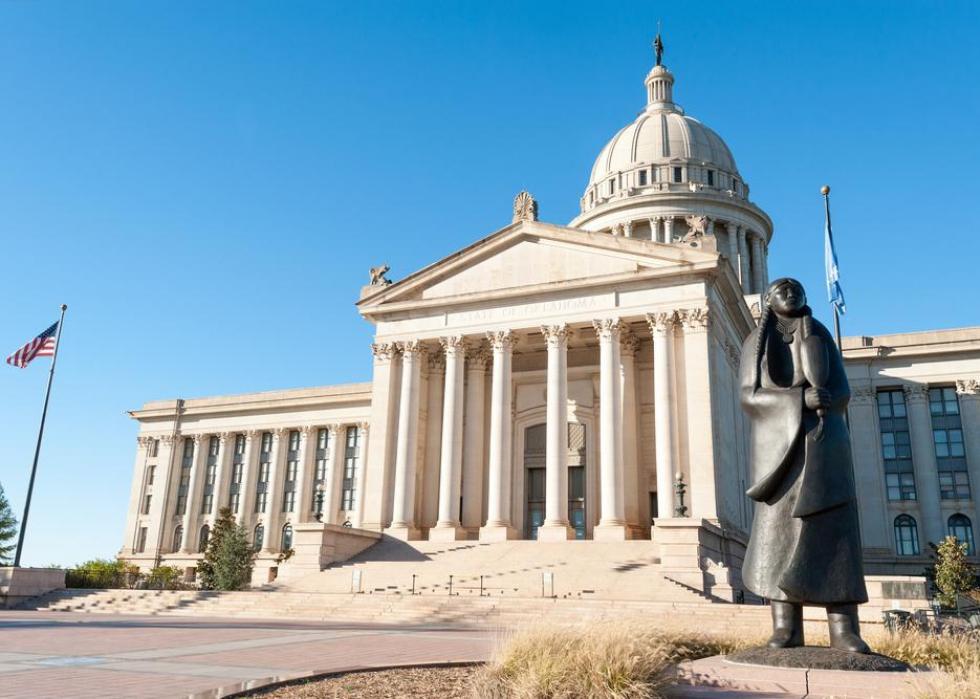 45 / 50
Natalia Bratslavsky // Shutterstock
#6. Oklahoma (tie)
- Residents who consider themselves conservative: 43%
- Residents who consider themselves moderate: 35%
- Presidential election outcome between 1964-2020: voted Republican 14 times (out of 15)
- Votes cast for Donald Trump in 2020: 1,020,280 (65.4%)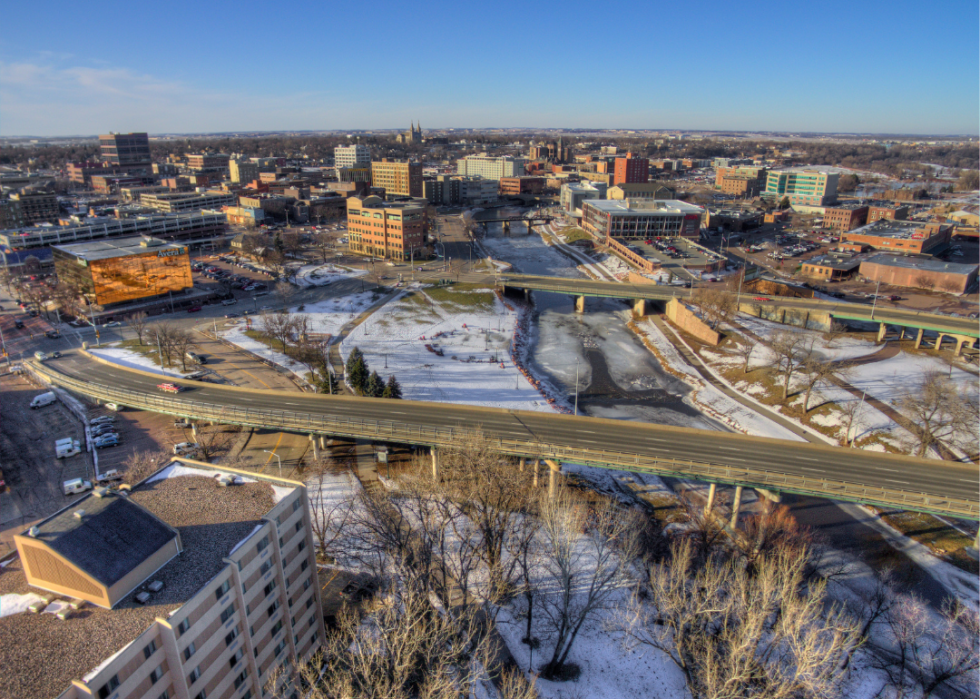 46 / 50
#5. South Dakota
- Residents who consider themselves conservative: 44%
- Residents who consider themselves moderate: 37%
- Presidential election outcome between 1964-2020: voted Republican 14 times (out of 15)
- Votes cast for Donald Trump in 2020: 261,043 (61.8%)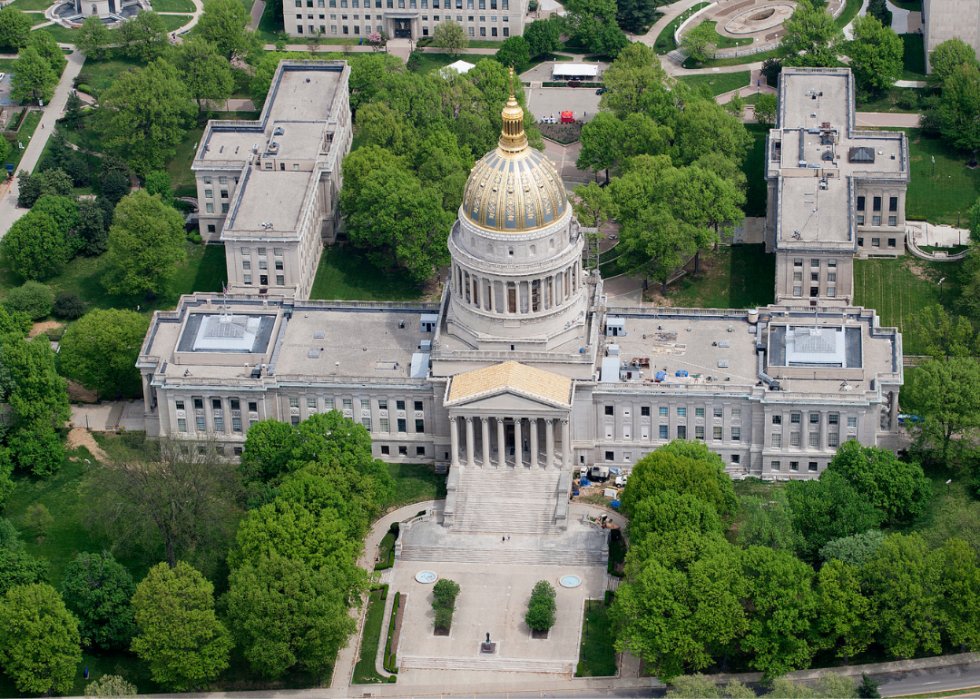 47 / 50
#4. West Virginia
- Residents who consider themselves conservative: 45%
- Residents who consider themselves moderate: 31%
- Presidential election outcome between 1964-2020: voted Republican 8 times (out of 15)
- Votes cast for Donald Trump in 2020: 545,382 (68.6%)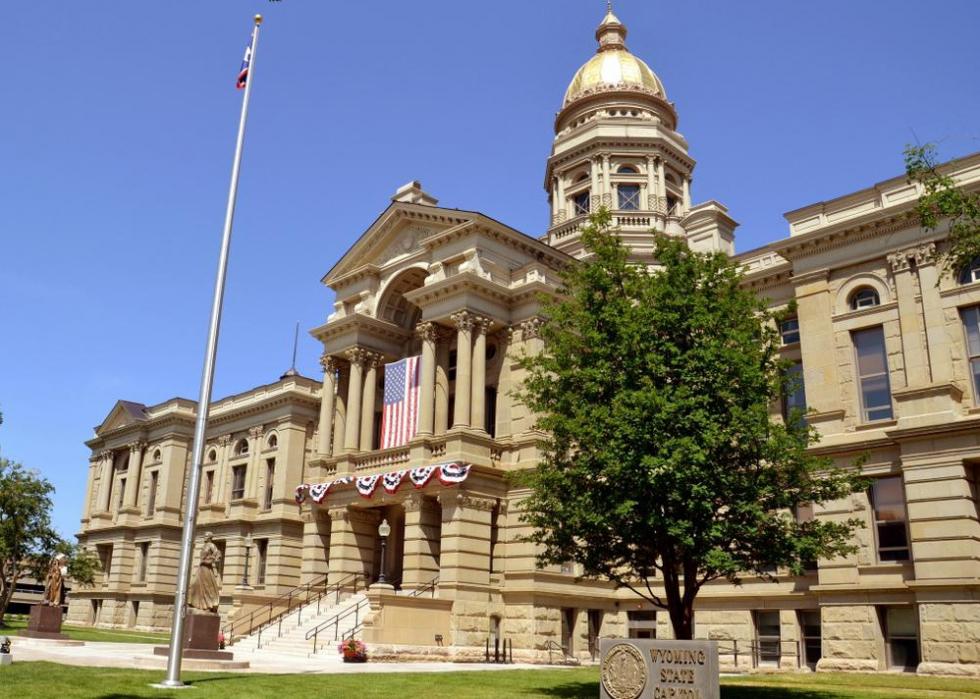 48 / 50
#3. Wyoming
- Residents who consider themselves conservative: 46%
- Residents who consider themselves moderate: 31%
- Presidential election outcome between 1964-2020: voted Republican 14 times (out of 15)
- Votes cast for Donald Trump in 2020: 193,559 (69.9%)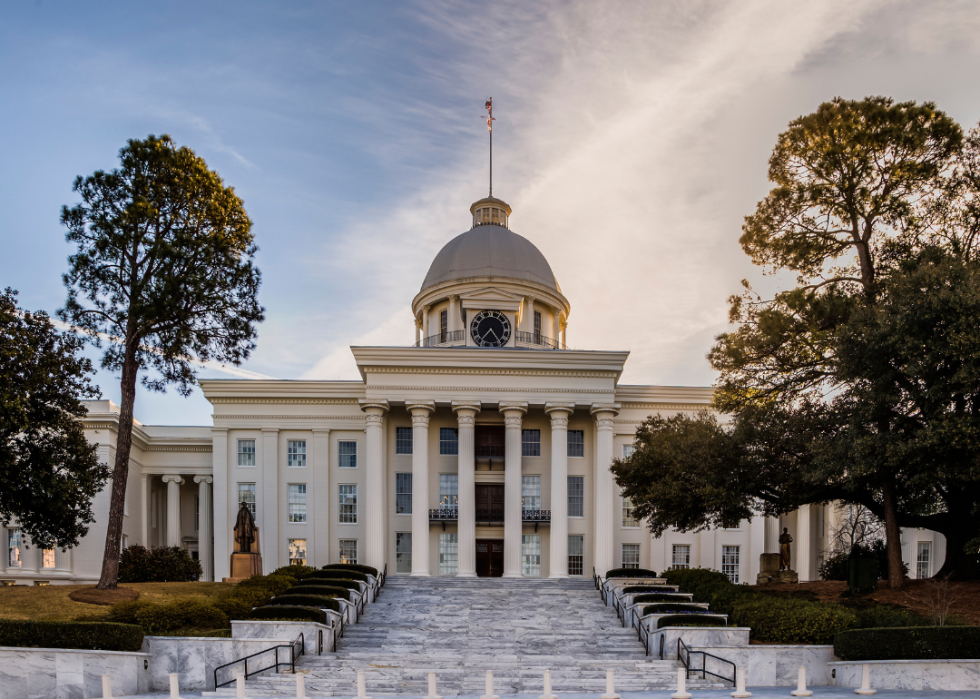 49 / 50
#2. Alabama
- Residents who consider themselves conservative: 46%
- Residents who consider themselves moderate: 34%
- Presidential election outcome between 1964-2020: voted Republican 13 times (out of 15)
- Votes cast for Donald Trump in 2020: 1,441,170 (62.0%)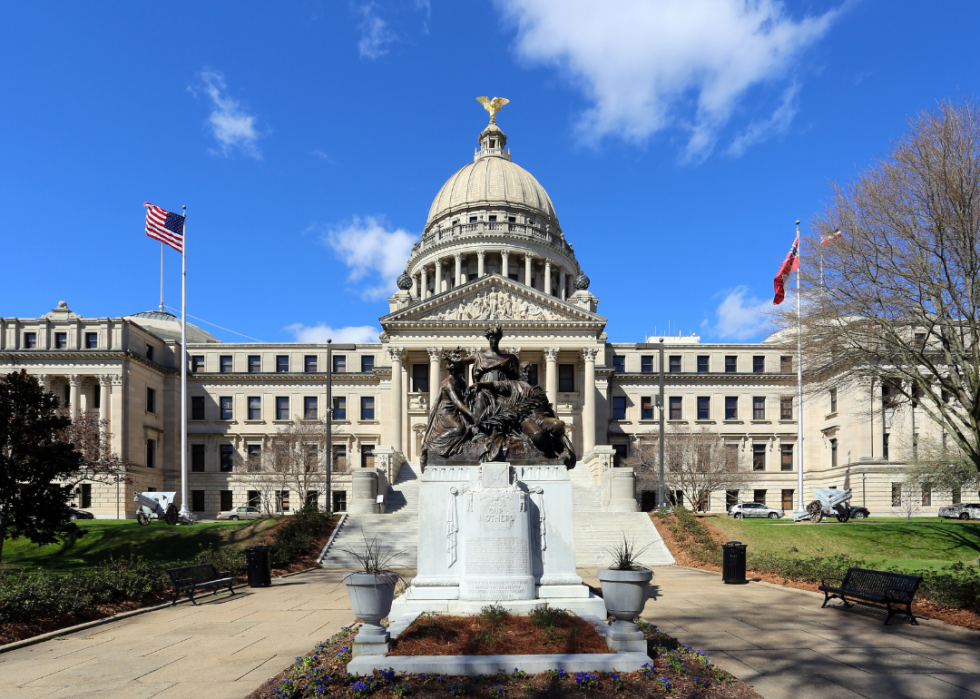 50 / 50
#1. Mississippi
- Residents who consider themselves conservative: 50%
- Residents who consider themselves moderate: 29%
- Presidential election outcome between 1964-2020: voted Republican 13 times (out of 15)
- Votes cast for Donald Trump in 2020: 756,789 (57.6%)
You may also like: Political Cartoons From The Last 100 Years