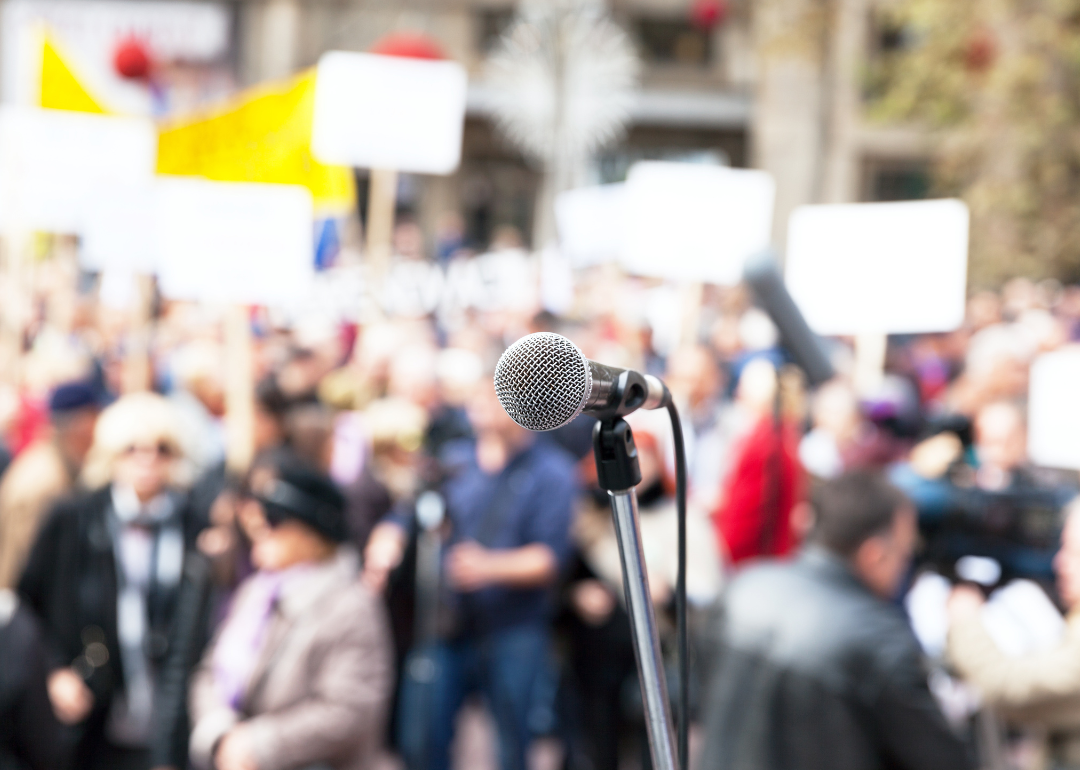 States with the most liberals
States with the most liberals
With midterm elections quickly approaching, candidates and pollsters are increasingly focused on how voters could impact the future political landscape of the United States. The House of Representatives, which is currently controlled by Republicans, could shift in favor of Democrats. This means that people are paying more attention to how liberals across the country will vote in November.
In particular, analysts are turning their attention toward metropolitan areas that Republicans in Congress currently represent, including California's Orange County as well as Chicago, Denver, Philadelphia, Miami, New York, and Minneapolis. These seats are considered to be vulnerable, and increased voter turnout could easily decide an election winner.
Using Gallup data, Stacker ranked each state first by the percentage of residents who identify as liberals and then by the percentage of residents who consider themselves to be liberal-leaning. If both percentages were the same for more than one state, that ranking was considered to be tied, and is noted as such.
Nationally, 24% of Americans identify as liberals, while 33% of Americans identify as conservatives and 36% identify as moderates.
Read on to find out which states are most likely to house a Democratic voter—and which states are the ones to watch on Nov. 6.
#50. Wyoming
Estimated state population in 2017: 579,315
Percent of state residents who are liberal: 13%
Percent of state residents who are Democratic-leaning: 27%
#49. Mississippi
Estimated state population in 2017: 2,984,100
Percent of state residents who are liberal: 14%
Percent of state residents who are Democratic-leaning: 38%
#48. North Dakota
Estimated state population in 2017: 755,393
Percent of state residents who are liberal: 15%
Percent of state residents who are Democratic-leaning: 28%
#47. South Dakota
Estimated state population in 2017: 869,666
Percent of state residents who are liberal: 15%
Percent of state residents who are Democratic-leaning: 35%
#46. Alabama
Estimated state population in 2017: 4,874,747
Percent of state residents who are liberal: 16%
Percent of state residents who are Democratic-leaning: 35%
#45. Alaska
Estimated state population in 2017: 739,795
Percent of state residents who are liberal: 17%
Percent of state residents who are Democratic-leaning: 31%
#44. Oklahoma
Estimated state population in 2017: 3,930,864
Percent of state residents who are liberal: 17%
Percent of state residents who are Democratic-leaning: 35%
#43. Arkansas
Estimated state population in 2017: 3,004,279
Percent of state residents who are liberal: 17%
Percent of state residents who are Democratic-leaning: 36%
#42. South Carolina
Estimated state population in 2017: 5,024,369
Percent of state residents who are liberal: 17%
Percent of state residents who are Democratic-leaning: 37%
#41. Louisiana
Estimated state population in 2017: 4,684,333
Percent of state residents who are liberal: 17%
Percent of state residents who are Democratic-leaning: 40%
#40. Utah
Estimated state population in 2017: 3,101,833
Percent of state residents who are liberal: 18%
Percent of state residents who are Democratic-leaning: 29%
#39. Kansas
Estimated state population in 2017: 2,913,123
Percent of state residents who are liberal: 18%
Percent of state residents who are Democratic-leaning: 34%
#38. Tennessee
Estimated state population in 2017: 6,715,984
Percent of state residents who are liberal: 18%
Percent of state residents who are Democratic-leaning: 35%
#37. West Virginia
Estimated state population in 2017: 1,815,857
Percent of state residents who are liberal: 19%
Percent of state residents who are Democratic-leaning: 40%
#36. Texas
Estimated state population in 2017: 28,304,596
Percent of state residents who are liberal: 20%
Percent of state residents who are Democratic-leaning: 38%
#35. Kentucky
Estimated state population in 2017: 4,454,189
Percent of state residents who are liberal: 20%
Percent of state residents who are Democratic-leaning: 41%
#34. Nebraska
Estimated state population in 2017: 1,920,076
Percent of state residents who are liberal: 21%
Percent of state residents who are Democratic-leaning: 35%
#33. Montana
Estimated state population in 2017: 1,050,493
Percent of state residents who are liberal: 21%
Percent of state residents who are Democratic-leaning: 37%
#32. Missouri
Estimated state population in 2017: 6,113,532
Percent of state residents who are liberal: 21%
Percent of state residents who are Democratic-leaning: 38%
#31. Ohio
Estimated state population in 2017: 11,658,609
Percent of state residents who are liberal: 21%
Percent of state residents who are Democratic-leaning: 41%
#30. Georgia
Estimated state population in 2017: 10,429,379
Percent of state residents who are liberal: 21%
Percent of state residents who are Democratic-leaning: 42%
#29. North Carolina
Estimated state population in 2017: 10,273,419
Percent of state residents who are liberal: 21%
Percent of state residents who are Democratic-leaning: 44%
#28. Idaho
Estimated state population in 2017: 1,716,943
Percent of state residents who are liberal: 22%
Percent of state residents who are Democratic-leaning: 31%
#27. Indiana
Estimated state population in 2017: 6,666,818
Percent of state residents who are liberal: 22%
Percent of state residents who are Democratic-leaning: 41%
#25 (tie). Florida
Estimated state population in 2017: 20,984,400
Percent of state residents who are liberal: 22%
Percent of state residents who are Democratic-leaning: 42%
#25 (tie). Nevada
Estimated state population in 2017: 2,998,039
Percent of state residents who are liberal: 22%
Percent of state residents who are Democratic-leaning: 42%
#24. Arizona
Estimated state population in 2017: 7,016,270
Percent of state residents who are liberal: 23%
Percent of state residents who are Democratic-leaning: 40%
#23. Wisconsin
Estimated state population in 2017: 5,795,483
Percent of state residents who are liberal: 23%
Percent of state residents who are Democratic-leaning: 43%
#21 (tie). Michigan
Estimated state population in 2017: 9,962,311
Percent of state residents who are liberal: 23%
Percent of state residents who are Democratic-leaning: 45%
#21 (tie). Virginia
Estimated state population in 2017: 8,470,020
Percent of state residents who are liberal: 23%
Percent of state residents who are Democratic-leaning: 45%
#20. Iowa
Estimated state population in 2017: 3,145,711
Percent of state residents who are liberal: 24%
Percent of state residents who are Democratic-leaning: 42%
#19. Pennsylvania
Estimated state population in 2017: 12,805,537
Percent of state residents who are liberal: 24%
Percent of state residents who are Democratic-leaning: 46%
#18. New Hampshire
Estimated state population in 2017: 1,342,795
Percent of state residents who are liberal: 25%
Percent of state residents who are Democratic-leaning: 43%
#17. New Mexico
Estimated state population in 2017: 2,088,070
Percent of state residents who are liberal: 25%
Percent of state residents who are Democratic-leaning: 48%
#16. Hawaii
Estimated state population in 2017: 1,427,538
Percent of state residents who are liberal: 25%
Percent of state residents who are Democratic-leaning: 50%
#15. Minnesota
Estimated state population in 2017: 5,576,606
Percent of state residents who are liberal: 27%
Percent of state residents who are Democratic-leaning: 47%
#14. New Jersey
Estimated state population in 2017: 9,005,644
Percent of state residents who are liberal: 27%
Percent of state residents who are Democratic-leaning: 48%
#13. Illinois
Estimated state population in 2017: 12,802,023
Percent of state residents who are liberal: 27%
Percent of state residents who are Democratic-leaning: 50%
#12. Delaware
Estimated state population in 2017: 961,939
Percent of state residents who are liberal: 28%
Percent of state residents who are Democratic-leaning: 45%
#11. Colorado
Estimated state population in 2017: 5,607,154
Percent of state residents who are liberal: 28%
Percent of state residents who are Democratic-leaning: 46%
#10. Rhode Island
Estimated state population in 2017: 1,059,639
Percent of state residents who are liberal: 29%
Percent of state residents who are Democratic-leaning: 48%
#9. Maryland
Estimated state population in 2017: 6,052,177
Percent of state residents who are liberal: 29%
Percent of state residents who are Democratic-leaning: 56%
#8. Maine
Estimated state population in 2017: 1,335,907
Percent of state residents who are liberal: 30%
Percent of state residents who are Democratic-leaning: 47%
#7. Washington
Estimated state population in 2017: 7,405,743
Percent of state residents who are liberal: 30%
Percent of state residents who are Democratic-leaning: 49%
#5 (tie). California
Estimated state population in 2017: 39,536,653
Percent of state residents who are liberal: 30%
Percent of state residents who are Democratic-leaning: 51%
#5 (tie). Connecticut
Estimated state population in 2017: 3,588,184
Percent of state residents who are liberal: 30%
Percent of state residents who are Democratic-leaning: 51%
#4. Oregon
Estimated state population in 2017: 4,142,776
Percent of state residents who are liberal: 31%
Percent of state residents who are Democratic-leaning: 49%
#3. New York
Estimated state population in 2017: 19,849,399
Percent of state residents who are liberal: 31%
Percent of state residents who are Democratic-leaning: 52%
#2. Massachusetts
Estimated state population in 2017: 6,859,819
Percent of state residents who are liberal: 35%
Percent of state residents who are Democratic-leaning: 57%
#1. Vermont
Estimated state population in 2017: 623,657
Percent of state residents who are liberal: 39%
Percent of state residents who are Democratic-leaning: 52%