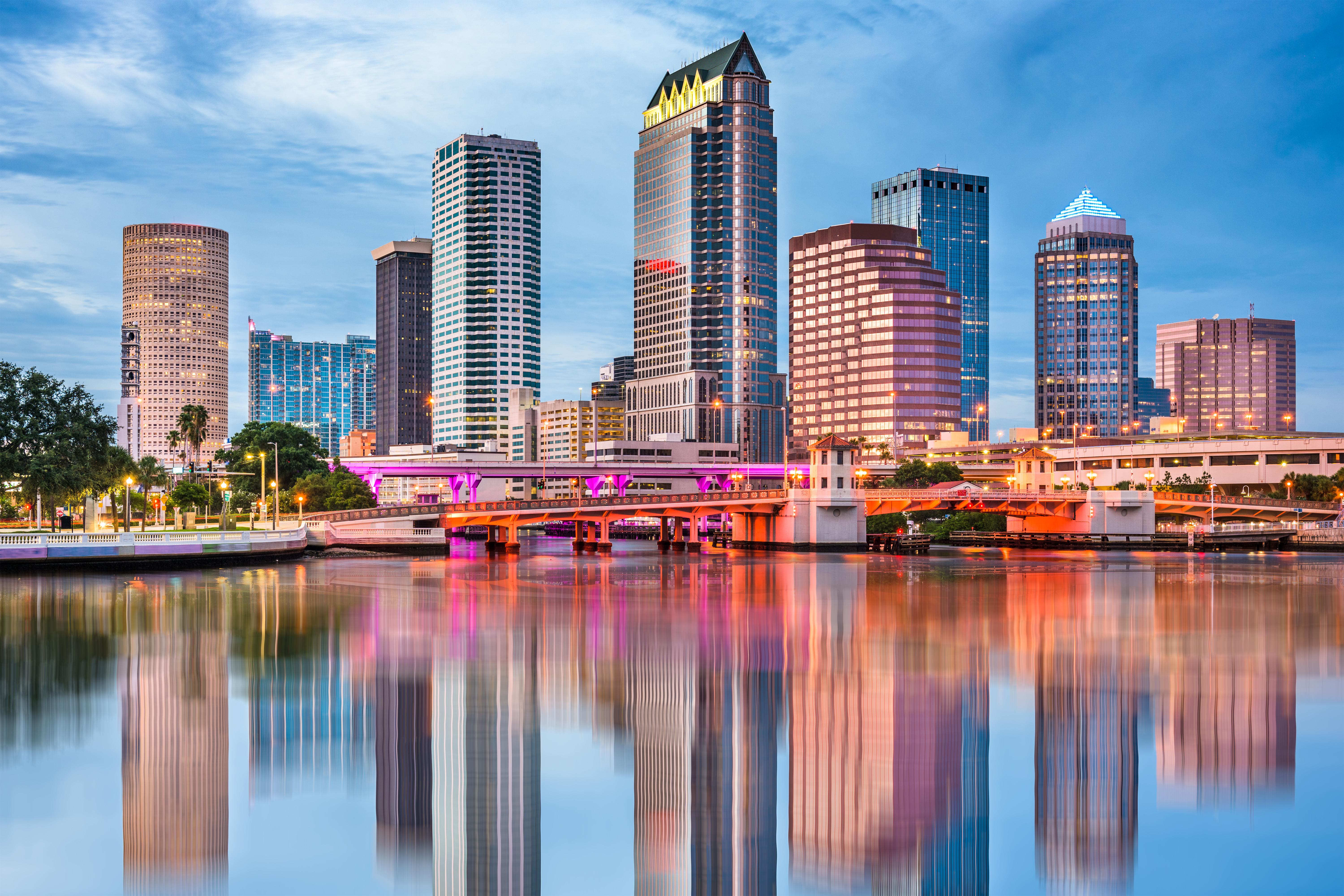 75 best cities to find a job
Sean Pavone // Shutterstock
75 best cities to find a job
While there are no shortage of factors to consider when moving to a new city, whether or not you'll be able to find a job might very well be the most important. In fact, job opportunity remains one of the primary reasons people move to a city in the first place. After all, what good are those hip restaurants, nice museums, and other attractions if you can't afford to go? Throw in skyrocketing rent prices, mouths to feed (including your own) and the escalating cost of home ownership, and it becomes all too easy to see how immediate employment is downright essential.
Of course, baseline job opportunity (i.e the number of available jobs) isn't the only thing worth investigating if you're seeking employment. You should also be aware of factors like average monthly salary in a given city, or how many college graduates are moving into that same city, and at what rate. These peripheral indicators won't just steer you toward better pay, but help you determine growth potential in every applicable sense of the concept.
If this is all beginning to sound like a tedious homework assignment in the making, fret not because Stacker has done most of the research for you. Using data from WalletHub, we ranked the top 75 cities with the best job-market strength. By looking directly at both the job market rank and socio-economic landscape for any given city, an adjoining index score was derived. The higher the index, the stronger the job market. Suffice to say, the resulting list provided a few surprises. For instance, who knew that Arizona was the new land of opportunity? To see what else the urban job market has in store, check out the list in full. 
#75. Nashville, TN
Score: 54.16
"Job-Market" Rank: #70
"Socio-economic" Rank: #103
#74. Long Beach, CA
Score: 54.18
"Job-Market" Rank: #61
"Socio-economic" Rank: #125
#73. Columbus, OH
Score: 54.29
"Job-Market" Rank: #92
"Socio-economic" Rank: #31
#72. Fort Lauderdale, FL
Score: 54.42
"Job-Market" Rank: #56
"Socio-economic" Rank: #141
#71. Cedar Rapids, IA
Score: 54.58
"Job-Market" Rank: #84
"Socio-economic" Rank: #52
#70. Glendale, CA
Score: 54.58
"Job-Market" Rank: #66
"Socio-economic" Rank: #105
#69. Burlington, VT
Score: 54.59
"Job-Market" Rank: #102
"Socio-economic" Rank: #6
#68. Charlotte, NC
Score: 54.64
"Job-Market" Rank: #76
"Socio-economic" Rank: #69
#67. Cincinnati, OH
Score: 54.77
"Job-Market" Rank: #86
"Socio-economic" Rank: #45
#66. Fort Smith, AR
Score: 54.87
"Job-Market" Rank: #34
"Socio-economic" Rank: #157
#65. Raleigh, NC
Score: 55.12
"Job-Market" Rank: #78
"Socio-economic" Rank: #51
#64. Garden Grove, CA
Score: 55.2
"Job-Market" Rank: #85
"Socio-economic" Rank: #32
#63. Sioux Falls, SD
Score: 55.33
"Job-Market" Rank: #87
"Socio-economic" Rank: #21
#62. Lewiston, ME
Score: 55.37
"Job-Market" Rank: #42
"Socio-economic" Rank: #126
#61. Phoenix, AZ
Score: 55.47
"Job-Market" Rank: #65
"Socio-economic" Rank: #75
#60. Los Angeles, CA
Score: 55.8
"Job-Market" Rank: #46
"Socio-economic" Rank: #98
#59. San Antonio, TX
Score: 55.83
"Job-Market" Rank: #49
"Socio-economic" Rank: #94
#58. Aurora, CO
Score: 55.93
"Job-Market" Rank: #33
"Socio-economic" Rank: #129
#57. Little Rock, AR
Score: 56.12
"Job-Market" Rank: #23
"Socio-economic" Rank: #160
#56. Mesa, AZ
Score: 56.25
"Job-Market" Rank: #48
"Socio-economic" Rank: #83
#55. Pearl City, HI
Score: 56.41
"Job-Market" Rank: #25
"Socio-economic" Rank: #124
#54. Virginia Beach, VA
Score: 56.45
"Job-Market" Rank: #75
"Socio-economic" Rank: #20
#53. Salem, OR
Score: 56.64
"Job-Market" Rank: #39
"Socio-economic" Rank: #86
#52. West Valley City, UT
Score: 56.76
"Job-Market" Rank: #64
"Socio-economic" Rank: #35
#51. Washington, DC
Score: 56.77
"Job-Market" Rank: #47
"Socio-economic" Rank: #65
#50. Santa Clarita, CA
Score: 56.92
"Job-Market" Rank: #36
"Socio-economic" Rank: #90
#49. Dallas, TX
Score: 56.96
"Job-Market" Rank: #22
"Socio-economic" Rank: #135
#48. Garland, TX
Score: 57.03
"Job-Market" Rank: #16
"Socio-economic" Rank: #147
#47. Colorado Springs, CO
Score: 57.03
"Job-Market" Rank: #68
"Socio-economic" Rank: #24
#46. St. Petersburg, FL
Score: 57.2
"Job-Market" Rank: #41
"Socio-economic" Rank: #58
#45. Pittsburgh, PA
Score: 57.24
"Job-Market" Rank: #81
"Socio-economic" Rank: #7
#44. St. Paul, MN
Score: 57.28
"Job-Market" Rank: #72
"Socio-economic" Rank: #14
#43. Grand Rapids, MI
Score: 57.32
"Job-Market" Rank: #52
"Socio-economic" Rank: #40
#42. Honolulu, HI
Score: 57.51
"Job-Market" Rank: #44
"Socio-economic" Rank: #46
#41. Sacramento, CA
Score: 57.51
"Job-Market" Rank: #55
"Socio-economic" Rank: #33
#40. Portland, OR
Score: 57.55
"Job-Market" Rank: #59
"Socio-economic" Rank: #26
#39. Amarillo, TX
Score: 57.6
"Job-Market" Rank: #20
"Socio-economic" Rank: #112
#38. Grand Prairie, TX
Score: 57.89
"Job-Market" Rank: #27
"Socio-economic" Rank: #85
#37. South Burlington, VT
Score: 57.91
"Job-Market" Rank: #38
"Socio-economic" Rank: #44
#36. Lincoln, NE
Score: 57.99
"Job-Market" Rank: #74
"Socio-economic" Rank: #8
#35. Omaha, NE
Score: 58.06
"Job-Market" Rank: #53
"Socio-economic" Rank: #23
#34. Rancho Cucamonga, CA
Score: 58.13
"Job-Market" Rank: #50
"Socio-economic" Rank: #27
#32. Huntington Beach, CA
Score: 58.27
"Job-Market" Rank: #40
"Socio-economic" Rank: #30
#32. San Jose, CA
Score: 58.16
"Job-Market" Rank: #31
"Socio-economic" Rank: #59
#31. Des Moines, IA
Score: 58.42
"Job-Market" Rank: #37
"Socio-economic" Rank: #29
#30. San Diego, CA
Score: 58.55
"Job-Market" Rank: #43
"Socio-economic" Rank: #19
#29. Boise, ID
Score: 58.62
"Job-Market" Rank: #67
"Socio-economic" Rank: #5
#28. Atlanta, GA
Score: 58.78
"Job-Market" Rank: #26
"Socio-economic" Rank: #54
#27. Nashua, NH
Score: 58.85
"Job-Market" Rank: #29
"Socio-economic" Rank: #48
#26. Overland Park, KS
Score: 59.26
"Job-Market" Rank: #45
"Socio-economic" Rank: #10
#25. Denver, CO
Score: 59.32
"Job-Market" Rank: #35
"Socio-economic" Rank: #17
#24. Minneapolis, MN
Score: 59.38
"Job-Market" Rank: #58
"Socio-economic" Rank: #2
#23. Irving, TX
Score: 59.44
"Job-Market" Rank: #8
"Socio-economic" Rank: #122
#22. Manchester, NH
Score: 59.52
"Job-Market" Rank: #19
"Socio-economic" Rank: #55
#21. Charleston, SC
Score: 59.67
"Job-Market" Rank: #24
"Socio-economic" Rank: #38
#20. Tempe, AZ
Score: 59.79
"Job-Market" Rank: #32
"Socio-economic" Rank: #15
#19. Fremont, CA
Score: 60.04
"Job-Market" Rank: #15
"Socio-economic" Rank: #66
#18. Salt Lake City, UT
Score: 60.65
"Job-Market" Rank: #17
"Socio-economic" Rank: #28
#17. Seattle, WA
Score: 60.7
"Job-Market" Rank: #28
"Socio-economic" Rank: #11
#16. Tampa, FL
Score: 60.78
"Job-Market" Rank: #18
"Socio-economic" Rank: #22
#15. Columbia, MD
Score: 61.28
"Job-Market" Rank: #30
"Socio-economic" Rank: #4
#14. Bismarck, ND
Score: 61.61
"Job-Market" Rank: #13
"Socio-economic" Rank: #39
#13. Orlando, FL
Score: 61.98
"Job-Market" Rank: #9
"Socio-economic" Rank: #36
#12. Fargo, ND
Score: 62.1
"Job-Market" Rank: #14
"Socio-economic" Rank: #18
#11. Austin, TX
Score: 62.29
"Job-Market" Rank: #12
"Socio-economic" Rank: #25
#10. Boston, MA
Score: 62.37
"Job-Market" Rank: #7
"Socio-economic" Rank: #42
#9. Madison, WI
Score: 62.44
"Job-Market" Rank: #21
"Socio-economic" Rank: #1
#8. Irvine, CA
Score: 62.86
"Job-Market" Rank: #11
"Socio-economic" Rank: #13
#7. Portland, ME
Score: 63.06
"Job-Market" Rank: #10
"Socio-economic" Rank: #12
#6. Plano, TX
Score: 64.69
"Job-Market" Rank: #6
"Socio-economic" Rank: #16
#5. Gilbert, AZ
Score: 65.35
"Job-Market" Rank: #4
"Socio-economic" Rank: #34
#4. Peoria, AZ
Score: 65.86
"Job-Market" Rank: #1
"Socio-economic" Rank: #56
#3. San Francisco, CA
Score: 66.06
"Job-Market" Rank: #2
"Socio-economic" Rank: #43
#2. Scottsdale, AZ
Score: 66.29
"Job-Market" Rank: #5
"Socio-economic" Rank: #3
#1. Chandler, AZ
Score: 67.66
"Job-Market" Rank: #3
"Socio-economic" Rank: #9