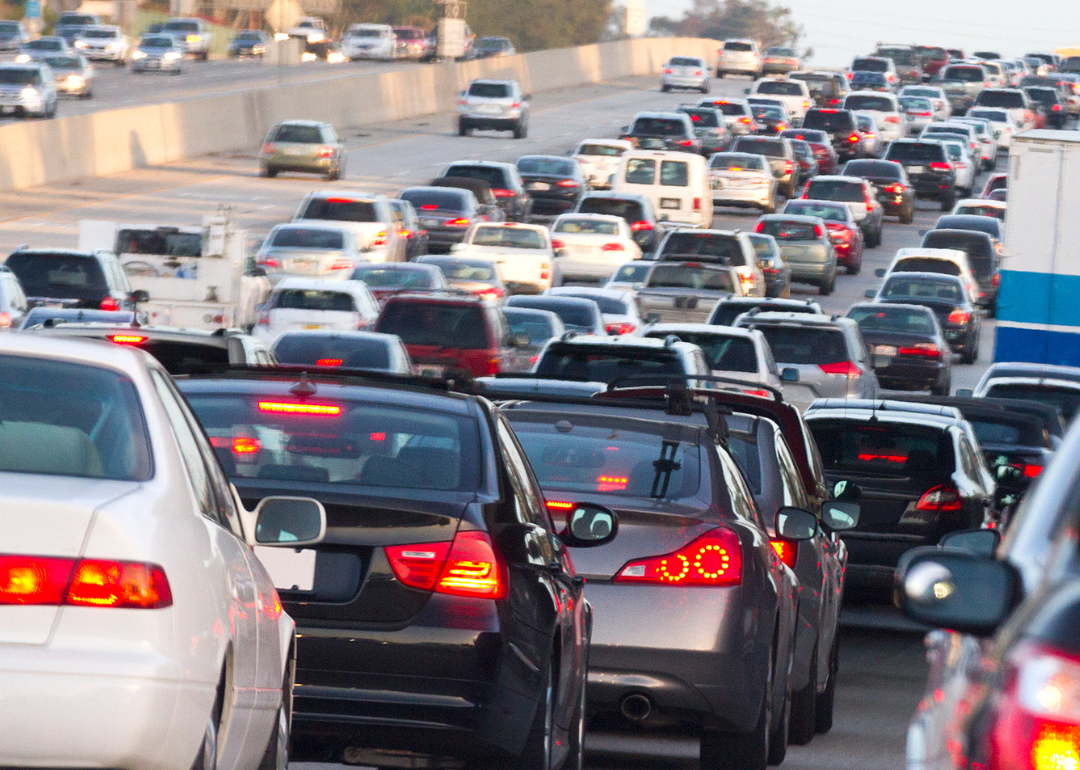 Cities with the worst commutes in America
Cities with the worst commutes in America
Commuting easily ranks as one of the least enjoyable parts of a person's day. A 2017 study by the University of the West of England found adding 20 minutes to a person's commute had the same effect on job satisfaction as taking a 19% pay cut.
Commuters encounter more physical health problems, and low-income commuters are less likely to gain financial stability—among a host of other negative impacts. And yet, America's commutes keep getting longer as people move farther away from the office, according to census data. The average one-way commute in 2017 was nearly 27 minutes, which Governing.com found to be much higher averages for people in cities who commute via public transit during peak hours.
Stacker analyzed 2017 American Community Survey data on average commutes across the country, including cities categorized by the U.S. Census Bureau as urban areas. These regions are densely populated with at least 2,500 people; we focused on urban areas which have at least 10,000 workers over the age of 16. Each city was ranked by the length of its average one-way commute, with ties were broken in favor of the city with the most people commuting longer than an hour.
Think you have a long trip to work? Read on to compare it against the worst commutes in the country, and see which California city beat out New York City, Washington D.C., and Los Angeles for the top spot.
You may also like: States paying the most in car insurance premiums
#50. Auburn, WA
- Average one-way commute time to work: 31.7 minutes (20.1% higher than national average)
--- Driving alone in car, truck, or van: 28.5 minutes
--- Carpool: 33.5 minutes
--- Public transportation: 63.4 minutes
- Workers with one-way commutes over 60 minutes: 14.9% (6.0% more than the national average)
--- Driving alone in car, truck, or van: 9.9%
--- Carpool: 19.1%
--- Public transportation: 59%
- Workers 16 years and over: 35,617
--- Workers who drove a car, truck, or van: 26,806
--- Workers carpooling: 3,790
--- Workers taking public transportation: 2,432
- Workers who commute outside their county of residence: 20.9%
- Workers who commute outside their state of residence: 0.5%
#49. Alexandria, VA
- Average one-way commute time to work: 31.8 minutes (20.5% higher than national average)
--- Driving alone in car, truck, or van: 27.6 minutes
--- Carpool: 31.2 minutes
--- Public transportation: 44.4 minutes
- Workers with one-way commutes over 60 minutes: 10.8% (1.9% more than the national average)
--- Driving alone in car, truck, or van: 5.9%
--- Carpool: 11.3%
--- Public transportation: 23.8%
- Workers 16 years and over: 96,381
--- Workers who drove a car, truck, or van: 56,079
--- Workers carpooling: 8,044
--- Workers taking public transportation: 21,100
- Workers who commute outside their county of residence: 36.2%
- Workers who commute outside their state of residence: 36.7%
#48. South Gate, CA
- Average one-way commute time to work: 31.8 minutes (20.5% higher than national average)
--- Driving alone in car, truck, or van: 29.9 minutes
--- Carpool: 33.4 minutes
--- Public transportation: 50.5 minutes
- Workers with one-way commutes over 60 minutes: 14.8% (5.9% more than the national average)
--- Driving alone in car, truck, or van: 11.7%
--- Carpool: 16%
--- Public transportation: 43.1%
- Workers 16 years and over: 40,753
--- Workers who drove a car, truck, or van: 28,544
--- Workers carpooling: 6,408
--- Workers taking public transportation: 2,875
- Workers who commute outside their county of residence: 6.9%
- Workers who commute outside their state of residence: 0.2%
#47. Rancho Cucamonga, CA
- Average one-way commute time to work: 31.8 minutes (20.5% higher than national average)
--- Driving alone in car, truck, or van: 30.4 minutes
--- Carpool: 36.3 minutes
--- Public transportation: 75.8 minutes
- Workers with one-way commutes over 60 minutes: 15.9% (7.0% more than the national average)
--- Driving alone in car, truck, or van: 13.8%
--- Carpool: 22.8%
--- Public transportation: 79.8%
- Workers 16 years and over: 82,302
--- Workers who drove a car, truck, or van: 66,682
--- Workers carpooling: 8,339
--- Workers taking public transportation: 1,330
- Workers who commute outside their county of residence: 37.4%
- Workers who commute outside their state of residence: 0.5%
#46. Oakland, CA
- Average one-way commute time to work: 31.9 minutes (20.8% higher than national average)
--- Driving alone in car, truck, or van: 27.3 minutes
--- Carpool: 30.7 minutes
--- Public transportation: 46.9 minutes
- Workers with one-way commutes over 60 minutes: 14.5% (5.6% more than the national average)
--- Driving alone in car, truck, or van: 9.8%
--- Carpool: 12.1%
--- Public transportation: 30.2%
- Workers 16 years and over: 206,680
--- Workers who drove a car, truck, or van: 106,317
--- Workers carpooling: 24,013
--- Workers taking public transportation: 44,107
- Workers who commute outside their county of residence: 35.2%
- Workers who commute outside their state of residence: 0.3%
#45. Frederick, MD
- Average one-way commute time to work: 31.9 minutes (20.8% higher than national average)
--- Driving alone in car, truck, or van: 30.3 minutes
--- Carpool: 32.4 minutes
--- Public transportation: 78.3 minutes
- Workers with one-way commutes over 60 minutes: 21.2% (12.3% more than the national average)
--- Driving alone in car, truck, or van: 19.9%
--- Carpool: 21.5%
--- Public transportation: 66.6%
- Workers 16 years and over: 36,989
--- Workers who drove a car, truck, or van: 27,408
--- Workers carpooling: 4,280
--- Workers taking public transportation: 1,666
- Workers who commute outside their county of residence: 25%
- Workers who commute outside their state of residence: 9.9%
#44. Rockville, MD
- Average one-way commute time to work: 32 minutes (21.2% higher than national average)
--- Driving alone in car, truck, or van: 27.2 minutes
--- Carpool: 36.6 minutes
--- Public transportation: 49.5 minutes
- Workers with one-way commutes over 60 minutes: 15.3% (6.4% more than the national average)
--- Driving alone in car, truck, or van: 9%
--- Carpool: 19.9%
--- Public transportation: 37.4%
- Workers 16 years and over: 35,352
--- Workers who drove a car, truck, or van: 22,554
--- Workers carpooling: 2,988
--- Workers taking public transportation: 6,355
- Workers who commute outside their county of residence: 6.6%
- Workers who commute outside their state of residence: 24.9%
#43. New Rochelle, NY
- Average one-way commute time to work: 32.1 minutes (21.6% higher than national average)
--- Driving alone in car, truck, or van: 25.4 minutes
--- Carpool: 26.2 minutes
--- Public transportation: 55.8 minutes
- Workers with one-way commutes over 60 minutes: 18.5% (9.6% more than the national average)
--- Driving alone in car, truck, or van: 7.8%
--- Carpool: 9.8%
--- Public transportation: 52.1%
- Workers 16 years and over: 38,520
--- Workers who drove a car, truck, or van: 20,665
--- Workers carpooling: 3,455
--- Workers taking public transportation: 9,047
- Workers who commute outside their county of residence: 34.3%
- Workers who commute outside their state of residence: 4.9%
#42. San Leandro, CA
- Average one-way commute time to work: 32.4 minutes (22.7% higher than national average)
--- Driving alone in car, truck, or van: 29.1 minutes
--- Carpool: 31.4 minutes
--- Public transportation: 52.2 minutes
- Workers with one-way commutes over 60 minutes: 15.4% (6.5% more than the national average)
--- Driving alone in car, truck, or van: 10.6%
--- Carpool: 15.3%
--- Public transportation: 41.9%
- Workers 16 years and over: 43,595
--- Workers who drove a car, truck, or van: 30,388
--- Workers carpooling: 4,440
--- Workers taking public transportation: 5,524
- Workers who commute outside their county of residence: 28.8%
- Workers who commute outside their state of residence: 0.2%
#41. Hayward, CA
- Average one-way commute time to work: 32.4 minutes (22.7% higher than national average)
--- Driving alone in car, truck, or van: 30 minutes
--- Carpool: 33.7 minutes
--- Public transportation: 52.7 minutes
- Workers with one-way commutes over 60 minutes: 15.5% (6.6% more than the national average)
--- Driving alone in car, truck, or van: 11%
--- Carpool: 18.2%
--- Public transportation: 48%
- Workers 16 years and over: 72,302
--- Workers who drove a car, truck, or van: 51,327
--- Workers carpooling: 8,647
--- Workers taking public transportation: 6,890
- Workers who commute outside their county of residence: 34.2%
- Workers who commute outside their state of residence: 0.1%
#40. Deltona, FL
- Average one-way commute time to work: 32.5 minutes (23.1% higher than national average)
--- Driving alone in car, truck, or van: 32.3 minutes
--- Carpool: 35 minutes
--- Public transportation: 50.8 minutes
- Workers with one-way commutes over 60 minutes: 12.2% (3.3% more than the national average)
--- Driving alone in car, truck, or van: 11.6%
--- Carpool: 18.6%
--- Public transportation: 60.2%
- Workers 16 years and over: 36,299
--- Workers who drove a car, truck, or van: 31,524
--- Workers carpooling: 2,843
--- Workers taking public transportation: 123
- Workers who commute outside their county of residence: 46%
- Workers who commute outside their state of residence: 0.6%
#39. Kendall, FL
- Average one-way commute time to work: 32.5 minutes (23.1% higher than national average)
--- Driving alone in car, truck, or van: 32.1 minutes
--- Carpool: 29.1 minutes
--- Public transportation: 49.5 minutes
- Workers with one-way commutes over 60 minutes: 14.6% (5.7% more than the national average)
--- Driving alone in car, truck, or van: 14.2%
--- Carpool: 9.5%
--- Public transportation: 27.9%
- Workers 16 years and over: 38,247
--- Workers who drove a car, truck, or van: 31,775
--- Workers carpooling: 2,507
--- Workers taking public transportation: 1,537
- Workers who commute outside their county of residence: 3.9%
- Workers who commute outside their state of residence: 0.4%
#38. Whittier, CA
- Average one-way commute time to work: 32.7 minutes (23.9% higher than national average)
--- Driving alone in car, truck, or van: 31.9 minutes
--- Carpool: 36.1 minutes
--- Public transportation: 63.7 minutes
- Workers with one-way commutes over 60 minutes: 15.1% (6.2% more than the national average)
--- Driving alone in car, truck, or van: 13.4%
--- Carpool: 22.1%
--- Public transportation: 58.4%
- Workers 16 years and over: 40,098
--- Workers who drove a car, truck, or van: 32,695
--- Workers carpooling: 3,705
--- Workers taking public transportation: 906
- Workers who commute outside their county of residence: 18.6%
- Workers who commute outside their state of residence: 0.2%
#37. San Francisco, CA
- Average one-way commute time to work: 32.8 minutes (24.2% higher than national average)
--- Driving alone in car, truck, or van: 30.5 minutes
--- Carpool: 30.1 minutes
--- Public transportation: 41.6 minutes
- Workers with one-way commutes over 60 minutes: 14.2% (5.3% more than the national average)
--- Driving alone in car, truck, or van: 11%
--- Carpool: 10%
--- Public transportation: 23.8%
- Workers 16 years and over: 495,315
--- Workers who drove a car, truck, or van: 170,042
--- Workers carpooling: 33,747
--- Workers taking public transportation: 168,514
- Workers who commute outside their county of residence: 23.7%
- Workers who commute outside their state of residence: 0.4%
#36. Philadelphia, PA
- Average one-way commute time to work: 32.9 minutes (24.6% higher than national average)
--- Driving alone in car, truck, or van: 30.5 minutes
--- Carpool: 33.4 minutes
--- Public transportation: 44.5 minutes
- Workers with one-way commutes over 60 minutes: 14.3% (5.4% more than the national average)
--- Driving alone in car, truck, or van: 9.7%
--- Carpool: 14.7%
--- Public transportation: 28.9%
- Workers 16 years and over: 649,574
--- Workers who drove a car, truck, or van: 331,271
--- Workers carpooling: 54,786
--- Workers taking public transportation: 164,181
- Workers who commute outside their county of residence: 19.1%
- Workers who commute outside their state of residence: 5.6%
#35. Union City, NJ
- Average one-way commute time to work: 33 minutes (25.0% higher than national average)
--- Driving alone in car, truck, or van: 29.1 minutes
--- Carpool: 32.9 minutes
--- Public transportation: 41 minutes
- Workers with one-way commutes over 60 minutes: 16.2% (7.3% more than the national average)
--- Driving alone in car, truck, or van: 8.9%
--- Carpool: 16.1%
--- Public transportation: 25.4%
- Workers 16 years and over: 35,198
--- Workers who drove a car, truck, or van: 10,091
--- Workers carpooling: 4,435
--- Workers taking public transportation: 15,116
- Workers who commute outside their county of residence: 25.7%
- Workers who commute outside their state of residence: 20.5%
#34. Alameda, CA
- Average one-way commute time to work: 33 minutes (25.0% higher than national average)
--- Driving alone in car, truck, or van: 28.7 minutes
--- Carpool: 29.5 minutes
--- Public transportation: 51.5 minutes
- Workers with one-way commutes over 60 minutes: 16.5% (7.6% more than the national average)
--- Driving alone in car, truck, or van: 10.8%
--- Carpool: 11.5%
--- Public transportation: 38.8%
- Workers 16 years and over: 40,199
--- Workers who drove a car, truck, or van: 23,892
--- Workers carpooling: 3,439
--- Workers taking public transportation: 7,139
- Workers who commute outside their county of residence: 34.4%
- Workers who commute outside their state of residence: 0.7%
#33. Fontana, CA
- Average one-way commute time to work: 33 minutes (25.0% higher than national average)
--- Driving alone in car, truck, or van: 30.9 minutes
--- Carpool: 40.9 minutes
--- Public transportation: 76.3 minutes
- Workers with one-way commutes over 60 minutes: 17.3% (8.4% more than the national average)
--- Driving alone in car, truck, or van: 14.3%
--- Carpool: 28.1%
--- Public transportation: 71.4%
- Workers 16 years and over: 91,390
--- Workers who drove a car, truck, or van: 71,719
--- Workers carpooling: 12,291
--- Workers taking public transportation: 1,676
- Workers who commute outside their county of residence: 32.5%
- Workers who commute outside their state of residence: 0.2%
#32. Pearland, TX
- Average one-way commute time to work: 33.1 minutes (25.4% higher than national average)
--- Driving alone in car, truck, or van: 32.9 minutes
--- Carpool: 33.4 minutes
--- Public transportation: 38.8 minutes
- Workers with one-way commutes over 60 minutes: 11.9% (3.0% more than the national average)
--- Driving alone in car, truck, or van: 11.6%
--- Carpool: 10.7%
--- Public transportation: 18.4%
- Workers 16 years and over: 58,409
--- Workers who drove a car, truck, or van: 52,117
--- Workers carpooling: 4,067
--- Workers taking public transportation: 158
- Workers who commute outside their county of residence: 71.7%
- Workers who commute outside their state of residence: 0.8%
#31. Gaithersburg, MD
- Average one-way commute time to work: 33.1 minutes (25.4% higher than national average)
--- Driving alone in car, truck, or van: 29.7 minutes
--- Carpool: 31.9 minutes
--- Public transportation: 52.6 minutes
- Workers with one-way commutes over 60 minutes: 18.8% (9.9% more than the national average)
--- Driving alone in car, truck, or van: 13.2%
--- Carpool: 14.6%
--- Public transportation: 51.2%
- Workers 16 years and over: 35,858
--- Workers who drove a car, truck, or van: 24,276
--- Workers carpooling: 3,934
--- Workers taking public transportation: 4,888
- Workers who commute outside their county of residence: 7.4%
- Workers who commute outside their state of residence: 18.8%
#30. Fremont, CA
- Average one-way commute time to work: 33.6 minutes (27.3% higher than national average)
--- Driving alone in car, truck, or van: 30.2 minutes
--- Carpool: 32.1 minutes
--- Public transportation: 63.5 minutes
- Workers with one-way commutes over 60 minutes: 15.8% (6.9% more than the national average)
--- Driving alone in car, truck, or van: 9.8%
--- Carpool: 11.6%
--- Public transportation: 68.5%
- Workers 16 years and over: 86,040
--- Workers who drove a car, truck, or van: 62,362
--- Workers carpooling: 8,561
--- Workers taking public transportation: 8,098
- Workers who commute outside their county of residence: 50.8%
- Workers who commute outside their state of residence: 0.4%
#29. Federal Way, WA
- Average one-way commute time to work: 33.6 minutes (27.3% higher than national average)
--- Driving alone in car, truck, or van: 30.3 minutes
--- Carpool: 40 minutes
--- Public transportation: 57.9 minutes
- Workers with one-way commutes over 60 minutes: 17.1% (8.2% more than the national average)
--- Driving alone in car, truck, or van: 11.5%
--- Carpool: 24.7%
--- Public transportation: 58.1%
- Workers 16 years and over: 46,080
--- Workers who drove a car, truck, or van: 33,481
--- Workers carpooling: 5,310
--- Workers taking public transportation: 3,777
- Workers who commute outside their county of residence: 15.6%
- Workers who commute outside their state of residence: 0.6%
#28. Centreville, VA
- Average one-way commute time to work: 33.7 minutes (27.7% higher than national average)
--- Driving alone in car, truck, or van: 31 minutes
--- Carpool: 38.4 minutes
--- Public transportation: 81.2 minutes
- Workers with one-way commutes over 60 minutes: 15.5% (6.6% more than the national average)
--- Driving alone in car, truck, or van: 10.8%
--- Carpool: 25.9%
--- Public transportation: 89.3%
- Workers 16 years and over: 41,403
--- Workers who drove a car, truck, or van: 32,677
--- Workers carpooling: 3,816
--- Workers taking public transportation: 1,531
- Workers who commute outside their county of residence: 24.6%
- Workers who commute outside their state of residence: 11.3%
#27. Naperville, IL
- Average one-way commute time to work: 33.7 minutes (27.7% higher than national average)
--- Driving alone in car, truck, or van: 29.3 minutes
--- Carpool: 32.3 minutes
--- Public transportation: 69.1 minutes
- Workers with one-way commutes over 60 minutes: 18.7% (9.8% more than the national average)
--- Driving alone in car, truck, or van: 11.3%
--- Carpool: 15%
--- Public transportation: 77.6%
- Workers 16 years and over: 73,341
--- Workers who drove a car, truck, or van: 54,576
--- Workers carpooling: 3,121
--- Workers taking public transportation: 7,401
- Workers who commute outside their county of residence: 45.9%
- Workers who commute outside their state of residence: 1.4%
#26. Concord, CA
- Average one-way commute time to work: 33.8 minutes (28.0% higher than national average)
--- Driving alone in car, truck, or van: 30.2 minutes
--- Carpool: 35.4 minutes
--- Public transportation: 63 minutes
- Workers with one-way commutes over 60 minutes: 20% (11.1% more than the national average)
--- Driving alone in car, truck, or van: 13.4%
--- Carpool: 22.1%
--- Public transportation: 67.2%
- Workers 16 years and over: 61,743
--- Workers who drove a car, truck, or van: 43,277
--- Workers carpooling: 6,553
--- Workers taking public transportation: 6,020
- Workers who commute outside their county of residence: 31.1%
- Workers who commute outside their state of residence: 0.3%
#25. West Covina, CA
- Average one-way commute time to work: 34 minutes (28.8% higher than national average)
--- Driving alone in car, truck, or van: 33.1 minutes
--- Carpool: 35.8 minutes
--- Public transportation: 52.8 minutes
- Workers with one-way commutes over 60 minutes: 19.1% (10.2% more than the national average)
--- Driving alone in car, truck, or van: 17.7%
--- Carpool: 20.8%
--- Public transportation: 47.5%
- Workers 16 years and over: 50,005
--- Workers who drove a car, truck, or van: 40,333
--- Workers carpooling: 5,218
--- Workers taking public transportation: 1,744
- Workers who commute outside their county of residence: 13.6%
- Workers who commute outside their state of residence: 0.2%
#24. Lehigh Acres, FL
- Average one-way commute time to work: 34.1 minutes (29.2% higher than national average)
--- Driving alone in car, truck, or van: 33.3 minutes
--- Carpool: 36.9 minutes
--- Public transportation: 60.8 minutes
- Workers with one-way commutes over 60 minutes: 11.6% (2.7% more than the national average)
--- Driving alone in car, truck, or van: 10.5%
--- Carpool: 16.1%
--- Public transportation: 49.9%
- Workers 16 years and over: 48,421
--- Workers who drove a car, truck, or van: 39,106
--- Workers carpooling: 5,847
--- Workers taking public transportation: 345
- Workers who commute outside their county of residence: 13.1%
- Workers who commute outside their state of residence: 0.5%
#23. Pleasanton, CA
- Average one-way commute time to work: 34.2 minutes (29.5% higher than national average)
--- Driving alone in car, truck, or van: 30.3 minutes
--- Carpool: 35 minutes
--- Public transportation: 68.2 minutes
- Workers with one-way commutes over 60 minutes: 21.7% (12.8% more than the national average)
--- Driving alone in car, truck, or van: 15.5%
--- Carpool: 19.5%
--- Public transportation: 78%
- Workers 16 years and over: 38,360
--- Workers who drove a car, truck, or van: 27,833
--- Workers carpooling: 2,719
--- Workers taking public transportation: 3,451
- Workers who commute outside their county of residence: 38.1%
- Workers who commute outside their state of residence: 0.5%
#22. Yonkers, NY
- Average one-way commute time to work: 34.3 minutes (29.9% higher than national average)
--- Driving alone in car, truck, or van: 26.2 minutes
--- Carpool: 28.3 minutes
--- Public transportation: 56.4 minutes
- Workers with one-way commutes over 60 minutes: 20.4% (11.5% more than the national average)
--- Driving alone in car, truck, or van: 7.0%
--- Carpool: 10.1%
--- Public transportation: 53.9%
- Workers 16 years and over: 92,169
--- Workers who drove a car, truck, or van: 49,406
--- Workers carpooling: 8,904
--- Workers taking public transportation: 25,307
- Workers who commute outside their county of residence: 39%
- Workers who commute outside their state of residence: 3.2%
#21. Chicago, IL
- Average one-way commute time to work: 34.6 minutes (31.1% higher than national average)
--- Driving alone in car, truck, or van: 32.9 minutes
--- Carpool: 34.2 minutes
--- Public transportation: 43.3 minutes
- Workers with one-way commutes over 60 minutes: 16.2% (7.3% more than the national average)
--- Driving alone in car, truck, or van: 13.6%
--- Carpool: 15.7%
--- Public transportation: 25.3%
- Workers 16 years and over: 1,288,225
--- Workers who drove a car, truck, or van: 633,387
--- Workers carpooling: 101,904
--- Workers taking public transportation: 363,149
- Workers who commute outside their county of residence: 6%
- Workers who commute outside their state of residence: 1.2%
#20. Richmond, CA
- Average one-way commute time to work: 34.7 minutes (31.4% higher than national average)
--- Driving alone in car, truck, or van: 29.9 minutes
--- Carpool: 34.6 minutes
--- Public transportation: 55.8 minutes
- Workers with one-way commutes over 60 minutes: 18.5% (9.6% more than the national average)
--- Driving alone in car, truck, or van: 11.2%
--- Carpool: 18.9%
--- Public transportation: 48.5%
- Workers 16 years and over: 50,469
--- Workers who drove a car, truck, or van: 30,012
--- Workers carpooling: 9,205
--- Workers taking public transportation: 7,056
- Workers who commute outside their county of residence: 61.3%
- Workers who commute outside their state of residence: 0.4%
#19. Victorville, CA
- Average one-way commute time to work: 34.7 minutes (31.4% higher than national average)
--- Driving alone in car, truck, or van: 32.5 minutes
--- Carpool: 48.1 minutes
--- Public transportation: 45.6 minutes
- Workers with one-way commutes over 60 minutes: 21.1% (12.2% more than the national average)
--- Driving alone in car, truck, or van: 18.6%
--- Carpool: 33.9%
--- Public transportation: 49%
- Workers 16 years and over: 39,863
--- Workers who drove a car, truck, or van: 31,028
--- Workers carpooling: 5,602
--- Workers taking public transportation: 247
- Workers who commute outside their county of residence: 15.5%
- Workers who commute outside their state of residence: 0.5%
#18. Vallejo, CA
- Average one-way commute time to work: 34.8 minutes (31.8% higher than national average)
--- Driving alone in car, truck, or van: 31.7 minutes
--- Carpool: 39 minutes
--- Public transportation: 74.4 minutes
- Workers with one-way commutes over 60 minutes: 21.3% (12.4% more than the national average)
--- Driving alone in car, truck, or van: 16.5%
--- Carpool: 27.8%
--- Public transportation: 77.5%
- Workers 16 years and over: 52,801
--- Workers who drove a car, truck, or van: 38,065
--- Workers carpooling: 8,852
--- Workers taking public transportation: 2,549
- Workers who commute outside their county of residence: 56.6%
- Workers who commute outside their state of residence: 0.5%
#17. Silver Spring, MD
- Average one-way commute time to work: 34.9 minutes (32.2% higher than national average)
--- Driving alone in car, truck, or van: 30.1 minutes
--- Carpool: 35.9 minutes
--- Public transportation: 46 minutes
- Workers with one-way commutes over 60 minutes: 14.6% (5.7% more than the national average)
--- Driving alone in car, truck, or van: 7%
--- Carpool: 19.3%
--- Public transportation: 28.3%
- Workers 16 years and over: 44,522
--- Workers who drove a car, truck, or van: 22,612
--- Workers carpooling: 4,801
--- Workers taking public transportation: 12,768
- Workers who commute outside their county of residence: 15.6%
- Workers who commute outside their state of residence: 41.3%
#16. Santa Clarita, CA
- Average one-way commute time to work: 34.9 minutes (32.2% higher than national average)
--- Driving alone in car, truck, or van: 33.6 minutes
--- Carpool: 36.5 minutes
--- Public transportation: 67.5 minutes
- Workers with one-way commutes over 60 minutes: 19.7% (10.8% more than the national average)
--- Driving alone in car, truck, or van: 18%
--- Carpool: 21.8%
--- Public transportation: 64.2%
- Workers 16 years and over: 100,616
--- Workers who drove a car, truck, or van: 77,049
--- Workers carpooling: 11,390
--- Workers taking public transportation: 3,056
- Workers who commute outside their county of residence: 3.8%
- Workers who commute outside their state of residence: 0.5%
#15. Temecula, CA
- Average one-way commute time to work: 34.9 minutes (32.2% higher than national average)
--- Driving alone in car, truck, or van: 34.5 minutes
--- Carpool: 40.3 minutes
--- Public transportation: 34.1 minutes
- Workers with one-way commutes over 60 minutes: 24.2% (15.3% more than the national average)
--- Driving alone in car, truck, or van: 23.8%
--- Carpool: 31%
--- Public transportation: 1%
- Workers 16 years and over: 49,647
--- Workers who drove a car, truck, or van: 38,553
--- Workers carpooling: 5,631
--- Workers taking public transportation: 101
- Workers who commute outside their county of residence: 36.6%
- Workers who commute outside their state of residence: 0.7%
#14. Newark, NJ
- Average one-way commute time to work: 35.5 minutes (34.5% higher than national average)
--- Driving alone in car, truck, or van: 28.9 minutes
--- Carpool: 33.9 minutes
--- Public transportation: 55.6 minutes
- Workers with one-way commutes over 60 minutes: 20.6% (11.7% more than the national average)
--- Driving alone in car, truck, or van: 10.1%
--- Carpool: 19.6%
--- Public transportation: 47.3%
- Workers 16 years and over: 113,302
--- Workers who drove a car, truck, or van: 58,077
--- Workers carpooling: 12,667
--- Workers taking public transportation: 29,791
- Workers who commute outside their county of residence: 31.6%
- Workers who commute outside their state of residence: 10.9%
#13. Quincy, MA
- Average one-way commute time to work: 35.6 minutes (34.8% higher than national average)
--- Driving alone in car, truck, or van: 31 minutes
--- Carpool: 31.8 minutes
--- Public transportation: 48.4 minutes
- Workers with one-way commutes over 60 minutes: 18.9% (10.0% more than the national average)
--- Driving alone in car, truck, or van: 13.6%
--- Carpool: 15.8%
--- Public transportation: 32.1%
- Workers 16 years and over: 52,315
--- Workers who drove a car, truck, or van: 29,819
--- Workers carpooling: 4,731
--- Workers taking public transportation: 14,706
- Workers who commute outside their county of residence: 59%
- Workers who commute outside their state of residence: 1%
#12. Germantown, MD
- Average one-way commute time to work: 36.4 minutes (37.9% higher than national average)
--- Driving alone in car, truck, or van: 33.6 minutes
--- Carpool: 33.7 minutes
--- Public transportation: 62.8 minutes
- Workers with one-way commutes over 60 minutes: 20.9% (12.0% more than the national average)
--- Driving alone in car, truck, or van: 16.8%
--- Carpool: 12.9%
--- Public transportation: 63.3%
- Workers 16 years and over: 49,794
--- Workers who drove a car, truck, or van: 36,746
--- Workers carpooling: 5,176
--- Workers taking public transportation: 4,855
- Workers who commute outside their county of residence: 9.5%
- Workers who commute outside their state of residence: 16.8%
#11. San Tan Valley, AZ
- Average one-way commute time to work: 36.5 minutes (38.3% higher than national average)
--- Driving alone in car, truck, or van: 36.7 minutes
--- Carpool: 35.5 minutes
--- Public transportation: 72.2 minutes
- Workers with one-way commutes over 60 minutes: 17% (8.1% more than the national average)
--- Driving alone in car, truck, or van: 16.8%
--- Carpool: 18%
--- Public transportation: 84.2%
- Workers 16 years and over: 38,110
--- Workers who drove a car, truck, or van: 30,560
--- Workers carpooling: 4,571
--- Workers taking public transportation: 120
- Workers who commute outside their county of residence: 67.5%
- Workers who commute outside their state of residence: 0.9%
#10. Corona, CA
- Average one-way commute time to work: 36.7 minutes (39% higher than national average)
--- Driving alone in car, truck, or van: 35.3 minutes
--- Carpool: 44.6 minutes
--- Public transportation: 63.7 minutes
- Workers with one-way commutes over 60 minutes: 23.6% (14.7% more than the national average)
--- Driving alone in car, truck, or van: 21.7%
--- Carpool: 33.4%
--- Public transportation: 57.1%
- Workers 16 years and over: 76,203
--- Workers who drove a car, truck, or van: 59,157
--- Workers carpooling: 9,933
--- Workers taking public transportation: 1,231
- Workers who commute outside their county of residence: 49.1%
- Workers who commute outside their state of residence: 0.5%
#9. Jersey City, NJ
- Average one-way commute time to work: 36.8 minutes (39.4% higher than national average)
--- Driving alone in car, truck, or van: 30.9 minutes
--- Carpool: 31.3 minutes
--- Public transportation: 45.1 minutes
- Workers with one-way commutes over 60 minutes: 18.7% (9.8% more than the national average)
--- Driving alone in car, truck, or van: 11.5%
--- Carpool: 14.7%
--- Public transportation: 27%
- Workers 16 years and over: 133,529
--- Workers who drove a car, truck, or van: 42,190
--- Workers carpooling: 9,236
--- Workers taking public transportation: 64,735
- Workers who commute outside their county of residence: 17.8%
- Workers who commute outside their state of residence: 36.5%
#8. San Ramon, CA
- Average one-way commute time to work: 37.2 minutes (40.9% higher than national average)
--- Driving alone in car, truck, or van: 33 minutes
--- Carpool: 41.9 minutes
--- Public transportation: 74.7 minutes
- Workers with one-way commutes over 60 minutes: 25.4% (16.5% more than the national average)
--- Driving alone in car, truck, or van: 18.4%
--- Carpool: 32.8%
--- Public transportation: 85.9%
- Workers 16 years and over: 36,182
--- Workers who drove a car, truck, or van: 26,543
--- Workers carpooling: 2,849
--- Workers taking public transportation: 2,790
- Workers who commute outside their county of residence: 56.7%
- Workers who commute outside their state of residence: 0.8%
#7. Chino Hills, CA
- Average one-way commute time to work: 38.9 minutes (47.3% higher than national average)
--- Driving alone in car, truck, or van: 37.9 minutes
--- Carpool: 43.3 minutes
--- Public transportation: 69.1 minutes
- Workers with one-way commutes over 60 minutes: 23.4% (14.5% more than the national average)
--- Driving alone in car, truck, or van: 21.2%
--- Carpool: 32.5%
--- Public transportation: 77.8%
- Workers 16 years and over: 37,254
--- Workers who drove a car, truck, or van: 30,201
--- Workers carpooling: 3,836
--- Workers taking public transportation: 586
- Workers who commute outside their county of residence: 66%
- Workers who commute outside their state of residence: 0.2%
#6. Hoboken, NJ
- Average one-way commute time to work: 39.4 minutes (49.2% higher than national average)
--- Driving alone in car, truck, or van: 40.8 minutes
--- Carpool: 39.9 minutes
--- Public transportation: 42.2 minutes
- Workers with one-way commutes over 60 minutes: 13.6% (4.7% more than the national average)
--- Driving alone in car, truck, or van: 20%
--- Carpool: 18%
--- Public transportation: 12.7%
- Workers 16 years and over: 35,394
--- Workers who drove a car, truck, or van: 8,405
--- Workers carpooling: 655
--- Workers taking public transportation: 21,572
- Workers who commute outside their county of residence: 18.6%
- Workers who commute outside their state of residence: 57.5%
#5. Dale City, VA
- Average one-way commute time to work: 39.4 minutes (49.2% higher than national average)
--- Driving alone in car, truck, or van: 37.5 minutes
--- Carpool: 43.9 minutes
--- Public transportation: 61.9 minutes
- Workers with one-way commutes over 60 minutes: 25.2% (16.3% more than the national average)
--- Driving alone in car, truck, or van: 21.3%
--- Carpool: 33.7%
--- Public transportation: 66%
- Workers 16 years and over: 37,302
--- Workers who drove a car, truck, or van: 28,424
--- Workers carpooling: 4,652
--- Workers taking public transportation: 2,023
- Workers who commute outside their county of residence: 46.1%
- Workers who commute outside their state of residence: 14.3%
#4. New York, NY
- Average one-way commute time to work: 40.8 minutes (54.5% higher than national average)
--- Driving alone in car, truck, or van: 33.9 minutes
--- Carpool: 37.9 minutes
--- Public transportation: 48.7 minutes
- Workers with one-way commutes over 60 minutes: 26.1% (17.2% more than the national average)
--- Driving alone in car, truck, or van: 16.2%
--- Carpool: 21.3%
--- Public transportation: 35.5%
- Workers 16 years and over: 3,975,121
--- Workers who drove a car, truck, or van: 874,860
--- Workers carpooling: 183,025
--- Workers taking public transportation: 2,247,732
- Workers who commute outside their county of residence: 42.8%
- Workers who commute outside their state of residence: 2.8%
#3. Palmdale, CA
- Average one-way commute time to work: 42.7 minutes (61.7% higher than national average)
--- Driving alone in car, truck, or van: 39.2 minutes
--- Carpool: 55.6 minutes
--- Public transportation: 86.6 minutes
- Workers with one-way commutes over 60 minutes: 35% (26.1% more than the national average)
--- Driving alone in car, truck, or van: 30.8%
--- Carpool: 52%
--- Public transportation: 81%
- Workers 16 years and over: 59,045
--- Workers who drove a car, truck, or van: 45,132
--- Workers carpooling: 8,851
--- Workers taking public transportation: 1,159
- Workers who commute outside their county of residence: 5%
- Workers who commute outside their state of residence: 0.4%
#2. Tracy, CA
- Average one-way commute time to work: 43.5 minutes (64.8% higher than national average)
--- Driving alone in car, truck, or van: 39.9 minutes
--- Carpool: 54.7 minutes
--- Public transportation: 91.3 minutes
- Workers with one-way commutes over 60 minutes: 35.3% (26.4% more than the national average)
--- Driving alone in car, truck, or van: 31%
--- Carpool: 49.6%
--- Public transportation: 89.6%
- Workers 16 years and over: 40,381
--- Workers who drove a car, truck, or van: 29,959
--- Workers carpooling: 6,558
--- Workers taking public transportation: 1,190
- Workers who commute outside their county of residence: 55.8%
- Workers who commute outside their state of residence: 0.4%
#1. Antioch, CA
- Average one-way commute time to work: 45.4 minutes (72.0% higher than national average)
--- Driving alone in car, truck, or van: 41 minutes
--- Carpool: 49.7 minutes
--- Public transportation: 82.3 minutes
- Workers with one-way commutes over 60 minutes: 33.5% (24.6% more than the national average)
--- Driving alone in car, truck, or van: 27.1%
--- Carpool: 39.1%
--- Public transportation: 85.8%
- Workers 16 years and over: 47,238
--- Workers who drove a car, truck, or van: 32,427
--- Workers carpooling: 7,809
--- Workers taking public transportation: 3,643
- Workers who commute outside their county of residence: 32.3%
- Workers who commute outside their state of residence: 0.4%
You may also like: States paying the most in car insurance premiums