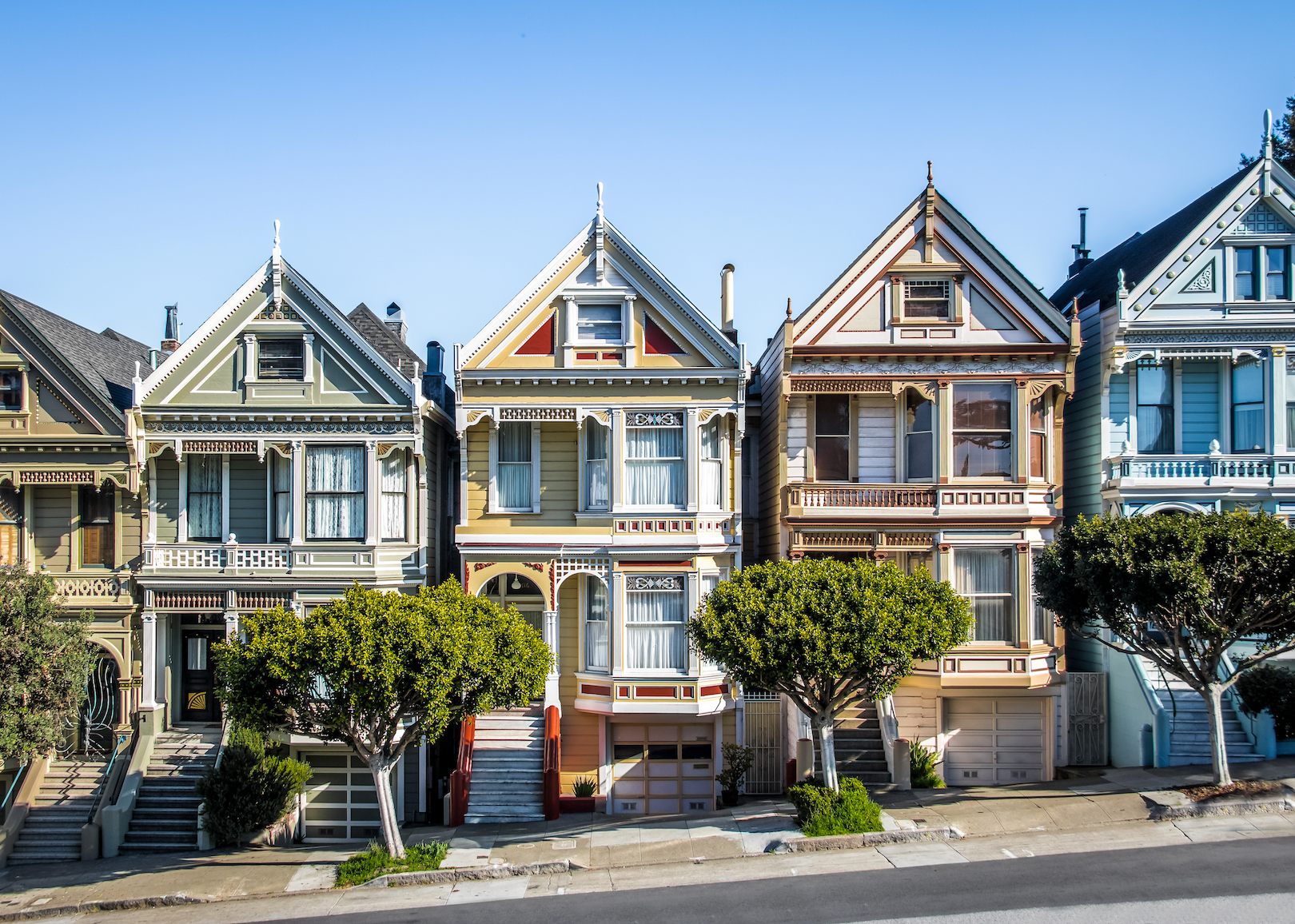 Counties in every state with the most old homes
Diego Grandi // Shutterstock
Counties in every state with the most old homes
For more than 200 years, May 1 brought utter chaos to New York City's streets. Every lease in the city since at least the mid-17th century expired simultaneously at 9 a.m., leaving thousands upon thousands of New Yorkers to gather up their furniture, hire a cart for exorbitant rates, and set off to their new domiciles. Broken mirrors littered the streets, carriages crashed, and wagon drivers brought a household's belongings to the police station if patrons couldn't pay the fare. The practice, which had ebbed and flowed throughout its centuries of existence, eventually came to an end with the Second World War; with so many men fighting overseas, there weren't enough moving workers available to assist. Whereas the tradition may have ended, plenty from that period remains—especially pre-war homes.
There's an undeniable charm that comes with pre-World War II architecture, characterized by high ceilings, crown molding, hardwood floors, and ornate details. In fact, 12.8% of all housing units in America were built in 1939 or before, showing the popularity of the preservation of these units. Owning a piece of history can sometimes come with a cost: Back then, asbestos was common as a building material, as was lead piping, and modernizing pre-war homes can rack up a hefty price tag. However, with more and more modernized pre-war homes on the market, generally located just outside bustling downtown metros, investing in property that has withstood the test of time is an attractive prospect.
If you're curious about making an investment in some pre-war property, or if you just want to go on a personalized walking tour, Stacker has compiled a list of the counties in every state with the most pre-war architecture. Using 2017 Five-Year Census estimates, we also break down when the homes in that county were built to give a picture of the history of construction there. Only counties with more than 1,000 housing units were considered, and districts were ranked by the percentage of houses built in 1939 or before, not the total count.
Read on to find out which U.S. county has over 1 million pre-war homes; unfortunately, this article does not include advice for affording one.
You may also like: Historic churches from every state
Alabama: Bullock County
- Number of houses: 4,516
- Homes built 1939 or before: 11.4% (#1,519 among all counties)
- Homes built 1940 to 1949: 5.2%
- Homes built 1950 to 1959: 5.7%
- Homes built 1960 to 1969: 11.3%
- Homes built 1970 to 1979: 12.1%
- Homes built 1980 to 1958: 14.5%
- Homes built 1990 to 1999: 21.4%
- Homes built 2000 to 2009: 13.5%
- Homes built 2010 to 2017: 5%
Alaska: Petersburg Borough
- Number of houses: 1,828
- Homes built 1939 or before: 17.3% (#1,080 among all counties)
- Homes built 1940 to 1949: 7.4%
- Homes built 1950 to 1959: 6%
- Homes built 1960 to 1969: 9.4%
- Homes built 1970 to 1979: 16.2%
- Homes built 1980 to 1958: 23.4%
- Homes built 1990 to 1999: 11.9%
- Homes built 2000 to 2009: 8.3%
- Homes built 2010 to 2017: 0%
Arizona: Greenlee County
- Number of houses: 4,445
- Homes built 1939 or before: 10.6% (#1,591 among all counties)
- Homes built 1940 to 1949: 4%
- Homes built 1950 to 1959: 7.7%
- Homes built 1960 to 1969: 12.5%
- Homes built 1970 to 1979: 26.9%
- Homes built 1980 to 1958: 10.4%
- Homes built 1990 to 1999: 11.6%
- Homes built 2000 to 2009: 14.3%
- Homes built 2010 to 2017: 2.2%
Arkansas: Dallas County
- Number of houses: 4,300
- Homes built 1939 or before: 12.1% (#1,447 among all counties)
- Homes built 1940 to 1949: 3.9%
- Homes built 1950 to 1959: 8.9%
- Homes built 1960 to 1969: 13.3%
- Homes built 1970 to 1979: 20.2%
- Homes built 1980 to 1958: 13.9%
- Homes built 1990 to 1999: 14%
- Homes built 2000 to 2009: 12.5%
- Homes built 2010 to 2017: 1.2%
California: San Francisco County
- Number of houses: 390,376
- Homes built 1939 or before: 48% (#13 among all counties)
- Homes built 1940 to 1949: 9.4%
- Homes built 1950 to 1959: 8.6%
- Homes built 1960 to 1969: 8.1%
- Homes built 1970 to 1979: 7.5%
- Homes built 1980 to 1958: 5.3%
- Homes built 1990 to 1999: 4.4%
- Homes built 2000 to 2009: 6.7%
- Homes built 2010 to 2017: 1.9%
Colorado: Sedgwick County
- Number of houses: 1,297
- Homes built 1939 or before: 41.1% (#72 among all counties)
- Homes built 1940 to 1949: 14.7%
- Homes built 1950 to 1959: 14.4%
- Homes built 1960 to 1969: 5.7%
- Homes built 1970 to 1979: 10.4%
- Homes built 1980 to 1958: 5.1%
- Homes built 1990 to 1999: 5.5%
- Homes built 2000 to 2009: 1.5%
- Homes built 2010 to 2017: 1.5%
Connecticut: Windham County
- Number of houses: 49,577
- Homes built 1939 or before: 26.1% (#580 among all counties)
- Homes built 1940 to 1949: 5%
- Homes built 1950 to 1959: 10.1%
- Homes built 1960 to 1969: 10.6%
- Homes built 1970 to 1979: 13.3%
- Homes built 1980 to 1958: 14.9%
- Homes built 1990 to 1999: 8.9%
- Homes built 2000 to 2009: 10.1%
- Homes built 2010 to 2017: 1.1%
Delaware: New Castle County
- Number of houses: 221,003
- Homes built 1939 or before: 10.9% (#1,559 among all counties)
- Homes built 1940 to 1949: 6.7%
- Homes built 1950 to 1959: 14.4%
- Homes built 1960 to 1969: 13.9%
- Homes built 1970 to 1979: 13.1%
- Homes built 1980 to 1958: 13.1%
- Homes built 1990 to 1999: 14.3%
- Homes built 2000 to 2009: 10.9%
- Homes built 2010 to 2017: 2.7%
Florida: Hardee County
- Number of houses: 9,724
- Homes built 1939 or before: 7.9% (#1,912 among all counties)
- Homes built 1940 to 1949: 1.8%
- Homes built 1950 to 1959: 8.7%
- Homes built 1960 to 1969: 7.9%
- Homes built 1970 to 1979: 16.5%
- Homes built 1980 to 1958: 16.8%
- Homes built 1990 to 1999: 17.8%
- Homes built 2000 to 2009: 18.2%
- Homes built 2010 to 2017: 4.4%
Georgia: Chattahoochee County
- Number of houses: 3,349
- Homes built 1939 or before: 20.9% (#869 among all counties)
- Homes built 1940 to 1949: 5.6%
- Homes built 1950 to 1959: 6.9%
- Homes built 1960 to 1969: 15.4%
- Homes built 1970 to 1979: 19.2%
- Homes built 1980 to 1958: 9.7%
- Homes built 1990 to 1999: 12%
- Homes built 2000 to 2009: 7.3%
- Homes built 2010 to 2017: 3%
Hawaii: Maui County
- Number of houses: 72,093
- Homes built 1939 or before: 3.7% (#2,687 among all counties)
- Homes built 1940 to 1949: 2.2%
- Homes built 1950 to 1959: 4.8%
- Homes built 1960 to 1969: 8.5%
- Homes built 1970 to 1979: 22.3%
- Homes built 1980 to 1958: 21.7%
- Homes built 1990 to 1999: 17%
- Homes built 2000 to 2009: 17.6%
- Homes built 2010 to 2017: 2.3%
Idaho: Shoshone County
- Number of houses: 7,096
- Homes built 1939 or before: 29.8% (#412 among all counties)
- Homes built 1940 to 1949: 12.2%
- Homes built 1950 to 1959: 11.1%
- Homes built 1960 to 1969: 9.1%
- Homes built 1970 to 1979: 16.1%
- Homes built 1980 to 1958: 5.4%
- Homes built 1990 to 1999: 8.8%
- Homes built 2000 to 2009: 6.9%
- Homes built 2010 to 2017: 0.6%
Illinois: Greene County
- Number of houses: 6,404
- Homes built 1939 or before: 42.6% (#49 among all counties)
- Homes built 1940 to 1949: 6.7%
- Homes built 1950 to 1959: 8.9%
- Homes built 1960 to 1969: 9.5%
- Homes built 1970 to 1979: 10.3%
- Homes built 1980 to 1958: 6.1%
- Homes built 1990 to 1999: 9.9%
- Homes built 2000 to 2009: 5.6%
- Homes built 2010 to 2017: 0.4%
Indiana: Cass County
- Number of houses: 16,399
- Homes built 1939 or before: 42.1% (#54 among all counties)
- Homes built 1940 to 1949: 7.2%
- Homes built 1950 to 1959: 10.8%
- Homes built 1960 to 1969: 9.7%
- Homes built 1970 to 1979: 10.1%
- Homes built 1980 to 1958: 7.2%
- Homes built 1990 to 1999: 6.7%
- Homes built 2000 to 2009: 5.2%
- Homes built 2010 to 2017: 0.9%
Iowa: Keokuk County
- Number of houses: 4,892
- Homes built 1939 or before: 49.1% (#8 among all counties)
- Homes built 1940 to 1949: 5.9%
- Homes built 1950 to 1959: 4.3%
- Homes built 1960 to 1969: 7%
- Homes built 1970 to 1979: 17.9%
- Homes built 1980 to 1958: 4.1%
- Homes built 1990 to 1999: 4.8%
- Homes built 2000 to 2009: 6.4%
- Homes built 2010 to 2017: 0.6%
Kansas: Lincoln County
- Number of houses: 1,853
- Homes built 1939 or before: 52.3% (#2 among all counties)
- Homes built 1940 to 1949: 3.2%
- Homes built 1950 to 1959: 7.7%
- Homes built 1960 to 1969: 7.3%
- Homes built 1970 to 1979: 10.9%
- Homes built 1980 to 1958: 4.6%
- Homes built 1990 to 1999: 9.1%
- Homes built 2000 to 2009: 4.6%
- Homes built 2010 to 2017: 0.2%
Kentucky: Campbell County
- Number of houses: 39,929
- Homes built 1939 or before: 29.7% (#421 among all counties)
- Homes built 1940 to 1949: 4.9%
- Homes built 1950 to 1959: 9.4%
- Homes built 1960 to 1969: 8.6%
- Homes built 1970 to 1979: 9.7%
- Homes built 1980 to 1958: 8.8%
- Homes built 1990 to 1999: 14.1%
- Homes built 2000 to 2009: 11.5%
- Homes built 2010 to 2017: 3.3%
Louisiana: Orleans Parish
- Number of houses: 191,633
- Homes built 1939 or before: 33.8% (#260 among all counties)
- Homes built 1940 to 1949: 8.2%
- Homes built 1950 to 1959: 11.6%
- Homes built 1960 to 1969: 11.4%
- Homes built 1970 to 1979: 13.5%
- Homes built 1980 to 1958: 7.4%
- Homes built 1990 to 1999: 3.8%
- Homes built 2000 to 2009: 7.9%
- Homes built 2010 to 2017: 2.4%
Maine: Knox County
- Number of houses: 24,215
- Homes built 1939 or before: 34% (#251 among all counties)
- Homes built 1940 to 1949: 3.8%
- Homes built 1950 to 1959: 4.6%
- Homes built 1960 to 1969: 6.4%
- Homes built 1970 to 1979: 10.3%
- Homes built 1980 to 1958: 12%
- Homes built 1990 to 1999: 12.9%
- Homes built 2000 to 2009: 14.1%
- Homes built 2010 to 2017: 1.8%
Maryland: Baltimore city
- Number of houses: 294,858
- Homes built 1939 or before: 47.2% (#15 among all counties)
- Homes built 1940 to 1949: 10.9%
- Homes built 1950 to 1959: 15.9%
- Homes built 1960 to 1969: 7.6%
- Homes built 1970 to 1979: 5.6%
- Homes built 1980 to 1958: 4.3%
- Homes built 1990 to 1999: 3.7%
- Homes built 2000 to 2009: 3.4%
- Homes built 2010 to 2017: 1.5%
Massachusetts: Suffolk County
- Number of houses: 328,662
- Homes built 1939 or before: 51.1% (#4 among all counties)
- Homes built 1940 to 1949: 5.7%
- Homes built 1950 to 1959: 7.3%
- Homes built 1960 to 1969: 8.4%
- Homes built 1970 to 1979: 7.7%
- Homes built 1980 to 1958: 6.5%
- Homes built 1990 to 1999: 4%
- Homes built 2000 to 2009: 6.7%
- Homes built 2010 to 2017: 2.7%
Michigan: Houghton County
- Number of houses: 18,724
- Homes built 1939 or before: 41.7% (#63 among all counties)
- Homes built 1940 to 1949: 5.5%
- Homes built 1950 to 1959: 6.9%
- Homes built 1960 to 1969: 8.9%
- Homes built 1970 to 1979: 10.8%
- Homes built 1980 to 1958: 6.9%
- Homes built 1990 to 1999: 8.8%
- Homes built 2000 to 2009: 8.5%
- Homes built 2010 to 2017: 2%
Minnesota: Watonwan County
- Number of houses: 5,039
- Homes built 1939 or before: 40.2% (#84 among all counties)
- Homes built 1940 to 1949: 8.4%
- Homes built 1950 to 1959: 11.6%
- Homes built 1960 to 1969: 7.2%
- Homes built 1970 to 1979: 9.7%
- Homes built 1980 to 1958: 8.5%
- Homes built 1990 to 1999: 5.3%
- Homes built 2000 to 2009: 8.1%
- Homes built 2010 to 2017: 0.9%
Mississippi: Copiah County
- Number of houses: 12,202
- Homes built 1939 or before: 12.7% (#1,400 among all counties)
- Homes built 1940 to 1949: 3.7%
- Homes built 1950 to 1959: 8.3%
- Homes built 1960 to 1969: 7.5%
- Homes built 1970 to 1979: 20.9%
- Homes built 1980 to 1958: 16.8%
- Homes built 1990 to 1999: 13.8%
- Homes built 2000 to 2009: 13.9%
- Homes built 2010 to 2017: 2.5%
Missouri: St. Louis city
- Number of houses: 176,159
- Homes built 1939 or before: 56.4% (#1 among all counties)
- Homes built 1940 to 1949: 8.6%
- Homes built 1950 to 1959: 11.1%
- Homes built 1960 to 1969: 7.4%
- Homes built 1970 to 1979: 4.2%
- Homes built 1980 to 1958: 3.4%
- Homes built 1990 to 1999: 3%
- Homes built 2000 to 2009: 5%
- Homes built 2010 to 2017: 0.9%
Montana: Silver Bow County
- Number of houses: 17,088
- Homes built 1939 or before: 37.9% (#139 among all counties)
- Homes built 1940 to 1949: 5.4%
- Homes built 1950 to 1959: 13%
- Homes built 1960 to 1969: 7.3%
- Homes built 1970 to 1979: 14.6%
- Homes built 1980 to 1958: 3.7%
- Homes built 1990 to 1999: 8.2%
- Homes built 2000 to 2009: 7.2%
- Homes built 2010 to 2017: 2.9%
Nebraska: Webster County
- Number of houses: 1,910
- Homes built 1939 or before: 49.9% (#6 among all counties)
- Homes built 1940 to 1949: 5.8%
- Homes built 1950 to 1959: 6%
- Homes built 1960 to 1969: 9.2%
- Homes built 1970 to 1979: 10.5%
- Homes built 1980 to 1958: 3.7%
- Homes built 1990 to 1999: 5.5%
- Homes built 2000 to 2009: 5.5%
- Homes built 2010 to 2017: 3.8%
Nevada: White Pine County
- Number of houses: 4,512
- Homes built 1939 or before: 27.9% (#491 among all counties)
- Homes built 1940 to 1949: 7.4%
- Homes built 1950 to 1959: 9.1%
- Homes built 1960 to 1969: 4.8%
- Homes built 1970 to 1979: 12%
- Homes built 1980 to 1958: 12.4%
- Homes built 1990 to 1999: 17.1%
- Homes built 2000 to 2009: 9%
- Homes built 2010 to 2017: 0.4%
New Hampshire: Coos County
- Number of houses: 21,491
- Homes built 1939 or before: 29.2% (#445 among all counties)
- Homes built 1940 to 1949: 6%
- Homes built 1950 to 1959: 9.7%
- Homes built 1960 to 1969: 7.7%
- Homes built 1970 to 1979: 12.6%
- Homes built 1980 to 1958: 12.3%
- Homes built 1990 to 1999: 9.2%
- Homes built 2000 to 2009: 12.3%
- Homes built 2010 to 2017: 1%
New Jersey: Hudson County
- Number of houses: 277,742
- Homes built 1939 or before: 35.9% (#183 among all counties)
- Homes built 1940 to 1949: 7.9%
- Homes built 1950 to 1959: 9.9%
- Homes built 1960 to 1969: 9.7%
- Homes built 1970 to 1979: 8.9%
- Homes built 1980 to 1958: 6.3%
- Homes built 1990 to 1999: 6%
- Homes built 2000 to 2009: 12.1%
- Homes built 2010 to 2017: 3.2%
New Mexico: Mora County
- Number of houses: 2,765
- Homes built 1939 or before: 20.6% (#886 among all counties)
- Homes built 1940 to 1949: 4.3%
- Homes built 1950 to 1959: 12.9%
- Homes built 1960 to 1969: 4.1%
- Homes built 1970 to 1979: 26.1%
- Homes built 1980 to 1958: 7.5%
- Homes built 1990 to 1999: 15.4%
- Homes built 2000 to 2009: 8.9%
- Homes built 2010 to 2017: 0.1%
New York: Kings County
- Number of houses: 1,028,383
- Homes built 1939 or before: 51% (#5 among all counties)
- Homes built 1940 to 1949: 8.7%
- Homes built 1950 to 1959: 10.6%
- Homes built 1960 to 1969: 11.1%
- Homes built 1970 to 1979: 5.3%
- Homes built 1980 to 1958: 3%
- Homes built 1990 to 1999: 2.8%
- Homes built 2000 to 2009: 5.6%
- Homes built 2010 to 2017: 1.8%
North Carolina: Chowan County
- Number of houses: 7,294
- Homes built 1939 or before: 12.8% (#1,391 among all counties)
- Homes built 1940 to 1949: 4.9%
- Homes built 1950 to 1959: 7.9%
- Homes built 1960 to 1969: 6.8%
- Homes built 1970 to 1979: 19.6%
- Homes built 1980 to 1958: 15.4%
- Homes built 1990 to 1999: 14.4%
- Homes built 2000 to 2009: 16.9%
- Homes built 2010 to 2017: 1.3%
North Dakota: Burke County
- Number of houses: 1,398
- Homes built 1939 or before: 38.3% (#126 among all counties)
- Homes built 1940 to 1949: 5.5%
- Homes built 1950 to 1959: 8.6%
- Homes built 1960 to 1969: 11.2%
- Homes built 1970 to 1979: 12.4%
- Homes built 1980 to 1958: 9.4%
- Homes built 1990 to 1999: 6.5%
- Homes built 2000 to 2009: 3.3%
- Homes built 2010 to 2017: 4.8%
Ohio: Darke County
- Number of houses: 22,813
- Homes built 1939 or before: 35.7% (#193 among all counties)
- Homes built 1940 to 1949: 5.8%
- Homes built 1950 to 1959: 10.4%
- Homes built 1960 to 1969: 10.2%
- Homes built 1970 to 1979: 15.2%
- Homes built 1980 to 1958: 5.9%
- Homes built 1990 to 1999: 9.2%
- Homes built 2000 to 2009: 6.7%
- Homes built 2010 to 2017: 0.9%
Oklahoma: Alfalfa County
- Number of houses: 2,735
- Homes built 1939 or before: 35% (#225 among all counties)
- Homes built 1940 to 1949: 10.5%
- Homes built 1950 to 1959: 15.8%
- Homes built 1960 to 1969: 10.3%
- Homes built 1970 to 1979: 12%
- Homes built 1980 to 1958: 6.9%
- Homes built 1990 to 1999: 3.5%
- Homes built 2000 to 2009: 5.4%
- Homes built 2010 to 2017: 0.6%
Oregon: Gilliam County
- Number of houses: 1,070
- Homes built 1939 or before: 31.3% (#349 among all counties)
- Homes built 1940 to 1949: 6.8%
- Homes built 1950 to 1959: 15.9%
- Homes built 1960 to 1969: 5%
- Homes built 1970 to 1979: 9.3%
- Homes built 1980 to 1958: 4.4%
- Homes built 1990 to 1999: 15.7%
- Homes built 2000 to 2009: 9%
- Homes built 2010 to 2017: 2.5%
Pennsylvania: Schuylkill County
- Number of houses: 69,737
- Homes built 1939 or before: 48.1% (#12 among all counties)
- Homes built 1940 to 1949: 7.2%
- Homes built 1950 to 1959: 7.5%
- Homes built 1960 to 1969: 5.6%
- Homes built 1970 to 1979: 10.6%
- Homes built 1980 to 1958: 6%
- Homes built 1990 to 1999: 7.6%
- Homes built 2000 to 2009: 6.1%
- Homes built 2010 to 2017: 1.2%
Rhode Island: Providence County
- Number of houses: 265,807
- Homes built 1939 or before: 37.3% (#151 among all counties)
- Homes built 1940 to 1949: 7.6%
- Homes built 1950 to 1959: 12.1%
- Homes built 1960 to 1969: 10.6%
- Homes built 1970 to 1979: 11.2%
- Homes built 1980 to 1958: 9%
- Homes built 1990 to 1999: 6.2%
- Homes built 2000 to 2009: 5%
- Homes built 2010 to 2017: 0.9%
South Carolina: Union County
- Number of houses: 14,093
- Homes built 1939 or before: 13.4% (#1,355 among all counties)
- Homes built 1940 to 1949: 5.1%
- Homes built 1950 to 1959: 10.5%
- Homes built 1960 to 1969: 14.3%
- Homes built 1970 to 1979: 20%
- Homes built 1980 to 1958: 11.1%
- Homes built 1990 to 1999: 16.8%
- Homes built 2000 to 2009: 7%
- Homes built 2010 to 2017: 1.7%
South Dakota: Miner County
- Number of houses: 1,273
- Homes built 1939 or before: 51.9% (#3 among all counties)
- Homes built 1940 to 1949: 4.3%
- Homes built 1950 to 1959: 7.8%
- Homes built 1960 to 1969: 5%
- Homes built 1970 to 1979: 10.9%
- Homes built 1980 to 1958: 4.2%
- Homes built 1990 to 1999: 5.3%
- Homes built 2000 to 2009: 9%
- Homes built 2010 to 2017: 1.6%
Tennessee: Unicoi County
- Number of houses: 8,895
- Homes built 1939 or before: 15.3% (#1,229 among all counties)
- Homes built 1940 to 1949: 7.6%
- Homes built 1950 to 1959: 10.7%
- Homes built 1960 to 1969: 8.7%
- Homes built 1970 to 1979: 14.8%
- Homes built 1980 to 1958: 13%
- Homes built 1990 to 1999: 20.3%
- Homes built 2000 to 2009: 7.5%
- Homes built 2010 to 2017: 2%
Texas: Hardeman County
- Number of houses: 2,286
- Homes built 1939 or before: 32.7% (#293 among all counties)
- Homes built 1940 to 1949: 8.8%
- Homes built 1950 to 1959: 13.6%
- Homes built 1960 to 1969: 13.4%
- Homes built 1970 to 1979: 11.8%
- Homes built 1980 to 1958: 7.8%
- Homes built 1990 to 1999: 7.3%
- Homes built 2000 to 2009: 3.1%
- Homes built 2010 to 2017: 1.4%
Utah: Millard County
- Number of houses: 5,018
- Homes built 1939 or before: 23% (#747 among all counties)
- Homes built 1940 to 1949: 9.9%
- Homes built 1950 to 1959: 5.2%
- Homes built 1960 to 1969: 5.6%
- Homes built 1970 to 1979: 14.8%
- Homes built 1980 to 1958: 17.8%
- Homes built 1990 to 1999: 12.1%
- Homes built 2000 to 2009: 10%
- Homes built 2010 to 2017: 1.7%
Vermont: Caledonia County
- Number of houses: 16,274
- Homes built 1939 or before: 32.9% (#284 among all counties)
- Homes built 1940 to 1949: 2.5%
- Homes built 1950 to 1959: 4.4%
- Homes built 1960 to 1969: 6.8%
- Homes built 1970 to 1979: 15.5%
- Homes built 1980 to 1958: 13.6%
- Homes built 1990 to 1999: 11.1%
- Homes built 2000 to 2009: 11.9%
- Homes built 2010 to 2017: 1.3%
Virginia: Highland County
- Number of houses: 2,069
- Homes built 1939 or before: 36.4% (#167 among all counties)
- Homes built 1940 to 1949: 4.1%
- Homes built 1950 to 1959: 5.3%
- Homes built 1960 to 1969: 7.6%
- Homes built 1970 to 1979: 6.2%
- Homes built 1980 to 1958: 12.1%
- Homes built 1990 to 1999: 15.4%
- Homes built 2000 to 2009: 11.2%
- Homes built 2010 to 2017: 1.7%
Washington: Columbia County
- Number of houses: 2,156
- Homes built 1939 or before: 40% (#91 among all counties)
- Homes built 1940 to 1949: 10.2%
- Homes built 1950 to 1959: 9.8%
- Homes built 1960 to 1969: 6.5%
- Homes built 1970 to 1979: 10.3%
- Homes built 1980 to 1958: 8.6%
- Homes built 1990 to 1999: 5.4%
- Homes built 2000 to 2009: 6.6%
- Homes built 2010 to 2017: 2.6%
West Virginia: Ohio County
- Number of houses: 20,975
- Homes built 1939 or before: 35.6% (#199 among all counties)
- Homes built 1940 to 1949: 10.8%
- Homes built 1950 to 1959: 12.2%
- Homes built 1960 to 1969: 11.6%
- Homes built 1970 to 1979: 14%
- Homes built 1980 to 1958: 5%
- Homes built 1990 to 1999: 5.1%
- Homes built 2000 to 2009: 4.6%
- Homes built 2010 to 2017: 1.2%
Wisconsin: Lafayette County
- Number of houses: 7,271
- Homes built 1939 or before: 35.2% (#219 among all counties)
- Homes built 1940 to 1949: 5.1%
- Homes built 1950 to 1959: 9.1%
- Homes built 1960 to 1969: 6.7%
- Homes built 1970 to 1979: 15.3%
- Homes built 1980 to 1958: 7.9%
- Homes built 1990 to 1999: 8.4%
- Homes built 2000 to 2009: 10.4%
- Homes built 2010 to 2017: 1.9%
Wyoming: Niobrara County
- Number of houses: 1,354
- Homes built 1939 or before: 43.7% (#39 among all counties)
- Homes built 1940 to 1949: 12.9%
- Homes built 1950 to 1959: 11.9%
- Homes built 1960 to 1969: 6.4%
- Homes built 1970 to 1979: 7.7%
- Homes built 1980 to 1958: 6.8%
- Homes built 1990 to 1999: 3.5%
- Homes built 2000 to 2009: 5.3%
- Homes built 2010 to 2017: 1.8%