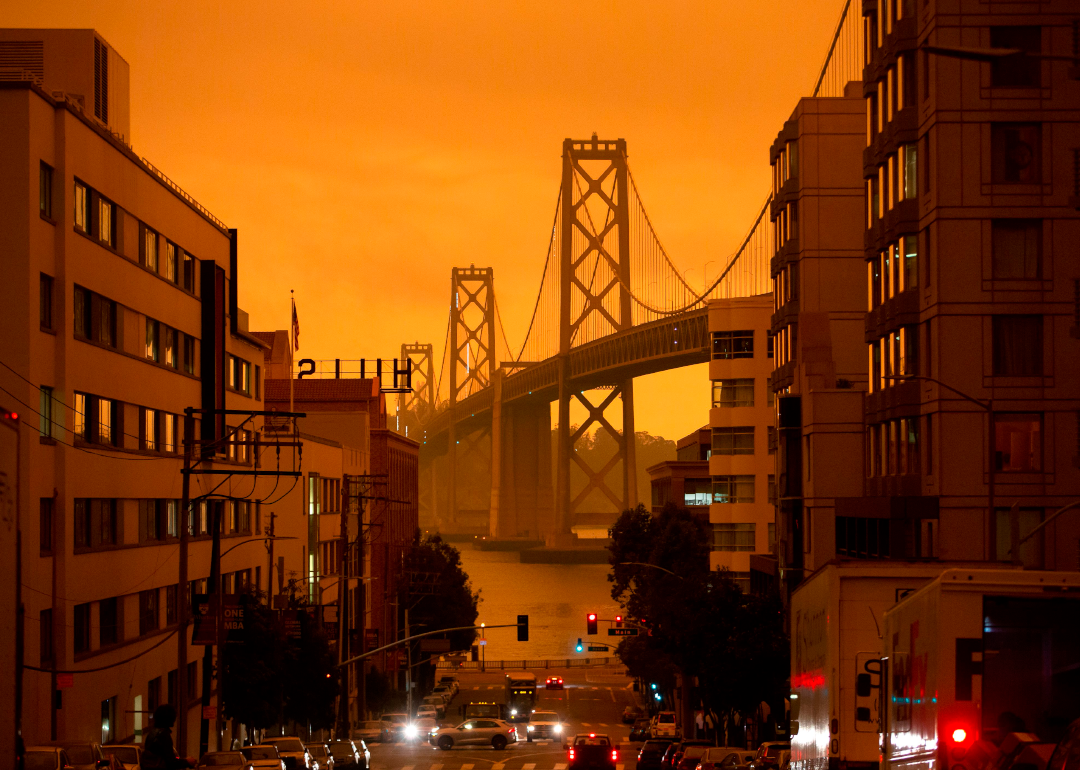 How wildfires have worsened in western states
BRITTANY HOSEA-SMALL/AFP via Getty Images
How wildfires have worsened in western states
Wildfires have consumed more forestland and fields across the western U.S. in recent years. While most fires are caused by human activity, the ramifications of climate change, early extraneous fire suppression, and residents relocating to rural areas further fueled blazes that have grown larger and more destructive. These larger fires burn down property, drive up the government's suppression costs, flood areas with smoke, and wound and kill firefighters and bystanders.
The number of wildfires in the West has climbed in the past six decades. Other wildfire trends experienced in the region include repeat burns on 3% of the land, but only 11% of total acreage has endured wildfire damage and blazes burning more conifers in lieu of other vegetation. Megafires—infernos that burn at least 100,000 acres—have become more common since the first one of historical note in the West, the North Fork Fire of 1988 in Yellowstone National Park. This wildfire season introduced the U.S. to its first-ever gigafire—a blaze burning at least one million acres—in California.
Rising global temperatures have fueled more extensive wildfires by extending the typical season and bringing hotter, drier weather. Plants weaken and practically serve as kindling after drying out or facing invasive pests. The National Oceanic and Atmospheric Administration has predicted that as temperatures continue to rise, the frequency of "very large fire weeks" will increase between three- and six-fold in the U.S. by mid-century.
Climate change has also brought additional winter and spring rain that increase vegetation in some areas, which dries out by summer and provides additional wildfire fuel. An abundance of flora has also resulted from years of overzealous fire suppression, which has created more kindling for blazes to ignite and expand. Aesthetic beauty and outdoor recreation have drawn more people to natural areas, bringing an increase of 30.8 million to 43.4 million homes between 1990 and 2010. That spike has brought the risk of additional wildfire damage.
The West and entire nation face greater tolls from increases in wildfire sizes and acreage torched. Financial loss from blazes nationwide increased by 90.6% in the nine years from 2009 to 2018, from $14.7 to $25.6 billion. In that same time frame, the number of deaths rose by 20.5%, from 3,010 to 3,655. Larger blazes also fill the air with ozone, black and brown carbon, carbon dioxide, and other pollutants. The ever-warming climate and increase in metropolitan exodus can further exacerbate the emotional and physical damage from wildfires.
To understand how wildfires have worsened in western states, Stacker analyzed state-level data provided by the nonprofit climate communication organization Climate Central in a Sept. 2020 report. For 11 western states, Climate Central analyzed wildfire statistics from 1980 to 2019 using the National Fire and Aviation Management FAMWEB Data Warehouse. In order to calculate average yearly growth, Stacker calculated a 10 year moving average for each year and then averaged the yearly growth rate for each state.
You may also like: Largest wildfires of the decade