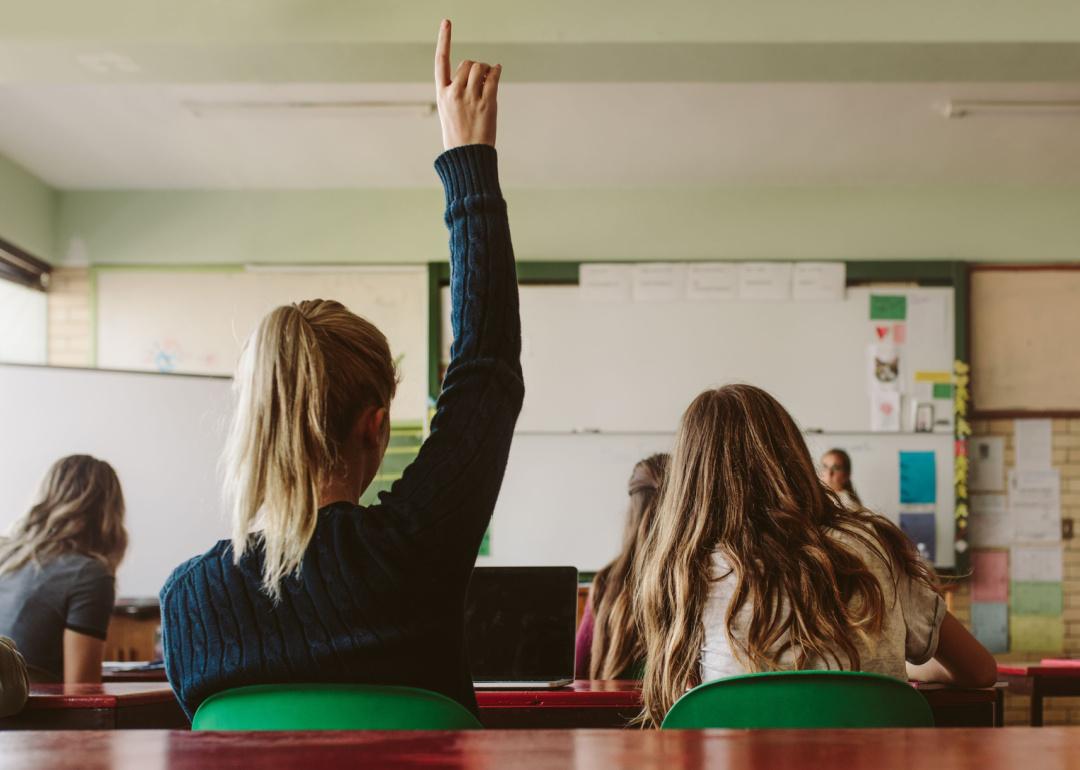 Comprehensive sex education matters. Here's what the data shows
Jacob Lund // Shutterstock
Comprehensive sex education matters. Here's what the data shows
The gym teacher stands in front of a chalkboard with the word "ABSTINENCE" written in all caps and sternly tells the room of teenagers, "Don't have sex because you will get pregnant and die." The scene is a satirical one from the 2004 comedy "Mean Girls," but the state of sex education in the U.S. is no joke. A patchwork of mandates and philosophies across school districts and states for teaching young people—or not—about sexual health creates discrepancies resulting in wildly disparate health outcomes for teens and young adults.
As the scene from "Mean Girls" suggests, abstinence-based sex education has dominated health classes across the U.S. for decades and remains popular today. Despite this, myriad studies debunk the abstinence-only model. Research by medical professionals and public health experts repeatedly shows that abstinence-only sex ed does not delay young people's sexual activity, nor has it successfully prevented teen pregnancy or sexually transmitted infections. 
In fact, abstinence-only sex ed has proven harmful to youth by not communicating vital health and safety information about sex and the body, and by stigmatizing those who are already sexually active, those who have experienced sexual abuse, and LGBTQ+ students. 
Stacker cited data from the Sexuality Information and Education Council of the United States, the Guttmacher Institute, the U.S. Census Bureau, and the Centers for Disease Control and Prevention to visualize how sex education relates to different health outcomes and aspects of daily life. Evidence points to comprehensive sex education as an effective model for teaching young people about sexuality and preparing them to navigate adulthood. Comprehensive sex ed, as defined by the National Sex Education Standards, is medically accurate, LGBTQ+-inclusive, age-appropriate, trauma-informed, and culturally responsive with a focus on defining healthy relationships and consent. 
Support is overwhelming for sex ed that teaches young people about contraception, healthy relationships, and STIs, in combination with abstinence, according to public opinion polling from SIECUS. Yet only 38 states and Washington D.C. mandate any kind of sex or HIV/STI education, according to data from the Guttmacher Institute, a reproductive rights policy organization. Just 17 states require sex education to be medically accurate, whereas 39 states plus Washington D.C. require abstinence to be covered if sex ed is taught at all. 
The politicization of sex education is not new, but a recent conservative movement has formed in opposition to comprehensive sex education, critical race theory, and the teaching of LGBTQ+ history. Small groups of parents across the country have mobilized to speak out against what former President Trump called "harmful sex- and race-based ideologies."
This type of politicization of education gets in the way of young people's access to accurate information, according to Michelle Slaybaugh, the Director of Social Impact and Strategic Communications at the sex education policy and advocacy organization SIECUS. "Parental rights are already at the core of the existing public education system," Slaybaugh told Stacker in an interview. "We recognize parents have the right to be involved in their child's education, like any other aspect of their upbringing." At the same time, she said, "We must remember that the public education system exists to help advance American society by developing critical thinkers."
The consequences of how sex education is taught go beyond ideology. Real health outcomes—such as teen pregnancy rates, rates of HIV and STIs, and mental health issues—are intertwined with methods of teaching sex ed. While the data cannot speak to direct causation between sex education and health outcomes, it can offer insights into the relationship between the two.
To learn more about sex education laws across the country, read: How sex education is (and isn't) being taught in every state.
You may also like: From Stonewall to today: 50 years of modern LGBTQ+ history