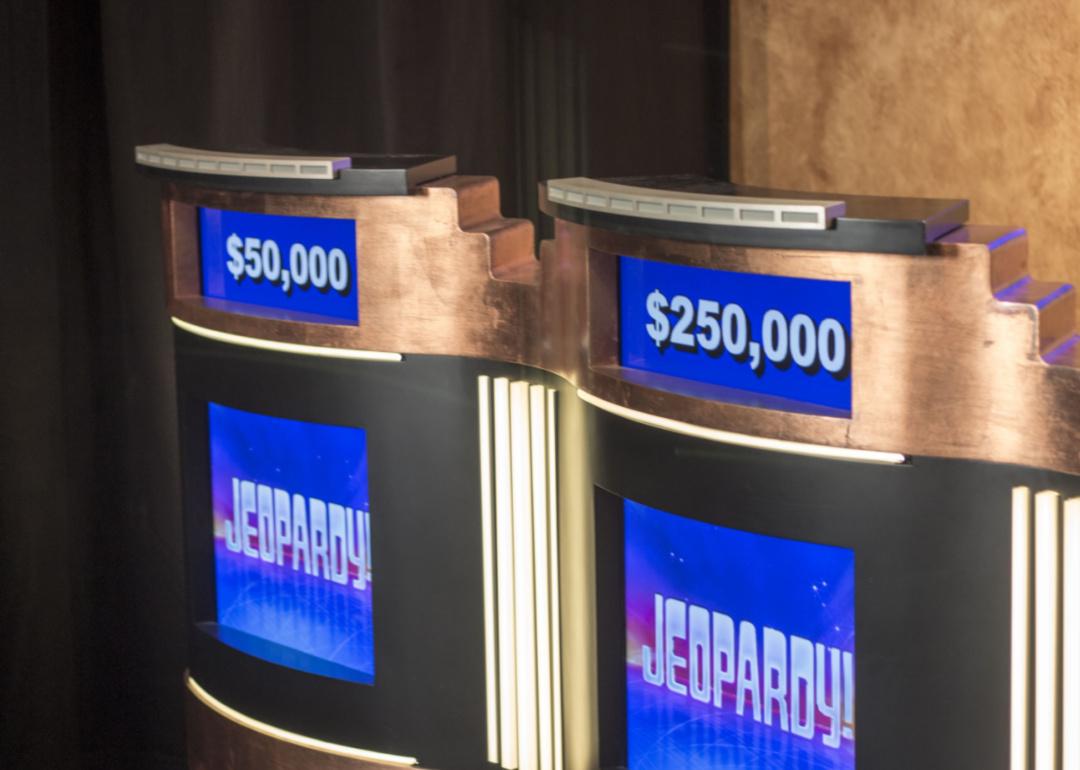 Can you answer these real 'Jeopardy!' questions about sports?
Ryan J. Thompson // Shutterstock
Can you answer these real 'Jeopardy!' questions about sports?
Do you know your sports trivia? Think you have a firm handle on both the rulebook and the history books? Can you remember some of the most notable names and iconic locations in sports? If you get a little extra excited when Alex Trebek reveals a sports category on "Jeopardy!" then this is the list for you.
Stacker has compiled 25 sports trivia questions, testing your knowledge on all things sports, from the birth of baseball to the basics of basketball, and everywhere in between. They're taken from the J! Archive, a fan-created database with over 377,000 clues and counting.
Don't worry non-sports fans; there's plenty of information for you in this slideshow, too. See what category the clue appeared in, its value, and even what date the episode aired. You can then look up in the J! Archive whether contestants took a stab at the question—and whether or not they answered it correctly.
Stacker has provided some fun facts with every answer. Did you know the youth football program played by nearly 300,000 kids annually is named after a local college coach who was the only one to brave the weather to speak at a youth clinic? How about that the Miracle on Ice against the Soviet Union at the 1980 Olympics in New York wasn't even the gold-medal game?
Cue the music and continue reading to find out if you can answer these real "Jeopardy!" sports questions.
You may also like: Can you answer these real 'Jeopardy!' questions about TV shows?
Clue #1
- Clue: Now, this guy loves football! Coaches the Bucs to a Super Bowl win, hits the MNF booth, then returns to coach the Raiders!
- Category: THE SUPER BOWL
- Value: $1,000
- Date episode aired: Jan. 31, 2019
Answer #1: Who is Jon Gruden?
Jon Gruden spent four seasons with the Oakland Raiders before the Tampa Bay Buccaneers acquired his services via trade in 2002. In 2003, Gruden coached the Bucs over his former team in Super Bowl XXXVII, 48-21. He was fired in 2009 after seven seasons in Tampa and spent the next eight in the broadcast booth for ESPN's "Monday Night Football."
The man they call Chucky for his signature sideline scowl—reminiscent of the doll from the "Child's Play" horror movies—signed a 10-year, $10 million contract to coach the Raiders once again in 2018.
Clue #2
- Clue: This college coach lent his name to a youth football league.
- Category: POP QUIZ
- Value: $1,200
- Date episode aired: June 24, 2019
Answer #2: Who is Pop Warner?
Glenn Warner earned his nickname, Pop, as the oldest player on Cornell University's football team in 1894. Warner helped shape the modern game of football, creating such innovations as the huddle, the spiral, screen pass, and double-wing formations during his 43-year coaching career.
Since 1934, the name Pop Warner has been synonymous with youth football, when Warner was the only coach out of a dozen to attend and speak at a youth clinic in Philadelphia. Nearly 325,000 participate in Pop Warner programs today, and the man himself is a member of the College Football Hall of Fame and even had a U.S. postage stamp in his honor.
Clue #3
- Clue: Long thought to have invented baseball, he fought for the Union at Antietam and Gettysburg.
- Category: SOUNDS LIKE PIG LATIN
- Value: $800
- Date episode aired: April 16, 2019
Answer #3: Who is Abner Doubleday?
Abner Doubleday reached the rank of general in the Union Army, commanding troops at Gettysburg for a day, and is credited as firing the first cannon shot at the Battle for Fort Sumter. The Mills Commission, which was formed to determine the origins of baseball, determined after three years of consideration that Doubleday invented the game near Cooperstown, N.Y., in 1839. Major League Baseball's historians have traced the game back as far as the 1750s in Massachusetts. Doubleday Field still bears his name at the Baseball Hall of Fame in Cooperstown.
Clue #4
- Clue: Basketball rules made just to hamper this 100-point scorer include you can't throw an inbounds pass over the rim.
- Category: THE RULES THEY JUST MADE UP
- Value: $400
- Date episode aired: June 12, 2019
Answer #4: Who is Wilt Chamberlain?
Wilt Chamberlain remains the only player in NBA history with a 100-point game, completing the feat at the age of 25 on March 2, 1962, against the New York Knicks in Hershey, Pa. The NBA instituted a number of rules to compensate for the 7-foot-1 "Big Dipper's" dominance, including widening the paint, goaltending, and banning free-throw shooters from crossing the foul line since Wilt would throw the ball off the backboard and dunk it. Despite this, Chamberlain still holds 72 NBA records.
You may also like: NBA history from the year you were born
Clue #5
- Clue: The 1970s Dodgers had the longest-lasting intact this group: Garvey, 1B; Lopes, 2B; Russell, SS; Cey, 3B.
- Category: IT'S TIME FOR DODGER BASEBALL!
- Value: $800
- Date episode aired: May 28, 2019
Answer #5: What is an infield?
The quartet of Steve Garvey, Davey Lopes, Bill Russell, and Ron Cey patrolled the Dodgers infield for nearly nine seasons from 1973–81. They would win the 1981 World Series title over the New York Yankees, as well as four National League pennants during their time together. The Dodgers are by far the longest-serving quartet, and only a few trios have manned their respective infields for as long.
Clue #6
- Clue: Starting in 1948 this "Mr. Hockey" was named to a record 21 NHL All-Star teams.
- Category: YOU'RE AN ALL-STAR
- Value: $1,000
- Date episode aired: Feb. 28, 2019
Answer #6: Who is Gordie Howe?
Clue #7
- Clue: Close basketball shot from the tip of the hand into the basket.
- Category: POINT THE "FINGER"
- Value: $800
- Date episode aired: Jan. 9, 2012
Answer #7: What is a finger roll?
A finger roll is similar to a layup that bypasses the backboard in finding its way into the hoop. George "Iceman" Gervin made the finger roll popular, using the modified layup to win four scoring titles in five years. He would use it from as far out as the free-throw line and adapted the shot from basketball legends like Julius Erving, Wilt Chamberlain, and Connie Hawkins.
Clue #8
- Clue: A player who can legally catch a pass is this type of receiver; some are bachelors, too.
- Category: UH OH, TALKIN' MORE FOOTBALL
- Value: $600
- Date episode aired: June 22, 2018
Answer #8: What is eligible?
There are a number of different factors that determine a receiver's eligibility, including what number they wear and the formation in which they line up. An offensive lineman can be deemed ineligible if he takes off upfield before a pass is thrown. The New England Patriots are noted for taking advantage of eligibility rules by using unique formations. 
Clue #9
- Clue: Herb Brooks coached the U.S. to the "Miracle on Ice" hockey victory at this site in the Adirondacks.
- Category: THE OLYMPICS
- Value: $800
- Date episode aired: April 2, 2019
Answer #9: What is Lake Placid?
The 1980 U.S. hockey team trailed the heavily favored Soviets with a little over 10 minutes to play before David Silk and Mike Eruzione scored two minutes apart. Goalie Jim Craig made the 4-3 lead stand up, prompting announcer Al Michaels to unleash his iconic "Do you believe in Miracles? Yes!" call. Two days later, the team trailed Finland 2-1 through two periods for the gold medal, prompting Herb Brooks to unleash a colorful speech between periods that inspired his team to victory. 
You may also like: Iconic sports moments that defined the '80s
Clue #10
- Clue: To everyone's relief in 2019 this Yankee pitcher became the first unanimous selection to the Baseball Hall of Fame.
- Category: HALL PASS
- Value: $400
- Date episode aired: May 10, 2019
Answer #10: Who is Mariano Rivera?
Mariano Rivera is widely considered the greatest reliever of all time, leading the New York Yankees to five World Series titles between 1995–2013. He finished his career with the most saves in Major League Baseball history and 13 All-Star selections. Before Rivera, Ken Griffey Jr. was the closest to being unanimously selected, falling short by just three ballots. 
Clue #11
- Clue: Basketball players learn not to move this foot, the term for the axle around which a wheel turns.
- Category: SCIENCE TERMS
- Value: $600
- Date episode aired: Dec. 26, 2011
Answer #11: What is a pivot?
When a player catches the ball, or picks up their dribble, they must establish a pivot foot, which must remain planted while the other foot is free to move. Taking a shot, or beginning to dribble are exceptions, but otherwise moving the pivot foot results in a traveling violation and a change of possession. 
Clue #12
- Clue: Brian Urlacher and Walter Payton.
- Category: PRO FOOTBALL HALL OF FAMERS BY TEAM
- Value: $800
- Date episode aired: Sept. 20, 2018
Answer #12: Who are the Chicago Bears?
The Chicago Bears have more Pro Football Hall of Famers than any other franchise with 33. Walter Payton, known as "Sweetness," was a running back in the 1980s who still holds the Bears' all-time rushing mark and led the franchise to its last Super Bowl title in 1986. Brian Urlacher was one of the most dominant linebackers in the game during his 13-year career and the first player from the University of New Mexico inducted into the Hall. 
Clue #13
- Clue: Baseball's "Stan the Man" who played in a record 24 All-Star games.
- Category: MANLY NICKNAMES
- Value: $1,200
- Date episode aired: Dec. 21, 2018
Answer #13: Who is Stan Musial?
Stan Musial played first base and outfield for the St. Louis Cardinals from 1941–63, hitting 475 career home runs and winning three World Series titles. He missed the entire 1945 season after enlisting in the Navy and fighting in World War II, serving for 15 months before returning to win one of his three MVP Awards in 1946. During that season, Musial picked up the nickname "Stan the Man" from Brooklyn Dodgers fans at Ebbets Field, who chanted "Here comes the man" as he approached the plate. 
Clue #14
- Clue: A slow, tricky pitch on the baseball diamond.
- Category: STARTS WITH A SILENT "K"
- Value: $400
- Date episode aired: July 23, 2019
Answer #14: What is a knuckleball?
The knuckleball is a specialized pitch, thrown with very little spin, and much slower than most pitches, which creates the random movement of the ball as it crosses the plate. Phil Niekro won over 300 games using the knuckleball as his primary pitch and was elected to the Hall of Fame in 1997. The slow nature of the knuckleball allows these specialists to pitch longer than most, with Niekro, Charlie Hough, Tim Wakefield, and R.A. Dickey pitching into their 40s. 
Clue #15
- Clue: In the NFL each of these measures 10 yards by 53 1/3 yards.
- Category: UH OH, TALKIN' MORE FOOTBALL
- Value: $800
- Date episode aired: June 22, 2018
Answer #15: What is an end zone?
Crossing the goal line and reaching the end zone is the objective of every NFL football player, and the opposing team hasn't always been the only obstacle. Until 1974, the goal posts were placed at the front of the end zone, interfering with passes and players on the field. Owners wanted to create more touchdowns, and increase the difficulty of field goals by moving them to the back of the end zone. 
Clue #16
- Clue: This West Coast team is the only one whose team city and name are both in Spanish.
- Category: PRO BASEBALL TEAMS
- Value: $1,000
- Date episode aired: March 30, 2018
Answer #16: Who are the San Diego Padres?
The San Diego Padres joined Major League Baseball for the 1969 season, winning their first game over the Houston Astros. The team's name was adopted from a number of minor league teams in the area and pays homage to San Diego being the site of the first Spanish mission in California.
You may also like: MLB history from the year you were born
Clue #17
- Clue: Matthew 13:45 says, "The kingdom of heaven is like unto" this, "that was cast into the sea, and gathered of every kind."
- Category: ALSO A BASKETBALL TERM
- Value: $800
- Date episode aired: Jan. 5, 2017 
Answer #17: What is a net?
Known as the Parable of the Pearl, Matthew 13:45 illustrates the great value of the Kingdom of Heaven. Like Catholics and Heaven, basketball players—such as those on the Brooklyn Nets—strive to reach the net, amassing points every time the ball passes through. The nylon net was adopted in 1912 and helped improve the tempo and scoring of the game.
Clue #18
- Clue: Bear Bryant led Maryland and two other schools before rolling to 232 wins at this university.
- Category: COLLEGE FOOTBALL HISTORY
- Value: $400
- Date episode aired: Jan. 17, 2017
Answer #18: What is Alabama?
Bryant led the Crimson Tide to 232 victories during 25 straight winning seasons from 1958–82, and his six national championships stood alone until fellow Alabama coach Nick Saban tied Bryant in 2018. Bryant was so beloved in Alabama that Gov. George Wallace would call him almost every day, which ESPN.com's Ryan McGee notes "was to keep [Bryant] from running for office." Bryant's legacy lives on at Alabama with a statue in front of a stadium that also bears his name. Bryant died in 1983, just one month after retiring from coaching.
Clue #19
- Clue: In 2008 Sue Bird helped the U.S. win its fourth straight Olympic gold medal in this sport.
- Category: GOLDEN RETRIEVERS
- Value: $2000
- Date episode aired: April 26, 2010
Answer #19: What is basketball?
Sue Bird scored four points and added two rebounds in the 92-65 victory over Australia in the gold-medal game at the 2008 Beijing Olympics. She was the top overall pick in the WNBA Draft in 2000 by the Seattle Storm and has won three WNBA titles in a career with league records for games played (508) and assists (2,831). Knee surgery forced her to miss the 2019 season, but she announced she plans to return for her 17th season with the Storm in 2020. Her nine combined Olympic and World Cup titles make her the most decorated international player in her sport.
Clue #20
- Clue: This winner of the 1950 Nobel Peace Prize was a star on UCLA's basketball team in the 1920s.
- Category: BLACK AMERICANS
- Value: $1000
- Date episode aired: April 10, 1997 
Answer #20: Who is Ralph Bunche?
Ralph Bunche was the first African American to win the Nobel Peace Prize, receiving it in 1950 for his role in armistice talks between Israel and four Arab nations. Bunche was 1927 class valedictorian and a star on the men's basketball team at UCLA in the 1920s. He remained as a diplomat to the United Nations until his death in 1971.
Clue #21
- Clue: 6'10" baseball Hall of Famer Randy Johnson was nicknamed the "Big" this.
- Category: REALLY BIG SPORTS STARS
- Value: $800
- Date episode aired: Oct. 16, 2018
Answer #21: What is a 'Unit'?
Randy "The Big Unit" Johnson was feared by hitters—and birds—alike during his 22-year career (1988–2009). He ranks second on the all-time strikeouts list, one of only four pitchers to eclipse 4,000. He was elected to the Baseball Hall of Fame in 2015, amassing 303 wins for six different teams.
Clue #22
- Clue: Backwards, or a double handoff football play.
- Category: WORDS OF OPPOSITION
- Value: $1,200
- Date episode aired: Sept. 20, 2017
Answer #22: What is a reverse?
A reverse happens when the quarterback takes the snap and hands off to a running back, who then hands off to a wide receiver running the opposite direction. That player can hand off to another receiver—the double reverse—continue running, or throw a pass.
Clue #23
- Clue: 1991: A pro basketball player.
- Category: SPORTS ILLUSTRATED SPORTSMAN OF THE YEAR
- Value: $800
- Date episode aired: July 27, 2006
Answer #23: Who is Michael Jordan?
Arguably the greatest basketball player of all time, Michael Jordan led the Chicago Bulls to six NBA championships during his career. Known for his clutch shooting on the biggest stage, Jordan was NBA Finals MVP in all six of those championships, including after the 1990–91 season. He retired with a number of all-time NBA records, including the oldest to lead the league in scoring at age 35.
Clue #24
- Clue: In 2002 this Philadelphia 76er won his third NBA scoring title with an average of 31.4 points per game.
- Category: PRO BASKETBALL
- Value: $1600
- Date episode aired: April 15, 2003
Answer #24: Who is Allen Iverson?
Allen Iverson, also known as "The Answer," is tied for third all-time with four scoring titles over his career in Philadelphia. His signature move was the crossover dribble, which created one of the most memorable NBA Finals moments when he sent Tyronn Lue to the ground. Elected to the Hall of Fame in 2016, Iverson was considered a trendsetter and is cited for his gritty play during games (just not in practice). 
Clue #25
- Clue: A kick returner who touches but fails to catch the ball has committed one of these hand warmers.
- Category: UH OH, TALKIN' MORE FOOTBALL
- Value: $1,000
- Date episode aired: June 22, 2018
Answer #25: What is a muff?
Botching the catch on a punt or kickoff results in a live ball as long as the kicking team doesn't interfere with the catch. Like a fumble, the ball can be advanced by the recovering team, and can also result from the ball bouncing into a player. A muffed punt can be extremely costly for a team, as the Los Angeles Rams' Pharoh Cooper found out during a 2018 playoff game.
You may also like: Can you answer these real 'Jeopardy!' questions about TV shows?