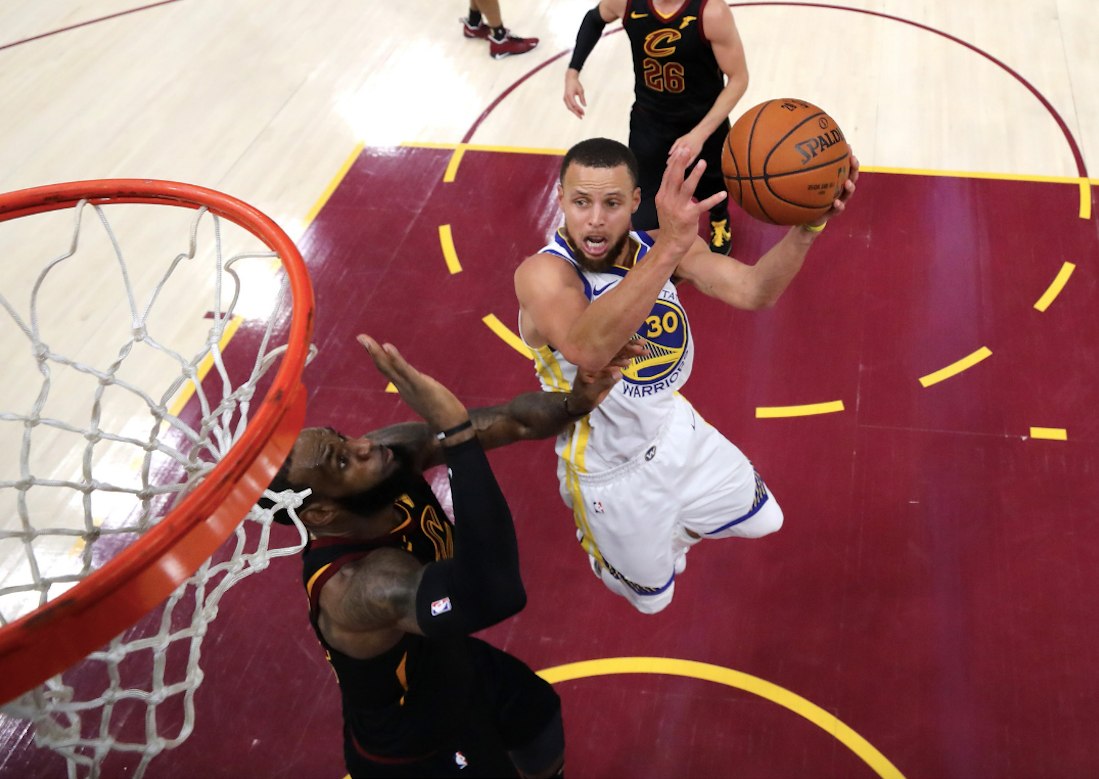 Most watched sporting events in the U.S.
Most watched sporting events in the U.S.
When it comes to sports viewership on television in the U.S., the NFL is king: 40 of the top 50 most-watched sporting events were NFL games.
An amazing Super Bowl that saw the Philadelphia Eagles host its first Lombardi Trophy was the lone event to eclipse the 100-million viewer mark and capped off a top-5 of all NFL games. A multitude of sporting events comprises the rest of the top 50, from the World Cup in Sochi, Russia, to the Olympic Games in Pyeongchang, South Korea. Sometimes, viewers got more than they bargained for—like when Game 3 of the World Series kept the 13.3 million people watching longer than the entire 1939 World Series.
A total of 27.6 million people tuned in to see Justify run the first and final legs of the Triple Crown, the Kentucky Derby, and Belmont Stakes. Patrick Reed slid on his first Green Jacket in front of 13 million on the 18th green at the Masters. Despite the games taking place halfway around the globe, the Pyeongchang Olympics captured five of the top 12 spots on the list, including the Opening Ceremonies in a $100 million stadium that would be torn down months later.
The Georgia Bulldogs both won and lost in the top 10, as their shootout win over Oklahoma drew 26.9 million viewers while their shocking loss to Alabama was seen by 28.4 million. The Warriors sweep spoiled LeBron James' final games in Cleveland in front of millions of viewers, although his final game would be the least-watched game of the NBA Finals.
In total, 813.2 million viewers tuned in to watch the 39 events on Stacker's list of the most-watched sporting events in the U.S., compiled from Sports Media Watch's 2018 data. We've included the top five most-viewed events per sport, ranked by the number of viewers. With the Belmont Stakes and NBA Finals looming, read on to see the most-watched sporting events in the U.S.
You may also like: Athletes who stood up for a cause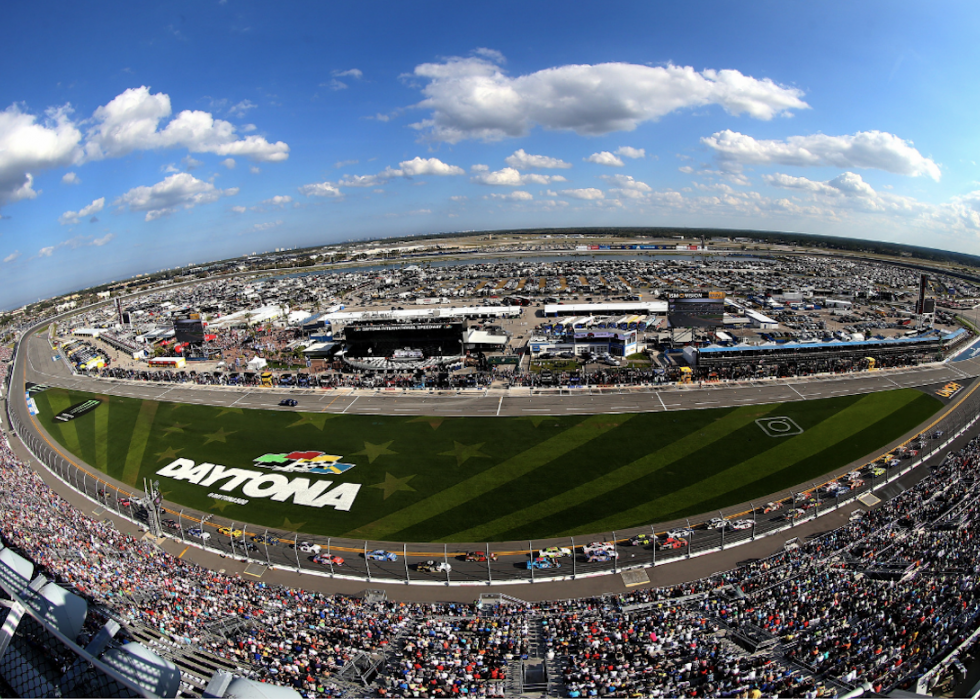 1 / 39
Brian Lawdermilk // Getty Images
#39. Daytona 500
Viewers: 9.3 million
Austin Dillon captured just his second career victory after an exciting overtime finish to the 60th running of NASCAR's Super Bowl. Dillon raced the iconic No. 3 car, made famous by legendary driver Dale Earnhardt, to victory 20 years after Earnhardt's only win at Daytona. Dillon's win wasn't without controversy, as he spun race leader Aric Almirola on the third turn of the final lap to take the checkered flag.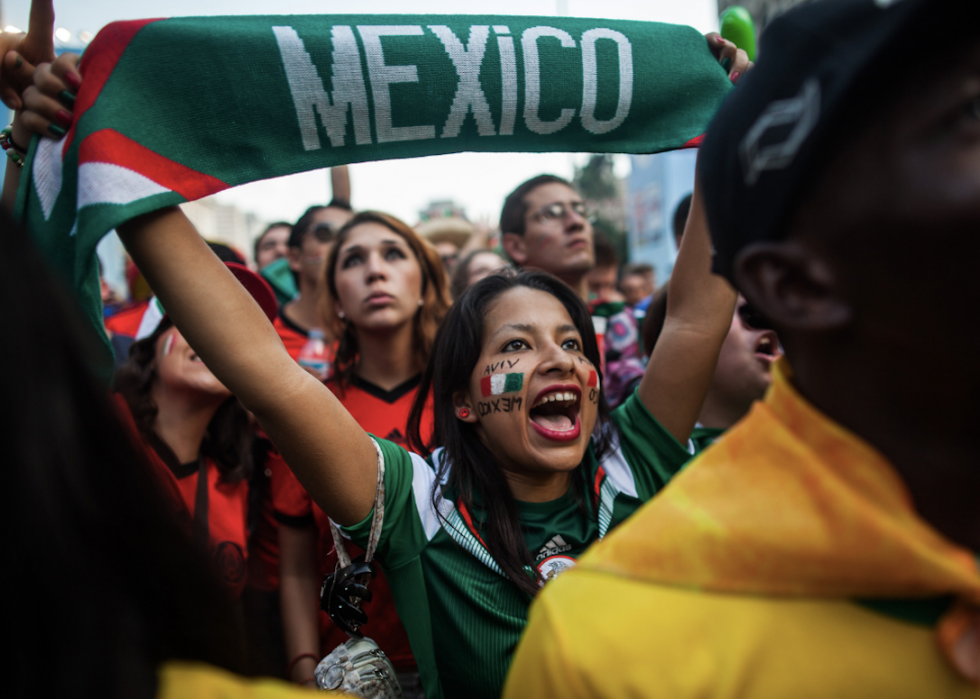 2 / 39
Victor Moriyaba // Getty Images
#38. Brazil-Mexico World Cup Round of 16
Viewers: 9.6 million
Mexico's reward for surviving the dreaded "Group of Death" at the 2018 World Cup was a meeting with one of the top teams in the world. Brazil would collect second-half goals from Neymar just six minutes in, and Roberto Firmino with two minutes remaining to ice the game. The loss was the seventh straight in the Round of 16 for Mexico, which hasn't advanced to the quarterfinals since hosting the tournament in 1986.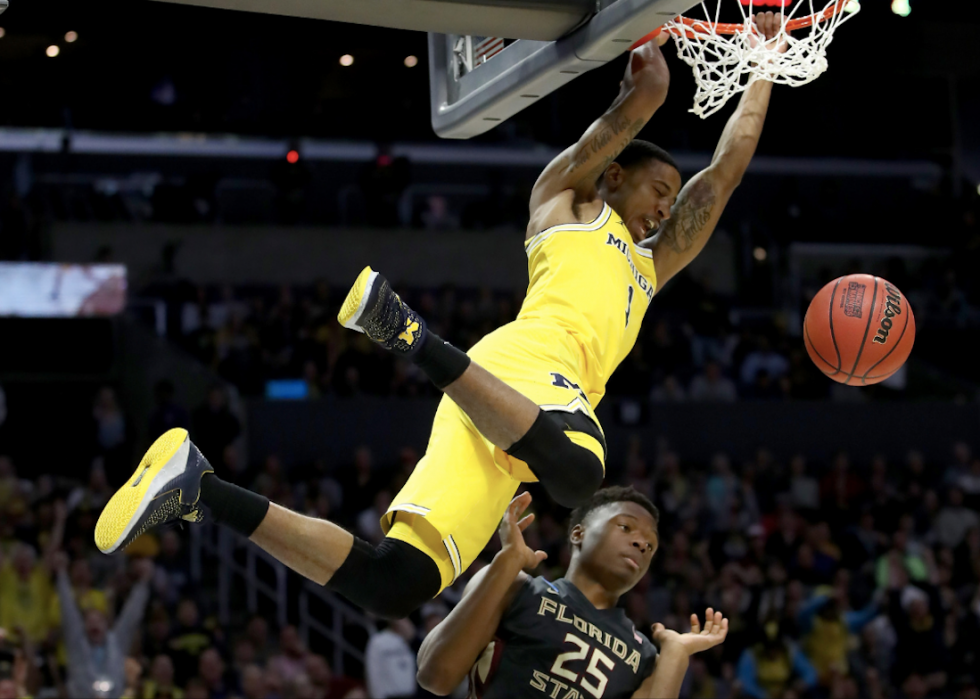 3 / 39
Ezra Shaw // Getty Images
#37. Michigan-FSU Elite Eight
Viewers: 9.7 million
Third-seeded Michigan survived a scare from #9 Florida State on its way to the National Championship Game. Florida State, which clipped #1 seed Xavier in the previous round, pulled to within 3 points in the final minute, but a game-tying 3-pointer from P.J. Savoy rattled out and allowed Michigan to preserve the victory. Guard Charles Matthews led the way with 17 points and eight rebounds for the Wolverines, who fell to Villanova in the final.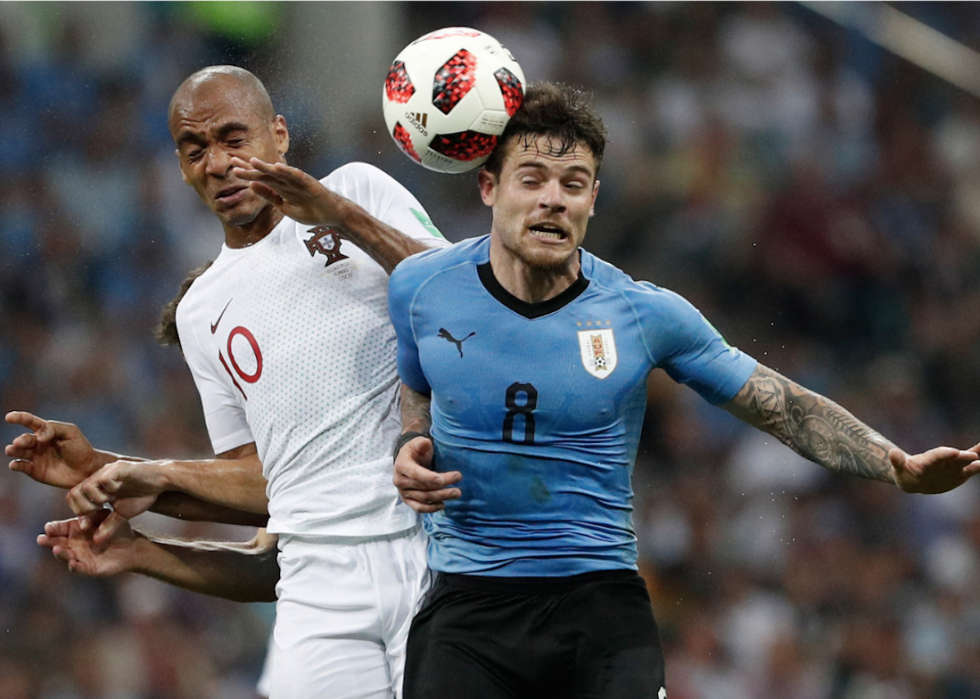 4 / 39
Adrian Dennis // Getty Images
#36. Uruguay-Portugal World Cup Rd. of 16
Viewers: 10.1 million
There were some questions heading into the matchup between Uruguay and Portugal. Could Portugal's Ronaldo win on the big stage and could Uruguay's Luis Suarez not bite somebody? No, and yes, as Uruguay's Edinson Cavani potted a goal in each half to lead La Celeste (the sky blue) to a 2-1 victory. Suarez would set up Cavani's first goal of the match at the 15-minute mark. Portugal's Pepe tied the game at one with a header, but Cavani struck again just seven minutes later to produce the final result.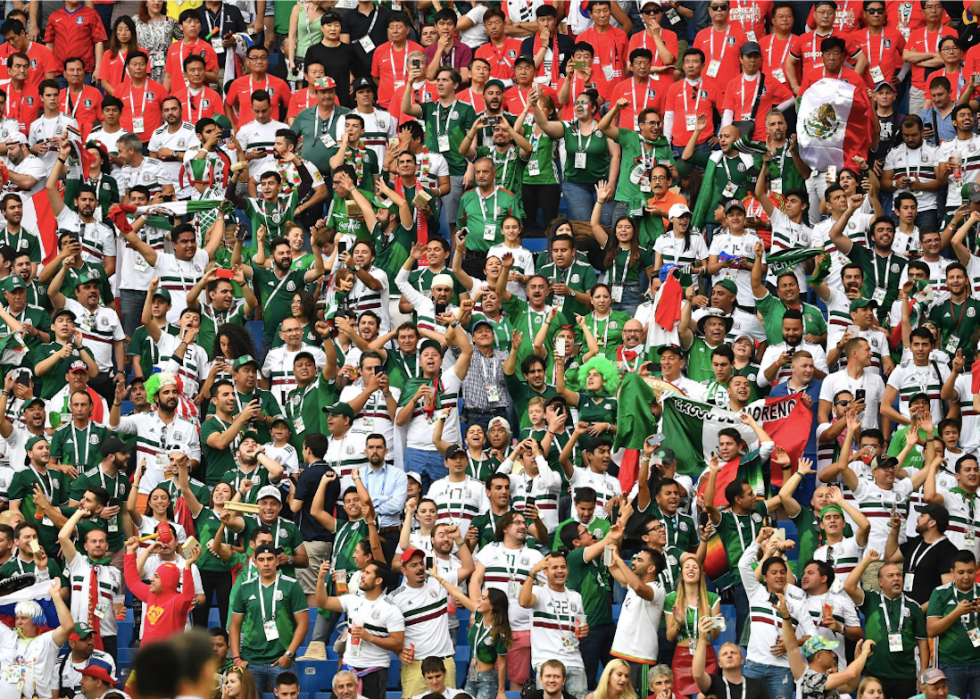 5 / 39
Joe Klamar // Getty Images
#35. Mexico-South Korea World Cup Group Play
Viewers: 11.4 million
Mexico was riding high from a victory in the opening game and used that momentum to secure a 2-1 win over South Korea in game two. Carlos Vela gave "El Tri" the lead in the 26th minute, converting a penalty kick following a handball by a South Korean defender. Mexico's all-time scoring leader, Javier "Chicharito" Hernandez scored his 50th international goal to give the Mexicans some breathing room. An injury-time goal from Son Heung-Min produced South Korea's lone goal of the game.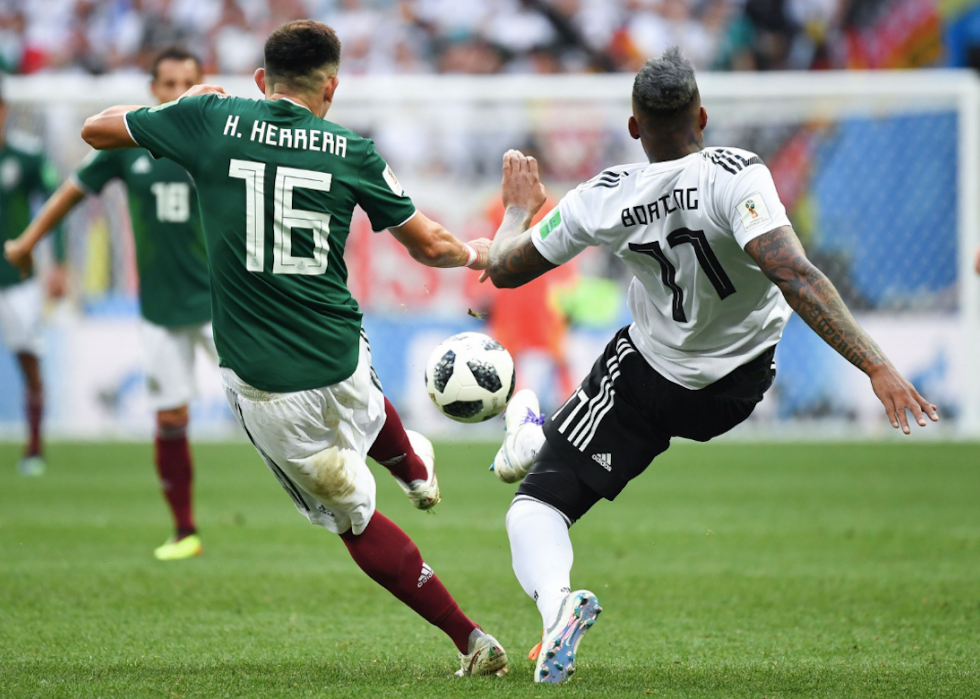 6 / 39
Kirill Kudryavtsev // Getty Images
#34. Mexico-Germany World Cup Group Play
Viewers: 11.6 million
Germany was the defending World Cup champions and the pre-tournament favorites heading into the first match of Group Play against Mexico. Hirving Lozano and El Tri had different plans, as the attacker scored the lone goal of the game in the 34th minute for the shocking result. The loss would torpedo Germany's chances of reaching the knockout stage, the third defending World Cup champion, joining Italy and Spain, to be eliminated in Group Play.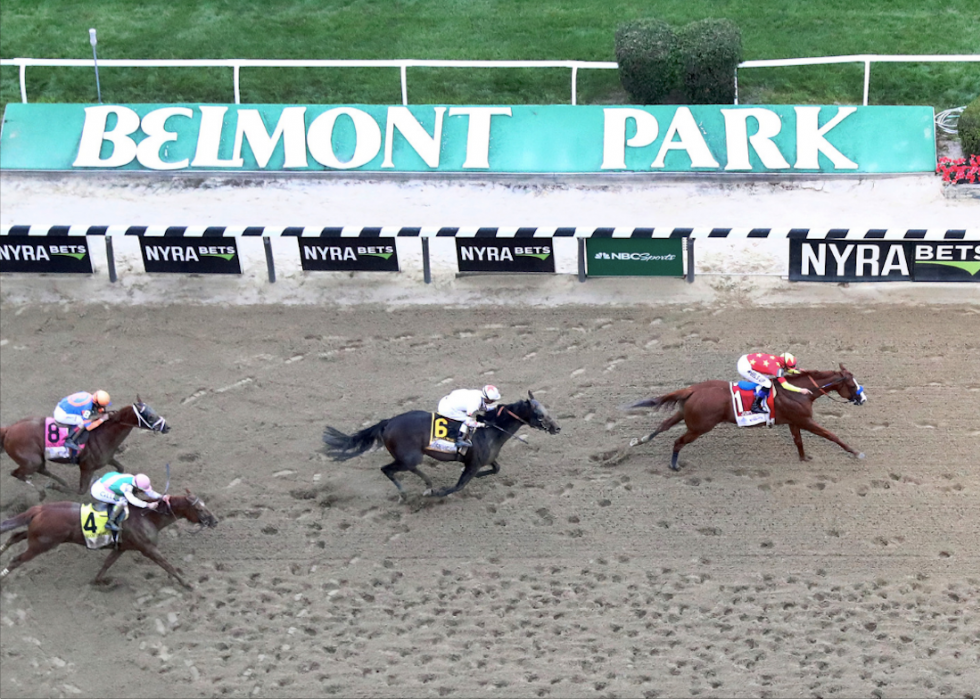 7 / 39
#33. Belmont Stakes Race segment
Viewers: 12.7 million
Despite a relatively weak field overall, the 2018 Belmont Stakes was a must-watch, as 3-year-old Justify was vying to become horse racing's 13th Triple Crown winner. Having already captured the Kentucky Derby and Preakness handily, jockey Mike Smith rode Justify to a nearly two-lengths victory over Gronkowski. The win was trainer Bob Baffert's second Triple Crown, joining American Pharoah in 2015.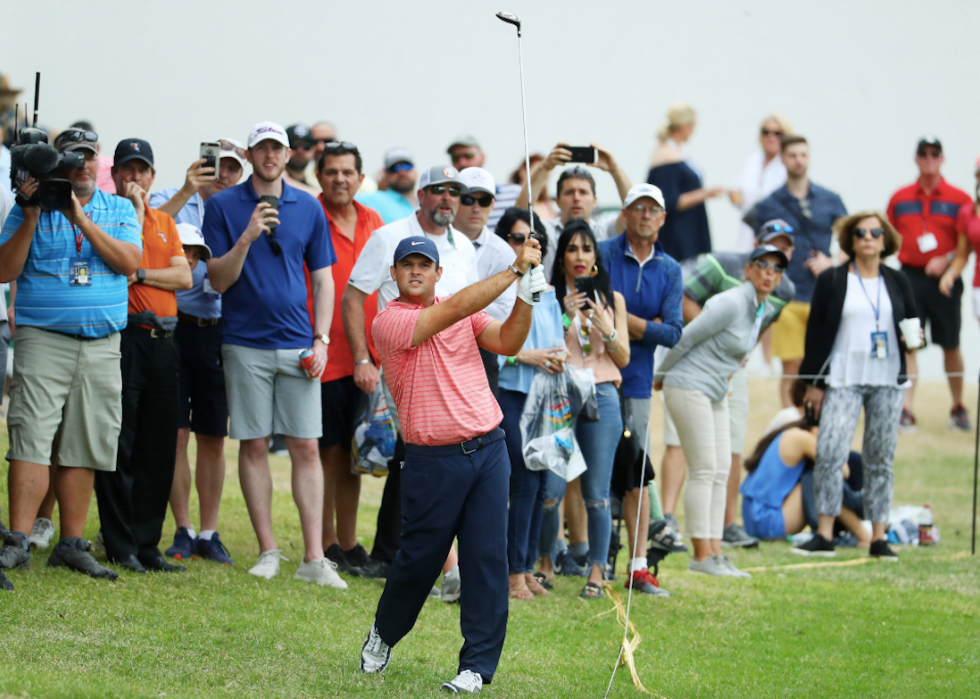 8 / 39
Warren Little // Getty Images
#32. The Masters Final Round
Viewers: 13.0 million
Hello, friends: 13 million people tuned in to hear Jim Nantz's greeting to viewers for final round coverage of the Masters and watched as Patrick Reed shot a final round 71 to earn his first green jacket. Reed finished 15-under for the tournament, holding off second-place finisher Rickie Fowler by a stroke, and a furious charge from fan-favorite Jordan Spieth, who shot a final round 64 (8-under) to finish two strokes back.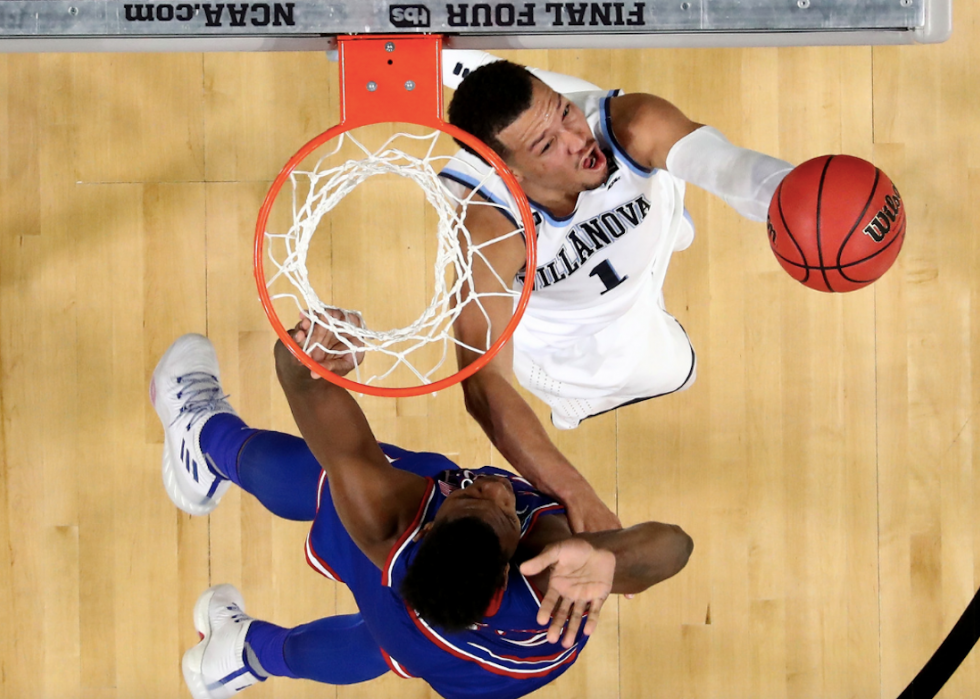 9 / 39
Ronald Martinez // Getty Images
#31. Villanova-Kansas Final Four
Viewers: 13.1 million
Villanova was a team on a mission in the 2018 NCAA Tournament, and its 95-79 whitewashing of Kansas put the 13.1 million that tuned in on notice. The Wildcats set an NCAA record for 3-pointers in a Final Four game, knocking down 18 shots from behind the arc to crush the previous record of 13. Forward Eric Paschall led Villanova with 24 points, on 10-of-11 shooting and 4-of-5 from downtown.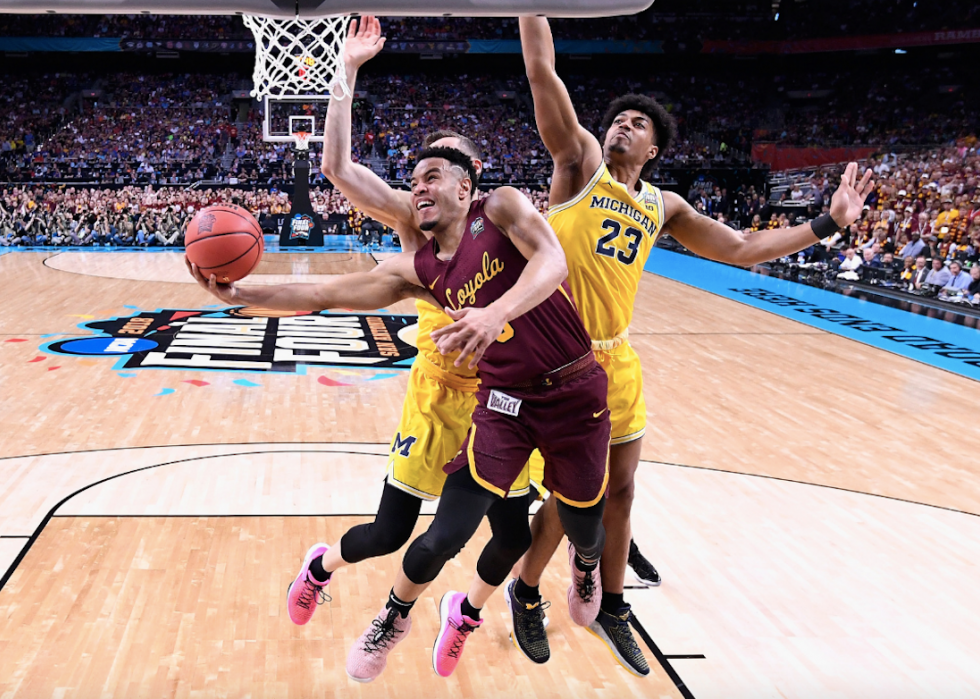 10 / 39
#30. Michigan-Loyola (Chicago) Final Four
Viewers: 13.2 million
Cinderella's time at the ball had to end sometime, as Michigan proved to be too much for upstart Loyola (Chicago), 69-57. Despite having a 29-22 lead at halftime and nonagenarian superfan Sister Jean watching from the sidelines, Loyola couldn't keep its surprise run to the Final Four going. Michigan's Moe Wagner scored 19 points and pulled down 15 rebounds to lead the Wolverines to their 14th straight victory.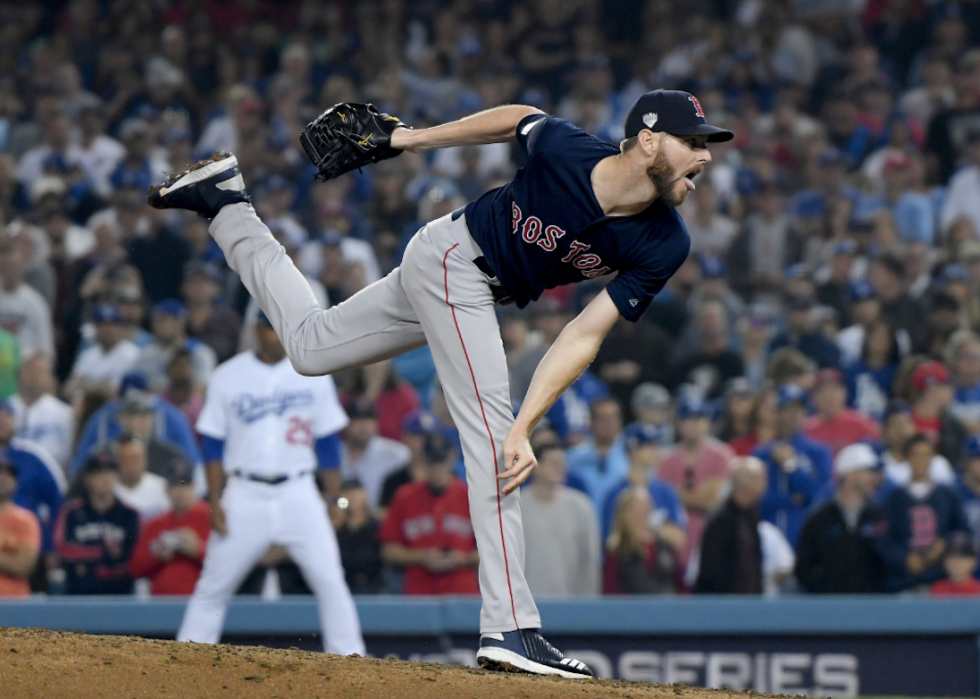 11 / 39
Harry How // Getty Images
#29. Red Sox-Dodgers World Series Game 3
Viewers: 13.3 million
Viewers of Game 3 of the World Series got an unexpected 2-for-1 deal, as the Dodgers' Max Muncy hit a walk-off home run in the bottom of the 18th inning to give Los Angeles a 3-2 victory. The game was the longest in World Series history, both in terms of innings and time, clocking in at 7 hours, 20 minutes. Game 3 lasted longer than the entire 1939 World Series between the New York Yankees and Cincinnati Reds. The Red Sox took the lead, 2-1, in the top of the 13th inning on an error by pitcher Scott Alexander, but gave it right back in the bottom half on a throwing miscue by veteran second baseman Ian Kinsler with two outs.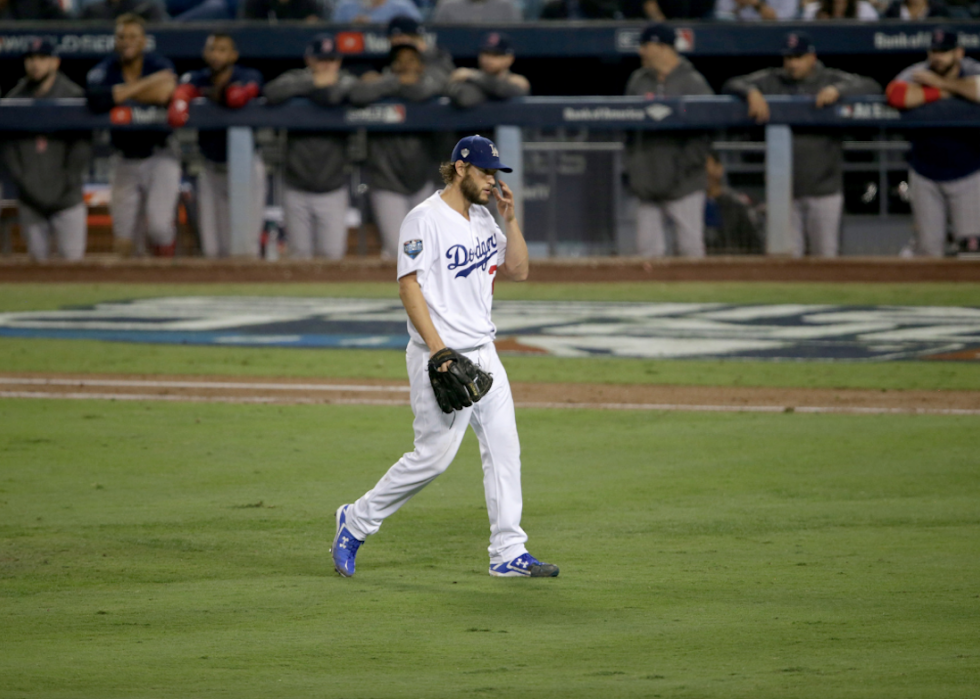 12 / 39
Jeff Gross // Getty Images
#28. Dodgers-Red Sox World Series Game 2
Viewers: 13.5 million
The Red Sox were able to jump out to a 2-0 lead over the Dodgers in the World Series thanks to a 4-2, comeback victory in Game 2. Trailing 2-1 with two outs and none on base in the fifth inning, Boston plated three runs off Los Angeles starter Hyun-Jin Ryu and reliever Ryan Madson. Free-agent acquisition J.D. Martinez capped the rally with a bases-loaded, two-run single.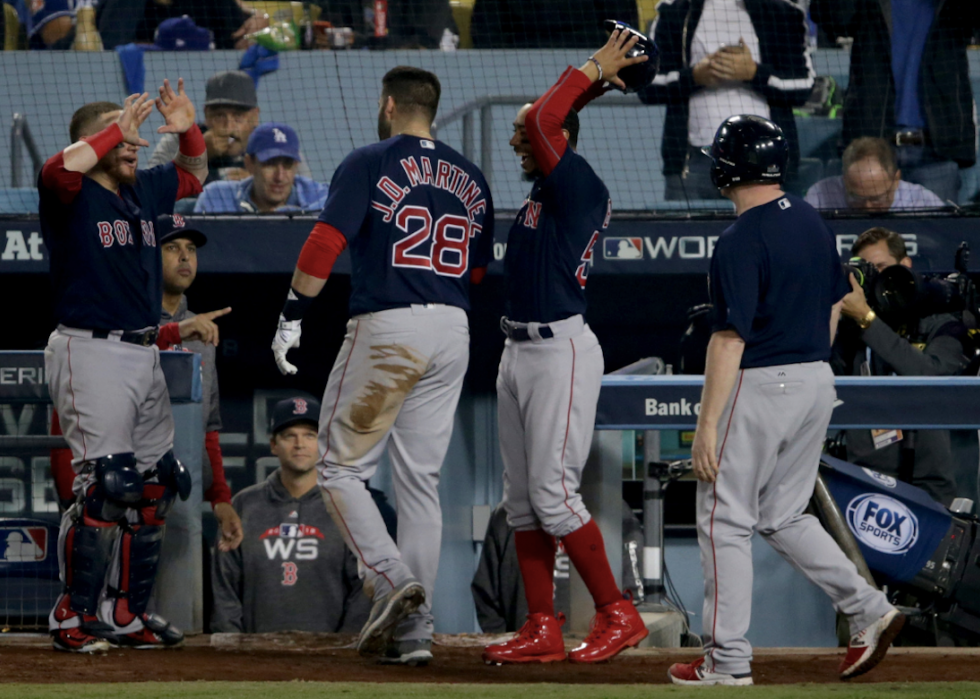 13 / 39
Sean M. Haffey // Getty Images
#27. Red Sox-Dodgers World Series Game 4
Viewers: 13.6 million
Game 4 began as a pitcher's duel and ended with an explosion of offense and the Red Sox taking a commanding 3-1 series lead thanks to a 9-6 victory. Trailing 4-0 following a Yasiel Puig home run in the sixth inning, Boston's Mitch Moreland and Steve Pearce each homered to pull the team's even heading to the ninth. The Red Sox knocked in five runs in the ninth, highlighted by Pearce's bases-loaded, bases-clearing double.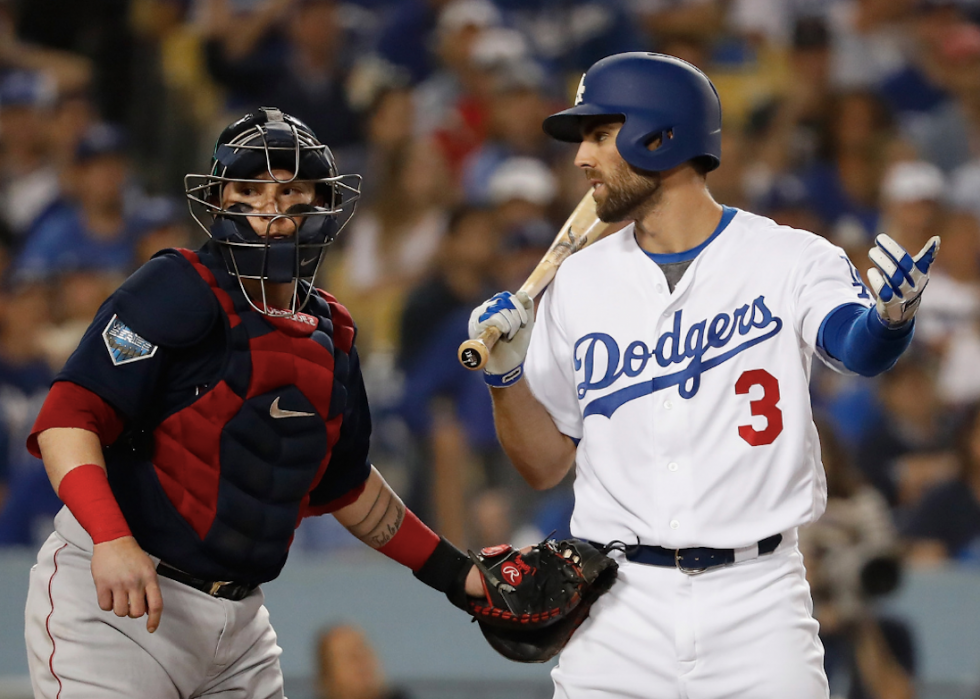 14 / 39
Jeff Gross // Getty Images
#26. Dodgers-Red Sox World Series Game 1
Viewers: 13.8 million
Game 1 was supposed to be a pitcher's duel between two of baseball's best left-handed pitchers in Boston's Chris Sale and Los Angeles' Clayton Kershaw. Instead, offense dominated a windy Game 1, as Boston secured an 8-4 victory, capped by a three-run homer from pinch hitter Eduardo Nunez in the seventh inning to produce the final result. Kershaw would take the loss, allowing five runs and seven hits.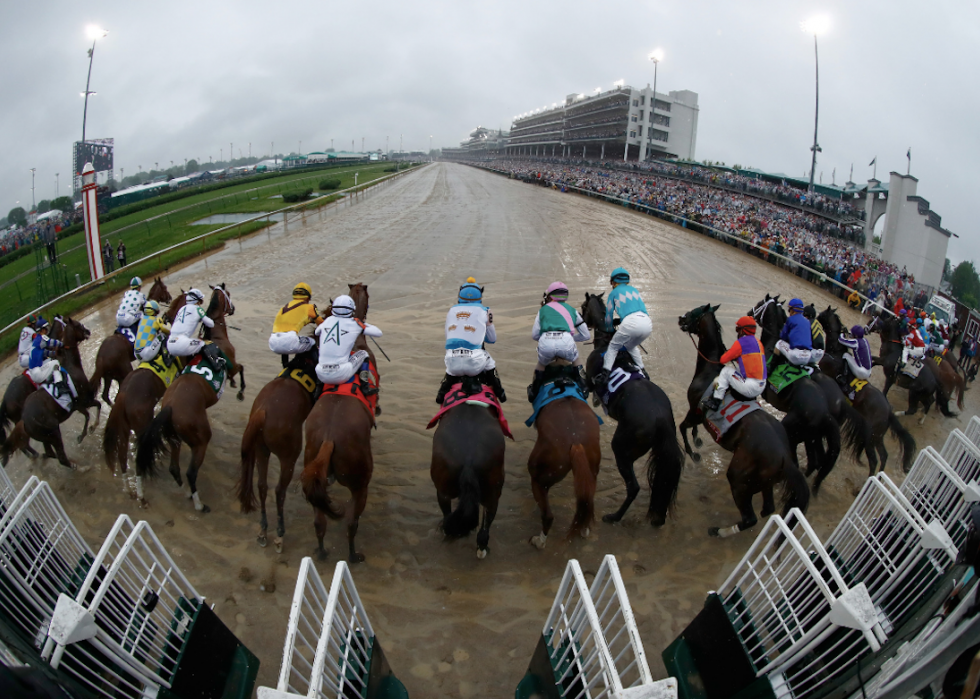 15 / 39
Andy Lyons // Getty Images
#25. Kentucky Derby Race segment
Viewers: 14.9 million
Rain dominated the 144th running of the Kentucky Derby, as a race-day record 2.8 inches had fallen at Louisville International Airport nearby. Jockey Mike Smith, aboard eventual Triple Crown winner Justify, pulled away at the final turn for a 2.5-length victory over Good Margin and Audible. Justify was the morning-line favorite, but had to overcome a significant obstacle to win the Kentucky Derby. No horse has captured the Run for the Roses having not run a single race as a 2-year-old since Apollo in 1882, beginning the dreaded "Curse of Apollo."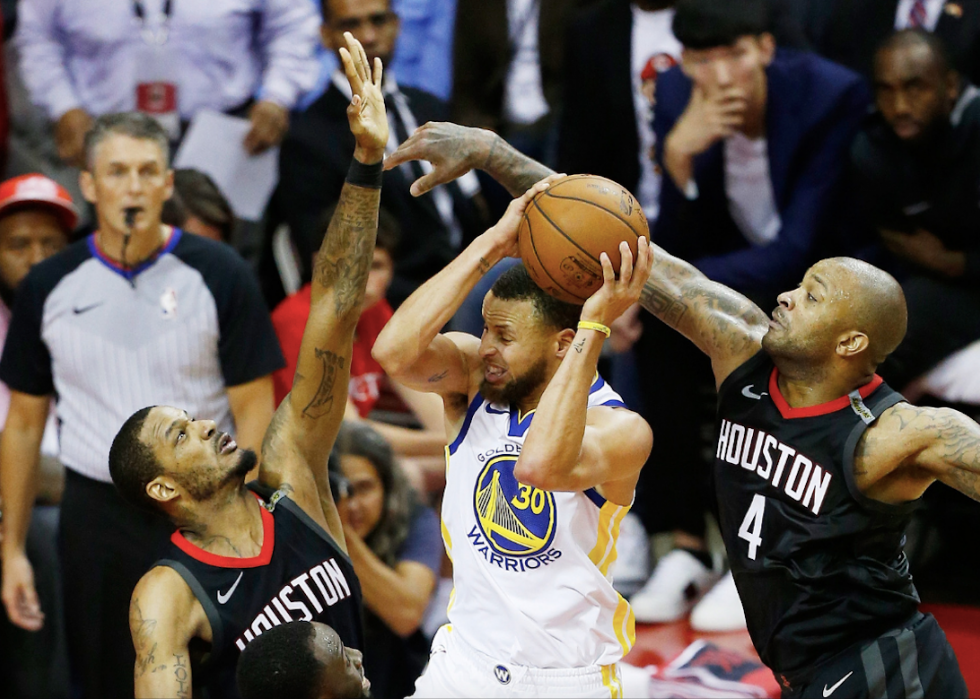 16 / 39
Bob Levey // Getty Images
#24. Warriors-Rockets West Finals Game 7
Viewers: 14.9 million
Golden State's Kevin Durant scored 34 points to help the Warriors erase a 9-point halftime deficit for a 101-92 victory in Houston. The Rockets desperately missed All-Star point guard Chris Paul, who sat out with an injured hamstring, shooting just 15.9% from 3-point range, including 27 straight misses during one stretch. Eventual NBA MVP James Harden scored 32 for top-seeded Houston, which couldn't prevent Golden State from reaching a fourth-straight NBA Finals.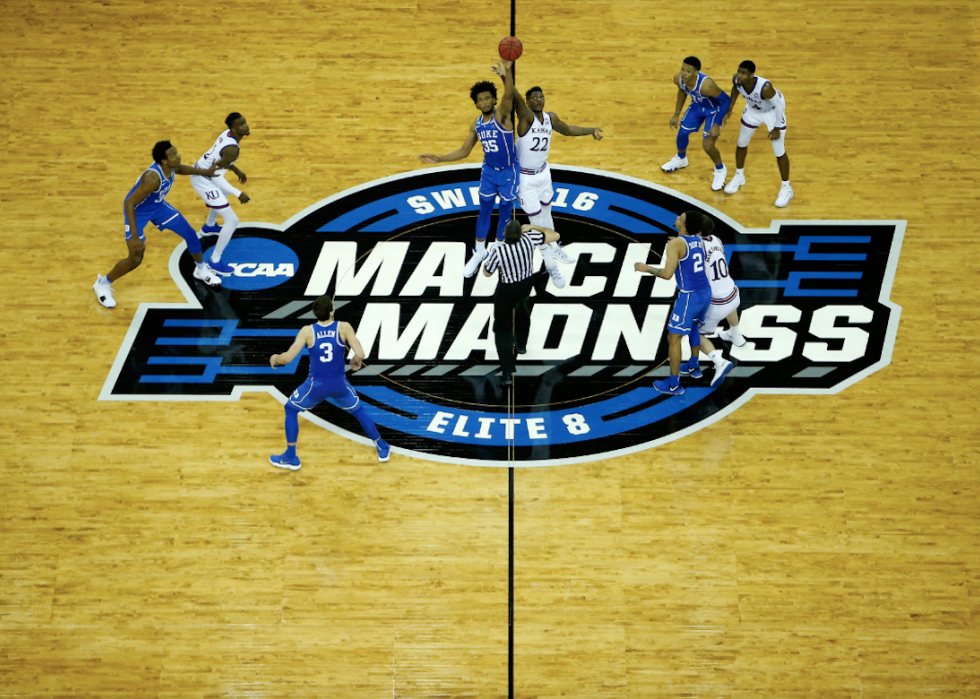 17 / 39
Streeter Lecka // Getty Images
#23. Kansas-Duke Elite Eight
Viewers: 15.4 million
Malik Newman scored a career-high 32 points, and all 13 of his team's points in overtime to lead top-seeded Kansas over #2 Duke, 85-81. Duke's Grayson Allen had his bank shot rattle out as time expired in regulation to send the game to overtime. Trevon Duval scored 20 points to lead Duke, but coach Mike Krzyzewski was denied a record 13th trip to the Final Four, remaining tied with legendary UCLA coach John Wooden.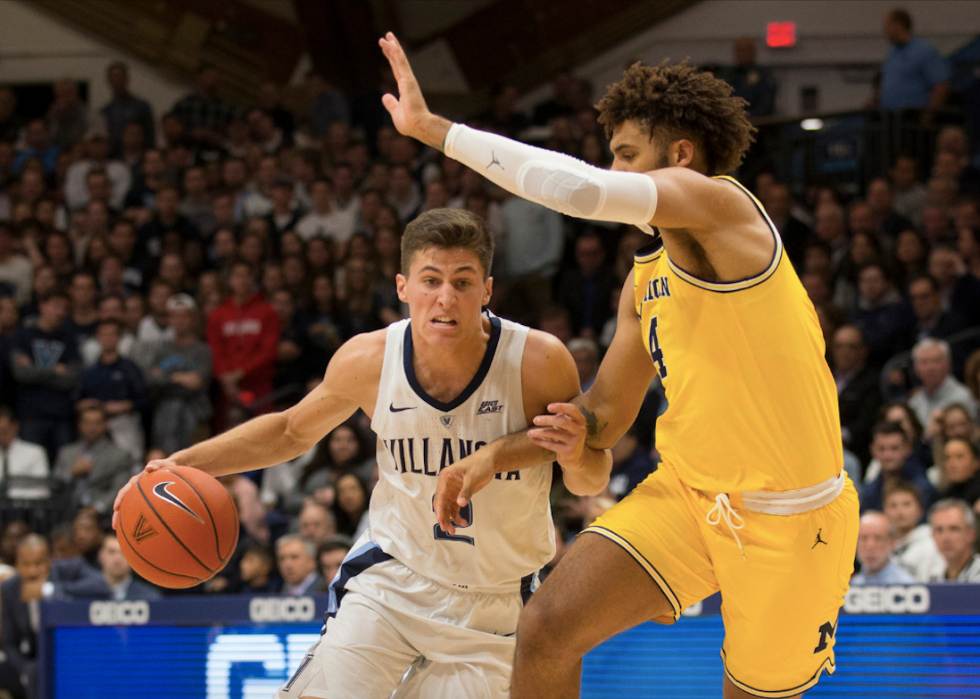 18 / 39
Mitchell Leff // Getty Images
#22. Villanova-Michigan National Championship
Viewers: 16.0 million
Sophomore guard Donte DiVincenzo scored 31 points off the bench to lead Villanova to its second national championship in three years with a dominating 79-62 victory over Michigan. The Wildcats became just the fourth team ever to win every NCAA Tournament game by double digits, joining Michigan State (2000), Duke (2001) and North Carolina (2009). DiVincenzo was named the most outstanding player of the Final Four.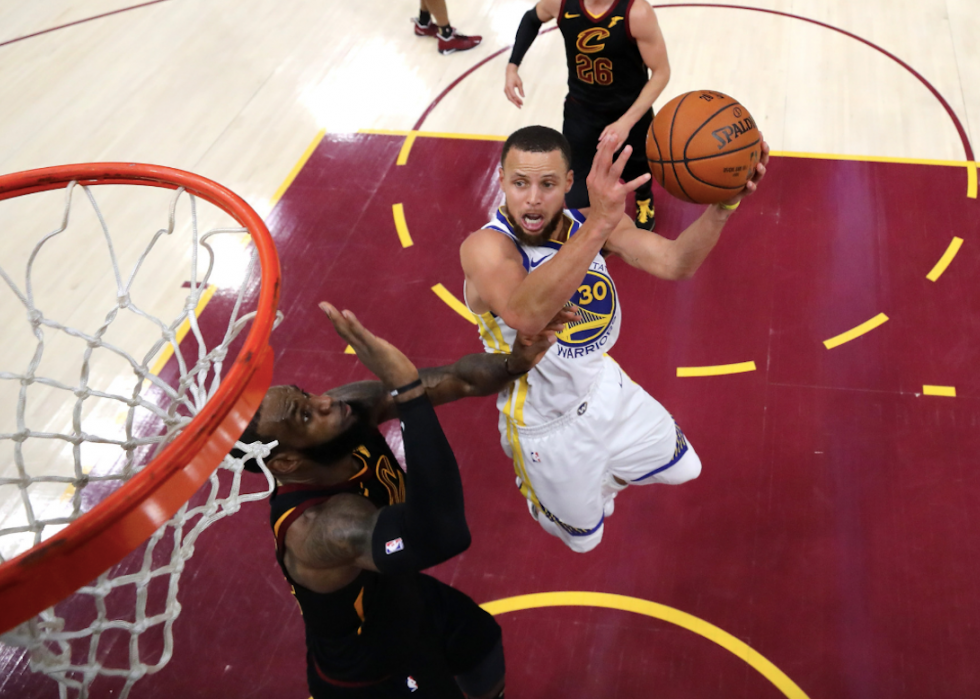 19 / 39
#21. Warriors-Cavs NBA Finals Game 4
Viewers: 16.2 million
The 16.2 million people that tuned in to Game 4 of the finals watched the Warriors be crowned champions for a second straight season after a 108-85 dismantling of the Cavaliers. Golden State's Steph Curry led all scorers, while Cavaliers superstar LeBron James dropped 23 in what would be his final game in his native Cleveland. Kevin Durant recorded a triple-double and was named NBA Finals MVP for the second straight year.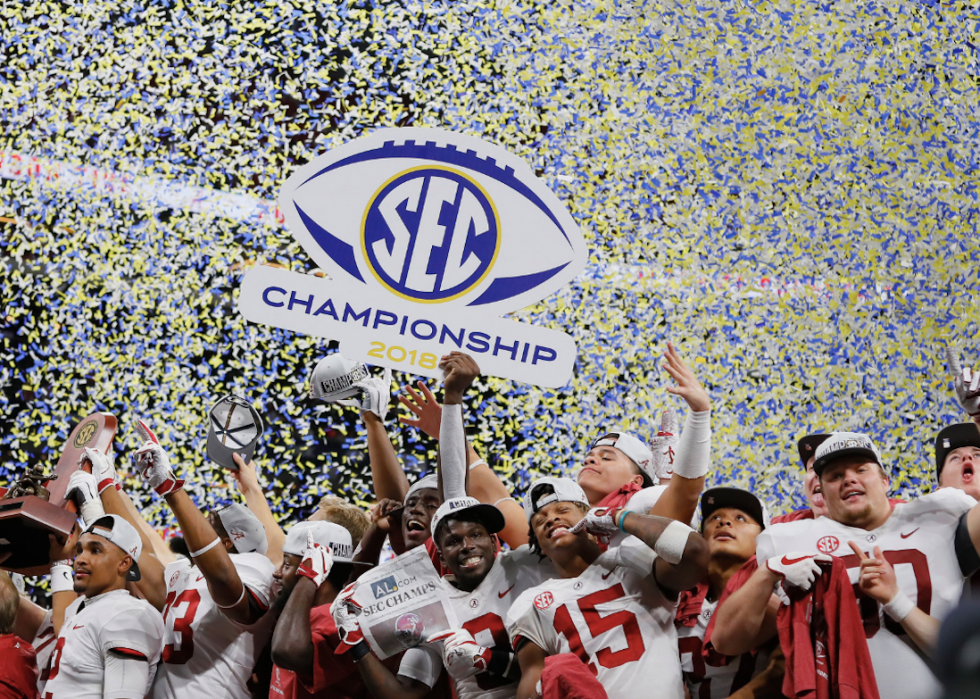 20 / 39
Kevin C. Cox // Getty Images
#20. Alabama-Georgia SEC Championship
Viewers: 17.5 million
Ranked #4, Georgia sprang out to a 21-7 halftime lead over top-ranked Alabama inside the Georgia Dome. For the second time in 11 months, the Crimson Tide would lean on their backup quarterback to score a comeback win, beating the Bulldogs, 35-28, to win the SEC title and a berth in the College Football Playoffs. Jalen Hurts put the Tide ahead on a 15-yard touchdown run in relief of injured starter Tua Tagovailoa.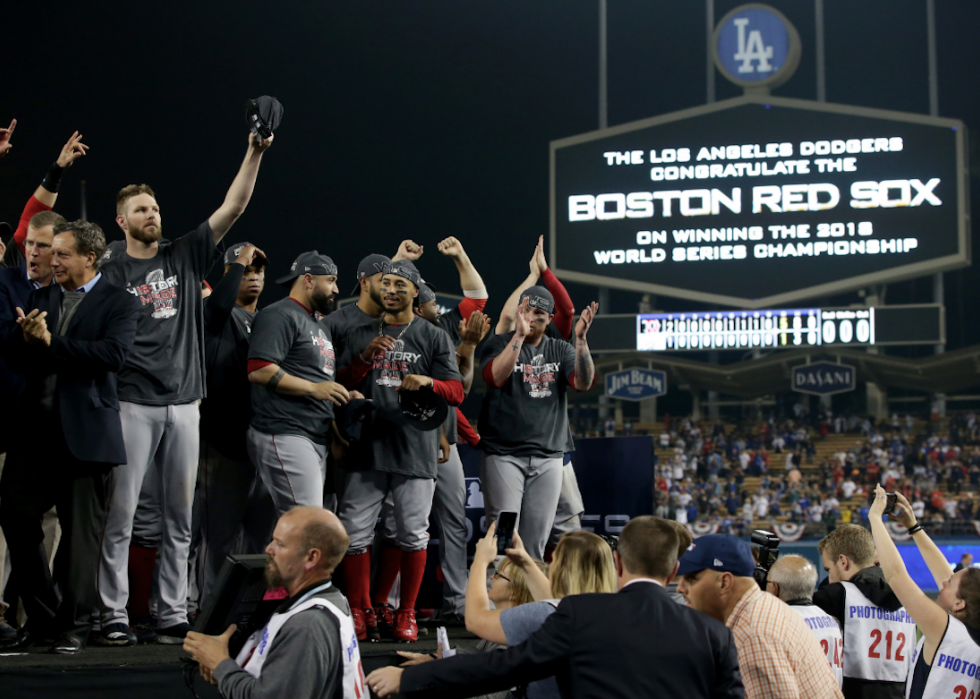 21 / 39
Sean M. Haffey // Getty Images
#19. Red Sox-Dodgers World Series Game 5
Viewers: 17.6 million
The Red Sox would wrap up their fourth World Series title in the past 15 seasons with a 5-1 win over the Dodgers in Game 5. Boston hit four home runs in the game, including a pair from World Series MVP Steve Pearce. Starting pitcher David Price threw seven solid innings, striking out five while allowing one run on three hits.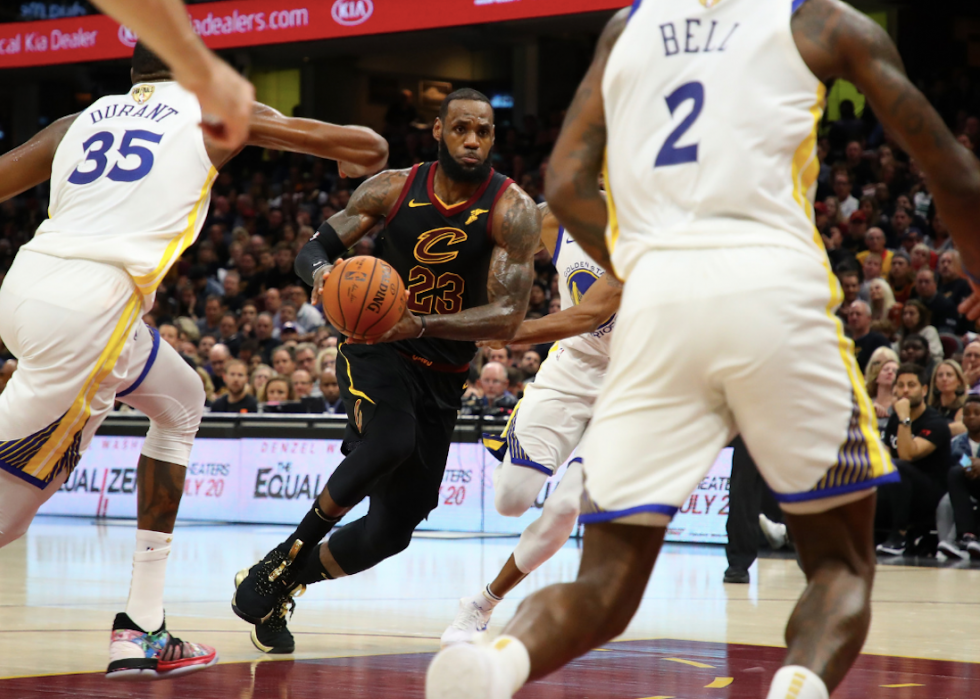 22 / 39
Gregory Shamus // Getty Images
#18. Cavs-Warriors NBA Finals Game 1
Viewers: 17.7 million
Cleveland's LeBron James scored 51 points in Game 1 of the NBA Finals, but a costly blunder by teammate J.R. Smith allowed the Warriors to escape with a 124-114 overtime win. George Hill tied the game on a free throw with 2.6 seconds left before missing his second attempt. Smith grabbed the offensive rebound, but thought the Cavs had the lead and dribbled the clock out instead of shooting, sending the game to overtime. Steph Curry led the Warriors with 29 points.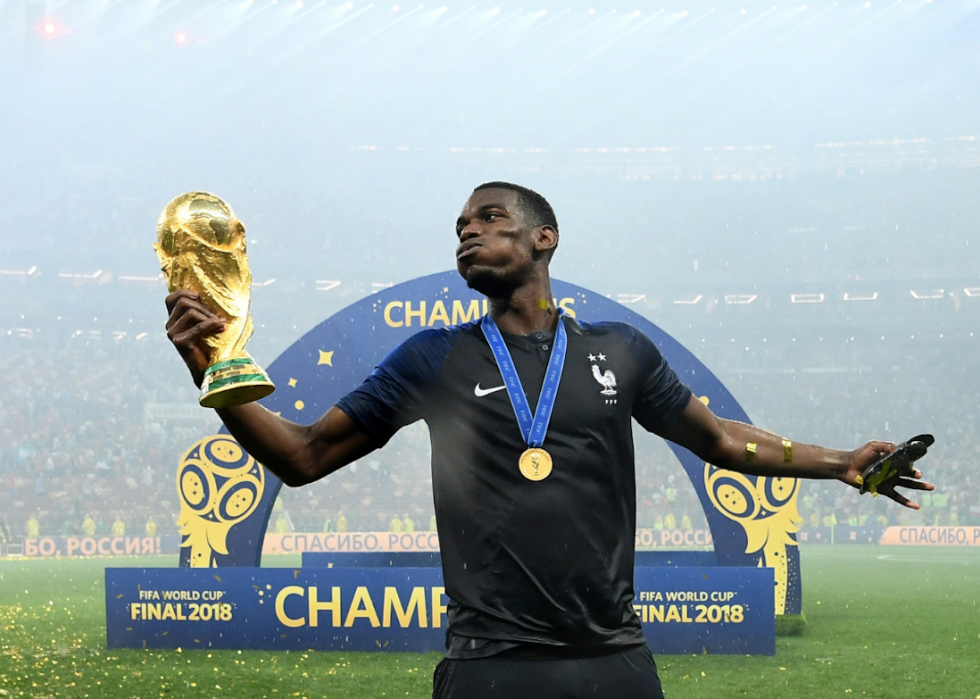 23 / 39
Frank Fife // Getty Images
#17. France-Croatia World Cup Final
Viewers: 17.8 million
France secured their second World Cup title thanks to a 4-2 victory, despite Croatia dominating possession and outshooting the French, 15-8. The team's traded goals in the first 30 minutes before France's Antoine Griezmann converted a penalty kick in the 39th minute. Paul Pogba and Kylian Mbappe would connect for goals six minutes apart early in the second half to put the game away. France manager Didier Deschamps became the third person to win the World Cup as a player and manager.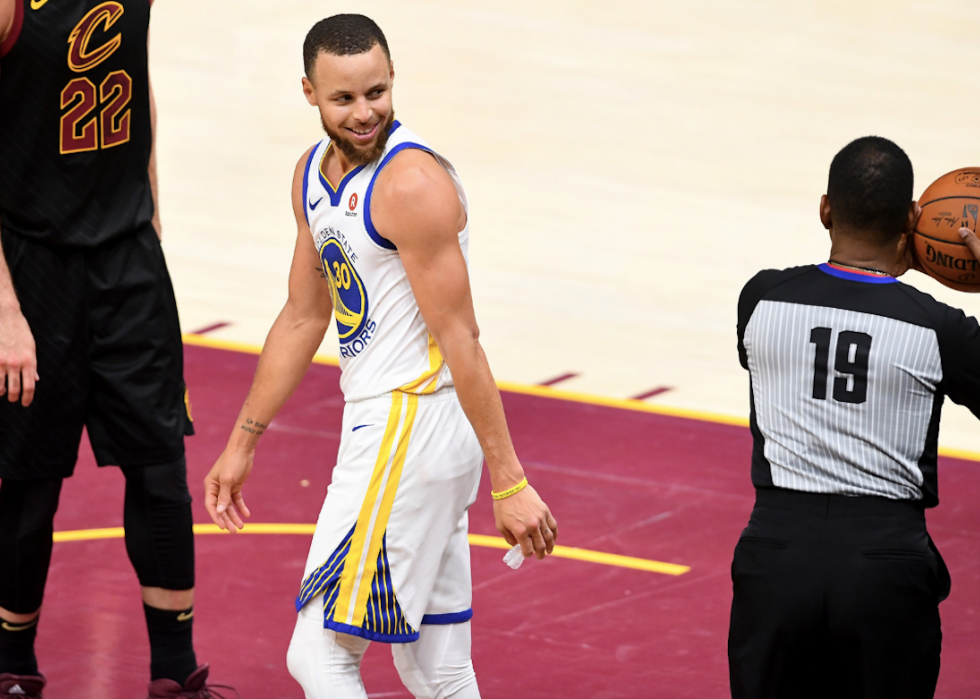 24 / 39
Jason Miller // Getty Images
#16. Warriors-Cavs NBA Finals Game 3
Viewers: 17.9 million
Kevin Durant dropped 43 points in Game 3 to lead the Warriors to a 110-102 victory and put them one game away from a sweep. The Cavaliers led much of the game on the back of a LeBron James triple-double, but Durant's long 3-pointer in the final minute put the game away. The Warriors won despite a terrible shooting night from Steph Curry, who went 3-of-16 from the floor and just 1-of-10 from behind the arc.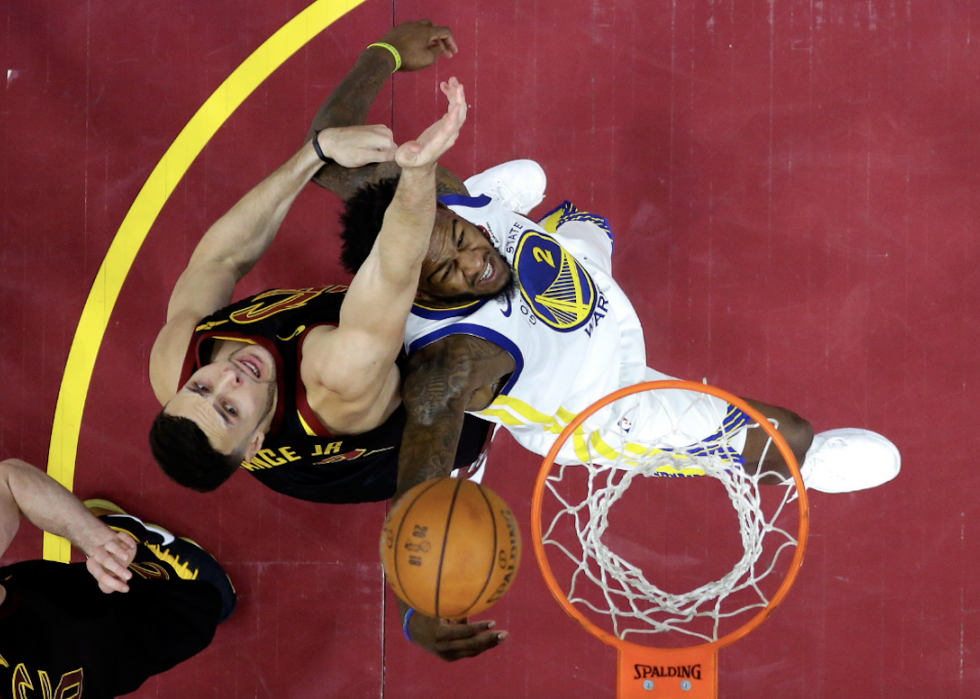 25 / 39
#15. Cavs-Warriors NBA Finals Game 2
Viewers: 18.5 million
Steph Curry's shooting woes would wait until Game 3, and the superstar set an NBA Finals record, hitting nine 3-pointers in Game 2, leading the Warriors past the Cavs, 122-103. JaVale McGee and Shaun Livingston provided an unlikely spark for Golden State, combining for 22 points on 11-of-11 shooting. LeBron James led the Cavs with 29, but was stifled by Golden State's defense much of the game.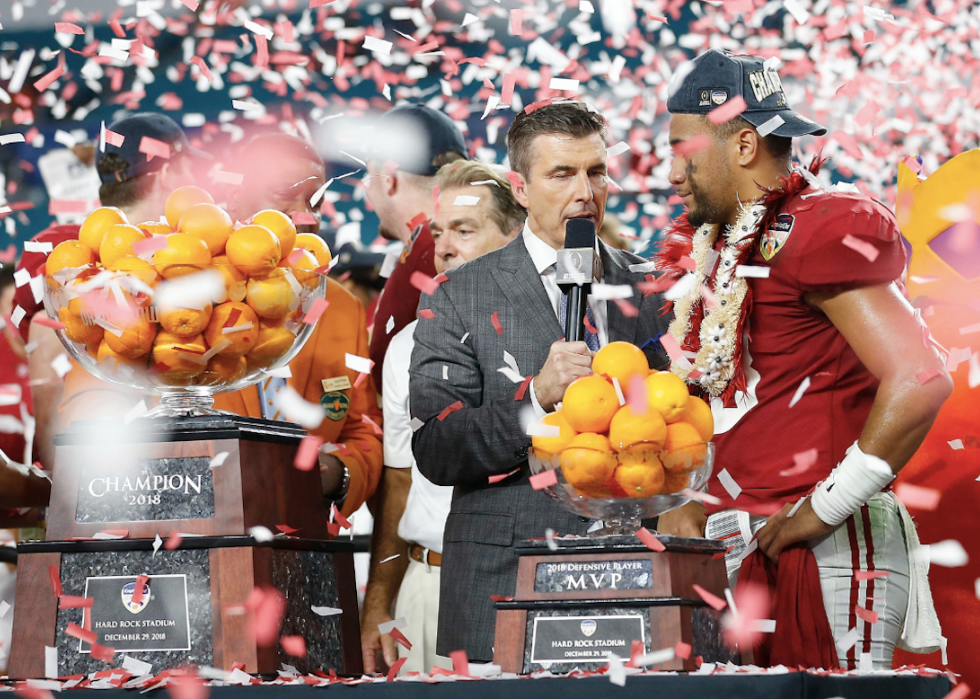 26 / 39
Michael Reaves // Getty Images
#14. Alabama-Oklahoma Orange Bowl
Viewers: 19.1 million
Alabama proved it was the best team in the nation at the end of 2018, scoring 28 unanswered points in the opening 17 minutes of the game en route to a 45-34 dismantling of Oklahoma. Alabama quarterback Tua Tagovailoa outdueled Heisman winner Kyler Murray, throwing for 318 yards and four touchdowns. Tagovailoa finished as the runner-up in the Heisman voting a few weeks earlier.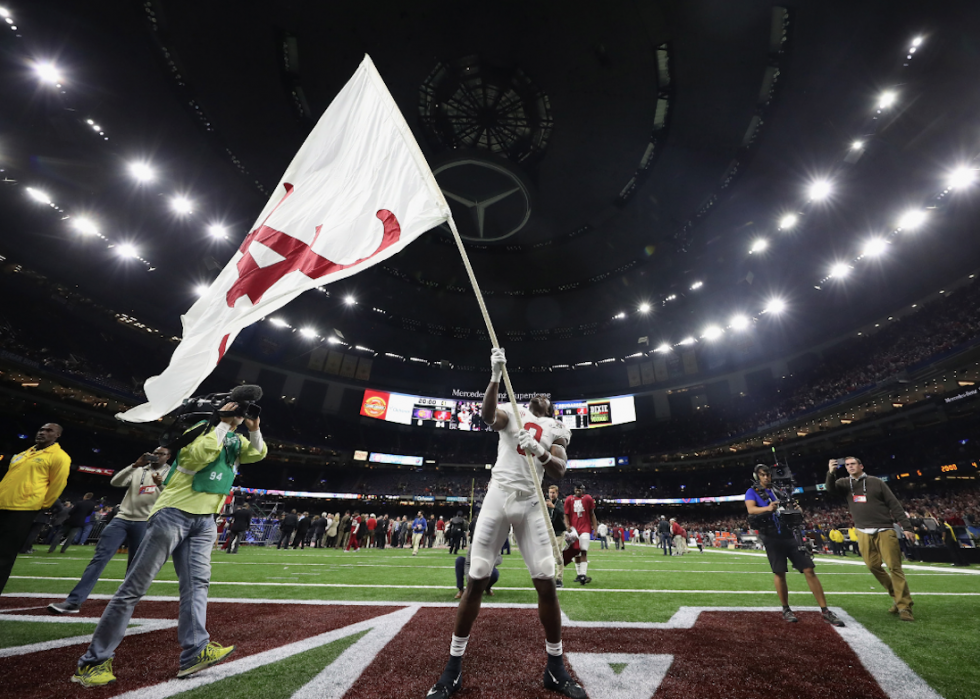 27 / 39
Chris Graythen // Getty Images
#13. Alabama-Clemson Sugar Bowl
Viewers: 21.5 million
Alabama's defense shut Clemson's offense down in the 24-6 victory, holding the Tigers to just 188 yards of total offense, including a pair of interceptions. Tide defensive tackle Da'Ron Payne had one of those interceptions, then caught a touchdown pass to give his team a 17-6 lead. Mack Wilson picked Clemson quarterback Kelly Bryant 13 seconds later and returned it 18 yards for a score and a berth in the National Championship game.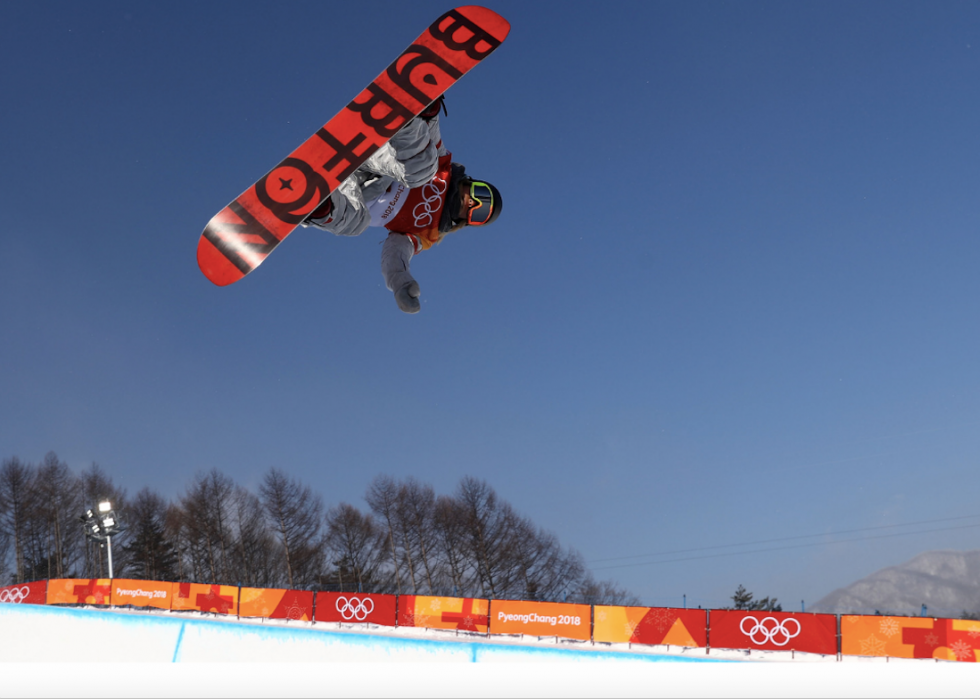 28 / 39
Clive Rose // Getty Images
#12. Winter Olympics Night 3
Viewers: 22.3 million
Night 3 of the 2018 Winter Olympics in Pyeongchang, South Korea, saw American Jamie Anderson capture gold in the women's snowboard slopestyle for the second straight Olympics. Viewers got their first glimpse of Chloe Kim, the California girl with the golden smile, as she scored a 92.50 during qualifying for the women's snowboard halfpipe finals, crushing the field. Mixed doubles curling, team figure skating, and plenty of skiing highlighted the day.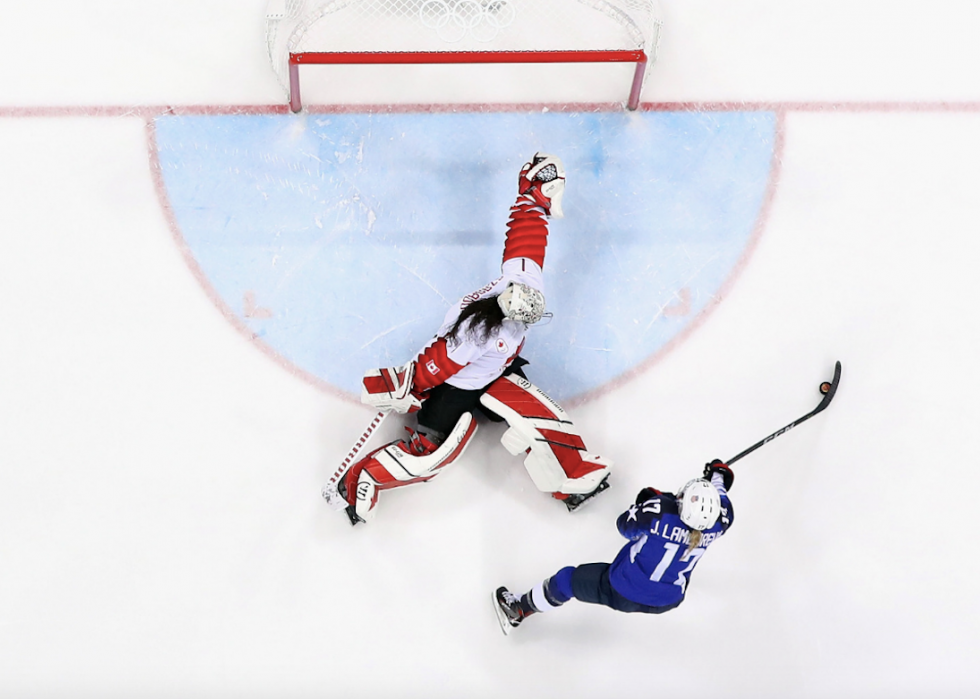 29 / 39
Bruce Bennett // Getty Images
#11. Winter Olympics Night 4
Viewers: 22.6 million
The U.S. had a strong showing in the snowboard halfpipe during Night 4, with 17-year-old Chloe Kim taking home gold and Arielle Gold grabbing bronze on her final run. On the men's side, Shaun White put down a pair of runs during qualifying that were hard to match. The U.S. women's hockey team solidified a spot in the semifinals with a 5-0 victory over the Olympic athletes from Russia.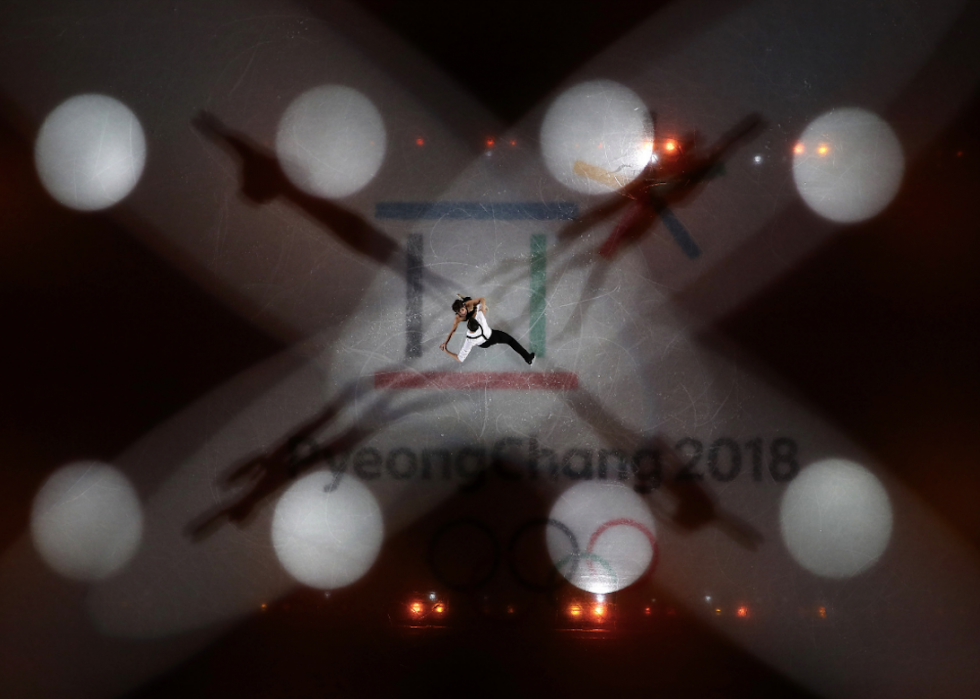 30 / 39
Richard Heathcote // Getty Images
#10. Winter Olympics Night 1
Viewers: 24.2 million
The opening night of the Olympics came one day before the Opening Ceremonies, with the team figure skating event taking center stage. The U.S. received a great performance from the team of Chris Knierim and Alexa Scimeca Knierim, helping the team to second overall in the competition after the first day. Three of the four American women competing in moguls advanced to the finals.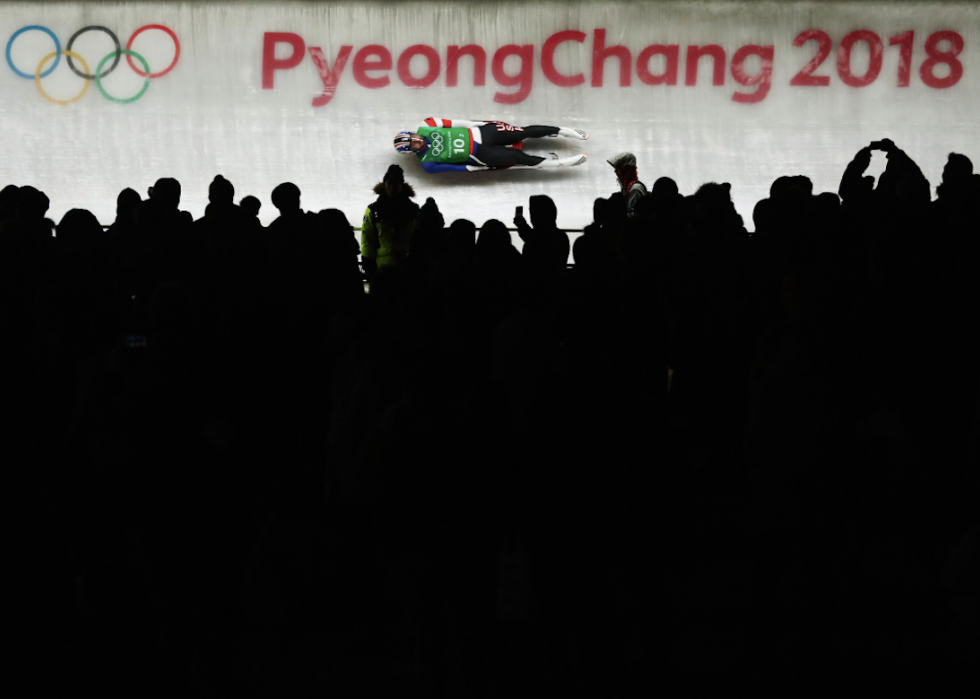 31 / 39
Richard Heathcote // Getty Images
#9. Winter Olympics Night 2
Viewers: 26.0 million
Red Gerard secured the first medal of the Olympic Games for the United States, winning a dramatic gold medal on his final run after sitting in last place through his first two. Chris Mazdzer made history on night two on the luge track, becoming the first American ever to medal in the men's singles, taking silver.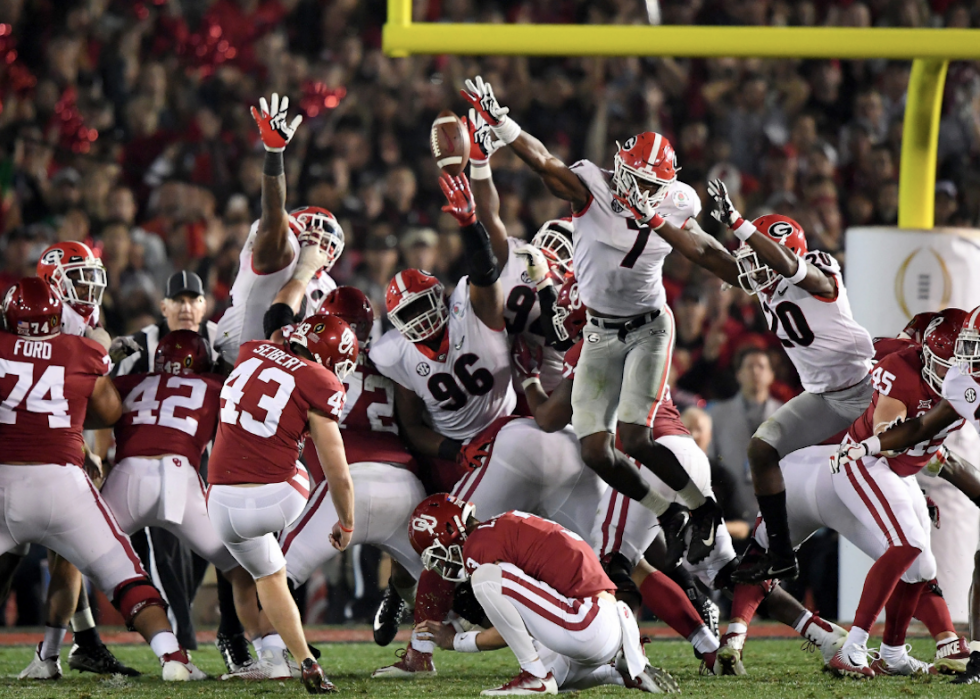 32 / 39
Kevork Djansezian // Getty Images
#8. Georgia-Oklahoma Rose Bowl
Viewers: 26.9 million
Nearly 27 million people tuned in to watch the New Year's Day shootout, with Georgia prevailing 54-48 in double overtime. Sony Michel ran for 181 yards and three scores, including a game-winning 27-yard scamper, and also caught a touchdown from quarterback Jake Fromm. Baker Mayfield, the Heisman Trophy winner and top overall pick in the NFL Draft three months later, threw for 287 yards and two scores for the Sooners.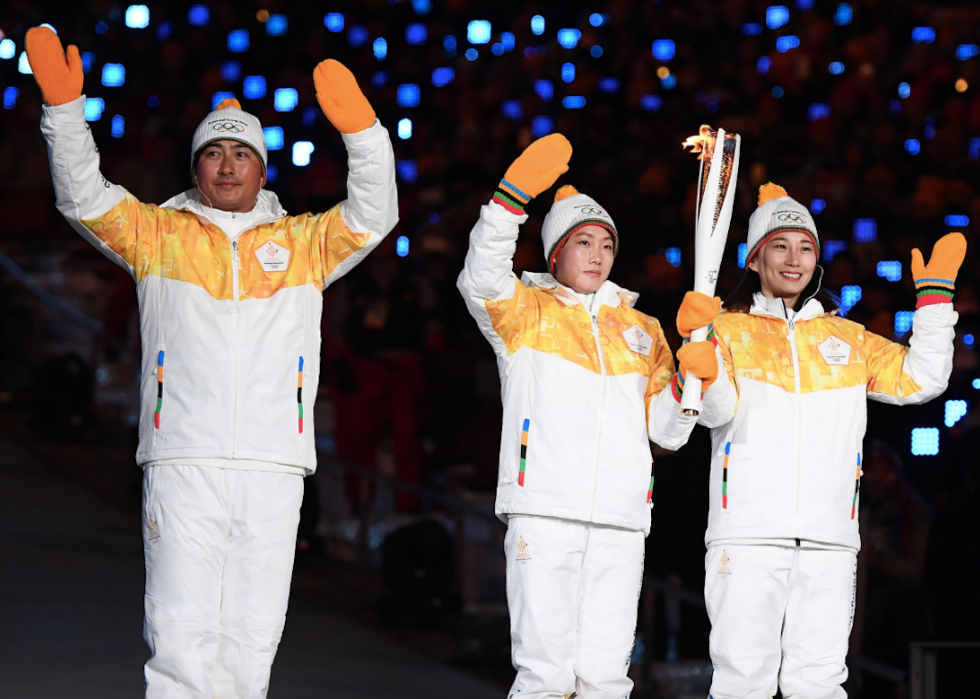 33 / 39
Quinn Rooney // Getty Images
#7. Winter Olympics Opening Ceremony
Viewers: 27.8 million
The Feb. 9, 2018, lighting of the Olympic cauldron and Parade of Nations was the most watched evening of the Olympics, with nearly 28 million tuning in. Pyeongchang Olympic Stadium cost over $100 million to construct and was only used in the opening and closing ceremonies, as well as the Paralympic Games, before being torn down. 92 countries and nearly 3,000 athletes walked, including a delegation from North Korea.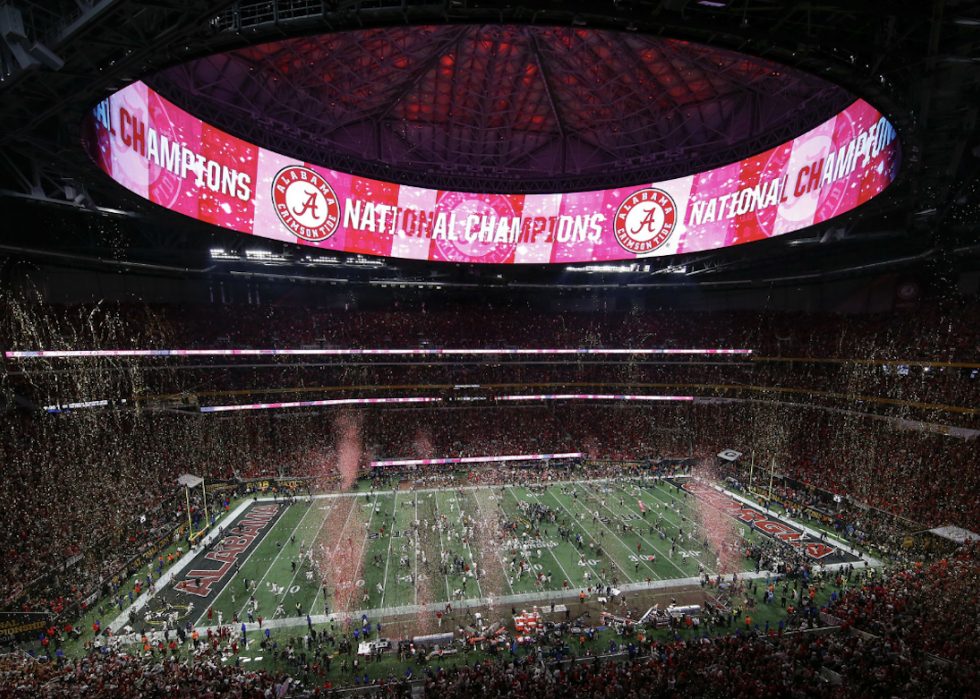 34 / 39
Mike Zarrilli // Getty Images
#6. Alabama-Georgia National Championship
Viewers: 28.4 million
Alabama was trailing 13-0 at halftime and had just 21 yards passing from starting quarterback Jalen Hurts when head coach Nick Saban made a change. Tua Tagovailoa would enter and lead the Crimson Tide to a 26-23 overtime victory in a National Championship Game for the ages. Tagovailoa threw three touchdown passes, including a 41-yard strike to DeVonta Smith to win the game in overtime. It was Saban's sixth national title to tie another Alabama legend, Bear Bryant.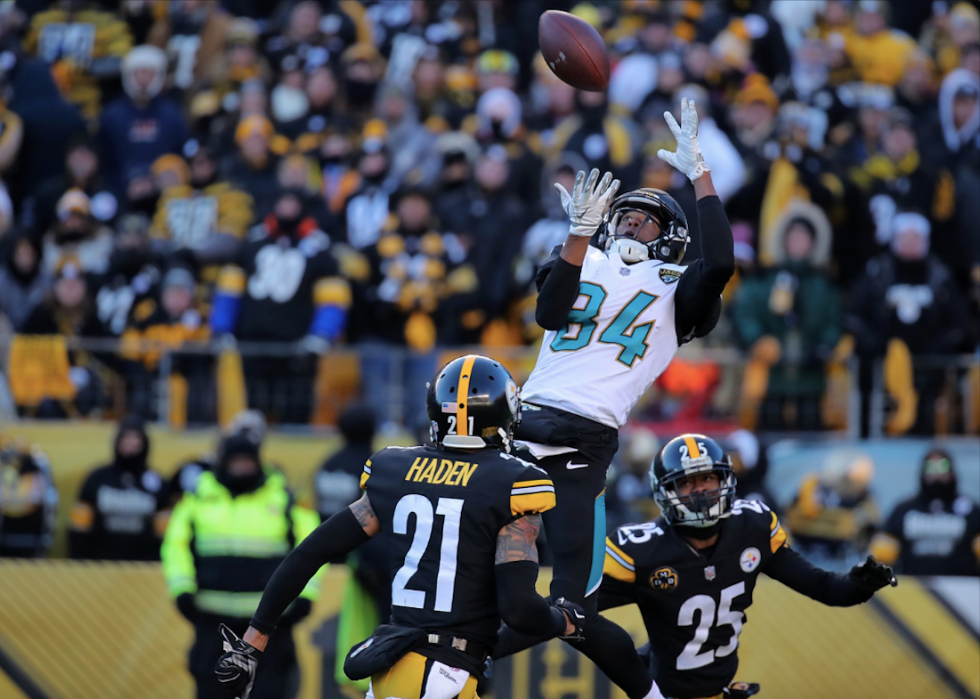 35 / 39
Brett Carlson // Getty Images
#5. Jaguars-Steelers AFC Divisional
Viewers: 31.5 million
Leonard Fournette ran for 109 yards and three scores as Jacksonville traveled to Pittsburgh and shocked the Steelers, 45-42. The Jaguars took a commanding 21-0 lead early, and kept answering every time the Steelers would close the gap. Pittsburgh quarterback Ben Roethlisberger threw for 469 yards and a franchise playoff-record five touchdowns, including one with only a single second on the clock.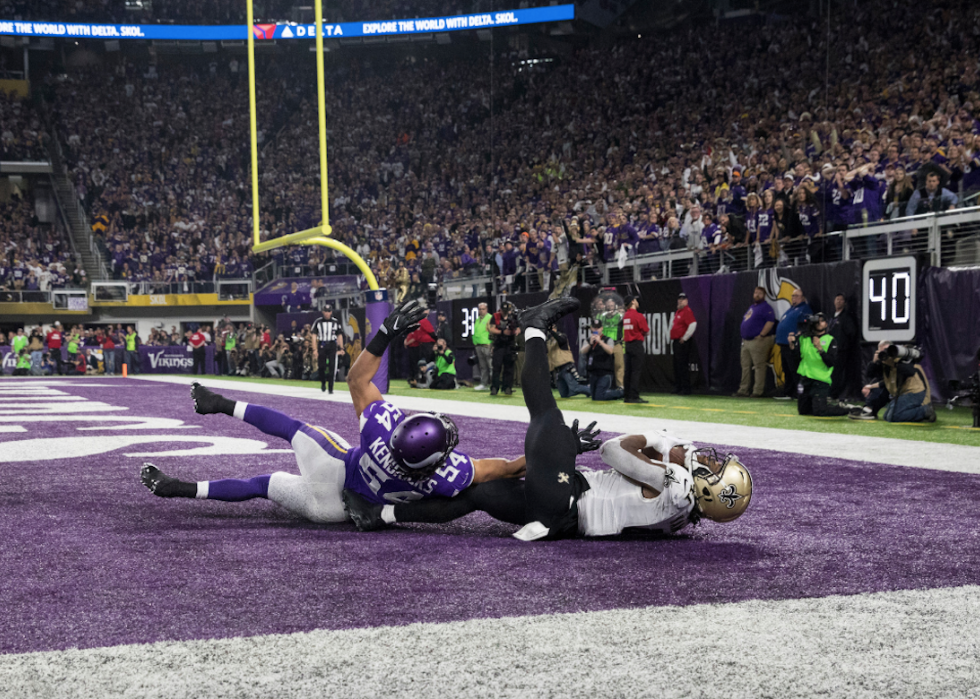 36 / 39
Adam Bettcher // Getty Images
#4. Saints-Vikings NFC Divisional
Viewers: 35.7 million
The Saints had fought back from down 17 points with just over 16 minutes remaining to take a 24-23 lead on a Will Lutz field goal with 25 seconds to play. Then the Minneapolis Miracle happened, as Stefon Diggs caught a last ditch pass from Case Keenum and escaped cornerback Marcus WIlliams for a 61-yard touchdown. Saints quarterback Drew Brees threw for 294 yards and three touchdowns.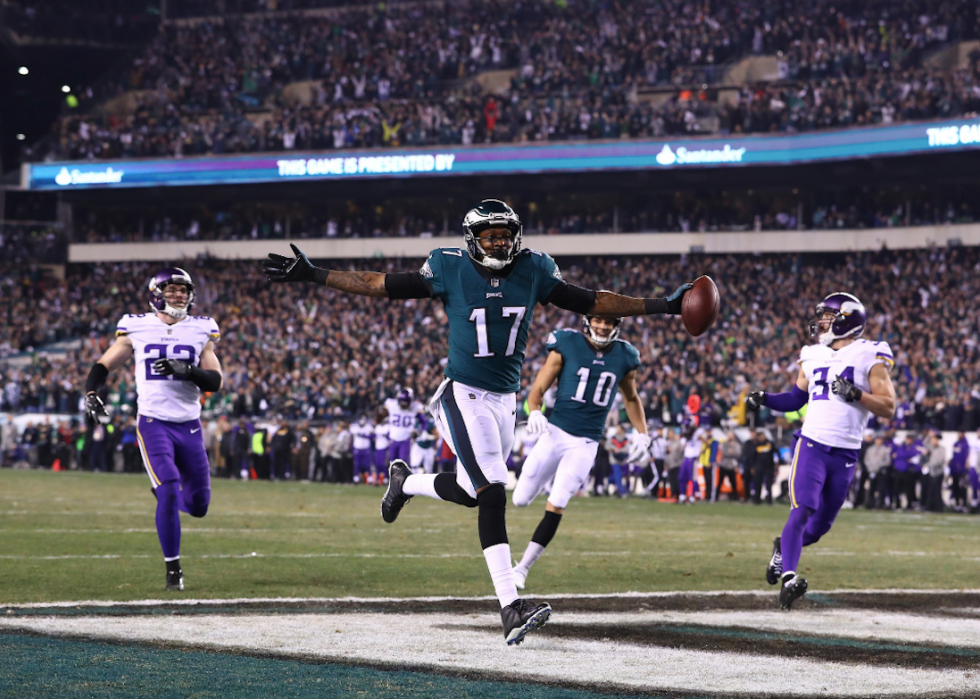 37 / 39
#3. Vikings-Eagles NFC Championship
Viewers: 42.3 million
Philadelphia fell behind Minnesota 7-0 in the first four minutes of the game before scoring 38 unanswered points. The Eagles' Patrick Robinson returned an interception 50 yards for a touchdown to get Philadelphia rolling. Eagles quarterback Nick Foles continued his stellar play in relief of starter Carson Wentz, throwing for 352 yards and three scores.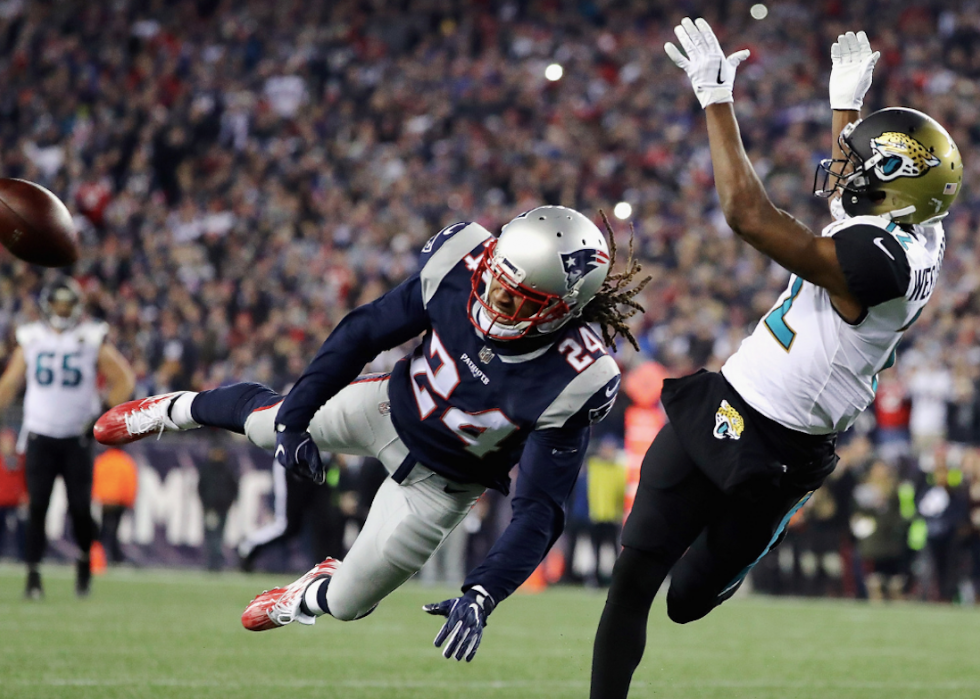 38 / 39
#2. Jaguars-Patriots AFC Championship
Viewers: 44.1 million
Tom Brady threw two touchdown passes to Danny Amendola in the final nine minutes to help the Patriots erase a 10-point deficit, and beat the Jaguars, 24-20. Jaguars quarterback Blake Bortles played well, passing for 293 yards and a score, and running back Leonard Fournette accounted for the other Jags touchdown on a 4-yard rush. The Patriots earned their eighth trip to the Super Bowl under the combination of Brady and head coach Bill Belichick.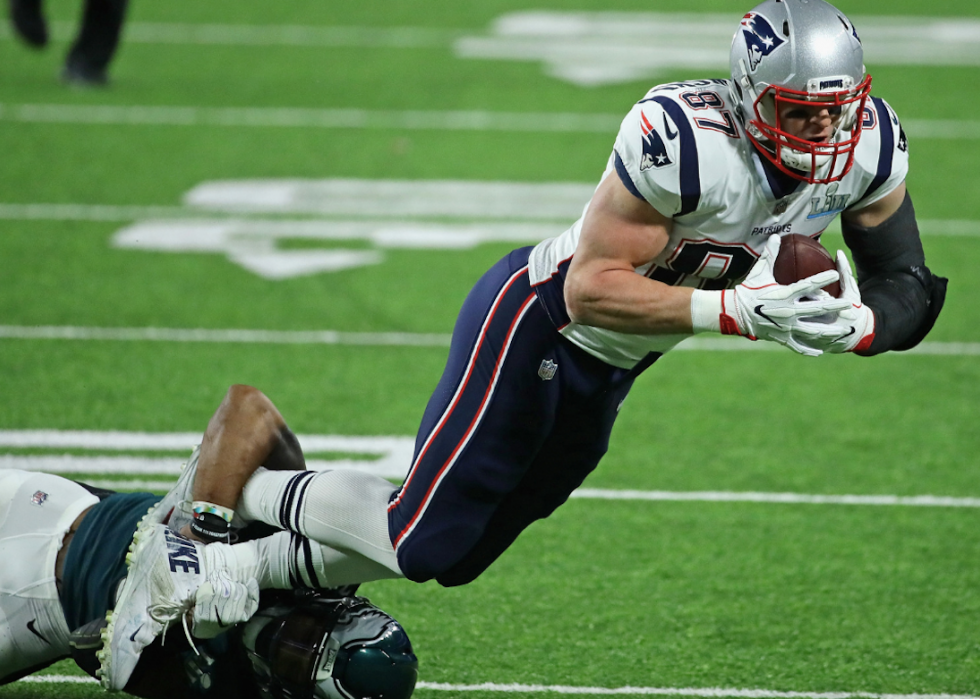 39 / 39
Jonathan Daniels // Getty Images
#1. Eagles-Patriots Super Bowl 52
Viewers: 103.4 million
Nick Foles outdueled Tom Brady—not throwing, but catching the ball—to lead the Eagles to their first Super Bowl championship. Foles caught a one-yard touchdown in the waning seconds of the first half in a copycat of a failed Patriots play earlier in the game, giving his team a 10-point lead. Brady, who threw for a Super Bowl-record 505 yards, found Rob Gronkowski in the end zone to put the Patriots ahead in the fourth quarter, before Foles responded with TD toss of his own and the Eagles first Lombardi Trophy.