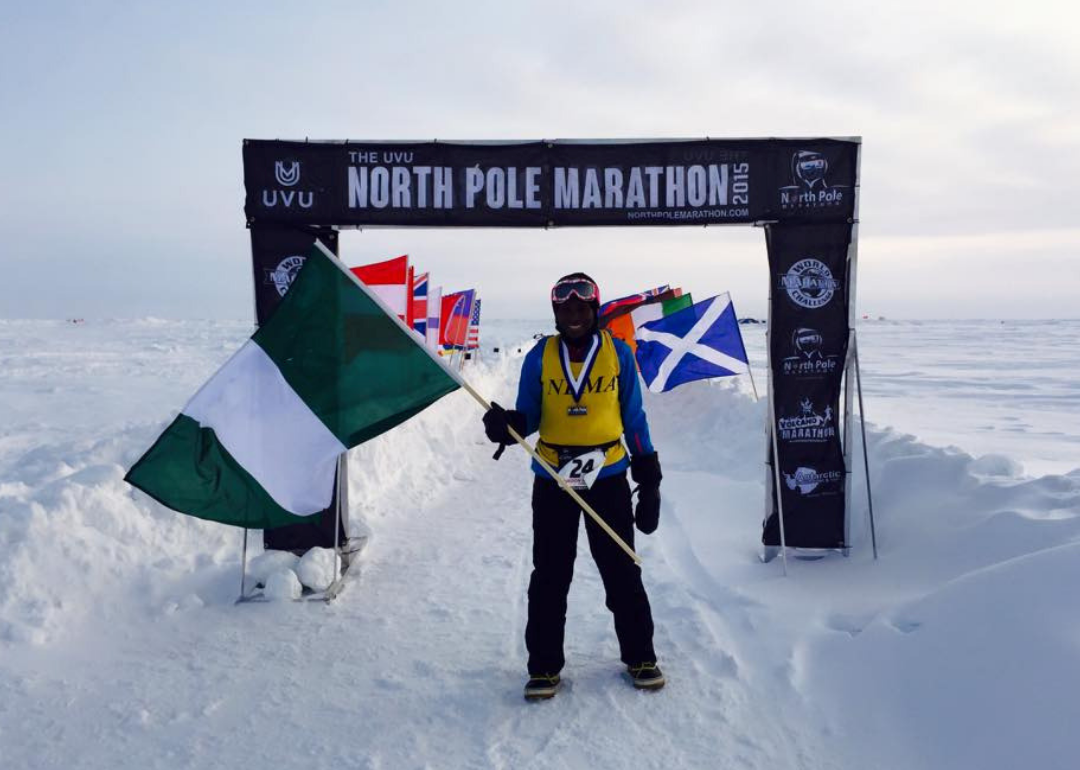 Scenic and challenging marathons around the world
ChrisMorgaan // Wikimedia Commons
Scenic and challenging marathons around the world
A soldier named Pheidippides in 490 B.C. ran from a battleground in Marathon—where outnumbered Greeks had been invaded by Persians—to Athens in order to announce the news of a Greek victory. Bursting into the Acropolis, he shouted "Nike! Nike! Nenikekiam," (which roughly translates to "Victory! Victory! Rejoice, we conquer!") before collapsing and dying.
That story of the first marathon inspired Pierre de Coubertin, founder of the International Olympic Committee, to add a 24.9-mile race dubbed "the marathon" to the 1896 Olympic Games in Athens, Greece. A Greek postal worker won the race; only nine runners reached the finish line.
Today, there are around 800 marathons held worldwide each year with millions of combined finishers. Athletes of all skill levels sign up to run for any number of reasons; whether drawn in by the thrill of the challenge, the easy accessibility, or the promise of physical fitness from proper training. But which marathons offer the greatest challenges—and the most spectacular views?
To find out, Stacker took into account steep climbs and enormous altitude changes to extreme weather conditions and unparalelled vistas. Research resulted in a gallery of 25 of the most difficult and beautiful marathons around the world. Some races included on the list aren't a typical 26.2-mile distance—but that doesn't make them any less difficult to complete.
From the Pikes Peak Marathon to the Great Wall Marathon, read on to find out which races runners are adding to their marathon bucket lists.
You may also like: Most bike friendly cities in America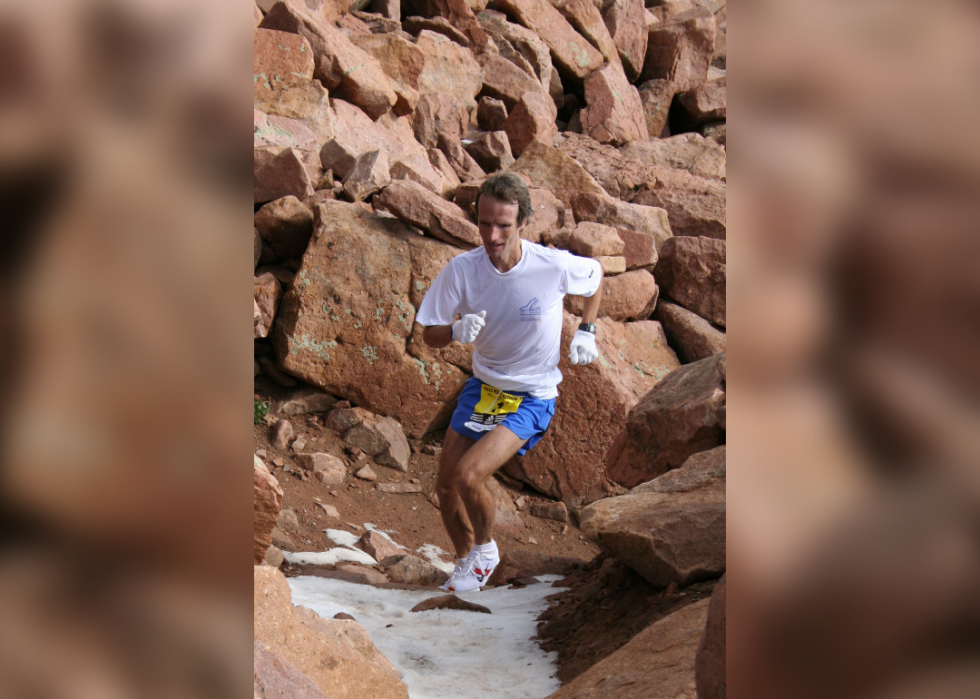 1 / 25
Matt Carpenter // Wikimedia Commons
Pikes Peak Marathon
The Pikes Peak Marathon is considered one of the most challenging marathons in the United States. From start to finish marathoners gain 7,815 feet in elevation, deal with a temperature change of about 50 degrees, and often face surprise lightning storms on the upper reaches of the mountain. The first half or ascent of the marathon takes many runners as long to finish as a traditional marathon ran on flat ground, and training in altitude is a must if competitors want to finish.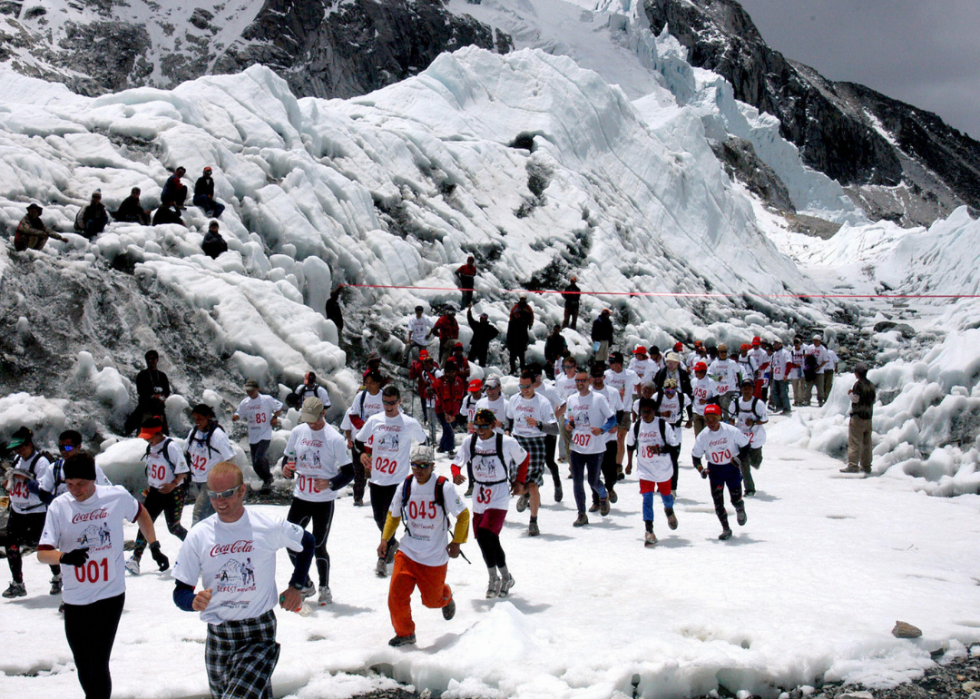 2 / 25
BIKASH KARKI/AFP // Getty Images
Tenzing Hillary Everest Marathon
Officially the world's highest marathon, the Tenzing Hillary Everest Marathon starts at Everest Base Camp, 17,600 feet above sea level, and finishes at Namche Bazar, 11,286 feet above sea level. Held on May 29 each year, this marathon isn't for novices, but it does provide a literal once in a lifetime experience and some stunning views along the way.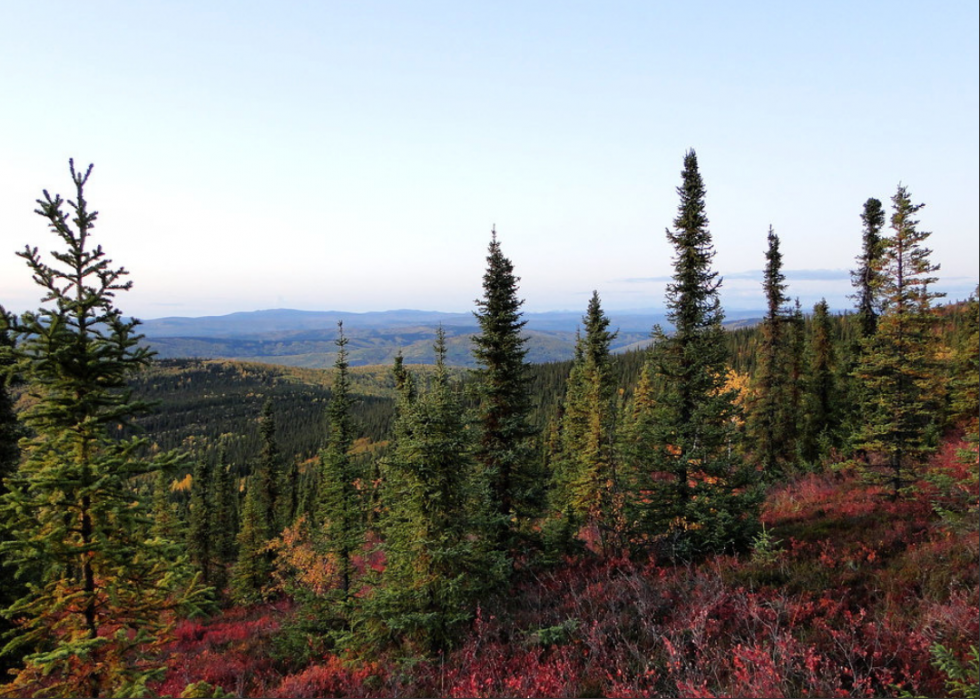 3 / 25
Equinox Marathon
Switching between paved roads and mountainous trails, the Equinox Marathon brings runners up and over Ester Dome twice. A net elevation gain of 3,285 feet and a final uphill mile makes this an exceptionally challenging marathon. The Fairbanks, Ala., location also makes it a hard race for many runners to check off of their bucket lists.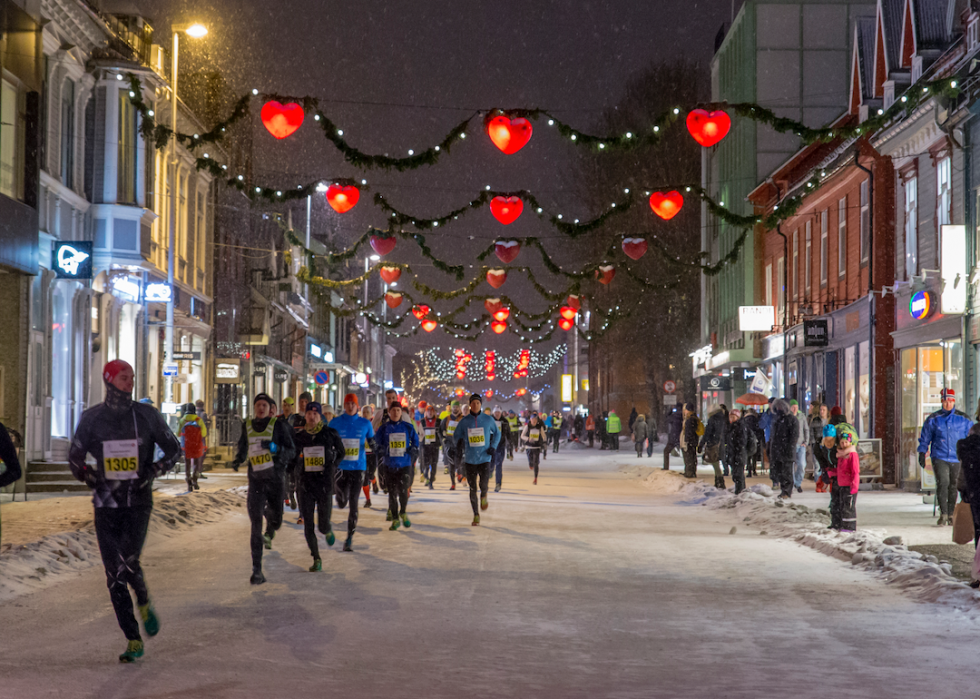 4 / 25
Photo courtesy of Polar Night Half Marathon/Tiller Foto
Polar Night Half Marathon
While technically only a half marathon, clocking in at 13.1 miles, the Polar Night Half Marathon is uniquely challenging in that it's run entirely in the dark. Held in Norway during the polar night period when the sun doesn't rise above the horizon, the race is lit only by a series of torches which make it easier for runners to see the aurora borealis as they run.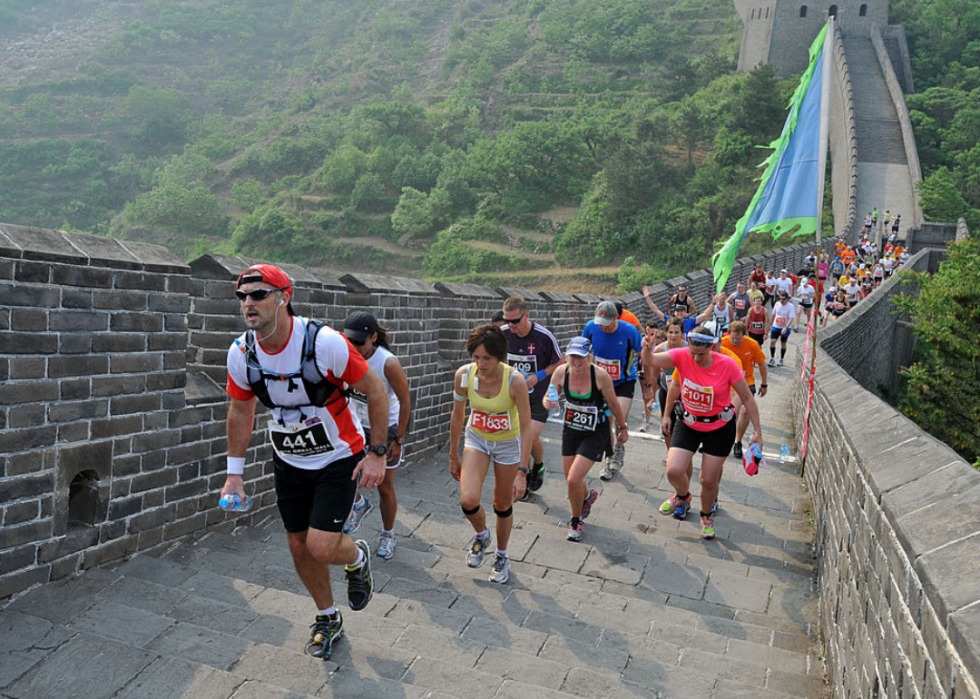 5 / 25
Great Wall Marathon
Full marathoners who finish the Great Wall Marathon will have climbed 5,164 of the Great Wall of China's notoriously uneven and steep steps. With stunning views from the top of the wall to intimate looks at the surrounding villages, runners get to experience some of the most iconic parts of China. With 2,500 runners from 60 countries around the world, the Great Wall Marathon has sold out nearly every year since its beginning in 1999.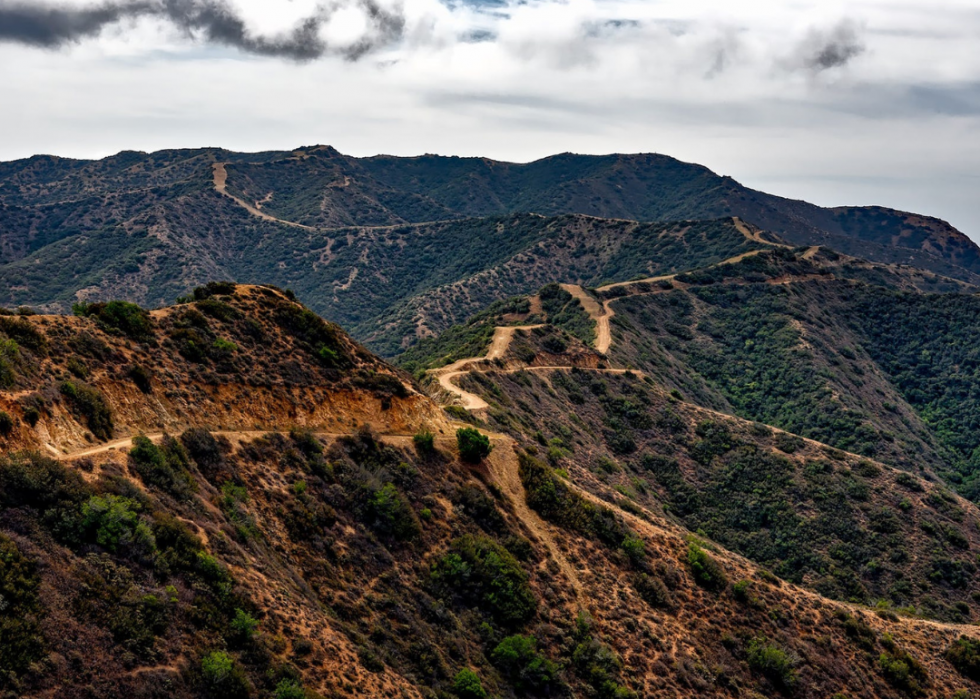 6 / 25
Catalina Island Marathon
Facing a hilly course with a cumulative 4,310 feet of elevation gain, many runners who haven't trained properly for the Catalina Island Marathon simply do not finish. Run entirely on trails (some of which are only open to the public for this race), the marathon offers stunning views of the ocean and opportunities to see the island's wildlife in their natural habitat.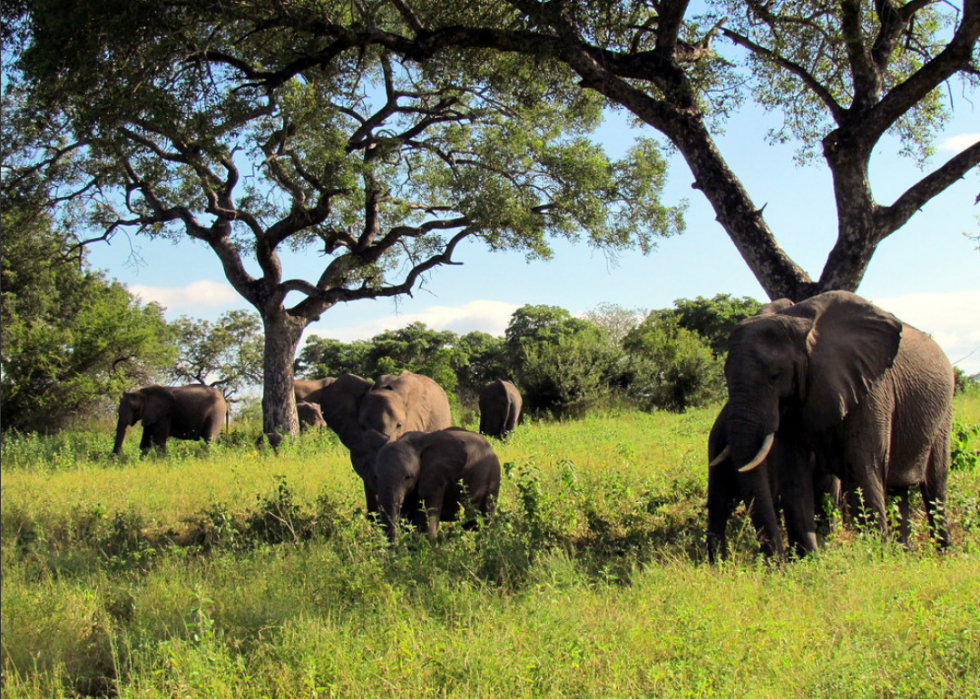 7 / 25
David Berkowitz // Flickr
Big Five Marathon
Held in South Africa on one of the Big Five game reserves, the Big Five Marathon allows runners to trek 26.2 miles through a savannah that's home to elephants, rhinos, buffalos, leopards, and lions. There's nothing that separates the runners from the wildlife, making the Big Five Marathon a unique experience.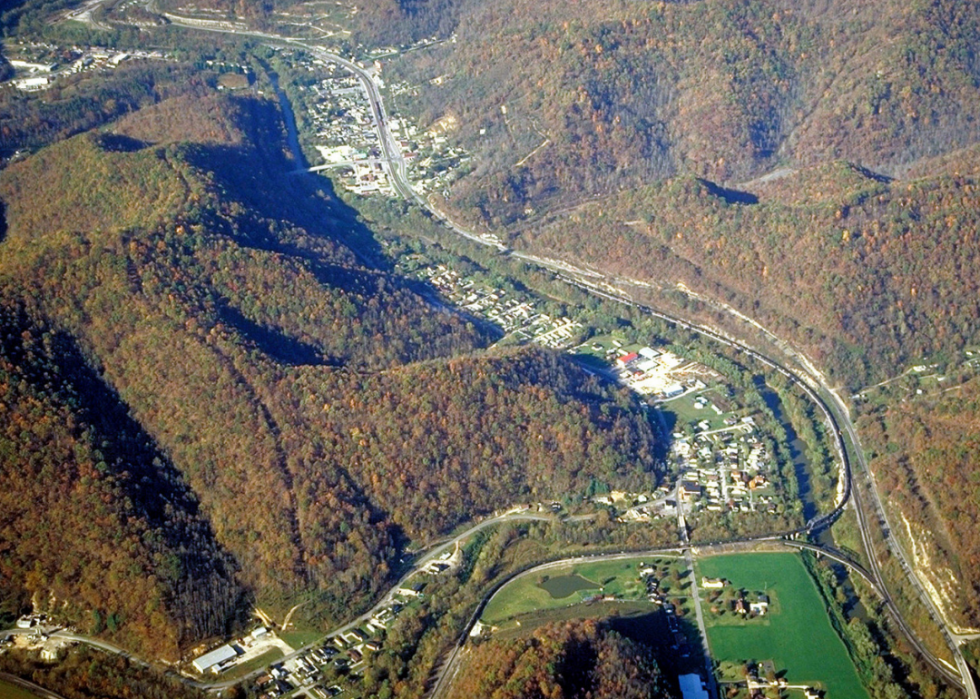 8 / 25
U.S. Army Corps of Engineers // Wikimedia Commons
Hatfield McCoy Marathon
Traipsing through West Virginia and Kentucky, the Hatfield McCoy Marathon has been dubbed by 1972 Olympic runner Jeff Galloway as one of the hardest in the United States. The race, which has a lot of fun with the infamous Hatfield-McCoy feud, passes through many related historical sites and winds through the mountains of the Tug Fork River Valley, which does a number on a runner's legs and lungs. However, it's the brutal heat and humidity of the early summer that makes this marathon so difficult.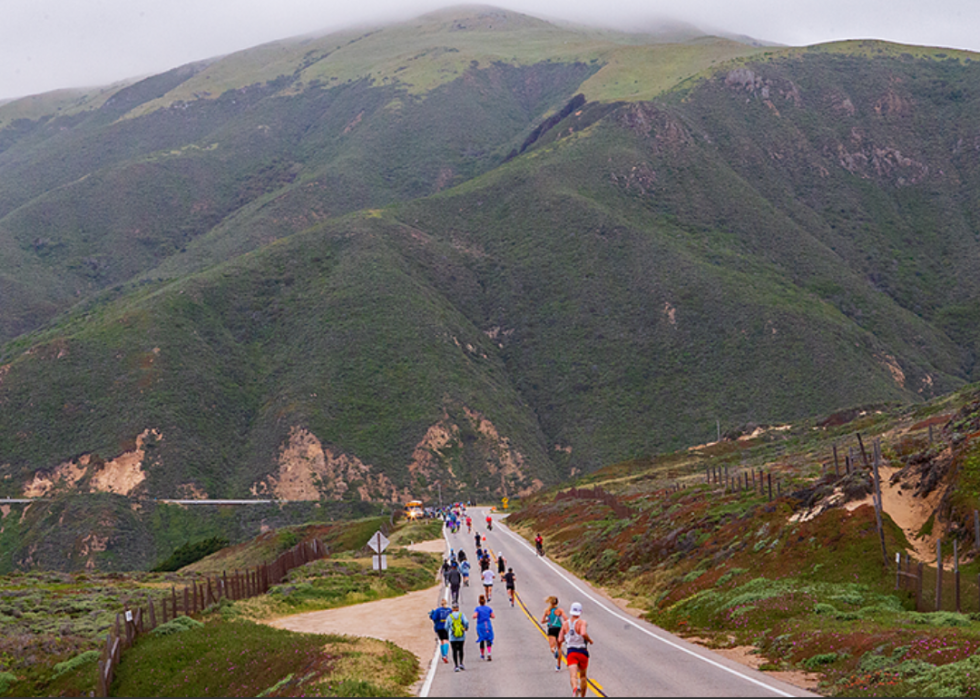 9 / 25
Photo courtesy of Big Sur International Marathon
Big Sur International Marathon
One of the most beautiful marathons in the country, the Big Sur International Marathon takes runners through redwood forests and along Highway 1 as they journey from Pfeiffer Big Sur State Park to Monterey, Calif. But don't think that the stunning scenery means that it's an easy race. The 2-mile long Hurricane Point, named for the massive amounts of wind runners face as they climb it, has knocked more than one person off the course and into the "did not finish" category.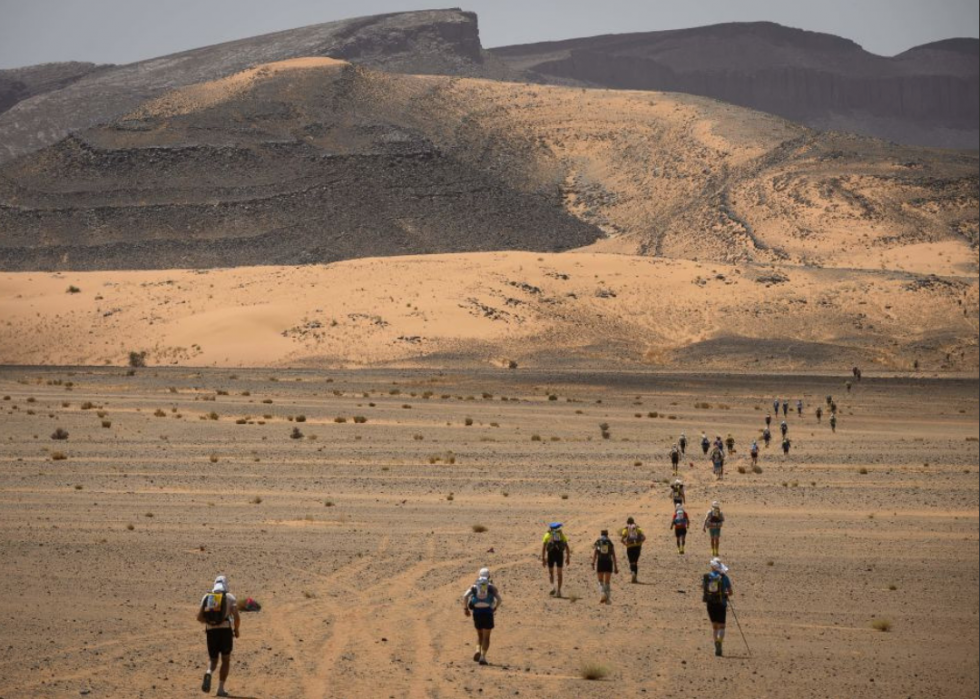 10 / 25
JEAN-PHILIPPE KSIAZEK/AFP // Getty Images
Marathon des Sables
In 1984, 28-year-old Patrick Bauer set off to cover the 156 miles expanse of the uninhabited Sahara Desert alone and on foot. Two years later, his feat inspired the first Marathon des Sables. Nearly 130 miles longer than a normal marathon, the Marathon des Sables technically qualifies as an ultramarathon. The heat and length participants need to endure make this race one of the most challenging foot races in the entire world.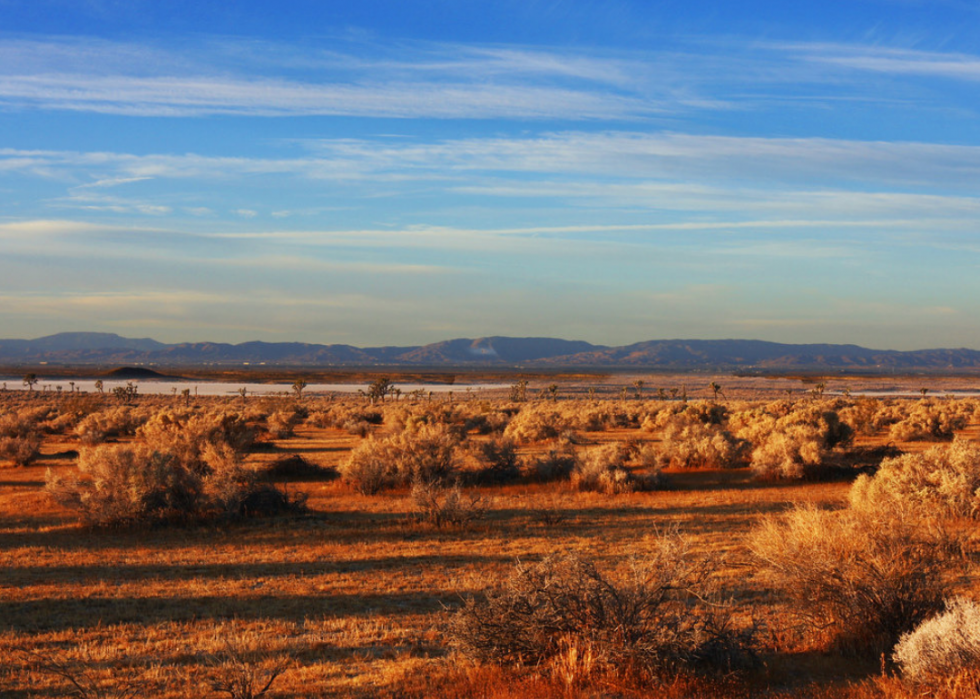 11 / 25
Running with the Devil Marathon
Touted as one of the hottest marathons in the world, Running with the Devil Marathon is held in the Mojave Desert where daytime temperatures are known to hit upwards of 110 degrees. Heat stroke and heat exhaustion pose major threats to participants; and as a result, the race has nearly double the standard amount of aid stations.
12 / 25
ChrisMorgaan // Wikimedia Commons
North Pole Marathon
The North Pole Marathon requires an entirely different level of fitness as marathoners run across Arctic ice floes in sub-zero temperatures. Only 535 people have completed the marathon over the last 17 years. The race is considered the "Northernmost Marathon on Earth" by the Guinness World Records and was named the "World's Coolest Marathon" by Runner's World magazine in 2004.
13 / 25
Crater Lake Rim Runs Marathon
The Crater Lake Rim Runs Marathon is a small marathon (the field is limited to 500 participants) full of rolling hills and beautiful scenery. It also doesn't drop below 5,980 feet above sea level. This high altitude makes it incredibly challenging for runners and requires a unique type of training.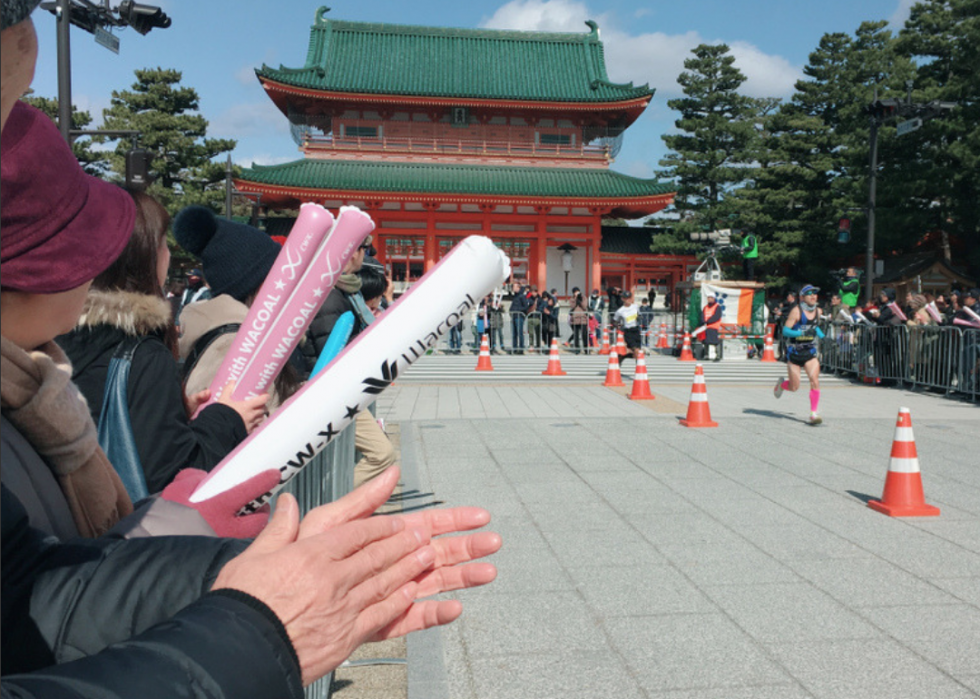 14 / 25
Kyoto Marathon
An extraordinarily scenic marathon, the Kyoto Marathon passes seven UNESCO World Cultural Heritage sites, two national gardens, and 10 historic universities. With a total elevation gain of 1,751 feet, there's not a part of the Kyoto Marathon that's particularly challenging, but the rolling hills keep the race interesting.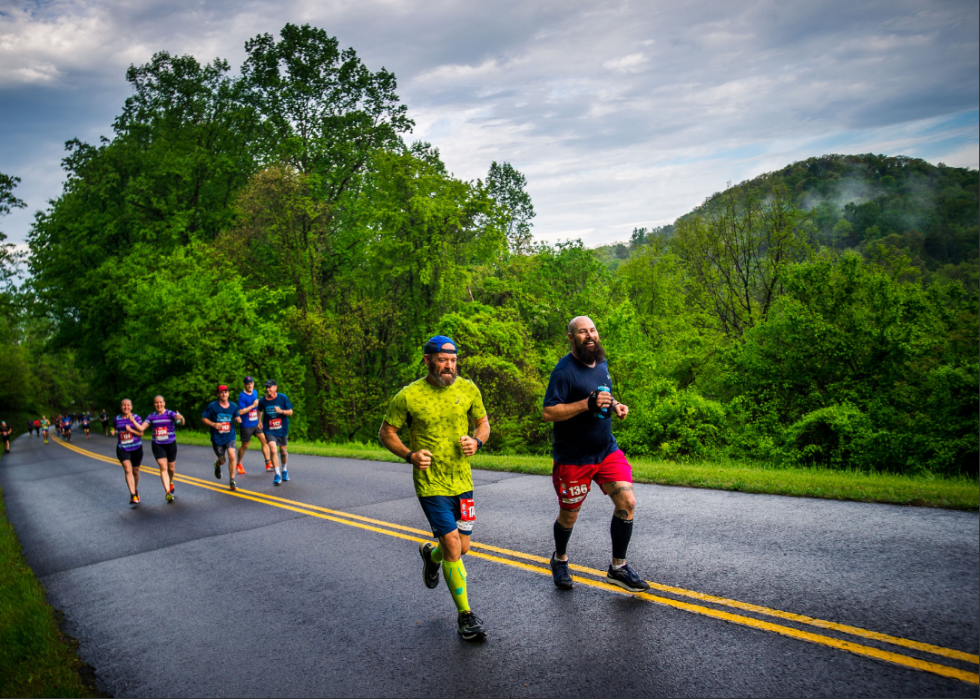 15 / 25
Photo Courtesy of Foot Levelers Blue Ridge Marathon
Blue Ridge Marathon
Considered "America's toughest road marathon," the Blue Ridge Marathon starts and ends in downtown Roanoke, Va. Along the way runners are in a constant state of ascent or descent, running up and down both Mill Mountain and Roanoke Mountain. Runners have to include hills in their training programs, as they'll have experienced a total of 7,430 feet of elevation change throughout the course of the marathon.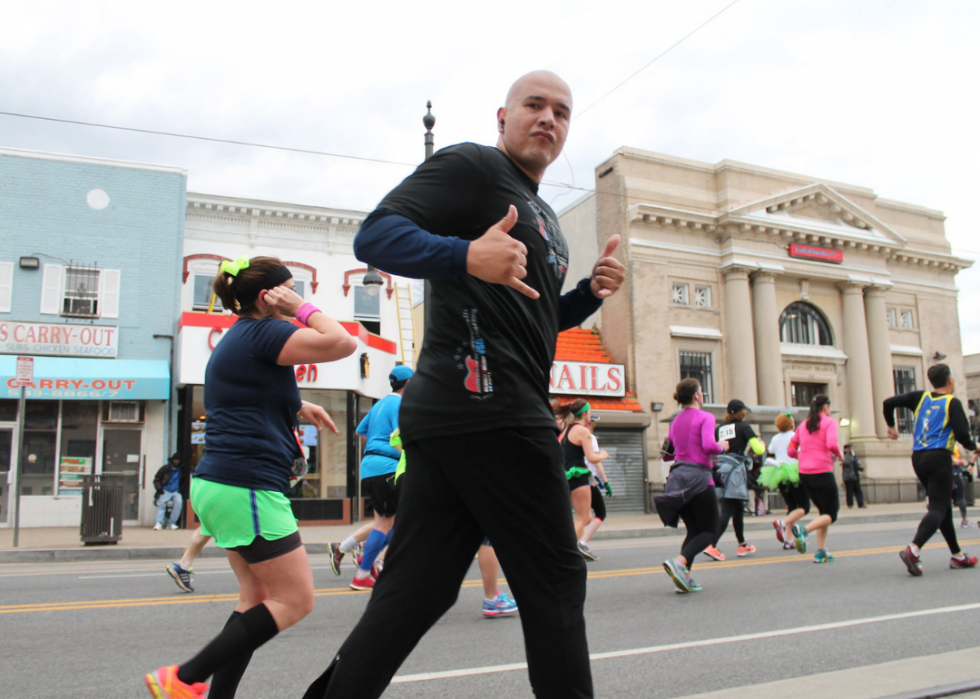 16 / 25
D.C. Half and Half Marathon
One of the shortest races on our list, the D.C. Half and Half Marathon is challenging in a different way. Participants stop at the halfway point of the race, approximately 6.55 miles of the total 13.1, to down a half smoke (a D.C. delicacy consisting of a half-pork, half-beef hotdog) with chili and a side of chips, before continuing on to finish the final 6.55 miles. There's no challenge quite like trying to run half of a half marathon after consuming a gut-busting meal.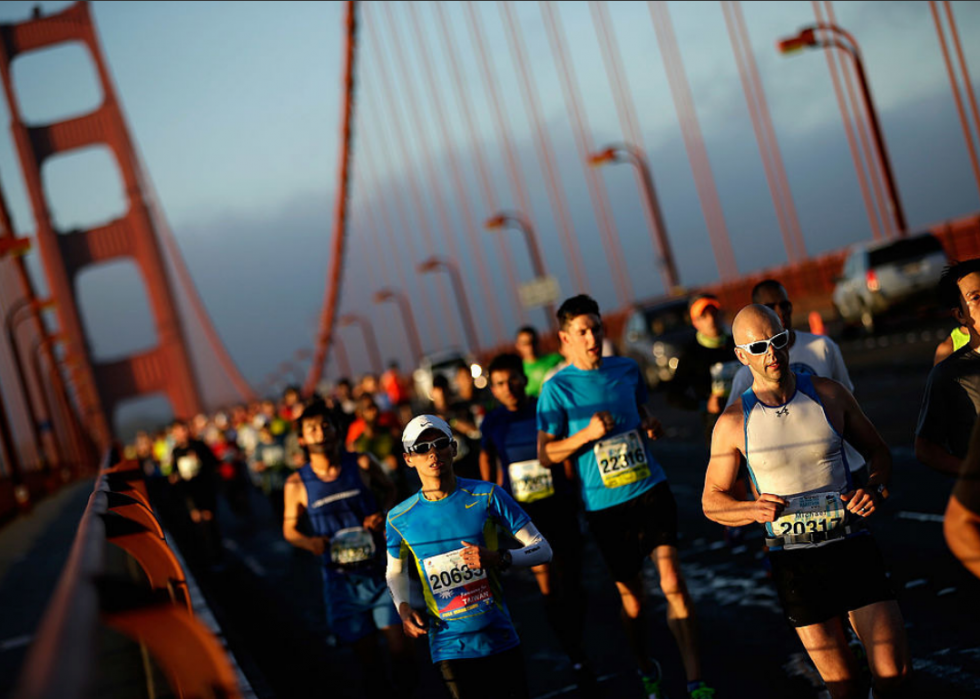 17 / 25
Ezra Shaw // Getty Images
San Francisco Marathon
The city of San Francisco is famous for the steep and winding hills that make up a large chunk of its topography. It's these crazy inclines that caused the Wall Street Journal to call the city's marathon the "race even marathoners fear." On the bright side, some of the views can be absolutely breathtaking—especially those from the famed Golden Gate bridge.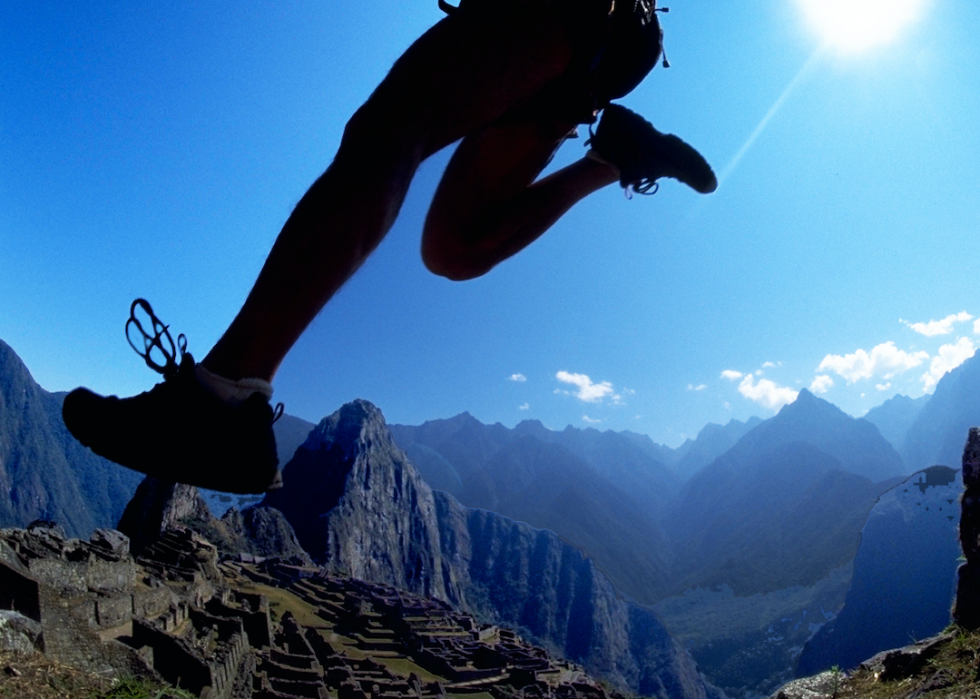 18 / 25
Photo courtesy of Andes Adventures
Inca Trail Marathon
The Inca Trail Marathon is one of the hardest and most exclusive races in the world. Each year, about 50 runners complete the trail from Cusco to Machu Picchu, made more difficult by its countless stone steps, changing ecosystems, and over a 10,000-foot elevation gain. This race is considered significantly harder than the Pikes Peak Marathon.
19 / 25
Marcio Jose Bastos Silva // Shutterstock
Boston Marathon
While many of the marathons on this list are open to anyone who wishes to run, runners must qualify for the Boston Marathon. Qualifying times vary by age and sex, but runners can be sure the field is fast and competitive. It's not just the qualifying time that makes this race difficult—a steep half-mile incline at mile 20, nicknamed "Heartbreak Hill," has caused more than one runner to tap out just short of the finish line.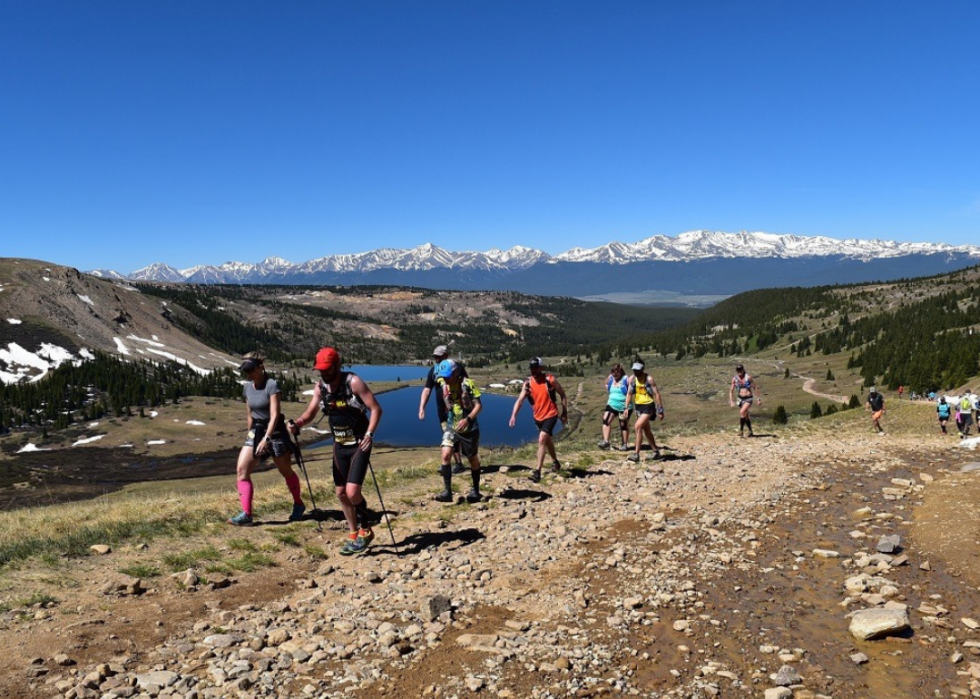 20 / 25
Photo Courtesy of Leadville Race Series
Leadville Trail Marathon
Another marathon held in the Colorado mountains, the Leadville Trail Marathon or Heavy Half Marathon follows old mining roads and trails. The highest point, at Mosquito Pass, reaches 13,185 feet. Runners who aren't used to the elevation can take up to 30 minutes to run a single mile at this height.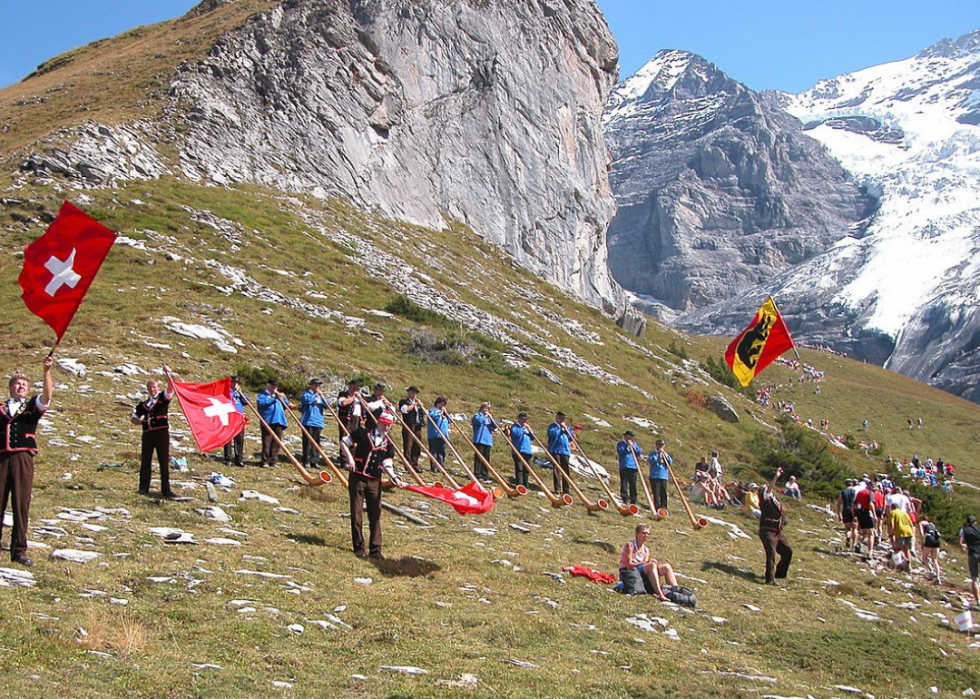 21 / 25
Simon Mannweiler // Wikimedia Commons
Jungfrau Marathon
It calls itself "the most beautiful marathon" in the world and while the Jungfrau Marathon, which spends half its distance running straight up the Swiss Alps, is filled with beautiful views, it's also extremely taxing. Runners experience a climb of 5,960 feet (which begins around mile 12 and continues all the way to mile 24), before coaxing their legs through a steep half-mile decline to the finish line.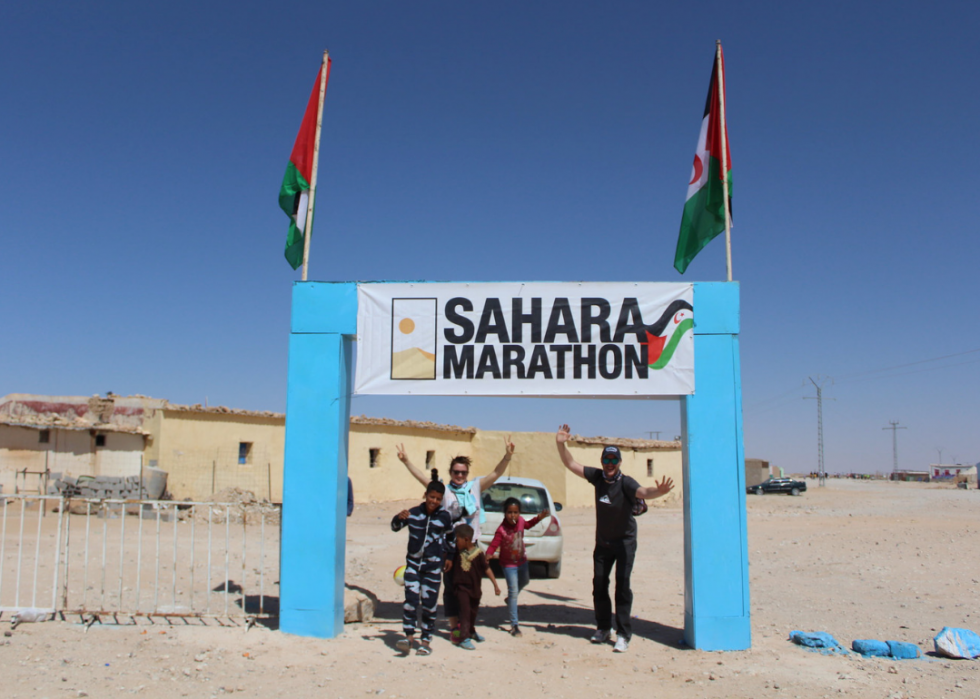 22 / 25
Sahara Marathon
A solidarity race for the refugee children of Western Sahara, the Sahara Marathon brings runners from all over the world. Participants stay overnight in these refugee camps, before setting out to run a 26.2-mile loop in the Sahara Desert. With no shade and temperatures reaching upwards of 120 degrees, this race is not for the faint of heart.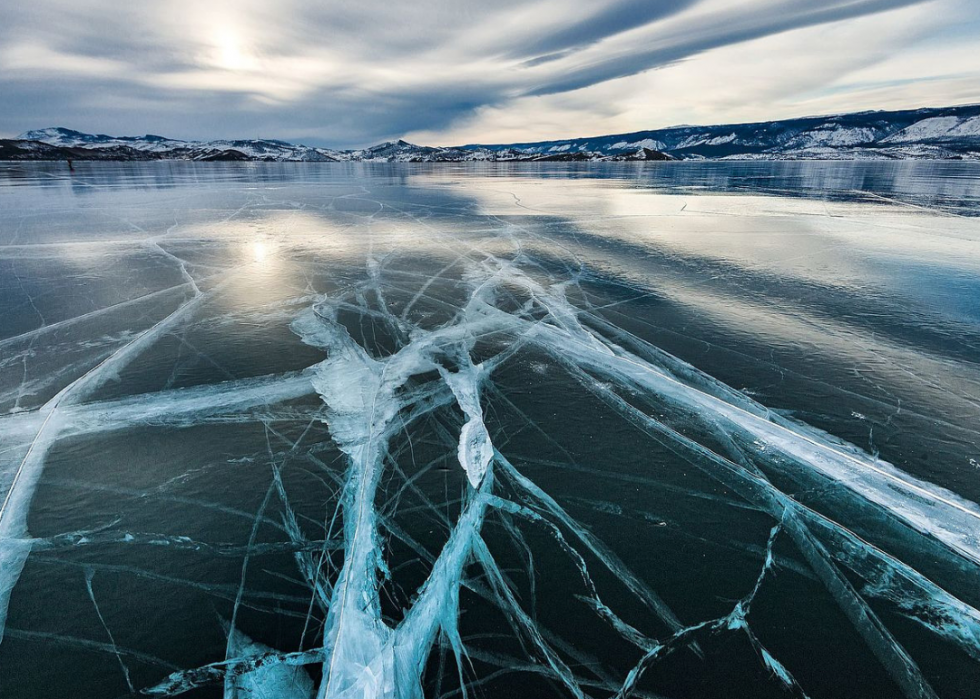 23 / 25
Sergey Pesterev // Wikimedia Commons
Baikal Ice Marathon
The Baikal Ice Marathon, which takes place in the far reaches of Siberia, leads runners from one shore of the frozen Lake Baikal to the other. Not only is this race physically taxing, with its subzero temperatures and uneven terrain, it's also mentally taxing. There are no landmarks to mark the passing distance and no scenery to speak of, leaving runners with little other to think about then how much farther they have to go.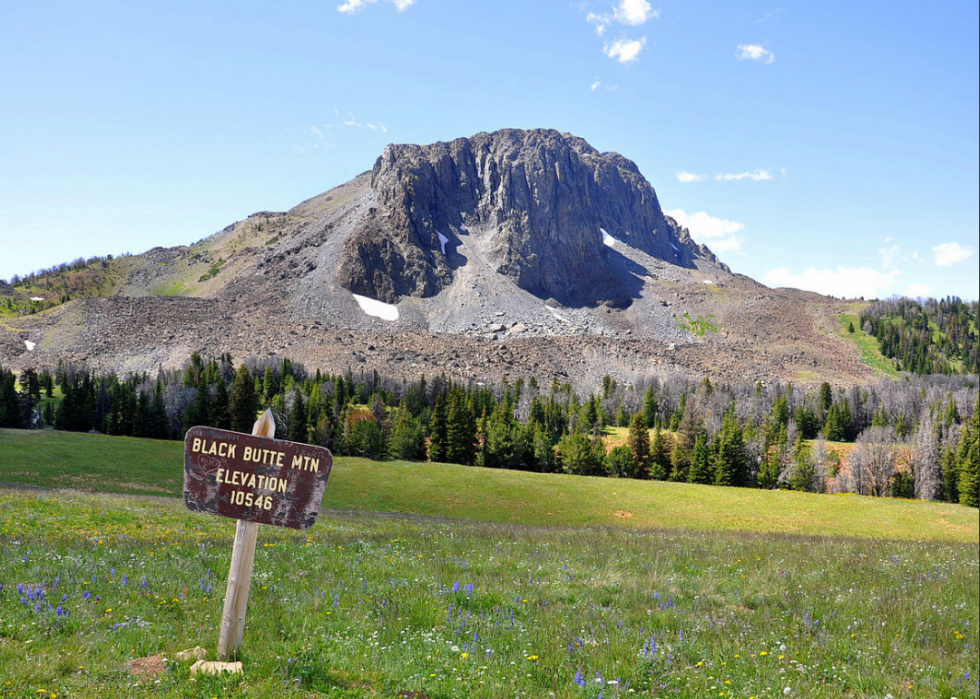 24 / 25
Forest Service Northern Region // Wikimedia Commons
Madison Marathon
Run in large part on dirt and gravel roads, surrounded by native wildlife (think bears, moose, and antelope) this Montana marathon is also one of the highest in the world. With a starting elevation of 9,200 feet above sea level, several uphill climbs in the first 5 miles bring runners to at over 9,600 feet above sea level, and the race ends at 8,550 feet above sea level. For those who aren't used to breathing at altitudes this high (let alone racing at them) the Madison Marathon, known as the "highest road marathon in America," will literally knock the wind out of them.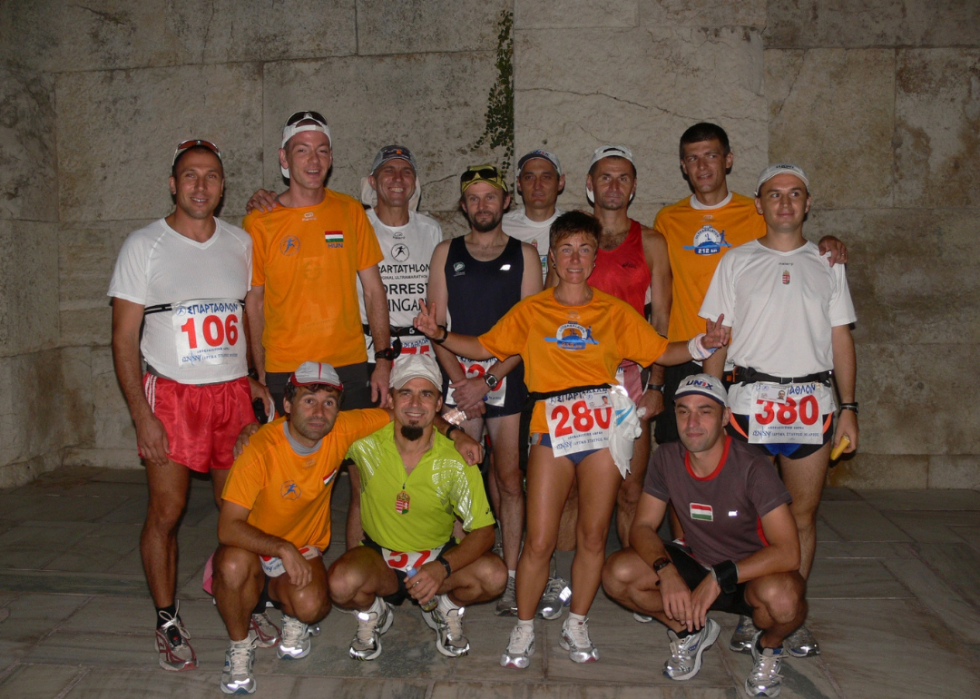 25 / 25
Spartathlon
Finally, those who really wish to challenge themselves can follow the exact route Pheidippides ran from Athens to Sparta when completing the first marathon. Spartathlon's total distance is about 155 miles, with some jaw-dropping scenery (like running through vineyards and olive groves), and insane challenges (like trekking up and down the 3,900-foot Mount Parthenion at night). Marathon aficionados should be sure to add this one to their bucket list.