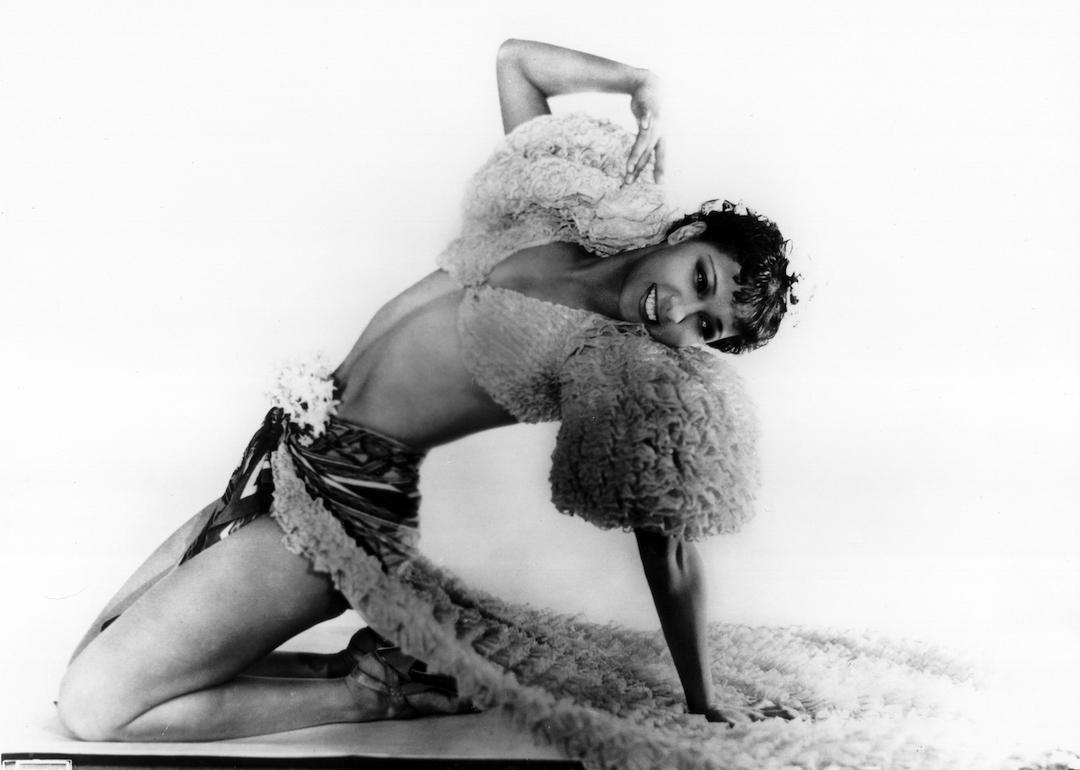 Josephine Baker: The life story you may not know
Michael Ochs Archives // Getty Images
Josephine Baker: The life story you may not know
Josephine Baker's rise from a child street performer on the impoverished streets of St. Louis to one of the most successful Black artists of her time is a thrilling life tale. She lived a life that defied odds, building her career during the Harlem Renaissance before taking off to Paris. It was there she began to thrive as a civil rights activist, performer, and even a French World War II spy without the constraints of the systemic racism she grew up with.
In August 2021, it was announced Baker would be inducted into France's Pantheon, with soils from France, Monaco, and the U.S.—all significant locations throughout the star's life. She is the first Black woman to receive the honor. At the request of Baker's family, the performer's remains will stay in Monaco.
During her life, Baker adopted children from around the world, fought for racial equality and justice, and lived life according to her own standards. Baker died at 68 after having an incredible retrospective performance looking back at her decades in the business, capping off a life that influenced women performers from Tina Turner to Beyoncé. Her infamous banana skirt costume, short haircut, and expressive face are known throughout generations. However, Baker's life is both more complex and more enchanting than most people know.
To celebrate her political, professional, and personal accomplishments, Stacker curated a list of 25 facts from her life that some fans may not know. 
You may also like: Black artists music wouldn't be the same without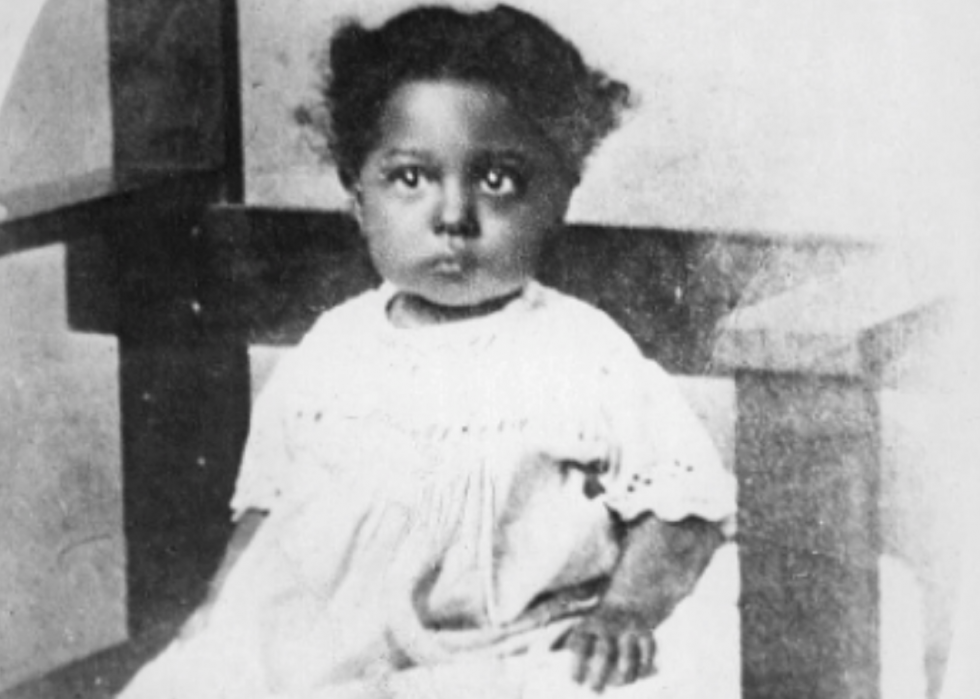 1 / 25
1906: A star is born in St. Louis
Josephine Baker was born on June 3, 1906, in St. Louis, as Freda Josephine McDonald to Carrie McDonald, an adoptee of a formerly enslaved couple. Her father's identity is widely disputed by some, but her estate lists drummer Eddie Carson as her father. Baker's mother later remarried and had three more children.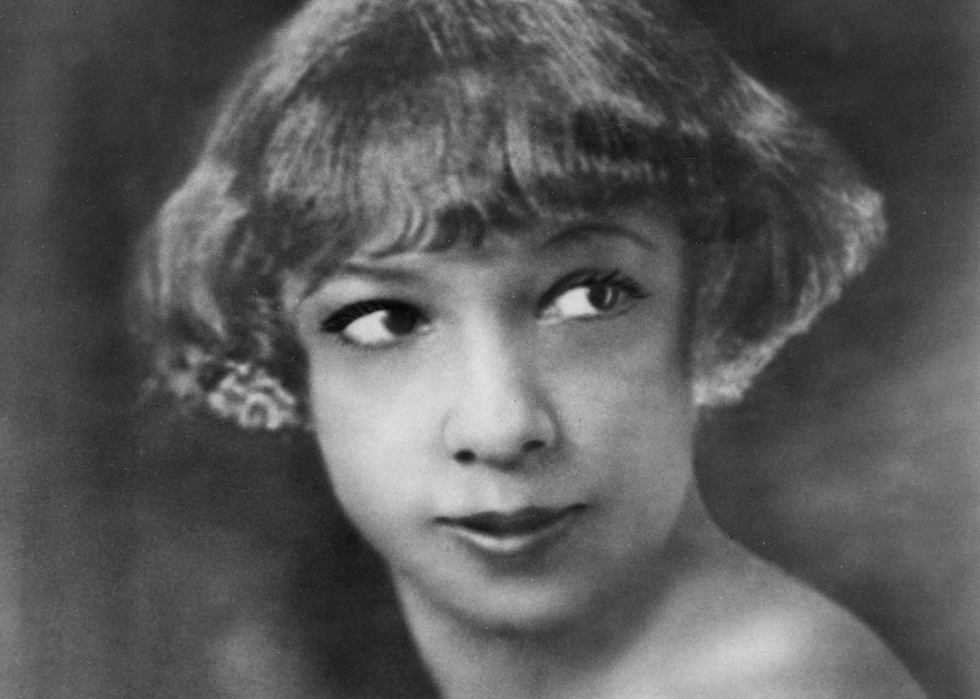 2 / 25
A. Schorr/ullstein bild via Getty Images
1918: She danced in the streets
Baker spent her early years developing street savvy in St. Louis' low-income Mill Valley neighborhood. She had dropped out of school at 12 and danced in the streets for survival cash. At 13, she took on a waitressing job at the Old Chauffeurs Club and did domestic work for white families.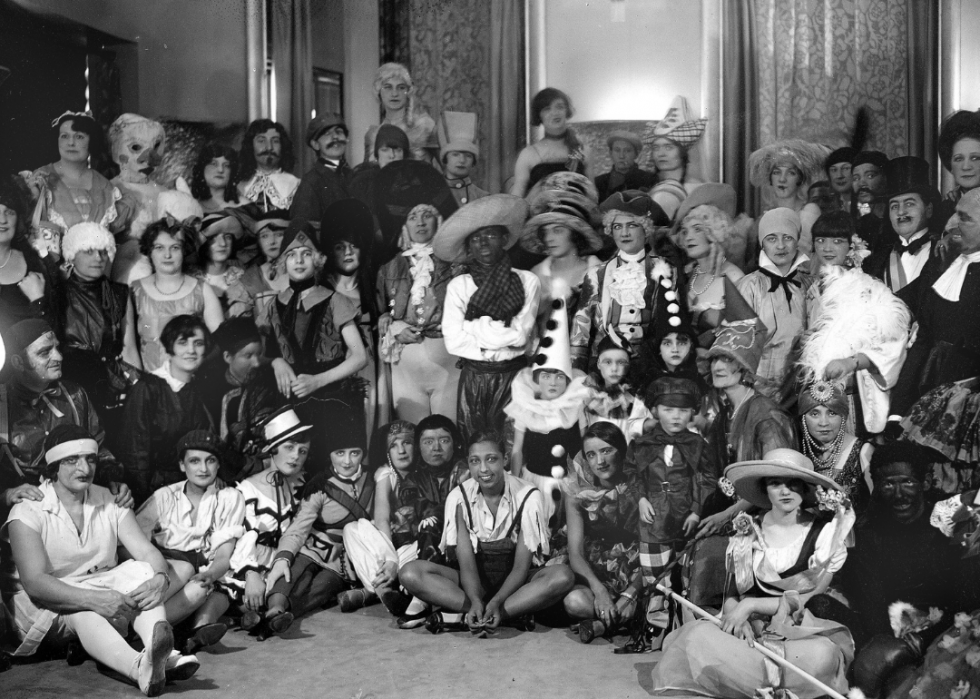 3 / 25
Roger Viollet via Getty Images
1910s and 1920s: Teenage marriages and stage name
Her first of several marriages during her lifetime came at 13 when she married a man named Willie Wells. The marriage dissolved within a year and she was married again at 15 to William Howard Baker. She was a traveling vaudeville performer and eventually divorced him; however, she kept his surname for professional use.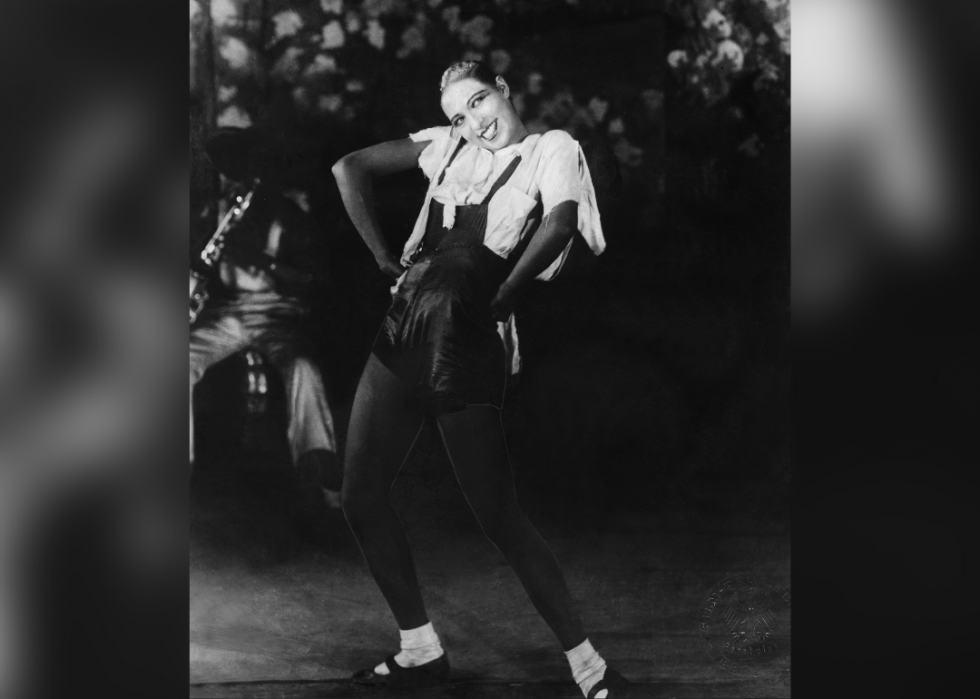 4 / 25
ullstein bild/ullstein bild via Getty Images
1919: Dixie Steppers and chorus girl routine
According to the documentary "Josephine Baker: The First Black Superstar," Baker began performing with a Black vaudeville group called the Dixie Steppers. This led to her joining the touring company of the musical "Shuffle Along," and lightening her skin to fit a racist beauty standard. Baker was the comedic relief in dance numbers as the chorus girl on the end of the line who couldn't quite figure out the dance steps. But by the show's encore, she figured out those steps and did them better than the rest of the troupe.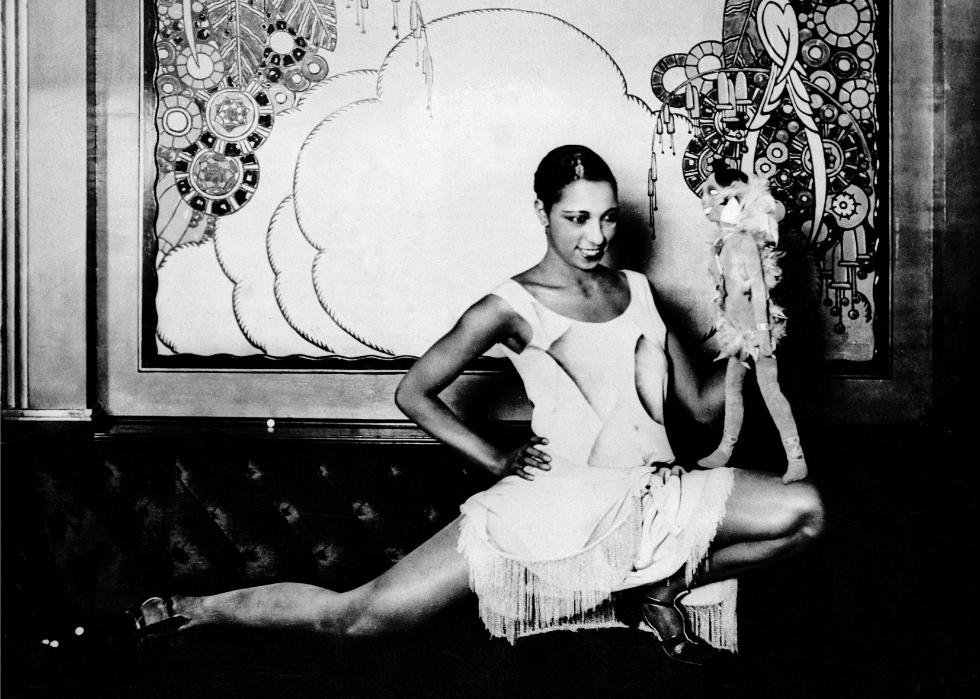 5 / 25
Keystone-France/Gamma-Keystone via Getty Images
1923: Baker in the Harlem Renaissance
Baker landed in New York at the beginning of the famous Harlem Renaissance. She appeared in the Broadway version of "Shuffle Along" and eventually in "The Chocolate Dandies." After more than a year of appearing in these shows, her distinctive dance style and talent brought Baker her own billing, often being referred to as the highest-paid chorus girl in the world.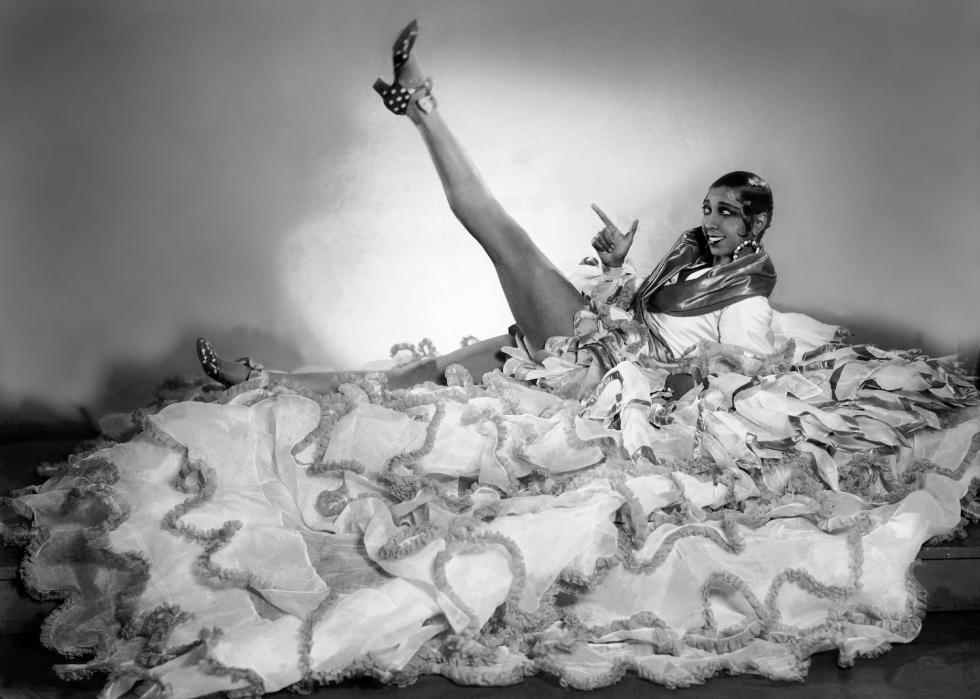 6 / 25
Keystone-France/Gamma-Keystone via Getty Images
1925: Baker moves to Paris
At 19 and believing that she had accomplished all that she could in the United States as a dancer, Baker made her way to Paris to dance for the Théâtre des Champs-Élysées in "La Revue Nègre." The show featured all-Black performers. Baker performed the "Danse Sauvage," a pas de deux with partner Joe Alex, and became a popular entertainer in France. Her uninhibited dancing style and fervor were unlike anything white audiences had ever seen.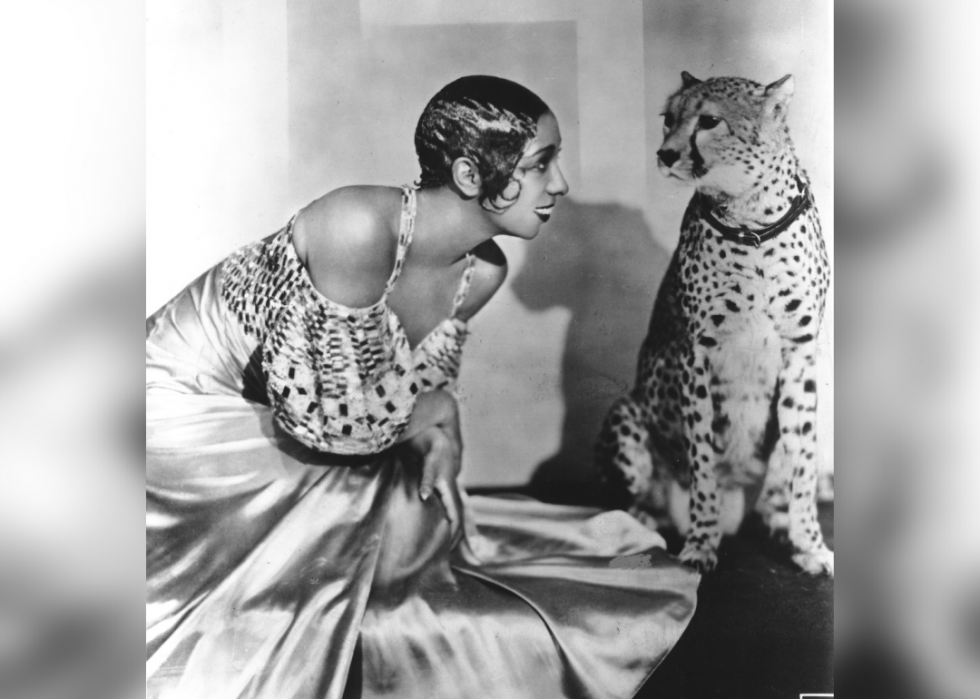 7 / 25
Michael Ochs Archives/Getty Images
1920s: Baker's unorthodox pets
Baker had an affinity for both domesticated and exotic pets. She had dogs, cats, and fish, but her pet cheetah, named Chiquita, and her pig, named Albert, caught a lot of attention. Chiquita would often perform with Baker onstage.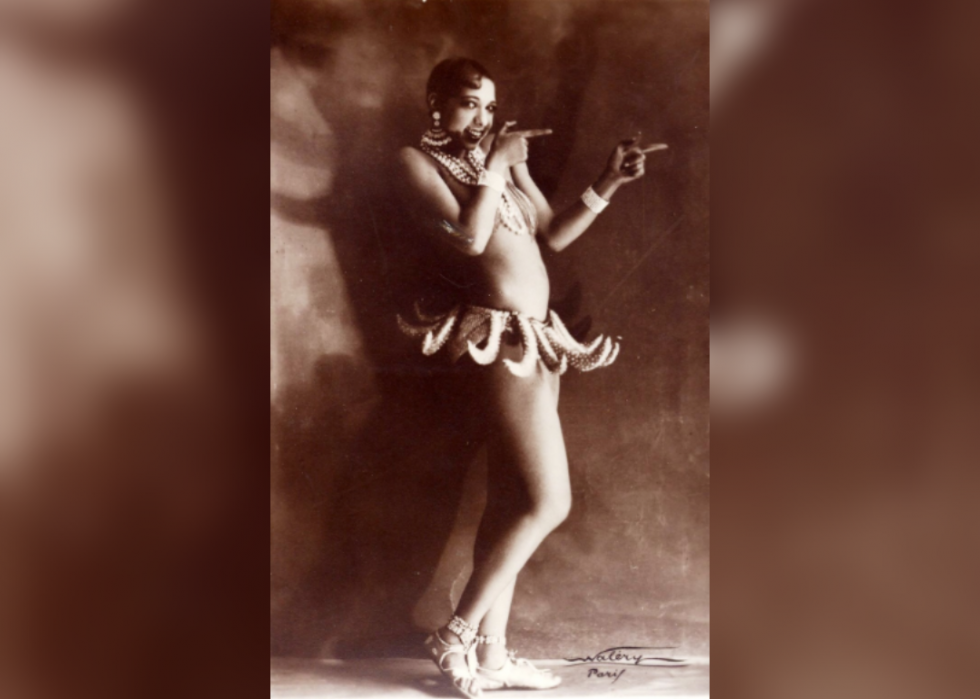 8 / 25
1926: Birth of the banana skirt
In Paris, her uniqueness won her a starring spot at the music hall Folies-Bergère, where she crafted her iconic performance of dancing in a banana-adorned G-string. The now-iconic look has been duplicated by artists like Beyoncé in tribute to Baker. Her nearly nude performances caused a stir among audiences with some loving it and others condemning her shows.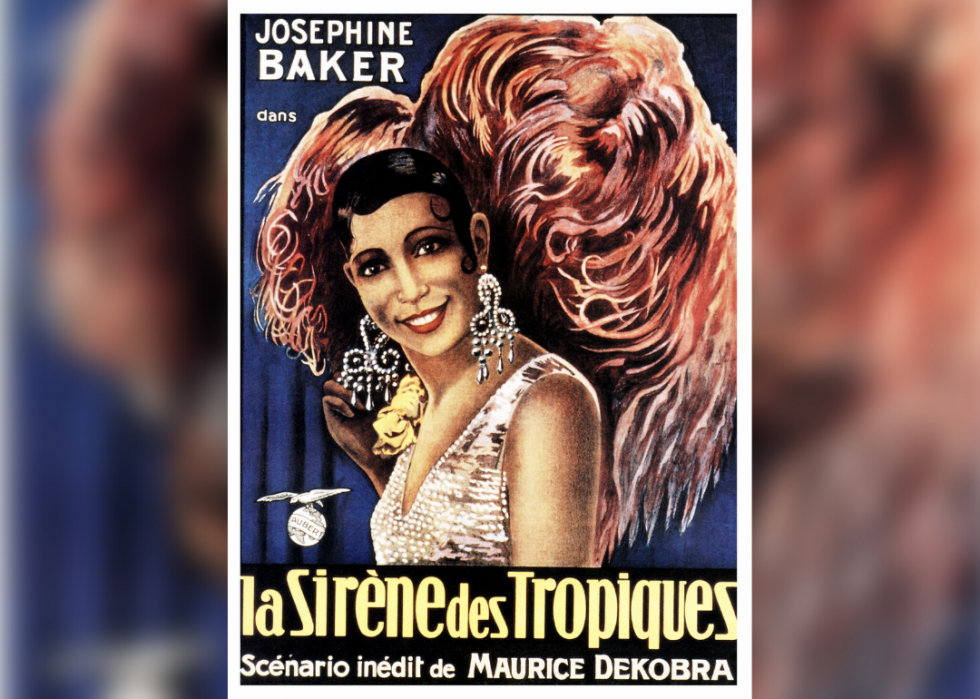 9 / 25
1927: Groundbreaking Black woman stars in movie
Baker was one of the first Black stars to appear as a lead in a film. "Siren of the Tropics," a silent French film, features her as a West Indies native and dancer who follows a businessman back to France.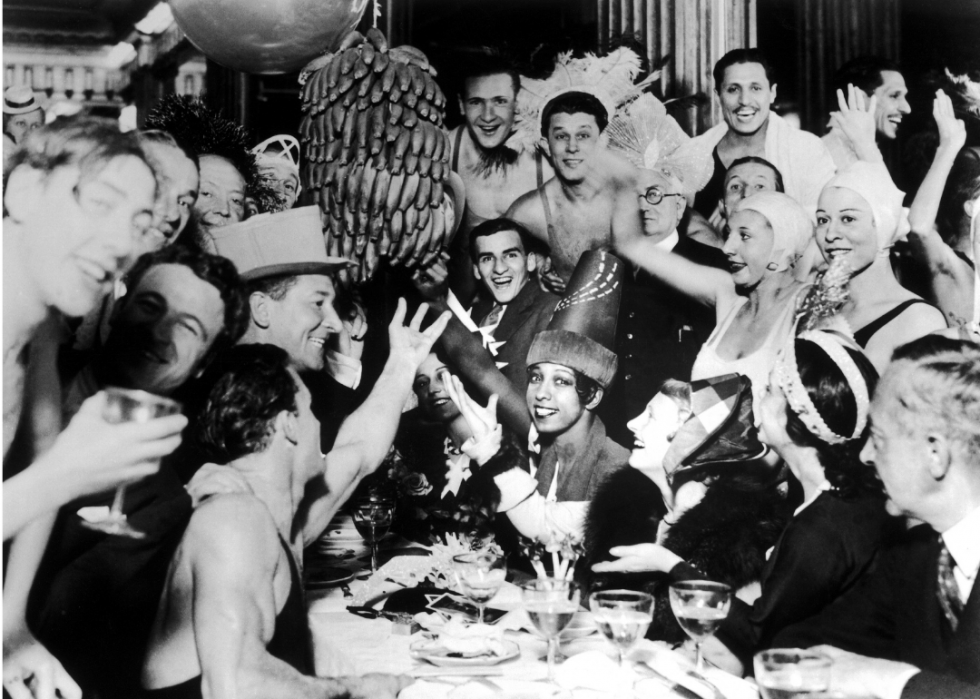 10 / 25
Keystone-France/Gamma-Keystone via Getty Images
1928: The Josephine Baker duel
Baker's allure was undeniable with her rise to French fame. But there was actually a duel fought over her in Budapest, Hungary. In 1928, Capt. Andrew Czlovoydi of the Hungarian military got into a fight with her manager and lover Giuseppe Pepito Abatino for eyeballing Baker. The latter, who called himself a "count," challenged Czlovoydi to a duel with swords. They fought for about 10 minutes while Baker looked on before she made them stop. Abatino was injured, but the pair eventually settled their differences.
You may also like: 50 dogs as incredible as the celebrities who own them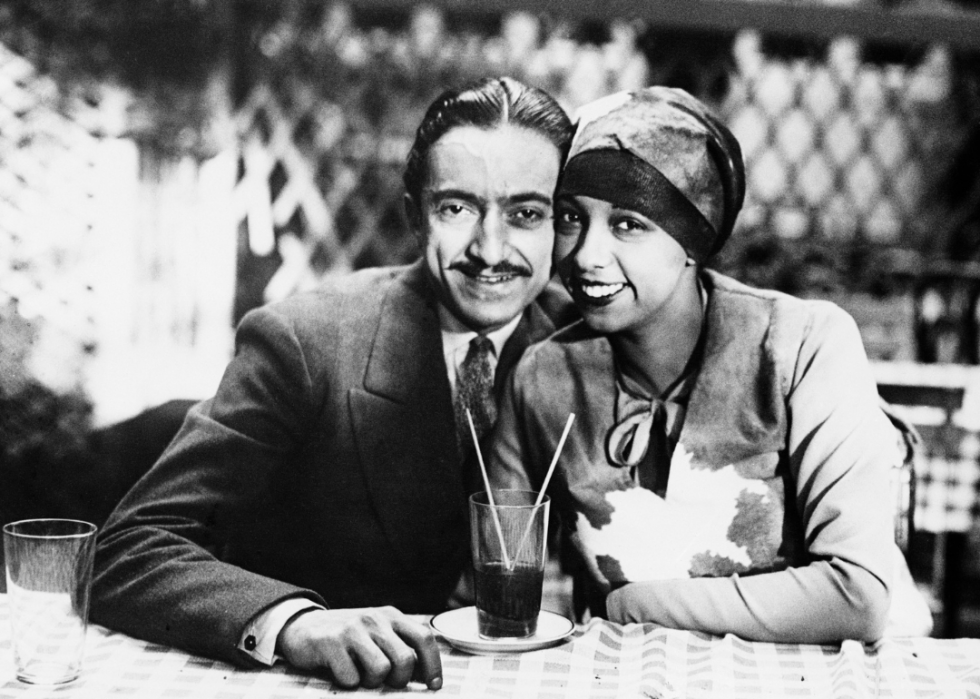 11 / 25
1929: Baker's historic and controversial Yugoslavia visit
Continuing her tour, and her relationship with Abatino, through Central Europe, Baker visited Belgrade, Yugoslavia. At the time, Baker was the first Black star to visit and perform in the country. She honored the country's traditions in her performances and donated a part of her earnings to Serbian children. Baker and Abatino never married.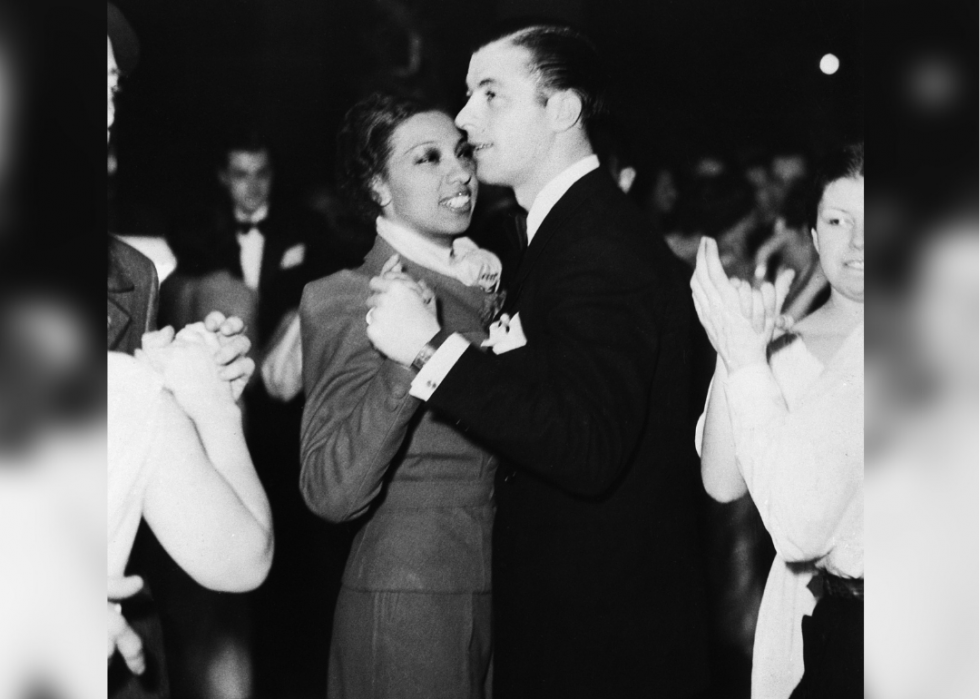 12 / 25
1937: Baker obtains French citizenship
Baker, one of the first prominent African American performers to move to France, endured racism in her native United States that did not exist in France. After a return to the United States to perform again, a disappointing starring role in the 1936 remake of "Ziegfeld Follies" pushed her to become a French citizen. She married Jean Lion, a French industrialist, but the couple divorced in 1940.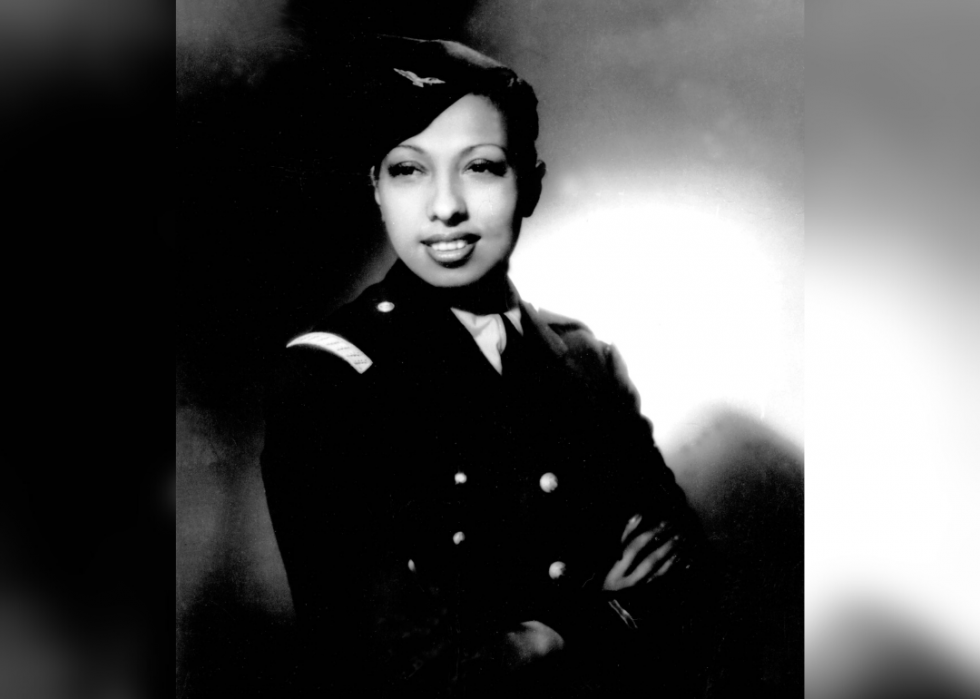 13 / 25
Photo12/UIG // Getty Images
1939: A World War II military spy and shelter
Baker's popularity and access to high-ranking officials through her work led to an unexpected mission. In 1939, a French military agency tapped Baker to gather intelligence during her soirees and report back to give France an advantage. When Nazi German troops invaded France, Baker housed people who were helping the Free French government forces at her home, the Château des Milandes.
This resistance took her all around Europe and later to French colonies in North Africa. Gen. Charles de Gaulle made her a Chevalier of the Legion of Honor, and she received the Croix de Guerre award for her contributions.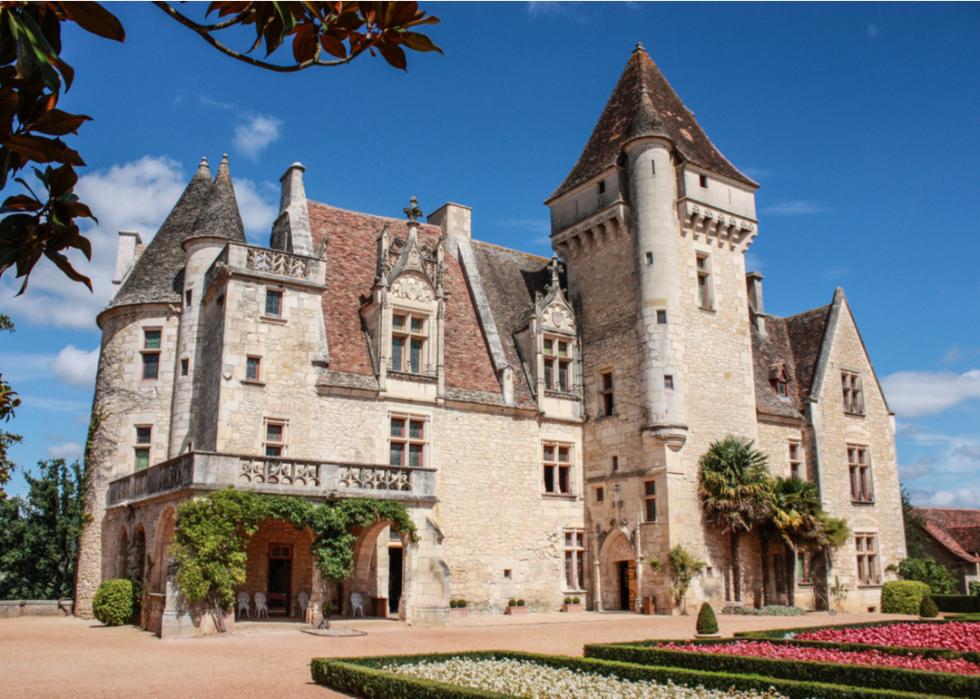 14 / 25
jbarchietto // Shutterstock
1947: Purchase of Château des Milandes
In 1947, Baker purchased her rental residence, the Château des Milandes, a sprawling castle to showcase her status and wealth. It has been reported to include the chateau, a bakery, a jazz club, and a motel. It remained her homestead for herself and her children until the late 1960s when she lost it due to mounting debts. The castle became a museum with a few of Baker's belongings, including a banana skirt, on display.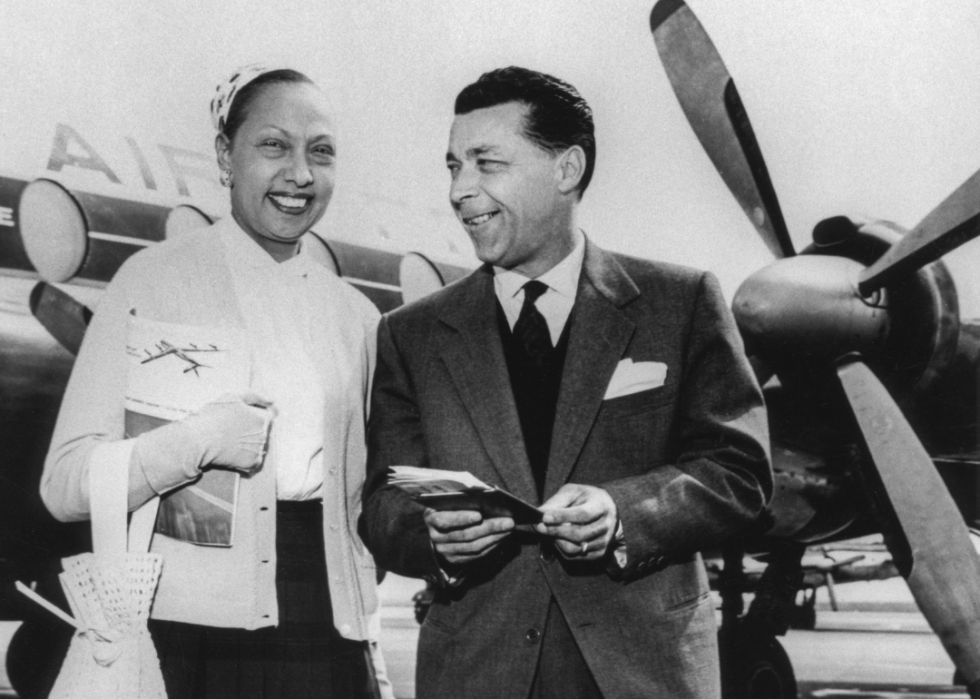 15 / 25
KEYSTONE-FRANCE/Gamma-Rapho via Getty Images
1940s–1970s: Final marriage and rumored relationships
Her fourth marriage to composer and conductor Jo Bouillon lasted from 1947 until 1961. However, Baker was known for several rumored extramarital relationships with both men and women. Her rumored relationships included singer Clara Smith, actress Mildred Smallwood, and artist Frida Kahlo, among others. Her platonic partnership with Robert Brady came in the 1970s during the final years of her life.
You may also like: 100 celebrities who grew up in small towns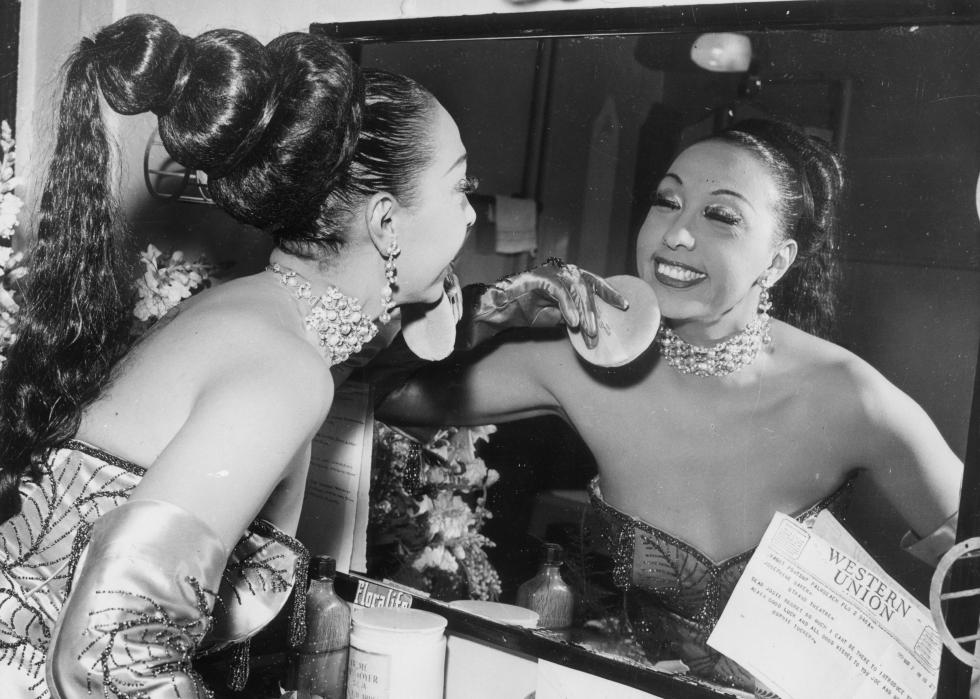 16 / 25
Hulton Archive // Getty Images
1951: Newfound American fame
Baker spent the rest of her life as a French citizen, but that didn't mean she forgot about her American roots. She returned to the United States, specifically Miami, for an engagement at the Copa City nightclub. She fought to appear for an integrated audience and won. Baker's success had her traveling America for a short while in a string of successful shows. She famously continued to refuse to do any show in a city that called for segregated audiences.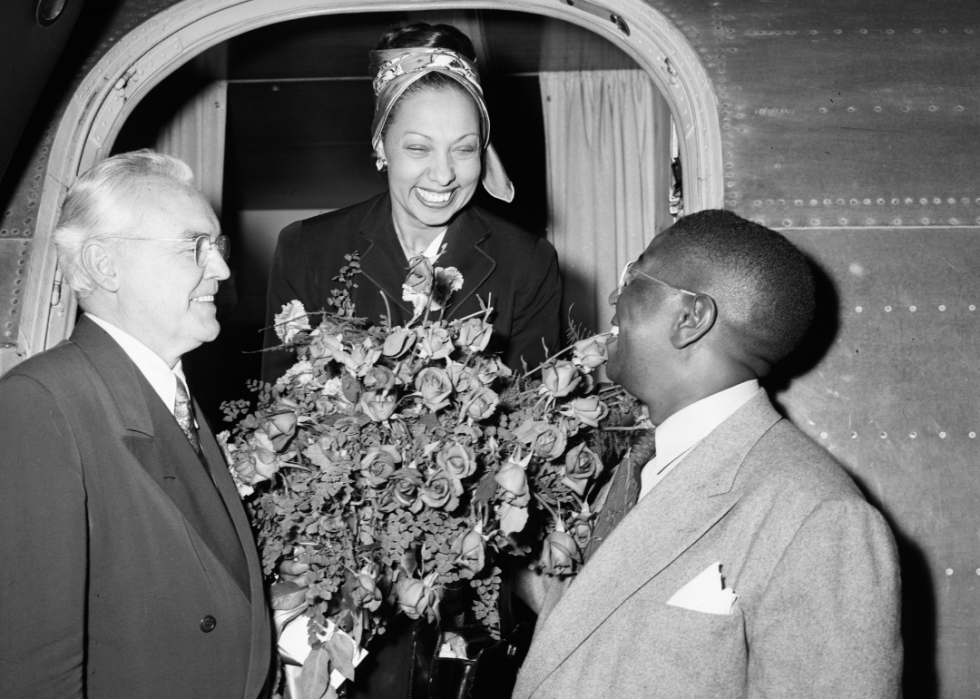 17 / 25
Los Angeles Examiner/USC Libraries/Corbis via Getty Images
1951: Josephine Baker Day
Her work with the NAACP and as a civil rights activist led to the organization designating May 20 as Josephine Baker Day in 1951. Baker also took the title of the NAACP's Woman of the Year in 1963 following her speech at the March on Washington.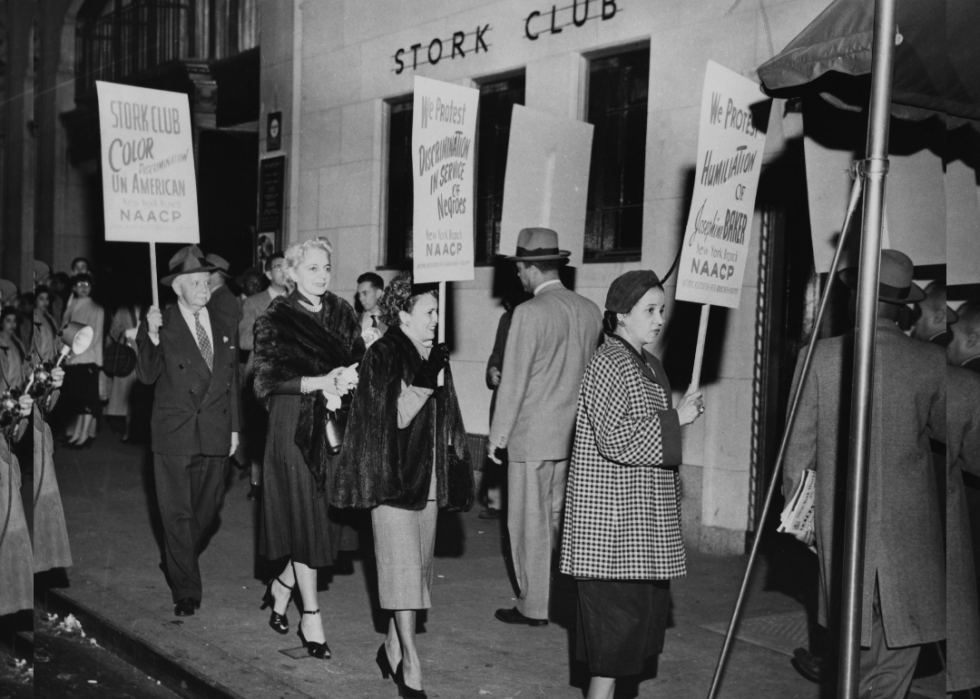 18 / 25
FPG/Hulton Archive/Getty Images
1951: Communist accusations and return to France
Baker's return to America after years in France was cut short after she got into a verbal and written scuffle with journalist Walter Winchell for not supporting her denouncement of the NYC-based Stork Club's racist discrimination against her and other Black people. Winchell accused her of being a Communist, which led to the termination of her work visa for nearly 10 years.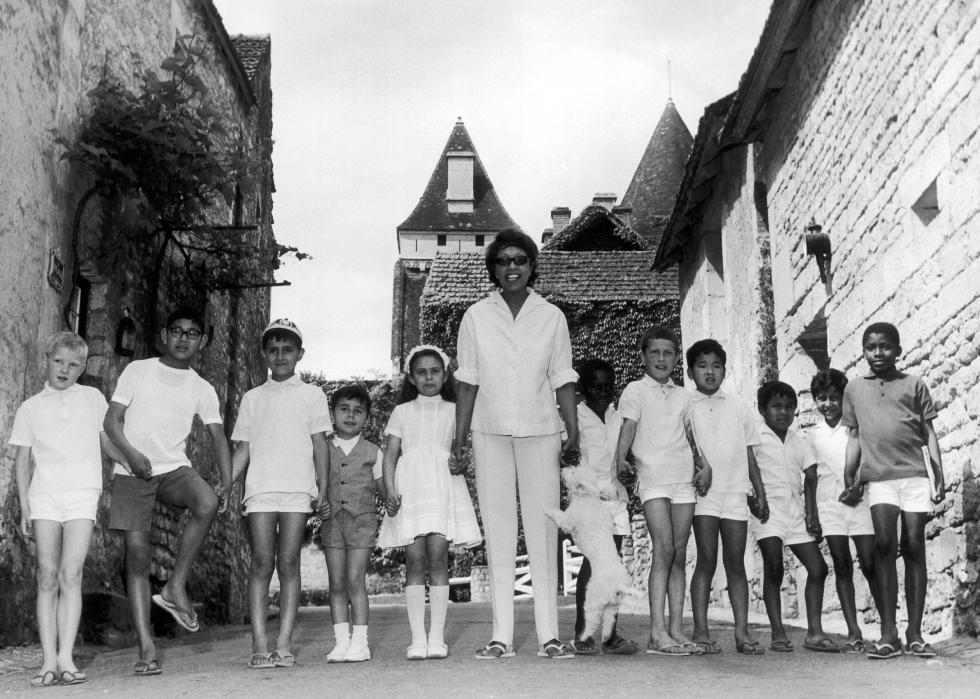 19 / 25
Keystone-France/Gamma-Keystone via Getty Images
1953: Baker adopts the first of many children
It started in 1953. Baker adopted 12 children from Algeria, Colombia, Finland, France, Israel, the Ivory Coast, Korea, Morocco, Japan, and Venezuela. It was her effort to prove that people from different walks of life could live and grow together in harmony.
"The Rainbow Tribe" consisted of two daughters and 10 sons. The children would often travel with her and appear on tours of her expansive home, for which she charged admission. Baker herself became Roman Catholic, but her children were raised under several religions.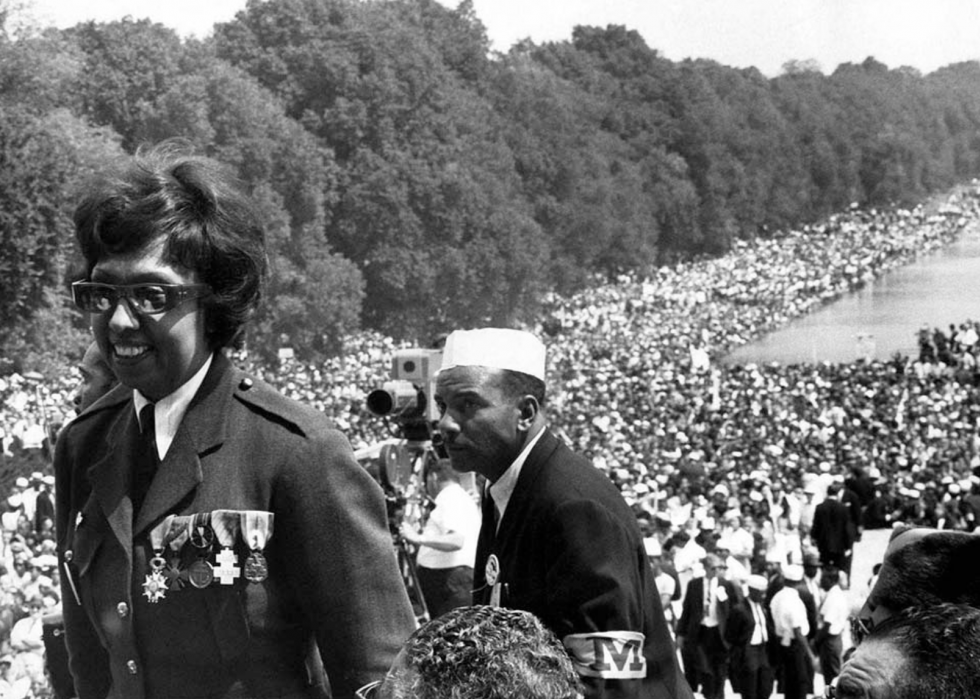 20 / 25
1963: Civil rights era activism
Baker was involved in the civil rights movement, publicly speaking up about racist and exclusionary laws in America. She spoke at the 1963 March on Washington, the only woman officially slated for a speech. Her words drew comparisons between France, where she could live freely as a Black woman, and America, where she was refused service for her race.
Following Martin Luther King's death in 1968, Baker declined an offer from his widow Coretta Scott King to lead the movement due to the demands of her children.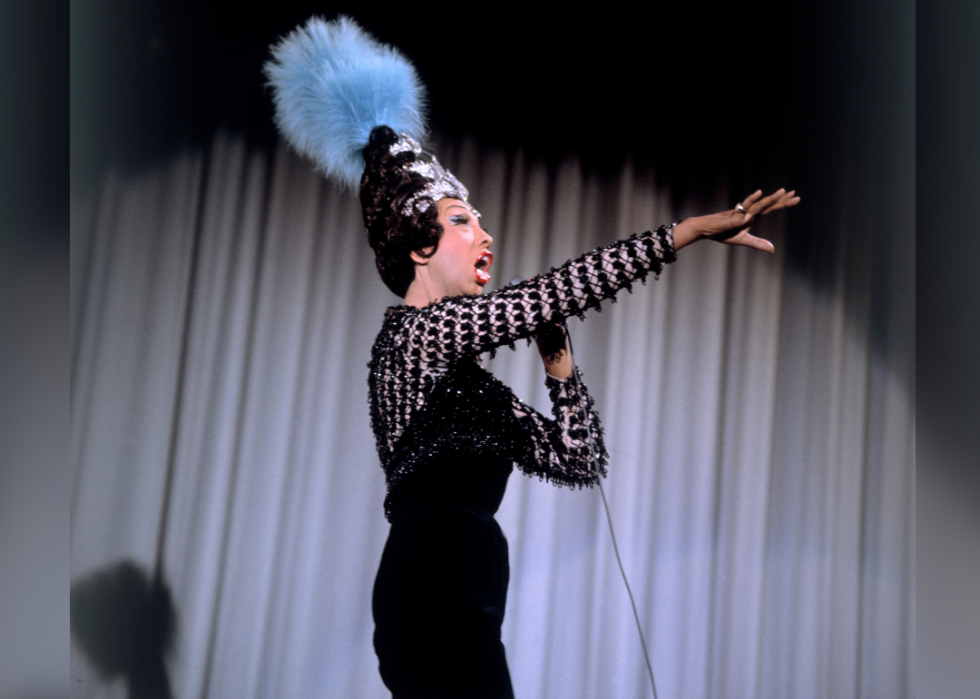 21 / 25
Arthur Grimm/United Archives via Getty Images
1966: Performance for Fidel Castro
Controversial political figure Fidel Castro invited Baker to perform in Havana, to celebrate the seventh anniversary of his revolution. Her show at the Teatro Musical de La Habana broke records, a full circle moment after Havana Post editor Clara Pessino tried to have the performer barred from visiting the country.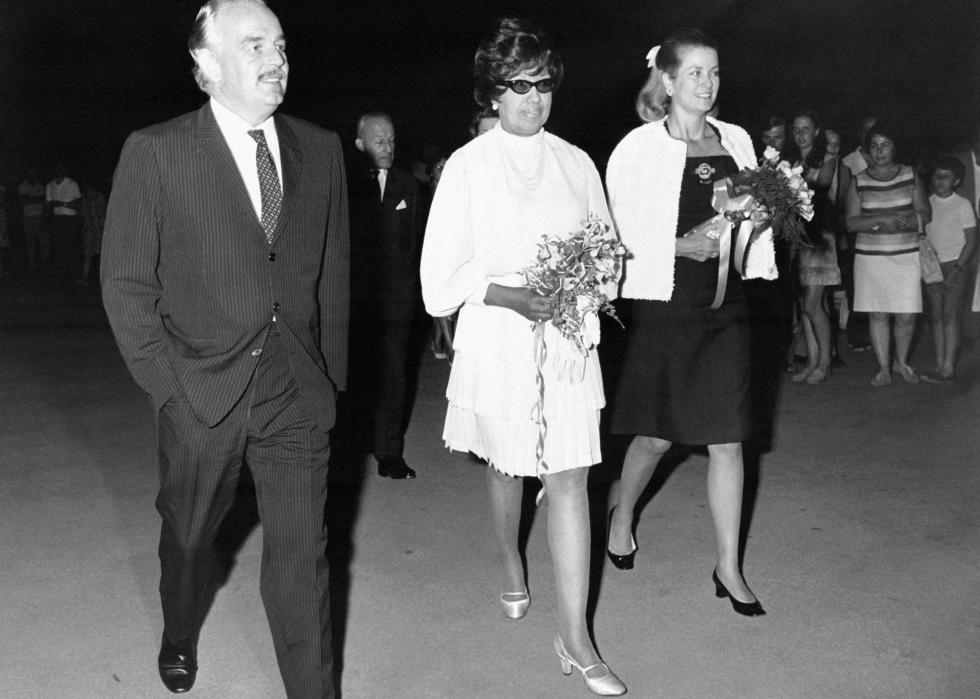 22 / 25
KEYSTONE-FRANCE/Gamma-Rapho via Getty Images
1968: Royal connections pay off for Baker
It's no secret that Baker knew countless high-profile people on a first-name basis. This includes actress Grace Kelly, who later became the princess of Monaco. The pair first met in 1951 and remained good friends for decades. Kelly supported Baker once after she was refused service at an establishment and in 1968 gave her financial help and a residence near Monaco when she could no longer maintain the Château des Milandes.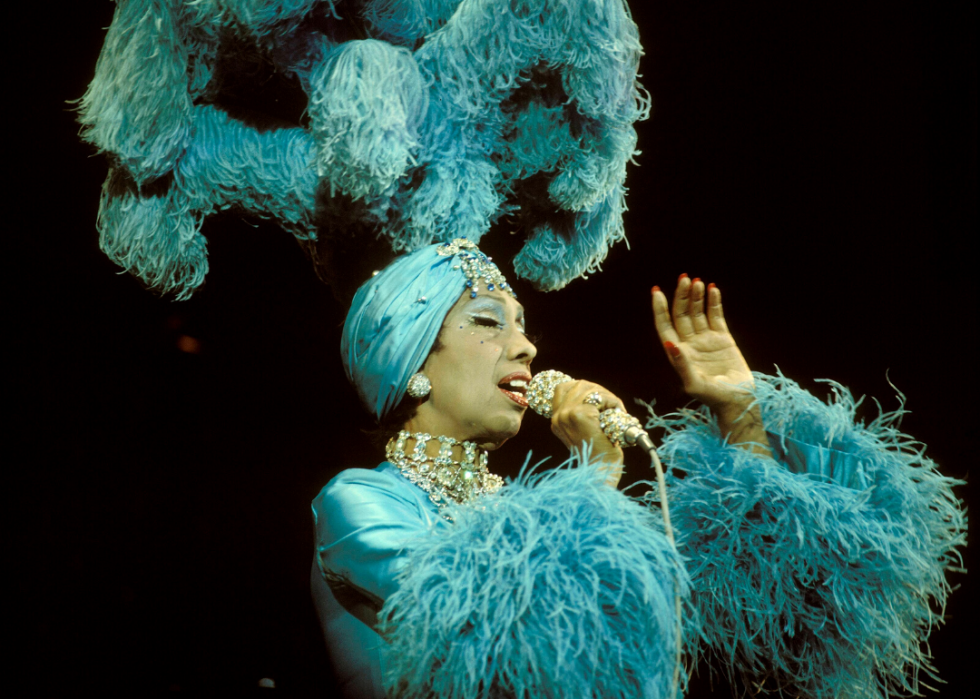 23 / 25
1968: Later career moves
Baker had retired from the stage after adopting her 12 children but returned to performing at the Olympia in Paris in 1968 following her financial troubles. Subsequent performances included Carnegie Hall in New York in 1973 and the London Palladium in 1974. By this point, Baker had been performing for decades and still drew large crowds.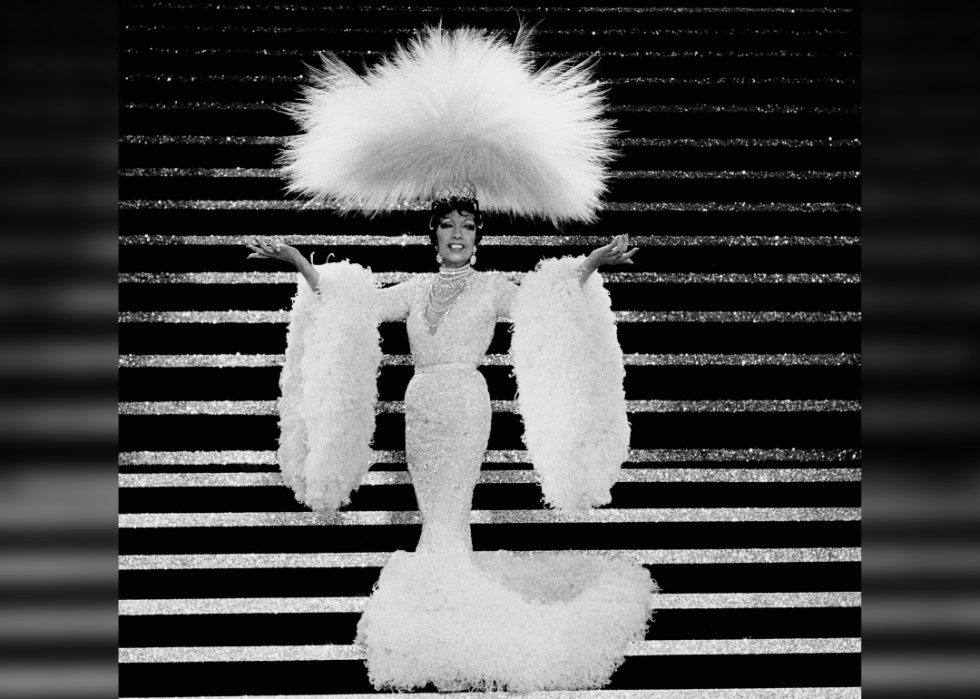 24 / 25
James Andanson/Sygma via Getty Images
1975: Baker's declining health and last performance
The costs of performing and age changed the way Baker could perform. Nevertheless, she celebrated her 50 years in the business in the musical "Joséphine à Bobino 1975" on April 8, 1975. Her performance led to excellent reviews and brought out high-profile people like Princess Grace, Mick Jagger, Diana Ross, and Liza Minnelli.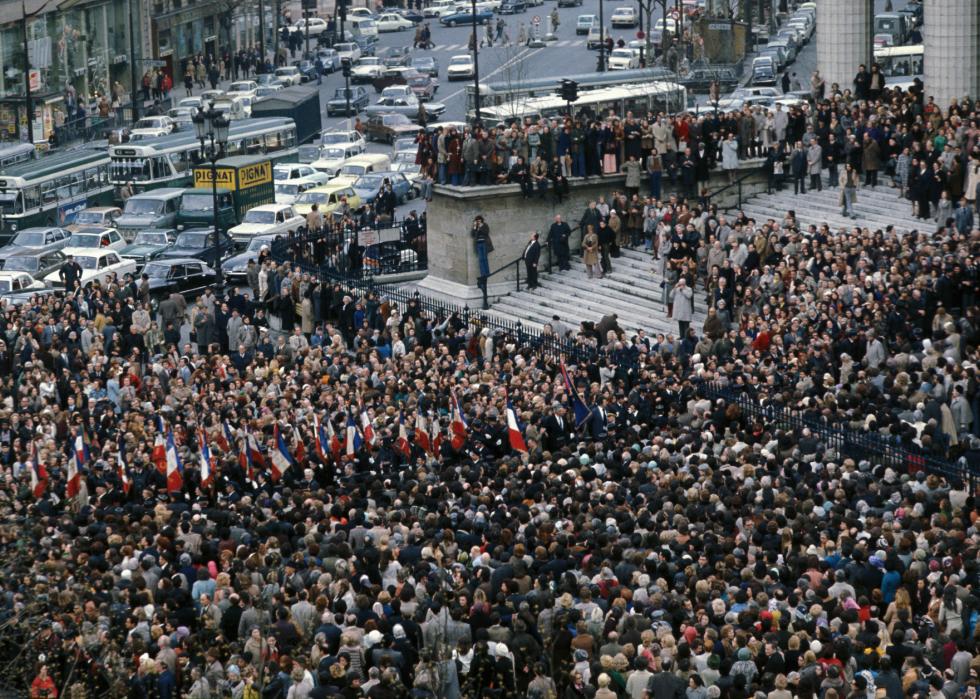 25 / 25
Daniel SIMON/Michel ARTAULT/Gamma-Rapho via Getty Images
1975: Death and full French military honors
On April 12, 1975, Baker was found lying on her bed in a cerebral hemorrhage-induced coma. She was surrounded by newspapers of her performance's excellent reviews. Baker later died at the Pitié-Salpêtrière Hospital at 68. She had a Roman Catholic funeral and full military honors, a first for an American-born woman. Baker is buried at the Cimetière de Monaco in Monaco.
You may also like: Celebrities who made a comeback after run-ins with the law