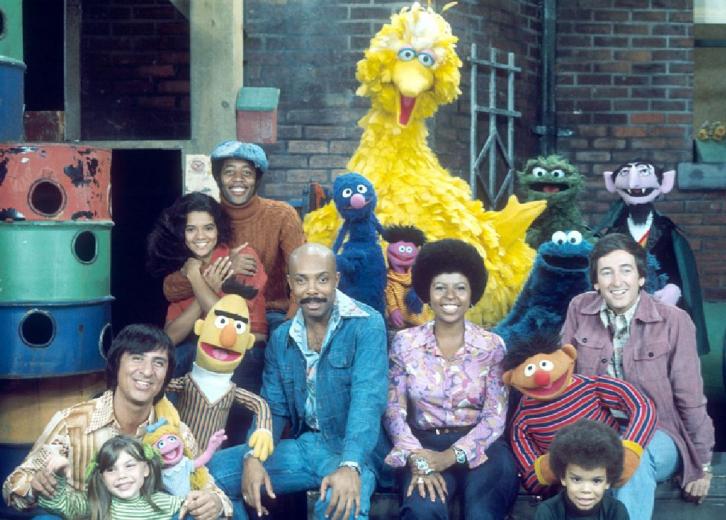 51 years of 'Sesame Street' history
"Sesame Street" is undeniably prolific, with 4,481 episodes, 189 Emmys, 150 countries reached in 70 languages, and 50 years of production. And yet none of these things—all remarkable accomplishments in their own right—begin to convey the true and vast legacy of the show. 
That's because "Sesame Street" can't just be measured quantitatively (sorry, Count von Count). Its legacy is measured as much by the lessons it taught in kindness and love and grief as it is in the sheer volume of accolades and content it amassed.
It's in the millions of people—children and adults alike, generations over—whose lives have been affected by the residents of 123 Sesame Street. It's in every small decision that was made along the way that culminated in groundbreaking and innovative programming, the likes of which could only be outdone by the show itself.
"Sesame Street" began as an attempt to answer one question: Could television be used as a tool to educate all children? Could it transcend socioeconomic barriers, cultural differences, and regional distinctions to become an effective scholastic medium for all? The show proved beyond a shadow of a doubt that the answer to those questions was a resounding yes—and that much more was possible. "Sesame Street" showed the world that the things we may perceive as obstacles such as disabilities, insecurities, or differences are worthy of representation and conversation both on- and off-screen.
Today, as America confronts systemic racism and police brutality, and as protests rage nationwide demanding change in the wake of George Floyd's death, "Sesame Street" stepped in to help kids begin to make sense of these complex issues. The program partnered with CNN to host an hour-long town hall, providing children and families the space to explore this moment in our country's history.
The show established itself as a revolutionary force in children's education and entertainment by thoughtfully developing a curriculum for each season that promotes cognitive, social, and emotional development. Whether a child is counting to 20 or watching a segment about cooperation, "Sesame Street" places just as much importance on empathy and cultural competency as it does on mathematical literacy or vocabulary. Researchers have found a positive correlation between children who watched "Sesame Street" during their preschool years and improved performance in elementary school.
"Sesame Street" moved in 2020 to HBO-Max, kicking off a new five-year contract. It may seem contradictory that a show built on the tenets of equal accessibility for all is now part of a paid, subscription-only service. But prior to HBO's funding, "Sesame Street" was headed for cancellation, according to Sesame Workshop CEO Jeff Dunn in an interview with the Hollywood Reporter. The show posted $11 million in losses in 2014 alone—highlighting the struggles faced by a prolific program seeking to remain equally accessible for all children. The mission of "Sesame Street" has been unwavering since its inception: to help kids everywhere grow smarter, stronger, and kinder. And while the funding for such a resource has come into doubt, the need for the resource itself has never been in question. 
Click through to read about milestone moments from 50 years of "Sesame Street" history.
You may also like: 50 resources to educate kids at home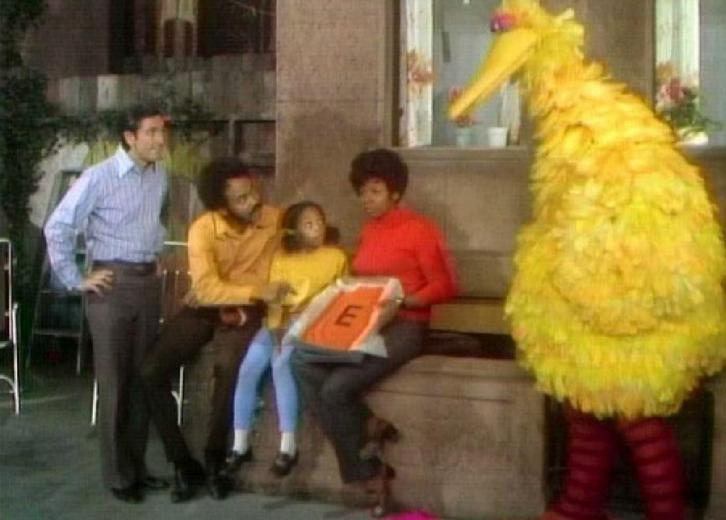 1969: How to get to 'Sesame Street'
In a historical moment, the show launched with Gordon showing 6-year-old Sally around "Sesame Street." In its first year, the show's curriculum focused on counting from one to 10, colors and shapes, reciting the alphabet, and relational concepts. The show also introduced children to more complex topics like emotions, individuality, and cooperation. Viewers met some of the most beloved television characters of all time like Big Bird, Kermit the Frog, and Oscar (who was originally orange).
[Pictured: Loretta Long, Bob McGrath, Matt Robinson, and Caroll Spinney in "Sesame Street" in season one, episode three.]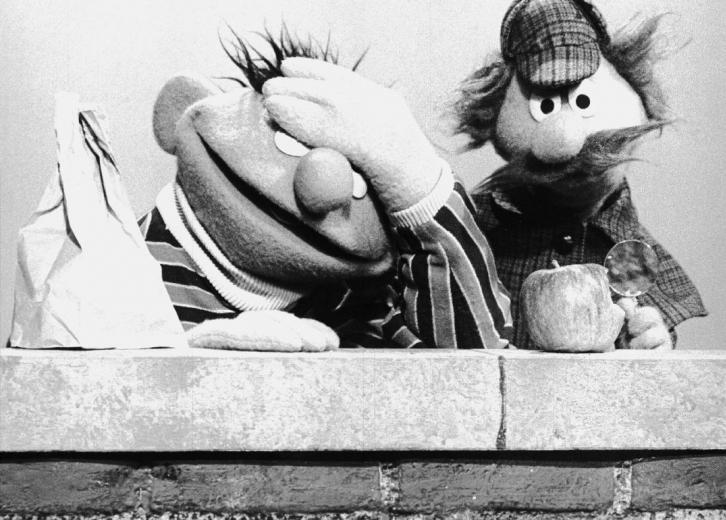 1970: The brain and the mind
The human hosts of "Sesame Street" were joined by the show's first Latino cast members, Tom and Miguel. David also joined the cast later in the year. The curriculum in season two built on season one, focusing on topics like counting to 20, simple math like addition and subtraction, and sight words. Characters also helped young viewers explore topics like hope, imagination, and the concept of remembering.
[Pictured: Muppet Ernie and Sherlock Hemlock from season two, in late 1970.]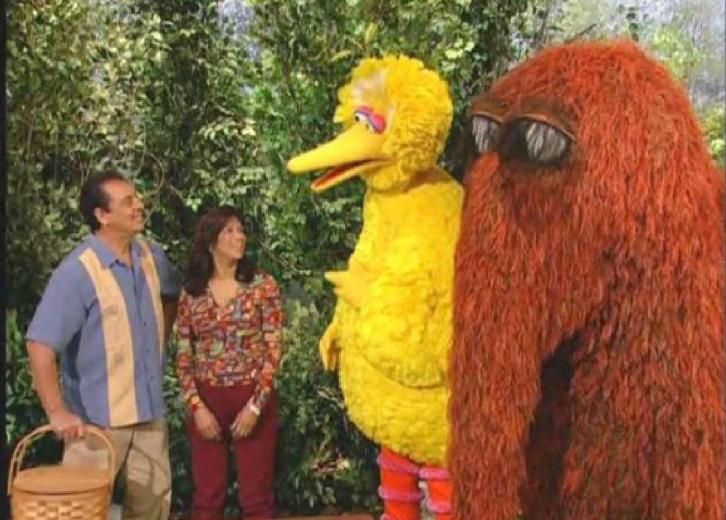 1971: Yip hooray for new characters
Longtime cast members Maria and Luis became part of the show in season three, along with another iconic resident of "Sesame Street": Snuffleupagus. The Martians, also known as the "Yips," made their terrestrial debut on "Sesame Street" this year. Ecology and problem-solving were major themes throughout the season.
[Pictured: Emilio Delgado (Luis) and Sonia Manzano (Maria) on set.]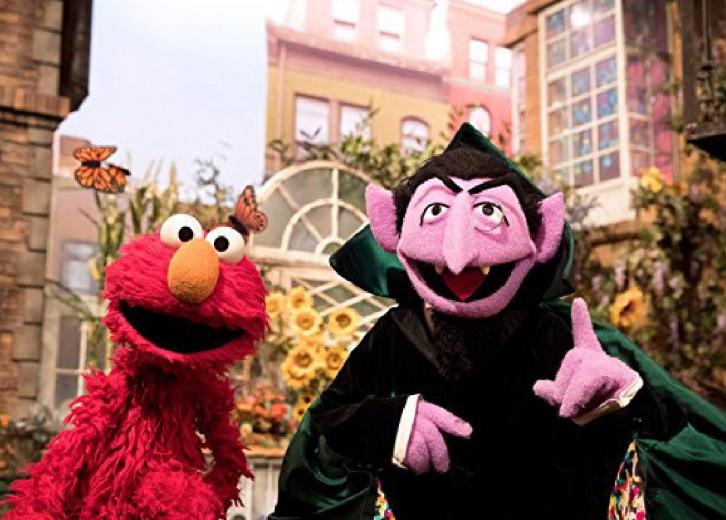 1972: 'Sesame Street' is now in 1, 2, 3 countries
Two international co-productions of "Sesame Street" launched in 1972: Plaza Sesamo in Mexico and Vila Sesamo in Brazil. While modeled after the success of "Sesame Street" in the United States, the international broadcasts were adapted to meet each country's cultural identity and educational priorities. Back in the United States, season four introduced the famous numerically minded vampire, Count von Count. Love and kindness were major concepts revisited throughout the season.
[Pictured: Elmo and Count von Count.]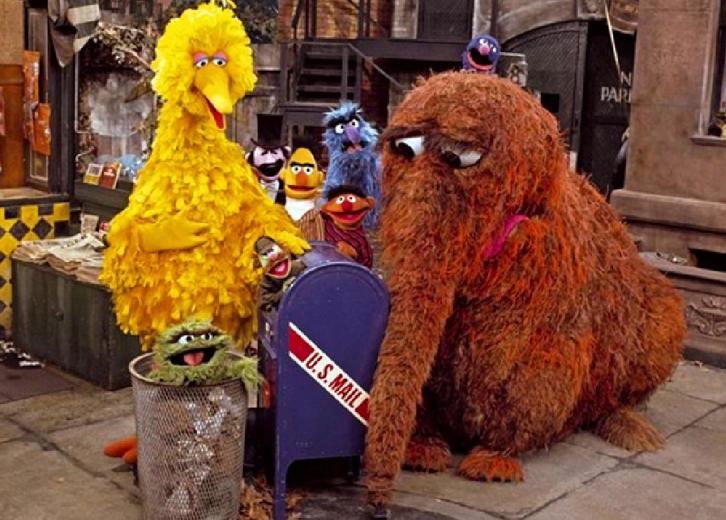 1973: 'Sesamstrasse' launches in Germany
In 1973, Germany launched Sesamstrasse, another international co-production of "Sesame Street." This season also introduced young viewers to new characters, including the Twiddlebug family, and new concepts like understanding and recognizing emotions. Johnny Cash and Morgan Freeman were two of several guests who paid a visit to "Sesame Street" this season.
[Pictured: The Muppets of season five.]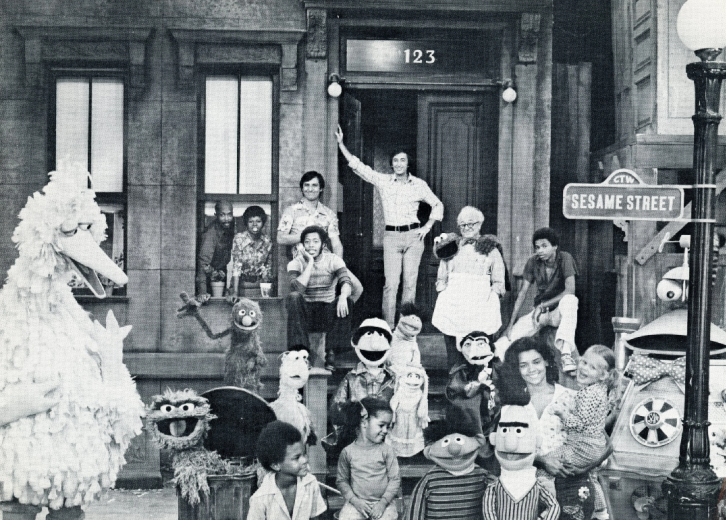 1974: Learning the value of varying perspectives
The curriculum for season six was structured around social interactions, teaching kids the value of varying perspectives and divergent thinking. These ideas were reinforced through the help of guest stars like Arthur Ashe, Richard Pryor, the Pointer Sisters, and Helen Reddy. Season six was also when the familiar Typewriter animation made its debut.
[Pictured: The season six cast of "Sesame Street."]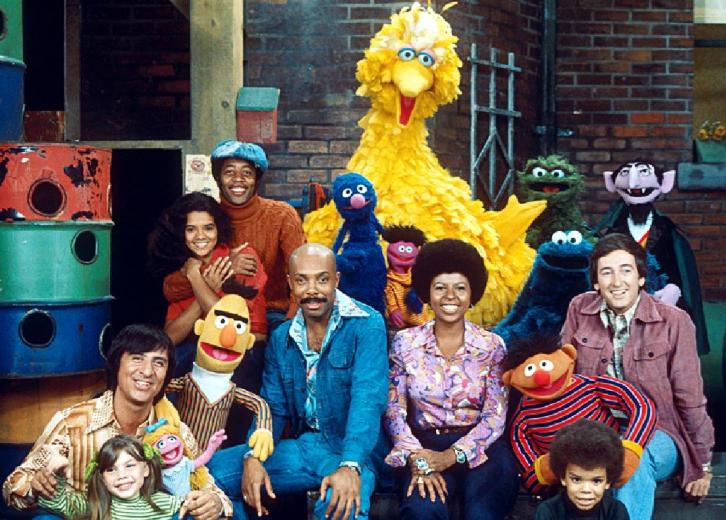 1975: What lies beyond the borders of 'Sesame Street'
The residents of "Sesame Street" explored major issues affecting their community and beyond, including basic politics related to the nation's bicentennial, new segments focusing on children with learning disabilities, and even leaving "Sesame Street" to visit Luis's family in the Rio Grande Valley of New Mexico. This season highlighted the importance, and subsequent impact, of presenting viewers with characters that looked and learned like them, as well as places that resembled their own environments.
[Pictured: The season seven cast.]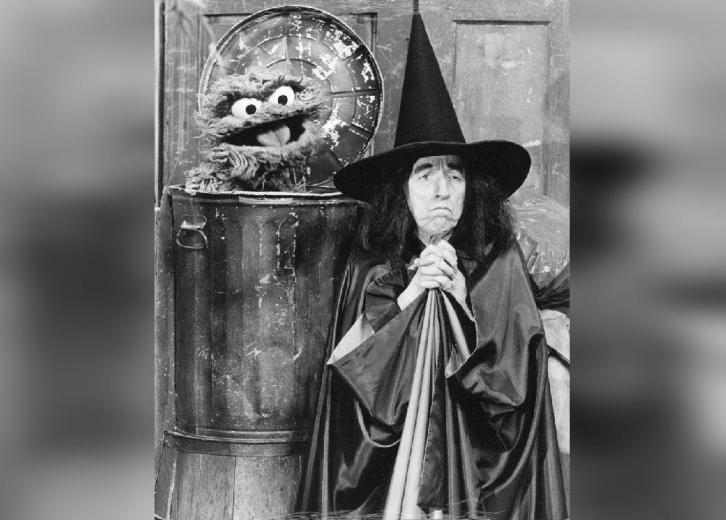 1976: Expanding the scope of women on 'Sesame Street'
After receiving criticism that the few women on the show were cast in stereotypical roles, this season of "Sesame Street" focused on expanding the number of women and the diversification of their interests and pursuits. Viewers met Olivia, a professional photographer, for the first time in season eight. Guest stars included Anne Revere, Judy Collins, Clarice Taylor, and Paul Simon.
[Pictured: Publicity photo of American actress, Margaret Hamilton, and American Muppet, Oscar the Grouch.]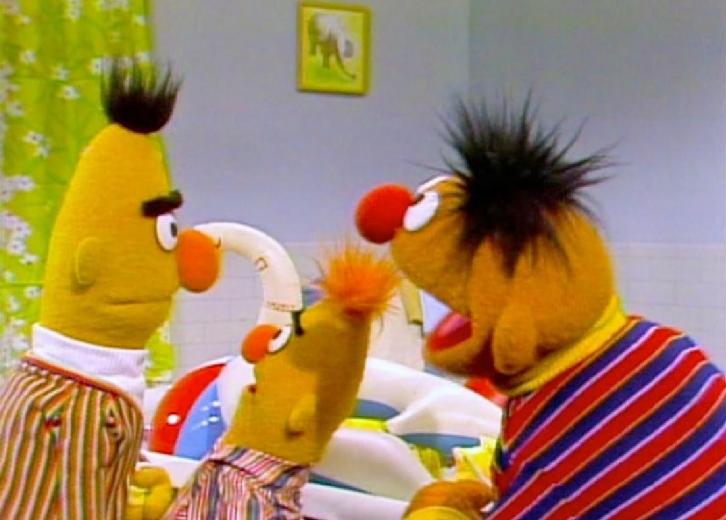 1977: From 'Sesame Street' to Hawaii
Once again, the cast left the familiar setting of "Sesame Street" for Hawaii, a new setting rich with cultural and ecological diversity, which were prevalent themes throughout season nine. The curriculum also introduced lessons on overall health, nutrition, and personal hygiene. Popular segments including Sign Cartoons and Monsterpiece Theater—modeled after PBS's "Masterpiece Theater" and used to make works of cultural significance accessible to children—debuted in season nine.
[Pictured: Ernie helps Bert's nephew Brad by giving him bath toys.]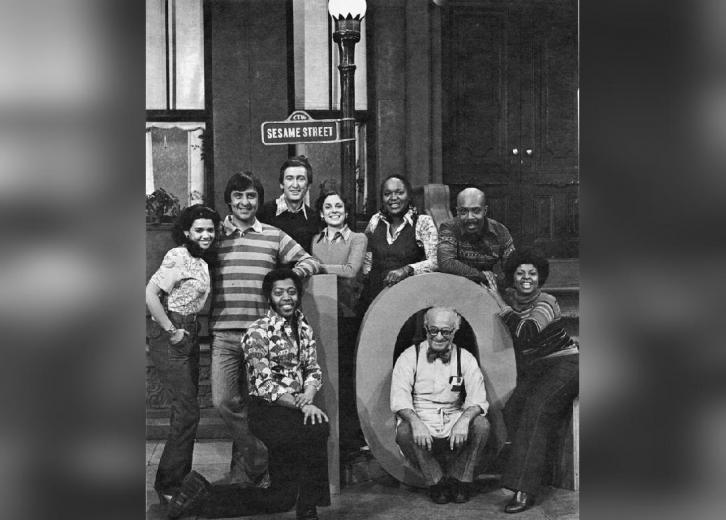 1978: 'Sesame Street' on-site
In its tenth season, the cast of "Sesame Street" continued to explore new settings and present lessons in environments where context further supports learning. Locations included apartments, hospitals, and even popular destinations in New York City, like Central Park. The season's curriculum focused on reading, science, health, and nutrition.
[Pictured: The "Sesame Street" cast of season 10.]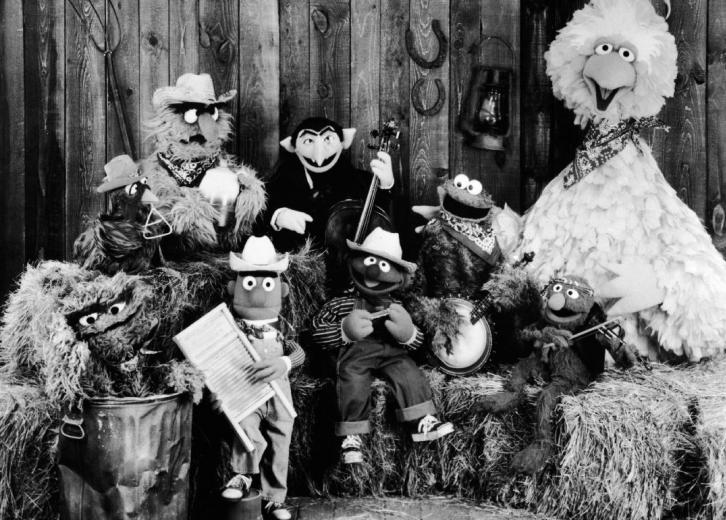 1979: Guests from far, far away
In the premiere of season 11, the cast visits Puerto Rico where Oscar met a fellow grouch, Osvaldo, el Gruñón. Later in the season, "Sesame Street" was visited by two special guests from a galaxy far, far away: C-3PO and R2-D2 from "Star Wars."
[Pictured: Publicity still of the Sesame Street Muppets taken to promote their record album, "Sesame Country."]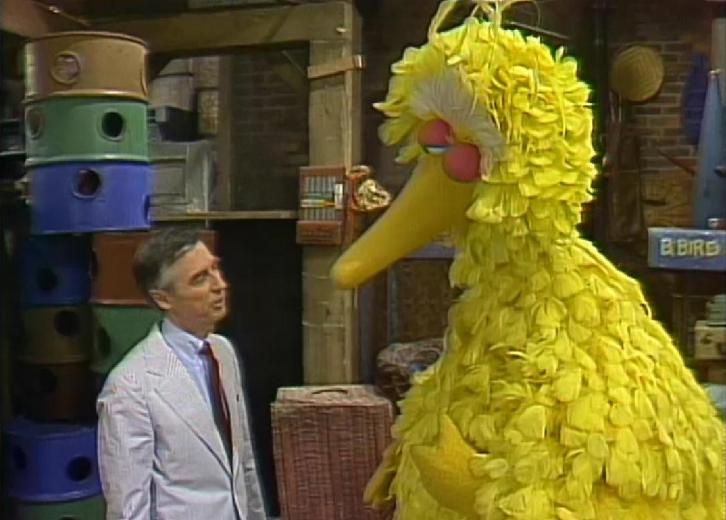 1980: Safety first, always
Season 12's curriculum placed an emphasis on health and safety, as well as foundational, pre-science concepts. Many iconic guests stopped by "Sesame Street," including Cab Calloway, Itzhak Perlman, and (Mister) Fred Rogers.
[Pictured: Fred Rogers on "Sesame Street."]
1981: A different way of seeing the world
As part of the show's efforts to explore and promote acceptance of individual differences, including physical differences, a blind muppet named Aristotle was added to the cast in 1981. This season's curriculum also touched on topics relating to the environment. All-star athletes, actors, and musicians paid visits to "Sesame Street," including Julius Erving, Diana Ross, Harry Belafonte, and Madeline Kahn.
[Pictured: Julius "Dr. J" Erving on Season 13.]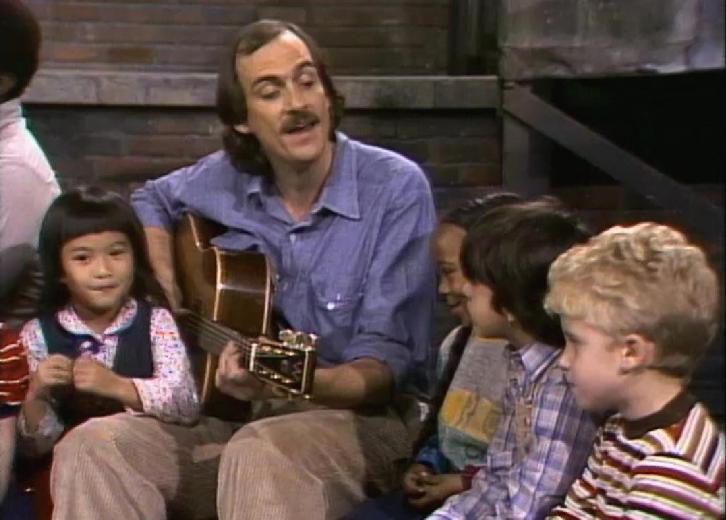 1982: Bittersweet feelings
At the beginning of this season, Big Bird went away to camp. The multi-episode segment explored topics like leaving home, making new friends, and how it's okay to be sad to leave the people you love. Featured guests included James Taylor, Billy Dee Williams, and Giancarlo Esposito. This was the last season to feature Mr. Hooper.
[Pictured: James Taylor performs "Jellyman Kelly" with the kids in an epsiode during season 14.]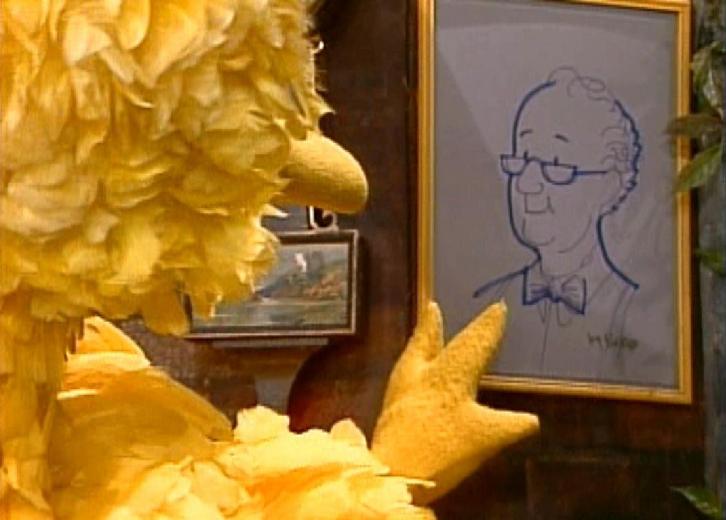 1983: Confronting death in real life
The death of Will Lee—the show's beloved Mr. Hooper—in 1982 presented an opportunity for "Sesame Street" to explore death in a gentle and authentic way for children. After deciding not avoid the truth by writing Mr. Hooper off the show or replacing Lee with another actor, curriculum experts took care to craft an episode that not only explained death but also the emotions that come with it, like sadness, confusion, and even anger. The episode also messaged to viewers that those left behind are still loved and cared for. Episode 1839 won an Emmy.
[Pictured: Big Bird hangs the drawing of Mr. Hooper by his nest in Emmy winning episode 1839.]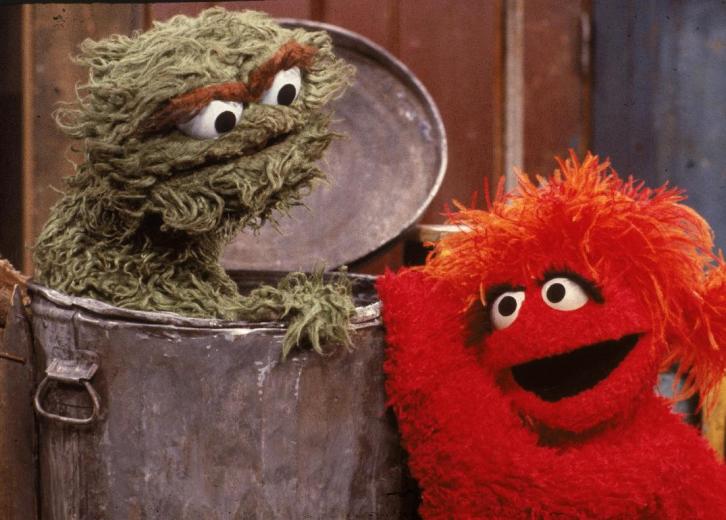 1984: Pop culture is built into the curriculum
This season focused on making traditionally uncomfortable environments like hospitals more familiar and less frightening to young viewers. It also built on season 15's computer-based curriculum. "Sesame Street"—always hip to the latest in pop culture—also built segments around the growing popularity of music videos and new-wave music in the mid-1980s. Guests on the show this year included Dizzy Gillespie, Loretta Lynn, Mandy Patinkin, Menudo, Smokey Robinson, Sid Caesar, and Jane Curtin.
[Pictured: Oscar the Grouch on set, mid 80s.]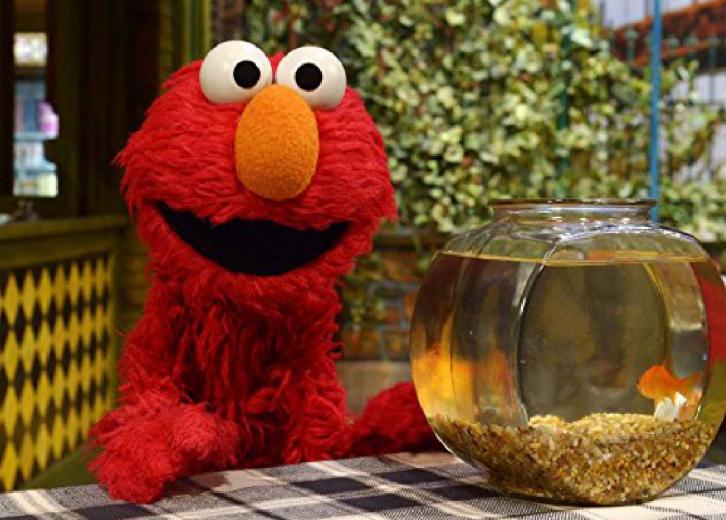 1985: A year of milestones
Season 17 introduced the world to one of the most beloved youngsters in television history—an inquisitive, friendly, giggling little monster named Elmo. While Elmo made brief appearances in prior seasons, this was the first season we learned his name and the one in which he was established as a prominent "Sesame Street" resident. Season 17 was also when Snuffleupagus was finally revealed to the adults of "Sesame Street" as a real being, and not just Big Bird's imaginary friend. This moment validated children's thoughts and feelings even if they feared they might not be believed. In another major milestone this season, the show addressed adoption through the introduction of Susan and Gordon's adopted son, Miles.
[Pictured: Oscar the Grouch on set, mid 80s.]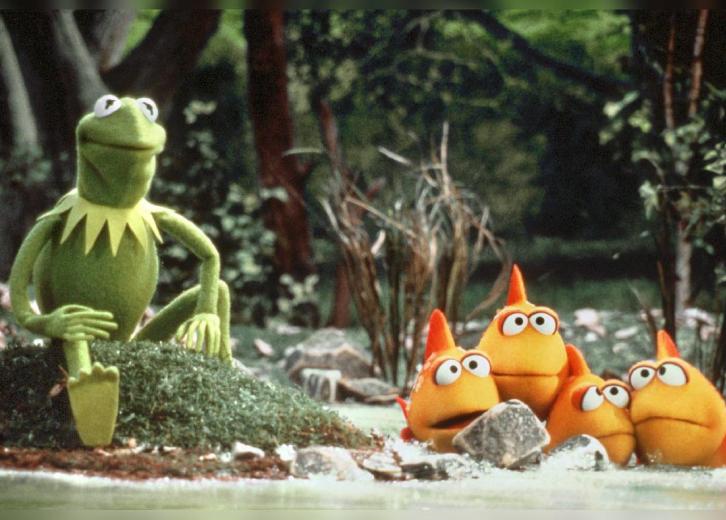 1986: Math in the real world
In season 18, "Sesame Street" further developed its curriculum to teach kids, in addition to counting to 40, how to apply mathematical concepts in real-world settings. John Candy, The Four Tops, Rhea Perlman, Pete Seeger, and Joe Williams all paid visits to "Sesame Street" this season.
[Pictured: Kermit from the "On My Pond" episode of season 18.]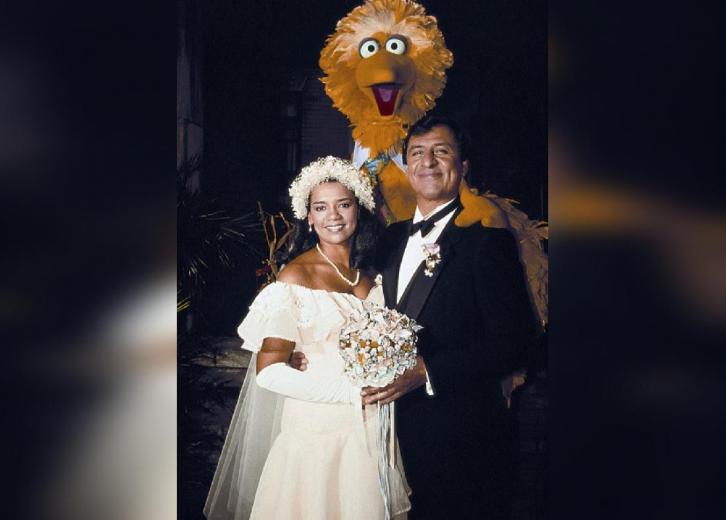 1987: A 'Sesame Street' marriage
Season 19 followed the story arc of Maria and Luis' romance, culminating with their marriage. Guest stars this season included Ruben Blades, José Ferrer, Keith Hernandez, Pee-Wee Herman, Lillian Hurst, Jay Leno, and Mookie Wilson.
[Pictured: Maria and Luis's wedding.]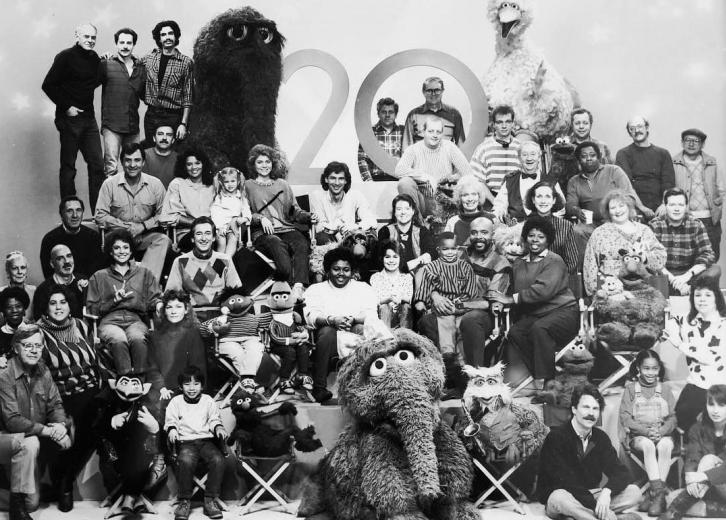 1988: Where do babies come from?
Following season 19's finale featuring Maria and Luis's wedding, season 20 focused on the next phase of their relationship and a natural fact of life—pregnancy. The season concluded with the birth of their daughter, Gabriella. Fay Ray, the famous Weimaraner sometimes dressed in overalls, other times dressed in animal disguises, made her debut in season 20. Jamie Lee Curtis, Billy Joel, Martina Navratilova, Susan Sarandon, and Dave Winfield were just a handful of people on the star-studded guest list who visited "Sesame Street" this season.
[Pictured: Cast and crew for season 20.]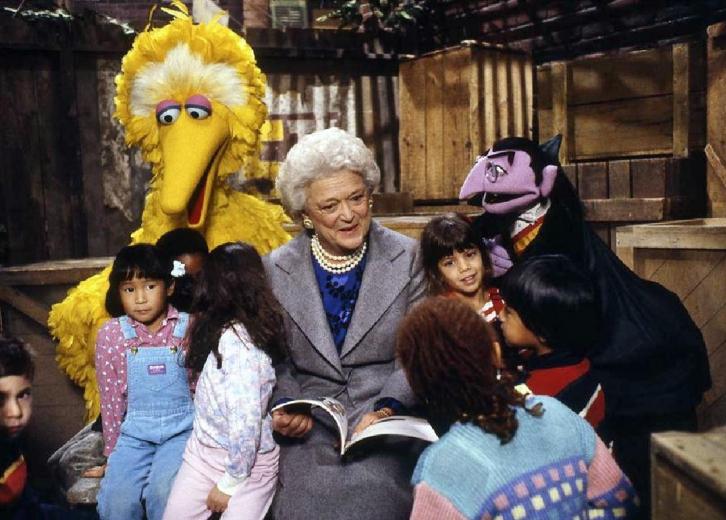 1989: The importance of environmentalism
Environmentalism was a major theme in season 21 and was, in part, communicated through a new segment called Gloria Globe. Season 21 also debuted the colorful exploration of letters and words through Alphaquest, and a familiar tune we came to know as "Elmo's Song." Mr. Handford was added to the cast of human characters on "Sesame Street" this year.
[Pictured: Barbara Bush reads Pete's Chair to Big Bird, The Count, and the kids during season 21.]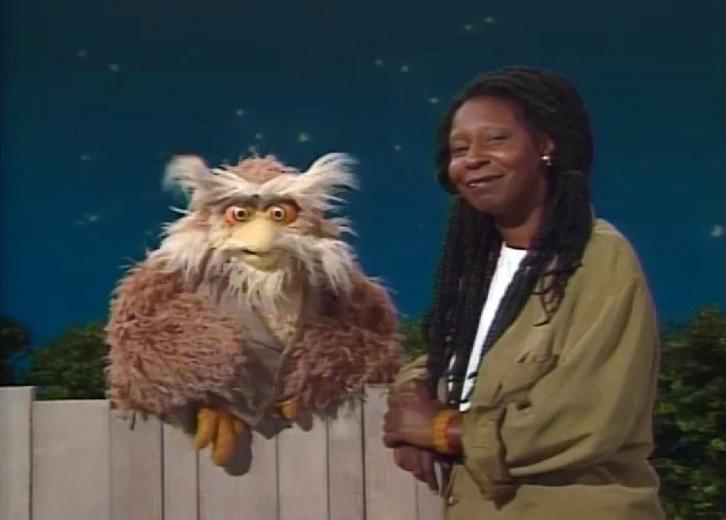 1990: Being proud of all that makes you, you
Season 22 kicked off a four-year curriculum on race, promoting pride in our own identities, and respecting and celebrating others, no matter how different they may be. In an iconic segment from the season, Whoopi Goldberg and Elmo discussed the beauty of each other's physical differences, like the color and texture of their skin, hair, and fur.
[Pictured: Whoopi Goldberg appeared alongside Hoots and Elmo in segments discussing pride.]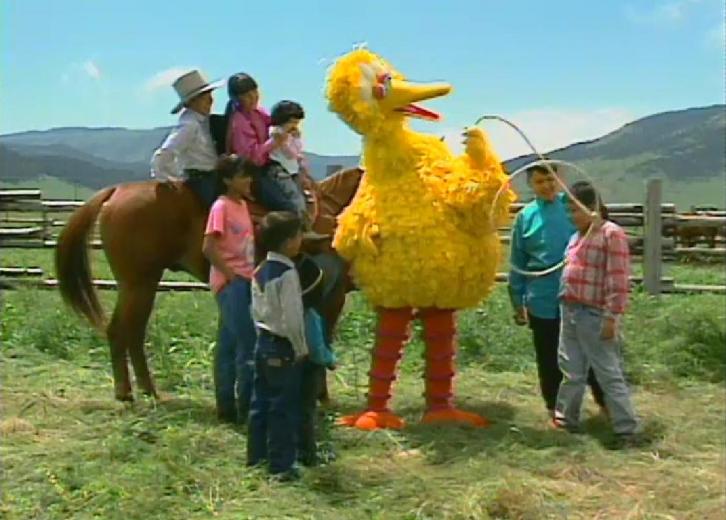 1991: Celebrating Native American culture
"Sesame Street" continued its race curriculum in season 23 with a focus on Native Americans. The cast traveled to Pryor, Mont., to learn about life on a Crow Indian reservation and witness an authentic Crow Indian naming ceremony. New muppets introduced this season included Roxie Marie, Monty, Colambo, Baby Tooth and the Fuzzy Funk, Chicago, and Rosita.
[Pictured: Big Bird learns to lasso in Montana.]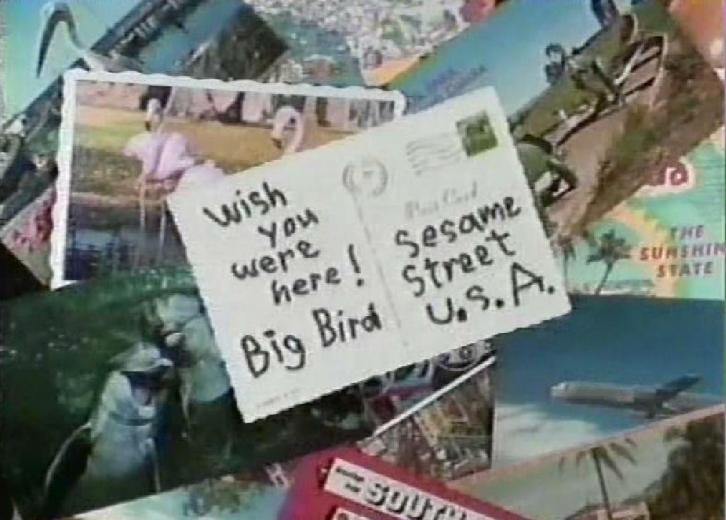 1992: Celebrating Latino culture
Season 24 celebrated Latino culture with a focus on Spanish language, Latino guest stars, and a segment called "Big Bird's Video Postcards" in which he traveled around the country highlighting displays of Latino culture and heritage in the communities he visited.
[Pictured: Big Bird's video postcards.]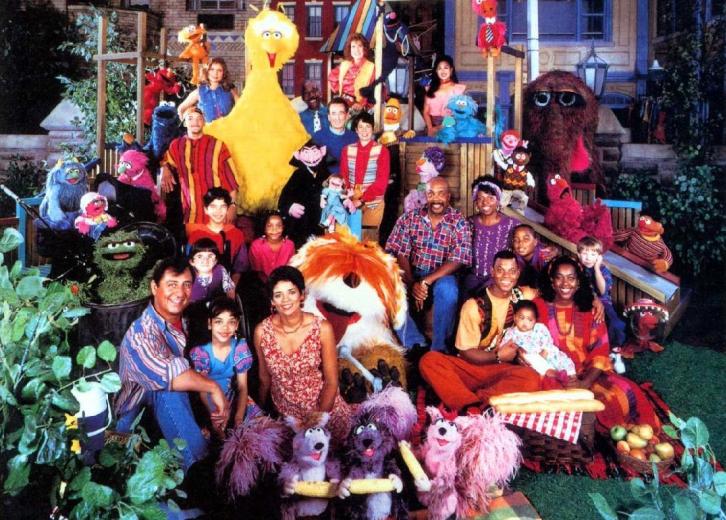 1993: Change is around the corner
The 25th season of "Sesame Street" brought major changes to the setting, cast, and curriculum. A new block called "Around the Corner" was added to show's physical footprint and with it came many new characters, humans and muppets alike. This season focused on topics like family dynamics issues often faced by preschool children (i.e., is my mom/dad going to come back to pick me up?).
[Pictured: The season 25 cast.]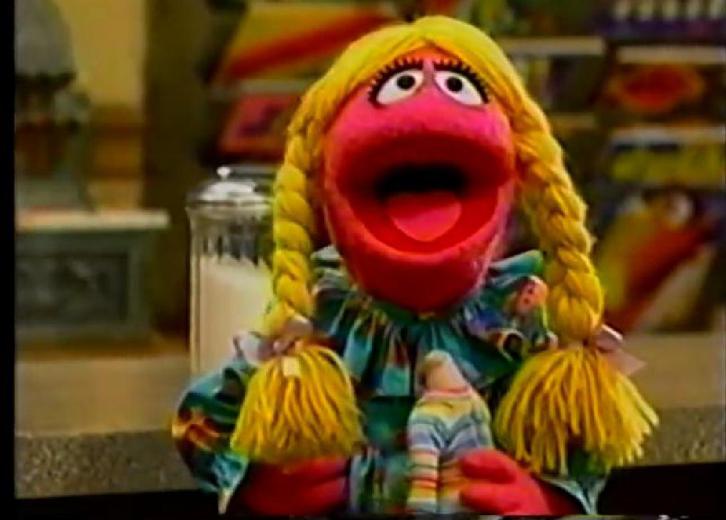 1994: 'Sesame Street' in conflict zones
In 1994, amid the Israeli-Palestinian conflict, a co-production of "Sesame Street" broadcast in Israel, the West Bank, and Gaza used original characters to deliver messages of respect empathy, and cooperation. It was a model that would be replicated in other conflict zones around the world to enact positive change and peaceful coexistence, beginning with younger generations.
[Pictured: Season 26, episode eight, Betty Lou's Dolly loses her head.]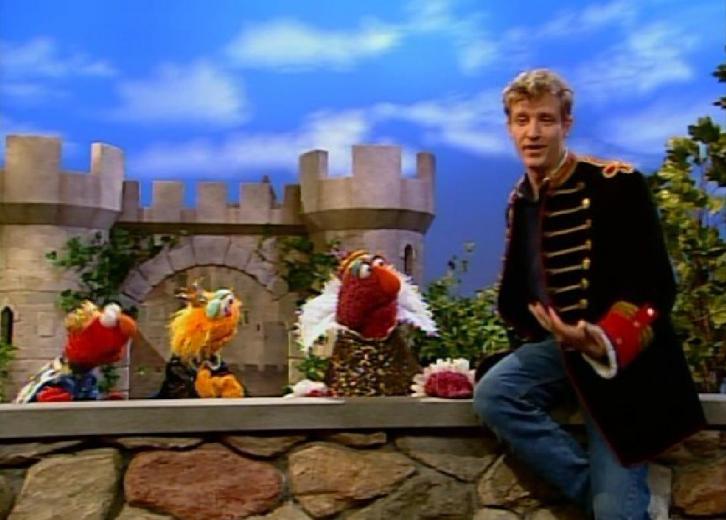 1995: Accommodating non-linguistic learners
Season 27 was referred to as an experimental season because the show's producers changed their approach to presenting lessons. To accommodate children whose learning was closely tied to musical or mathematical aptitude rather than linguistics, the lessons were strategically presented in varied, consecutive ways.
[Pictured: "Two Princes" sketch where Chris mediates a discussion amongst the three monsters and shows how they can all play together.]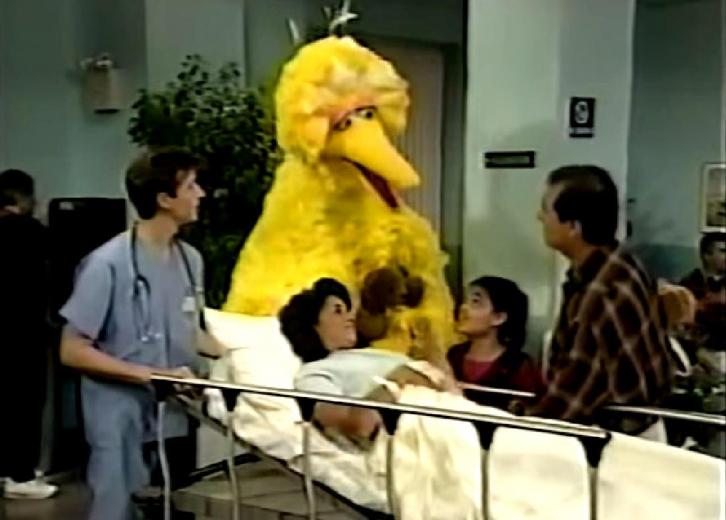 1996: Handling times of uncertainty
In this season, the muppets, through Maria's admission to the hospital for stomach pains, taught children how to cope with sudden and uncertain situations. Later in the season, Elmo faced more jarring realities when he found his pet goldfish Bubbles had died. Elmo cried until he no longer felt like crying; the message to kids was that it's okay to not always be okay.
[Pictured: Maria goes to the hospital in the two-part season premiere.]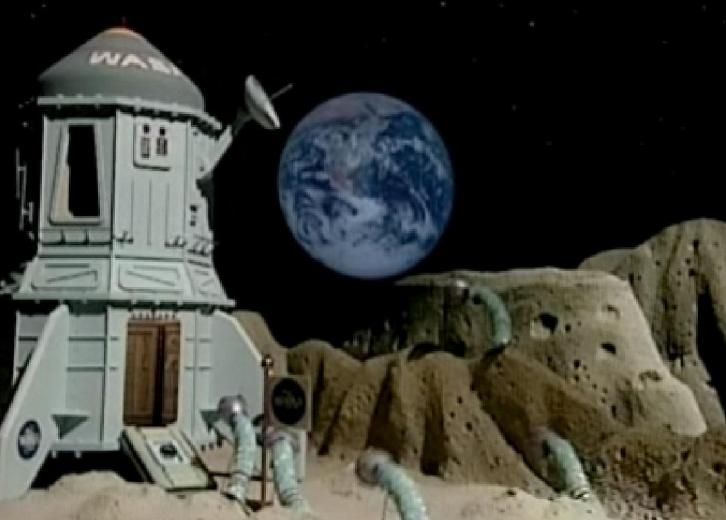 1997: 'Slimey to the Moon'
Season 29 focused heavily on the wonder and excitement of science. A major feature of this season was a science- and discovery-themed story arc called "Slimey to the Moon," told over the course of 18 weeks. Special theme weeks including music, health, literacy, and laughter also were featured throughout season 29.
[Pictured: "Slimey to the Moon" set.]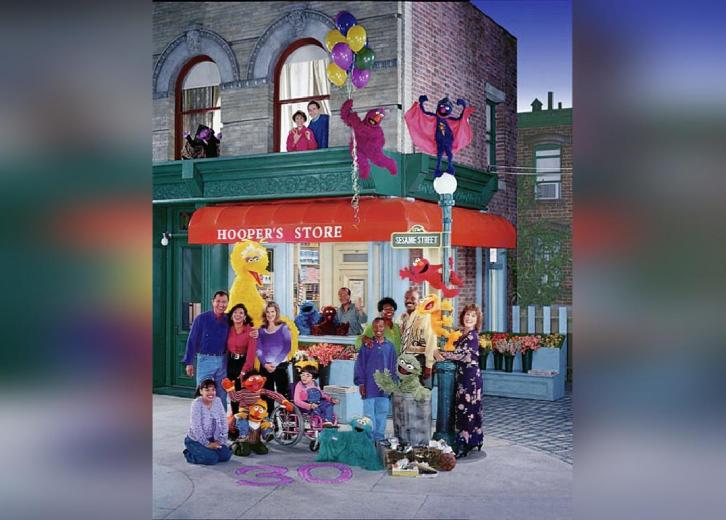 1998: Welcome to 'Elmo's World'
Season 30 debuted the famous "Elmo's World" segment and introduced viewers to Alan, the new owner of Hooper's store and beloved "Sesame Street" resident. This season was a star-studded affair with guests like Maya Angelou, Garth Brooks, Rosemary Clooney, Terrell Davis, Doug E. Doug, Fran Drescher, Béla Fleck, Denyce Graves, Patti LaBelle, Nathan Lane, Liam Neeson, Conan O'Brien, R.E.M., Ben Stiller, and Trisha Yearwood.
[Pictured: Cast of season 30.]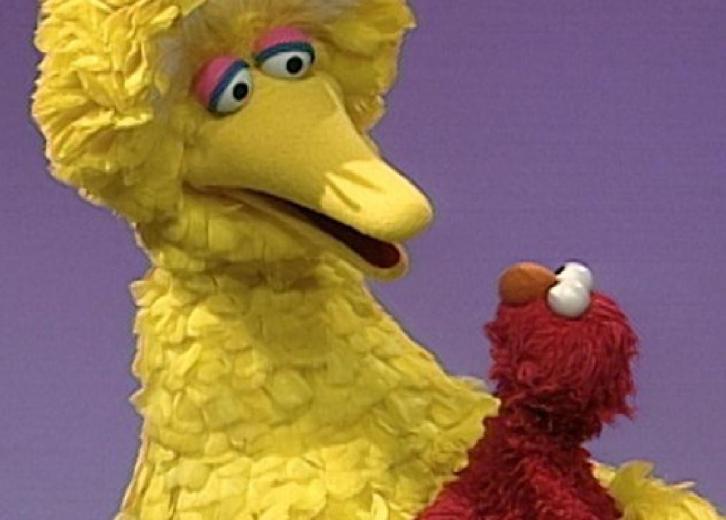 1999: Mastering conflict and computers
Helping children learn to cooperate and resolve conflict in their own environments was the primary theme of season 31. The cast also taught children how computers can be used as tools for both creativity and communication. Guests in this season included The Goo Goo Dolls, Chaka Khan, Spike Lee, Christopher Reeve, and the New York City Ballet.
[Pictured: Big Bird and Elmo from season 31.]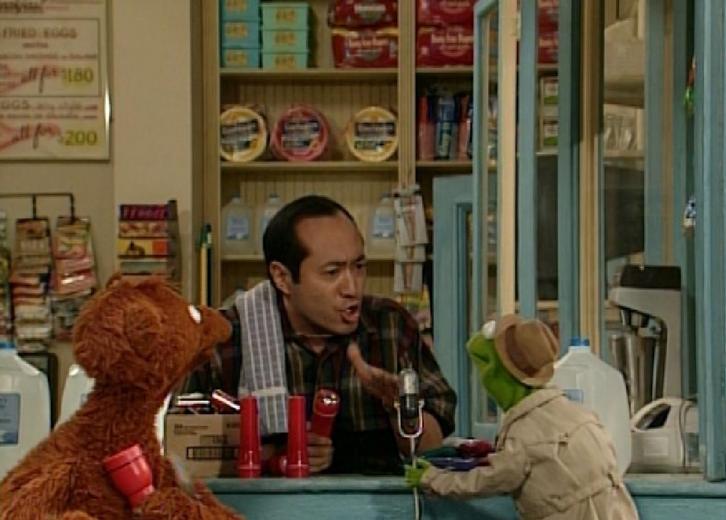 2000: The value in creating anything
The beauty of art beyond aesthetics and the importance of creativity and creation itself were the primary focuses of season 32. The curriculum centered on music and art and throughout the season, the muppets each embarked on some type of creative endeavor.
[Pictured: Kermit's penultimate "Sesame Street" appearance in a scene for the first "Hurricane" episode.]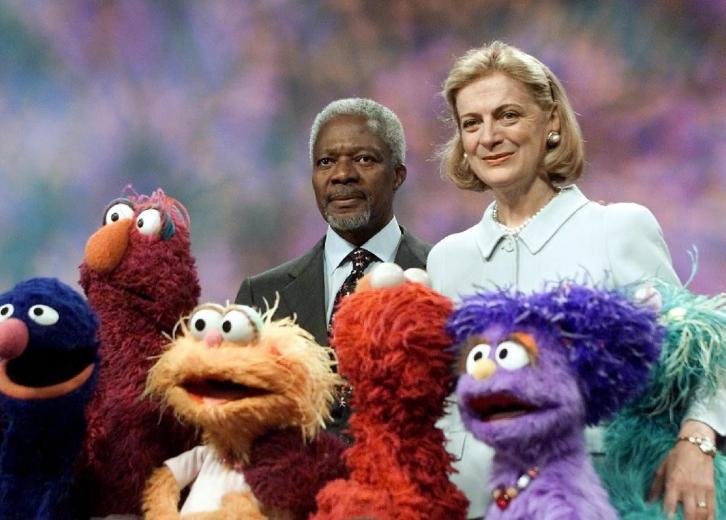 2001: Dealing with a national tragedy
Though "Sesame Street" was in the middle of production when the events of Sept. 11, 2001, occurred, writers and producers knew they needed to give children tools and a space to process the tragedy. Four special episodes created in response to the terrorist attacks covered topics like fear, loss, and bullying motivated by cultural intolerance. Significant changes to the format also were implemented, including new segments like "Number of the Day" and "Letter of the Day."
[Pictured: UN Secretary General Kofi Annan and his wife Nane pose with some "Sesame Street" characters in December 2001.]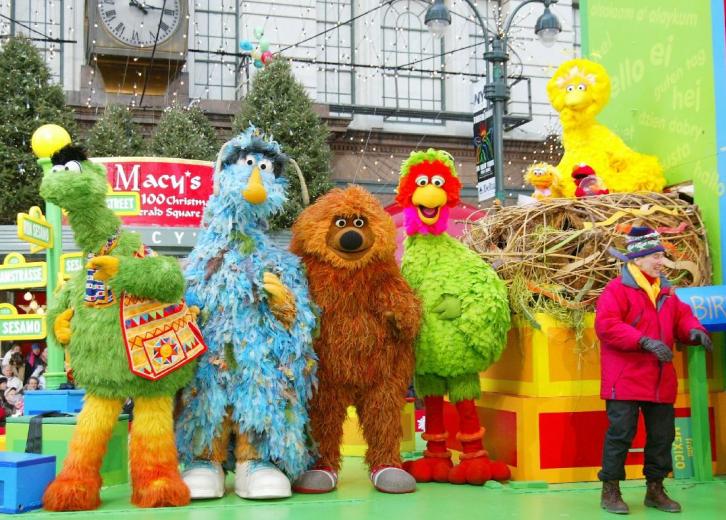 2002: Cultural acceptance is borderless
Cultural competence was the focus of season 34. Celebrating our differences while also recognizing the similarities that bind us—both globally and within our own country—were key components of this season's curriculum. Segments like "Global Grover" and "Global Thingy" were created to promote lessons of global acceptance.
[Pictured: Big Bird and friends perform at the 76th Annual Macy's Thanksgiving Day Parade.]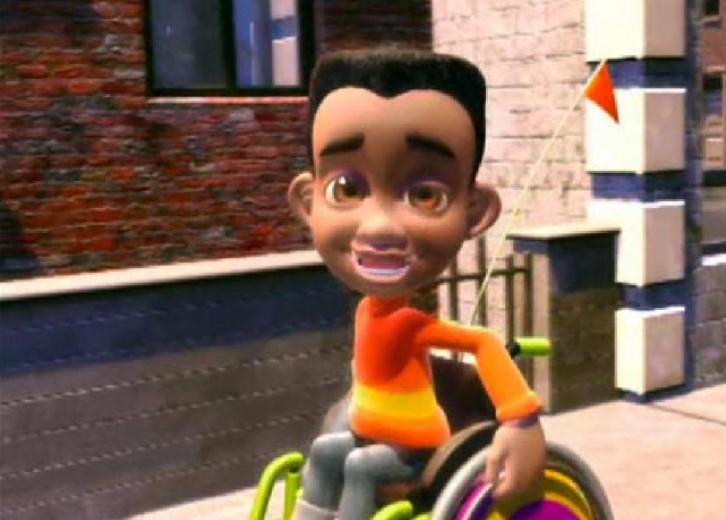 2003: Traction Jackson
A computer-animated character named Traction Jackson—TJ for short—made his debut in season 35. TJ, a basketball fanatic and dog lover who also was in a wheelchair, taught kids that beneath our physical differences there are many similarities that connect us.
[Pictured: Traction Jackson.]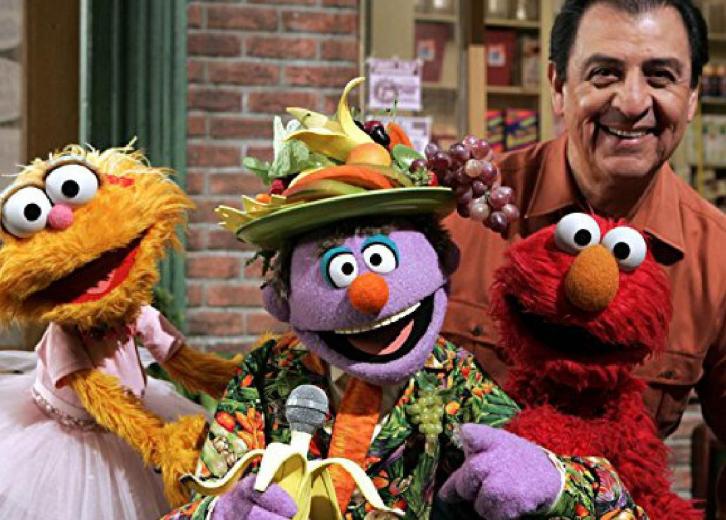 2004: C is for...carrots?
The issue of child obesity in the United States dictated much of the season's curriculum around health and nutrition. It also prompted major changes to one of the show's longtime residents. Cookie Monster began to model better eating habits, singing and reminding viewers that "a cookie is a sometime food."
[Pictured: Still taken from season 36, episode three, "The Healthy Foods Game."]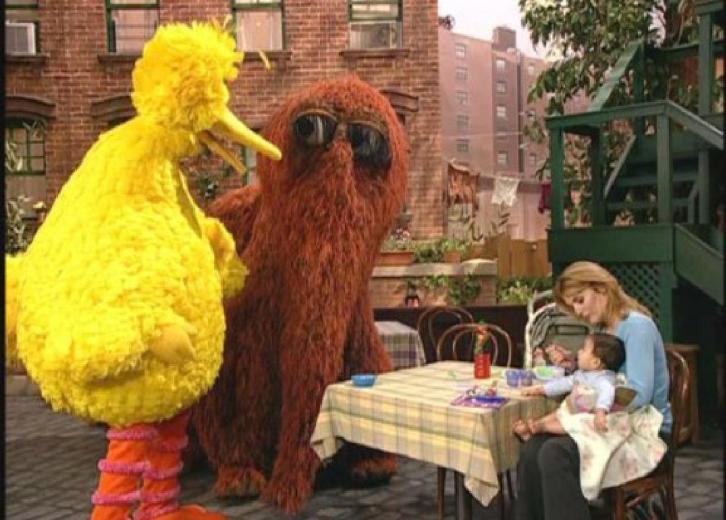 2005: Not all families look the same
Season 37 explored nontraditional families and international adoption when Gina adopted her son, Marco, from Guatemala. Viewers this season also met muppet Abby Cadabby, a fairy in training.
[Pictured: Still taken from season 37, episode 24, "Gina Adopts a Baby: Part 3."]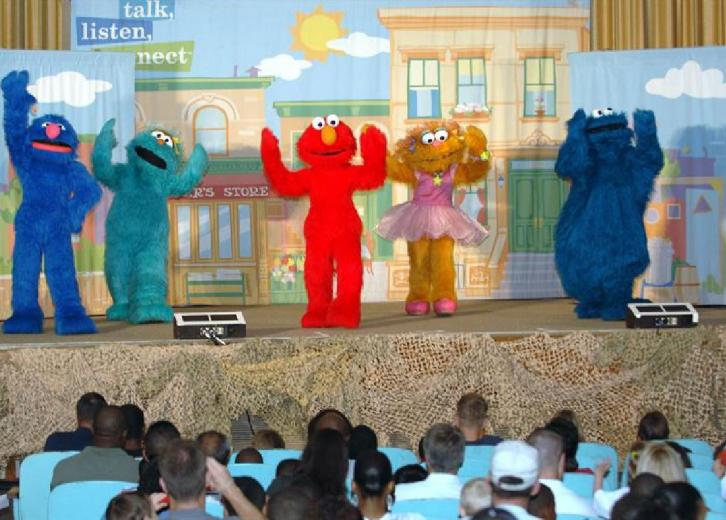 2006: Resources for family deployment
With military deployments at a record high, "Sesame Street" recognized the need for resources to help military families process and cope with the challenges of having a loved one in a war zone. The show created a multimedia kit that dealt with loss, homecoming, and how to maintain a healthy family, even worlds apart.
[Pictured: 'Sesame Street' characters perform for MacDill Air Force Base.]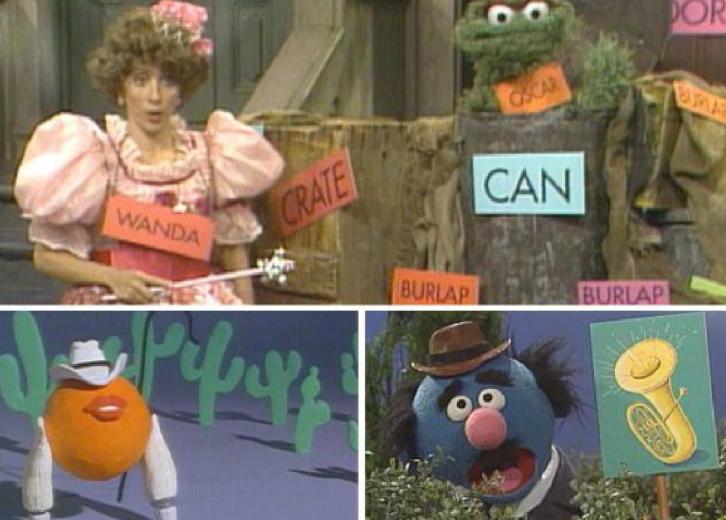 2007: Letters lead to words
To further enhance viewers' vocabulary, a new segment called "Word of the Day," building upon an older segment, "Letter of the Day," was introduced. A new human character named Chris Robinson moved to "Sesame Street" this year and began working at Hooper's Store. Over 30 guests stopped by "Sesame Street" in season 38, including Tina Fey, Diane Sawyer, Anderson Cooper, and Ellen DeGeneres.
[Pictured: Wanda the Word Fairy visits "Sesame Street" to show the meanings of certain words in season 38, episode three.]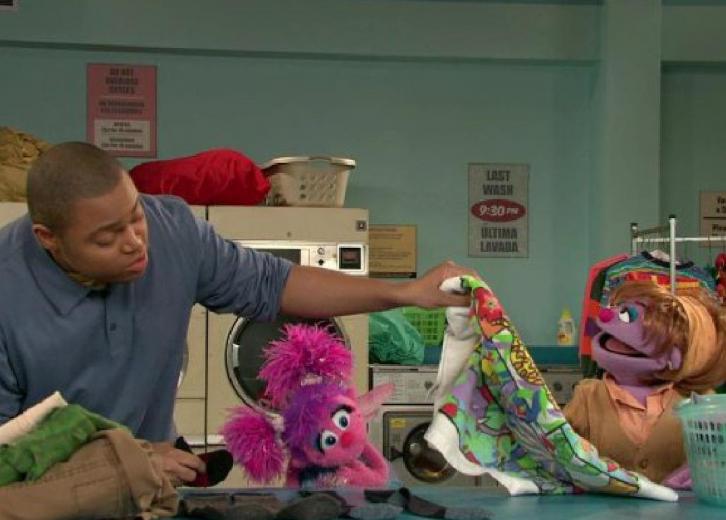 2008: Everything old is new again
The set of "Sesame Street" got a facelift during season 39, including a laundromat where the long-standing Fix-It-Shop once was. A new cast member named Leela—owner of the laundromat—also was introduced in this season.
[Pictured: During season 39, episode three, Chris folds laundry at the new laundromat.]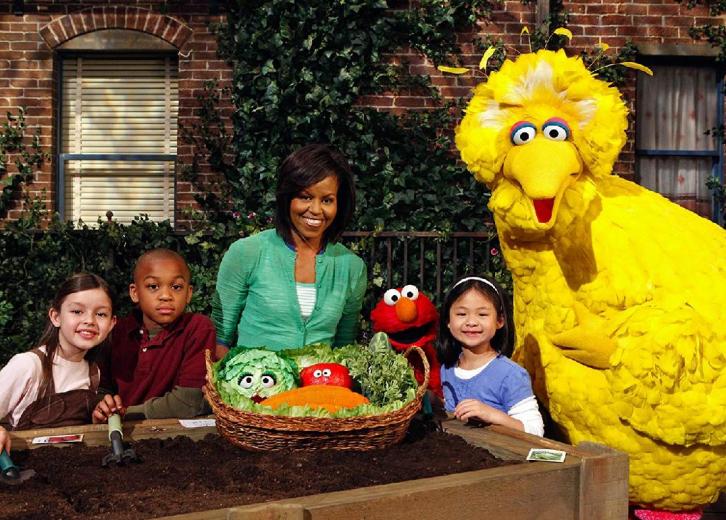 2009: 40 years of bringing good to the planet
Environmentalism returned as the curriculum focus of the 40th anniversary season. Episodes included segments about animal behaviors like hibernation and migration, lessons on how to be good stewards of the planet, and features that inspired love and respect for the natural world. "Sesame Street" hosted 35 guests that year including Michelle Obama, Ricky Gervais, Adam Sandler, Ziggy Marley, and Lin-Manuel Miranda.
[Pictured: Michelle Obama appears on "Sesame Street" on May 5, 2009.]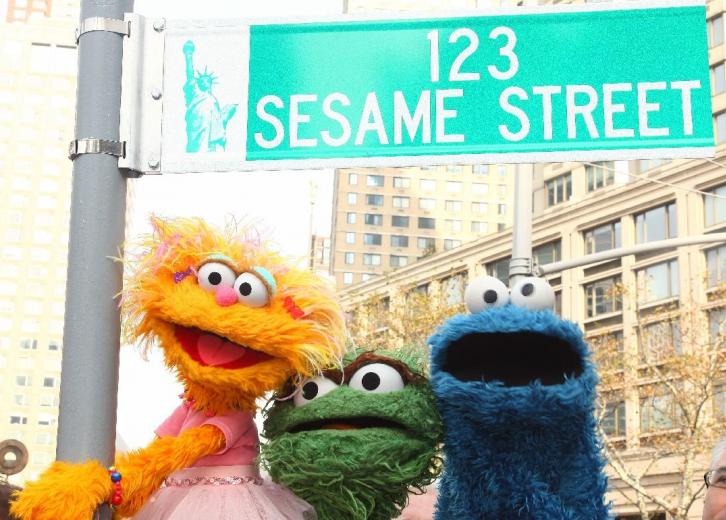 2010: We all love a positive self-image
Much like Whoopi Goldberg's segment a decade earlier in which she proudly declared she loved her skin and hair, the segment "I Love My Hair," performed by Anything Muppet in season 41, garnered positive attention for its message of self-love and acceptance. A new segment called Super Grover 2.0 also debuted this season with a focus on STEM (Science, Technology, Engineering, and Math).
[Pictured: "Sesame Street" characters pose under a "123 Sesame Street" sign at the "Sesame Street" 40th anniversary.]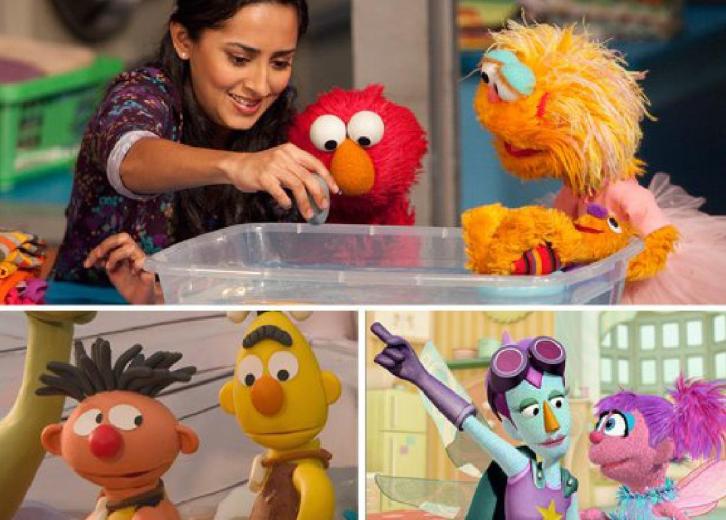 2011: An exploration of STEM
The curriculum in season 42 focused on STEM, with new segments like "Murray's Science Experiments." This season aimed to develop children's capacity for critical thinking and problem solving, as well understanding how the world around them works.
[Pictured: Leela, Elmo, and Zoe work on a group experiment in season 42, episode 2.]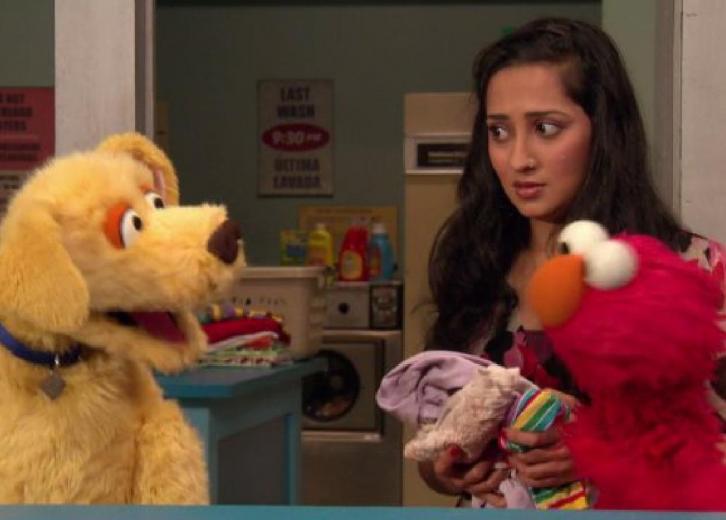 2012: STEM becomes STEAM
Building on the STEM content introduced in season 42, season 43 added art to the curriculum. A segment debuted called "The People in Your Neighborhood" and highlighted individuals with unusual careers.
[Pictured: Brandeis wants a job in season 43, episode seven.]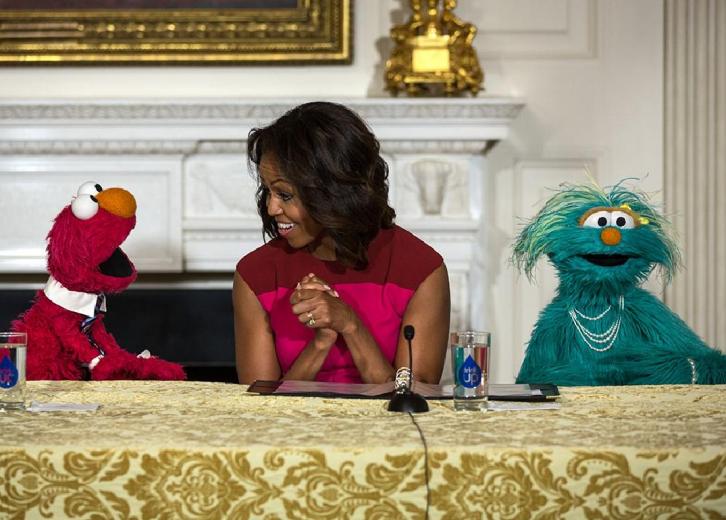 2013: Dealing with incarceration
In 2013, "Sesame Street" launched a tool kit called "Little Children, Big Challenges" that aimed to help children and families cope with an incarcerated parent. The online teaching kit featured a muppet named Alex whose dad was incarcerated—a first in the history of "Sesame Street".
[Pictured: First Lady Michelle Obama with "Sesame Street" Muppets Elmo and Rosita at the White House, Oct. 20, 2013.]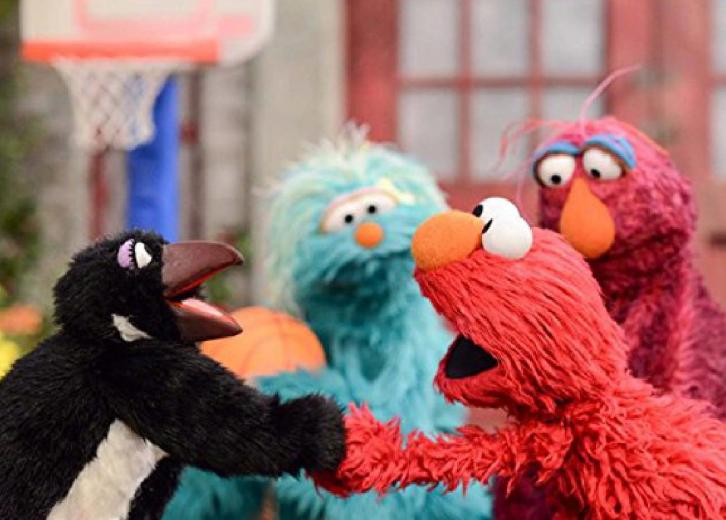 2014: Recognize and regulate
Season 45's curriculum taught kids how to recognize and regulate their emotions. These skills were reiterated throughout the season and piggy-backed on a similar set of skills introduced in season 44.
[Pictured: Chris helps Penelope, an overly excited penguin, learn how to control herself and make new friends in season 45, episode five.]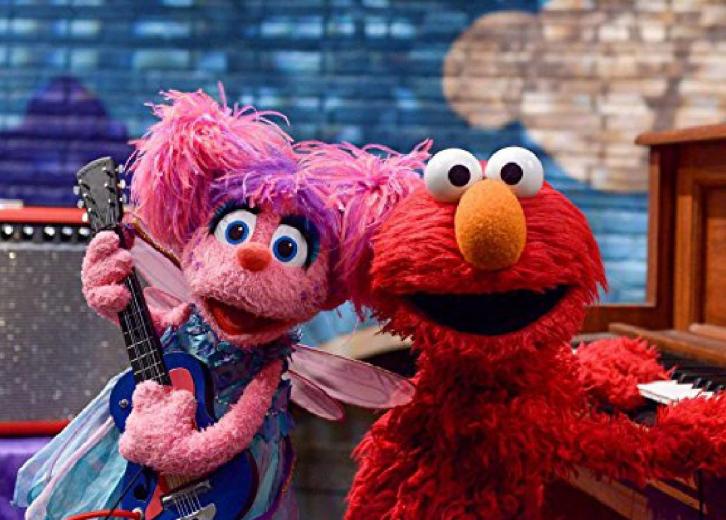 2015: Honing in on kindness
More experimentation with format and curriculum took place in season 46, with episodes centered on a single theme, fewer muppets featured throughout the season, and fewer parody and celebrity segments produced. This season's goal and overarching theme was to teach kids how to show kindness.
[Pictured: Elmo and Abby have started the Best Friend Band where they learn how to compromise in season 46, episode seven.]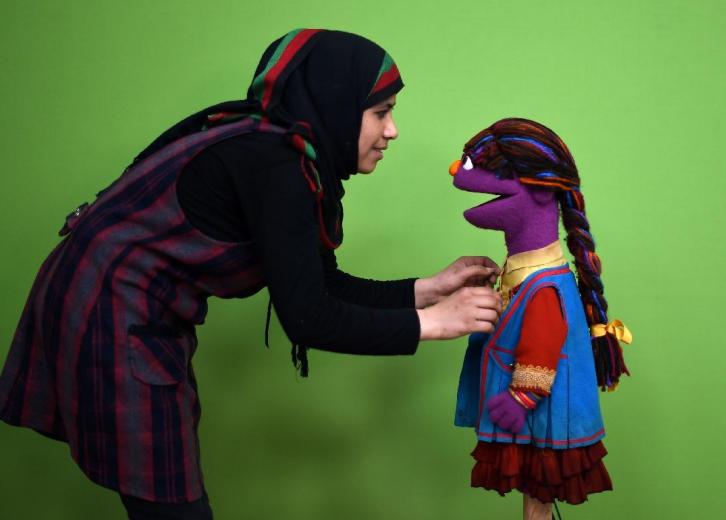 2016: Meet Zari, the first Afghan muppet
Afghanistan's co-production of "Sesame Street," "Baghch-e-Simsim," introduced the first Afghan Muppet named Zari. Zari's character promoted gender equity and in doing so, served as a role model for Afghan children. She loved sports, had an appetite for education, and aspired to have a career. These things made Zari another pioneering character under the "Sesame Street" brand and a force for positive social change.
[Pictured: Raziya Nazari prepares a Muppet named "Zari" for a recording at an Afghan television studio in Kabul.]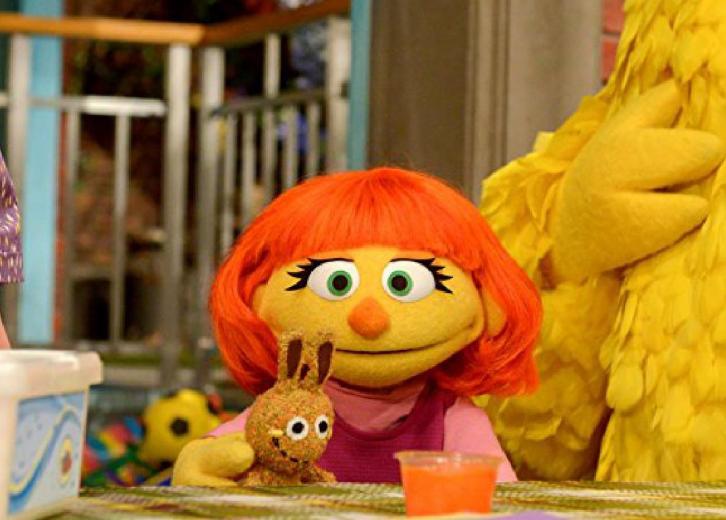 2017: Meet Julia, the first Muppet with autism
In 2017, Julia was introduced to the "Sesame Street" cast as the first Muppet with autism. Her arrival was met with overwhelming gratitude from those whose lives are affected by autism in many ways. Julia's existence marked another representation milestone, giving kids with autism the opportunity, perhaps for the first time, to meet and learn from someone on TV who was just like them.
[Pictured: Muppet Julia from the "Meet Julia" episode.]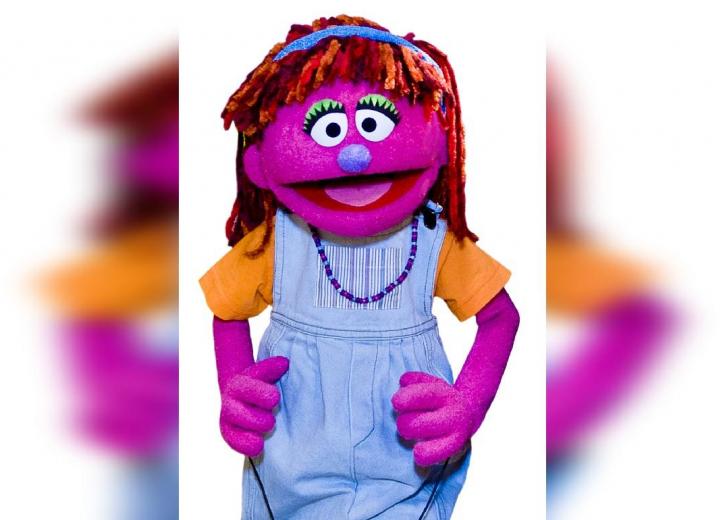 2018: Lily and the 'Sesame Street' in Communities Program
In 2018, "Sesame Street" introduced its first homeless Muppet named Lily. Recognizing that homelessness is an issue affecting millions of children in the United States, Lily was created as the face of the "Sesame Street" in Communities Program—a multimedia resource to help children, families, and advocates navigate problems like homelessness.
[Pictured: Muppet Lily.]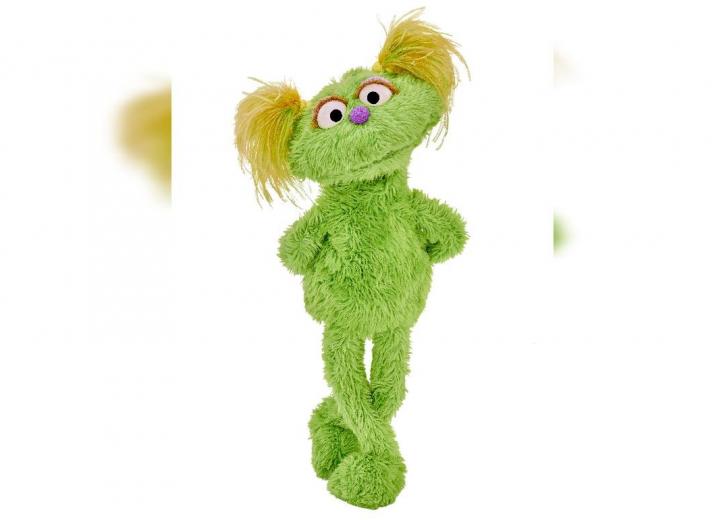 2019: Celebrating 50 years of tackling problems big and small
Early this year, "Sesame Street" introduced a new Muppet named Karli to its online "Sesame Street" in Communities program. Karli was placed in foster care while her mom dealt with "a grown up problem"—the show's definition of addiction. "Sesame Street" is addressing the opioid crisis and its impact on families, especially children, through Karli's experiences.
The 50th season of "Sesame Street" will premiere on HBO this fall. Viewers can expect a curriculum focused on the power of possibility and the debut of a new human cast member named Charlie.
[Pictured: Muppet Karli.]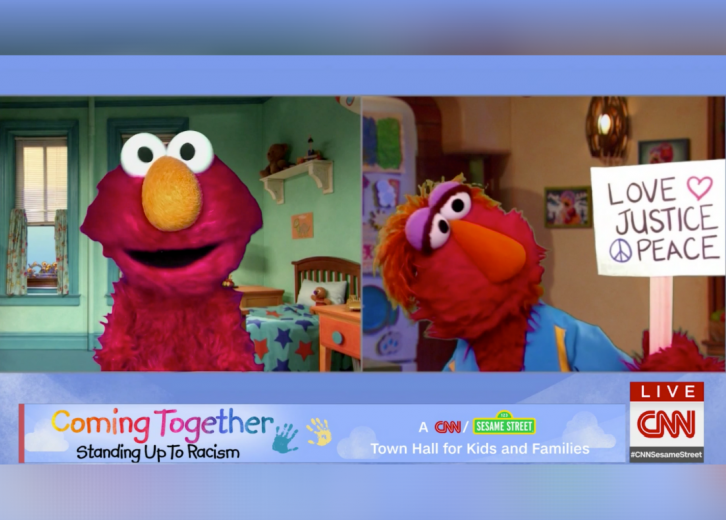 2020: 'Sesame Street' partners with CNN for town hall on racism
On June 6, "Sesame Street" partnered with CNN to host a special town hall called "Coming Together: Standing Up To Racism." The hour-long program gave children and families the opportunity to explore, together, what is currently happening in America and the long history leading up to this moment. Familiar faces like Elmo, Big Bird, and Rosita were joined by experts to discuss and answer questions about protests as well as how to recognize and stand up to racism, police brutality, and embracing diversity.

"Coming Together: Standing Up To Racism" can be viewed here for free and no login required.
[Pictured: Elmo and his dad Louie talk about why people are protesting in a town hall hosted by CNN.]