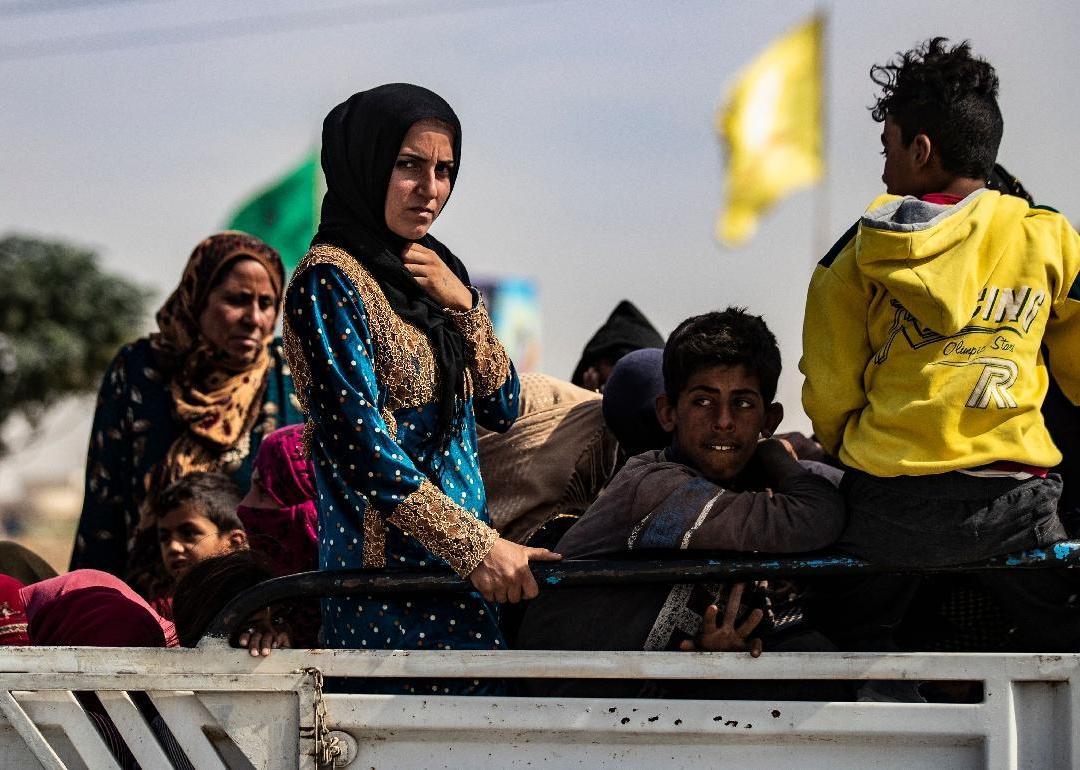 This week's news by the numbers: October 5-11
DELIL SOULEIMAN/AFP via Getty Images
This week's news by the numbers: October 5-11
Stacker distills the week's news from around the world into key facts and figures. This week's takeaways include Turkey's offensive against the Kurds in Syria, and power outages and wildfires in California. Click through to read more about some of this past week's biggest headlines.
100,000 evacuated amid California wildfire
A wildfire erupted late Thursday night in Sylmar, Calif., forcing authorities to evacuate 100,000 people from 20,000 residences along the northern edge of Los Angeles. Officials say the fire is spreading 800 acres per hour—an accelerated rate because of seasonal high winds and low humidity. Two people have been confirmed dead at the site of the fire which was 13% contained as of Friday afternoon. 
800,000 affected by intentional power outages
Earlier this week Pacific Gas and Electric (PG&E) turned off power to more than 800,000 customers to reduce the risk of wildfires being ignited by electrical equipment. PG&E decided after considering high winds and excessively dry weather forecasted this week, both of which are contributing factors in deadly wildfires. California Gov. Gavin Newsom slammed the decision, stating that it is the utility company's responsibility to upgrade their equipment to reduce the risk of wildfires, not the consumer's responsibility to endure such significant disturbances to their daily lives.
While power was restored to many customers, 300,000 remained without electricity as of Friday morning. 
1,800 U.S. troops to be sent to Saudi Arabia
Defense officials on Friday announced the U.S. will send 1,800 troops to Saudi Arabia to deter Iranian aggression in the region. Defense Secretary Mark Esper said, "Saudi Arabia is a longstanding security partner in the Middle East, and it has asked for additional support to supplement their own defenses and defend the international rules-based order." 
100,000 displaced in Turkish invasion of Syria
Nearly 100,000 people are believed to be displaced already because of Turkey's invasion of northeastern Syria, the United Nations said on Friday. Turkey launched an offensive on Wednesday against Kurdish-led militia in Syria. President Trump came under fire for not providing support to the Kurds who were U.S. allies in the fight against the Islamic State in the region. Concerns are growing over the potential for Islamic State militants to escape from the Kurdish-run detention facilities in Syria amid the Turkish offensive.