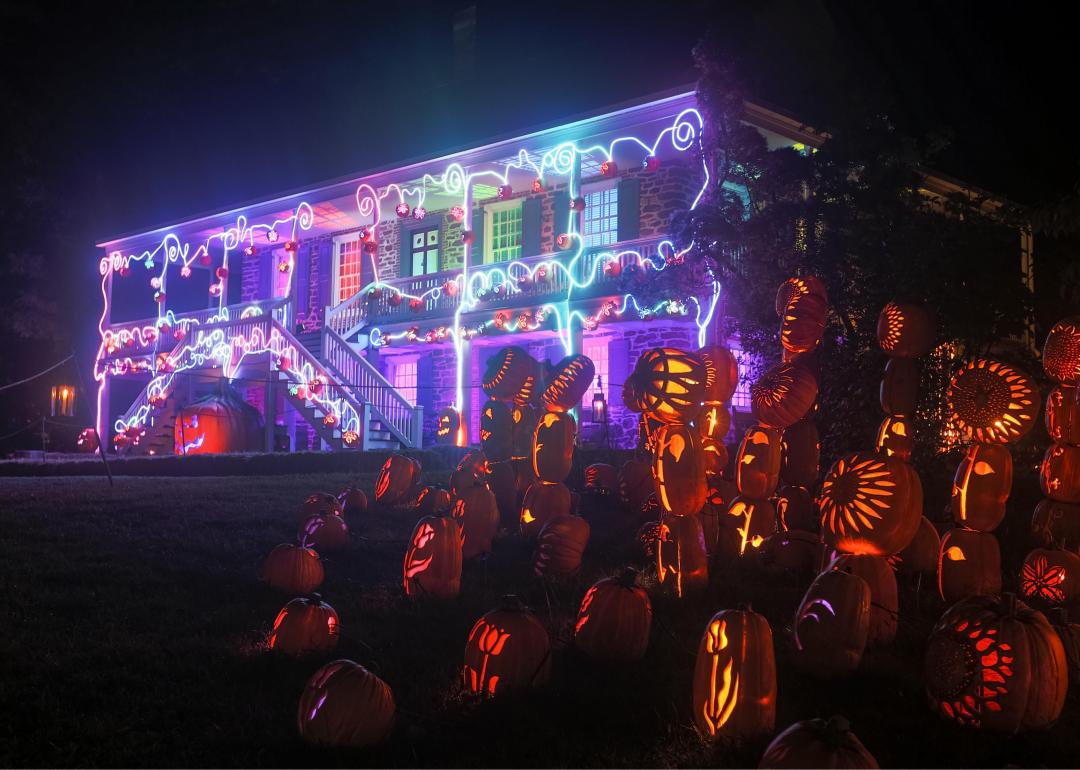 15 over-the-top Halloween displays from across America
15 over-the-top Halloween displays from across America
The impulse to celebrate the harvest and the last days before winter dates back more than two millennia, and ways of marking this time are cross-cultural. Some are based on religious practices, while others are based on Pagan lore. Over time, the marriage between these impulses have led to what we see today: carved pumpkins, nighttime mischief, dressing in disguise, children begging for treats, and lastly, an occasion that is just as much about adults as kids.
Stacker scoured the internet to find photos of 15 incredible Halloween decoration displays. These are people who go through the time, trouble, and creative effort to convert their yards or streets into Jack-o'-lantern jungles, or zombie zoos, or spook spectacles, and they do it for the joy of entertaining others. They add light shows. They synch their light shows to Halloween themed music, such as Michael Jackson's "Thriller." They set up websites and hashtags and Facebook pages. They get listed on trick-or-treating apps. They get interviewed by local media, or maybe show up on "Good Morning America." That's good news for you, the fans of Halloween, or at least, the fans of over-the-top Halloween displays.
Some of the Halloween displays Stacker unearthed are best viewed by driving by the block at a slow crawl. That's why we've provided the details, just in case you are in the neighborhood. Other display-builders provide a parking area so you can get out of the car and amble around, interacting (if you dare) with the inhabitants of the display, which may or may not be inanimate. At least one display from our list involves walking through a maze (heebie-jeebies warning) and hoping you make it back (don't worry, you will).
Almost every display on our list is active for a limited time, just through the Halloween season. Most of these offer free admission, but in some cases, donations are gladly accepted. Donations might go to support local charities or be put to good use in the construction of next year's fright-o-rama.
Read on for 16 ghoulish Halloween displays from around the country.
You may also like: How Halloween has changed in the past 100 years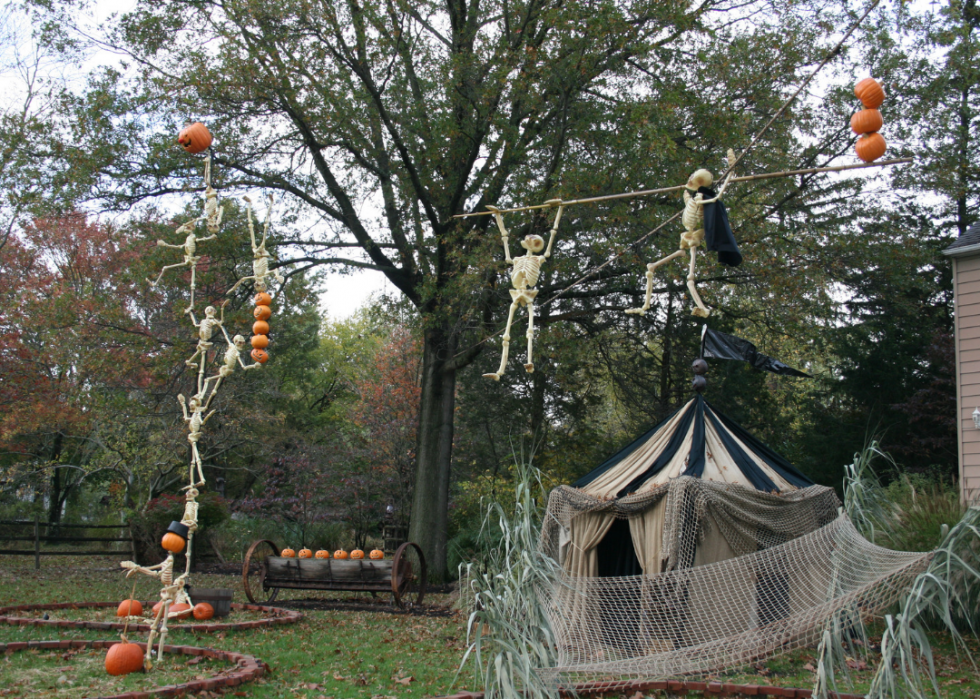 1 / 15
The Adams family's 13 skeletons in Bridgewater, NJ
Every year, the Adams family pulls out their collection of 13 skeletons and adds them to the seasonal theme decorations on the lawn of their Rt. 202/206 North home. This street is a busy one, which means daily commuters get to see the skeletons arrive, one each day, for 13 days in a row, their placement telling a story. This year's theme is "Bedtime Stories," and you can drive by daily through the end of October to see the shenanigans.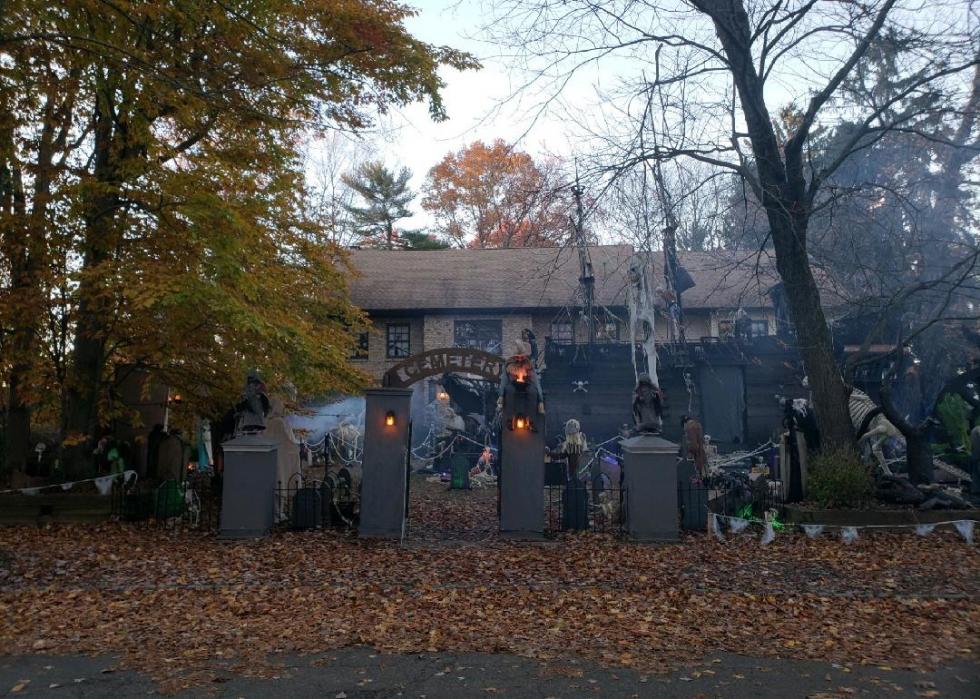 2 / 15
Courtesy of The Halloween House of Roxbury, NJ
Halloween House in Roxbury, NJ
After more than 20 annual hauntings, the Halloween House in Roxbury manages to never get old. The Heard family painstakingly decorates their Alcott Way residence each year with a pirate theme (complete with ghost ship) — or at least their skeletal selves. The property packs in visitors each year and even has its own hashtag: #HalloweenHouseRoxbury.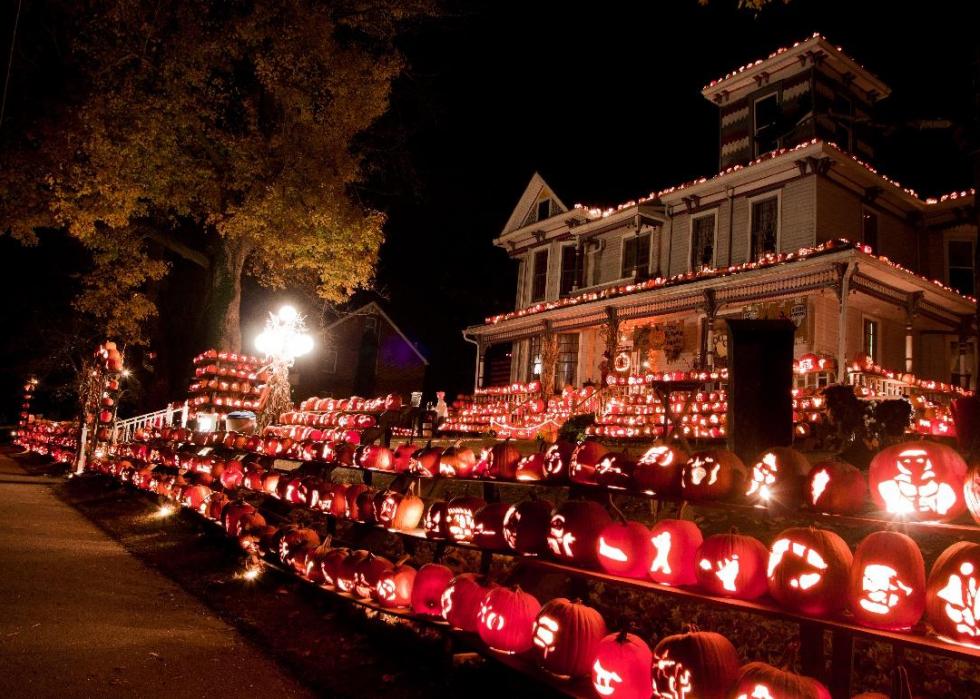 3 / 15
Kenova Pumpkin House in Kenova, WV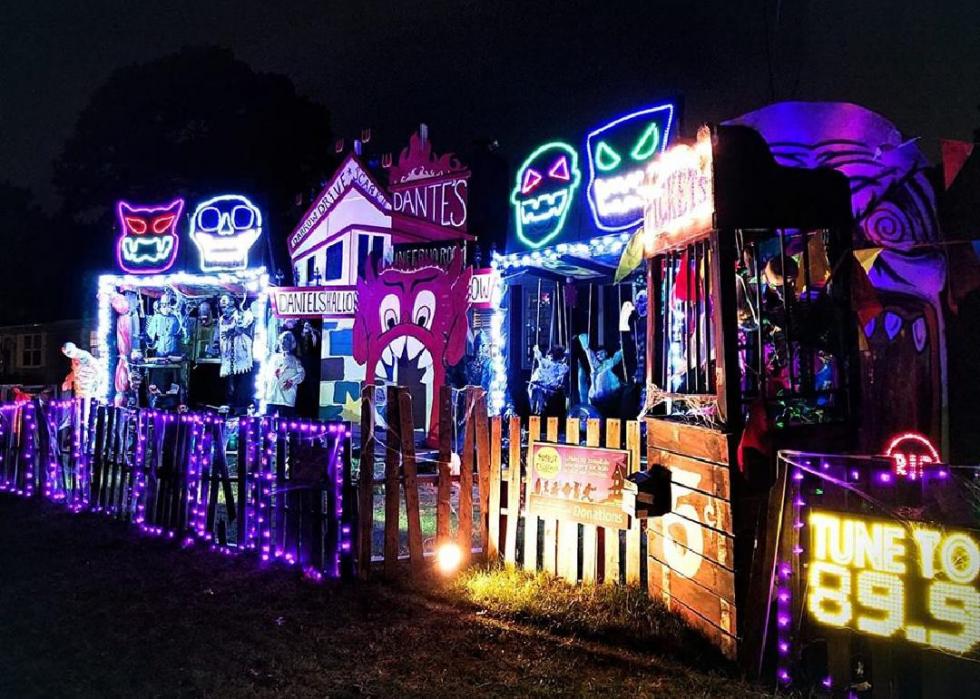 4 / 15
Courtesy of Daniels' Halloween House of Warwick
Daniels Halloween House in Warwick, RI
In a section of lawn that some people might consider suitable for a swimming pool, Mike Daniels has created what he calls the " epicenter of creepy Halloween displays." Sure, there's a light show synched to music. But check out the animatronics that run and jerk creepily, weather permitting. The full show runs Thursdays through Sundays at this house at 69 Darrow Drive and is a fundraiser for the Spirit of Children foundation.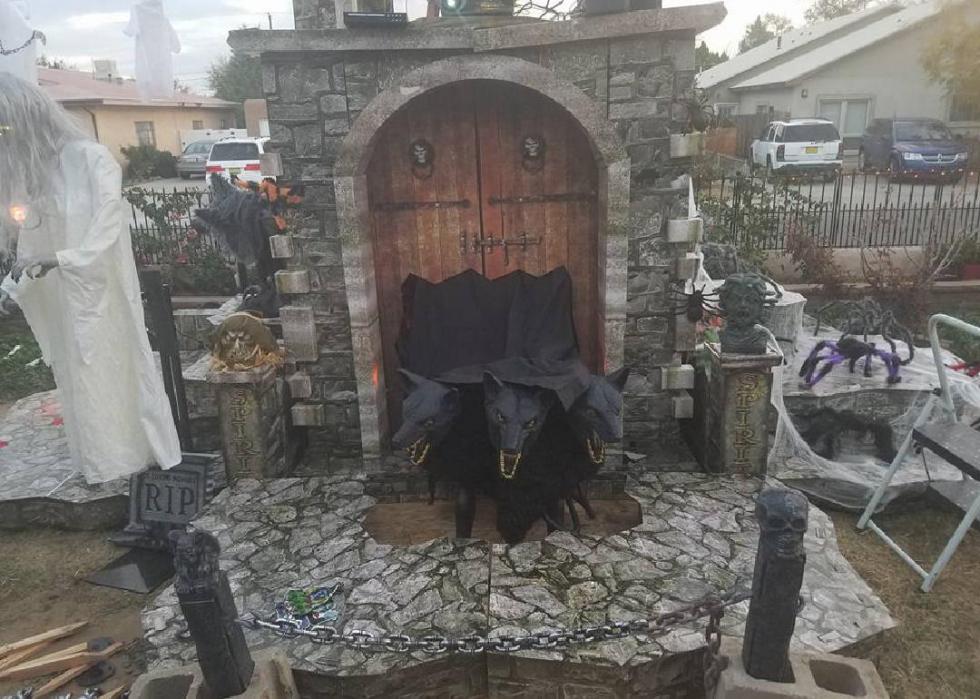 5 / 15
Courtesy of Cunningham Haunt House
Cunningham Haunt House in Farmington, NM
Who knew that there were employment prospects in the haunted house industry? Darrell Cunningham did, and although he didn't make it his profession, he has become possessed by the hobby. For proof, see his self-built witches, grim reaper, angels, and other spooky props moving to the tunes at his house along E. 14th Street.
6 / 15
Courtesy of Terror on Tillson St.
Terror on Tillson Street in Romeo, MI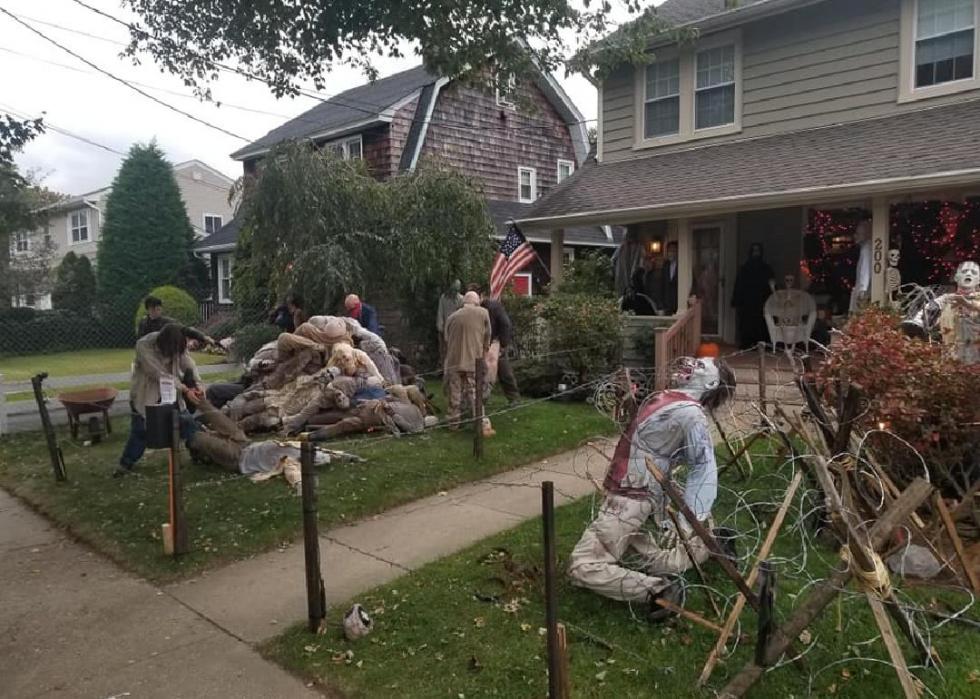 7 / 15
Courtesy ot the Halloween House of RVC
The Halloween House of RVC, NY
It is a good thing the house in Rockville Centre, N.Y., has a fenced-in front yard. How else could they hold back the zombies or the other creatures who populate the lawn during this annually changing Halloween creep show? Must keep ghouls off Forest Avenue.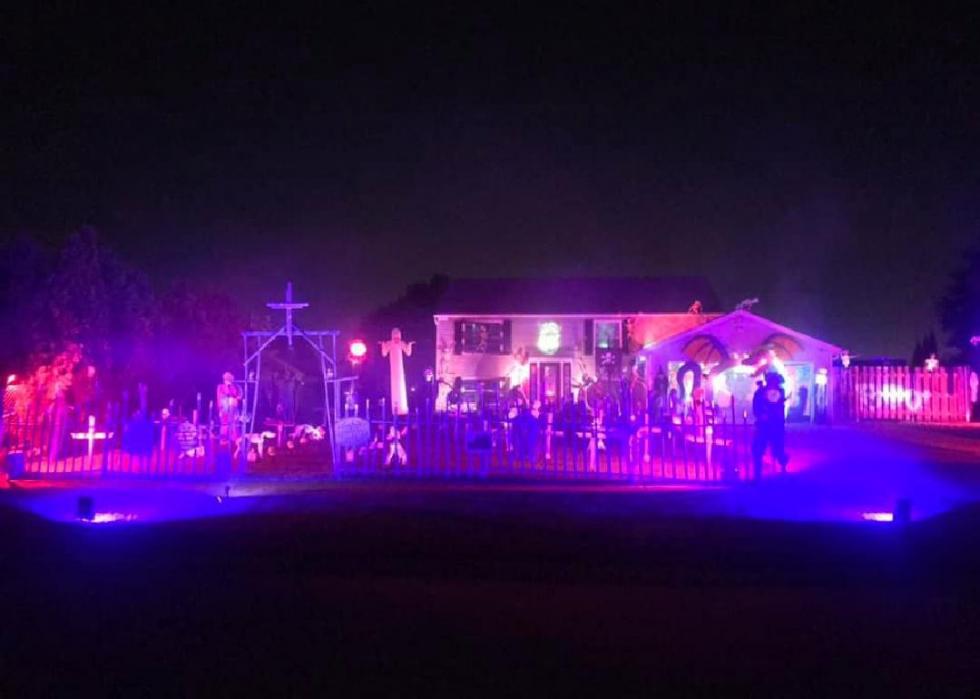 8 / 15
Courtesy of the Spencer Ln. Haunted House
The Spencer Lane Haunted House in Brunswick, OH
Bill Doehring doesn't need to scare people into donating to the local food pantry. But his array of creepy graveyard props and what appear to be demented clowns appeal to the generous nature of his 1,200 drive-by visitors each year. The interior of the home can be toured through Oct. 31.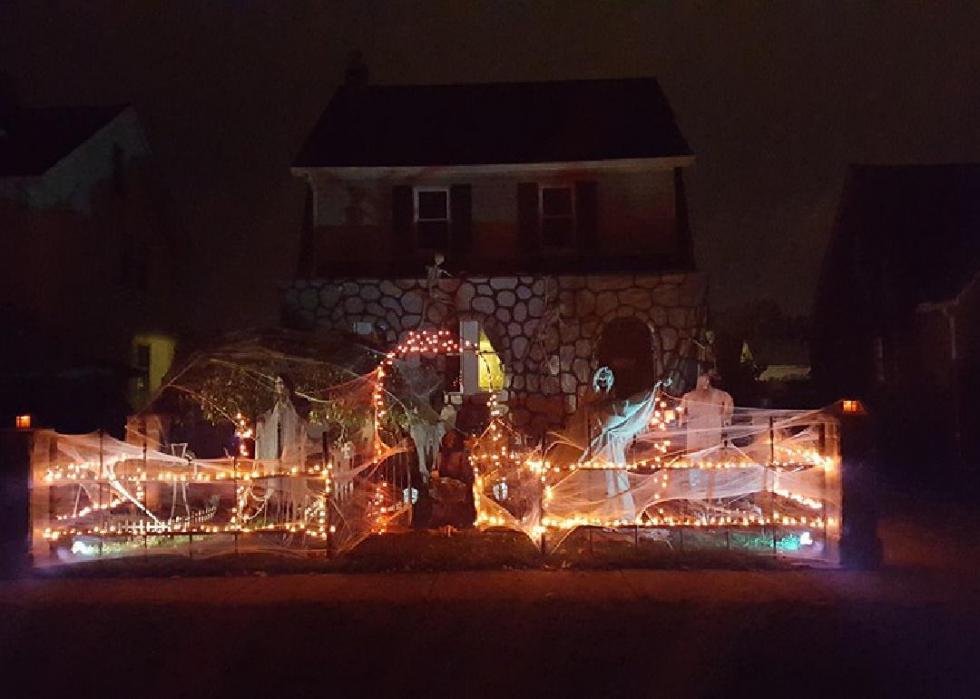 9 / 15
The Douglas Manor // Facebook
The Douglas Manor Haunted House in Parma, OH
At the Douglas Manor on Lincoln Avenue, fright seekers can do more than just drive by to ogle scary apparitions. Here, you can walk through a maze, which takes about ten minutes to find your way back out if your knees don't buckle in fright before then. Just for added scariness, live actors are part of the experience, which runs from Oct. 24-27. Admission is free, but donations are accepted for the local food pantry and animal shelter.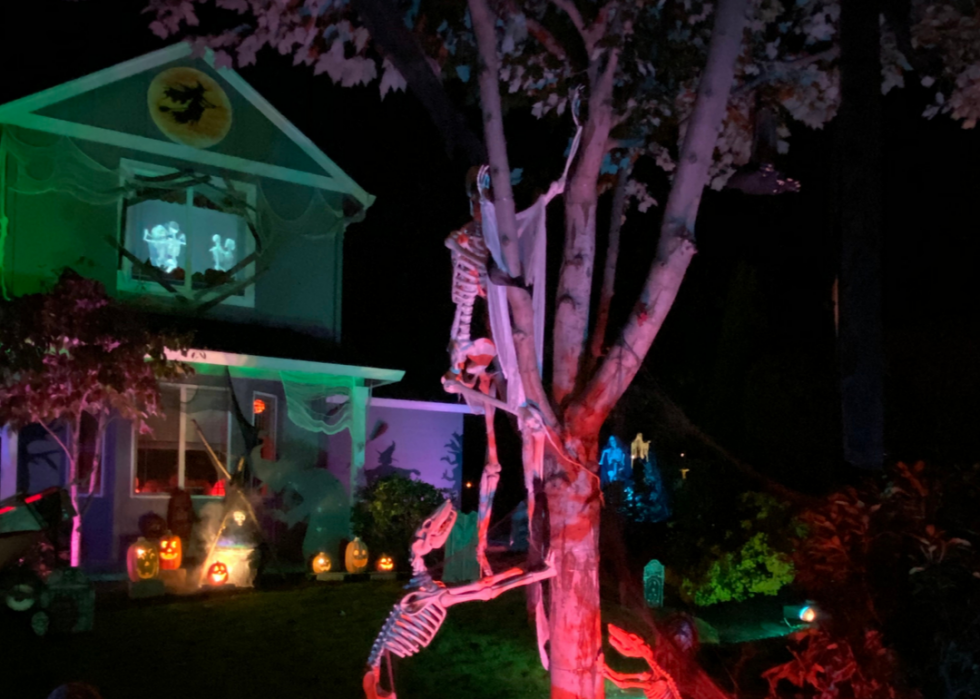 10 / 15
The Mains home in Vancouver, WA
The Mains family doesn't passively wait for trick-or-treaters or other visitors to come by their place at 4616 NW Franklin St. They make sure they're listed on a trick-or-treat locator app and promise full-sized candy bars to the first 650 visitors. Displays include scarecrows, witches, spiders, cauldrons, and skeletons. You know, Halloween. You can see it nightly through Oct. 31.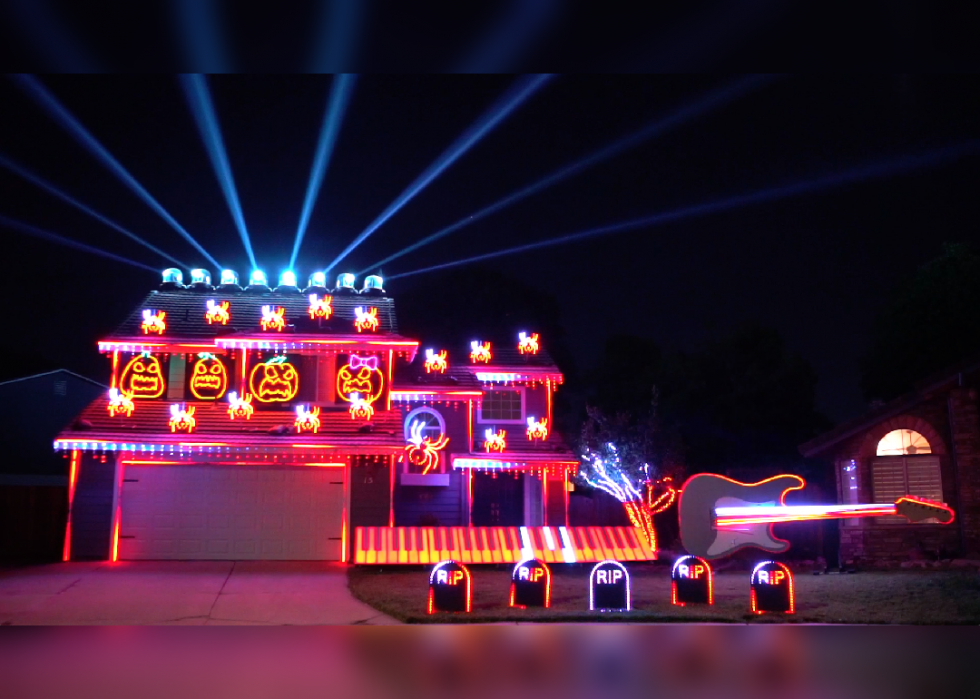 11 / 15
Tom BetGeorge // Magical Light Show
The Magical Light Shows in Tracy, CA
If you prefer your Halloween more magical than manic, check out the Magical Light Shows at 15 Phillips Court. This free music-sequenced light show has been featured on "Good Morning America," and the community is invited to see it live. Although this show takes place at a family home, it is part of a business that provides custom light show installations and other services.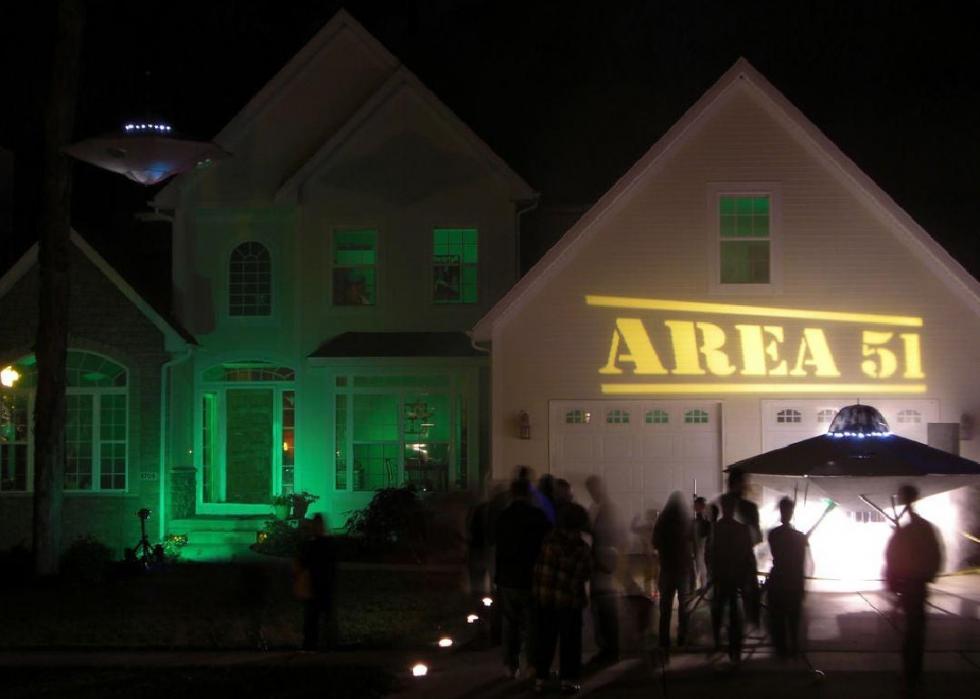 12 / 15
Jerry Jodloski // Instructables
Invasion at Area 51 in Lansing, MI
Jerry Jodliski knows how to Halloween. He runs an annual festival by that name, honoring the do-it-yourself spirit that many people recall from childhood. This year it'll be at the Lansing Center Oct. 19-20. Jodliski puts his own spin on the holiday, one year even placing full-scale replicas of UFOs landing in his yard, also known as Area 51. A few hundred trick-or-treaters were treated to the full effect.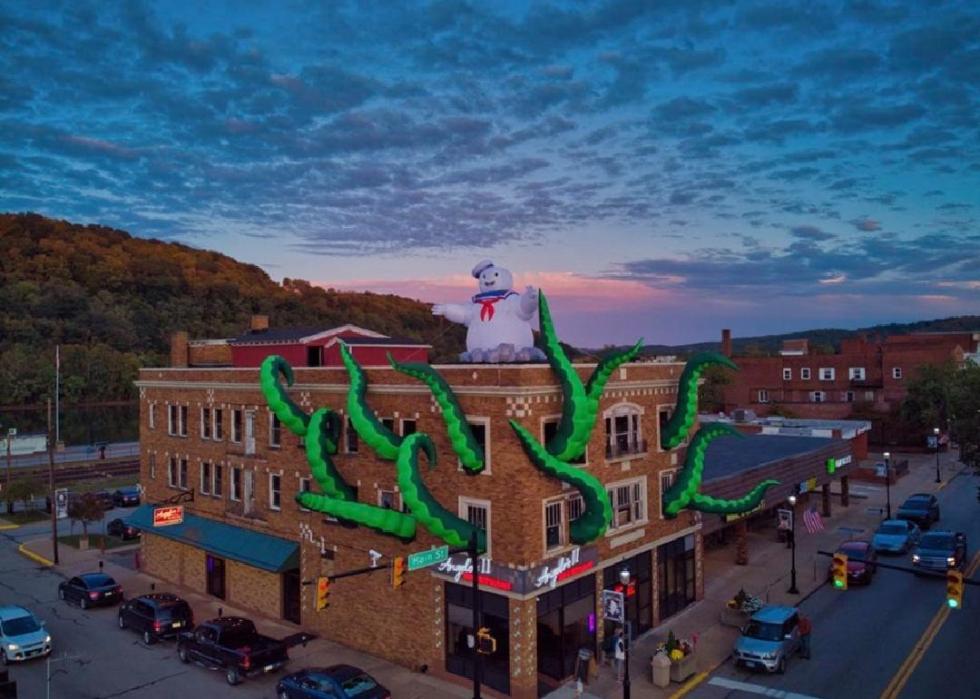 13 / 15
Angelo's Monongehela in Monongehela, PA
Most cities have their favored neighborhood haunts, but they take it to the extreme at Angelo's II at 111 Third St. If you have ever eaten squid at an Italian restaurant and found your thoughts too focused on tentacles, you might appreciate the inspiration for this year's display. Between the floppy green tentacles emerging from the windows and the Stay Puft Marshmallow Man on the roof, this year's display is deliciously over the top.
14 / 15
Courtesy of Historic Hudson Valley/Tom Nycz
The Great Jack O'Lantern Blaze in Croton-On-Hudson, NY
This isn't a show thrown together by your insomniac basement-dwelling neighbor. The Great Jack O'Lantern Blaze is a serious fall event held in the historic Hudson Valley, where pumpkin carving is done by bona fide artisans. Held in the Museum of Pumpkin Art at 525 S Riverside Ave., the show features more than 7,000 illuminated Jack-o'-lanterns. The show runs on select dates through November. There is an admission charge; tickets can be purchased in advance online.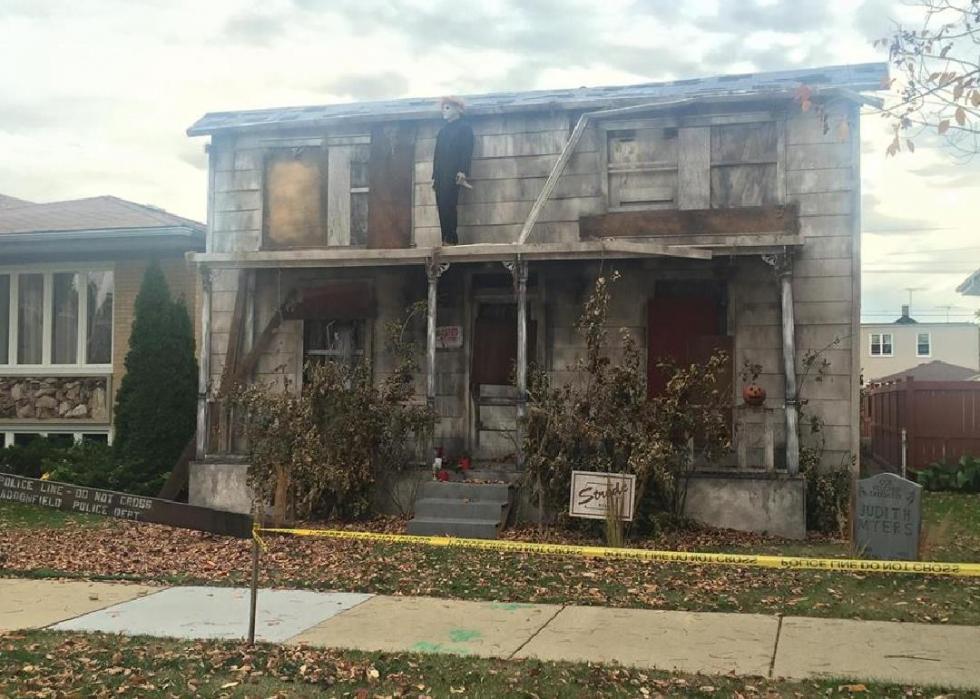 15 / 15
Michael Myers' house in Chicago, IL
The house where all the slashing happened looks peaceful and a bit ordinary — on the exterior, at least—as it stands today in California. But viewers of the Halloween horror film series know the place a bit better as it looked in the John Carpenter films. In Chicago, you can see the work of resident Alex Sanchez, who built a facade resembling the film's house and stood it in the yard in front of his own house, on Moody Avenue near Montrose Avenue. There goes the neighborhood, indeed.
You may also like: How Halloween has changed in the past 100 years