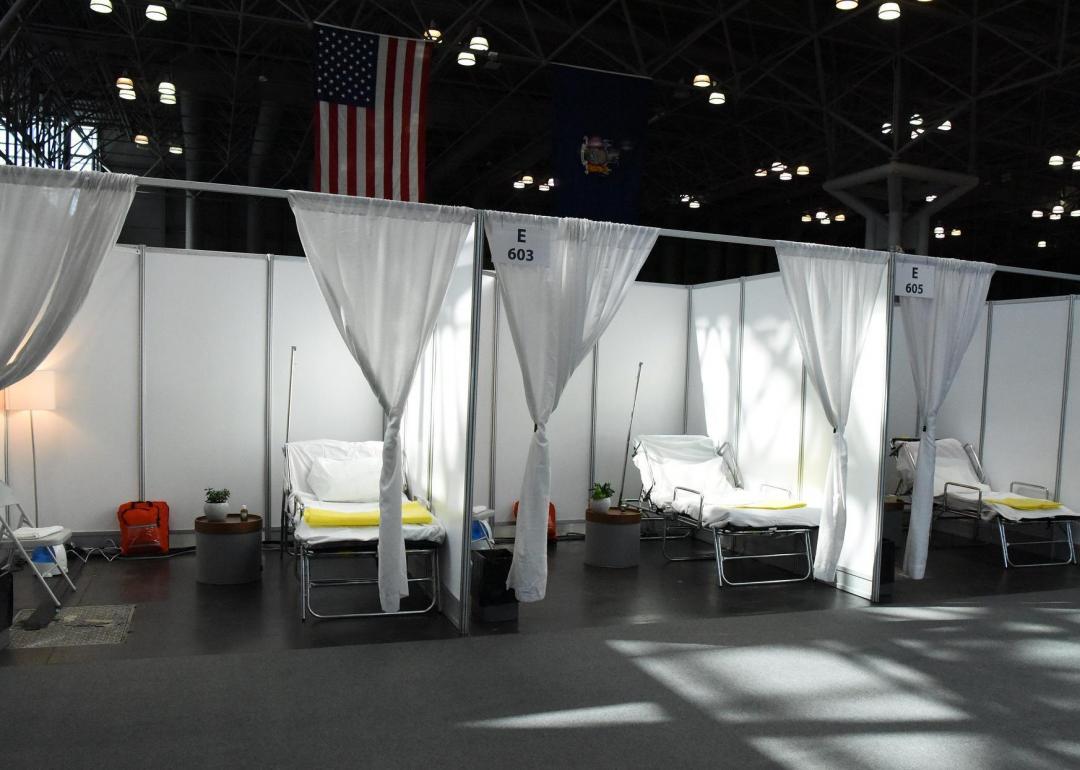 How hospitals in every state are adapting to COVID-19
New York National Guard // Flickr
How hospitals in every state are adapting to COVID-19
The coronavirus pandemic is overwhelming hospitals, intensive care units (ICUs), and health care workers across America and around the world. In December, the first case of COVID-19 was reported from Wuhan, China. Since then, the virus has quickly spread across continents, with numbers of confirmed cases and deaths rising daily.
On April 2, the total number of cases surpassed 1 million, according to Johns Hopkins, of which more than a quarter-million were in the U.S. The Institute for Health Metrics and Evaluation (IHME) reports the U.S. is approaching the projected April 11 peak, the time when most resources will be needed.
The U.S., as a whole, doesn't have enough hospital beds to accommodate everyone who will get sick, but the pressure placed on individual hospitals across the country will vary dramatically. Hospitals in major cities and urban communities have been more stressed, given the larger populations they serve—such as in New York, where most U.S. cases have arisen.
In addition, there's a global shortage of supplies, including protective equipment, basic medical supplies, and testing equipment. There's also a limited supply of ventilators and specialized staff who can care for extreme cases.
To adapt to the ever-changing situation, some states are building field hospitals or opening previously shuttered centers to help cope with the rise in patients. Hospitals in most states are postponing elective surgeries to free up staff and beds to treat patients with COVID-19, while others are coming up with innovative solutions to deal with the shortage of supplies.
To explore how hospitals are adapting to COVID-19 from state to state, Stacker consulted various reputable news articles and government reports to get a more complete picture, though it's important to note matters are changing daily. 
Read on to find out how hospitals in your state are dealing with the health crisis.
You may also like: Types of cancer on the rise