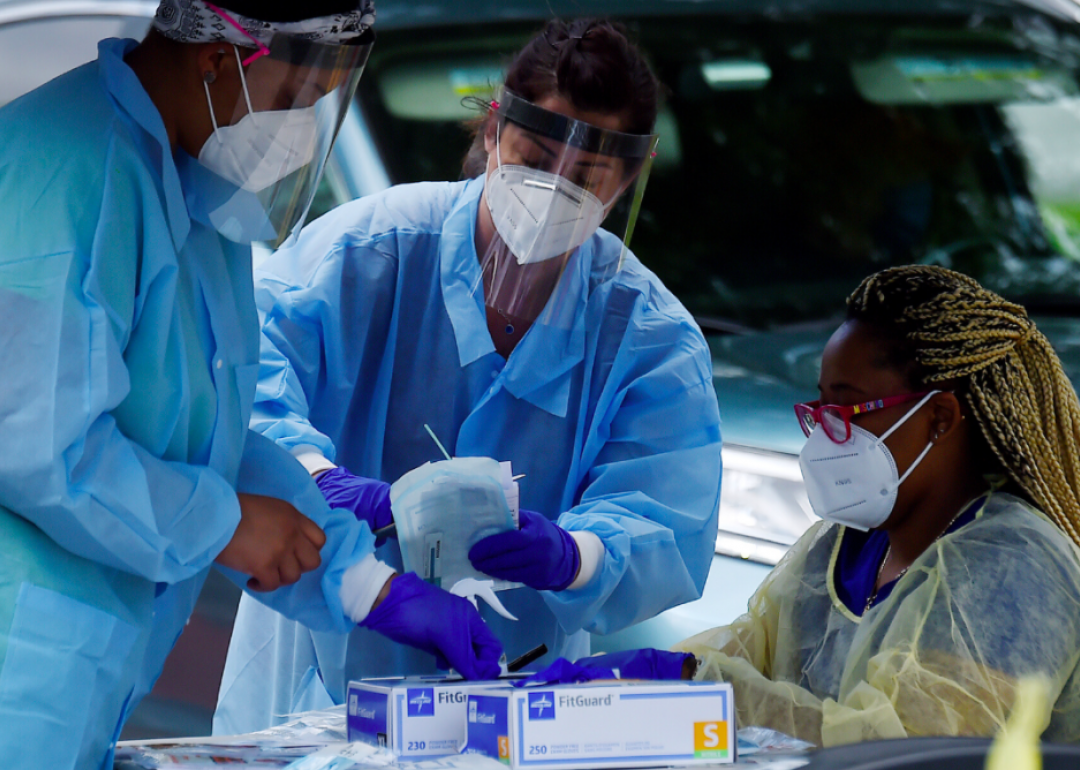 States with the most and least testing sites
OLIVIER DOULIERY/AFP via Getty Images
States with the most and least testing sites
As of May 28, more than 15 million tests have been administered for the novel coronavirus, according to data from the COVID Tracking Project. While testing rates and overall numbers have risen significantly the uptick is still not nearly enough to truly understand where pockets of COVID-19 persist, where case counts are growing, and how to re-open businesses and public spaces safely.
Stacker consulted a May 2020 report by the health benefits platform Castlight to determine which states have the most and least COVID-19 testing sites. Castlight's report compiles analysis from the platform's testing site database, which allows users to search through hundreds of sites around the country to find locations near them. Stacker has ranked all 50 states here according to the share of counties in each state with at least one testing site. Ties were broken by the total number of testing sites in the state. We've also included data on the total positive cases, tests conducted, and the death toll in each state as of May 27 via the COVID Tracking Project.
Harvard's Global Health Institute in early May said the U.S. should be conducting in excess of 900,000 tests per day nationwide by May 15. When the projection was made May 7, the country was averaging about 264,249 tests daily, per reporting from NPR—a statistic that had risen by the last week of May but still sat at less than half the target. The number of tests administered varies significantly by state and county, with a lack of available tests diminishing testing rates and, consequently, the opportunity for citizens and government officials to make informed decisions about reopening.
When reviewing the data, it's important to note that some states are conflating PCR and antibody tests in their reports of how many tests have been conducted. PCR tests—or polymerase chain reaction tests—represent the majority of COVID-19 testing being done. These tests look for genetic evidence of the novel coronavirus, and come back positive if a person is actively infected at the time they are tested. Antibody tests can show who has been infected: Antibodies can take up to two weeks to appear following infection. In addition, some states report their testing numbers in units of people, while others report in units of test specimens; reporting in units of specimens allows states to double- or triple-count people who have been tested multiple times.
Keep reading to see which states have the most and least testing sites, and where your home state stands.
You may also like: How the most common jobs in America are impacted by COVID-19