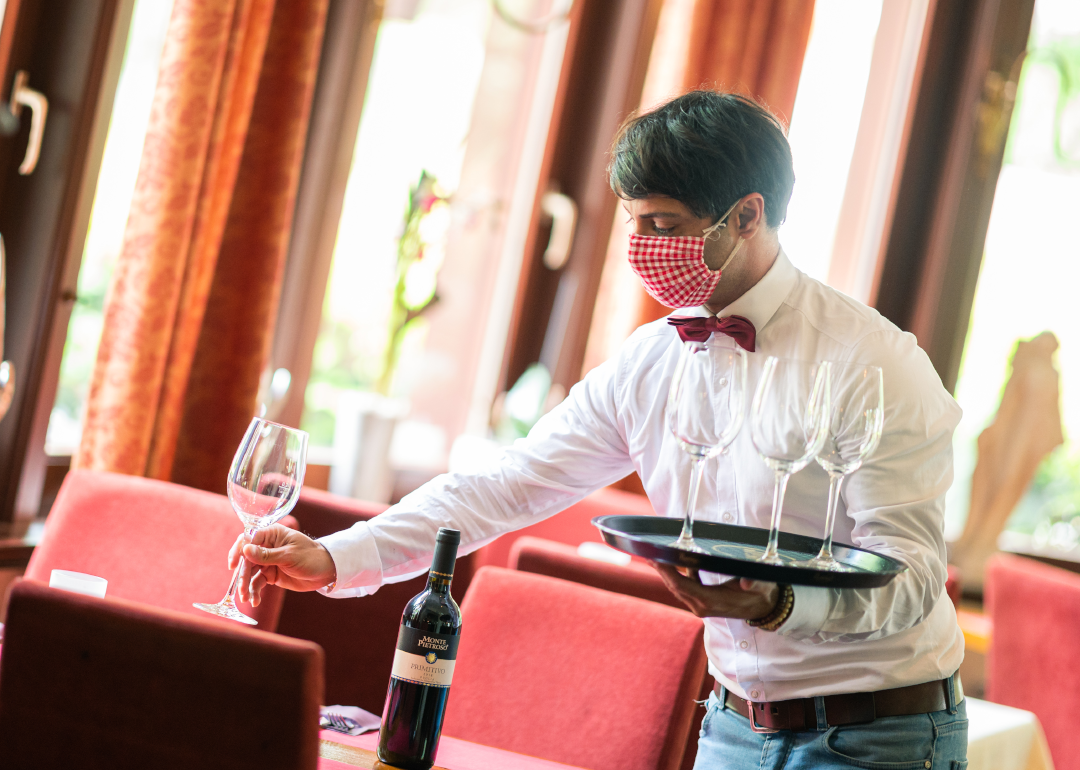 New normal: Dining out in the age of COVID-19
Mohssen Assanimoghaddam // picture alliance via Getty Images
Dining out in the age of COVID-19
From masks and gloves to plastic partitions and sanitized menus, dining out looks remarkably different in the age of COVID-19 than it did just a few months ago.
Around the world, restaurants—many of which transitioned to take-out only or closed entirely during shutdowns—have begun the process of reopening their doors. Nearly all dining establishments are doing so with the aid of new precautions ranging from modified table layouts to temperature checks of patrons at the entrance. In the forthcoming gallery, we look at restaurants spanning the globe and what this "new normal" looks like for diners and business owners alike.
Keep reading to see images from around the world curated by Stacker depicting how dining out is changing in the wake of COVID-19.
You may also like: 50 tips for improving your work remote life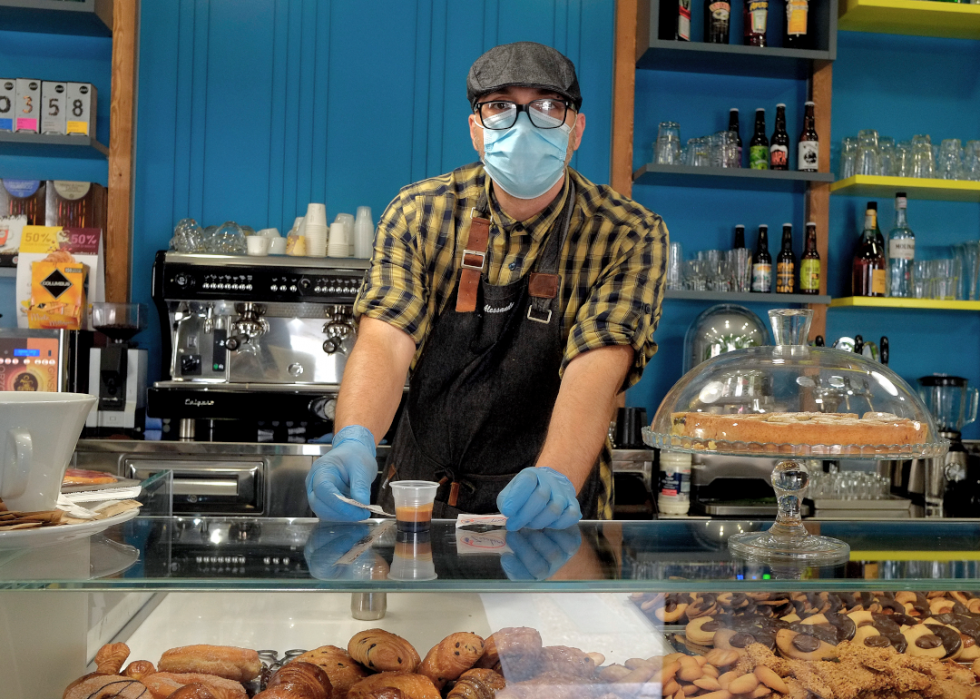 1 / 35
Simona Granati/Corbis via Getty Images
Roman restrictions on espresso to go
Gloves and masks are a part of the new uniform at restaurants around the world. In Rome, a bartender hands a customer espresso to go early in reopening efforts.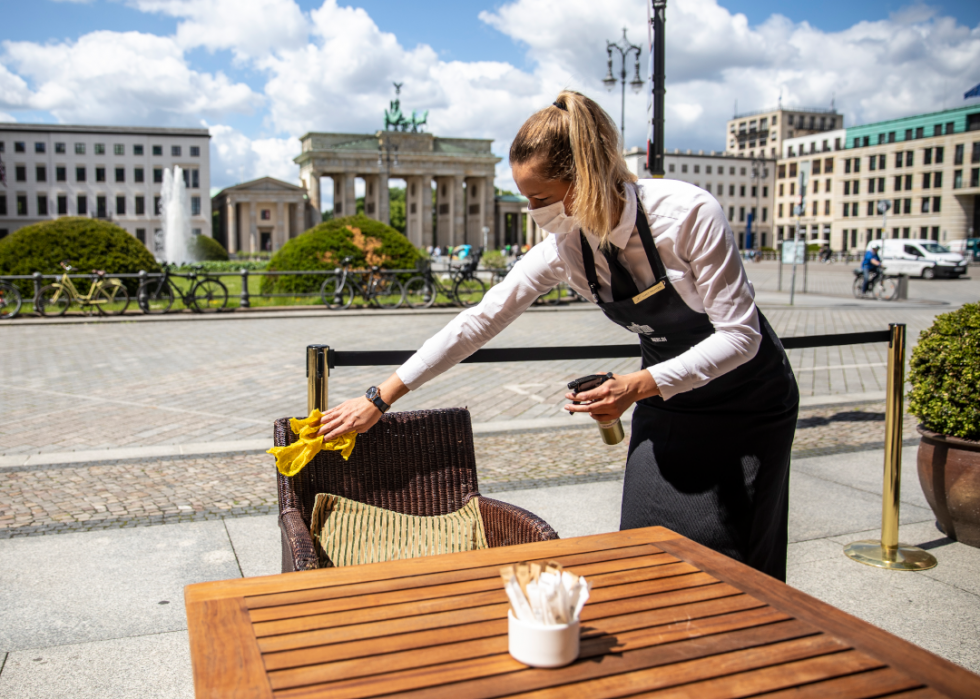 2 / 35
Maja Hitij // Getty Images
Sanitizing a sidewalk cafe in Berlin
Thorough and frequent cleanings are part of essential guidelines. An empty table is made ready in a newly reopened restaurant at the Hotel Adlon Kempinski next to the Brandenburg Gate in Berlin.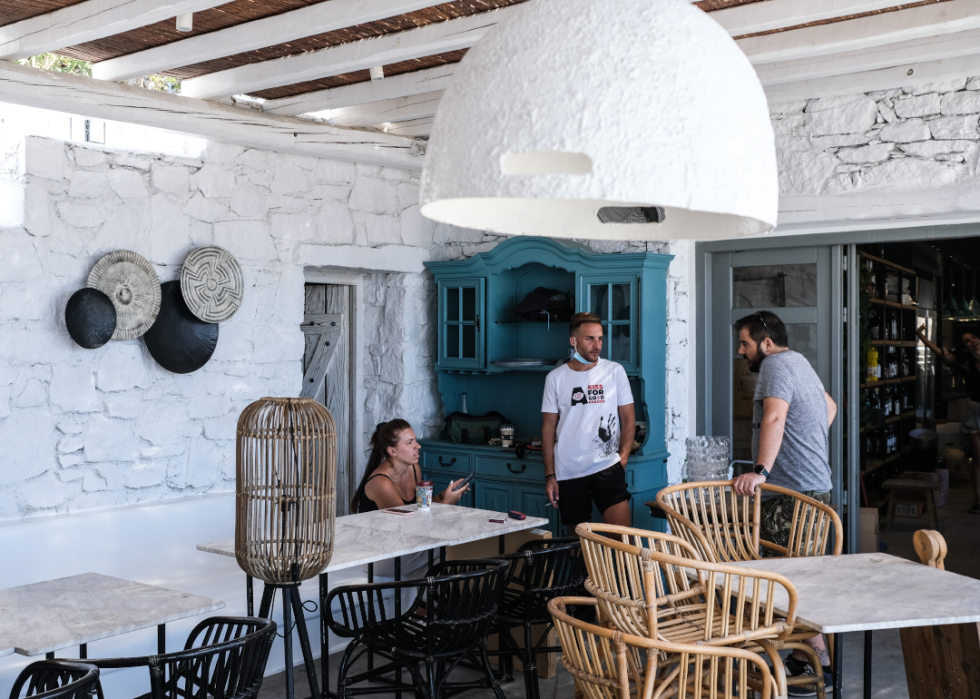 3 / 35
Byron Smith // Getty Images
Making plans in Mykonos
At restaurants around the world, owners and staff pull together to adjust to new rules and regulations for phased-in rollouts. In Mykonos, Greece, employees at the restaurant I Frati make final preparations before reopening for the start of the delayed tourist season on May 24.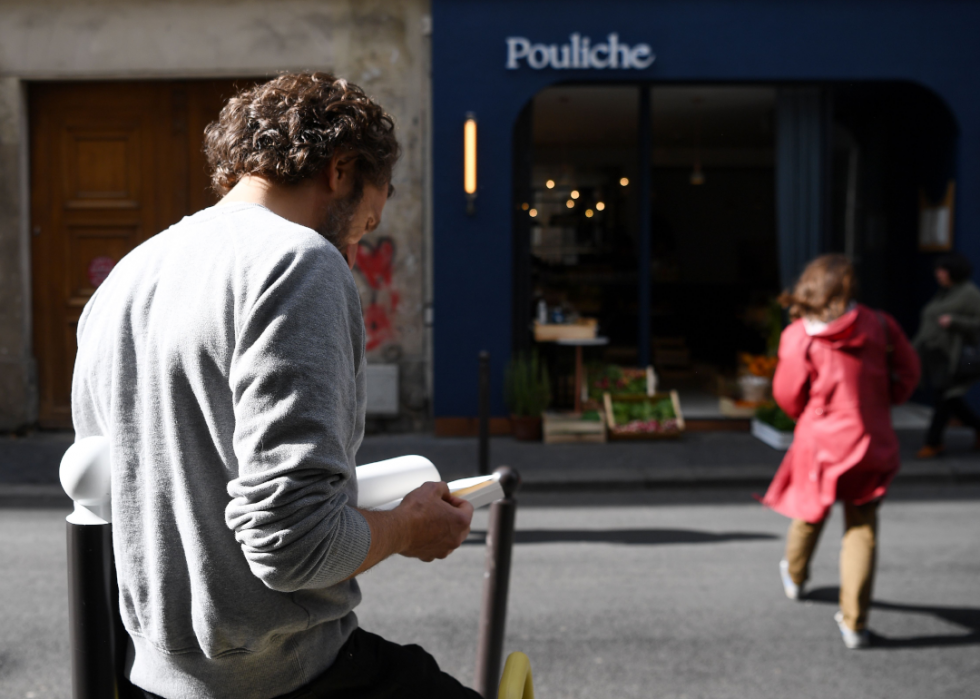 4 / 35
FRANCK FIFE/AFP via Getty Images
Gourmet baskets to go in Paris
Patience and pivoting are key in the new normal. In Paris, customers on April 29 wait to be served by French Chef Amandine Chaignot as she transformed her restaurant Pouliche into a mini-market to sell gourmet baskets made with products from local producers.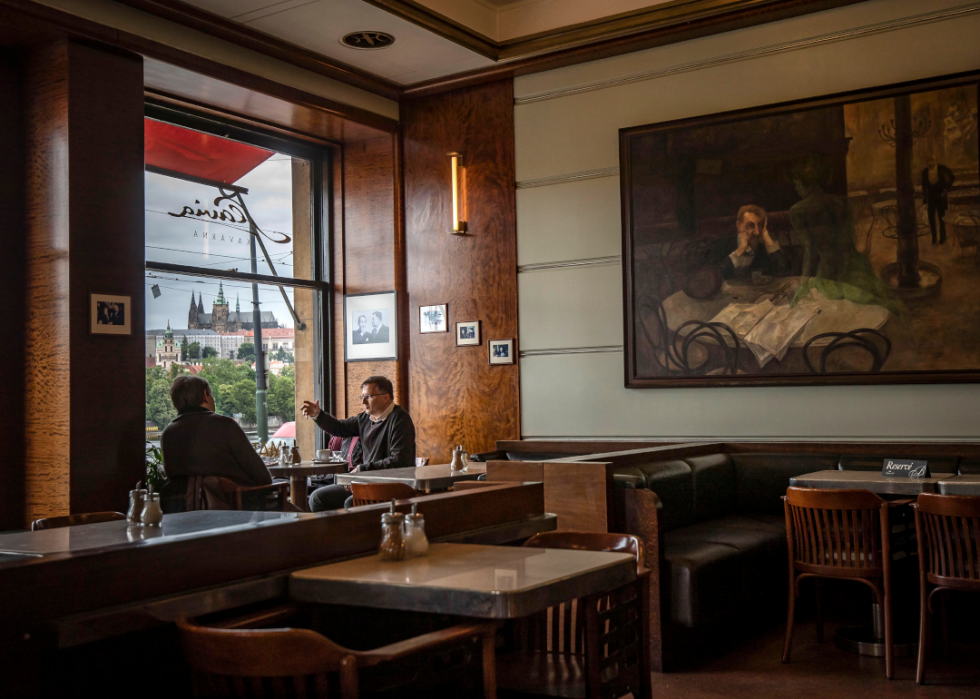 5 / 35
Gabriel Kuchta // Getty Images
The public slowly returns in Prague
Slow starts and careful consideration to meet changing regional requirements are a part of the picture. At a cafe in Prague, patrons on May 25 share a quiet meal as restaurants begin to reopen.
You may also like: States hit hardest by COVID-19's impact on tourism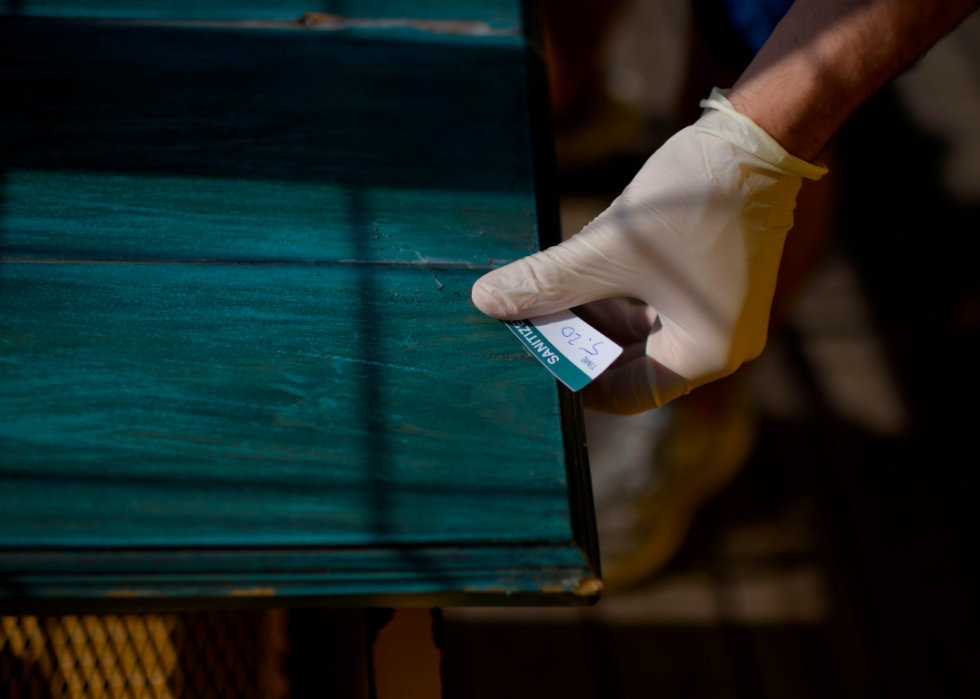 6 / 35
MARK FELIX/AFP via Getty Images
Santized and stickered in Texas
New protocols are established to manage changed routines and assure safe dining. An employee on May 22 puts a "sanitized" sticker on a patio table indicating the time of the cleaning at a restaurant in Houston.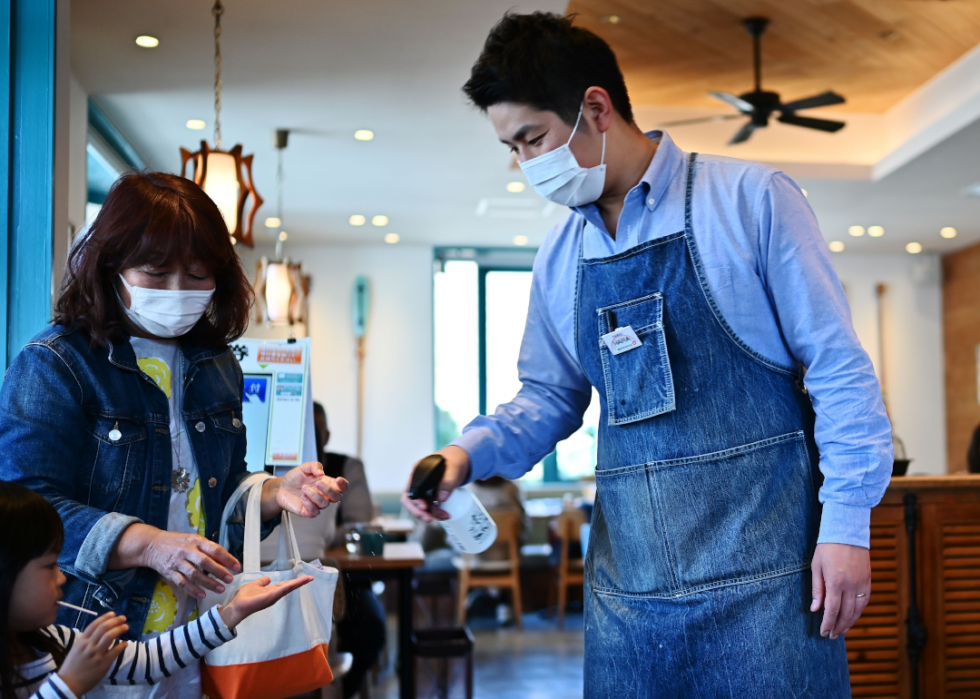 7 / 35
CHARLY TRIBALLEAU/AFP via Getty Images
Sanitary greetings in Japan
In the new normal, what might have seen unusual six months ago is welcomed as a sensible precaution. At a restaurant in Yokohama, a server offers hand sanitizer to customers as they enter a restaurant for lunch.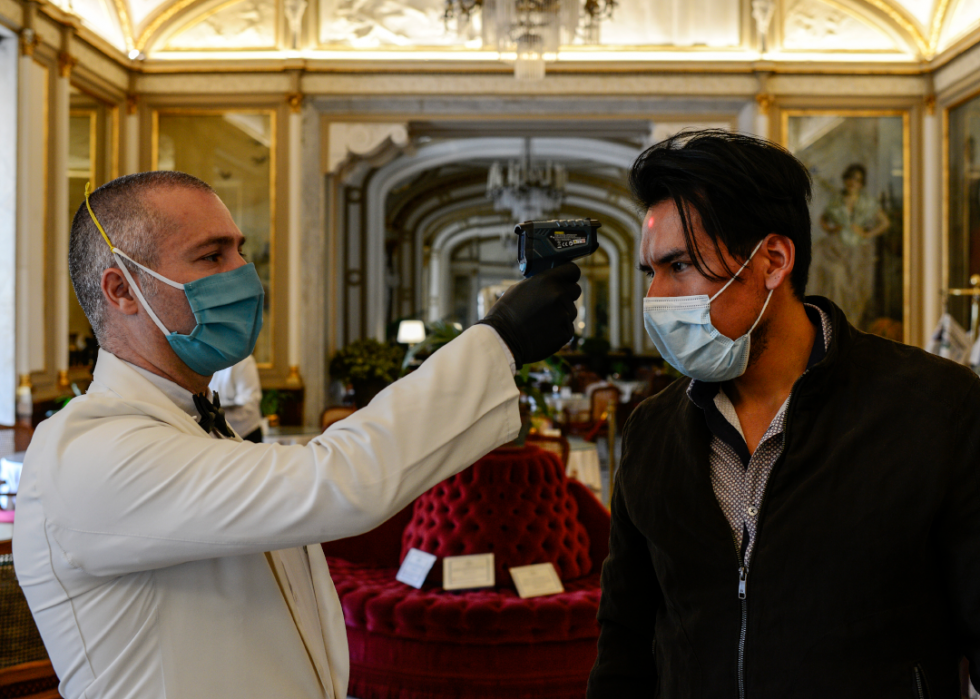 8 / 35
Salvatore Laporta/KONTROLAB // LightRocket via Getty Images
Evaluation upon entrance in Italy
In some cities, additional precautions are taken with a temperature check. At the entrance to the historic Gambrinus Bar in Naples, a waiter takes a temperature reading before seating patrons.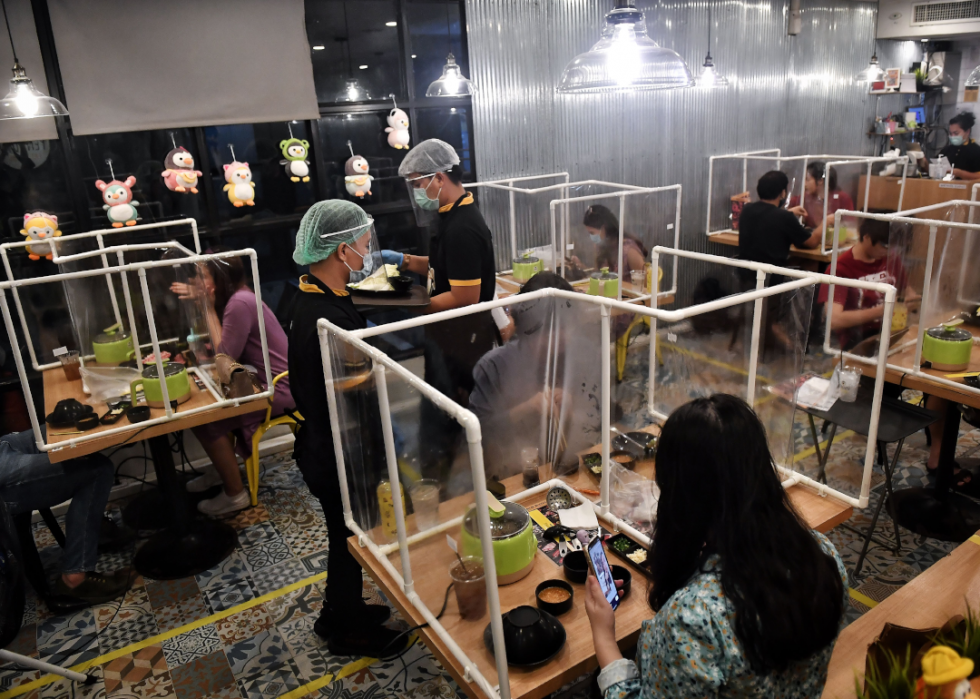 9 / 35
LILLIAN SUWANRUMPHA/AFP via Getty Images
Changing tables in Thailand
Restaurant layouts and tabletops have modified to offer safe distancing. At a hotpot restaurant in Bangkok, plastic partitions have been added to promote personal safety.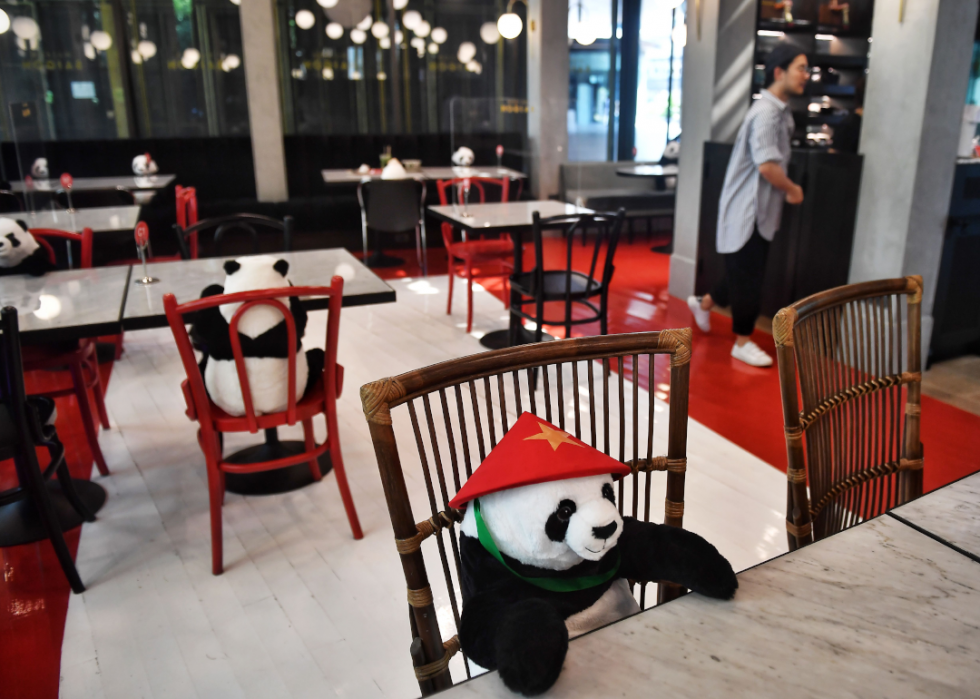 10 / 35
LILLIAN SUWANRUMPHA/AFP via Getty Images
Pandas prevent crowding in Thailand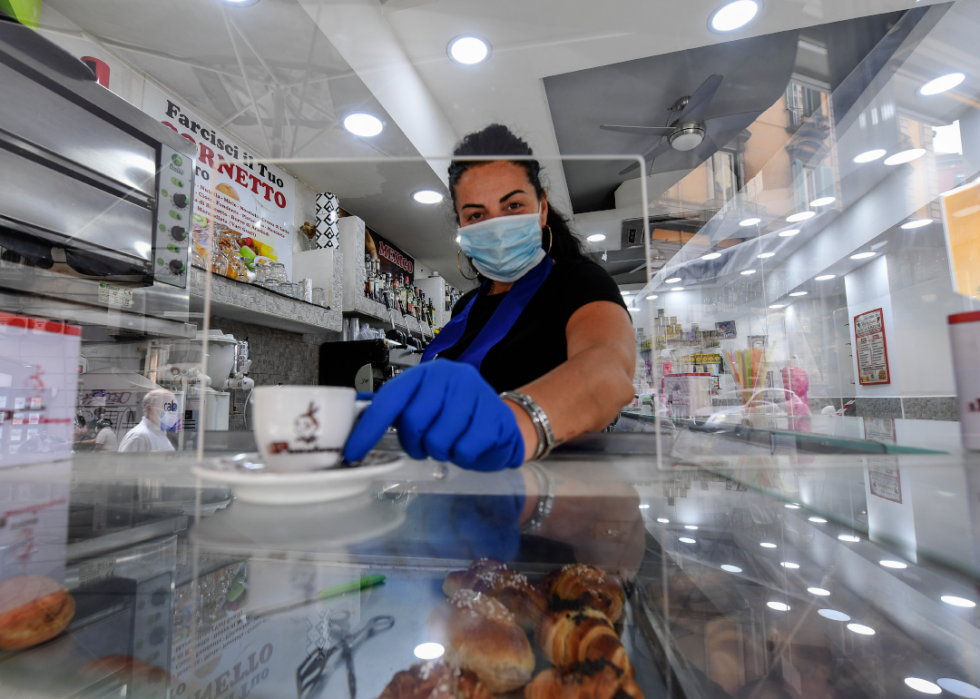 11 / 35
Salvatore Laporta/KONTROLAB // LightRocket via Getty Images
Espresso openings in Italy
The addition of temporary plexiglass barriers is a common site. In Campania, Italy, coffee is safely served through a plastic barrier.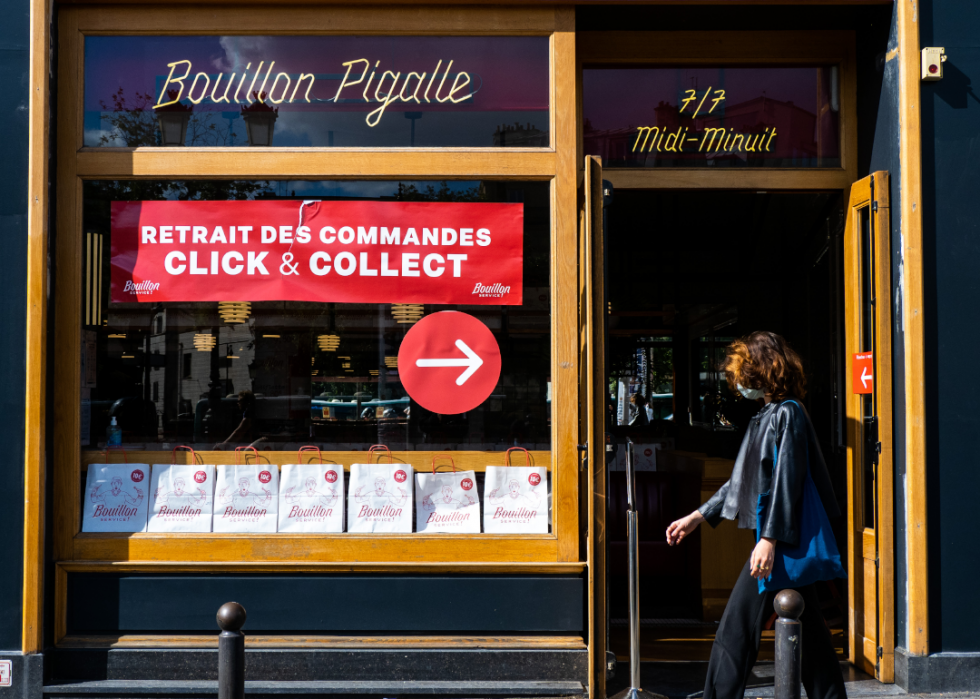 12 / 35
Edward Berthelot // Getty Images
Traditional takeaway in Paris
Contactless ordering becomes mainstream, as observed on May 23 at Bouillon Pigalle, a well-known restaurant in Paris during the coronavirus lockdown.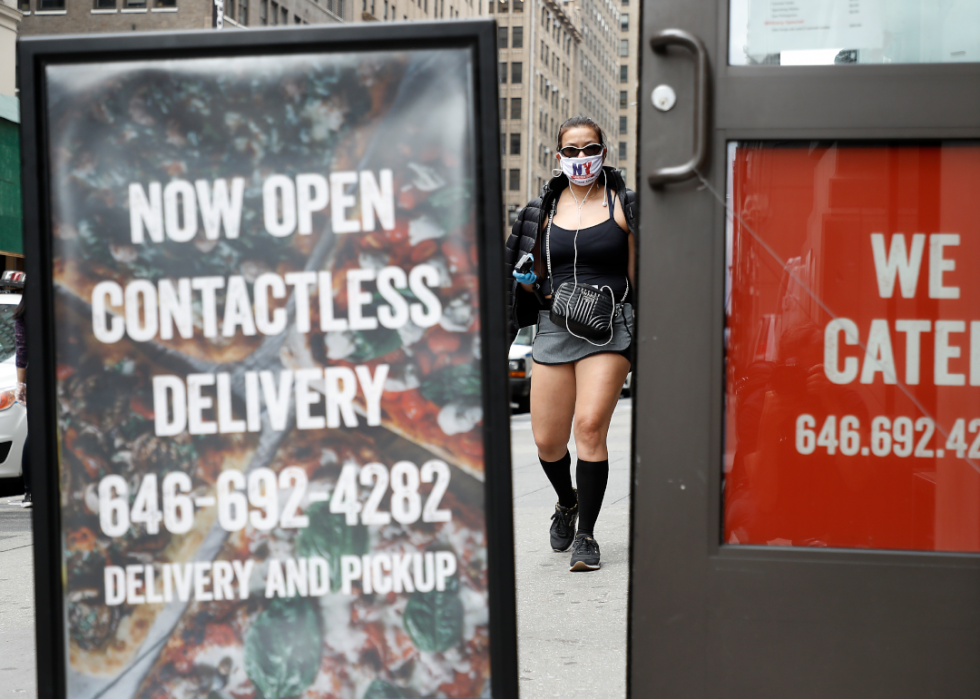 13 / 35
John Lamparski // Getty Images
Countless contactless options in New York
"Contactless delivery" is a new selling point. A woman wearing a protective mask is seen on May 22 between two restaurant signs in New York City during the coronavirus pandemic.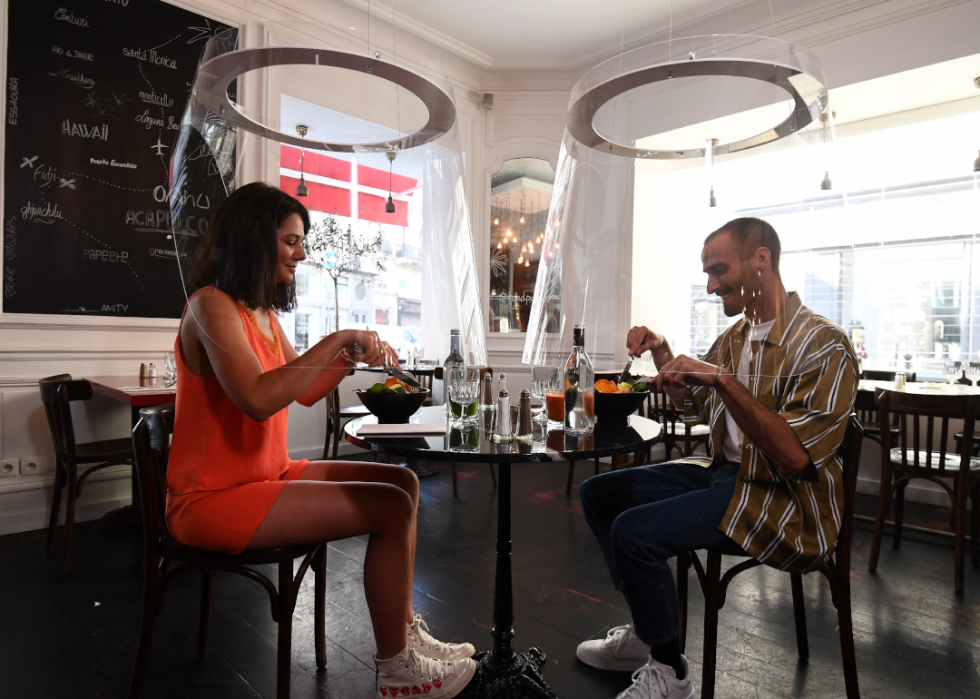 14 / 35
ALAIN JOCARD/AFP via Getty Images
Chic bubble-dining in Paris
Design innovations come to life to meet the new normal. At the H.A.N.D restaurant in Paris, a couple has lunch on May 27 with personal plexiglass protection designed by Christophe Gernigon as France eases lockdown measures.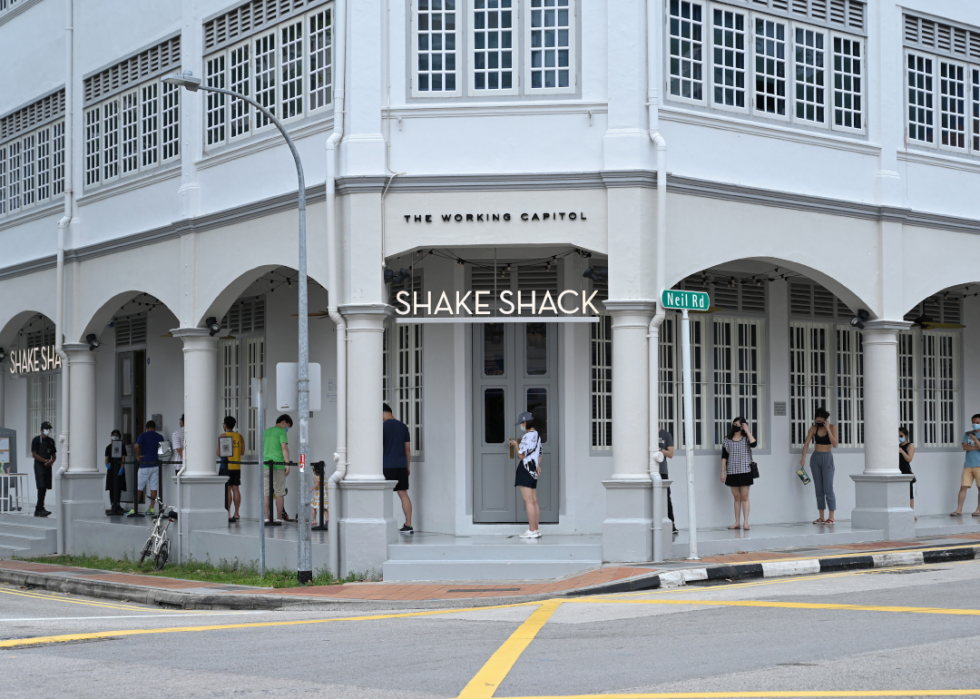 15 / 35
ROSLAN RAHMAN/AFP via Getty Images
Waiting for to-go in Singapore
Tape and other ground markings identify six-foot intervals and establish a safe waiting stance. In Singapore, patrons wear face masks and observe social distancing on May 2 as they queue outside a restaurant.
You may also like: 50 classic movies turning 50 in 2020 you can catch up on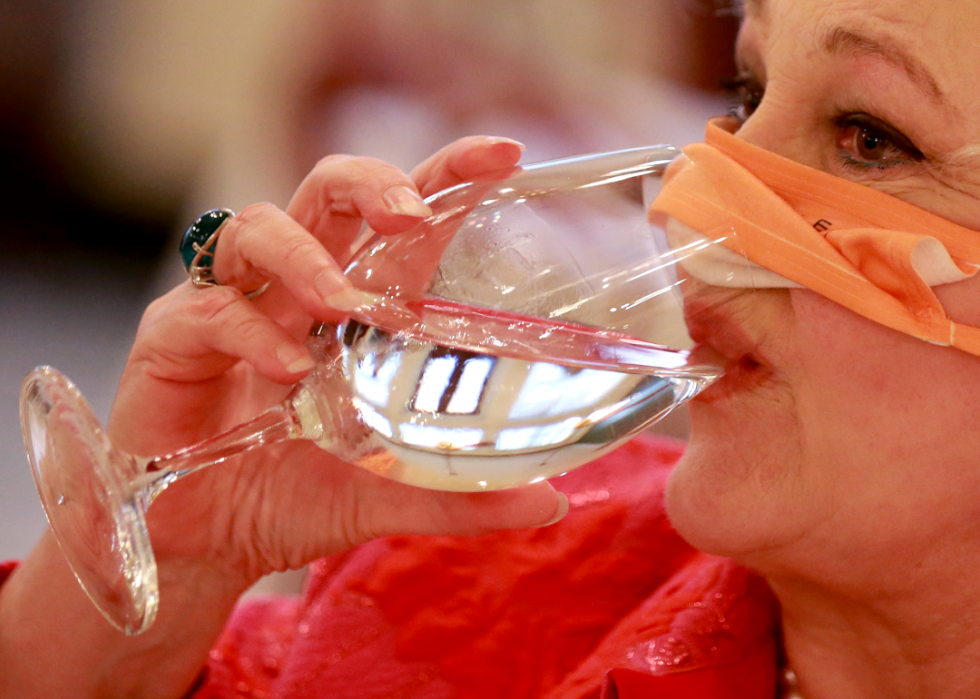 16 / 35
Sean Gardner // Getty Images
Lift-and-sip in New Orleans
Restaurant-goers learn to adjust to eating and drinking while masked. At Galatoire's Restaurant in New Orleans, a woman takes a sip from her glass during dinner on May 22.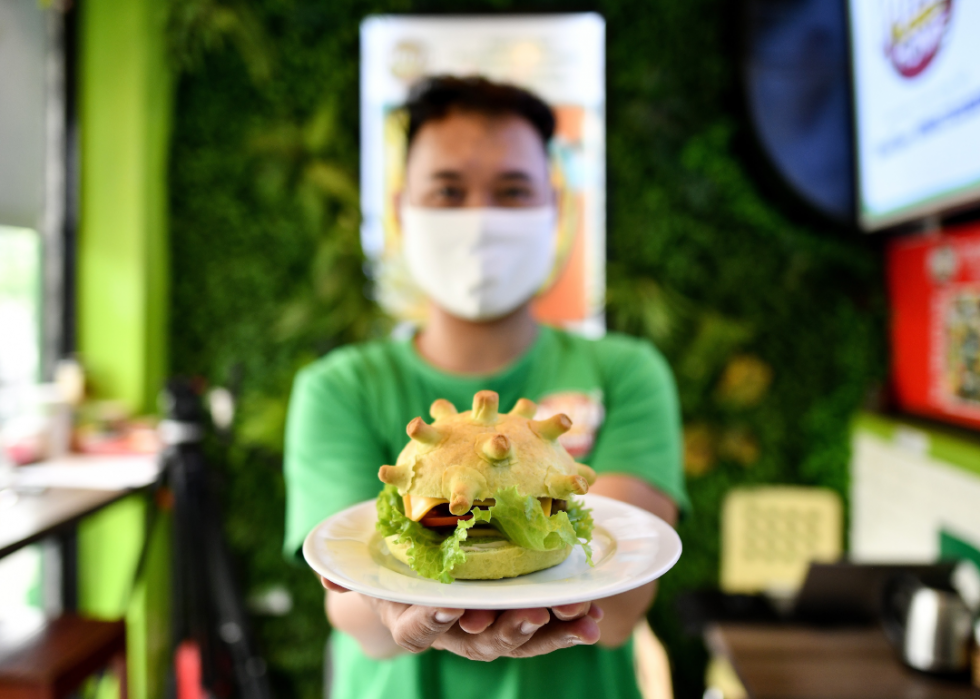 17 / 35
MANAN VATSYAYANA/AFP via Getty Images
Corona burgers in Vietnam
Creativity in the kitchen abounds. At Pizza Home restaurant in Hanoi, owner Hoang Tung poses with a coronavirus-themed burger on March 26.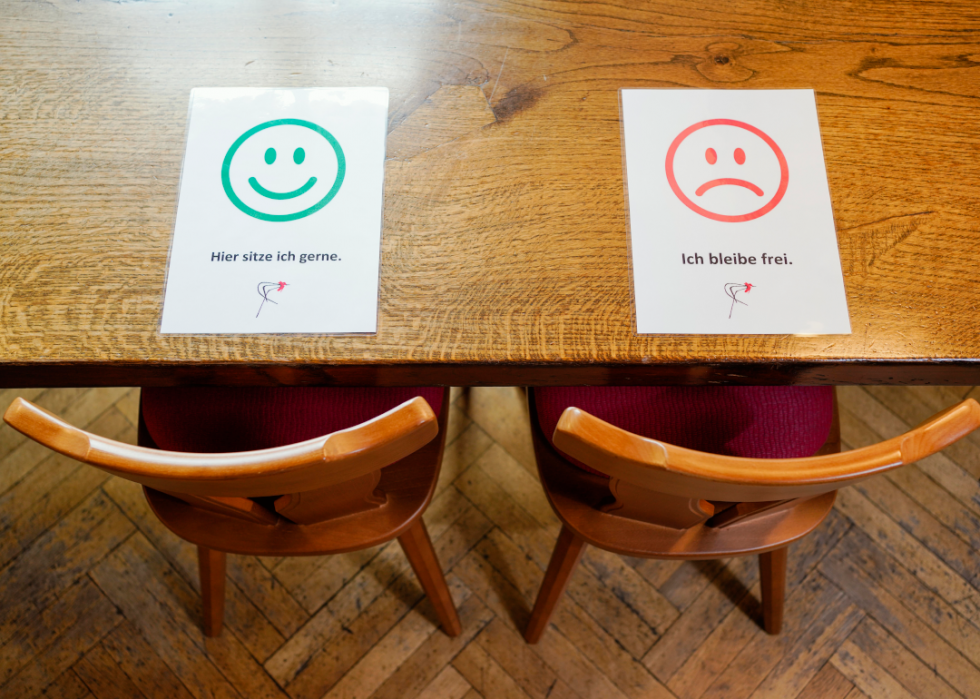 18 / 35
Uwe Anspach/picture alliance via Getty Images
Here-yes, there-no, in Germany
Signage guides the way through new regulations. At Deidesheim Farm in Rhineland, tables are clearly marked.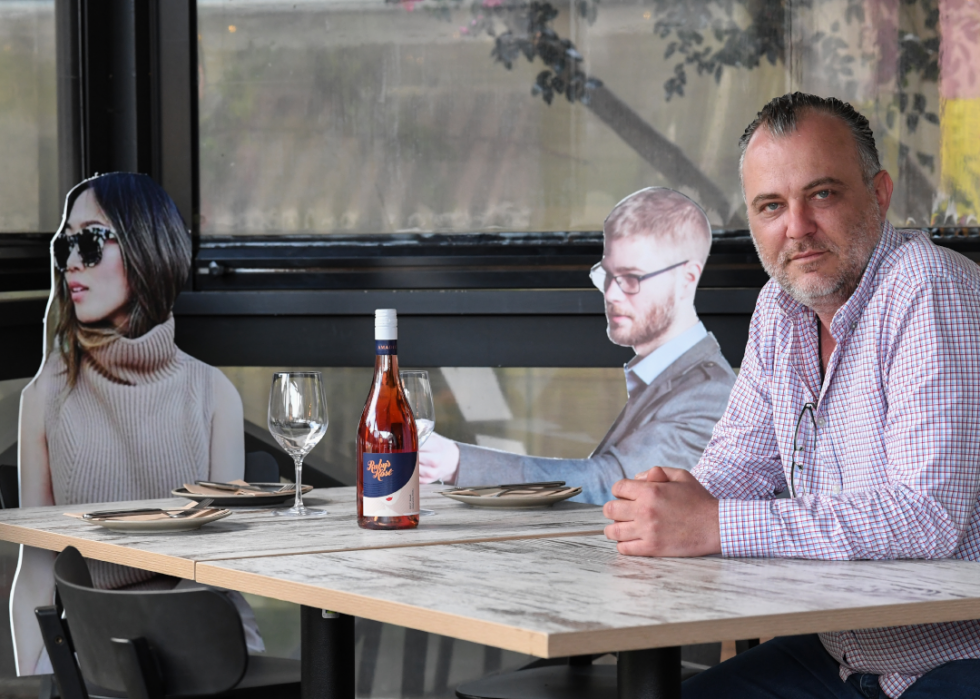 19 / 35
James D. Morgan // Getty Images
Dining with friends in Australia
Clever additions can be eye-catching. A restaurant in Sydney uses cardboard cutouts to maintain social distancing guidelines on May 14.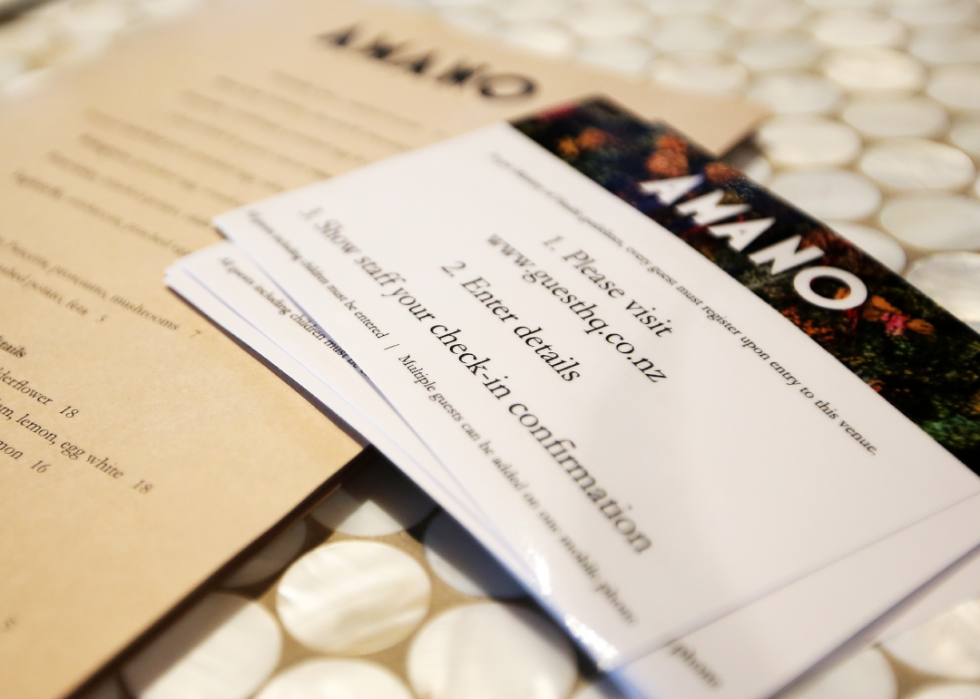 20 / 35
Fiona Goodall // Getty Images
Dining details in New Zealand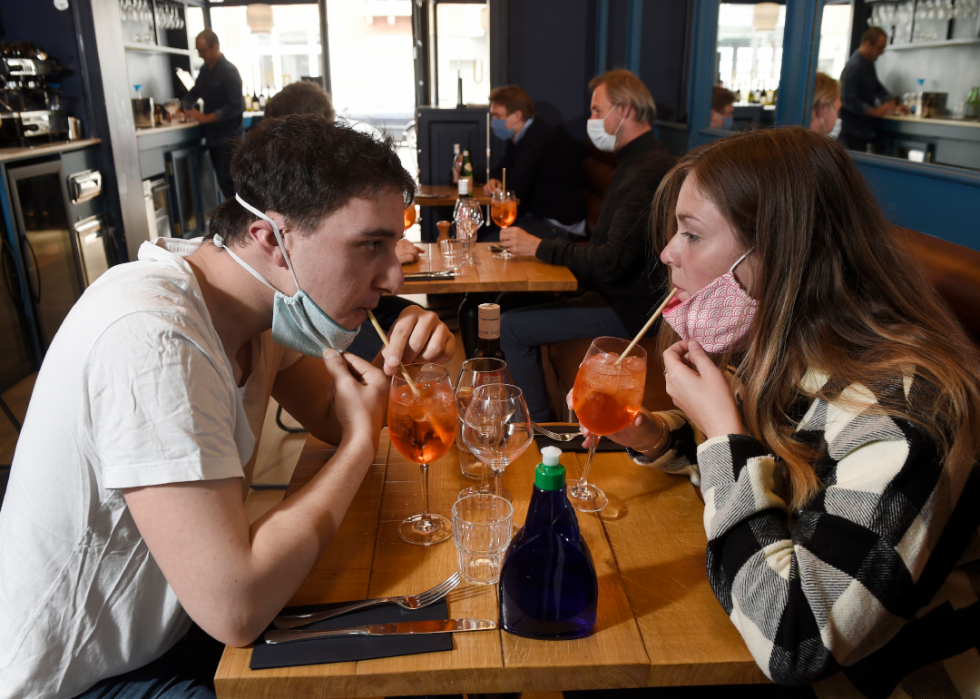 21 / 35
Didier Lebrun/Photo News via Getty Images
Quick sipping allowed in Belgium
Dining with masks is a common sight. The MITO restaurant in Brussels prepares to reopen with customers respecting health and distance rules.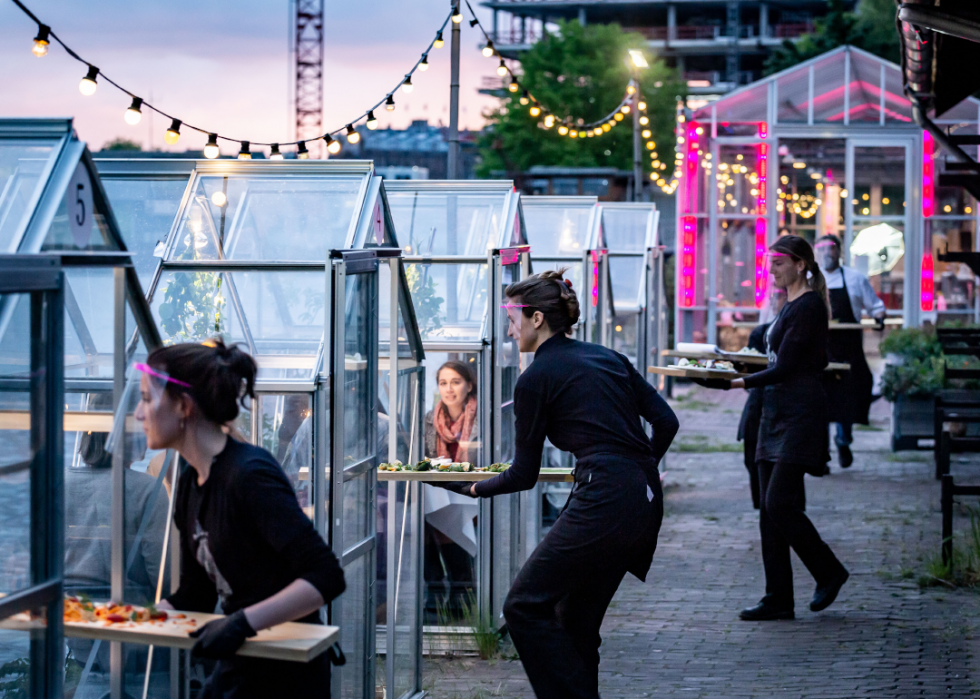 22 / 35
ROBIN VAN LONKHUIJSEN/ANP/AFP via Getty Images
Greenhouse concerns in Amsterdam
 In Amsterdam, patrons dine canal side by candlelight in "quarantine greenhouses" to maintain social distancing as protection against the coronavirus.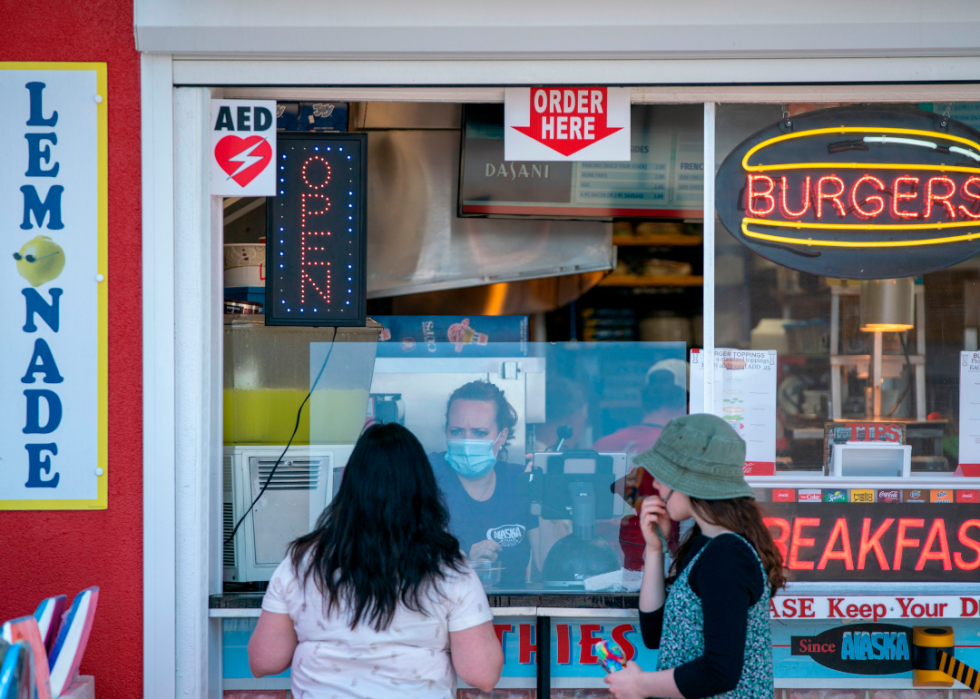 23 / 35
ALEX EDELMAN/AFP via Getty Images
Memorial Day through the looking glass in Maryland
Take-away burgers and breakfast are served up from behind plexiglass in Ocean City, Maryland, over Memorial Day weekend set the stage for the summer ahead.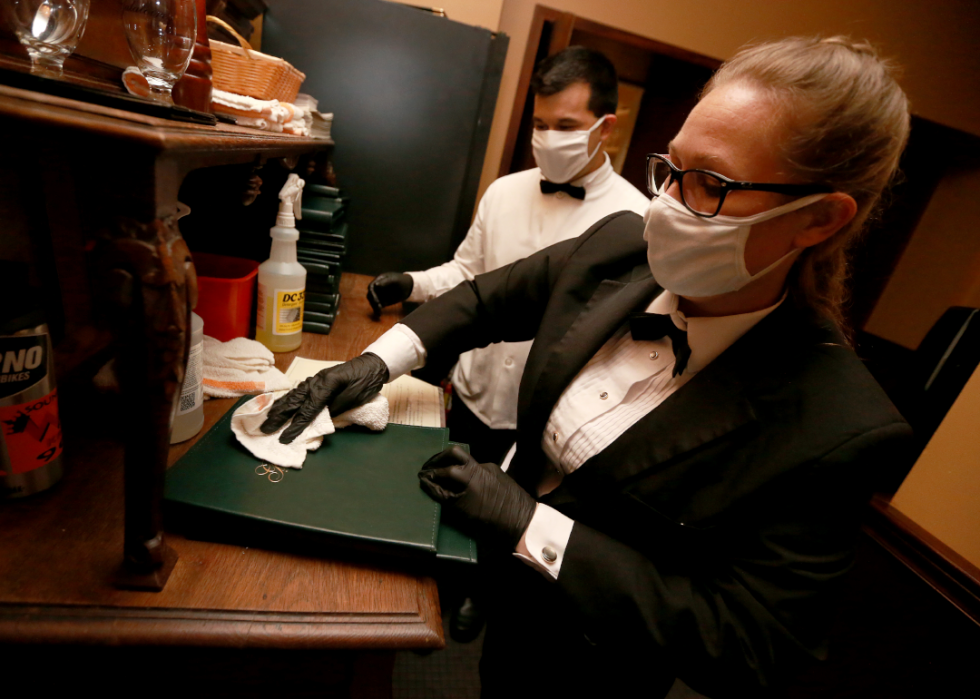 24 / 35
Sean Gardner // Getty Images
Sanitized selections in New Orleans
Menus are evolving in form and function in restaurants around the world to adapt to new safety measures. In New Orleans, a waiter sanitizes a dinner menu before presenting to guests.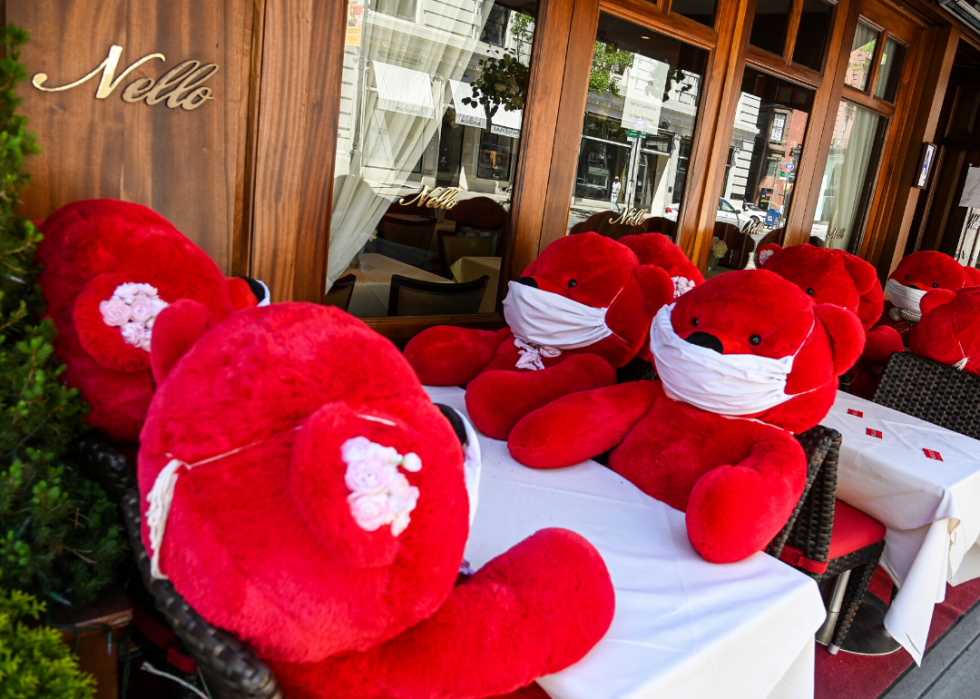 25 / 35
Ben Gabbe // Getty Images
Beware of the bears in New York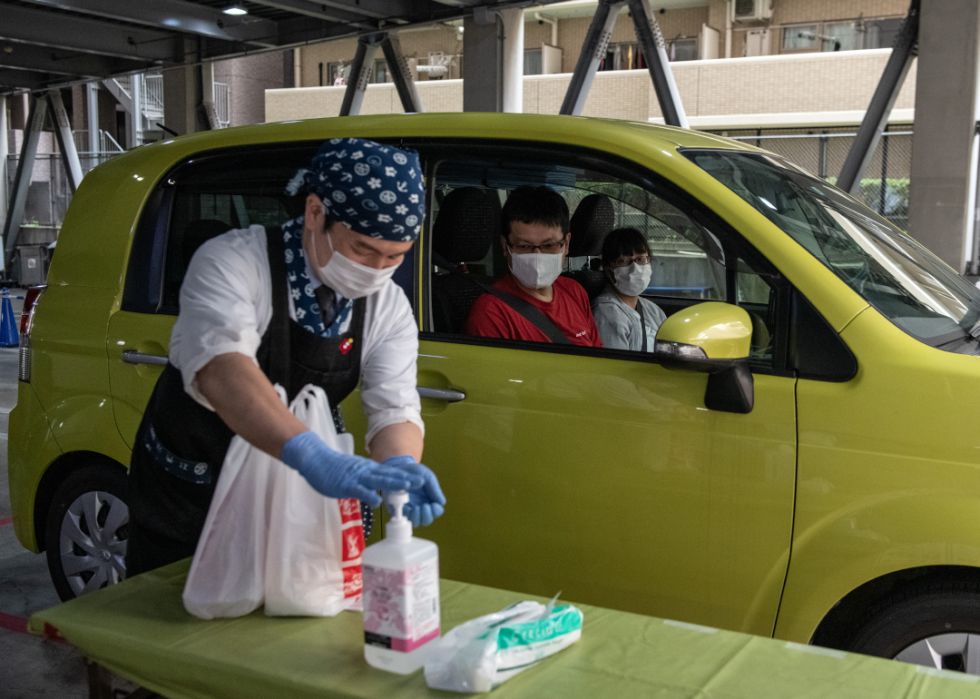 26 / 35
Carl Court // Getty Images
Sanitized hand-offs in Japan
Restaurants survive the pandemic by changing operations. In Yokohama, a restaurant pivots to offer curbside pickup.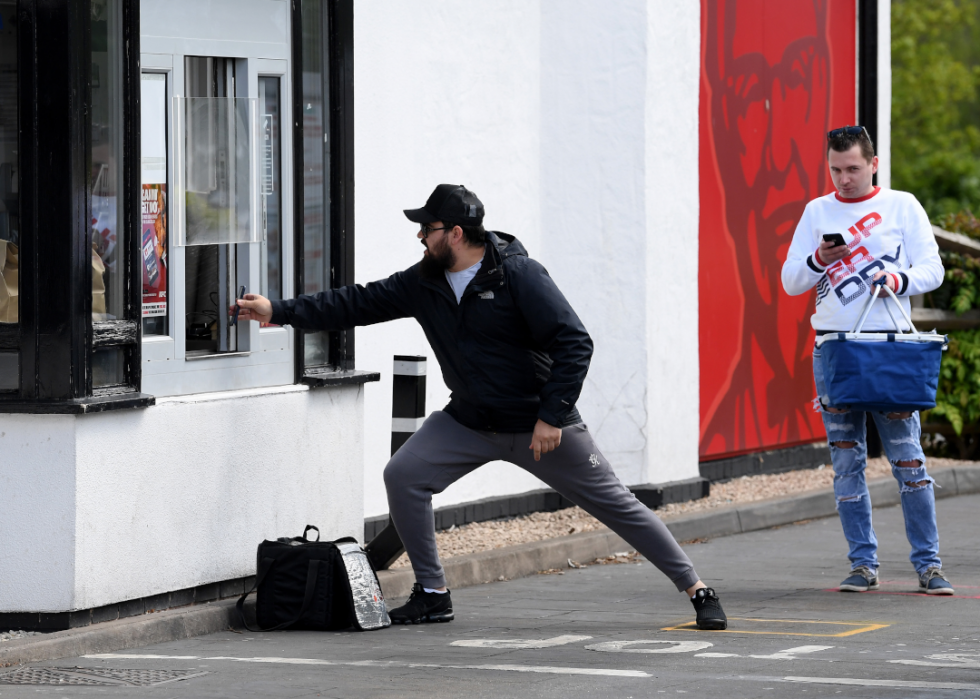 27 / 35
Ross Kinnaird // Getty Images
Stretching for safety in the UK
A man tries to keep his distance while showing his phone to the staff as he pays and picks up food from a restaurant take-out booth in Leicester, England.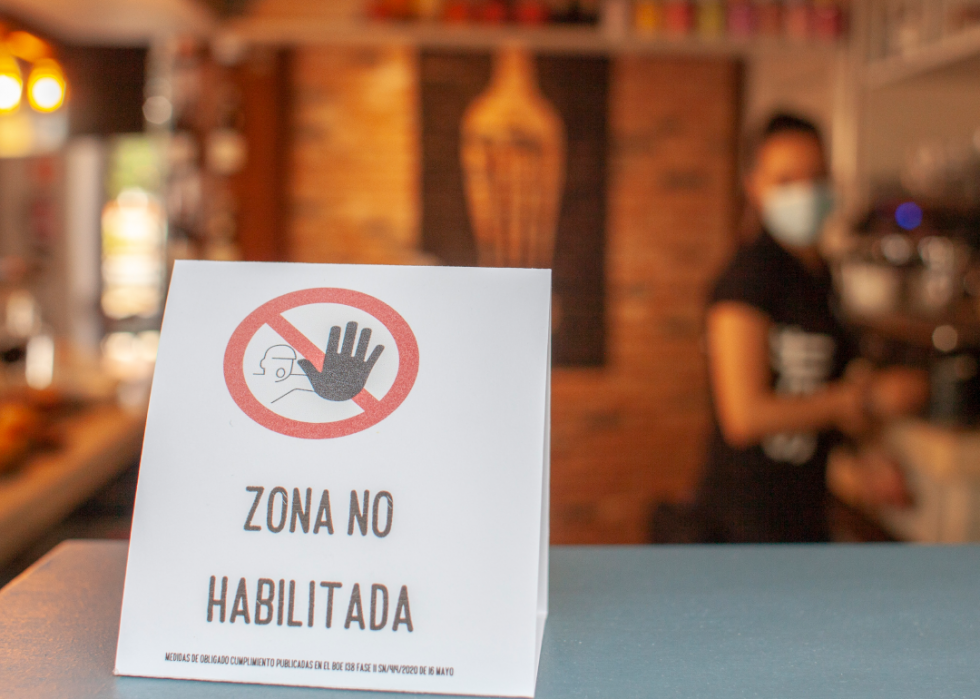 28 / 35
Alvaro Fuente/NurPhoto via Getty Images
Social spacing in Spain
Educating customers to changes in routine and regulations is part of the new normal. In Norena, Spain, a restaurant and bar displays a sign clearly indicating a no-go zone.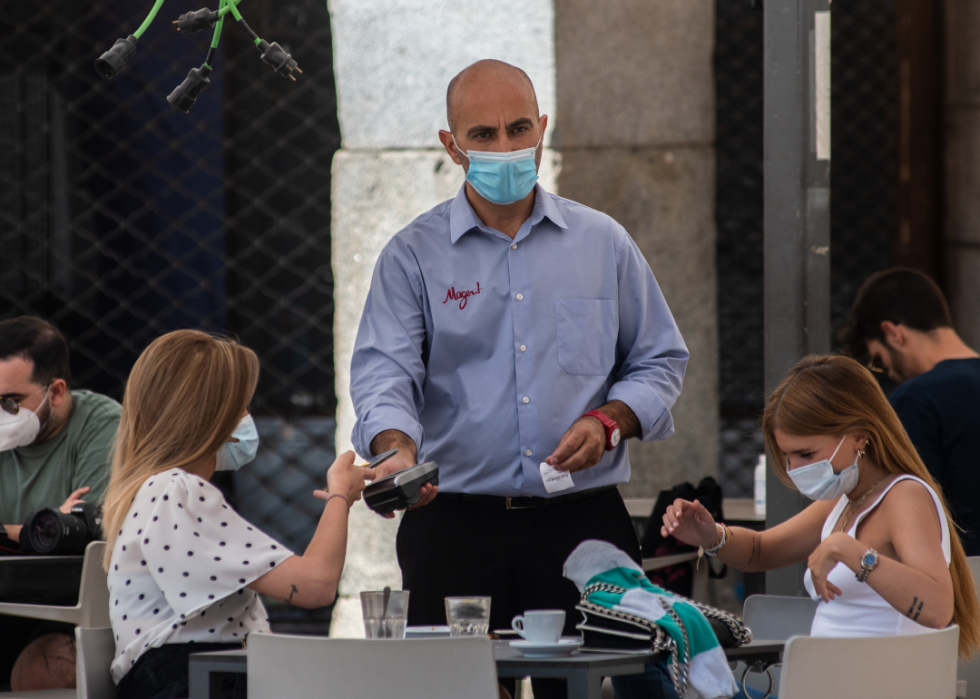 29 / 35
Marcos del Mazo // LightRocket via Getty Images
Contactless check, please, in Madrid
Digital payment becomes commonplace. In Madrid, customers at a cafe in Plaza Mayor participate in contactless service by paying the bill with their phone.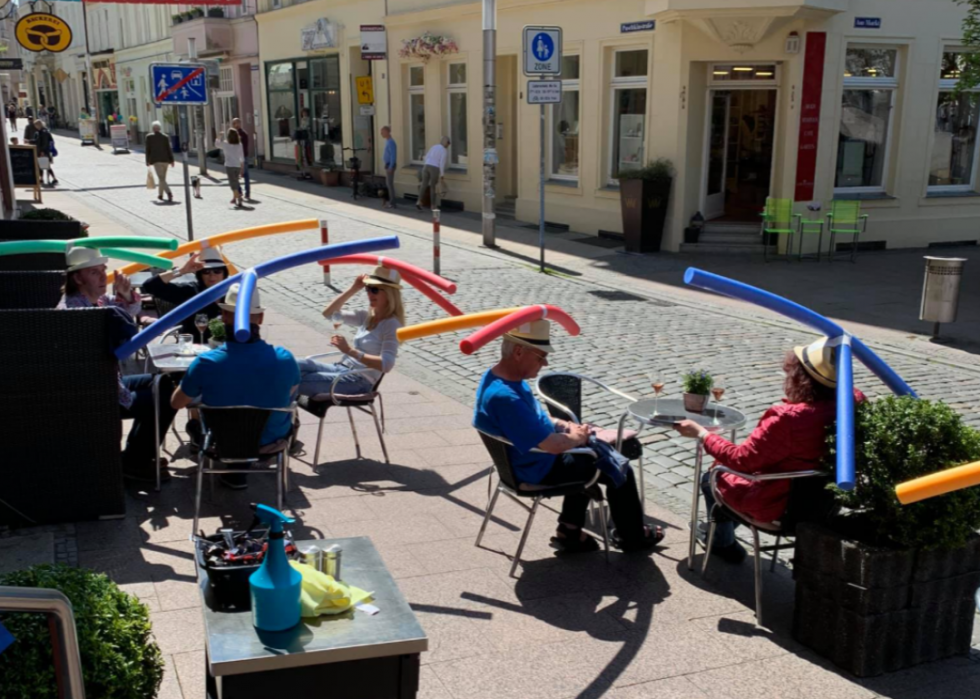 30 / 35
Pool noodles for patrons in Berlin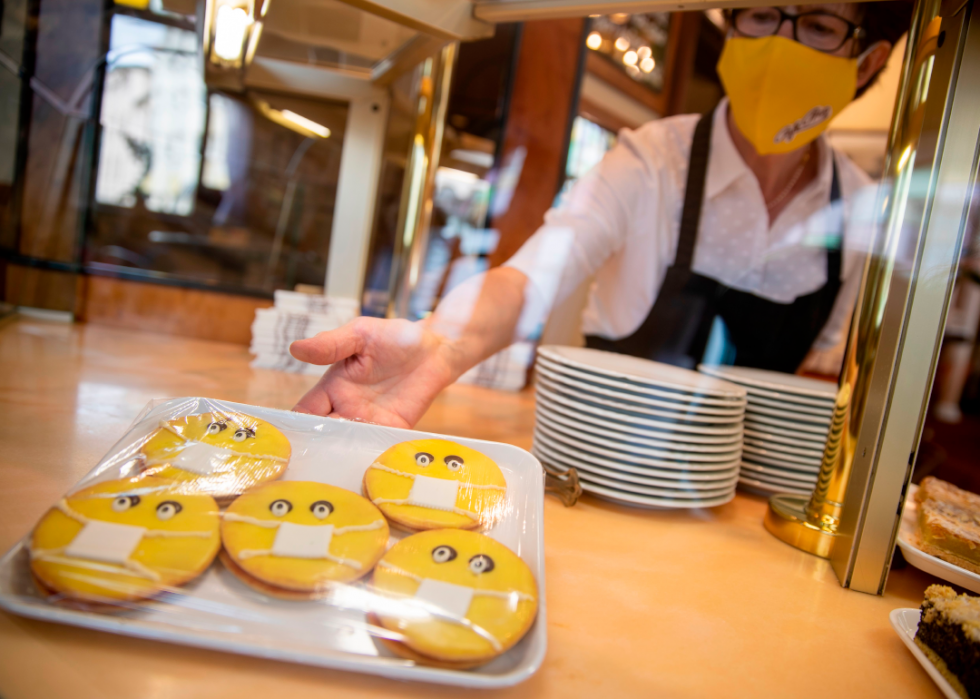 31 / 35
ODD ANDERSEN/AFP via Getty Images
Compliant cookies in Germany
The newly reopened Cafe Prag in Schwerin, Germany, serves up COVID cookies on May 9.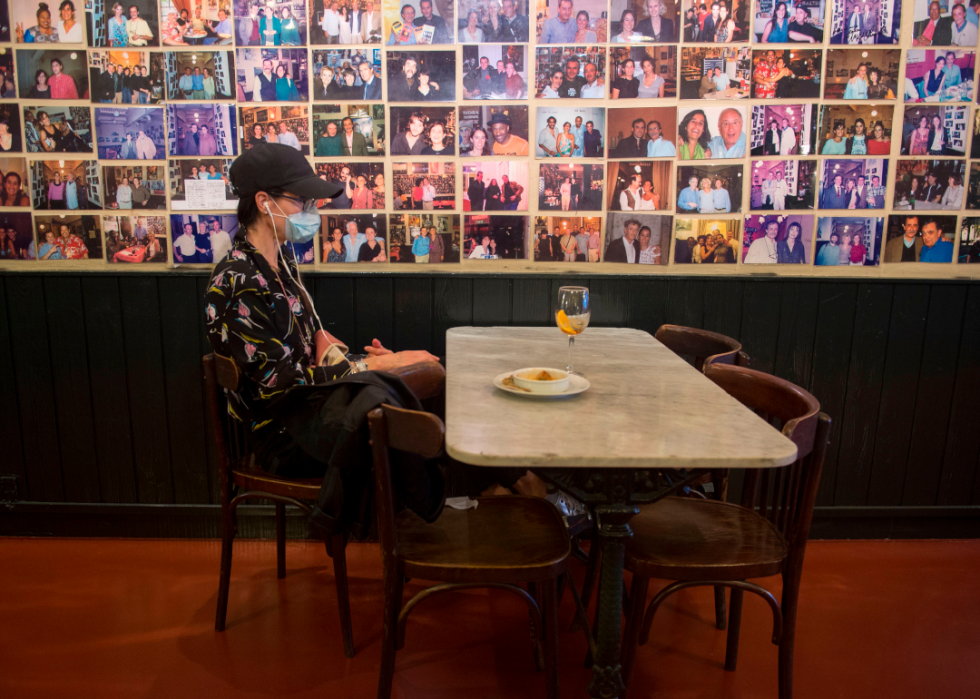 32 / 35
ANDER GILLENEA/AFP via Getty Images
Remembering the good times in Spain
Reminders of pre-coronavirus world remain a presence. In the Spanish Basque city of San Sebastian, a woman sits and reflects as the country loosens a national lockdown.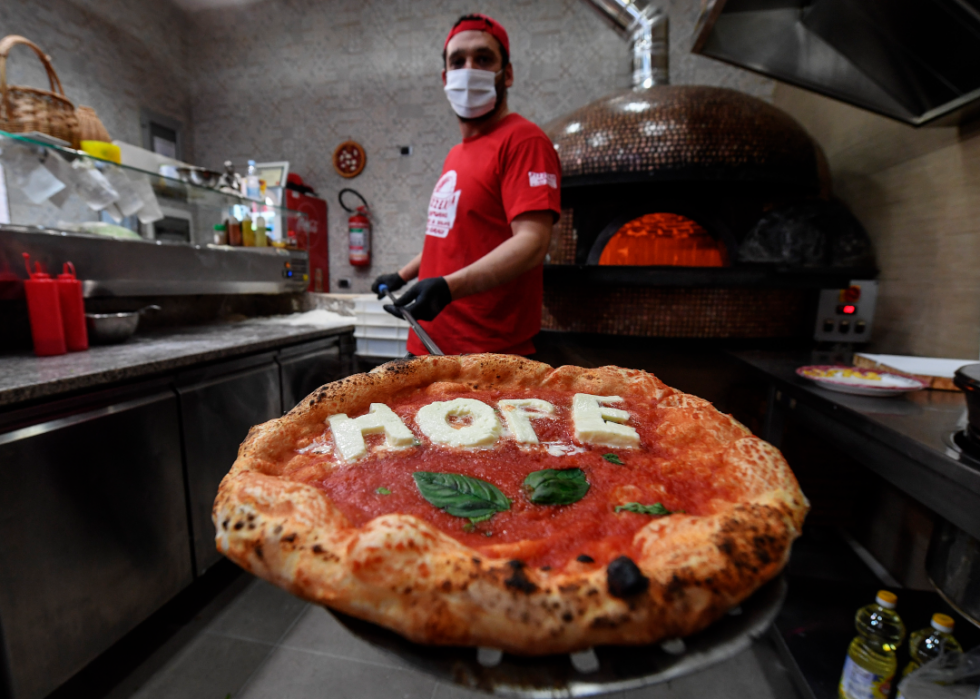 33 / 35
Salvatore Laporta/KONTROLAB // LightRocket via Getty Images
Messages marinara in Italy
Meals bring people together. Salvatore Rapuano shares his message of hope on a Neapolitan Pizza in Campania, Italy.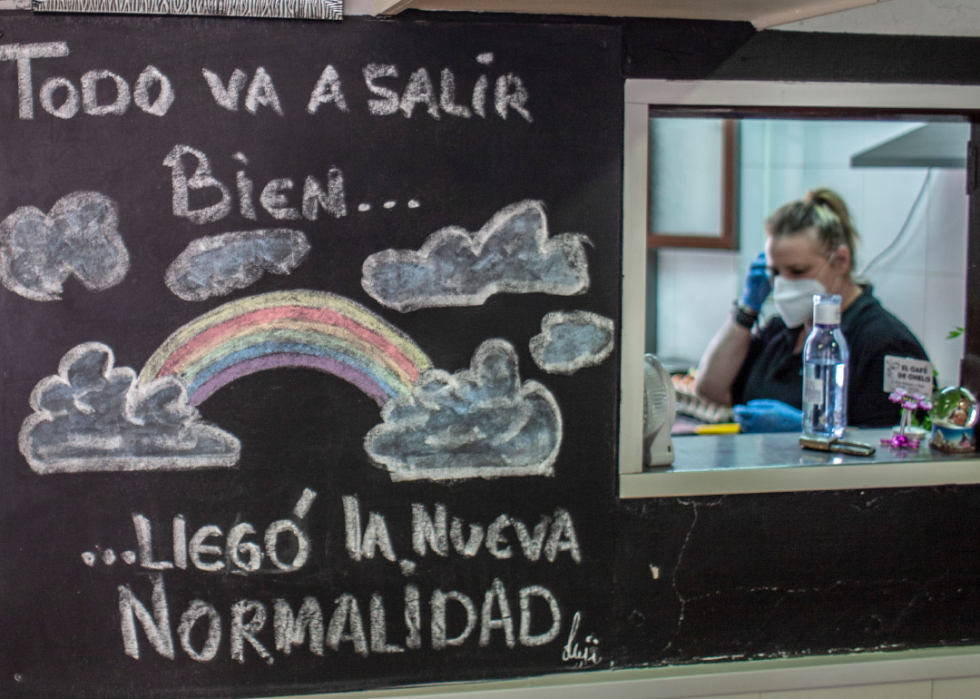 34 / 35
Alvaro Fuente // NurPhoto via Getty Images
All will be well as Spain reopens
A look toward a brighter future keeps everyone going. In Spain, restaurant staff adapts to the new normal in Phase 2 of the reopening after the coronavirus lockdown.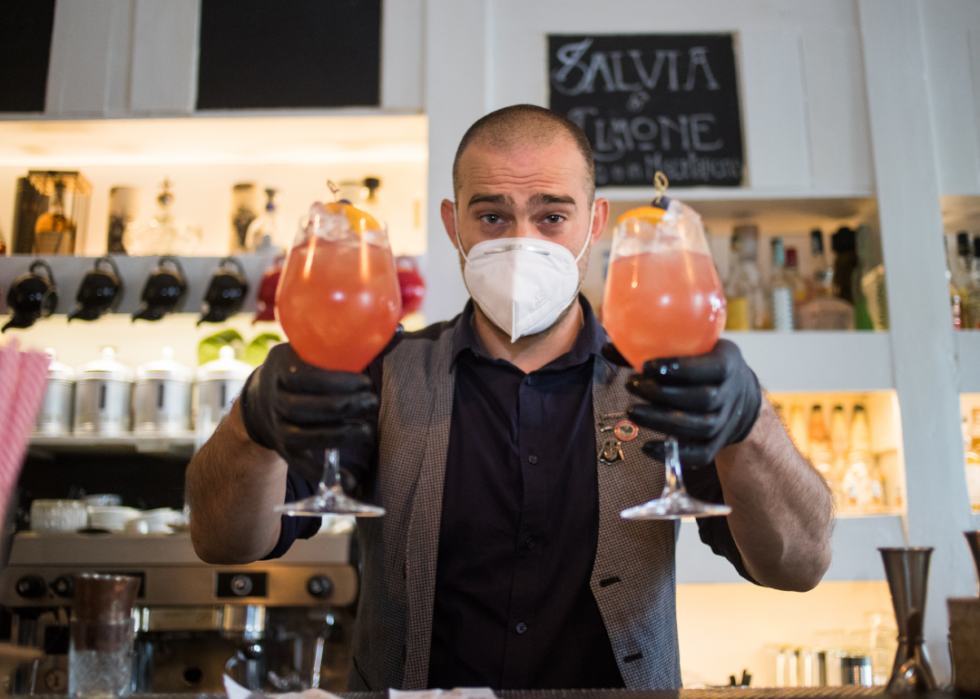 35 / 35
Mauro Ujetto/NurPhoto via Getty Images