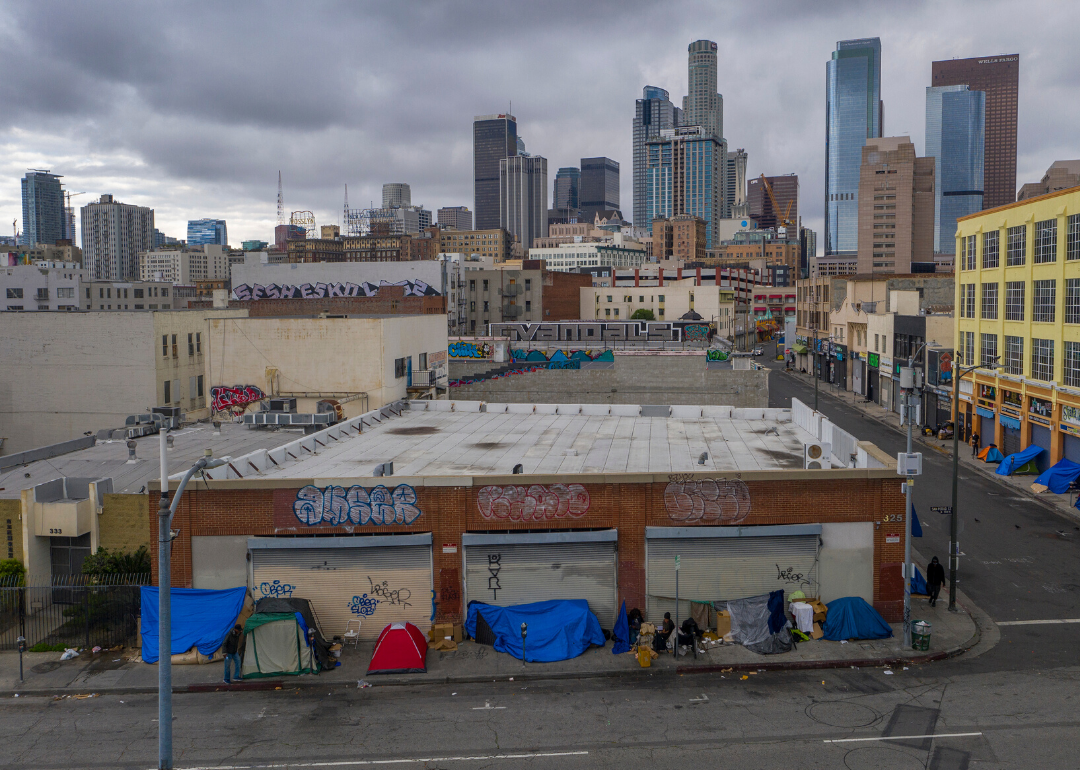 States with the most homelessness
David McNew // Getty Images
States with the most homelessness
"Please stay home." It's the maxim of the coronavirus pandemic, repeated over and over by public officials, medical experts, celebrities, and our loved ones—and for good reason. Community isolation is one of the best ways to flatten the curve of coronavirus infections, helping to avoid overwhelming the health care system and ultimately saving lives. Staying home sounds easy enough for most of us. But what if you don't have anywhere to go?
There are more than 562,000 homeless people in the U.S. For them, staying at home is not an option. They may be sleeping in overcrowded and unsanitary environments and in close contact with people who've been around hundreds of others. Many people experiencing homelessness also have preexisting conditions that, combined with the other factors, put them at ultra-high risk for COVID-19. At least 460 people in New York City—where more than 85% of the state's homeless population live—tested positive for the coronavirus by mid-April, according to Meg Black of Global Citizen. And other states and cities across the country have also been dealing with outbreaks among their homeless populations. The situation is both an individual emergency for people at risk and a public health problem that we need to address as a country.
Figuring out what to do about homelessness during the pandemic and after starts with looking at data on which areas of the country have the biggest needs. To determine which states have the largest homeless populations, Stacker used data from the 2019 Point-In-Time count conducted by the Department of Housing and Urban Development (HUD), the most recent national data available for homeless populations. The data was collected in January 2019 and released in January 2020. States are ranked here according to the share of their populations that are homeless, using total population data from the 2018 American Community Survey. Stacker also looked at a range of news articles, government reports, and papers from nonprofit organizations to explore what homelessness is like in every state.
Click through to learn more about homelessness in every state and the reasons why people end up on the streets.
You may also like: How Americans feel about 30 major issues