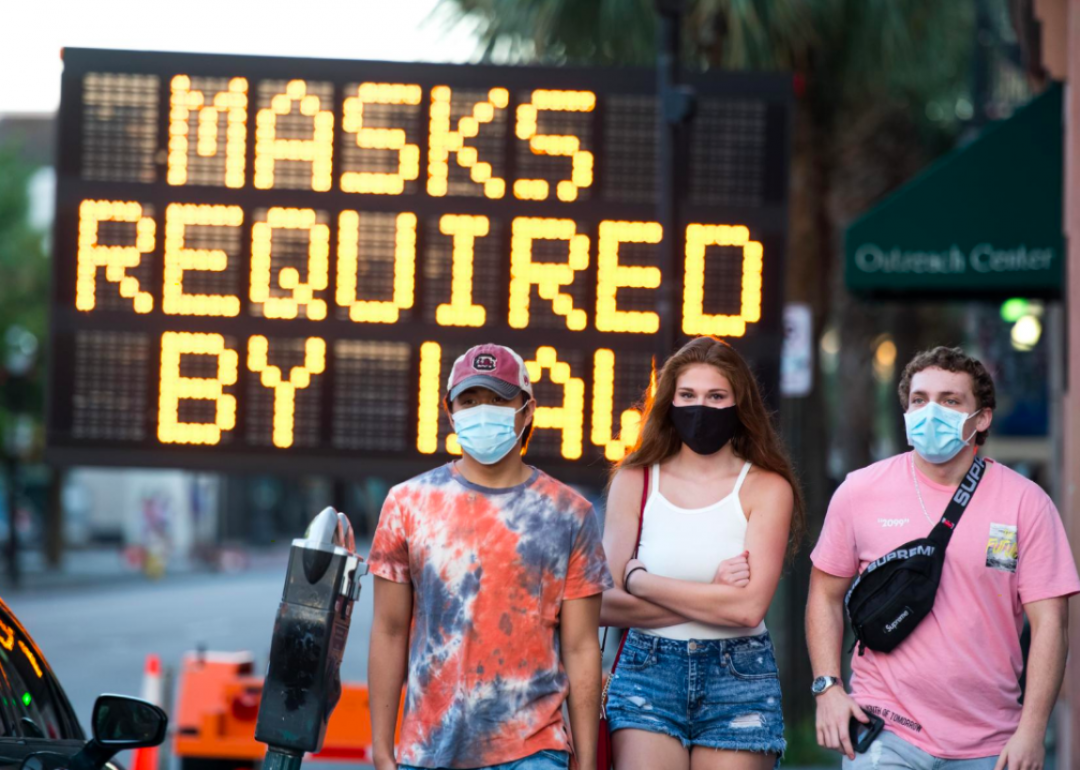 Counties most vulnerable to COVID-19 in every state
Sean Rayford // Getty Images
Counties most vulnerable to COVID-19 in every state
What creates vulnerability during a global pandemic? Why are certain populations more vulnerable than others? Since COVID-19 is a novel virus, meaning it is a virus that has not been recorded, there's a learning curve for both doctors and scientists, and often this means that they learn as they go. This is what is happening with COVID-19. Its classification as a novel virus alone makes everyone vulnerable as a society.
The lack of information and knowledge creates vulnerability, especially when it comes to previously identified vulnerable groups. These include rural populations that are located far from health care services or have a shrinking number of hospitals or primary care physicians; single-parent households battling economic hardship because they only have one income to rely on; the elderly who often have either health issues or compromised immune systems; and minority and disabled populations that often fight systemic inequalities.
Stacker compiled a list of the counties that are most vulnerable to COVID-19 in every state using the Surgo Foundation's COVID-19 Community Vulnerability Index (CCVI), which identifies communities more vulnerable to the pandemic. The CCVI defines "more vulnerable" communities as those that "have a limited ability to mitigate, treat, and delay transmission of a pandemic disease, and to reduce its economic and social impacts."
The index uses six themes, or groups of indicators. Four themes are adopted from the Centers for Disease Control and Prevention's (CDC) Social Vulnerability Index, which measures a community's resilience to all types of natural disaster from a sociodemographic perspective, and the remaining two themes—epidemiological factors and health care system factors—have been compiled by Surgo Foundation researchers specifically to address COVID-19.
The index's full methodology, including sources for all indicators, is available here. For both the overall CCVI score and the scores for individual themes, a higher value indicates a more vulnerable population. The data date is 2014–2018 and varies by indicator. The data was released in April.
In this story, Stacker lays out the CCVI scores for each state, as well as each state's two biggest areas of vulnerability, i.e., themes that received the highest scores, and the three counties in this state that have the highest vulnerability.
Read on to find out what makes certain counties and the groups that call them home especially vulnerable to COVID-19.
You may also like: How COVID-19 projections compare to leading causes of death in America