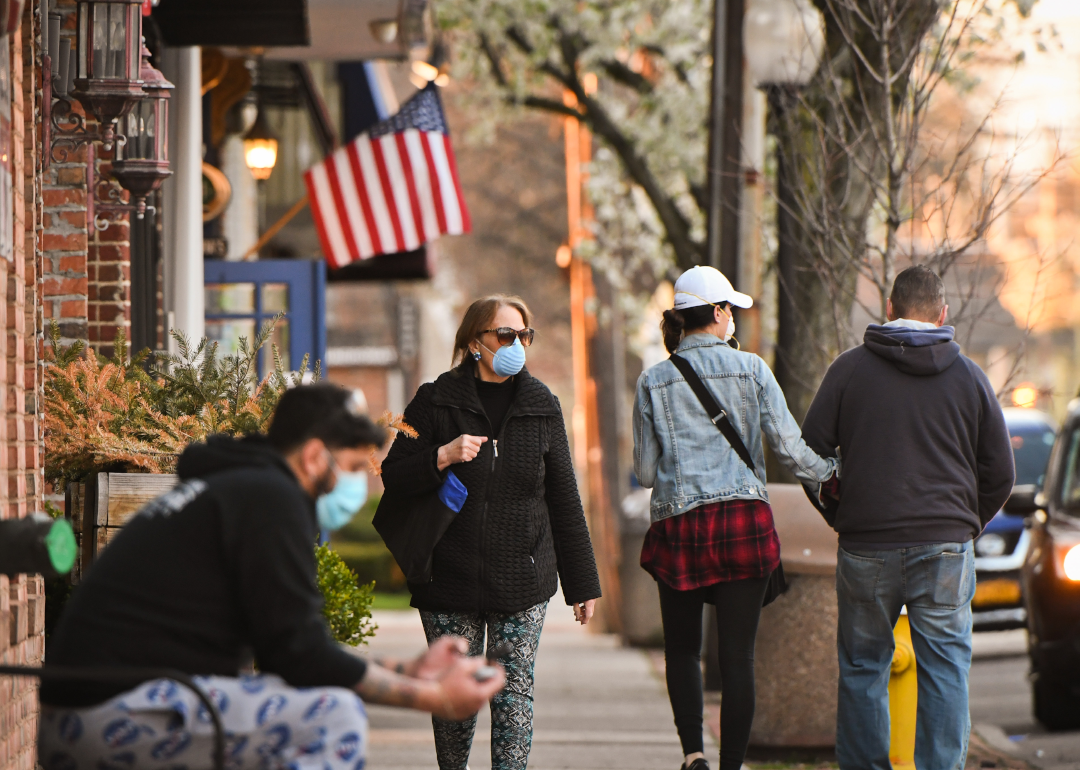 Counties in every state with the highest COVID-19 infection rates right now
Steve Pfost/Newsday RM // Getty Images
Counties in every state with the highest COVID-19 infection rates right now
More than 44,000 new coronavirus cases and 1,000 deaths were reported on Sept. 1 in the United States. That number is close to the week prior's average of 42,214 daily cases, which was down 13% from two weeks prior. But while countrywide totals are significant, actually tracking the pandemic requires zeroing in on case counts and deaths in a more granular fashion with states and, more specifically, counties.
To determine which counties in every state have the highest COVID-19 infection rates, Stacker consulted the New York Times COVID-19 data repository, which includes case and death values compiled from state and local health agencies. We compared county-level daily new case numbers, averaged over the most recent week of data (Aug. 27 to Sept. 2), to county populations, using population data compiled from the U.S. Census' 2018 American Community Survey. The top three counties for each state are included here, ranked based on cases per 100,000 people in the past week. Overall data on the numbers of cases and deaths due to COVID-19 in every state are also included.
By seeing where infection rates are highest, elected officials can set better rules regarding reopening businesses and schools—particularly relevant as children return to classrooms for the 2020-2021 school year—while residents can be better informed on how to best protect themselves and have a better understanding of the risk of transmission.
Keep reading to see which counties in your state have the highest COVID-19 infection rates right now.
You may also like: Essential COVID-19 stats: Where testing, case counts, and outbreaks stand in your state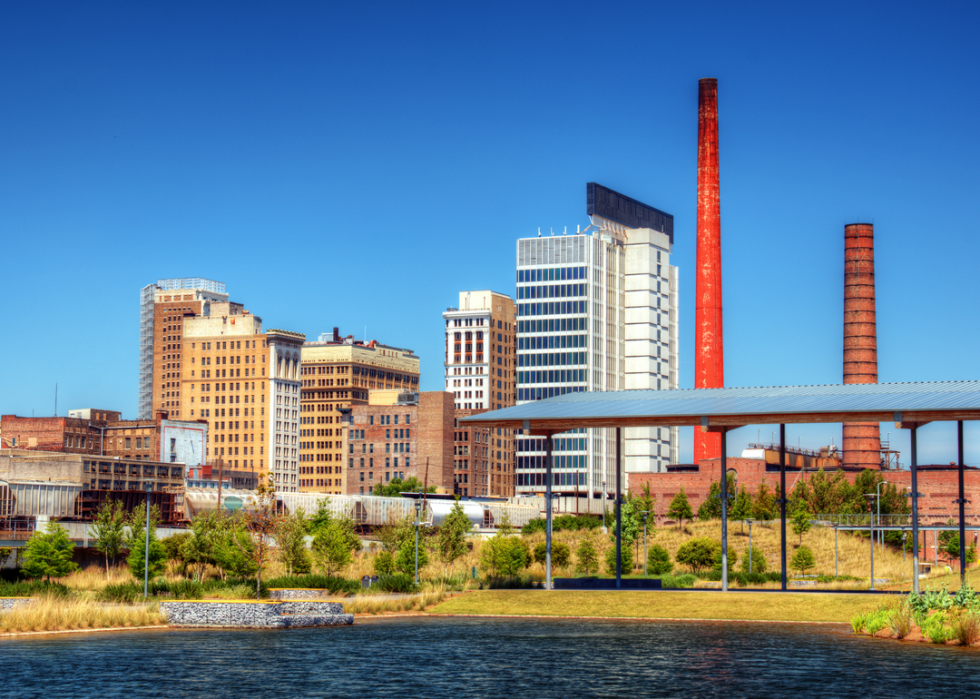 1 / 50
Sean Pavone // Shutterstock
Alabama
- Cumulative state COVID-19 statistics as of Sep. 2: 128,239 cases, 2,200 deaths
- Current state COVID-19 statistics (7-day average, Aug. 27 to Sep. 2): 1,284 cases, 25 deaths
- Counties with the highest current infection rates (7-day average cases and deaths, Aug. 27 to Sep. 2):
--- #1. Lee County: 180 cases (113 per 100,000 population), 0.6 deaths (0.4 per 100k)
--- #2. Chilton County: 23 cases (53 per 100k), 0.1 deaths (0.3 per 100k)
--- #3. Tuscaloosa County: 91 cases (44 per 100k), 1.3 deaths (0.6 per 100k)
2 / 50
Ramunas Bruzas // Shutterstock
Alaska
- Cumulative state COVID-19 statistics as of Sep. 2: 6,076 cases, 36 deaths
- Current state COVID-19 statistics (7-day average, Aug. 27 to Sep. 2): 71 cases, deaths
- Counties with the highest current infection rates (7-day average cases and deaths, Aug. 27 to Sep. 2):
--- #1. Anchorage County: 42 cases (14 per 100,000 population), 0.3 deaths (0.1 per 100k)
--- #2. Fairbanks North Star Borough County: 14 cases (14 per 100k), 0.0 deaths (0.0 per 100k)
--- #3. Yukon-Koyukuk Census Area County: 1 cases (13 per 100k), 0.0 deaths (0.0 per 100k)
3 / 50
Galyna Andrushko // Shutterstock
Arizona
- Cumulative state COVID-19 statistics as of Sep. 2: 202,898 cases, 5,048 deaths
- Current state COVID-19 statistics (7-day average, Aug. 27 to Sep. 2): 486 cases, 24 deaths
- Counties with the highest current infection rates (7-day average cases and deaths, Aug. 27 to Sep. 2):
--- #1. Pinal County: 63 cases (15 per 100,000 population), 0.9 deaths (0.2 per 100k)
--- #2. Graham County: 5 cases (14 per 100k), 0.0 deaths (0.0 per 100k)
--- #3. Navajo County: 14 cases (13 per 100k), 0.3 deaths (0.3 per 100k)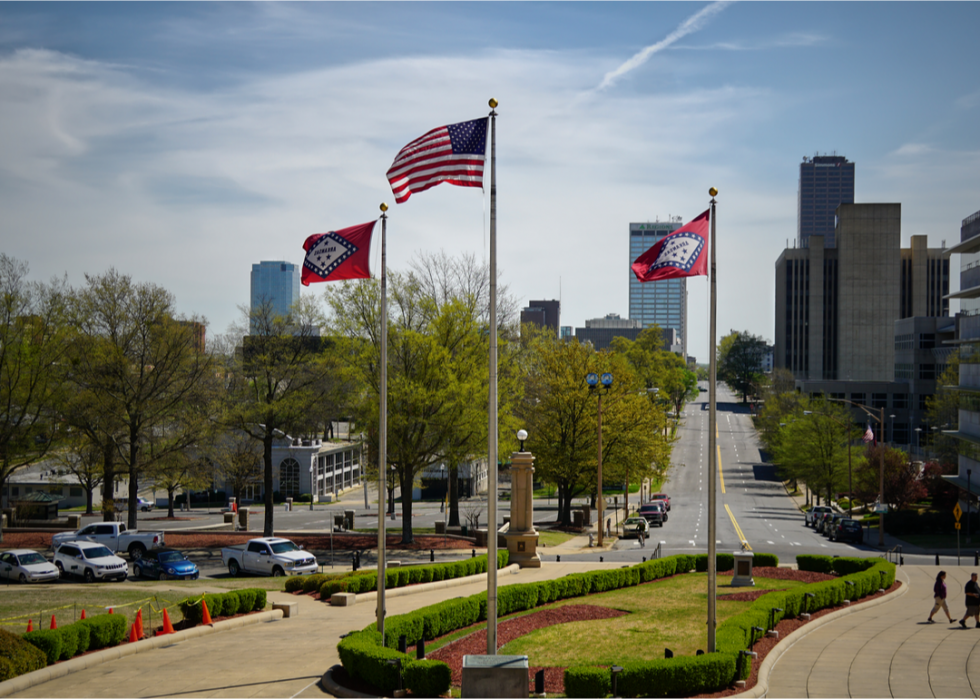 4 / 50
Reed Means // Shutterstock
Arkansas
- Cumulative state COVID-19 statistics as of Sep. 2: 61,156 cases, 814 deaths
- Current state COVID-19 statistics (7-day average, Aug. 27 to Sep. 2): 561 cases, 16 deaths
- Counties with the highest current infection rates (7-day average cases and deaths, Aug. 27 to Sep. 2):
--- #1. Lincoln County: 30 cases (221 per 100,000 population), 0.0 deaths (0.0 per 100k)
--- #2. Montgomery County: 6 cases (62 per 100k), 0.0 deaths (0.0 per 100k)
--- #3. Searcy County: 4 cases (50 per 100k), 0.0 deaths (0.0 per 100k)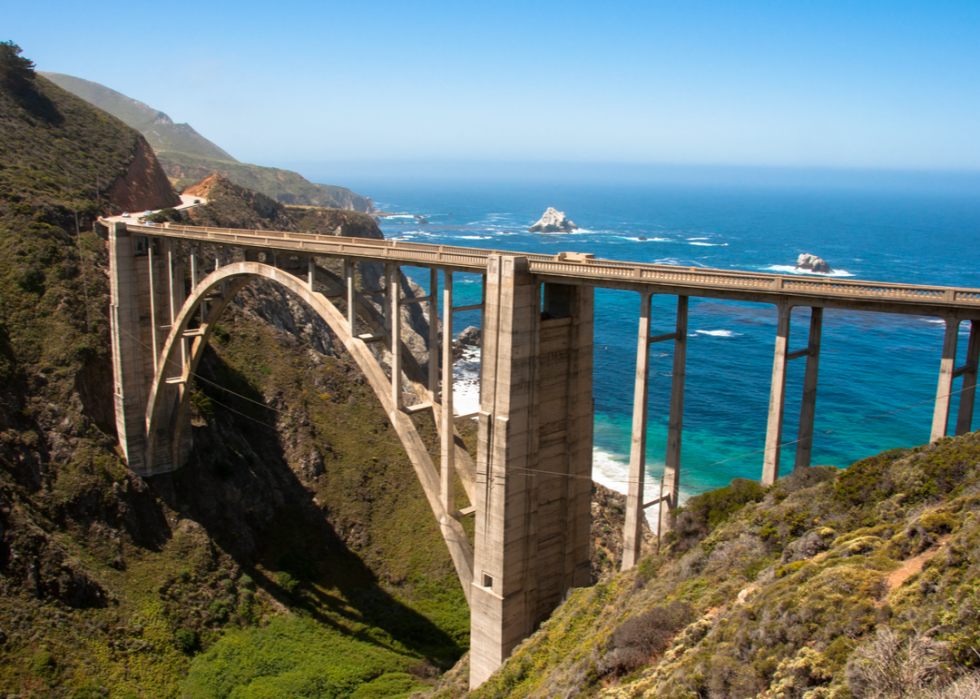 5 / 50
Maks Ershov // Shutterstock
California
- Cumulative state COVID-19 statistics as of Sep. 2: 722,035 cases, 13,149 deaths
- Current state COVID-19 statistics (7-day average, Aug. 27 to Sep. 2): 4,918 cases, 112 deaths
- Counties with the highest current infection rates (7-day average cases and deaths, Aug. 27 to Sep. 2):
--- #1. Kings County: 52 cases (35 per 100,000 population), 0.4 deaths (0.3 per 100k)
--- #2. San Benito County: 18 cases (30 per 100k), 0.1 deaths (0.2 per 100k)
--- #3. Madera County: 46 cases (30 per 100k), 0.3 deaths (0.2 per 100k)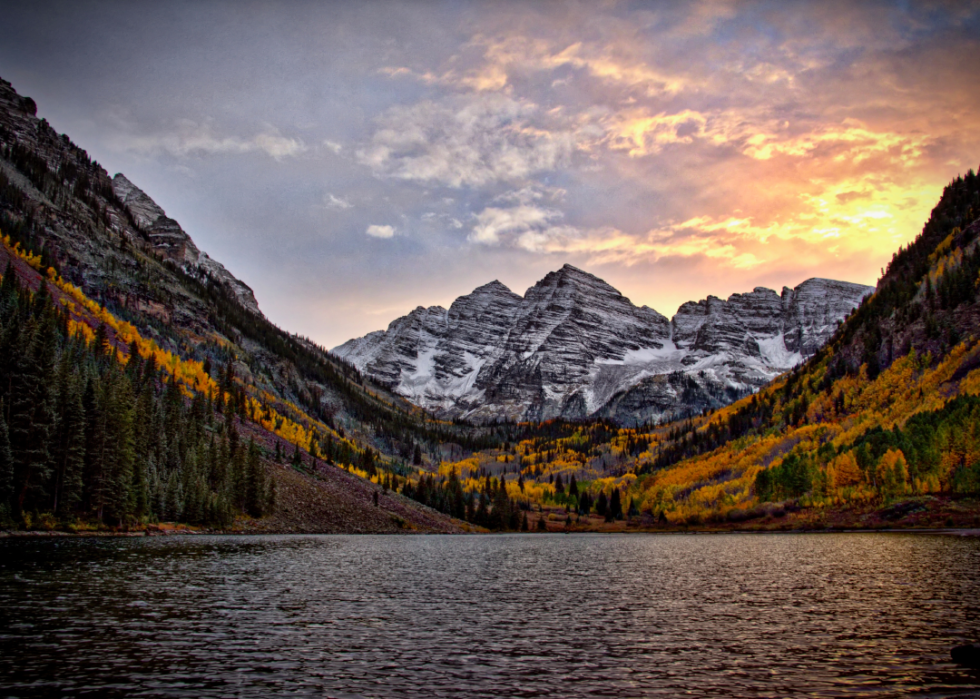 6 / 50
Colorado
- Cumulative state COVID-19 statistics as of Sep. 2: 57,851 cases, 1,920 deaths
- Current state COVID-19 statistics (7-day average, Aug. 27 to Sep. 2): 289 cases, 4 deaths
- Counties with the highest current infection rates (7-day average cases and deaths, Aug. 27 to Sep. 2):
--- #1. San Juan County: 1 cases (105 per 100,000 population), 0.0 deaths (0.0 per 100k)
--- #2. Logan County: 3 cases (13 per 100k), 0.0 deaths (0.0 per 100k)
--- #3. Prowers County: 1 cases (9 per 100k), 0.0 deaths (0.0 per 100k)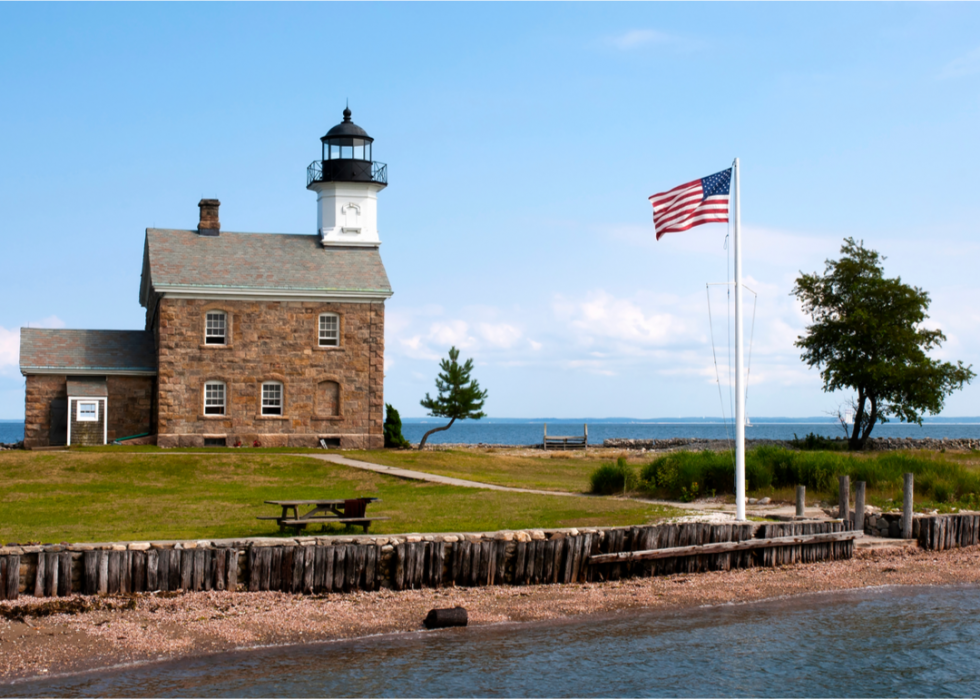 7 / 50
Allan Wood Photography // Shutterstock
Connecticut
- Cumulative state COVID-19 statistics as of Sep. 2: 53,001 cases, 4,466 deaths
- Current state COVID-19 statistics (7-day average, Aug. 27 to Sep. 2): 143 cases, 1 deaths
- Counties with the highest current infection rates (7-day average cases and deaths, Aug. 27 to Sep. 2):
--- #1. Tolland County: 9 cases (6 per 100,000 population), 0.0 deaths (0.0 per 100k)
--- #2. Hartford County: 41 cases (5 per 100k), 0.3 deaths (0.0 per 100k)
--- #3. Fairfield County: 43 cases (5 per 100k), 0.3 deaths (0.0 per 100k)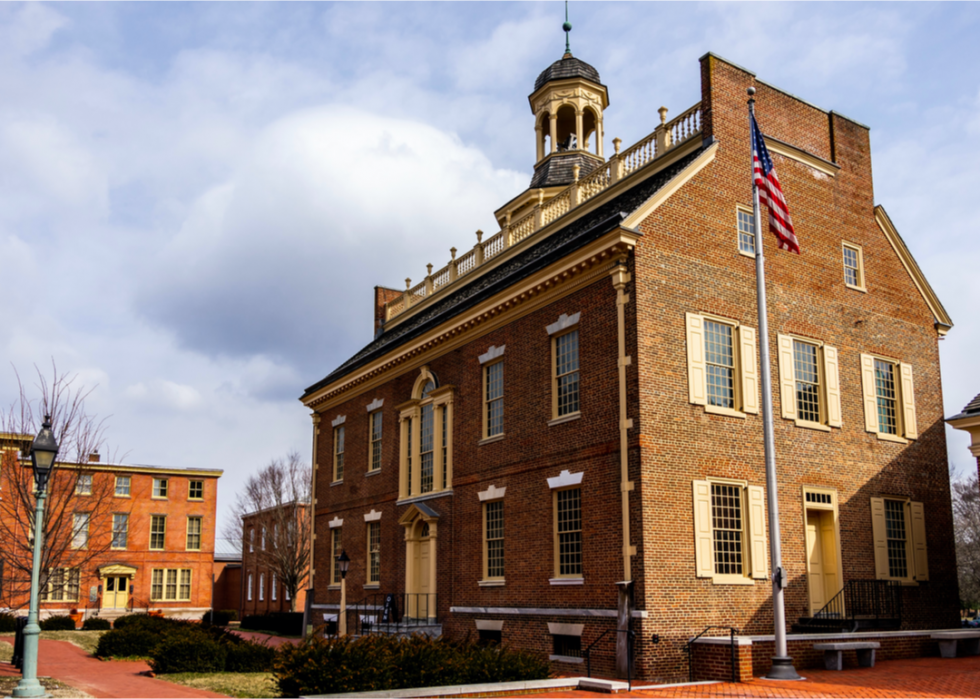 8 / 50
RozenskiP // Shutterstock
Delaware
- Cumulative state COVID-19 statistics as of Sep. 2: 17,259 cases, 605 deaths
- Current state COVID-19 statistics (7-day average, Aug. 27 to Sep. 2): 78 cases, deaths
- Counties with the highest current infection rates (7-day average cases and deaths, Aug. 27 to Sep. 2):
--- #1. New Castle County: 51 cases (9 per 100,000 population), 0.1 deaths (0.0 per 100k)
--- #2. Sussex County: 16 cases (7 per 100k), 0.0 deaths (0.0 per 100k)
--- #3. Kent County: 11 cases (6 per 100k), 0.1 deaths (0.1 per 100k)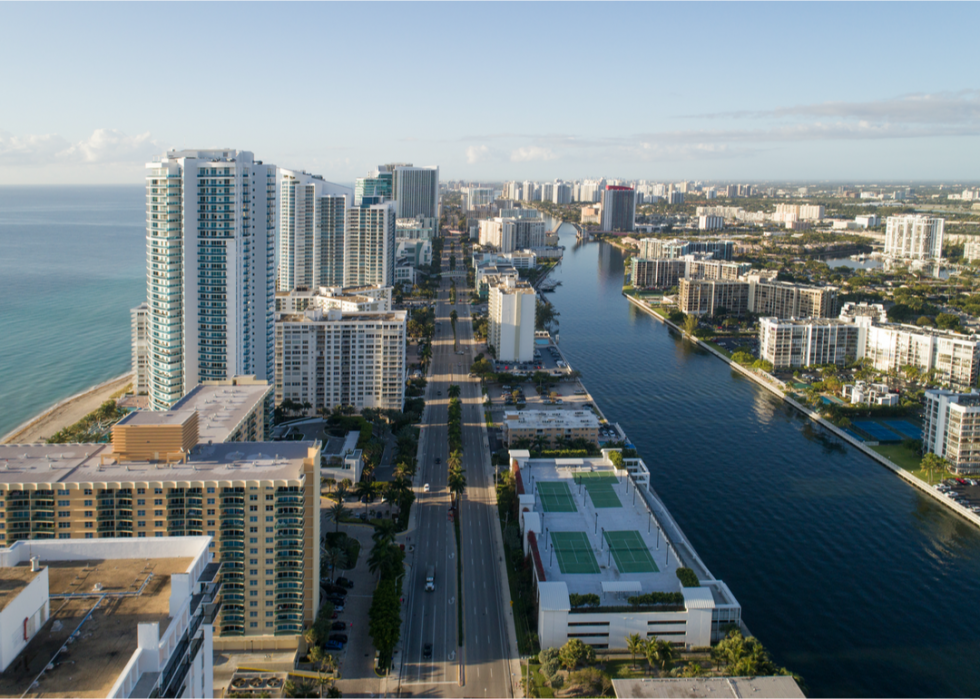 9 / 50
Felix Mizioznikov // Shutterstock
Florida
- Cumulative state COVID-19 statistics as of Sep. 2: 632,377 cases, 11,373 deaths
- Current state COVID-19 statistics (7-day average, Aug. 27 to Sep. 2): 3,507 cases, 110 deaths
- Counties with the highest current infection rates (7-day average cases and deaths, Aug. 27 to Sep. 2):
--- #1. Union County: 10 cases (67 per 100,000 population), 0.0 deaths (0.0 per 100k)
--- #2. Lafayette County: 5 cases (59 per 100k), 0.4 deaths (4.9 per 100k)
--- #3. Dixie County: 8 cases (50 per 100k), 0.0 deaths (0.0 per 100k)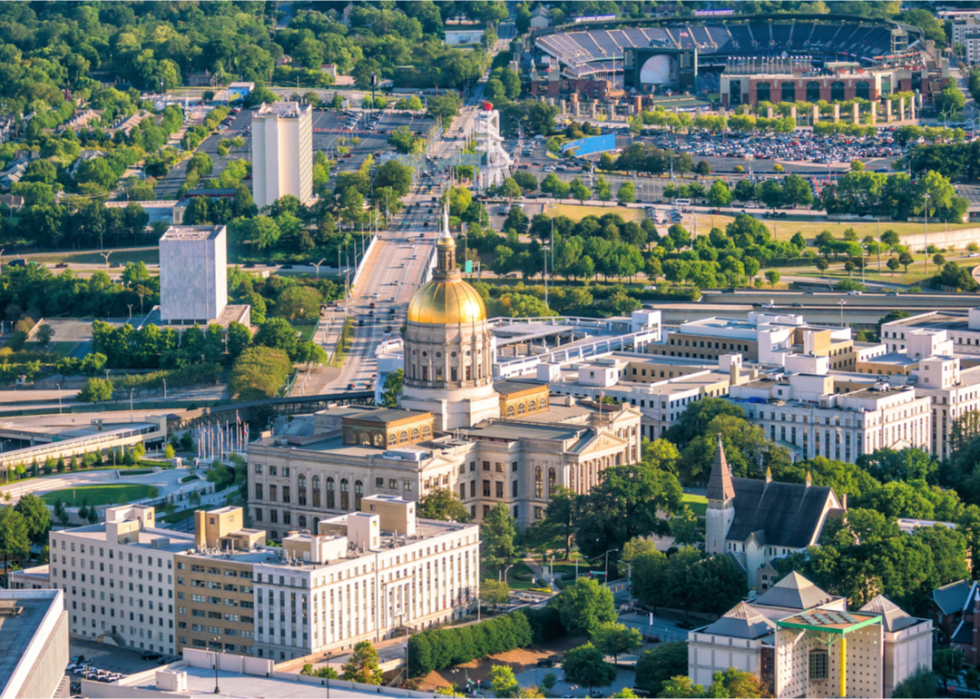 10 / 50
Georgia
- Cumulative state COVID-19 statistics as of Sep. 2: 255,974 cases, 5,600 deaths
- Current state COVID-19 statistics (7-day average, Aug. 27 to Sep. 2): 2,011 cases, 67 deaths
- Counties with the highest current infection rates (7-day average cases and deaths, Aug. 27 to Sep. 2):
--- #1. Chattahoochee County: 36 cases (333 per 100,000 population), 0.0 deaths (0.0 per 100k)
--- #2. Stewart County: 7 cases (116 per 100k), 0.0 deaths (0.0 per 100k)
--- #3. Bulloch County: 84 cases (113 per 100k), 0.1 deaths (0.2 per 100k)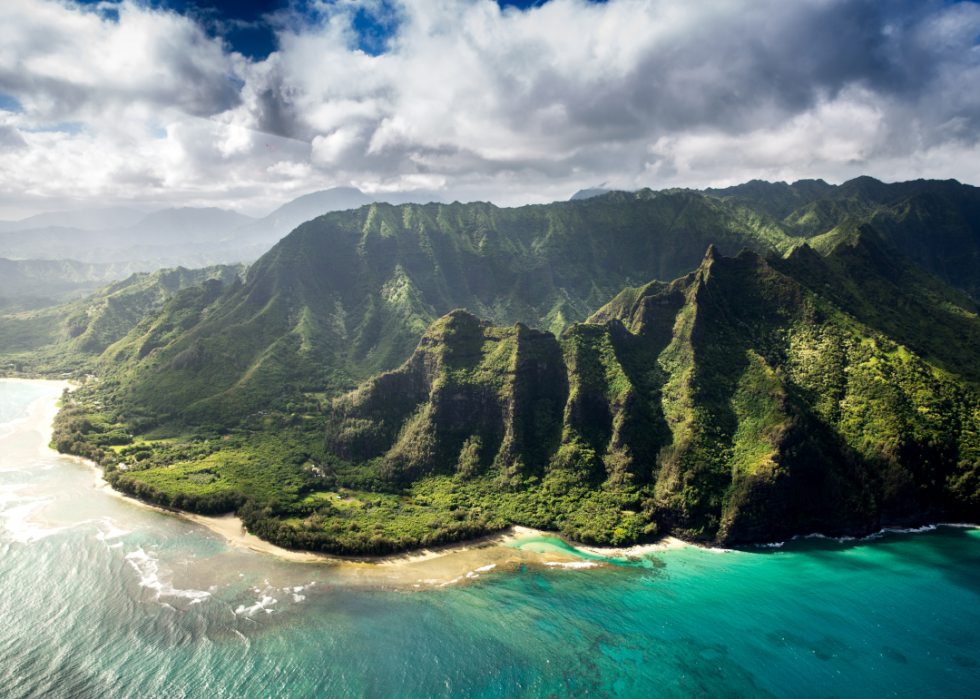 11 / 50
Hawaii
- Cumulative state COVID-19 statistics as of Sep. 2: 8,966 cases, 73 deaths
- Current state COVID-19 statistics (7-day average, Aug. 27 to Sep. 2): 247 cases, 3 deaths
- Counties with the highest current infection rates (7-day average cases and deaths, Aug. 27 to Sep. 2):
--- #1. Honolulu County: 218 cases (22 per 100,000 population), 2.9 deaths (0.3 per 100k)
--- #2. Hawaii County: 25 cases (13 per 100k), 0.4 deaths (0.2 per 100k)
--- #3. Maui County: 4 cases (3 per 100k), 0.1 deaths (0.1 per 100k)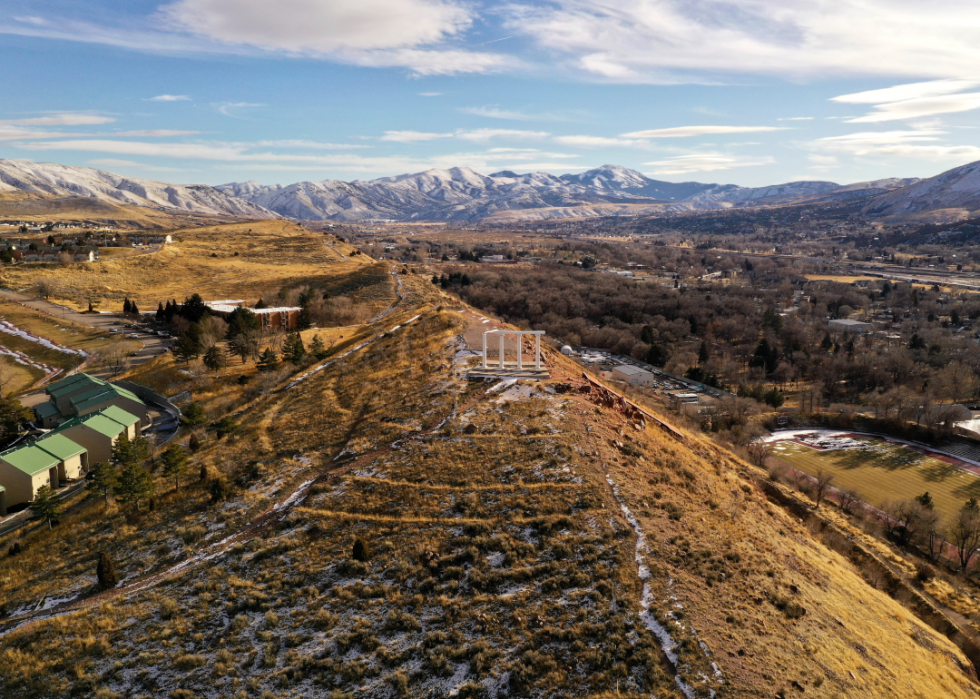 12 / 50
Idaho
- Cumulative state COVID-19 statistics as of Sep. 2: 33,059 cases, 370 deaths
- Current state COVID-19 statistics (7-day average, Aug. 27 to Sep. 2): 299 cases, 5 deaths
- Counties with the highest current infection rates (7-day average cases and deaths, Aug. 27 to Sep. 2):
--- #1. Butte County: 2 cases (77 per 100,000 population), 0.0 deaths (0.0 per 100k)
--- #2. Custer County: 3 cases (66 per 100k), 0.0 deaths (0.0 per 100k)
--- #3. Power County: 5 cases (63 per 100k), 0.0 deaths (0.0 per 100k)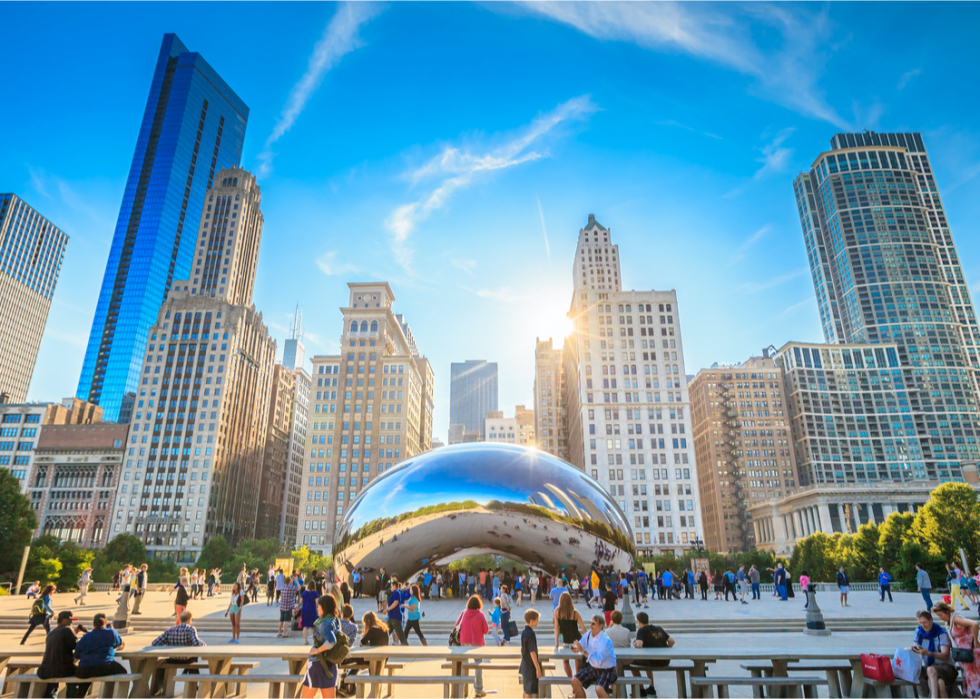 13 / 50
Illinois
- Cumulative state COVID-19 statistics as of Sep. 2: 239,641 cases, 8,092 deaths
- Current state COVID-19 statistics (7-day average, Aug. 27 to Sep. 2): 1,878 cases, 20 deaths
- Counties with the highest current infection rates (7-day average cases and deaths, Aug. 27 to Sep. 2):
--- #1. McLean County: 116 cases (67 per 100,000 population), 0.0 deaths (0.0 per 100k)
--- #2. Effingham County: 21 cases (63 per 100k), 0.0 deaths (0.0 per 100k)
--- #3. Jasper County: 6 cases (58 per 100k), 0.0 deaths (0.0 per 100k)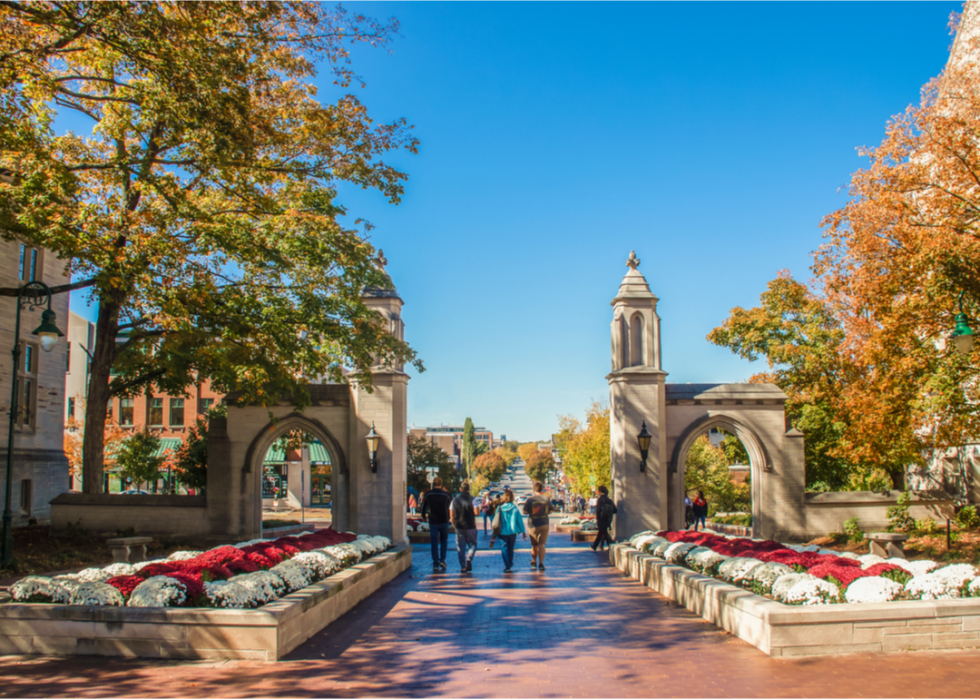 14 / 50
Svineyard // Shutterstock
Indiana
- Cumulative state COVID-19 statistics as of Sep. 2: 97,853 cases, 3,312 deaths
- Current state COVID-19 statistics (7-day average, Aug. 27 to Sep. 2): 921 cases, 9 deaths
- Counties with the highest current infection rates (7-day average cases and deaths, Aug. 27 to Sep. 2):
--- #1. Martin County: 5 cases (48 per 100,000 population), 0.0 deaths (0.0 per 100k)
--- #2. Delaware County: 48 cases (42 per 100k), 0.4 deaths (0.4 per 100k)
--- #3. Vigo County: 40 cases (38 per 100k), 0.3 deaths (0.3 per 100k)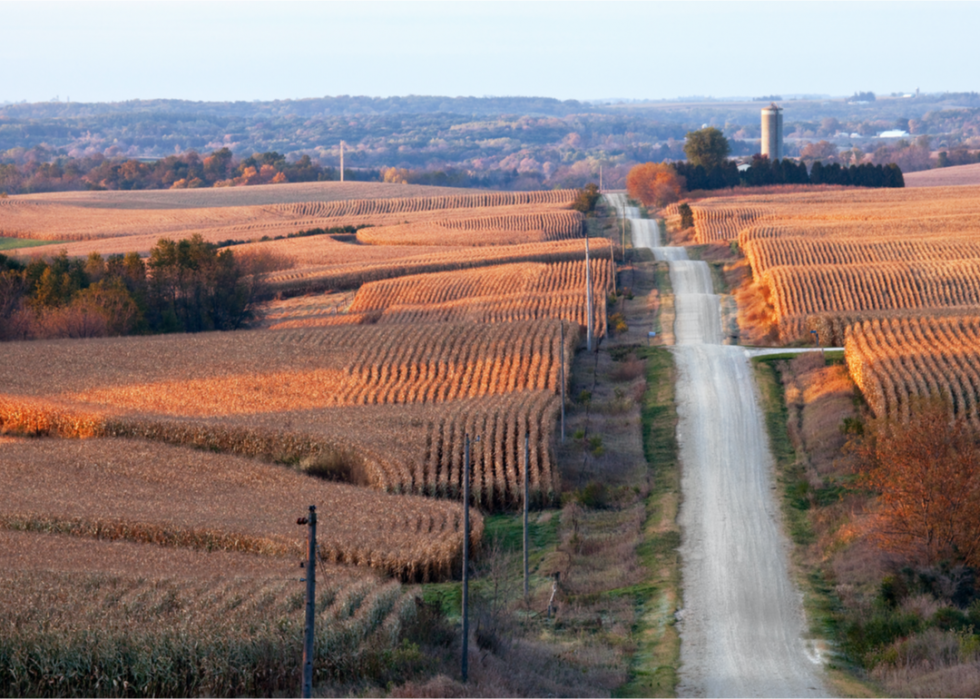 15 / 50
Igor Kovalenko // Shutterstock
Iowa
- Cumulative state COVID-19 statistics as of Sep. 2: 66,455 cases, 1,125 deaths
- Current state COVID-19 statistics (7-day average, Aug. 27 to Sep. 2): 1,087 cases, 8 deaths
- Counties with the highest current infection rates (7-day average cases and deaths, Aug. 27 to Sep. 2):
--- #1. Webster County: 48 cases (131 per 100,000 population), 0.1 deaths (0.4 per 100k)
--- #2. Johnson County: 174 cases (119 per 100k), 0.0 deaths (0.0 per 100k)
--- #3. Van Buren County: 8 cases (107 per 100k), 0.0 deaths (0.0 per 100k)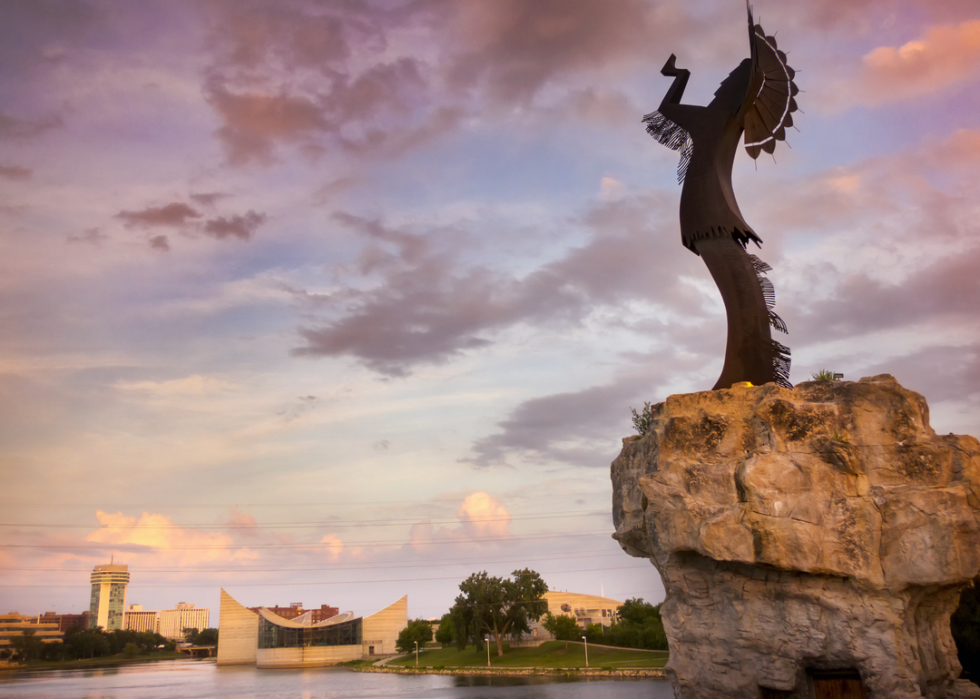 16 / 50
Ricardo Reitmeyer // Shutterstock
Kansas
- Cumulative state COVID-19 statistics as of Sep. 2: 44,529 cases, 454 deaths
- Current state COVID-19 statistics (7-day average, Aug. 27 to Sep. 2): 566 cases, 2 deaths
- Counties with the highest current infection rates (7-day average cases and deaths, Aug. 27 to Sep. 2):
--- #1. Pawnee County: 9 cases (138 per 100,000 population), 0.0 deaths (0.0 per 100k)
--- #2. Trego County: 3 cases (95 per 100k), 0.0 deaths (0.0 per 100k)
--- #3. Ellis County: 25 cases (87 per 100k), 0.0 deaths (0.0 per 100k)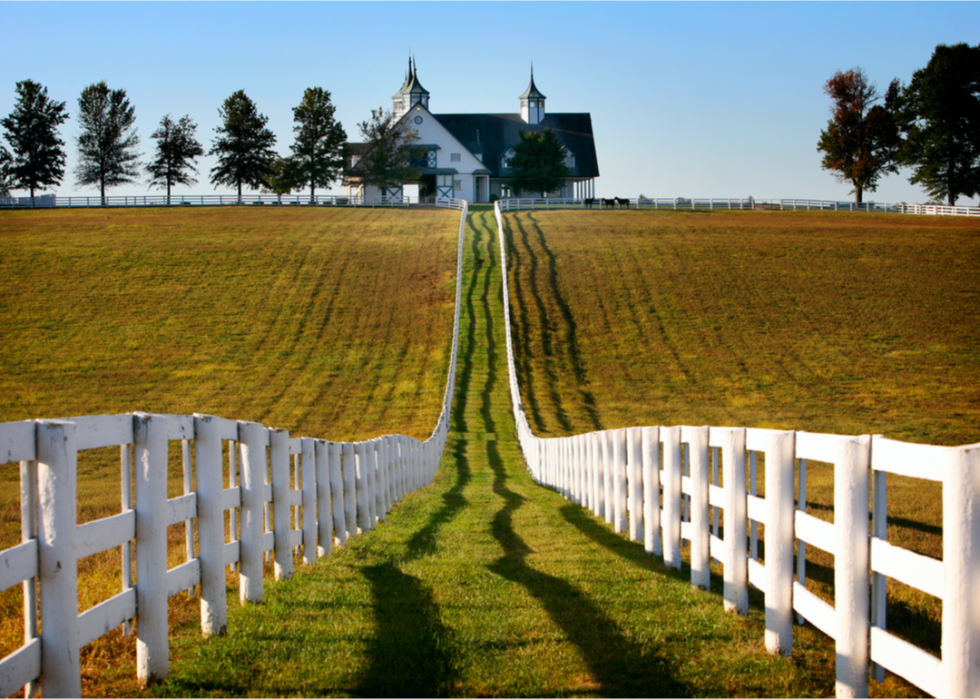 17 / 50
Stephen Bailey // Shutterstock
Kentucky
- Cumulative state COVID-19 statistics as of Sep. 2: 52,702 cases, 983 deaths
- Current state COVID-19 statistics (7-day average, Aug. 27 to Sep. 2): 737 cases, 12 deaths
- Counties with the highest current infection rates (7-day average cases and deaths, Aug. 27 to Sep. 2):
--- #1. Green County: 9 cases (80 per 100,000 population), 0.3 deaths (2.6 per 100k)
--- #2. Jackson County: 8 cases (61 per 100k), 0.0 deaths (0.0 per 100k)
--- #3. Todd County: 7 cases (59 per 100k), 0.7 deaths (5.8 per 100k)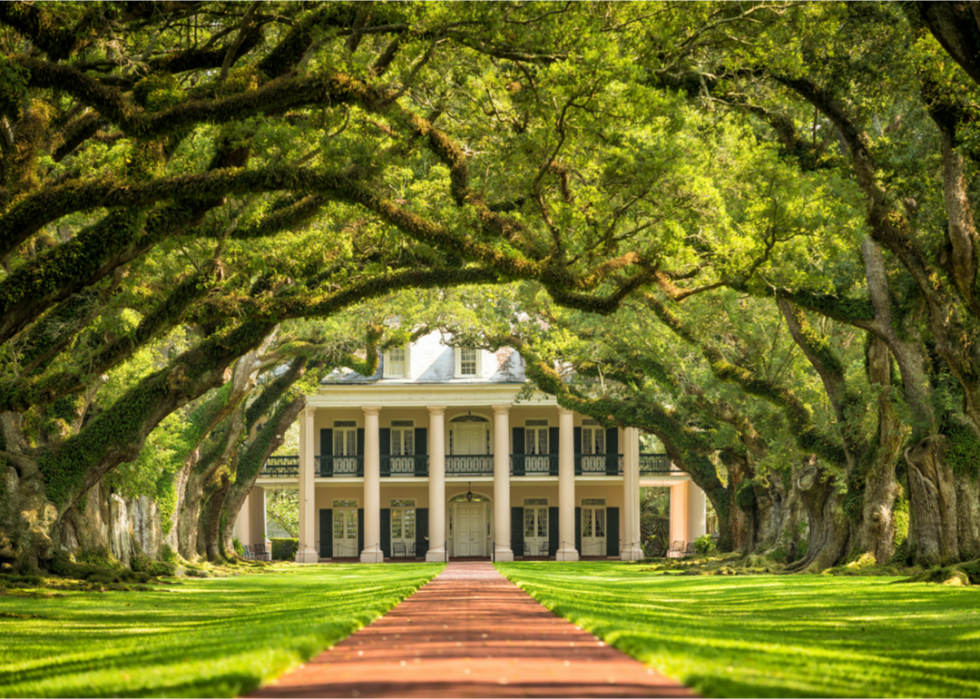 18 / 50
Louisiana
- Cumulative state COVID-19 statistics as of Sep. 2: 149,647 cases, 4,821 deaths
- Current state COVID-19 statistics (7-day average, Aug. 27 to Sep. 2): 697 cases, 22 deaths
- Counties with the highest current infection rates (7-day average cases and deaths, Aug. 27 to Sep. 2):
--- #1. East Feliciana Parish: 42 cases (215 per 100,000 population), 0.3 deaths (1.5 per 100k)
--- #2. Madison Parish: 7 cases (64 per 100k), 0.0 deaths (0.0 per 100k)
--- #3. Plaquemines Parish: 15 cases (63 per 100k), 0.0 deaths (0.0 per 100k)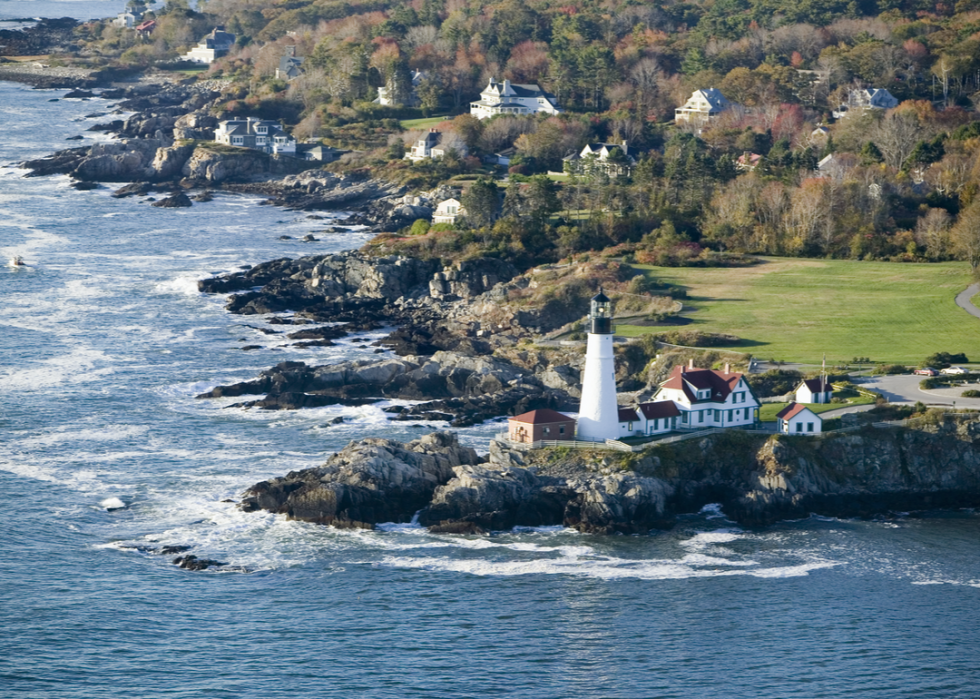 19 / 50
Joseph Sohm // Shutterstock
Maine
- Cumulative state COVID-19 statistics as of Sep. 2: 4,567 cases, 132 deaths
- Current state COVID-19 statistics (7-day average, Aug. 27 to Sep. 2): 26 cases, deaths
- Counties with the highest current infection rates (7-day average cases and deaths, Aug. 27 to Sep. 2):
--- #1. York County: 12 cases (6 per 100,000 population), 0.0 deaths (0.0 per 100k)
--- #2. Androscoggin County: 3 cases (3 per 100k), 0.0 deaths (0.0 per 100k)
--- #3. Franklin County: 1 cases (2 per 100k), 0.0 deaths (0.0 per 100k)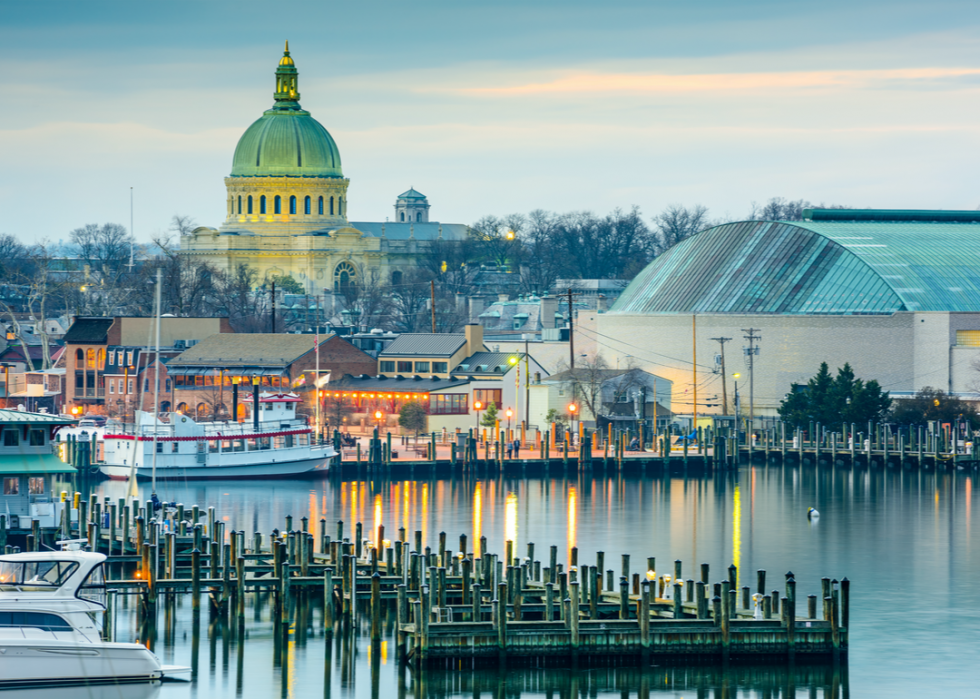 20 / 50
Sean Pavone // Shutterstock
Maryland
- Cumulative state COVID-19 statistics as of Sep. 2: 95,219 cases, 3,289 deaths
- Current state COVID-19 statistics (7-day average, Aug. 27 to Sep. 2): 488 cases, 6 deaths
- Counties with the highest current infection rates (7-day average cases and deaths, Aug. 27 to Sep. 2):
--- #1. Baltimore County: 107 cases (17 per 100,000 population), 1.3 deaths (0.2 per 100k)
--- #2. Caroline County: 6 cases (17 per 100k), 0.0 deaths (0.0 per 100k)
--- #3. Worcester County: 8 cases (16 per 100k), 0.3 deaths (0.6 per 100k)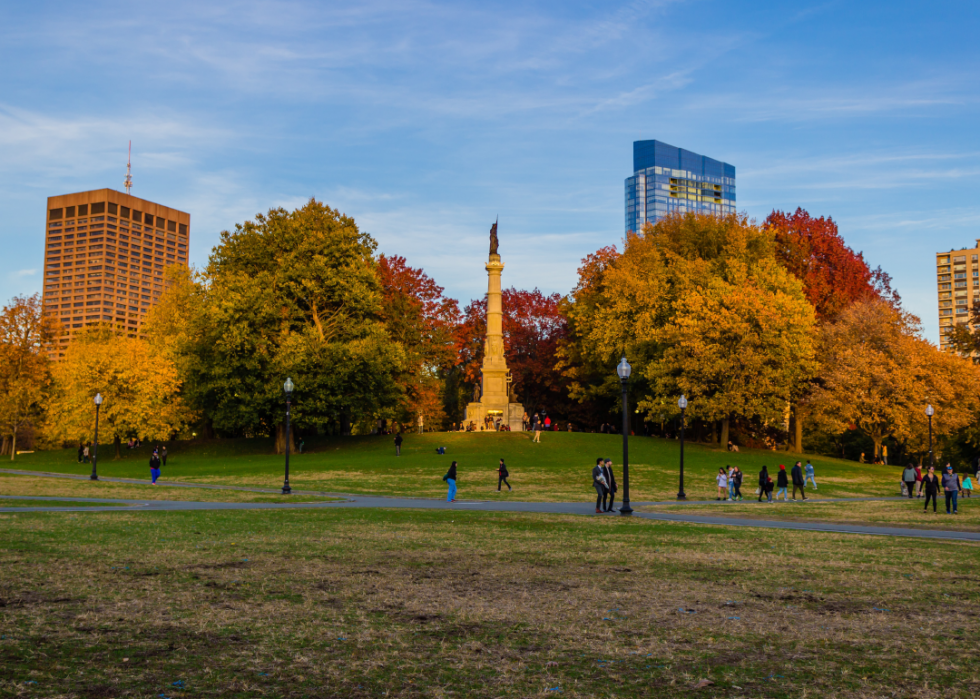 21 / 50
Massachusetts
- Cumulative state COVID-19 statistics as of Sep. 2: 127,289 cases, 9,059 deaths
- Current state COVID-19 statistics (7-day average, Aug. 27 to Sep. 2): 289 cases, 11 deaths
- Counties with the highest current infection rates (7-day average cases and deaths, Aug. 27 to Sep. 2):
--- #1. Suffolk County: 70 cases (9 per 100,000 population), 1.3 deaths (0.2 per 100k)
--- #2. Essex County: 41 cases (5 per 100k), 2.0 deaths (0.3 per 100k)
--- #3. Nantucket County: 1 cases (5 per 100k), 0.0 deaths (0.0 per 100k)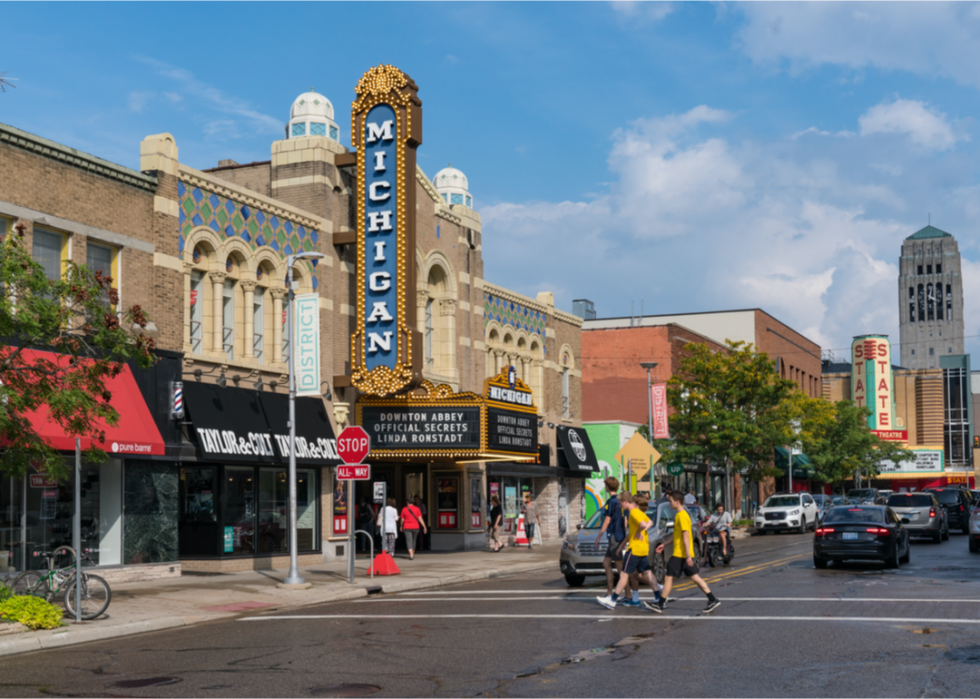 22 / 50
Paul Brady Photography // Shutterstock
Michigan
- Cumulative state COVID-19 statistics as of Sep. 2: 114,142 cases, 6,765 deaths
- Current state COVID-19 statistics (7-day average, Aug. 27 to Sep. 2): 688 cases, 13 deaths
- Counties with the highest current infection rates (7-day average cases and deaths, Aug. 27 to Sep. 2):
--- #1. Isabella County: 22 cases (30 per 100,000 population), 0.1 deaths (0.2 per 100k)
--- #2. Branch County: 10 cases (24 per 100k), 0.0 deaths (0.0 per 100k)
--- #3. Lenawee County: 16 cases (17 per 100k), 0.0 deaths (0.0 per 100k)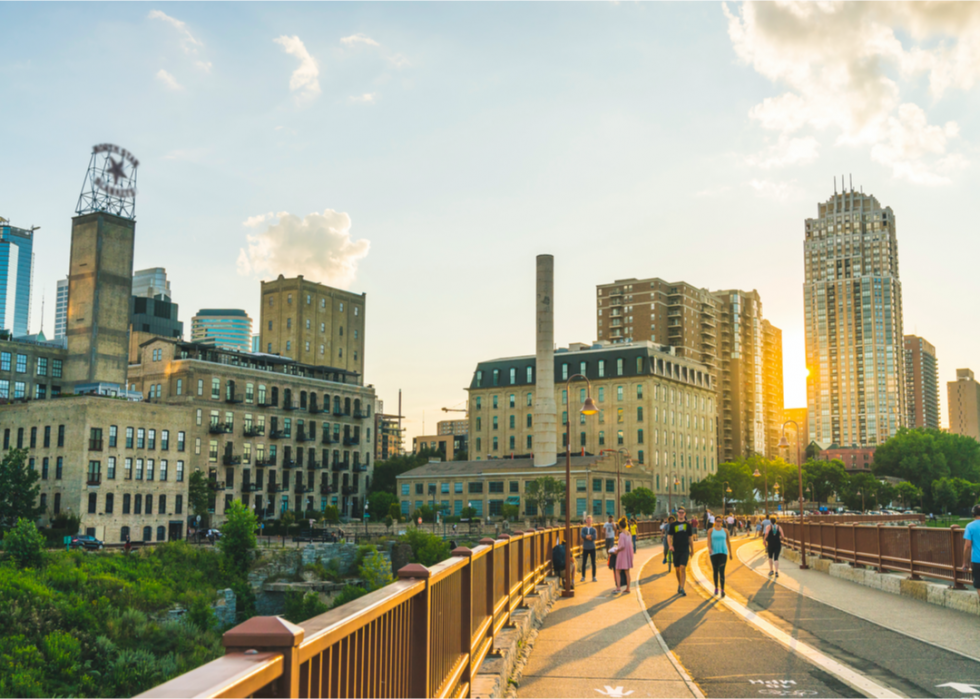 23 / 50
Minnesota
- Cumulative state COVID-19 statistics as of Sep. 2: 76,928 cases, 1,823 deaths
- Current state COVID-19 statistics (7-day average, Aug. 27 to Sep. 2): 831 cases, 5 deaths
- Counties with the highest current infection rates (7-day average cases and deaths, Aug. 27 to Sep. 2):
--- #1. Winona County: 27 cases (54 per 100,000 population), 0.0 deaths (0.0 per 100k)
--- #2. Lyon County: 13 cases (49 per 100k), 0.0 deaths (0.0 per 100k)
--- #3. Blue Earth County: 30 cases (45 per 100k), 0.0 deaths (0.0 per 100k)
24 / 50
Sean Pavone // Shutterstock
Mississippi
- Cumulative state COVID-19 statistics as of Sep. 2: 84,365 cases, 2,493 deaths
- Current state COVID-19 statistics (7-day average, Aug. 27 to Sep. 2): 608 cases, 22 deaths
- Counties with the highest current infection rates (7-day average cases and deaths, Aug. 27 to Sep. 2):
--- #1. Lafayette County: 40 cases (76 per 100,000 population), 0.6 deaths (1.1 per 100k)
--- #2. Quitman County: 4 cases (60 per 100k), 0.1 deaths (1.9 per 100k)
--- #3. Bolivar County: 19 cases (60 per 100k), 1.3 deaths (3.9 per 100k)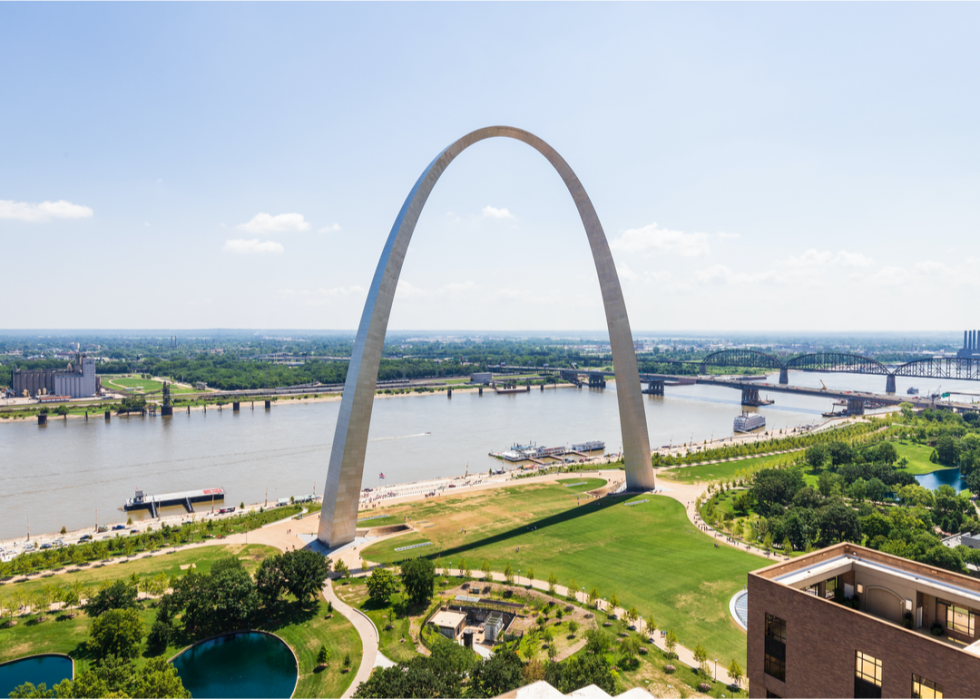 25 / 50
Joe Hendrickson // Shutterstock
Missouri
- Cumulative state COVID-19 statistics as of Sep. 2: 78,676 cases, 1,529 deaths
- Current state COVID-19 statistics (7-day average, Aug. 27 to Sep. 2): 1,217 cases, 14 deaths
- Counties with the highest current infection rates (7-day average cases and deaths, Aug. 27 to Sep. 2):
--- #1. Madison County: 12 cases (101 per 100,000 population), 0.0 deaths (0.0 per 100k)
--- #2. Nodaway County: 21 cases (94 per 100k), 0.0 deaths (0.0 per 100k)
--- #3. Perry County: 13 cases (66 per 100k), 0.0 deaths (0.0 per 100k)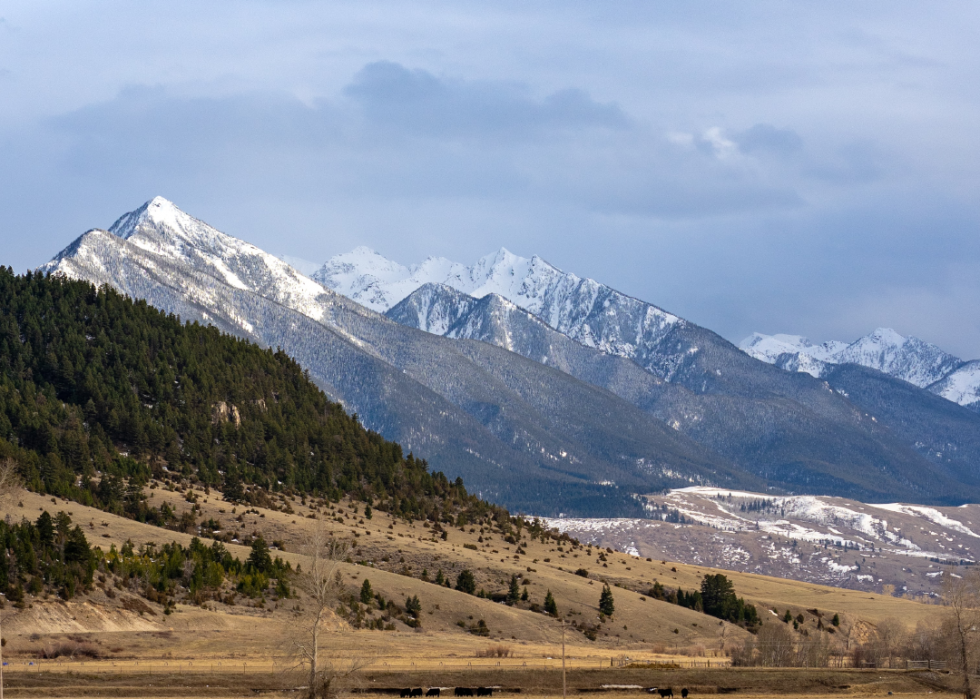 26 / 50
Montana
- Cumulative state COVID-19 statistics as of Sep. 2: 7,715 cases, 105 deaths
- Current state COVID-19 statistics (7-day average, Aug. 27 to Sep. 2): 130 cases, 2 deaths
- Counties with the highest current infection rates (7-day average cases and deaths, Aug. 27 to Sep. 2):
--- #1. Rosebud County: 19 cases (202 per 100,000 population), 0.4 deaths (4.6 per 100k)
--- #2. Big Horn County: 10 cases (78 per 100k), 0.1 deaths (1.1 per 100k)
--- #3. Sweet Grass County: 3 cases (74 per 100k), 0.0 deaths (0.0 per 100k)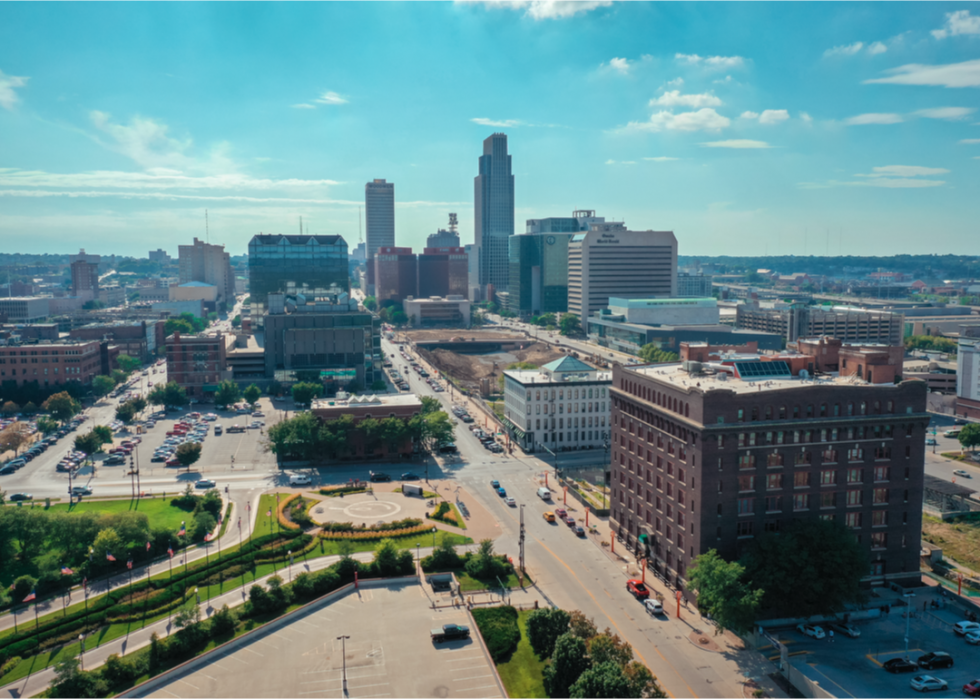 27 / 50
Aspects and Angles // Shutterstock
Nebraska
- Cumulative state COVID-19 statistics as of Sep. 2: 34,908 cases, 405 deaths
- Current state COVID-19 statistics (7-day average, Aug. 27 to Sep. 2): 322 cases, 3 deaths
- Counties with the highest current infection rates (7-day average cases and deaths, Aug. 27 to Sep. 2):
--- #1. Rock County: 1 cases (95 per 100,000 population), 0.0 deaths (0.0 per 100k)
--- #2. Nemaha County: 3 cases (49 per 100k), 0.0 deaths (0.0 per 100k)
--- #3. Cherry County: 3 cases (44 per 100k), 0.0 deaths (0.0 per 100k)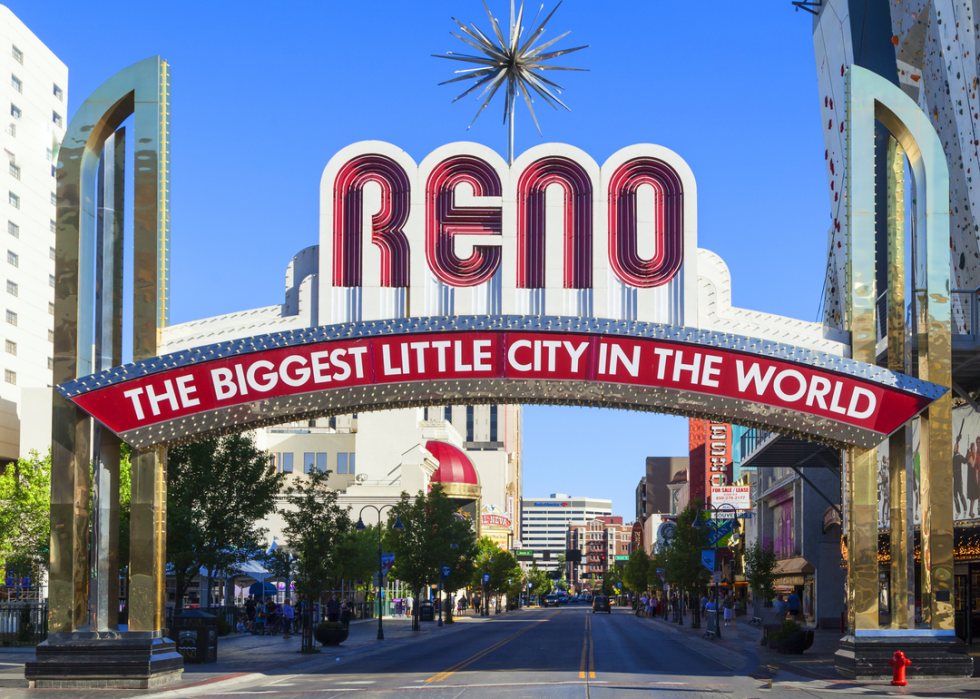 28 / 50
travelview // Shutterstock
Nevada
- Cumulative state COVID-19 statistics as of Sep. 2: 69,927 cases, 1,313 deaths
- Current state COVID-19 statistics (7-day average, Aug. 27 to Sep. 2): 456 cases, 13 deaths
- Counties with the highest current infection rates (7-day average cases and deaths, Aug. 27 to Sep. 2):
--- #1. Elko County: 13 cases (24 per 100,000 population), 0.1 deaths (0.3 per 100k)
--- #2. Clark County: 368 cases (17 per 100k), 11.3 deaths (0.5 per 100k)
--- #3. Eureka County: cases (16 per 100k), 0.0 deaths (0.0 per 100k)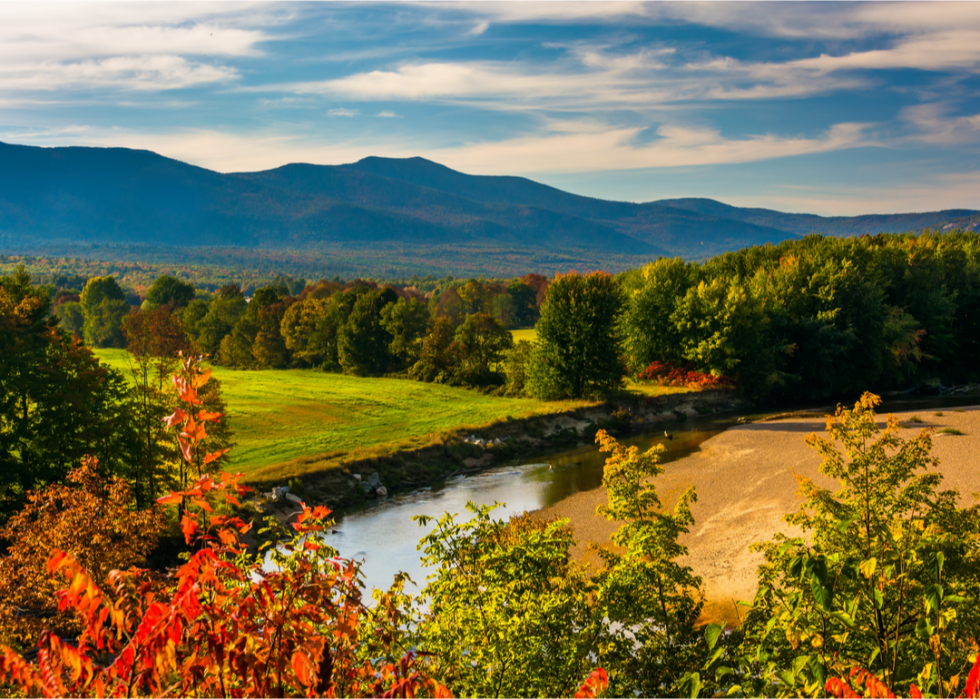 29 / 50
Jon Bilous // Shutterstock
New Hampshire
- Cumulative state COVID-19 statistics as of Sep. 2: 7,306 cases, 432 deaths
- Current state COVID-19 statistics (7-day average, Aug. 27 to Sep. 2): 21 cases, deaths
- Counties with the highest current infection rates (7-day average cases and deaths, Aug. 27 to Sep. 2):
--- #1. Hillsborough County: 9 cases (2 per 100,000 population), 0.1 deaths (0.0 per 100k)
--- #2. Rockingham County: 6 cases (2 per 100k), 0.1 deaths (0.0 per 100k)
--- #3. Strafford County: 2 cases (2 per 100k), 0.0 deaths (0.0 per 100k)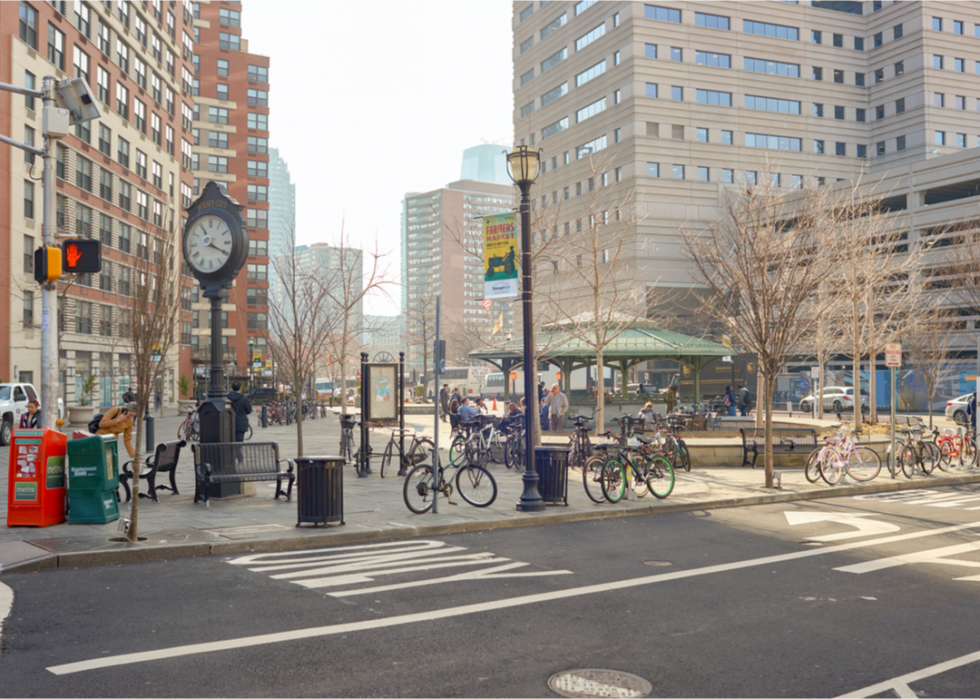 30 / 50
New Jersey
- Cumulative state COVID-19 statistics as of Sep. 2: 194,074 cases, 15,950 deaths
- Current state COVID-19 statistics (7-day average, Aug. 27 to Sep. 2): 326 cases, 7 deaths
- Counties with the highest current infection rates (7-day average cases and deaths, Aug. 27 to Sep. 2):
--- #1. Cumberland County: 10 cases (7 per 100,000 population), 0.1 deaths (0.1 per 100k)
--- #2. Gloucester County: 18 cases (6 per 100k), 0.1 deaths (0.0 per 100k)
--- #3. Passaic County: 28 cases (5 per 100k), 0.4 deaths (0.1 per 100k)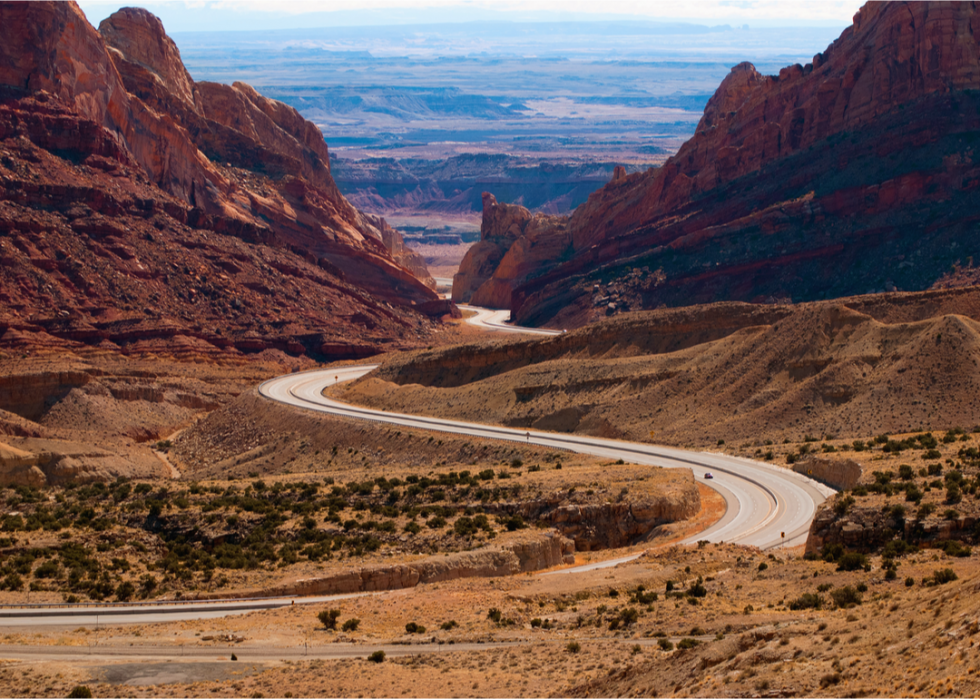 31 / 50
Herbert Heinsche // Shutterstock
New Mexico
- Cumulative state COVID-19 statistics as of Sep. 2: 25,612 cases, 787 deaths
- Current state COVID-19 statistics (7-day average, Aug. 27 to Sep. 2): 126 cases, 5 deaths
- Counties with the highest current infection rates (7-day average cases and deaths, Aug. 27 to Sep. 2):
--- #1. Luna County: 6 cases (24 per 100,000 population), 0.0 deaths (0.0 per 100k)
--- #2. Chaves County: 15 cases (23 per 100k), 0.0 deaths (0.0 per 100k)
--- #3. Hidalgo County: 1 cases (16 per 100k), 0.1 deaths (3.3 per 100k)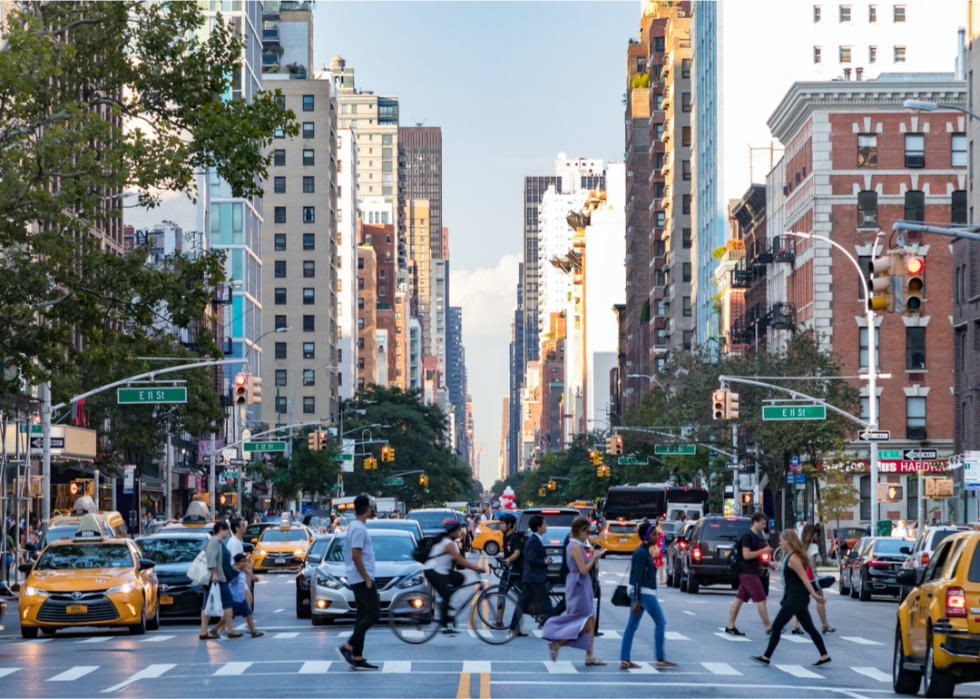 32 / 50
Ryan DeBerardinis // Shutterstock
New York
- Cumulative state COVID-19 statistics as of Sep. 2: 440,947 cases, 32,551 deaths
- Current state COVID-19 statistics (7-day average, Aug. 27 to Sep. 2): 698 cases, 9 deaths
- Counties with the highest current infection rates (7-day average cases and deaths, Aug. 27 to Sep. 2):
--- #1. Otsego County: 9 cases (15 per 100,000 population), 0.0 deaths (0.0 per 100k)
--- #2. Chautauqua County: 17 cases (13 per 100k), 0.0 deaths (0.0 per 100k)
--- #3. Essex County: 4 cases (11 per 100k), 0.4 deaths (1.1 per 100k)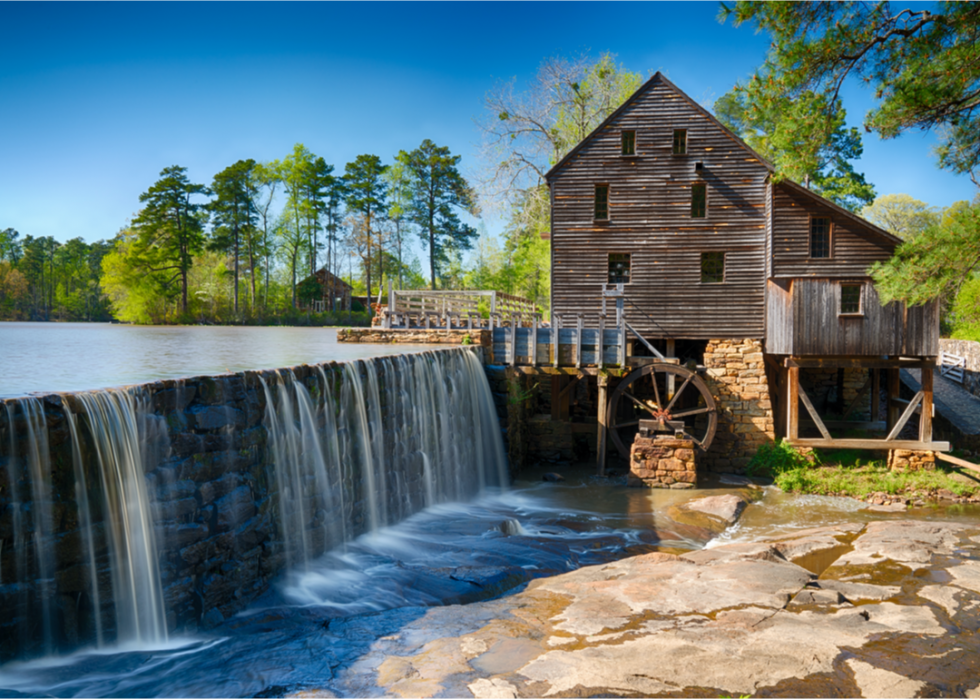 33 / 50
Paul Brady Photography // Shutterstock
North Carolina
- Cumulative state COVID-19 statistics as of Sep. 2: 171,140 cases, 2,769 deaths
- Current state COVID-19 statistics (7-day average, Aug. 27 to Sep. 2): 1,633 cases, 25 deaths
- Counties with the highest current infection rates (7-day average cases and deaths, Aug. 27 to Sep. 2):
--- #1. Pamlico County: 11 cases (86 per 100,000 population), 0.0 deaths (0.0 per 100k)
--- #2. Pitt County: 105 cases (59 per 100k), 0.6 deaths (0.3 per 100k)
--- #3. Bertie County: 11 cases (55 per 100k), 0.1 deaths (0.7 per 100k)
34 / 50
North Dakota
- Cumulative state COVID-19 statistics as of Sep. 2: 12,267 cases, 145 deaths
- Current state COVID-19 statistics (7-day average, Aug. 27 to Sep. 2): 257 cases, 1 deaths
- Counties with the highest current infection rates (7-day average cases and deaths, Aug. 27 to Sep. 2):
--- #1. Stark County: 28 cases (90 per 100,000 population), 0.0 deaths (0.0 per 100k)
--- #2. Hettinger County: 2 cases (78 per 100k), 0.0 deaths (0.0 per 100k)
--- #3. Grand Forks County: 52 cases (73 per 100k), 0.1 deaths (0.2 per 100k)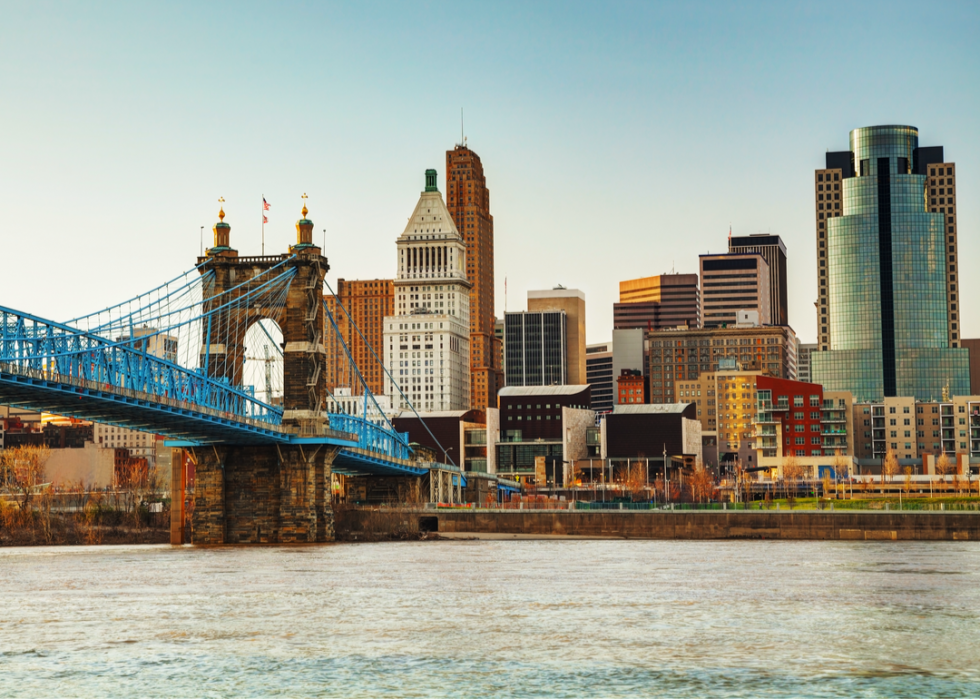 35 / 50
Ohio
- Cumulative state COVID-19 statistics as of Sep. 2: 125,767 cases, 4,165 deaths
- Current state COVID-19 statistics (7-day average, Aug. 27 to Sep. 2): 1,169 cases, 19 deaths
- Counties with the highest current infection rates (7-day average cases and deaths, Aug. 27 to Sep. 2):
--- #1. Putnam County: 11 cases (34 per 100,000 population), 0.0 deaths (0.0 per 100k)
--- #2. Montgomery County: 142 cases (27 per 100k), 2.3 deaths (0.4 per 100k)
--- #3. Butler County: 99 cases (26 per 100k), 0.4 deaths (0.1 per 100k)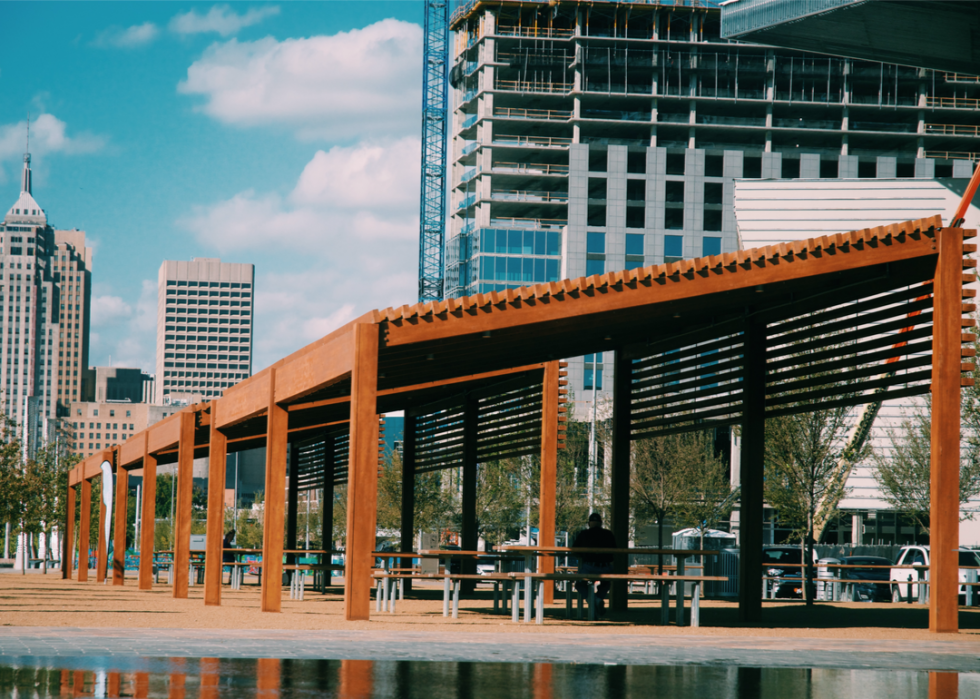 36 / 50
Maria_martinez // Shutterstock
Oklahoma
- Cumulative state COVID-19 statistics as of Sep. 2: 60,103 cases, 809 deaths
- Current state COVID-19 statistics (7-day average, Aug. 27 to Sep. 2): 753 cases, 8 deaths
- Counties with the highest current infection rates (7-day average cases and deaths, Aug. 27 to Sep. 2):
--- #1. Muskogee County: 98 cases (141 per 100,000 population), 0.1 deaths (0.2 per 100k)
--- #2. Atoka County: 7 cases (54 per 100k), 0.0 deaths (0.0 per 100k)
--- #3. Payne County: 40 cases (49 per 100k), 0.0 deaths (0.0 per 100k)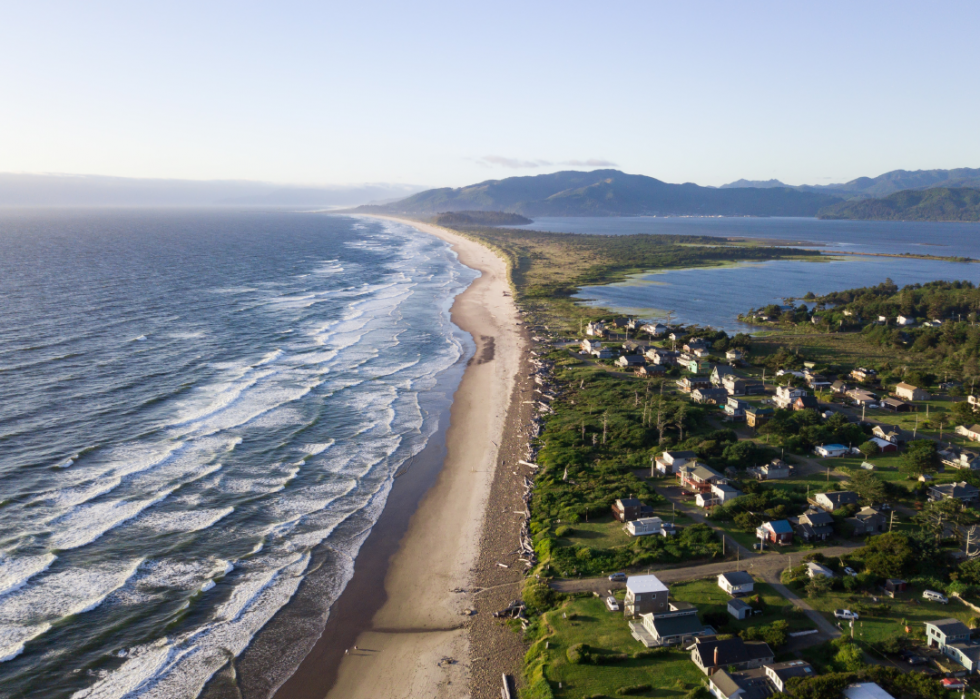 37 / 50
Oregon
- Cumulative state COVID-19 statistics as of Sep. 2: 27,085 cases, 467 deaths
- Current state COVID-19 statistics (7-day average, Aug. 27 to Sep. 2): 216 cases, 5 deaths
- Counties with the highest current infection rates (7-day average cases and deaths, Aug. 27 to Sep. 2):
--- #1. Malheur County: 18 cases (58 per 100,000 population), 0.4 deaths (1.4 per 100k)
--- #2. Umatilla County: 17 cases (22 per 100k), 0.4 deaths (0.6 per 100k)
--- #3. Morrow County: 2 cases (19 per 100k), 0.0 deaths (0.0 per 100k)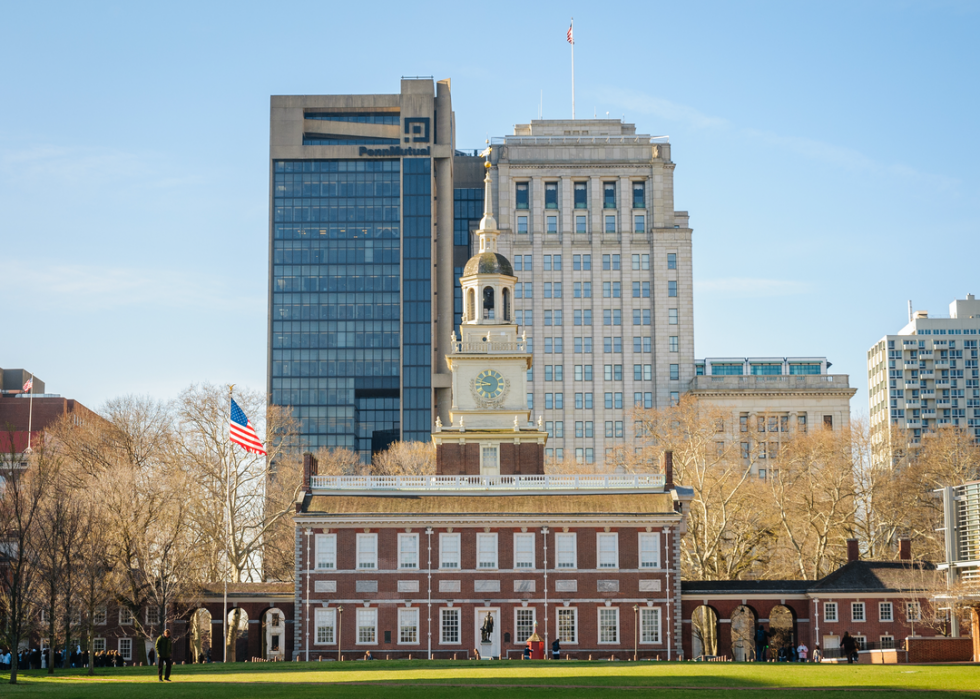 38 / 50
Zack Frank // Shutterstock
Pennsylvania
- Cumulative state COVID-19 statistics as of Sep. 2: 140,577 cases, 7,764 deaths
- Current state COVID-19 statistics (7-day average, Aug. 27 to Sep. 2): 751 cases, 14 deaths
- Counties with the highest current infection rates (7-day average cases and deaths, Aug. 27 to Sep. 2):
--- #1. Columbia County: 21 cases (31 per 100,000 population), 0.0 deaths (0.0 per 100k)
--- #2. Adams County: 14 cases (14 per 100k), 0.0 deaths (0.0 per 100k)
--- #3. Union County: 4 cases (10 per 100k), 0.3 deaths (0.6 per 100k)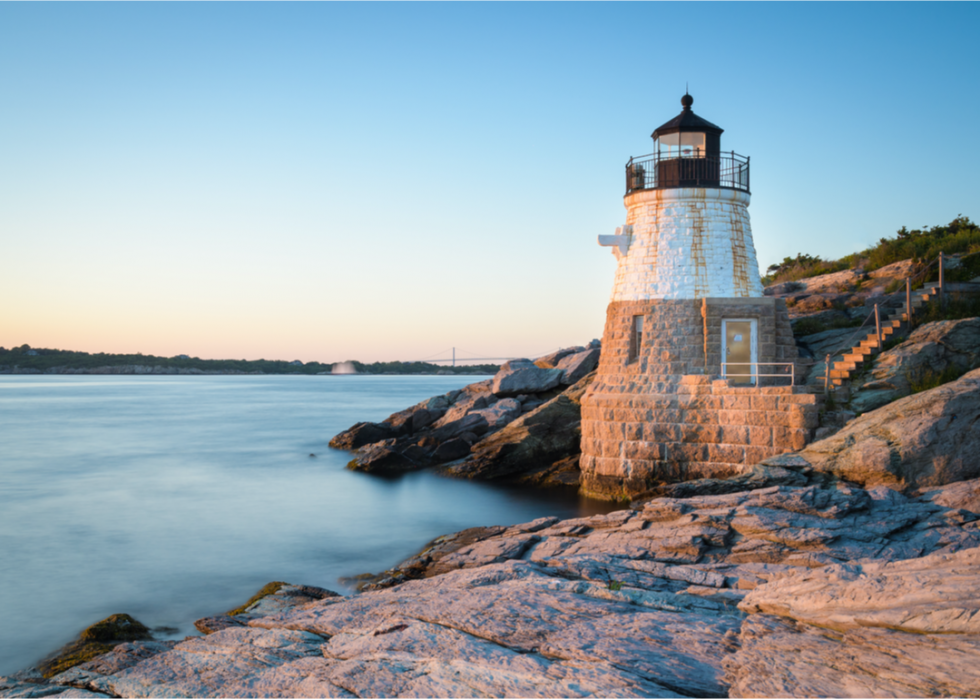 39 / 50
Jim Schubert // Shutterstock
Rhode Island
- Cumulative state COVID-19 statistics as of Sep. 2: 20,350 cases, 1,027 deaths
- Current state COVID-19 statistics (7-day average, Aug. 27 to Sep. 2): 77 cases, 2 deaths
- Counties with the highest current infection rates (7-day average cases and deaths, Aug. 27 to Sep. 2):
--- #1. Providence County: 63 cases (10 per 100,000 population), 1.4 deaths (0.2 per 100k)
--- #2. Newport County: 3 cases (4 per 100k), 0.0 deaths (0.0 per 100k)
--- #3. Kent County: 6 cases (4 per 100k), 0.0 deaths (0.0 per 100k)
40 / 50
South Carolina
- Cumulative state COVID-19 statistics as of Sep. 2: 120,503 cases, 2,757 deaths
- Current state COVID-19 statistics (7-day average, Aug. 27 to Sep. 2): 916 cases, 32 deaths
- Counties with the highest current infection rates (7-day average cases and deaths, Aug. 27 to Sep. 2):
--- #1. Richland County: 180 cases (44 per 100,000 population), 0.9 deaths (0.2 per 100k)
--- #2. Marlboro County: 11 cases (42 per 100k), 0.0 deaths (0.0 per 100k)
--- #3. Saluda County: 7 cases (34 per 100k), 0.4 deaths (2.1 per 100k)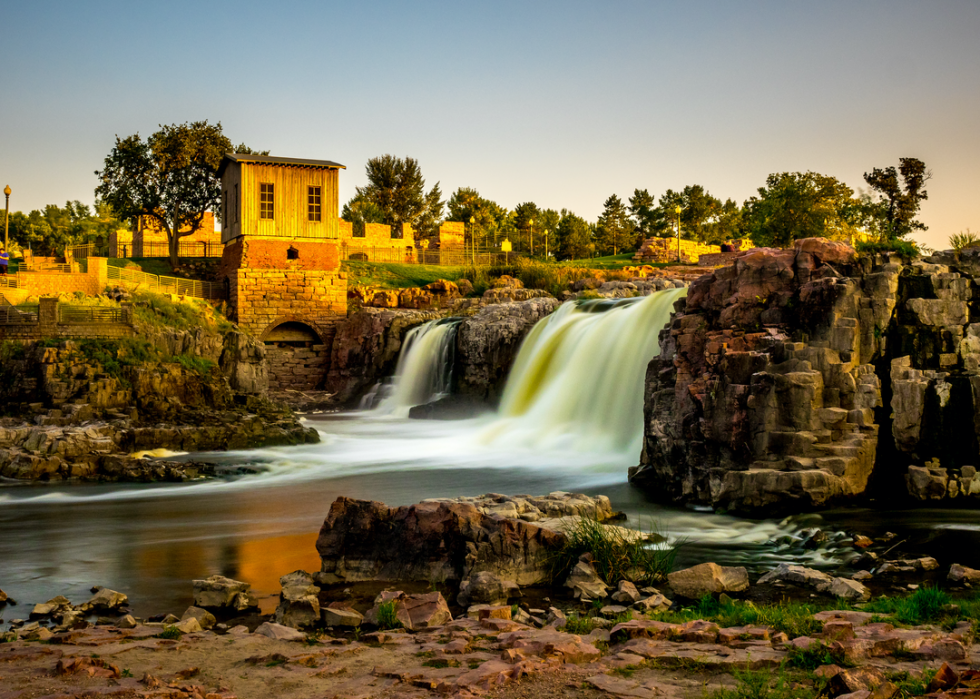 41 / 50
photo.eccles // Shutterstock
South Dakota
- Cumulative state COVID-19 statistics as of Sep. 2: 13,818 cases, 165 deaths
- Current state COVID-19 statistics (7-day average, Aug. 27 to Sep. 2): 344 cases, 1 deaths
- Counties with the highest current infection rates (7-day average cases and deaths, Aug. 27 to Sep. 2):
--- #1. Clay County: 29 cases (210 per 100,000 population), 0.1 deaths (1.0 per 100k)
--- #2. Potter County: 2 cases (86 per 100k), 0.0 deaths (0.0 per 100k)
--- #3. Gregory County: 3 cases (75 per 100k), 0.1 deaths (3.4 per 100k)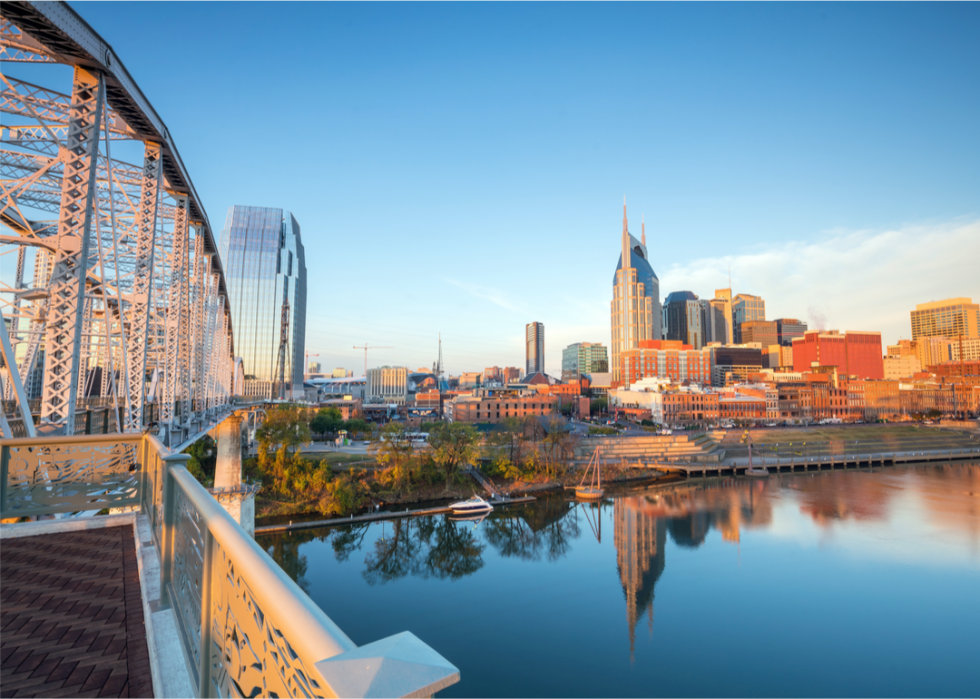 42 / 50
Tennessee
- Cumulative state COVID-19 statistics as of Sep. 2: 154,833 cases, 1,747 deaths
- Current state COVID-19 statistics (7-day average, Aug. 27 to Sep. 2): 1,531 cases, 20 deaths
- Counties with the highest current infection rates (7-day average cases and deaths, Aug. 27 to Sep. 2):
--- #1. Wayne County: 168 cases (1,012 per 100,000 population), 0.1 deaths (0.9 per 100k)
--- #2. Van Buren County: 4 cases (78 per 100k), 0.0 deaths (0.0 per 100k)
--- #3. Carroll County: 19 cases (69 per 100k), 0.3 deaths (1.0 per 100k)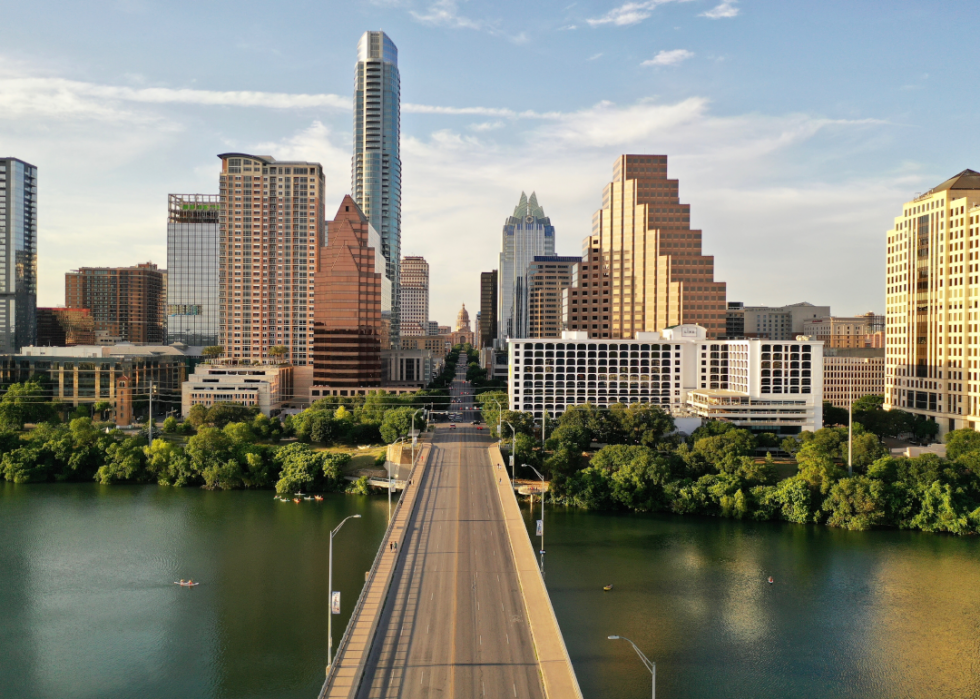 43 / 50
Texas
- Cumulative state COVID-19 statistics as of Sep. 2: 649,844 cases, 13,004 deaths
- Current state COVID-19 statistics (7-day average, Aug. 27 to Sep. 2): 4,287 cases, 139 deaths
- Counties with the highest current infection rates (7-day average cases and deaths, Aug. 27 to Sep. 2):
--- #1. Dickens County: 3 cases (148 per 100,000 population), 0.0 deaths (0.0 per 100k)
--- #2. Duval County: 14 cases (122 per 100k), 0.1 deaths (1.3 per 100k)
--- #3. Coryell County: 91 cases (121 per 100k), 0.1 deaths (0.2 per 100k)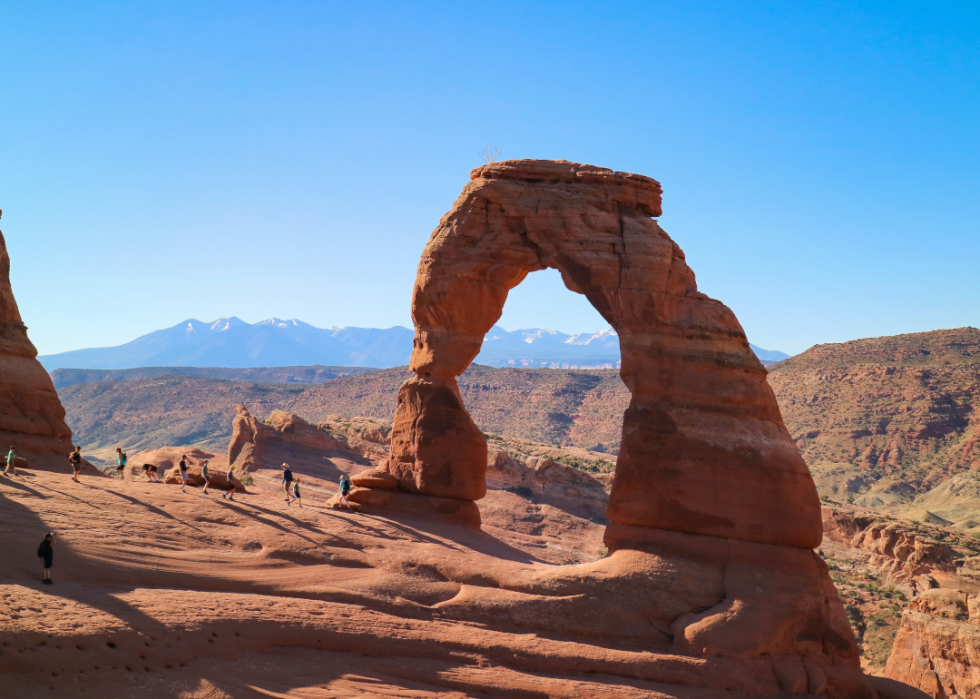 44 / 50
Utah
- Cumulative state COVID-19 statistics as of Sep. 2: 52,933 cases, 409 deaths
- Current state COVID-19 statistics (7-day average, Aug. 27 to Sep. 2): 379 cases, 1 deaths
- Counties with the highest current infection rates (7-day average cases and deaths, Aug. 27 to Sep. 2):
--- #1. Morgan County: 3 cases (24 per 100,000 population), 0.0 deaths (0.0 per 100k)
--- #2. Utah County: 105 cases (18 per 100k), 0.1 deaths (0.0 per 100k)
--- #3. Salt Lake County: 151 cases (13 per 100k), 0.7 deaths (0.1 per 100k)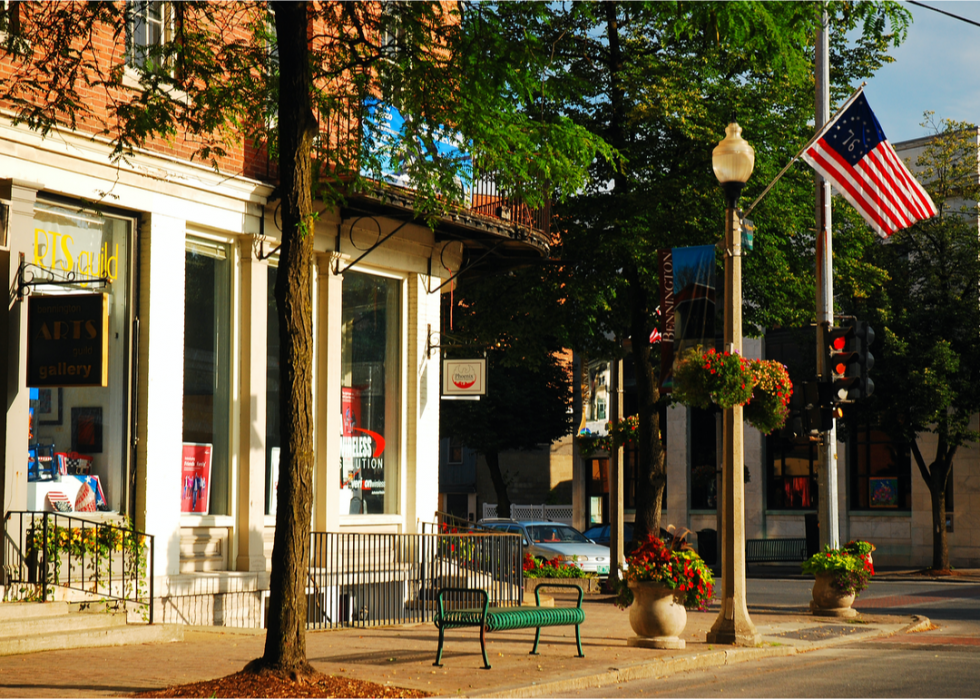 45 / 50
James Kirkikis // Shutterstock
Vermont
- Cumulative state COVID-19 statistics as of Sep. 2: 1,629 cases, 58 deaths
- Current state COVID-19 statistics (7-day average, Aug. 27 to Sep. 2): 9 cases, deaths
- Counties with the highest current infection rates (7-day average cases and deaths, Aug. 27 to Sep. 2):
--- #1. Rutland County: 2 cases (4 per 100,000 population), 0.0 deaths (0.0 per 100k)
--- #2. Bennington County: 1 cases (3 per 100k), 0.0 deaths (0.0 per 100k)
--- #3. Chittenden County: 3 cases (2 per 100k), 0.0 deaths (0.0 per 100k)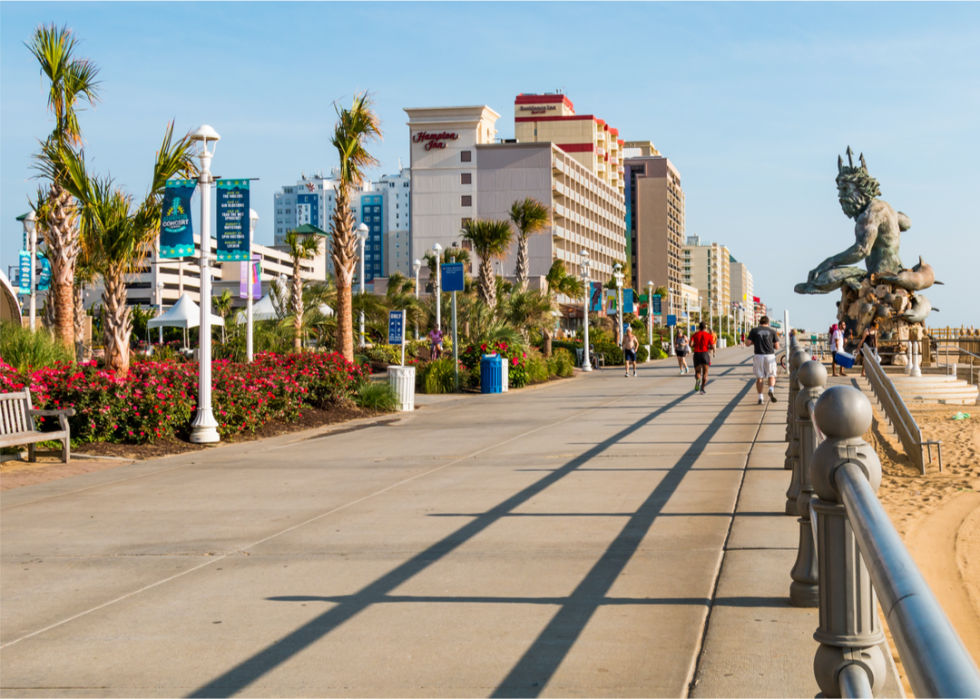 46 / 50
Sherry V Smith // Shutterstock
Virginia
- Cumulative state COVID-19 statistics as of Sep. 2: 122,542 cases, 2,612 deaths
- Current state COVID-19 statistics (7-day average, Aug. 27 to Sep. 2): 1,012 cases, 18 deaths
- Counties with the highest current infection rates (7-day average cases and deaths, Aug. 27 to Sep. 2):
--- #1. Radford City: 40 cases (228 per 100,000 population), 0.0 deaths (0.0 per 100k)
--- #2. Harrisonburg City: 48 cases (90 per 100k), 0.1 deaths (0.3 per 100k)
--- #3. Franklin City: 6 cases (71 per 100k), 0.1 deaths (1.7 per 100k)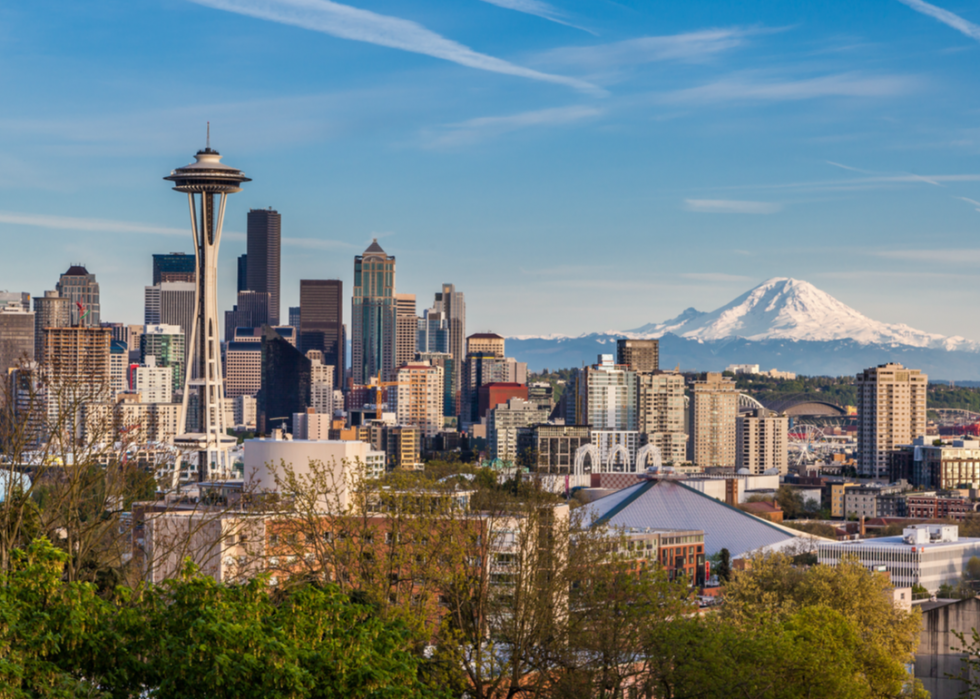 47 / 50
kan_khampanya // Shutterstock
Washington
- Cumulative state COVID-19 statistics as of Sep. 2: 78,553 cases, 2,017 deaths
- Current state COVID-19 statistics (7-day average, Aug. 27 to Sep. 2): 478 cases, 8 deaths
- Counties with the highest current infection rates (7-day average cases and deaths, Aug. 27 to Sep. 2):
--- #1. Whitman County: 45 cases (93 per 100,000 population), 0.0 deaths (0.0 per 100k)
--- #2. Adams County: 9 cases (48 per 100k), 0.3 deaths (1.5 per 100k)
--- #3. Grant County: 30 cases (32 per 100k), 0.1 deaths (0.2 per 100k)
48 / 50
Steve Heap // Shutterstock
West Virginia
- Cumulative state COVID-19 statistics as of Sep. 2: 10,642 cases, 222 deaths
- Current state COVID-19 statistics (7-day average, Aug. 27 to Sep. 2): 157 cases, 6 deaths
- Counties with the highest current infection rates (7-day average cases and deaths, Aug. 27 to Sep. 2):
--- #1. Fayette County: 24 cases (55 per 100,000 population), 0.1 deaths (0.3 per 100k)
--- #2. Monroe County: 5 cases (37 per 100k), 0.7 deaths (5.3 per 100k)
--- #3. Logan County: 7 cases (20 per 100k), 1.3 deaths (3.8 per 100k)
49 / 50
Nancy Gill // Shutterstock
Wisconsin
- Cumulative state COVID-19 statistics as of Sep. 2: 77,805 cases, 1,132 deaths
- Current state COVID-19 statistics (7-day average, Aug. 27 to Sep. 2): 691 cases, 6 deaths
- Counties with the highest current infection rates (7-day average cases and deaths, Aug. 27 to Sep. 2):
--- #1. Juneau County: 8 cases (31 per 100,000 population), 0.0 deaths (0.0 per 100k)
--- #2. Iron County: 2 cases (27 per 100k), 0.0 deaths (0.0 per 100k)
--- #3. Kewaunee County: 5 cases (26 per 100k), 0.0 deaths (0.0 per 100k)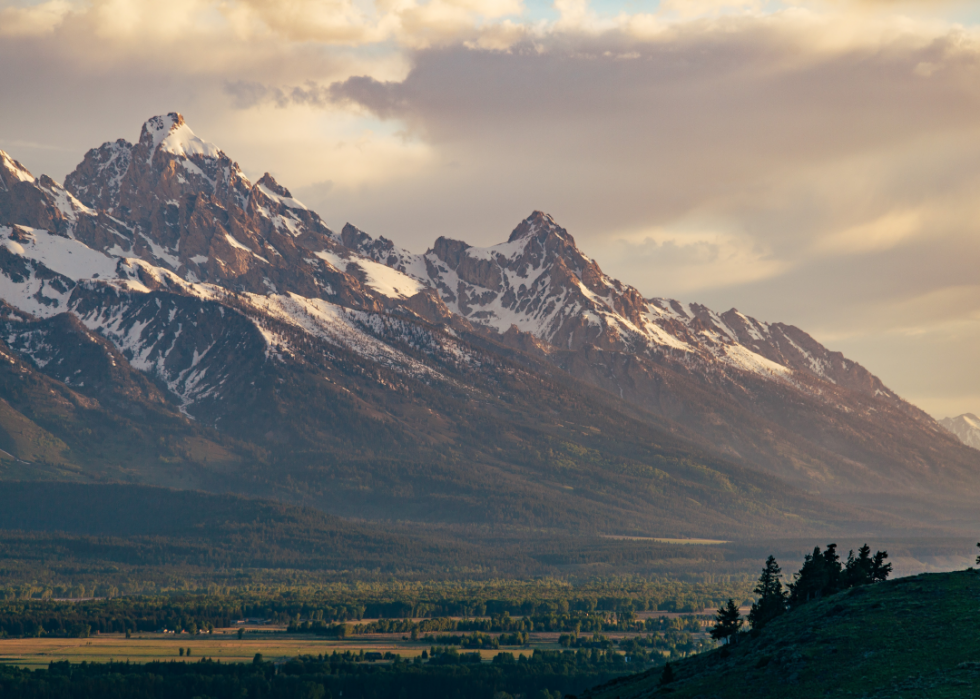 50 / 50
Wyoming
- Cumulative state COVID-19 statistics as of Sep. 2: 3,911 cases, 41 deaths
- Current state COVID-19 statistics (7-day average, Aug. 27 to Sep. 2): 32 cases, 1 deaths
- Counties with the highest current infection rates (7-day average cases and deaths, Aug. 27 to Sep. 2):
--- #1. Sheridan County: 4 cases (13 per 100,000 population), 0.0 deaths (0.0 per 100k)
--- #2. Goshen County: 1 cases (11 per 100k), 0.0 deaths (0.0 per 100k)
--- #3. Teton County: 2 cases (10 per 100k), 0.0 deaths (0.0 per 100k)
You may also like: Defining historical moments from the year you were born