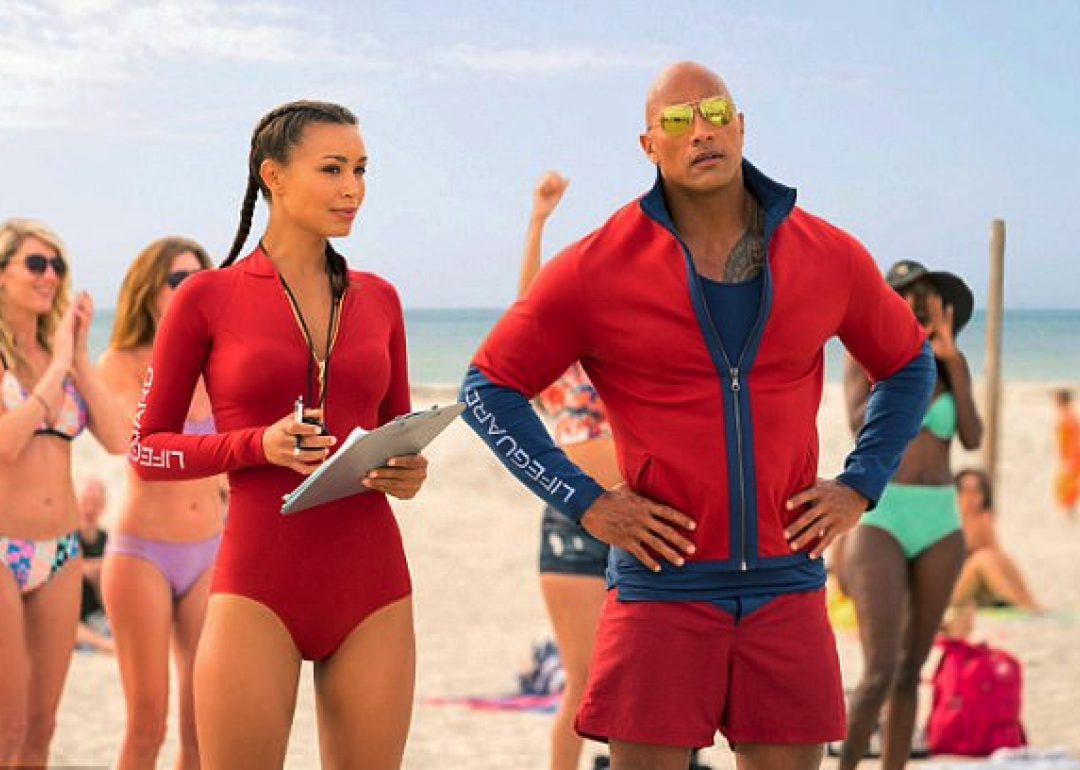 The best (and worst) Dwyane "The Rock" Johnson movies
Definitive rankings of movies featuring Dwayne "The Rock" Johnson
1980s Hollywood was overflowing with action stars. Turn the corner at Hollywood and Vine, it was possible to bump into a Bruce Willis or a Mel Gibson, a Kurt Russell or a Sly Stallone. But then the action star well went dry. Hollywood needed a new charismatic leading man who also looked like he could tear a phonebook in half. Right around that moment, a handsome ex-football player who was a genius on the microphone was dominating the world of professional wrestling. Hollywood saw him and fell in love.
Since his first leading role in 2002's "The Scorpion King," Dwayne "The Rock" Johnson has starred in cartoons, comedies, cop movies and oh-so-many action flicks. For a while, he was pigeonholed as an unlovable tough guy, but it soon became clear that his charisma made him impossible to root against—he was too lovable to be gritty. He then began to play against type as well, delivering some truly hilarious performances.
Over the course of two decades, starting with "The Mummy Returns," Johnson has appeared in 32 films. In the 2010s, he became Hollywood's most bankable star (and highest paid actor). In 2017, he starred in a $200 million sequel, a $390 million kids movie and a $58 million remake for good measure. He has at least three more films coming out in 2018. The Rock cannot be stopped. At Stacker, we've compiled the definitive rankings of the 32 films featuring The Rock using an index of IMDb ratings and Rotten Tomatoes' Tomatometer.
When he was still in a Speedo and knee pads, The Rock used to check if the riotous crowd was with him by raising an eyebrow and asking, "Do you smell what the Rock is cooking?" Nowadays, with near-universal approval, he needs just to look at the box office returns.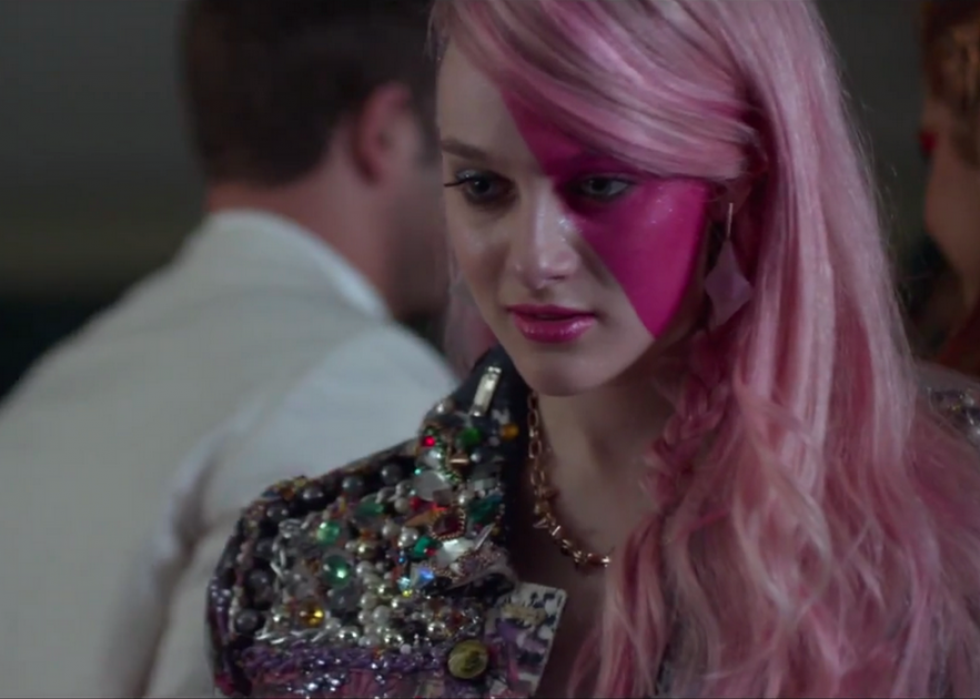 1 / 32
#32. Jem and the Holograms
Stacker score: 30
IMDb rating: 41
Tomatometer: 19%
Based on the 1980s cartoon, "Jem and the Holograms" tells the story of a teenage girl (Aubrey Peeples) whose song goes viral on YouTube, launching her and her siblings to superstardom. The film was partially backed by Blumhouse (the ultra-successful horror production house behind "Get Out") but was still a total flop. Dwayne "The Rock" Johnson stretched his thespian muscles, appearing as a character named Dwayne Johnson.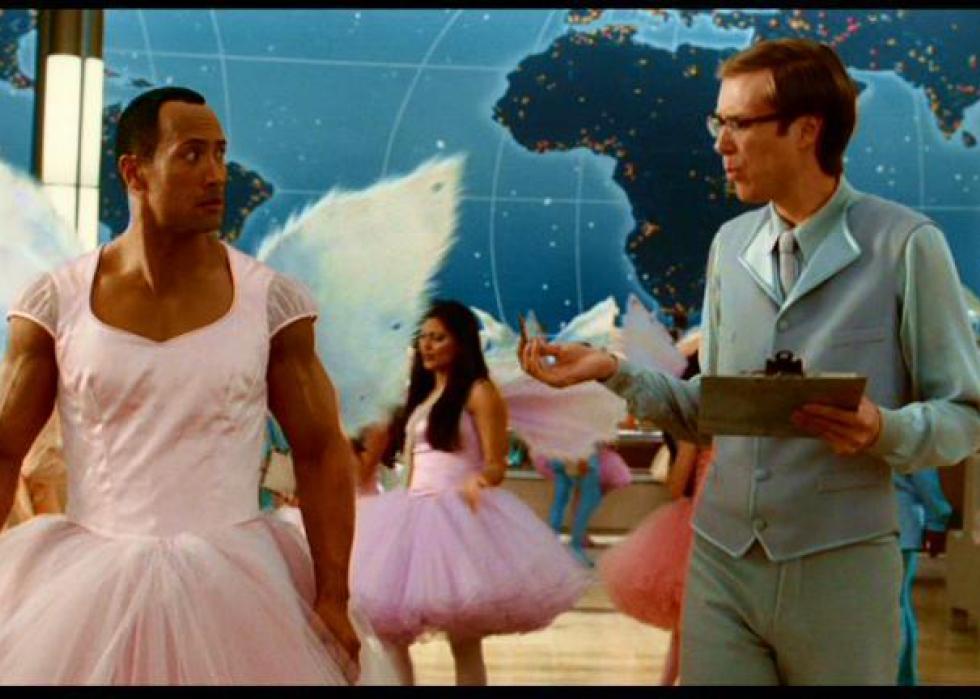 2 / 32
#31. Tooth Fairy
Stacker score: 34
IMDb rating: 50
Tomatometer: 18%
In "Tooth Fairy," Dwayne Johnson plays a minor league hockey player nicknamed "The Tooth Fairy" for his penchant for knocking out teeth. When he steals a dollar from under his girlfriend's (Ashley Judd) kid's pillow, he is given a supernatural summons to spend some time being the Tooth Fairy. This film feels a lot like "The Santa Clause" without the absolute strangeness and terrible sets. The goal here was to use Johnson like films used to use Hulk Hogan—as a big, scary guy wearing a tutu—but The Rock has none of Hulk's hateful underbelly, which makes the charm too obvious to be interesting.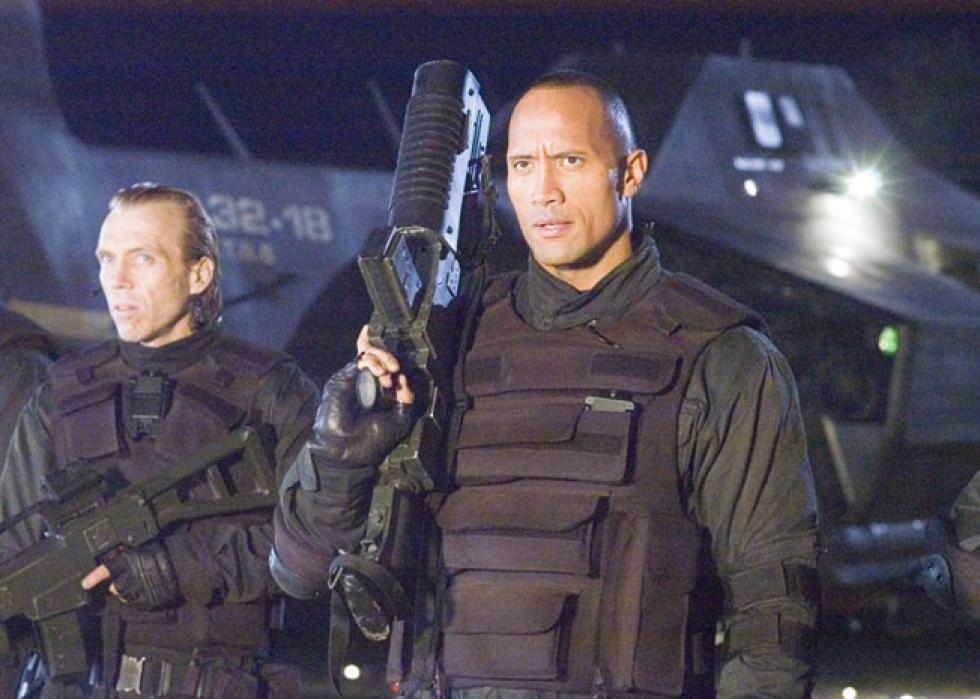 3 / 32
#30. Doom
Stacker score: 35.5
IMDb rating: 52
Tomatometer: 19%
Based on one of the most popular video games ever made, director Andrzej Bartkowiak's "Doom" follows a band of futuristic space marines as they fight off a horde of creatures that have infested a research colony on Mars. While the video game, first released in 1993, changed the first-person shooter landscape and has delivered genuine jump scares to players for decades, the film was a box office bust and was soon forgotten. Its first mistake was making Dwayne Johnson wear a uniform with sleeves—let the guns breathe!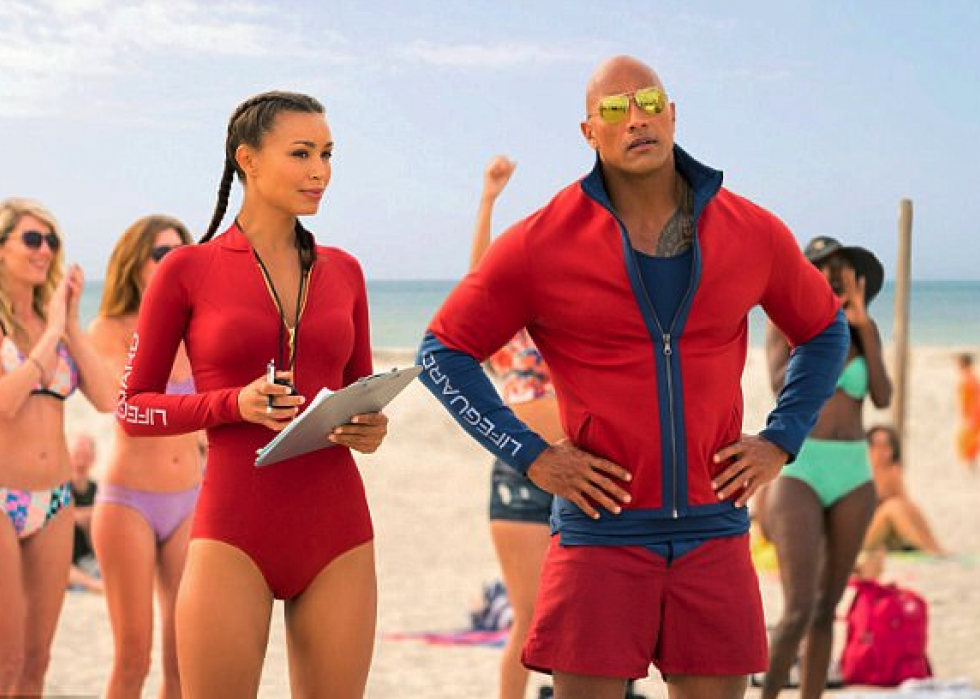 4 / 32
#29. Baywatch
Stacker score: 37
IMDb rating: 56
Tomatometer: 18%
In the first "Baywatch" film since 2003's "Baywatch: Hawaiian Wedding," this winking remake of the TV show stars Dwayne Johnson, Zac Efron, Priyanka Chopra and Alexandra Daddario as the red-suited beauties lifeguarding Emerald Bay. In trailers, this film looked like it had a chance to recapture the genius of "21 Jump Street," but it ended up falling short. The film ditched the campy charm of the original, which meant it had to deliver sidesplitting comedy. While Johnson and Efron are both hilarious, they are best when paired with a straight-up comedic actor.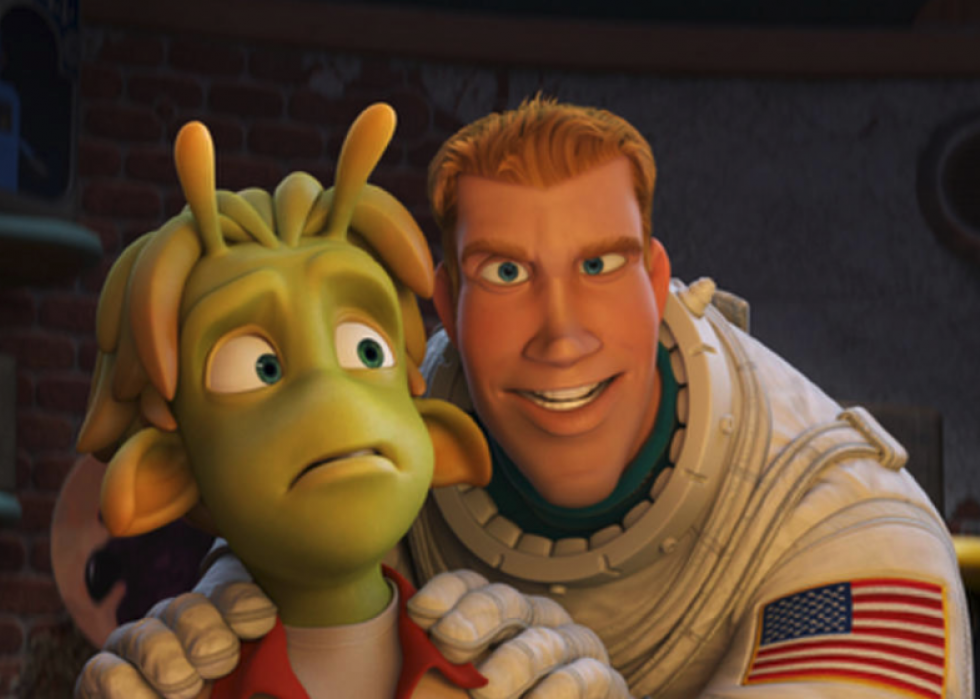 5 / 32
#28. Planet 51
Stacker score: 41
IMDb rating: 61
Tomatometer: 21%
The premise for the animated movie "Planet 51" had potential: an astronaut (Dwayne Johnson) lands on a planet where little green men are living an idyllic 1950s suburban life that becomes disturbed by this strange human invader. The plot could have taken to interesting, allegorical places, viewers can instead get ready for a planet's worth of jokes that don't land.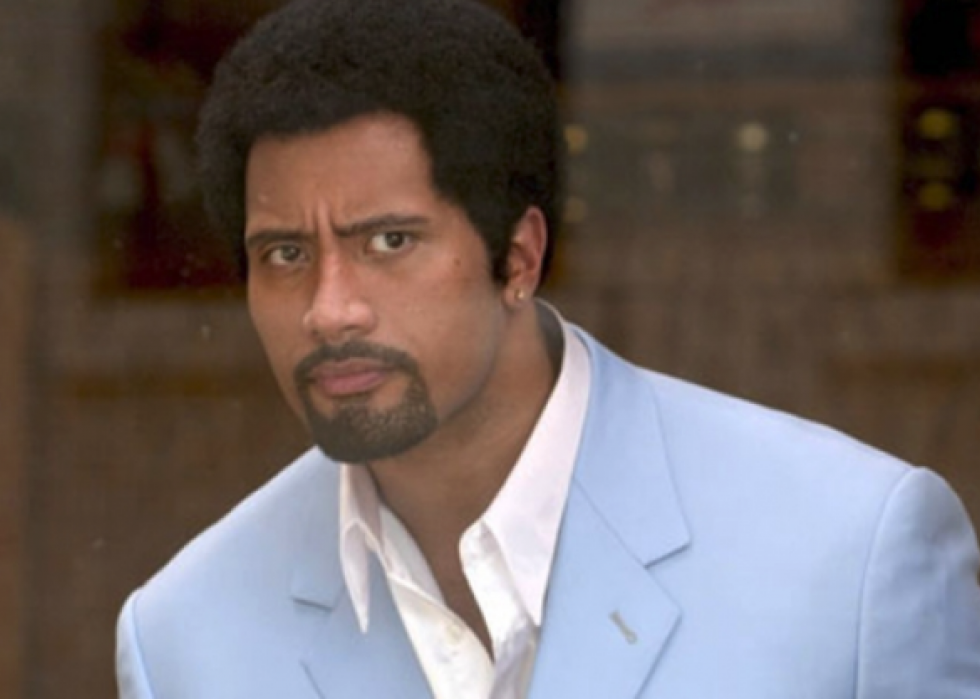 6 / 32
Metro-Goldwyn-Mayer (MGM)
#27. Be Cool
Stacker score: 43
IMDb rating: 57
Tomatometer: 29%
The sequel to "Get Shorty," "Be Cool" picks up the story of gangster-turned-Hollywood-producer Chili Palmer (John Travolta) as he attempts to move into the music industry. Both films are based on novels by Elmore Leonard, but the sequel is much less propulsive than the 1995 original. Still, this was the movie that showed everyone how funny The Rock could be, as he steals every scene as a bodyguard who wants to be a star.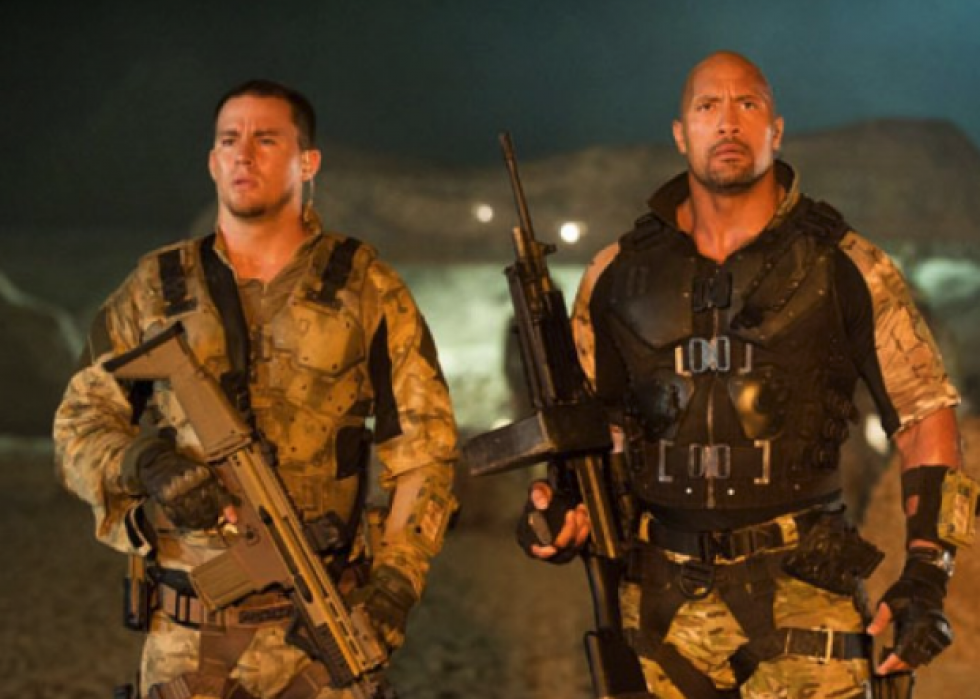 7 / 32
#26. G.I. Joe: Retaliation
Stacker score: 43
IMDb rating: 58
Tomatometer: 28%
In the follow-up to 2009's "G.I Joe: The Rise of Cobra," the G.I. Joes must fight both Cobra and their own government. Dwayne Johnson was brought on to play Roadblock and stars alongside Bruce Willis and Channing Tatum in this fun but completely empty action sequel.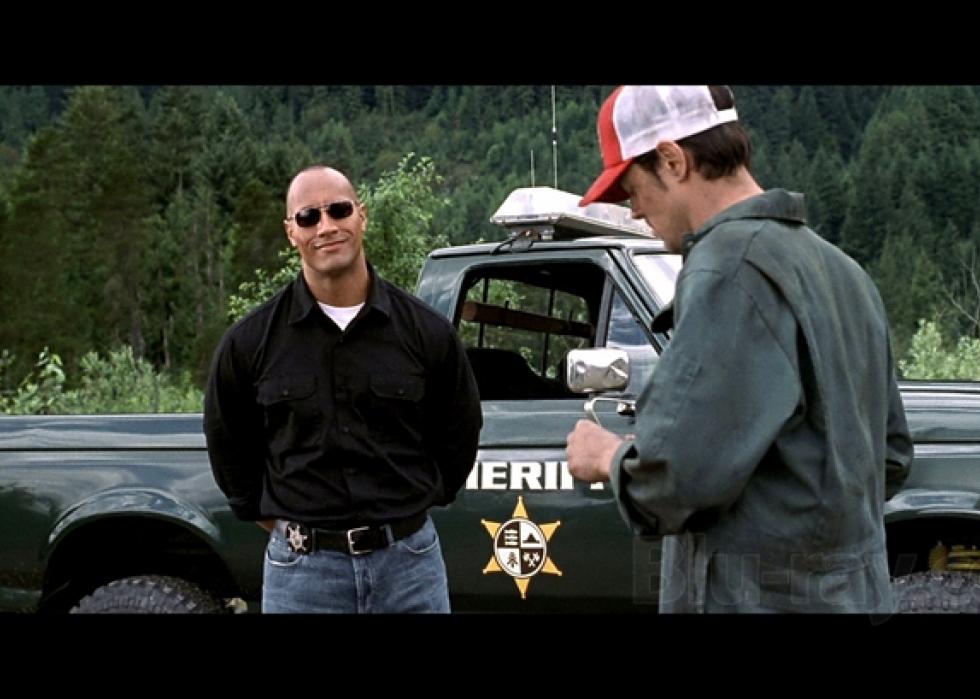 8 / 32
#25. Walking Tall
Stacker score: 44
IMDb rating: 62
Tomatometer: 26%
A remake of the 1973 cult classic, "Walking Tall" tells the story of a retired special forces war veteran (Dwayne Johnson) who returns to his hometown looking for work only to find it overrun with gangsters and drugs. After getting elected sheriff, he works with his old friend (Johnny Knoxville) to fight the town into submission. This movie is a bit like "Roadhouse," but Johnson is too good of an actor for it to become campy, so instead it's just gruesome fight scenes, some light moments and far too much Johnny Knoxville.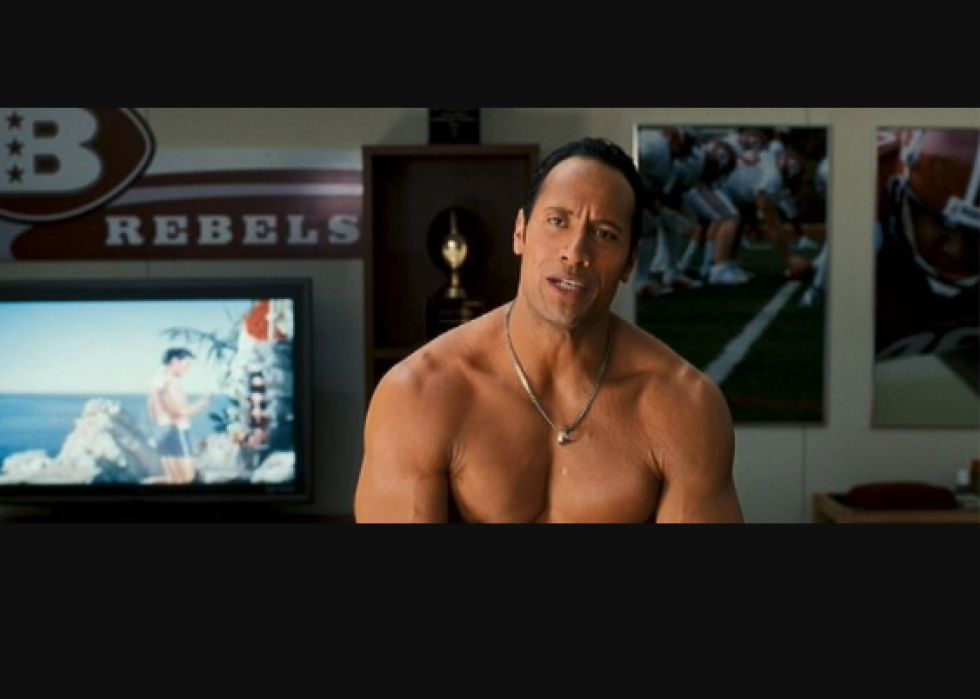 9 / 32
#24. The Game Plan
Stacker score: 45.5
IMDb rating: 62
Tomatometer: 29%
This is another in the series of The Rock playing parts that used to go to Hulk Hogan. This time, Johnson plays a star quarterback and playboy who discovers he has a 7-year-old daughter right as he's at the peak of his career. Because Dwayne Johnson is one of the most charming humans on the planet, we never doubt that he's going to do whatever he has to to make his little ballerina feel important and loved.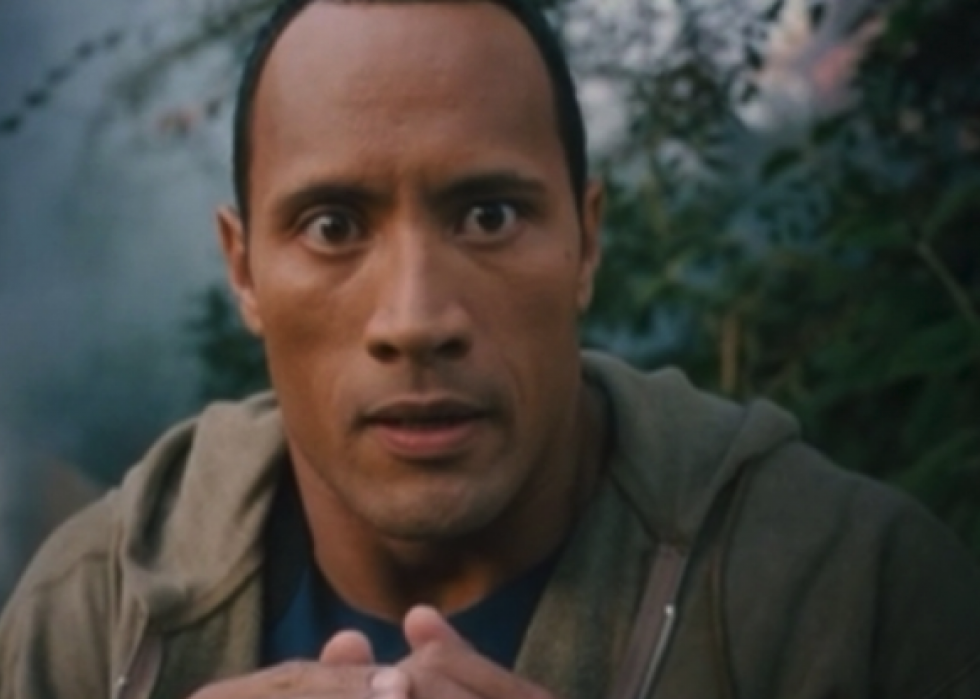 10 / 32
#23. Southland Tales
Stacker score: 46.5
IMDb rating: 55
Tomatometer: 38%
The follow-up to director Richard Kelly's cult hit "Donnie Darko," "Southland Tales" tells the story of a three-day heatwave around the Fourth of July in near-future, near-disaster-stricken Los Angeles. This movie is earnest in its attempts to be great, which makes the 2.5-hour run time extra painful to get through. Stifler (Sean William Scott) is a cop trying to bust open a conspiracy, while Dwayne Johnson plays an action star struggling with amnesia.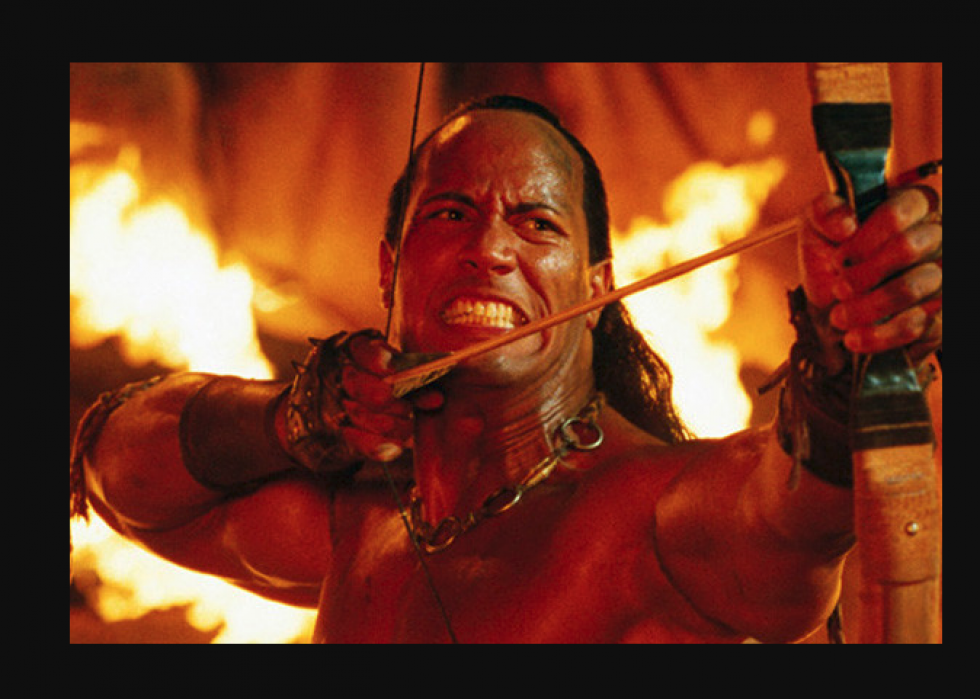 11 / 32
#22. The Scorpion King
Stacker score: 48
IMDb rating: 55
Tomatometer: 41%
In his first leading role, Dwayne Johnson pulled off a move that would become a signature: he snatched a franchise right from a leading man's hands. This time, Johnson showed up as a villain in "The Mummy Returns" and swung it into his own prequel, explaining that his character isn't really that bad at all. What other actor could have pulled that off?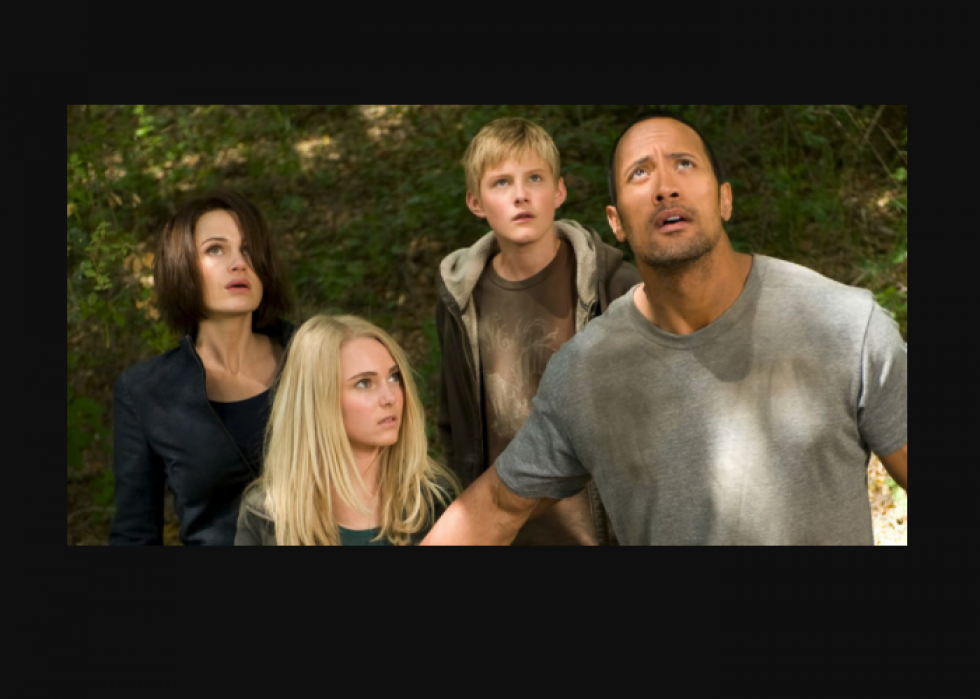 12 / 32
#21. Race to Witch Mountain
Stacker score: 49.5
IMDb rating: 57
Tomatometer: 42%
This 2009 Disney film was a remake of a 1975 Disney film, which was based on a 1968 book. Nothing about the story of two supernatural teenagers who must save the world by racing to Witch Mountain in the desert outside Las Vegas is especially compelling. But as usual, Dwayne Johnson is absolutely charming. He may have loftier goals, but he is pitch perfect as an adult in a kids' movie.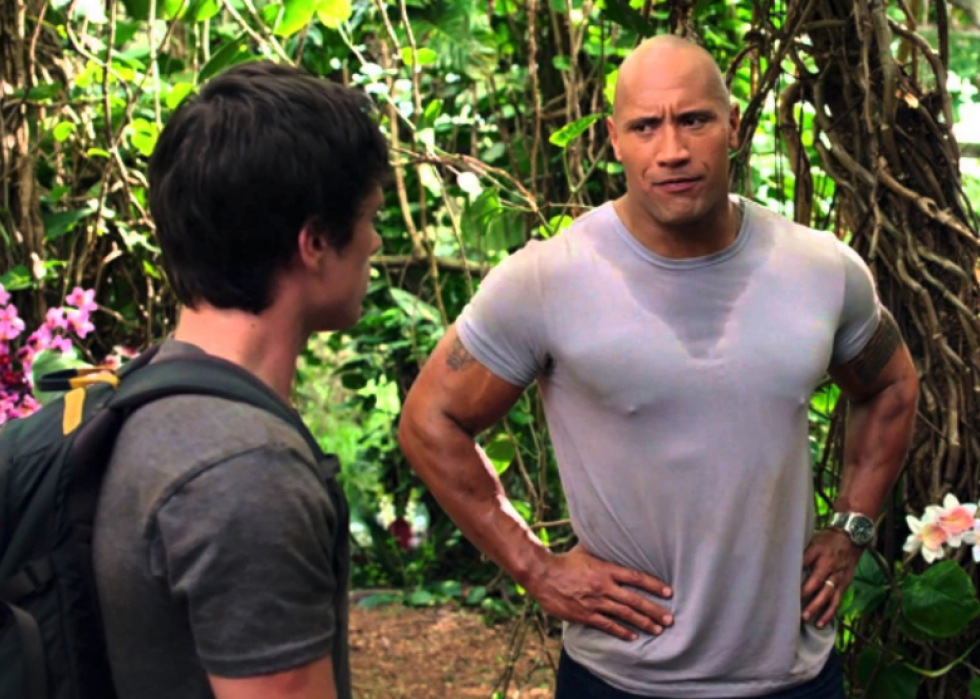 13 / 32
#20. Journey 2: The Mysterious Island
Stacker score: 50.5
IMDb rating: 58
Tomatometer: 43%
Many credit "2 Fast 2 Furious" with the most outlandish use of the number two in a sequel's title, but use of the number in "Journey 2: The Mysterious Island" might take the cake. Following 2008's "Journey to the Center of the Earth," which stars Brendan Fraser, "Journey 2" follows Sean (Josh Hutcherson) and his stepdad (The Rock) on another Jules Verne-penned adventure The first film made $100 million, while the sequel made $335 million.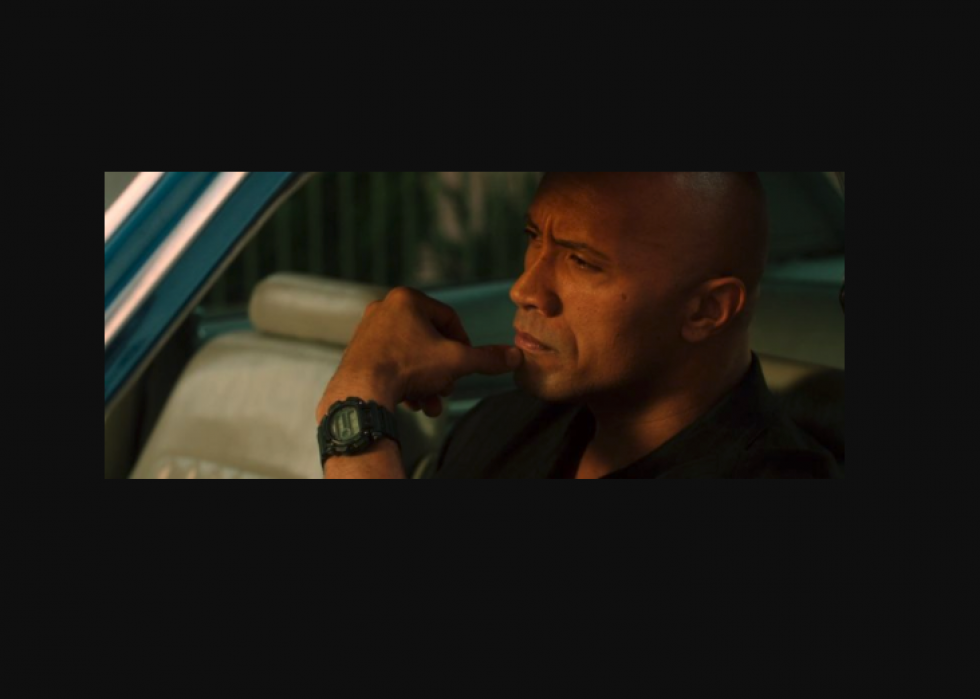 14 / 32
Grindstone Entertainment Group
#19. Empire State
Stacker score: 52
IMDb rating: 52
Tomatometer: N/A
"Empire State" stars Liam Hemsworth and Michael Angarano as two best friends trying to rob an armored car. But unfortunately for them, they were unaware that the NYPD had a detective strong enough to bend steel, fast enough to catch a jackrabbit, and charming enough to sit for tea with their grandmothers.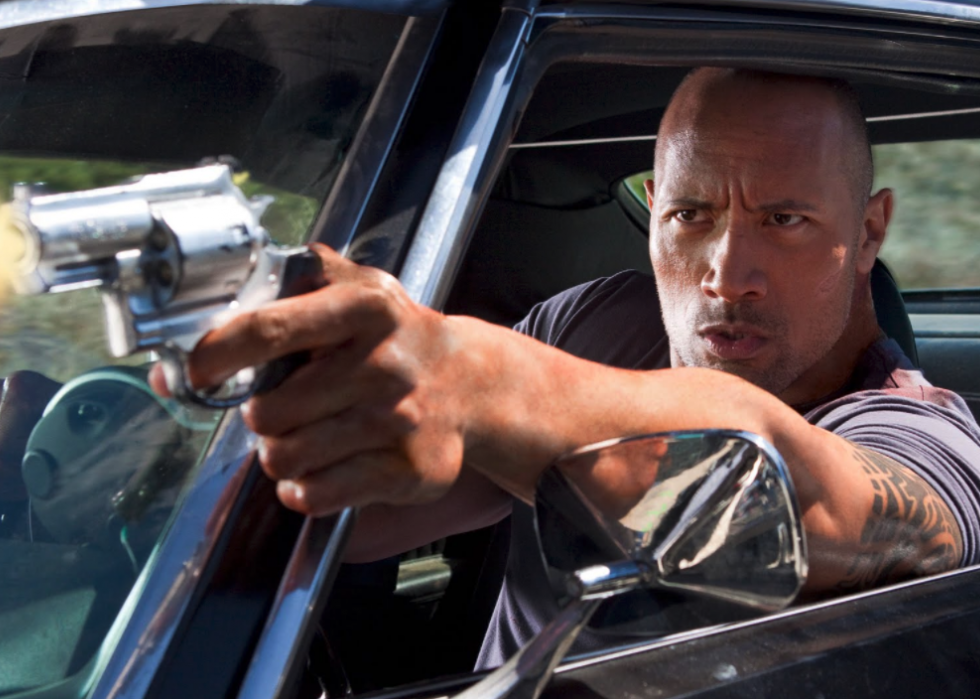 15 / 32
#18. Faster
Stacker score: 53.5
IMDb rating: 65
Tomatometer: 42%
In "Faster," a recently paroled Driver (Dwayne Johnson) goes on a killing spree, making a list of people who have wronged him and murdering each one. While he is on his rampage, he is being investigated by Cicero (Carla Gugino), Cop (Billy Bob Thornton) and a contract killer referred to as Killer (Oliver Jackson-Cohen). Driver is hell-bent on avenging his brother's death, so audiences root for him. Once again, Johnson is betrayed by his own charm.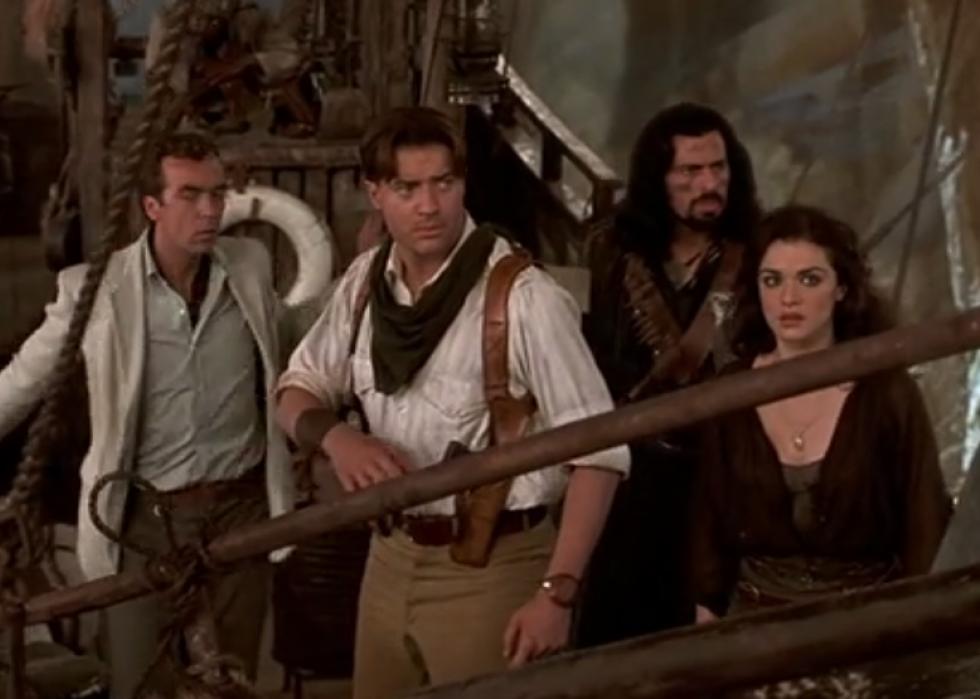 16 / 32
#17. The Mummy Returns
Stacker score: 55
IMDb rating: 63
Tomatometer: 47%
"The Mummy Returns," the sequel to the 1999 Brendan Fraser megahit, struck gold at the box office—both films in the franchise eclipsed $400 million. Dwayne Johnson joined the sequel as the Scorpion King, an ancient warrior who leads the most ferocious of undead armies. The Rock got his own spinoff, "The Scorpion King," before this film was even released.
17 / 32
Village Roadshow Pictures
#16. San Andreas
Stacker score: 55.5
IMDb rating: 61
Tomatometer: 50%
Power couple Dwayne Johnson and Carla Gugino reunite in this earthquake thriller, this time as a divorced couple trying to survive as the big one hits. The Rock plays a rescue chopper pilot who must work with Gugino to save their daughter (Alexandra Daddario) from the wreckage in San Francisco. Daddario plays Johnson's daughter in this film and his co-worker just two years later in "Baywatch."
18 / 32
Columbia Pictures Industries
#15. Gridiron Gang
Stacker score: 56
IMDb rating: 69
Tomatometer: 43%
This film, based on a 1993 documentary of the same name, tells the story of a football team started at a juvenile detention center to give troubled kids something to belong to. "Gridiron Gang" manages to tell an inspiring story about a depressing topic, and Dwayne Johnson, an ex-college football player, is great as a hard-nosed coach who wants the best for his kids.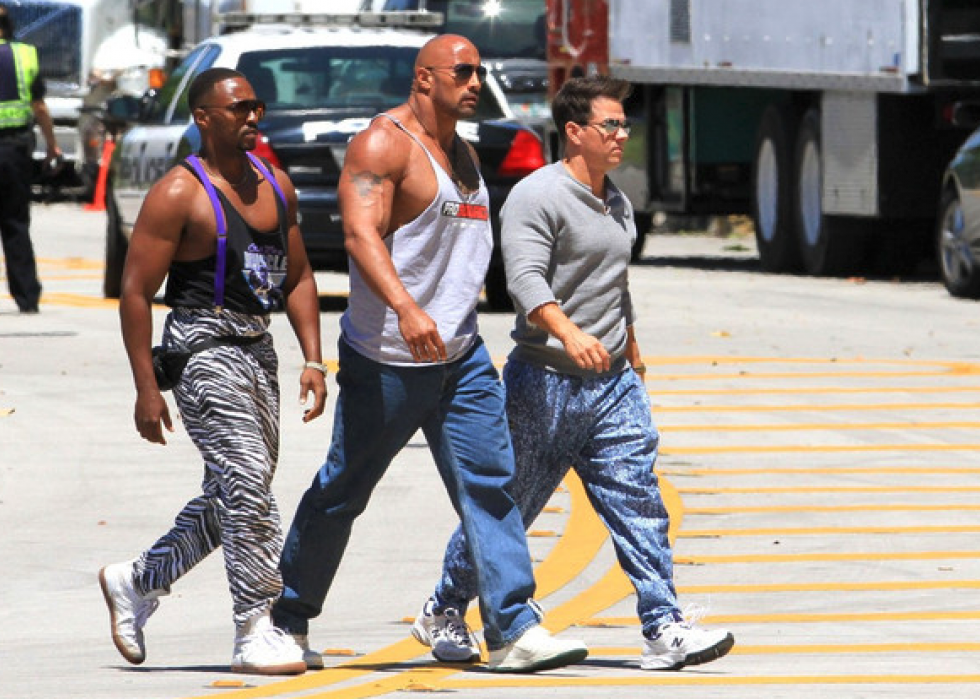 19 / 32
#14. Pain & Gain
Stacker score: 57
IMDb rating: 64
Tomatometer: 50%
"Pain & Gain" is so close to good that it's sometimes painful to watch. Michael Bay, king of the Miami-based action film, tries his hand at satire in this true story of three bodybuilders (Johnson, Mark Wahlberg and Anthony Mackie) who get into a criminal world they can't quite navigate. Although satire doesn't quite fit Bay's style, this is probably The Rock's best acting performance, as he is hilarious and tragic throughout.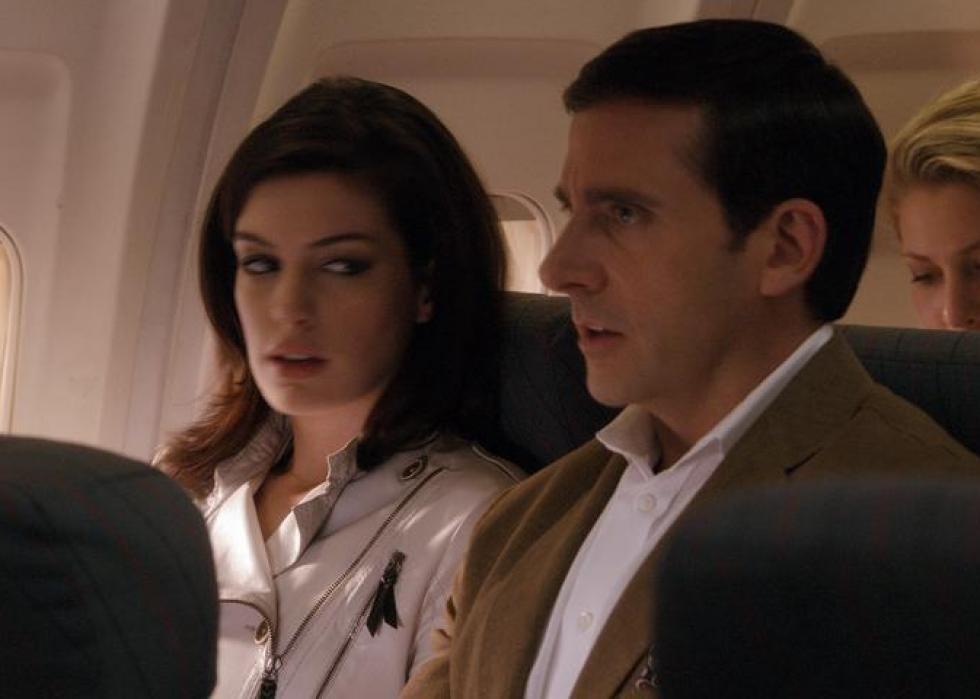 20 / 32
#13. Get Smart
Stacker score: 57.5
IMDb rating: 65
Tomatometer: 50%
Mel Brooks' brainchild based on the 1960s TV classic, "Get Smart" follows Steve Carell as the anti-007: a bungling, awkward, eager secret agent who must team with a talented, beautiful spy (Anne Hathaway) to stop a Russian terrorist threat. Carell is as charming as ever and Dwayne Johnson is great as Agent 23, but this movie never reaches its potential. With Johnson, Carell, Hathaway, Bill Murray, Alan Arkin and Terry Crews, this movie could have been a classic. But, have no fear, it still made $130 million at the box office, because The Rock gets butts in seats every single time.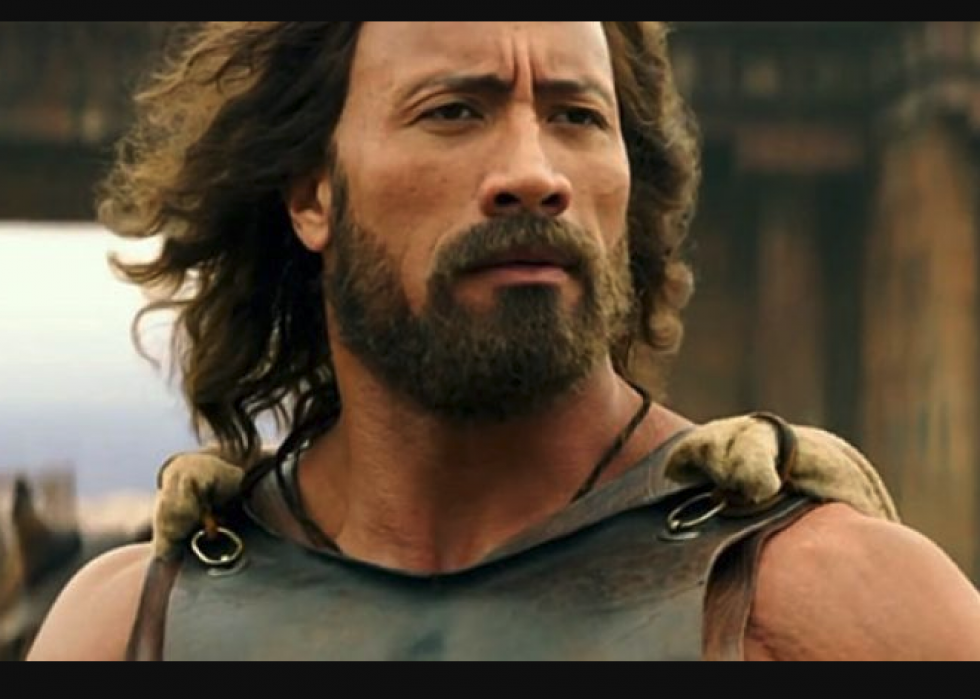 21 / 32
#12. Hercules
Stacker score: 59.5
IMDb rating: 60
Tomatometer: 59%
Directed by Brett Ratner, this film seemed like a slam dunk: at a moment when people are hungry for mythological epics, The Rock as Hercules is a no-brainer. But Ratner bungles this throughout, going for a somber, over-the-top tone, and unfortunately, Dwayne Johnson can't save this movie from itself. Perhaps attempting to improve upon the 1997 animated Disney classic was always too hubristic.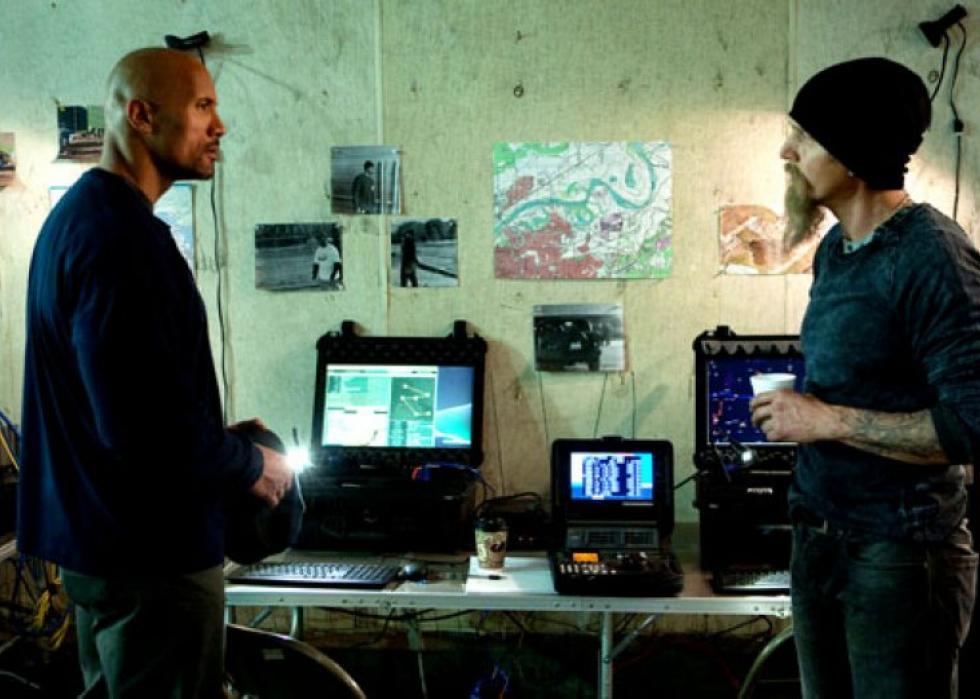 22 / 32
#11. Snitch
Stacker score: 61
IMDb rating: 65
Tomatometer: 57%
With his teenage son facing a 10-year-minimum drug sentence for a crime he didn't commit, Dwayne Johnson makes a deal with the DA to infiltrate a cartel to get his son off. 2013's "Snitch" makes a creative pivot on what Dwayne Johnson does best: rather than having The Rock play a delightful, badass dad with a heart of gold, the movie casts him as a hardcore, badass dad with a heart of gold. The change leads to one of his best performances yet.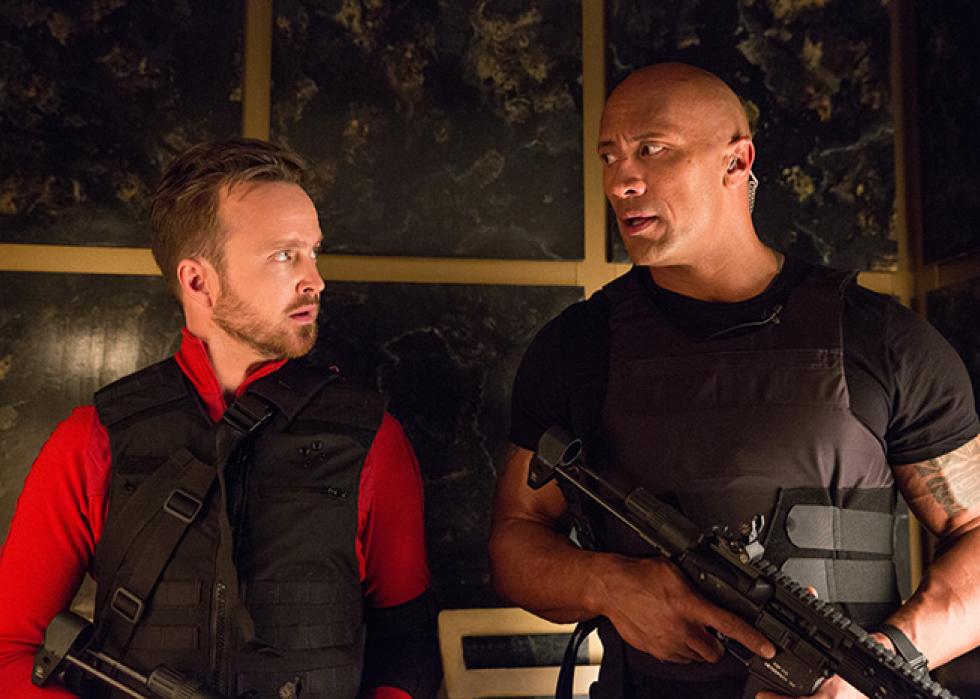 23 / 32
#10. Central Intelligence
Stacker score: 66.5
IMDb rating: 63
Tomatometer: 70%
Teaming Dwayne Johnson with Kevin Hart seems like it should break some rule of moviemaking, as the two have a combined super-luminescent charm that makes all other films seem like they were shot in black and white. In "Central Intelligence," Johnson plays a rogue CIA agent who enlists a mild-mannered accountant (Hart) to help him survive a world of international spying intrigue. The script for "Central Intelligence" is not quite as expertly woven as the best spy thrillers, but the movie is funny throughout, and Hart and Johnson's chemistry is kinetic.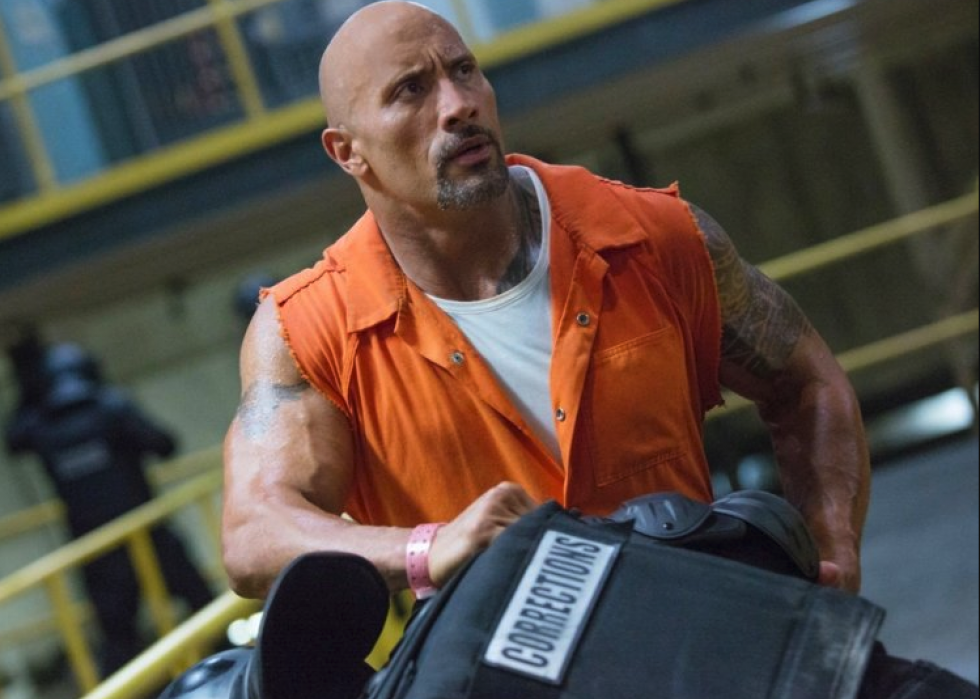 24 / 32
#9. The Fate of the Furious
Stacker score: 66.5
IMDb rating: 67
Tomatometer: 66%
The eighth "The Fast and the Furious" film starts with Dom Toretto (Vin Diesel) finally settling down with his wife, Letty (Michelle Rodriguez), when terrorist Cipher (Charlize Theron) manages to get Dom to work for her. Luke Hobbs (Dwayne Johnson) ends up being sent to jail in this installment, eventually breaking out and teaming with former bad guy Deckard Shaw (Jason Statham) in order to help stop Dom and Theron from making too much trouble. The eighth film in a franchise has no business being this good.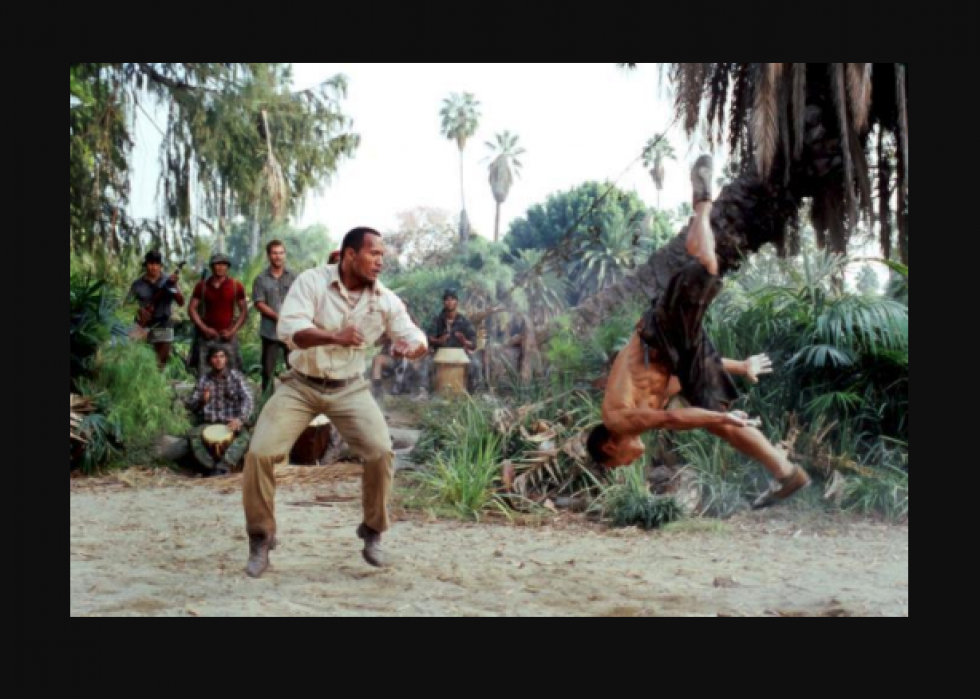 25 / 32
Columbia Pictures Corporation
#8. The Rundown
Stacker score: 68.5
IMDb rating: 67
Tomatometer: 70%
In "The Rundown," Dwayne Johnson plays a "retrieval specialist" who works for a mobster but really wants to retire and open a restaurant. Before he can follow his dreams, he's got to do one more job: go to the Amazon and retrieve the mobster's screwup son, played by Sean William Scott. Johnson's character ends up getting intrigued by the son's pursuit of a mythical artifact worth millions. Johnson and Scott are hilarious together and the fun and fast-paced direction by Peter Berg really works.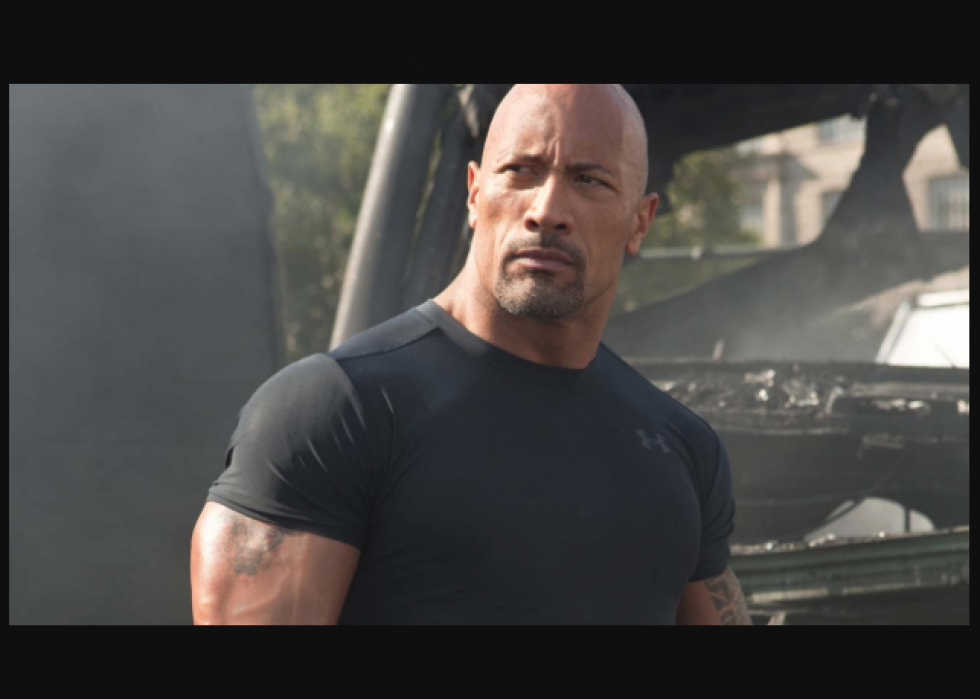 26 / 32
#7. Furious 6
Stacker score: 70
IMDb rating: 71
Tomatometer: 69%
A lot of franchises would have ended after the outlaw crew got away with a $100 million score, but the sixth "The Fast and the Furious" film catches up with Dom (Vin Diesel), Brian (Paul Walker), Mia (Jordana Brewster) and Roman (Tyrese Gibson), who are restless to do some more fast and furious things. When Hobbs (Dwayne Johnson) reaches out for help chasing down some mercenaries and offers full pardons, the crew is more than ready to help out. This installment made $240 million at the box office.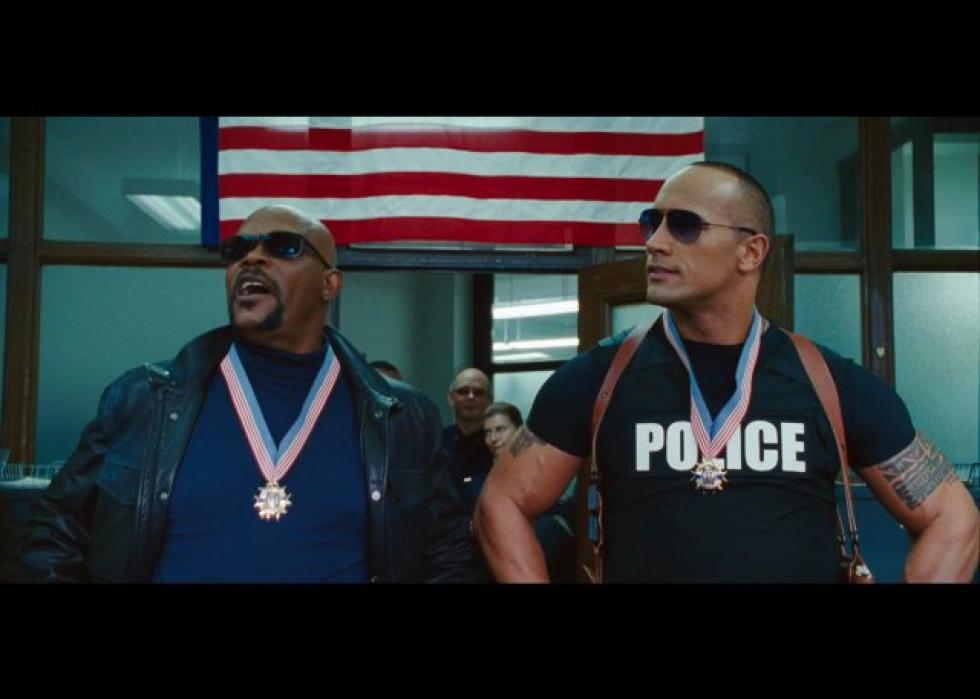 27 / 32
#6. The Other Guys
Stacker score: 72.5
IMDb rating: 67
Tomatometer: 78%
In "The Other Guys," Detective Gamble (Will Ferrell) and Detective Hoitz (Mark Wahlberg) are doofus cops trying to prove themselves. Gamble is nervous and prefers desk work, while Hoitz is in the doghouse for an unfortunate encounter with Derek Jeter, and the two are hilarious as they work together to save the day. If Ferrell and Wahlberg are the other guys, then detectives Danson and Highsmith (played by Dwayne Johnson and Samuel L. Jackson) are the guys. Johnson and Jackson are great as the slick and successful detectives that Ferrell and Wahlberg can only dream of being.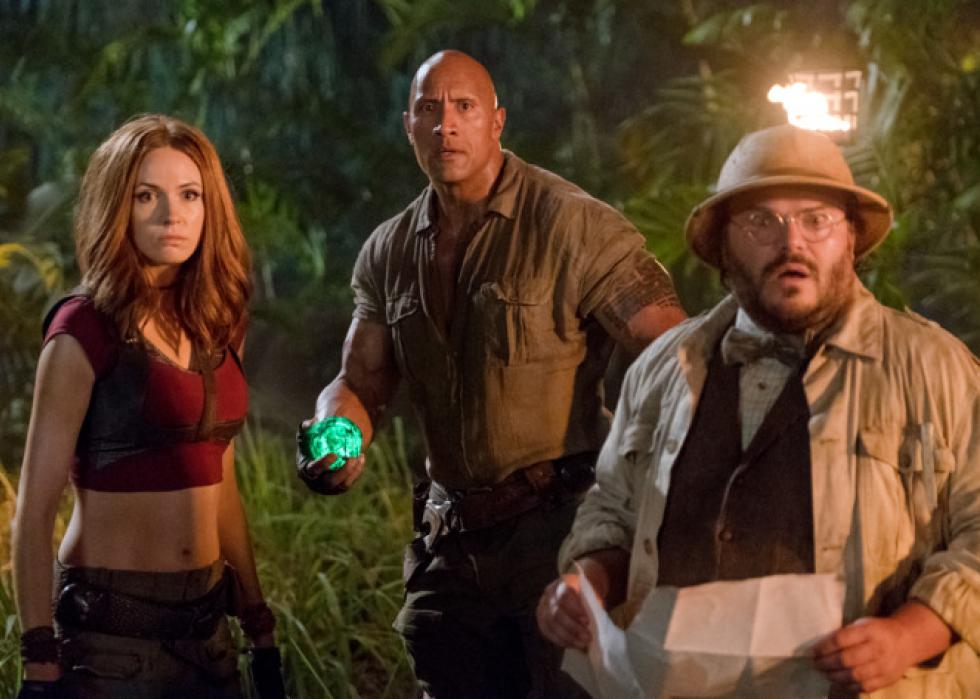 28 / 32
#5. Jumanji: Welcome to the Jungle
Stacker score: 74
IMDb rating: 72
Tomatometer: 76%
It should have been impossible to remake "Jumanji," one in a series of 1990s films that convinced a generation of children that Robin Williams was their dad. But somehow, the remake starring Dwayne Johnson, Jack Black, Kevin Hart and Karen Gillan completely works. Johnson and Hart's comedic chemistry was a known quality, but it's the genius of Black that makes this movie a success: the strange remake that literally no one was asking for made $393 million at the box office. Long live the Scorpion King!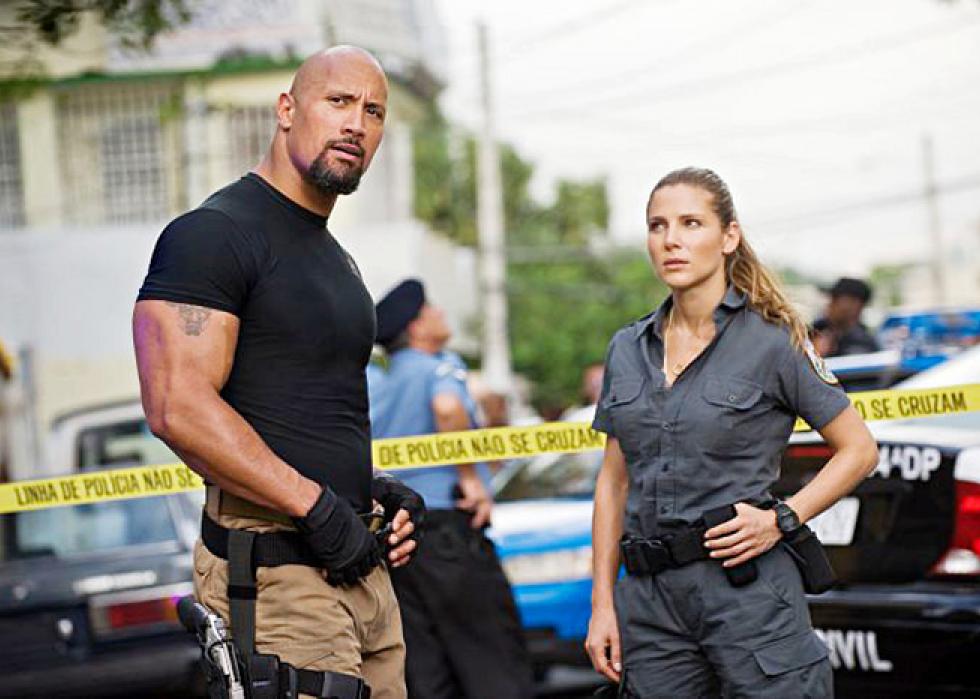 29 / 32
#4. Fast Five
Stacker score: 75
IMDb rating: 73
Tomatometer: 77%
As Brendan Fraser could have told Vin Diesel: never, ever let Dwayne Johnson into your franchise. After 2009's "Fast and Furious," adding The Rock to the franchise as badass federal agent Hobbs was just the shot in the arm the universe needed. Hobbs chases Dom (Diesel) and the crew to Rio de Janeiro, crescendos with an iconic action sequence. Somehow, The Rock make Vin Diesel look tiny on screen.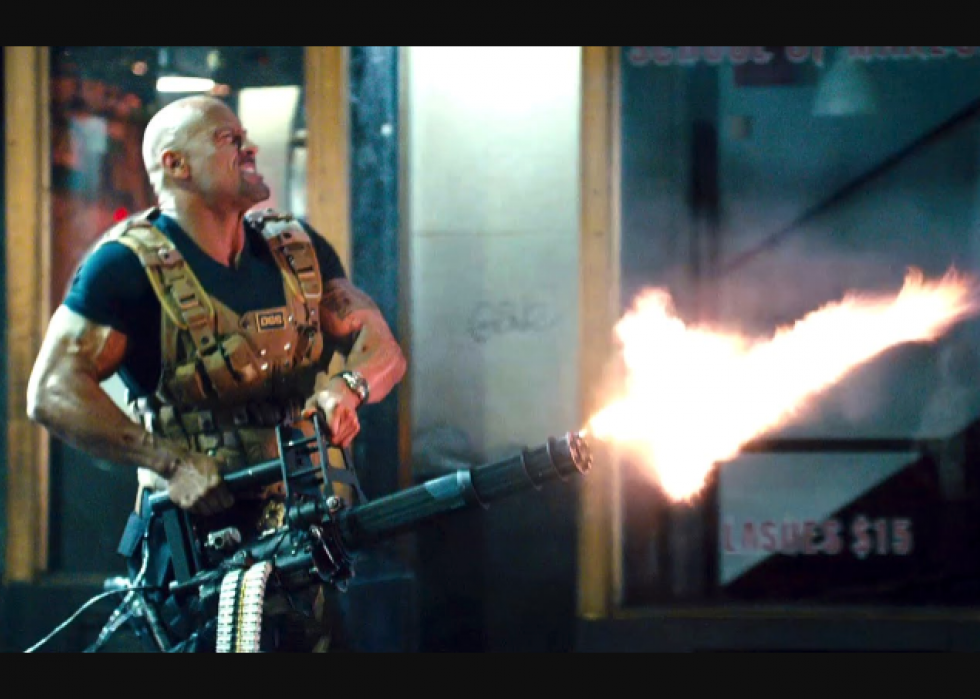 30 / 32
#3. Furious Seven
Stacker score: 76
IMDb rating: 72
Tomatometer: 80%
Perhaps because of the tasteful way the series handled the death of Paul Walker, "Furious 7" has become many people's favorite in the franchise. This installment adds Jason Statham and Kurt Russell to the already stacked ensemble, and featured 2015's song of the summer, Wiz Khalifa's "See You Again." The seventh "The Fast and the Furious" made $315 million. For those keeping track at home, the last "Fast" movie before The Rock joined made $155 million, while the following three featuring Johnson's Hobbs average $254 million. There's a reason studio execs smell what The Rock is cooking.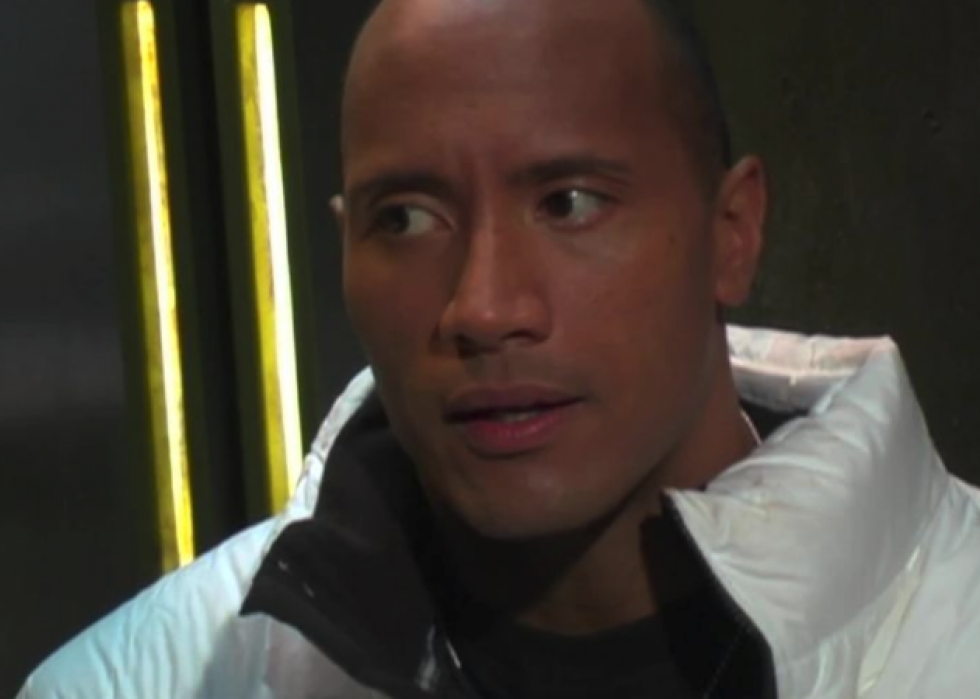 31 / 32
#2. Operation Filmmaker
Stacker score: 80.5
IMDb rating: 70
Tomatometer: 91%
This isn't quite a Dwayne Johnson film, though The Rock does appear as himself in this documentary. "Operation Filmmaker" tells the story of Muthana Mohmed, a young Iraqi film student, who was interviewed soon after the US invasion of Iraq in 2003 and explained that Saddam Hussein and then war had ruined his dream of making movies. Liev Schrieber happened to see the interview and brought Mohmed to Prague to work on "Everything is Illuminated," but then things got complicated. Again, not really a Rock movie, but a great take on a fascinating story.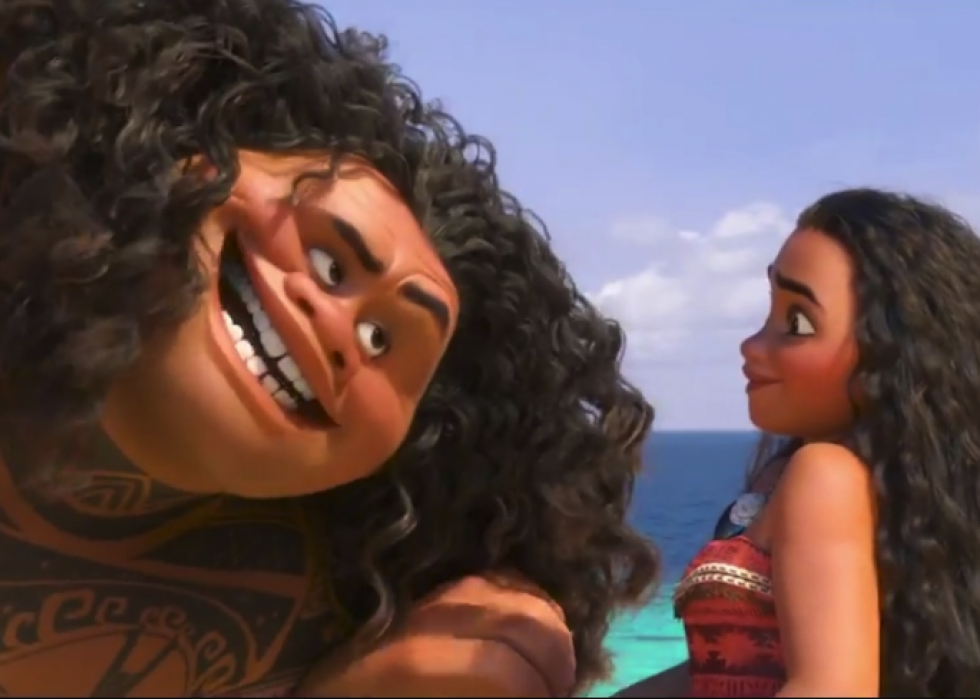 32 / 32
Walt Disney Animation Studios
#1. Moana
Stacker score: 85.5
IMDb rating: 76
Tomatometer: 95%
Animated movies are just getting better and better, and "Moana"—the story of a Polynesian princess' rebellion—might be the best yet. Dwayne Johnson is perfect as Maui, a brave, goofy demigod who begrudgingly helps Moana on her way. But the standout in this incredible film is Jemaine Clement, whose crab character sings a Bowie-like ballad about loving shiny things that might have been the song of the year. This film is fun, gorgeous and moving all at once.