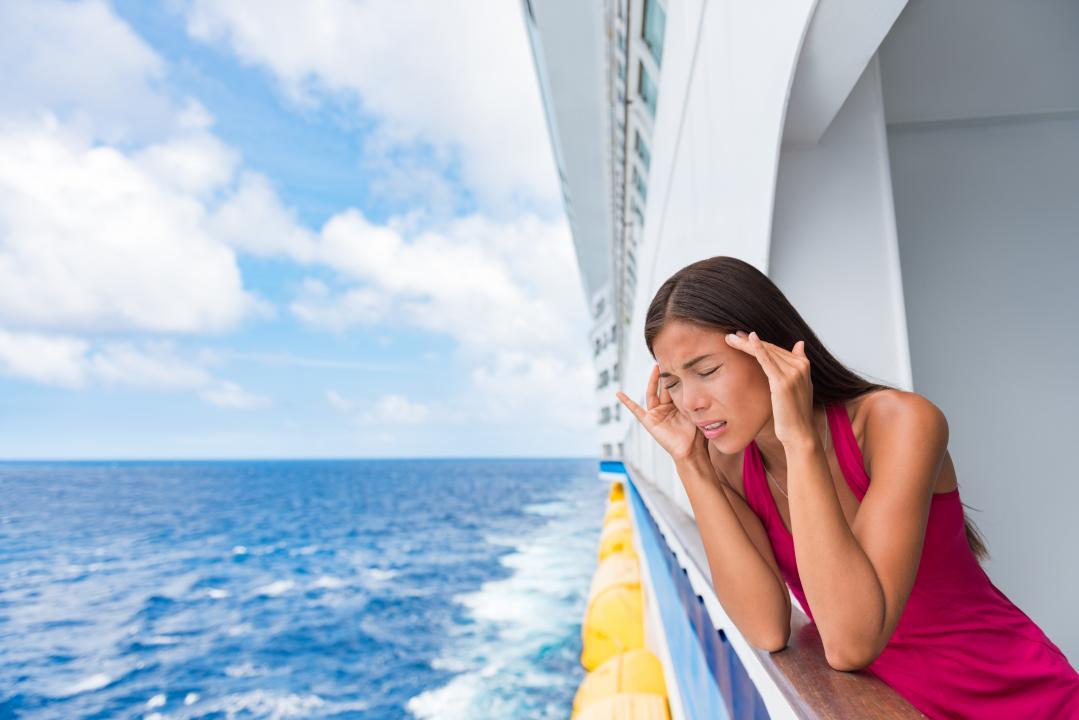 46 Fascinating Facts about Cruises
46 Fascinating Cruise Facts
Though cruises are now seen as the pinnacle of luxury vacation by many, the multibillion-dollar cruise industry was originally born out of necessity. Serving as the primary means of trans-continental passage in the early 1800s, cruise ships moved cargo and ferried immigrants across the Atlantic for years before modern cruise lines took shape.
As transport was initially the main objective, conditions were less than glamorous. In the early 1840s, one of the first "amenities" offered by Cunard's steamship, Britannia, was the addition of a cow that supplied passengers with fresh milk and three cats to keep the rats away. Later, faced with competition from air travel, cruise companies were forced to evolve; catering to passenger comforts and more emphasis on the voyage itself. Fast forward to today, wayfarers can opt to watch a movie in 4D, drink a molecularly-enhanced cocktail, or ice skate over the Mediterranean.
A recent outlook released by The Cruise Lines International Association (CLIA)  projects a significant increase in cruise travel next year, with an expected 25.3 million travelers worldwide, up from 24.2 million in 2016; and almost a 200% increase since 2007's 9.5 million. This continued growth shows no signs of decline in what is projected to grow to a $57 billion industry by 2027.
Often forgotten, an industry this big certainly has its own secrets and subculture. As we glide into fall, Stacker has dug up some of the most interesting facts about the industry, its evolution, and inner-workings. We've consulted cruise data, historical texts, and industry experts to compile the most interesting factoids that surround this thriving, niche industry.
#46. Cruise Ships Have Morgues
Most travelers don't labor over the ominous possibility of death while booking a vacation, but as history has shown, death doesn't discriminate. What happens to the suddenly deceased aboard cruise ships far from port? Some crews will use the phrase "Operation Rising Star" to signal the death of a passenger. According to Cruise Critic, by law all cruise liners are required to keep body bags onboard and maintain morgues to house the deceased until the nearest port is reached and the body can be repatriated in accordance with the docking nation's laws.
#45. A Titanic Replica Is Set To Take New Passengers in 2019
Perhaps the most iconic cruise ship of all time, the RMS Titanic has been reimagined. The main attraction of the forthcoming Romandisea Resort in Sichuan, China, the replica's designers have labored over the exact details of the original in an attempt to accurately depict everything from the light fixtures to the original European cuisine. Su Shaojun, one of the ship's financiers told The China Daily, "Many blueprint fragments found their way into the hands of collectors or remained missing. We spent many years collecting the blueprints from many parts of the world and managed to obtain most of them." Passengers can expect to pay around $400 a night for an economy cabin and into the thousands for more luxury accommodations.
#44. Mark Twain Boosted The Early Cruise Industry
In 1869, Samuel Clemens (under the pen name Mark Twain) wrote the most notable book of his career, The Innocents Abroad, a candid depiction of his five month voyage from Europe to Jerusalem onboard the Quaker City. The release of the book changed the face of travel writing and sparked major interest in "pleasure cruising" after the American Civil War.
#43. Men Prefer Cruises
It's hard to say why men are more often lured by cruise travel over women, but recent findings have shown this to be true. During a Statista study done in April of this year, regular travelers were asked, "How likely are you to go on a cruise in the next two years?" Of the 965 respondents, 41% of men answered "Very likely" compared to only 26% of women. The Cruise Lines International Association (CLIA) also released its consumer outlook which revealed that 74% of men showed general interest in cruising compared to just 54% of women.
#42. Don't Forget Your Magnets
According to Cruise Critic, while the walls of your cabin may not look magnetic, they function like a big refrigerator door. Since a ship is essentially a sailing metal entity, passengers can stick conventional magnets around their cabin to display appointments, itinerary notes, or personal decor to make that cozy room feel more like home on longer voyages.
#41. Launching a Cruise Liner
Throughout history seafarers have sacrificed fine wine, animals and even their fellow man to invite good luck and safe voyage aboard new ships. In 1891, Queen Victoria smashed a bottle of champagne - the more aristocratic option - against the HMS Royal Arthur and it's remained the tradition of choice ever since. Due to the pressure inside, it's fairly difficult to smash a bottle of champagne, but failure to do so is often seen as a bad omen. In 2007, The Duchess of Cornwall (Camilla) failed to break a bottle of champagne against the Queen Victoria and nearly 80 passengers came down with Norovirus during the ship's maiden voyage, later coined the "The Curse of Camilla."
#40. Talking In Code
 While each ship line has their preferred jargon, many crews share the same secret code names and terms for people, places, and events onboard. According to Cruise Critic, an FOD or "Friends of Dorothy" meeting is a covert invitation for members of the LGBTQ community to mingle with other like minded passengers aboard the ship. Coined after Alcoholic Anonymous founder William Wilson, "Friends of Bill" signals an AA meeting for cruisers seeking support and anonymity.
#39. The Amenities Keep Getting Bigger
While a small number of cruise companies dominate the market, it remains a competitive industry. Onboard amusement parks, ice rinks, and live concerts have become the norm, and each year new amenities and extravagances are added to up the ante. Cunard's Queen Mary 2 has it's very own planetarium, Carnival Vista has an-800 foot SkyRide cycling track, and this year Royal Caribbean's Quantum of The Seas will introduce the first sky-diving simulator at sea.
#38. Rise of Celebrity Chefs
 As society has become increasingly food conscious, cruise ships have had to retire the troth-style dining days of ol' in exchange for more gastronomic options. The Cruise Lines International Association (CLIA) attributed a recent spike in cruise sales among millennials to the rise in celebrity chefs serving up their famous fares onboard. Some notable restaurateurs include Guy Fieri, Angelo Auriana and Jose Garces among others.
#37. Retiring At Sea
More and more seniors opt to spend their final days at sea as the cost of living is comparable to constant cruising. This year, the AP-NORC Center for Public Affairs Research revealed the average cost of assisted living facilities at $3,500/month, while permanent stay in a nursing home at around $7,000/month. A savvy cruiser can find voyages that average just $50/night, and while they don't (yet) offer medical assistance, healthy seniors can retire at sea with fewer expenses than they'd have to maintain on land. The World offers permanent "residences at sea," but this option comes at a cost; studios and apartments range anywhere from $1 million to $13 million.
#36. The World's Largest Cruise Ship
 At 226,963 tons, Royal Caribbean's Harmony of the Seas is the largest cruise liner in the world. Built in 2016, the mega-liner can hold around 5,000 passengers; boasts four swimming pools, a full-size basketball court, a ski rink, and a 1,400 seat theatre. Next Year, Royal Caribbean will go even bigger with the launch of Symphony of the Seas; coming in at 230,000 tons, it is set to steal the title from its sister ship.
#35. The Legend of "Posh"
While the origin remains unknown, many believe the word "Posh," meaning elegant or luxurious, was coined by passengers traveling aboard cruise ships between Britain and India during the late 19th century. The etymology legend claims that the letters make up an acronym that refers to the best location on ships to avoid the harsh sun on those early voyages, Portside Out Starboard Home. The tale goes on to explain that since A/C had yet to make its grand debut, wealthy passengers would request "POSH" tickets to avoid the sun (as fair skin denoted high status) and receive cooler, more desirable accommodations.The term eventually took on a life of its own to describe all things upper-class. While the validity of the legend has been highly debated, with no proven origin of the word, many cruisers have adopted this etymology.
#34. Nude Cruising
According to the American Association for Nude Recreation (AANR), nude recreation is a $440 million dollar (per year) industry. With a built in market, it makes perfect sense for the cruise line industry to include disrobed voyages. The ships are fully chartered by third party companies that handle nude travel and tourism such as Bare Necessities and Castaways Travel. The level of nudity clearance is dependant upon each cruise but naked dining is almost always prohibited. Nude cruise forerunner, Bare Necessities struggled to break into the cruise industry when the company first started. Owner Nancy Tiemann told The Emerging Nudist, "When we first started calling cruise lines some would actually hang up on us thinking it was a phony call or some kind of joke." The industry eventually came around to the idea and Bare Necessities has had major success; once a year, it charters a major vessel carrying 3,000 bare-skinned passengers, aptly named "The Big Nude Boat."
#33. Cruise Dress Code
Not all cruises are created equal and neither are their dress codes. As every cruise is tailored to a different experience, etiquette rules vary by ship. According to the Smithsonian, cruise attire in the early 20th century was very formal and reflected the wealth of the passengers onboard. When the cruise industry opened its market to the middle class, casual attire became widely accepted, but many formal dining rooms of present day ships still flash to the formalities of the past. According to Cruise Critic, the largest cruise company (Carnival) explicitly states, "Shorts (including gym and basketball shorts), beach flip-flops, bathing suit attire, cut-off jeans, caps and sleeveless shirts for men are the only items of clothing never permitted in the dining room during dinner," but many cruisers adhere to one simple rule, "No shorts on the ship after six p.m."
#32. Smart Ships
Later this year, Carnival is set to introduce wearable smart technology that could change the world of hospitality. Outfitted with Ocean Compass Technology, passengers of the Regal Princess will receive an Ocean Medallion, that will serve as a wallet, an ice breaker, and an app. According to Cruise Critic, the token acts as a virtual concierge, collecting data to personalize each passenger's experience, "All participating ships...will undergo massive revamping from bow to stern to install a massive network of sensors and experiential computing devices. These will enable the Ocean Medallion and Ocean Concierge to interact as each passenger moves around the ship."
#31. Eloping On Deck
Contrary to delusions inspired by "The Love Boat" and other misinformed media, ship captains can't sporadically ordain a marriage. Many cruise lines do offer wedding packages, but only a few captains can legally officiate a ceremony, including those on Princess, Cunard, Celebrity, and Azamara cruises. An industry leader in wedding planning, The Knot polled 13,000 couples in 2016 and found that the average cost of an American wedding is $35,329. The good news? According to Cruise Critic, weddings at sea start as low as $1,500 and couples can live stream their ceremonies for their friends and family on land. Princess captains are alleged to be especially romantic, "On one particular cruise over Valentine's Day, the captain casually announced he'd conduct vow renewals for anyone who wanted them, and about a half-dozen couples showed up."
#30. Illegal Dumping & Emissions
In 2014, Princess Cruise Lines plead guilty to seven felonies and was fined $40 million, the largest-ever penalty for the deliberate dump of toxic waste at sea. Royal Caribbean pleaded guilty in 1999 to the tune of $18 million for a similar crime. While the cruise industry has taken efforts to reduce emissions, a 200,000-ton vessel leaves a massive carbon footprint. In 2016, Disney was the only cruise company to receive an A grade on the environmental report card put out by Friends of the Earth. This summer, for the first time, the Tasmanian EPA will monitor air quality surrounding its cruise port.
#29. Crime & Punishment
Contrary to what many might think, American passengers are not afforded the same rights they enjoy on land during an international cruise. Passengers must adhere to the laws of the respective port cities or maritime law if crimes are committed at sea. There's little information circulated in regard to criminal justice aboard cruise ships, and most companies employ their own security and pseudo justice systems. Coined "the brig" there are small cells onboard ships for passengers who are too dangerous to be confined to their rooms; until they can be handed over to port authorities.
#28. Celebrity Godmothers
A longstanding tradition, cruise ships have Godmothers handpicked by each line, and many are well known celebrities. According to Cruise Critic, P&O chose actress, Helen Mirren for the Ventura, Reba McEntire was chosen for Norwegian's Epic, and Sophia Loren has her hands full as she's been elected Godmother for eight MSC ships.
#27. Women At The Bow
In 2007, Royal Caribbean named swedish navigator, Karin Stahre-Jason the captain of Monarch of the Seas. Long overdue, she is the first female captain employed by a major cruise line in the history of cruising. In 2015, Kate McCue took another first after she was named the first American female captain in the industry. Throughout history, women have had a tumultuous relationship with ships. For a time, many superstitious sailors banned women because they believed they were a bad omen that would enrage the sea. Adversely, many seafarers put naked women at the bow of ships to calm the sea and still refer to the vessels as "she" for added protection and luck.  
#26. Crazy Gripes
What's the famous saying? Wherever you go, there you are. While cruise vacations are known for relaxation and exploration, things are bound to go wrong. Acceptable gripes over port cancellations, bad buffet food and overcrowding are to be expected. According to Cruise.co.uk, some passengers have taken high maintenance to the next level. The cruise site released a roundup of the most outrageous complaints they've received: A woman once complained that the topless sunbathing at a port beach ruined her stay because her husband spent all day staring at other women. Another passenger asked the captain to turn off the engine because it was too loud, and one woman believed that the ship's photographer intentionally took bad photos of her to make her look ugly.
#25. Different Strokes For Different Folks
As the cruise industry amps up amenities there are also a number of niche options that offer specialized experiences for very specific audiences. For cat lovers who want to travel among fellow felo-philes cue the Meow Meow Cruise. Love haunted history? Norwegian offers a seven day ghost hunter's cruise. In 2018, diehard fans of The Walking Dead can set sail alongside the cast of the popular television show. The Walker Stalker cruise even employs professional makeup artists to transform passengers into the undead.
#24. River Cruises
In 2016, according to the CLIA's yearly outlook, river cruising was up by 7%. A growing industry, river riding caters to travelers looking for an intimate, port-intensive experience without all the extravagances offered by large ocean liners. In 2017, Condé Nast Traveler asked its readers which river cruise line they enjoyed most, and respondents chose Viking River Cruises as the king of narrow waterways. Another report released by The Travel Leaders Group in 2014, revealed that France and Germany are the most desired locations for river travel among U.S. respondents.
#23. Customer Satisfaction
An industry won't survive without repeat guests or customer satisfaction. In 2017, Statista asked travelers to rate their overall cruise experience. It's no surprise that the cruise industry has seen such growth, as 59% of respondents said their experiences have been "quite positive," 2% rated "quite negative," and not one cruiser chose the poorest rating, "very negative." Who has kept passengers so satisfied? In October of 2016, Condé Nast Traveler asked 300,000 of its readers to rate major cruise lines. Disney took first place, while the award for the best mid-size cruise line went to Crystal Cruises and the best small-ship cruise went to Seabourn.
#22. Bananas Are Bad Luck
Dating back to the 1700s, many superstitious mariners believe that bananas bring bad luck. Although there is no concrete origin, some believe that the omen started when sailors noticed ships transporting bananas often wrecked or were lost at sea. Some sources trace the myth to poisonous spiders that hid in banana crates that would poison the crew, and other sources claim the haunting buoyancy of bananas; floating at the top of the water among pieces of wrecked ships.
#21. Norovirus
According to the CDC, "You can get norovirus from an infected person, from contaminated food or water, or by touching contaminated surfaces. The virus causes your stomach or intestines or both to get inflamed (acute gastroenteritis)." It's believed that the Norovirus breeds in nursing homes, daycares, restaurants and cruise ships. Cruise ships are often cited as major hubs for the virus because health officials are required to track onboard illnesses so more cases are accurately reported. The CDC states that in reality, the virus is relatively infrequent onboard ships despite its notoriety. According to Cruiseable, many ships have recently adopted a "code orange," and "code red" system to alert passengers of the illness. "Code Orange refers to early stages of a reported infection, where the buffet is no longer self-service but pools and public rooms remain open. Code Red refers to a wider outbreak of norovirus, which results in the closure of pools, whirlpools and self-service dining and requires the crew to scrub down all public areas each day."
#20. Talk Like a Cruiser
Many cruisers have adopted sailing lingo in addition to slang that's evolved onboard cruise ships over time. Cruise Critic created a glossary of terms to help new cruisers talk like sea vets. Some popular terms include, OBC: onboard credit added to your account, Tender: a small boat that ferries passengers from the ship to the shore and back, Open-Jaw sailing: a one way route that begins and ends in different ports, MDR: main dining room, and The Lido deck: the main pool deck.
#19. Intellectuals Invited
While many people have adopted the idea that cruising is for the lethargic and uninspired, Seabourn's luxury line looks to contradict that belief. The company invites seasoned scholars and luminaries versed in a wide range of topics to facilitate meaningful dialogue during each voyage. The cruise line coined it, "Seabourn Conversations," with the tagline, "On some ships, they lecture. On Seabourn, they join the conversation." Upcoming conversationalists include fashion icon - Brad Goreski, Everest mountaineer - Paul Deegan, Apple co-founder - Steve Wozniak, and notable author - Sir Tim Rice.
#18. Concert Cruises
Sonic treats galore, the matrimony of music and the sea is commonplace among most leisure-focused vacations. Today, most cruises hire entire casts, performers, and engineers to entertain guests onboard ships. Hop on the Celebrity Summit for "Blue Note at Sea" to hear renowned jazz dreamed up by the genre's forerunning label, Blue Note records. This year, diehard fans of Kiss can sail with the band and partake in all things related to the famous rockers onboard the Norwegian Pearl for the "Kiss Kruise VII." Do you really miss the 2000s, and wish you made it to one more Warped Tour? Have no fear, the Norwegian Pearl also hosts, "Warped Rewind at Sea,"  a flashback concert cruise to pop-punk's heyday. 
#17. Nationality of Captains
Repeat passengers of Carnival cruises might notice that their captain is often Italian. According to Medium, certain cruise lines tend to hire captains of a specific nationality. It is believed that Carnival and Silversea commonly employ Italians, Celebrity's captain's are primarily Greek, and Royal Caribbean often opts for Scandinavians. While these hirings are historically commonplace, many companies have begun to widen their net in regard to nationality.
#16. Furry Friends
According to Cruise Critic, there is only one ship that currently accepts your four legged friends, Cunard's Queen Mary 2. Expect to pay a hefty sum to bring your favorite pet, as "prices range from $500 to $1,000 per dog and from $1,000 to $1,600 per cat."
#15. Most Popular Ports and Destinations
According to BREA, the US Maritime Administration, and the US Department of Transportation, Miami was the leading U.S. cruise port among U.S. travelers in 2015, with 2.35 million embarkations. Which comes as no surprise since a recent Statista study revealed that 85% of American travelers chose the Caribbean as their most desired cruise destination.
#14. Pirate Attacks
While pirates might seem like fictional characters, they still pose a very real threat to mariners. According to a Statista analysis, in 2016 there were 191 pirate attacks worldwide, 46 of which took place in Panama. The good news? The number of hostages taken by pirates has dropped from 802 crew members in 2011 to 151 in 2016. While most of these attacks exclude luxury cruise lines, they are not completely unheard of. According to Cruise Critic, "In more than a decade, there have been only six reported incidents of pirates attempting to attack cruise ships."
#13. The Price of Being Single
According to cruise critic, until 2010 solo travelers were almost always charged the, "single supplement" fee; Forced to pay the price for double occupancy. While discounted options are still limited for solo cruisers, a few companies now offer cabins for one. The most popular among them, Norwegian offers "studios" that cater to the single mariner.
#12. Cruising With Kids
Every year Cruise Critic posts the results of its Cruisers' Choice Awards, and this year Disney Cruises took first, second and third among parents traveling with children. The Disney Magic took first place with the option to see Tangled the musical, meet and greet with Marvel heroes, and superhero stunt shows.
#11. Milestones
In January of 2016, Windstar Cruises not only named its first female captain, but named the world's first African American commercial cruise captain, Belinda Bennett of the MSY Wind Star.
#10. Seasickness
 A hand me down throughout history, cruisers and divers have long recommended green apples to avoid the dreaded "dock rock." Cruise Critic also suggests booking a cabin in the middle of the ship in its natural balance point, in addition to a pinch of ginger extract to avoid sea sickness. According to the Centers for Disease Control and Prevention (CDC), fixing your gaze on one point may also help passengers regain a sense of balance.
#9. Missing Persons
While crime remains relatively low aboard cruise ships, according to Cruise Junkie, since 2000 nearly 300 people have gone missing at sea. Under Obama, new legislation was introduced to implement precautions and procedures to avoid such instances, but laws have yet to be enforced.
#8. People Are Willing to Spend
As the cruise industry continues to command leisure travel, potential wayfarers plan to spend. This year, Statista surveyed 316 travelers interested in booking a cruise in the next two years: 29% of respondents said they were willing to spend over $2,000 on a seven day cruise and 25% said they'd fork out a grand.
#7. The World's Longest Cruise
In 2016, Mundy Cruises offered the "World of Travel" cruise that reached all seven continents, aboard seven different cruise ships in 357 days.
#6. The Love Boat
On air from from 1977 to 1986, The Love Boat ranked as one of the most popular sitcoms in the country. The television series was set on a cruise ship, and detailed the daily happenings of the captain and crew onboard. Previously reserved for affluent travelers, the show is often credited for introducing commercial cruising to a middle class audience.
#5. Alaska
Predicted to be one of this years premier cruising destinations among travelers surveyed in a recent Statista study, Alaska is expected to receive 1.06 million visits via cruise in 2017. According to the The Cruise Lines International Association (CLIA), the Alaskan tourism industry accounts for one in eight jobs within the state. In 2016, the cruise industry generated 19,842 jobs and $991 million in wages.
#4. Scuba at Sea
According to a Statista study, over three million Americans participated in some form of scuba diving in 2016, and the hobby has remained constant among adventurers since 2006. While many places offer Discover Scuba, a one day tutorial and quick dive experience for curious mariners, dive certification can be a lengthy and expensive process. This year, Royal Caribbean partnered with the Professional Association of Diving Instructors® (PADI) to offer the first dive certification course offered by a cruise line at sea.
#3. Don't Forget to Tip
Tipping remains a controversial topic for cruisers. Many cruise employees rely on tips the same way hospitality workers do at home. Leaving out cruise lines that exclude tipping altogether, and assuming you've already opted in to the offered auto-gratuity offered by your selected ship, Cruise Critic suggests these additional tipping measures (that amount to around $84 a week): You should tip in-port baggage handlers $1-2 depending on the amount of luggage you have, tip stewards and butlers $15-20 at the beginning and end of your stay dependent on service, tip room service $23 a visit, tip your bartenders, sommeliers and waiters the same way you would at home - 15-20%. The site also warns against tipping cabin or ship officers as it may be translated offensively and they are appropriately compensated.
#2. Cruisers are Getting Younger
In recent years the cruise industry has looked to capture a younger audience, and according to the CLIA it's worked. The current age of a cruise ship passenger is around 50-years-old, down from 56 in 2011. This year Statista captured cruiser demographics: while the majority (over 50%) of passengers were between the ages of 40 and 75, an encouraging 20% were between the ages of a 30 and 39, a number expected to go down in the coming years.
#1. Flags of Convenience
The cruise industry is known for registering ships outside of the United States, giving them the benefits of the reputation and port access of their registered country while also allowing circumvention of certain U.S. labor and safety laws. This positioning has long been a point of controversy for the cruise industry deemed "flags of convenience."