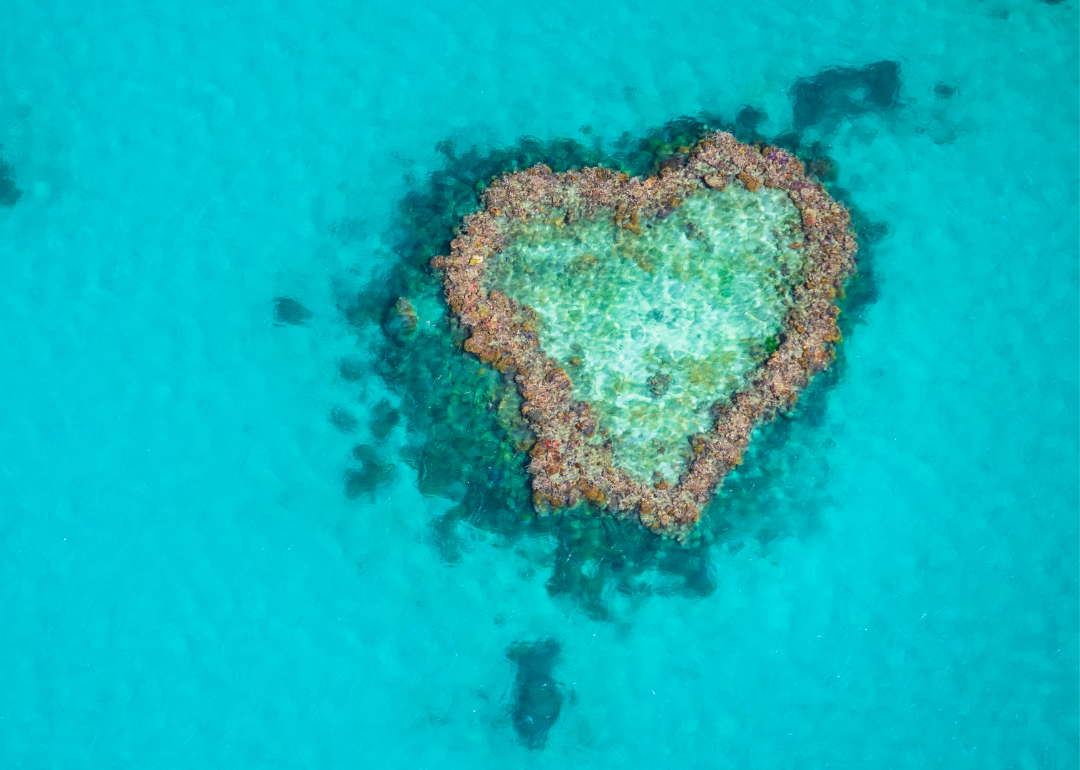 50 incredible photos of our oceans
50 incredible photos of our oceans
As eloquently stated by the United States Geological Survey, "the Earth is a watery place." This is something easy to lose sight of for those who do not live near a major river, lake, or ocean, but humans and the land we live on take up only a small percentage of the planet's primarily aquatic surface. More than 70% of the Earth's surface is covered in water. The vast majority is saltwater found in the five major oceans: the Atlantic, Pacific, Indian, Arctic, and Southern (in Antartica). You might not have heard of the last one. It was proposed to the International Hydrographic Organization at the turn of the millennium and has yet to be agreed upon by all countries, though it is officially recognized by the United States.
While they are one of the planet's most valuable natural resources, the oceans remain 80% unexplored. However, they have been treated with a disappointing lack of care in recent years and could be irrevocably changed before anyone gets the chance. As the ocean warms, corals die or move to other places to beat the heat. Other species move in the take their place, sometimes permanently changing the ecosystem. Pollution—everything from plastic to oil spills to fertilizer running off from our yards—can affect the seafood we eat and kill wildlife. For example, in March 2019 a beached whale in the Philippines was found with 88 pounds of plastic in its stomach. It is up to each individual to do their part in preserving the natural beauty the oceans have to offer.
Stacker has collected 50 stunning photographs of the world's oceans in an effort to not only encourage more to visit these beautiful locations, but also to raise awareness of the pivotal role each human plays in ensuring the preservation of these incredible bodies of water. Read on to enjoy these otherworldly views to be reminded of the preciousness of Earth's biggest water sources.
You may also like: Majestic photos from the world's 50 tallest mountains
Maelstrom of Saltstraumen, the world's strongest tidal current
Surging ocean current cascades over reef
Sunset over the Pacific Ocean
Views of the Arctic Ocean from Jökulsárlón, Iceland
Surfer in the north Pacific Ocean
Dancing deep-sea jellyfish
Perfectly clear waters, French Polynesia
Penguin in the Southern Ocean near Antarctica
School of fish in the Pacific Ocean
Humpack whale breaches in the Indian Ocean
A thriving coral reef attracts a marine community
Iceberg in the Southern Ocean
School of Mobula rays in Hanifaru Bay, Maldives
Northern Atlantic black-sand beach in Iceland
Sunset over the Pacific Ocean
Bioluminescent algae along the coast of the Ruins, Australia
Off the Mauritius coast, dolphins swim by a boat in the Indian Ocean
Inside the turquoise barrel
Running into the surf zone in Southern California
Surfers paddle past the break
Dusk in the United Kingdom
The beauty and power of a single wave
Whale shark swimming just below the ocean surface
Icebergs floating in the Southern Ocean
A translucent jellyfish in the deep blue
A sea turtle rides the current
Near the defunct Sutro Baths, San Francisco
A famous 'swimming pig' of Staniel Cay, Bahamas
Great white shark at Isla Guadalupe, Mexico
Jellyfish in the Indian Ocean near Phuket, Thailand
A pod of dolphins swim near the surface
A bird's-eye view of the Great Barrier Reef, Australia
An underwater view of the Great Barrier Reef, Australia
A fine white-sand beach surrounded by turquoise water
A large colony of sea salps in the Red Sea
Blue whale off the coast of California
Ocean eddies off the coast of Tasmania
Waves in the Arctic Ocean
A windsurfer in Hawaii carves a wave
Giant kelp forest grows near the Channel Islands, California
Loggerhead sea turtle floats in the Atlantic Ocean
Wave crashing over an iceberg
Lighthouse overlooking the ocean
Silfra, a fissure between two tectonic plates in Thingvellir, Iceland
Jellyfish in the Atlantic Ocean near Cuba
Surfer rides a face in Praia do Norte, Nazaré, Portugal