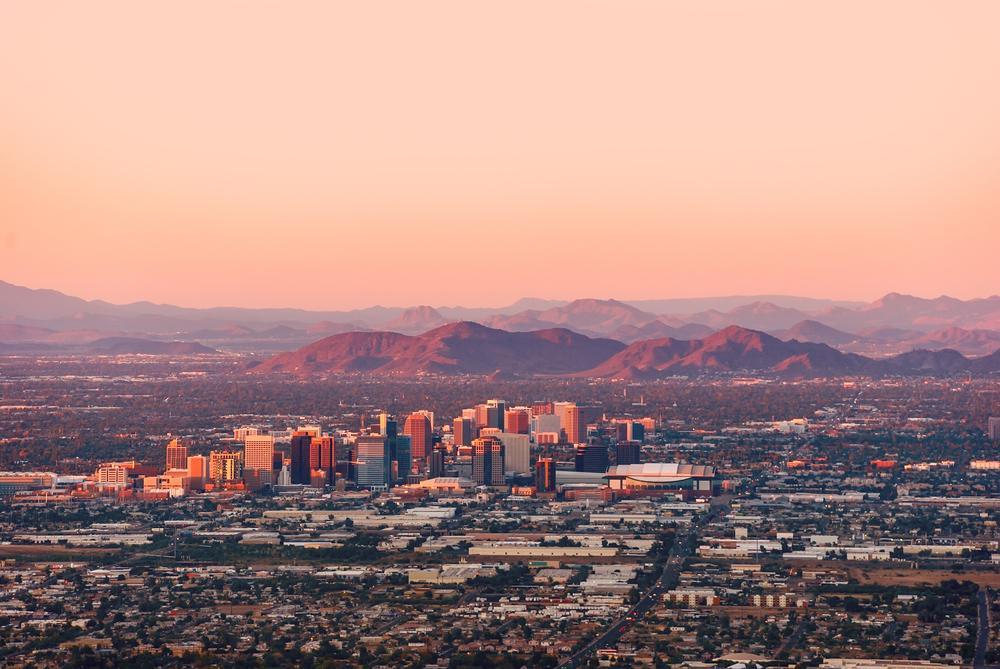 Hottest city in every state
Dreamframer // Shutterstock
Hottest city in every state
If you're one of those people whose bodies run hot, there are definitely some places you should avoid during the summer months. California's Death Valley, for example, holds the title of hottest temperature ever recorded on Earth—that's presumably not counting early Earth history when the planet was covered in lava oceans—and broke the record for the hottest month ever recorded both in 2017 and 2018.
Although it's likely that you don't spend lot of time hanging out in Death Valley, every state in America is home to a city that is surprisingly warm—or downright sweltering—compared to the rest of the state or the region as a whole.  
Stacker used National Oceanic and Atmospheric Administration Comparative Climatic Data to determine the hottest city in every state. Those are the cities that have the highest average number of 90-plus degree days per year. Each entry also contains information about the average temperature for each of the hottest cities, as well as the hottest month and average humidity.
Read on to learn about the hottest city in your state—and put on some sunscreen.  
Alabama: Montgomery
Hottest city: Montgomery
Average 90+ degree days per year: 84
Average temperature: 81.8°
Average humidity: 87% (AM), 55% (PM)
Hottest month: July (average temperature: 92.1°)
 
Alaska: Fairbanks
Hottest city: Fairbanks
Average 90+ degree days per year: 53
Average temperature: 62.5°
Average humidity: 74% (AM), 71% (PM)
Hottest month: July (average temperature: 72.7°)
 
Arizona: Phoenix
Hottest city: Phoenix
Average 90+ degree days per year: 169
Average temperature: 94.8°
Average humidity: 34% (AM), 47% (PM)
Hottest month: July (average temperature: 106.1°)
 
Arkansas: Fort Smith
Hottest city: Fort Smith
Average 90+ degree days per year: 77
Average temperature: 82.3°
Average humidity: 61% (AM), 85% (PM)
Hottest month: July (average temperature: 93.4°)
 
California: Bakersfield
Hottest city: Bakersfield
Average 90+ degree days per year: 110
Average temperature: 83.8°
Average humidity: 60% (AM), 63% (PM)
Hottest month: July (average temperature: 97.1°)
 
Colorado: Pueblo
Hottest city: Pueblo
Average 90+ degree days per year: 66
Average temperature: 75.8°
Average humidity: 49% (AM), 65% (PM)
Hottest month: July (average temperature: 92.9°)
 
Connecticut: Hartford
Hottest city: Hartford
Average 90+ degree days per year: 18
Average temperature: 74.1°
Average humidity: 59% (AM), 77% (PM)
Hottest month: July (average temperature: 83.9°)
 
Delaware: Wilmington
Hottest city: Wilmington
Average 90+ degree days per year: 20
Average temperature: 76.8°
Average humidity: 59% (AM), 78% (PM)
Hottest month: July (average temperature: 86.1°)

*Wilmington was the only city in Delaware with data available
Florida: Fort Myers
Hottest city: Fort Myers
Average 90+ degree days per year: 99
Average temperature: 83.4°
Average humidity: 56% (AM), 88% (PM)
Hottest month: July (average temperature: 91.9°)
 
Georgia: Macon
Hottest city: Macon
Average 90+ degree days per year: 85
Average temperature: 81.8°
Average humidity: 55% (AM), 87% (PM)
Hottest month: July (average temperature: 92.6°)
 
Hawaii: Honolulu
Hottest city: Honolulu
Average 90+ degree days per year: 24
Average temperature: 81.9°
Average humidity: 61% (AM), 75% (PM)
Hottest month: August (average temperature: 88.7°)
 
Idaho: Boise
Hottest city: Boise
Average 90+ degree days per year: 47
Average temperature: 75.8°
Average humidity: 70% (AM), 66% (PM)
Hottest month: July (average temperature: 91.2°)
 
Illinois: Springfield
Hottest city: Springfield
Average 90+ degree days per year: 33
Average temperature: 75.8°
Average humidity: 70% (AM), 83% (PM)
Hottest month: July (average temperature: 86.2°)
 
Indiana: Evansville
Hottest city: Evansville
Average 90+ degree days per year: 42
Average temperature: 78°
Average humidity: 68% (AM), 83% (PM)
Hottest month: July (average temperature: 88.5°)
 
Iowa: Sioux City
Hottest city: Sioux City
Average 90+ degree days per year: 27
Average temperature: 74.3°
Average humidity: 70% (AM), 82% (PM)
Hottest month: July (average temperature: 85.5°)
 
Kansas: Dodge City
Hottest city: Dodge City
Average 90+ degree days per year: 67
Average temperature: 79.6°
Average humidity: 56% (AM), 78% (PM)
Hottest month: July (average temperature: 92.8°)
 
Kentucky: Paducah
Hottest city: Paducah
Average 90+ degree days per year: 45
Average temperature: 78.9°
Average humidity: 65% (AM), 84% (PM)
Hottest month: July (average temperature: 89.3°)
 
Louisiana: Shreveport
Hottest city: Shreveport
Average 90+ degree days per year: 92
Average temperature: 83.2°
Average humidity: 62% (AM), 87% (PM)
Hottest month: August (average temperature: 93.4°)
 
Maine: Portland
Hottest city: Portland
Average 90+ degree days per year: 5
Average temperature: 69.1°
Average humidity: 61% (AM), 78% (PM)
Hottest month: July (average temperature: 78.8°)
 
Maryland: Baltimore
Hottest city: Baltimore
Average 90+ degree days per year: 31
Average temperature: 77°
Average humidity: 57% (AM), 77% (PM)
Hottest month: July (average temperature: 87.2°)

*Baltimore was the only city in Maryland with data available
Massachusetts: Boston
Hottest city: Boston
Average 90+ degree days per year: 13
Average temperature: 73.4°
Average humidity: 58% (AM), 72% (PM)
Hottest month: July (average temperature: 81.4°)
 
Michigan: Detroit
Hottest city: Detroit
Average 90+ degree days per year: 12
Average temperature: 73.9°
Average humidity: 70% (AM), 80% (PM)
Hottest month: July (average temperature: 82.6°)
 
Minnesota: Minneapolis-St.Paul
Hottest city: Minneapolis-St.Paul
Average 90+ degree days per year: 15
Average temperature: 73.8°
Average humidity: 71% (AM), 79% (PM)
Hottest month: July (average temperature: 83.4°)
 
Mississippi: Meridian
Hottest city: Meridian
Average 90+ degree days per year: 84
Average temperature: 80.6°
Average humidity: 60% (AM), 90% (PM)
Hottest month: July (average temperature: 91.8°)
 
Missouri: St. Louis
Hottest city: St. Louis
Average 90+ degree days per year: 45
Average temperature: 80°
Average humidity: 66% (AM), 81% (PM)
Hottest month: July (average temperature: 89.1°)
 
Montana: Billings
Hottest city: Billings
Average 90+ degree days per year: 30
Average temperature: 72.8°
Average humidity: 57% (AM), 64% (PM)
Hottest month: July (average temperature: 86.8°)
 
Nebraska: Scottsbluff
Hottest city: Scottsbluff
Average 90+ degree days per year: 45
Average temperature: 74.1°
Average humidity: 60% (AM), 73% (PM)
Hottest month: July (average temperature: 89.8°)
 
Nevada: Las Vegas
Hottest city: Las Vegas
Average 90+ degree days per year: 135
Average temperature: 91.3°
Average humidity: 32% (AM), 37% (PM)
Hottest month: July (average temperature: 104.1°)
 
New Hampshire: Concord
Hottest city: Concord
Average 90+ degree days per year: 12
Average temperature: 70°
Average humidity: 61% (AM), 80% (PM)
Hottest month: July (average temperature: 82.3°)
 
New Jersey: Newark
Hottest city: Newark
Average 90+ degree days per year: 22
Average temperature: 77.4°
Average humidity: 58% (AM), 72% (PM)
Hottest month: July (average temperature: 86°)
 
New Mexico: Roswell
Hottest city: Roswell
Average 90+ degree days per year: 98
Average temperature: 80.3°
Average humidity: 43% (AM), 59% (PM)
Hottest month: July (average temperature: 93.7°)
 
New York: Albany
Hottest city: Albany
Average 90+ degree days per year: 11
Average temperature: 71.8°
Average humidity: 65% (AM), 79% (PM)
Hottest month: July (average temperature: 82.3°)
 
North Carolina: Charlotte
Hottest city: Charlotte
Average 90+ degree days per year: 45
Average temperature: 78.5°
Average humidity: 54% (AM), 81% (PM)
Hottest month: July (average temperature: 89°)
 
North Dakota: Bismarck
Hottest city: Bismarck
Average 90+ degree days per year: 22
Average temperature: 71.1°
Average humidity: 71% (AM), 81% (PM)
Hottest month: July (average temperature: 84.7°)
 
Ohio: Cincinnati
Hottest city: Cincinnati
Average 90+ degree days per year: 22
Average temperature: 75.7°
Average humidity: 68% (AM), 81% (PM)
Hottest month: July (average temperature: 86.6°)
 
Oklahoma: Tulsa
Hottest city: Tulsa
Average 90+ degree days per year: 73
Average temperature: 81.8°
Average humidity: 59% (AM), 81% (PM)
Hottest month: July (average temperature: 93.5°)
 
Oregon: Medford
Hottest city: Medford
Average 90+ degree days per year: 54
Average temperature: 74.1°
Average humidity: 76% (AM), 81% (PM)
Hottest month: July (average temperature: 90.7°)
 
Pennsylvania: Philadelphia
Hottest city: Philadelphia
Average 90+ degree days per year: 25
Average temperature: 78.1°
Average humidity: 58% (AM), 76% (PM)
Hottest month: July (average temperature: 87.1°)
 
Rhode Island: Providence
Hottest city: Providence
Average 90+ degree days per year: 9
Average temperature: 73.5°
Average humidity: 58% (AM), 75% (PM)
Hottest month: July (average temperature: 82.8°)

*Providence was the only city in Rhode Island with data available
South Carolina: Columbia
Hottest city: Columbia
Average 90+ degree days per year: 77
Average temperature: 77.3°
Average humidity: 68% (AM), 84% (PM)
Hottest month: July (average temperature: 87.6°)
 
South Dakota: Rapid City
Hottest city: Rapid City
Average 90+ degree days per year: 32
Average temperature: 72.6°
Average humidity: 65% (AM), 69% (PM)
Hottest month: July (average temperature: 87.1°)
 
Tennessee: Memphis
Hottest city: Memphis
Average 90+ degree days per year: 68
Average temperature: 82.7°
Average humidity: 61% (AM), 80% (PM)
Hottest month: July (average temperature: 91.6°)
 
Texas: Del Rio
Hottest city: Del Rio
Average 90+ degree days per year: 134
Average temperature: 86.2°
Average humidity: 53% (AM), 78% (PM)
Hottest month: August (average temperature: 97.1°)
 
Utah: Salt Lake City
Hottest city: Salt Lake City
Average 90+ degree days per year: 57
Average temperature: 78.7°
Average humidity: 72% (AM), 64% (PM)
Hottest month: July (average temperature: 92.6°)

*Salt Lake City was the only city in Utah with data available
Vermont: Burlington
Hottest city: Burlington
Average 90+ degree days per year: 7
Average temperature: 70.6°
Average humidity: 67% (AM), 77% (PM)
Hottest month: July (average temperature: 80.9°)

*Burlington was the only city in Vermont with data available
Virginia: Richmond
Hottest city: Richmond
Average 90+ degree days per year: 43
Average temperature: 79.3°
Average humidity: 55% (AM), 81% (PM)
Hottest month: July (average temperature: 89.7°)
 
Washington: Walla Walla
Hottest city: Walla Walla
Average 90+ degree days per year: 41
Average temperature: 75°
Average humidity: 79% (AM), 71% (PM)
Hottest month: July (average temperature: 89.2°)
 
West Virginia: Charleston
Hottest city: Charleston
Average 90+ degree days per year: 22
Average temperature: 75.4°
Average humidity: 62% (AM), 83% (PM)
Hottest month: July (average temperature: 85.2°)
 
Wisconsin: La Crosse
Hottest city: La Crosse
Average 90+ degree days per year: 16
Average temperature: 73.7°
Average humidity: 71% (AM), 82% (PM)
Hottest month: July (average temperature: 84.1°)
 
Wyoming: Casper
Hottest city: Casper
Average 90+ degree days per year: 31
Average temperature: 70.5°
Average humidity: 62% (AM), 66% (PM)
Hottest month: July (average temperature: 88.1°)