Most expensive flights in America
Most expensive flights in America
While everybody has their own financial priorities, a 2017 survey from LearnVest Money Habits and Confessions revealed that 32% of Americans are thinking about financing vacations while only 7% are putting retirement savings at the forefront. The typical U.S. family does not only financially prioritize vacations from a mental standpoint: they put it into practice as well, with people setting aside on average about a tenth of their income for getaways. While fancy destinations can inspire travelers to dip into their wallet to fund cozy lodging, delicious cuisine and luxurious souvenirs, half the battle is just getting there.
The average American family spends approximately 44% of its total vacation budget on getting to and from their getaway spot, a staggering figure especially when one considers that this accounts not only for flyers, but also for those commuting by cheaper means such as bus, car or train. For families who reach their destination by air, the average trip will set them back about $3,304. One can only wonder how much the most affluent Americans spend on sky travel.
Using data from the U.S. Department of Transportation, Stacker listed the 50 most expensive flight routes in America. The data is taken from a set containing the top 1,000 flight routes in the continental United States, and instead of accounting for specific airports, the routes simply list the arrival and departure metropolitan areas.
Read on to see if flights to or from your city are among the nation's most expensive.
ALSO: Click here to see the cheapest flights in America.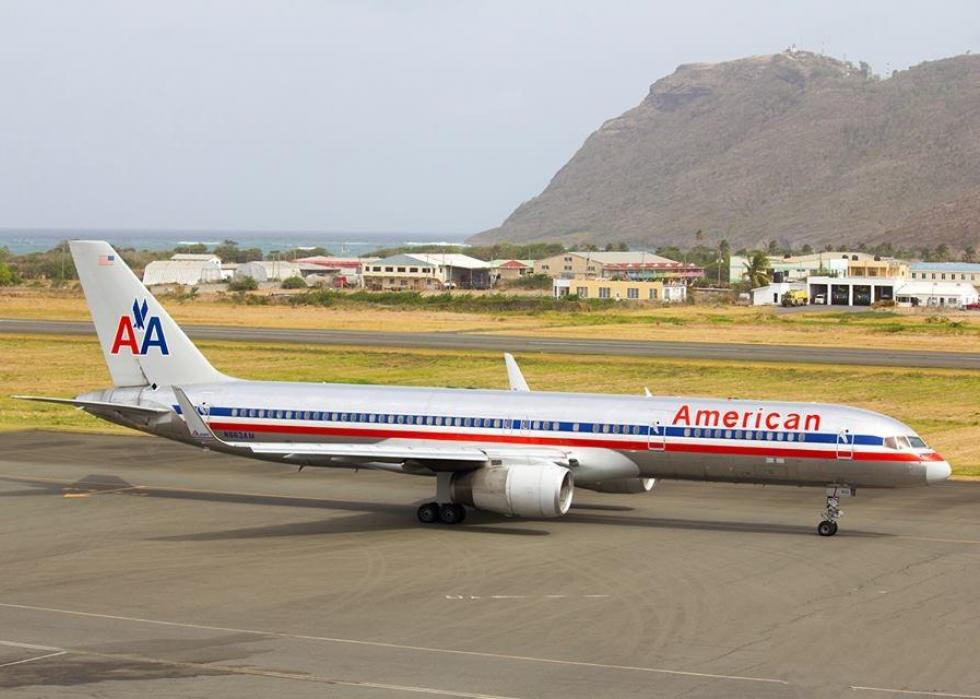 1 / 50
Zidane hadeed // Wikicommons
#50. Memphis, TN to San Francisco, CA
Average carrier fare for one-way flight: $338.53
Airline: American Airlines (AA)
Nonstop distance between cities: 1,807 miles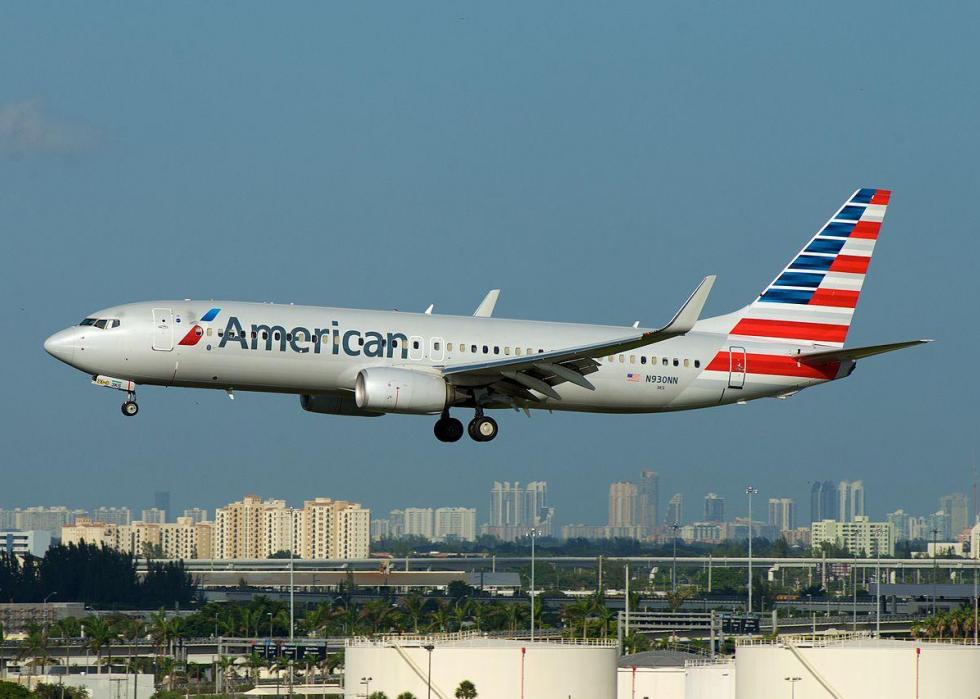 2 / 50
#49. Charleston, SC to Los Angeles, CA
Average carrier fare for one-way flight: $339.13
Airline: American Airlines (AA)
Nonstop distance between cities: 2,206 miles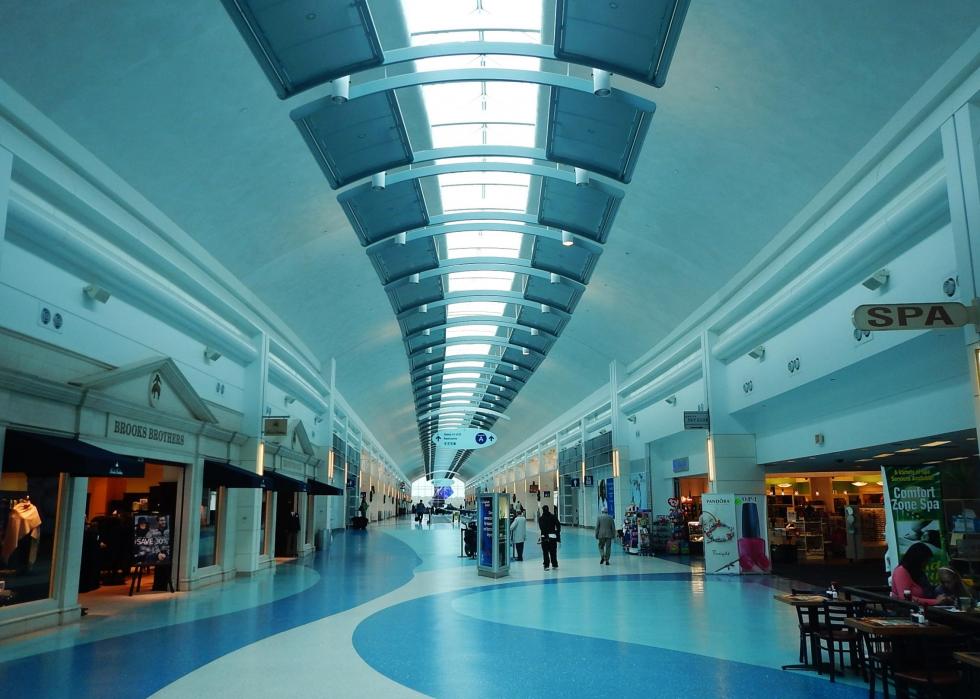 3 / 50
Jacksonville International Airport (JAX)—qwesy qwesy // Wikicommons
#48. Jacksonville, FL to Las Vegas, NV
Average carrier fare for one-way flight: $340.19
Airline: Delta (DL)
Nonstop distance between cities: 1,965 miles
4 / 50
Minneapolis International Airport (MSP)—Ron Reiring // Flickr
#47. Minneapolis/St. Paul, MN to Philadelphia, PA
Average carrier fare for one-way flight: $340.37
Airline: Delta (DL)
Nonstop distance between cities: 980 miles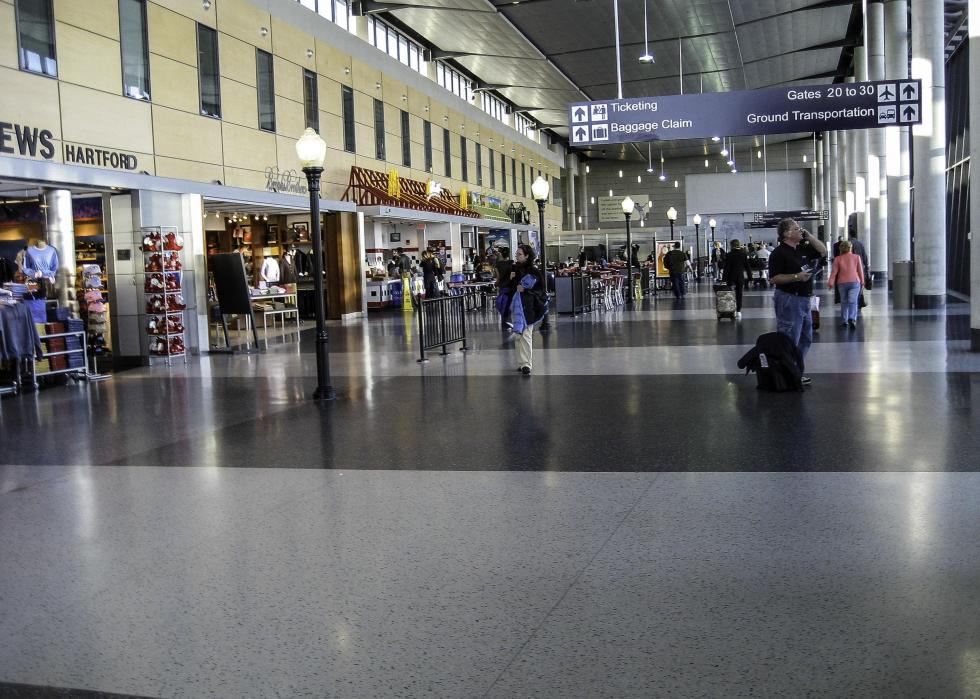 5 / 50
Bradley International Airport in Hartford, Connecticut—GoodFreePhotos
#46. Hartford, CT to Minneapolis/St. Paul, MN
Average carrier fare for one-way flight: $340.60
Airline: Delta (DL)
Nonstop distance between cities: 1,050 miles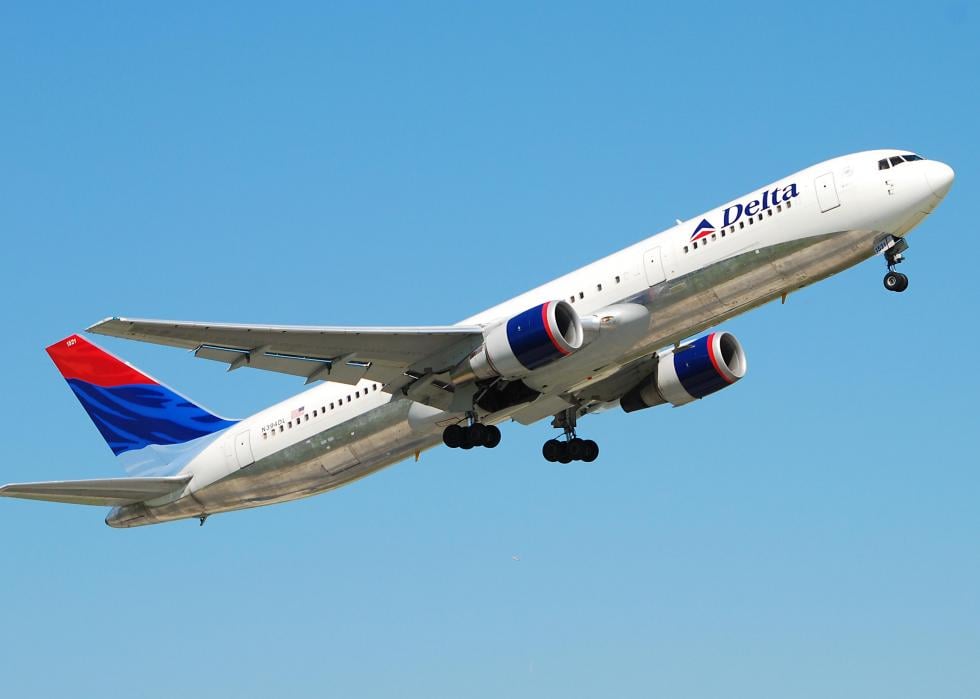 6 / 50
Andre Dimofte // Wikicommons
#45. Detroit, MI to San Diego, CA
Average carrier fare for one-way flight: $341.67
Airline: Delta (DL)
Nonstop distance between cities: 1,956 miles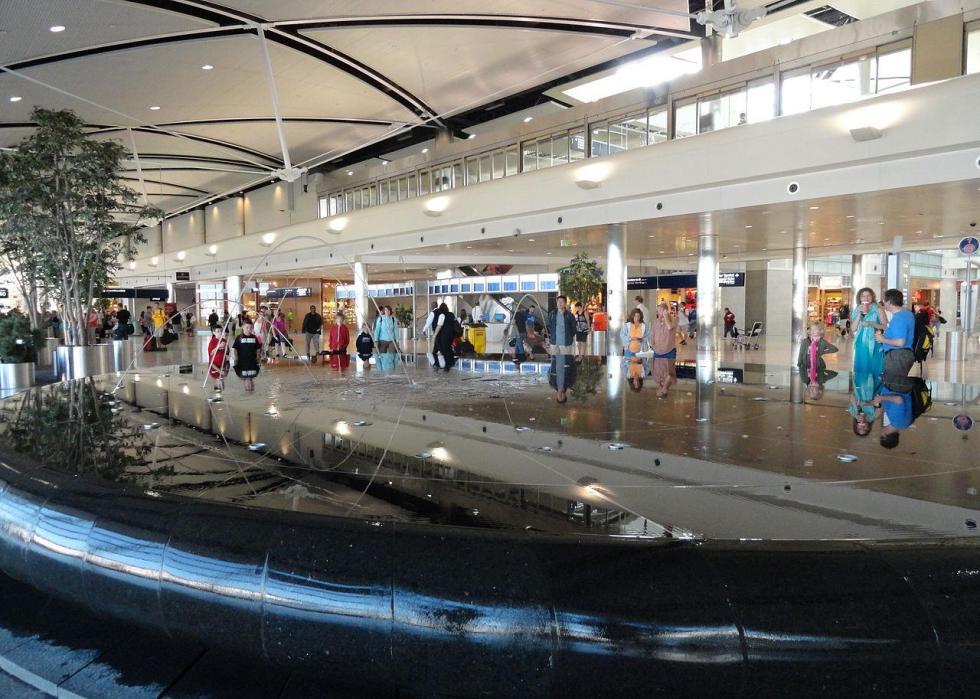 7 / 50
Detroit Metropolitan Wayne County Airport—Ktr101 // Wikicommons
#44. Detroit, MI to Salt Lake City, UT
Average carrier fare for one-way flight: $342.55
Airline: Delta (DL)
Nonstop distance between cities: 1,481 miles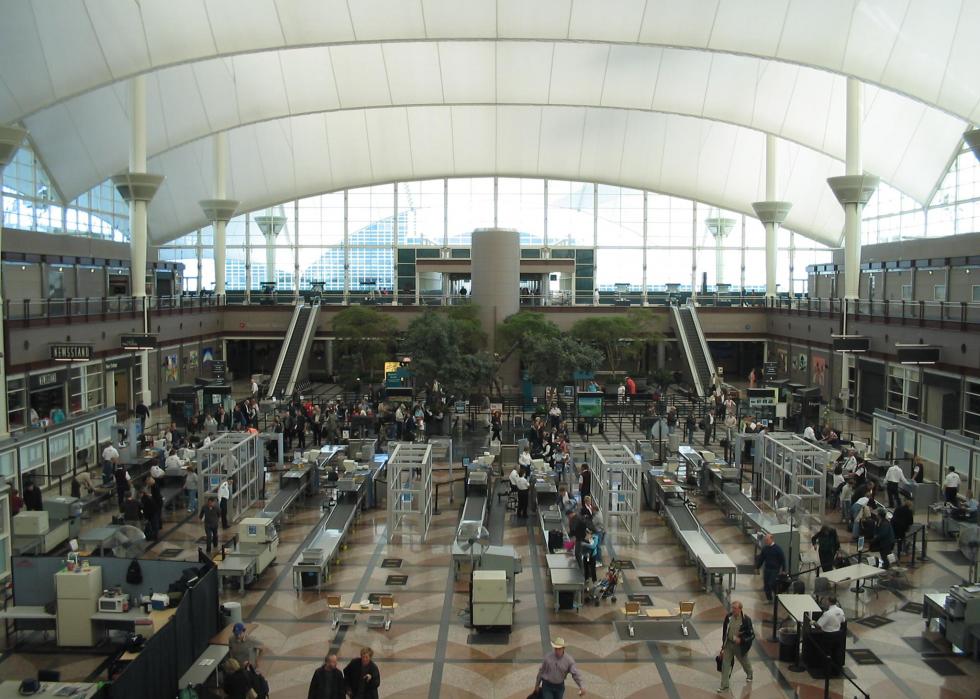 8 / 50
Denver International Airport—Dbenbenn // Wikicommons
#43. Denver, CO to Madison, WI
Average carrier fare for one-way flight: $344.64
Airline: United (UA)
Nonstop distance between cities: 826 miles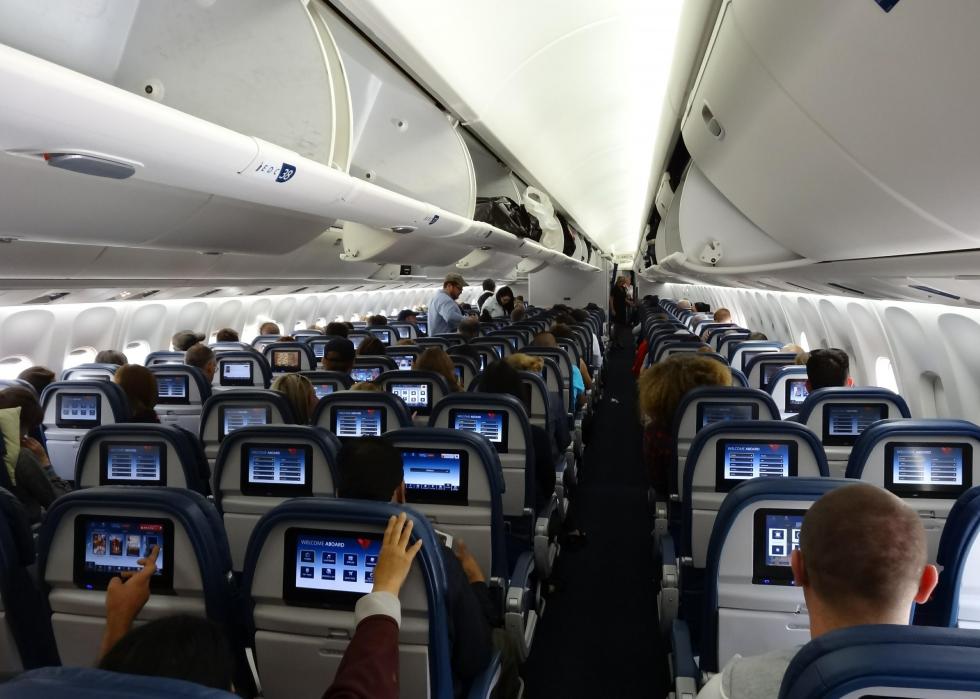 9 / 50
Eric Salard // Wikicommons
#42. Detroit, MI to Greenville/Spartanburg, SC
Average carrier fare for one-way flight: $344.83
Airline: Delta (DL)
Nonstop distance between cities: 508 miles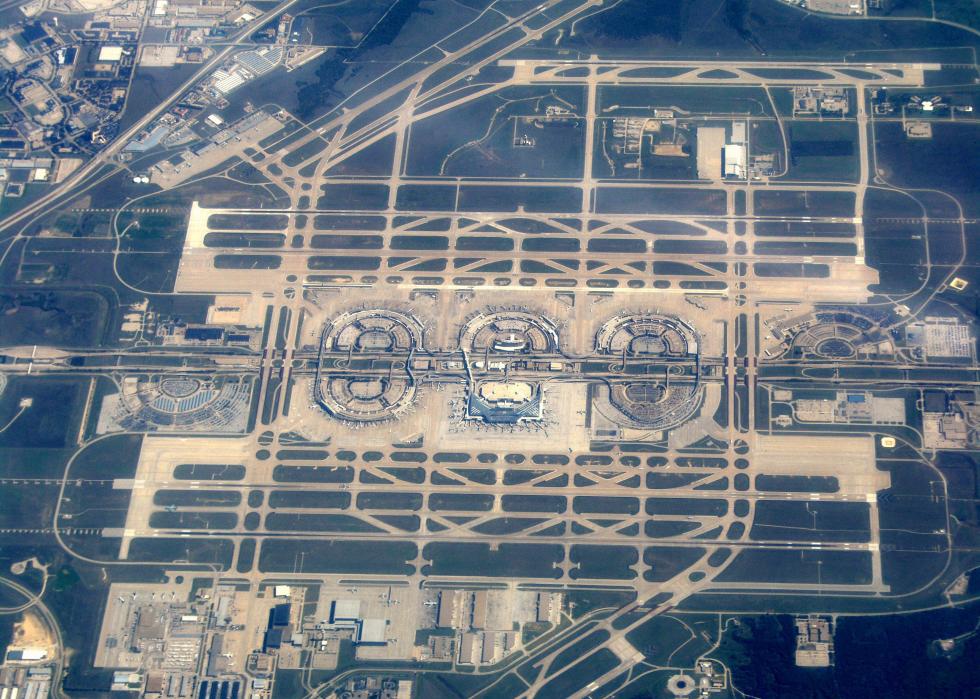 10 / 50
Todd MacDonald // Wikicommons
#41. Dallas/Fort Worth, TX to Hartford, CT
Average carrier fare for one-way flight: $345.49
Airline: American Airlines (AA)
Nonstop distance between cities: 1,471 miles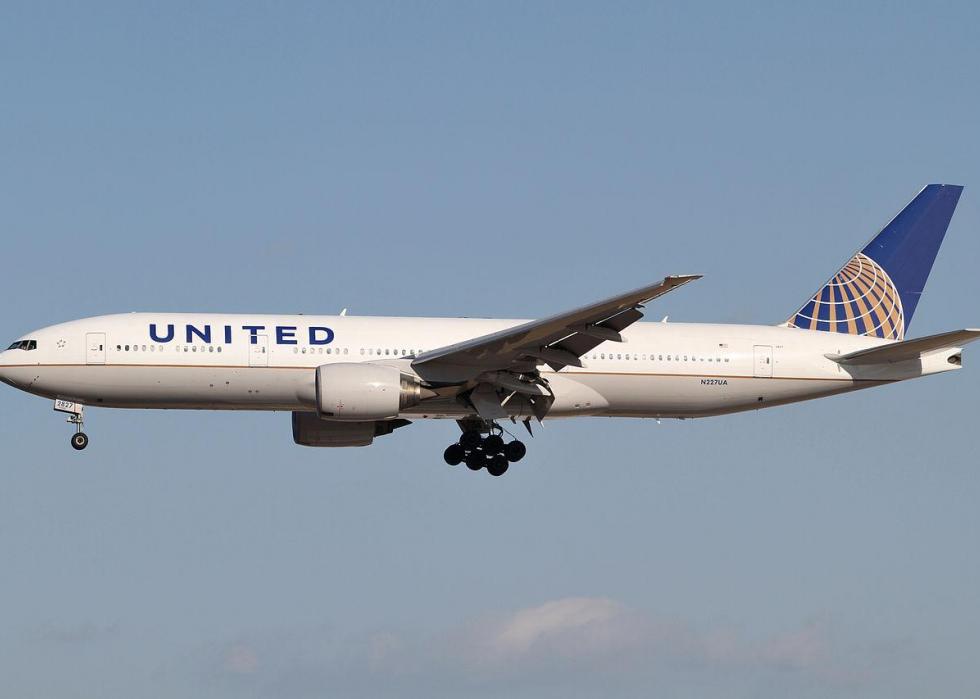 11 / 50
Kentaro lemoto // Wikicommons
#40. Hartford, CT to San Francisco, CA
Average carrier fare for one-way flight: $345.56
Airline: United (UA)
Nonstop distance between cities: 2,625 miles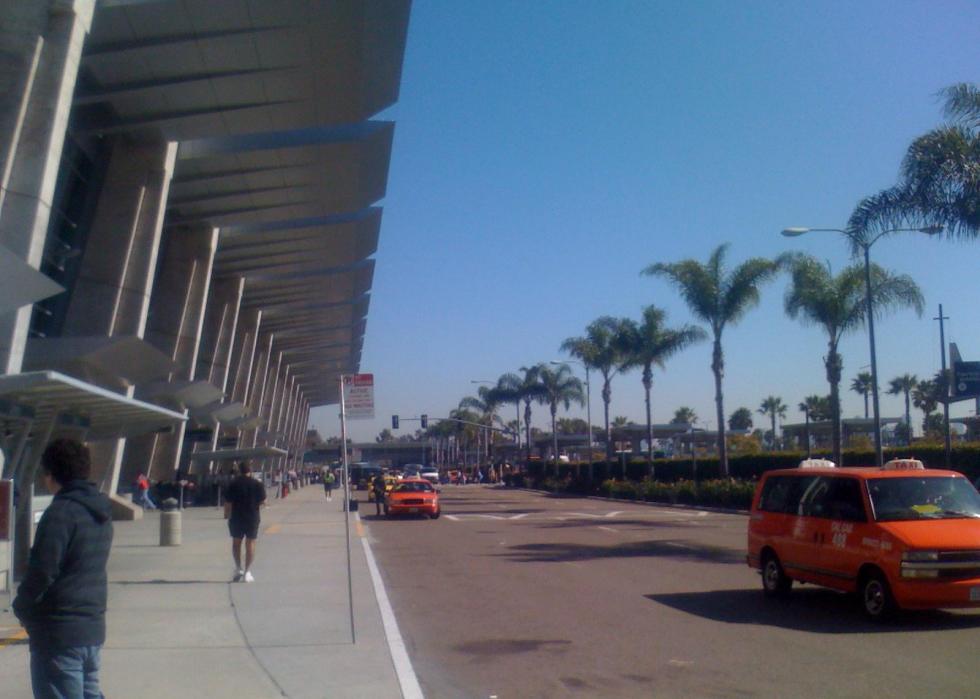 12 / 50
San Diego International Airport—Public Domain
#39. Charlotte, NC to San Diego, CA
Average carrier fare for one-way flight: $345.75
Airline: American Airlines (AA)
Nonstop distance between cities: 2,077 miles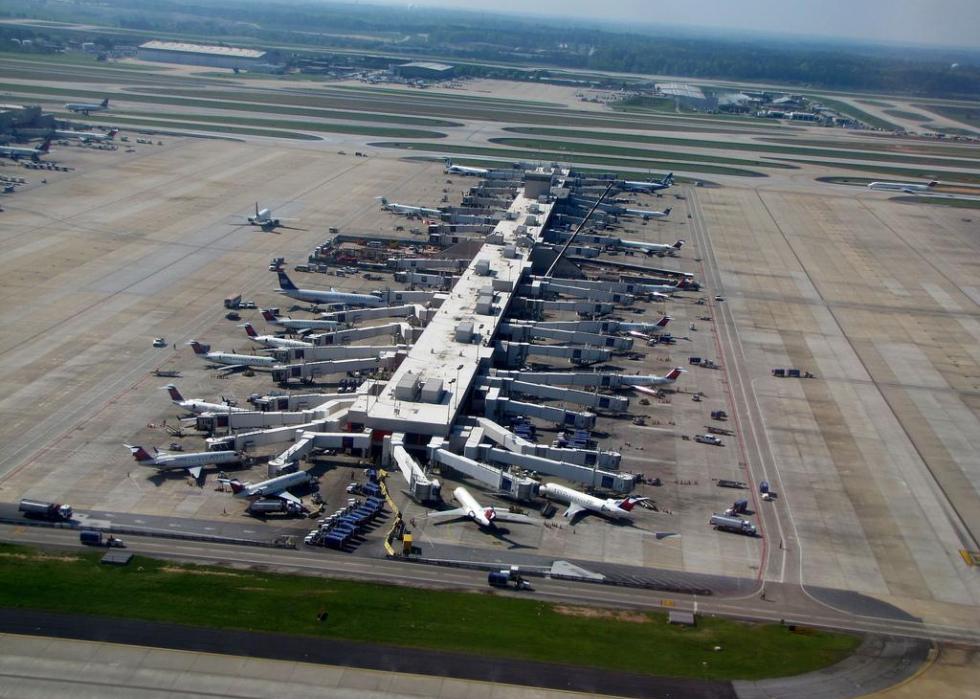 13 / 50
Hartsfield-Jackson Atlanta International Airport—redlegsfan21 // Flickr
#38. Atlanta, GA to Sacramento, CA
Average carrier fare for one-way flight: $347.49
Airline: Delta (DL)
Nonstop distance between cities: 2,092 miles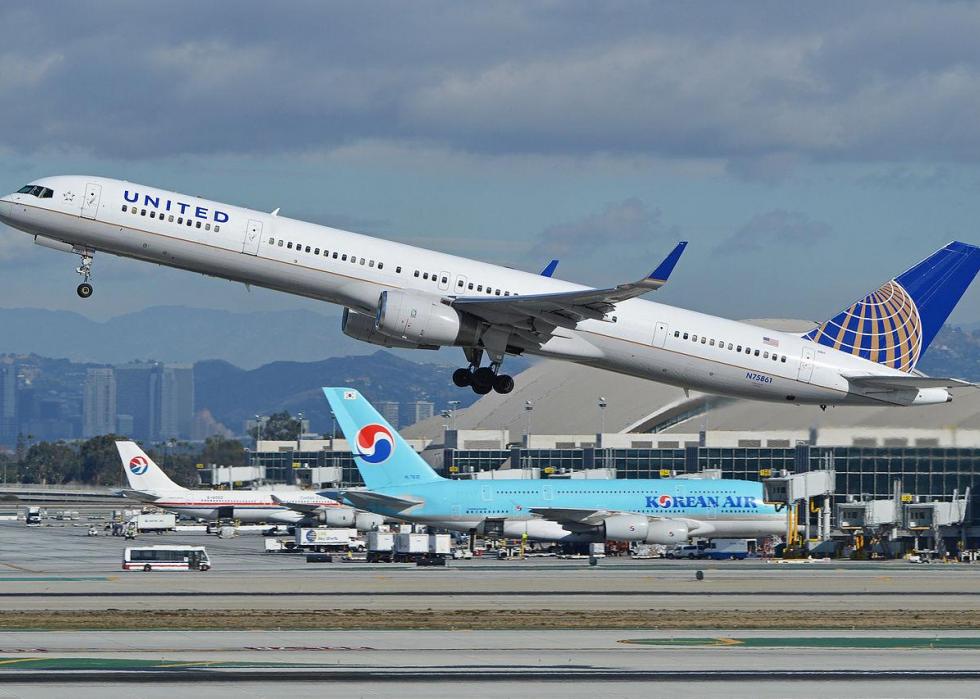 14 / 50
Alan Wilson // Wikicommons
#37. Los Angeles, CA to Washington, DC
Average carrier fare for one-way flight: $347.56
Airline: United (UA)
Nonstop distance between cities: 2,329 miles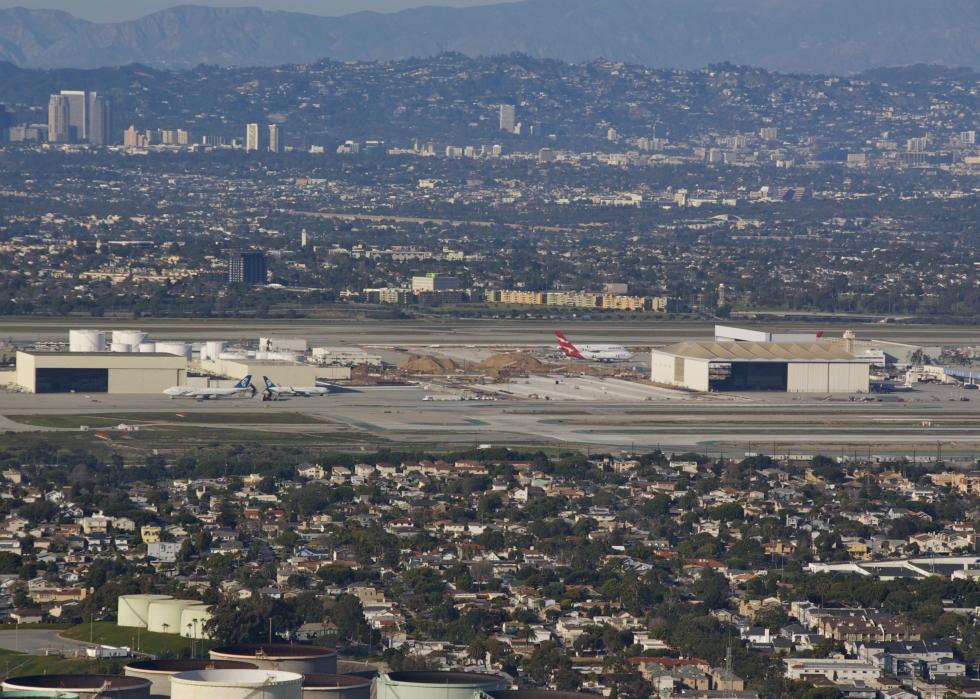 15 / 50
Los Angeles Airport (LAX)—Dave Proffer // Wikicommons
#36. Atlanta, GA to Los Angeles, CA
Average carrier fare for one-way flight: $348.06
Airline: Delta (DL)
Nonstop distance between cities: 1,947 miles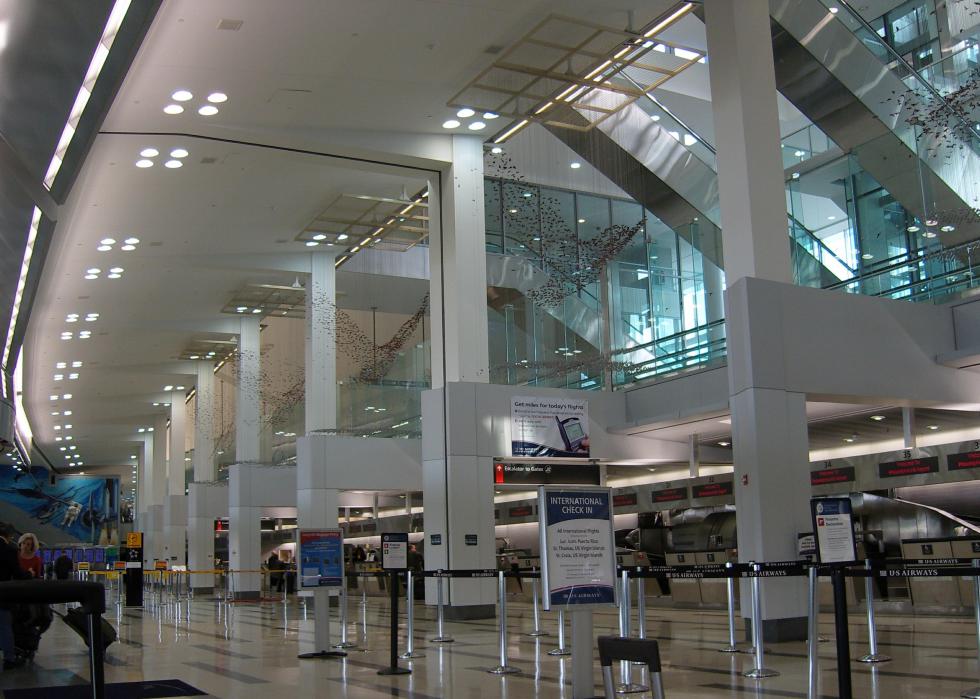 16 / 50
PHL Airport, Philadelphia—Eric Salard // Wikicommons
#35. Philadelphia, PA to San Diego, CA
Average carrier fare for one-way flight: $349.36
Airline: American Airlines (AA)
Nonstop distance between cities: 2,370 miles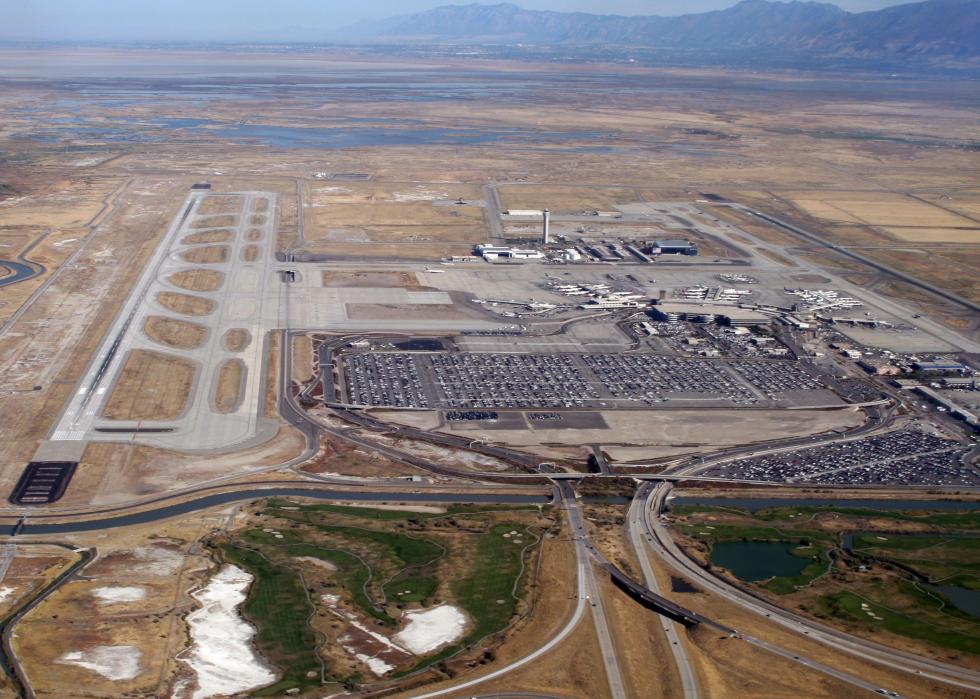 17 / 50
SLC Airport, Utah—Doc Searls // Wikicommons
#34. Salt Lake City, UT to Washington, DC
Average carrier fare for one-way flight: $352.91
Airline: Delta (DL)
Nonstop distance between cities: 1,865 miles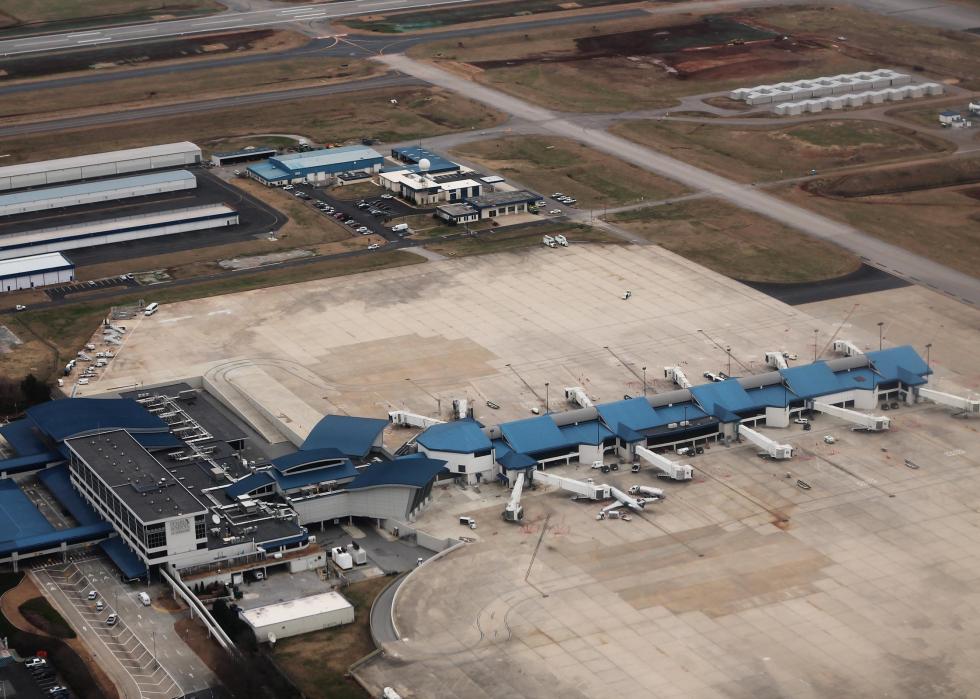 18 / 50
Huntsville International Airport—formulanone // Wikicommons
#33. Huntsville, AL to Washington, DC
Average carrier fare for one-way flight: $353.22
Airline: American Airlines (AA)
Nonstop distance between cities: 641 miles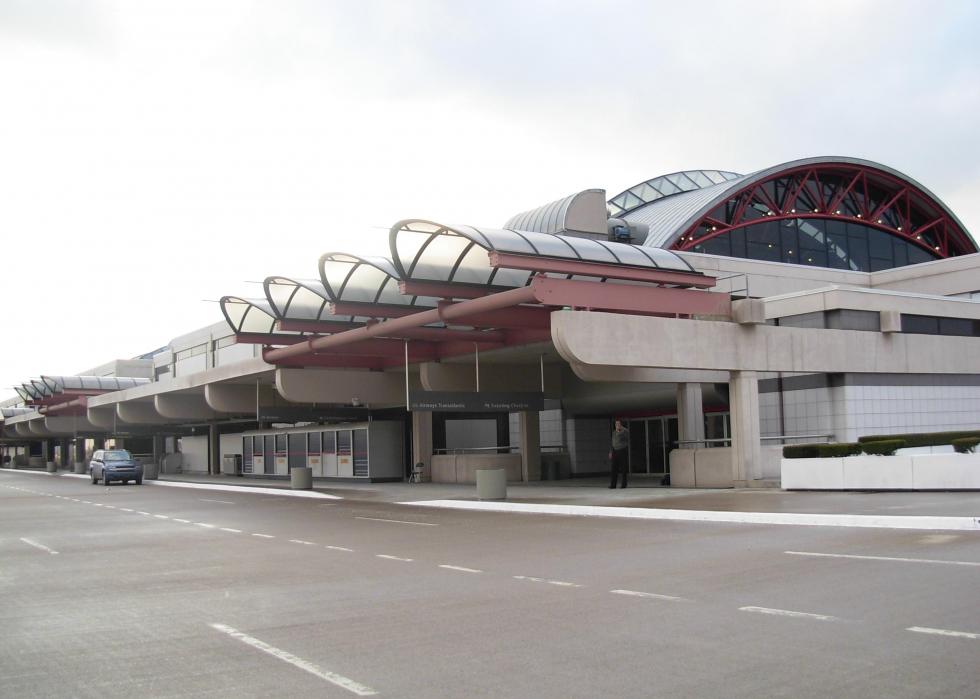 19 / 50
Pittsburgh International Airport—Piotrus // Wikicommons
#32. Pittsburgh, PA to San Francisco, CA
Average carrier fare for one-way flight: $354.81
Airline: United (UA)
Nonstop distance between cities: 2,254 miles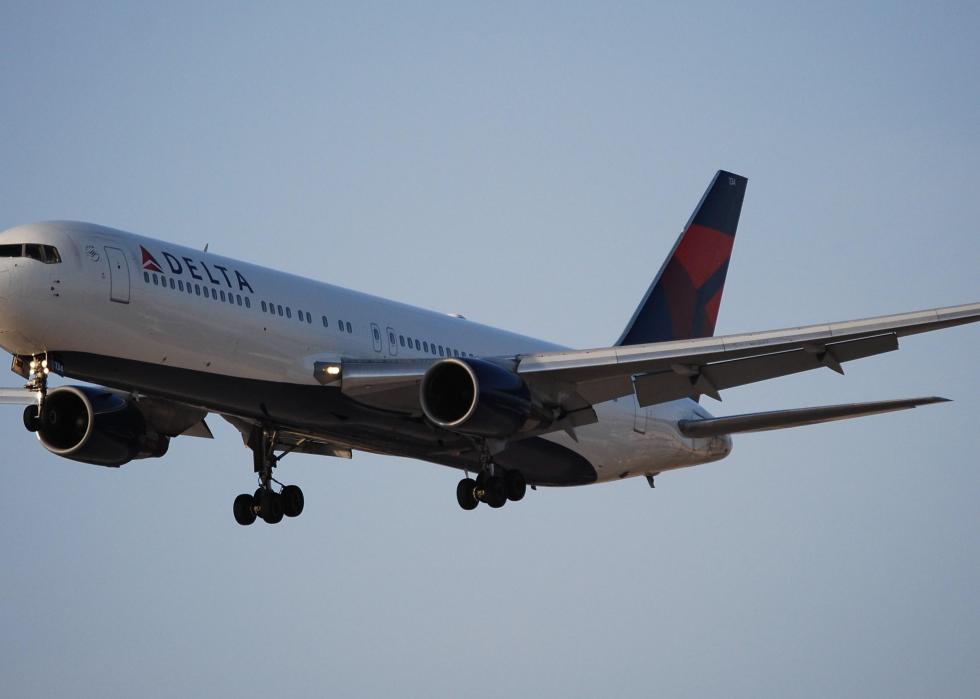 20 / 50
Eddie Maloney // Wikicommons
#31. Norfolk, VA to San Diego, CA
Average carrier fare for one-way flight: $356.06
Airline: Delta (DL)
Nonstop distance between cities: 2,330 miles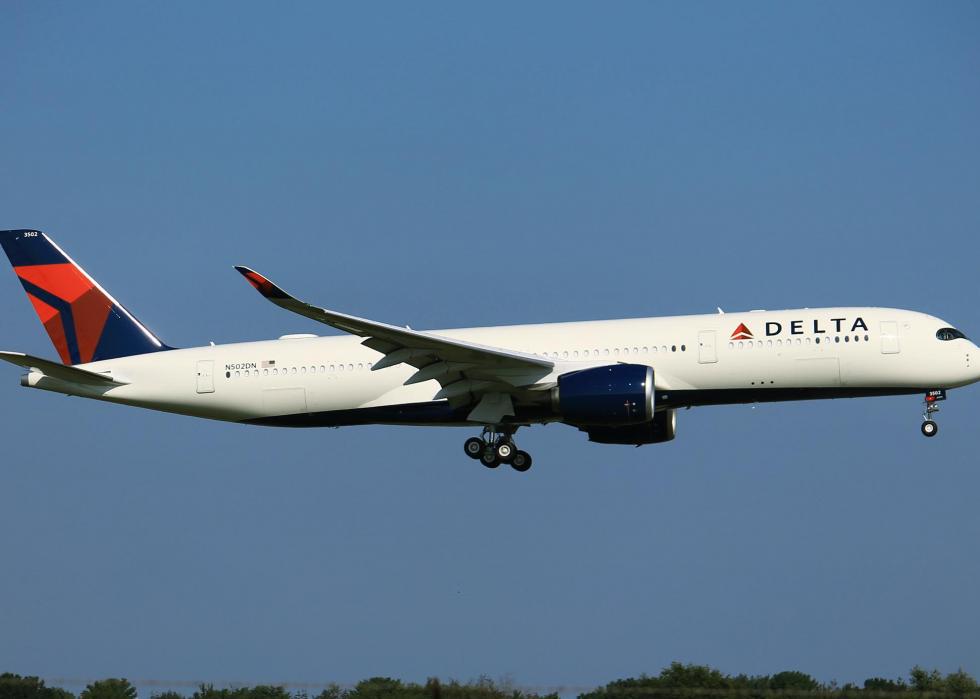 21 / 50
formulaone // Wikicommons
#30. Atlanta, GA to Portland, OR
Average carrier fare for one-way flight: $356.13
Airline: Delta (DL)
Nonstop distance between cities: 2,172 miles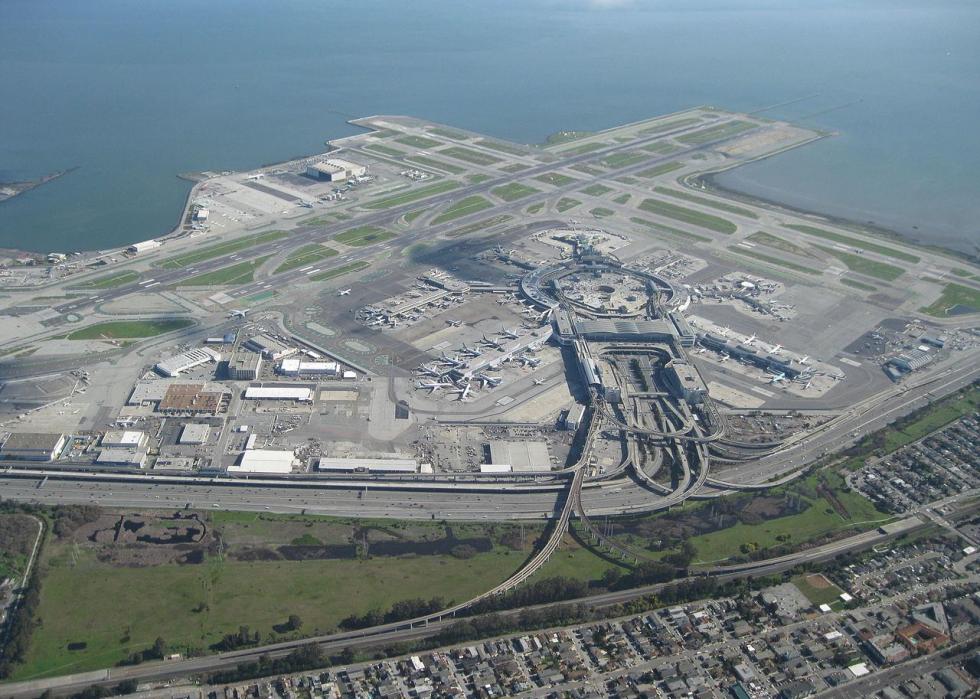 22 / 50
San Francisco International Airport—Calbookaddict // Wikicommons
#29. Jacksonville, FL to San Francisco, CA
Average carrier fare for one-way flight: $356.74
Airline: Delta (DL)
Nonstop distance between cities: 2,366 miles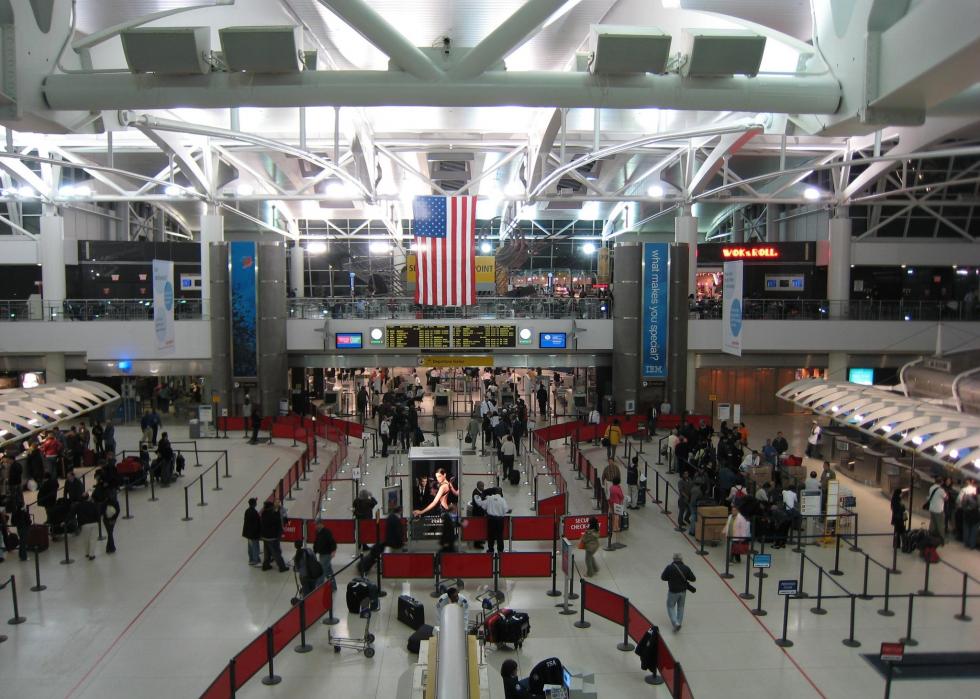 23 / 50
JFK Airport, New York—Doug Letterman // Wikicommons
#28. New York City, NY to Salt Lake City, UT
Average carrier fare for one-way flight: $357.13
Airline: Delta (DL)
Nonstop distance between cities: 2,022 miles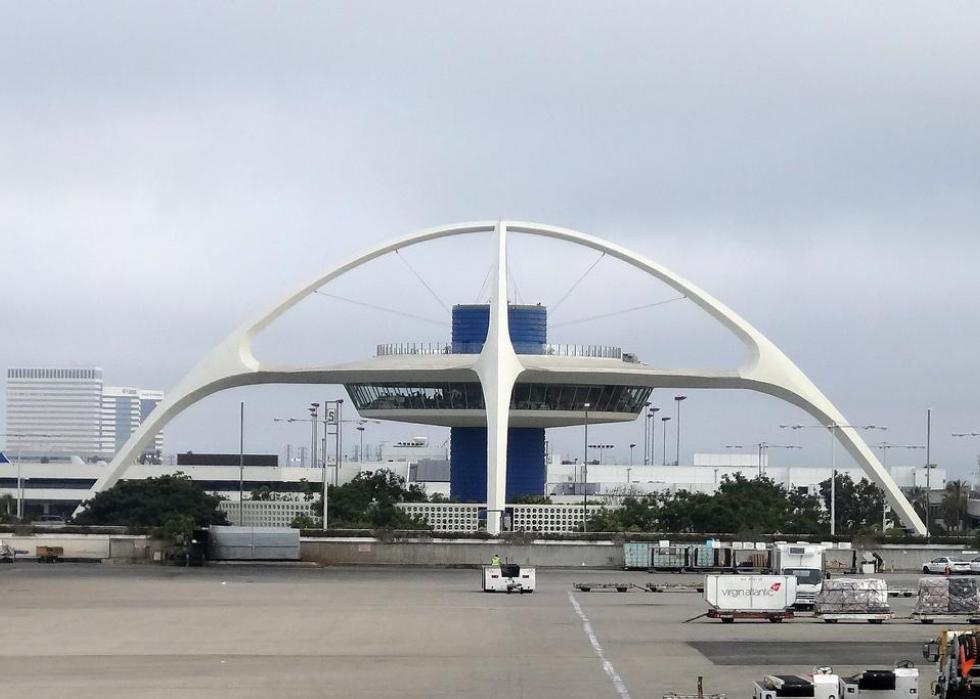 24 / 50
LAX Airport, Los Angeles—Eric Salard // Flickr
#27. Jacksonville, FL to Los Angeles, CA
Average carrier fare for one-way flight: $357.38
Airline: American Airlines (AA)
Nonstop distance between cities: 2,153 miles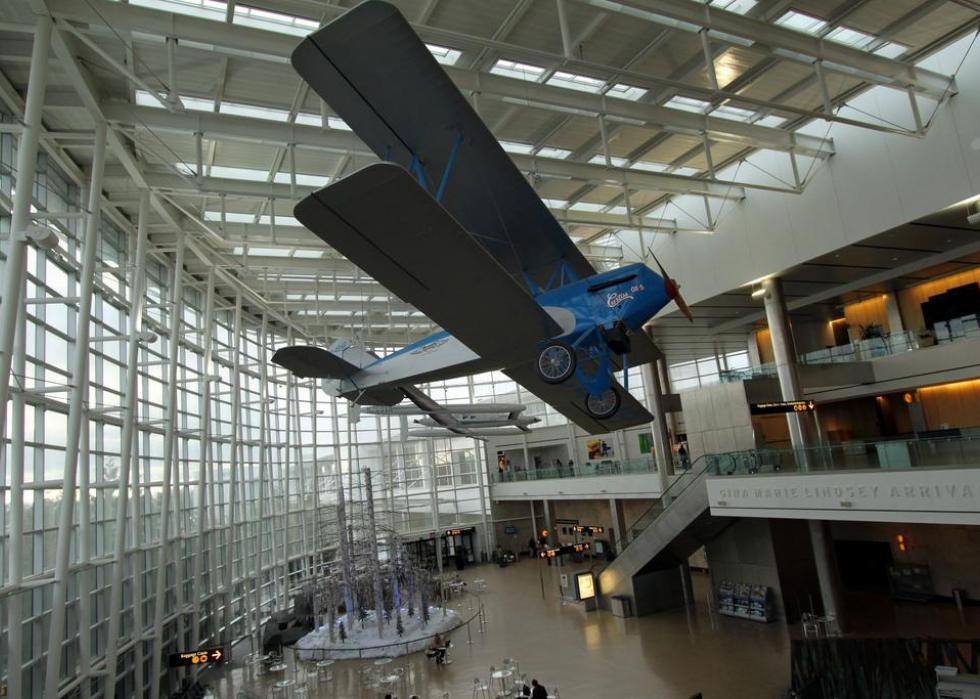 25 / 50
Seattle Airport—Prayitnophotography // Flickr
#26. Charlotte, NC to Seattle, WA
Average carrier fare for one-way flight: $361.62
Airline: American Airlines (AA)
Nonstop distance between cities: 2,279 miles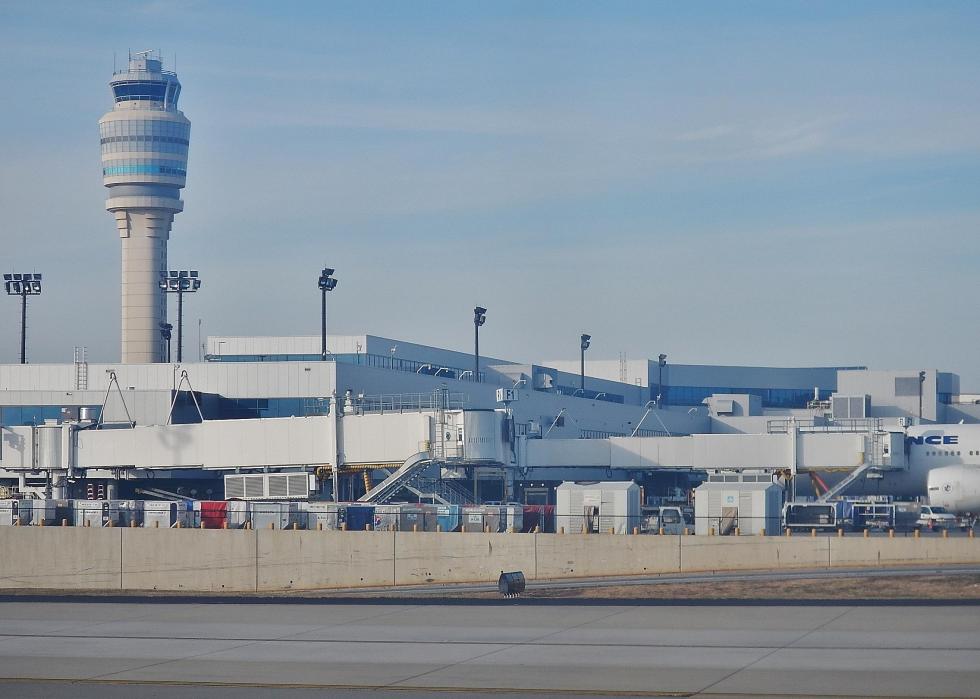 26 / 50
Hartsfield-Jackson Atlanta International Airport—qwesy qwesy // Wikicommons
#25. Atlanta, GA to San Diego, CA
Average carrier fare for one-way flight: $362.05
Airline: Delta (DL)
Nonstop distance between cities: 1,892 miles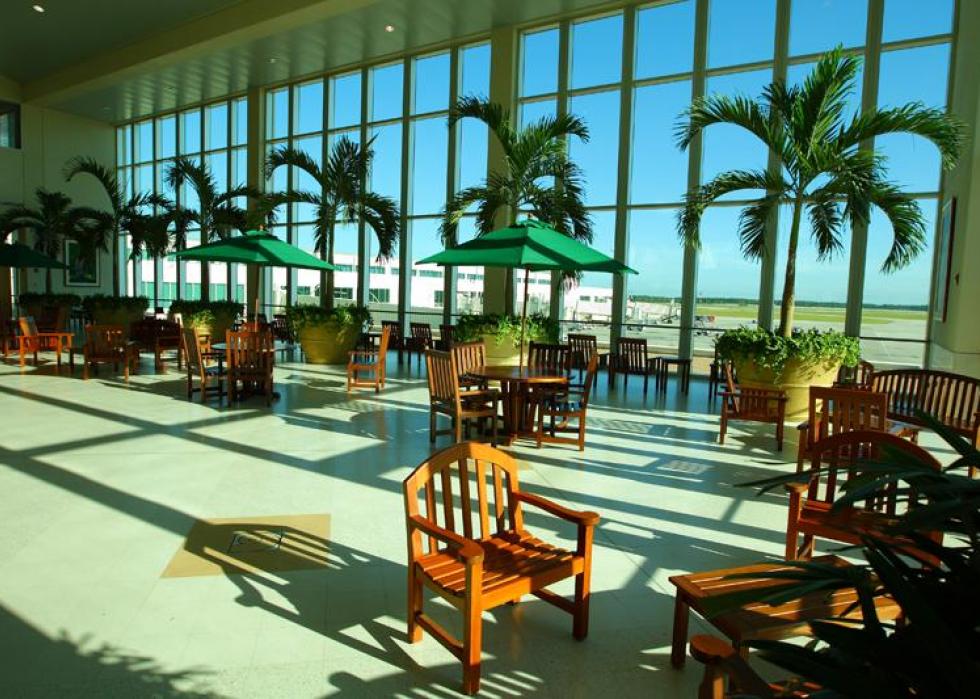 27 / 50
Southwest Florida International Airport, Fort Myers—Lee County Port Authority // Wikicommons
#24. Fort Myers, FL to Los Angeles, CA
Average carrier fare for one-way flight: $365.05
Airline: American Airlines (AA)
Nonstop distance between cities: 2,238 miles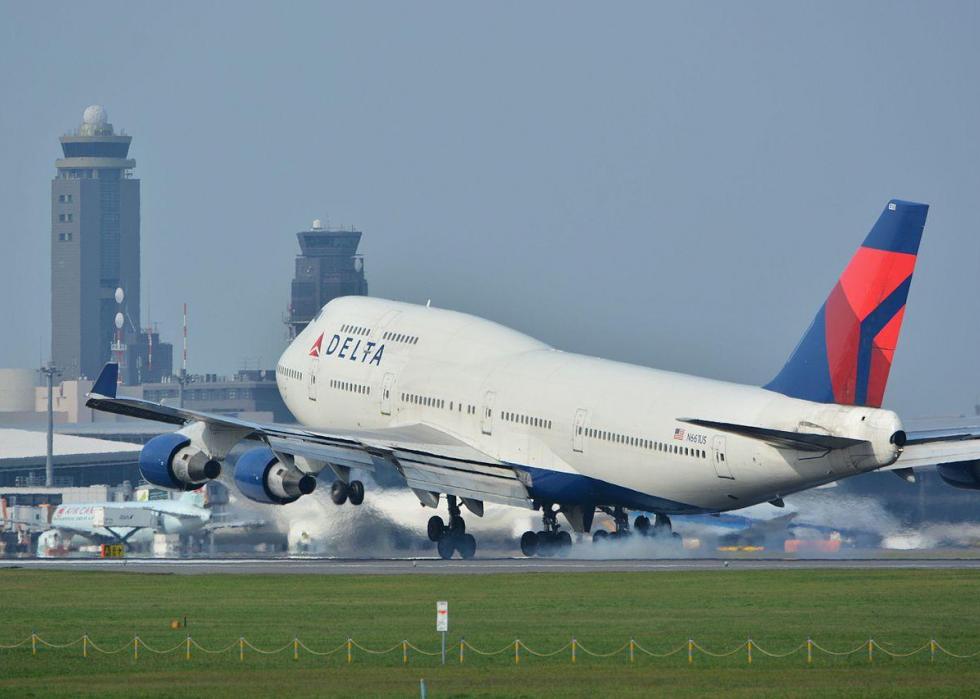 28 / 50
Masakatsu Ukon // Wikicommons
#23. Atlanta, GA to San Francisco, CA
Average carrier fare for one-way flight: $367.81
Airline: Delta (DL)
Nonstop distance between cities: 2,139 miles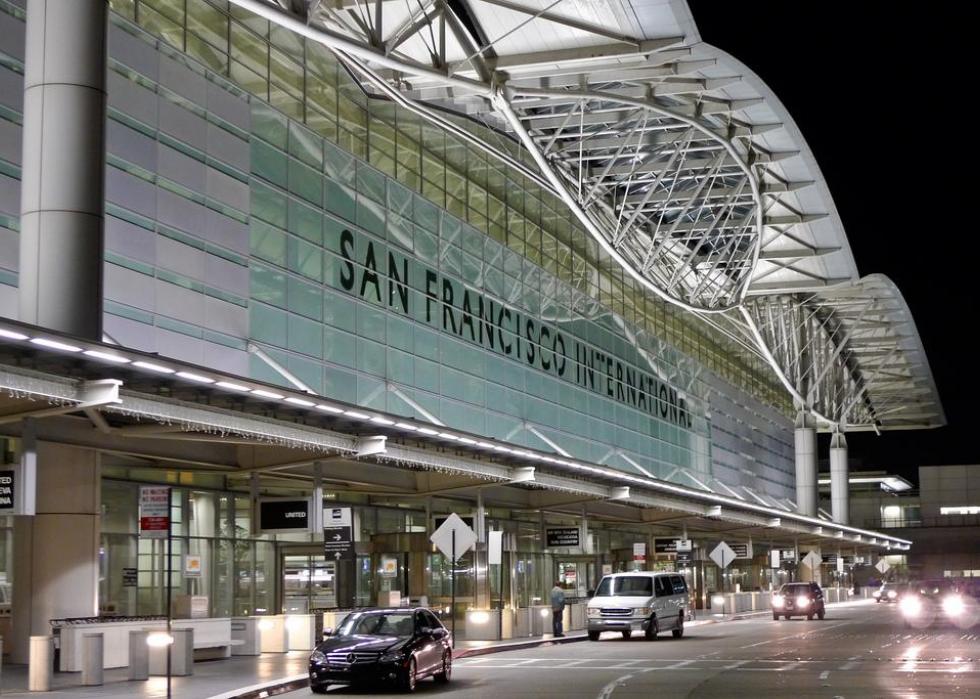 29 / 50
San Francisco International Airport—Håkan Dahlström // Flickr
#22. Fort Myers, FL to San Francisco, CA
Average carrier fare for one-way flight: $369.88
Airline: American Airlines (AA)
Nonstop distance between cities: 2,481 miles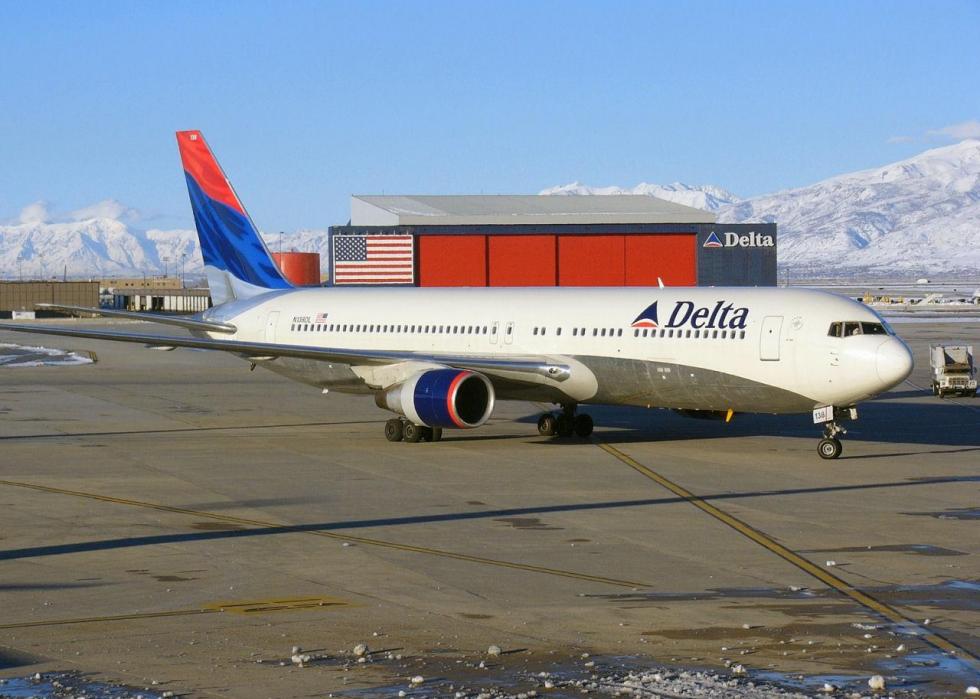 30 / 50
#21. Atlanta, GA to Seattle, WA
Average carrier fare for one-way flight: $369.95
Airline: Delta (DL)
Nonstop distance between cities: 2,182 miles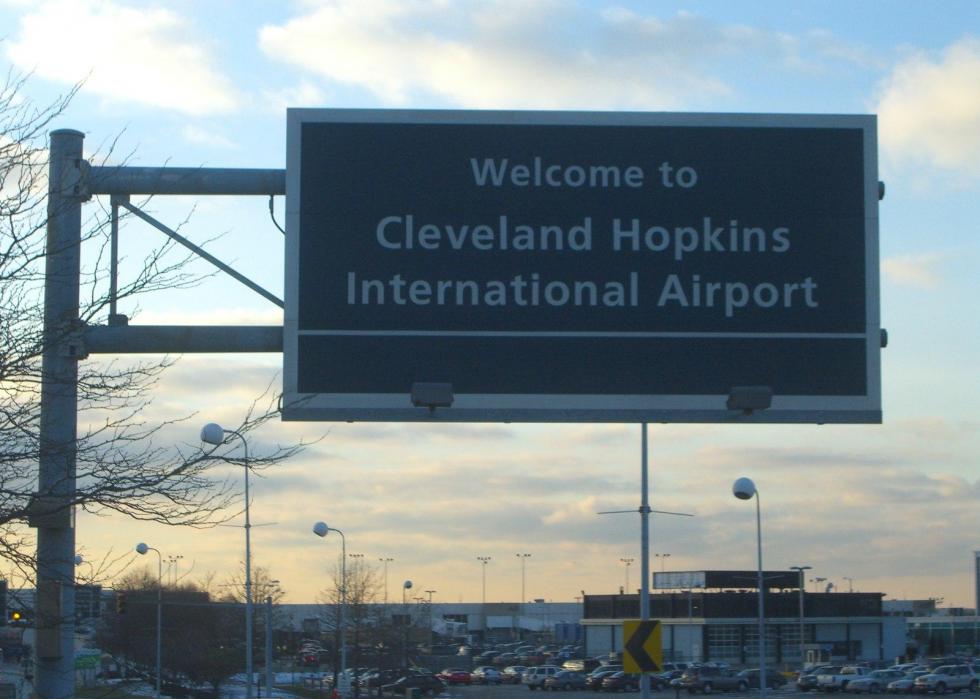 31 / 50
Cleveland Hopkins International Airport, Ohio—Public Domain
#20. Cleveland, OH to San Francisco, CA
Average carrier fare for one-way flight: $370.58
Airline: United (UA)
Nonstop distance between cities: 2,187 miles
32 / 50
Detroit Metropolitan Wayne County Airport—Famartin // Wikicommons
#19. Detroit, MI to Los Angeles, CA
Average carrier fare for one-way flight: $372.57
Airline: Delta (DL)
Nonstop distance between cities: 1,979 miles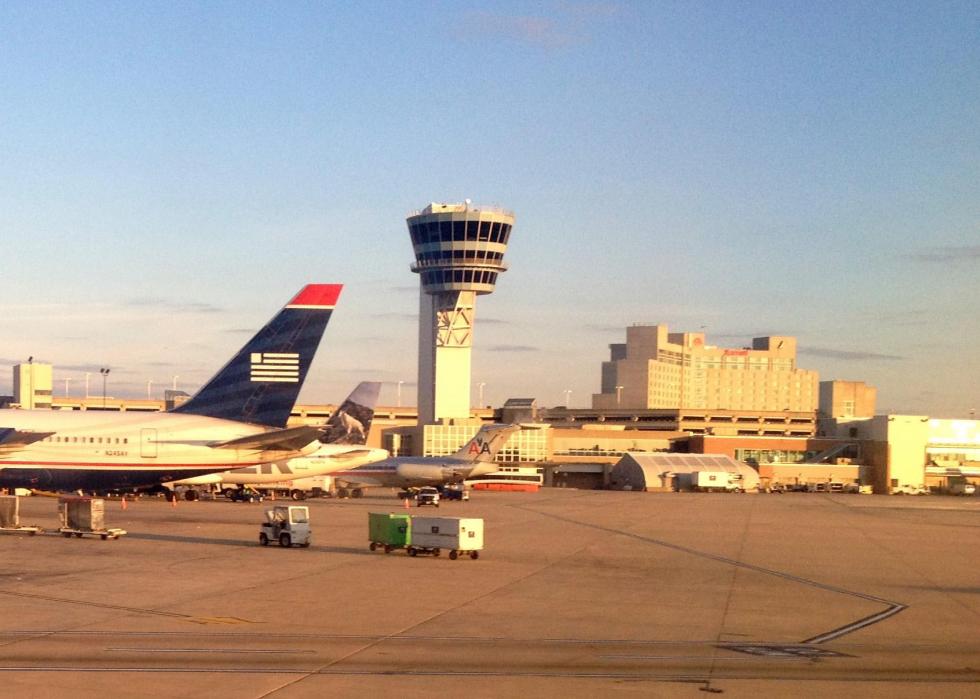 33 / 50
Philadelphia International Airport (PHL)—David Broad // Wikicommons
#18. Philadelphia, PA to San Francisco, CA
Average carrier fare for one-way flight: $372.70
Airline: American Airlines (AA)
Nonstop distance between cities: 2,521 miles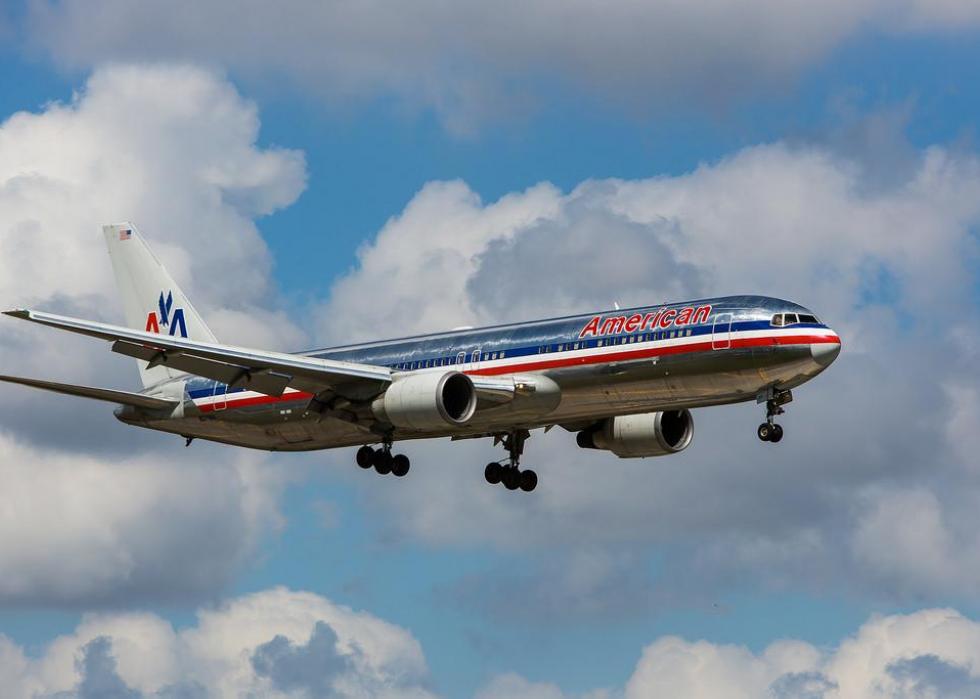 34 / 50
Joao Carlos Medau // Flickr
#17. Charlotte, NC to San Francisco, CA
Average carrier fare for one-way flight: $375.25
Airline: American Airlines (AA)
Nonstop distance between cities: 2,296 miles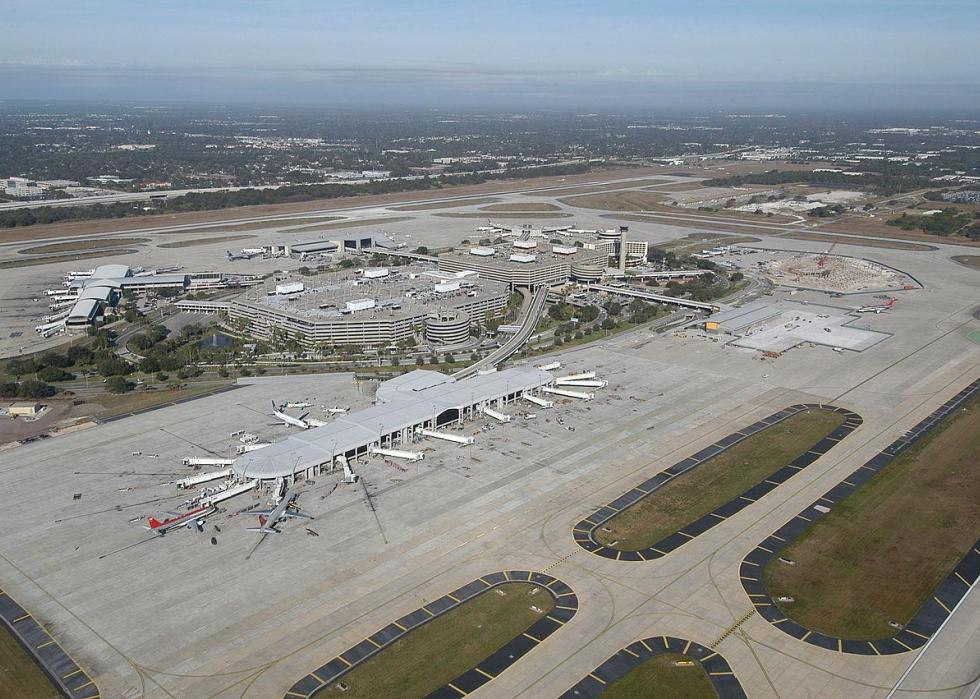 35 / 50
Tampa International Airport—Public Domain
#16. Los Angeles, CA to Tampa, FL
Average carrier fare for one-way flight: $381.18
Airline: Delta (DL)
Nonstop distance between cities: 2,158 miles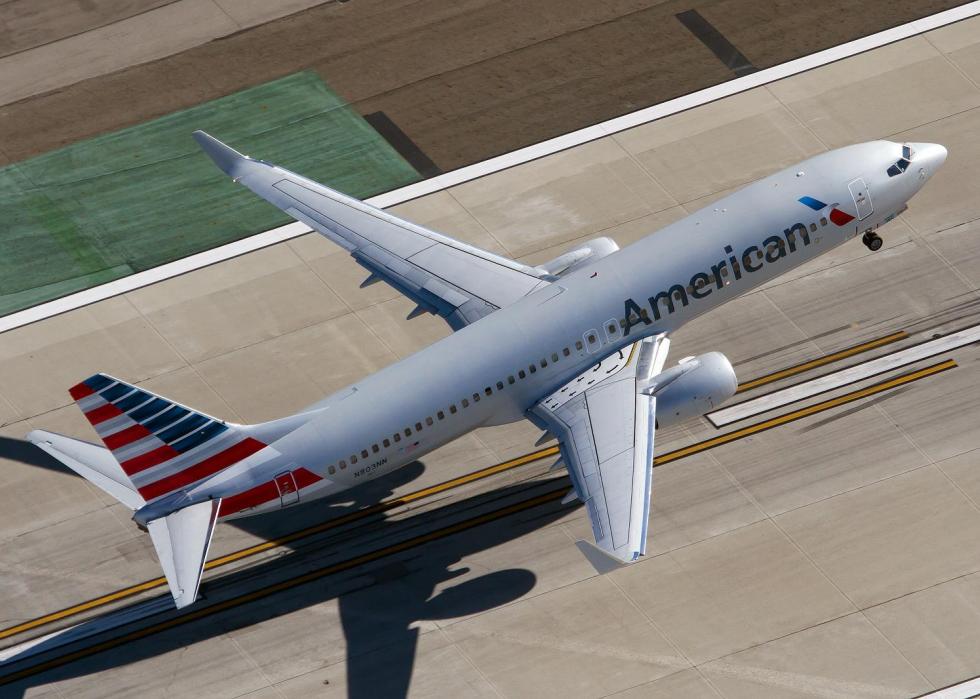 36 / 50
American Airlines Boeing 737-800 takes off at LAX—Fabrizio Gandolfo // Wikicommons
#15. Charlotte, NC to Los Angeles, CA
Average carrier fare for one-way flight: $381.54
Airline: American Airlines (AA)
Nonstop distance between cities: 2,125 miles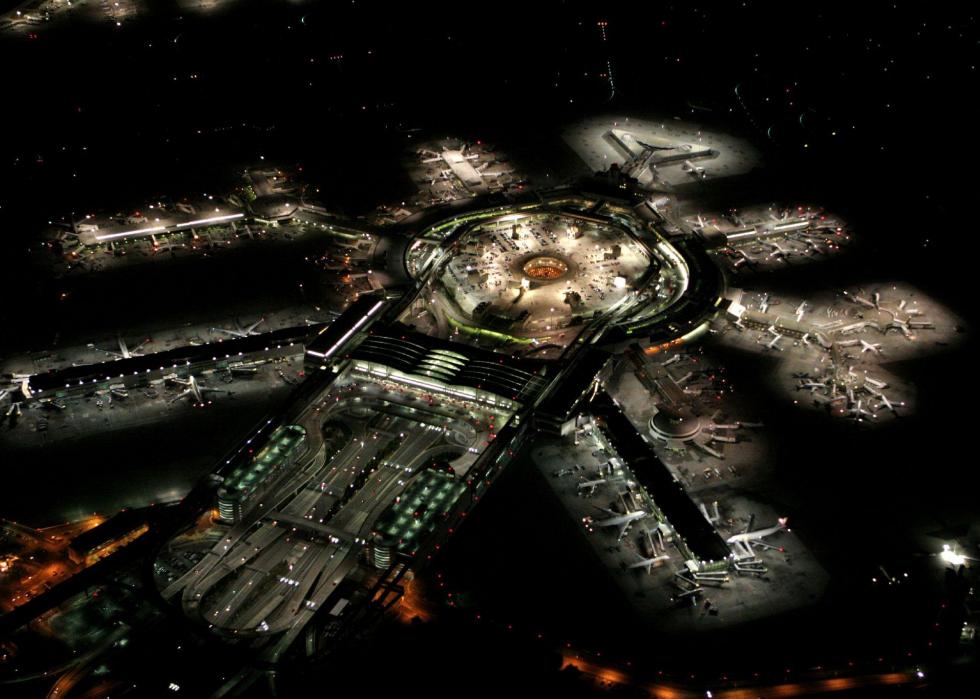 37 / 50
San Francisco International Airport—Andrew Choy // Flickr
#14. San Francisco, CA to Tampa, FL
Average carrier fare for one-way flight: $381.85
Airline: United (UA)
Nonstop distance between cities: 2,393 miles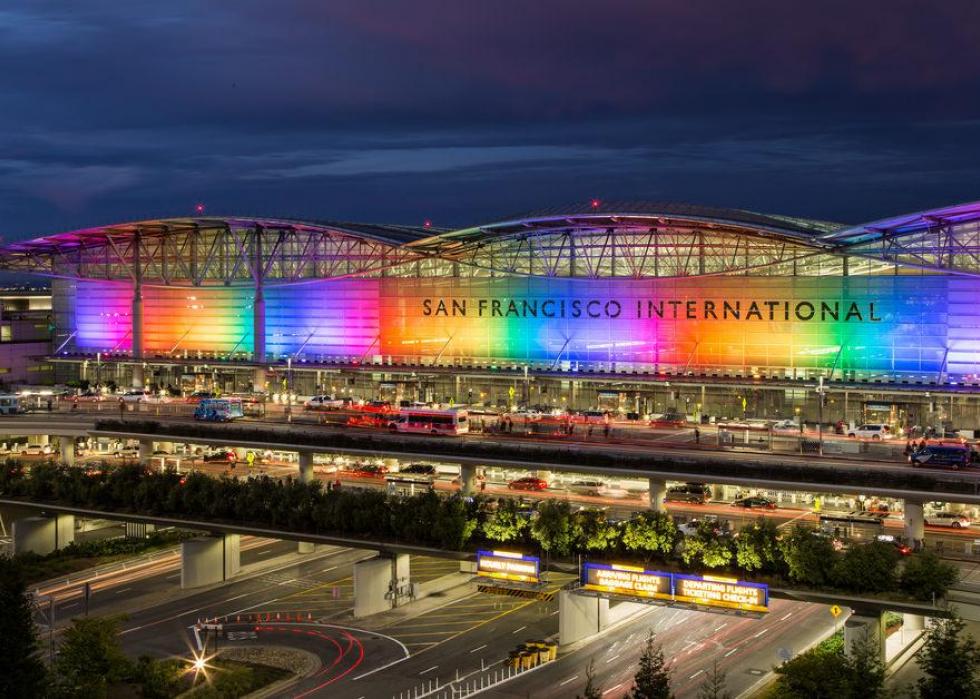 38 / 50
#13. Detroit, MI to San Francisco, CA
Average carrier fare for one-way flight: $394.38
Airline: Delta (DL)
Nonstop distance between cities: 2,079 miles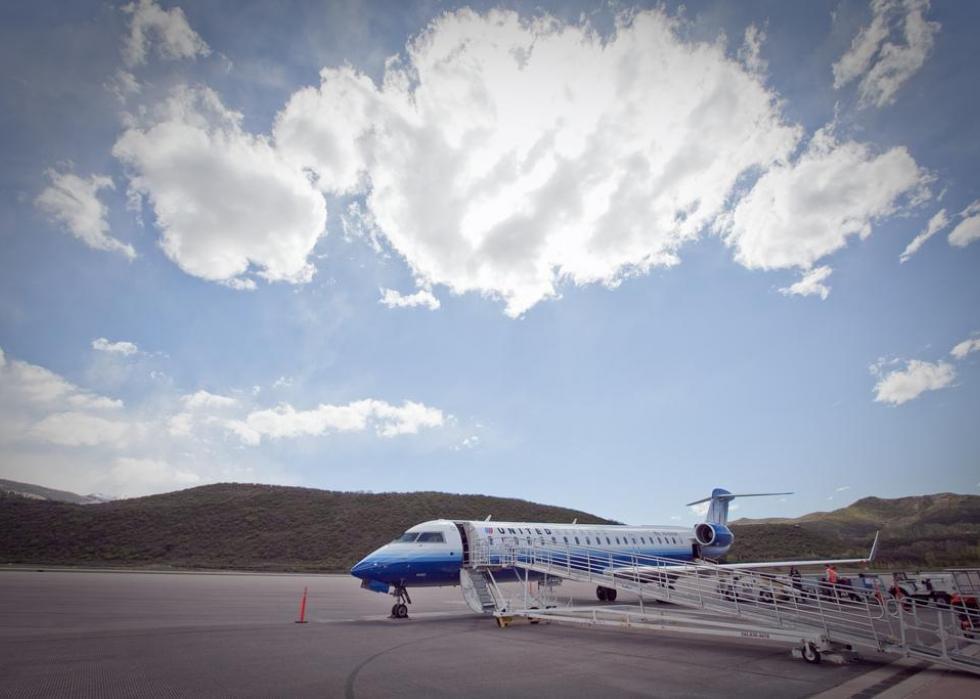 39 / 50
Aspen/Pitkin County Airport (ASE)—Ed Schipul // Flickr
#12. Aspen, CO to Los Angeles, CA
Average carrier fare for one-way flight: $396.96
Airline: United (UA)
Nonstop distance between cities: 737 miles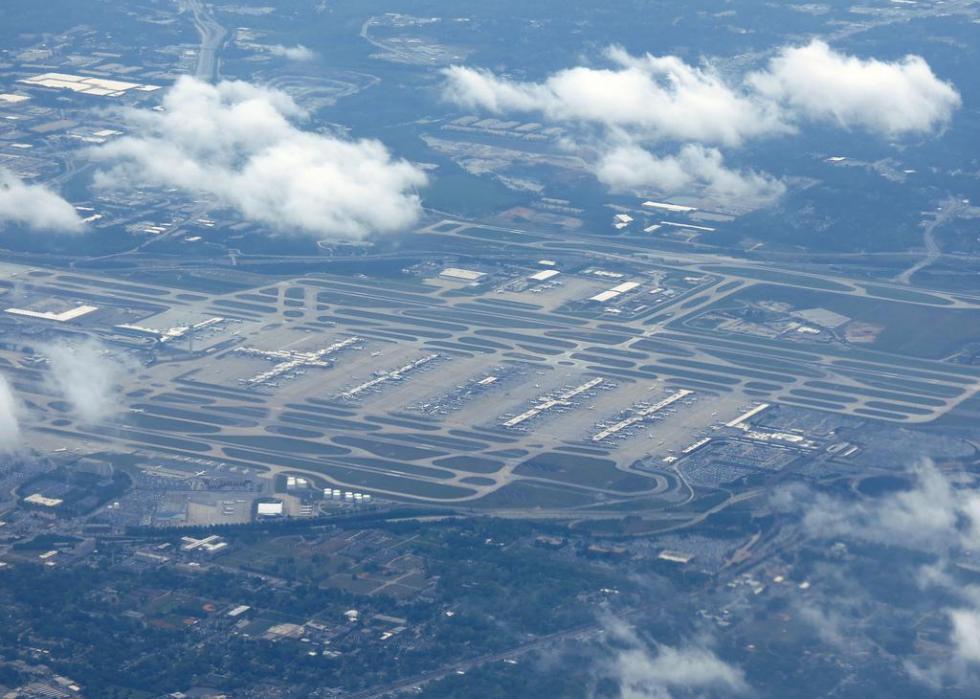 40 / 50
Hartsfield-Jackson Atlanta International Airport—redlegsfan21 // Flickr
#11. Atlanta, GA to Salt Lake City, UT
Average carrier fare for one-way flight: $397.75
Airline: Delta (DL)
Nonstop distance between cities: 1,590 miles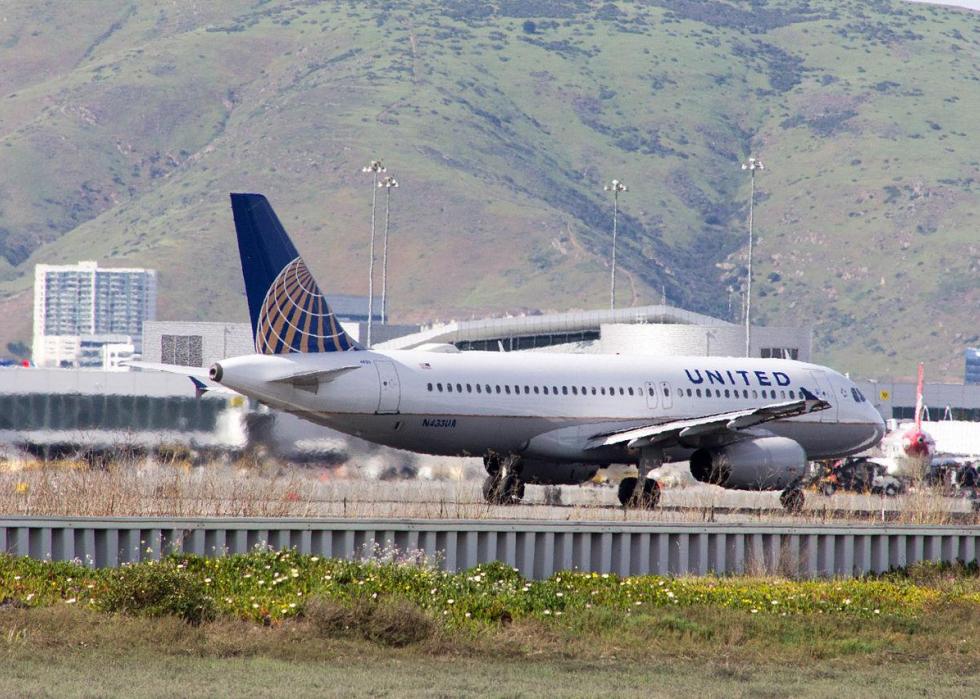 41 / 50
Kohei Kanno // Wikicommons
#10. Houston, TX to Philadelphia, PA
Average carrier fare for one-way flight: $409.68
Airline: United (UA)
Nonstop distance between cities: 1,336 miles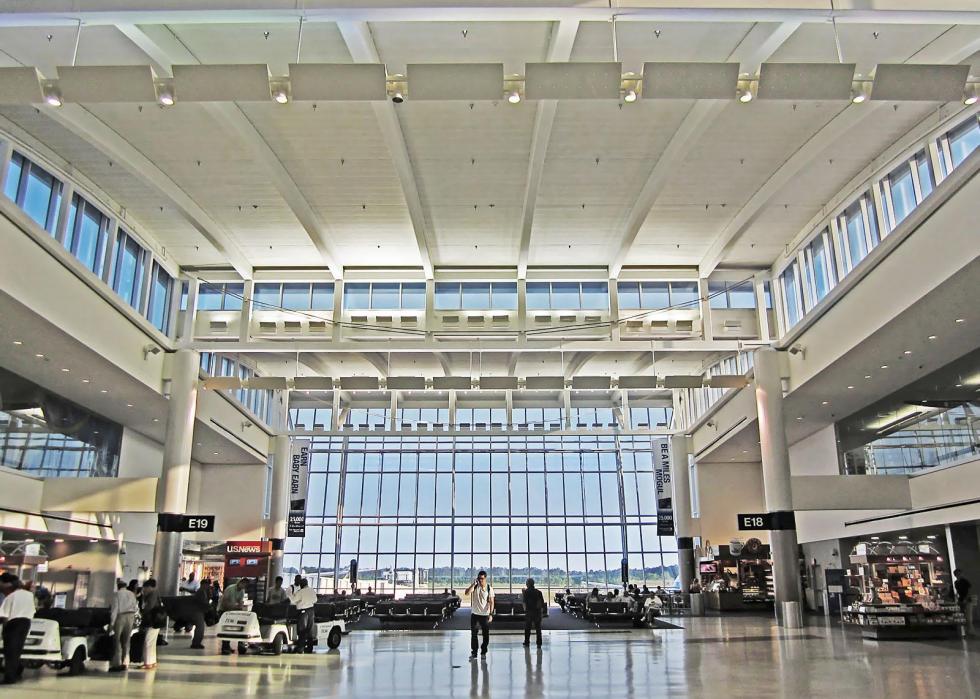 42 / 50
George Bush Intercontinental Airport, Houston—Hequals2henry // Wikicommons
#9. Cleveland, OH to Houston, TX
Average carrier fare for one-way flight: $410.67
Airline: United (UA)
Nonstop distance between cities: 1,106 miles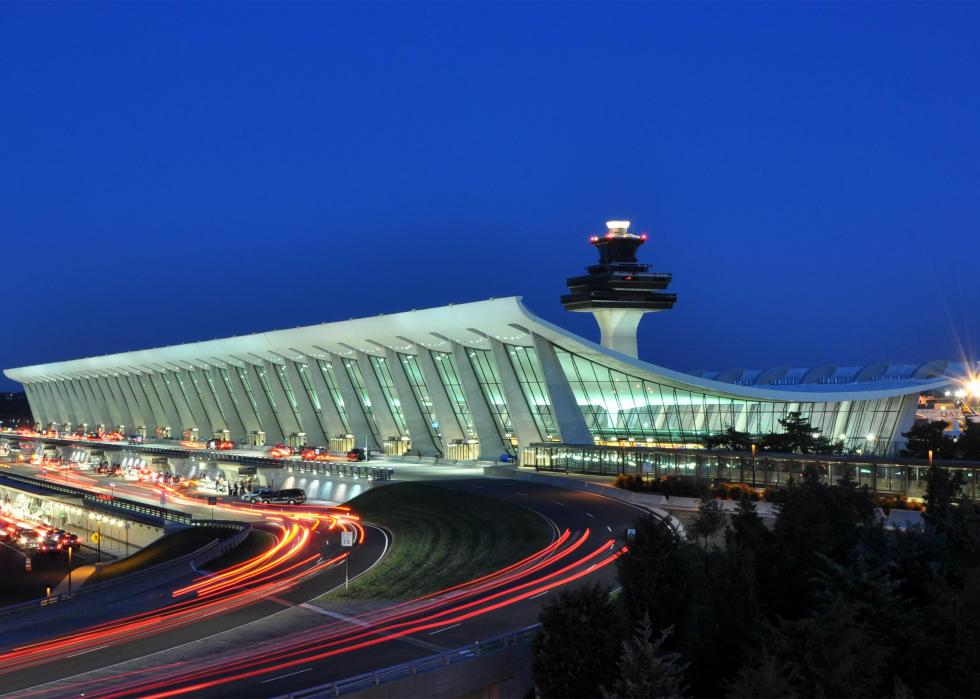 43 / 50
Wasington Dulles International Airport—Joe Ravi // Wikicommons
#8. San Francisco, CA to Washington, DC
Average carrier fare for one-way flight: $421.65
Airline: United (UA)
Nonstop distance between cities: 2,457 miles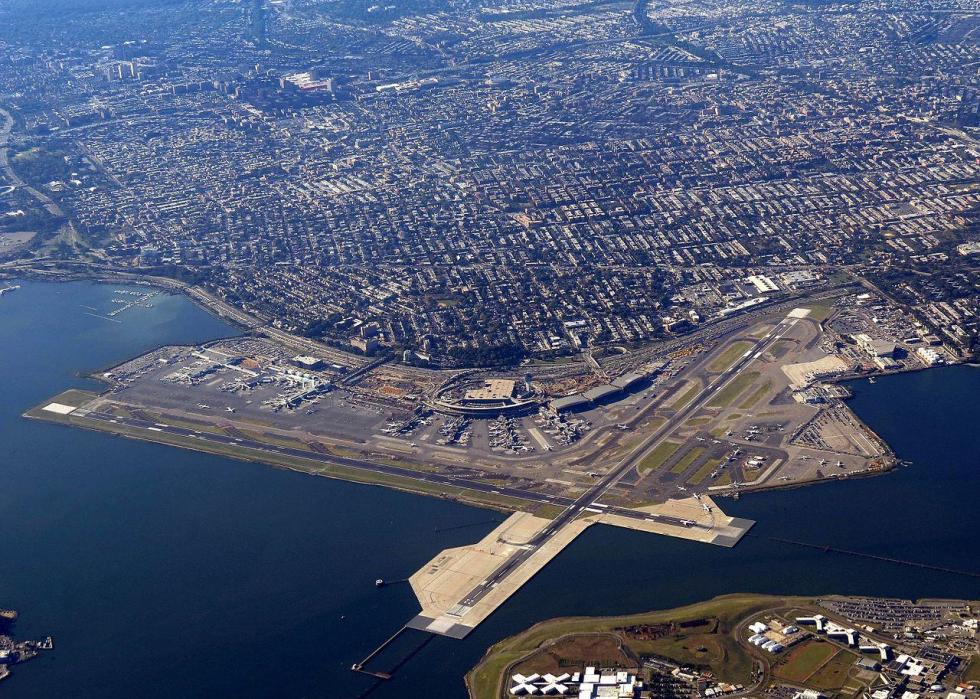 44 / 50
LaGuardia Airport, New York City—redlegsfan21 // Wikicommons
#7. New York City, NY to San Francisco, CA
Average carrier fare for one-way flight: $439.25
Airline: United (UA)
Nonstop distance between cities: 2,619 miles
45 / 50
Eagle County Airport—David Benbennick // Wikicommons
#6. Eagle, CO to Miami, FL
Average carrier fare for one-way flight: $447.35
Airline: American Airlines (AA)
Nonstop distance between cities: 1,810 miles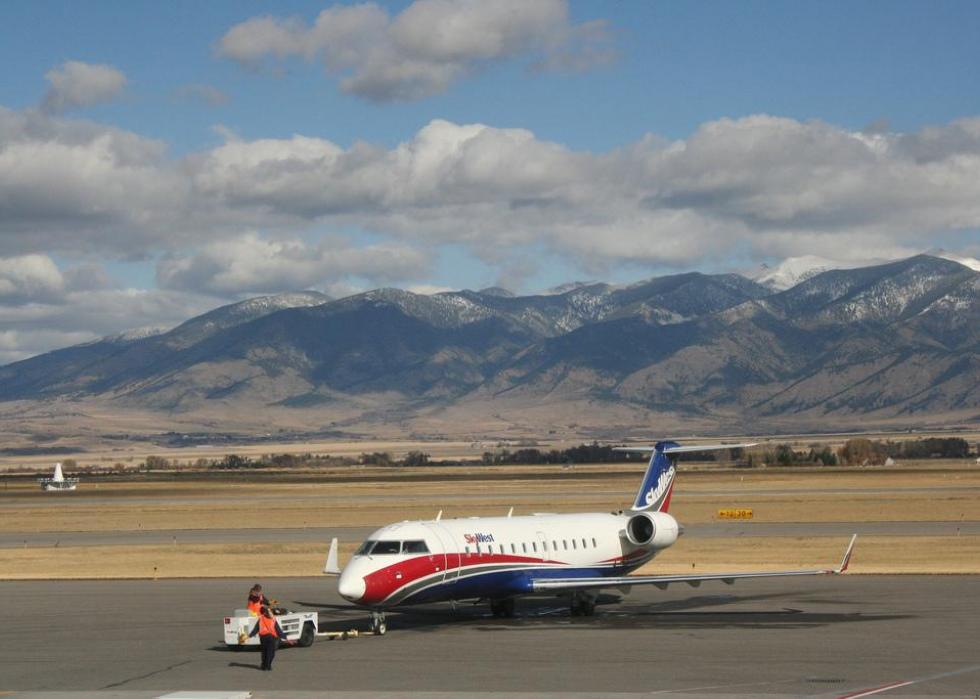 46 / 50
Bozeman Airport, Montana—Amy Guth // Flickr
#5. Bozeman, MT to New York City, NY
Average carrier fare for one-way flight: $463.32
Airline: United (UA)
Nonstop distance between cities: 1,902 miles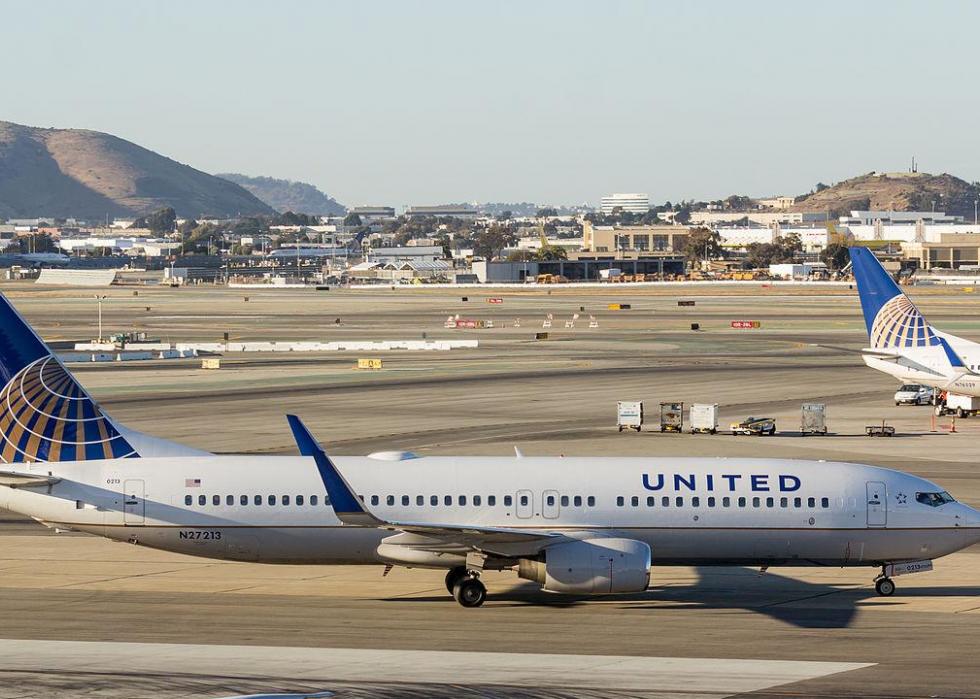 47 / 50
United Airlines Boeing 737-800 at San Francisco International Airport—Raimond Spekking // Wikimedia Commons
#4. Houston, TX to San Francisco, CA
Average carrier fare for one-way flight: $463.80
Airline: United (UA)
Nonstop distance between cities: 1,649 miles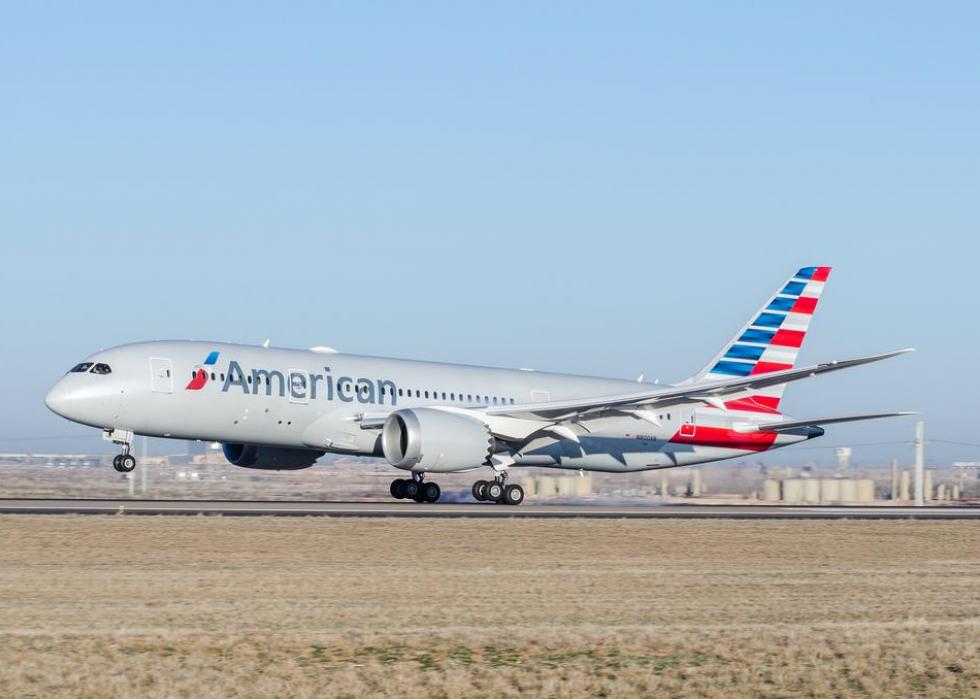 48 / 50
#3. Eagle, CO to New York City, NY
Average carrier fare for one-way flight: $488.68
Airline: American Airlines (AA)
Nonstop distance between cities: 1,746 miles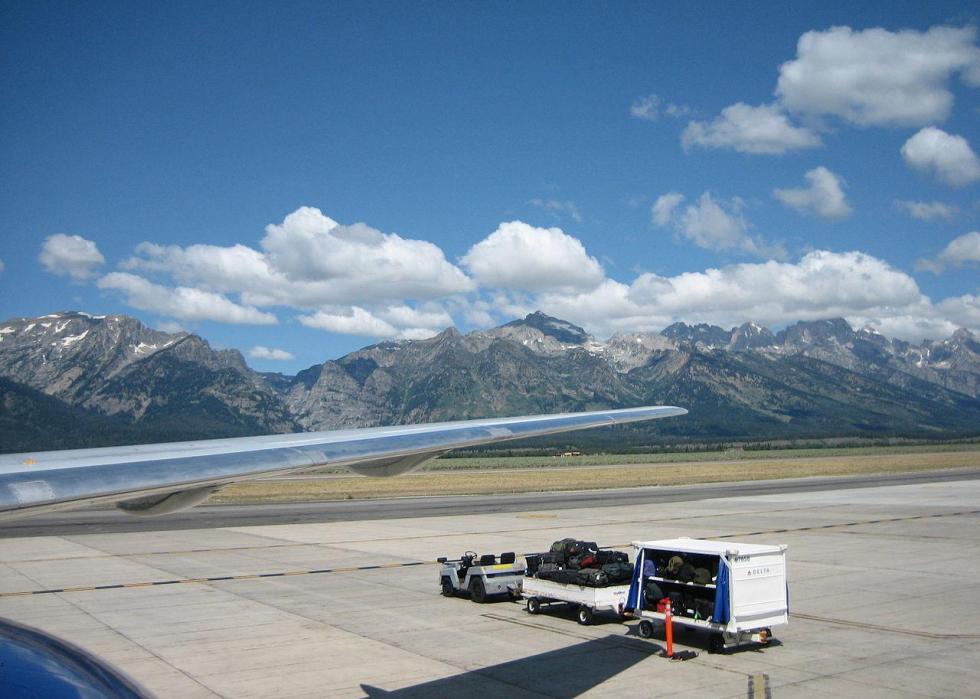 49 / 50
Jackson Hole Airport, Jackson, WY—Chris7587 // Wikicommons
#2. Jackson, WY to New York City, NY
Average carrier fare for one-way flight: $515.04
Airline: United (UA)
Nonstop distance between cities: 1,894 miles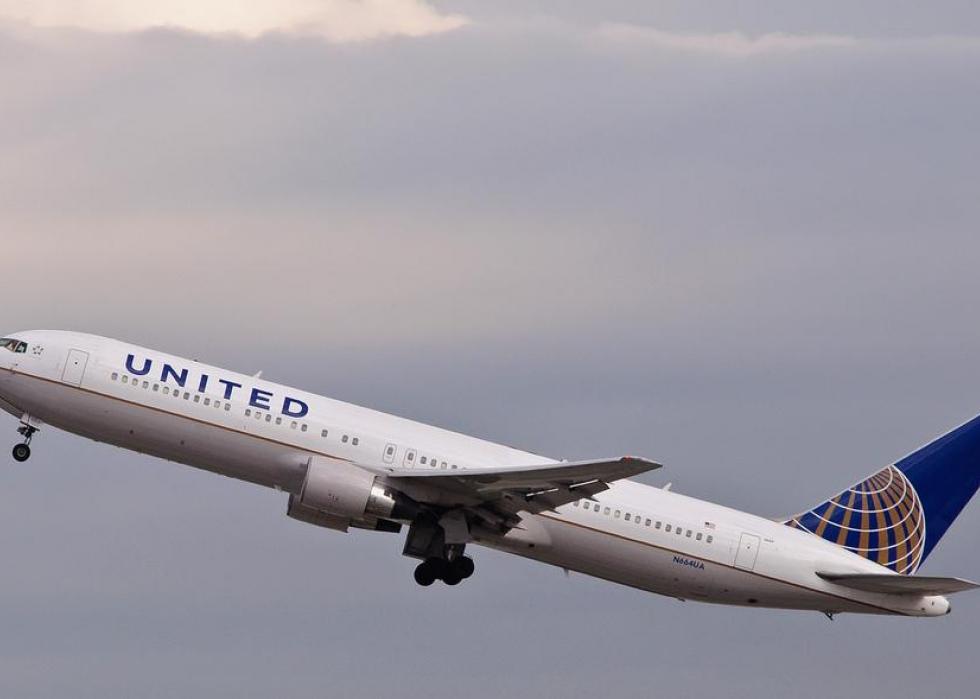 50 / 50
InSapphoWeTrust // Flickr
#1. Aspen, CO to New York City, NY
Average carrier fare for one-way flight: $543.27
Airline: United (UA)
Nonstop distance between cities: 1,750 miles