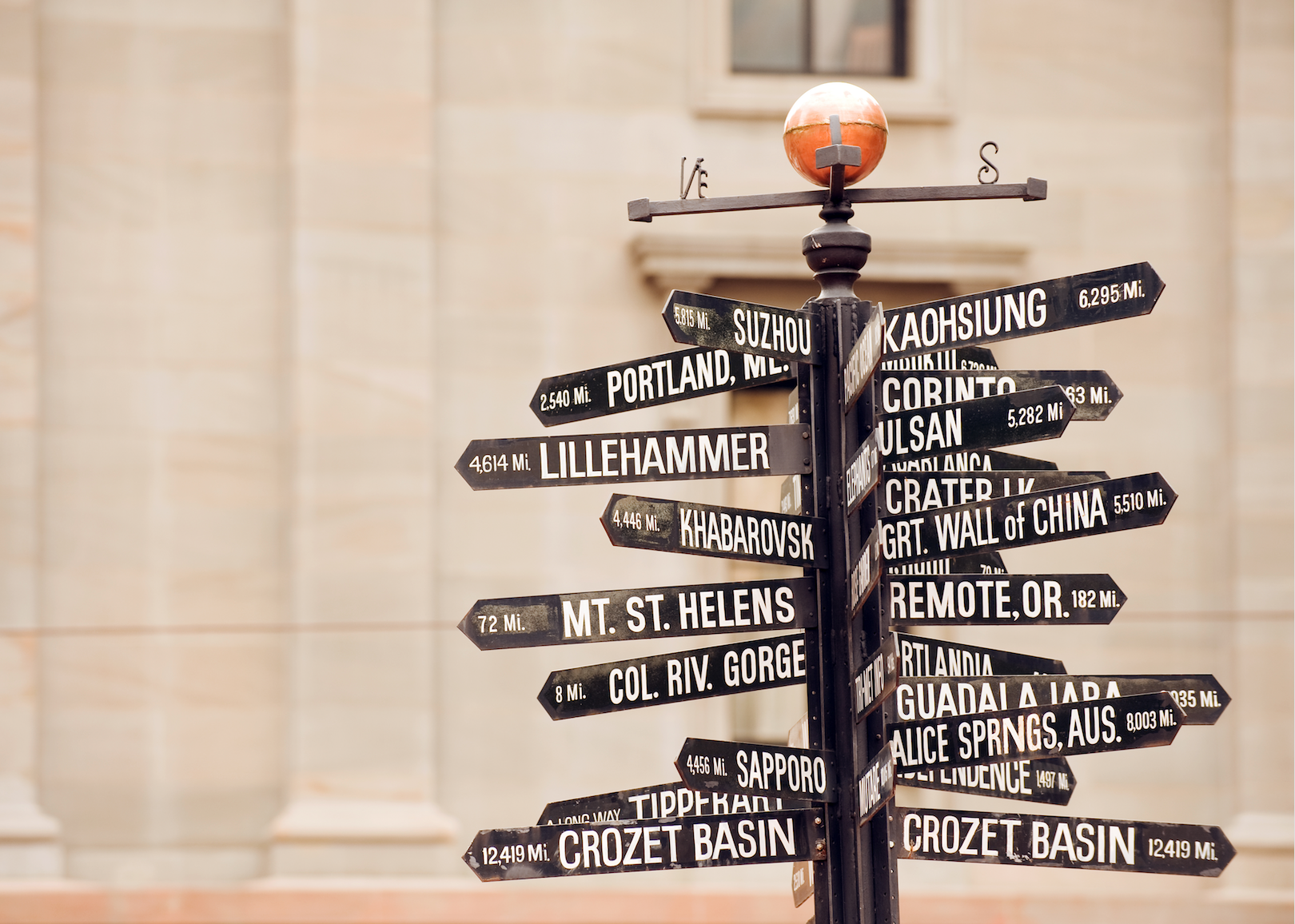 Tourism industry by the numbers
Natalia Bratslavsky // Shutterstock
Tourism industry by the numbers
Americans' reputation for being narcissistic may have something to it. A 2017 study published in Nature ("Self-construals and the Dark Triad traits in six countries") found that U.S. residents show more signs of narcissism—from self-indulgence to aggression—than people in other countries. What's more, Americans and international citizens alike see the U.S. as home to some of the most self-centered people in the world. Our news is usually nationally focused; and Americans are often said to be biased toward the West and not to care about what others have to say. Americans are also less likely to learn a second language than their international counterparts.
There are reasons to open up to the wider world that stretch beyond monetary advantages tourist-friendly countries enjoy each year. Travel certainly provides a boost to developing and established economies; but it also provides a potential avenue toward understanding for people from different backgrounds, religions, political spectrums, and histories. In addition, many scholars and global leaders see tourism as a way to promote peace around the world. Most people aren't going to visit war zones, of course, but some argue that traveling around the world and learning about different people can be a deterrent to structural violence. Also, consider the benefits individual tourists get from trying new foods, seeing breathtaking art and historical wonders, and exploring a world that's never been more connected.
Given the size of the tourism market, Stacker took a deep dive into the 2018 Tourism Highlights published by the United Nations World Tourism Organization (UNWTO). The UNWTO used data and statistics from 2017 to compile this overview of tourism around the world, which looks at where people were coming from, where they were going, how much they were spending, and more.
Stacker chose the most significant figures from the report and broke them down so you can learn what those numbers mean, why they matter, and what this record-shattering year for tourism says about what's going on in the world.
You may also like: Most expensive cities for international tourists
1.33 billion
Total number of tourist arrivals around the world.
This number marks a growth in international tourist arrivals of 7%, far outpacing the World Tourism Organization's projection of 3.8% yearly growth in the decade between 2010 and 2020. This unprecedented growth might be driven by stable fuel prices (plane tickets are cheaper) and increasing demand for international travel in African and Asian markets. The UNWTO suspects things will slow down in 2019 and beyond because of Brexit woes, trade disputes, and a possible economic slowdown.
55%
Percent of tourists traveling for leisure, recreation, and holidays.
Some outlets have reported that the millennial generation "killed" the vacation with its reluctance to take time off from work, but it might not be appropriate to write the obituary just yet. The number of tourists traveling for leisure made up over half the trips taken in 2017. Visiting friends and family falls to a distant second place.
$1.34 trillion
Total amount of expenditures by international tourists in 2017.
Things took a dip between 2008 and 2009 after the global recession, but have been slowly creeping up thanks to increasing demand in destinations around the world, including in the Middle East and others that were previously dealing with security issues.
3
Destinations that moved up in the top 10 tourism destinations.
Spain beat out the United States to take second place, while Mexico climbed two spots to reach sixth, and Turkey went from 10th to #8 in the rankings. Some experts cite "global unease" with the Trump administration as a possible reason why the United States might have fallen off in the rankings. International visitors have been a huge boost to Mexico's economic growth, though Americans have stayed away because of drug cartel violence.
52 million
Number of additional tourists going to Europe in 2017.
Virtually every part of Europe saw an increase in tourism in 2017, both in established tourist attractions and emerging markets. Spain and Italy, both well-known tourist meccas that regularly find themselves in the top five, saw increasing numbers of visitors. However, Turkey has seen the biggest surge. The years 2015 and 2016 saw terror attacks and a failed coup take a huge bite out of the tourist economy. Flocks of visitors have returned to take in the sights and visit the Temple of Artemis, one of the Seven Wonders of the World.
23%
Increase in tourism in Tunisia.
This North African country is among the most popular places to visit on the African continent; more than 7 million tourists came to the country, putting it just behind Morocco in overall popularity among visitors. The Arab Spring uprisings in 2011 and terror attacks in 2015 impacted the industry that makes up 8% of the nation's economy, but recent years have seen double-digit increases in visitors from Russia, Algeria, and parts of Europe.
1 in 10
Jobs related to the tourism industry.
Tourism is a huge economic driver around the world, with 10% of jobs supported by it in some way. In 2016, this accounted for a total of 292 million jobs, according to reports by The World Travel and Tourism Council. This far outpaces the growth in other sectors of the global economy and often provides jobs in places and to people who most need them, including women and those without high levels of education.
$257.7 billion
Spending by Chinese tourists.
Experts report that China wants its citizens to spend more as the government tries to gear its economy and stimulate a nation of savers into spending more of their money. That $257.7 billion increasingly goes toward eating out, sightseeing, and entertainment, though shopping used to dominate Chinese tourists' spending. U.S. tourists sit at a distant second place, spending $135 billion.
4 of 5
The number of tourists who travel in their own regions. While more people than ever might be traveling abroad, most don't end up too far from home. The WTO defines five travel regions—Africa, Asia and the Pacific, the Americas, Europe, and the Middle East—and only 20% of international tourists actually leave them. It seems likely that this intra-regional travel will only increase as the Asian and African economies continue to grow and attract visitors from neighboring countries.
One-half
Europe generates nearly half—48%—of the globe's outbound tourists. Part of this can be explained by the fact that (at least compared to their American counterparts), European workers receive a huge amount of paid vacation time. Sometimes whole businesses shut down for several weeks near the end of the summer, allowing workers to take trips for fun or to visit family without having to worry about their paychecks.
8
Years of sustained growth in global tourism.
The year 2017 might have been a record-shattering year for growth but it's part of a longer upswing in global tourism in the aftermath of the 2008 recession. Impacting economies around the globe, the travel industry took a big hit as families canceled vacations in the wake of layoffs and pay freezes. The years since have seen recovery and changes in how people travel, including the rise of housing-sharing apps like Airbnb that didn't exist before the crash.
$4 billion
Amount spent each day spent on tourism.
When you consider flights, as well as other goods and services, then the global tourism industry takes in an astonishing $4 billion every day. In total, exports from the tourism industry equal $ 1.6 trillion every year.
Third
Tourism is the world's third-largest export category.
Following behind chemicals and fuels and coming before automobile parts, tourism is foundational to the global economy. Though it's difficult to tell just how much of the economy tourists are stimulating, because their spending is often lumped in with the spending of locals, both the WTO and other organizations have found it essential to the global marketplace.
3%
Increase in arrivals from the Caribbean.
Everyone's favorite cruise destination saw mixed results in the 2017 travel season thanks to hurricanes Irma and Maria devastating the region. While some islands, like Puerto Rico and the U.S. Virgin Islands, struggled through a long recovery, the Dominican Republic and Jamaica saw upticks in visitors and are working to improve roads and other conditions to continue attracting visitors.
30%
Increase in tourism spending in Russia.
The Russian Federation faced a currency crisis in 2013 and 2014, due to the global drop in oil prices and the response to their military actions in Ukraine. This caused the ruble to lose much of its value relative to other currencies. However, in 2017 growth returned to the Russian tourism industry, with 15 million citizens taking off to distant locales and spending more of their money.
57%
Tourists who travel by air.
Aviation was key to the development of the tourism industry as a whole. A powerful force for world globalization, airplanes make it fast and easy to travel to new countries and continents cheaply and quickly relative to the time trips took in the past. The drop in global oil prices also helped.
58 million
Tourists in the Middle East.
The Arab Spring uprisings across the Middle East in 2011 greatly affected the tourism industry in that region; attractions that once saw thousands of visitors were empty. The years following those uprisings have seen growth across the region, particularly, but not exclusively, in Egypt thanks to an increase in food tourism, cheaper access to several Wonders of the World, and more.
1%
Increase in tourist receipts in North America.
While tourism isn't exactly down in the United States, Canada, and Mexico, the region hasn't seen the same growth in spending or arrivals that its neighbors in Central America and South America has enjoyed. The United States, which takes home around 65% of the tourism market in the Americas, has not posted the record returns and growth that European countries saw, for example. Some experts attribute this to a kind of Trump slump. Many international tourists have a negative view of the current U.S. president and thus decide to spend their money elsewhere.
323 million
Tourists to Asia.
Though Chinese tourists around the world have been the biggest news in Asian tourism, the number of visits to the region is not something to ignore. Hong Kong and Bangkok have been some of the most popular tourist cities for the past several years. East Asia is one of the world's fastest-growing tourist economies, driven by visits from those in the Asia and Pacific regions.
-10.7%
Percent change in the number of tourists to Saudi Arabia.
Though one of the most popular tourist destinations in the Middle East, accounting for about 28% of the region's visitors, Saudi Arabia saw a decline in 2017. The kingdom has attempted to open its borders in recent years in hopes of diversifying its economy. Unmarried women over 25, for example, are now allowed to travel in its borders but the process of entering the country is still difficult and there are strict rules for conduct and behavior of tourists.
$519 billion
Tourism spending in Europe. Backpacking across Europe is still a solid option for young adults who aren't quite sure what they want to do with their lives yet (or for those who do but want to see the world first). Though those trips can be relatively cheap, Europe is home to the world's top tourist destinations and those places know how to get tourists to spend their money to stimulate their cities' and countries' economies.
One-quarter
Share of the tourism market in the Americas.
As Latin America stabilizes after decades of violence in the 20th century, more and more tourists are flocking to the countries to eat delicious food, visit sites like the Mayan pyramids, and more. This has allowed the continents to capture 24% of the total tourism spending; in Latin America, the growth has created jobs, developed the country's somewhat fragile economies, and even led to increased environmental protections.
2%
Tourists who travel by rail. The United States has never quite embraced trains the way their international counterparts have, devoting far less time and money to maintaining rail systems within the country. However, that doesn't mean the system can't be embraced for international travel. Only 2% of international tourists opt for trains to move around but those who do get to enjoy stunning views and even a whole board game based around the concept.
30%
Share of services exports.
Tourism drives 30% of the exports of non-manufactured items; this includes financial services, delivery service, and internet troubleshooting among others. This percentage is even higher in developing countries, where tourism often is an even more crucial part of the economy than it is in more established economies. This is driven mostly by small and medium-sized businesses, meaning that the benefits of the tourist economy don't just go to big corporations but also have an impact on the everyday lives of millions of people.
10%
Percent of jobs, goods, and services in the world related to tourism
Of the world's gross domestic product (direct, indirect, induced), about 10% of the jobs in the world are related to tourism in some way, so it's probably not surprising that 10% of the value of the world's goods and services would be tied to the industry, as well. Despite trade issues between the United States and China—the biggest economic powers in the world—the global economy has remained strong, due in part to strong growth in this sector.