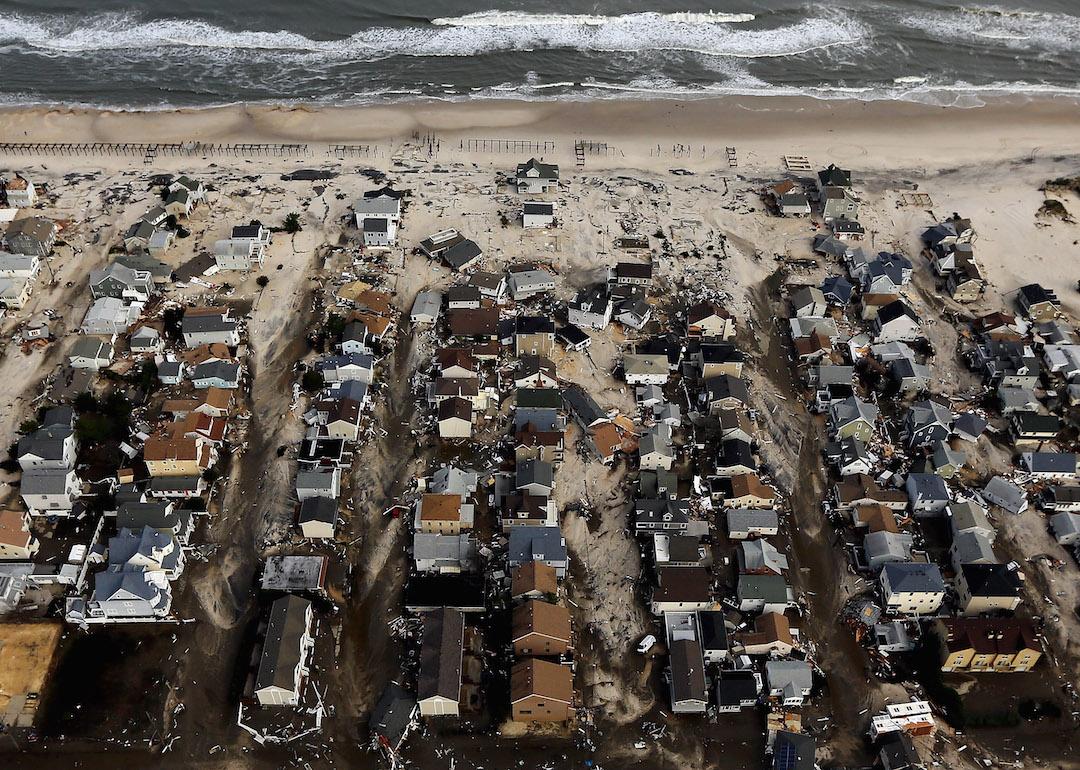 Most expensive weather disasters from every state
Mario Tama // Getty Images
Most expensive weather disasters from every state
The struggle between nature and humankind is an ongoing saga, as old as time itself. Weather-related disasters are an inescapable part of the American landscape and have plagued the U.S. ever since New Hampshire became the final state to ratify the Constitution. 1816 was known as "The Year Without a Summer," thanks to a volcanic eruption in modern-day Indonesia that resulted in unseasonably low temperatures and systematic crop failure throughout the U.S. After an unusually dry summer in Wisconsin, the Peshtigo Fire of 1871 destroyed roughly 1.2 million acres, killing approximately 1,200 people. In 1900, Galveston, Texas was hit with a Category 4 hurricane; 8,000 lives were lost in the storm surge, making it the deadliest weather-related disaster in United States history.
While experts know, roughly, the cost of pre-20th century weather-related disasters in terms of human lives, it's far more challenging to assign a dollar amount to the resulting damages. Thanks to the establishment of the National Centers for Environmental Information (NCEI), scientists and economists have a much better understanding of the financial burdens posed by modern-day catastrophes. Headquartered in Asheville, N.C., the NCEI is the world's largest active repository of environmental information.
Since 1980, there have been over 244 weather-related disasters throughout the United States, each totaling over $1 billion in damages. Images of Hurricane Sandy, Hurricane Katrina, and the West Coast Wildfires are seared into the nation's consciousness thanks to 24-hour news coverage and investigative documentaries. A steady uptick in extreme weather-related events in the past few decades has been linked by scientists to human activity and resultant climate change.
Using 1980 to 2019 data gathered by the NCEI, Stacker compiled this list of the most-expensive weather disasters since 1980 and the damage and fatalities linked to them in each of the 50 states.
Scroll through the slideshow to see how your state fared.
You may also like: States with the most severe summer weather