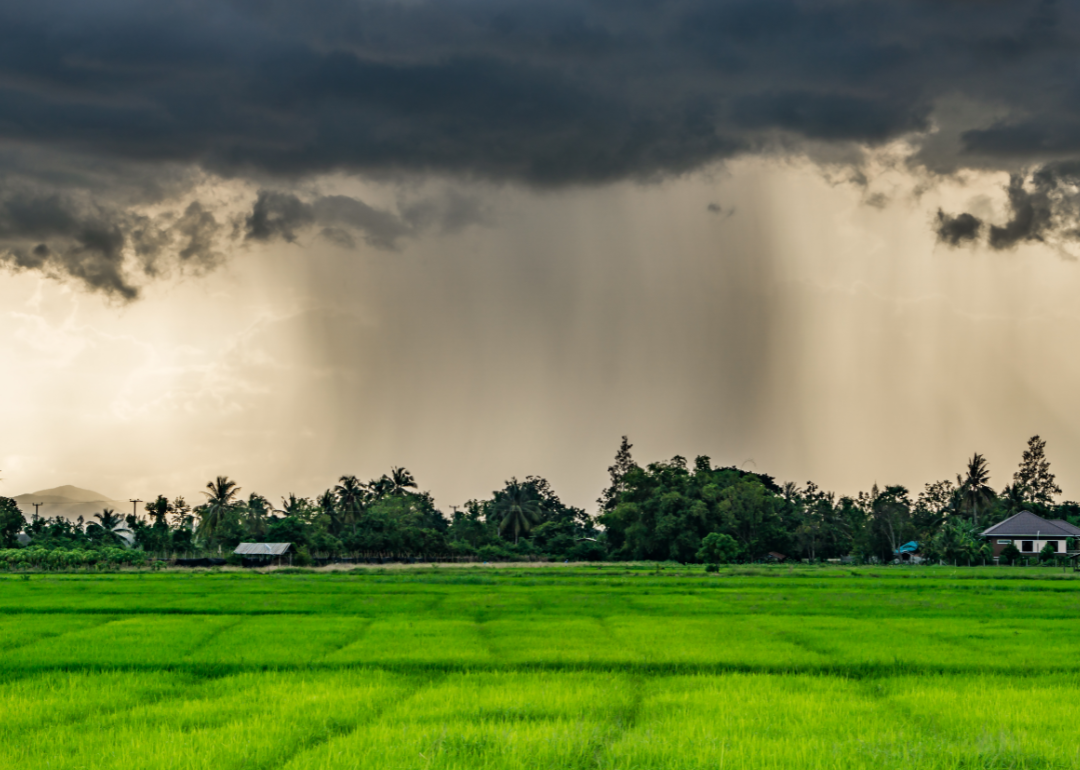 Places with the most weather-related fatalities
Places with the most weather-related fatalities
If you ever doubted the power of a woman, take a glance at the almighty Mother Nature. The same magical goddess responsible for creating ribbons of mountains, craggy coastlines and meadows of colorful flowers creates dangerous, and sometimes life-threatening, forces like extreme temperatures, flooding, lightning, hurricanes, tornadoes, and rip tides.The United Nations Office for Disaster Risk Reduction in 2015 issued a report by UNISDR showing that over the last two decades, 90% percent of major disasters were the result of 6,457 recorded heatwaves, floods, storms, droughts, and other weather-related events. In 2018, heat, flooding, and rip currents were reported to be the deadliest weather types, while fatalities from tornadoes and lightning were far below the long-term annual average. It may surprise you to learn that extreme heat was the deadliest weather type in 2018, with 108 lives lost according to statistics released by the National Oceanic and Atmospheric Administration (NOAA).
Stacker looked at storm event data compiled by NOAA's National Center for Environmental Information (NECI) to identify the top 10 places with the most weather-related fatalities. The team then researched the places to report about the locales.
While it may come as no surprise that people at campsites and open areas are vulnerable to the forces of Mother Nature, there are a few unexpected places on the list. Odds listed in the gallery reveal that the #10 spot had just three deaths by weather incidents that included lightning, thunderstorms, wind and wildfire, while the #1 spot had 184 incidents including winter weather, flash flood, and heat.
We invite you to don your rain boots and storm apparel and take a short tour through list of top 10 places with the most weather-related fatalities.
You may also like: Most expensive weather disasters from every state
#10. Heavy equipment/construction
- 2018 fatalities: 3
- Top weather incidents: lightning (1), thunderstorm wind (1), wildfire (1)
Workers using heavy equipment and on construction sites are aware of the inherent risks in the job; however, the odds of getting hit and killed by lighting are minuscule. Last year a 27-year-old man was struck and killed by lightning while working on construction near a tree.
#9. Camping
- 2018 fatalities: 10
- Top weather incidents: flash flood (5), thunderstorm wind (3), cold/wind chill (1)
Camping is a great activity for anyone looking to reconnect with the great outdoors. But Mother Nature is often unpredictable, it is best to check if there are weather-related risks on the horizon that could affect your camping trip. Weather apps such as Accuweather or Dark Sky provide you up-to-the-minute reports.
#8. Mobile/trailer home
- 2018 fatalities: 10
- Top weather incidents: tornado (3), strong wind (2), heat (2)
The number of mobile homes has risen to over 9 million in the last 60 years. A 2017 study by Michigan State University noted that when a twister strikes, a county that has twice the number of mobile homes as a proportion of all homes will experience 62% more deaths than a county with fewer mobile homes.
#7. Permanent structure
- 2018 fatalities: 10
- Top weather incidents: tornado (3), hurricane (3), extreme cold/wind chill (1)
People who are in permanent structures like garages, barns, and swimming pools are not guaranteed safety when it comes to the weather. Earlier this year, a man was found frozen in his garage after shoveling snow.
#6. Boating
- 2018 fatalities: 11
- Top weather incidents: marine strong wind (3), strong wind (3), high surf (1)
High winds and dark skies are the twin perils of boaters. In 2018, there were 19 boat-related deaths in New York. Last December, two men were discovered dead in the icy water with their row boat capsized.
#5. Under tree
- 2018 fatalities: 14
- Top weather incidents: thunderstorm wind (5), lightning (4), high wind (2)
Trees were to blame for five deaths during a severe 2018 storm in the Northeast. The fatalities included an 11-year-old girl in New York City, a woman driving a vehicle in Newburgh, N.Y., a person in a truck in Danbury, Conn., a person in New Fairfield, Conn., and a man in a car in the Poconos of Pennsylvania.
#4. Permanent home
- 2018 fatalities: 83
- Top weather incidents: heat (23), hurricane (21), excessive heat (15)
2019's Polar Vortex caused 21 deaths, including that of a young woman whose thermostat malfunctioned. People living in places like Florida take extra precautions to protect their homes against hurricanes like Hurricane Michael that hit in the fall of 2018.
#3. In water
- 2018 fatalities: 103
- Top weather incidents: rip current (58), flood (11), high surf (9)
Drowning is the third leading cause of unintentional injury death worldwide. Drowning-related accidents account for 7% of all injury-related deaths. Rip currents were the cause of eight deaths in one week during August 2018 and killed more people than tornadoes and lightning combined over the course of that year.
#2. Outside/open areas
- 2018 fatalities: 178
- Top weather incidents: heat (45), excessive heat (27), cold/wind chill (20)
Extreme weather is harshest in open spaces—and Mother Nature proved it in 2018 by causing 178 deaths of people who were outside in the elements. Extreme heat was the chief cause of death, but nine deaths were reported in January 2018 from freezing temperatures, as well. People experiencing homeless people without access to shelter or healthcare are especially vulnerable to weather perils.
#1. Vehicle/towed trailer
- 2018 fatalities: 184
- Top weather incidents: winter weather (54), flash flood (34), heat (13)
Drivers face challenging conditions including wet, icy, and slushy pavement, rain, snow, sleet, blowing dust, and fog during extreme weather. Motorists during these events are also prone to lose cell service, so it's best to program car radio stations to include those listed at NOAA and the National Weather Service.