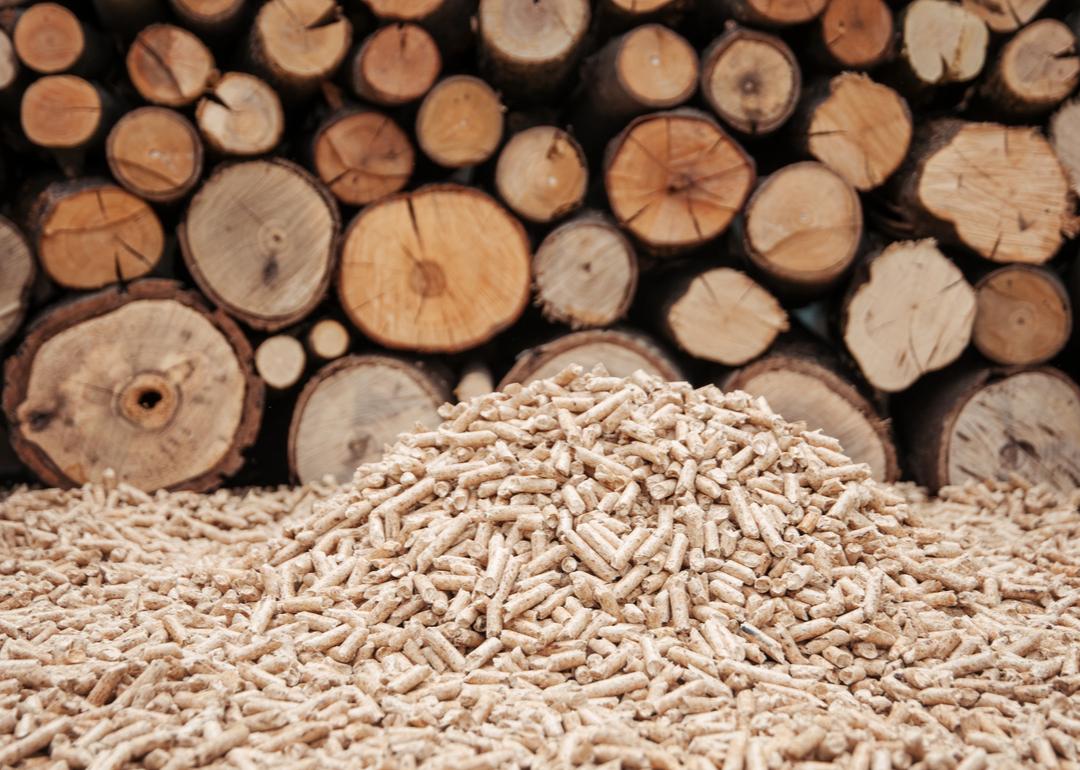 How US trees are powering Europe's renewable energy goals
US trees are powering Europe's renewable energy goals—here's where Americans are most affected
The European Union in 2020 sourced 21.3% of its energy from renewables, surpassing its 2009 goal. With most of the continent's energy came from oil and petroleum products, its announcement was one of the first ambitious global promises to address climate change. Within the broad range of renewable energy sources Europe relied upon, one source accounted for nearly half of the continent's renewable supply: biomass.
Broadly, biomass is any organic material used as fuel and can include manure, agricultural or industrial waste, garbage, and most prominently, wood. Burning wood for fuel is nothing new: As countries transition away from coal and other fossil fuels, the popularity of biomass increases, leading to a spike in demand for wood pellets.
Stacker cited data from the International Trade Center, Eurostat, and the Southern Environmental Law Center to examine how the growing wood pellet industry in the U.S. is fueling European energy, despite its controversial environmental reputation.
The 1997 Kyoto Protocol first considered wood pellets a carbon-neutral energy source. The world was beginning to think more seriously about climate change at the time, and pellets became an easy substitute to transition away from coal-powered facilities. Woody biomass companies replant trees while harvesting timber, allowing young forests to absorb carbon while justifying biomass as a renewable energy source. But biomass's carbon neutrality is not immediate: It takes years for new saplings to meet the carbon-absorption capacity of older trees being harvested. Meanwhile, wood pellets are burned and emit the CO2 once stored by the wood. The resulting carbon debt can take decades for newly planted trees to offset.
Scientists also note that considering wood pellets carbon-neutral overlooks emissions from the supply chain. An analysis from the Environmental Integrity Project published in 2018 found that 21 wood pellet facilities exporting to Europe emitted 16,000 tons of air pollutants annually. Transportation in cross-Atlantic vessels is another phase that often goes unaccounted for in woody biomass's carbon calculations.
Scientists have begun to question the sustainability of woody biomass, and whether the displacement of one fossil fuel is now causing the disruption of forest ecosystems—all while still emitting greenhouse gases. Read on to learn about the complexities of renewable energy.
You may also like: The 90 companies responsible for two-thirds of historical greenhouse gas emissions