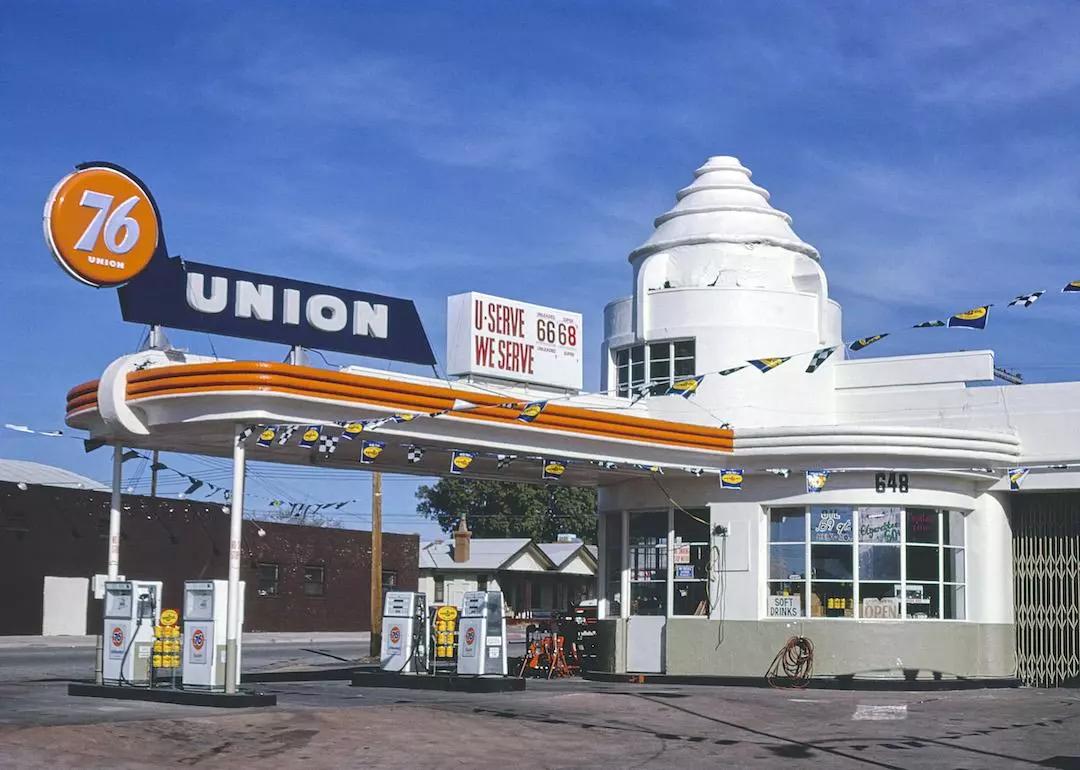 The cost of gasoline the year you started driving
Universal History Archive // Universal Images Group via Getty Images
The cost of gasoline the year you started driving
Gas prices climbed in the spring and summer of 2022 amid Russia's unprompted invasion of Ukraine and sanctions levied against Russia by the U.S. and European Union in response. The national average price per gallon reached a record $5.016 on June 14, far surpassing the previous record, which was $4.114 set in 2008, according to AAA.  
Stacker ran the numbers on the cost of a gallon of gasoline for each of the last 85 years to illustrate how fuel prices have changed throughout the years and why. Using data from the Bureau of Labor Statistics (last updated in August 2021), we analyzed the average price for a gallon of unleaded regular gasoline from 1976 to 2021 along with the Consumer Price Index (CPI) for unleaded regular gasoline from 1937 to 1976, including the absolute and inflation-adjusted prices for each year.
For nearly every mile driven, American consumers find themselves inextricably linked to a complex global commodity that has a significant impact on how we get from place to place. Most of the time, the highs and the lows of gas prices are out of drivers' hands.
During the Arab-Israeli War in 1973, Arab oil manufacturers banned exports to the U.S. due to their support of Israel, leading to a gas shortage and sky-high prices. In recent years, an increase in demand for oil in developing economies alongside an expansion in production from countries (like the U.S.) that once imported most of their oil, led to a sharp drop in oil prices. In the early months of the COVID-19 pandemic, stay-at-home orders caused oil prices to crater as demand for oil bottomed out.  Consumers may find themselves less directly affected by the price of a barrel of oil as hybrid and electric vehicles become more commonplace, public transit grows less gas-reliant, and the cost of switching to alternative energy sources at home comes down.
Keep reading to explore the cost of gas over time and rediscover just how much a gallon was when you first started driving.
You may also like: The 90 companies responsible for two-thirds of historical greenhouse gas emissions