States using the most water
Ken Wright // U.S. Air Force
States using the most water
Water is easily our most precious resource. It makes up at least 60% of human body composition and without it, humanity could not exist. Most people would die within three or four days without water; but in addition to its key role in our own survival, water is essential in nearly every facet of modern life from industrial processes like farming to domestic pursuits like washing the dishes. 
Because water is ubiquitous, most people don't take the time to consider the amount of it they use. One person uses on average 80 to 100 gallons per day—consumption levels that add up very quickly when you zoom out. Considering that more than 8 million people live in the 302 square miles comprising New York City alone, it's no wonder New York state ranks high on the list of water consumption.
Factoring in commercial water consumption is even more eye-opening. Nearly every industry uses H2O, sending water consumption figures through the roof. Total water consumption in America in 2010 topped out at more than 300 billion gallons per day.
Utilizing data from the United States Geological Survey (USGS), Stacker took a deep dive into the numbers to determine just how much water each state uses The USGS' report, which estimates water use in 2015, was released June 19, 2018. The following gallery looks at how each state uses water, with all 50 states and Washington D.C. ranked from low to high by the total amount of water withdrawals in 2015. Withdrawals are then broken down by type of water (fresh or saline) and withdrawal type (groundwater and surface water). The amount of withdrawals for water-use categories is also listed. All numbers are measured in million gallons per day (Mgal/d). 
Read on to see just how much water your state uses—and how.
You might also like: How each state uses its land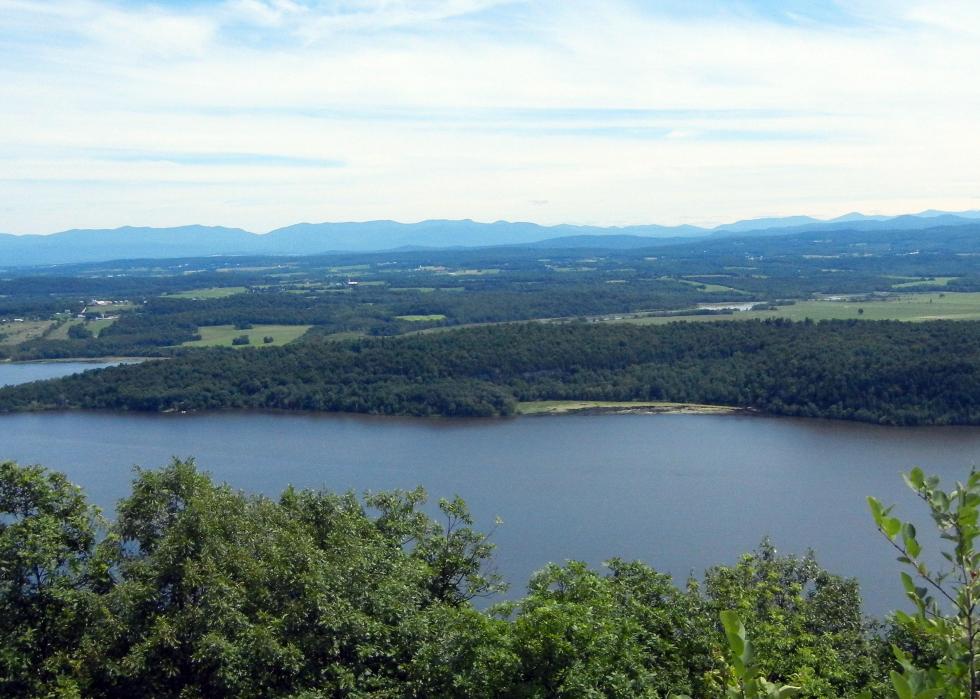 1 / 50
Zeph77 // Wikimedia Commons
#50. Vermont
Total withdrawals: 91 million gallons per day (Mgal/d)
- Fresh water withdrawals: 91 Mgal/d
- Saline water withdrawals: 0 Mgal/d
- Surface water withdrawals: 54 Mgal/d
- Groundwater withdrawals: 37 Mgal/d

Total domestic water use: 28 Mgal/d (44 gal per capita, #2 lowest for all states)
- Public supply: 43 Mgal/d (43 gal per capita, #2 lowest for all states)
--- 382,000 people served (61% of population)
- Self-supplied: 11 Mgal/d (45 gal per capita, #3 lowest for all states)
--- 244,000 people served (39% of population)

Non-public total water use: 37 Mgal/d
- Irrigation: 3 Mgal/d
- Livestock: 6 Mgal/d
- Aquaculture: 12 Mgal/d
- Industrial: 11 Mgal/d (fresh), 0 Mgal/d (saline)
- Mining: 5 Mgal/d (fresh), 0 Mgal/d (saline)
- Thermoelectric power: 0.80 Mgal/d (fresh), 0 Mgal/d (saline)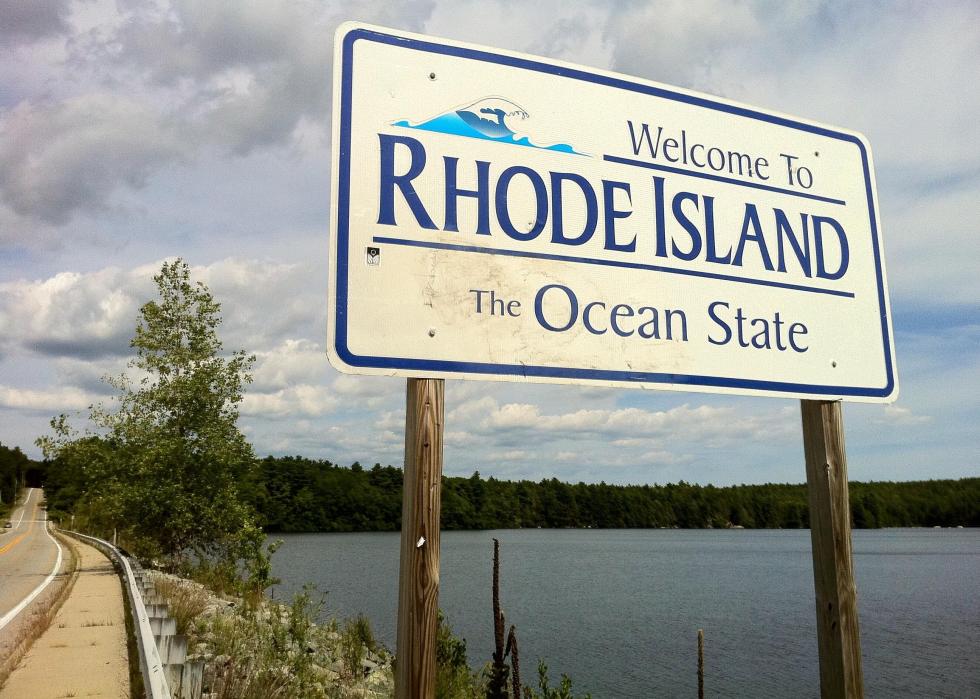 2 / 50
Morrow Long // Wikimedia Commons
#49. Rhode Island
Total withdrawals: 343 million gallons per day (Mgal/d)
- Fresh water withdrawals: 122 Mgal/d
- Saline water withdrawals: 222 Mgal/d
- Surface water withdrawals: 311 Mgal/d
- Groundwater withdrawals: 33 Mgal/d

Total domestic water use: 63 Mgal/d (59 gal per capita, #9 lowest for all states)
- Public supply: 98 Mgal/d (59 gal per capita, #9 lowest for all states)
--- 943,000 people served (89% of population)
- Self-supplied: 7 Mgal/d (58 gal per capita, #8 lowest for all states)
--- 113,000 people served (11% of population)

Non-public total water use: 240 Mgal/d
- Irrigation: 4 Mgal/d
- Livestock: 0.12 Mgal/d
- Aquaculture: 7 Mgal/d
- Industrial: 2 Mgal/d (fresh), 0.03 Mgal/d (saline)
- Mining: 3 Mgal/d (fresh), 0 Mgal/d (saline)
- Thermoelectric power: 1 Mgal/d (fresh), 222 Mgal/d (saline)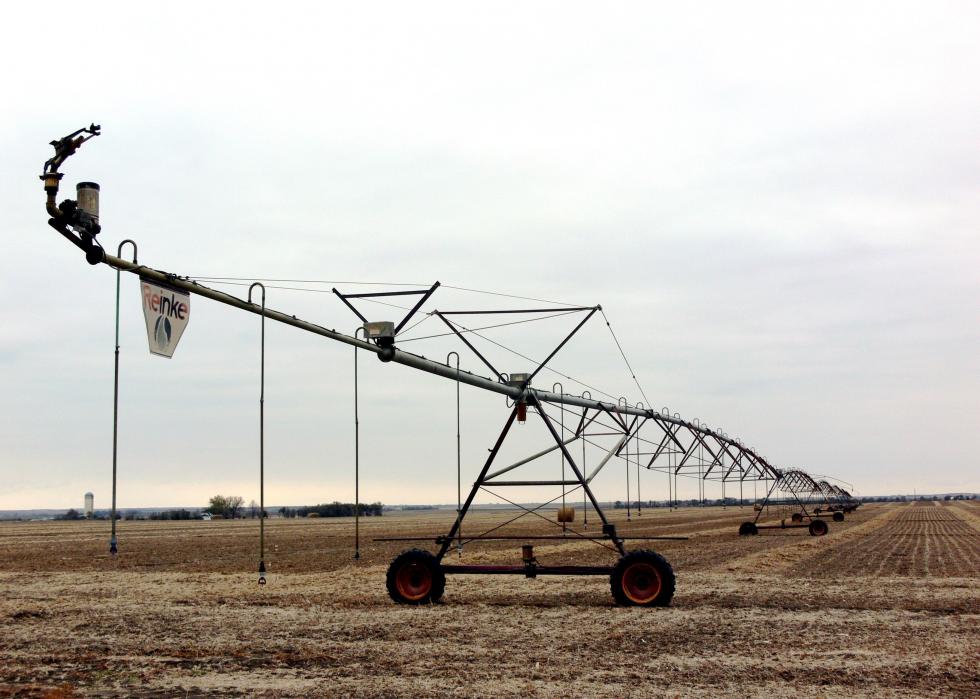 3 / 50
Lars Plougmann // Wikimedia Commons
#48. South Dakota
Total withdrawals: 400 million gallons per day (Mgal/d)
- Fresh water withdrawals: 400 Mgal/d
- Saline water withdrawals: 0 Mgal/d
- Surface water withdrawals: 162 Mgal/d
- Groundwater withdrawals: 238 Mgal/d

Total domestic water use: 49 Mgal/d (56 gal per capita, #5 lowest for all states)
- Public supply: 72 Mgal/d (58 gal per capita, #7 lowest for all states)
--- 752,000 people served (85% of population)
- Self-supplied: 6 Mgal/d (43 gal per capita, #2 lowest for all states)
--- 129,000 people served (15% of population)

Non-public total water use: 323 Mgal/d
- Irrigation: 211 Mgal/d
- Livestock: 48 Mgal/d
- Aquaculture: 29 Mgal/d
- Industrial: 24 Mgal/d (fresh), 0 Mgal/d (saline)
- Mining: 9 Mgal/d (fresh), 0 Mgal/d (saline)
- Thermoelectric power: 2 Mgal/d (fresh), 0 Mgal/d (saline)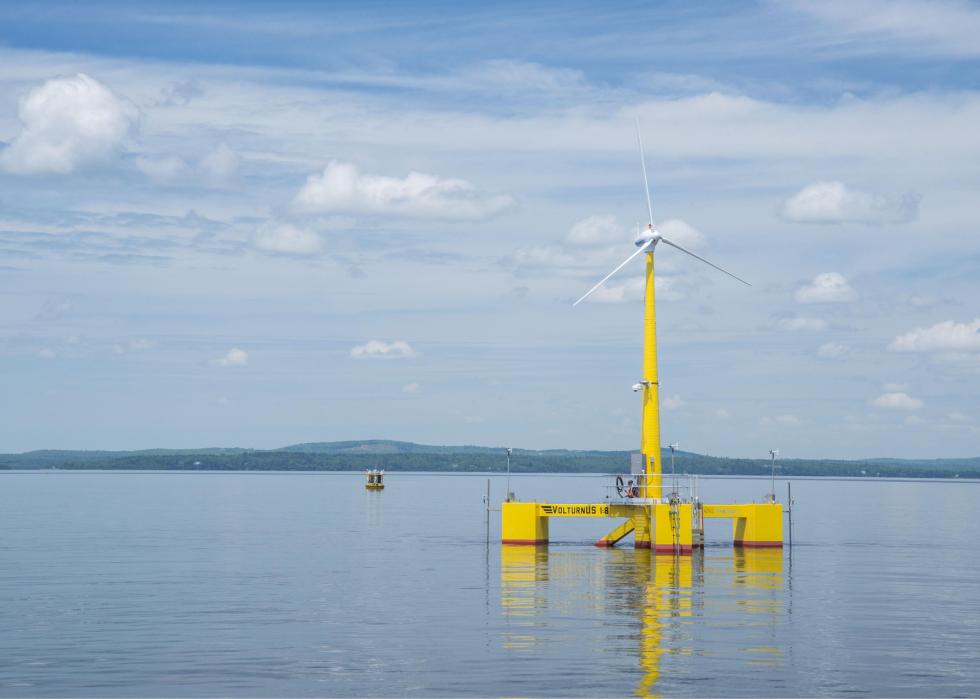 4 / 50
Jplourde umaine // Wikimedia Commons
#47. Maine
Total withdrawals: 509 million gallons per day (Mgal/d)
- Fresh water withdrawals: 385 Mgal/d
- Saline water withdrawals: 124 Mgal/d
- Surface water withdrawals: 424 Mgal/d
- Groundwater withdrawals: 85 Mgal/d

Total domestic water use: 67 Mgal/d (51 gal per capita, #3 lowest for all states)
- Public supply: 85 Mgal/d (53 gal per capita, #3 lowest for all states)
--- 669,000 people served (50% of population)
- Self-supplied: 32 Mgal/d (48 gal per capita, #4 lowest for all states)
--- 660,000 people served (50% of population)

Non-public total water use: 392 Mgal/d
- Irrigation: 19 Mgal/d
- Livestock: 2 Mgal/d
- Aquaculture: 54 Mgal/d
- Industrial: 182 Mgal/d (fresh), 43 Mgal/d (saline)
- Mining: 6 Mgal/d (fresh), 0 Mgal/d (saline)
- Thermoelectric power: 5 Mgal/d (fresh), 81 Mgal/d (saline)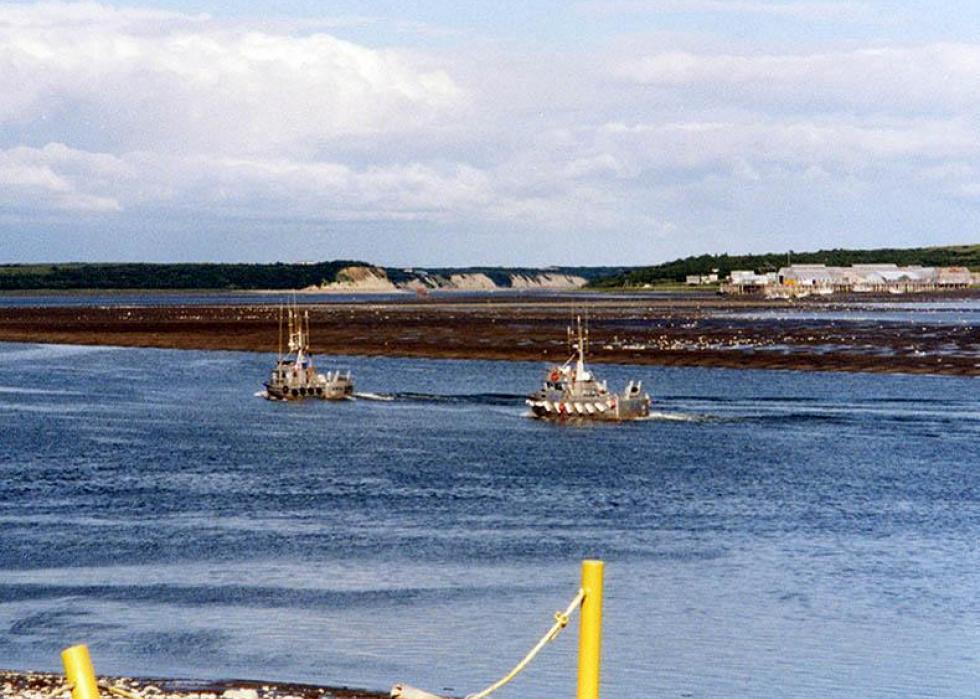 5 / 50
Stan Shebs // Wikimedia Commons
#46. Alaska
Total withdrawals: 766 million gallons per day (Mgal/d)
- Fresh water withdrawals: 633 Mgal/d
- Saline water withdrawals: 132 Mgal/d
- Surface water withdrawals: 451 Mgal/d
- Groundwater withdrawals: 315 Mgal/d

Total domestic water use: 73 Mgal/d (99 gal per capita, #14 highest for all states)
- Public supply: 99 Mgal/d (112 gal per capita, #10 highest for all states)
--- 550,000 people served (74% of population)
- Self-supplied: 11 Mgal/d (60 gal per capita, #9 lowest for all states)
--- 189,000 people served (26% of population)

Non-public total water use: 656 Mgal/d
- Irrigation: 2 Mgal/d
- Livestock: 0.13 Mgal/d
- Aquaculture: 410 Mgal/d
- Industrial: 8 Mgal/d (fresh), 2 Mgal/d (saline)
- Mining: 36 Mgal/d (fresh), 131 Mgal/d (saline)
- Thermoelectric power: 67 Mgal/d (fresh), 0 Mgal/d (saline)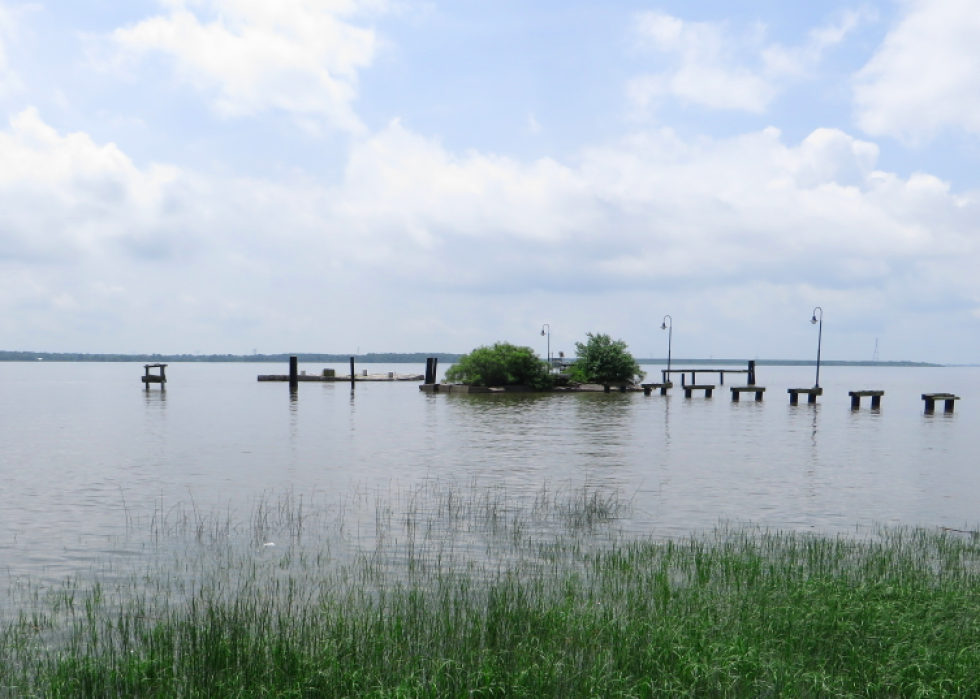 6 / 50
#45. Delaware
Total withdrawals: 790 million gallons per day (Mgal/d)
- Fresh water withdrawals: 534 Mgal/d
- Saline water withdrawals: 256 Mgal/d
- Surface water withdrawals: 620 Mgal/d
- Groundwater withdrawals: 170 Mgal/d

Total domestic water use: 76 Mgal/d (80 gal per capita, #24 highest for all states)
- Public supply: 86 Mgal/d (80 gal per capita, #25 lowest for all states)
--- 764,000 people served (81% of population)
- Self-supplied: 15 Mgal/d (80 gal per capita, #21 highest for all states)
--- 182,000 people served (19% of population)

Non-public total water use: 689 Mgal/d
- Irrigation: 113 Mgal/d
- Livestock: 1 Mgal/d
- Aquaculture: 2 Mgal/d
- Industrial: 302 Mgal/d (fresh), 0 Mgal/d (saline)
- Mining: 0.65 Mgal/d (fresh), 0 Mgal/d (saline)
- Thermoelectric power: 14 Mgal/d (fresh), 256 Mgal/d (saline)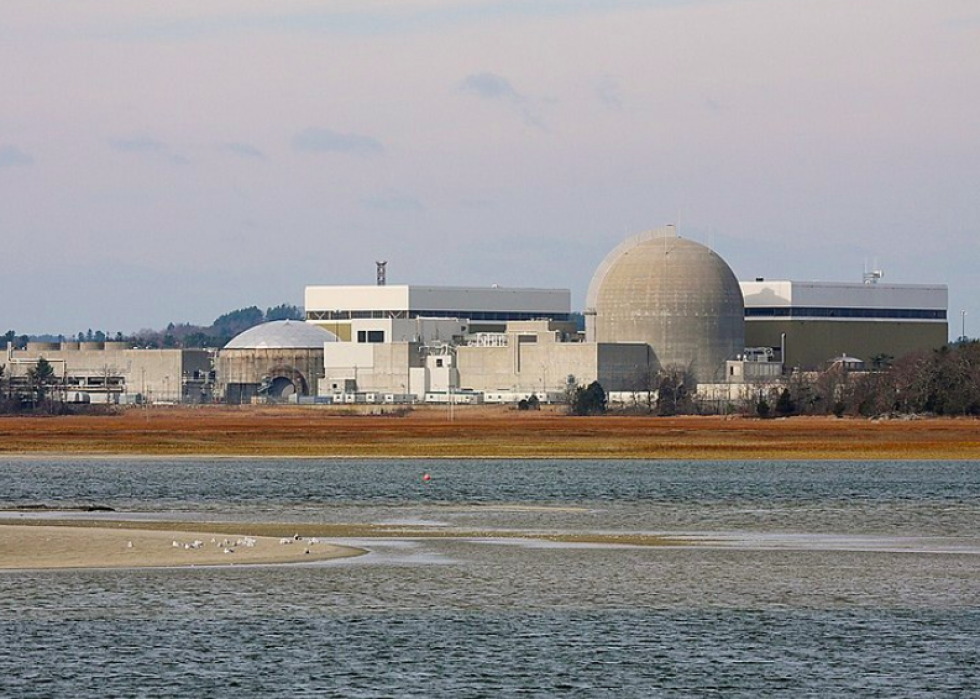 7 / 50
Jim Richmond // Wikimedia Commons
#44. New Hampshire
Total withdrawals: 935 million gallons per day (Mgal/d)
- Fresh water withdrawals: 242 Mgal/d
- Saline water withdrawals: 693 Mgal/d
- Surface water withdrawals: 855 Mgal/d
- Groundwater withdrawals: 80 Mgal/d

Total domestic water use: 80 Mgal/d (60 gal per capita, #10 lowest for all states)
- Public supply: 96 Mgal/d (60 gal per capita, #10 lowest for all states)
--- 833,000 people served (63% of population)
- Self-supplied: 30 Mgal/d (60 gal per capita, #11 lowest for all states)
--- 497,000 people served (37% of population)

Non-public total water use: 810 Mgal/d
- Irrigation: 5 Mgal/d
- Livestock: 0.84 Mgal/d
- Aquaculture: 17 Mgal/d
- Industrial: 13 Mgal/d (fresh), 0 Mgal/d (saline)
- Mining: 6 Mgal/d (fresh), 0 Mgal/d (saline)
- Thermoelectric power: 75 Mgal/d (fresh), 693 Mgal/d (saline)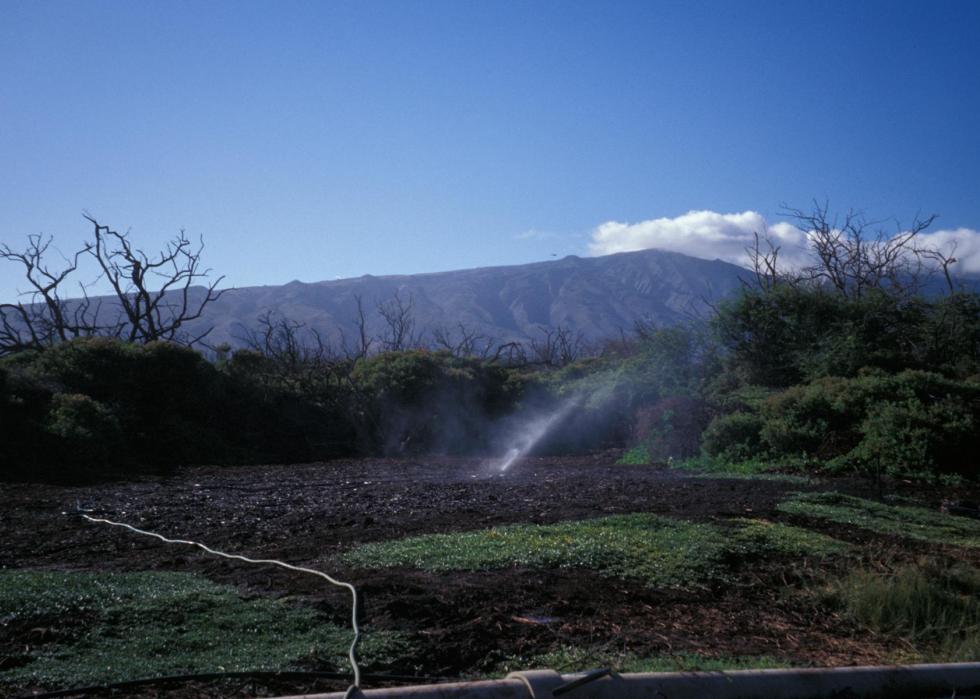 8 / 50
Forest & Kim Starr // Wikimedia Commons
#43. Hawaii
Total withdrawals: 1,060 million gallons per day (Mgal/d)
- Fresh water withdrawals: 683 Mgal/d
- Saline water withdrawals: 377 Mgal/d
- Surface water withdrawals: 702 Mgal/d
- Groundwater withdrawals: 359 Mgal/d

Total domestic water use: 206 Mgal/d (144 gal per capita, #5 highest for all states)
- Public supply: 267 Mgal/d (144 gal per capita, #5 highest for all states)
--- 1.4 million people served (96% of population)
- Self-supplied: 8 Mgal/d (144 gal per capita, #4 highest for all states)
--- 56,300 people served (4% of population)

Non-public total water use: 785 Mgal/d
- Irrigation: 385 Mgal/d
- Livestock: 2 Mgal/d
- Aquaculture: 19 Mgal/d
- Industrial: 0.24 Mgal/d (fresh), 0 Mgal/d (saline)
- Mining: 0.92 Mgal/d (fresh), 0 Mgal/d (saline)
- Thermoelectric power: 1 Mgal/d (fresh), 377 Mgal/d (saline)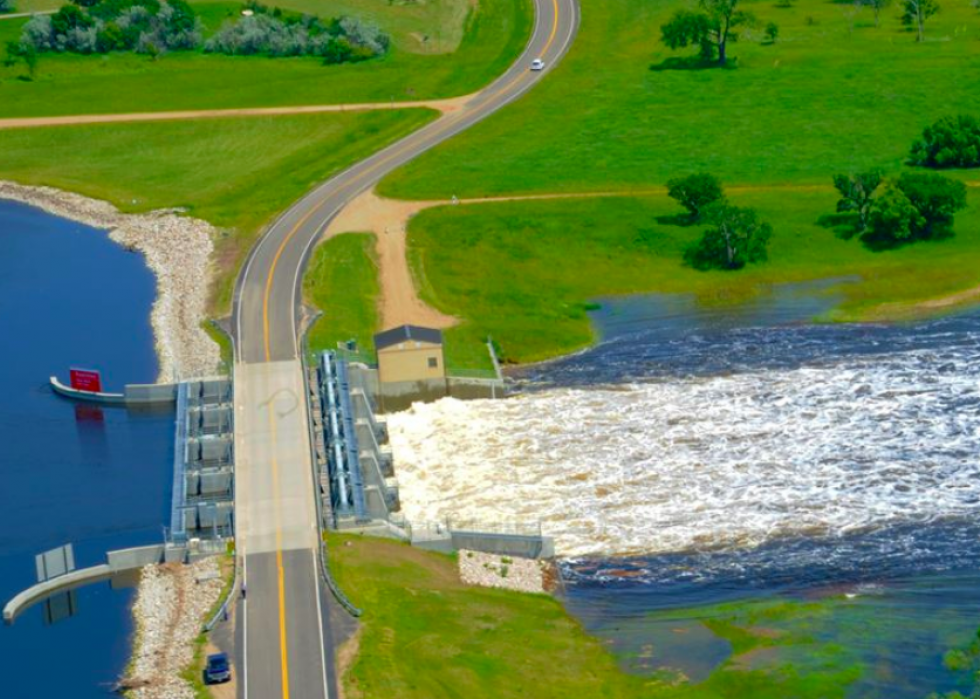 9 / 50
Staff Sgt. Sharida Jackson // U.S. Air Force
#42. North Dakota
Total withdrawals: 1,400 million gallons per day (Mgal/d)
- Fresh water withdrawals: 1,380 Mgal/d
- Saline water withdrawals: 15 Mgal/d
- Surface water withdrawals: 1,190 Mgal/d
- Groundwater withdrawals: 202 Mgal/d

Total domestic water use: 61 Mgal/d (80 gal per capita, #25 highest for all states)
- Public supply: 84 Mgal/d (80 gal per capita, #24 highest for all states)
--- 711,000 people served (94% of population)
- Self-supplied: 4 Mgal/d (80 gal per capita, #22 highest for all states)
--- 46,400 people served (6% of population)

Non-public total water use: 1,308 Mgal/d
- Irrigation: 233 Mgal/d
- Livestock: 21 Mgal/d
- Aquaculture: 5 Mgal/d
- Industrial: 20 Mgal/d (fresh), 0 Mgal/d (saline)
- Mining: 31 Mgal/d (fresh), 15 Mgal/d (saline)
- Thermoelectric power: 983 Mgal/d (fresh), 0 Mgal/d (saline)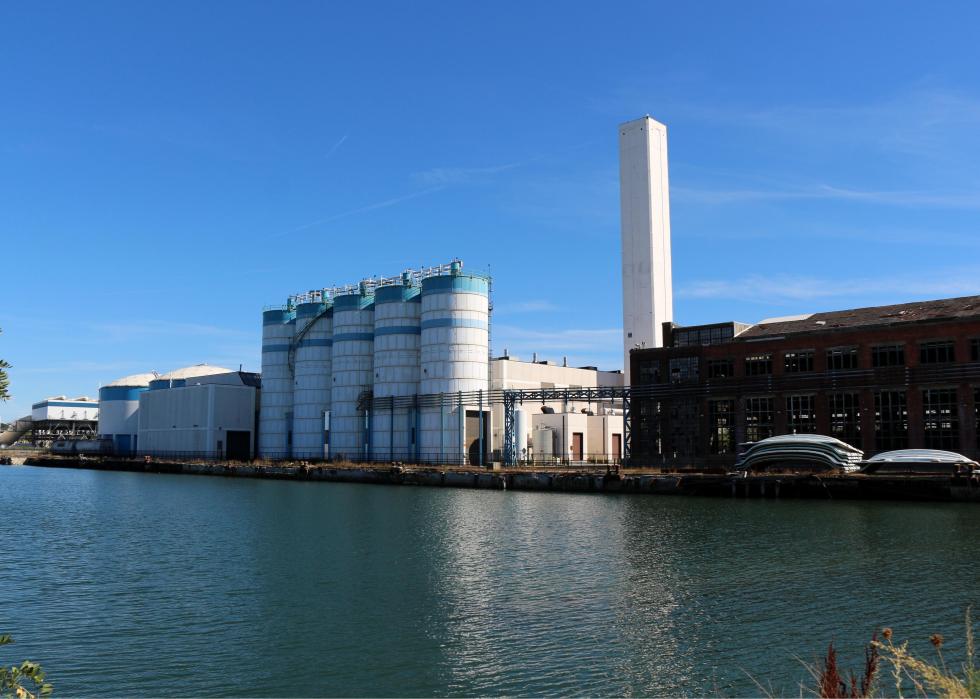 10 / 50
Ktr101 // Wikimedia Commons
#41. Massachusetts
Total withdrawals: 1,410 million gallons per day (Mgal/d)
- Fresh water withdrawals: 920 Mgal/d
- Saline water withdrawals: 488 Mgal/d
- Surface water withdrawals: 1,030 Mgal/d
- Groundwater withdrawals: 380 Mgal/d

Total domestic water use: 382 Mgal/d (56 gal per capita, #6 lowest for all states)
- Public supply: 648 Mgal/d (56 gal per capita, #5 lowest for all states)
--- 6.2 million people served (91% of population)
- Self-supplied: 35 Mgal/d (57 gal per capita, #7 lowest for all states)
--- 616,000 people served (9% of population)

Non-public total water use: 725 Mgal/d
- Irrigation: 139 Mgal/d
- Livestock: 1 Mgal/d
- Aquaculture: 10 Mgal/d
- Industrial: 28 Mgal/d (fresh), 0 Mgal/d (saline)
- Mining: 10 Mgal/d (fresh), 0 Mgal/d (saline)
- Thermoelectric power: 50 Mgal/d (fresh), 487 Mgal/d (saline)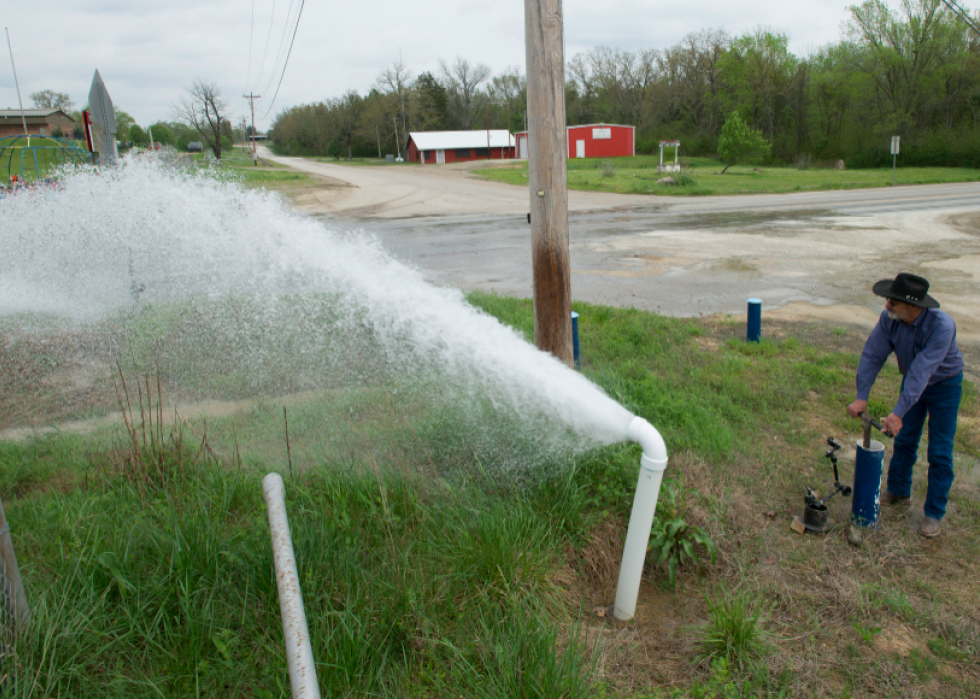 11 / 50
#40. Oklahoma
Total withdrawals: 1,960 million gallons per day (Mgal/d)
- Fresh water withdrawals: 1,810 Mgal/d
- Saline water withdrawals: 155 Mgal/d
- Surface water withdrawals: 848 Mgal/d
- Groundwater withdrawals: 1,110 Mgal/d

Total domestic water use: 277 Mgal/d (71 gal per capita, #18 lowest for all states)
- Public supply: 611 Mgal/d (69 gal per capita, #15 lowest for all states)
--- 3.6 million people served (91% of population)
- Self-supplied: 30 Mgal/d (85 gal per capita, #17 highest for all states)
--- 357,000 people served (9% of population)

Non-public total water use: 1,321 Mgal/d
- Irrigation: 931 Mgal/d
- Livestock: 71 Mgal/d
- Aquaculture: 3 Mgal/d
- Industrial: 52 Mgal/d (fresh), 0 Mgal/d (saline)
- Mining: 37 Mgal/d (fresh), 155 Mgal/d (saline)
- Thermoelectric power: 72 Mgal/d (fresh), 0 Mgal/d (saline)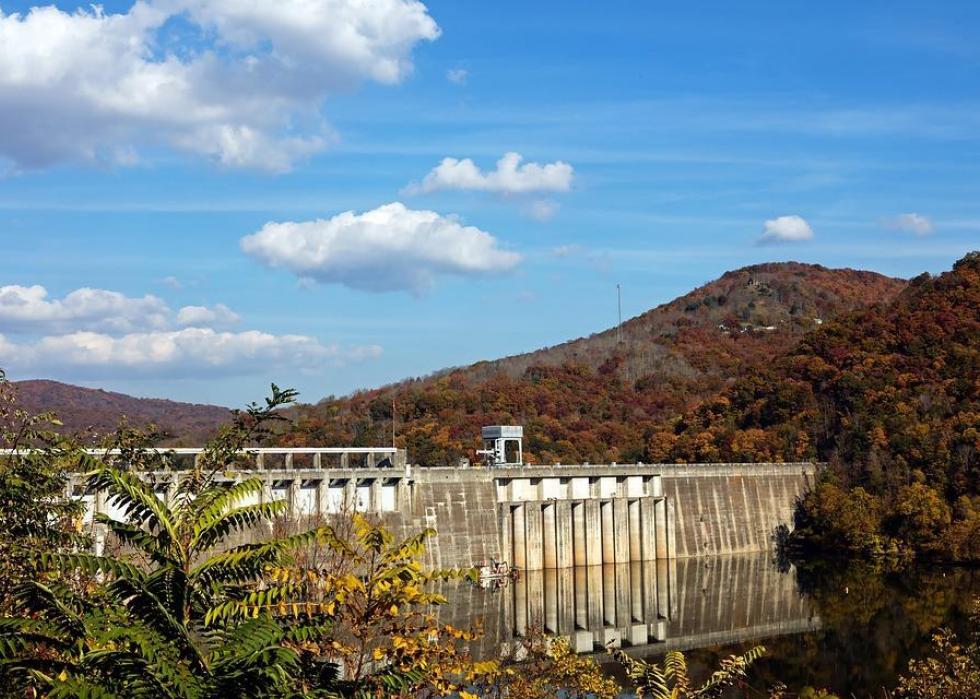 12 / 50
#39. West Virginia
Total withdrawals: 2,320 million gallons per day (Mgal/d)
- Fresh water withdrawals: 2,320 Mgal/d
- Saline water withdrawals: 5 Mgal/d
- Surface water withdrawals: 2,190 Mgal/d
- Groundwater withdrawals: 134 Mgal/d

Total domestic water use: 147 Mgal/d (80 gal per capita, #23 highest for all states)
- Public supply: 185 Mgal/d (80 gal per capita, #22 highest for all states)
--- 1.5 million people served (79% of population)
- Self-supplied: 31 Mgal/d (80 gal per capita, #20 highest for all states)
--- 392,000 people served (21% of population)

Non-public total water use: 2,100 Mgal/d
- Irrigation: 4 Mgal/d
- Livestock: 5 Mgal/d
- Aquaculture: 39 Mgal/d
- Industrial: 424 Mgal/d (fresh), 3 Mgal/d (saline)
- Mining: 53 Mgal/d (fresh), 2 Mgal/d (saline)
- Thermoelectric power: 1,570 Mgal/d (fresh), 0 Mgal/d (saline)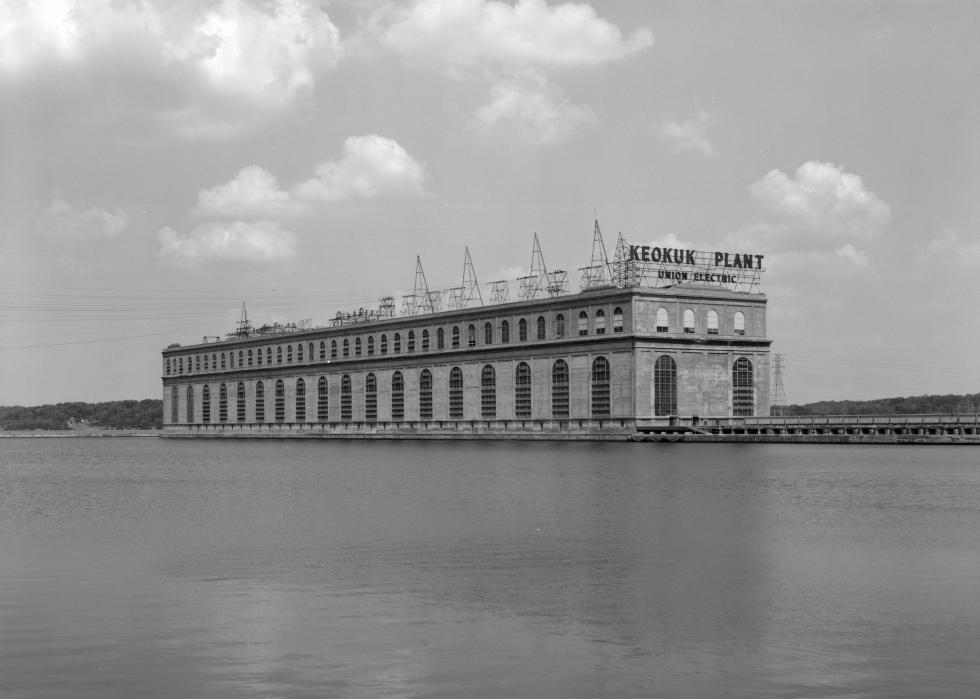 13 / 50
Peter A. Rathbun // Wikimedia Commons
#38. Iowa
Total withdrawals: 2,690 million gallons per day (Mgal/d)
- Fresh water withdrawals: 2,690 Mgal/d
- Saline water withdrawals: 0 Mgal/d
- Surface water withdrawals: 2,060 Mgal/d
- Groundwater withdrawals: 630 Mgal/d

Total domestic water use: 203 Mgal/d (65 gal per capita, #12 lowest for all states)
- Public supply: 390 Mgal/d (65 gal per capita, #13 lowest for all states)
--- 2.6 million people served (84% of population)
- Self-supplied: 32 Mgal/d (65 gal per capita, #12 lowest for all states)
--- 494,000 people served (16% of population)

Non-public total water use: 2,263 Mgal/d
- Irrigation: 35 Mgal/d
- Livestock: 165 Mgal/d
- Aquaculture: 20 Mgal/d
- Industrial: 288 Mgal/d (fresh), 0 Mgal/d (saline)
- Mining: 76 Mgal/d (fresh), 0 Mgal/d (saline)
- Thermoelectric power: 1,680 Mgal/d (fresh), 0 Mgal/d (saline)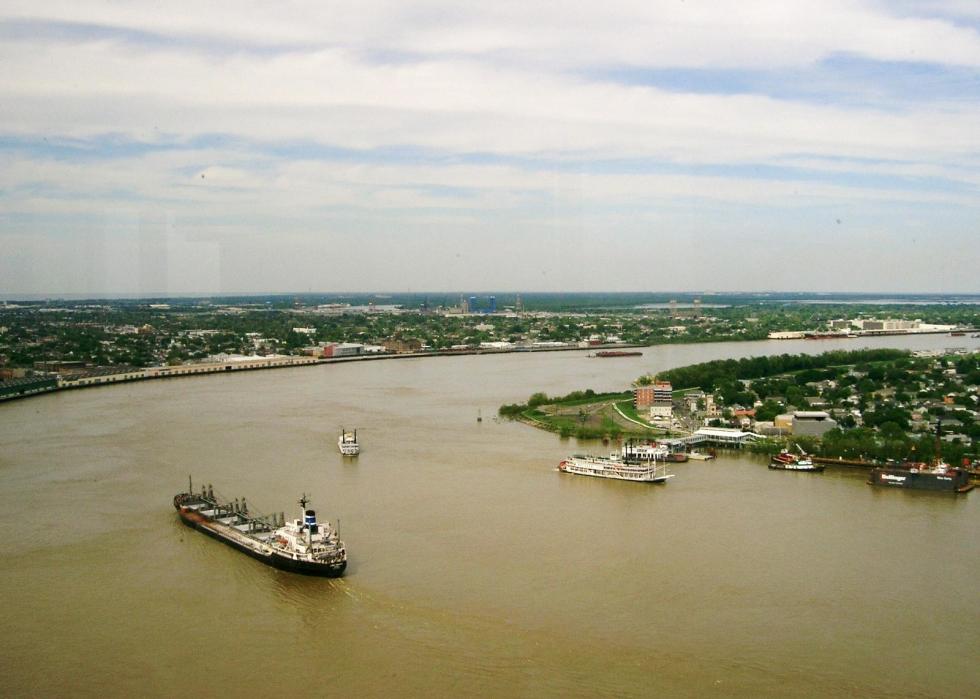 14 / 50
#37. Mississippi
Total withdrawals: 2,690 million gallons per day (Mgal/d)
- Fresh water withdrawals: 2,670 Mgal/d
- Saline water withdrawals: 15 Mgal/d
- Surface water withdrawals: 429 Mgal/d
- Groundwater withdrawals: 2,260 Mgal/d

Total domestic water use: 299 Mgal/d (100 gal per capita, #12 highest for all states)
- Public supply: 400 Mgal/d (98 gal per capita, #14 highest for all states)
--- 2.6 million people served (85% of population)
- Self-supplied: 48 Mgal/d (111 gal per capita, #9 highest for all states)
--- 435,000 people served (15% of population)

Non-public total water use: 2,239 Mgal/d
- Irrigation: 1,770 Mgal/d
- Livestock: 17 Mgal/d
- Aquaculture: 127 Mgal/d
- Industrial: 182 Mgal/d (fresh), 0 Mgal/d (saline)
- Mining: 9 Mgal/d (fresh), 7 Mgal/d (saline)
- Thermoelectric power: 118 Mgal/d (fresh), 8 Mgal/d (saline)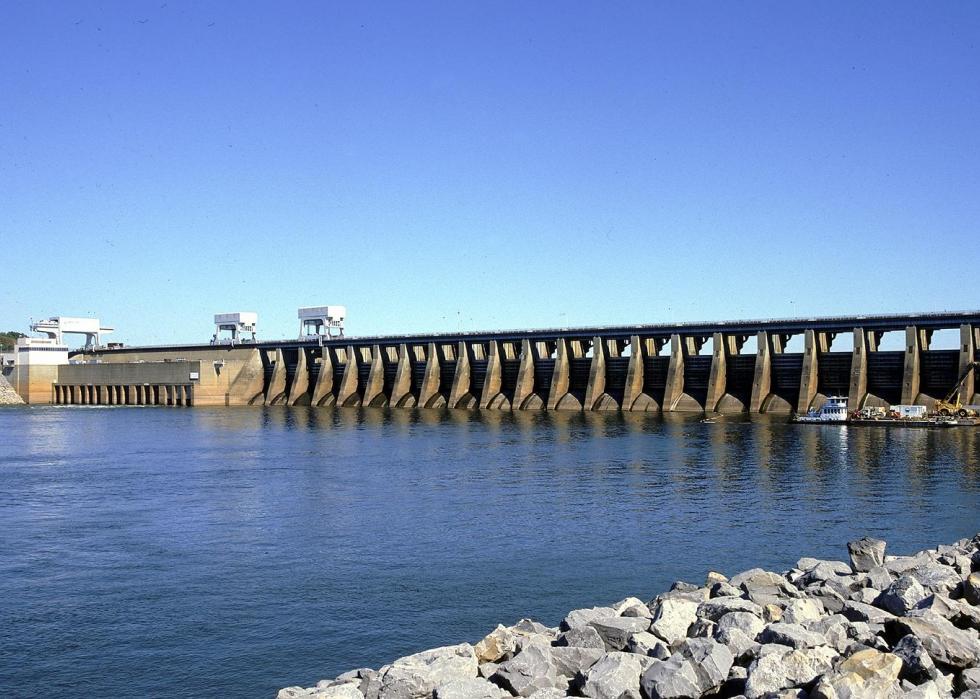 15 / 50
Tennessee Valley Authority // Wikimedia Commons
#36. Kentucky
Total withdrawals: 2,830 million gallons per day (Mgal/d)
- Fresh water withdrawals: 2,830 Mgal/d
- Saline water withdrawals: 0 Mgal/d
- Surface water withdrawals: 2,630 Mgal/d
- Groundwater withdrawals: 207 Mgal/d

Total domestic water use: 301 Mgal/d (68 gal per capita, #15 lowest for all states)
- Public supply: 553 Mgal/d (70 gal per capita, #16 lowest for all states)
--- 4.0 million people served (90% of population)
- Self-supplied: 22 Mgal/d (50 gal per capita, #6 lowest for all states)
--- 441,000 people served (10% of population)

Non-public total water use: 2,254 Mgal/d
- Irrigation: 40 Mgal/d
- Livestock: 41 Mgal/d
- Aquaculture: 48 Mgal/d
- Industrial: 225 Mgal/d (fresh), 0 Mgal/d (saline)
- Mining: 41 Mgal/d (fresh), 0 Mgal/d (saline)
- Thermoelectric power: 1,860 Mgal/d (fresh), 0 Mgal/d (saline)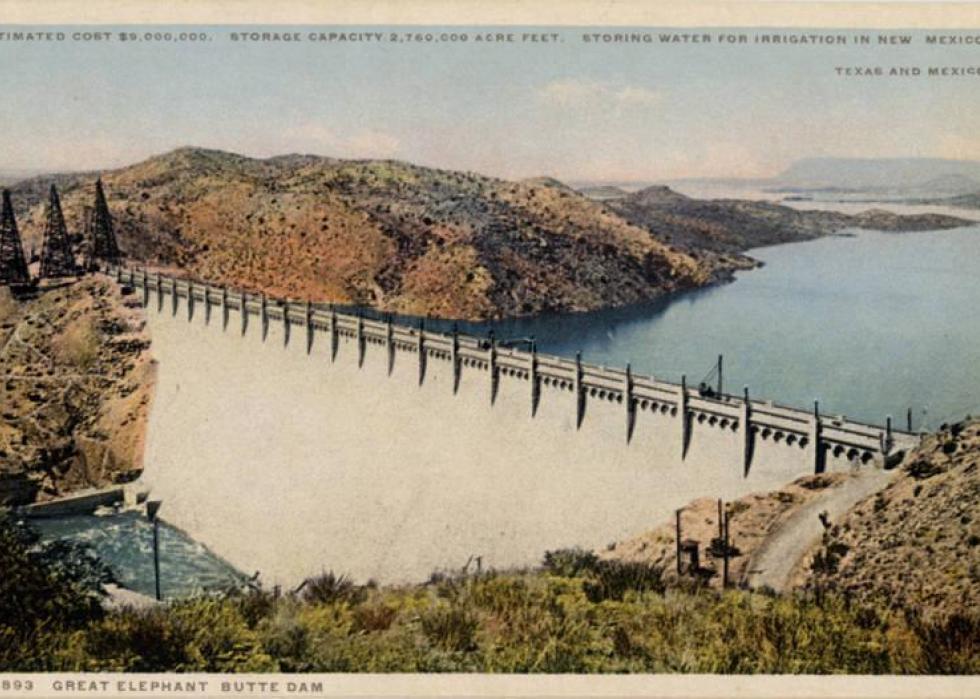 16 / 50
#35. New Mexico
Total withdrawals: 2,900 million gallons per day (Mgal/d)
- Fresh water withdrawals: 2,810 Mgal/d
- Saline water withdrawals: 89 Mgal/d
- Surface water withdrawals: 1,460 Mgal/d
- Groundwater withdrawals: 1,440 Mgal/d

Total domestic water use: 170 Mgal/d (81 gal per capita, #20 highest for all states)
- Public supply: 262 Mgal/d (81 gal per capita, #21 highest for all states)
--- 1.8 million people served (86% of population)
- Self-supplied: 25 Mgal/d (84 gal per capita, #18 highest for all states)
--- 292,000 people served (14% of population)

Non-public total water use: 2,609 Mgal/d
- Irrigation: 2,370 Mgal/d
- Livestock: 32 Mgal/d
- Aquaculture: 24 Mgal/d
- Industrial: 3 Mgal/d (fresh), 0 Mgal/d (saline)
- Mining: 57 Mgal/d (fresh), 89 Mgal/d (saline)
- Thermoelectric power: 34 Mgal/d (fresh), 0 Mgal/d (saline)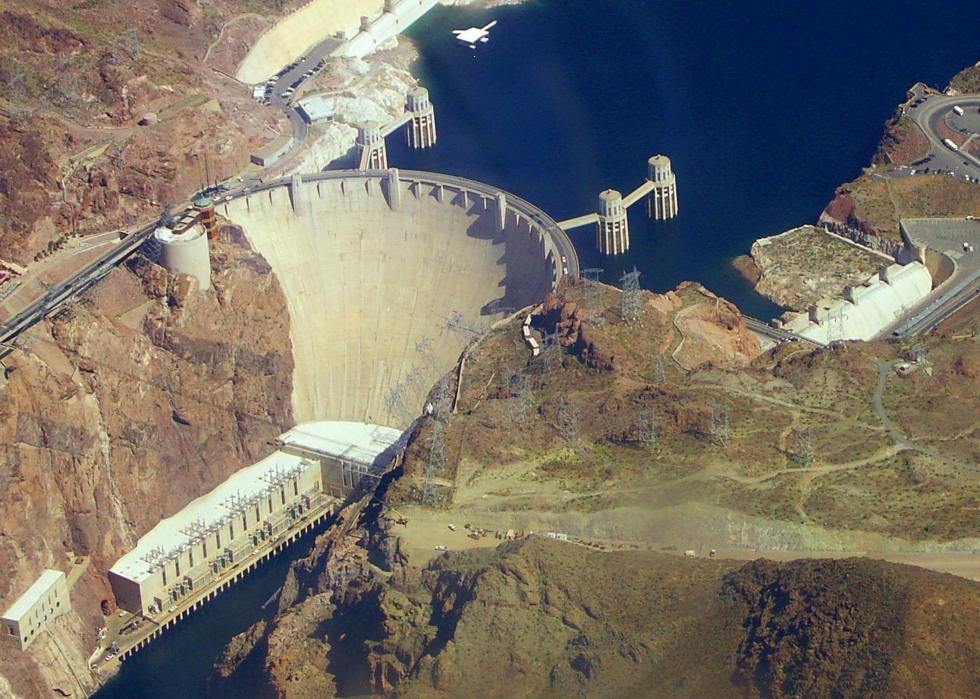 17 / 50
LICKO // Wikimedia Commons
#34. Nevada
Total withdrawals: 2,960 million gallons per day (Mgal/d)
- Fresh water withdrawals: 2,880 Mgal/d
- Saline water withdrawals: 82 Mgal/d
- Surface water withdrawals: 1,520 Mgal/d
- Groundwater withdrawals: 1,440 Mgal/d

Total domestic water use: 365 Mgal/d (126 gal per capita, #6 highest for all states)
- Public supply: 531 Mgal/d (122 gal per capita, #7 highest for all states)
--- 2.7 million people served (93% of population)
- Self-supplied: 36 Mgal/d (186 gal per capita, #1 highest for all states)
--- 193,000 people served (7% of population)

Non-public total water use: 2,401 Mgal/d
- Irrigation: 2,070 Mgal/d
- Livestock: 5 Mgal/d
- Aquaculture: 34 Mgal/d
- Industrial: 6 Mgal/d (fresh), 0 Mgal/d (saline)
- Mining: 195 Mgal/d (fresh), 11 Mgal/d (saline)
- Thermoelectric power: 9 Mgal/d (fresh), 71 Mgal/d (saline)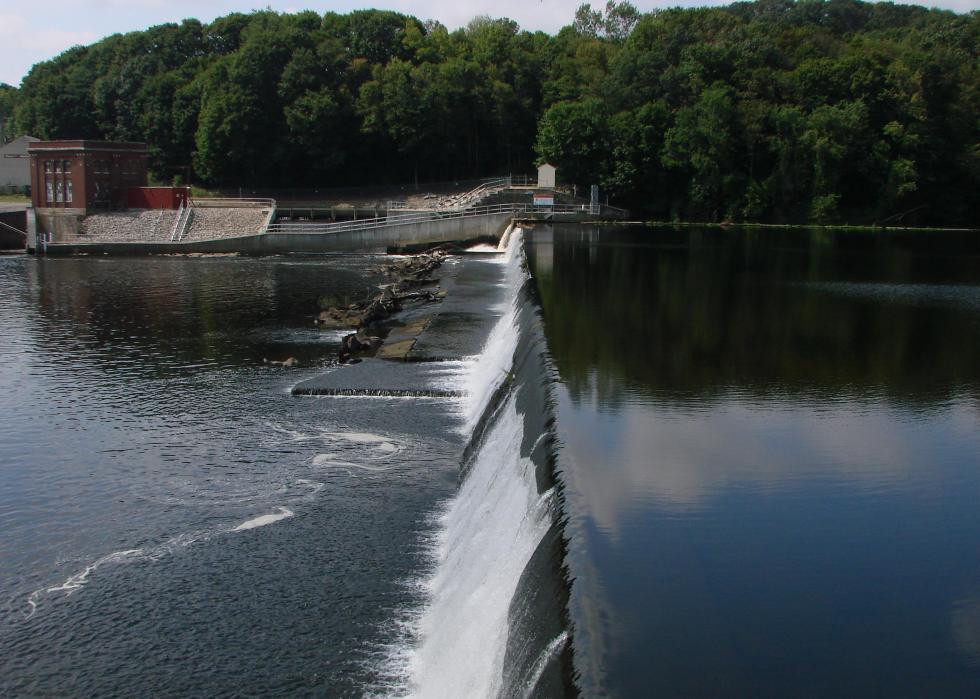 18 / 50
Digitalpilgrim // Wikimedia Commons
#33. Connecticut
Total withdrawals: 3,130 million gallons per day (Mgal/d)
- Fresh water withdrawals: 617 Mgal/d
- Saline water withdrawals: 2,510 Mgal/d
- Surface water withdrawals: 3,000 Mgal/d
- Groundwater withdrawals: 128 Mgal/d

Total domestic water use: 127 Mgal/d (35 gal per capita, #1 lowest for all states)
- Public supply: 240 Mgal/d (35 gal per capita, #1 lowest for all states)
--- 2.7 million people served (76% of population)
- Self-supplied: 31 Mgal/d (36 gal per capita, #1 lowest for all states)
--- 861,000 people served (24% of population)

Non-public total water use: 2,861 Mgal/d
- Irrigation: 11 Mgal/d
- Livestock: 1 Mgal/d
- Aquaculture: 25 Mgal/d
- Industrial: 181 Mgal/d (fresh), 42 Mgal/d (saline)
- Mining: 4 Mgal/d (fresh), 0 Mgal/d (saline)
- Thermoelectric power: 126 Mgal/d (fresh), 2,470 Mgal/d (saline)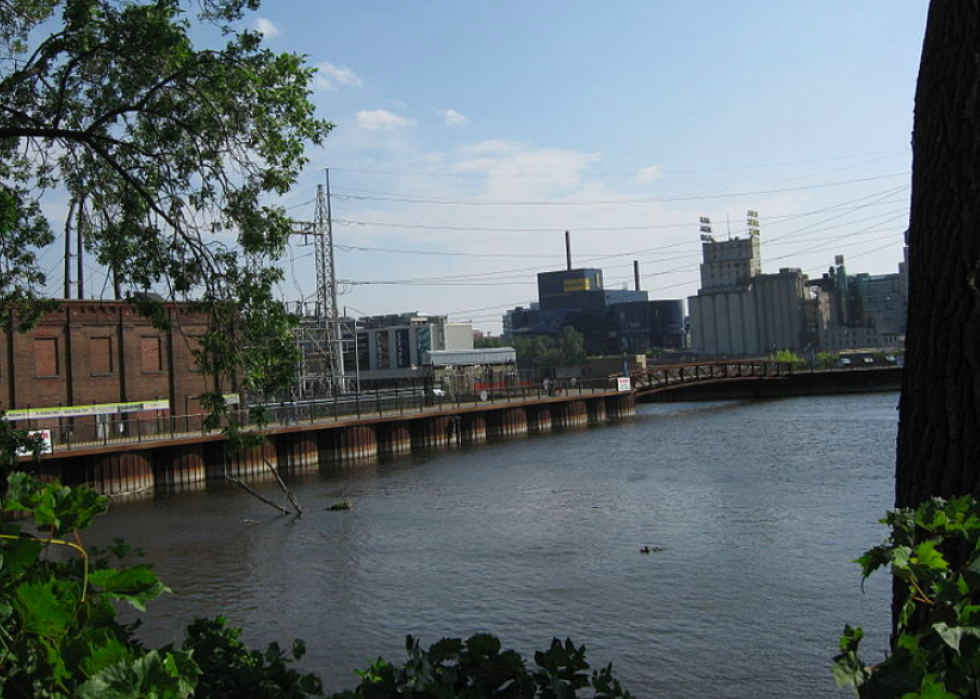 19 / 50
Innotata // Wikimedia Commons
#32. Minnesota
Total withdrawals: 3,230 million gallons per day (Mgal/d)
- Fresh water withdrawals: 3,230 Mgal/d
- Saline water withdrawals: 0 Mgal/d
- Surface water withdrawals: 2,450 Mgal/d
- Groundwater withdrawals: 776 Mgal/d

Total domestic water use: 318 Mgal/d (58 gal per capita, #8 lowest for all states)
- Public supply: 515 Mgal/d (55 gal per capita, #4 lowest for all states)
--- 4.3 million people served (79% of population)
- Self-supplied: 82 Mgal/d (70 gal per capita, #15 lowest for all states)
--- 1.2 million people served (21% of population)

Non-public total water use: 2,630 Mgal/d
- Irrigation: 276 Mgal/d
- Livestock: 59 Mgal/d
- Aquaculture: 17 Mgal/d
- Industrial: 259 Mgal/d (fresh), 0 Mgal/d (saline)
- Mining: 9 Mgal/d (fresh), 0 Mgal/d (saline)
- Thermoelectric power: 2,010 Mgal/d (fresh), 0 Mgal/d (saline)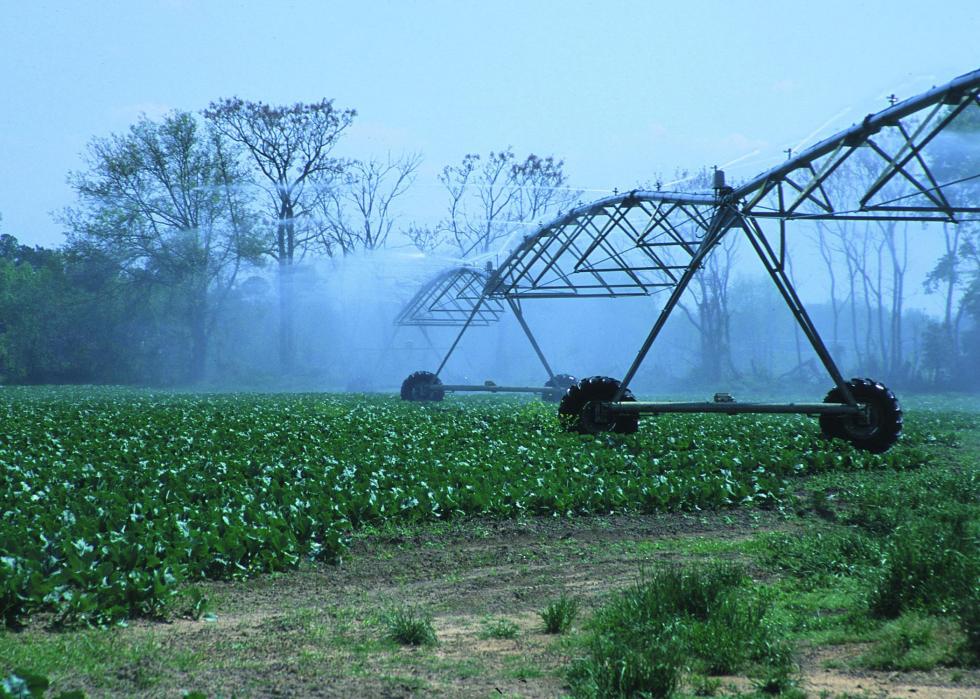 20 / 50
Jeff Vanuga/USDA Natural Resources Conservation Service // Wikimedia Commons
#31. Georgia
Total withdrawals: 3,380 million gallons per day (Mgal/d)
- Fresh water withdrawals: 3,280 Mgal/d
- Saline water withdrawals: 102 Mgal/d
- Surface water withdrawals: 2,230 Mgal/d
- Groundwater withdrawals: 1,150 Mgal/d

Total domestic water use: 765 Mgal/d (75 gal per capita, #21 lowest for all states)
- Public supply: 1,070 Mgal/d (76 gal per capita, #22 lowest for all states)
--- 8.7 million people served (85% of population)
- Self-supplied: 104 Mgal/d (69 gal per capita, #14 lowest for all states)
--- 1.5 million people served (15% of population)

Non-public total water use: 2,206 Mgal/d
- Irrigation: 738 Mgal/d
- Livestock: 45 Mgal/d
- Aquaculture: 85 Mgal/d
- Industrial: 475 Mgal/d (fresh), 0 Mgal/d (saline)
- Mining: 20 Mgal/d (fresh), 0 Mgal/d (saline)
- Thermoelectric power: 741 Mgal/d (fresh), 102 Mgal/d (saline)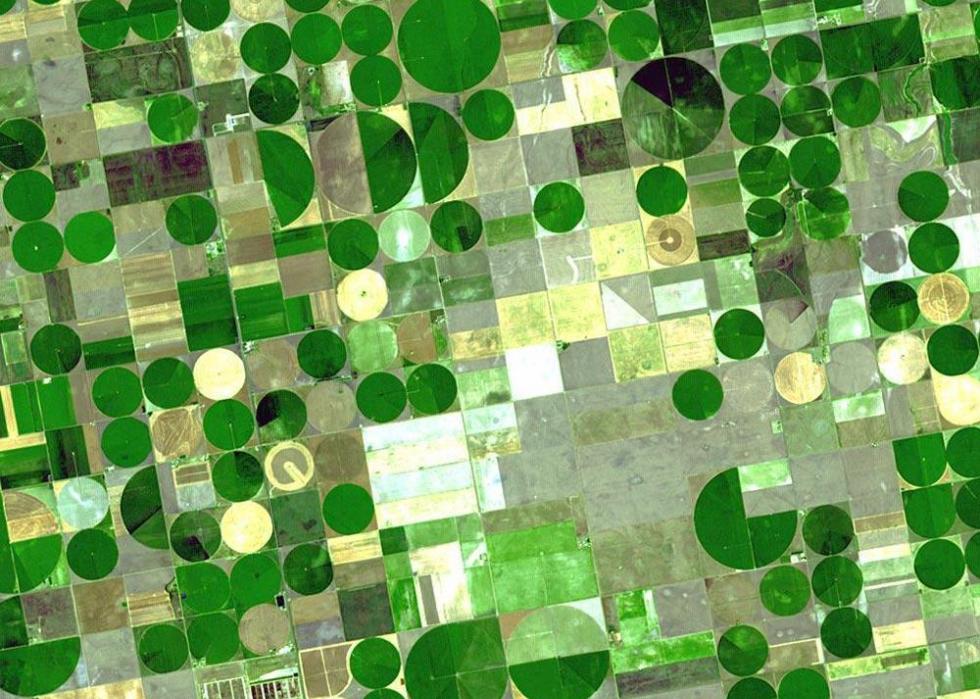 21 / 50
U.S. Geological Survey // Wikimedia Commons
#30. Kansas
Total withdrawals: 4,020 million gallons per day (Mgal/d)
- Fresh water withdrawals: 4,010 Mgal/d
- Saline water withdrawals: 6 Mgal/d
- Surface water withdrawals: 1,180 Mgal/d
- Groundwater withdrawals: 2,840 Mgal/d

Total domestic water use: 192 Mgal/d (66 gal per capita, #13 lowest for all states)
- Public supply: 351 Mgal/d (63 gal per capita, #12 lowest for all states)
--- 2.8 million people served (95% of population)
- Self-supplied: 18 Mgal/d (118 gal per capita, #6 highest for all states)
--- 149,000 people served (5% of population)

Non-public total water use: 3,651 Mgal/d
- Irrigation: 2,680 Mgal/d
- Livestock: 104 Mgal/d
- Aquaculture: 6 Mgal/d
- Industrial: 38 Mgal/d (fresh), 0 Mgal/d (saline)
- Mining: 6 Mgal/d (fresh), 0 Mgal/d (saline)
- Thermoelectric power: 817 Mgal/d (fresh), 0 Mgal/d (saline)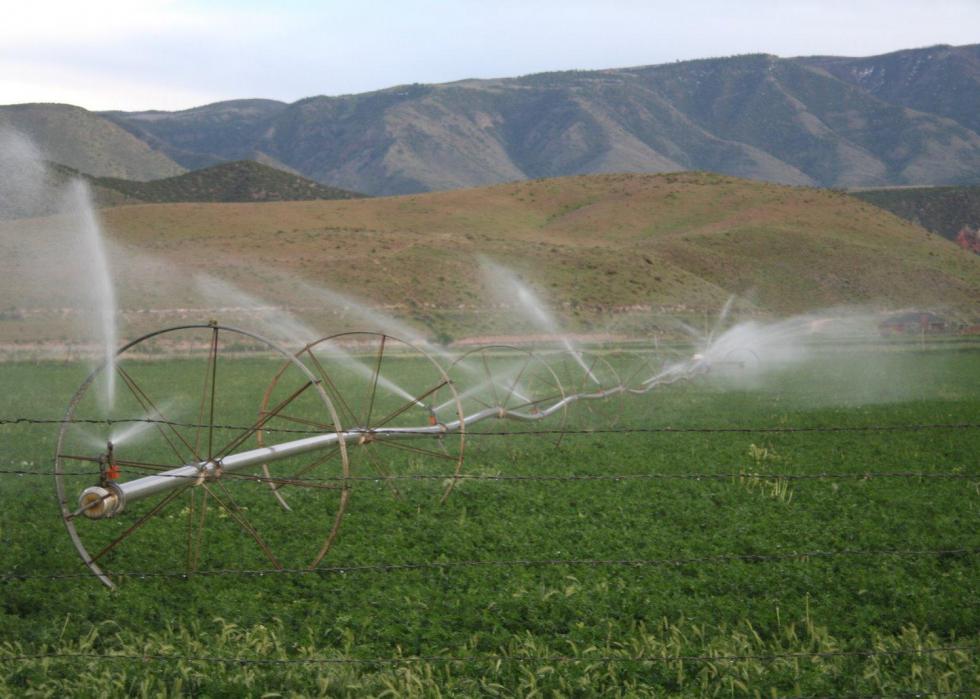 22 / 50
LYOUNG02 // Wikimedia Common
#29. Utah
Total withdrawals: 4,230 million gallons per day (Mgal/d)
- Fresh water withdrawals: 3,880 Mgal/d
- Saline water withdrawals: 350 Mgal/d
- Surface water withdrawals: 3,080 Mgal/d
- Groundwater withdrawals: 1,150 Mgal/d

Total domestic water use: 506 Mgal/d (169 gal per capita, #2 highest for all states)
- Public supply: 627 Mgal/d (169 gal per capita, #3 highest for all states)
--- 2.9 million people served (98% of population)
- Self-supplied: 10 Mgal/d (169 gal per capita, #3 highest for all states)
--- 61,400 people served (2% of population)

Non-public total water use: 3,593 Mgal/d
- Irrigation: 3,030 Mgal/d
- Livestock: 16 Mgal/d
- Aquaculture: 83 Mgal/d
- Industrial: 54 Mgal/d (fresh), 79 Mgal/d (saline)
- Mining: 3 Mgal/d (fresh), 258 Mgal/d (saline)
- Thermoelectric power: 61 Mgal/d (fresh), 8 Mgal/d (saline)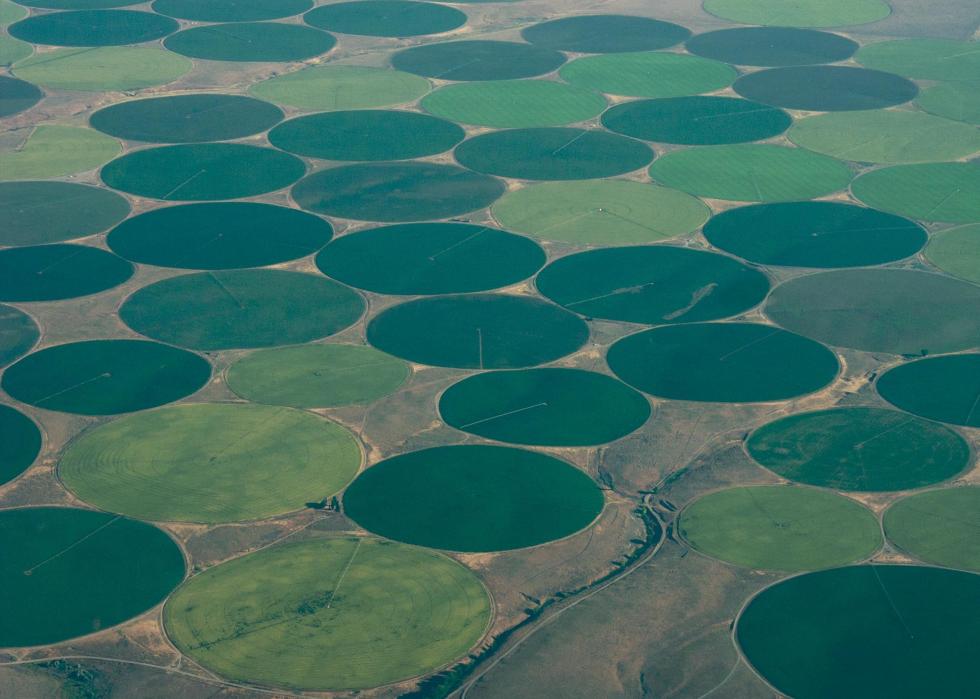 23 / 50
Sam Beebe // Wikimedia Commons
#28. Washington
Total withdrawals: 4,260 million gallons per day (Mgal/d)
- Fresh water withdrawals: 4,260 Mgal/d
- Saline water withdrawals: 0 Mgal/d
- Surface water withdrawals: 2,730 Mgal/d
- Groundwater withdrawals: 1,530 Mgal/d

Total domestic water use: 741 Mgal/d (103 gal per capita, #11 highest for all states)
- Public supply: 867 Mgal/d (103 gal per capita, #12 highest for all states)
--- 6.2 million people served (86% of population)
- Self-supplied: 110 Mgal/d (107 gal per capita, #11 highest for all states)
--- 1.0 million people served (14% of population)

Non-public total water use: 3,276 Mgal/d
- Irrigation: 2,520 Mgal/d
- Livestock: 30 Mgal/d
- Aquaculture: 245 Mgal/d
- Industrial: 412 Mgal/d (fresh), 0 Mgal/d (saline)
- Mining: 17 Mgal/d (fresh), 0 Mgal/d (saline)
- Thermoelectric power: 52 Mgal/d (fresh), 0 Mgal/d (saline)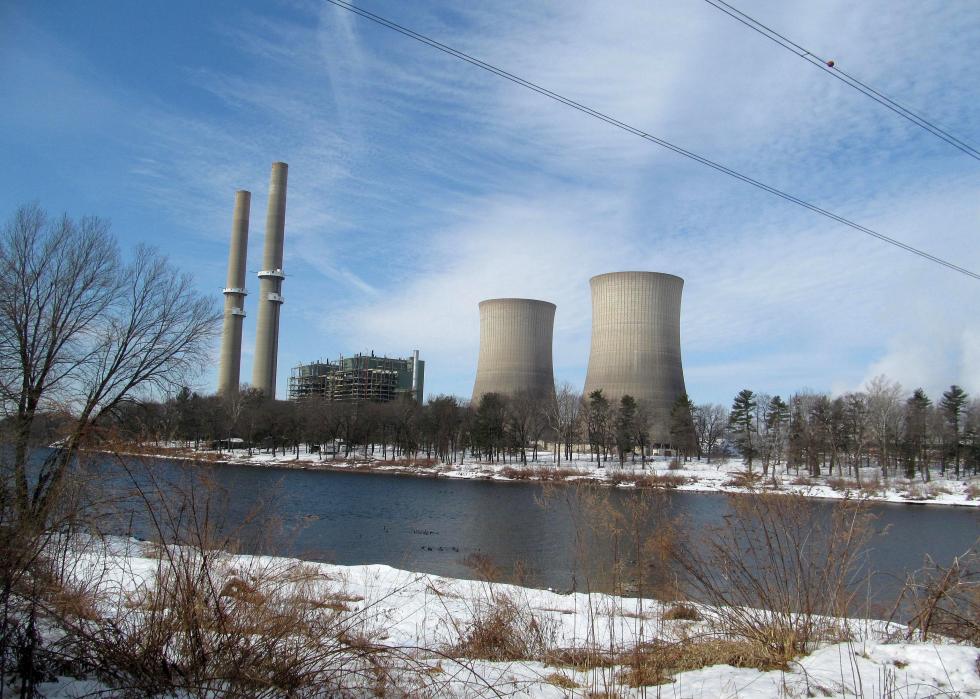 24 / 50
Doug Kerr/ Wikimedia Commons
#27. New Jersey
Total withdrawals: 5,310 million gallons per day (Mgal/d)
- Fresh water withdrawals: 1,880 Mgal/d
- Saline water withdrawals: 3,430 Mgal/d
- Surface water withdrawals: 4,740 Mgal/d
- Groundwater withdrawals: 569 Mgal/d

Total domestic water use: 717 Mgal/d (80 gal per capita, #21 highest for all states)
- Public supply: 1,180 Mgal/d (78 gal per capita, #24 lowest for all states)
--- 8.0 million people served (89% of population)
- Self-supplied: 91 Mgal/d (94 gal per capita, #14 highest for all states)
--- 966,000 people served (11% of population)

Non-public total water use: 4,048 Mgal/d
- Irrigation: 94 Mgal/d
- Livestock: 0.88 Mgal/d
- Aquaculture: 10 Mgal/d
- Industrial: 94 Mgal/d (fresh), 0 Mgal/d (saline)
- Mining: 58 Mgal/d (fresh), 0 Mgal/d (saline)
- Thermoelectric power: 361 Mgal/d (fresh), 3,430 Mgal/d (saline)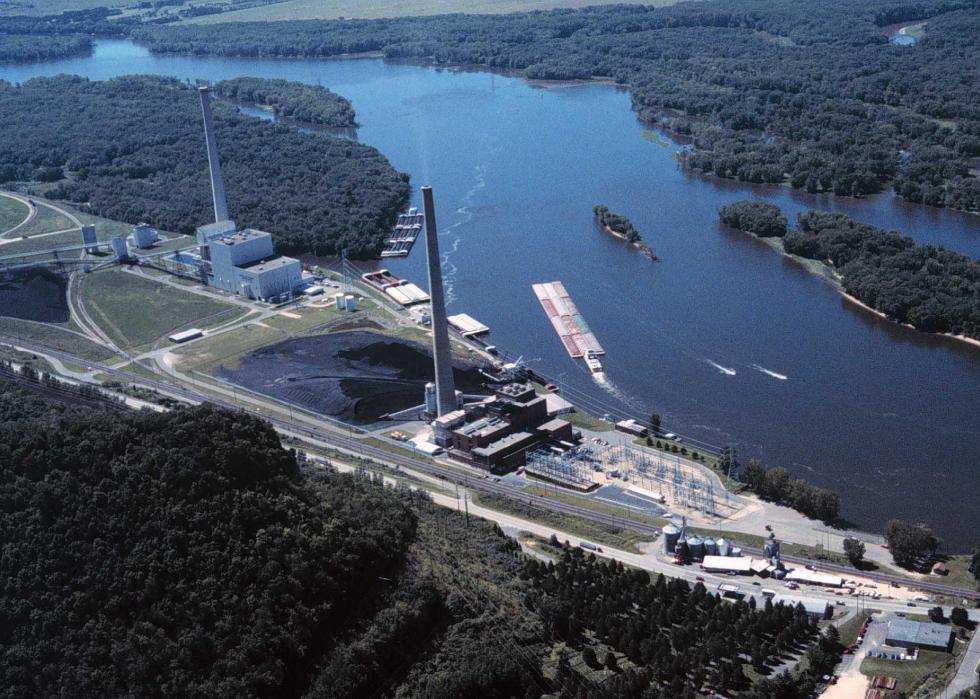 25 / 50
USGS // Wikimedia Commons
#26. Wisconsin
Total withdrawals: 5,760 million gallons per day (Mgal/d)
- Fresh water withdrawals: 5,760 Mgal/d
- Saline water withdrawals: 0 Mgal/d
- Surface water withdrawals: 4,980 Mgal/d
- Groundwater withdrawals: 772 Mgal/d

Total domestic water use: 317 Mgal/d (55 gal per capita, #4 lowest for all states)
- Public supply: 479 Mgal/d (58 gal per capita, #8 lowest for all states)
--- 4.2 million people served (72% of population)
- Self-supplied: 76 Mgal/d (48 gal per capita, #5 lowest for all states)
--- 1.6 million people served (28% of population)

Non-public total water use: 5,204 Mgal/d
- Irrigation: 460 Mgal/d
- Livestock: 75 Mgal/d
- Aquaculture: 48 Mgal/d
- Industrial: 382 Mgal/d (fresh), 0 Mgal/d (saline)
- Mining: 29 Mgal/d (fresh), 0 Mgal/d (saline)
- Thermoelectric power: 4,210 Mgal/d (fresh), 0 Mgal/d (saline)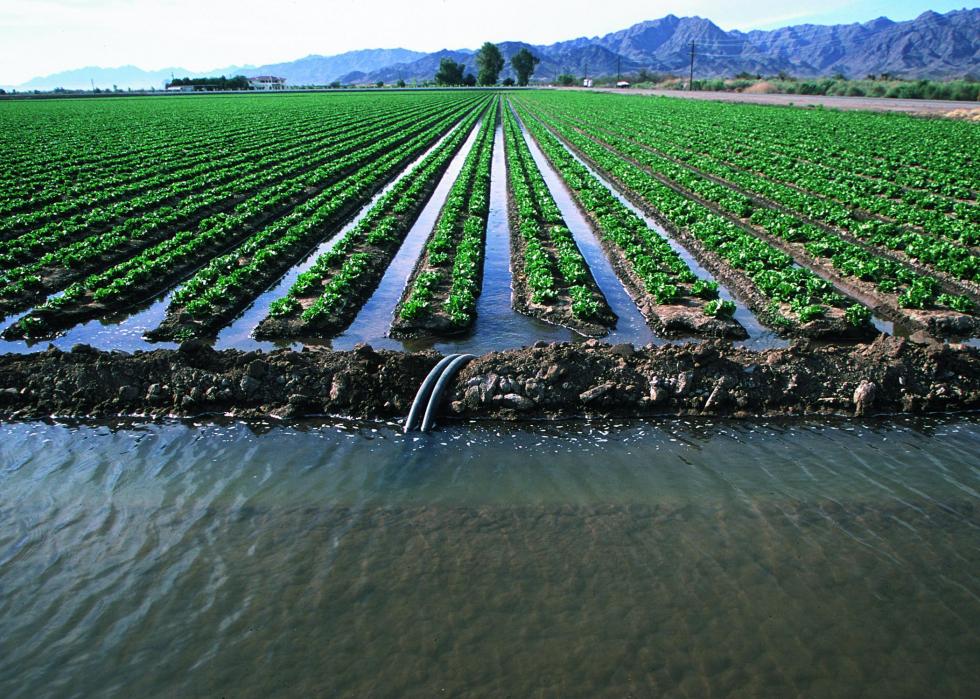 26 / 50
Jeff Vanuga/USDA Natural Resources Conservation Service // Wikimedia Commons
#25. Arizona
Total withdrawals: 5,980 million gallons per day (Mgal/d)
- Fresh water withdrawals: 5,980 Mgal/d
- Saline water withdrawals: 0 Mgal/d
- Surface water withdrawals: 3,220 Mgal/d
- Groundwater withdrawals: 2,760 Mgal/d

Total domestic water use: 987 Mgal/d (145 gal per capita, #4 highest for all states)
- Public supply: 1,200 Mgal/d (146 gal per capita, #4 highest for all states)
--- 6.6 million people served (97% of population)
- Self-supplied: 24 Mgal/d (110 gal per capita, #10 highest for all states)
--- 218,000 people served (3% of population)

Non-public total water use: 4,761 Mgal/d
- Irrigation: 4,530 Mgal/d
- Livestock: 39 Mgal/d
- Aquaculture: 35 Mgal/d
- Industrial: 6 Mgal/d (fresh), 0 Mgal/d (saline)
- Mining: 68 Mgal/d (fresh), 0 Mgal/d (saline)
- Thermoelectric power: 84 Mgal/d (fresh), 0 Mgal/d (saline)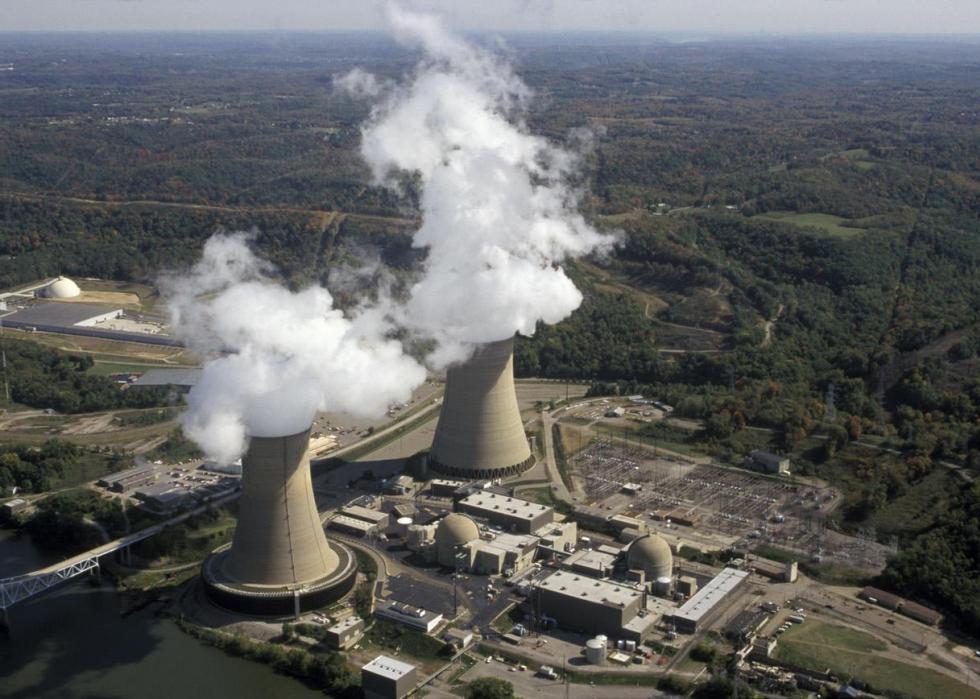 27 / 50
United States Nuclear Regulatory Commission // Wikimedia Commons
#24. Pennsylvania
Total withdrawals: 6,040 million gallons per day (Mgal/d)
- Fresh water withdrawals: 6,030 Mgal/d
- Saline water withdrawals: 6 Mgal/d
- Surface water withdrawals: 5,410 Mgal/d
- Groundwater withdrawals: 628 Mgal/d

Total domestic water use: 731 Mgal/d (57 gal per capita, #7 lowest for all states)
- Public supply: 1,390 Mgal/d (56 gal per capita, #6 lowest for all states)
--- 9.3 million people served (73% of population)
- Self-supplied: 208 Mgal/d (60 gal per capita, #10 lowest for all states)
--- 3.5 million people served (27% of population)

Non-public total water use: 4,439 Mgal/d
- Irrigation: 34 Mgal/d
- Livestock: 40 Mgal/d
- Aquaculture: 96 Mgal/d
- Industrial: 645 Mgal/d (fresh), 0 Mgal/d (saline)
- Mining: 38 Mgal/d (fresh), 6 Mgal/d (saline)
- Thermoelectric power: 3,580 Mgal/d (fresh), 0 Mgal/d (saline)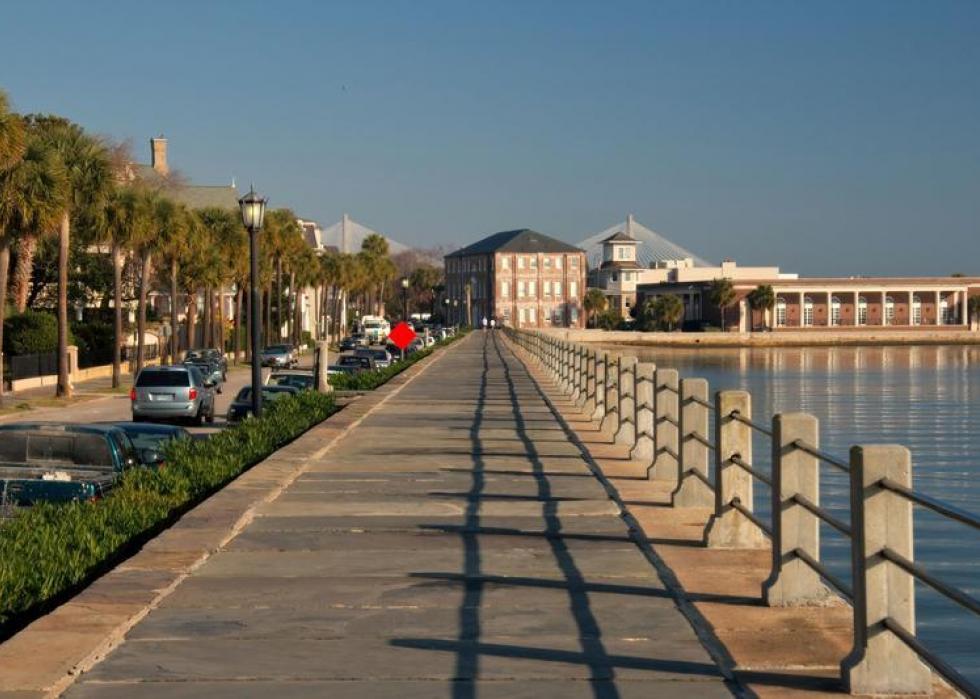 28 / 50
#23. South Carolina
Total withdrawals: 6,170 million gallons per day (Mgal/d)
- Fresh water withdrawals: 6,170 Mgal/d
- Saline water withdrawals: 0 Mgal/d
- Surface water withdrawals: 5,810 Mgal/d
- Groundwater withdrawals: 365 Mgal/d

Total domestic water use: 490 Mgal/d (100 gal per capita, #13 highest for all states)
- Public supply: 633 Mgal/d (100 gal per capita, #13 highest for all states)
--- 3.7 million people served (76% of population)
- Self-supplied: 118 Mgal/d (100 gal per capita, #13 highest for all states)
--- 1.2 million people served (24% of population)

Non-public total water use: 5,419 Mgal/d
- Irrigation: 126 Mgal/d
- Livestock: 10 Mgal/d
- Aquaculture: 7 Mgal/d
- Industrial: 286 Mgal/d (fresh), 0 Mgal/d (saline)
- Mining: 10 Mgal/d (fresh), 0 Mgal/d (saline)
- Thermoelectric power: 4,980 Mgal/d (fresh), 0 Mgal/d (saline)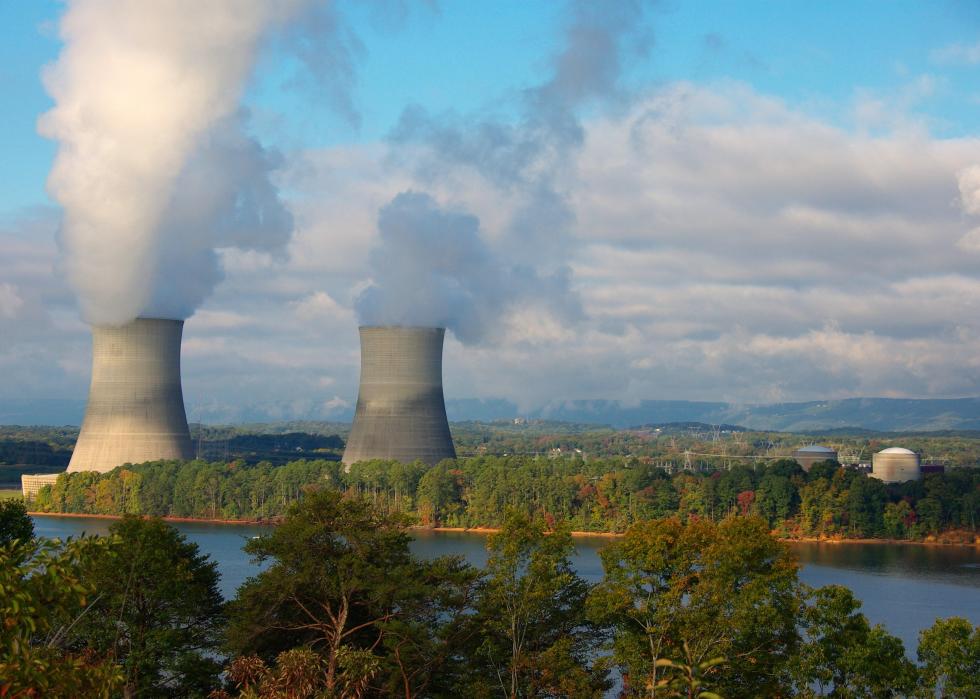 29 / 50
Photorush // Wikimedia Commons
#22. Tennessee
Total withdrawals: 6,420 million gallons per day (Mgal/d)
- Fresh water withdrawals: 6,420 Mgal/d
- Saline water withdrawals: 0 Mgal/d
- Surface water withdrawals: 5,990 Mgal/d
- Groundwater withdrawals: 430 Mgal/d

Total domestic water use: 529 Mgal/d (80 gal per capita, #24 lowest for all states)
- Public supply: 850 Mgal/d (81 gal per capita, #20 highest for all states)
--- 6.0 million people served (91% of population)
- Self-supplied: 43 Mgal/d (72 gal per capita, #19 lowest for all states)
--- 594,000 people served (9% of population)

Non-public total water use: 5,530 Mgal/d
- Irrigation: 64 Mgal/d
- Livestock: 23 Mgal/d
- Aquaculture: 57 Mgal/d
- Industrial: 734 Mgal/d (fresh), 0 Mgal/d (saline)
- Mining: 31 Mgal/d (fresh), 0 Mgal/d (saline)
- Thermoelectric power: 4,620 Mgal/d (fresh), 0 Mgal/d (saline)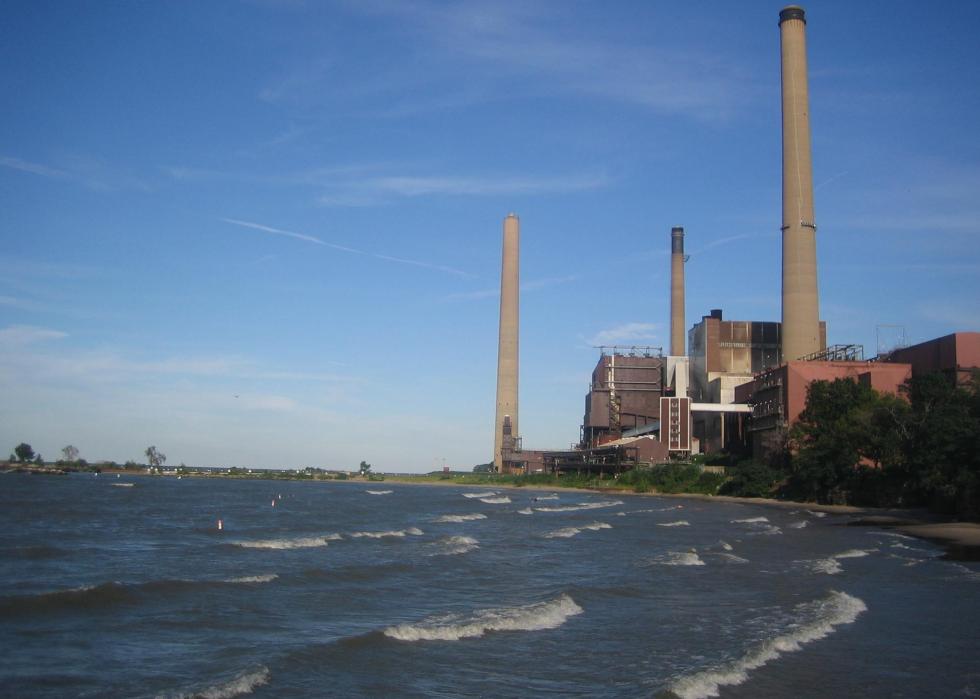 30 / 50
Ben Stephenson // Wikimedia Commons
#21. Ohio
Total withdrawals: 6,520 million gallons per day (Mgal/d)
- Fresh water withdrawals: 6,520 Mgal/d
- Saline water withdrawals: 0 Mgal/d
- Surface water withdrawals: 5,660 Mgal/d
- Groundwater withdrawals: 866 Mgal/d

Total domestic water use: 729 Mgal/d (63 gal per capita, #11 lowest for all states)
- Public supply: 1,310 Mgal/d (60 gal per capita, #11 lowest for all states)
--- 9.8 million people served (84% of population)
- Self-supplied: 139 Mgal/d (75 gal per capita, #22 lowest for all states)
--- 1.9 million people served (16% of population)

Non-public total water use: 5,076 Mgal/d
- Irrigation: 55 Mgal/d
- Livestock: 25 Mgal/d
- Aquaculture: 39 Mgal/d
- Industrial: 348 Mgal/d (fresh), 0 Mgal/d (saline)
- Mining: 129 Mgal/d (fresh), 0 Mgal/d (saline)
- Thermoelectric power: 4,480 Mgal/d (fresh), 0 Mgal/d (saline)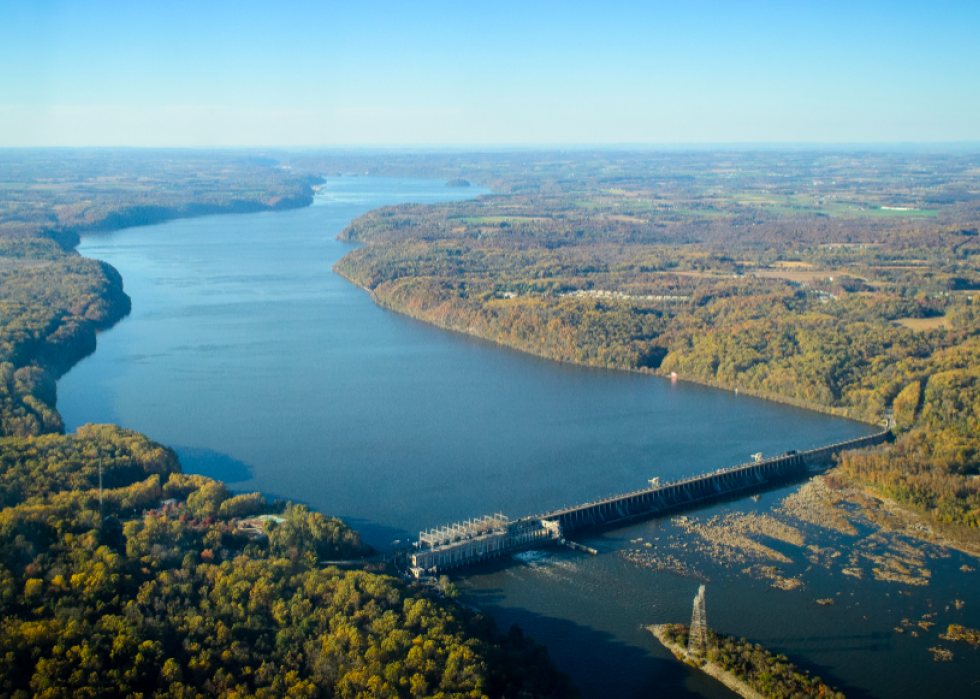 31 / 50
Aaron Harrington // flickr
#20. Maryland
Total withdrawals: 6,530 million gallons per day (Mgal/d)
- Fresh water withdrawals: 1,230 Mgal/d
- Saline water withdrawals: 5,300 Mgal/d
- Surface water withdrawals: 6,230 Mgal/d
- Groundwater withdrawals: 295 Mgal/d

Total domestic water use: 433 Mgal/d (72 gal per capita, #19 lowest for all states)
- Public supply: 750 Mgal/d (70 gal per capita, #17 lowest for all states)
--- 4.6 million people served (76% of population)
- Self-supplied: 114 Mgal/d (80 gal per capita, #24 highest for all states)
--- 1.4 million people served (24% of population)

Non-public total water use: 5,668 Mgal/d
- Irrigation: 64 Mgal/d
- Livestock: 8 Mgal/d
- Aquaculture: 8 Mgal/d
- Industrial: 49 Mgal/d (fresh), 1 Mgal/d (saline)
- Mining: 17 Mgal/d (fresh), 0 Mgal/d (saline)
- Thermoelectric power: 220 Mgal/d (fresh), 5,300 Mgal/d (saline)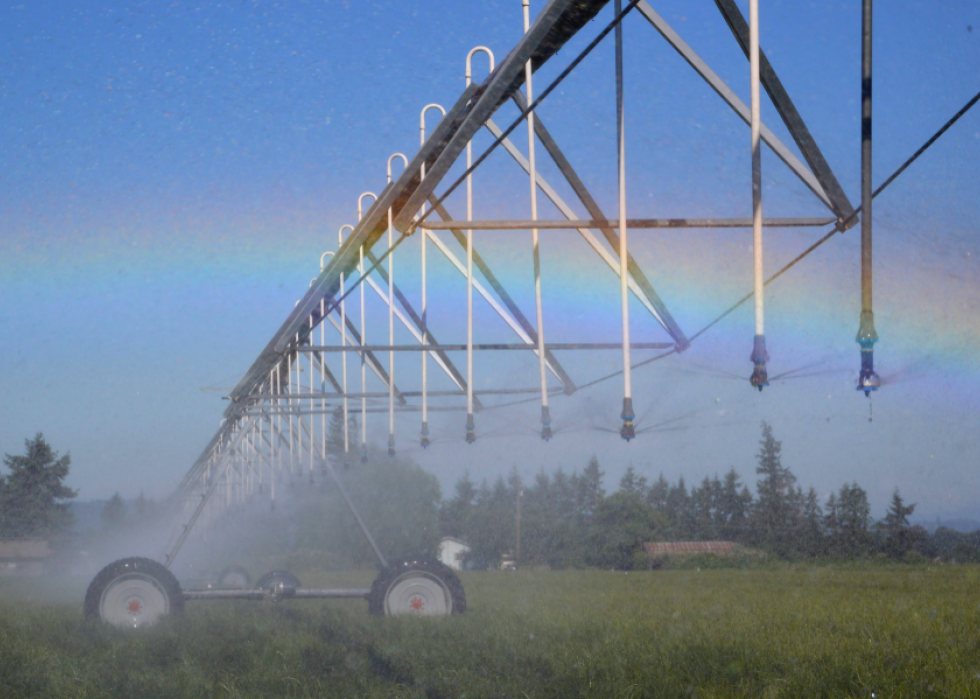 32 / 50
#19. Oregon
Total withdrawals: 6,580 million gallons per day (Mgal/d)
- Fresh water withdrawals: 6,580 Mgal/d
- Saline water withdrawals: 0 Mgal/d
- Surface water withdrawals: 5,100 Mgal/d
- Groundwater withdrawals: 1,480 Mgal/d

Total domestic water use: 429 Mgal/d (107 gal per capita, #9 highest for all states)
- Public supply: 567 Mgal/d (105 gal per capita, #11 highest for all states)
--- 3.4 million people served (84% of population)
- Self-supplied: 74 Mgal/d (117 gal per capita, #7 highest for all states)
--- 632,000 people served (16% of population)

Non-public total water use: 5,938 Mgal/d
- Irrigation: 5,160 Mgal/d
- Livestock: 16 Mgal/d
- Aquaculture: 634 Mgal/d
- Industrial: 105 Mgal/d (fresh), 0 Mgal/d (saline)
- Mining: 11 Mgal/d (fresh), 0 Mgal/d (saline)
- Thermoelectric power: 11 Mgal/d (fresh), 0 Mgal/d (saline)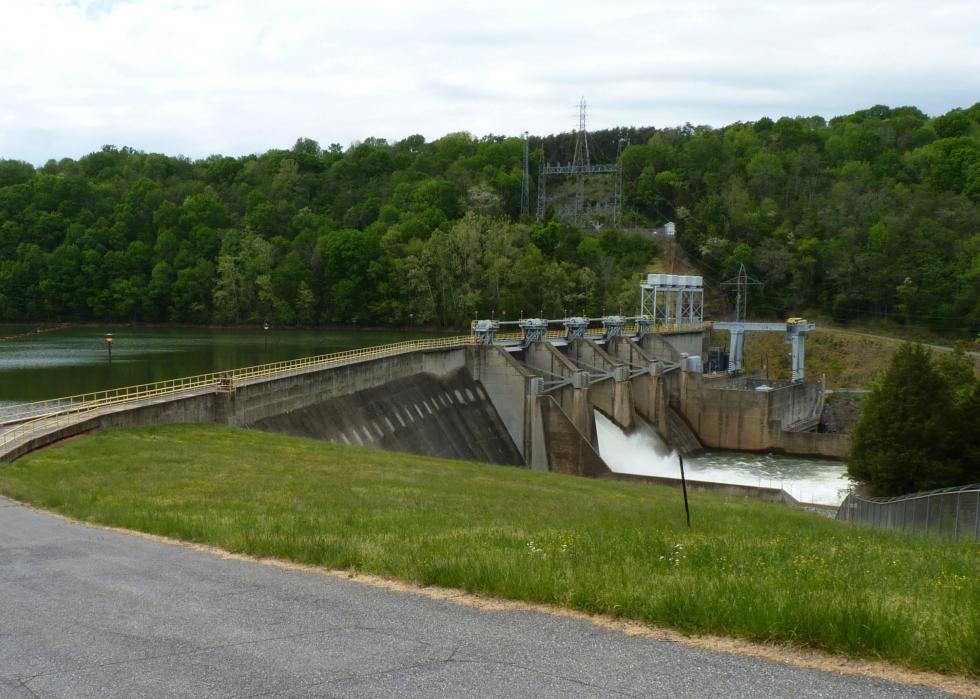 33 / 50
See This // Wikimedia Commons
#18. Virginia
Total withdrawals: 6,730 million gallons per day (Mgal/d)
- Fresh water withdrawals: 4,310 Mgal/d
- Saline water withdrawals: 2,420 Mgal/d
- Surface water withdrawals: 6,430 Mgal/d
- Groundwater withdrawals: 298 Mgal/d

Total domestic water use: 671 Mgal/d (80 gal per capita, #25 lowest for all states)
- Public supply: 697 Mgal/d (80 gal per capita, #23 highest for all states)
--- 6.8 million people served (81% of population)
- Self-supplied: 125 Mgal/d (80 gal per capita, #25 highest for all states)
--- 1.6 million people served (19% of population)

Non-public total water use: 5,902 Mgal/d
- Irrigation: 52 Mgal/d
- Livestock: 27 Mgal/d
- Aquaculture: 113 Mgal/d
- Industrial: 370 Mgal/d (fresh), 5 Mgal/d (saline)
- Mining: 25 Mgal/d (fresh), 0 Mgal/d (saline)
- Thermoelectric power: 2,910 Mgal/d (fresh), 2,400 Mgal/d (saline)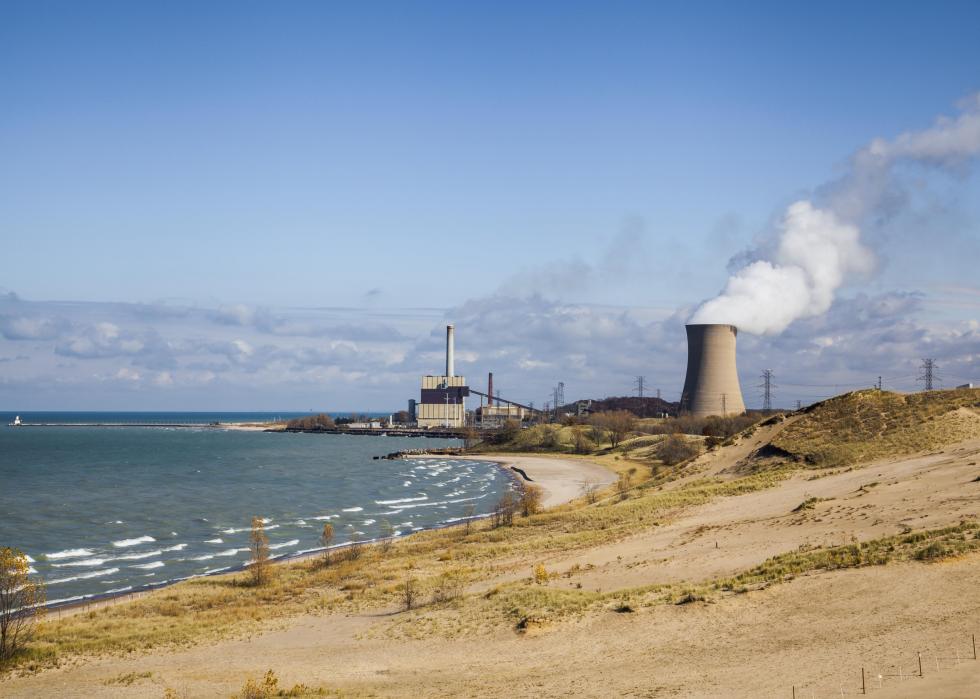 34 / 50
Diego Deiso // Wikimedia Commons
#17. Indiana
Total withdrawals: 7,180 million gallons per day (Mgal/d)
- Fresh water withdrawals: 7,180 Mgal/d
- Saline water withdrawals: 0 Mgal/d
- Surface water withdrawals: 6,480 Mgal/d
- Groundwater withdrawals: 699 Mgal/d

Total domestic water use: 503 Mgal/d (76 gal per capita, #22 lowest for all states)
- Public supply: 628 Mgal/d (76 gal per capita, #23 lowest for all states)
--- 4.9 million people served (75% of population)
- Self-supplied: 127 Mgal/d (76 gal per capita, #24 lowest for all states)
--- 1.7 million people served (25% of population)

Non-public total water use: 6,423 Mgal/d
- Irrigation: 133 Mgal/d
- Livestock: 39 Mgal/d
- Aquaculture: 15 Mgal/d
- Industrial: 2,290 Mgal/d (fresh), 0 Mgal/d (saline)
- Mining: 126 Mgal/d (fresh), 0 Mgal/d (saline)
- Thermoelectric power: 3,820 Mgal/d (fresh), 0 Mgal/d (saline)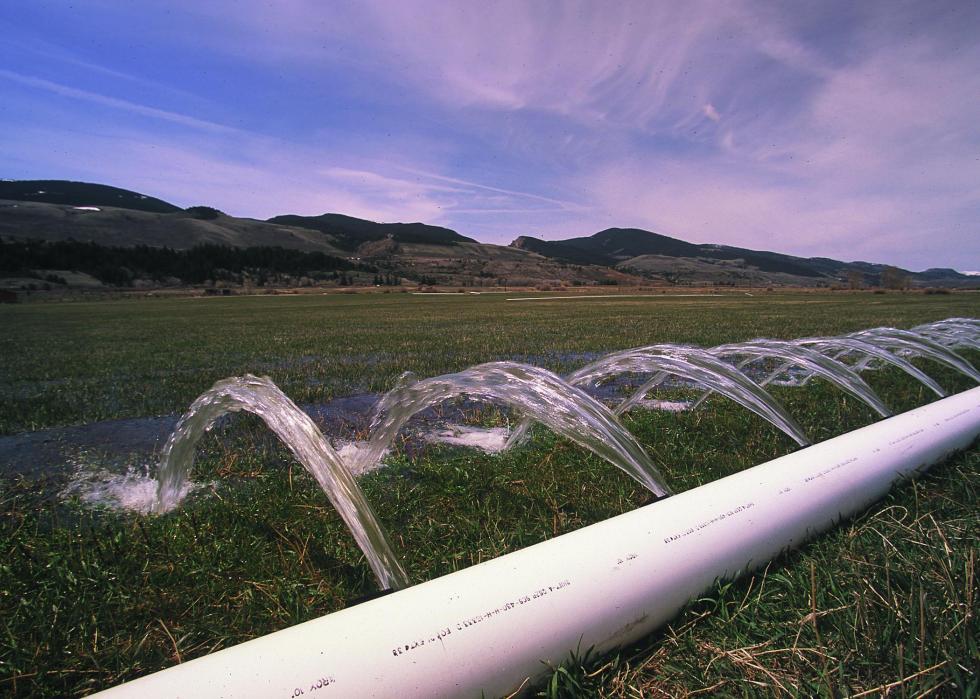 35 / 50
Jeff Vanuga/USDA Natural Resources Conservation Service // Wikimedia Commons
#16. Wyoming
Total withdrawals: 8,140 million gallons per day (Mgal/d)
- Fresh water withdrawals: 8,050 Mgal/d
- Saline water withdrawals: 97 Mgal/d
- Surface water withdrawals: 7,400 Mgal/d
- Groundwater withdrawals: 748 Mgal/d

Total domestic water use: 91 Mgal/d (156 gal per capita, #3 highest for all states)
- Public supply: 101 Mgal/d (176 gal per capita, #2 highest for all states)
--- 467,000 people served (80% of population)
- Self-supplied: 9 Mgal/d (75 gal per capita, #21 lowest for all states)
--- 119,000 people served (20% of population)

Non-public total water use: 8,036 Mgal/d
- Irrigation: 7,790 Mgal/d
- Livestock: 16 Mgal/d
- Aquaculture: 29 Mgal/d
- Industrial: 8 Mgal/d (fresh), 0 Mgal/d (saline)
- Mining: 45 Mgal/d (fresh), 97 Mgal/d (saline)
- Thermoelectric power: 52 Mgal/d (fresh), 0 Mgal/d (saline)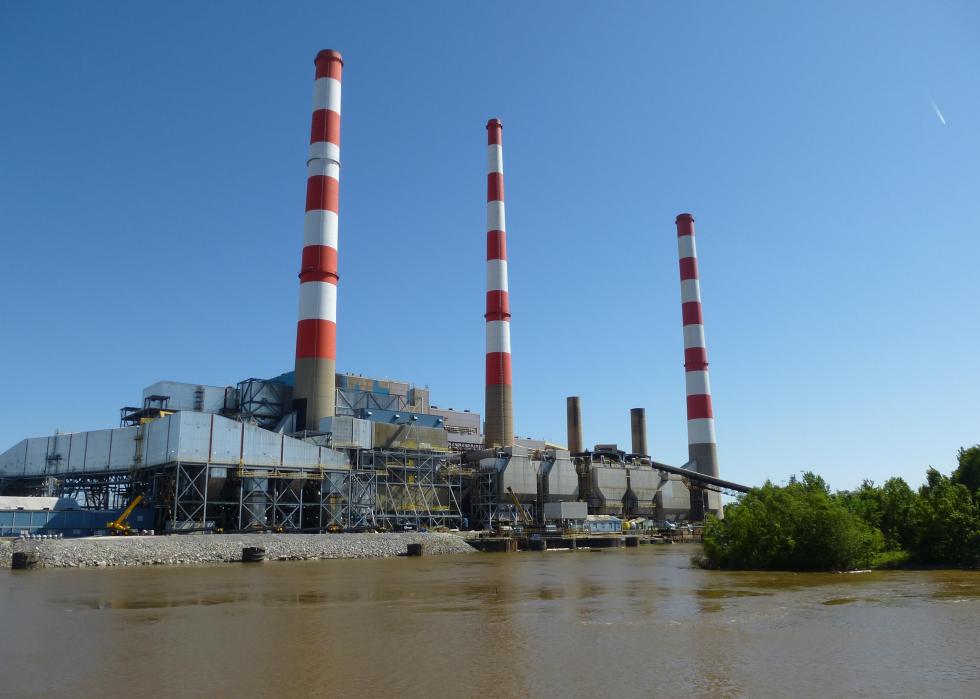 36 / 50
Boeman3 // Wikimedia Commons
#15. Alabama
Total withdrawals: 8,250 million gallons per day (Mgal/d)
- Fresh water withdrawals: 8,250 Mgal/d
- Saline water withdrawals: 0 Mgal/d
- Surface water withdrawals: 7,750 Mgal/d
- Groundwater withdrawals: 501 Mgal/d

Total domestic water use: 357 Mgal/d (73 gal per capita, #20 lowest for all states)
- Public supply: 762 Mgal/d (74 gal per capita, #20 lowest for all states)
--- 4.3 million people served (89% of population)
- Self-supplied: 37 Mgal/d (68 gal per capita, #13 lowest for all states)
--- 539,000 people served (11% of population)

Non-public total water use: 7,453 Mgal/d
- Irrigation: 223 Mgal/d
- Livestock: 26 Mgal/d
- Aquaculture: 49 Mgal/d
- Industrial: 494 Mgal/d (fresh), 0 Mgal/d (saline)
- Mining: 30 Mgal/d (fresh), 0 Mgal/d (saline)
- Thermoelectric power: 6,630 Mgal/d (fresh), 0 Mgal/d (saline)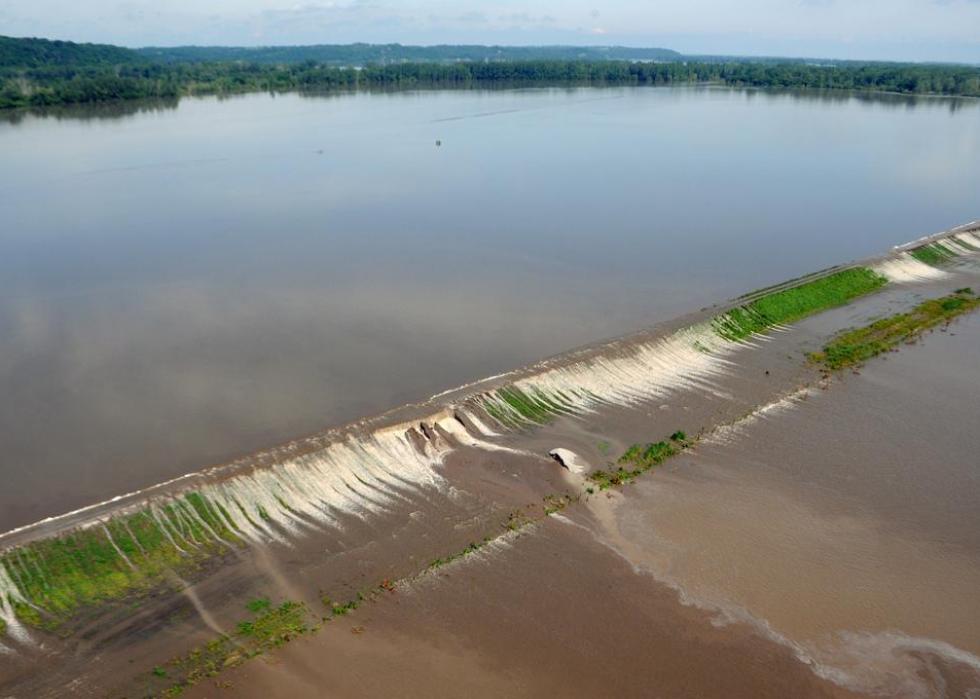 37 / 50
US Army Corps of Engineers // Wikimedia Commons
#14. Missouri
Total withdrawals: 8,430 million gallons per day (Mgal/d)
- Fresh water withdrawals: 8,430 Mgal/d
- Saline water withdrawals: 0 Mgal/d
- Surface water withdrawals: 6,690 Mgal/d
- Groundwater withdrawals: 1,740 Mgal/d

Total domestic water use: 540 Mgal/d (89 gal per capita, #16 highest for all states)
- Public supply: 797 Mgal/d (92 gal per capita, #15 highest for all states)
--- 5.3 million people served (86% of population)
- Self-supplied: 58 Mgal/d (70 gal per capita, #17 lowest for all states)
--- 821,000 people served (14% of population)

Non-public total water use: 7,573 Mgal/d
- Irrigation: 1,370 Mgal/d
- Livestock: 64 Mgal/d
- Aquaculture: 164 Mgal/d
- Industrial: 85 Mgal/d (fresh), 0 Mgal/d (saline)
- Mining: 30 Mgal/d (fresh), 0 Mgal/d (saline)
- Thermoelectric power: 5,860 Mgal/d (fresh), 0 Mgal/d (saline)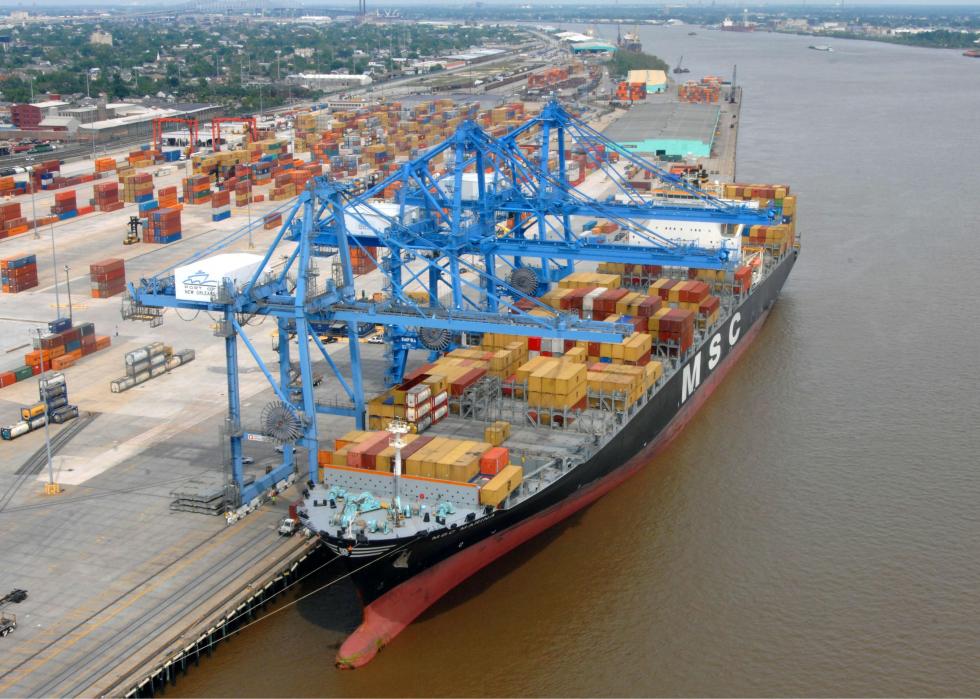 38 / 50
Gnovick // Wikimedia Commons
#13. Louisiana
Total withdrawals: 8,750 million gallons per day (Mgal/d)
- Fresh water withdrawals: 8,480 Mgal/d
- Saline water withdrawals: 261 Mgal/d
- Surface water withdrawals: 7,000 Mgal/d
- Groundwater withdrawals: 1,740 Mgal/d

Total domestic water use: 537 Mgal/d (115 gal per capita, #8 highest for all states)
- Public supply: 709 Mgal/d (119 gal per capita, #8 highest for all states)
--- 4.2 million people served (89% of population)
- Self-supplied: 39 Mgal/d (80 gal per capita, #23 highest for all states)
--- 492,000 people served (11% of population)

Non-public total water use: 7,997 Mgal/d
- Irrigation: 1,050 Mgal/d
- Livestock: 6 Mgal/d
- Aquaculture: 493 Mgal/d
- Industrial: 2,140 Mgal/d (fresh), 0 Mgal/d (saline)
- Mining: 6 Mgal/d (fresh), 0 Mgal/d (saline)
- Thermoelectric power: 4,040 Mgal/d (fresh), 261 Mgal/d (saline)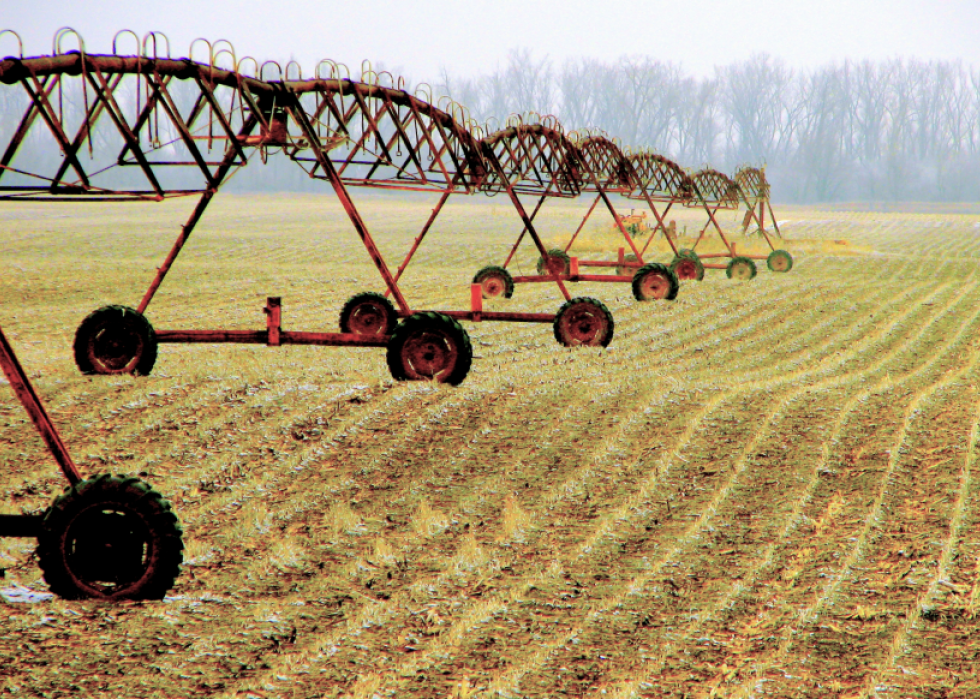 39 / 50
Jan Tik // Wikimedia Commons
#12. Nebraska
Total withdrawals: 9,500 million gallons per day (Mgal/d)
- Fresh water withdrawals: 9,490 Mgal/d
- Saline water withdrawals: 6 Mgal/d
- Surface water withdrawals: 3,680 Mgal/d
- Groundwater withdrawals: 5,820 Mgal/d

Total domestic water use: 148 Mgal/d (78 gal per capita, #23 lowest for all states)
- Public supply: 275 Mgal/d (75 gal per capita, #21 lowest for all states)
--- 1.7 million people served (91% of population)
- Self-supplied: 19 Mgal/d (111 gal per capita, #8 highest for all states)
--- 171,000 people served (9% of population)

Non-public total water use: 9,207 Mgal/d
- Irrigation: 6,090 Mgal/d
- Livestock: 110 Mgal/d
- Aquaculture: 27 Mgal/d
- Industrial: 44 Mgal/d (fresh), 0 Mgal/d (saline)
- Mining: 10 Mgal/d (fresh), 6 Mgal/d (saline)
- Thermoelectric power: 2,920 Mgal/d (fresh), 0 Mgal/d (saline)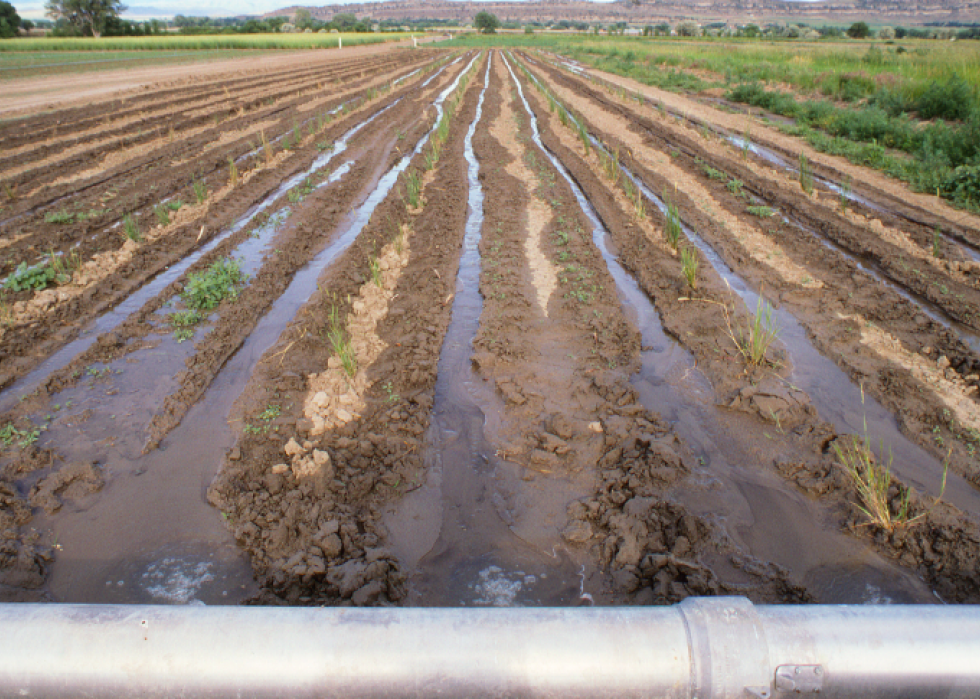 40 / 50
USDA NRCS Montana // flickr
#11. Montana
Total withdrawals: 9,810 million gallons per day (Mgal/d)
- Fresh water withdrawals: 9,800 Mgal/d
- Saline water withdrawals: 16 Mgal/d
- Surface water withdrawals: 9,610 Mgal/d
- Groundwater withdrawals: 205 Mgal/d

Total domestic water use: 110 Mgal/d (106 gal per capita, #10 highest for all states)
- Public supply: 153 Mgal/d (118 gal per capita, #9 highest for all states)
--- 728,000 people served (71% of population)
- Self-supplied: 24 Mgal/d (78 gal per capita, #25 lowest for all states)
--- 305,000 people served (29% of population)

Non-public total water use: 9,633 Mgal/d
- Irrigation: 9,450 Mgal/d
- Livestock: 42 Mgal/d
- Aquaculture: 17 Mgal/d
- Industrial: 10 Mgal/d (fresh), 0 Mgal/d (saline)
- Mining: 22 Mgal/d (fresh), 16 Mgal/d (saline)
- Thermoelectric power: 76 Mgal/d (fresh), 0 Mgal/d (saline)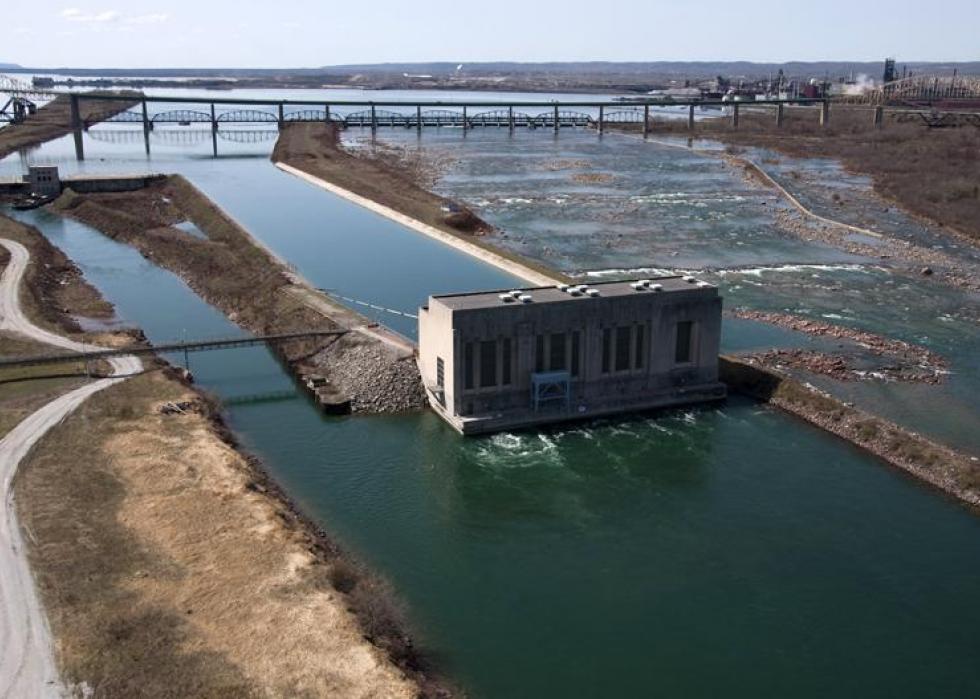 41 / 50
U.S. Army Corps of Engineers Detroit District // Wikimedia Commons
#10. Michigan
Total withdrawals: 10,100 million gallons per day (Mgal/d)
- Fresh water withdrawals: 10,100 Mgal/d
- Saline water withdrawals: 0.58 Mgal/d
- Surface water withdrawals: 9,290 Mgal/d
- Groundwater withdrawals: 767 Mgal/d

Total domestic water use: 668 Mgal/d (67 gal per capita, #14 lowest for all states)
- Public supply: 1,030 Mgal/d (66 gal per capita, #14 lowest for all states)
--- 7.3 million people served (74% of population)
- Self-supplied: 187 Mgal/d (72 gal per capita, #20 lowest for all states)
--- 2.6 million people served (26% of population)

Non-public total water use: 8,834 Mgal/d
- Irrigation: 332 Mgal/d
- Livestock: 24 Mgal/d
- Aquaculture: 74 Mgal/d
- Industrial: 518 Mgal/d (fresh), 0 Mgal/d (saline)
- Mining: 86 Mgal/d (fresh), 0.58 Mgal/d (saline)
- Thermoelectric power: 7,800 Mgal/d (fresh), 0 Mgal/d (saline)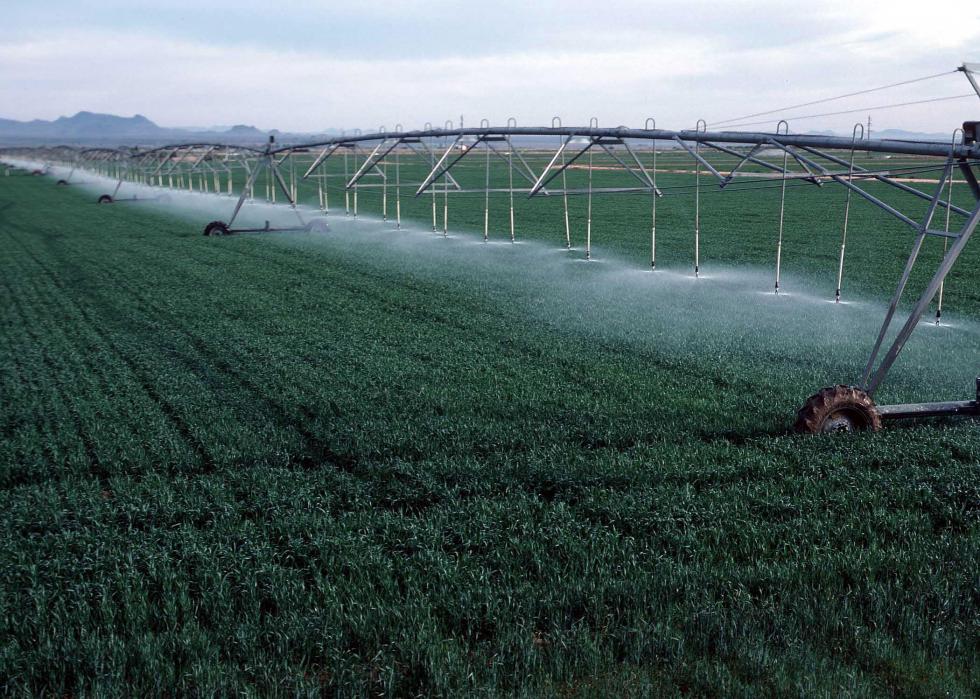 42 / 50
Gene Alexander/USDA Natural Resources Conservation Service // GoodFreePhotos
#9. Colorado
Total withdrawals: 10,300 million gallons per day (Mgal/d)
- Fresh water withdrawals: 10,300 Mgal/d
- Saline water withdrawals: 24 Mgal/d
- Surface water withdrawals: 8,800 Mgal/d
- Groundwater withdrawals: 1,530 Mgal/d

Total domestic water use: 672 Mgal/d (123 gal per capita, #7 highest for all states)
- Public supply: 844 Mgal/d (123 gal per capita, #6 highest for all states)
--- 5.2 million people served (95% of population)
- Self-supplied: 35 Mgal/d (123 gal per capita, #5 highest for all states)
--- 286,000 people served (5% of population)

Non-public total water use: 9,447 Mgal/d
- Irrigation: 9,000 Mgal/d
- Livestock: 33 Mgal/d
- Aquaculture: 260 Mgal/d
- Industrial: 84 Mgal/d (fresh), 0 Mgal/d (saline)
- Mining: 8 Mgal/d (fresh), 24 Mgal/d (saline)
- Thermoelectric power: 37 Mgal/d (fresh), 0 Mgal/d (saline)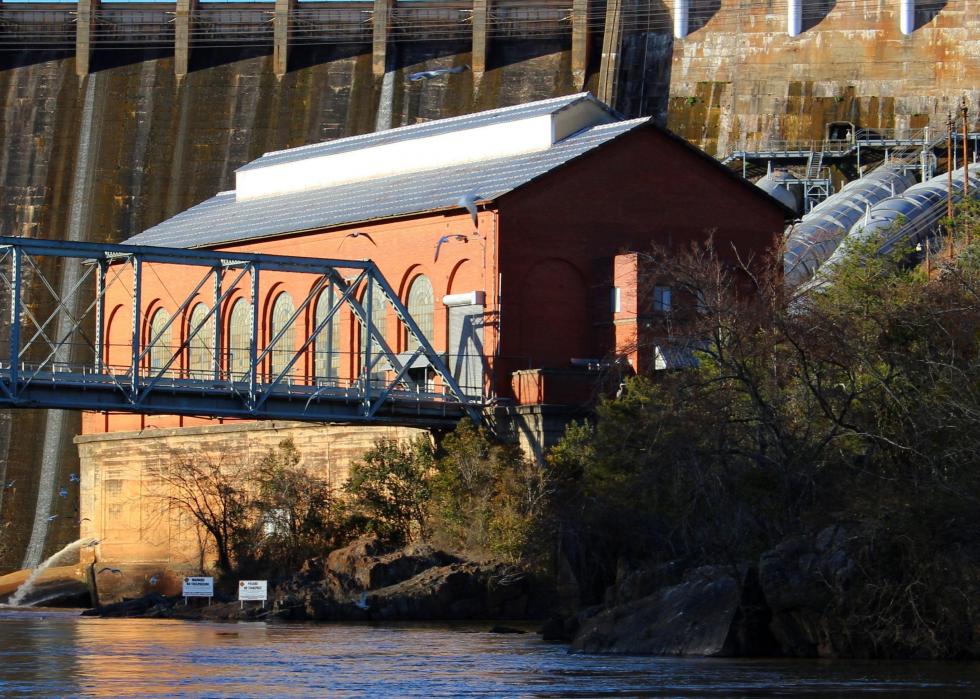 43 / 50
Wasrts // Wikimedia Commons
#8. North Carolina
Total withdrawals: 10,300 million gallons per day (Mgal/d)
- Fresh water withdrawals: 8,920 Mgal/d
- Saline water withdrawals: 1,360 Mgal/d
- Surface water withdrawals: 9,750 Mgal/d
- Groundwater withdrawals: 520 Mgal/d

Total domestic water use: 703 Mgal/d (70 gal per capita, #16 lowest for all states)
- Public supply: 938 Mgal/d (70 gal per capita, #18 lowest for all states)
--- 7.6 million people served (76% of population)
- Self-supplied: 169 Mgal/d (70 gal per capita, #16 lowest for all states)
--- 2.4 million people served (24% of population)

Non-public total water use: 9,163 Mgal/d
- Irrigation: 325 Mgal/d
- Livestock: 67 Mgal/d
- Aquaculture: 1,000 Mgal/d
- Industrial: 193 Mgal/d (fresh), 0 Mgal/d (saline)
- Mining: 38 Mgal/d (fresh), 0 Mgal/d (saline)
- Thermoelectric power: 6,180 Mgal/d (fresh), 1,360 Mgal/d (saline)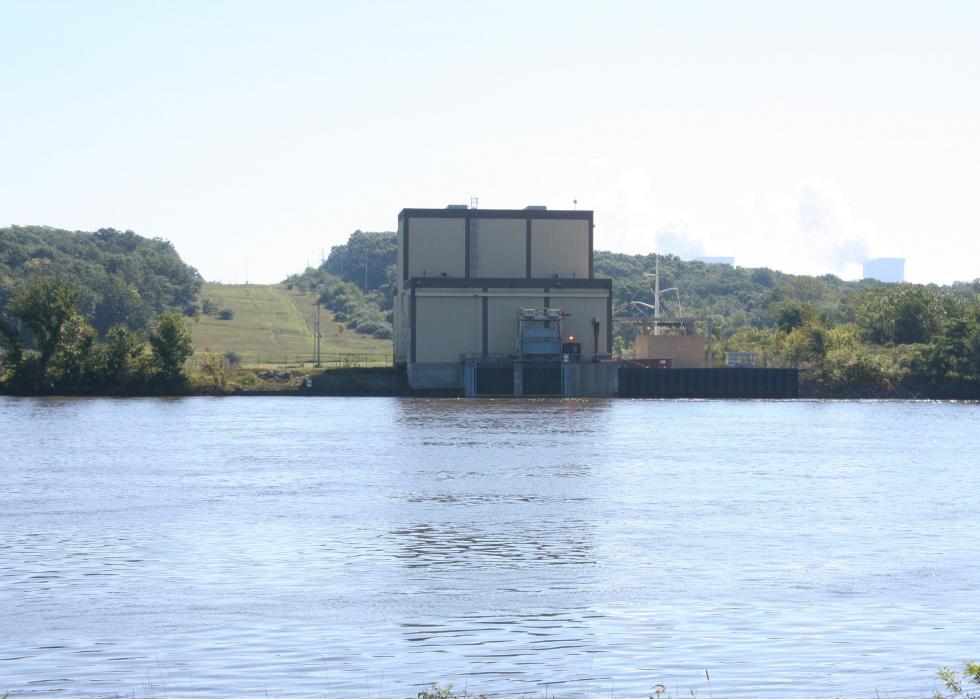 44 / 50
Ben Jacobson // Wikimedia Commons
#7. Illinois
Total withdrawals: 10,500 million gallons per day (Mgal/d)
- Fresh water withdrawals: 10,500 Mgal/d
- Saline water withdrawals: 21 Mgal/d
- Surface water withdrawals: 9,600 Mgal/d
- Groundwater withdrawals: 891 Mgal/d

Total domestic water use: 1,030 Mgal/d (80 gal per capita, #22 highest for all states)
- Public supply: 1,480 Mgal/d (80 gal per capita, #25 highest for all states)
--- 11.7 million people served (91% of population)
- Self-supplied: 92 Mgal/d (80 gal per capita, #19 highest for all states)
--- 1.2 million people served (9% of population)

Non-public total water use: 8,928 Mgal/d
- Irrigation: 234 Mgal/d
- Livestock: 36 Mgal/d
- Aquaculture: 11 Mgal/d
- Industrial: 431 Mgal/d (fresh), 0 Mgal/d (saline)
- Mining: 55 Mgal/d (fresh), 21 Mgal/d (saline)
- Thermoelectric power: 8,140 Mgal/d (fresh), 0 Mgal/d (saline)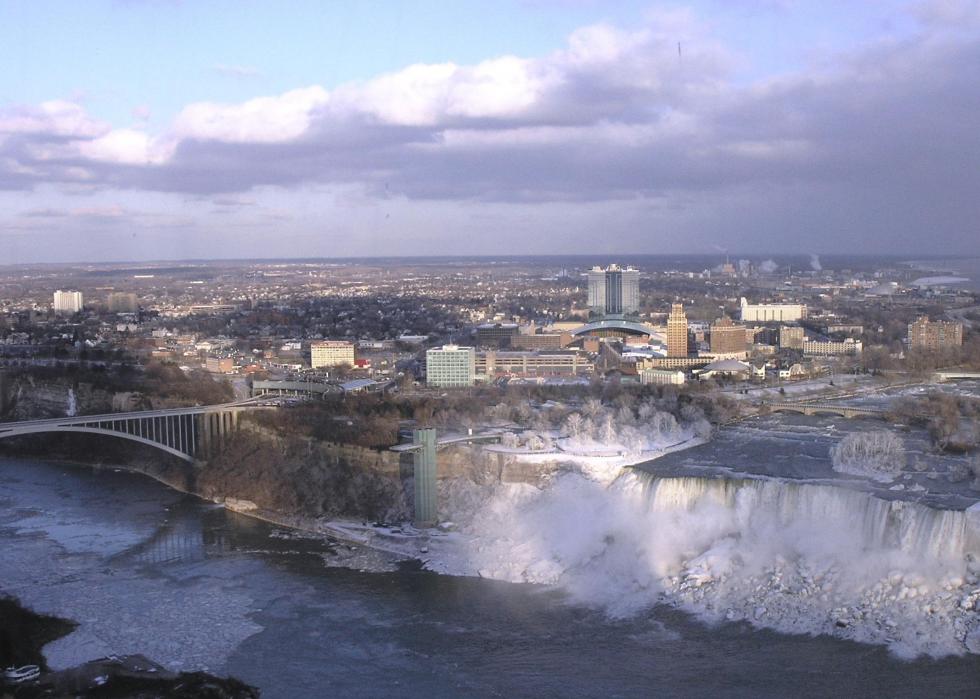 45 / 50
Daniel Mayer // Wikimedia Commons
#6. New York
Total withdrawals: 10,800 million gallons per day (Mgal/d)
- Fresh water withdrawals: 5,310 Mgal/d
- Saline water withdrawals: 5,480 Mgal/d
- Surface water withdrawals: 9,910 Mgal/d
- Groundwater withdrawals: 890 Mgal/d

Total domestic water use: 1,410 Mgal/d (71 gal per capita, #17 lowest for all states)
- Public supply: 2,420 Mgal/d (71 gal per capita, #19 lowest for all states)
--- 17.3 million people served (87% of population)
- Self-supplied: 187 Mgal/d (75 gal per capita, #23 lowest for all states)
--- 2.5 million people served (13% of population)

Non-public total water use: 8,181 Mgal/d
- Irrigation: 54 Mgal/d
- Livestock: 26 Mgal/d
- Aquaculture: 60 Mgal/d
- Industrial: 312 Mgal/d (fresh), 8 Mgal/d (saline)
- Mining: 40 Mgal/d (fresh), 0.95 Mgal/d (saline)
- Thermoelectric power: 2,210 Mgal/d (fresh), 5,470 Mgal/d (saline)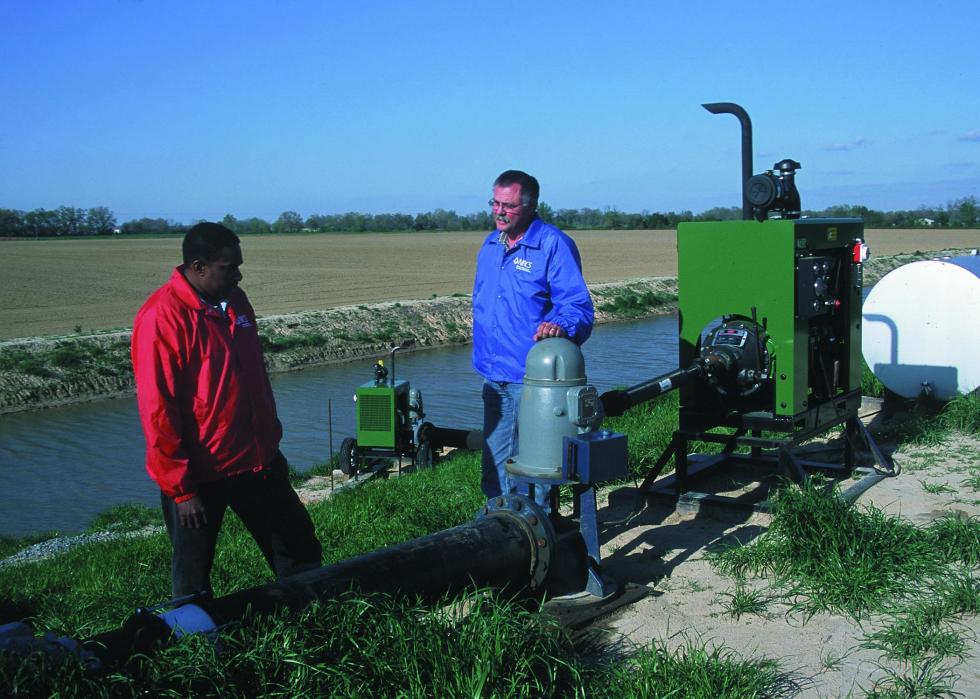 46 / 50
USDA NRCS // Wikimedia Commons
#5. Arkansas
Total withdrawals: 13,800 million gallons per day (Mgal/d)
- Fresh water withdrawals: 13,800 Mgal/d
- Saline water withdrawals: 0 Mgal/d
- Surface water withdrawals: 4,250 Mgal/d
- Groundwater withdrawals: 9,590 Mgal/d

Total domestic water use: 265 Mgal/d (89 gal per capita, #15 highest for all states)
- Public supply: 363 Mgal/d (89 gal per capita, #16 highest for all states)
--- 2.8 million people served (95% of population)
- Self-supplied: 13 Mgal/d (89 gal per capita, #15 highest for all states)
--- 144,000 people served (5% of population)

Non-public total water use: 13,485 Mgal/d
- Irrigation: 11,600 Mgal/d
- Livestock: 34 Mgal/d
- Aquaculture: 251 Mgal/d
- Industrial: 157 Mgal/d (fresh), 0 Mgal/d (saline)
- Mining: 3 Mgal/d (fresh), 0 Mgal/d (saline)
- Thermoelectric power: 1,440 Mgal/d (fresh), 0 Mgal/d (saline)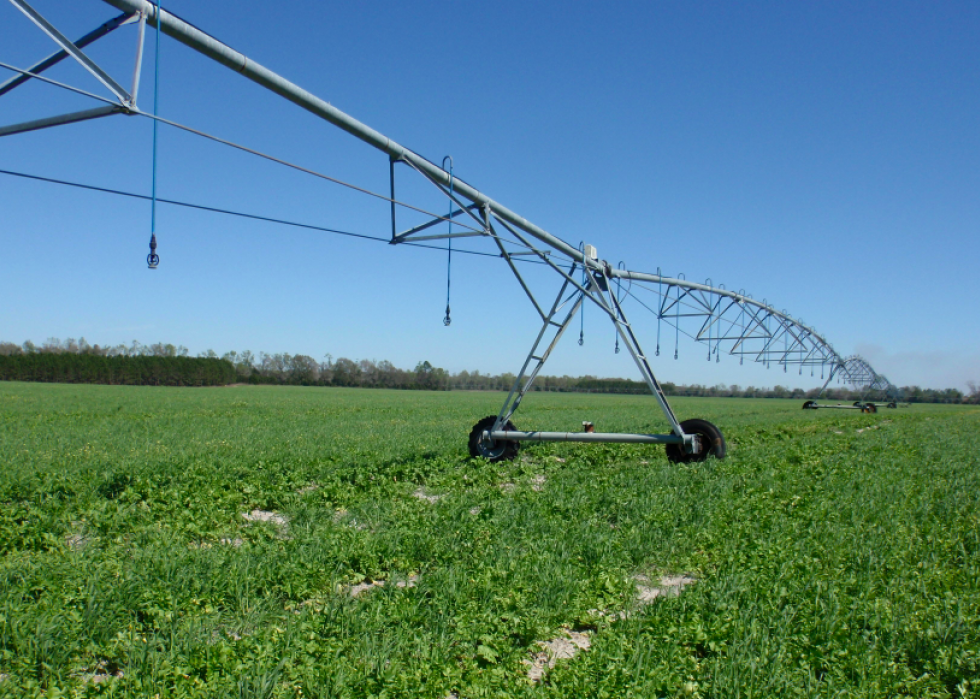 47 / 50
Doug Ulmer/ USDA NRCS // flickr
#4. Florida
Total withdrawals: 15,300 million gallons per day (Mgal/d)
- Fresh water withdrawals: 5,690 Mgal/d
- Saline water withdrawals: 9,600 Mgal/d
- Surface water withdrawals: 11,500 Mgal/d
- Groundwater withdrawals: 3,770 Mgal/d

Total domestic water use: 1,680 Mgal/d (83 gal per capita, #18 highest for all states)
- Public supply: 2,380 Mgal/d (84 gal per capita, #18 highest for all states)
--- 17.8 million people served (88% of population)
- Self-supplied: 177 Mgal/d (72 gal per capita, #18 lowest for all states)
--- 2.5 million people served (12% of population)

Non-public total water use: 12,721 Mgal/d
- Irrigation: 2,450 Mgal/d
- Livestock: 26 Mgal/d
- Aquaculture: 15 Mgal/d
- Industrial: 245 Mgal/d (fresh), 1 Mgal/d (saline)
- Mining: 130 Mgal/d (fresh), 0 Mgal/d (saline)
- Thermoelectric power: 434 Mgal/d (fresh), 9,420 Mgal/d (saline)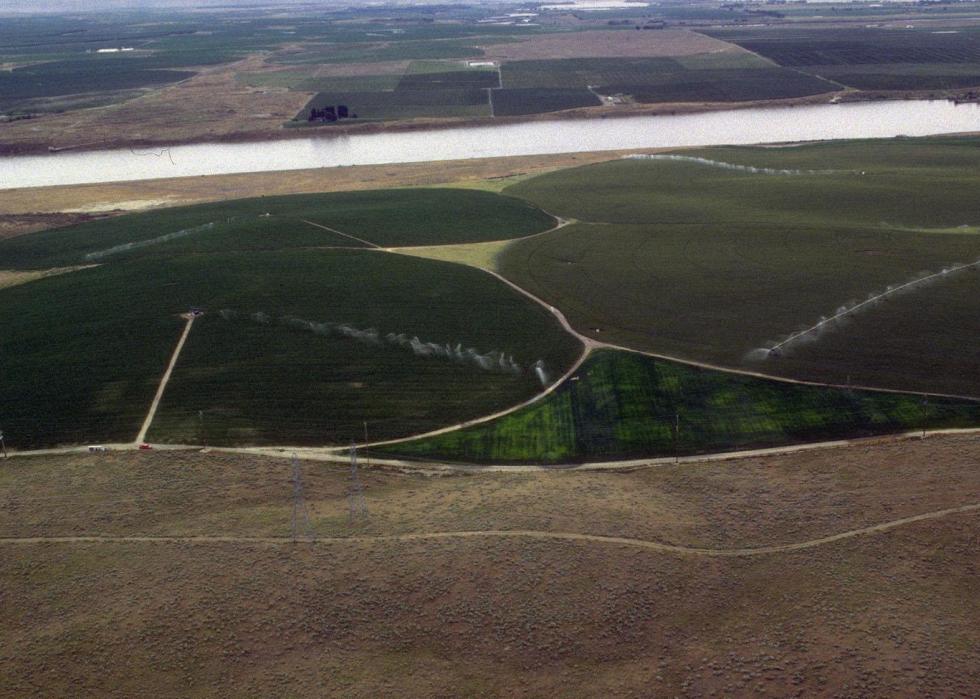 48 / 50
Bob Heims/U.S. Army Corps of Engineers // Wikimedia Commons
#3. Idaho
Total withdrawals: 17,700 million gallons per day (Mgal/d)
- Fresh water withdrawals: 17,700 Mgal/d
- Saline water withdrawals: 0 Mgal/d
- Surface water withdrawals: 12,400 Mgal/d
- Groundwater withdrawals: 5,350 Mgal/d

Total domestic water use: 304 Mgal/d (184 gal per capita, #1 highest for all states)
- Public supply: 276 Mgal/d (186 gal per capita, #1 highest for all states)
--- 1.3 million people served (76% of population)
- Self-supplied: 70 Mgal/d (177 gal per capita, #2 highest for all states)
--- 396,000 people served (24% of population)

Non-public total water use: 17,393 Mgal/d
- Irrigation: 15,300 Mgal/d
- Livestock: 51 Mgal/d
- Aquaculture: 1,960 Mgal/d
- Industrial: 58 Mgal/d (fresh), 0 Mgal/d (saline)
- Mining: 23 Mgal/d (fresh), 0 Mgal/d (saline)
- Thermoelectric power: 2 Mgal/d (fresh), 0 Mgal/d (saline)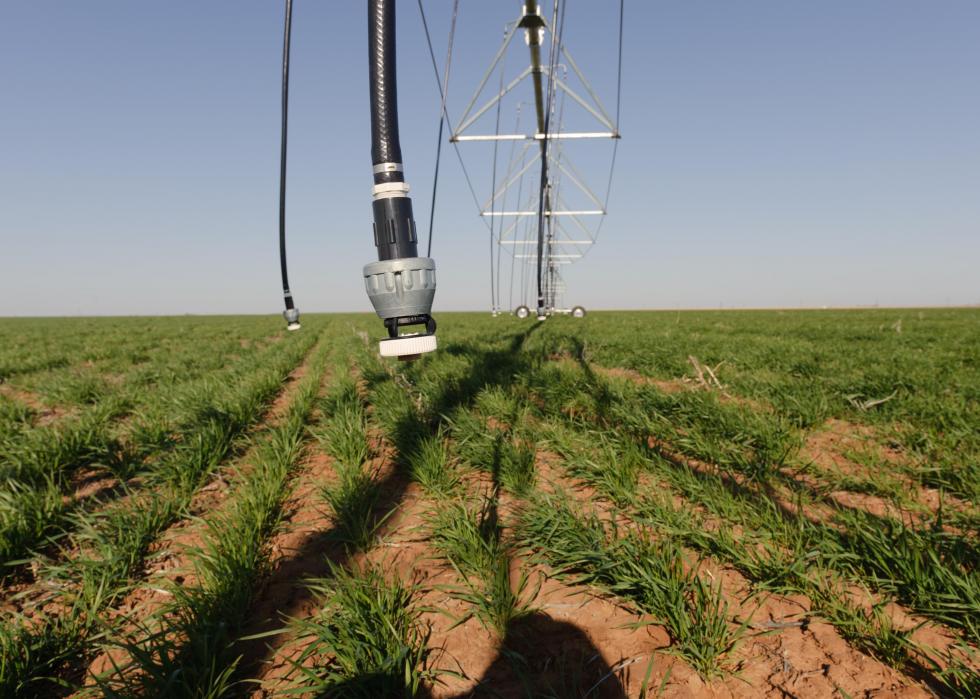 49 / 50
USDA NRCS Texas // Wikimedia Commons
#2. Texas
Total withdrawals: 21,300 million gallons per day (Mgal/d)
- Fresh water withdrawals: 18,900 Mgal/d
- Saline water withdrawals: 2,390 Mgal/d
- Surface water withdrawals: 14,100 Mgal/d
- Groundwater withdrawals: 7,200 Mgal/d

Total domestic water use: 2,260 Mgal/d (82 gal per capita, #19 highest for all states)
- Public supply: 2,890 Mgal/d (81 gal per capita, #19 highest for all states)
--- 26.2 million people served (95% of population)
- Self-supplied: 137 Mgal/d (104 gal per capita, #12 highest for all states)
--- 1.3 million people served (5% of population)

Non-public total water use: 18,241 Mgal/d
- Irrigation: 5,490 Mgal/d
- Livestock: 276 Mgal/d
- Aquaculture: 23 Mgal/d
- Industrial: 323 Mgal/d (fresh), 601 Mgal/d (saline)
- Mining: 131 Mgal/d (fresh), 1,000 Mgal/d (saline)
- Thermoelectric power: 9,640 Mgal/d (fresh), 757 Mgal/d (saline)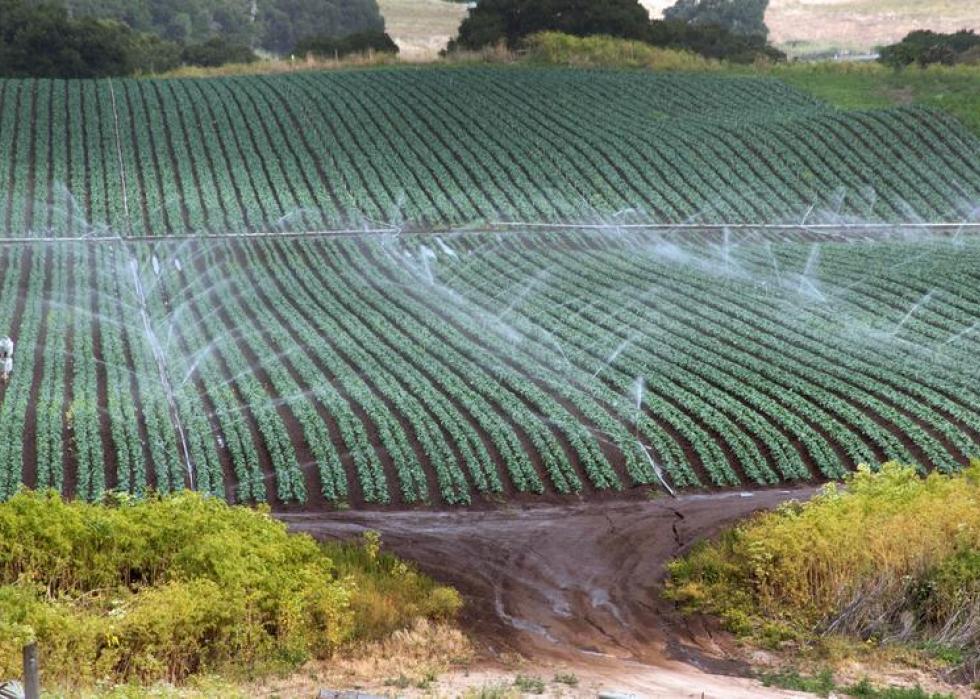 50 / 50
#1. California
Total withdrawals: 28,800 million gallons per day (Mgal/d)
- Fresh water withdrawals: 25,600 Mgal/d
- Saline water withdrawals: 3,160 Mgal/d
- Surface water withdrawals: 11,300 Mgal/d
- Groundwater withdrawals: 17,400 Mgal/d

Total domestic water use: 3,350 Mgal/d (86 gal per capita, #17 highest for all states)
- Public supply: 5,150 Mgal/d (86 gal per capita, #17 highest for all states)
--- 37.7 million people served (96% of population)
- Self-supplied: 127 Mgal/d (88 gal per capita, #16 highest for all states)
--- 1.4 million people served (4% of population)

Non-public total water use: 23,503 Mgal/d
- Irrigation: 19,000 Mgal/d
- Livestock: 183 Mgal/d
- Aquaculture: 727 Mgal/d
- Industrial: 399 Mgal/d (fresh), 0 Mgal/d (saline)
- Mining: 46 Mgal/d (fresh), 272 Mgal/d (saline)
- Thermoelectric power: 36 Mgal/d (fresh), 2,840 Mgal/d (saline)