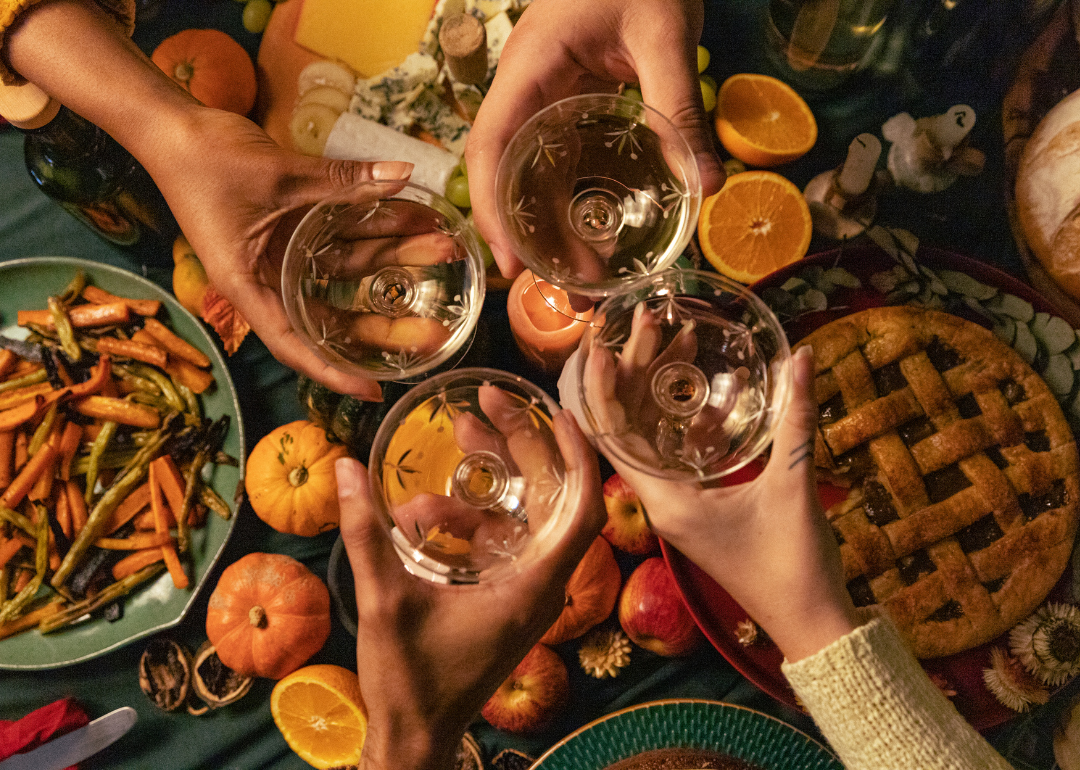 Stacker Connect
Turkey prices are down, but Thanksgiving dinner could still cost a pretty penny in these metro areas
Turkey prices are down, but Thanksgiving dinner could still cost a pretty penny in these metro areas
Thanksgiving dinner expenses are expected to remain high this year, with side dishes like pumpkin pie and mashed potatoes seeing price increases. However, there's a silver lining: Turkey prices have dropped by 15% since last year, which could help offset those rising costs. To learn how inflation will impact the cost of Thanksgiving 2023 across the country, MoneyGeek analyzed the average cost of a Thanksgiving dinner across 116 metro areas comparing 2023 prices at various national supermarkets to last year's prices for holiday staples such as turkey, pumpkin pie, and cranberry sauce to find the most — and least — affordable metros for Thanksgiving dinner. In some metro areas, an entire Thanksgiving spread for six people could cost as much as $175. 
Here are some of the key findings from this analysis:
Consumers can expect turkeys to be 15% cheaper during the week of Thanksgiving this year than they were last year.

Turkeys are 24% more expensive when purchased the week of Thanksgiving compared to the week before.

Thanksgiving side dishes will be around 4% more expensive in 2023 than they were in 2022.

The most expensive Thanksgiving dinners will be in the Seattle-Tacoma-Bellevue, Washington, and Honolulu, Hawaii, metro areas, with meals averaging $170 or more.

Whole turkeys in the Portland-Vancouver-Hillsboro metro area will cost $34, over double the national average price.

Among the metros included in our analysis, Brownsville-Harlingen, Texas, is where you can purchase the cheapest Thanksgiving dinner, costing $121.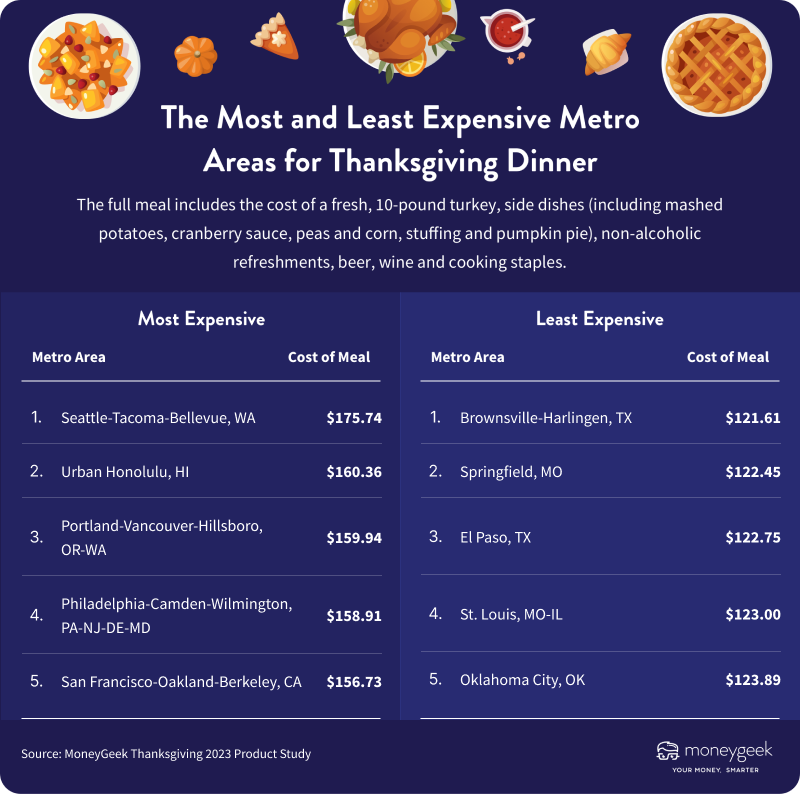 1 / 3
Thanksgiving cost breakdown: Most and least expensive cities
MoneyGeek looked at the cost of Thanksgiving turkeys and prices for various side dishes, including mashed potatoes, stuffing, bread rolls, peas and corn, and refreshments for a party of six. This analysis includes metro areas with a population of 250,000 people or more. Food price estimates were obtained using 2023 data from the Council for Community and Economic Research (C2ER) and Instacart prices. Gathering prices from some of America's largest supermarket chains, the average 15% markup from Instacart was removed to get a more accurate sense of in-store costs.
Thanksgiving in Seattle hits the wallet hardest, while Texas metros offer a feast for less
Seattle, Washington, tops the list as the most expensive metropolitan area for Thanksgiving meals. Here, a 10-pound fresh turkey, side dishes, and beverages like beer and wine can cost you $176. Not far behind are Honolulu, Hawaii, and the Portland-Vancouver-Hillsboro metro area of Oregon and Washington, with Thanksgiving feasts in these metros averaging $160. On the other hand, Texas is home to two of the top five most affordable metro areas for Thanksgiving, specifically the Brownsville-Harlingen and El Paso areas, where costs fall under $125.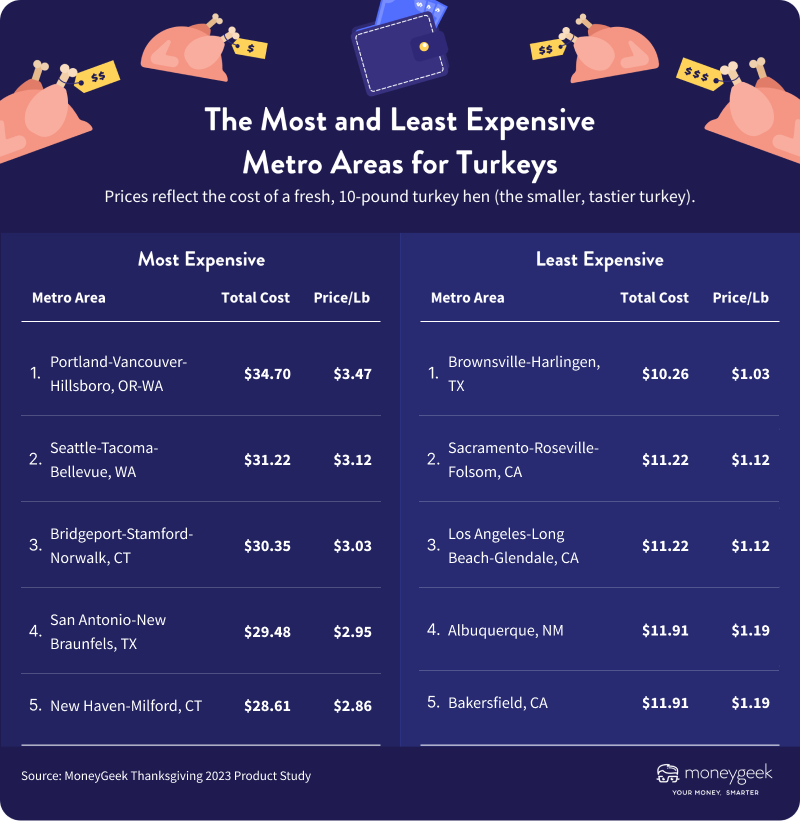 2 / 3
Turkey prices are projected to be significantly lower this year
This year, consumers can expect a pleasant surprise, as Thanksgiving week turkey prices are projected to be considerably lower than last year. A 15% reduction in turkey prices suggests that a fresh, whole 10-lb turkey will likely cost around $19 this year.
Inflation made headlines in 2022, impacting prices across the board — including turkey prices. Fortunately, a decrease in avian influenza cases and a rebound in the U.S. turkey population have helped stabilize turkey prices this year. Additionally, increased truck availability has eased supply constraints and reduced costs for the food industry.
Both the Portland-Vancouver-Hillsboro metro area of Oregon and Washington and the Seattle metro area top the list for top-tier turkey prices; consumers living there can expect to pay $3.47 and $3.12 per pound, respectively. Interestingly, densely populated California metros, including Los Angeles, Sacramento and Bakersfield, are expected to see turkeys priced below $1.20 per pound, some of the lowest costs in the country. Just make sure not to wait until the last minute to buy your bird, Thanksgiving week often sees a nationwide surge in turkey prices, with an average increase of 24% when comparing costs with the previous week.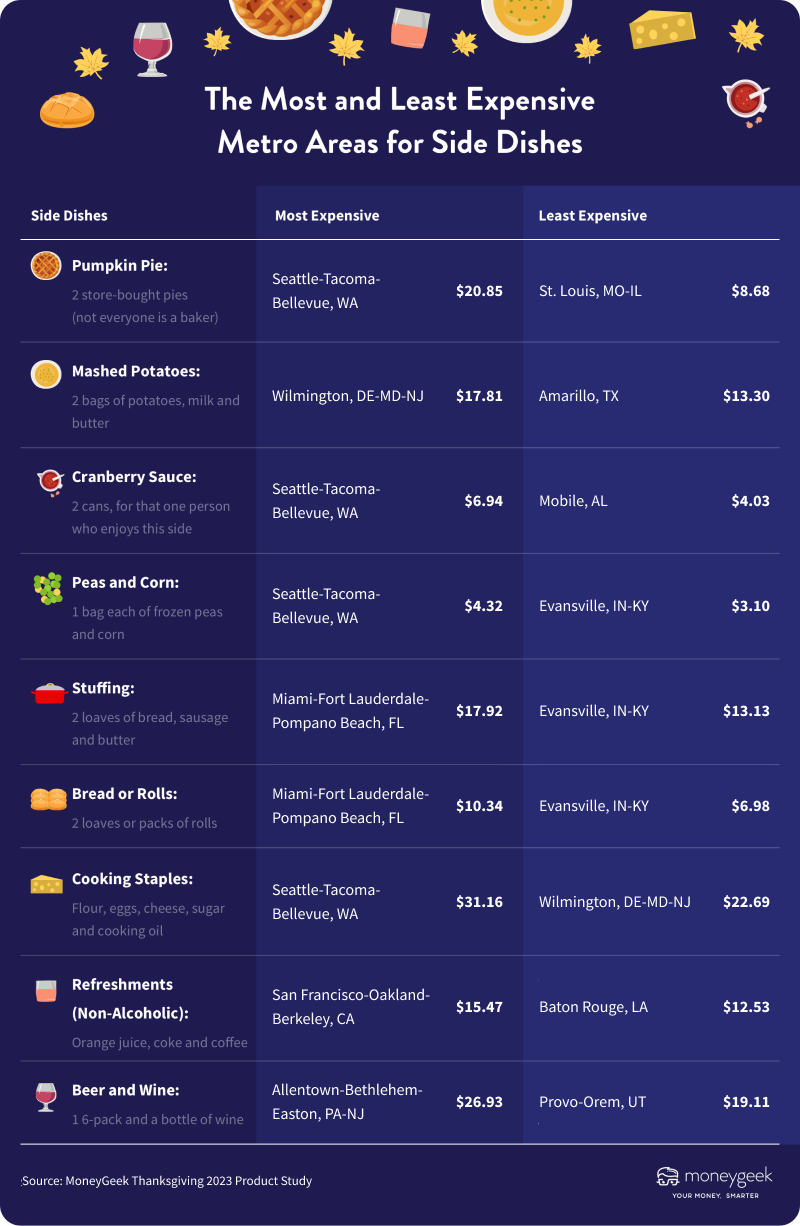 3 / 3
More reasons to love (or hate) side dishes
While turkey prices have decreased, side dishes haven't followed suit, with some even seeing a slight increase compared to last year. This is particularly true in the Seattle, Washington metro area: there, purchasing two store-bought pumpkin pies in Seattle will set you back $21. In St. Louis, Missouri, the same two pies cost $9. Additionally, cranberry sauce can cost up to $7 in Seattle, while in Mobile, Alabama, two cans are priced at just $4. And that six-pack and bottle of wine? Allentown, Pennsylvania, residents will pay $27 for the good cheer, but in Provo-Orem, Utah, these refreshments will cost you just $19.
How to make Thanksgiving dinner more affordable in 2023
Consider hosting a potluck and asking guests to bring at least one side dish or beverage. Planning ahead can also help, given that costs go up the week before Thanksgiving. Keep an eye out for Thanksgiving turkey sales or deals on specific ingredients in the weeks leading up to the holiday, especially at big retailers like Costco or Sam's Club.
Creating a holiday budget plan can help keep costs down, not just for Thanksgiving but for the entire holiday season. Be creative about other ways to save money, such as by booking airline tickets and car rentals well before the holidays or finding the best travel credit cards that offer cash back or discounts on future travel. Consumers should be careful, though, to use credit cards responsibly in order to not take on too much holiday debt.
Methodology
MoneyGeek analyzed average retail prices of various grocery store items across 116 metro areas with a population of 250,000 people or more using 2023 data from the Council for Community and Economic Research (C2ER) and Instacart. Metro areas with no available data were excluded.
We used C2ER grocery item price data to construct prices for various Thanksgiving side dishes, including mashed potatoes, stuffing, bread/rolls, peas and corn, and refreshments for a party of six.
We used Instacart to research prices for various Thanksgiving meal items that were not included in the C2ER data, such as turkey, pumpkin pie, cranberry sauce and flour. Stores we gathered prices from included Wegmans, Safeway, Target, Sam's Club, Hy-Vee, Kroger, and Publix. We removed the average 15% markup for any prices researched using Instacart to reflect more accurate in-store prices.
We also analyzed the USDA's National Retail Report for turkey prices per pound by year for the week of Thanksgiving to analyze cost changes. We calculated the average increase in turkey prices per pound from the week before Thanksgiving to the week of Thanksgiving over the past four years to understand the trends in cost changes as the holiday approaches.
 
This story was produced by MoneyGeek and reviewed and distributed by Stacker Media.