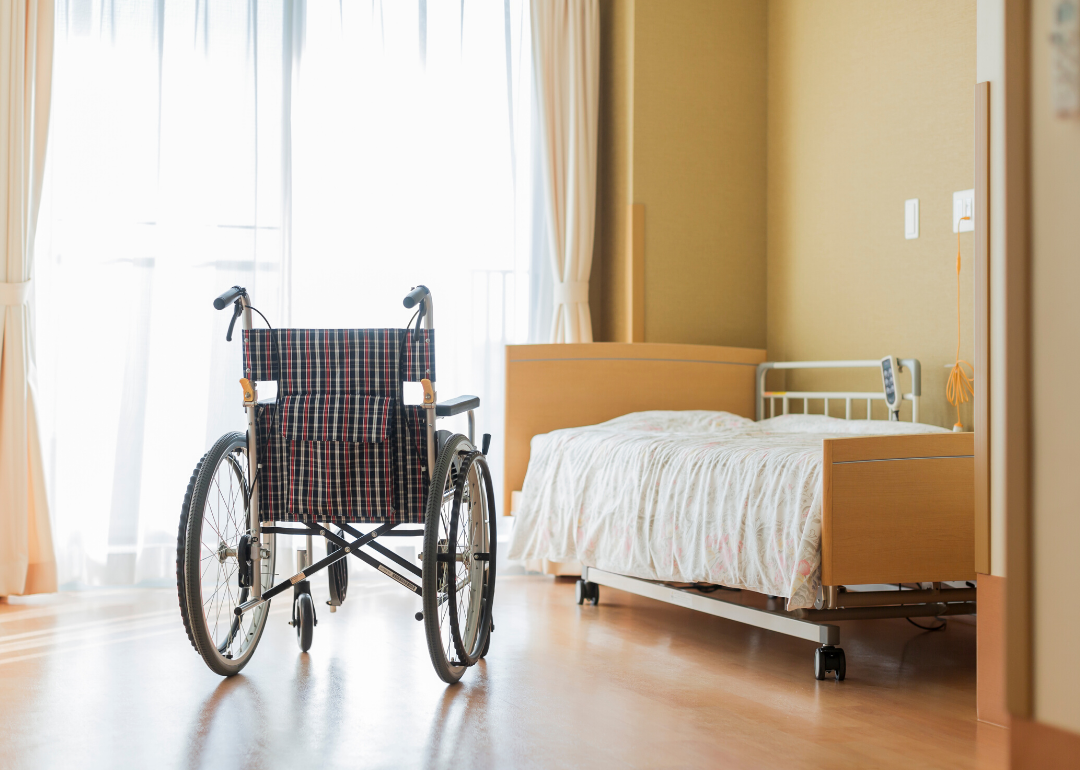 Biggest nursing home outbreaks of COVID-19 in every state
Biggest nursing home outbreaks of COVID-19 in every state
The COVID-19 pandemic has ravaged nursing homes across the country. Over 30,000 deaths related to the disease have been reported in nursing homes and long-term care centers across the country as of June 4, 2020, according to representatives from the Centers for Medicare & Medicaid Services (CMS) speaking at a press conference that day. The number of deaths is likely to be higher as it only accounts for 88% of nursing homes registered by CMS.
To determine the biggest COVID-19 outbreaks in nursing homes in every U.S. state, Stacker consulted data from the CMS Nursing Home Compare database, released on June 4. These data reflect COVID-19 cases and deaths in nursing homes as of May 31. We have also supplemented these data with the total numbers of cases and deaths in each state as of June 3, via the COVID Tracking Project.
There are a couple of limitations to note in the data: First, there may be some errors or fluctuations in the data entry; and second, some nursing homes had data issues and therefore are in the system but not included in the dataset. In compiling this story, Stacker only considered facilities for which COVID-19 data reporting was up to CMS' standards. In addition, CMS has a different reporting methodology than state health departments, many of which have also been reporting data on COVID-19 in nursing homes for the past several weeks, so numbers may differ between these sources.
The coronavirus outbreak through nursing homes is the latest in a series of issues plaguing long-term care facilities. Infection control violations top the list of problems cited during nursing home inspections in the last year, per Medicare.gov. On June 1, President Trump released updates to the enforcement of infection control practices for nursing homes that have violated such regulations.
The preparedness of nursing homes to prevent and confront COVID-19 vary wildly by state and facility, which has led to numerous outbreaks and failed responses by governments and nursing home facilities themselves. Keep reading to find out where the biggest nursing home outbreaks of COVID-19 are in every state.
You may also like: States with the most nursing homes unprepared for infection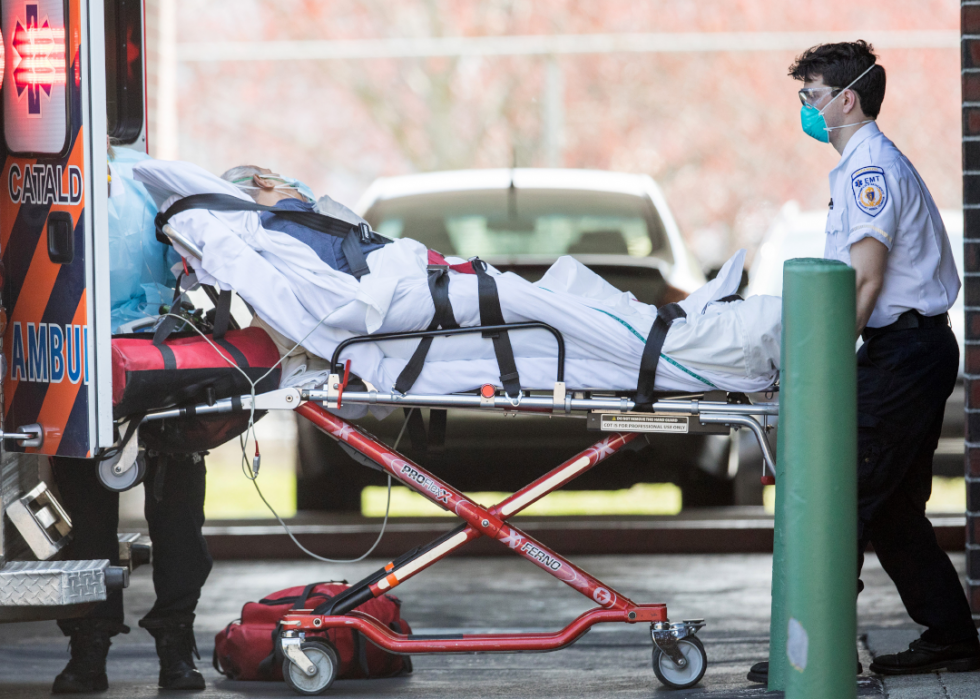 1 / 51
Scott Eisen // Getty Images
Alabama
- Total COVID-19 cases among residents: 1,877 (Death toll: 633)
- Total COVID-19 cases among staff: 1,393 (Death toll: 27)
- Cumulative state COVID-19 statistics as of June 3: 18,851 cases, 653 deaths
- Sites of biggest outbreaks:
--- #1. Arbor Springs Health and Rehab Center, LTD (68 cases among residents, 42 cases among staff)
--- #2. Ashland Place Health and Rehabilitation, LLC (80 cases among residents, 16 cases among staff)
--- #3. Lynwood Nursing Home (54 cases among residents, 35 cases among staff)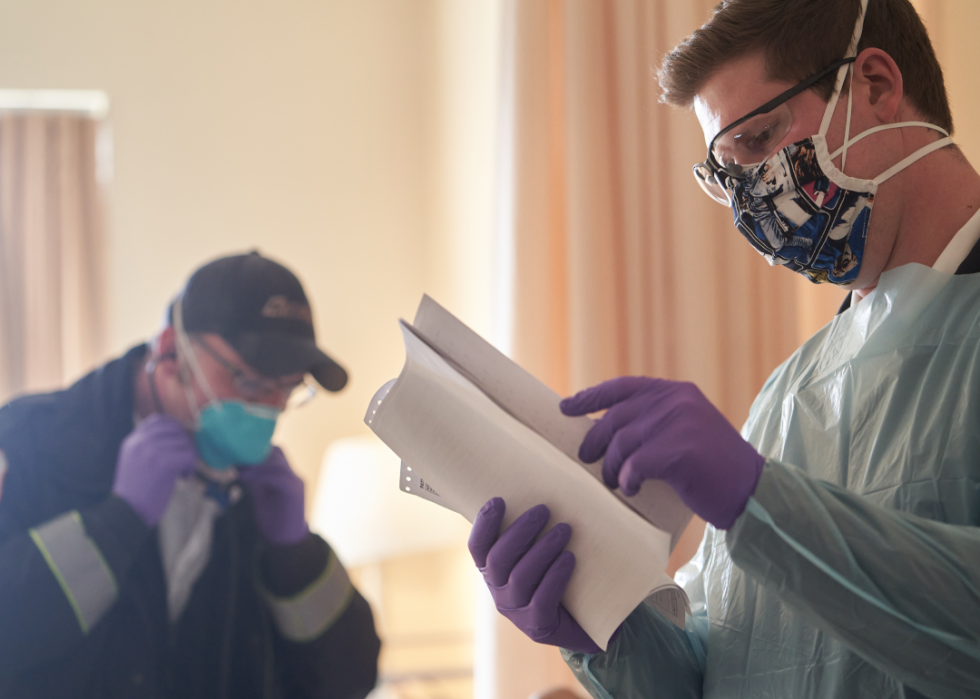 2 / 51
David Degner // Getty Images
Alaska
- Total COVID-19 cases among residents: 2
- Total COVID-19 cases among staff: 3
- Cumulative state COVID-19 statistics as of June 3: 505 cases, 10 deaths
- Sites of biggest outbreaks:
--- #1. SEARHC Sitka Long Term Care (1 case among residents, 1 cases among staff)
--- #2. South Peninsula Hospital LTC (0 cases among residents, 1 cases among staff)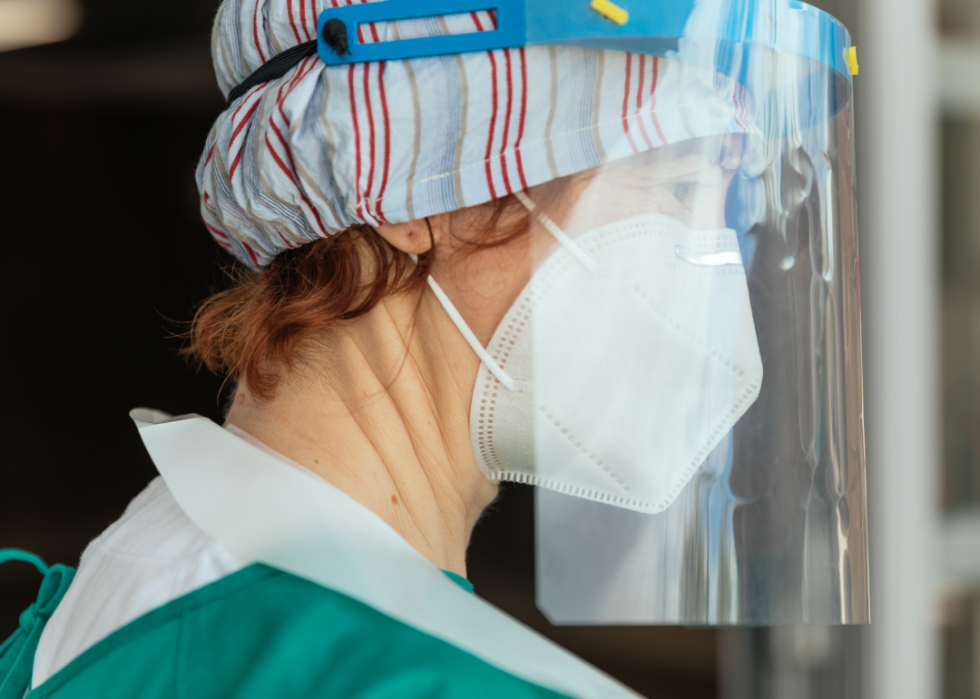 3 / 51
Alvaro Calvo // Getty Images
Arizona
- Total COVID-19 cases among residents: 665 (Death toll: 236)
- Total COVID-19 cases among staff: 1,255 (Death toll: 2)
- Cumulative state COVID-19 statistics as of June 3: 22,233 cases, 981 deaths
- Sites of biggest outbreaks:
--- #1. Westchester Care Center (35 cases among residents, 413 cases among staff)
--- #2. Providence Place At Glencroft (78 cases among residents, 81 cases among staff)
--- #3. Haven of Phoenix (42 cases among residents, 27 cases among staff)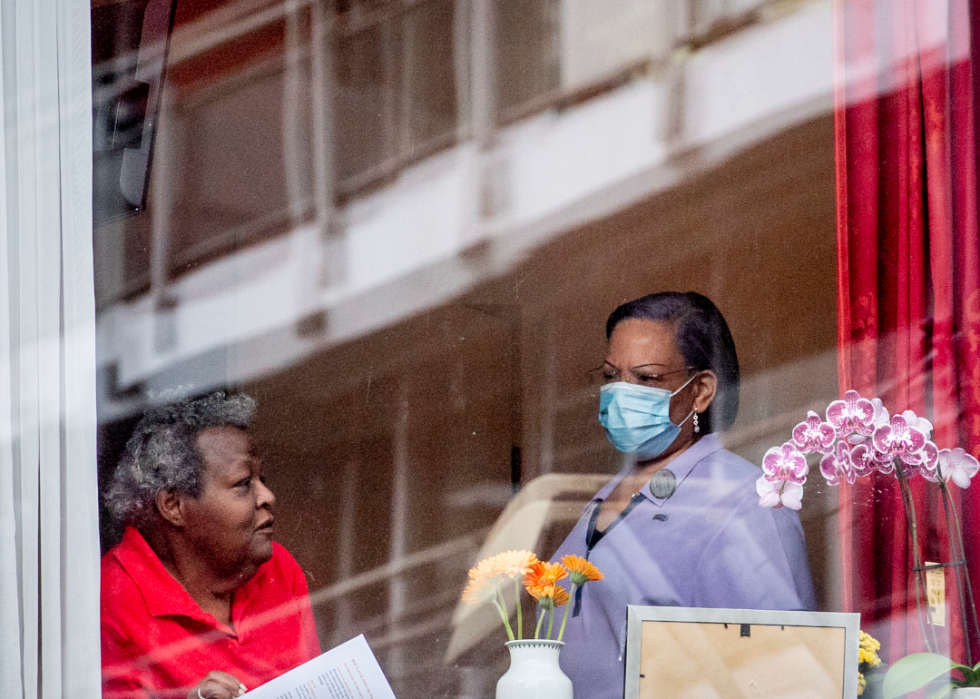 4 / 51
Robin Utrecht/SOPA Images/LightRocket via Getty Images
Arkansas
- Total COVID-19 cases among residents: 689 (Death toll: 87)
- Total COVID-19 cases among staff: 571
- Cumulative state COVID-19 statistics as of June 3: 8,067 cases, 142 deaths
- Sites of biggest outbreaks:
--- #1. The Waters of White Hall, LLC (44 cases among residents, 66 cases among staff)
--- #2. Salem Place Nursing and Rehabilitation Center, Inc (17 cases among residents, 75 cases among staff)
--- #3. Walnut Ridge Nursing and Rehabilitation Center (50 cases among residents, 25 cases among staff)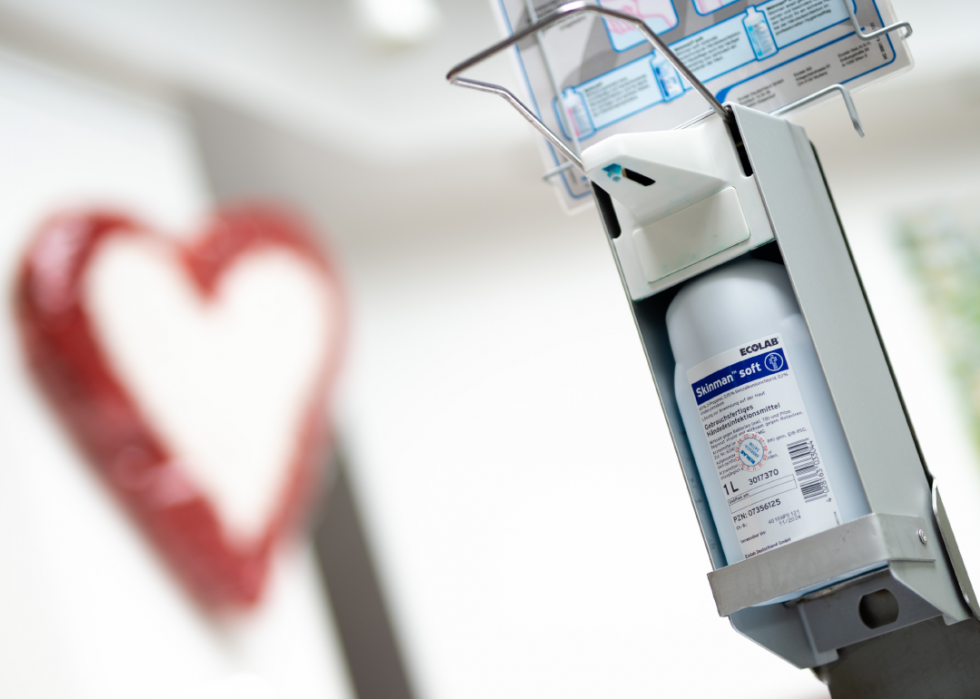 5 / 51
Jonas Güttler/picture alliance via Getty Images
California
- Total COVID-19 cases among residents: 11,170 (Death toll: 2,766)
- Total COVID-19 cases among staff: 6,460 (Death toll: 36)
- Cumulative state COVID-19 statistics as of June 3: 117,687 cases, 4,361 deaths
- Sites of biggest outbreaks:
--- #1. Victoria Post Acute Care (133 cases among residents, 120 cases among staff)
--- #2. Kingston Healthcare Center, LLC (92 cases among residents, 159 cases among staff)
--- #3. Rio Hondo Subacute & Nursing Center (127 cases among residents, 101 cases among staff)
You may also like: Industries performing best and worst during the coronavirus—and how they're responding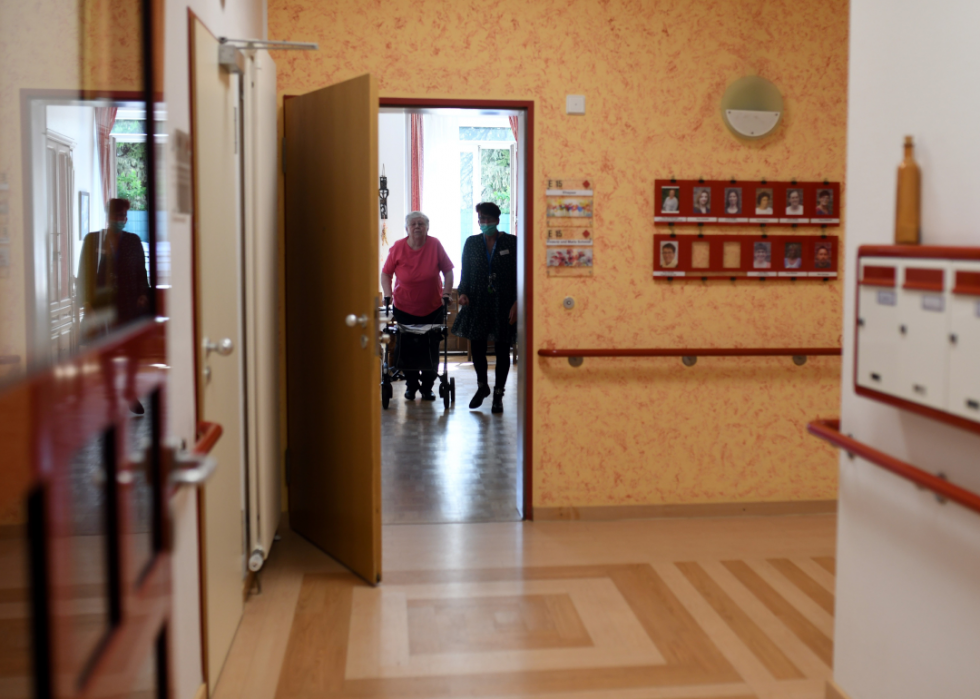 6 / 51
INA FASSBENDER/AFP via Getty Images
Colorado
- Total COVID-19 cases among residents: 1,732 (Death toll: 759)
- Total COVID-19 cases among staff: 1,453 (Death toll: 6)
- Cumulative state COVID-19 statistics as of June 3: 26,788 cases, 1,474 deaths
- Sites of biggest outbreaks:
--- #1. Mesa Vista of Boulder (6 cases among residents, 76 cases among staff)
--- #2. Colorado State Veterans Home At Fitzsimons (46 cases among residents, 20 cases among staff)
--- #3. Peaks Care Center The (30 cases among residents, 33 cases among staff)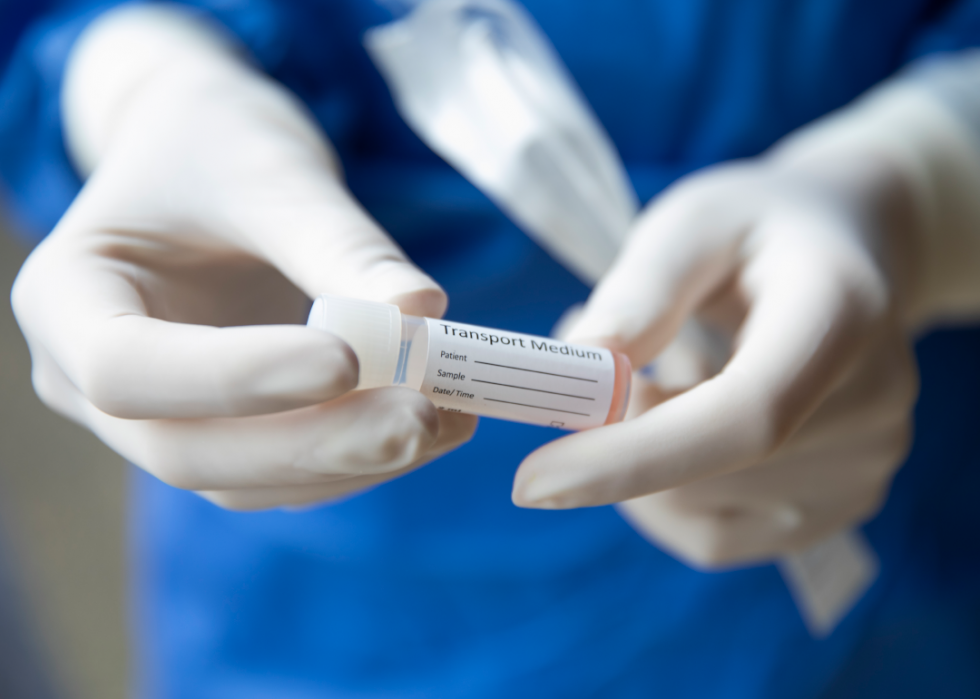 7 / 51
Alvaro Calvo // Getty Images
Connecticut
- Total COVID-19 cases among residents: 9,538 (Death toll: 2,906)
- Total COVID-19 cases among staff: 4,104 (Death toll: 20)
- Cumulative state COVID-19 statistics as of June 3: 43,091 cases, 3,989 deaths
- Sites of biggest outbreaks:
--- #1. Bickford Health Care Center (526 cases among residents, 319 cases among staff)
--- #2. Riverside Health & Rehabilitat (151 cases among residents, 59 cases among staff)
--- #3. Jewish Senior Services (85 cases among residents, 60 cases among staff)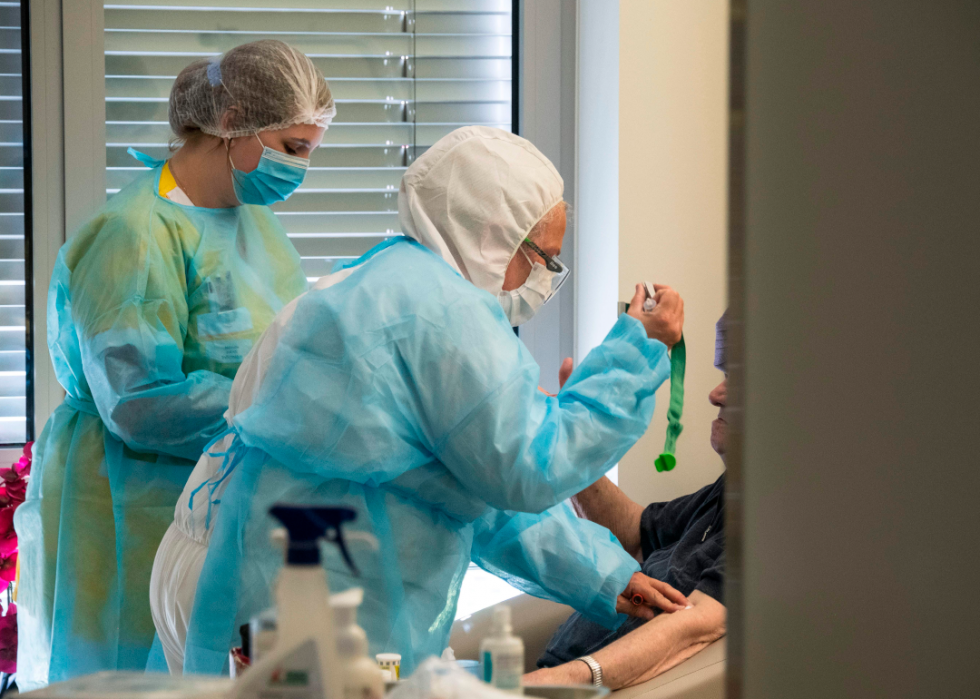 8 / 51
SEBASTIEN BOZON/AFP via Getty Images
Delaware
- Total COVID-19 cases among residents: 1,185 (Death toll: 281)
- Total COVID-19 cases among staff: 998 (Death toll: 14)
- Cumulative state COVID-19 statistics as of June 3: 9,712 cases, 375 deaths
- Sites of biggest outbreaks:
--- #1. Jeanne Jugan Residence (30 cases among residents, 187 cases among staff)
--- #2. Parkview Nursing (122 cases among residents, 46 cases among staff)
--- #3. Manorcare Health Services - Pike Creek (107 cases among residents, 41 cases among staff)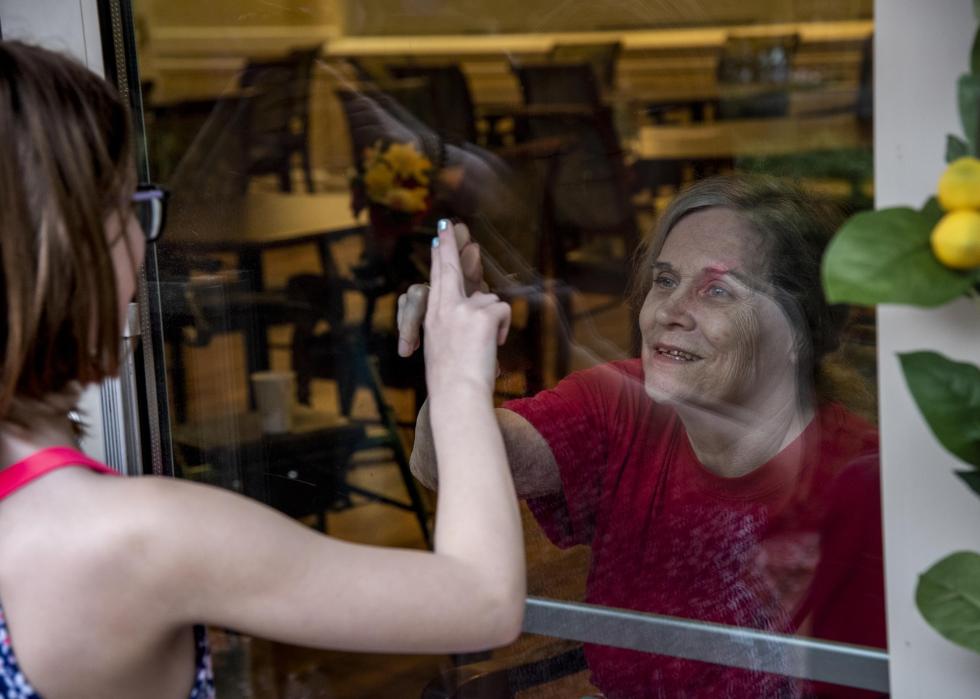 9 / 51
Jahi Chikwendiu via The Washington Post // Getty Images
District of Columbia
- Total COVID-19 cases among residents: 574 (Death toll: 104)
- Total COVID-19 cases among staff: 306 (Death toll: 10)
- Cumulative state COVID-19 statistics as of June 3: 9,016 cases, 473 deaths
- Sites of biggest outbreaks:
--- #1. Deanwood Rehabilitation and Wellness Center (89 cases among residents, 34 cases among staff)
--- #2. Inspire Rehabilitation and Health Center LLC (65 cases among residents, 30 cases among staff)
--- #3. Washington Ctr For Aging Svcs (46 cases among residents, 25 cases among staff)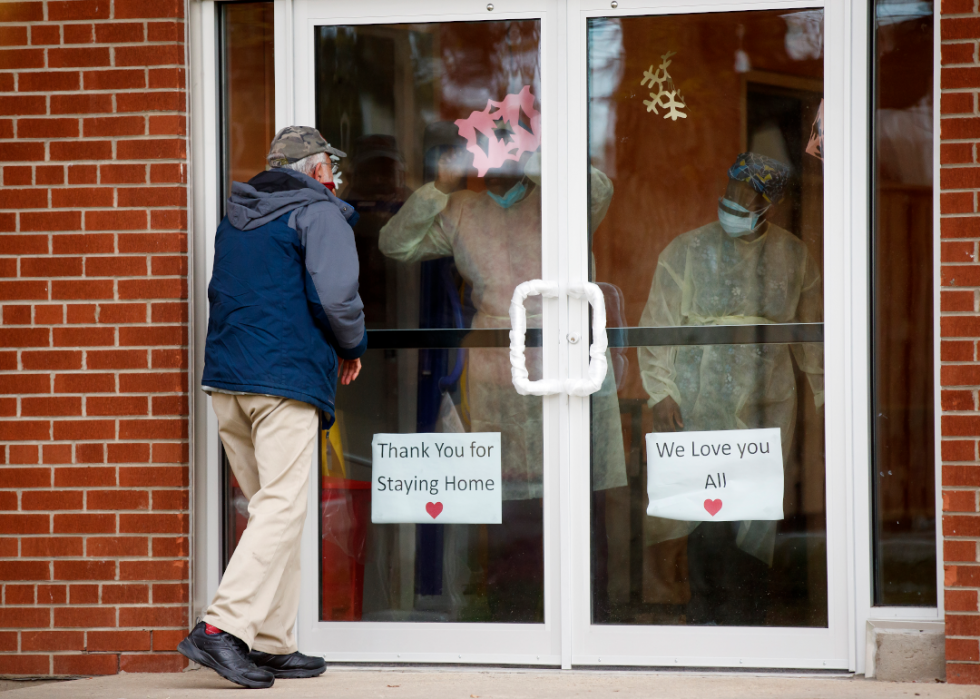 10 / 51
Cole Burston // Getty Images
Florida
- Total COVID-19 cases among residents: 4,516 (Death toll: 1,229)
- Total COVID-19 cases among staff: 3,938 (Death toll: 27)
- Cumulative state COVID-19 statistics as of June 3: 58,764 cases, 2,650 deaths
- Sites of biggest outbreaks:
--- #1. Bentley Care Center (89 cases among residents, 223 cases among staff)
--- #2. Signature Healthcare of Jacksonville (78 cases among residents, 37 cases among staff)
--- #3. Fountain Manor Health & Rehabilitation Center (66 cases among residents, 43 cases among staff)
You may also like: Where you can watch the 100 best movies of all time right now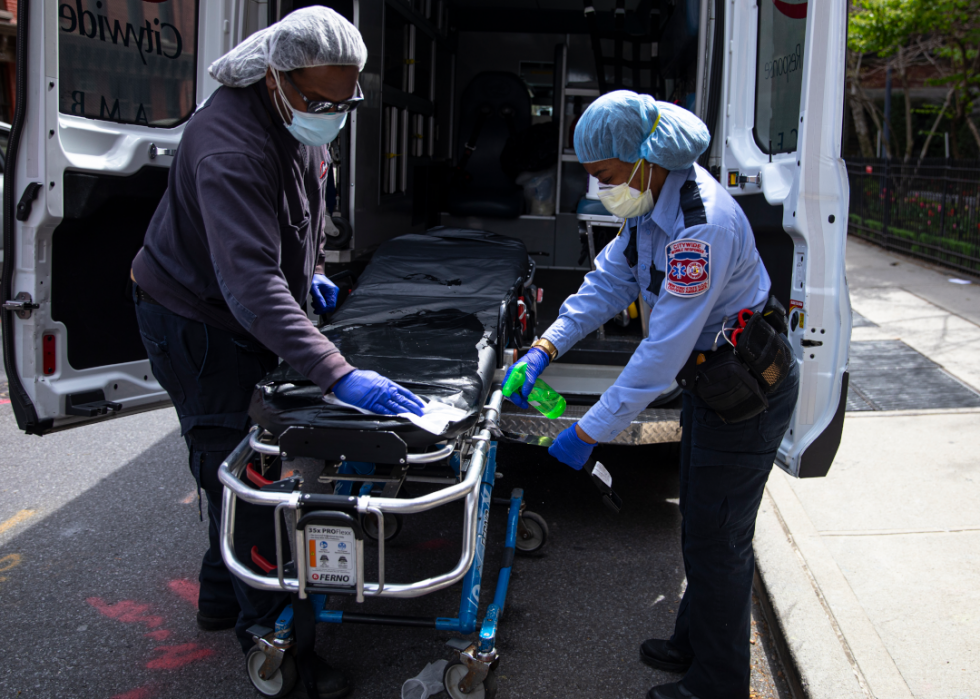 11 / 51
Robert Nickelsberg // Getty Images
Georgia
- Total COVID-19 cases among residents: 5,824 (Death toll: 915)
- Total COVID-19 cases among staff: 2,873 (Death toll: 30)
- Cumulative state COVID-19 statistics as of June 3: 48,894 cases, 2,123 deaths
- Sites of biggest outbreaks:
--- #1. Sadie G. Mays Health & Rehabilitation Center (156 cases among residents, 40 cases among staff)
--- #2. Westbury Medical Care and Rehab (123 cases among residents, 37 cases among staff)
--- #3. Christian City Rehabilitation Center (94 cases among residents, 63 cases among staff)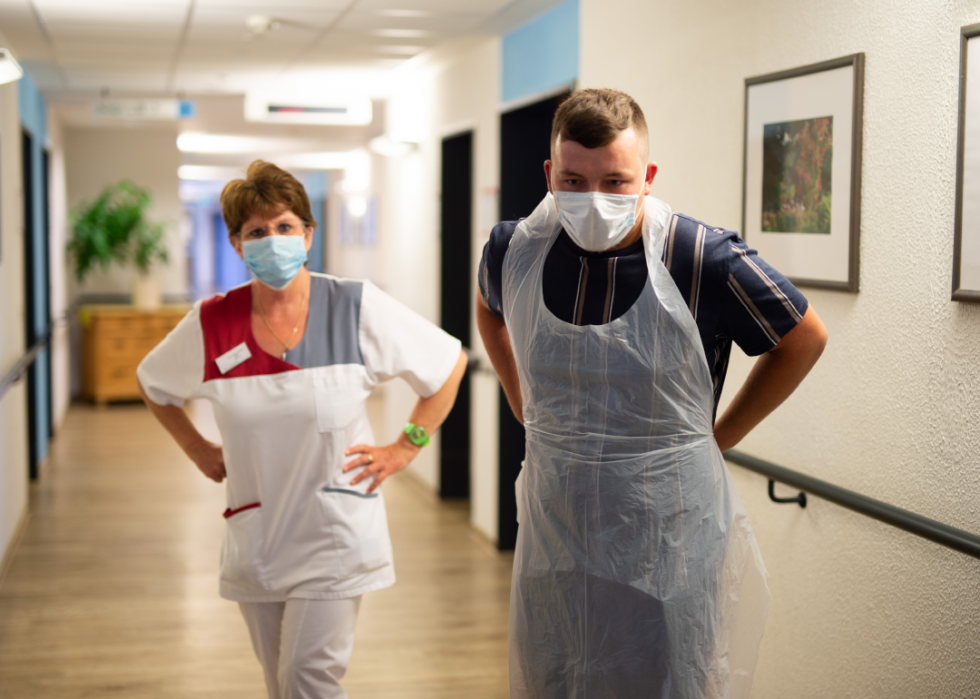 12 / 51
Jonas Güttler/picture alliance via Getty Images
Hawaii
- Total COVID-19 cases among residents: (Death toll: 2)
- Total COVID-19 cases among staff:
- Cumulative state COVID-19 statistics as of June 3: 653 cases, 17 deaths
- Sites of biggest outbreaks: Data not available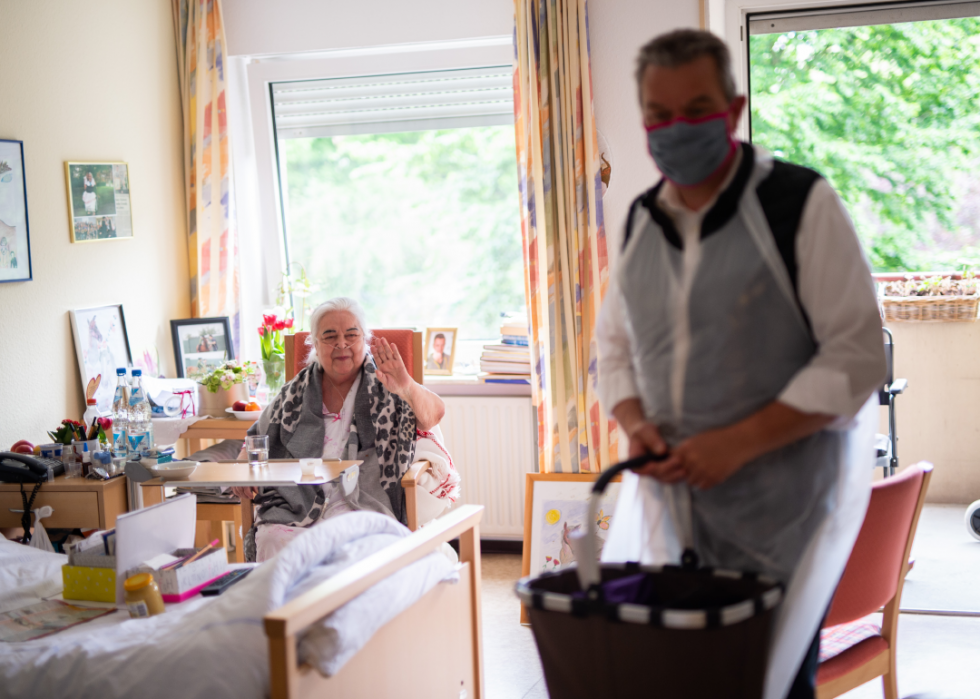 13 / 51
Jonas Güttler/picture alliance via Getty Images
Idaho
- Total COVID-19 cases among residents: 56 (Death toll: 12)
- Total COVID-19 cases among staff: 57 (Death toll: 8)
- Cumulative state COVID-19 statistics as of June 3: 2,933 cases, 83 deaths
- Sites of biggest outbreaks:
--- #1. Avamere Transitional Care & Rehab - Boise (25 cases among residents, 17 cases among staff)
--- #2. Terraces of Boise, The (1 case among residents, 4 cases among staff)
--- #3. Desert View Care Center of Buhl (1 case among residents, 1 cases among staff)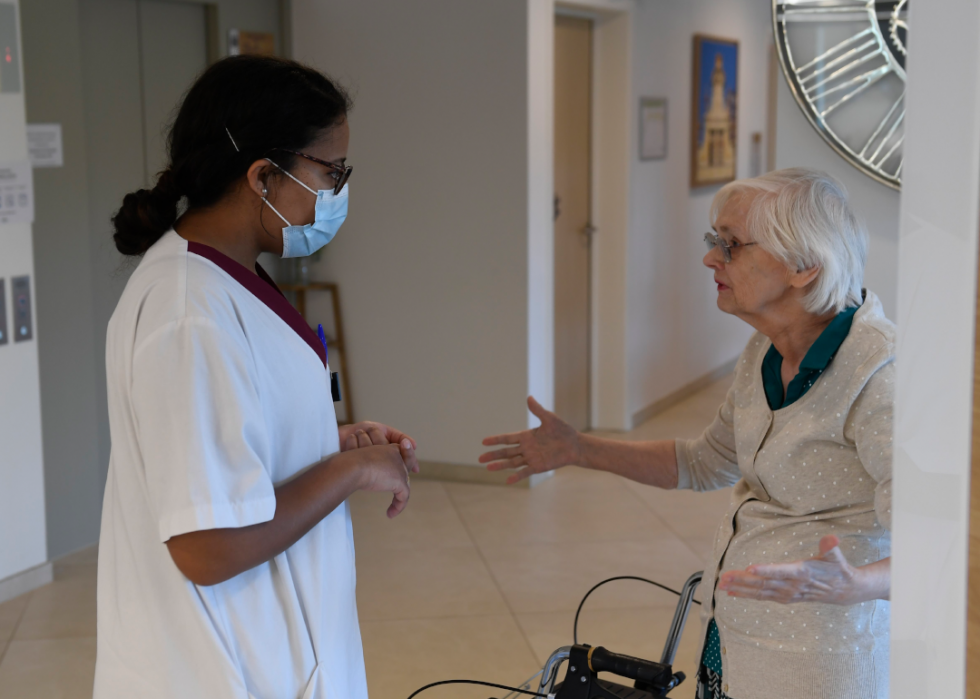 14 / 51
Philippe Crochet // Photonews via Getty Images
Illinois
- Total COVID-19 cases among residents: 13,470 (Death toll: 3,621)
- Total COVID-19 cases among staff: 8,616 (Death toll: 120)
- Cumulative state COVID-19 statistics as of June 3: 123,830 cases, 5,621 deaths
- Sites of biggest outbreaks:
--- #1. Niles Nsg & Rehab Ctr (156 cases among residents, 41 cases among staff)
--- #2. Symphony of Lincoln Park (115 cases among residents, 55 cases among staff)
--- #3. Mayfield Health Center (112 cases among residents, 33 cases among staff)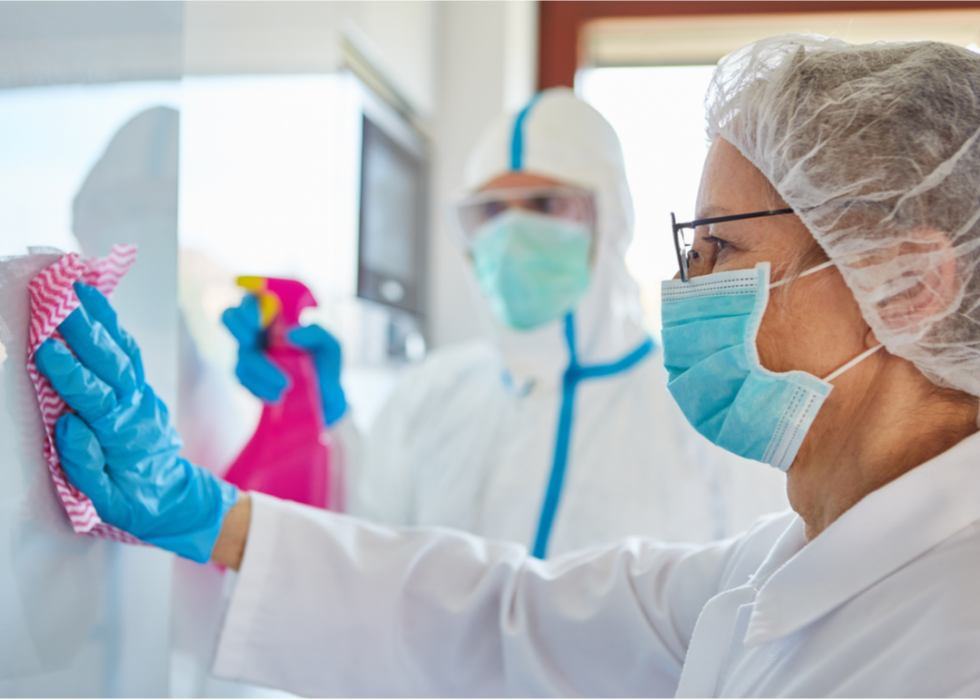 15 / 51
Robert Kneschke // Shutterstock
Indiana
- Total COVID-19 cases among residents: 4,565 (Death toll: 1,530)
- Total COVID-19 cases among staff: 2,297 (Death toll: 19)
- Cumulative state COVID-19 statistics as of June 3: 35,712 cases, 2,207 deaths
- Sites of biggest outbreaks:
--- #1. Sebo'S Nursing and Rehabilitation Center (160 cases among residents, 27 cases among staff)
--- #2. Yorktown Manor (74 cases among residents, 80 cases among staff)
--- #3. University Nursing Center (95 cases among residents, 45 cases among staff)
You may also like: How animals around the world are responding to COVID-19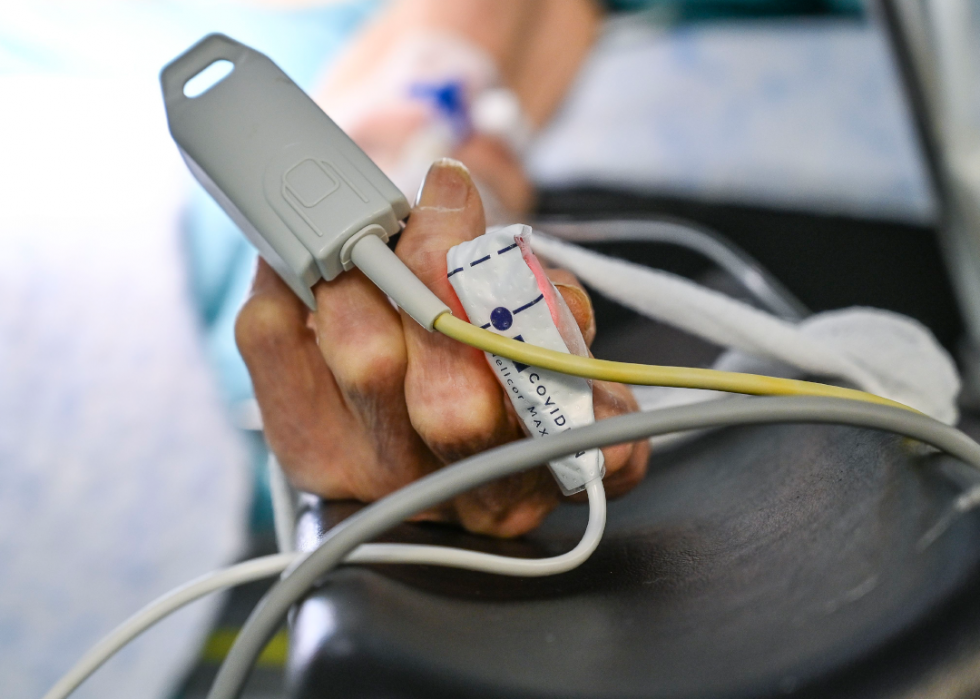 16 / 51
Fabrizio Villa // Getty Images
Iowa
- Total COVID-19 cases among residents: 1,062 (Death toll: 351)
- Total COVID-19 cases among staff: 713 (Death toll: 18)
- Cumulative state COVID-19 statistics as of June 3: 20,055 cases, 574 deaths
- Sites of biggest outbreaks:
--- #1. Pearl Valley Rehabilitation and Healthcare Center (62 cases among residents, 17 cases among staff)
--- #2. St Francis Manor (41 cases among residents, 33 cases among staff)
--- #3. Premier Estates of Toledo (30 cases among residents, 19 cases among staff)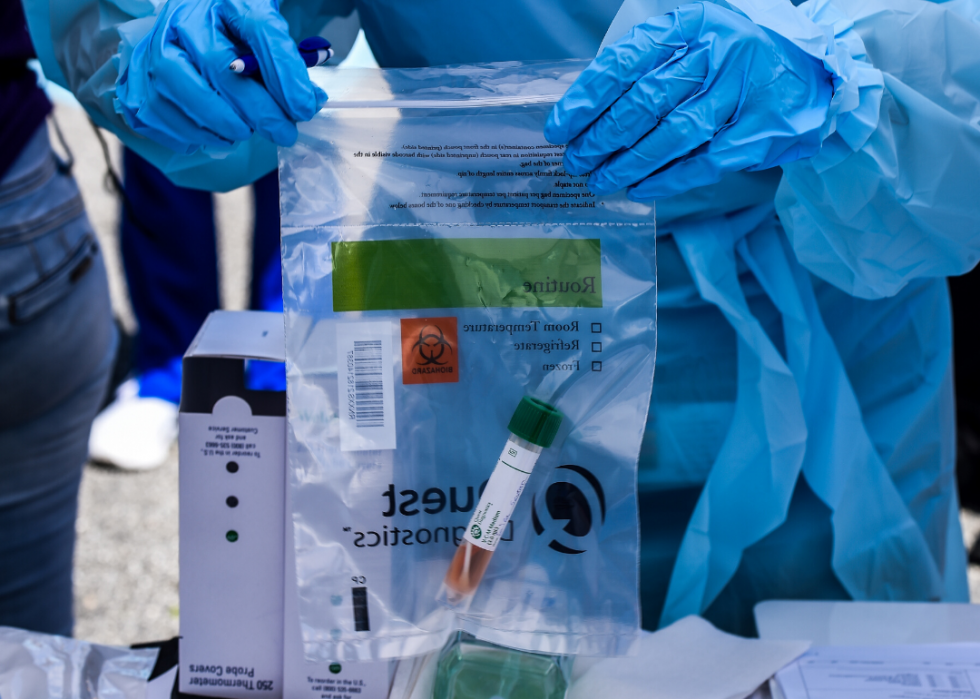 17 / 51
CHANDAN KHANNA/AFP via Getty Images
Kansas
- Total COVID-19 cases among residents: 334 (Death toll: 96)
- Total COVID-19 cases among staff: 251 (Death toll: 2)
- Cumulative state COVID-19 statistics as of June 3: 10,170 cases, 222 deaths
- Sites of biggest outbreaks:
--- #1. Riverbend Post Acute Rehabilitation (65 cases among residents, 31 cases among staff)
--- #2. Villa St Francis Catholic Care Center Inc (25 cases among residents, 21 cases among staff)
--- #3. Minneola District Hospital LTCu (25 cases among residents, 16 cases among staff)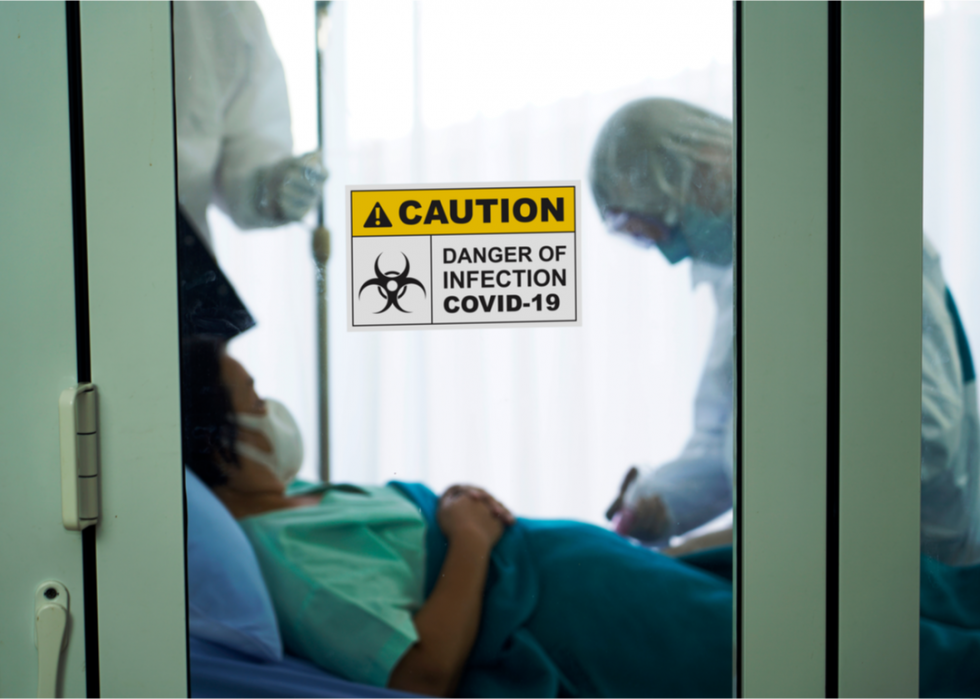 18 / 51
Kobkit Chamchod // Shutterstock
Kentucky
- Total COVID-19 cases among residents: 1,578 (Death toll: 413)
- Total COVID-19 cases among staff: 758 (Death toll: 6)
- Cumulative state COVID-19 statistics as of June 3: 10,410 cases, 450 deaths
- Sites of biggest outbreaks:
--- #1. Creekwood Nursing & Rehabilitation (103 cases among residents, 39 cases among staff)
--- #2. Florence Park Care Center (80 cases among residents, 35 cases among staff)
--- #3. Nazareth Home Clifton (44 cases among residents, 56 cases among staff)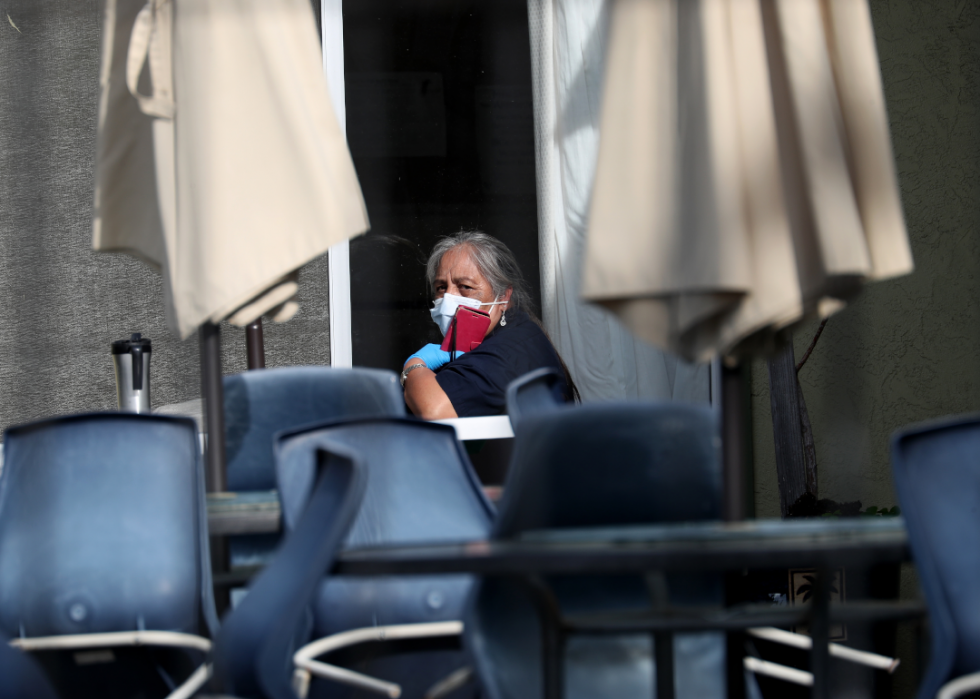 19 / 51
Jane Tyska/Digital First Media/East Bay Times via Getty Images
Louisiana
- Total COVID-19 cases among residents: 6,165 (Death toll: 1,608)
- Total COVID-19 cases among staff: 3,013 (Death toll: 28)
- Cumulative state COVID-19 statistics as of June 3: 41,133 cases, 2,870 deaths
- Sites of biggest outbreaks:
--- #1. Encore Healthcare and Rehabilitation Center (The) (123 cases among residents, 111 cases among staff)
--- #2. Lafon Nursing Facility of The Holy Family (121 cases among residents, 50 cases among staff)
--- #3. Bradford Skilled Nursing and Rehabilitation (The) (95 cases among residents, 48 cases among staff)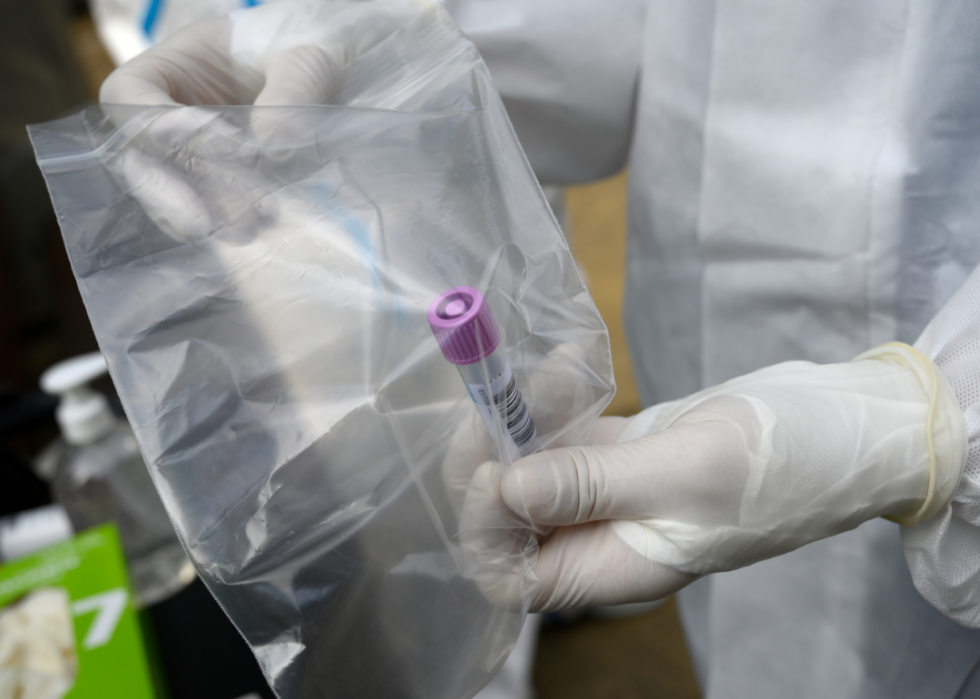 20 / 51
LLUIS GENE/AFP via Getty Images
Maine
- Total COVID-19 cases among residents: 211 (Death toll: 37)
- Total COVID-19 cases among staff: 243 (Death toll: 17)
- Cumulative state COVID-19 statistics as of June 3: 2,418 cases, 95 deaths
- Sites of biggest outbreaks:
--- #1. Springbrook Center (53 cases among residents, 34 cases among staff)
--- #2. Falmouth By The Sea (43 cases among residents, 28 cases among staff)
--- #3. Augusta Center For Health & Rehabilitation, LLC (0 cases among residents, 27 cases among staff)
You may also like: 50 classic movies turning 50 in 2020 you can catch up on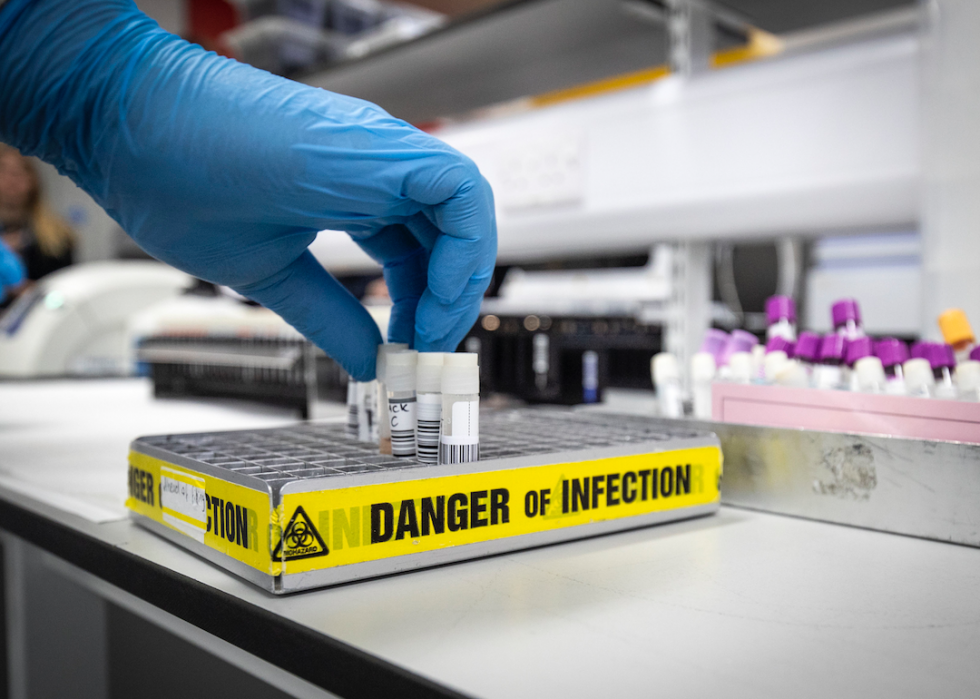 21 / 51
Jane Barlow-WPA Pool // Getty Images
Maryland
- Total COVID-19 cases among residents: 6,020 (Death toll: 1,573)
- Total COVID-19 cases among staff: 3,432 (Death toll: 12)
- Cumulative state COVID-19 statistics as of June 3: 54,982 cases, 2,641 deaths
- Sites of biggest outbreaks:
--- #1. Cadia Healthcare - Hyattsville (151 cases among residents, 558 cases among staff)
--- #2. Future Care Northpoint (247 cases among residents, 20 cases among staff)
--- #3. Charlotte Hall Veterans Home (120 cases among residents, 50 cases among staff)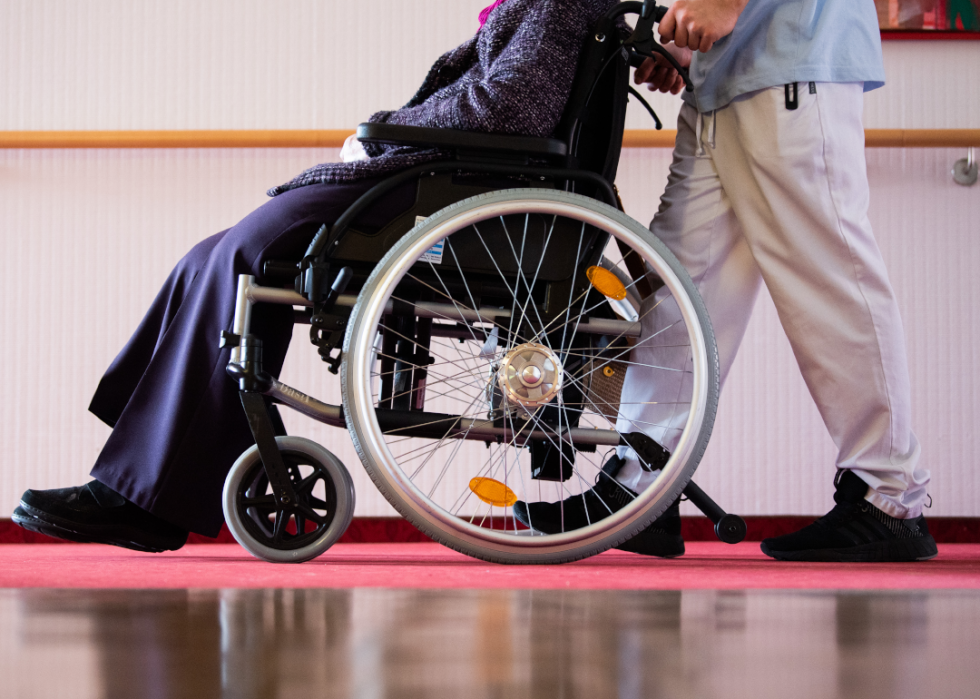 22 / 51
Tom Weller/picture alliance via Getty Images
Massachusetts
- Total COVID-19 cases among residents: 17,930 (Death toll: 5,529)
- Total COVID-19 cases among staff: 10,087 (Death toll: 173)
- Cumulative state COVID-19 statistics as of June 3: 101,592 cases, 7,152 deaths
- Sites of biggest outbreaks:
--- #1. Beaumont At University Campus (341 cases among residents, 44 cases among staff)
--- #2. Beaumont Rehab & Skilled Nursing Ctr - Northbridge (243 cases among residents, 108 cases among staff)
--- #3. Beaumont Rehab & Skilled Nursing Ctr - Westboro (205 cases among residents, 45 cases among staff)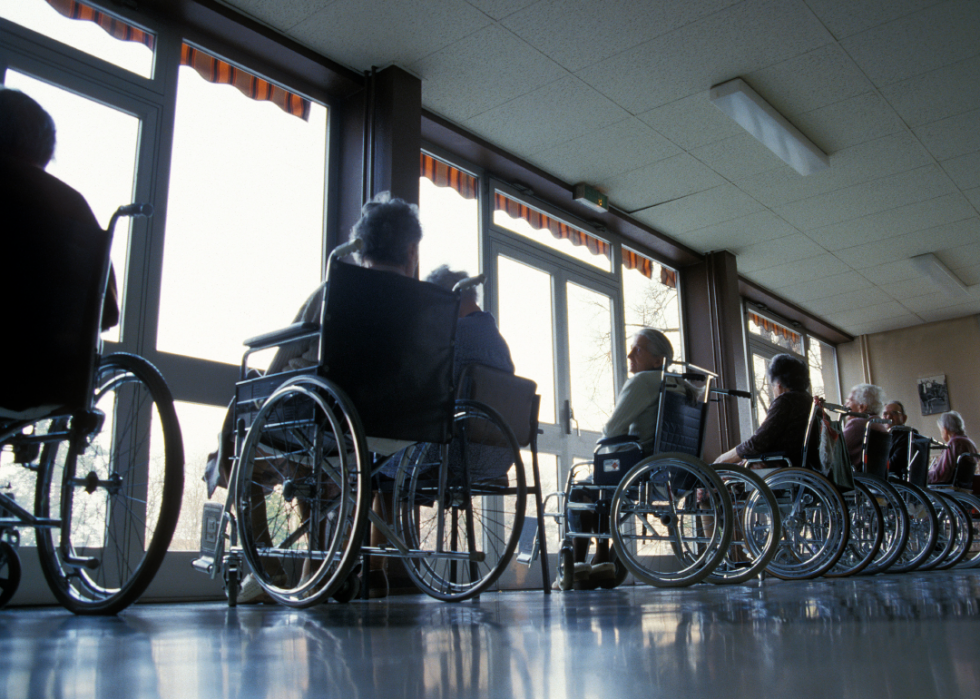 23 / 51
Patrick Landmann // Getty Images
Michigan
- Total COVID-19 cases among residents: 8,314 (Death toll: 3,856)
- Total COVID-19 cases among staff: 7,760 (Death toll: 96)
- Cumulative state COVID-19 statistics as of June 3: 58,035 cases, 5,570 deaths
- Sites of biggest outbreaks:
--- #1. Medilodge of Alpena (185 cases among residents, 289 cases among staff)
--- #2. Medilodge of Kalamazoo (282 cases among residents, 125 cases among staff)
--- #3. Advantage Living Center - Warren (148 cases among residents, 184 cases among staff)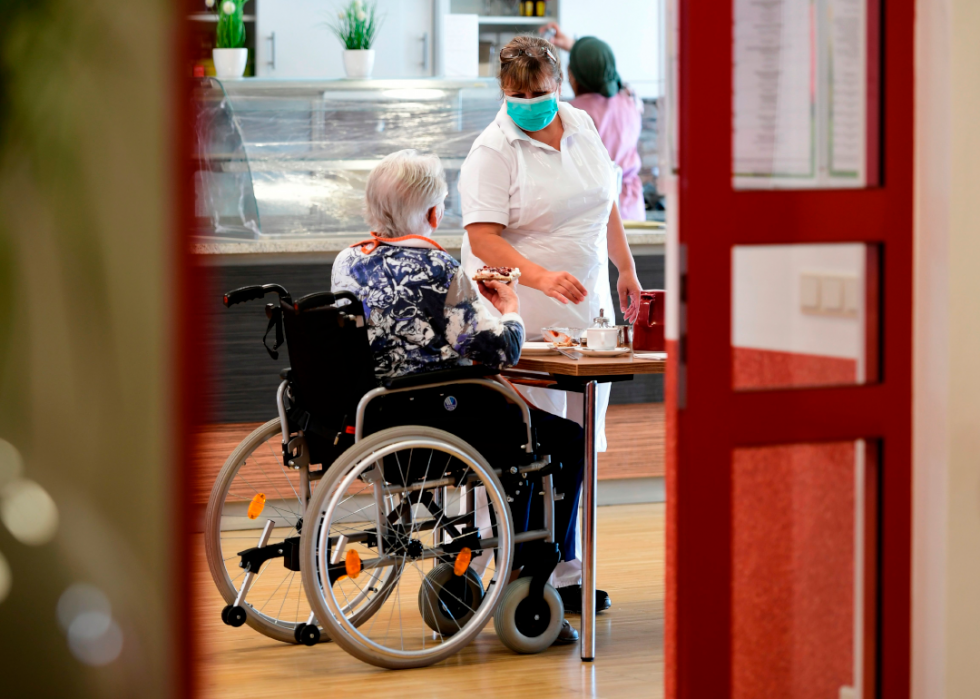 24 / 51
INA FASSBENDER/AFP via Getty Images
Minnesota
- Total COVID-19 cases among residents: 2,444 (Death toll: 621)
- Total COVID-19 cases among staff: 1,454 (Death toll: 31)
- Cumulative state COVID-19 statistics as of June 3: 25,870 cases, 1,097 deaths
- Sites of biggest outbreaks:
--- #1. North Ridge Health and Rehab (176 cases among residents, 75 cases among staff)
--- #2. Good Samaritan Society - Bethany (48 cases among residents, 30 cases among staff)
--- #3. Sauer Health Care (47 cases among residents, 24 cases among staff)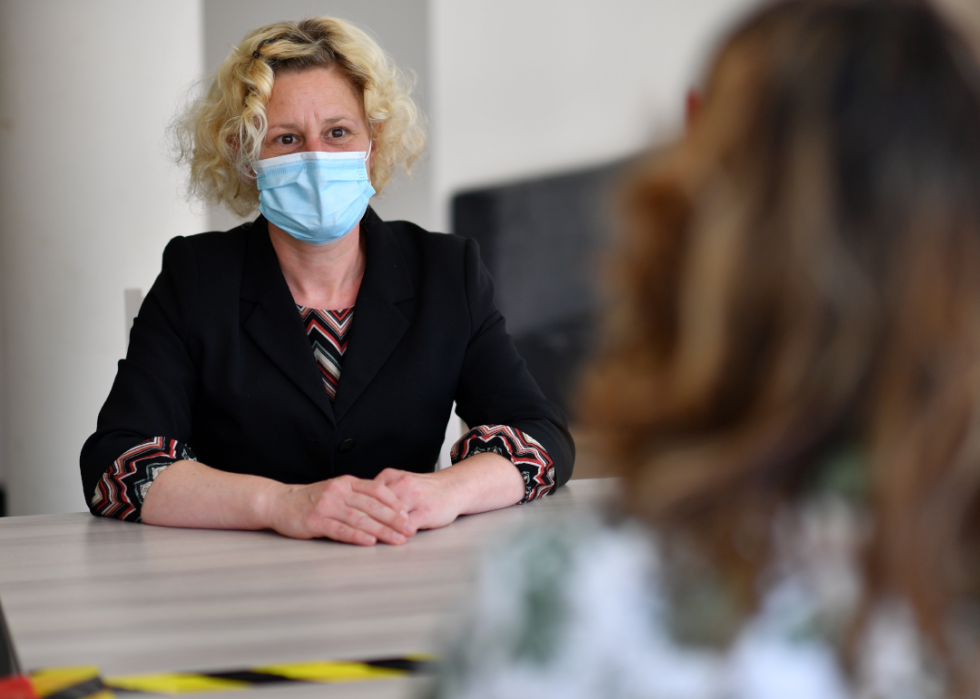 25 / 51
Hendrik Schmidt/picture alliance via Getty Images
Mississippi
- Total COVID-19 cases among residents: 2,031 (Death toll: 751)
- Total COVID-19 cases among staff: 1,364 (Death toll: 39)
- Cumulative state COVID-19 statistics as of June 3: 16,322 cases, 782 deaths
- Sites of biggest outbreaks:
--- #1. Choctaw Residential Center (66 cases among residents, 95 cases among staff)
--- #2. Crystal Rehabilitation and Healthcare Center (95 cases among residents, 44 cases among staff)
--- #3. Care Center of Laurel (42 cases among residents, 35 cases among staff)
You may also like: Every recession from U.S. history and how the country responded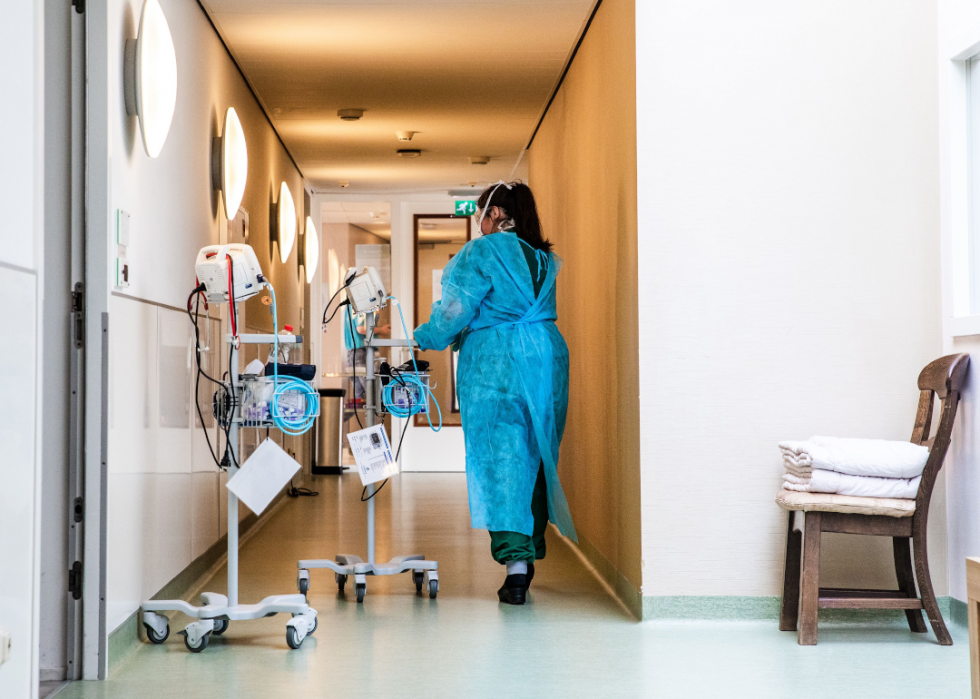 26 / 51
JEFFREY GROENEWEG/ANP/AFP via Getty Images
Missouri
- Total COVID-19 cases among residents: 2,047 (Death toll: 462)
- Total COVID-19 cases among staff: 792 (Death toll: 4)
- Cumulative state COVID-19 statistics as of June 3: 13,767 cases, 786 deaths
- Sites of biggest outbreaks:
--- #1. Alexian Brothers Lansdowne Village (64 cases among residents, 36 cases among staff)
--- #2. Green Park Senior Living Community (62 cases among residents, 34 cases among staff)
--- #3. Crystal Creek Health and Rehabilitation Center (74 cases among residents, 19 cases among staff)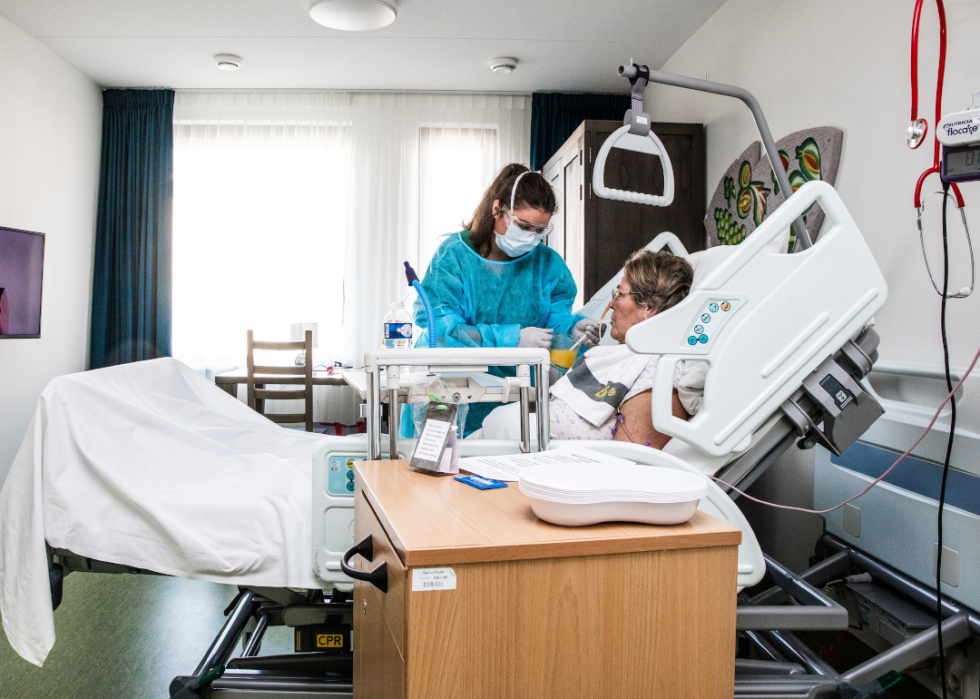 27 / 51
JEFFREY GROENEWEG/ANP/AFP via Getty Images
Montana
- Total COVID-19 cases among residents: 10 (Death toll: 4)
- Total COVID-19 cases among staff: 12
- Cumulative state COVID-19 statistics as of June 3: 525 cases, 17 deaths
- Sites of biggest outbreaks:
--- #1. Marias Care Center (5 cases among residents, 3 cases among staff)
--- #2. Brendan House (0 cases among residents, 3 cases among staff)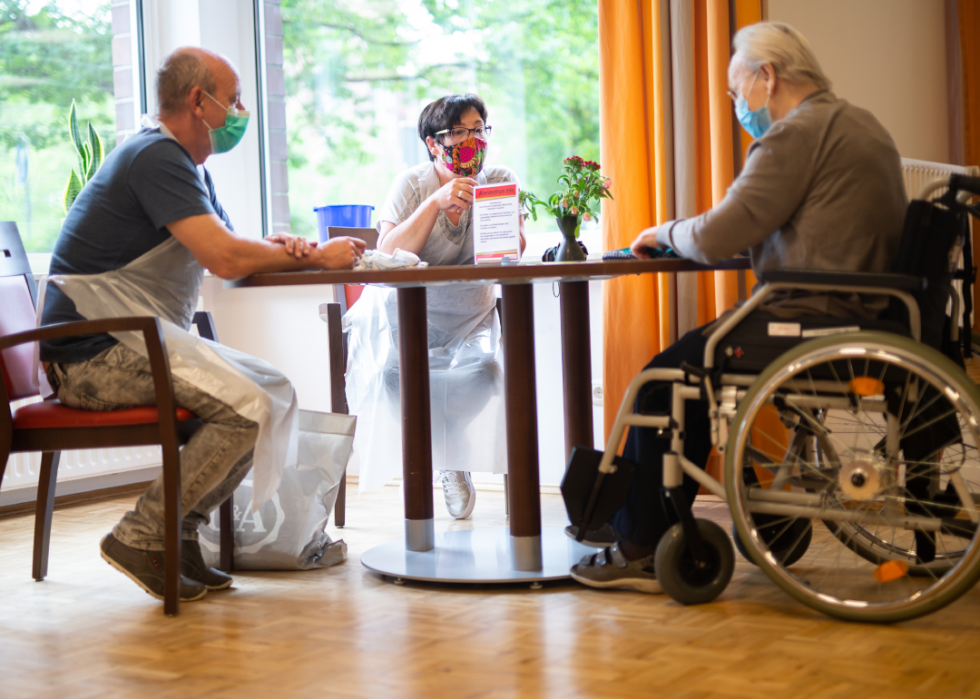 28 / 51
Jonas Güttler/picture alliance via Getty Images
Nebraska
- Total COVID-19 cases among residents: 495 (Death toll: 112)
- Total COVID-19 cases among staff: 460 (Death toll: 2)
- Cumulative state COVID-19 statistics as of June 3: 14,611 cases, 181 deaths
- Sites of biggest outbreaks:
--- #1. Dunklau Gardens (17 cases among residents, 49 cases among staff)
--- #2. Maple Crest Health Center (34 cases among residents, 22 cases among staff)
--- #3. Emerald Nursing & Rehab Lakeview (46 cases among residents, 0 cases among staff)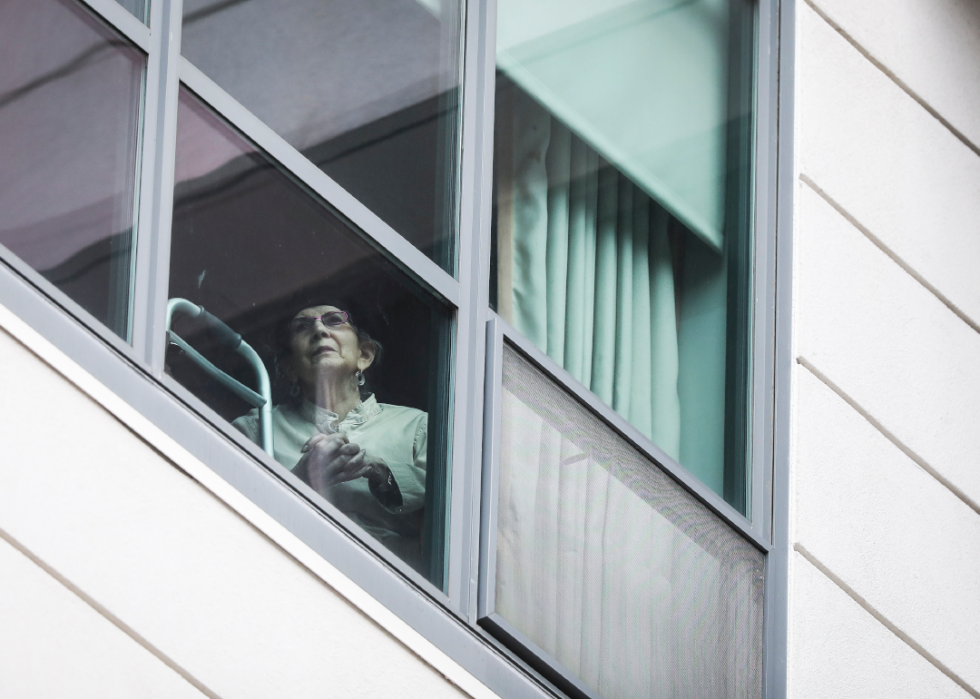 29 / 51
Erin Clark/The Boston Globe via Getty Images
Nevada
- Total COVID-19 cases among residents: 417 (Death toll: 59)
- Total COVID-19 cases among staff: 330 (Death toll: 3)
- Cumulative state COVID-19 statistics as of June 3: 8,935 cases, 429 deaths
- Sites of biggest outbreaks:
--- #1. Torrey Pines Post Acute and Rehabilitation (58 cases among residents, 32 cases among staff)
--- #2. Life Care Center of Las Vegas (29 cases among residents, 8 cases among staff)
--- #3. Life Care Center of South Las Vegas (16 cases among residents, 15 cases among staff)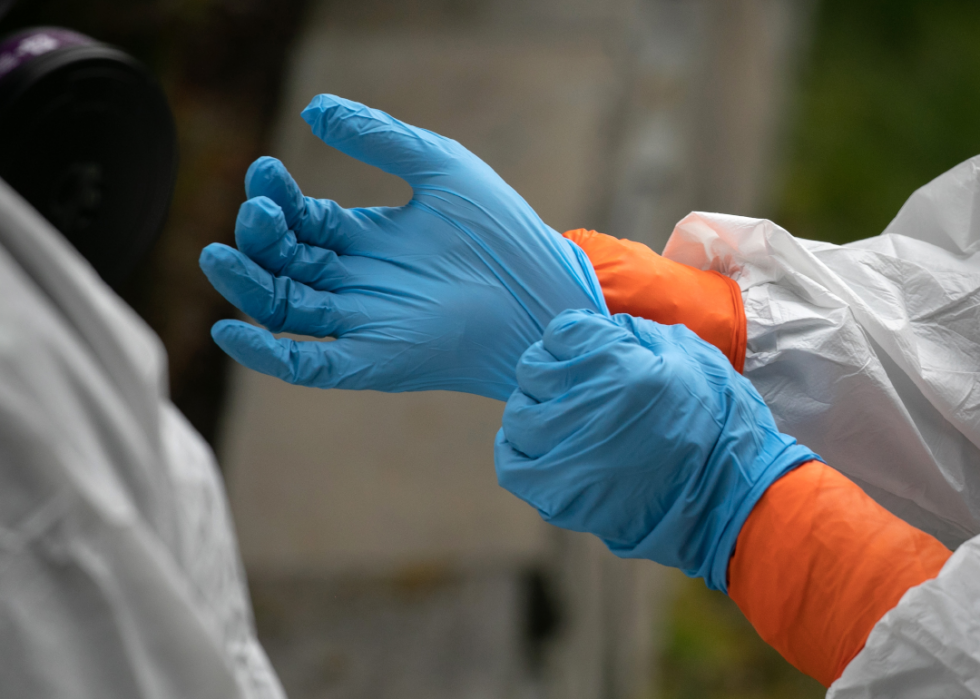 30 / 51
John Moore // Getty Images
New Hampshire
- Total COVID-19 cases among residents: 727 (Death toll: 169)
- Total COVID-19 cases among staff: 477 (Death toll: 1)
- Cumulative state COVID-19 statistics as of June 3: 4,749 cases, 256 deaths
- Sites of biggest outbreaks:
--- #1. Pleasant Valley Nursing Center (89 cases among residents, 24 cases among staff)
--- #2. Greenbriar Healthcare (67 cases among residents, 8 cases among staff)
--- #3. Ridgewood Center, Genesis Healthcare (38 cases among residents, 9 cases among staff)
You may also like: Companies that are hiring during COVID-19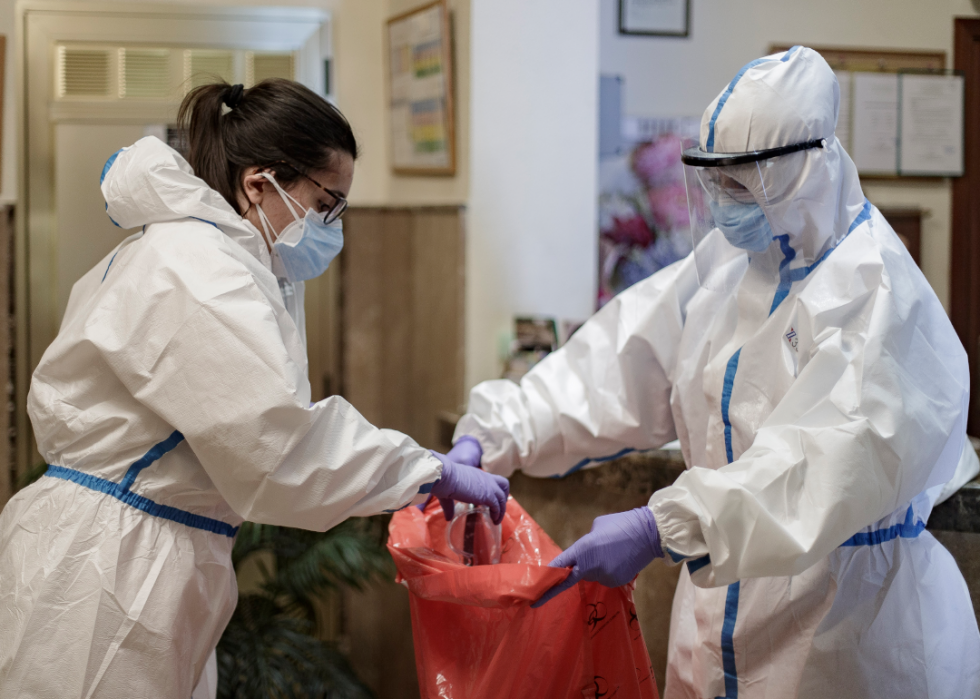 31 / 51
Eduardo Parra/Europa Press via Getty Images
New Jersey
- Total COVID-19 cases among residents: 17,388 (Death toll: 8,259)
- Total COVID-19 cases among staff: 11,068 (Death toll: 201)
- Cumulative state COVID-19 statistics as of June 3: 162,068 cases, 11,880 deaths
- Sites of biggest outbreaks:
--- #1. Care Connection Rahway (515 cases among residents, 0 cases among staff)
--- #2. Bergen New Bridge Medical Center (235 cases among residents, 79 cases among staff)
--- #3. Crystal Lake Hlthcare & Rehab (160 cases among residents, 133 cases among staff)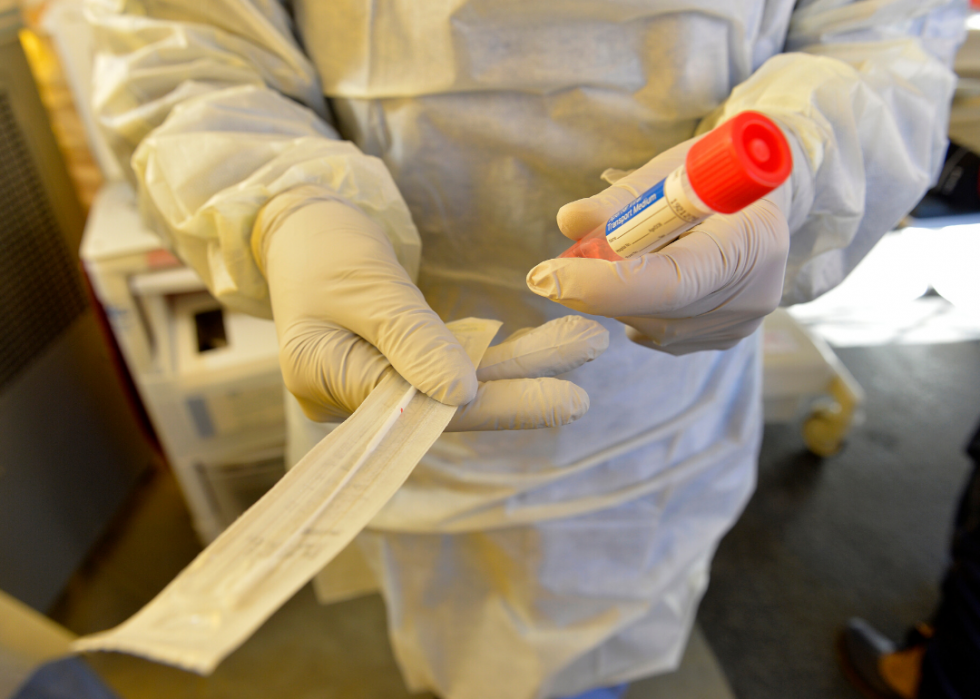 32 / 51
JOSEPH PREZIOSO/AFP via Getty Images
New Mexico
- Total COVID-19 cases among residents: 199 (Death toll: 56)
- Total COVID-19 cases among staff: 313 (Death toll: 3)
- Cumulative state COVID-19 statistics as of June 3: 8,024 cases, 367 deaths
- Sites of biggest outbreaks:
--- #1. Cedar Ridge Inn (55 cases among residents, 138 cases among staff)
--- #2. Red Rocks Care Center (36 cases among residents, 13 cases among staff)
--- #3. Uptown Rehabilitation Center (3 cases among residents, 8 cases among staff)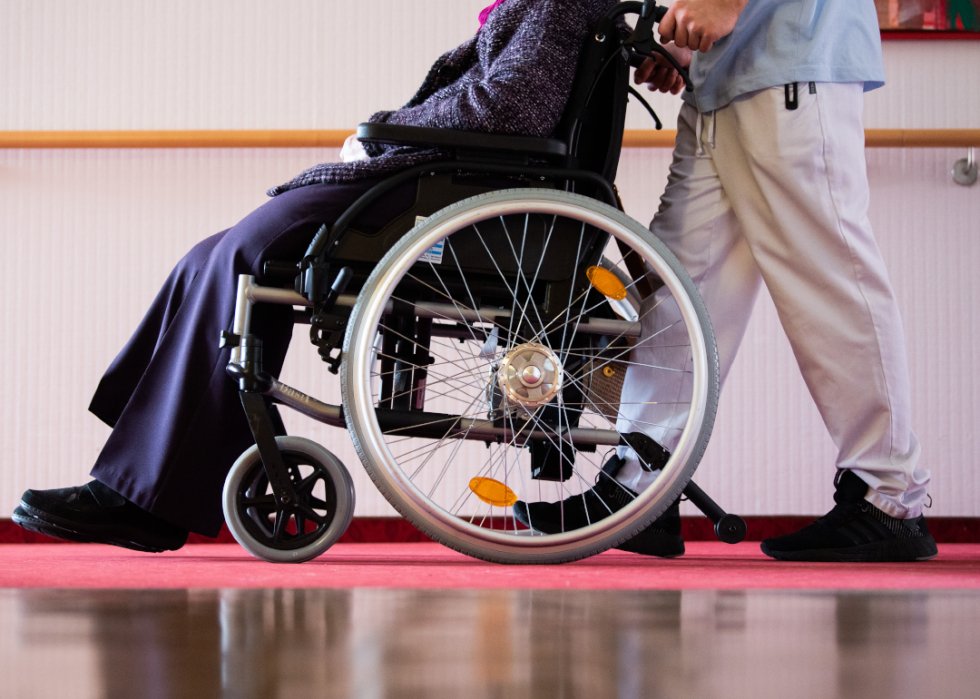 33 / 51
Tom Weller/picture alliance via Getty Images
New York
- Total COVID-19 cases among residents: 16,554 (Death toll: 6,717)
- Total COVID-19 cases among staff: 11,585 (Death toll: 87)
- Cumulative state COVID-19 statistics as of June 3: 374,085 cases, 24,079 deaths
- Sites of biggest outbreaks:
--- #1. The Plaza Rehab and Nursing Center (161 cases among residents, 92 cases among staff)
--- #2. Bishop Rehabilitation and Nursing Center (167 cases among residents, 82 cases among staff)
--- #3. St James Rehabilitation & Healthcare Center (172 cases among residents, 68 cases among staff)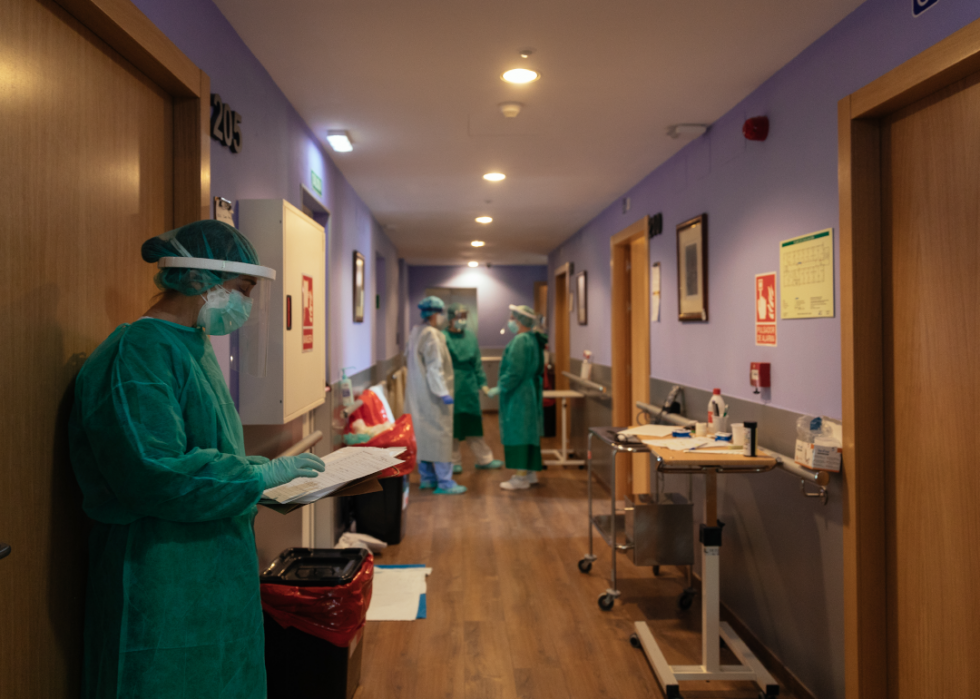 34 / 51
Alvaro Calvo // Getty Images
North Carolina
- Total COVID-19 cases among residents: 2,739 (Death toll: 559)
- Total COVID-19 cases among staff: 1,354 (Death toll: 5)
- Cumulative state COVID-19 statistics as of June 3: 30,777 cases, 939 deaths
- Sites of biggest outbreaks:
--- #1. White Oak Manor - Burlington (347 cases among residents, 141 cases among staff)
--- #2. Clapps Nursing Center Inc (71 cases among residents, 39 cases among staff)
--- #3. Five Oaks Manor (77 cases among residents, 22 cases among staff)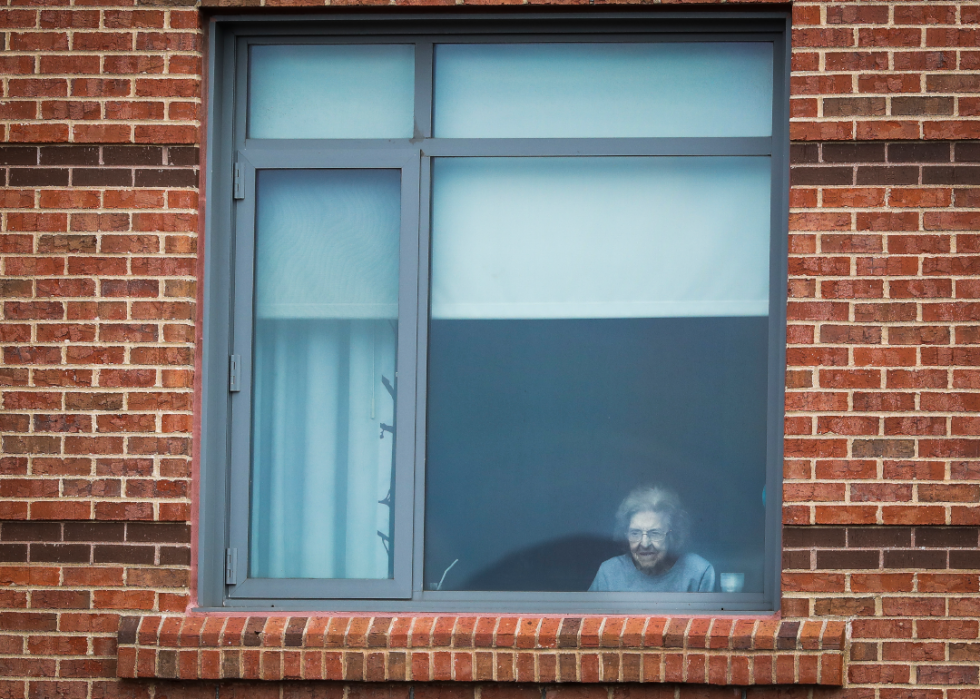 35 / 51
Erin Clark/The Boston Globe via Getty Images
North Dakota
- Total COVID-19 cases among residents: 224 (Death toll: 85)
- Total COVID-19 cases among staff: 402
- Cumulative state COVID-19 statistics as of June 3: 2,679 cases, 69 deaths
- Sites of biggest outbreaks:
--- #1. Villa Maria (34 cases among residents, 35 cases among staff)
--- #2. Rosewood On Broadway (26 cases among residents, 38 cases among staff)
--- #3. Bethany On University (17 cases among residents, 23 cases among staff)
You may also like: 100 best movies of all time to explore while social distancing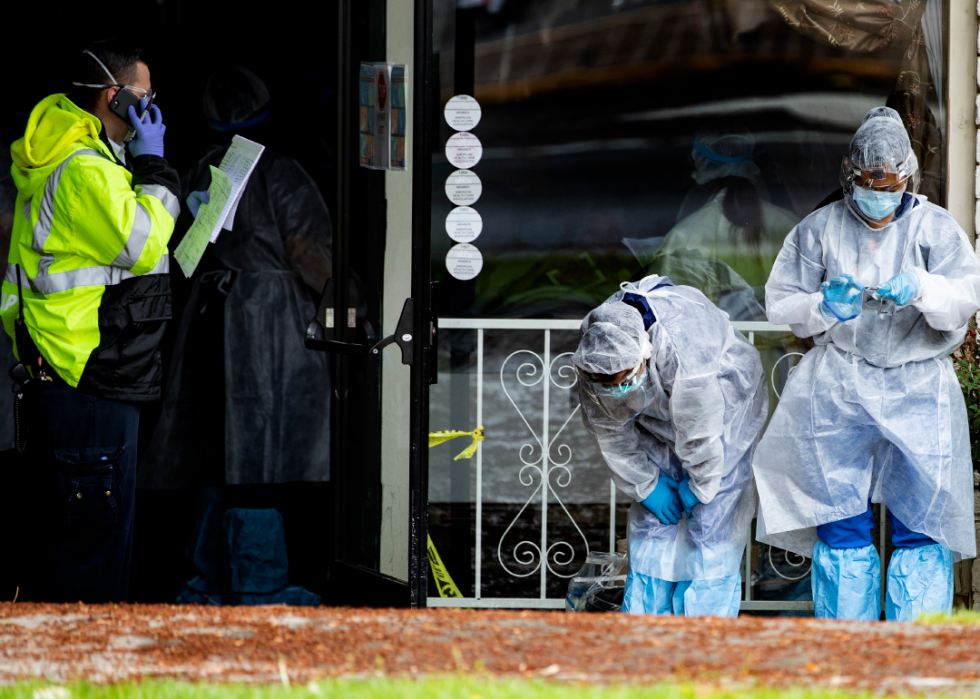 36 / 51
Gina Ferazzi/Los Angeles Times via Getty Images
Ohio
- Total COVID-19 cases among residents: 5,131 (Death toll: 1,582)
- Total COVID-19 cases among staff: 2,485 (Death toll: 26)
- Cumulative state COVID-19 statistics as of June 3: 36,792 cases, 2,299 deaths
- Sites of biggest outbreaks:
--- #1. Scioto Community (64 cases among residents, 49 cases among staff)
--- #2. Omni Manor Nursing Home (71 cases among residents, 30 cases among staff)
--- #3. Normandy Manor of Rocky River (70 cases among residents, 15 cases among staff)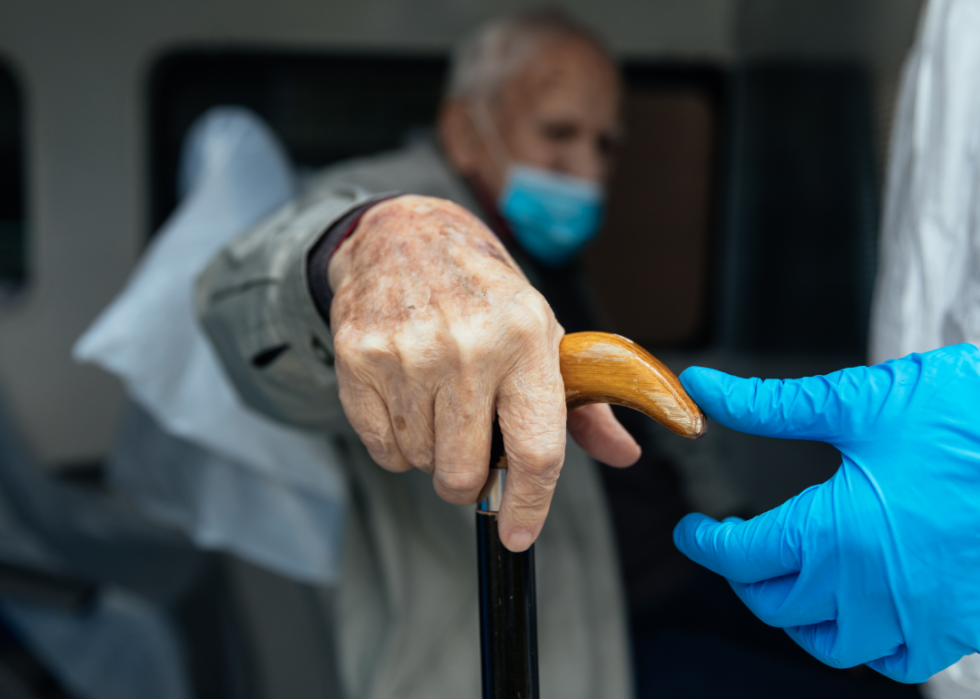 37 / 51
Alvaro Calvo // Getty Images
Oklahoma
- Total COVID-19 cases among residents: 694 (Death toll: 538)
- Total COVID-19 cases among staff: 502 (Death toll: 18)
- Cumulative state COVID-19 statistics as of June 3: 6,805 cases, 341 deaths
- Sites of biggest outbreaks:
--- #1. Bartlesville Health and Rehabilitation Community (52 cases among residents, 40 cases among staff)
--- #2. Ignite Medical Resort Bartlesville (29 cases among residents, 44 cases among staff)
--- #3. Franciscan Villa (27 cases among residents, 32 cases among staff)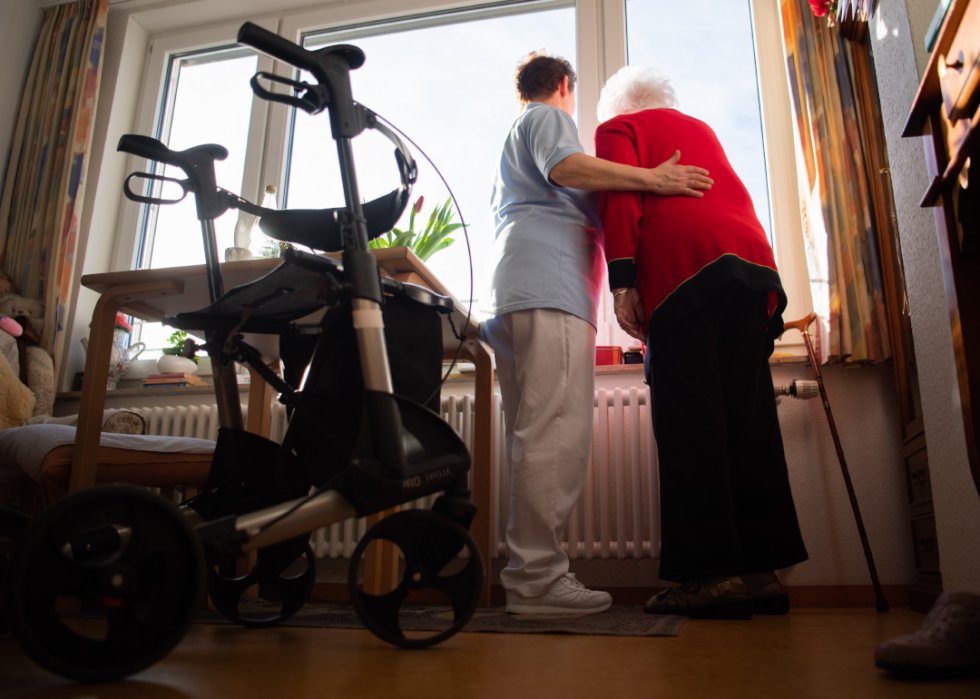 38 / 51
Tom Weller/picture alliance via Getty Images
Oregon
- Total COVID-19 cases among residents: 90 (Death toll: 31)
- Total COVID-19 cases among staff: 88 (Death toll: 16)
- Cumulative state COVID-19 statistics as of June 3: 4,399 cases, 159 deaths
- Sites of biggest outbreaks:
--- #1. Lebanon Veterans Home (21 cases among residents, 16 cases among staff)
--- #2. Salem Transitional Care (11 cases among residents, 10 cases among staff)
--- #3. Corvallis Manor (6 cases among residents, 1 cases among staff)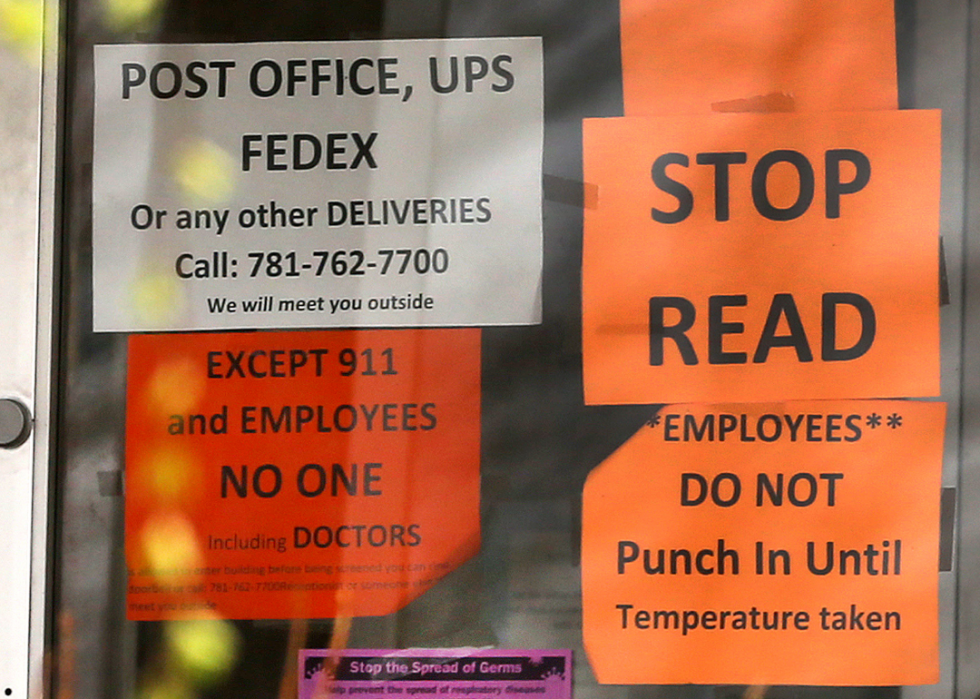 39 / 51
John Tlumacki/The Boston Globe via Getty Images
Pennsylvania
- Total COVID-19 cases among residents: 16,276 (Death toll: 5,718)
- Total COVID-19 cases among staff: 7,030 (Death toll: 40)
- Cumulative state COVID-19 statistics as of June 3: 74,022 cases, 5,741 deaths
- Sites of biggest outbreaks:
--- #1. Saunders House (481 cases among residents, 250 cases among staff)
--- #2. Spring Creek Rehabilitation and Nursing Center (589 cases among residents, 72 cases among staff)
--- #3. Neshaminy Manor Home (273 cases among residents, 133 cases among staff)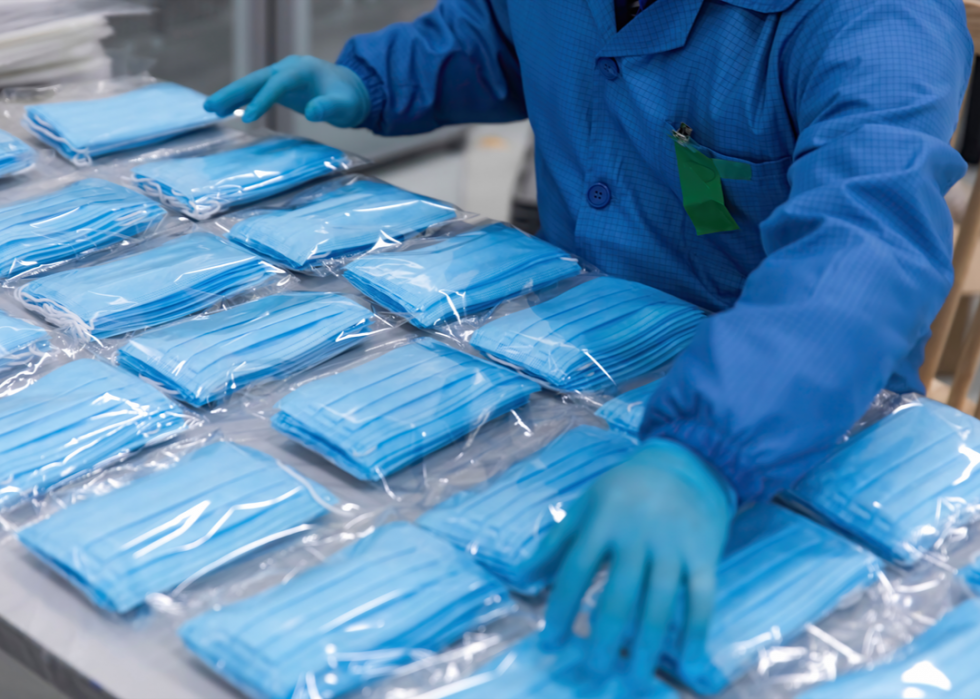 40 / 51
InkheartX // Shutterstock
Rhode Island
- Total COVID-19 cases among residents: 2,275 (Death toll: 768)
- Total COVID-19 cases among staff: 981 (Death toll: 4)
- Cumulative state COVID-19 statistics as of June 3: 15,219 cases, 742 deaths
- Sites of biggest outbreaks:
--- #1. Berkshire Place (171 cases among residents, 24 cases among staff)
--- #2. West Shore Health Center (109 cases among residents, 52 cases among staff)
--- #3. Evergreen House Health Center (107 cases among residents, 41 cases among staff)
You may also like: What are contact tracers? And how many each state needs to safely reopen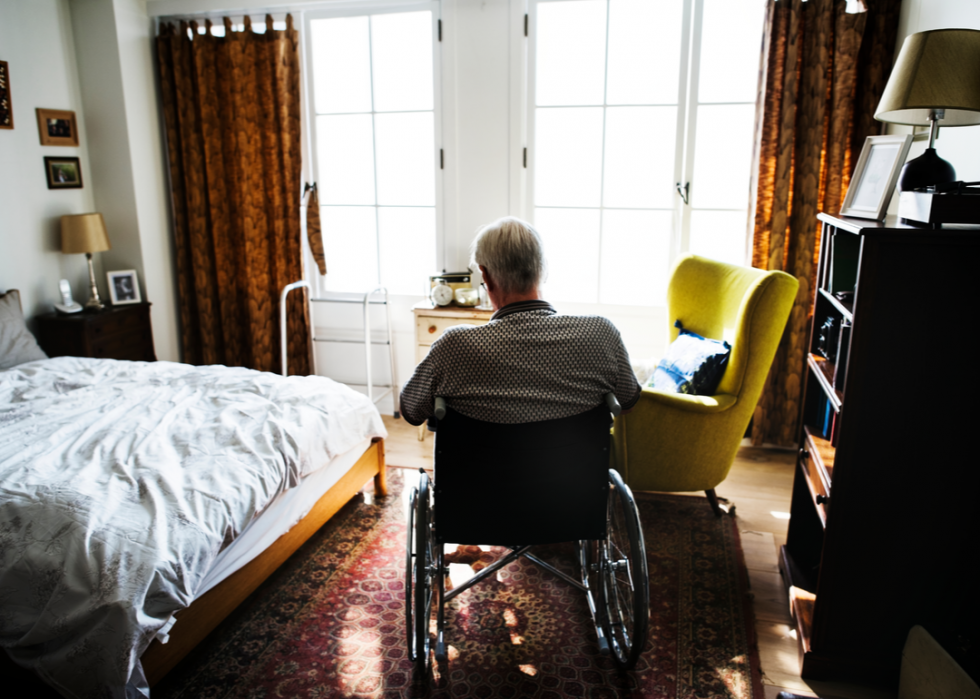 41 / 51
South Carolina
- Total COVID-19 cases among residents: 1,712 (Death toll: 321)
- Total COVID-19 cases among staff: 906 (Death toll: 8)
- Cumulative state COVID-19 statistics as of June 3: 12,651 cases, 518 deaths
- Sites of biggest outbreaks:
--- #1. Greer Rehabilitation and Healthcare Center (70 cases among residents, 30 cases among staff)
--- #2. Carlyle Senior Care of Kingstree (59 cases among residents, 23 cases among staff)
--- #3. Millennium Post Acute Rehabilitation (51 cases among residents, 27 cases among staff)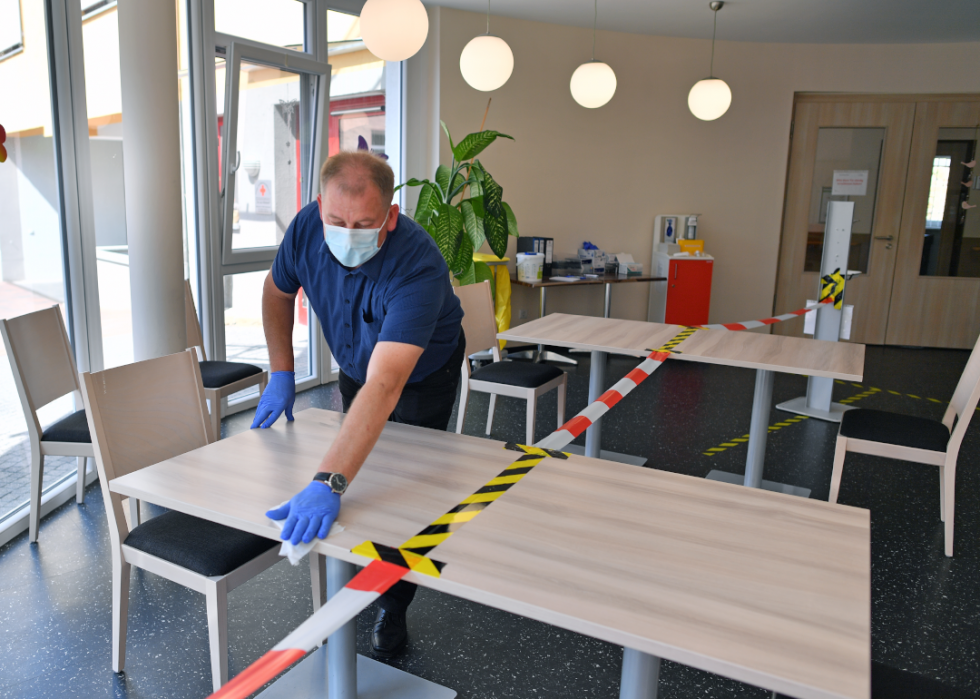 42 / 51
Hendrik Schmidt/picture alliance via Getty Images
South Dakota
- Total COVID-19 cases among residents: 148 (Death toll: 52)
- Total COVID-19 cases among staff: 180
- Cumulative state COVID-19 statistics as of June 3: 5,162 cases, 62 deaths
- Sites of biggest outbreaks:
--- #1. Good Samaritan Society Sioux Falls Village (60 cases among residents, 60 cases among staff)
--- #2. Avera Prince of Peace (5 cases among residents, 10 cases among staff)
--- #3. Sd Human Services Center - Geriatric Program (0 cases among residents, 10 cases among staff)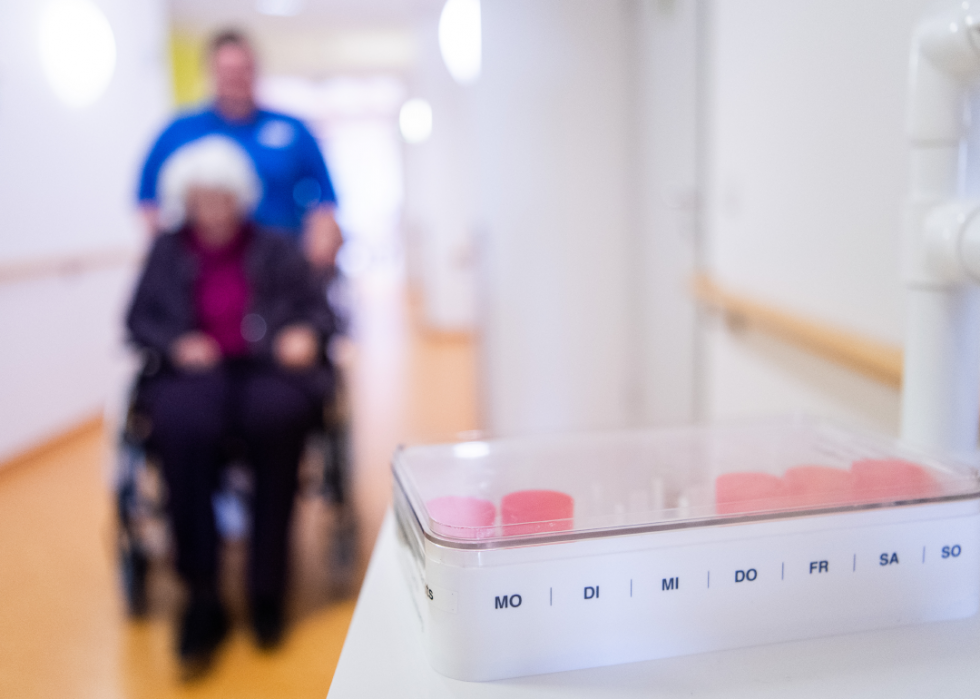 43 / 51
Tom Weller/picture alliance via Getty Images
Tennessee
- Total COVID-19 cases among residents: 571 (Death toll: 143)
- Total COVID-19 cases among staff: 492 (Death toll: 18)
- Cumulative state COVID-19 statistics as of June 3: 24,822 cases, 388 deaths
- Sites of biggest outbreaks:
--- #1. The Highlands of Memphis Health & Rehabilitation (79 cases among residents, 62 cases among staff)
--- #2. Allenbrooke Nursing and Rehabilitation Center (24 cases among residents, 8 cases among staff)
--- #2. NHC Healthcare, Franklin (23 cases among residents, 9 cases among staff)
44 / 51
INA FASSBENDER/AFP via Getty Images
Texas
- Total COVID-19 cases among residents: 3,523 (Death toll: 585)
- Total COVID-19 cases among staff: 3,387 (Death toll: 12)
- Cumulative state COVID-19 statistics as of June 3: 68,271 cases, 1,734 deaths
- Sites of biggest outbreaks:
--- #1. Mountain View Health & Rehabilitation (91 cases among residents, 35 cases among staff)
--- #2. Focused Care At Baytown (68 cases among residents, 57 cases among staff)
--- #3. West Oaks Nursing and Rehabilitation Center (81 cases among residents, 32 cases among staff)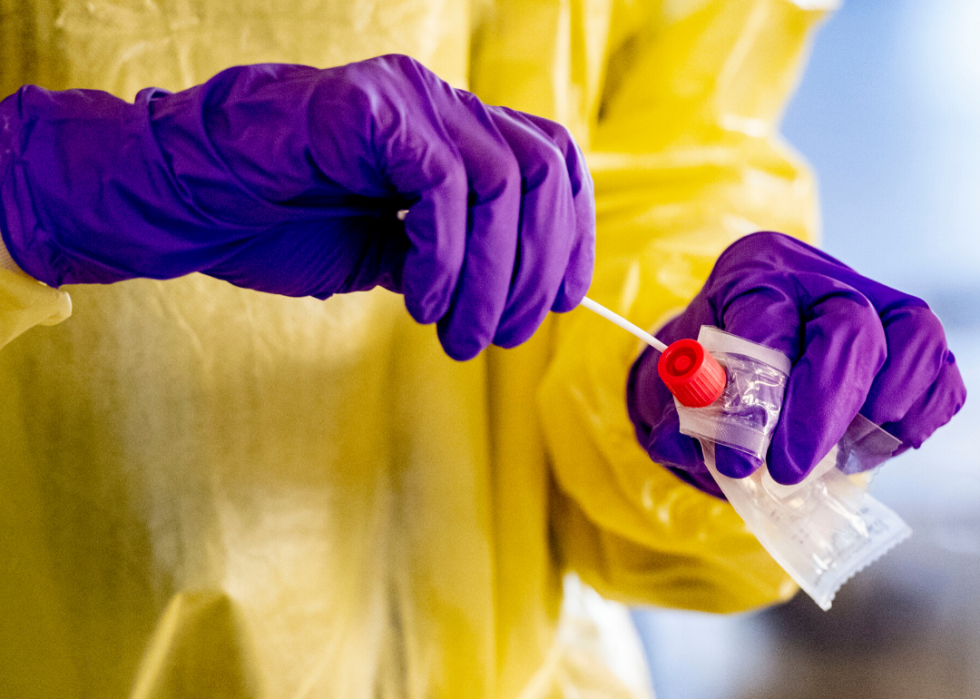 45 / 51
Robin Utrecht/Echoes Wire/Barcroft Media via Getty Images
Utah
- Total COVID-19 cases among residents: 113 (Death toll: 20)
- Total COVID-19 cases among staff: 152
- Cumulative state COVID-19 statistics as of June 3: 10,497 cases, 117 deaths
- Sites of biggest outbreaks:
--- #1. William E Christoffersen Salt Lake Veterans Home (41 cases among residents, 19 cases among staff)
--- #2. Heritage Park Healthcare and Rehabilitation (24 cases among residents, 21 cases among staff)
--- #3. Aspen Ridge West Transitional Rehab (2 cases among residents, 13 cases among staff)
You may also like: How the biggest companies in America are impacted by COVID-19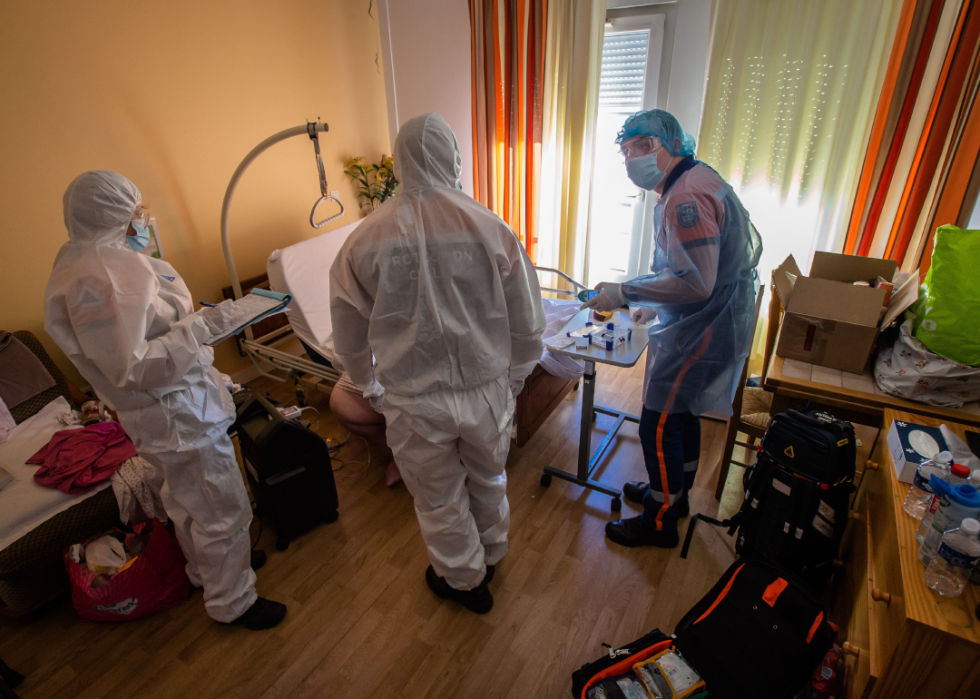 46 / 51
Vermont
- Total COVID-19 cases among residents: 118 (Death toll: 40)
- Total COVID-19 cases among staff: 60 (Death toll: 2)
- Cumulative state COVID-19 statistics as of June 3: 990 cases, 55 deaths
- Sites of biggest outbreaks:
--- #1. Birchwood Terrace Rehab & Healthcare (59 cases among residents, 29 cases among staff)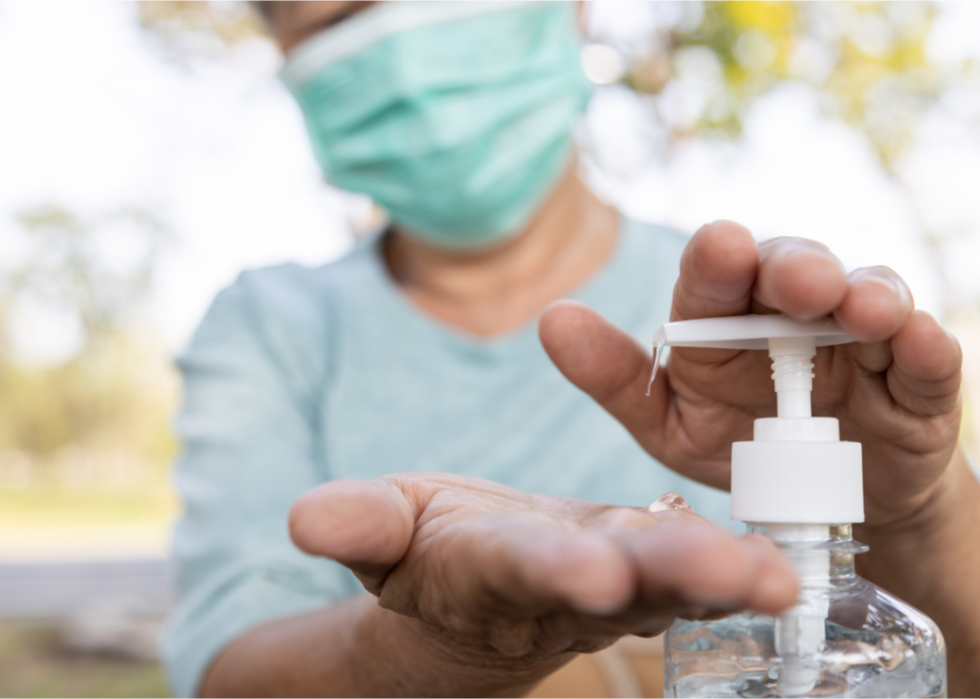 47 / 51
Virginia
- Total COVID-19 cases among residents: 2,712 (Death toll: 864)
- Total COVID-19 cases among staff: 1,399 (Death toll: 22)
- Cumulative state COVID-19 statistics as of June 3: 46,905 cases, 1,428 deaths
- Sites of biggest outbreaks:
--- #1. Cherrydale Health and Rehabilitation Center (82 cases among residents, 25 cases among staff)
--- #2. Manorcare Health Services-Fair Oaks (72 cases among residents, 33 cases among staff)
--- #2. Skyview Springs Rehab and Nursing Center (72 cases among residents, 33 cases among staff)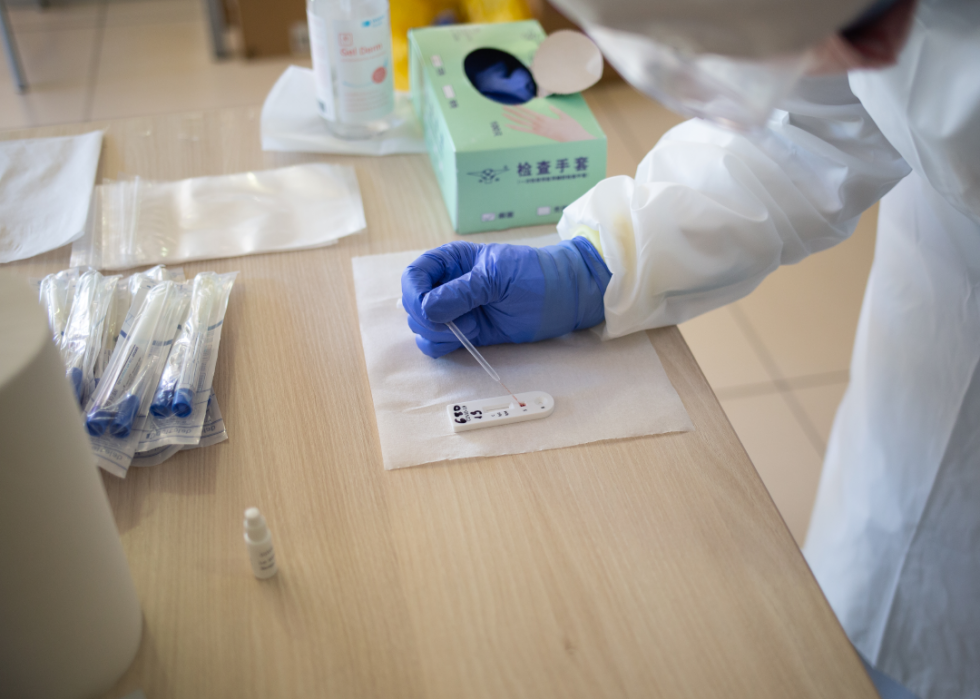 48 / 51
David Zorrakino // Europa Press via Getty Images
Washington
- Total COVID-19 cases among residents: 1,565 (Death toll: 557)
- Total COVID-19 cases among staff: 871
- Cumulative state COVID-19 statistics as of June 3: 22,157 cases, 1,129 deaths
- Sites of biggest outbreaks:
--- #1. Garden Village (97 cases among residents, 86 cases among staff)
--- #2. Benson Heights Rehabilitation Center (141 cases among residents, 20 cases among staff)
--- #3. Queen Anne Healthcare (94 cases among residents, 34 cases among staff)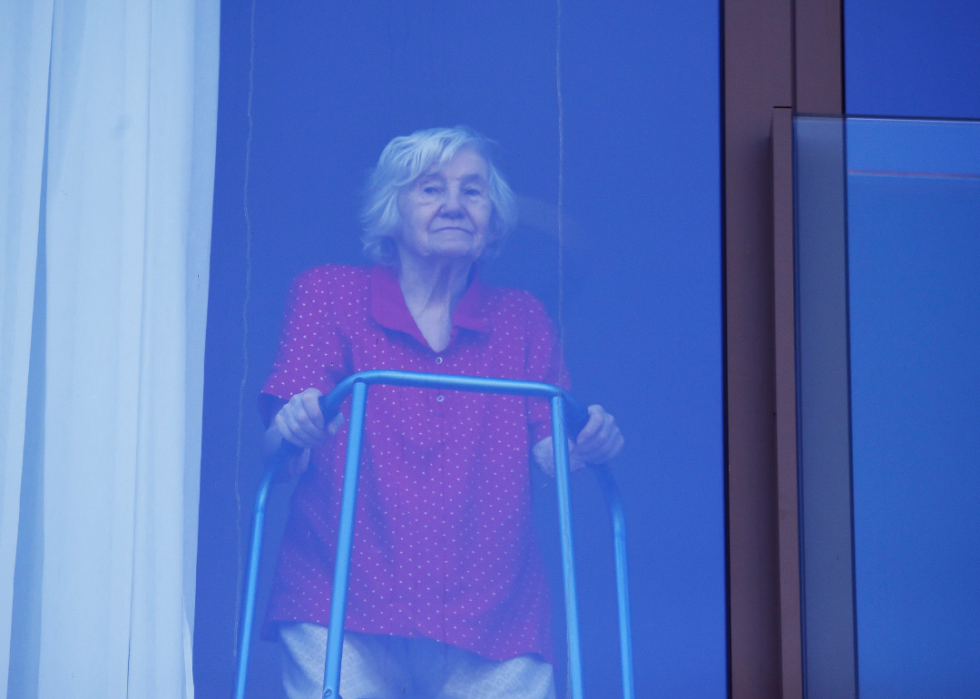 49 / 51
Philippe Crochet // Photonews via Getty Images
West Virginia
- Total COVID-19 cases among residents: 362 (Death toll: 181)
- Total COVID-19 cases among staff: 259
- Cumulative state COVID-19 statistics as of June 3: 2,071 cases, 78 deaths
- Sites of biggest outbreaks:
--- #1. Eldercare Health and Rehabilitation (67 cases among residents, 32 cases among staff)
--- #2. Wayne Nursing and Rehabilitation Center (52 cases among residents, 37 cases among staff)
--- #3. Riverside Health and Rehabilitation Center (25 cases among residents, 22 cases among staff)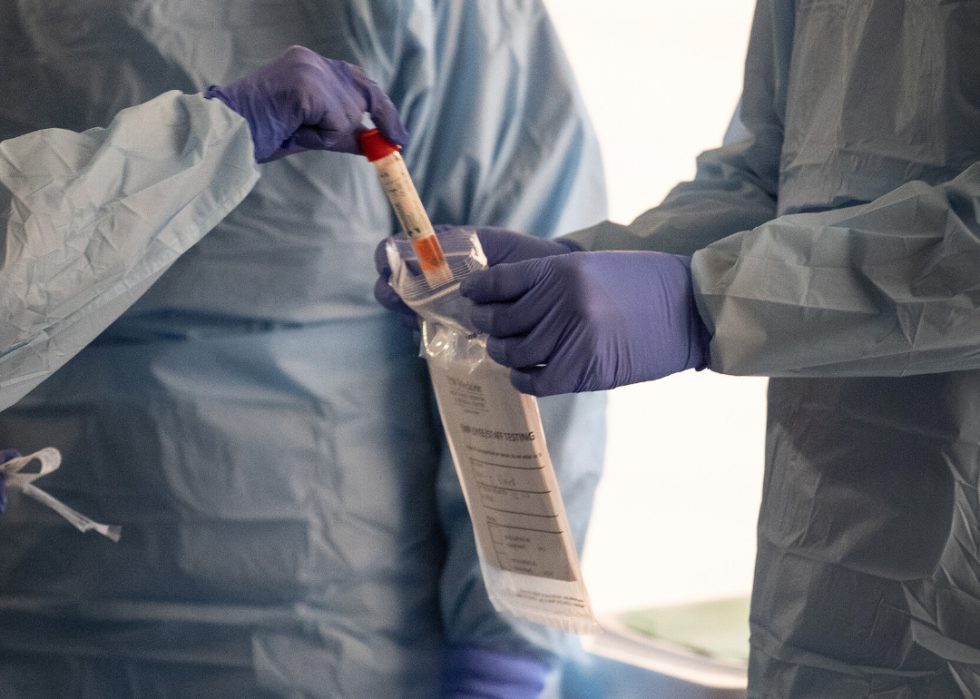 50 / 51
John Moore // Getty Images
Wisconsin
- Total COVID-19 cases among residents: 1,222 (Death toll: 266)
- Total COVID-19 cases among staff: 653 (Death toll: 6)
- Cumulative state COVID-19 statistics as of June 3: 19,400 cases, 616 deaths
- Sites of biggest outbreaks:
--- #1. Menomonee Falls Health Services (77 cases among residents, 0 cases among staff)
--- #2. Villa At Bradley Estates (The) (26 cases among residents, 25 cases among staff)
--- #3. Geneva Lake Manor (32 cases among residents, 16 cases among staff)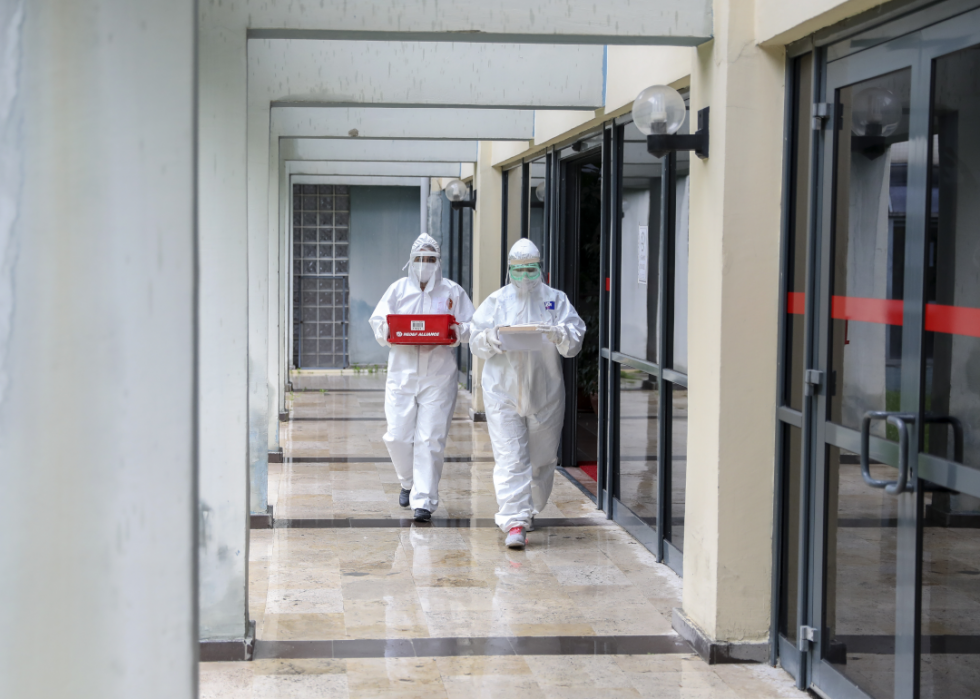 51 / 51
Hakan Nural/Anadolu Agency via Getty Images
Wyoming
- Total COVID-19 cases among residents: 23 (Death toll: 5)
- Total COVID-19 cases among staff: 22 (Death toll: 2)
- Cumulative state COVID-19 statistics as of June 3: 915 cases, 17 deaths
- Sites of biggest outbreaks:
--- #1. Worland Healthcare and Rehabilitation Center (13 cases among residents, 8 cases among staff)
--- #2. Wind River Rehabilitaton and Wellness (0 cases among residents, 2 cases among staff)
--- #3. Life Care Center of Cheyenne (0 cases among residents, 1 cases among staff)
You may also like: 50 US metro areas with the dirtiest air—and why they're at risk during COVID-19