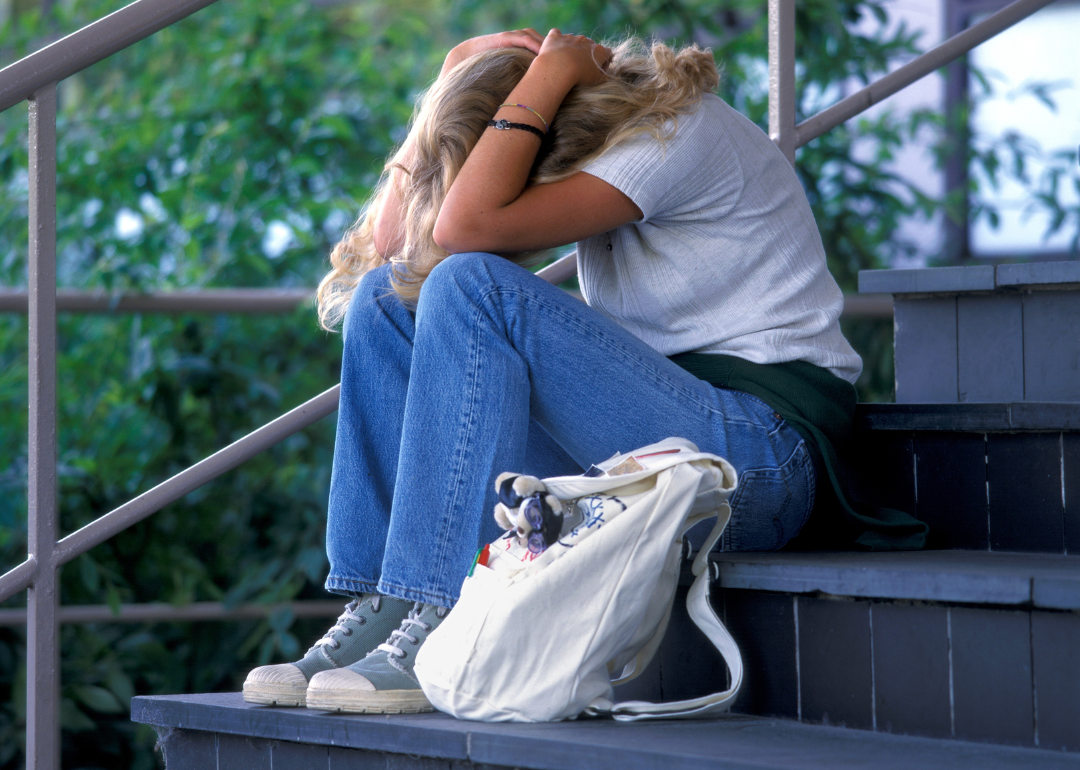 Stacker Studio
Highest level of hopelessness in a decade: CDC data underscores struggles of American teenage girls
Picture Partners // Shutterstock
Highest level of hopelessness in a decade: CDC data underscores struggles of American teenage girls
America's young women are not OK: 3 in 5 teenage girls report persistent feelings of sadness, depression, or hopelessness, survey data reveals.
Citing data from the Centers for Disease Control and Prevention's latest Youth Behavior and Risk Survey, released earlier this year, Sandstone Care examined the record rates of teenage girls feeling "persistently sad or hopeless" in 2021.
It's important to note the CDC's survey uses binary questions about sex and gender, which means the study cannot measure the prevalence of depressive symptoms among transgender or gender-nonconforming youth. According to a 2022 survey conducted by the Trevor Project, nearly two-thirds of transgender or nonbinary youth experienced symptoms of depression.
The 3 in 5 figure reflects the highest level of hopelessness recorded in the past decade. The director of the CDC's Adolescent and School Health division, Kathleen Ethier, called on Americans and leaders in education "to act with urgency and compassion" in response to the findings.
A knee-jerk reading of the latest data might indicate the COVID-19 pandemic as an obvious culprit. And while it's true that stay-at-home orders, mass death, and lack of socialization may have harmed a generation of teens, it doesn't explain how female students' feelings differ from male students. Nor does it consider that teen girls' mental health has been deteriorating since before the pandemic.
"High school should be a time for trailblazing, not trauma," CDC chief medical officer Debra Houry said in a statement. The conditions plaguing the next generation of young women have been festering for some time now—and experts generally believe they've identified a cause.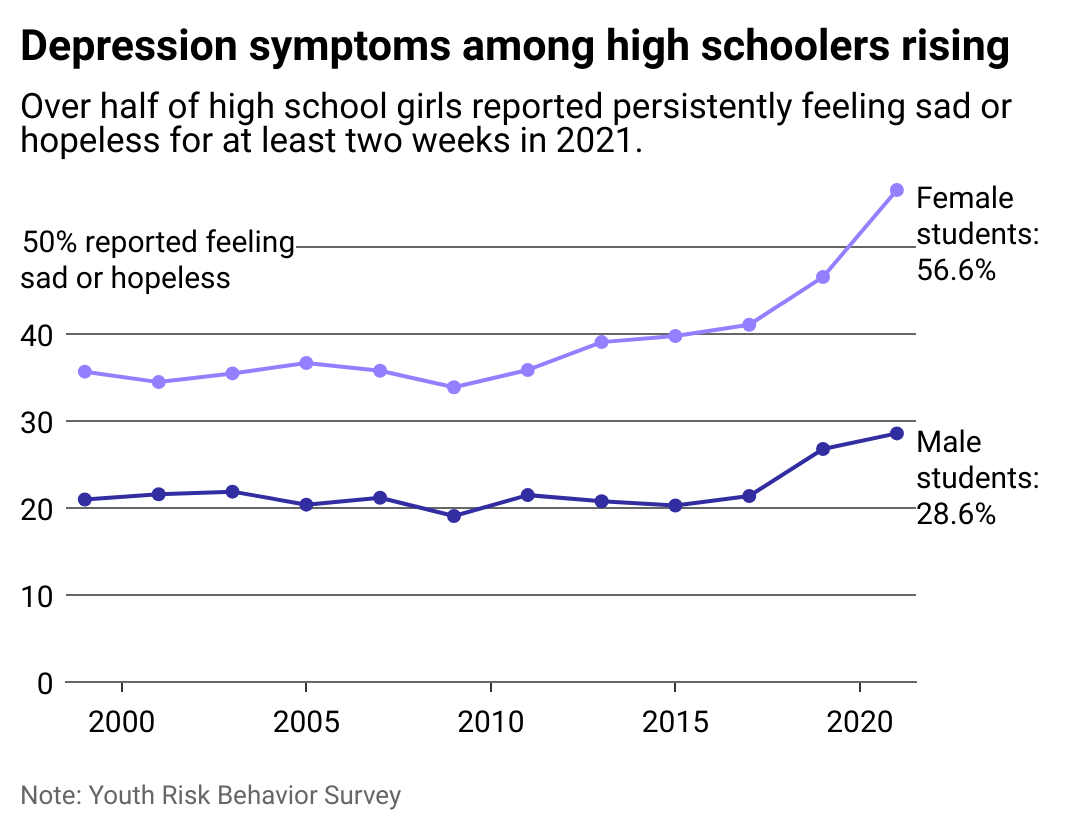 1 / 1
After a steady rate for 15 years, the prevalence of depressive symptoms began increasing in 2017
Female high school students have reported feeling sad or hopeless at higher rates than their male peers since the CDC began collecting data in 1999. In 2021, high school boys reported those feelings at roughly half the rate of girls.
The trend isn't simply attributable to more girls discussing negative emotions. Rates of reported self-harm among teen girls have increased by 60% compared with a decade ago, according to historical survey data from the CDC. Around 1 in 5 girls also report experience with sexual violence in the past year, a figure that's up 20% since 2017, when the agency first started asking about it.
The prevalence of social media use among today's teens quickly emerged in recent years as a leading theory behind the uptick in negative mental health conditions for these young women. A whopping 95% of teens in the U.S. report they use social media, according to a 2022 survey from Pew Research.
Experts have pointed to the harms wrought by exposure to an endless feed of photos of near-perfect physiques posted to fitness influencer accounts and posts from the accounts of celebrities known to doctor their pictures with software.
Perhaps most striking is the unique and significant uptick in adverse mental health outcomes in Gen Z youth beginning in the early 2010s. That shift coincided with when social media pioneers Facebook, Twitter, Snapchat, and Instagram made their services available through smartphone app stores.
Creighton University's director of its child psychiatry fellowship, Dr. Wendy Watson, posited earlier this year that social media connects teenagers to their peers more intensely than ever before. That allows them to compare their looks, means, and general existence with other students more intensely.
"In any moment in time, it seems like someone has it all together," Watson said of teens browsing social media. "Then they reference it back to themselves. Normal life has its ups and down, and they feel that as a deficiency in themselves. And that is not real."
Each year the CDC collects data the trend continues: Teenage girls struggle to find happiness in a highly connected world.
The CDC recommends schools use their unique position in teenagers' lives to extend a "vital lifeline" to today's struggling students. And the surgeon general has taken the call a step further, issuing a report that deemed youth mental health "the defining public health issue of our time."
Story editing by Jeff Inglis. Copy editing by Kristen Wegrzyn.
This story originally appeared on Sandstone Care and was produced and distributed in partnership with Stacker Studio.