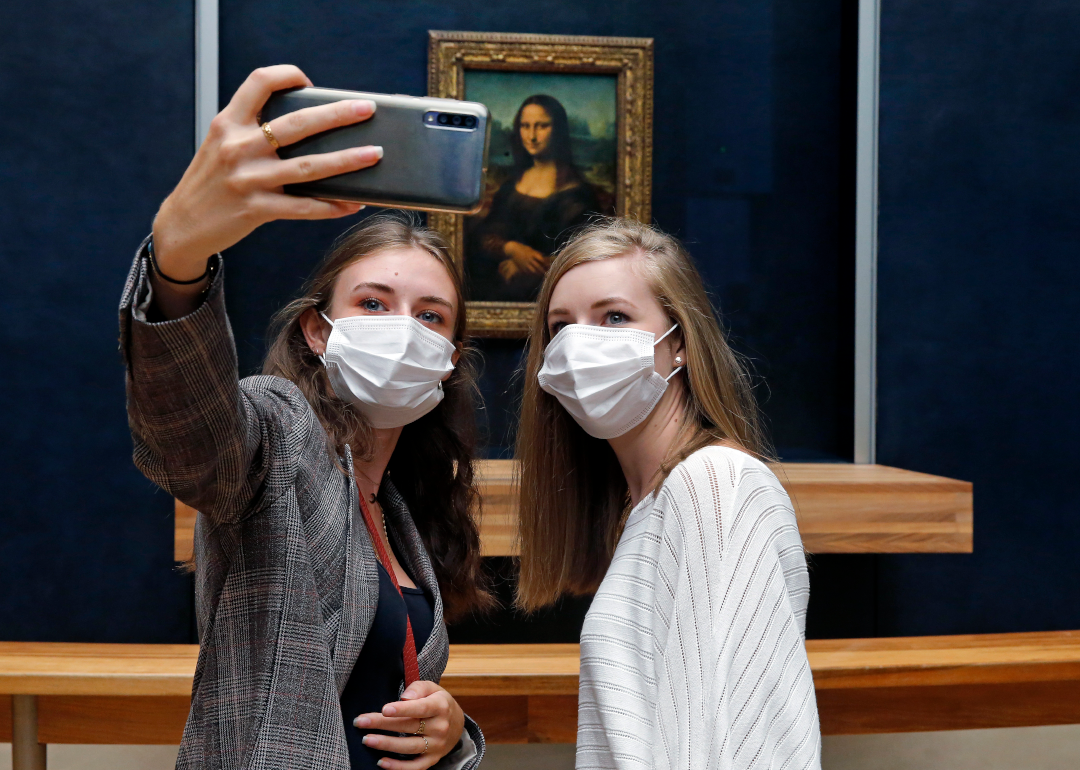 Striking photos of the tourism industry during COVID-19
Striking photos of the tourism industry during COVID-19
Eerie quiet fell on busting tourist destinations starting in March. The COVID-19 pandemic has altered life around the globe, and nowhere is the change as obvious as the emptied-out beaches, museums, and historical sites where tourists throng and local economies make their money.
Many destinations have reopened, but continuing infection transmission and fear of commingling make these once-busy venues shadows of their former selves. When travelers do return it's with masks and social distancing, sometimes separated by Plexiglass partitions. Some have adjusted, like the Elvis impersonator who will now host vow renewals from Las Vegas over Zoom. Cruise ships, on the other hand, are being broken down and sold for scrap. Stacker compiled 50 photos showing how the COVID-19 has affected the tourism trade. Read on to see the uncanny calm and surprising adjustments the tourism industry around the world has made in light of the COVID-19 pandemic.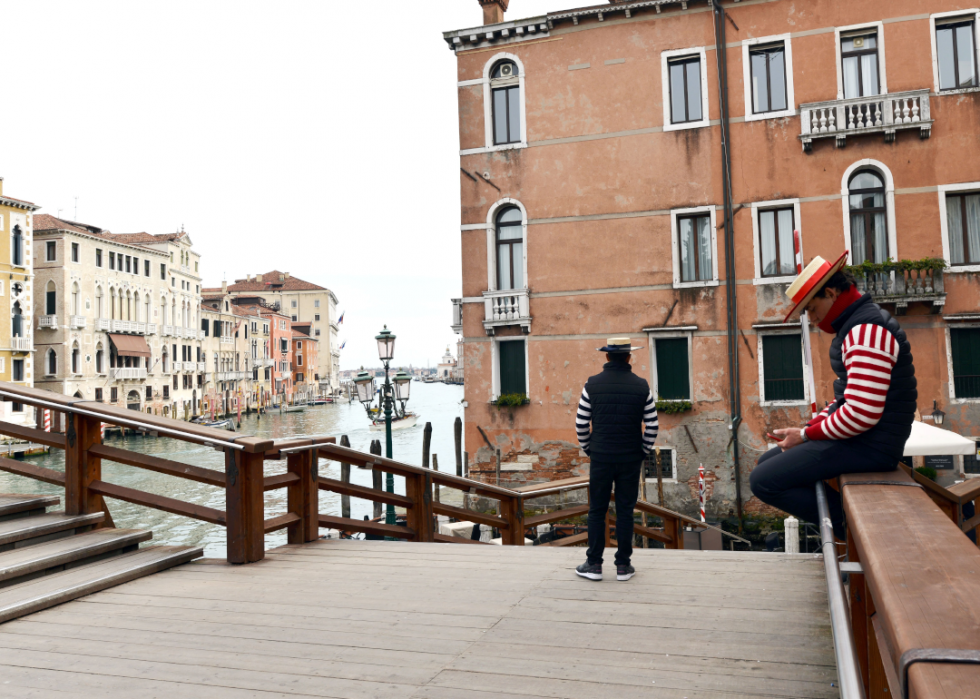 1 / 50
ANDREA PATTARO/AFP via Getty Images
Venice, Italy in early March
A gondoliere checks his phone in an unusually quiet Venice on March 5, 2020. Italy closed all schools and universities until March 15 to help combat the spread of the COVID-19 crisis. The government decision was announced moments after health officials said the death toll from the coronavirus had jumped to 107 and the number of cases had passed 3,000.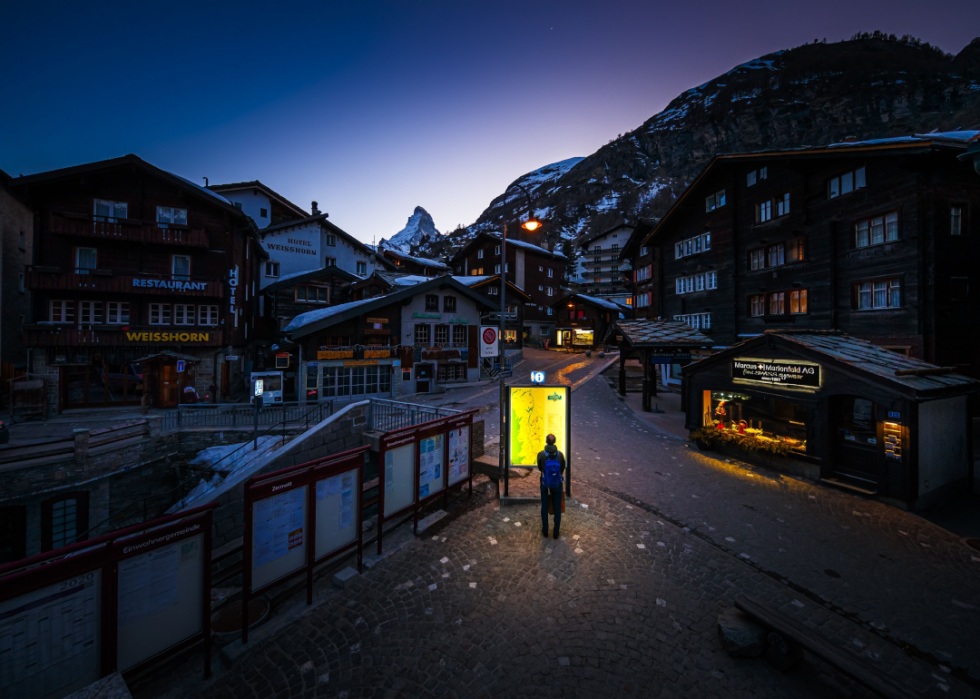 2 / 50
VALENTIN FLAURAUD/AFP via Getty Images
Empty streets in the Swiss Alps
This photograph taken on March 18, 2020, shows a pedestrian looking at an illuminated map board in the empty streets of the Alpine resort of Zermatt, with the Matterhorn mountain visible in the distance. The Swiss government declared a state of emergency on March 16, 2020 lasting until April 19 in a bid to combat the coronavirus pandemic. All shops, restaurants, bars, and entertainment and leisure facilities had to shut down, with the exception of grocery stores, pharmacies, and health facilities.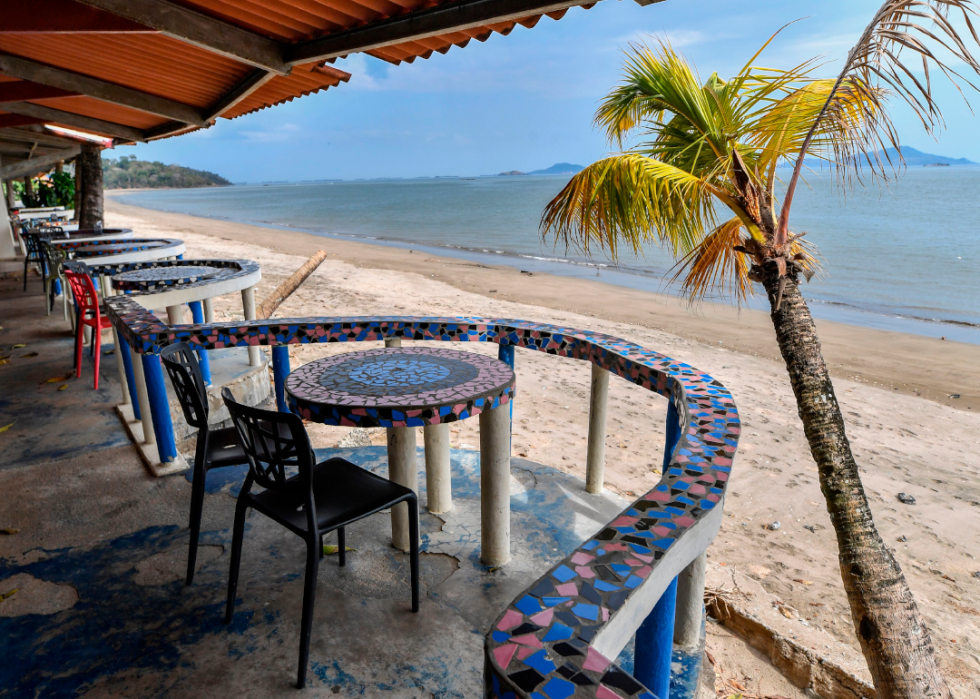 3 / 50
LUIS ACOSTA/AFP via Getty Images
Empty beaches in Veracruz, Panama
A restaurant remains closed at Veracruz beach on the outskirts of Panama City, on March 22, 2020. The situation caused by the COVID-19 pandemic is potentially devastating for Central America, the economy of which depends largely on tourism.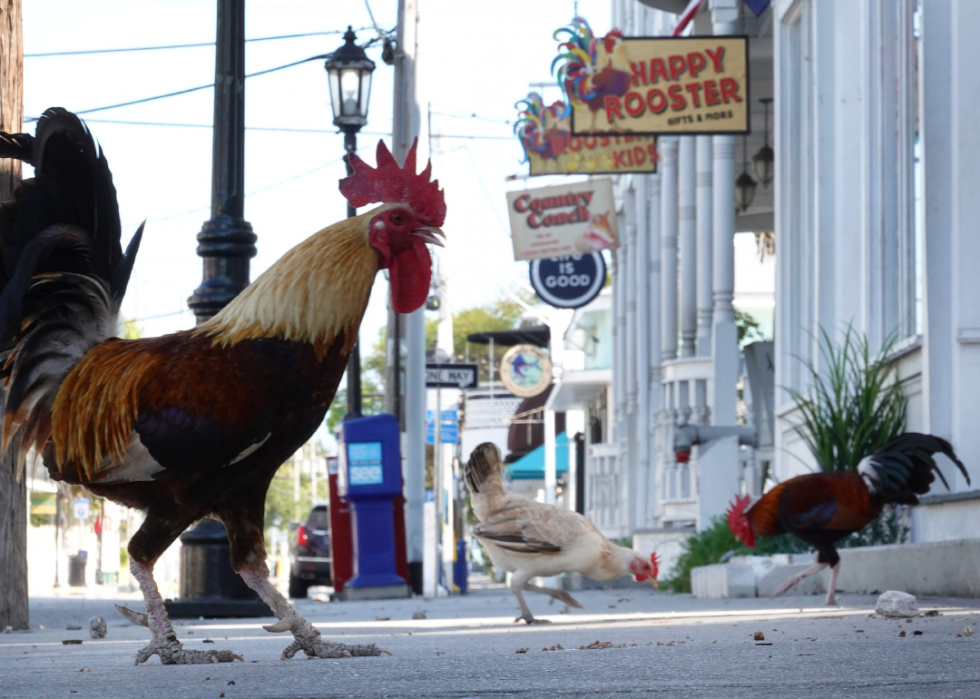 4 / 50
Joe Raedle // Getty Images
Key West faces tough times as closures affect tourism
Roosters are seen along an empty Duval street, which would normally be teeming with tourists on the last week of spring break in Key West, Florida. Most tourists left Key West as the city closed hotels or short-term vacation rentals and asked restaurants to only serve take-out.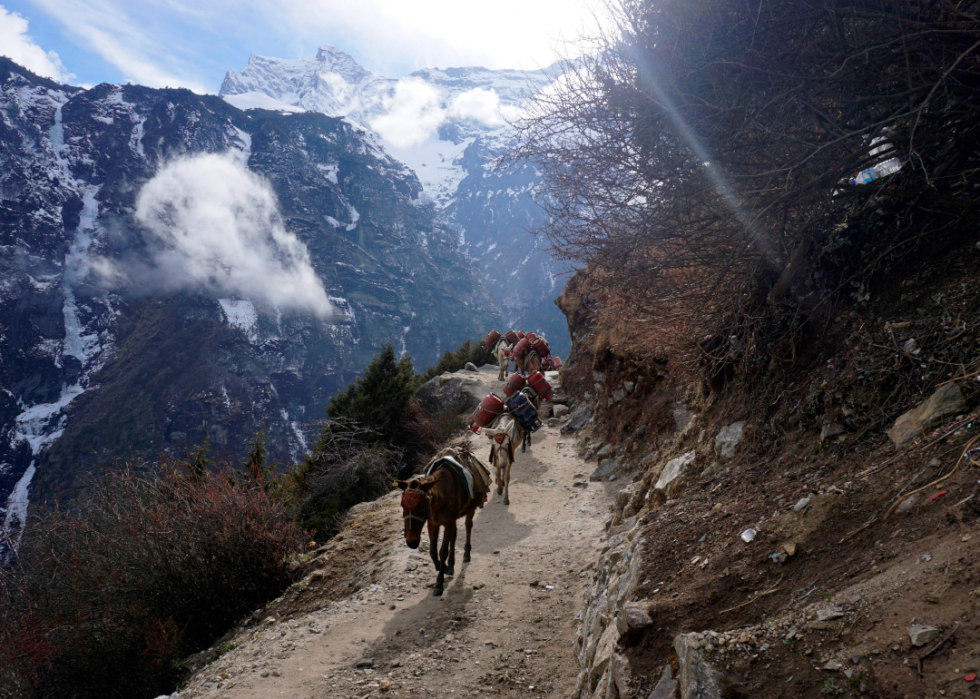 5 / 50
PRAKASH MATHEMA/AFP via Getty Images
Mount Everest shutdown
Mules carry empty gas cylinders along a path in the Mt. Everest region on March, 24, 2020. The Himalayan hill town of Khumjung is typically bustling with foreign trekkers gearing up for one of Mount Everest's biggest weeks of the year, but the COVID-19 coronavirus shut down the mountain and threatened the livelihood of the sherpas who rely on it.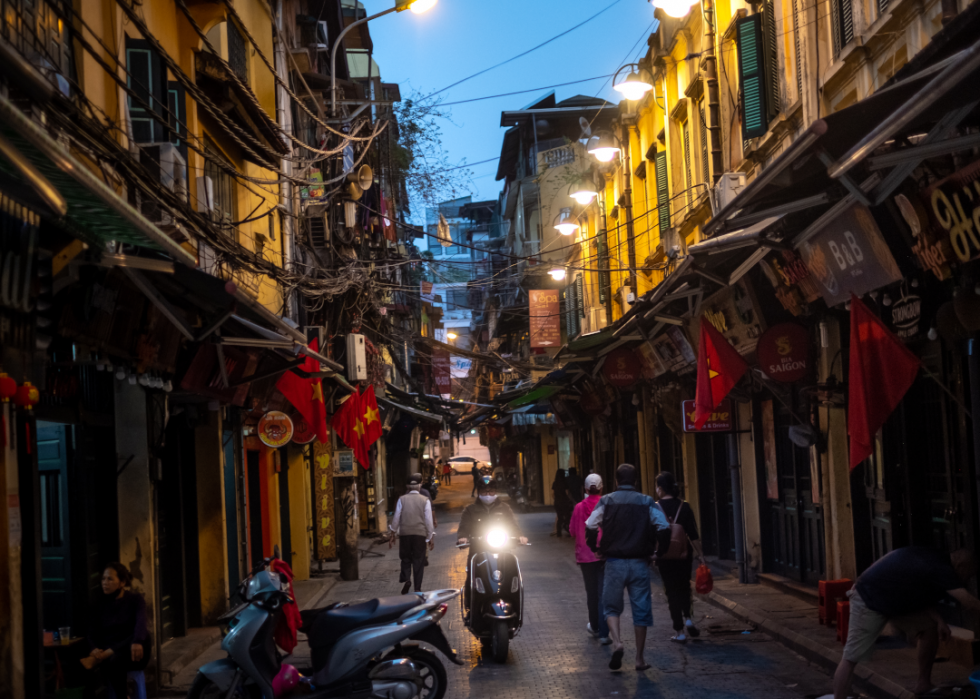 6 / 50
Linh Pham // Getty Images
Vietnam imposes social distancing
Shops and bars on Ta Hien Street, a popular nightlife area normally packed with both locals and tourists, were closed amid concerns of the spread of coronavirus in this photo taken April 1, 2020 in Hanoi, Vietnam. Vietnam started a nationwide social distancing campaign from April 1 to April 15, not allowing gatherings of more than two people, asking people not to leave their homes, ordering the shutting of non-essential businesses, except for shops selling food, medicine, and fuel.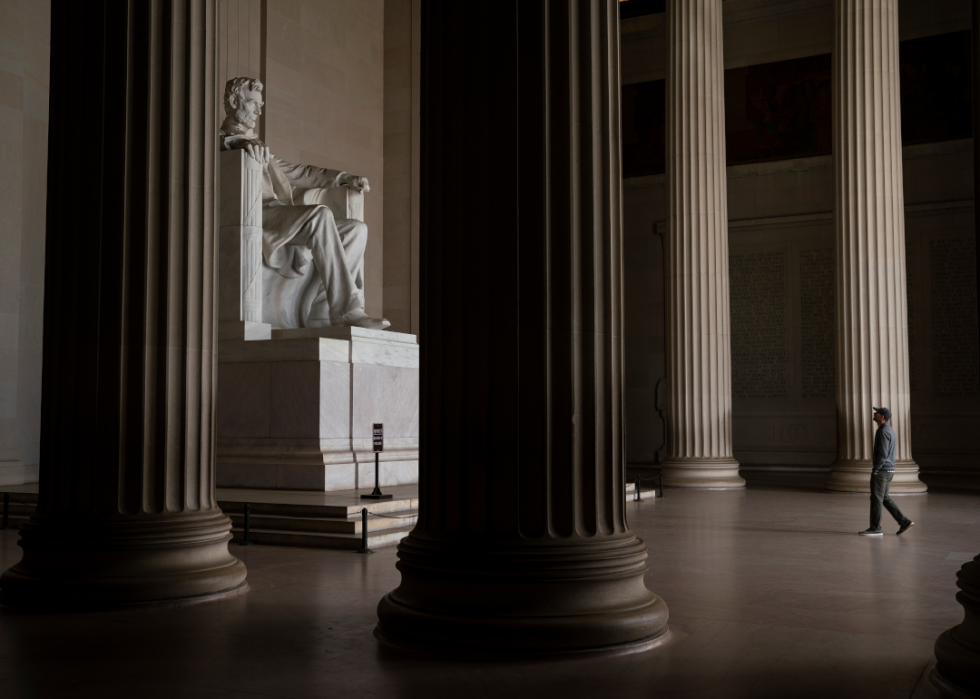 7 / 50
Drew Angerer // Getty Images
Washington D.C.'s tourism industry takes huge hit
A man visits an empty Lincoln Memorial on April 14, 2020 in Washington D.C. In April, Events DC—the official convention and sports authority for Washington D.C.—approved an $18 million relief package to help bolster the hospitality and tourism industry in the nation's capital.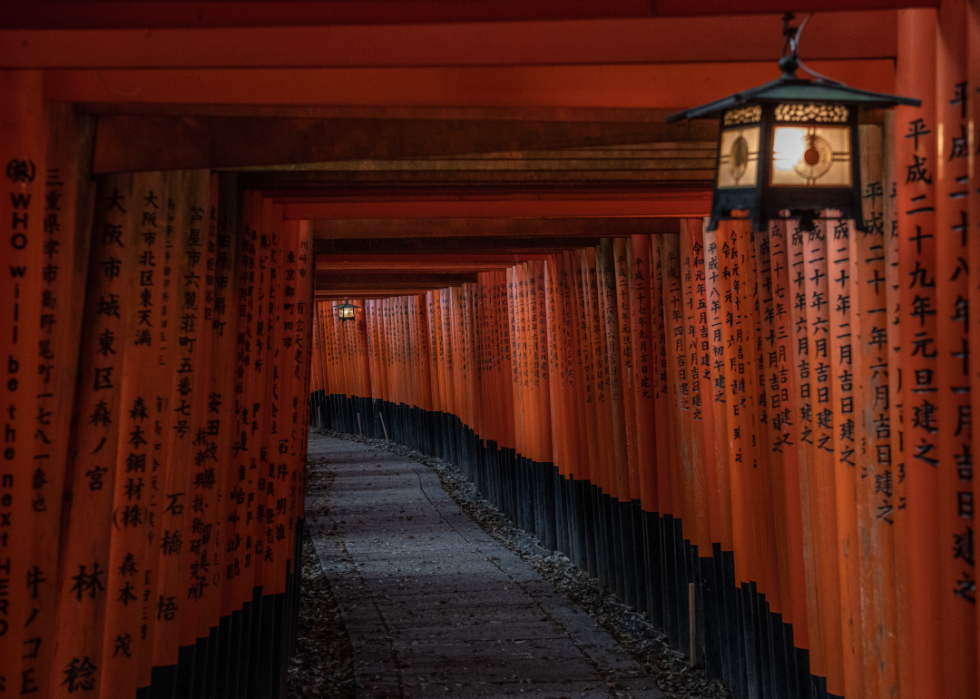 8 / 50
Carl Court // Getty Images
Japan's tourism sector hit by coronavirus outbreak
The Torii path at Fushimi Inari-taisha shrine, one of Japan's most popular tourist destinations, is pictured empty on April 22, 2020 in Kyoto, Japan. Foreign visitor numbers to Japan fell by 99.9% when the country experienced its second full week of a state of emergency, and global travel restrictions severely limited international air travel.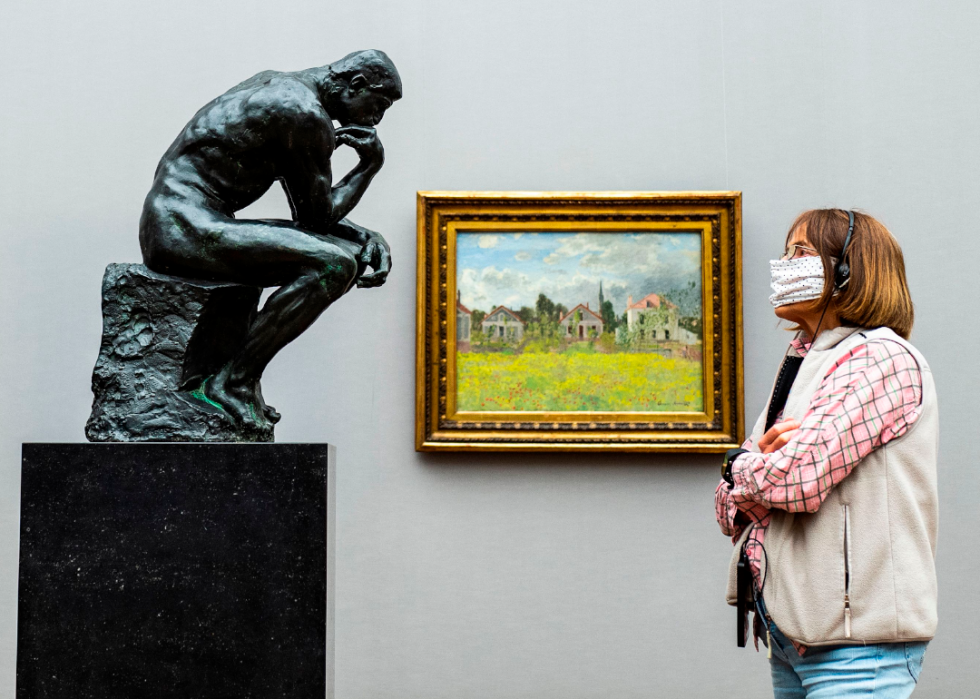 9 / 50
JOHN MACDOUGALL/AFP via Getty Images
Berlin relaxes lockdown restrictions
A visitor wearing a face mask looks at French sculptor Auguste Rodin's iconic sculpture "The Thinker" at the Alte Nationalgalerie (Old National Gallery) museum in Berlin on May 12, 2020, after the museum re-opened its doors to the public following a relaxation of lockdown restrictions.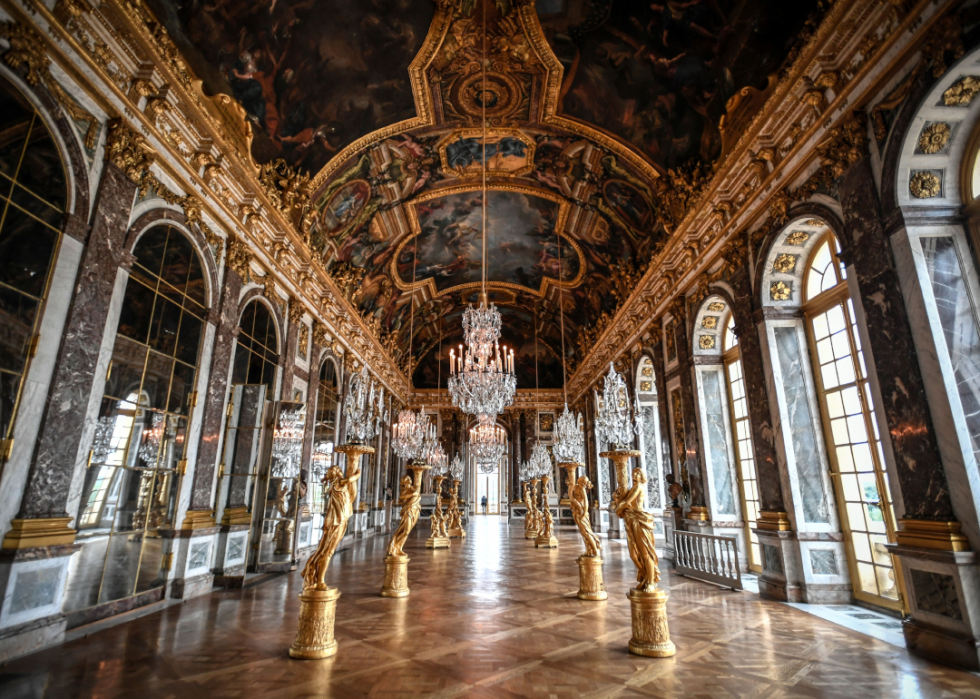 10 / 50
STEPHANE DE SAKUTIN/AFP via Getty Images
Palace of Versailles reopens in June
A photo taken in the Château de Versailles (Palace of Versailles) near Paris, on June 5, 2020, shows the Galerie des Glaces (Hall of Mirrors) on the eve of its re-opening after 82 days of closure. The Palace is one of France's biggest tourist attractions, formerly attracting nearly 10 million tourists a year.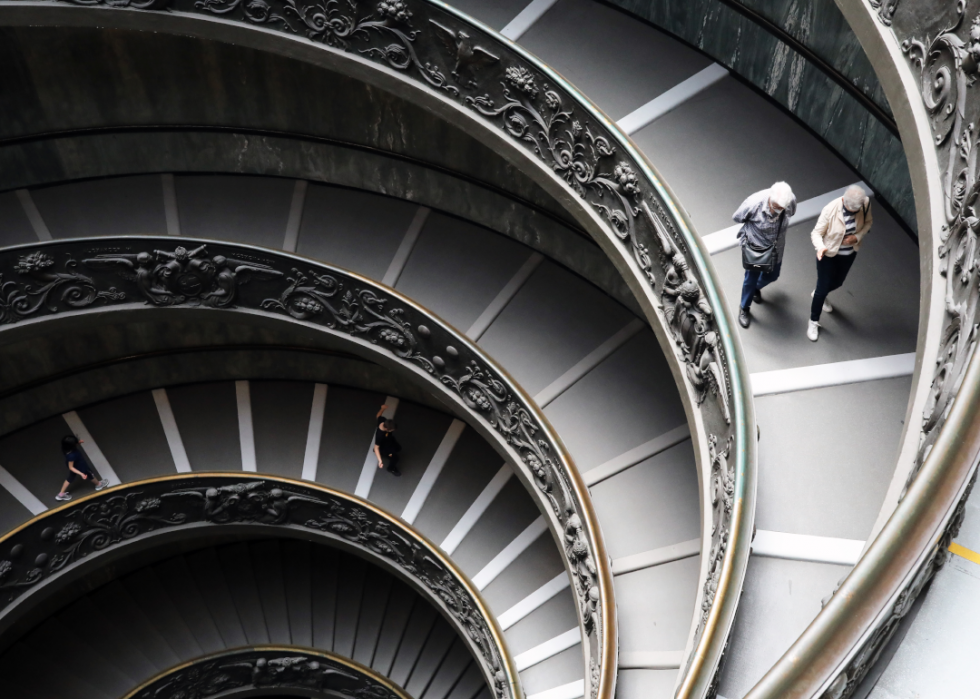 11 / 50
Marco Di Lauro // Getty Images
Italy slowly returns to normality
The double helix staircase at the entrance of the Vatican Museums designed by Giuseppe Momo is seen on June 8, 2020 in Vatican City. Before the coronavirus pandemic, the Vatican Museums experienced a daily average of 25,000 visitors, with record peaks reaching 35,000. Now, with the absence of tourists in Rome and since the museum reopened on June 1, the average daily visitor numbers don't exceed 3000. On June 3, Italy reopened its borders to travelers from the European Union and the Schengen Area, without the need to observe a 14-day quarantine period, as the country attempts to rescue its tourist industry.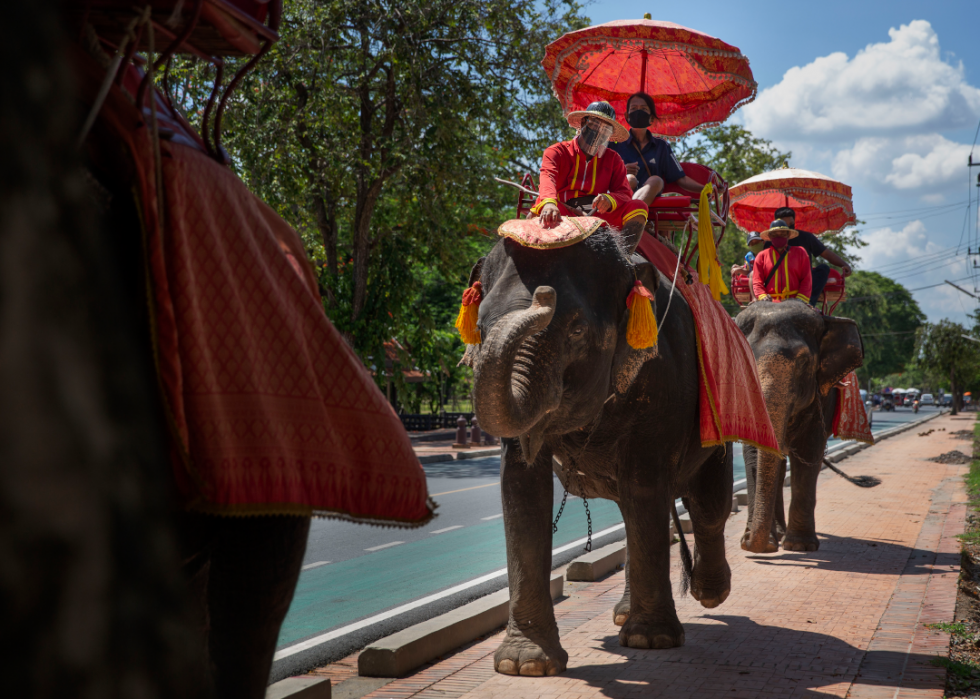 12 / 50
Lauren DeCicca // Getty Images
Elephants in Thailand at risk
Thai tourists and elephant trainers wear face masks and shields as they ride elephants at the Ayutthaya Elephant Palace and Royal Kraal on June 6, 2020 in Ayutthaya, Thailand. As the COVID-19 pandemic halted global tourism, elephants and their mahouts (trainers) working in sanctuaries and camps throughout Thailand found themselves out of work. As income for mahouts evaporated, more than 100 elephants were returned to their home villages in the mountains near Chiang Mai in hopes of finding farmland to support the 200 kilogram of food each adult elephant requires daily.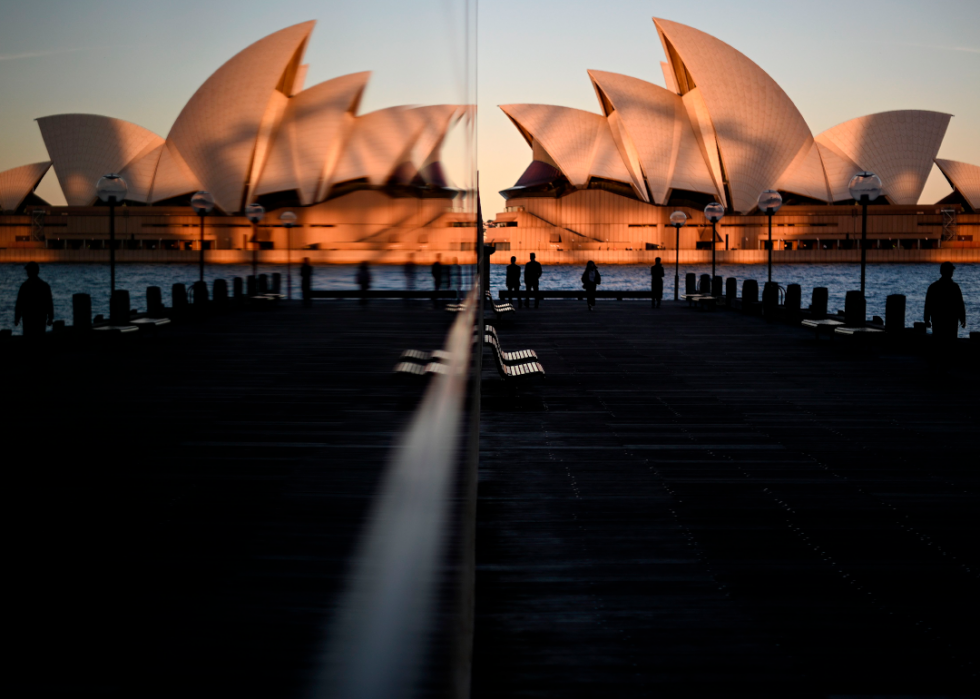 13 / 50
SAEED KHAN/AFP via Getty Images
Sydney Opera House stands empty
Sunset hues fall on the landmark Sydney Opera House as it is seen in a reflection from Circular Quay on June 16, 2020. In addition to its extraordinary annual calendar of events, the building itself is one of the most recognized symbols of 20th century architecture in the world and is usually packed with tourists.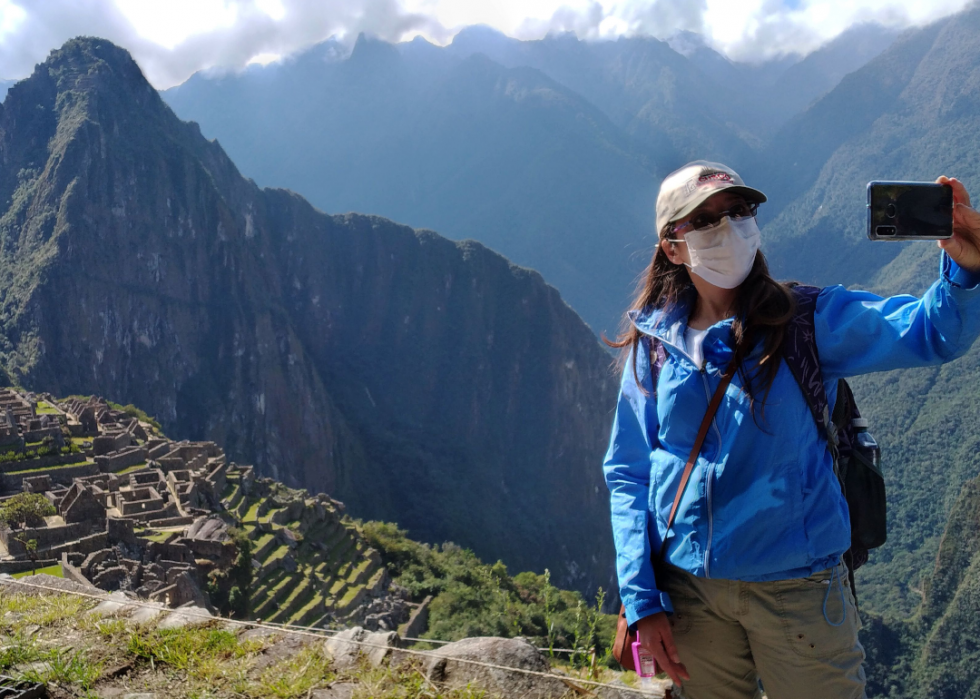 14 / 50
PERCY HURTADO/AFP via Getty Images
Peru's borders remain closed
A government inspector takes a selfie on June 15, 2020 in the empty Machu Picchu, the 15th century Inca citadel located in the Andes mountain range, which has been closed to tourism since March 16, 2020. Peru, one of America's and the world's leading tourism destinations, closed down its borders seeking to curb the spread of COVID-19. The halt of the tourism industry caused many to lose their jobs and has led to the slow deterioration of some well-known tourist sites.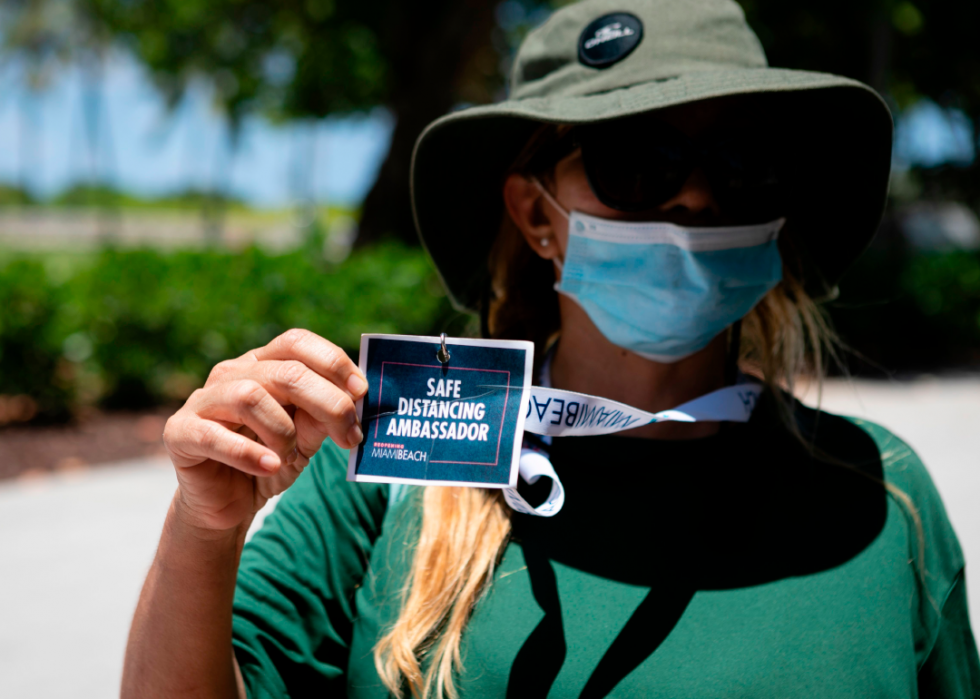 15 / 50
EVA MARIE UZCATEGUI/AFP via Getty Images
Safe distancing ambassador in Miami Beach
A Miami Beach worker shows her badge as "Safe Distancing Ambassador" at the entrance to the beach in Miami Beach, Florida on June 16, 2020. Even as Florida broke record daily totals of new coronavirus cases over the summer, it reopened and allowed busy beaches and hotels.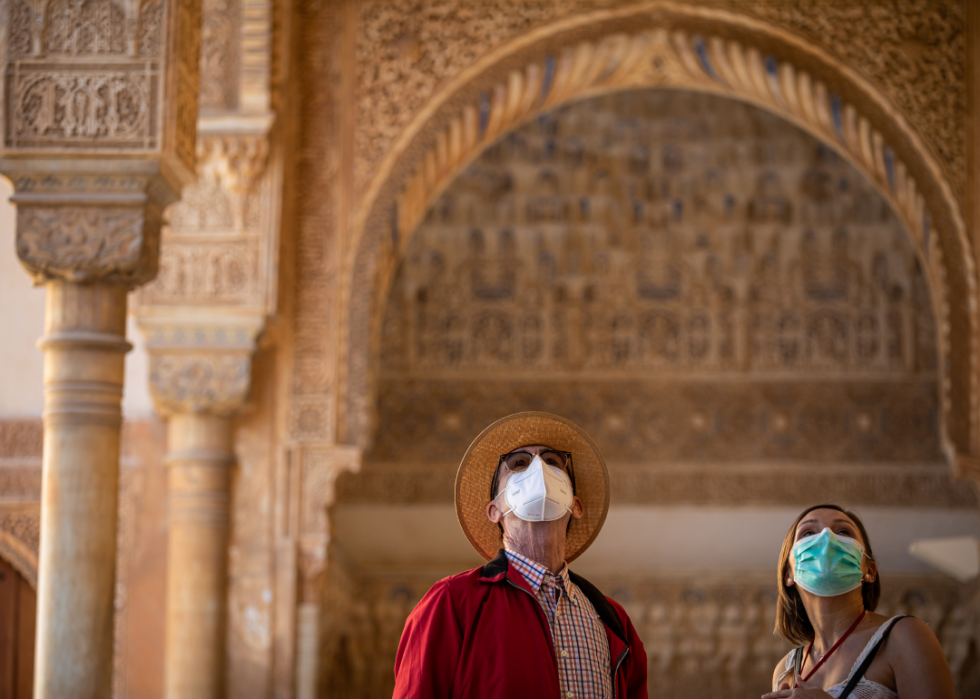 16 / 50
Fermin Rodriguez/NurPhoto via Getty Images
Spain's Alhambra reopens to public
A visitor and a tour guide with face masks in the Court Of The Myrtles during the reopening day of the Alhambra and all its palaces with prevention measures to avoid infections on June 17, 2020 in Granada, Spain. The Alhambra is the most visited monument in Spain and was closed to the public starting March 12.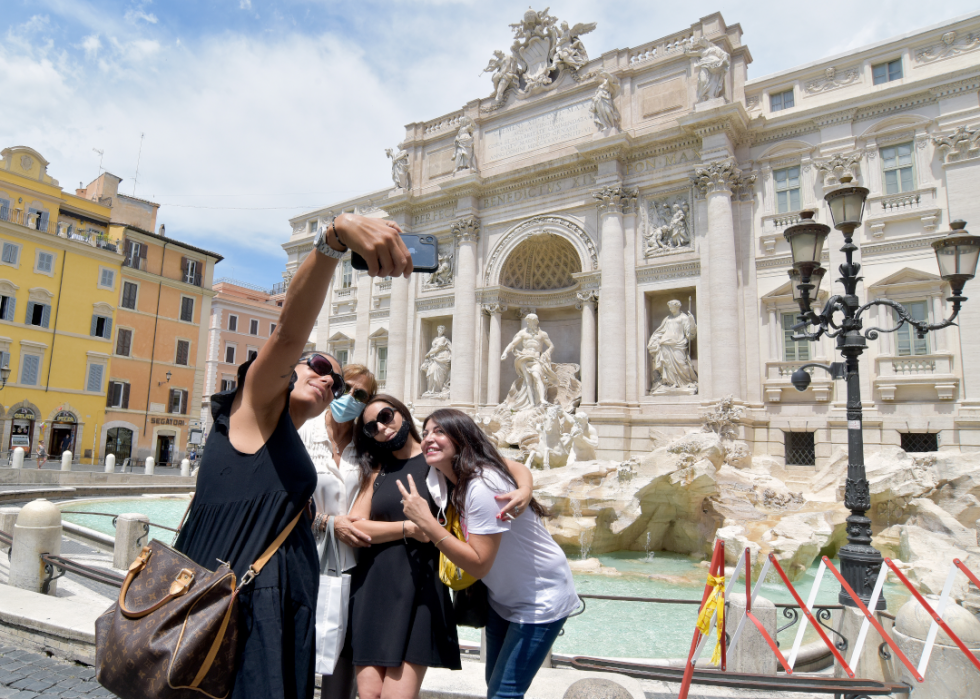 17 / 50
Simona Granati - Corbis/Getty Images
Rebooting tourism in Rome
People take selfies in front of Trevi Fountain on June 19, 2020 in Rome, Italy. Italy reopened its major tourist attractions and loosened travel restrictions in a bid to reboot the tourism industry that accounts for around 13% of the national GDP.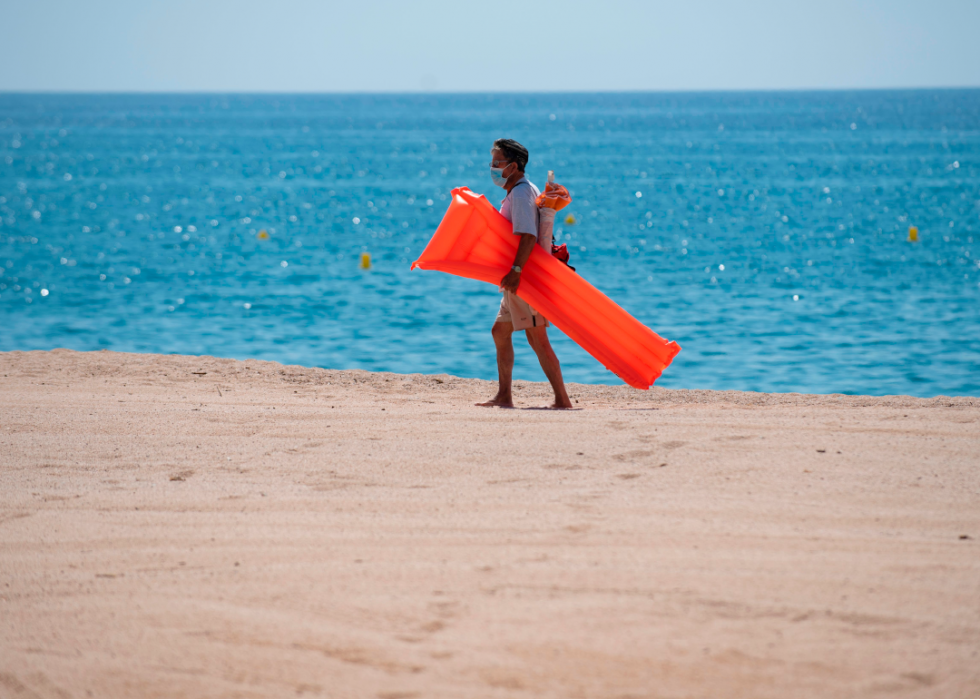 18 / 50
JOSEP LAGO/AFP via Getty Images
Beaches in Spain reopen
A man wearing a face mask walks on a beach in Lloret de Mar on June 22, 2020 as beaches reopened in Spain following a national lockdown. EU member state citizens and those from the passport-free Schengen Area were allowed freely into Spain, with no 14-day quarantines required.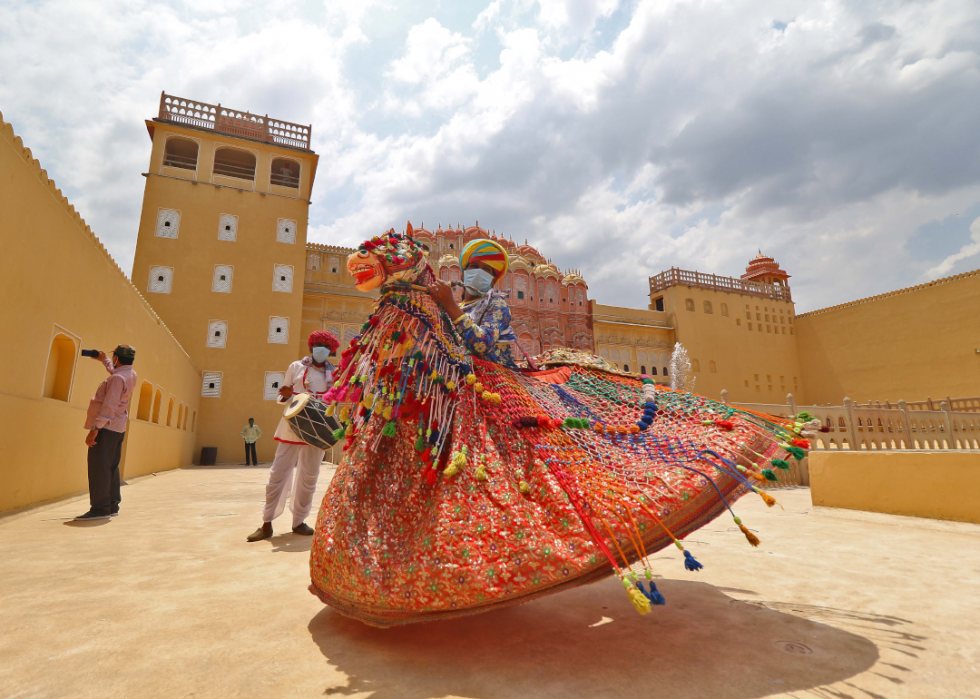 19 / 50
Vishal Bhatnagar/NurPhoto via Getty Images
Rajasthan, India reopens tourist sites
Rajasthani folk artists perform to spread awareness about COVID-19 at Hawa Mahal, after the state government permitted to reopen tourist places, in Jaipur, Rajasthan, India, on June 23, 2020. Despite surging cases, much of India has reopened.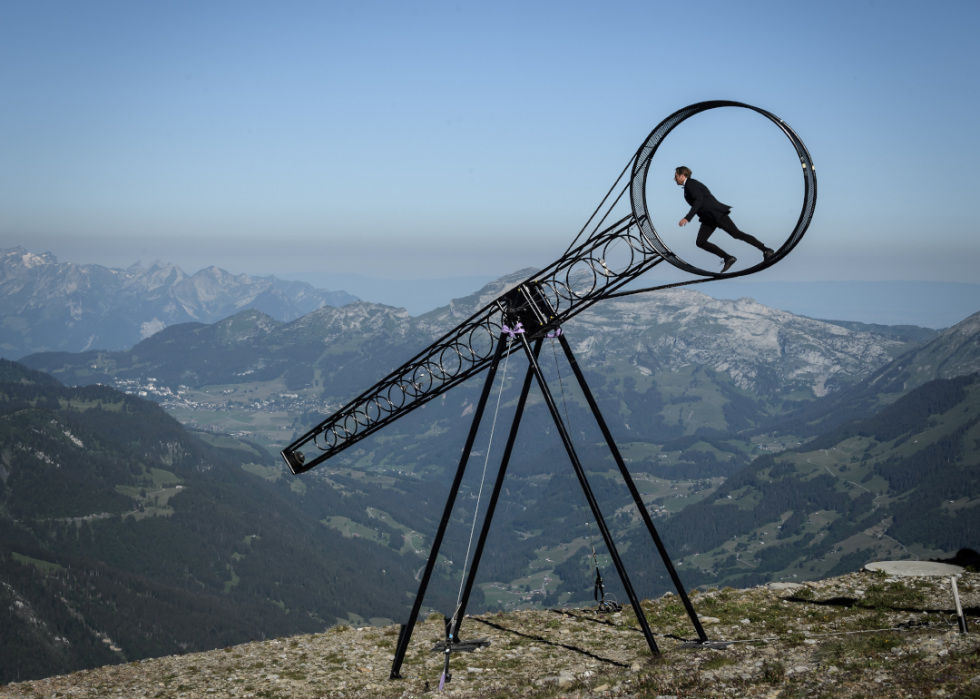 20 / 50
FABRICE COFFRINI/AFP via Getty Images
Reopening acrobatics in Switzerland
Swiss acrobat Ramon Kathriner performs with the Wheel Of The Death during the Glacier 3000 Air show. The event marked the reopening of the Alpine facilities on June 23, 2020, above Les Diablerets, following the lockdown.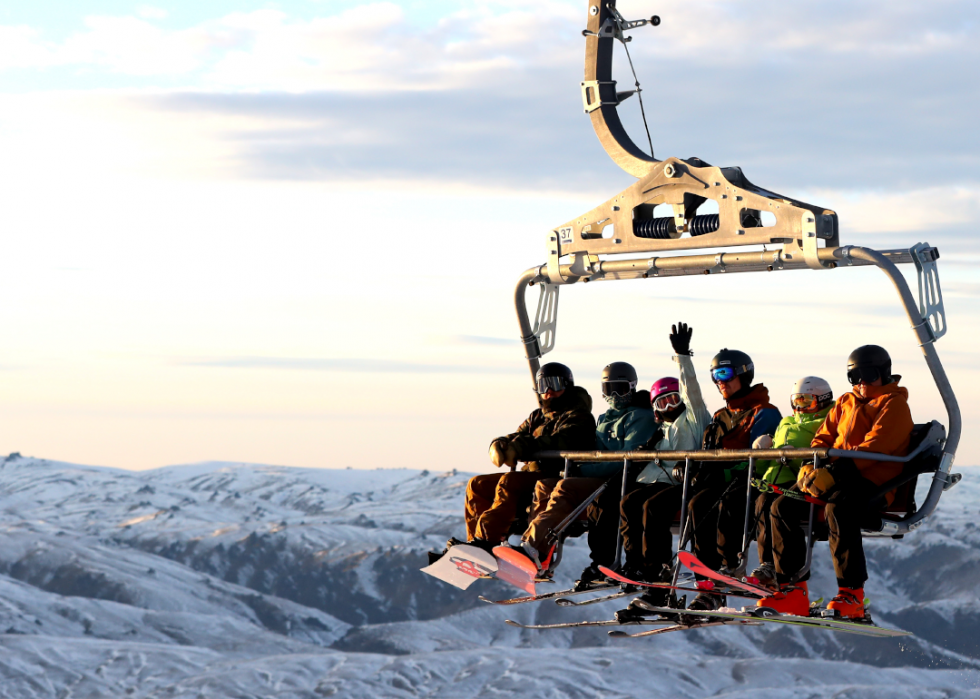 21 / 50
Hannah Peters // Getty Images
New Zealand's ski season opens for domestic tourists only
Skiers and snowboarders ride chairlifts on opening day on June 26, 2020 in Cardrona, New Zealand. With international borders still closed due to the COVID-19 pandemic, local businesses and operators are hoping domestic tourists will travel to the region now that coronavirus restrictions have lifted across New Zealand. Overseas tourists, particularly Australians, usually make up about 40 percent of visitors to Queenstown's ski resorts.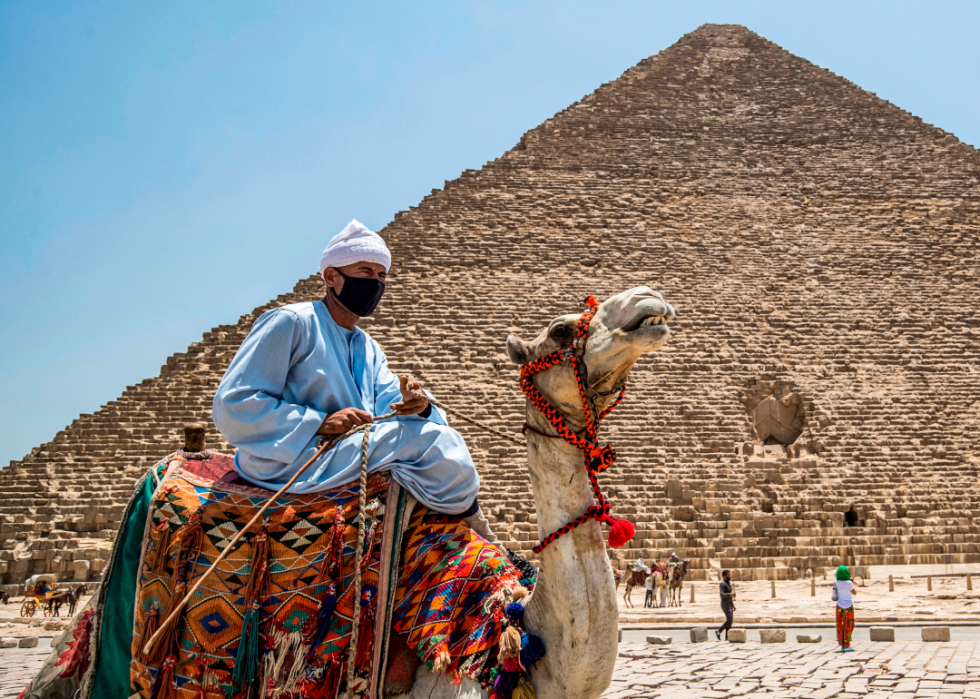 22 / 50
KHALED DESOUKI/AFP via Getty Images
Reopening the Giza Pyramids in Egypt
A mask-clad guide rides a camel at the Giza Pyramids necropolis on the southwestern outskirts of Cairo on July 1, 2020. The archaeological site reopened while the country eased restrictions. A spree of openings in Egypt came after the country officially ended a three-month nighttime curfew. Cafes and shops re-opened but public beaches and parks remain closed.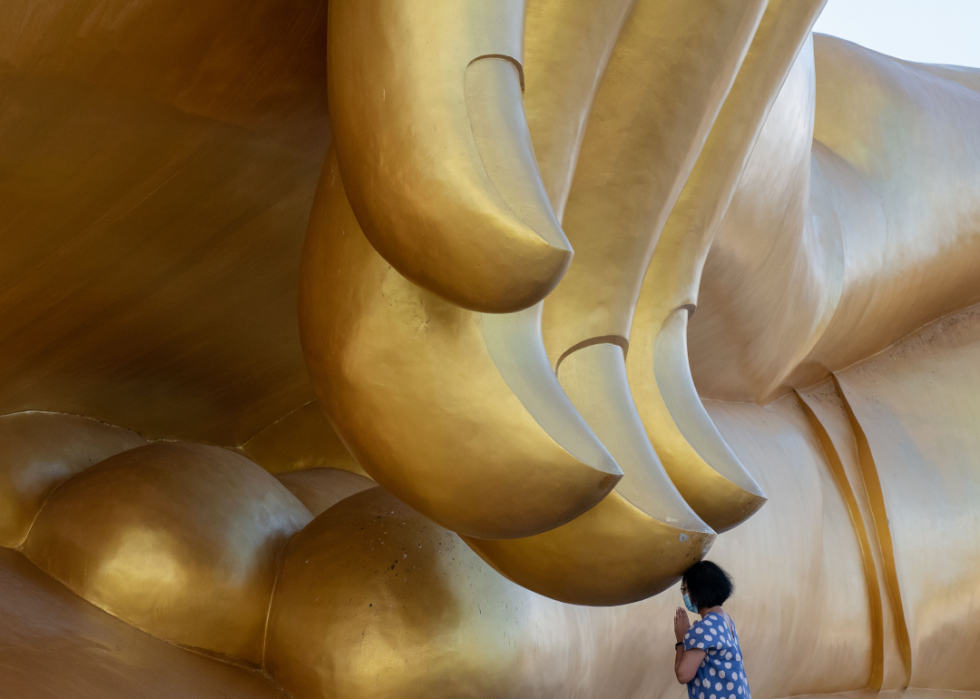 23 / 50
ALEX OGLE/AFP via Getty Images
Prayers in Ang Thong, Thailand
A woman prays under the fingertips of the largest Buddha statue in Thailand, in Ang Thong province on July 2, 2020. At the time, authorities had just reopened sites to tourists following lockdowns.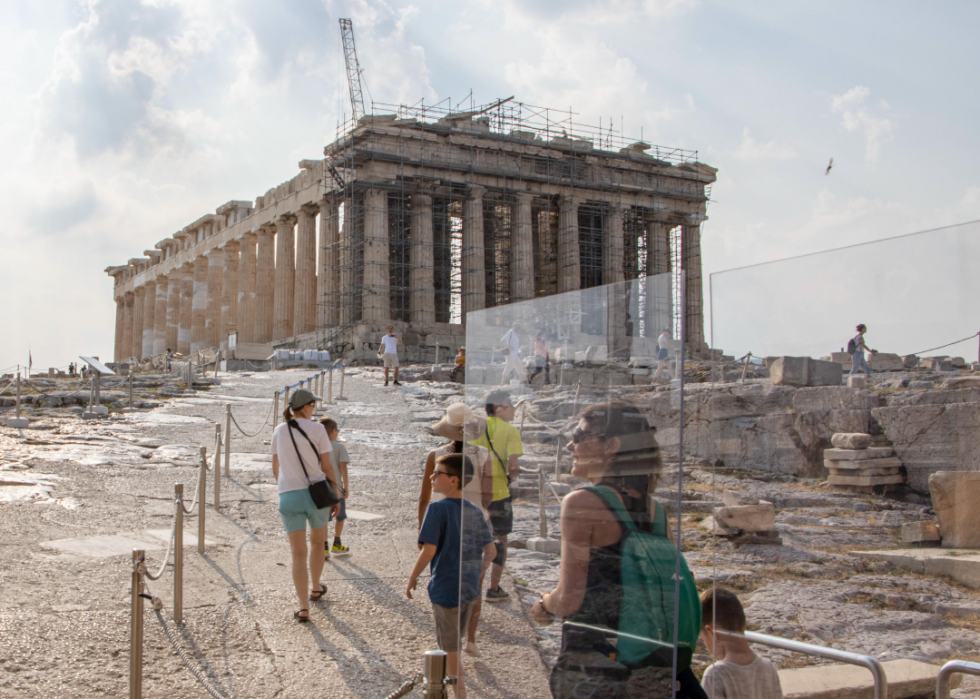 24 / 50
Nicolas Economou/NurPhoto via Getty Images
Safety measures at the Acropolis in Athens
Arriving visitors pass by a plexiglass divider installed at the entrance of the Acropolis on July 7, 2020 in Athens, Greece. Few tourists are now seen at the most-visited landmark in the Greek capital compared to the overcrowding that was commonplace before the pandemic.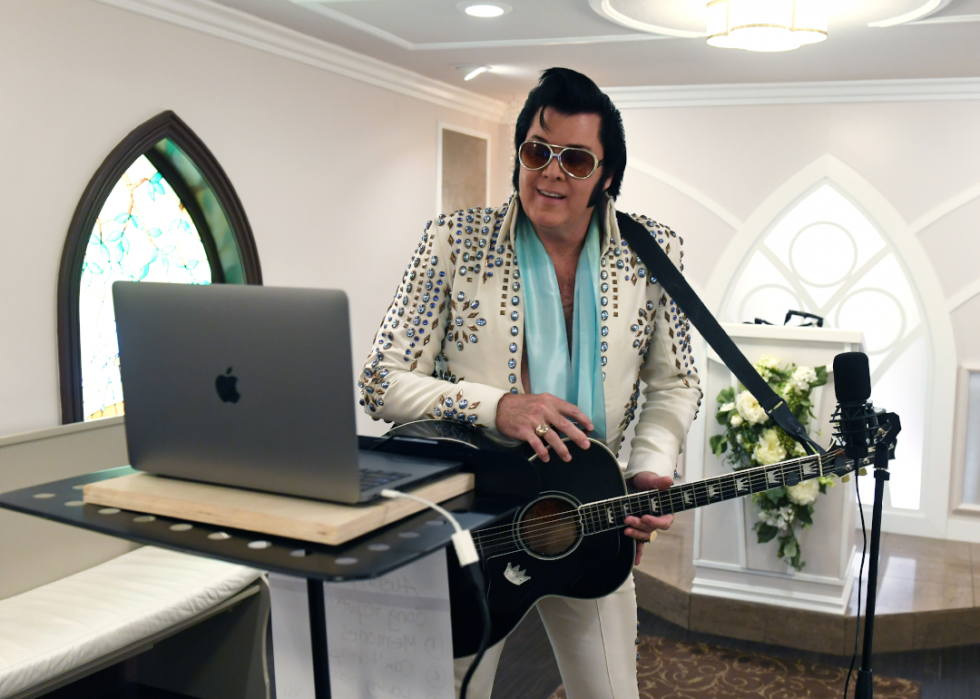 25 / 50
Ethan Miller // Getty Images
Live Virtual Elvis-Themed Vow Renewals in Las Vegas
Elvis Presley impersonator and chapel co-owner Brendan Paul performs a live wedding vow renewal ceremony using Zoom for a couple from Texas celebrating their 50th anniversary at Graceland Wedding Chapel on July 28, 2020 in Las Vegas, Nevada. The chapel is now offering the world's first virtual Elvis-themed vow renewal and commitment ceremonies for people all over the world who are unable to travel to Las Vegas or otherwise appear in person because of the pandemic.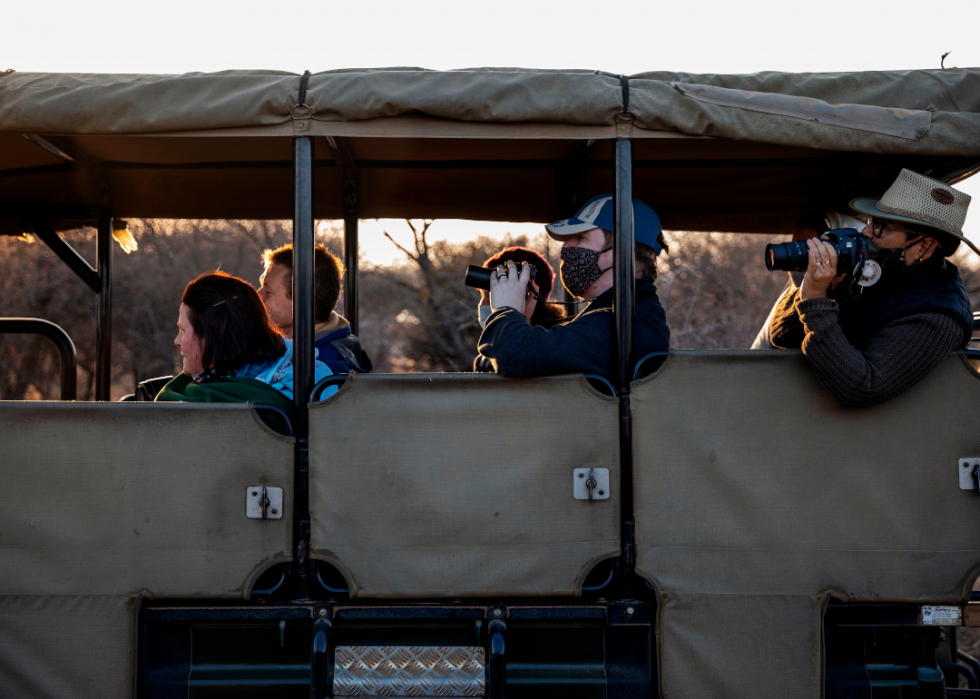 26 / 50
MICHELE SPATARI/AFP via Getty Images
South African safari
Tourists wearing face masks look at a lioness during a guided safari tour at the Dinokeng Game Reserve outside Pretoria on August 7, 2020. Visitors have flocked from the capital Pretoria and financial hub Johannesburg since the government allowed South Africans to travel for leisure within their provinces, bringing a small sliver of relief to the country's tourist industry, which has missed out on billions in revenue since going into lockdown.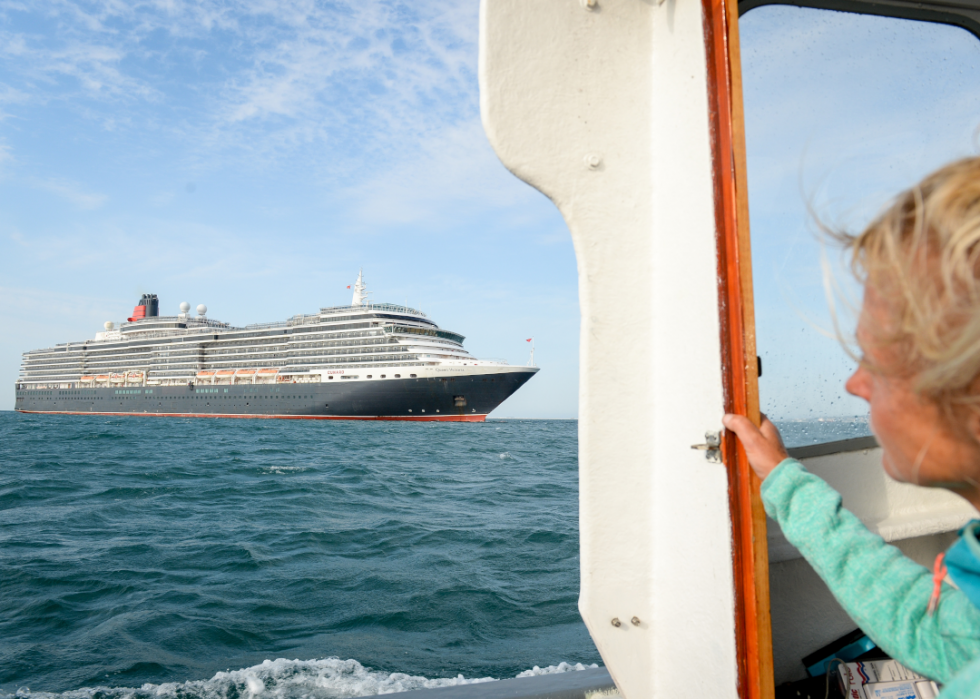 27 / 50
Finnbarr Webster // Getty Images
Cruise ships moored
Redundant cruise ships are moored in Weymouth Bay on August 8, 2020, in the U.K. Since mid-March only a small handful of the world's 400 or so cruise ships have been able to accept passengers, all on hyperlocal itineraries.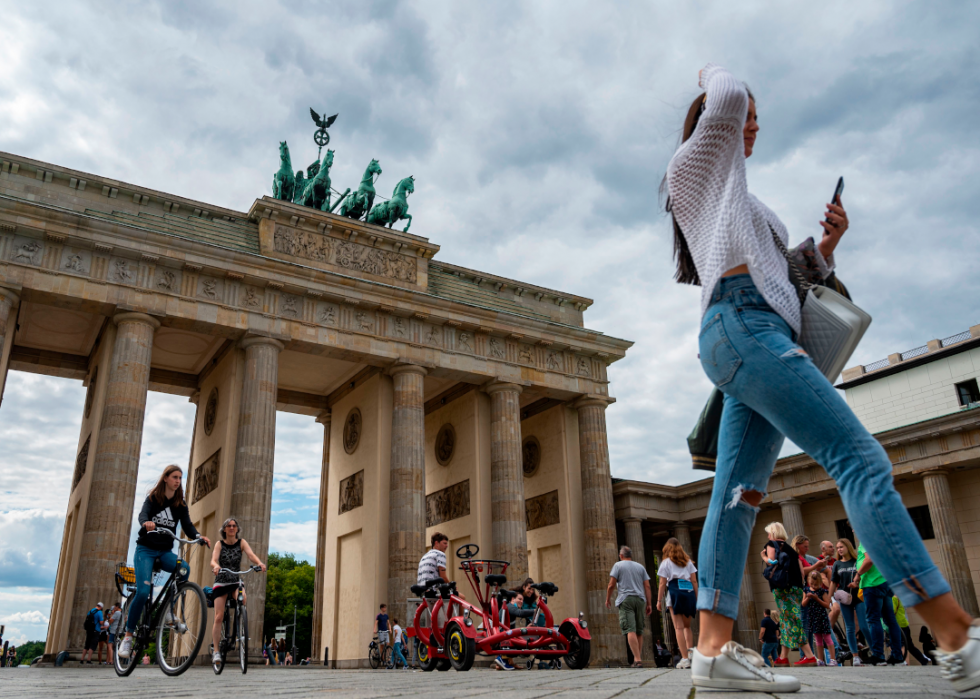 28 / 50
JOHN MACDOUGALL/AFP via Getty Images
Brandenberg Gate, Berlin
Tourists gather in front of Berlin's iconic Brandenburg Gate on August 4, 2020. Many European countries who have scrapped travel restrictions during the summer break are now confronting a second wave of infections and another lockdown.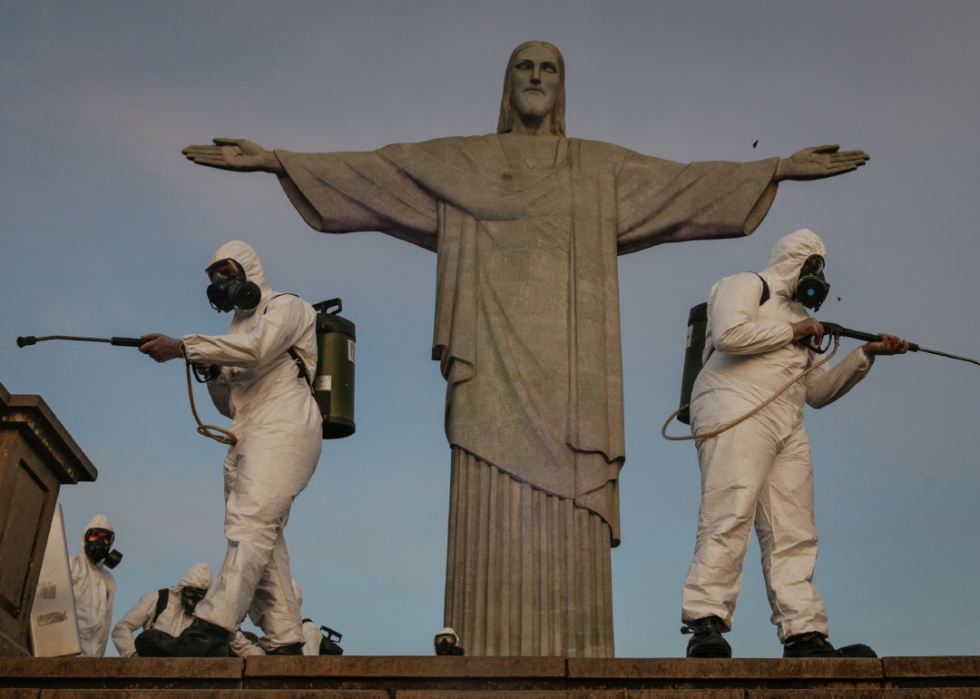 29 / 50
Andre Coelho // Getty Images
Disinfecting in Rio De Janeiro, Brazil
Military personnel belonging to the Joint Command East disinfect the Sanctuary where the statue of Christ the Redeemer is located on August 13, 2020, in Rio de Janeiro, Brazil. The measure is part of a series of government actions to reopen the main tourist spots in the city, banned since the beginning of the coronavirus pandemic.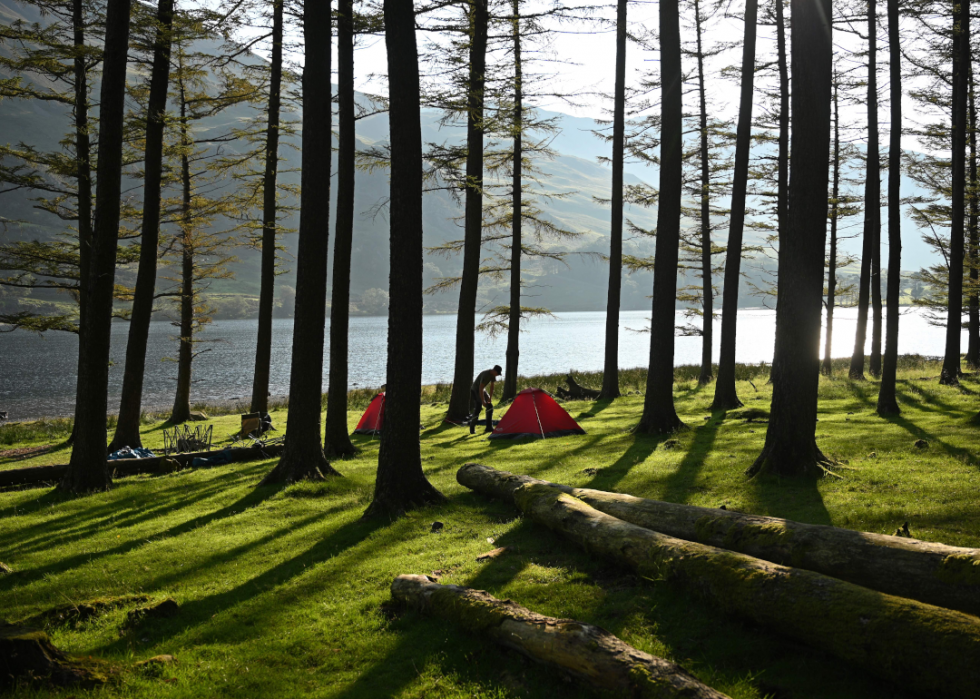 30 / 50
OLI SCARFF/AFP via Getty Images
Staycations rise in popularity
Campers wake as the sun rises over Buttermere Lake in the Lake District in England on August 14, 2020, as many people take advantage of the seasonal weather to holiday at home and nearby.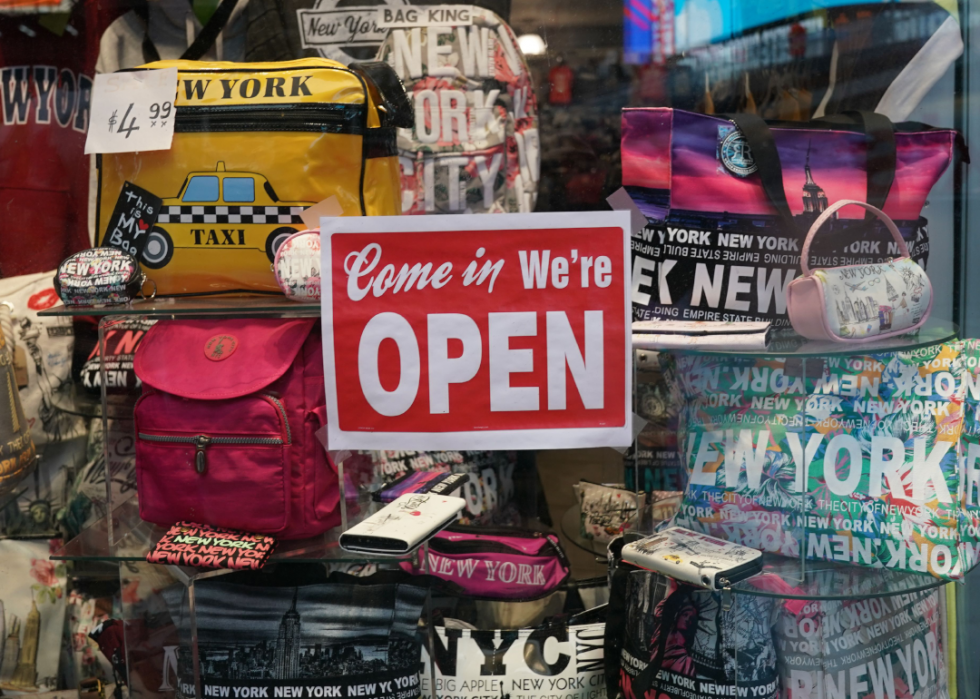 31 / 50
BRYAN R. SMITH/AFP via Getty Images
Struggles in Times Square, New York City
An open sign in the window of a gift shop is seen in Times Square on August 16, 2020 in New York. Months after New York City shut down to combat the coronavirus, the tourism industry remained flat. Business leaders and city officials were trying to devise plans to revive the tourism industry that has in years past brought in $45 billion annually and supported 300,000 jobs.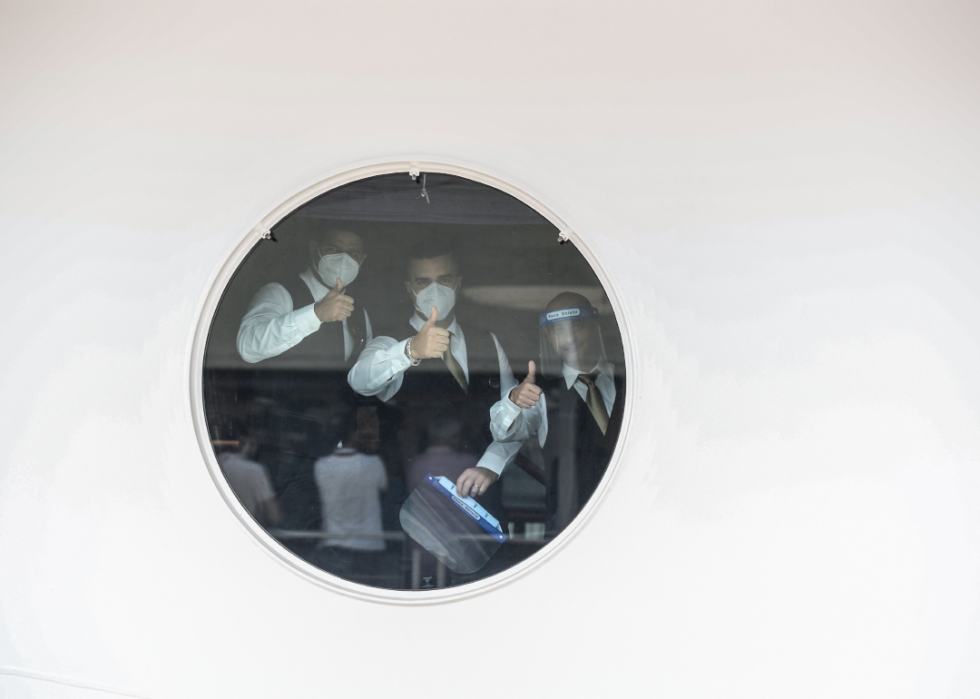 32 / 50
MIGUEL MEDINA/AFP via Getty Images
Cruise ship departs Genoa
Staff members of the MSC Grandiosa cruise liner give the thumbs-up in the northwestern port city of Genoa on August 16, 2020 prior the departure of the liner after six-and-half months of inactivity. The first major cruise ship to set sail in the Mediterranean was poised to depart from Genoa as Italy's struggling travel industry hoped to regain ground after a bruising coronavirus hiatus.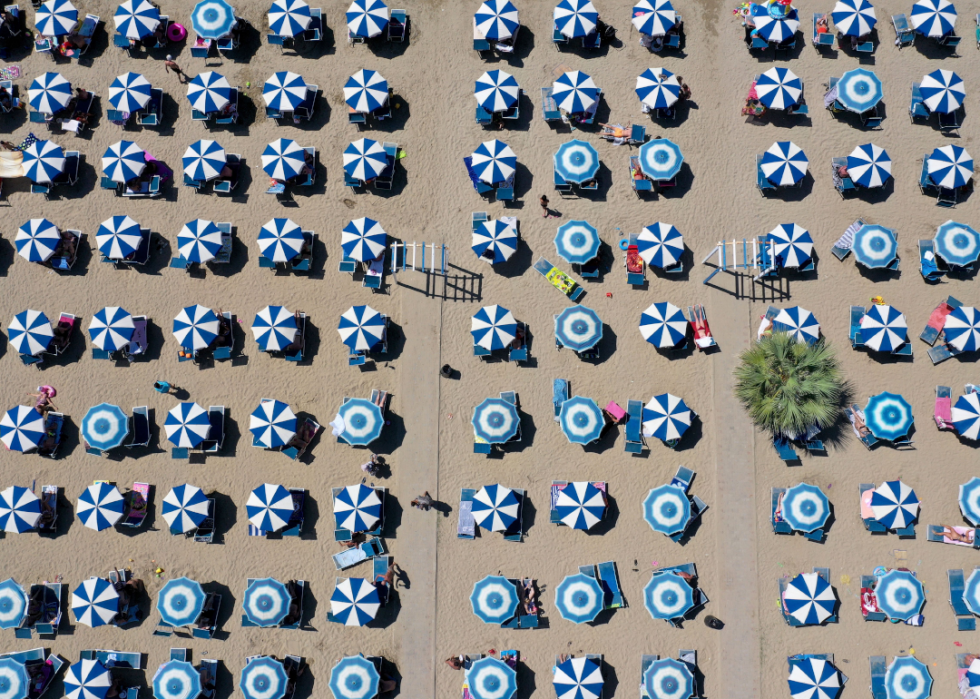 33 / 50
GENT SHKULLAKU/AFP via Getty Images
Tourism drops in the Adriatic Coast, Durres
An aerial photograph taken on August 22, 2020, shows parasols on a beach of the Adriatic Sea in Durres, as a heatwave swept through Europe. The number of tourists entering Albania dropped by 66 percent. The majority of those tourists are domestic or from the neighboring Kosovo and North Macedonia.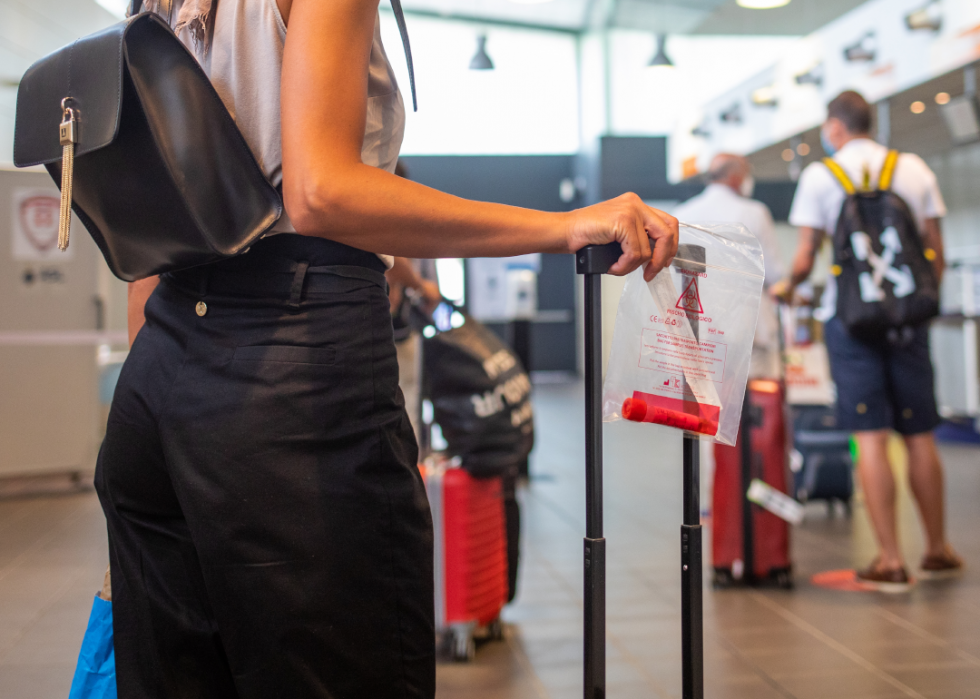 34 / 50
Mauro Ujetto/NurPhoto via Getty Images
Airports test incoming travelers
To prevent a new spread of infection, starting August 17th all Italian airports were required to test travelers coming from countries at risk of Covid-19. Here, travelers await their tests with test tubes in hand in Turin, Italy, on August 17, 2020.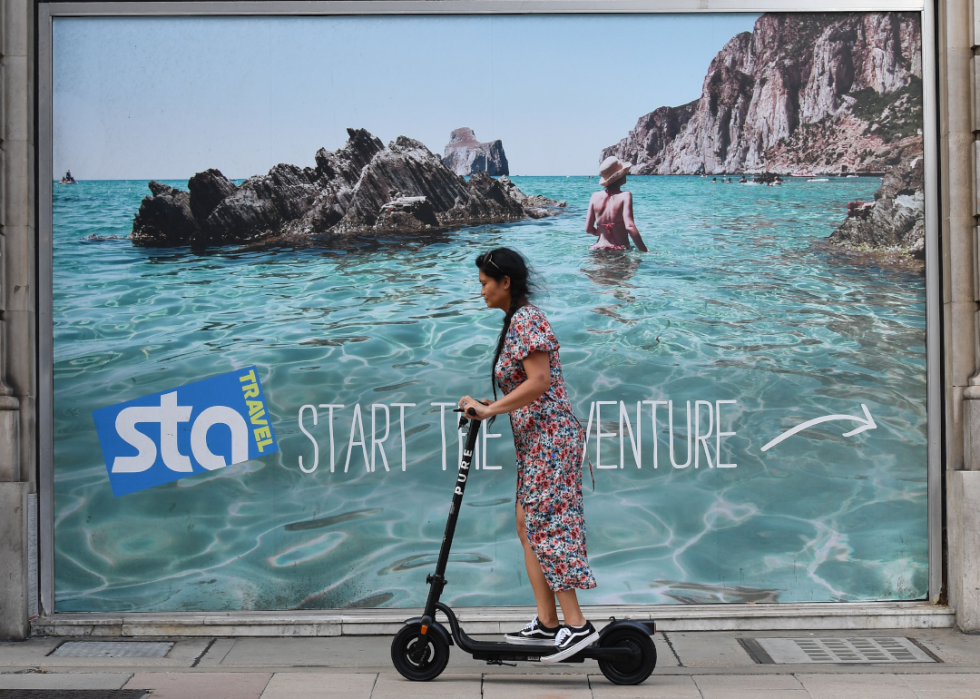 35 / 50
JUSTIN TALLIS/AFP via Getty Images
STA travel agency closes
A woman rides a scooter past an advertising board outside a closed down branch of STA Travel in central London on August 23, 2020. Student travel firm STA Travel UK announced it had ceased trading on August 21, following the impact of the coronavirus pandemic on tourism.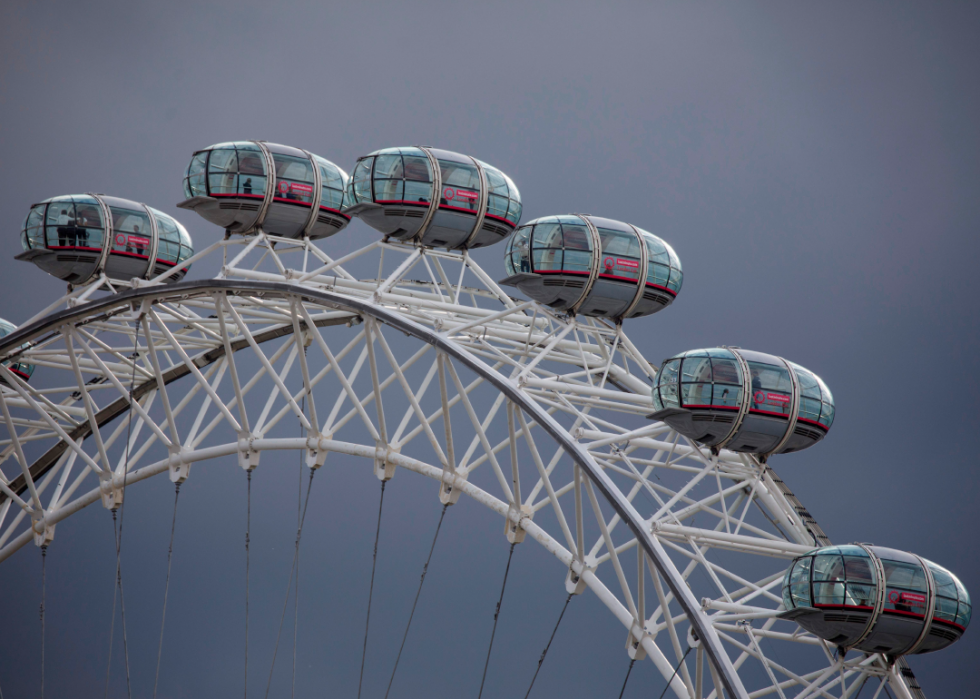 36 / 50
TOLGA AKMEN/AFP via Getty Images
Britain projects billion dollar losses
Pods of the London Eye attraction using a reduced capacity to aid social distancing are seen in central London on August 24, 2020. The World Travel & Tourism Council said that Britain's economy will lose about £22 billion ($29 billion) this year because of the coronavirus outbreak. VisitBritain also forecast that the number of foreign tourists will plummet by 73 percent in 2020 to 11 million people.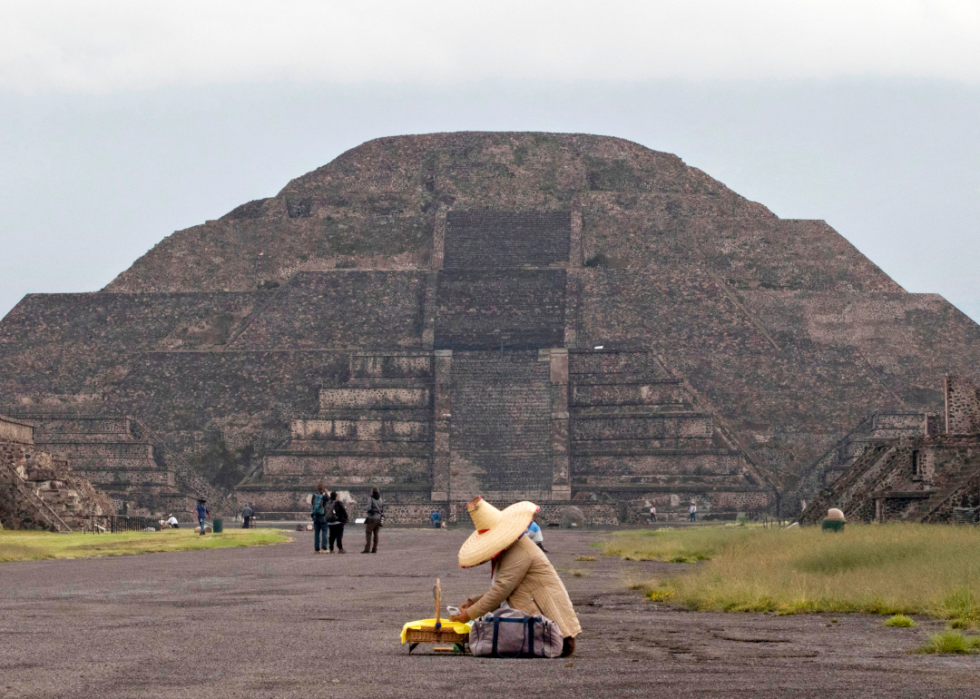 37 / 50
CLAUDIO CRUZ/AFP via Getty Images
Reopening Teotihuacan in Mexico
A handicrafts vendor puts her products on display at the archaeological site of Teotihuacan. One of Mexico's top tourist attractions, the site reopened on September 10, 2020, in Teotihuacan municipality, Mexico State, Mexico.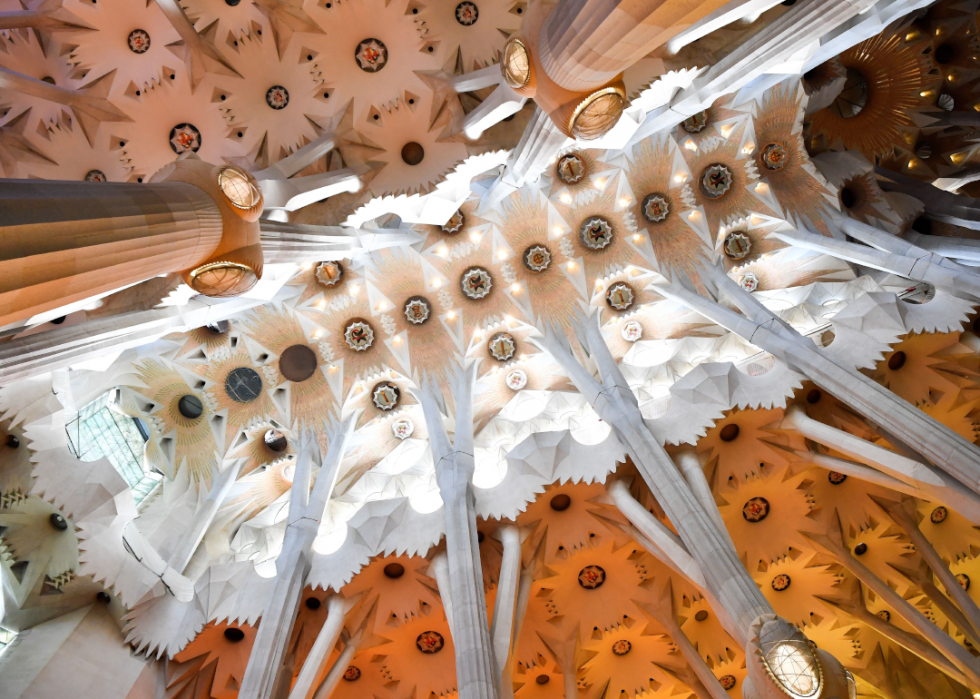 38 / 50
PAU BARRENA/AFP via Getty Images
Long-awaited completion of Barcelona's Sagrada Familia delayed
A general view shows the ceiling of Sagrada Familia taken on September 16, 2020 in Barcelona. The long-awaited completion of Barcelona's famed cathedral, originally designed by Antonio Gaudi, will no longer happen in 2026 because the coronavirus epidemic has curtailed its construction and funding.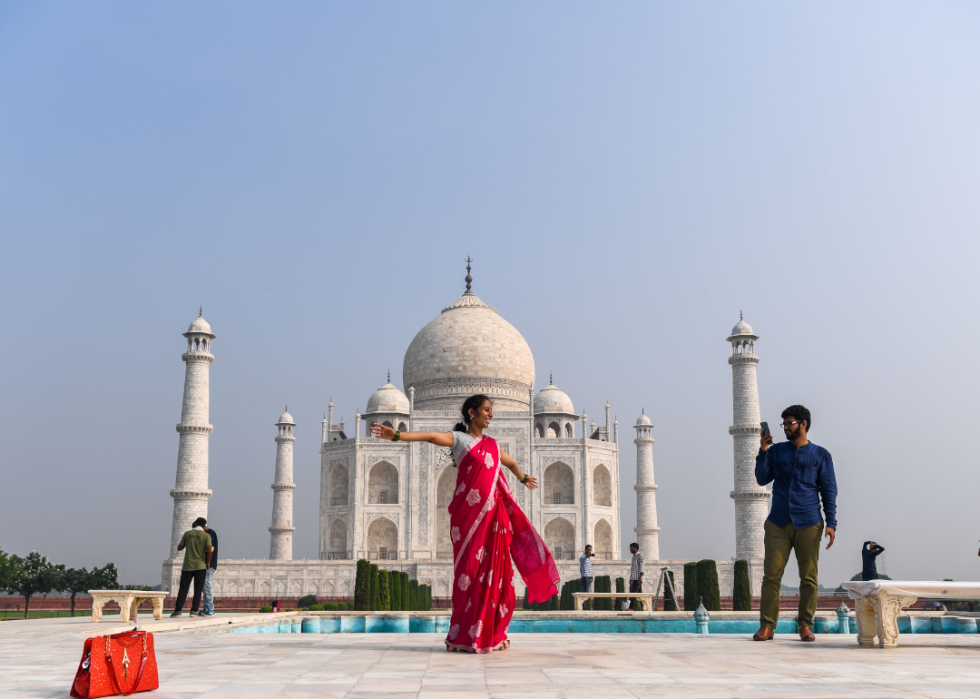 39 / 50
SAJJAD HUSSAIN/AFP via Getty Images
Taj Mahal reopens in India
Tourists visit the Taj Mahal in Agra on September 21, 2020. The famed palace reopened to visitors in a symbolic business-as-usual gesture even as India looks set to overtake the U.S. as the global leader in coronavirus infections.
40 / 50
Chip Somodevilla/Getty Images
Airline CEOs seek emergency aid
Allied Pilots Association President Eric Ferguson joined airline executives, fellow union heads, and political leaders to call on Congress to pass an extension of the Payroll Support Program to save thousands of jobs, during a news conference outside the U.S. Capitol September 22, 2020 in Washington D.C. Congress did not extend the program.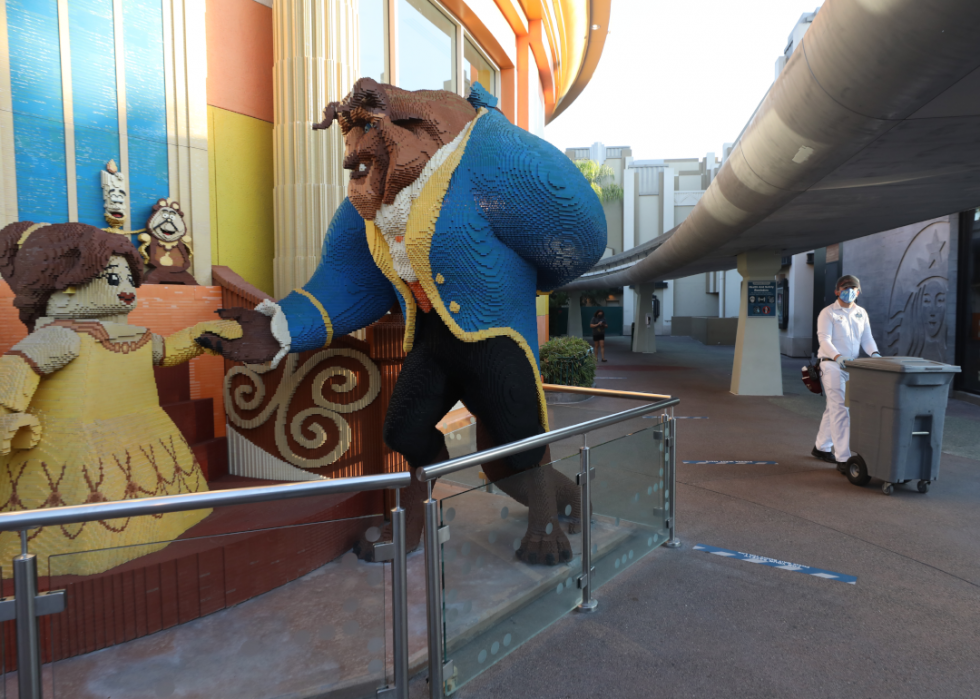 41 / 50
Mario Tama // Getty Images
Disney lays off 28,000 workers
A worker wears a protective face mask while walking past the Lego store in the Downtown Disney District on September 30, 2020 in Anaheim, California. Disney laid off 28,000 workers amid the toll of the COVID-19 pandemic on theme parks.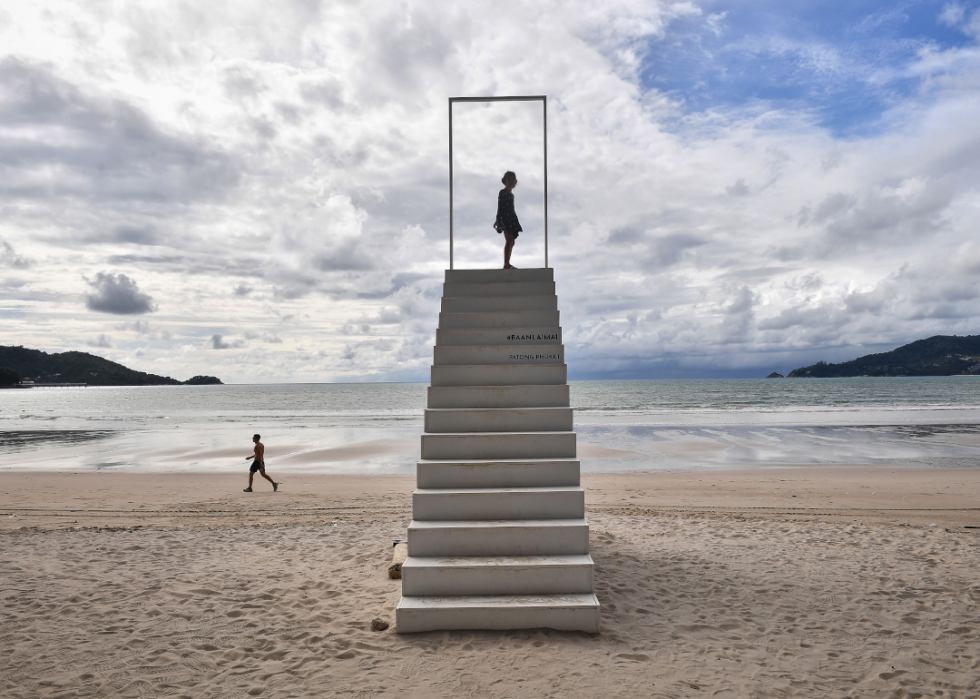 42 / 50
LILLIAN SUWANRUMPHA/AFP via Getty Images
Patong Beach, Phuket, Thailand in October
A girl stands on a set of stairs on Patong beach in Phuket on October 1, 2020, which has seen a lack of tourists.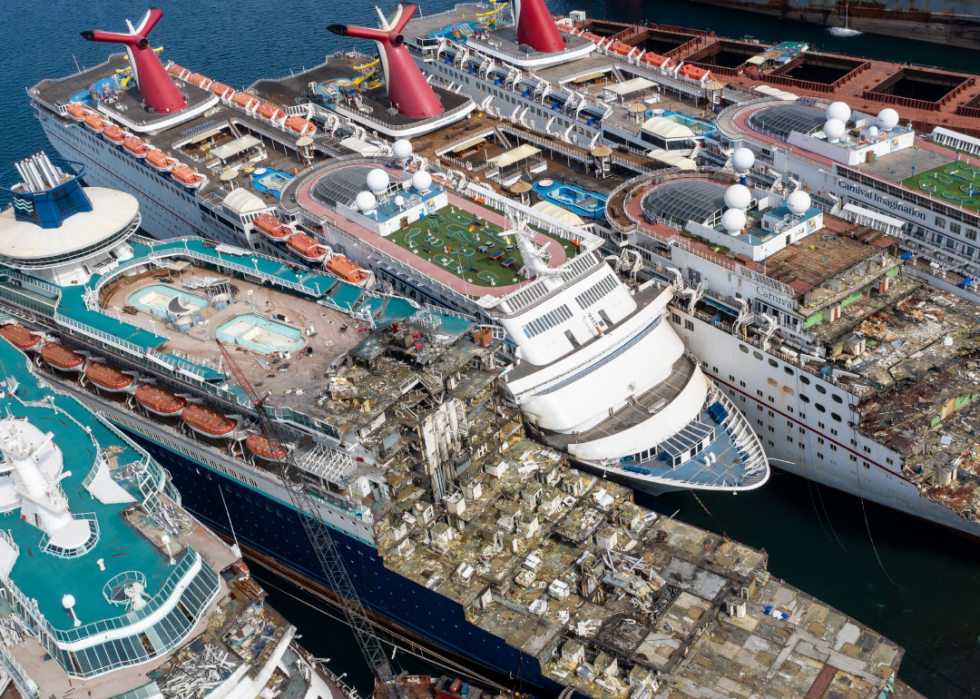 43 / 50
Chris McGrath // Getty Images
Cruise ships sold for scrap
In this aerial view from a drone, five luxury cruise ships are seen being broken down for scrap metal at the Aliağa ship recycling port on October 2, 2020 in Izmir, Turkey. With the global pandemic pushing the multi-billion dollar cruise industry into crisis, some cruise operators have been forced to cut losses and retire ships earlier than planned. The cruise industry has been one of the hardest hit industries with public confidence in cruise holidays plummeting after a series of outbreaks occurred on cruise liners as the pandemic spread.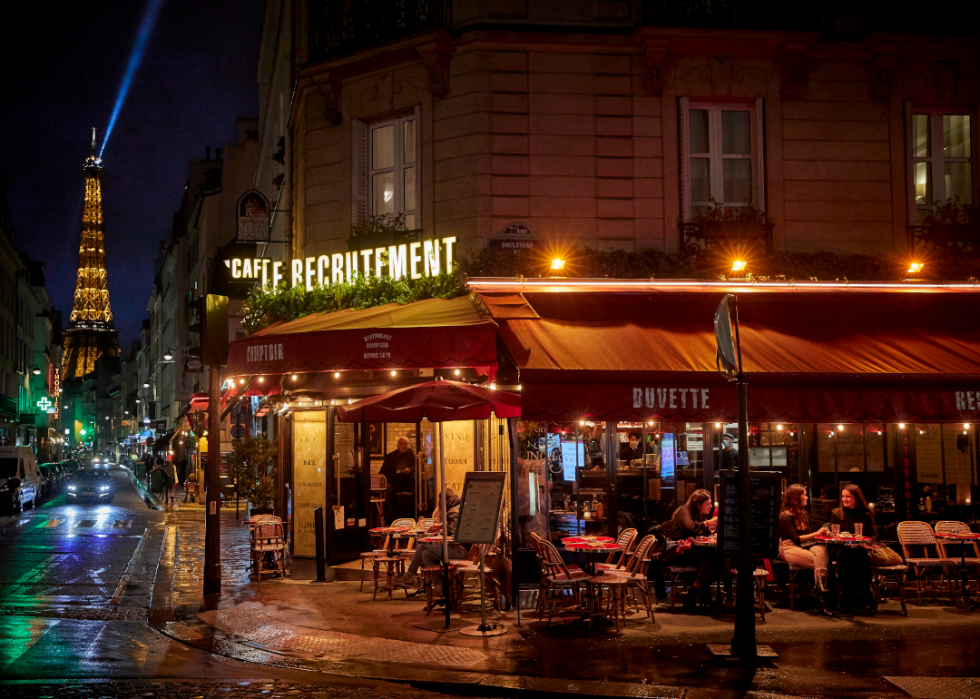 44 / 50
Kiran Ridley // Getty Images
Paris bars to close as Covid-19 alert is raised to maximum
A cafe bar near the Eiffel Tower on the last day before new Covid-19 restrictions forced bars and cafes in the capital to close for a minimum of two weeks on October 05, 2020 in Paris, France. The French capital has seen a surge in Covid-19 cases and has been upgraded to a "scarlet zone," which imposes further restrictions including the closure of bars, gyms and swimming pools, as well as limiting the numbers of university students able to attend lectures.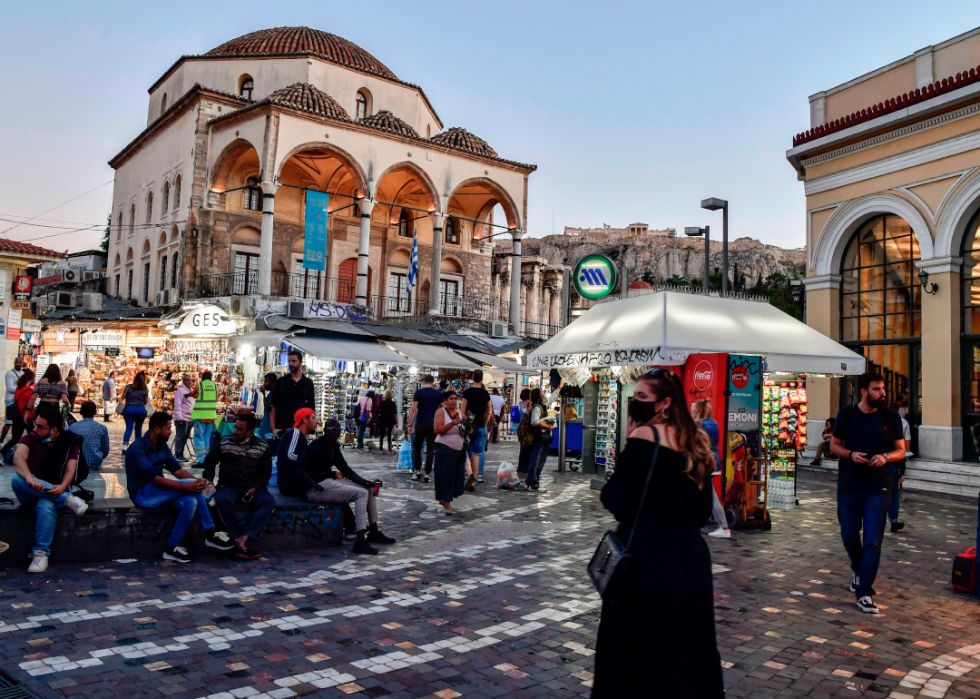 45 / 50
LOUISA GOULIAMAKI/AFP via Getty Images
After hours gathering discouraged in Athens
Locals and tourists walk by a kiosk at Monastiraki square, an area popular with tourists, in Athens, on October 9, 2020. Only about half of Greece's little kiosks across the country survived the economic crisis. At the end of September, because of the spike in the number of Covid-19 cases, the government ordered the closure of the kiosks from midnight to five o'clock in the morning to discourage after-hours bar crowds from gathering on squares.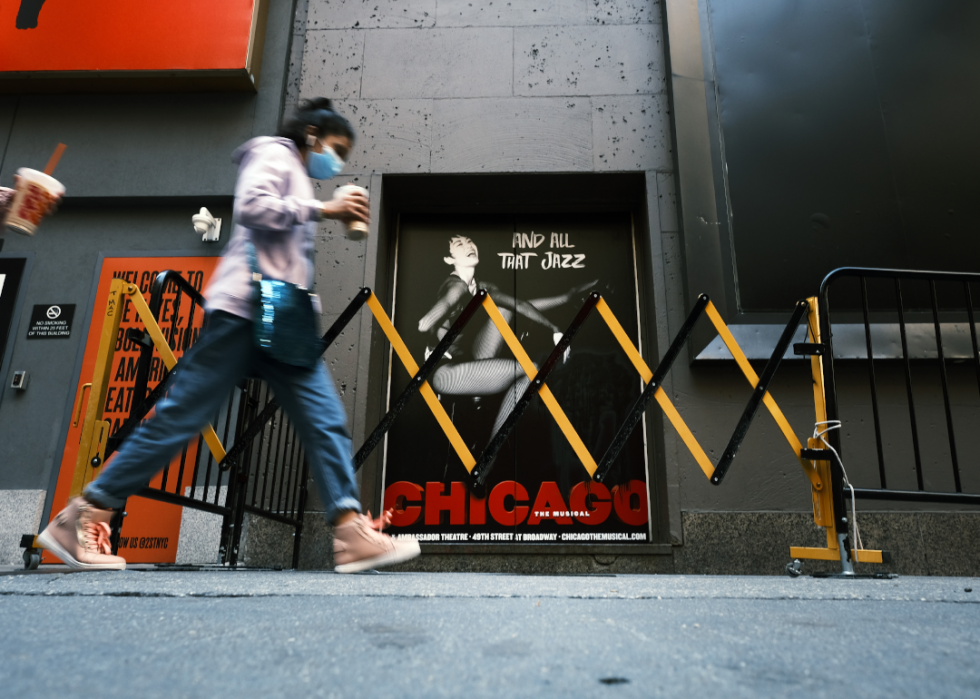 46 / 50
Spencer Platt // Getty Images
Broadway extends closure to May 2021
Broadway theaters stand closed along an empty street in the theater district on October 9, 2020 in New York City. The Broadway League, a trade organization representing producers and theater owners, announced that performances in New York City will be suspended through May 30, of 2021 due to the coronavirus outbreak. Broadway shows are one of New York City's largest tourist attractions bringing in an estimated $1.75 billion in ticket sales last year alone.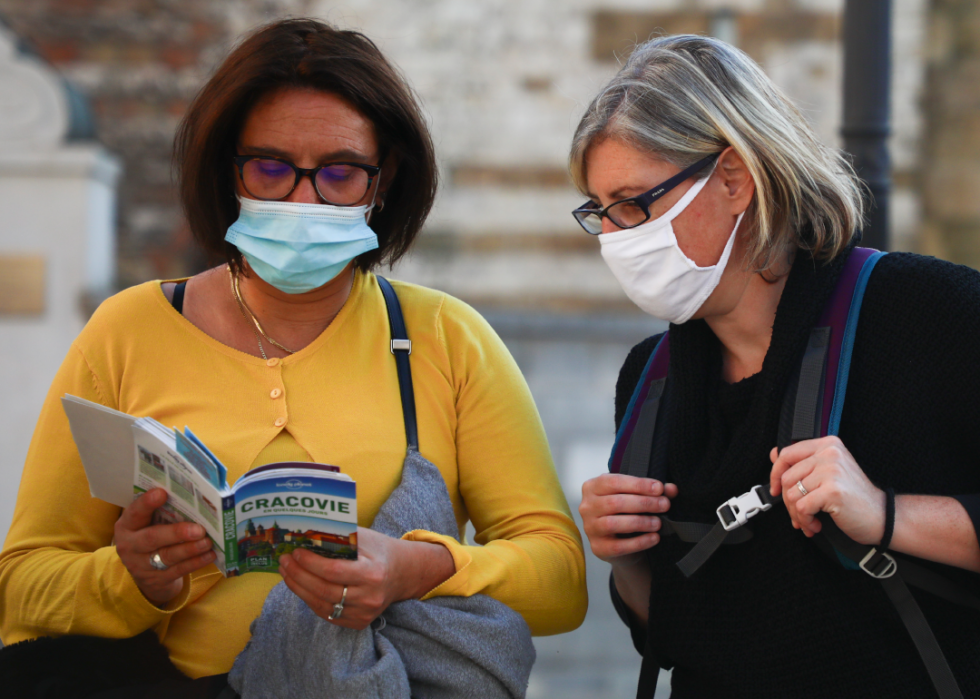 47 / 50
Beata Zawrzel/NurPhoto via Getty Images
Poland enters coronavirus yellow zone
Tourists are seen wearing protective face masks while viting Krakow, Poland on October 9th, 2020. Due to the increasing spread of COVID-19 in Poland the entire territory of the country was designated as 'yellow' zone as of Saturday, October 10. Within yellow zones, covering the mouth and nose outdoors will now be obligatory in public space. The restrictions will also be enforced at gatherings and events, where the number of people allowed to participate in the event will be limited to 75.
48 / 50
James D. Morgan // Getty Images
Scenic flight loop in Australia
Passengers onboard a Qantas flight number QF787, a Boeing 787 Dreamliner aircraft as it flies over the Uluru-Kata Tjuta National Park, Northern Territories on October 10, 2020 in Australia. With international and domestic border closures due to the COVID-19 pandemic putting a halt on travel, the Qantas Great Southern Land Scenic flight will take 150 passengers on an aerial tour over iconic Australian destinations. The seven-hour scenic flight on board a Qantas 787 Dreamliner aircraft - usually used for long haul international flights - will perform a loop from Sydney up to locations along the New South Wales and Queensland coasts as well as Uluru in the Northern Territory before landing back in Sydney.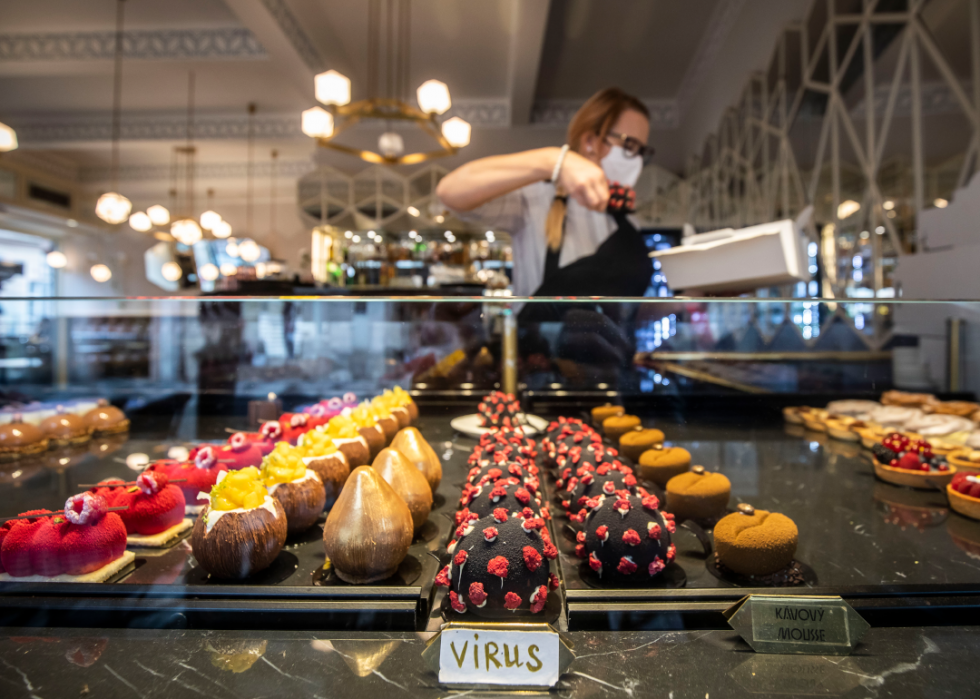 49 / 50
Gabriel Kuchta // Getty Images
Prague adapts to tougher Covid-19 measures
A waitress boxes a dessert in the shape of a coronavirus at a coffee shop on October 10, 2020 in Prague, Czech Republic. After relaxing almost all restrictive measures in the summer, the Czech government has responded to one of the worst spikes in European countries by declaring a state of emergency. That has been accompanied by restrictions ranging from limiting public events to closing restaurants and pubs at 8pm.]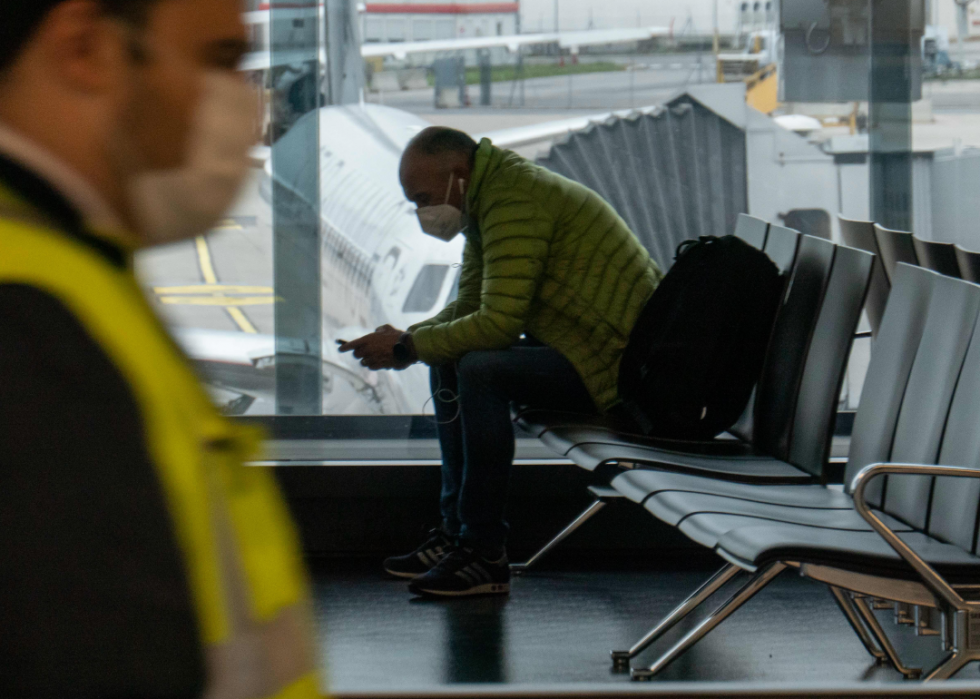 50 / 50
Nicolas Economou/NurPhoto via Getty Images
Airport scene in Vienna
A passenger wearing a face mask waits in front of the window at the Vienna International Airport in Austria. Due to a second wave of the pandemic looming and as cases are increasing, face masks have become mandatory for both airport staff and passengers, as are social distancing measures and disinfecting hand sanitizers are located everywhere throughout the airport.