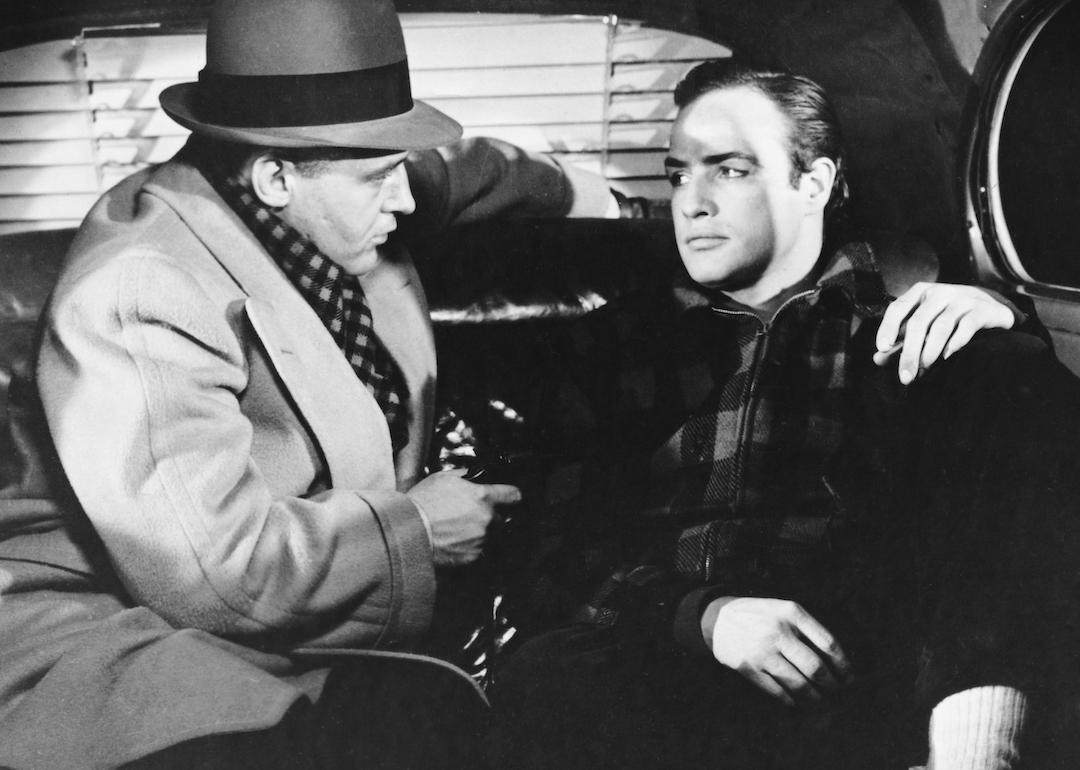 Famous movie quotes from the year you were born
John Springer Collection/CORBIS/Corbis via Getty Images
Famous movie quotes from the year you were born
Movies have become an integral part of the human experience over the past 100 years. Before television or the internet, movie theaters introduced audiences to stories of comedy, love, war, and struggle.
Although there are thousands of movies and countless lines of dialogue, hundreds of movie quotes have stood out and stood the test of time. Some lines are inserted by the screenwriter purposefully, to move the story along and provide insights into the main character, as with the "Love Story" line "Love means never having to say you're sorry." Sometimes, it's one word that wraps the entire story up into a nice bow as in "Citizen Kane" with the singular line "Rosebud."
Stacker researched a number of online movie resources to compile a slideshow of famous movie quotes from the last 100 years. We looked at AFI's 100 Years ...100 Movie Quotes, Hollywood Reporter's list of the most misquoted films, the IMDb database was a valuable resource for character and actor names, and Screencraft and ScreenCrush were additional resources. For some silent films from the 1920s, where quotes aren't readily available online, we popped some popcorn and watched the artistry of Charlie Chaplin and Mary Pickford.
In equal measure to significant movie quotes that carry plots forward are great lines that have no real tie-in to the storylines. These utterances were never meant to stand out or mean much, but they stuck in the minds of moviegoers, nevertheless. Lines such as "I'll be back" in "Terminator," and "Dishes are done, man" in "Don't Tell Mom the Babysitter's Dead." Some popular lines were never even meant to be in a movie in the first place. Like when Dustin Hoffman hits the hood of a cab in "Midnight Cowboy," yelling, "I'm walkin' here!" Hoffman later said that he hit the cab in frustration because it got in the way while filming.
Hearing a familiar movie quote can transport us back in time to the first time we enjoyed a first date at the drive-in, a friend's night out at the movies, or family Netflix night with popcorn. These lines have also become part of the American lexicon; being drawn upon as retorts, terms of endearment, or as inside jokes for generations to come. It's for this reason that so many of us recall movie quotes in much the same way we recall song lyrics. Whether written in black-and-white during a silent movie, sung to the audience in a musical, voiced by a colorful animated character, or delivered by a big-screen heartthrob, a memorable movie quote helps tie the audience to a specific time and place.
Keep reading for a trip down memory lane and to see which of these movie quotes you know by heart.
1921: The Three Musketeers
- Quote: "Pardon me, madame, I must kill your friend."
- Character: D'Artagnan
- Actor: Douglas Fairbanks
A young gentleman arrives in Paris wanting to join the king's Musketeers and is welcomed into the group. They fight alongside one another to defend France and the honor of a young lady.
1922: Blood and Sand
- Quote: "Mi Querida—forgive—I—I love only you."
- Character: Juan Gallardo
- Actor: Rudolph Valentino
After losing a bullfight and on his deathbed, bullfighter and cheating husband Juan asks his wife for forgiveness in "Blood and Sand." Despite the fact that he was flirting with his lover just moments before the bullfight, he tells her that he loves only her.
1923: Safety Last!
- Quote: "You be there, or I will be through!"
- Character: Harold
- Actor: Harold Lloyd
In the middle of scaling the side of a building to escape a policeman that he pushed over, Harold's friend Bill tells him to keep climbing, and he'll be there to help him in the window. Getting tired of climbing, Harold assures Bill that if he isn't at the next floor, he'll be through, one way or another.
1924: The Thief of Baghdad
- Quote: "I can bear a thousand tortures, endure a thousand deaths—but not thy tears."
- Character: The Thief of Baghdad
- Actor: Douglas Fairbanks
The Thief of Baghdad takes what he wants, including lovely maidens like The Princess, but when she doesn't want him, and begins to cry, he is distraught, and utters a heartfelt apology. Guards take him and flog him, but The Princess comes to his rescue.
1925: The Gold Rush
- Quote: "Oh! You've spoilt the picture."
- Character: photographer
- Actor: uncredited
In this final scene of "The Gold Rush," the Lone Prospector (Charlie Chaplin) is finally rich and photographers are taking photos of him to document his life. He sees an old friend, Georgia (Georgia Hale) on the ship and tells photographers the couple are engaged. The two kiss as flashbulbs go off, "ruining" the photo.
1926: Sparrows
- Quote: "They're perfect little angels."
- Character: Molly
- Actor: Mary Pickford
In this silent, subtitled film, Mary Pickford stars as an older sibling who is forced to take care of and eventually rescue all of her younger siblings from neglect. When a man offers to take in her and her siblings, he worries about having 10 children running around the house, but Molly says that they're perfect little angels.
1927: The Jazz Singer
- Quote: "Wait a minute! Wait a minute! You ain't heard nothin' yet."
- Character: Jack Robin
- Actor: Al Jolson
Originating from a short story titled "The Day of Atonement," "The Jazz Singer" was considered the first feature-length film with synchronized talking and singing that was recorded live. The story centers around a teenager who doesn't want to follow in the footsteps of his father, a Jewish cantor, preferring to become a jazz singer. Since the film is considered one of the first talkies, the quote "You ain't heard nothin' yet" is especially significant.
1928: The Crowd
- Quote: "Marriage is not a word, it's a sentence."
- Character: John Sims
- Actor: James Murray
A once-hopeful John Sims moves to New York City and ends up in a dead-end job and hopeless marriage. Tragedy strikes, and he must choose whether to stay or walk away.
1929: The Broadway Melody
- Quote: "One more crack from you, bimbo, and you'll be holding a lily!"
- Character: Harriet "Hank" Mahoney
- Actor: Bessie Page
The word "bimbo" was first used as a derogatory term toward women in a 1927 edition of Vanity Fair. Used here, a fellow stage dancer threatens another in "The Broadway Melody," the first talkie to win Best Picture at the Oscars.
1930: The Big House
- Quote: "Gee ... it reminds me of Sadie. Gee, Sadie was a good skirt. I shouldn't have slipped her that ant poison. I should have just battered her in the jaw a few times."
- Character: "Machine Gun" Butch Schmidt
- Actor: Wallace Beery
This brash prisoner chatter among inmates was written by screenwriter Frances Marion, who won an Oscar for her screenplay of "The Big House." The movie centers around a prisoner who falls in love with his cellmate's sister, and their subsequent plan to break out.
1931: Dracula
- Quote: "To die, to be really dead, that must be glorious!"
- Character: Count Dracula
- Actor: Bela Lugosi
Count Dracula, who is actually a vampire, drugs a real estate agent and they both go to London, where Dracula searches for unbeknownst female victims. Dracula's quote gives the viewer a glimpse inside the villain's mind.
1932: Grand Hotel
- Quote: "And what do you do in the Grand Hotel? Eat. Sleep. Loaf around. Flirt a little, dance a little. A hundred doors leading to one hall. No one knows anything about the person next to them. And when you leave, someone occupies your room, lies in your bed ... that's the end."
- Character: Doctor Otternschlag
- Actor: Lewis Stone
A diverse cast of characters meet each other inside Berlin's Grand Hotel during the 1920s. Flirting, dancing, and more ensues. The original MGM Grand in Las Vegas, where Bally's now sits, was designed to resemble the look of the film.
1933: She Done Him Wrong
- Quote: "Listen, when women go wrong, men go right after them."
- Character: Lady Lou
- Actor: Mae West
Well-known for delivering clever one-liners, Mae West delivers plenty in this movie about a popular saloon singer with a number of gentleman suitors, and a side gig running a prostitution racket.
1934: It Happened One Night
- Quote: "I proved once and for all that the limb is mightier than the thumb."
- Character: Ellie Andrews
- Actor: Claudette Colbert
Playing opposite Clark Gable, Claudette Colbert's character Ellie Andrews delivers this line after successfully stopping a car for a ride by showing her leg instead of her thumb while hitchhiking. The movie earned Colbert an Oscar for Best Actress.
1935: The Bride of Frankenstein
- Quote: "I want friend like me."
- Character: The Monster
- Actor: Boris Karloff
"The Bride of Frankenstein," which is not a sequel but actually the second half of the original book, almost wasn't made. In this scene, the monster wants a friend like himself. And Dr. Frankenstein gave him more than a friend—he promised him a female mate.
1936: The Great Ziegfeld
- Quote: "Look at ya'. You're workin' for Mr. Ziegfeld now, and ya' look like a million dollars. For the first time in your life, you're class, ya' mug."
- Character: Fanny Brice
- Actor: Fanny Brice
Comedian and authentic Ziegfeld Follies star Fanny Brice stood out despite her small role in "The Great Ziegfeld." The film chronicles the life of Florence Ziegfeld Jr. while he was producing stage revues.
1937: Snow White and the Seven Dwarfs
- Quote: "Magic mirror on the wall, who is the fairest one of all?"
- Character: Queen
- Actor: Lucille La Verne
In this Walt Disney animated classic, the evil queen is surprised when her mirror does not say that she is the fairest one in all the land. She sets out to destroy Snow White in order to regain her standing.
1938: You Can't Take it With You
- Quote: "I mean, people spend their whole lives building castles in the air and then nothing ever comes of it."
- Character: Tony Kirby
- Actor: Jimmy Stewart
Tony Kirby, a member of a family of rich snobs, falls in love with a woman from an eccentric family. Her focus on having fun, not money, rubs off on Kirby.
1939: Gone With the Wind
- Quote: "Frankly my dear, I don't give a damn."
- Character: Rhett Butler
- Actor: Clark Gable
There were no rating systems in the early days of cinema, but the government often tried to get certain words tossed out of scripts. The word "damn" almost didn't make it into this memorable line. Alternative words that were floated before "damn" was approved included "I don't give a straw" and "I don't give a whoop!"
1940: Knute Rockne, All American
- Quote: "Ask 'em to go in there with all they've got. Win just one for the Gipper."
- Character: George Gipp
- Actor: Ronald Reagan
Notre Dame football coach Knute Rockne told his team at halftime during a 1928 Notre Dame-Army game the story of a former player named George Gipp who, while on his deathbed, had delivered this quoted request to Rockne. Ronald Reagan used the quote decades later during his presidential run; it was again invoked soon after his death in 2004 during the Bush-Cheney campaign for reelection.
1941: Citizen Kane (1941)
- Quote: "Rosebud."
- Character: Citizen Kane
- Actor: Orson Welles
Spoiler warning: The last word uttered by a rich man on his deathbed, "Rosebud" was a subconscious reference to the sled that Citizen Kane had the day he was taken away from his mother.
1942: Casablanca
- Quote: "Louis, I think this is the beginning of a beautiful friendship."
- Character: Rick Blaine
- Actor: Humphrey Bogart
After Rick Blaine helps his ex-lover escape capture by the police in Casablanca, Captain Louis Renault does not turn Rick in to the authorities. As the two men walk away into the fog, Rick realizes Renault may be a friend he wants to hold onto for a while.
1943: For Whom the Bell Tolls
- Quote: "If you don't love me, I'll love you enough for both of us."
- Character: Maria
- Actor: Ingrid Bergman
An American finds love during the Spanish Civil War while on a mission to destroy a bridge. Maria, played by Ingrid Bergman, must leave the injured Robert Jordan behind in the end if she expects any chance to live.
1944: Meet Me in St. Louis
- Quote: "Oh, Rose. You're so stuck up."
- Character: Agnes Smith
- Actor: Joan Carroll
In this family comedy, four sisters and their parents have to move from St. Louis to New York. Agnes, one of the youngest, tells the others about how she and her other little sister tied a stuffed dress to tracks in the hope of derailing a streetcar. Her older sister calls her a murderer, saying she could have killed someone. Agnes retorts with this classic line.
1945: The Naughty Nineties
- Quote: "Who's on first?"
- Character: Dexter Broadhurst
- Actor: Bud Abbott
In this memorably frustrating back-and-forth comedic dialogue between Bud Abbott and Lou Costello, Abbott explains which baseball players are in the game. Meanwhile, Costello works in earnest to figure out what he's talking about.
1946: Nobody Lives Forever
- Quote: "People like me don't change."
- Character: Nick Blake
- Actor: John Garfield
Nick Blake is set to run a con on a young, rich widow. Instead, the two fall for each other. She wants to be with Nick, but he explains to her the reality of the situation in blunt terms.
1947: Miracle on 34th Street
- Quote: "All my life I've wondered something, and now's my chance to find out. I'm going to find the answer to a question that's puzzled the world for centuries. Does Santa Claus sleep with his whiskers outside or in?"
- Character: Fred Gailey
- Actor: John Payne
In this Christmas classic, a nice old man claims to be the "real" Santa Claus. When those around him call him insane, a lawyer steps in to defend him in court.
1948: The Treasure of the Sierra Madre
- Quote: "Badges? We ain't got no badges. We don't need no badges. I don't have to show you any stinking badges."
- Character: Gold Hat
- Actor: Alfonso Bedoya
Filmed in Mexico, two Americans team up with a gold prospector to mine for gold in the mountains. One day, the Mexican mountain police find them mining; when the miners ask them for badges, Gold Hat says they don't need badges—in other words, they're the law, and what they say goes.
1949: She Wore a Yellow Ribbon
- Quote: "Never apologize, mister. It's a sign of weakness."
- Character: Captain Nathan Cutting Brittles
- Actor: John Wayne
John Wayne said this was one of his favorite roles, and felt that his Academy Award for Best Actor in 1949 should have been for this role. While this line is mixed in a conversation in the movie, it still stood out for its statement and is still referenced today.
1950: Sunset Boulevard
- Quote: "Alright, Mr. DeMille, I'm ready for my close-up."
- Character: Norma Desmond
- Actor: Gloria Swanson
An often misquoted line, Gloria Swanson delivers this line perfectly as a delusional actress who is under suspicion of murder. When the news cameras show up to cover the breaking news, Norma believes that it's director Cecil B. DeMille.
1951: A Streetcar Named Desire
- Quote: "I've always depended on the kindness of strangers."
- Character: Blanche DuBois
- Actor: Vivien Leigh
After losing her property in Mississippi, Blanche DuBois moves to New Orleans to live with her sister and brother-in-law. Actress Blanche Marvin once claimed to be the inspiration behind this famous quote, while most accounts have said that Tennessee Williams' sister was the inspiration for Blanche.
1952: The Greatest Show on Earth
- Quote: "That was close to the finale."
- Character: Angel
- Actor: Gloria Grahame
"The Greatest Show on Earth" won Best Motion Picture of 1952 for its portrayal of a traveling circus. In this scene, Angel has an elephant's foot hovering just inches from her face as she's threatened by another performer. Director Cecil B. DeMille reportedly insisted that the elephant be real for the scene.
1953: From Here to Eternity
- Quote: "You're already married. To the Army."
- Character: Karen Holmes
- Actor: Deborah Kerr
In 1941 Hawaii, an Army sergeant (Burt Lancaster) falls in love and has an affair with the captain's wife. She hopes to run off together; but when the sergeant says he isn't cut out for civilian life, she realizes who he's truly loyal to.
1954: On the Waterfront
- Quote: "You don't understand! I coulda had class. I coulda been a contender. I could've been somebody, instead of a bum, which is what I am."
- Character: Terry Malloy
- Actor: Marlon Brando
In the role that won Marlon Brando an Oscar, Brando didn't want to say this line. He felt it wasn't believable that he'd be able to reason with his brother, who had a gun to his ribs. Brando was even said to have been depressed by his performance when he saw the screening of the picture.
1955: Guys and Dolls
- Quote: "I am not putting the knock on dolls. It's just that they are something to have around only when they come in handy... like cough drops."
- Character: Sky Masterson
- Actor: Marlon Brando
Tough guy Sky Masterson takes a bet that he can get a woman to go with him to Havana. His attitude is just that, all attitude, as he eventually falls in love with the girl in this comedy musical.
1956: Around the World in 80 Days
- Quote: "Never be in a hurry. You'll miss the best parts in life."
- Character: Saloon Hostess
- Actor: Marlene Dietrich
An Englishman wants to circle the globe in 80 days. In this scene, a saloon hostess tells him to slow down, while another man instructs him to move along.
1957: An Affair to Remember
- Quote: "If you can paint, I can walk... Anything can happen, don't you think?"
- Character: Terry McKay
- Actor: Deborah Kerr
In a scene moviegoers could never forget, two separated lovers reconnect after one was in an accident and left unable to walk. Terry has hidden her injury from Nickie (Cary Grant). When he finds out, everything comes together and the two embrace.
1958: Auntie Mame
- Quote: "Life is a banquet, and most poor suckers are starving to death!"
- Character: Mame Dennis
- Actor: Rosalind Russell
In "Auntie Mame," an orphan goes to live with his Auntie Mame, an eccentric socialite. In this scene, Mame Dennis tries to convince her secretary to get spruced up and take her place on a date but her secretary doesn't take the bait.
1959: The Diary of Anne Frank
- Quote: "There are no walls, no bolts, no locks that anyone can put on your mind."
- Character: Otto Frank
- Actor: Joseph Schildkraut
"The Diary of Anne Frank," based on the book of the same name, chronicles the true story of a Jewish teen and her family as they hide from the Nazis during World War II. Anne's father, Otto, gives her a diary and explains that while she may not go outside her mind can go anywhere.
1960: Psycho
- Quote: "A boy's best friend is his mother."
- Character: Norman Bates
- Actor: Anthony Perkins
In this psychological thriller by Alfred Hitchcock, Anthony Perkins plays a deranged man who keeps his mother's corpse in his house next door to the strip motel he runs. . When unsuspecting Marion—also a thief running from the law—stops to spend a night in the motel, she asks Norman if he ever goes out with any friends; this is his decidedly unsettling reply.
1961: A Raisin in the Sun
- Quote: "A man say to his woman, 'I got me a dream.' She says, 'Eat your eggs, they're getting cold.'"
- Character: Walter Lee Younger
- Actor: Sidney Poitier
In this scene, Walter implies to his wife that she doesn't care about his dreams—she only cares about running the house and making sure he stays fed. The line clearly demonstrates his feelings about her lack of enthusiasm for his ambition.
1962: The Longest Day
- Quote: "I don't have to tell you the story. You all know it. Only two kinds of people are gonna stay on this beach: those that are already dead and those that are gonna die. Now get off your butts. You guys are the Fighting 29th."
- Character: Brigadier General Norman Cota
- Actor: Robert Mitchum
"The Longest Day" is a fictional reenactment of the Invasion of Normandy, as told from two points of view. In this line, which differs slightly from historical accounts, Brigadier Gen. Norman Cota wants his soldiers to hustle and get off of the beach before they get attacked.
1963: Tom Jones
- Quote: "It's a good night to be abroad and looking for game."
- Character: Tom Jones
- Actor: Albert Finney
Nominated for five Oscars, "Tom Jones" is a rom-com adventure movie that tells the story of amorous Tom in 18th-century England.
1964: Goldfinger
- Quote: "Just a drink. A martini. Shaken, not stirred."
- Character: James Bond
- Actor: Sean Connery
One of the most referenced quotes in a movie series' history, this line—said by someone else in the first James Bond film—was uttered by Bond himself in the second film. The quote would go on to be repeated in dozens of films (and thousands of bars) around the world.
1965: The Sound of Music
- Quote: "You may call me... Captain."
- Character: Captain Von Trapp
- Actor: Christopher Plummer
In this scene, Captain Von Trapp instructs Maria, who has just left an Austrian convent to help raise the widower's children, to use a whistle when dealing with the children. Maria dislikes the idea; as the Captain walks away, she blows the whistle at him, feigning she didn't know what his signal was.
1966: Alfie
- Quote: "Make a married woman laugh, and you're halfway there with her."
- Character: Alfie
- Actor: Michael Caine
Michael Caine plays the part of playboy Alfie, juggling multiple women and always ready to look into the camera and share free, questionable, advice with moviegoers. This line implies that every time Alfie is able to make a married woman laugh with one of his jokes, he can usually get them to sleep with him.
1967: Cool Hand Luke
- Quote: "What we've got here is failure to communicate."
- Character: Captain
- Actor: Strother Mather
Captain has gotten tired of chain gang member Luke, played by Paul Newman, smart-mouthing him. The Captain says this line to Luke after yelling at him, hitting him, and pushing him into the dirt.
1968: Planet of the Apes
- Quote: "Take your stinkin' paws off me, you damn dirty ape!"
- Character: George Taylor
- Actor: Charlton Heston
Three astronauts land on a planet where apes rule, and the first words spoken to them by Charlton Heston's character, as he's trapped inside a net, are for them to take their paws off of him. This quote is often misquoted, using the word "get" instead of take.
1969: Midnight Cowboy
- Quote: "I'm walkin' here!"
- Character: Ratso Rizzo
- Actor: Dustin Hoffman
This iconic scene where Dustin Hoffman's character slapped the hood of a taxi that nearly hit him crossing the street was improvised. Hoffman said in an interview with Vanity Fair that they had to shoot the scene so many times that when they finally were crossing the street and the taxi ran the light, he was so frustrated that he hit the hood and yelled at the driver.
1970: Love Story
- Quote: "Love means never having to say you're sorry."
- Character: Jennifer Cavalleri
- Actor: Ali MacGraw
One of the most famous lines in movie history, many fans believe this dialogue between characters Jennifer Cavalleri and Oliver Barrett IV, played by Ryan O'Neal, to mean that, when you truly love someone, you accept them, and they don't have to apologize for the way they are.
1971: Dirty Harry
- Quote: "You've gotta ask yourself one question. Do I feel lucky? Well do ya, punk?"
- Character: Harry Callahan
- Actor: Clint Eastwood
In this scene, police inspector Harry Callahan is pointing a gun at a bad guy and says he can't remember how many shots he has already fired. Some believe the "I'm feeling lucky" button on Google was inspired by this famous quote.
1972: The Godfather
- Quote: "I'm gonna make him an offer he can't refuse."
- Character: Vito Corleone
- Actor: Marlon Brando
In "The Godfather," when you want a favor, there's only one person to go to: Vito Corleone. When Johnny Fontane wants help landing a film role, Corleone says he'll make an offer that the head of the studio won't be able to refuse.
1973: Pat Garrett and Billy the Kid
- Quote: "Keep the change, Bob."
- Character: Billy the Kid
- Actor: Kris Kristofferson
In this western movie set in 1881 and directed by Sam Peckinpah, this famous line is delivered after Billy the Kid shoots Sheriff Olinger with a shotgun loaded with dimes.
1974: The Godfather Part II
- Quote: "Keep your friends close, but your enemies closer."
- Character: Michael Corleone
- Actor: Al Pacino
After someone tries to assasinate Corleone, he meets with one of his underlings to let him know that he's going to act like he doesn't know who ordered the hit on him. He says that keeping his enemies closer will help him weed out what's going on.
1975: Jaws
- Quote: "You're gonna need a bigger boat."
- Character: Chief Brody
- Actor: Roy Sheider
This famous "Jaws" line has found its way into the American lexicon since. In fact, the line was an inside joke on the set: There were so many issues and setbacks during filming, cast members were known to say, "You're gonna need a bigger boat."
1976: Taxi Driver
- Quote: "You talkin' to me?"
- Character: Travis Bickle
- Actor: Robert De Niro
Robert De Niro was told by director Martin Scorsese to talk to himself in the mirror for this memorable scene. De Niro improvised, taking inspiration from the 1967 Marlon Brando movie "Reflections in a Golden Eye" when Brando also practiced addressing someone in front of a mirror.
1977: Annie Hall
- Quote: "La-dee-da, la-dee-da, la, la."
- Character: Annie Hall
- Actor: Diane Keaton
In this extremely awkward interaction between Annie and Alvy, played by Woody Allen, Annie fumbles her words, asks odd questions, and accidentally offers Alvy a ride home. She returns to this line throughout the movie, establishing its firm place in decades of banter since.
1978: Superman
- Quote: "I'm here to fight for truth, justice, and the American way."
- Character: Superman
- Actor: Christopher Reeve
Christopher Reeve was an unknown actor before starring in "Superman" and its sequels. This movie set him up for stardom—and countless female admirers.
1979: Apocalypse Now
- Quote: "I love the smell of napalm in the morning."
- Character: Lt. Colonel Bill Kilgor
- Actor: Robert Duvall
Set at the height of the Vietnam War, this line in "Apocalypse Now" is meant to show the audience that the colonel considers napalm a familiar smell. He also says that the smell makes him think of "victory."
1980: The Empire Strikes Back
- Quote: "No. I am your father."
- Character: Darth Vader
- Actor: James Earl Jones
In a surprising twist that was kept secret until moments before the scene was shot, Darth Vader reveals himself as Luke Skywalker's father. It was a shock to moviegoers, and the quote lived on in history—albeit misquoted the majority of the time.
1981: On Golden Pond
- Quote: "Listen to me, Mister. You're my knight in shining armor. Don't you forget it. You're going to get back on that horse, and I'm going to be right behind you, holding on tight, and away we're gonna go, go, go!"
- Character: Ethel Thayer
- Actor: Katherine Hepburn
When Ethel's husband Norman (Henry Fonda) tells her nothing looked familiar to him when he tried to drive to town, she's supportive and says they'll go to town together. She reassures him she will always stand by him.
1982: Poltergeist
- Quote: "They're heeeeere."
- Character: Carol Anne Freeling
- Actor: Heather O'Rourke
In a scene that freaked everyone out the first time they saw it, little Carol Anne Freeling stares into the static of the television set and says, "They're heeeeere," to let everyone know that the demonic ghosts are back.
1983: Sudden Impact
- Quote: "Go ahead. Make my day."
- Character: Dirty Harry Callahan
- Actor: Clint Eastwood
Independent filmmaker Charles B. Pierce wrote this line into "Sudden Impact." It was a threat Pierce's father used to tell him for not mowing the lawn. In the movie, Dirty Harry utters the line after shooting a number of thieves inside a diner and then facing off against the last one.
1984: Terminator
- Quote: "I'll be back."
- Character: Terminator
- Actor: Arnold Schwarzenneger
One of the most repeated movie quotes of all time, Schwarzenneger's famous "I'll be back" line was almost "I will be back." The star told director James Cameron that he had a hard time saying the word "I'll," but Cameron pressed Schwarzenneger to keep practicing the line and it paid off.
1985: Back to the Future
- Quote: "I guess you guys aren't ready for that yet, but your kids are gonna love it."
- Character: Marty McFly
- Actor: Michael J. Fox
Marty said this after he played Chuck Berry's "Johnny B. Goode" at a 1955 dance he time traveled to, complete with guitar solo at the end. He opened his eyes to find an awe-struck crowd on the dance floor.
1986: Aliens
- Quote: "Game over, man."
- Character: Private Hudson
- Actor: Bill Paxton
Fire and destruction all around him, Private Hudson delivered this memorable line that Bill Paxton said he improvised. The inspiration came from the end of video games when the words "game over" appear.
1987: Dirty Dancing
- Quote: "Nobody puts Baby in a corner."
- Character: Johnny Castle
- Actor: Patrick Swayze
This time-honored quote comes at the finale when Johnny Castle makes his entrance into the summer retreat talent show to dance one last dance with Baby. He approaches the table where Baby is sitting in the corner, and tells her parents, "Nobody puts Baby in a corner." Turns out, Patrick Swayze didn't want to say the line. Film fans are glad he did.
1988: A Fish Called Wanda
- Quote: "Apes don't read philosophy."
- Character: Otto
- Actor: Kevin Kline
Four criminals team up to commit a heist in London, only to turn against each other. In this scene, Wanda, played by Jamie Lee Curtis, argues with Otto about his stupidity and how he's messing up the plan.
1989: Field of Dreams
- Quote: "If you build it, he will come."
- Character: Ray Kinsella
- Actor: Kevin Costner
Often mistaken for a baseball movie, "Field of Dreams" is a father and son movie. It's the story of a deceased and estranged father attempting to reconnect with his son. In the line, "If you build it, he will come," the "he" refers to Ray's father, who, in the end, appears on the baseball field.
1990: Home Alone
- Quote: "I'm eating junk food and watching rubbish. You better come out and stop me."
- Character: Kevin
- Actor: Macaulay Culkin
When little Kevin McCallister is accidentally left home alone when the entire family leaves town for Christmas vacation, he's ecstatic, at first. However, after a while, he starts to wonder what's going on. Maybe the family is just hiding. He gathers all of the junk food he can find and pops in an R-rated movie, trying to see if anyone stops him.
1991: Don't Tell Mom the Babysitter's Dead
- Quote: "Dishes are done, man."
- Character: Kenny
- Actor: Keith Coogan
In this cult classic, teens are left to run the house on their own when their crotchety babysitter drops dead unexpectedly. In this memorable scene, brother Kenny shoots dishes out of the air like clay pigeons as they're tossed off the family roof.
1992: A League of Their Own
- Quote: "There's no crying in baseball."
- Character: Jimmy Dugan
- Actor: Tom Hanks
Washed-up baseball manager Jimmy Doyle is left in charge of an all-female baseball team in "A League of Their Own." In one of many situations that leave him dumbfounded and confused, one of the players starts crying after he yells at her, prompting him to say this famous line.
1993: Dazed and Confused
- Quote: "Alright, alright, alright."
- Character: David Wooderson
- Actor: Matthew McConaughey
Set in a 1976 Texas high school, Matthew McConaughey makes his on-screen debut in what was supposed to be a small part. He ends up stealing the spotlight as the film's ladies' man. During a scene at a hamburger joint, McConaughey's character looks out his car window and, inspired by a live recording of The Doors, delivers this line. The phrase stuck; he even repeated it during his 2014 acceptance speech at the Academy Awards.
1994: Forrest Gump
- Quote: "Life is a box of chocolates, Forrest. You never know what you're gonna get."
- Character: Mrs. Gump
- Actor: Sally Field
Sally Field's character, Mrs. Gump, delivered this line to Tom Hanks' character, Forrest, while on her deathbed. Forrest asks her what his destiny is, and she explains that everyone has to create their own destiny, and no one knows what will happen. In 1995, Bruce Springsteen sang the famous line in his song, "My Best Was Never Good Enough."
1995: Babe
- Quote: "That'll do pig. That'll do."
- Character: Farmer Hoggett
- Actor: James Cromwell
Adorable pig Babe had just been asked to herd a bunch of sheep in the national sheep-herding competition. He faltered at first, until his buddy Rex, the sheep dog, helped him out. When all was over, he looked up at Farmer Hoggett, who delivered this line through watery eyes.
1996: Jerry Maguire
- Quote: "Show me the money!"
- Character: Jerry Maguire
- Actor: Tom Cruise
One of the most quoted movies of the late 1990s, "Show me the money" was one of two wildly popular quotes from the movie, which also included, "You complete me." Tim McDonald says he was the originator of the quote, and the inspiration for Cuba Gooding Jr.'s character Rod Tidwell. The former defensive back for the Phoenix, now Arizona, Cardinals, says he's hoping to receive more acknowledgement for the quote and his part in the story someday.
1997: Titanic
- Quote: "I'm the king of the world!"
- Character: Jack Dawson
- Actor: Leonardo DiCaprio
This iconic quote from one of the most romantic movies of 1997 almost didn't make it into the script. According to director James Cameron, the famous line was made up on the spot, with DiCaprio not initially sold on it but eventually making it work.
1998: Life is Beautiful
- Quote: "What's the prize?"
- Character: Joshua
- Actor: Giorgio Cantarini
This Italian movie, subtitled in English, chronicles the life of an Italian family that has been taken to a Nazi concentration camp. Guido attempts to protect his son Joshua from the realities of what's happening by telling him that it's just a game, and in the end, if he earns enough points, he'll win a prize.
1999: Life
- Quote: "You gonna eat your cornbread?"
- Character: Goldmouth
- Actor: Michael Taliferro
"Life" tells the story of two prisoners, played by Eddie Murphy and Martin Lawrence, who were wrongly convicted of murder and forced to serve life sentences at Mississippi's Parchman Farm. This question was asked of Lawrence's character as a sort of test to see if he'd cave to the whims of fellow prisoners.
2000: Meet the Parents
- Quote: "Can you milk me?"
- Character: Jack Byrnes
- Actor: Robert De Niro
Robert De Niro doesn't disappoint with his comedic lines in "Meet the Parents." When his future son-in-law, played by Ben Stiller, says that he once milked a cat, and that anything can be milked, De Niro looks at him across the dinner table, and asks, with a straight face, if he can milk him.
2001: Zoolander
- Quote: "This building has to be at least ... three times bigger than this."
- Character: Derek Zoolander
- Actor: Ben Stiller
Derek Zoolander may have been "ridiculously good looking," but he was also ridiculously dim-witted. There were examples in scenes like this, when Zoolander was looking at an architectural model of the future Derek Zoolander Center for Kids Who Can't Read Good.
2002: The Lord of the Rings: The Two Towers
- Quote: "My precious."
- Character: Gollum
- Actor: Andy Serkis
The "precious" item being referenced here is The One Ring of Power, in the possession of Frodo, and which Gollum wants back in this scene. Gollum sneaks down a rocky cliff, and when questioned about what was stolen, delivers this line.
2003: Finding Nemo
- Quote: "Just keep swimming!"
- Character: Dory
- Actor: Ellen Degeneres
"Finding Nemo" taught a lot of lessons, like never giving up no matter what. It's reinforced when Dory tells Nemo to just keep swimming when life gets him down.
2004: The Notebook
- Quote: "If you're a bird, I'm a bird."
- Character: Young Noah
- Actor: Ryan Gosling
This was Noah's reply when Allie said that she was a bird. It was his way of saying that he would be whatever she wanted him to be and go wherever she wanted to go, as long as they were together.
2005: Brokeback Mountain
- Quote: "I wish I knew how to quit you."
- Character: Jack Twist
- Actor: Jake Gyllenhaal
"Brokeback Mountain" paired Heath Ledger and Jake Gyllenhaal as gay ranchers. While many were not prepared for a movie that addressed the topic of two men in a relationship, others embraced it. Gyllenhaal later said in an interview that anyone who had loved before understood the feeling behind the famous quote.
2006: The Devil Wears Prada
- Quote: "I'm just one stomach flu away from my goal weight."
- Character: Emily Charlton
- Actor: Emily Blunt
After this movie debuted, people joked about the "Devil Wears Prada" diet, eating a piece of cheese if you felt fain, or waiting for the stomach flu to get you to your goal weight. Anyone who has ever tried to lose weight got a chuckle out of the movie's weight-loss jokes.
2007: Juno
- Quote: "It's probably just a food baby. Did you have a big lunch?"
- Character: Leah
- Actor: Olivia Thirlby
Title character Juno calls her friend Leah to break the news that she's pregnant. Leah, trying to reassure her friend, says that Juno probably just had a big lunch and thinks she's pregnant. Juno finally convinces Leah that she is, in fact, actually pregnant.
2008: Step Brothers
- Quote: "Did we just become best friends?"
- Character: Brennan Huff
- Actor: Will Ferrell
This is a story of two step brothers becoming fast friends, and in this scene that changes their relationship forever, the two forced-together step brothers start naming off things they both like to see if any match up. After several items match exactly, they declare that they are best friends and should go play karate in the garage.
2009: The Hangover
- Quote: "It's not a man purse. It's called a satchel. Indiana Jones wears one."
- Character: Alan Garner
- Actor: Zach Galifianakis
After a crazy bachelor party night in Vegas, three friends can't remember the events of the night before—and can't find the bachelor. This line is one of many in which the friends make fun of each other throughout the movie.
2010: Black Swan
- Quote: "Perfection is not just about control. It's also about letting go."
- Character: Thomas Leroy
- Actor: Vincent Cassel
All Nina Sayers/The Swan Queen wants is to achieve perfection. When her instructor, Thomas Leroy, tells her that perfection is about letting go, she allows the mental illness that she's been bottling up for so long to unfold. She believes, in her mind, that she finally reaches perfection.
2011: Bridesmaids
- Quote: "What woman gives another woman a trip to Paris?"
- Character: Annie
- Actor: Kristen Wiig
In this scene, Annie is triggered during a bachelorette party for her best friend Lillian, when another woman, Helen, gifts her a trip to Paris. Annie is convinced that Helen is attempting to steal her friend away.
2012: Life of Pi
- Quote: "All of life is an act of letting go, but what hurts the most is not taking a moment to say goodbye."
- Character: Pi Patel
- Actor: Irrfan Khan
A cinematic wonder, "Life of Pi" attracted moviegoers with its cinematography and story of a boy floating in the middle of the ocean with a tiger, based on a novel of the same name. This line, which Pi said in reference to the tiger toward the end of the movie, is a reminder to everyone about how important it is to say goodbye when given the chance.
2013: The Secret Life of Walter Mitty
- Quote: "Beautiful things don't ask for attention."
- Character: Sean O'Connell
- Actor: Sean Penn
Title character Walter Mitty, played by Ben Stiller, spends the majority of this movie trying to track down Sean O'Connell so that he can develop the best possible photo for the last print issue of a magazine before it goes digital. When he finally finds him in the far reaches of the wilderness, O'Connell is watching a snow leopard, which he does not take a photo of, telling Mitty that beautiful things don't ask for attention, unlike what he's been doing throughout the film.
2014: Wild
- Quote: "I've always been someone's daughter or mother or wife. I never got to be in the driver's seat of my own life."
- Character: Bobbi
- Actor: Laura Dern
Reese Witherspoon stars in this movie based on the international bestselling biography about a woman who goes on a 1,000-mile solo hike to heal herself after the end of her marriage and her mother's death.
2015: Creed
- Quote: "As long as you're talking, you're not listening."
- Character: Rocky Balboa
- Actor: Sylvester Stallone
This movie follows legendary fictional fighter Rocky Balboa as he trains the son of Apollo Creed, who was born after his father's death. As the movie progresses, Creed learns to let go of the past and learn to listen instead of thinking he already knows everything.
2016: La La Land
- Quote: "People love what other people are passionate about."
- Character: Mia
- Actor: Emma Stone
Mia says this line to Sebastian during an argument after he's decided to do what he thought she wanted him to do. She thought he was passionate about it, when in reality, he was doing it for her. Their passions, even for one another, ultimately, don't match up.
2017: Wonder Woman
- Quote: "I will fight for those who cannot fight for themselves."
- Character: Wonder Woman
- Actor: Gal Gadot
"Wonder Woman" forced moviegoers to look at women as strong and powerful both physically and emotionally. Gal Gadot's Wonder Woman character would fight for the people—men, women, and children, who could night fight for themselves, and she didn't need a man's permission to do it.
2018: Book Club
- Quote: "If women our age were meant to have sex, God wouldn't do what he does to our bodies."
- Character: Sharon
- Actor: Candice Bergen
Four friends add "Fifty Shades of Grey" to their monthly book club, and their lives are never the same. Moviegoers have a front row seat to the weird and hilarious conversations that come up relating to topics like bondage and modern romance.
2019: Fighting With My Family
- Quote: "Don't worry about being the next me. Be the first you."
- Character: Himself
- Actor: Dwayne "The Rock" Johnson
This film is based on a true story of a family that wrestles together in small venues. When the character who plays the son meets The Rock and asks him how to handle the crowd, The Rock explains that it's not about imitating someone else, it's about creating your own persona for the audience.
2020: Jingle Jangle
- Quote: "Never be afraid when people can't see what you see. Only be afraid if you no longer see it."
- Character: Jeronicus
- Actor: Forest Whitaker
This Netflix holiday movie stars Forest Whitaker as an eccentric toymaker who inspires his adventurous granddaughter. Set in a magical world, Jeronicus' quote reminds the viewer about the importance of believing.