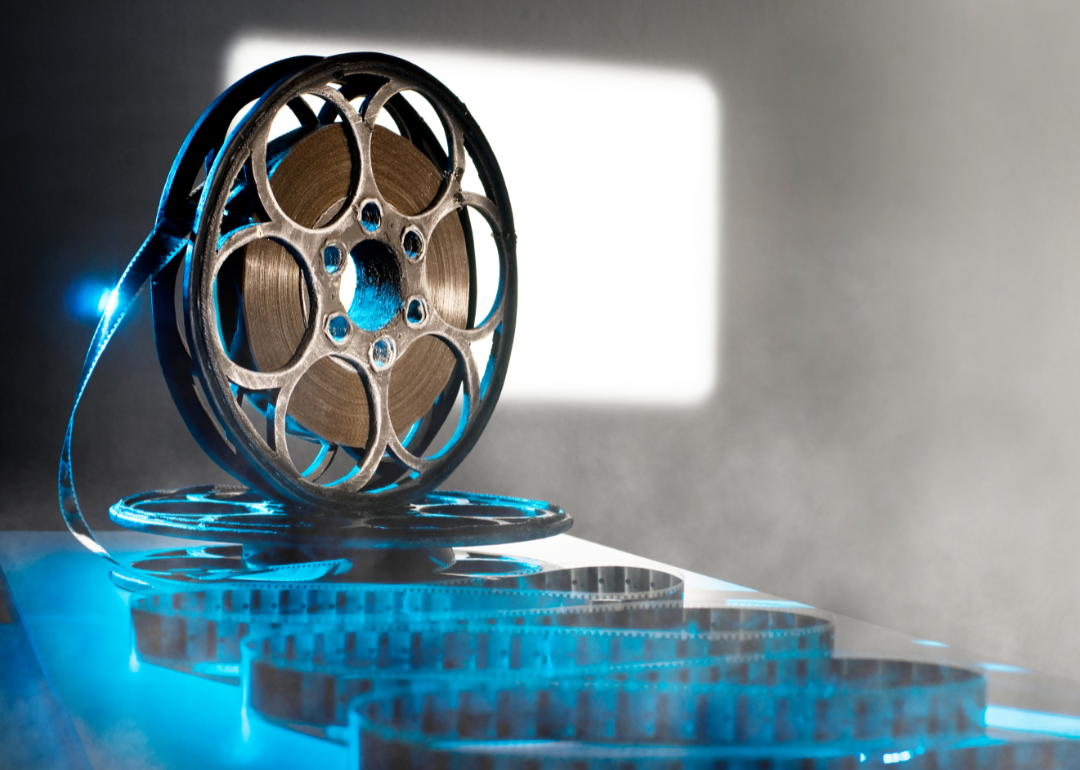 Most anticipated movies still to come in 2018
Most anticipated movies still to come in 2018
With hits like "Black Panther," "Annihilation," and "A Quiet Place," 2018 has already been oh-so-good for movie-goers across the world. But for all the superhero sagas, sci-fi thrillers, and horror staples, there are also tales of teenagers struggling with drugs, rebellious queens, and WWE drama. And the beautiful thing about anticipation is that even the familiar — the DC, the Marvel, and even a Transformers side story — feel special now, sitting atop that hill. Who knows which one will gain momentum as it drops and becomes something truly great and unexpected?
We analyzed Wikipedia traffic data to see which movies slated for release in 2018 are generating the most buzz. Read on to explore the 50 most anticipated movies still to come in 2018. 
#50. Slender Man
Opening: 08/24/18
Three Month Wikipedia Views: 134,489
The fall of 2018 brings the film adaptation of the dark legend of Slender Man—a tall featureless character made popular across internet forums via the creepypasta phenomenon (copy-and-pasted horror stories). The disturbing internet meme rose to national attention in 2014 following the violent stabbing of a 12-year-old girl by two of her classmates who claimed to have been influenced by the fictional character.
#49. A Star Is Born
Opening: 10/05/18
Three Month Wikipedia Views: 144,133
In this remake of the 1976 Barbra Streisand/Kris Kristofferson film (which was itself a reimagining of the 1954 Judy Garland remake of the 1937 Janet Gaynor classic), Bradley Cooper plays an aging rock star who falls for an up-and-coming young singer (Lady Gaga). This will be Cooper's directorial debut, and though he's no Kristofferson, Gaga is a huge vocal talent. Also, incredibly, Dave Chappelle has signed up for a supporting role.
#48. The Darkest Minds
Opening: 08/03/18
Three Month Wikipedia Views: 148,102
From the producers of "Stranger Things" and "Arrival," "The Darkest Minds" tells the story of a group of teenagers who emerge from a deadly plague with supernatural powers. Based on the novel by Alexandra Bracken, the film stars Amandla Stenberg who emerged as a fan favorite in her role as Rue in "The Hunger Games."
#47. Mortal Engines
Opening: 12/14/18
Three Month Wikipedia Views: 148,286
Based on the novel by Philip Reeve, "Mortal Engines" centers on a mechanical, post-apocalyptic world dominated by mobile cities that constantly compete and consume each other for resources. This film marks a high-profile voyage into the steampunk genre, employing "Lord of the Rings" veterans Christian Rivers as the director alongside Peter Jackson, Philippa Boyens, and Fran Walsh as writers.
#46. The Girl in the Spider's Web
Opening: 11/09/18
Three Month Wikipedia Views: 152,517
"The Girl in the Spider's Web" adapts the fourth novel of the Millennium series. While the first three novels and film adaptations were based on a series of novels by Swedish author Stieg Larsson ("The Girl with the Dragon Tattoo," The Girl Who Played with Fire," and The Girl Who Kicked the Hornet's Nest"), the fourth novel represents the first continuation written by David Lagercrantz following the sudden death of Larsson in 2004.
English actress Claire Foy (from "The Crown") and Swedish actor Sverrir Gudnason star as the computer hacker-journalist duo navigating deceit in the digital world, taking over the roles from Rooney Mara and Daniel Craig respectively,
#45. Overboard
Opening: 05/04/18
Three Month Wikipedia Views: 160,278
Starring Anna Faris and Eugenio Derbez, this year's "Overboard" is a remake of a 1987 comedy featuring Goldie Hawn and Kurt Russell. The remake's premise remains fairly consistent to the original albeit with a reversal of gender roles, as Derbez plays an arrogant Mexican playboy who suffers amnesia after falling off his yacht, only to be taken in as the supposed husband of a revenge-seeking single mother played by Faris.
#44. Hot Summer Nights
Opening: 07/27/18
Three Month Wikipedia Views: 168,003
While spending the summer in Cape Cod, young Daniel hurls headfirst into a reckless summer prompting a premature coming of age. Oscar-nominated Timothée Chalamet's character experiences various drugs, negotiations with dangerous mobsters, and numerous run-ins with law enforcement in this edgy summer flick.
#43. Crazy Rich Asians
Opening: 08/17/18
Three Month Wikipedia Views: 169,004
Based on the best-selling novel by Kevin Kwan, "Crazy Rich Asians" is about an extravagant Singapore wedding between a fashionista and one of the richest men on Earth. A Cupertino-born economics professor (Constance Wu) is brought to the event by her colleague and boyfriend, who doesn't mention the scale of the marriage. He also doesn't mention his mother's desire for him to find a wife from their small wealthy social circle. Constance Wu is a force — it's exciting to see her get to helm a major film.
#42. Sorry to Bother You
Opening: 07/06/18
Three Month Wikipedia Views: 176,377
A futuristic science fiction comedy set in present-day Oakland, California, "Sorry to Bother You" follows Lakeith Stanfield's Cassius "Cash" Green, a telemarketer whose unique pitch style propels him to unprecedented success. The film sets to attract fans with a transcendent soundtrack, as the film's writer Boots Riley, whose background comes in rapping and producing hip-hop, placed an emphasis on creating an auditory experience for movie-goers unlike any other.
#41. Widows
Opening: 11/16/18
Three Month Wikipedia Views: 192,292
In his first film since "Twelve Years a Slave," director Steve McQueen updates an '80s British TV series, placing it in modern-day Chicago. After the criminal husbands of four women die leaving them nothing but huge debts, the widows plan a heist of their own. Based on the power of McQueen's first three films, "Widows" was always going to be a must-watch/Oscar contender — but with the cast he's assembled (Viola Davis, Colin Farrell, Daniel Kaluuya, and many more), it's almost wrong to make us wait until November.  
#40. Mary Queen of Scots
Opening: 12/07/18
Three Month Wikipedia Views: 192,604
This historical drama works to humanize Mary Stuart (Saoirse Ronan), the Queen of Scotland who led the infamous failed attempt to overthrow her cousin Queen Elizabeth I (Margot Robbie). Written by a "House of Cards" writer, this movie will be chock full of palace intrigue. But it's the two leading ladies, both of whom are expected nominations for Best Actress this year, that makes "Mary Queen of Scots" so exciting.  
#39. Tully
Opening: 05/04/18
Three Month Wikipedia Views: 200,807
Charlize Theron no stranger to starring roles in comedic dramas, with starring roles in 2008's "Hancock" and 2014's "A Million Ways to Die in the West." Now she and Mackenzie Davis are pairing up for what looks to be a simultaneously hilarious and heartwarming tale about the uniquely special relationship shared by a mother of three and her babysitter.
#38. The Grinch
Opening: 11/09/18
Three Month Wikipedia Views: 201,549
"How the Grinch Stole Christmas" has cemented itself as a holiday classic through the original animated TV short in 1966 and Jim Carrey's rendition in 2000. Benedict Cumberbatch will undoubtedly give class and intelligence to the Dr. Seuss character in the 2018 computer-animated version. 
#37. Fighting with My Family
Opening: 09/14/18
Three Month Wikipedia Views: 205,062
Dwayne "The Rock" Johnson expands his scope yet again, as he is executive producing this biopic following the life of WWE star Saraya-Jade Bevis, better known by her stage name Paige. The film unpacks a range of themes including sibling rivalry, financial struggles, and the difficulties of succeeding in the entertainment industry.
#36. First Man
Opening: 10/12/18
Three Month Wikipedia Views: 208,926
Ryan Gosling is on top of the world at the moment, and his stock is set to continue to rise as he stars as Neil Armstrong in this biopic about the decade leading up to the Apollo 11 mission. The first-person account, as adapted from James R. Hansen's First Man: The Life of Neil A. Armstrong, delves deeply into the costs, both on Armstrong and the nation, of seeking to explore the final frontier.
#35. The Equalizer 2
Opening: 07/20/18
Three Month Wikipedia Views: 223,946
Having embraced the role of "The Equalizer" at the end of the first installment of this series, Robert McCall is back to avenge the death of longtime friend Susan. Any picture starring Denzel Washington gets us excited, but appearances from Ashton Sanders ("Moonlight") as well as   Pedro Pascal ("Narcos") are likely to push this thriller over the top.
#34. Robin Hood
Opening: 11/21/18
Three Month Wikipedia Views: 228,359
Earlier this year director Guy Ritchie ("Snatch") put out his gritty take on the King Arthur legend to mixed reviews. For a time, this rugged retelling of Robin Hood — written by the same guy who wrote "King Arthur: Legend of the Sword" — was going to be another Guy Ritchie release. Instead Otto Bathurst, a young TV director, will get his chance to helm his first feature. Taron Egerton ("Kingsman") will play the legendary archer outlaw, with Jamie Foxx as Little John and Ben Mendelsohn as his foil, the Sheriff of Nottingham.  
#33. Tag
Opening: 06/15/18
Three Month Wikipedia Views: 228,907
From a baseline level of understanding, a feature film about the game of "Tag" seems like a mildly underwhelming premise. Throw in a cast with stars from top to bottom (Ed Helms, Jeremy Renner, Jon Hamm, Isla Fisher, and Rashida Jones just to name a few) and a collection of scenes where the participants are willing to go to such great lengths to win as disrupting a wedding or destroying public property, and you have what could be the funniest comedy of the year.
#32. Alita: Battle Angel
Opening: 11/21/18
Three Month Wikipedia Views: 231,865
Based on the Manga comic, "Alita: Battle Angel" tells the story of Alita (Rosa Salazar), a cyborg found in a dump by Ido (Christoph Waltz) who becomes her surrogate father. The Robert Rodriguez-directed sci-fi thriller (James Cameron is also heavily involved) takes place in a post-apocalyptic 26th century that looks gorgeous in the previews. Mahershala Ali, Jennifer Connelly, and Michelle Rodriguez fill out the star-studded cast.    
#31. Spider-Man: Into the Spider-Verse
Opening: 12/14/18
Three Month Wikipedia Views: 232,595
Riding the success of 2017's Spider-Man: Homecoming, Marvel is back at it again with another high-schooler-turned-superhero installment. This time, however, an older Peter Parker (portrayed by Jake Johnson) plays the role of mentor for a young Miles Morales (Portrayed by Shameik Moore), who now carries the torch in what is sure to be one of the most-watched animations of the year.
#30. Hotel Transylvania 3: Summer Vacation
Opening: 07/13/18
Three Month Wikipedia Views: 236,939
Sony Pictures was sure to enlist all the heavy hitters for this third installment of the beloved animated series of Hotel Transylvania franchise, as Adam Sandler's Count Dracula will be accompanied by the likes of Selena Gomez, Andy Samberg, David Spade, Steve Buscemi, Kevin James, and Fran Drescher. Fans of the series will be reeled in by the danger Dracula puts himself in when his love interests lead him into a life-or-death situation.
#29. Bohemian Rhapsody
Opening: 11/02/18
Three Month Wikipedia Views: 239,109
In terms of rock biopics, few subjects could be as fascinating as the story of Freddie Mercury and his band Queen. And with the lead role in the capable hands of Rami Malek, this movie had the chance to be great. But the production has been a messy situation, with Sacha Baron Cohen — who was at one point set to play Mercury — airing behind-the-scenes artistic clashes after his departure, and other disagreements with the surviving members of the band becoming public. The most recent upheaval came when director Bryan Singer — who this month was accused of sexual assault — was fired for erratic behavior. Director Dexter Fletcher will try to right the ship, but it might be too chaotic a production to salvage.
#28. Beautiful Boy
Opening: 10/12/18
Three Month Wikipedia Views: 243,098
A biographical drama about a father who struggles through his son's methamphetamine addiction, "Beautiful Boy" figures to be one of the most emotionally testing pictures of the year. It's only right that a story pertaining to such difficult subject matter be brought to life by the best of the best, answered by the star-studded cast of Steve Carell, Timothée Chalamet, Maura Tierney, and Amy Ryan.
#27. Mowgli
Opening: 10/19/18
Three Month Wikipedia Views: 244,215
It's pretty odd that another Jungle Book film will be coming out so close to Disney's 2016 live-action hit, but if all had gone to plan the two films would've premiered just months apart! Instead, a lot of directorial shuffling and a long post-production window means this Warner Brothers version will finally be released this October. Originally connected to Oscar-winning director Alejandro González Iñárritu (and then Steve Cloves and then Ron Howard), the newest Jungle Book will be the directorial debut of Andy Serkis (famous for his portrayal of Gollum in the "Lords of the Rings" films and Caesar in "Planet of the Apes"). This kind of delay is usually a bad sign, but the film has a fantastic cast (Cate Blanchett, Christian Bale, and Benedict Cumberbatch), so who knows?  
#26. Adrift
Opening: 06/01/18
Three Month Wikipedia Views: 295,614
Based on a true story, this romantic drama starring Shailene Woodley and Sam Claflin is sure to pull at the heartstrings of viewers as it features two lovers fighting for their lives in the midst of one of the worst storms of all time. The film, which incorporates themes of loyalty, sacrifice, and destiny not only figures to keep viewers on the edge of their seats but could also earn a few awards judging from it's gripping early trailer.
#25. Skyscraper
Opening: 07/13/18
Three Month Wikipedia Views: 319,736
The plot of this movie is a doozy. A former FBI hostage negotiator who now assesses the safety of skyscrapers is in China to give his report on the tallest, safest building on earth when it catches on fire. He's framed for arson and has to clear his name, but first he must save his family who is stuck inside the burning building. There's a lot going on here, but really, the only important things to remember are: China, skyscraper, and of course, Dwayne "The Rock" Johnson.
#24. Halloween
Opening: 10/19/18
Three Month Wikipedia Views: 336,224
Everybody's favorite scary holiday just got scarier, as Laurie Strode is re-visited by her worst nightmare, Michael Myers, in this revamp of the 1978 classic, which takes place forty years after the original. Jamie Lee Curtis, who portrays Strode, warns viewers that "they went full-tilt boogeyman" on this one.
#23. The First Purge
Opening: 07/04/18
Three Month Wikipedia Views: 339,219
Given the immense box office success of the original trilogy (over $200 million domestically and $300 million worldwide), it only makes sense that horror legend Jason Blum would decide to come out with a "where it all started" installment for "The Purge" franchise. The film begins with a controlled, isolated trial run for the annual night of chaos, though as the concept garners more and more support, the Purge develops into a national nightmare.
#22. Ralph Breaks the Internet: Wreck-It Ralph 2
Opening: 11/21/18
Three Month Wikipedia Views: 341,822
The first "Wreck-It Ralph" made nearly $500 million and received an Oscar nomination for Best Animated Feature, so this sequel was inevitable. Now six years later (in reality and in the film's world), reformed arcade-game villain Ralph (John C. Reilly) and his friend Vanellope (Sarah Silverman) come across a Wi-Fi router and, according to the title, break the internet. This is yet another major studio animated film with a strikingly likeable cast: Taraji P. Henson, Kristen Bell, Alan Tudyk, Idina Menzl, and Jane Lynch. Also, for all the "Candy"-heads out there: Mandy Moore is in this film!
#21. Sicario: Day of the Soldado
Opening: 06/29/18
Three Month Wikipedia Views: 343,150
"Sicario" was an incredible political thriller, taking us to the shady world of cartels and law enforcement along the border. "Sicario: Day of the Soldado" will pick up where the first film left off, with Alejandro Gillick (Benicio del Toro) and Matt Graver (Josh Brolin) investigating smuggling and terrorism. It seems odd to make a "Sicario" sequel (especially one without Emily Blunt who was the standout of the first film), but writer Taylor Sheridan is back and he's one of the most exciting voices in Hollywood.
#20. Hereditary
Opening: 06/08/18
Three Month Wikipedia Views: 367,751
If you can sit through the entire trailer without jumping out of your seat, you'll understand why this upcoming June release has received a perfect 100% on Rotten Tomatoes. Toni Collette looks to put forth a bone-chilling performance in what may be the scariest movie of 2018.
#19. Transformers Universe: Bumblebee
Opening: 12/21/18
Three Month Wikipedia Views: 389,249
Bumblebee is not your average Volkswagen Beetle. It is, instead, one of the most beloved Autobots from the Transformers series that is now getting its own feature film, with a star-studded cast including Hailee Steinfeld and John Cena.
#18. The Meg
Opening: 08/10/18
Three Month Wikipedia Views: 408,497
Jason Statham stars in this Jaws-inspired Chinese-American late-summer release which follows a similar plotline as the Spielberg classic, except the shark is way bigger and way scarier thanks to modern graphics technology. The film is set to be shown in theaters as both 3D and IMAX, and we think this is the type of movie where you would be remiss not to take advantage of that.
#17. The Predator
Opening: 09/14/18
Three Month Wikipedia Views: 421,934
Amazingly, a few years after 22-year-old Shane Black sold his script for "Lethal Weapon" and catapulted his way into Hollywood, he had a supporting role in the Arnold Schwarzenegger/Carl Weathers kitsch classic "Predator." Now the acclaimed director/screenwriter behind "Iron Man 3" and the ingenious "Kiss Kiss, Bang Bang" has written and directed a "Predator" reboot. The film takes us back to the Central American jungle where a team of commandos is hunted by a supernatural beast. It'll be interesting to see if this remake will keep the '80s action cheese of the original, or will be smarter and quippier, in the Shane Black style. "The Predator" stars Boyd Holbrook and Olivia Munn.
#16. The Nun
Opening: 09/07/18
Three Month Wikipedia Views: 425,428
This spinoff follows a character in "The Conjuring 2" and will be the fifth film in the "Conjuring" series. This time Father Burke (Demián Bichir) heads to Rome to investigate the strange death of a nun, and then — it seems safe to imagine — supernatural horror ensues. James Wan, who directed the first two films in the "Conjuring" series, already has spoken about a possible "Nun" sequel. There is truly a horror movie gold rush going on in Hollywood right now — these "Conjuring" films have made more than $1 billion combined.
#15. Overlord
Opening: 10/26/18
Three Month Wikipedia Views: 448,755
If you're a fan of both science fiction and war films, J.J. Abrams wants you to get excited for the ultra-secretive "Overlord," which he guarantees is a "crazy movie."  This action-packed D-Day depiction pins American paratroopers against supernatural Nazi forces.
Abrams recently dispelled fan rumors that the film would be the fourth installment of the Cloverfield series.
#14. Mamma Mia! Here We Go Again
Opening: 07/20/18
Three Month Wikipedia Views: 476,349
The star studded cast is back in action to hopefully repeat the success they saw with the first flick. Mamma Mia, here we go again, indeed...
#13. Christopher Robin
Opening: 08/03/18
Three Month Wikipedia Views: 487,109
This film imagines a grown-up Christopher Robin returning home and reuniting with his childhood friend, Winnie the Pooh. Does it sound a bit bizarre? Sure. But the director, Marc Forster, deserves the benefit of the doubt (he directed "Finding Neverland" and "World War Z"), and Ewan McGregor will be voicing the titular Robin. It sounds a bit like an animated "Hook", which is not a bad thing at all.
#12. Mary Poppins Returns
Opening: 12/25/18
Three Month Wikipedia Views: 501,666
This Mary Poppins film finds Jane and Michael grown and struggling in Depression-era London when Mary Poppins (Emily Blunt) returns to bring back the joy of their childhood. The cast of this Mary Poppins film is amazing, including Meryl Streep, Colin Firth, and Lin-Manuel Miranda. This writer is quite hyped for the possibility of a "A Spoonful of Sugar" hip-hop reimagining.  
#11. Aquaman
Opening: 12/21/18
Three Month Wikipedia Views: 533,034
The newest DC film will follow Aquaman (played by "Game of Thrones'" Jason Momoa rather than "Entourage's" Vinny Chase), the heir to Atlantis, who has to rise up to save his people and become a superhero. Aquaman has already appeared in two DC Extended Universe films, "Batman v Superman" and "Justice League," but it will be interesting to see if he's interesting enough to justify a film of his own. DC has a way of weighing down its films with emotional gravitas until there's no fun to be had, but director James Wan — who has put out a few horror flicks and "Furious 7" — understands that movies should be fun. Hopefully, he'll breath a bit of life into the DC films.
#10. Fantastic Beasts: The Crimes of Grindelwald
Opening: 11/16/18
Three Month Wikipedia Views: 610,292
It's hard not to get excited for a new Harry Potter movie — especially one starring Zoë Kravitz, Eddie Redmayne, and Jude Law as young Dumbledore. 
#9. Ocean's 8
Opening: 06/08/18
Three Month Wikipedia Views: 677,998
A spinoff of the "Ocean's Eleven" franchise, "Ocean's Eight" will follow an all-female team of heisters trying to pull off the crime of the century at the Met Gala. The film is in the capable hands of Gary Ross ("Hunger Games" and "Pleasantville"), but the real draw of any "Ocean's" movie is the cast, and this one is amazing. The eight heisters are (drum roll please...): Sandra Bullock, Cate Blanchett, Rihanna, Mindy Kaling, Anne Hathaway, Sarah Paulson, Awkwafina, and Helena Bonham Carter. This film is going to be incredible.
#8. Mission: Impossible - Fallout
Opening: 07/27/18
Three Month Wikipedia Views: 684,710
The plot details of the sixth "Mission Impossible" are still under wraps, but you can guess it'll have something to do with an international plot, a motorcycle chase, and some athletic climbing. Tom Cruise is back to play Ethan Hunt, and is joined by Simon Pegg ("Shaun of the Dead"), Michelle Monaghan ("Kiss Kiss, Bang Bang"), and Henry Cavill ("Man of Steel"). This film will be great fun, and the writer/director (Christopher McQuarrie) wrote both "The Usual Suspects" and "Edge of Tomorrow," so Ethan Hunt is in capable hands.
#7. Incredibles 2
Opening: 06/15/18
Three Month Wikipedia Views: 713,298
The first "Incredibles" was amazingly fun, following a suburban family of superheroes dragged back into action to stop an evil plot hatched on a remote island. Much of the original cast (Samuel L. Jackson, Holly Hunter, Craig T. Nelson, and Sarah Vowell) is back for the followup to the animated megahit. In the sequel, Hunter's Elastigirl will be out fighting evil, while Nelson's Mr. Incredible is stuck at home with the baby. Nothing is certain except death, taxes, and the excellence of Pixar films.
#6. Ant-Man and the Wasp
Opening: 07/06/18
Three Month Wikipedia Views: 723,310
The success of Marvel's major character films has been impressive but unsurprising. It was with the critical and box office success of "Guardians of the Galaxy" and "Ant-Man" — two lesser-known and slightly goofy stories — that Marvel really started flexing. In the sequel to "Ant-Man," Scott Lang (Paul Rudd) will have to balance fatherhood with a new mission which teams him with The Wasp (Evangeline Lilly). Director Peyton Reed ("Bring It On") made the first "Ant-Man" a truly fun film — it's exciting to see how he'll do with the sequel.
#5. Jurassic World: Fallen Kingdom
Opening: 06/22/18
Three Month Wikipedia Views: 757,338
With the first "Jurassic World," Universal hired an indie director (Colin Trevorrow) and gave him the reigns of their gigantic dinosaur blockbuster. It was a decision that paid off to the tune $1.6 billion. So unsurprisingly, the studio is trying their luck again by hiring indie director J.A. Bayona to tame the beast of sequelitis. Chris Pratt and Bryce Dallas Howard are back, this time fighting to save the dinosaurs from extinction when a volcano erupts at Jurassic World. There will be volcanoes, dinosaurs, and charismatic stars, so the floor for this film is still pretty high.  
#4. Venom
Opening: 10/05/18
Three Month Wikipedia Views: 1,062,454
This film will tell the story of Venom, a Spider-Man supervillain played by Tom Hardy. The cast for this superhero film is incredible, with Riz Ahmed, Jenny Slate, and Michelle Williams starring alongside Hardy. "Venom" will be the first in Sony Studios Marvel Universe (the rest of the Marvel films have been released by Disney, except the "X-Men" films, which were released by Fox), and will be R-rated. Playing a gooey, sentient alien anti-hero is a big ask, but Hardy seems ideal for the gig. It'll be exciting to see another studio's vision for the Spider-Man story (even if it feels like there have been 100 Spider-Man movies in the last two decades). 
#3. Solo: A Star Wars Story
Opening: 05/25/18
Three Month Wikipedia Views: 1,196,952
The Star Wars property has become so valuable that each film is controlled from the top and every behind-the-scenes story becomes public. When Disney hired directors Chris Miller and Phil Lord ("21 Jump Street" and "The Lego Movie") to direct the Han Solo standalone film, fans rejoiced. These two have a creative and interesting voice, and it was exciting to see what they'd do with the coolest and second coolest men in the galaxy far, far away (Solo and Lando Calrissian, in some order). But, this runup has been a bit of a disaster, with the two directors ousted partway through in favor of the über-stable if uninspiring Ron Howard. Still, this is a Star Wars movie starring Alden Ehrenreich, Donald Glover, Emilia Clarke, and Woody Harrelson, and tells the story of young Han, so despite the behind-the-scenes messiness, we are so excited for this prequel.
#2. Deadpool 2
Opening: 05/18/18
Three Month Wikipedia Views: 1,499,771
The first "Deadpool" was a huge hit, and surprisingly critically acclaimed — in a moment of superhero malaise, the film was truly funny and exciting. The sequel, again starring Ryan Reynolds as a sarcastic, trash-talking superhero, will be directed by David Leitch, the director of the heart-pounding "Atomic Blonde." The studio has kept the plot of "Deadpool 2" under wraps, but it will certainly be a fast-paced good time. Besides Reynolds, the film stars Josh Brolin, T.J. Miller, and Zazie Beetz from "Atlanta."
#1. Avengers: Infinity War
Opening: 04/27/18
Three Month Wikipedia Views: 4,896,940
This film is the first of a two-part culmination of one of the most remarkable 10-year runs in the history of Hollywood. Starting with "Iron Man" in 2008, Marvel Studios has put out 17 films that were all huge successes, with most of them setting up characters for the Avengers films. "Avengers: Infinity War" will pair the Avengers with the Guardians of the Galaxy (because why the heck not?) to fight supervillain Thanos (Josh Brolin), who hopes to collect all the Infinity Stones so he can bend reality. There's no arguing with the success of Marvel Studios and the Russo Brothers, who have directed each of "The Avengers" films. Expect this movie to make $1 billion and deliver a delightful mix of clever banter and world-crumbling CGI.