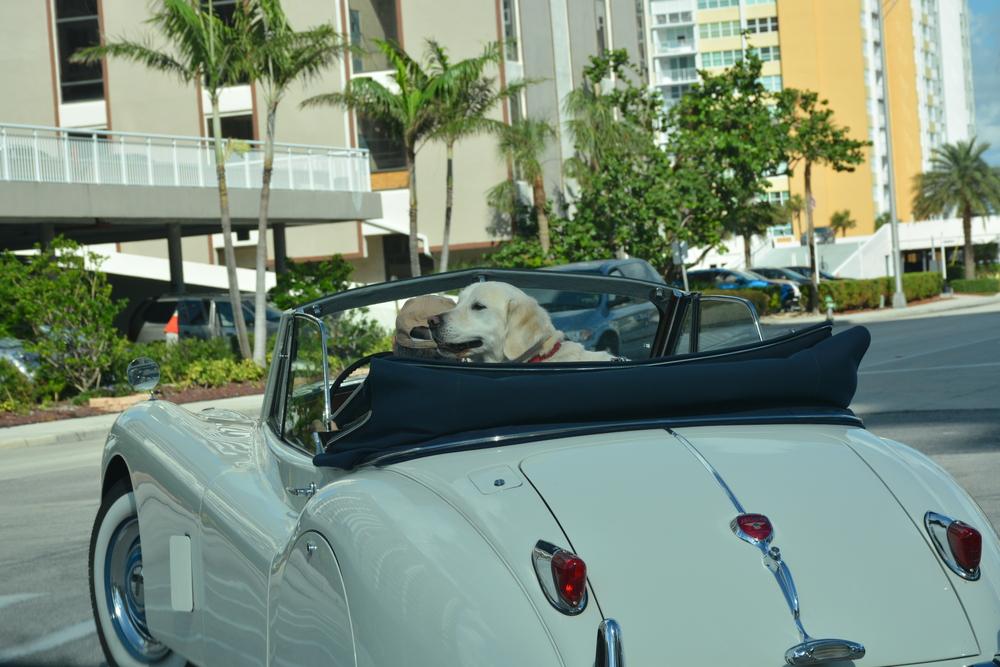 The most dog friendly cities in America
photravel_ru // Shutterstock
The most dog friendly cities in America
Good dogs are beloved for their loyalty, cuteness, and friendliness. Keeping your dog happy is essential to maintaining those lovable qualities. We know that dogs love to be tickled and petted by humans, but what else contributes to a happy dog world? Affectionate dogs need a happy environment that will make it easy for their owner to take care of them.
Ideal cities for dogs need a little more than just patches of green grass in a tiny backyard. To appear more welcoming to dog owners, cities need dog accessibility and high quality of life for dog owners. A combination of a happy dog and a happy owner earns a high dog-friendliness score. Stacker used SmartAsset's report to analyze six key factors that make up the best dog-friendly cities in America:
- Number of dogs parks
- Number of dog-friendly shopping centers
- Number of dog-friendly restaurants
- Easiness of walking dog outside
- Has best weather for dog walking
- Affordable housing for dog owners
The resulting list includes cities with thriving communities for dogs and their loving owners. Have more than one type of pet? Check out our most pet-friendly cities in America.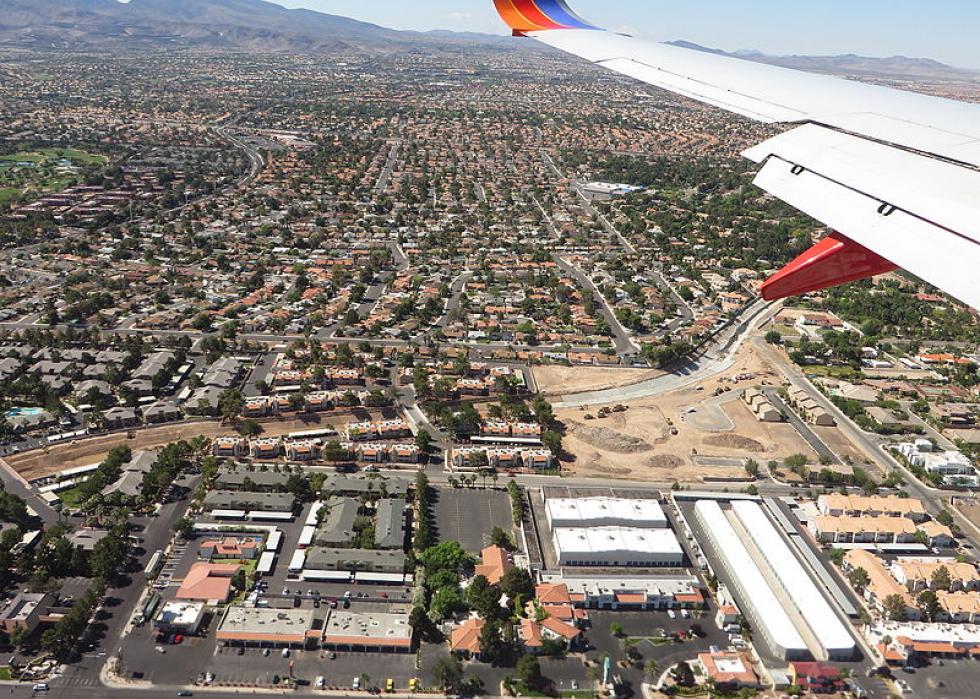 1 / 50
Ken L. // Wikimedia Commons
#50. Henderson, NV
Dog-friendliness index: 43.99
Annual average precipitation: 14.19 days
Walk score: 29/100
Dog parks: 5.4 per 100k residents
Dog restaurants: 6
Dog shops: 0
Median home value: $273,800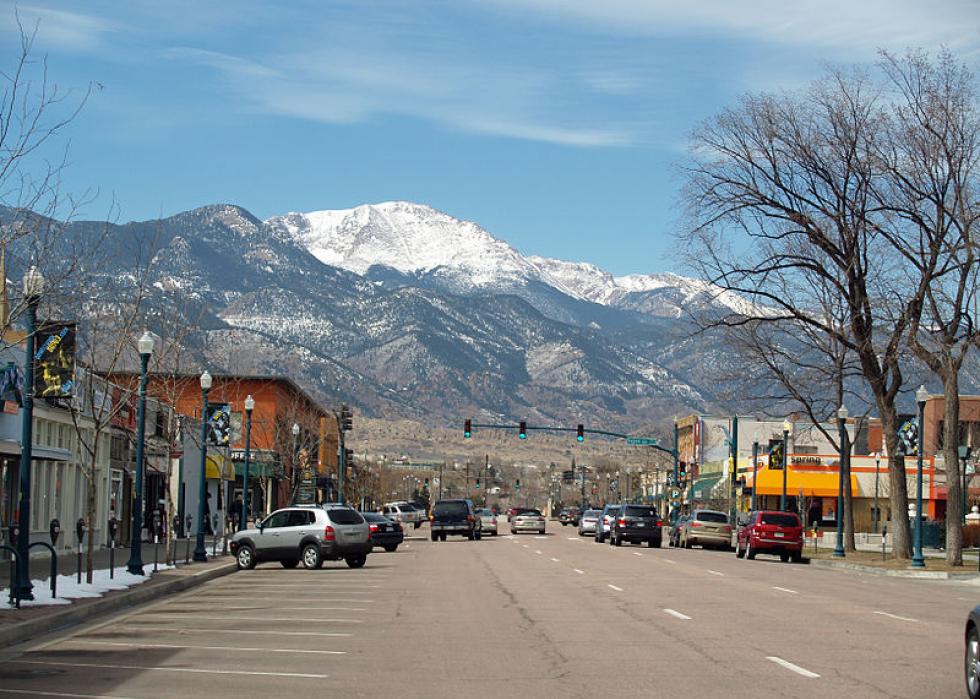 2 / 50
David Shankbone // Wikimedia Commons
#49. Colorado Springs, CO
Dog-friendliness index: 44.99
Annual average precipitation: 50.61 days
Walk score: 35/100
Dog parks: 1.8 per 100k residents
Dog restaurants: 24
Dog shops: 0
Median home value: $228,600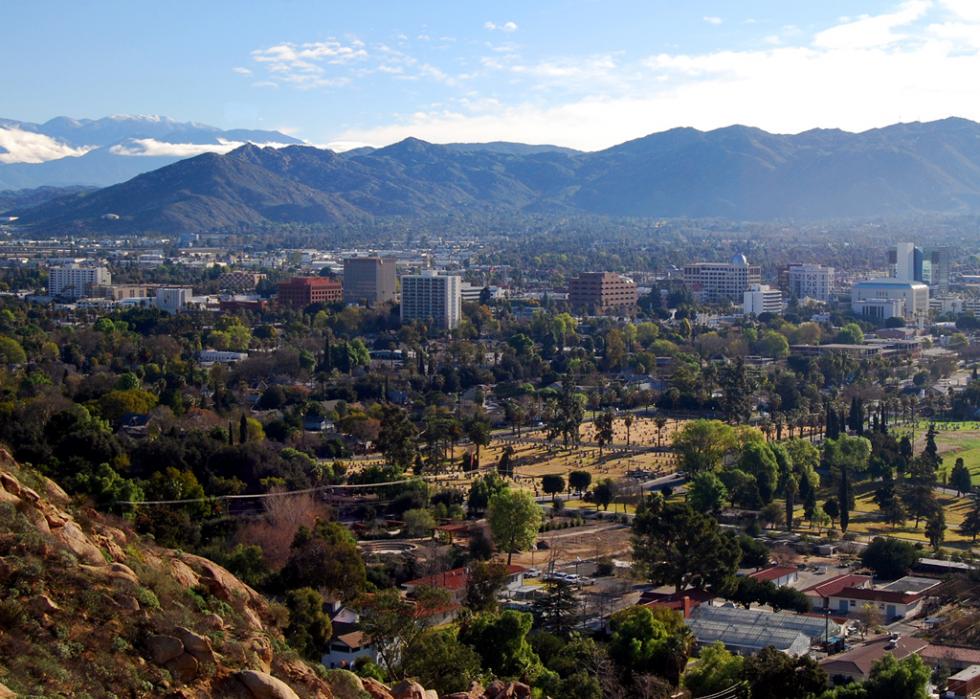 3 / 50
#48. Riverside, CA
Dog-friendliness index: 45.21
Annual average precipitation: 11.63 days
Walk score: 41/100
Dog parks: 1.3 per 100k residents
Dog restaurants: 10
Dog shops: 0
Median home value: $317,600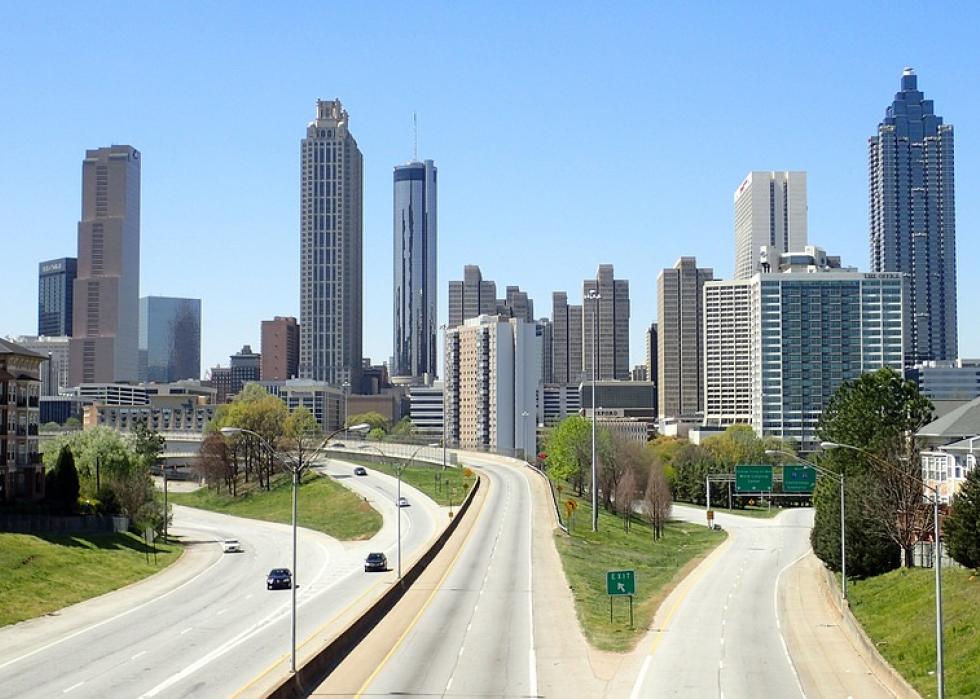 4 / 50
#47. Atlanta, GA
Dog-friendliness index: 46.33
Annual average precipitation: 78.57 days
Walk score: 48/100
Dog parks: 0.9 per 100k residents
Dog restaurants: 97
Dog shops: 0
Median home value: $241,200
5 / 50
#46. Saint Paul, MN
Dog-friendliness index: 46.66
Annual average precipitation: 61.95 days
Walk score: 58/100
Dog parks: 1.3 per 100k residents
Dog restaurants: 10
Dog shops: 0
Median home value: $186,800
6 / 50
#45. Norfolk, VA
Dog-friendliness index: 47.77
Annual average precipitation: 74.91 days
Walk score: 45/100
Dog parks: 4.5 per 100k residents
Dog restaurants: 13
Dog shops: 0
Median home value: $204,800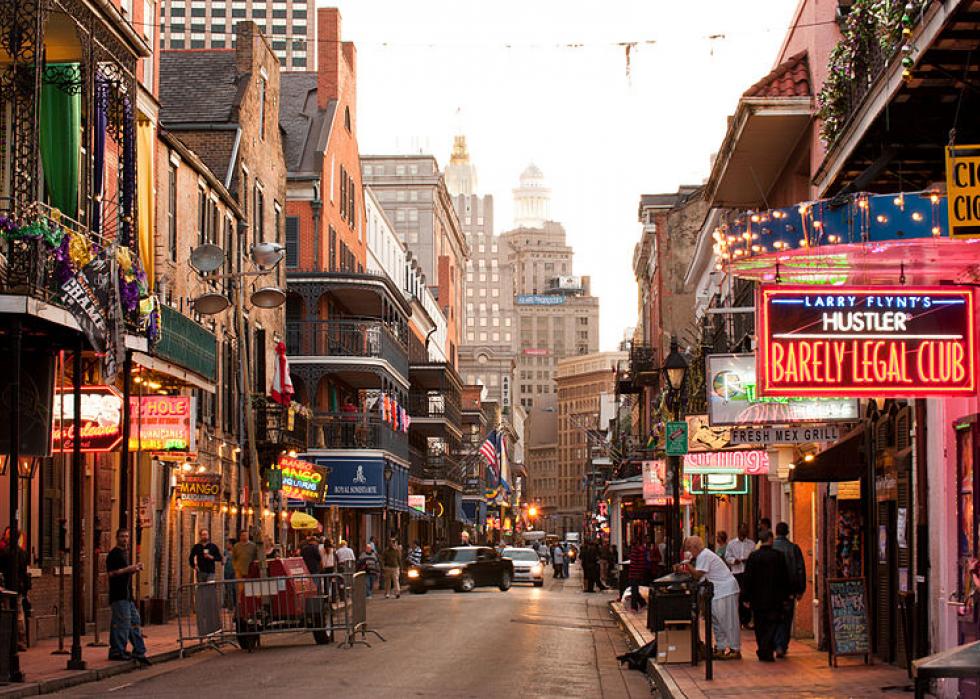 7 / 50
Chris Litherland // Wikimedia Commons
#44. New Orleans, LA
Dog-friendliness index: 50.00
Annual average precipitation: 76.01 days
Walk score: 57/100
Dog parks: 0.8 per 100k residents
Dog restaurants: 82
Dog shops: 0
Median home value: $216,800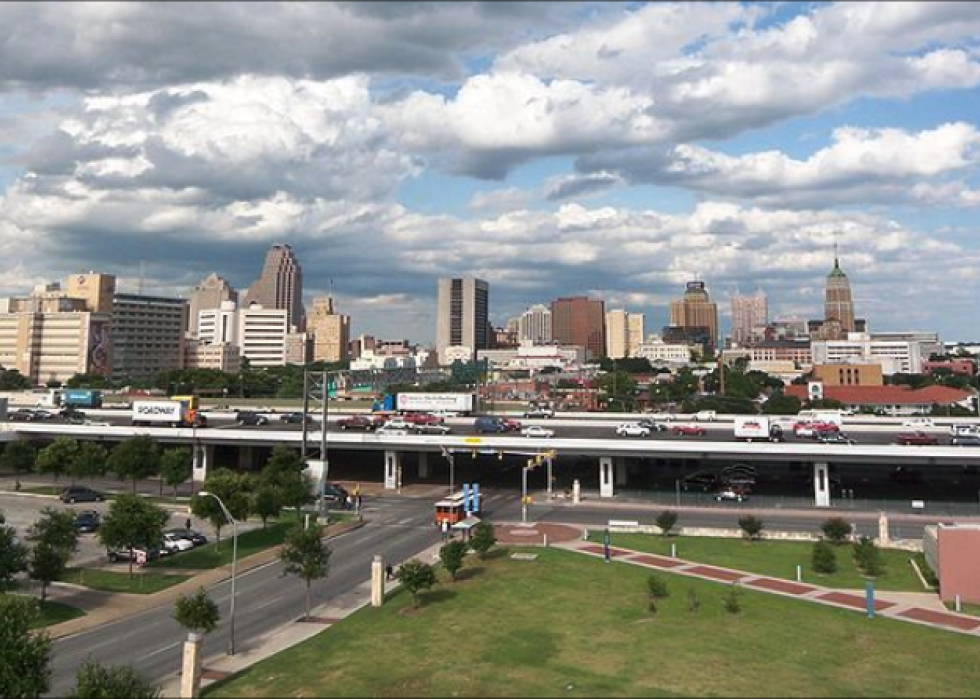 8 / 50
Kkinder // Wikimedia Commons
#43. San Antonio, TX
Dog-friendliness index: 50.22
Annual average precipitation: 46.69 days
Walk score: 36/100
Dog parks: 0.5 per 100k residents
Dog restaurants: 80
Dog shops: 0
Median home value: $126,600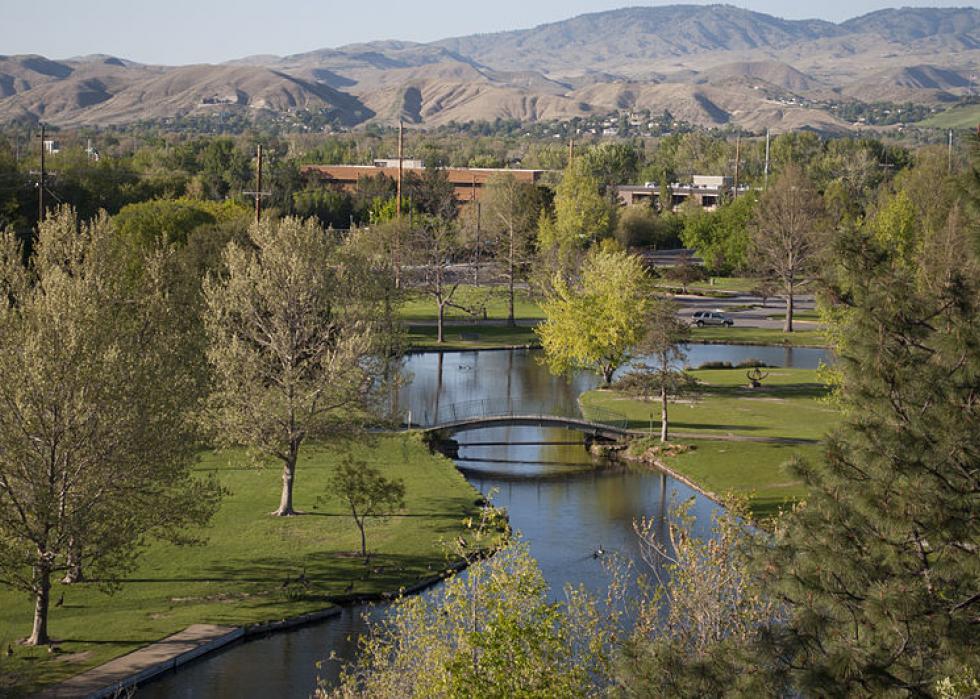 9 / 50
Patrick R. // Wikimedia Commons
#42. Boise, ID
Dog-friendliness index: 50.45
Annual average precipitation: 39.81 days
Walk score: 39/100
Dog parks: 2.3 per 100k residents
Dog restaurants: 14
Dog shops: 0
Median home value: $209,900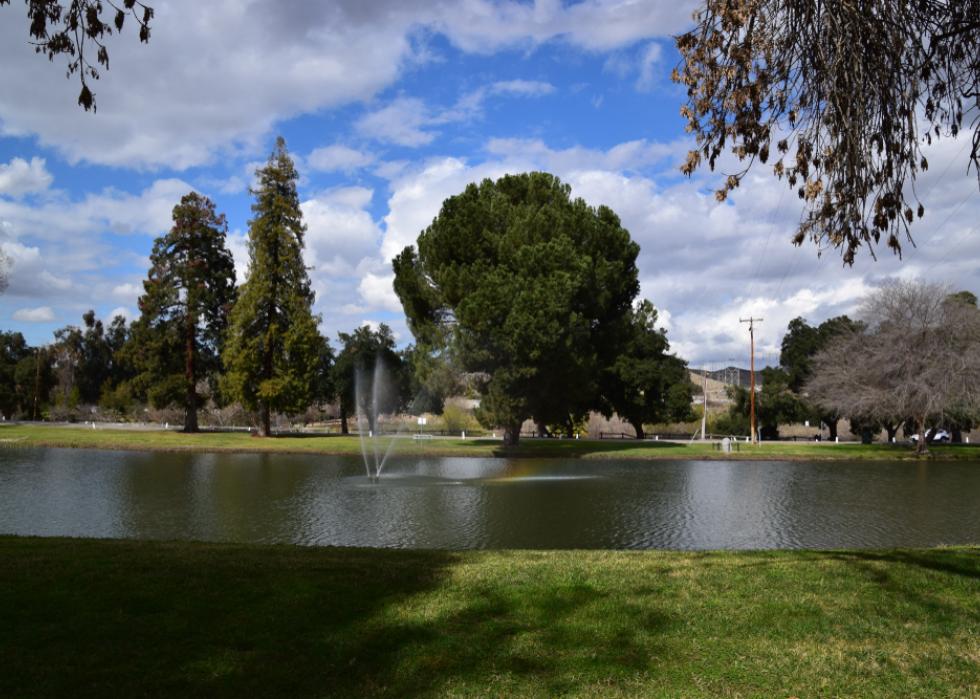 10 / 50
Sonia Cervantes // Shutterstock
#41. Bakersfield, CA
Dog-friendliness index: 50.67
Annual average precipitation: 23.68 days
Walk score: 36/100
Dog parks: 1.9 per 100k residents
Dog restaurants: 12
Dog shops: 2
Median home value: $237,600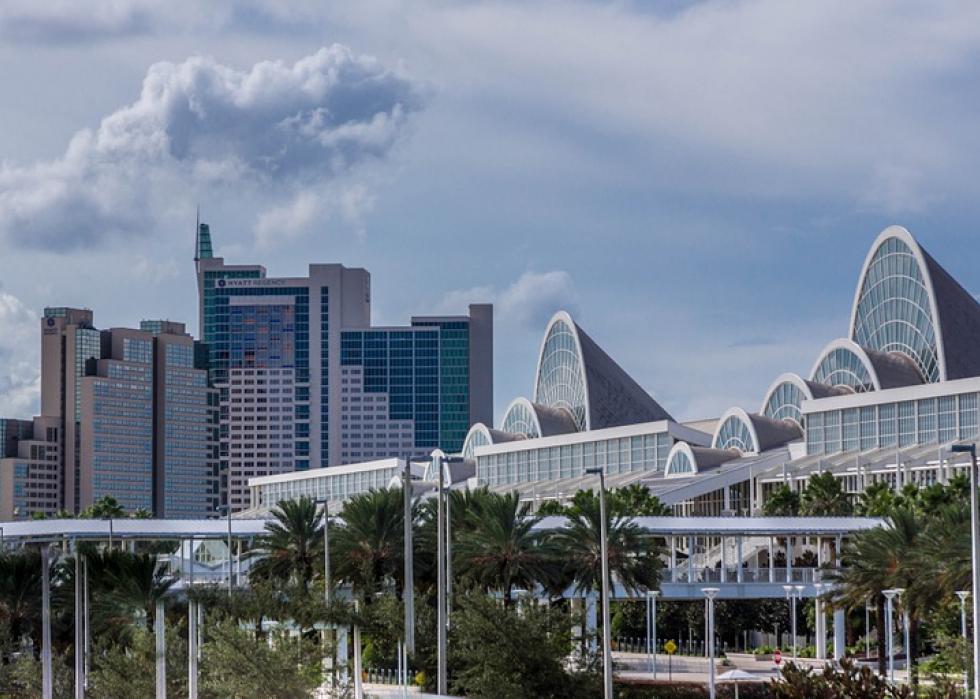 11 / 50
#40. Orlando, FL
Dog-friendliness index: 51.89
Annual average precipitation: 73.15 days
Walk score: 41/100
Dog parks: 0.4 per 100k residents
Dog restaurants: 134
Dog shops: 9
Median home value: $214,400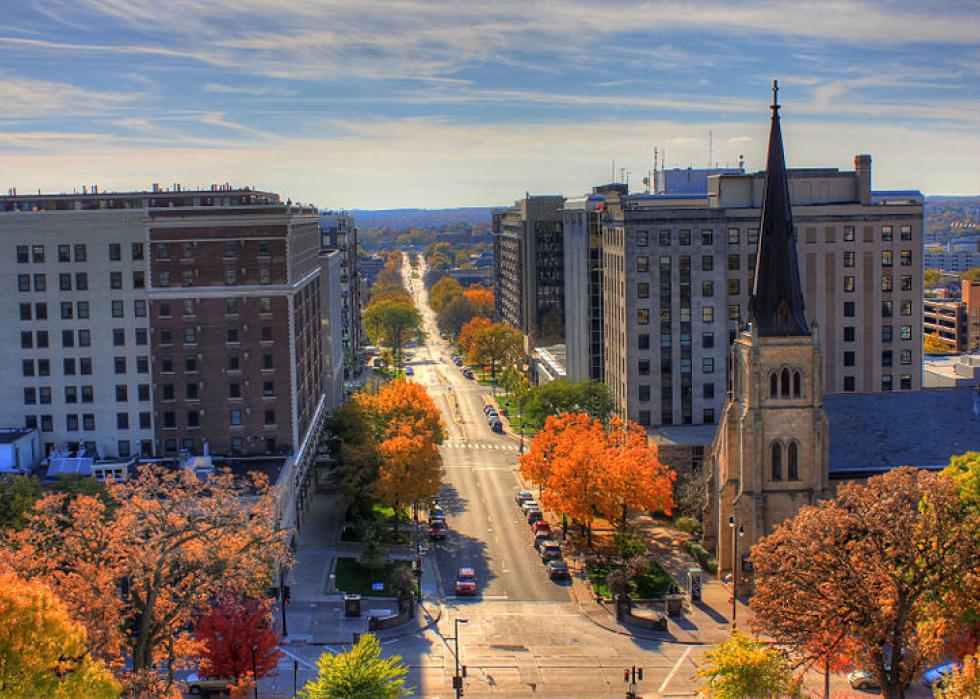 12 / 50
#39. Madison, WI
Dog-friendliness index: 52.90
Annual average precipitation: 67.71 days
Walk score: 48/100
Dog parks: 4.1 per 100k residents
Dog restaurants: 9
Dog shops: 2
Median home value: $222,800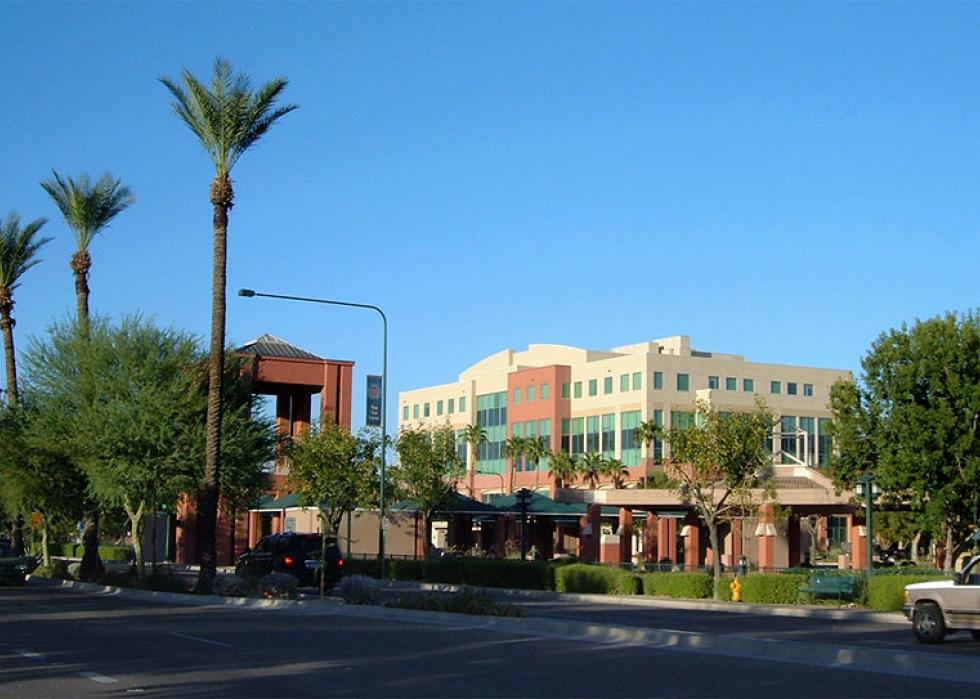 13 / 50
Ixnayontheimmay // Wikimedia Commons
#38. Chandler, AZ
Dog-friendliness index: 53.90
Annual average precipitation: 18.41 days
Walk score: 33/100
Dog parks: 1.6 per 100k residents
Dog restaurants: 30
Dog shops: 0
Median home value: $273,600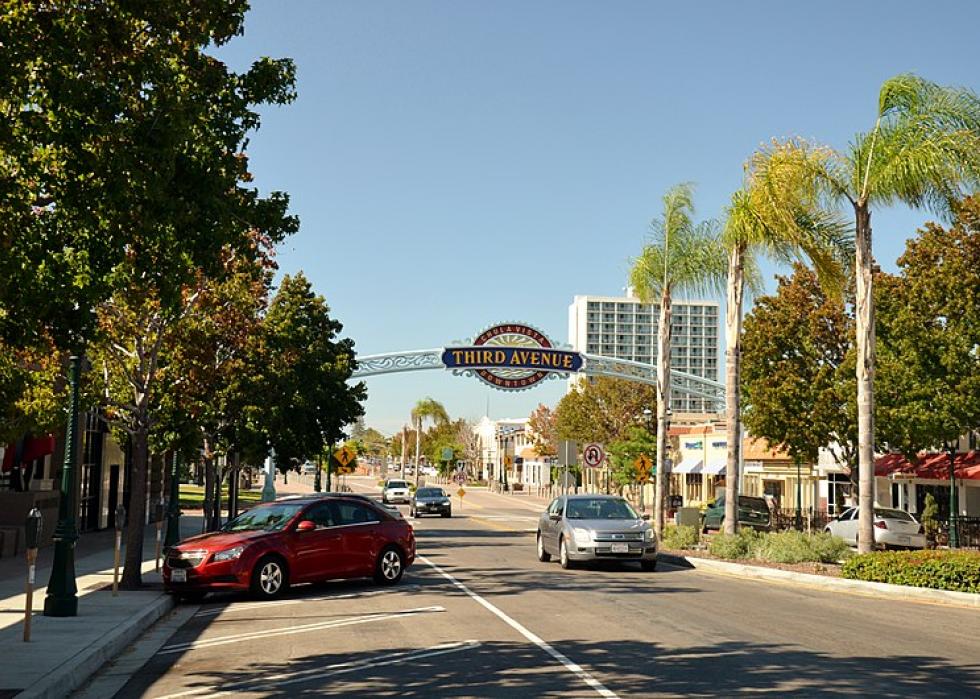 14 / 50
Roman Eugeniusz // Wikimedia Commons
#37. Chula Vista, CA
Dog-friendliness index: 54.23
Annual average precipitation: 28.09 days
Walk score: 41/100
Dog parks: 1.1 per 100k residents
Dog restaurants: 42
Dog shops: 0
Median home value: $440,400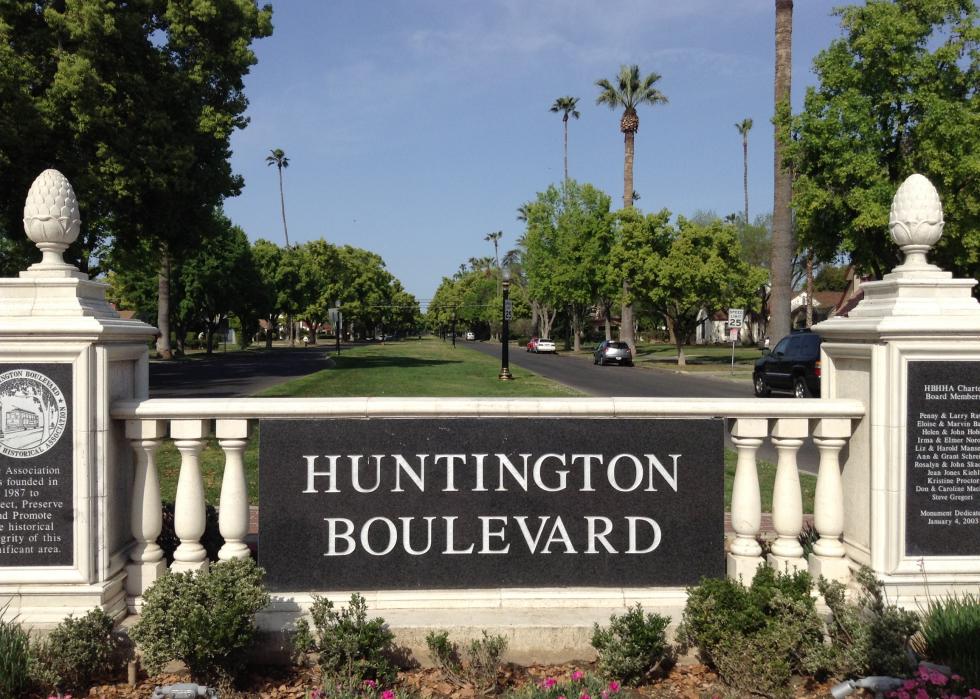 15 / 50
Gemini2525 // Wikimedia Commons
#36. Fresno, CA
Dog-friendliness index: 54.45
Annual average precipitation: 32.87 days
Walk score: 45/100
Dog parks: 1.2 per 100k residents
Dog restaurants: 18
Dog shops: 0
Median home value: $203,700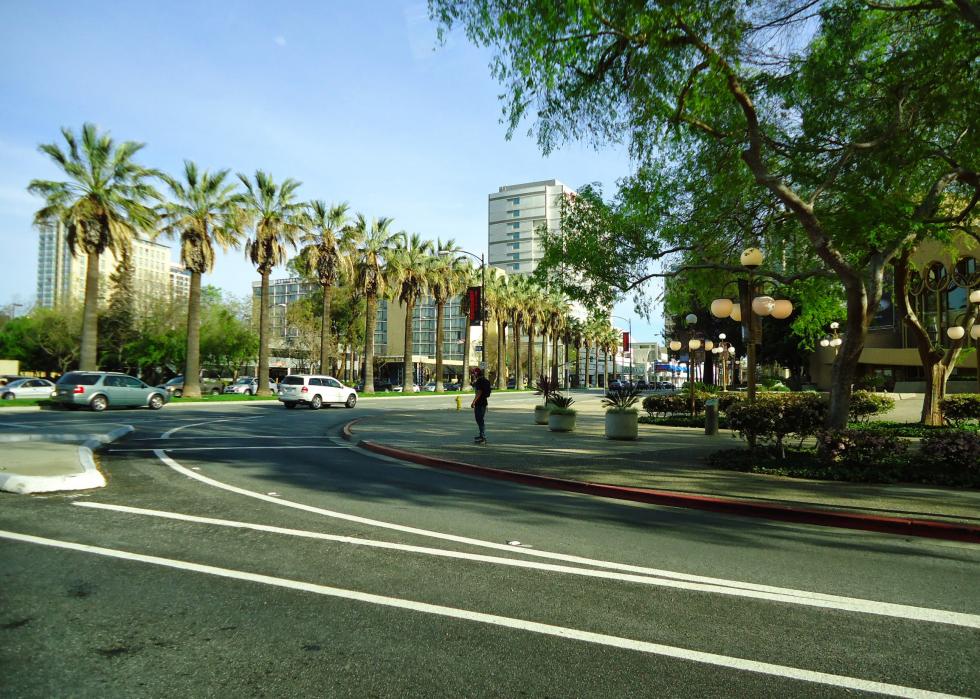 16 / 50
#35. San Jose, CA
Dog-friendliness index: 55.46
Annual average precipitation: 39.94 days
Walk score: 50/100
Dog parks: 1.0 per 100k residents
Dog restaurants: 51
Dog shops: 0
Median home value: $717,100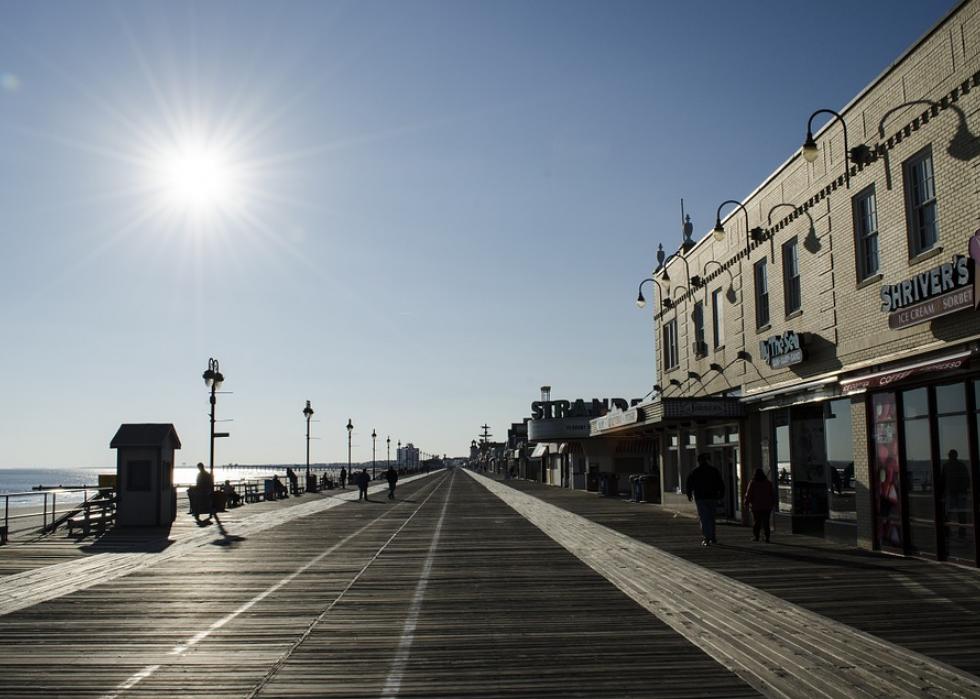 17 / 50
BruceEmmerling // Pixabay
#34. Jersey City, NJ
Dog-friendliness index: 55.57
Annual average precipitation: 77.82 days
Walk score: 87/100
Dog parks: 2.3 per 100k residents
Dog restaurants: 28
Dog shops: 0
Median home value: $331,100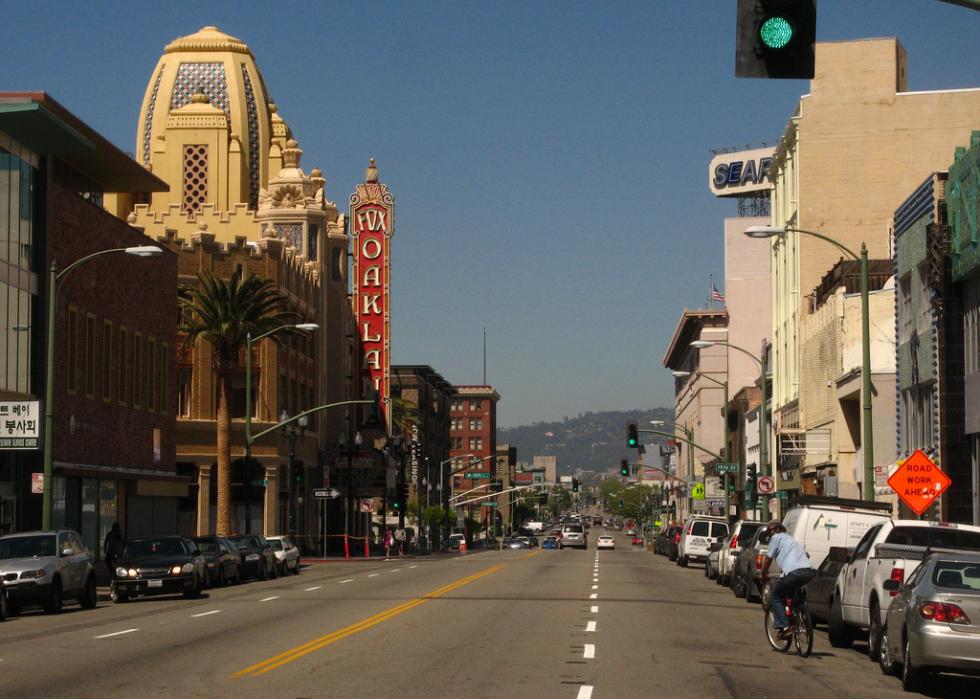 18 / 50
#33. Oakland, CA
Dog-friendliness index: 55.79
Annual average precipitation: 43.98 days
Walk score: 72/100
Dog parks: 0.7 per 100k residents
Dog restaurants: 51
Dog shops: 0
Median home value: $557,000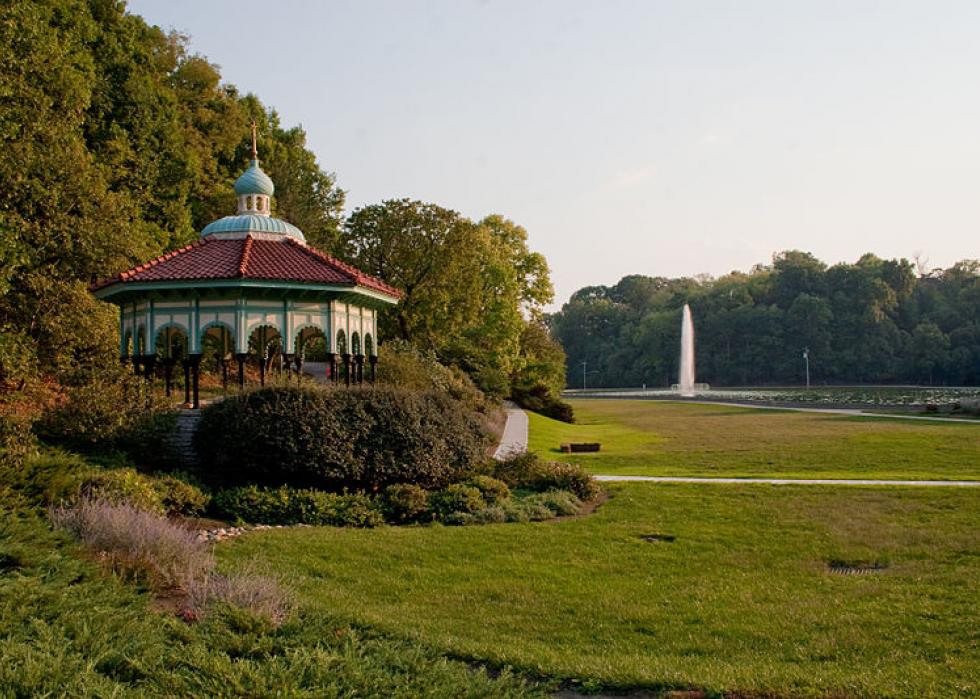 19 / 50
Greg Hume // Wikimedia Commons
#32. Cincinnati, OH
Dog-friendliness index: 56.01
Annual average precipitation: 79.59 days
Walk score: 50/100
Dog parks: 1.3 per 100k residents
Dog restaurants: 36
Dog shops: 0
Median home value: $119,000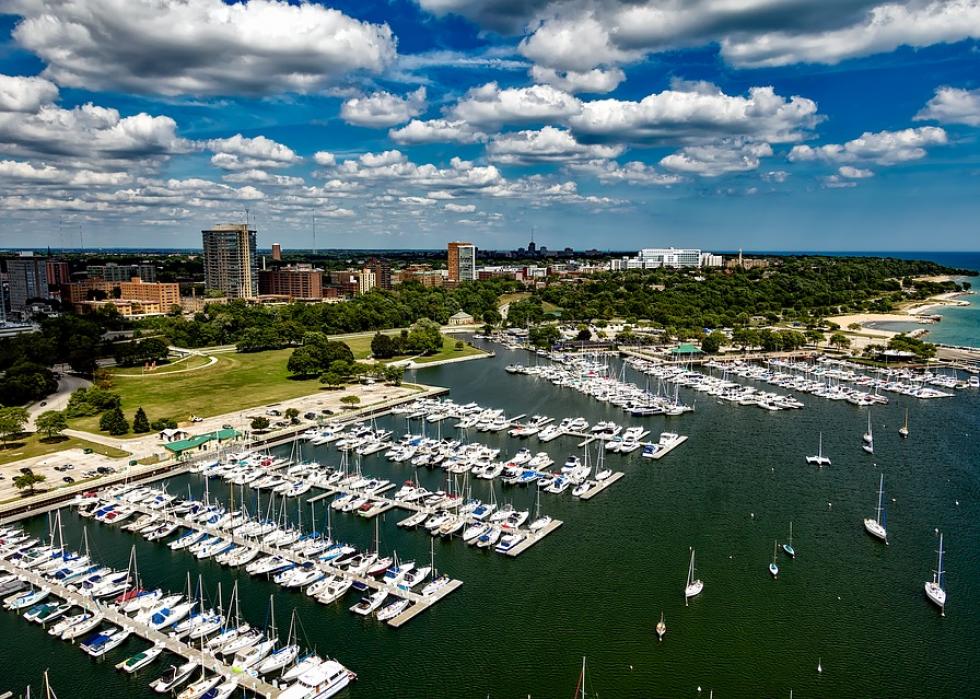 20 / 50
#31. Milwaukee, WI
Dog-friendliness index: 57.57
Annual average precipitation: 66.35 days
Walk score: 61/100
Dog parks: 0.5 per 100k residents
Dog restaurants: 24
Dog shops: 3
Median home value: $114,000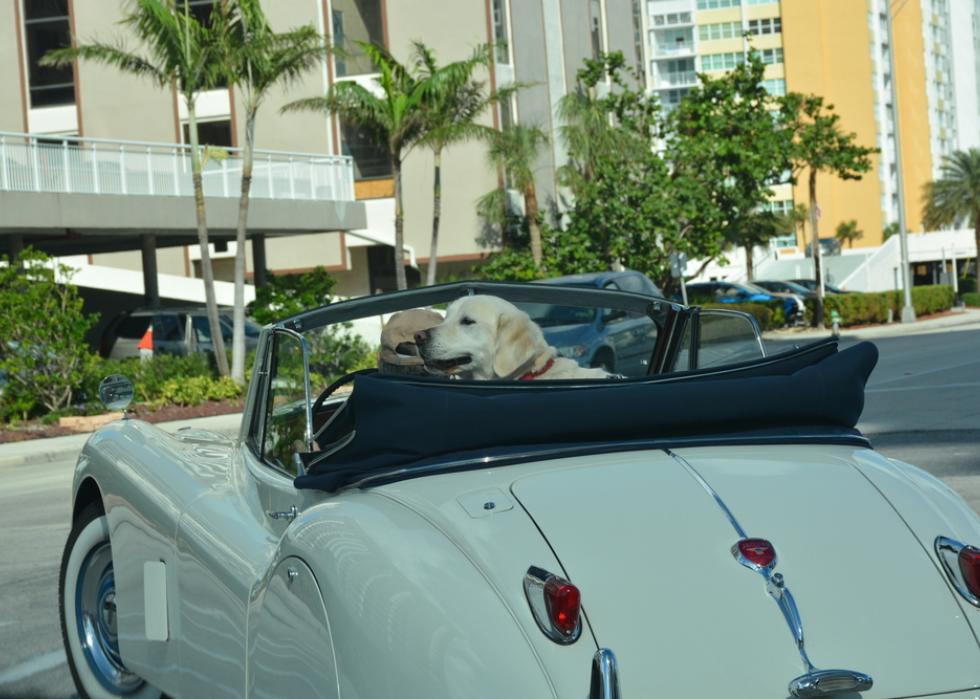 21 / 50
photravel_ru // Shutterstock
#30. Miami, FL
Dog-friendliness index: 57.68
Annual average precipitation: 81.55 days
Walk score: 78/100
Dog parks: 0.7 per 100k residents
Dog restaurants: 179
Dog shops: 2
Median home value: $286,600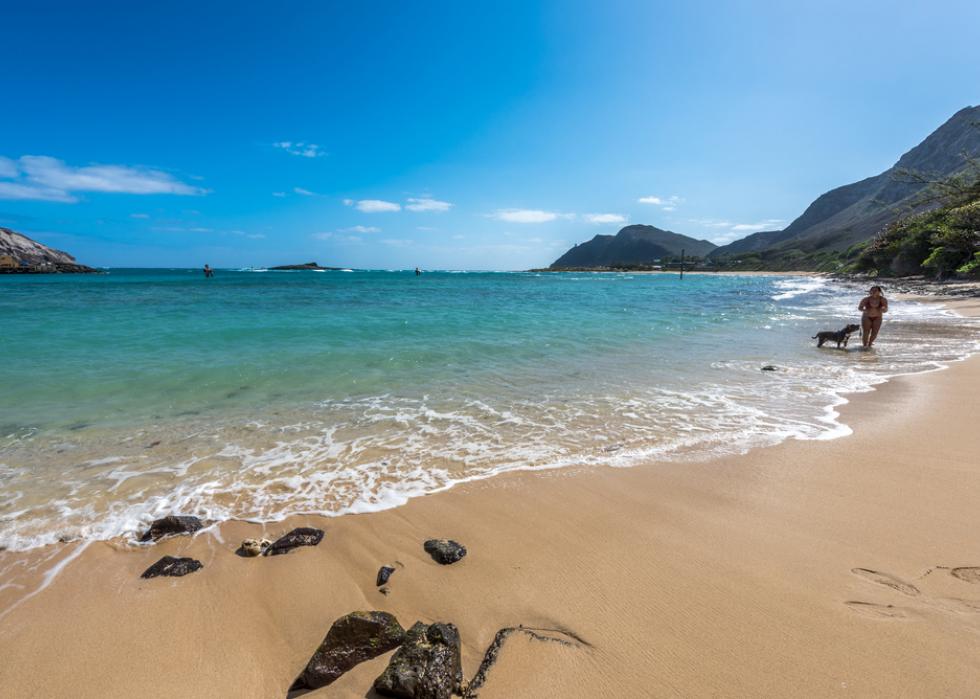 22 / 50
Phillip B. Espinasse // Shutterstock
#29. Honolulu, HI
Dog-friendliness index: 59.02
Annual average precipitation: 34.77 days
Walk score: 63/100
Dog parks: 0.6 per 100k residents
Dog restaurants: 126
Dog shops: 0
Median home value: $641,900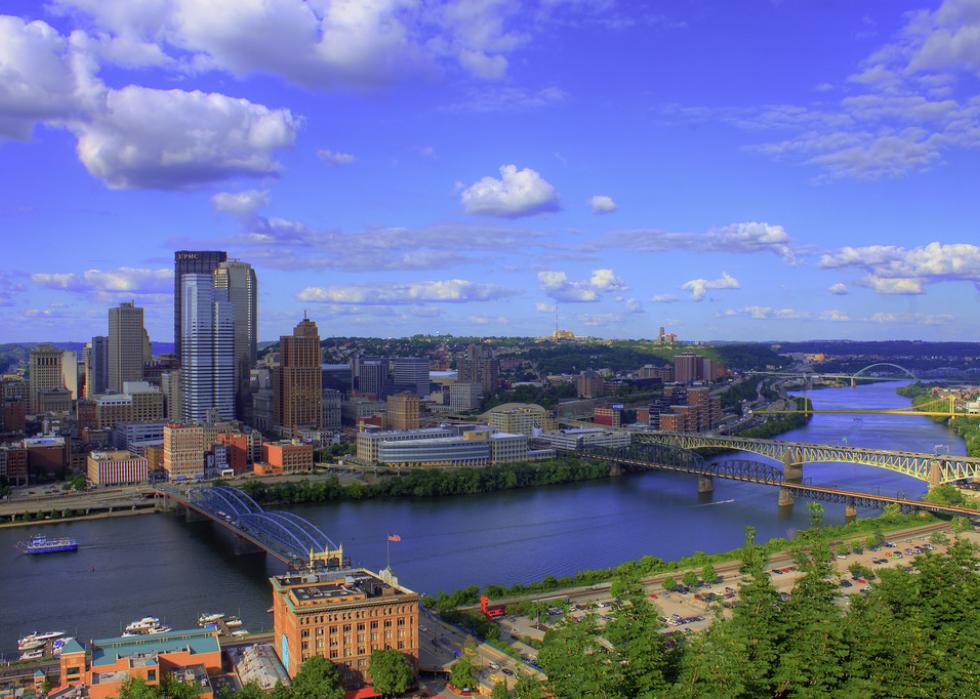 23 / 50
Always Shooting // Flickr
#27. Pittsburgh, PA
Dog-friendliness index: 60.47
Annual average precipitation: 80.32 days
Walk score: 61/100
Dog parks: 2.0 per 100k residents
Dog restaurants: 27
Dog shops: 0
Median home value: $108,400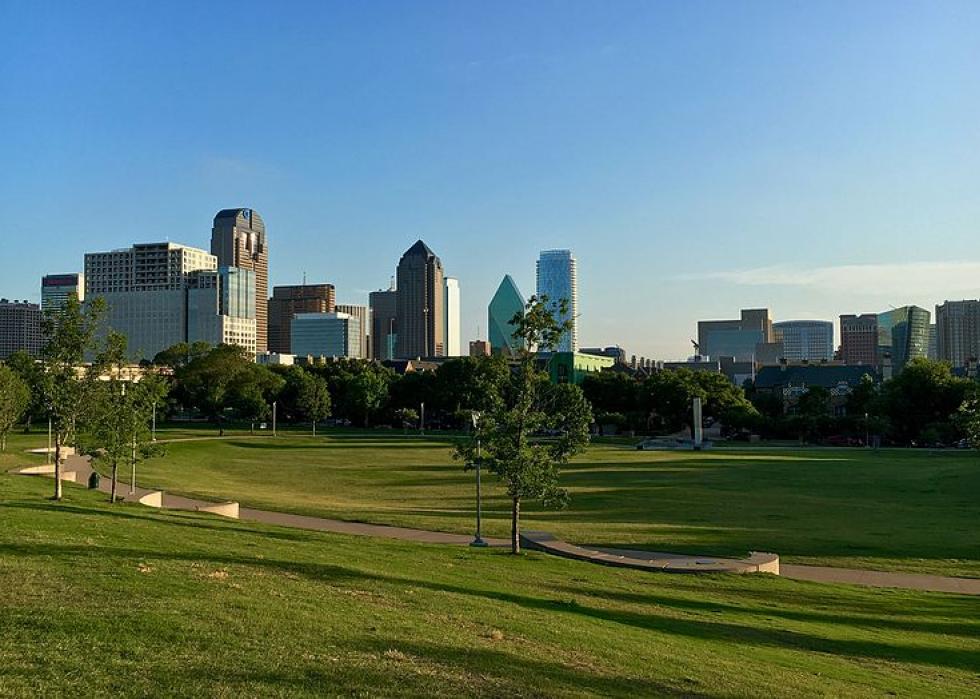 24 / 50
Kairos14 // Wikimedia Commons
#27. Dallas, TX
Dog-friendliness index: 60.47
Annual average precipitation: 53.44 days
Walk score: 45/100
Dog parks: 0.4 per 100k residents
Dog restaurants: 101
Dog shops: 3
Median home value: $152,400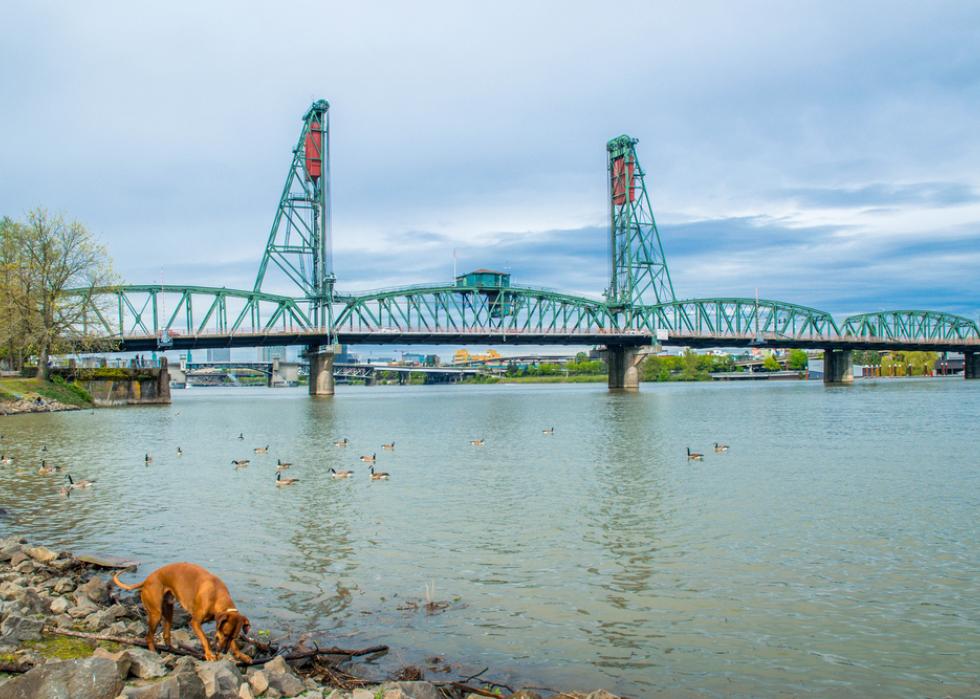 25 / 50
#26. Portland, OR
Dog-friendliness index: 61.14
Annual average precipitation: 115.89 days
Walk score: 64/100
Dog parks: 5.3 per 100k residents
Dog restaurants: 73
Dog shops: 0
Median home value: $348,300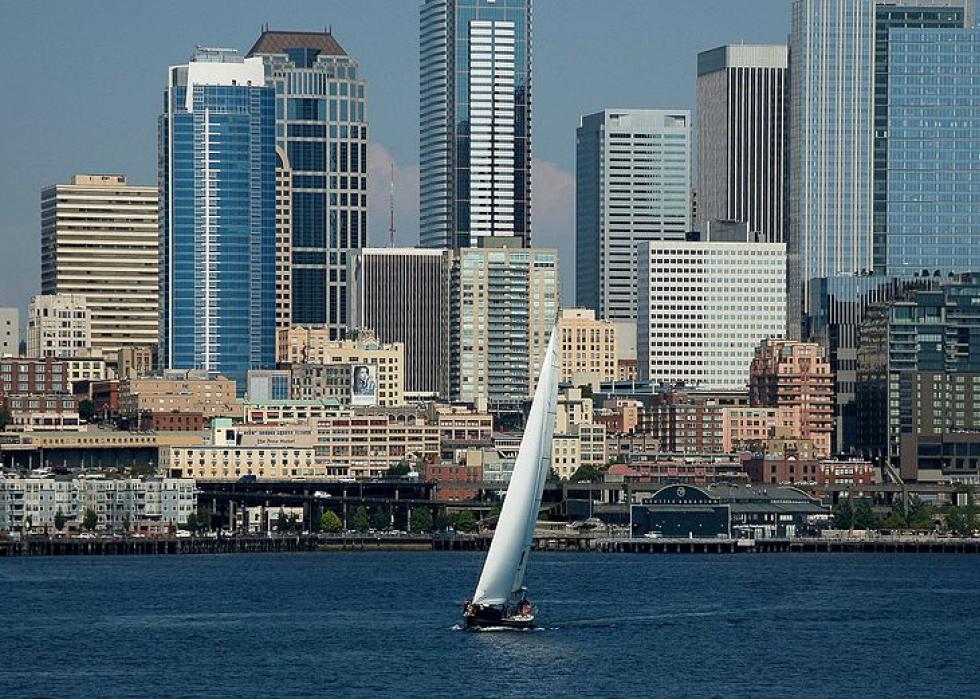 26 / 50
Patrick_McNally // Wikimedia Commons
#25. Seattle, WA
Dog-friendliness index: 65.14
Annual average precipitation: 107.78 days
Walk score: 73/100
Dog parks: 2.1 per 100k residents
Dog restaurants: 103
Dog shops: 2
Median home value: $530,900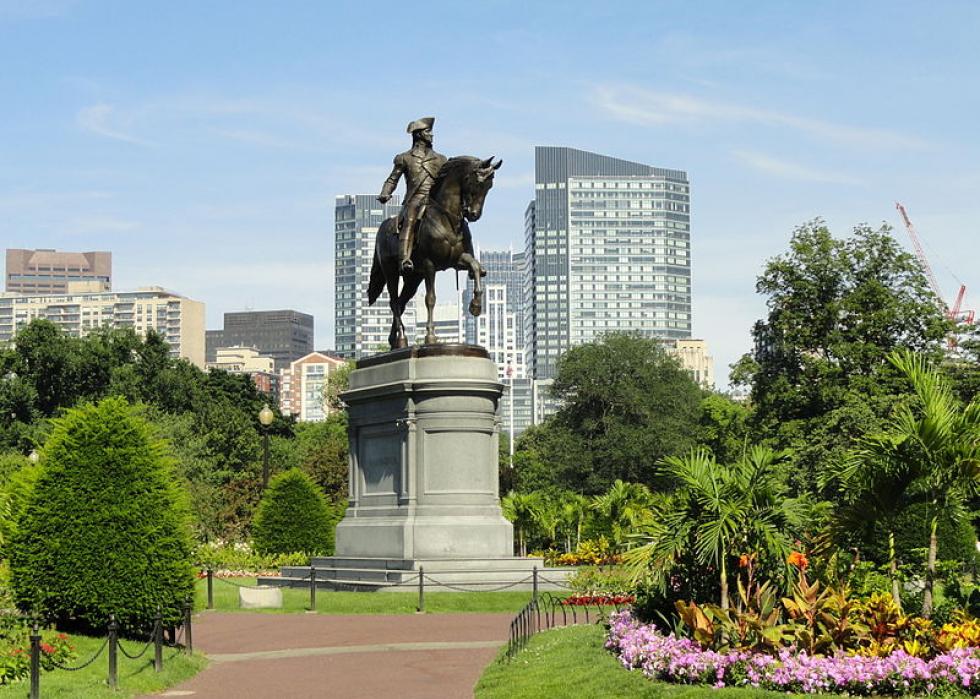 27 / 50
Daderot // Wikimedia Commons
#24. Boston, MA
Dog-friendliness index: 65.81
Annual average precipitation: 81.50 days
Walk score: 81/100
Dog parks: 1.1 per 100k residents
Dog restaurants: 65
Dog shops: 10
Median home value: $453,000
28 / 50
Tony the Marine // Wikimedia Commons
#23. Glendale, AZ
Dog-friendliness index: 66.48
Annual average precipitation: 18.41 days
Walk score: 40/100
Dog parks: 1.3 per 100k residents
Dog restaurants: 12
Dog shops: 4
Median home value: $181,000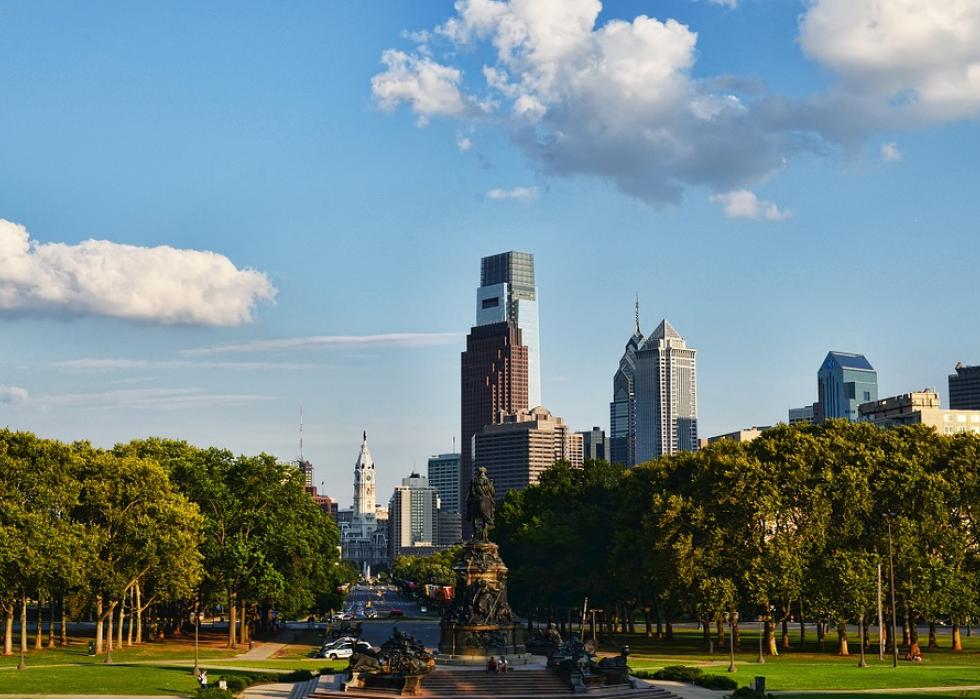 29 / 50
#22. Philadelphia, PA
Dog-friendliness index: 66.70
Annual average precipitation: 74.19 days
Walk score: 78/100
Dog parks: 0.3 per 100k residents
Dog restaurants: 111
Dog shops: 8
Median home value: $150,700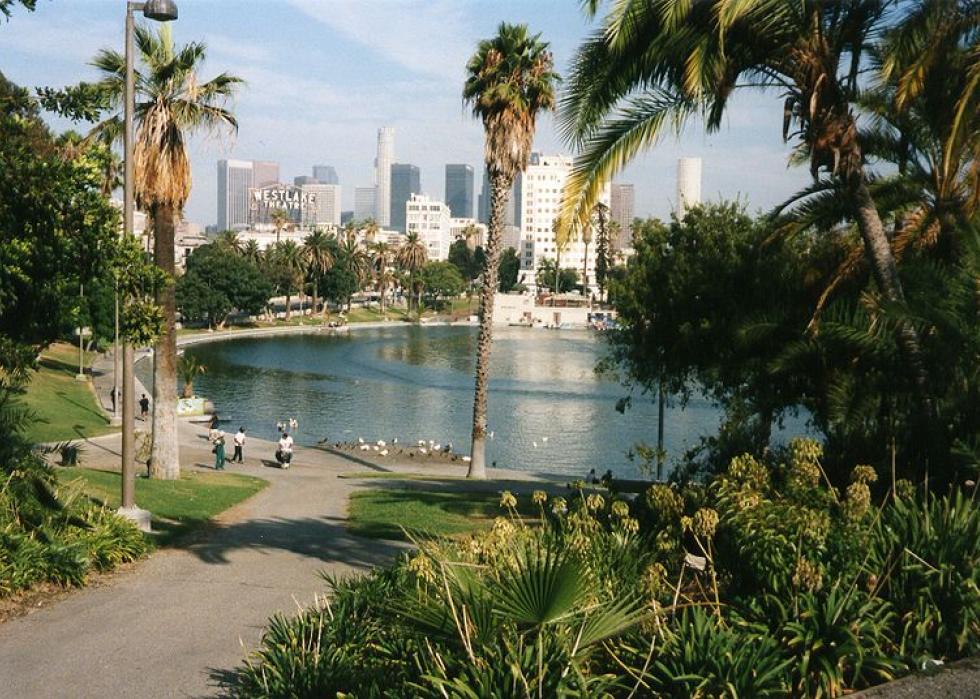 30 / 50
#21. Los Angeles, CA
Dog-friendliness index: 68.49
Annual average precipitation: 25.14 days
Walk score: 66/100
Dog parks: 0.3 per 100k residents
Dog restaurants: 136
Dog shops: 4
Median home value: $542,100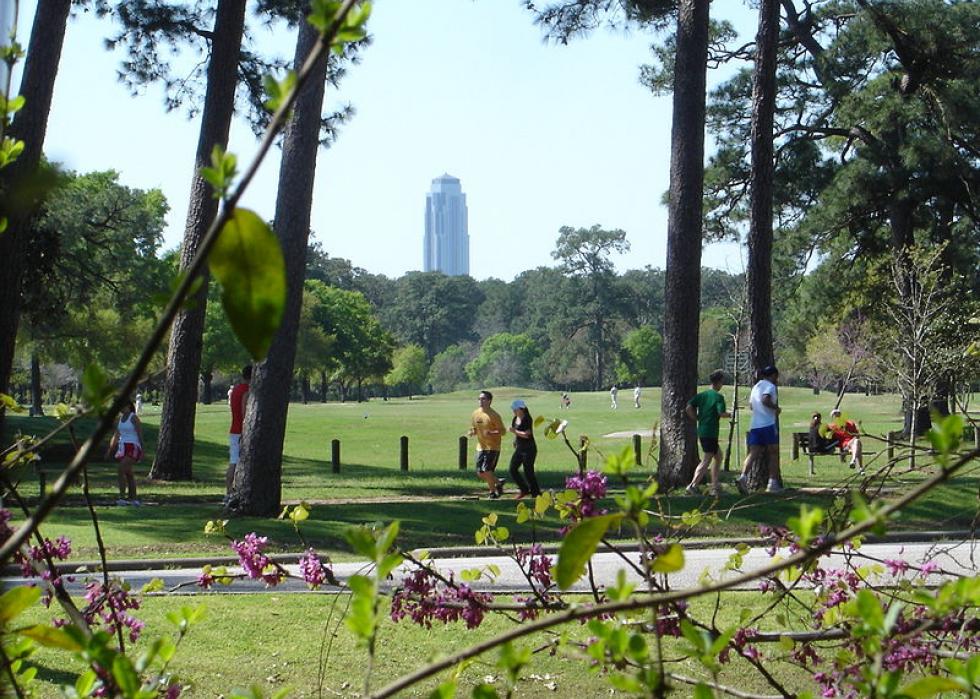 31 / 50
#20. Houston, TX
Dog-friendliness index: 68.60
Annual average precipitation: 61.59 days
Walk score: 48/100
Dog parks: 0.7 per 100k residents
Dog restaurants: 129
Dog shops: 2
Median home value: $152,200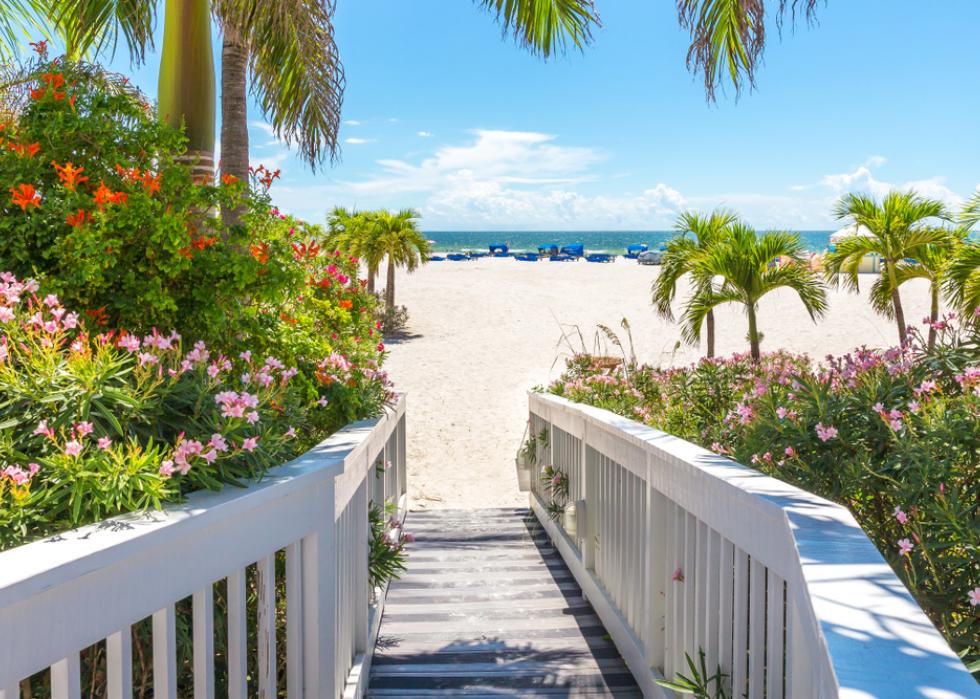 32 / 50
mariakraynova // Shutterstock
#19. Saint Petersburg, FL
Dog-friendliness index: 69.27
Annual average precipitation: 70.45 days
Walk score: 42/100
Dog parks: 2.4 per 100k residents
Dog restaurants: 58
Dog shops: 0
Median home value: $170,000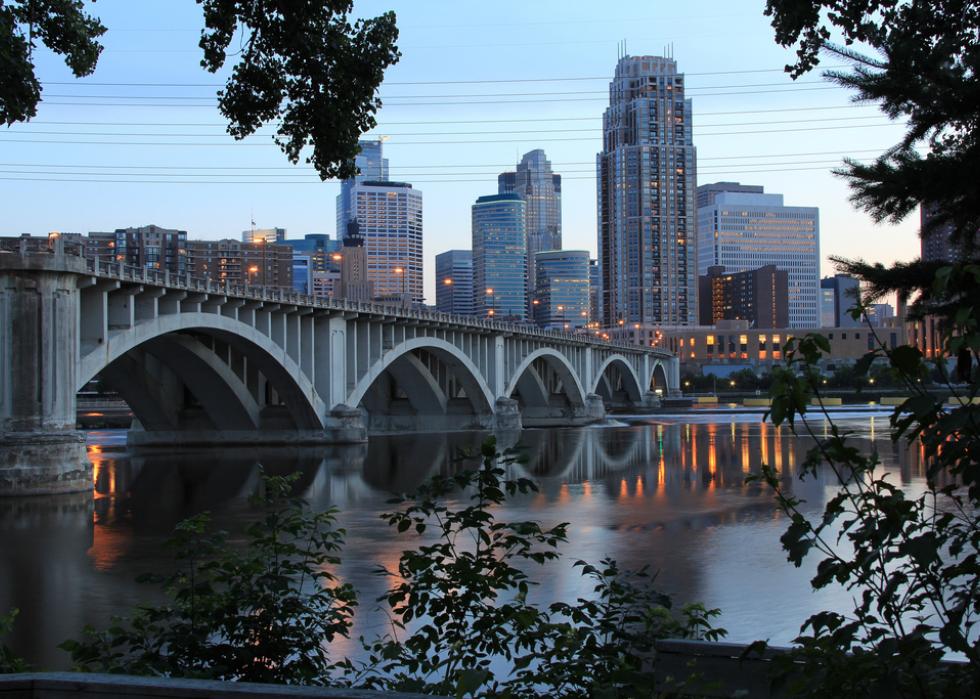 33 / 50
#18. Minneapolis, MN
Dog-friendliness index: 70.16
Annual average precipitation: 56.96 days
Walk score: 68/100
Dog parks: 1.7 per 100k residents
Dog restaurants: 46
Dog shops: 0
Median home value: $227,500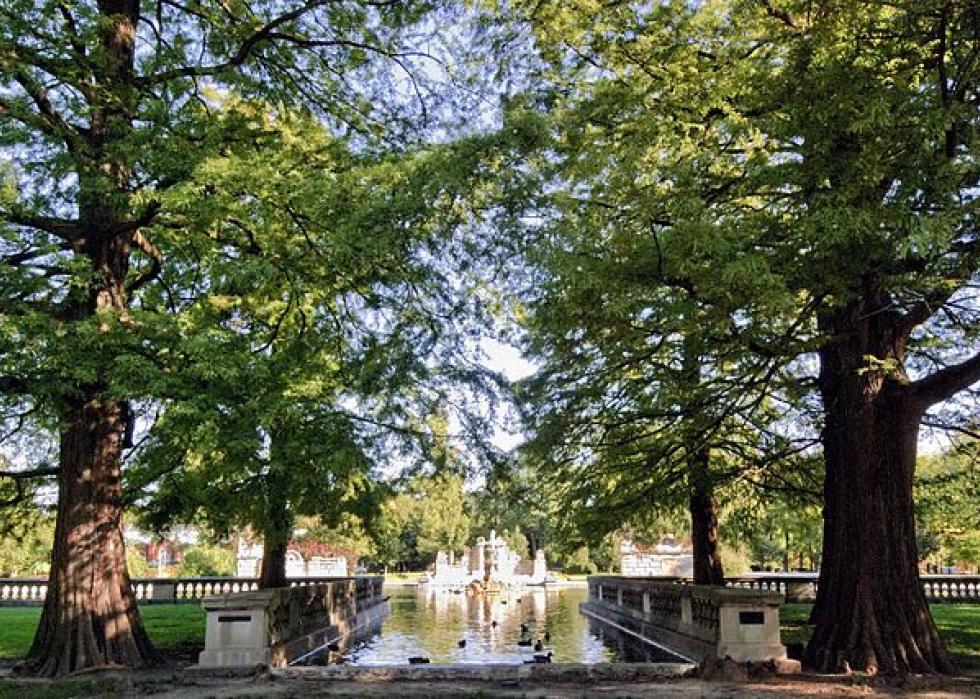 34 / 50
Parker Botanical // Wikimedia Commons
#17. Saint Louis, MO
Dog-friendliness index: 71.27
Annual average precipitation: 68.61 days
Walk score: 64/100
Dog parks: 1.6 per 100k residents
Dog restaurants: 35
Dog shops: 0
Median home value: $130,800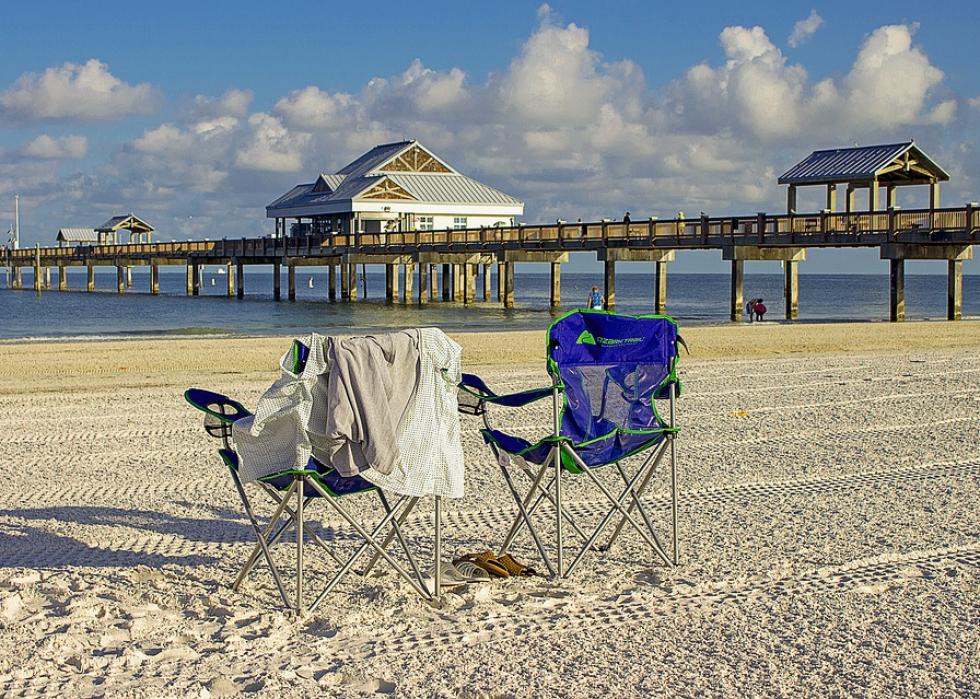 35 / 50
#16. Tampa, FL
Dog-friendliness index: 71.49
Annual average precipitation: 71.83 days
Walk score: 49/100
Dog parks: 3.3 per 100k residents
Dog restaurants: 64
Dog shops: 0
Median home value: $189,800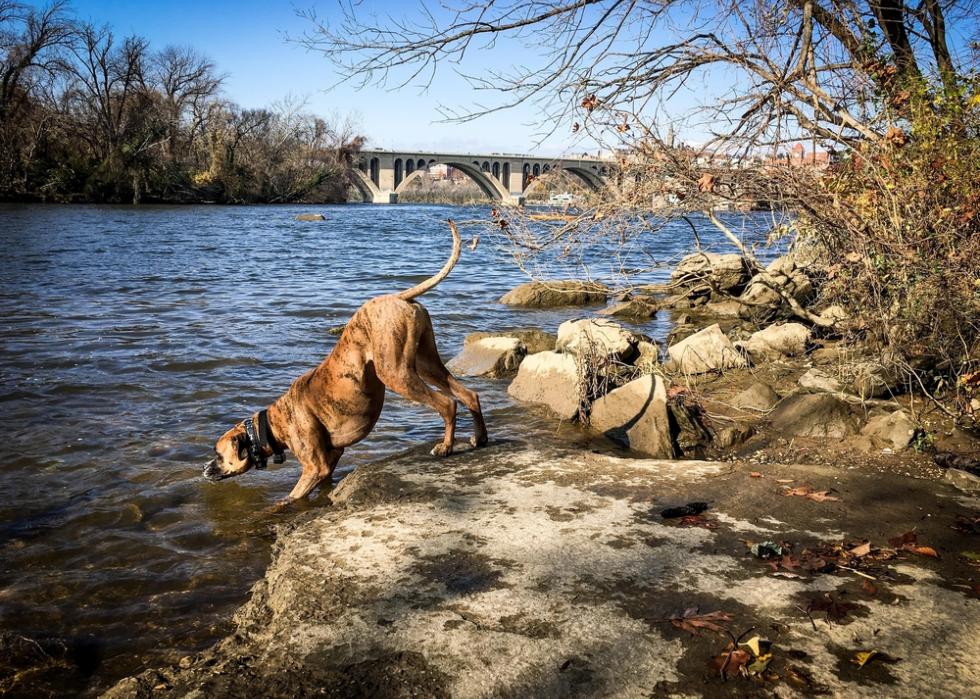 36 / 50
jaimie tuchman // Shutterstock
#15. Washington, DC
Dog-friendliness index: 71.83
Annual average precipitation: 75.98 days
Walk score: 66/100
Dog parks: 1.7 per 100k residents
Dog restaurants: 111
Dog shops: 3
Median home value: $551,300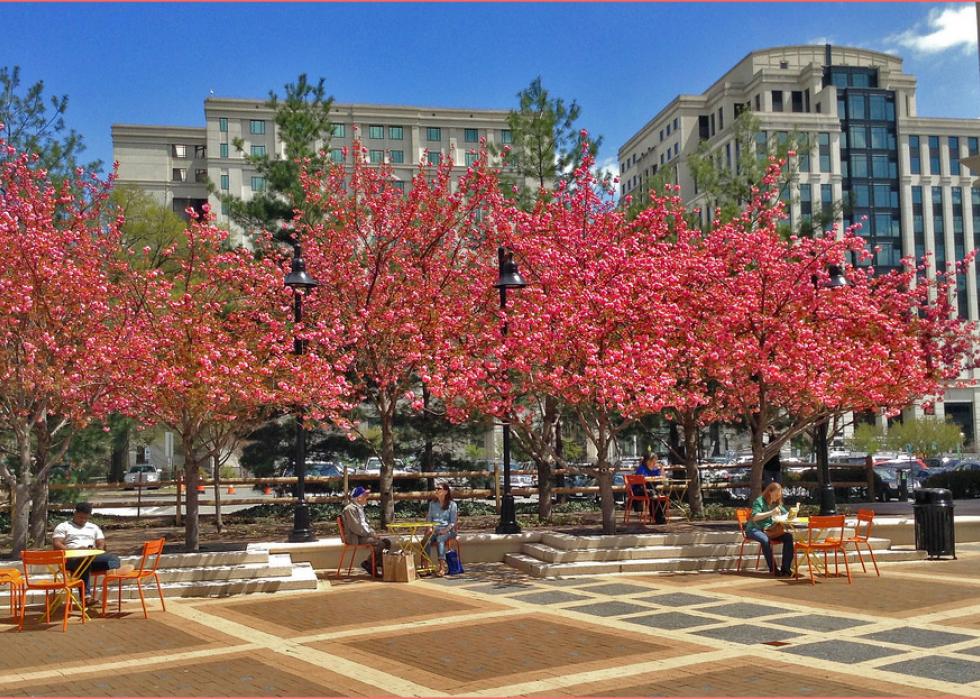 37 / 50
#14. Arlington, VA
Dog-friendliness index: 73.72
Annual average precipitation: 75.95 days
Walk score: 68/100
Dog parks: 3.5 per 100k residents
Dog restaurants: 110
Dog shops: 2
Median home value: $655,000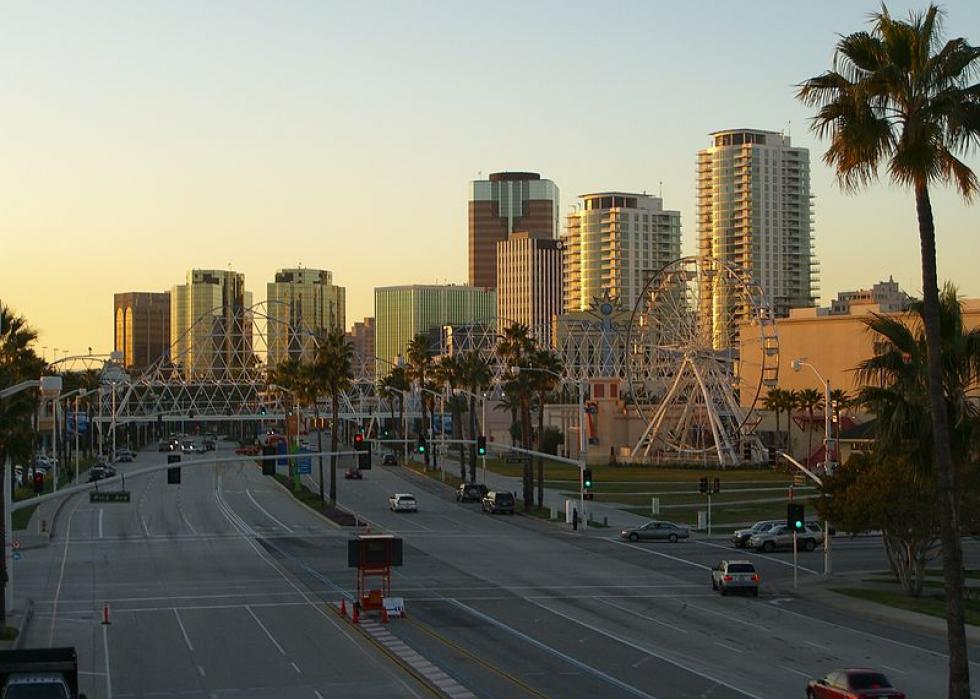 38 / 50
Eric Fredericks // Wikimedia Commons
#13. Long Beach, CA
Dog-friendliness index: 77.62
Annual average precipitation: 25.14 days
Walk score: 69/100
Dog parks: 1.9 per 100k residents
Dog restaurants: 45
Dog shops: 0
Median home value: $483,700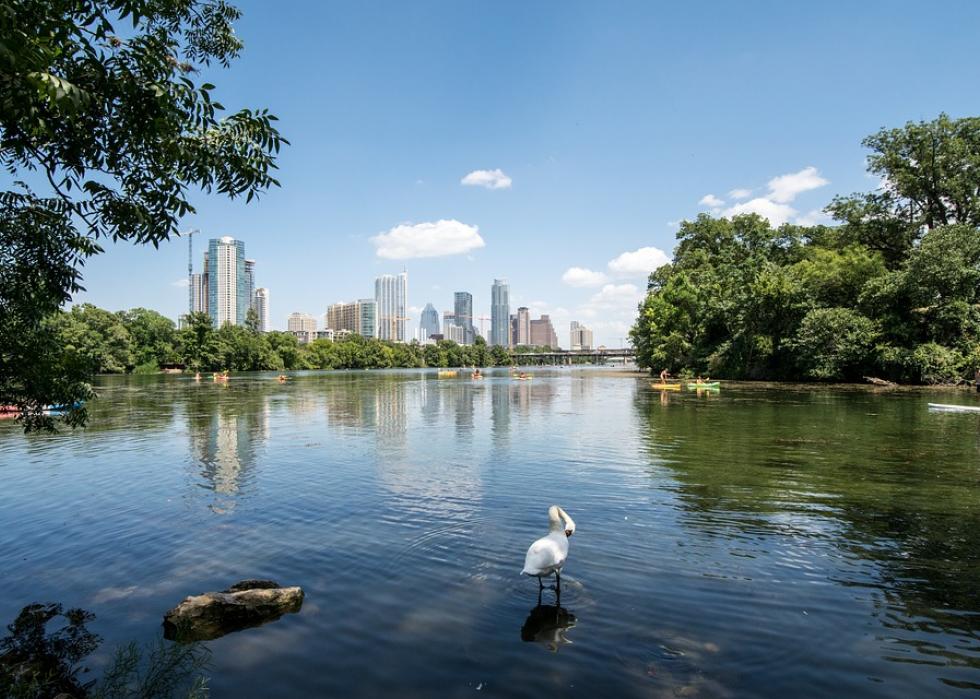 39 / 50
#12. Austin, TX
Dog-friendliness index: 77.95
Annual average precipitation: 50.36 days
Walk score: 39/100
Dog parks: 1.3 per 100k residents
Dog restaurants: 166
Dog shops: 7
Median home value: $282,700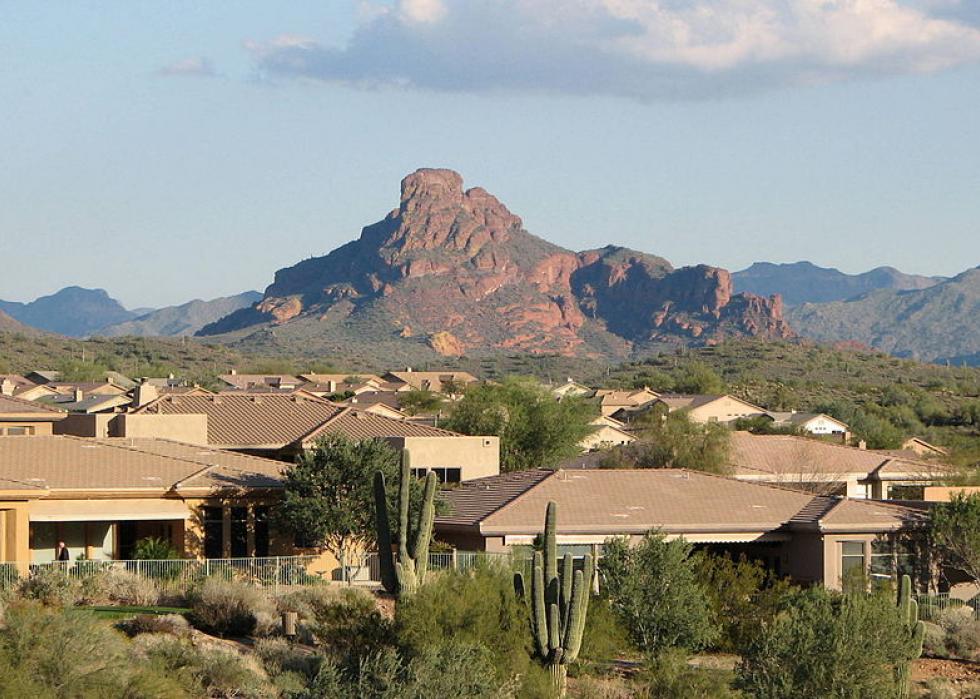 40 / 50
Bernard Gagnon // Wikimedia Commons
#11. Scottsdale, AZ
Dog-friendliness index: 78.62
Annual average precipitation: 18.41 days
Walk score: 32/100
Dog parks: 1.3 per 100k residents
Dog restaurants: 117
Dog shops: 17
Median home value: $434,700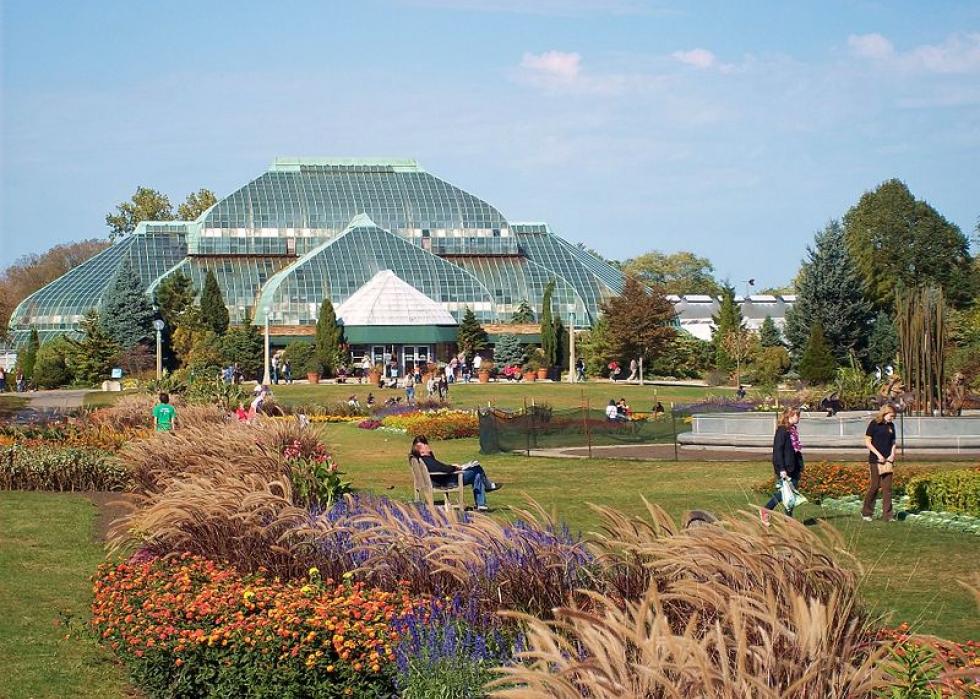 41 / 50
Alanscottwalker // Wikimedia Commons
#10. Chicago, IL
Dog-friendliness index: 80.73
Annual average precipitation: 61.72 days
Walk score: 78/100
Dog parks: 0.8 per 100k residents
Dog restaurants: 130
Dog shops: 3
Median home value: $238,500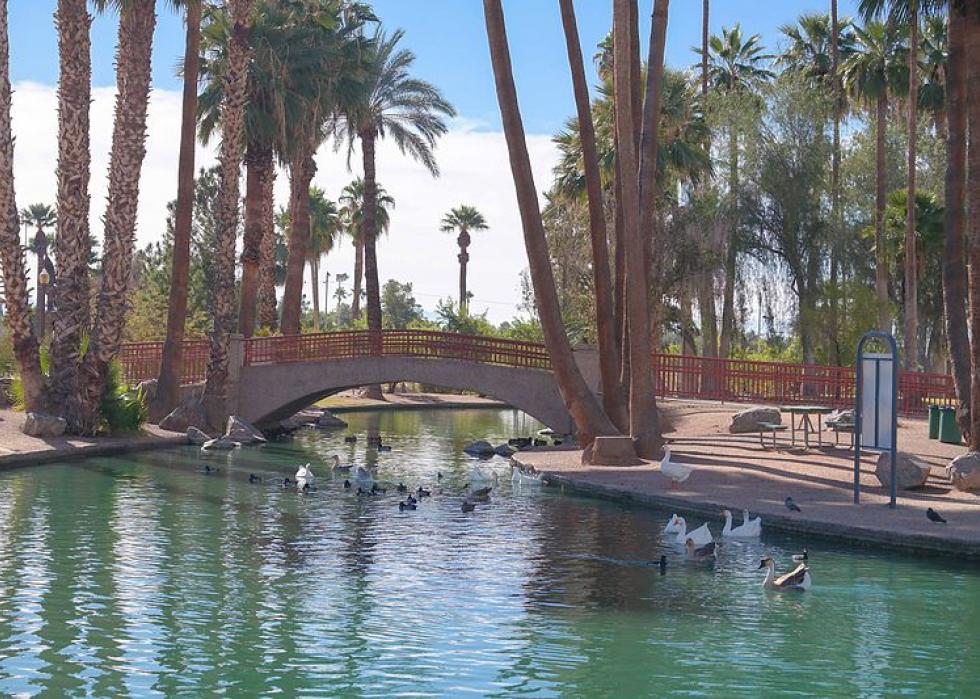 42 / 50
Visitor7 // Wikimedia Commons
#9. Phoenix, AZ
Dog-friendliness index: 82.07
Annual average precipitation: 18.41 days
Walk score: 40/100
Dog parks: 0.6 per 100k residents
Dog restaurants: 158
Dog shops: 13
Median home value: $200,800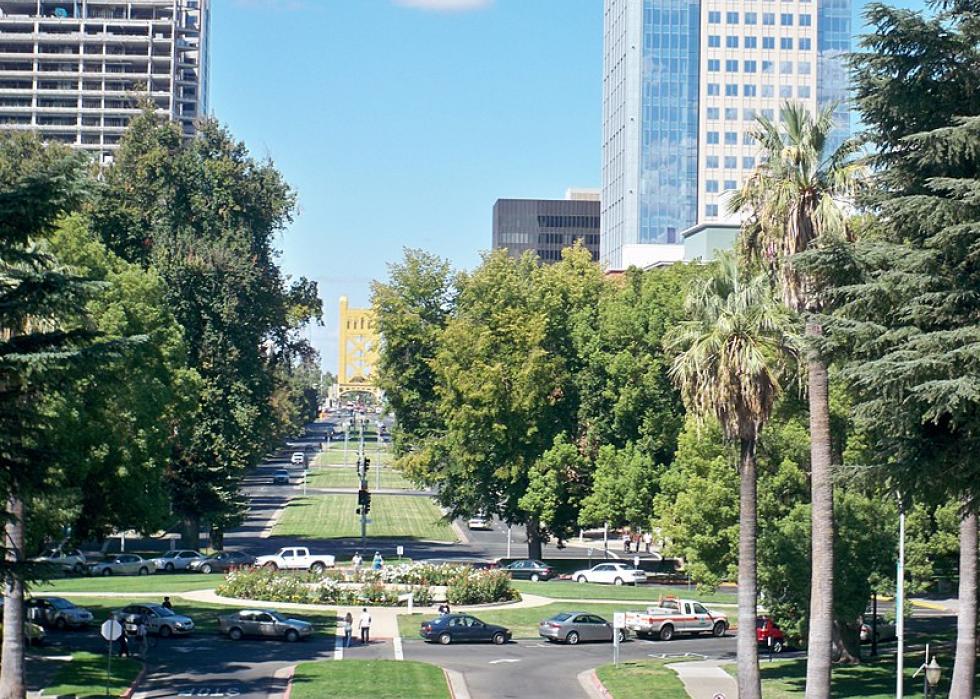 43 / 50
Griffin5 // Wikimedia Commons
#8. Sacramento, CA
Dog-friendliness index: 83.18
Annual average precipitation: 39.65 days
Walk score: 46/100
Dog parks: 2.3 per 100k residents
Dog restaurants: 60
Dog shops: 3
Median home value: $287,300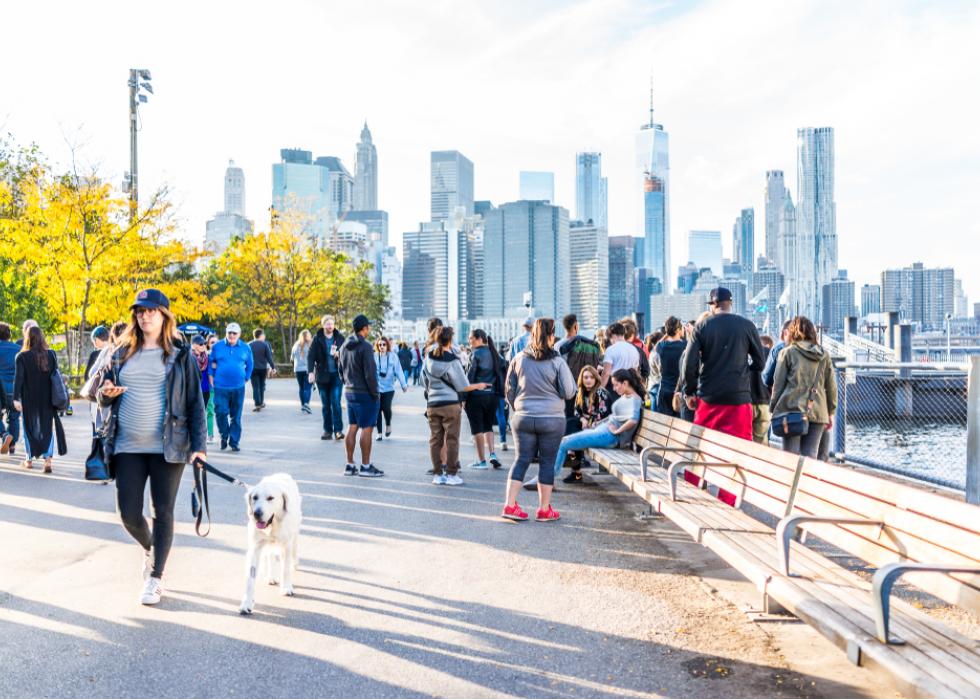 44 / 50
Kristi Blokhin // Shutterstock
#7. New York, NY
Dog-friendliness index: 84.19
Annual average precipitation: 75.96 days
Walk score: 89/100
Dog parks: 1.5 per 100k residents
Dog restaurants: 179
Dog shops: 4
Median home value: $538,300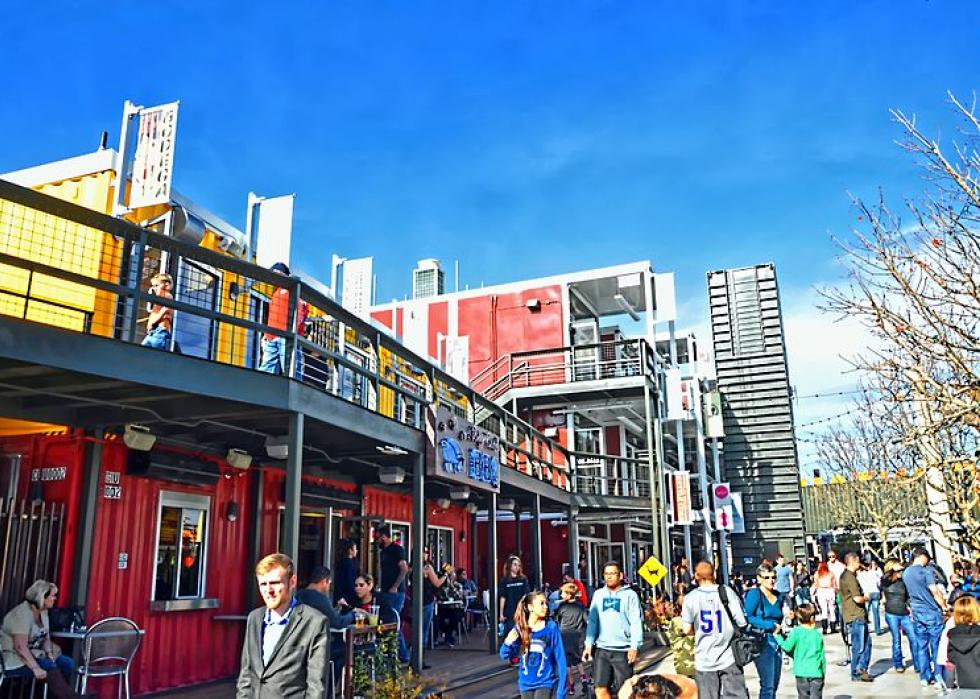 45 / 50
Tomás Del Coro // Wikimedia Commons
#6. Las Vegas, NV
Dog-friendliness index: 85.52
Annual average precipitation: 14.19 days
Walk score: 40/100
Dog parks: 4.2 per 100k residents
Dog restaurants: 43
Dog shops: 2
Median home value: $209,400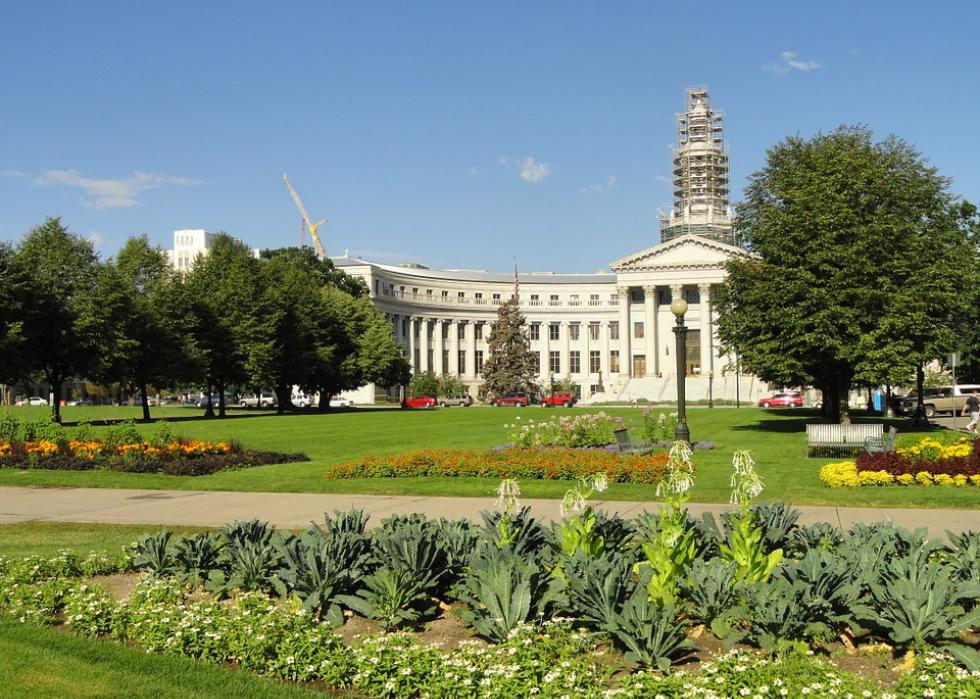 46 / 50
#5. Denver, CO
Dog-friendliness index: 86.41
Annual average precipitation: 43.47 days
Walk score: 60/100
Dog parks: 1.4 per 100k residents
Dog restaurants: 81
Dog shops: 4
Median home value: $316,700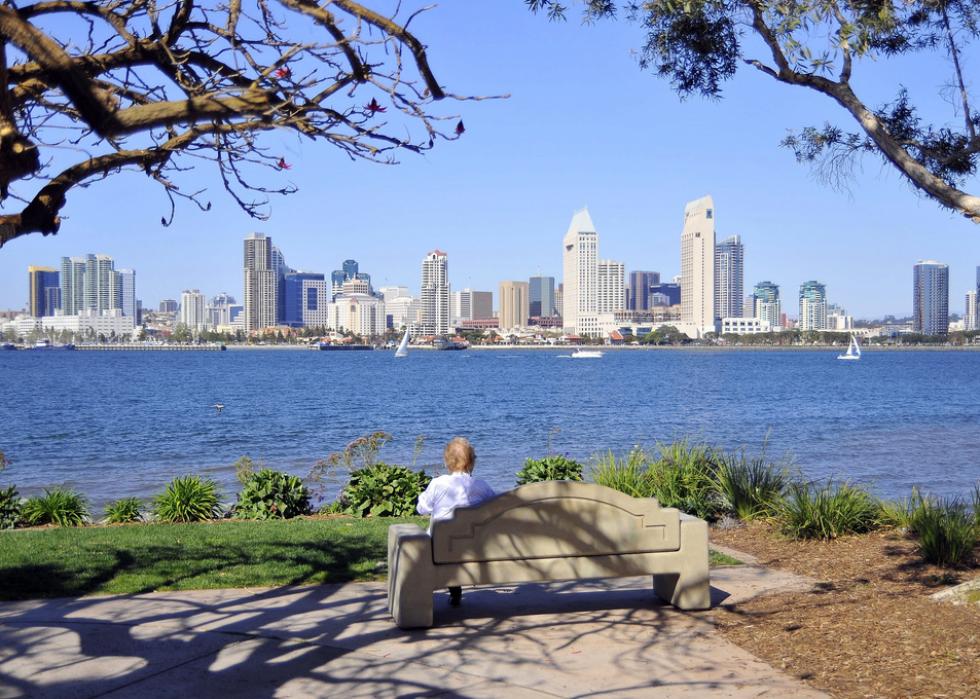 47 / 50
#4. San Diego, CA
Dog-friendliness index: 89.87
Annual average precipitation: 28.09 days
Walk score: 50/100
Dog parks: 1.1 per 100k residents
Dog restaurants: 200
Dog shops: 7
Median home value: $526,900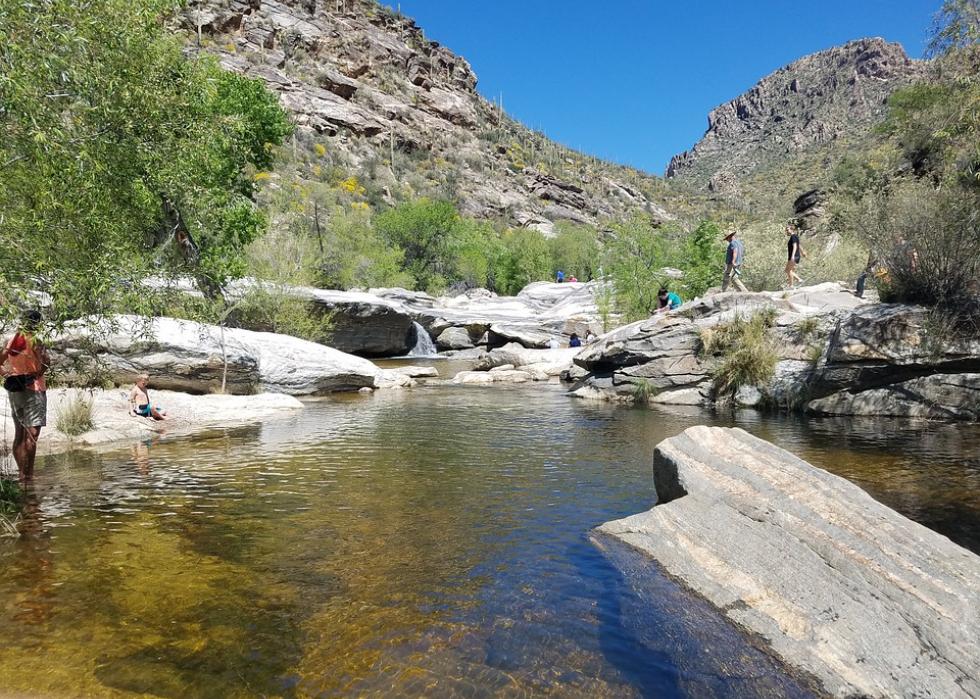 48 / 50
#3. Tucson, AZ
Dog-friendliness index: 90.09
Annual average precipitation: 22.70 days
Walk score: 41/100
Dog parks: 1.3 per 100k residents
Dog restaurants: 53
Dog shops: 4
Median home value: $139,400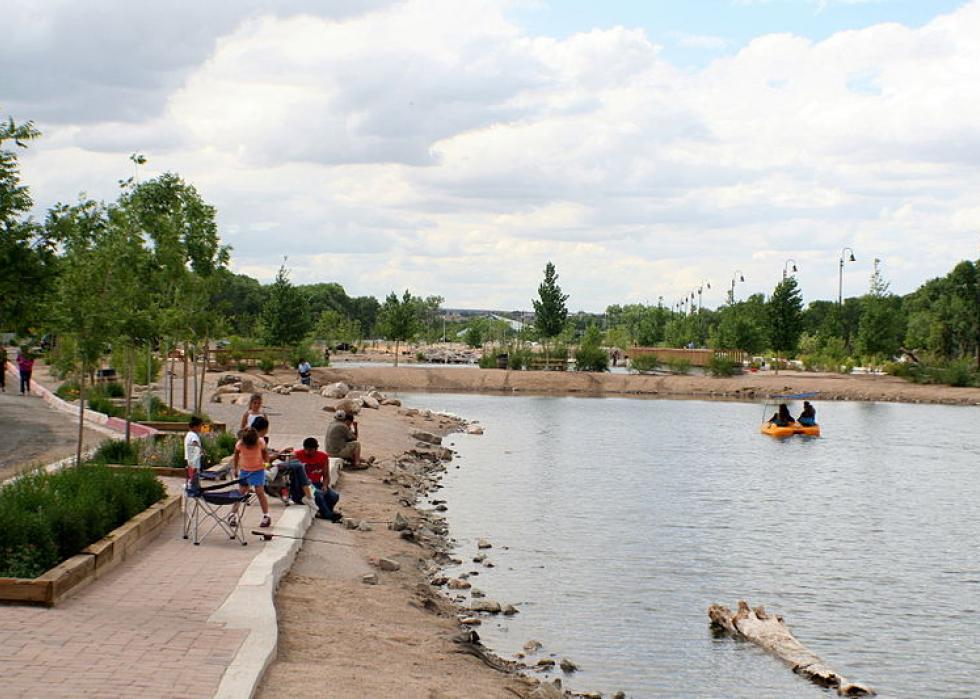 49 / 50
Asaavedra32 // Wikimedia Commons
#2. Albuquerque, NM
Dog-friendliness index: 90.65
Annual average precipitation: 27.97 days
Walk score: 42/100
Dog parks: 2.3 per 100k residents
Dog restaurants: 56
Dog shops: 3
Median home value: $189,200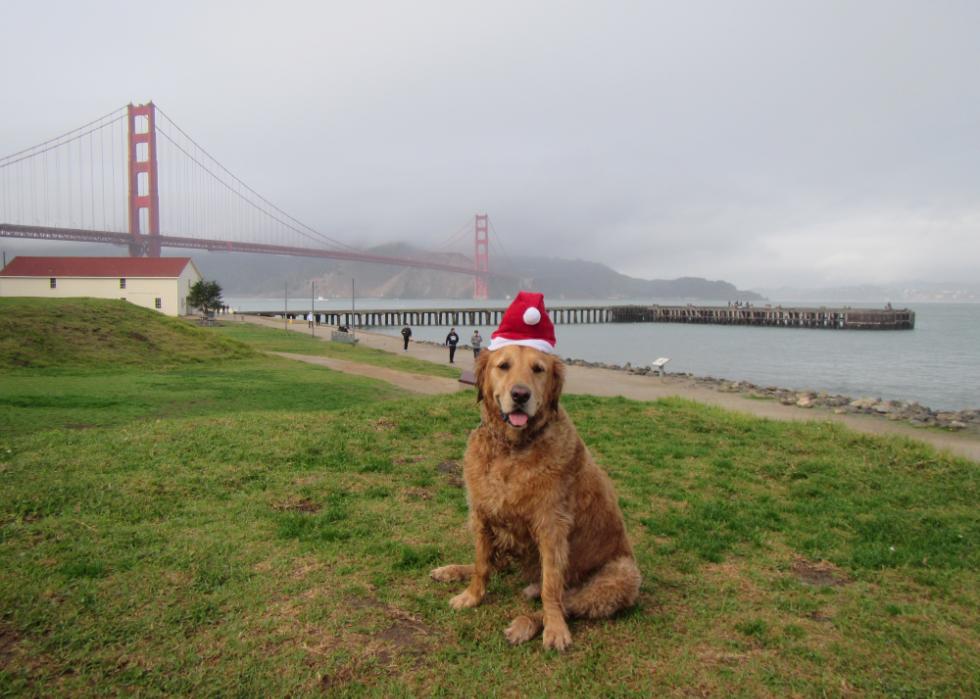 50 / 50
Dan Perdios // Shutterstock
#1. San Francisco, CA
Dog-friendliness index: 100.00
Annual average precipitation: 48.98 days
Walk score: 86/100
Dog parks: 3.4 per 100k residents
Dog restaurants: 171
Dog shops: 3
Median home value: $941,400