Countries where political representation of women is highest
Johann Schiff // Wikicommons
Countries where political representation of women is highest
1992 was declared "The Year of the Woman" after an unprecedented number of women candidates were listed on ballots in major federal races. 24 women were elected to the U.S. House of Representatives, and the Senate tripled the number of women in its chamber. 2018 is shaping up to be another record-breaking year for political representation. More women than ever are running for office, with a record-smashing 256 winning their primaries. The question of whether these women will win their races will only be answered on Election Day this November.
If they do, it would mark a meaningful improvement to women's political representation in the United States. The World Economic Forum's 2017 Global Gender Gap Report uses global data to create indices that measure gender equality around the world. Stacker examined the political empowerment index, which compares countries based on the ratio of women to men in their national governments, to rank the top 50 countries where political representation of women is highest.
Unfortunately, the U.S. does not appear on this list. According to the index, which weighs the ratios of women to men in parliament (31%) and ministerial positions (24.7%) alongside the ratios of how long there's been a female head of state compared to a male head of state in the last 50 years (44.3%), the United States is ranked #96.
Read on to discover the countries with the best gender equality in politics. 
ALSO: Countries where political representation of women is lowest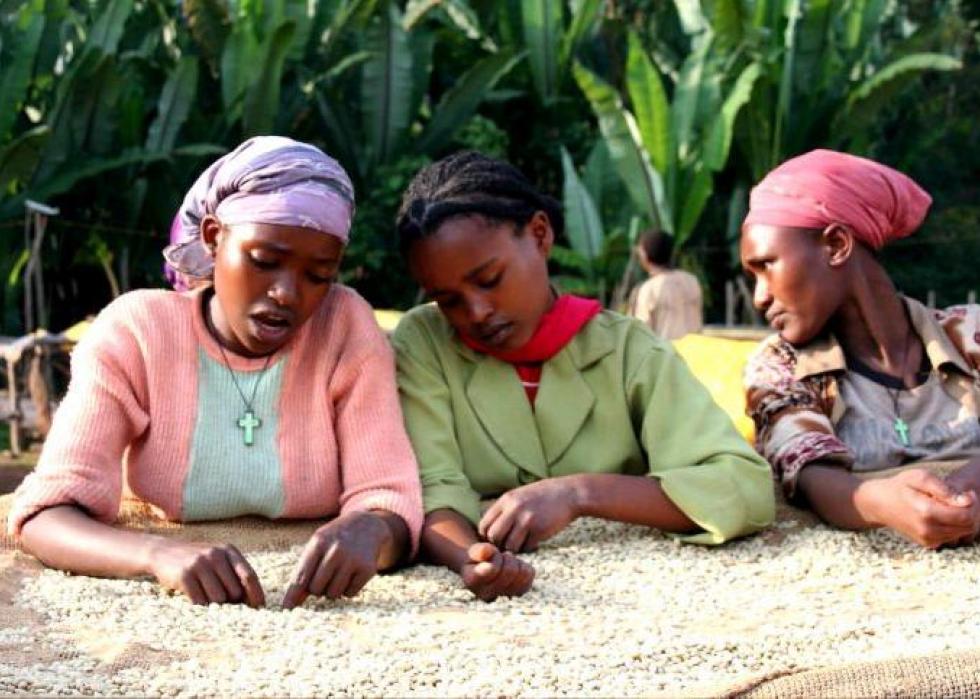 1 / 50
No attribution required // Pixnio
#50. Ethiopia
Political empowerment index score: 0.223
Women in parliament: 38.8% (Rank: #17; Female/male ratio: 0.63)
Women in ministerial positions: 10% (Rank: #109; Female/male ratio: 0.11)
Years with female head of state (of the last 50): 0 (Rank: #69; Female/male ratio: 0)
Overall gender gap rank: #115 (Score: 0.656)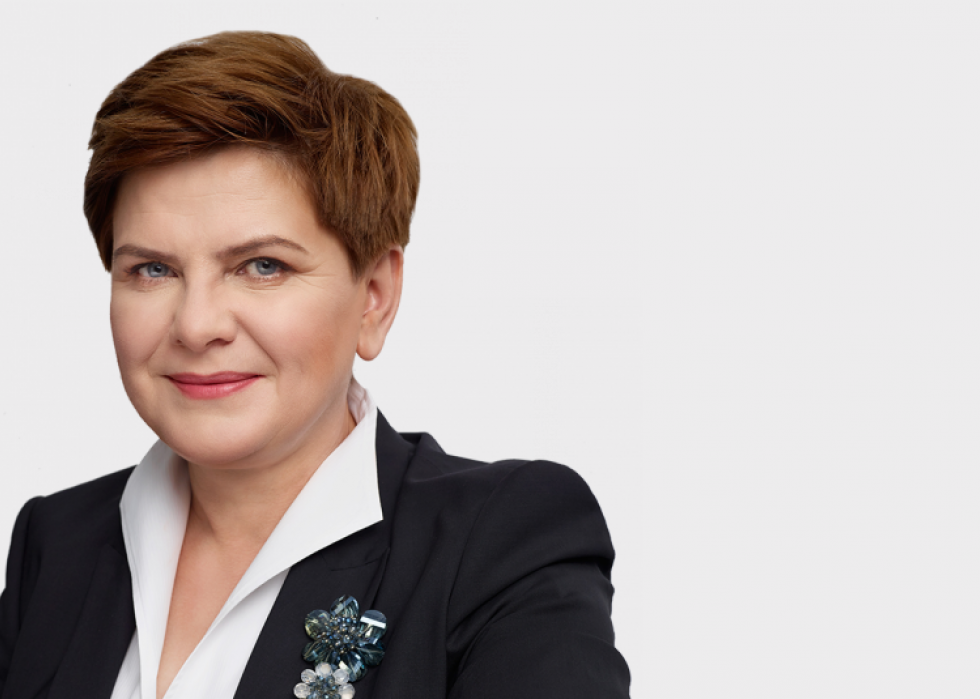 2 / 50
#49. Poland
Political empowerment index score: 0.23
Women in parliament: 28% (Rank: #47; Female/male ratio: 0.39)
Women in ministerial positions: 22.7% (Rank: #53; Female/male ratio: 0.29)
Years with female head of state (of the last 50): 3.8 (Rank: #31; Female/male ratio: 0.08)
Overall gender gap rank: #39 (Score: 0.728)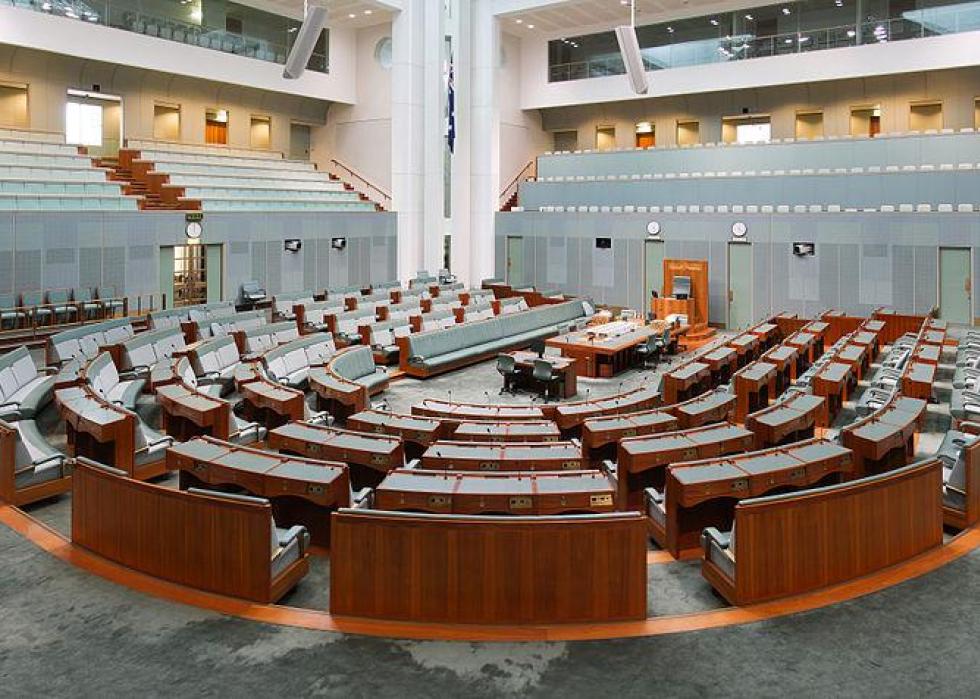 3 / 50
JJ Harrison // Wikicommons
#48. Australia
Political empowerment index score: 0.232
Women in parliament: 28.7% (Rank: #45; Female/male ratio: 0.4)
Women in ministerial positions: 24.1% (Rank: #43; Female/male ratio: 0.32)
Years with female head of state (of the last 50): 3 (Rank: #35; Female/male ratio: 0.06)
Overall gender gap rank: #35 (Score: 0.731)
4 / 50
Yochi Rappaport // Wikicommons
#47. Israel
Political empowerment index score: 0.232
Women in parliament: 27.5% (Rank: #51; Female/male ratio: 0.38)
Women in ministerial positions: 19% (Rank: #73; Female/male ratio: 0.24)
Years with female head of state (of the last 50): 5.7 (Rank: #22; Female/male ratio: 0.13)
Overall gender gap rank: #44 (Score: 0.721)
5 / 50
Italian G7 Presidency 2017 // Wikicommons
#46. Italy
Political empowerment index score: 0.234
Women in parliament: 31% (Rank: #41; Female/male ratio: 0.45)
Women in ministerial positions: 27.8% (Rank: #29; Female/male ratio: 0.38)
Years with female head of state (of the last 50): 0 (Rank: #69; Female/male ratio: 0)
Overall gender gap rank: #82 (Score: 0.692)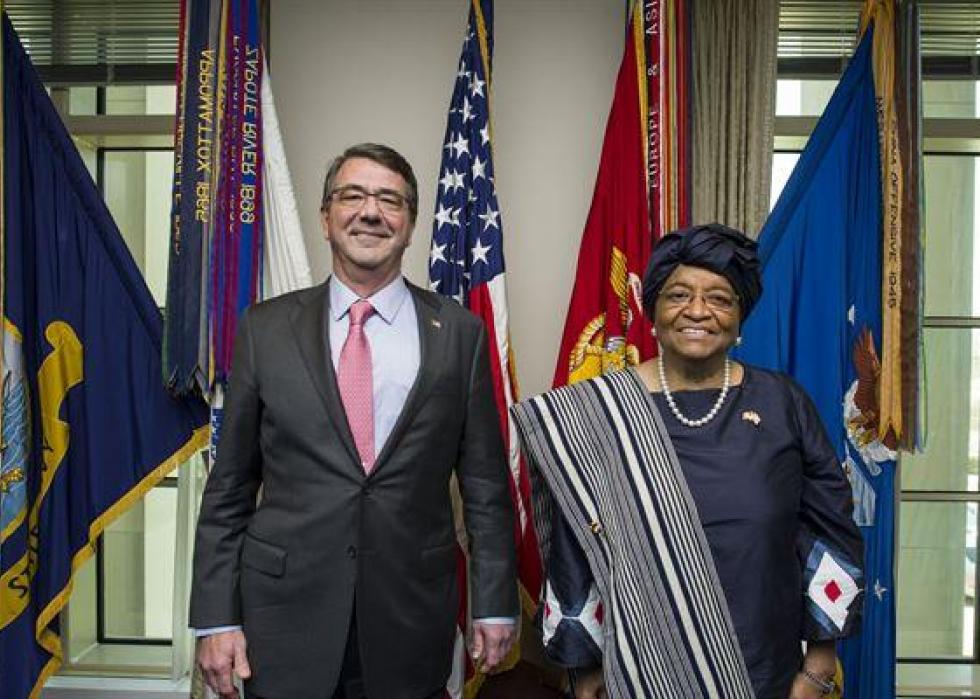 6 / 50
Sean Hurt // Department of Defense .gov
#45. Liberia
Political empowerment index score: 0.236
Women in parliament: 12.3% (Rank: #115; Female/male ratio: 0.14)
Women in ministerial positions: 15.8% (Rank: #88; Female/male ratio: 0.19)
Years with female head of state (of the last 50): 12.4 (Rank: #9; Female/male ratio: 0.33)
Overall gender gap rank: #107 (Score: 0.669)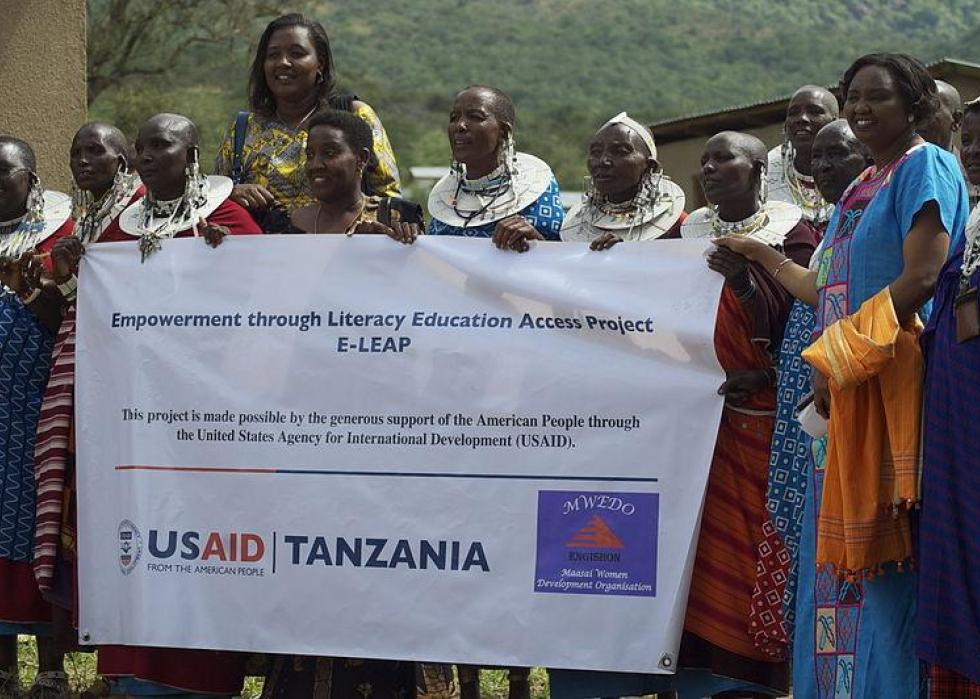 7 / 50
USAID Africa Bureau // Wikicommons
#44. Tanzania
Political empowerment index score: 0.239
Women in parliament: 36.4% (Rank: #24; Female/male ratio: 0.57)
Women in ministerial positions: 20% (Rank: #68; Female/male ratio: 0.25)
Years with female head of state (of the last 50): 0 (Rank: #69; Female/male ratio: 0)
Overall gender gap rank: #68 (Score: 0.7)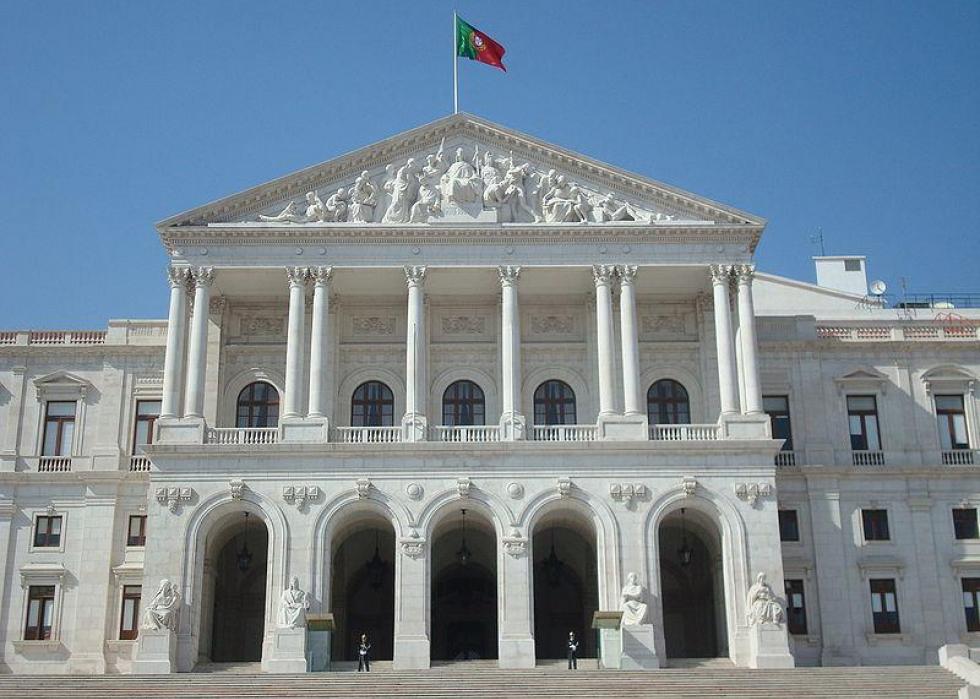 8 / 50
Andrés Monroy-Hernández // Wikicommons
#43. Portugal
Political empowerment index score: 0.24
Women in parliament: 34.8% (Rank: #28; Female/male ratio: 0.53)
Women in ministerial positions: 22.2% (Rank: #56; Female/male ratio: 0.29)
Years with female head of state (of the last 50): 0.4 (Rank: #58; Female/male ratio: 0.01)
Overall gender gap rank: #33 (Score: 0.734)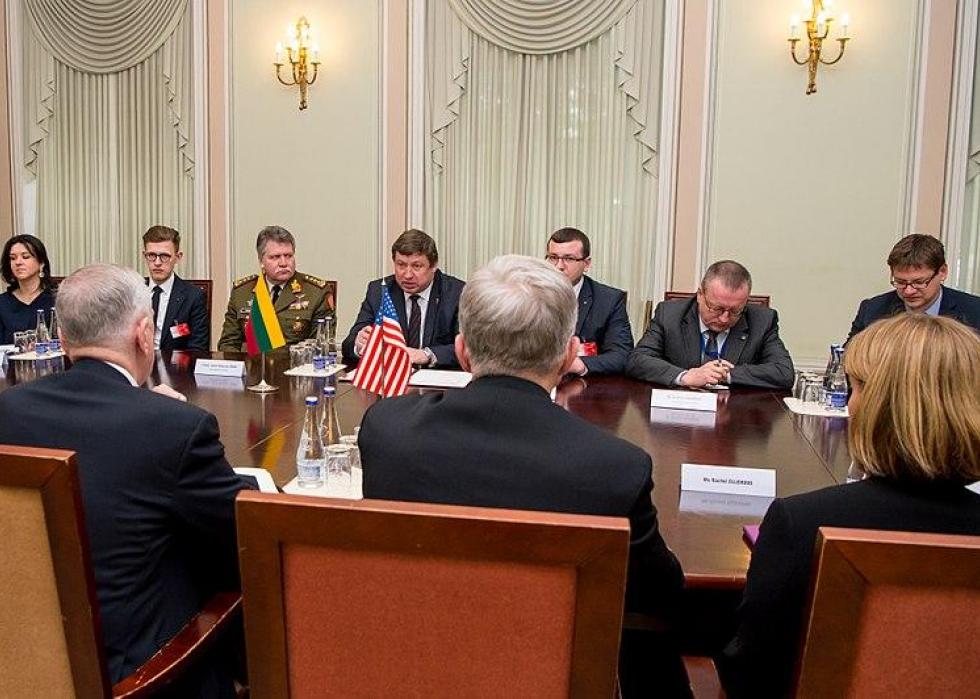 9 / 50
Jim Mattis // Wikicommons
#42. Lithuania
Political empowerment index score: 0.241
Women in parliament: 21.3% (Rank: #73; Female/male ratio: 0.27)
Women in ministerial positions: 21.4% (Rank: #63; Female/male ratio: 0.27)
Years with female head of state (of the last 50): 8.4 (Rank: #16; Female/male ratio: 0.2)
Overall gender gap rank: #28 (Score: 0.742)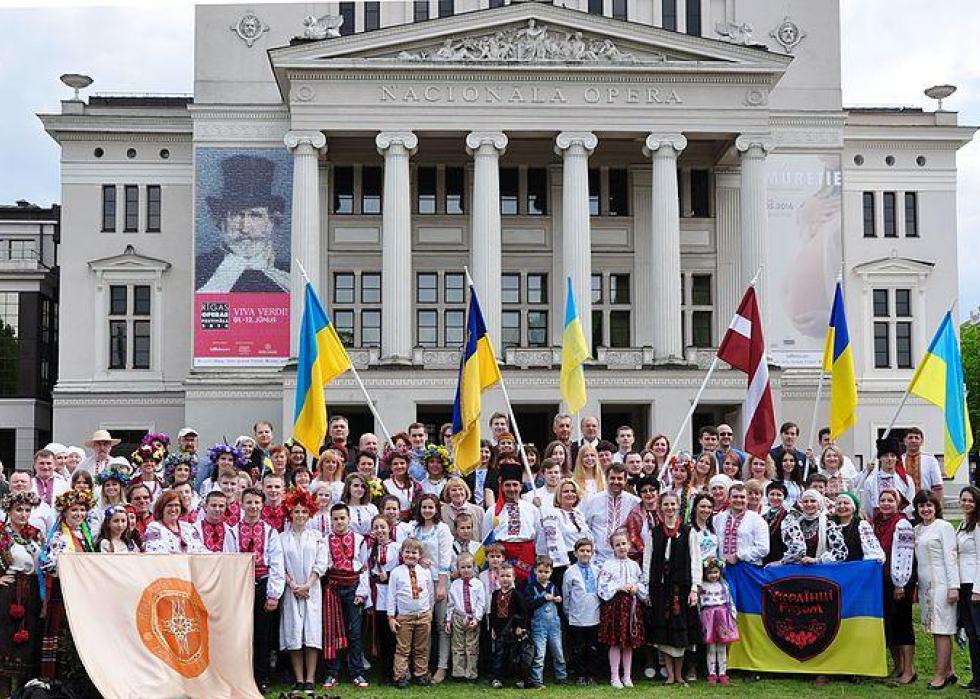 10 / 50
Andrijko Z // Wikiocommons
#41. Latvia
Political empowerment index score: 0.246
Women in parliament: 16% (Rank: #101; Female/male ratio: 0.19)
Women in ministerial positions: 23.1% (Rank: #49; Female/male ratio: 0.3)
Years with female head of state (of the last 50): 39.9 (Rank: #14; Female/male ratio: 0.25)
Overall gender gap rank: #20 (Score: 0.756)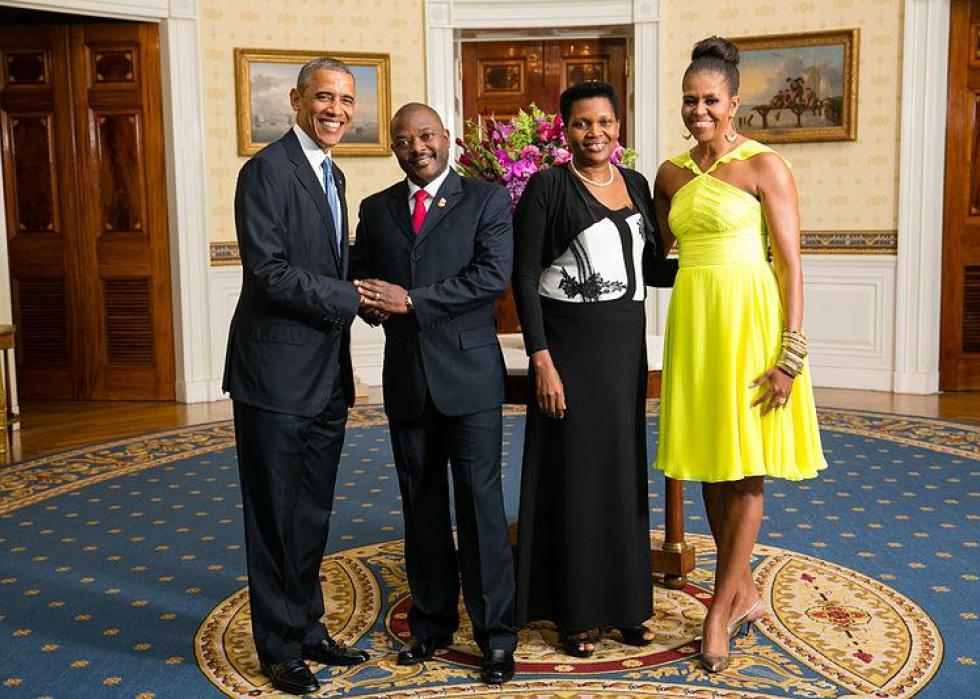 11 / 50
Amanda Lucidon // Wikicommons
#40. Burundi
Political empowerment index score: 0.255
Women in parliament: 36.4% (Rank: #25; Female/male ratio: 0.57)
Women in ministerial positions: 22.7% (Rank: #53; Female/male ratio: 0.29)
Years with female head of state (of the last 50): 0.6 (Rank: #56; Female/male ratio: 0.01)
Overall gender gap rank: #22 (Score: 0.755)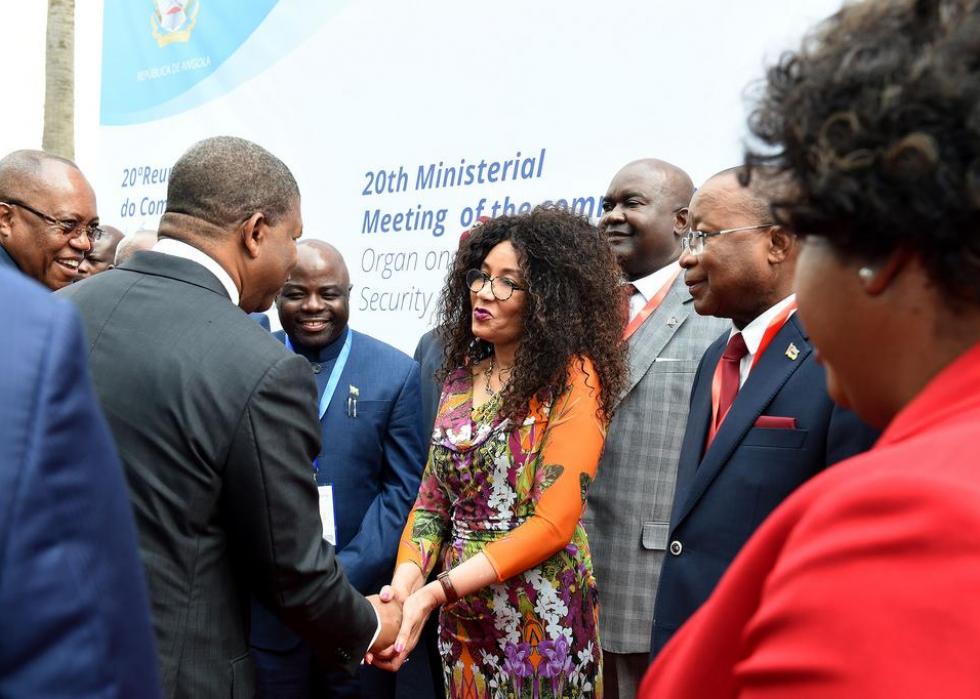 12 / 50
#39. Angola
Political empowerment index score: 0.262
Women in parliament: 38.2% (Rank: #18; Female/male ratio: 0.62)
Women in ministerial positions: 22.2% (Rank: #56; Female/male ratio: 0.29)
Years with female head of state (of the last 50): 0 (Rank: #69; Female/male ratio: 0)
Overall gender gap rank: #123 (Score: 0.64)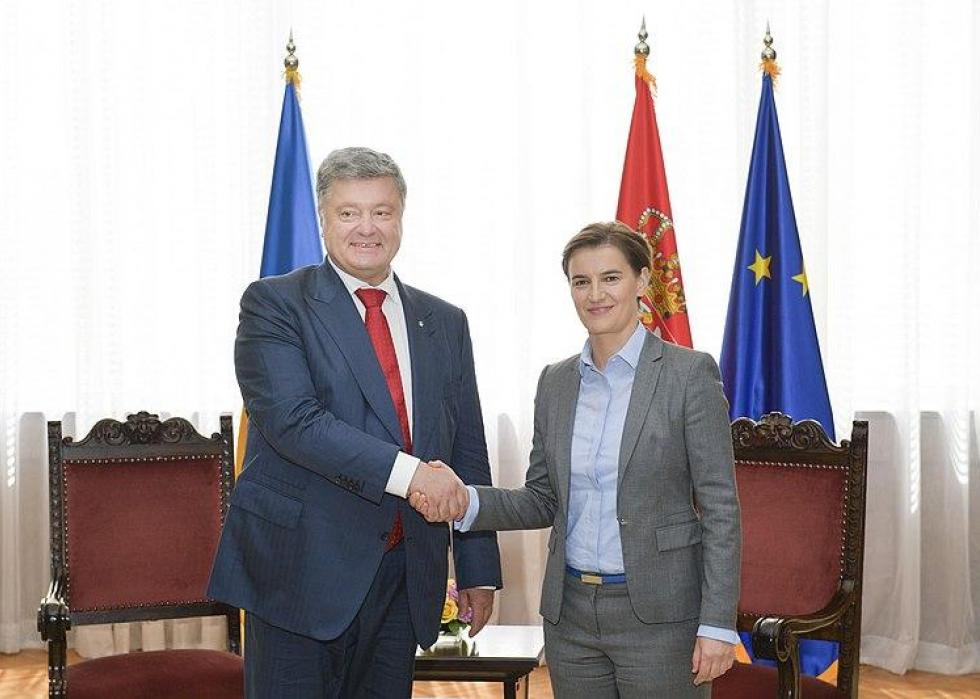 13 / 50
President.gov.ua // Wikicommons
#38. Serbia
Political empowerment index score: 0.262
Women in parliament: 34.4% (Rank: #30; Female/male ratio: 0.52)
Women in ministerial positions: 26.3% (Rank: #35; Female/male ratio: 0.36)
Years with female head of state (of the last 50): 1.3 (Rank: #49; Female/male ratio: 0.03)
Overall gender gap rank: #40 (Score: 0.727)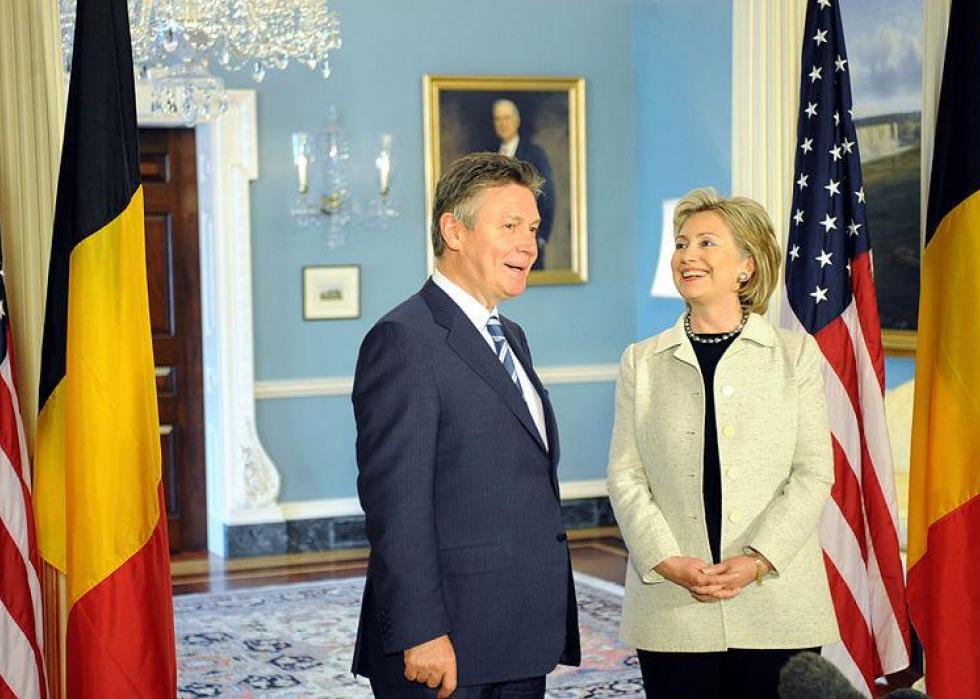 14 / 50
US Department of State // Wikicommons
#37. Belgium
Political empowerment index score: 0.264
Women in parliament: 38% (Rank: #19; Female/male ratio: 0.61)
Women in ministerial positions: 23.1% (Rank: #49; Female/male ratio: 0.3)
Years with female head of state (of the last 50): 0 (Rank: #69; Female/male ratio: 0)
Overall gender gap rank: #31 (Score: 0.739)
15 / 50
Government of Chile // Wikicommons
#36. Chile
Political empowerment index score: 0.266
Women in parliament: 15.8% (Rank: #104; Female/male ratio: 0.19)
Women in ministerial positions: 34.8% (Rank: #21; Female/male ratio: 0.53)
Years with female head of state (of the last 50): 7.3 (Rank: #18; Female/male ratio: 0.17)
Overall gender gap rank: #63 (Score: 0.704)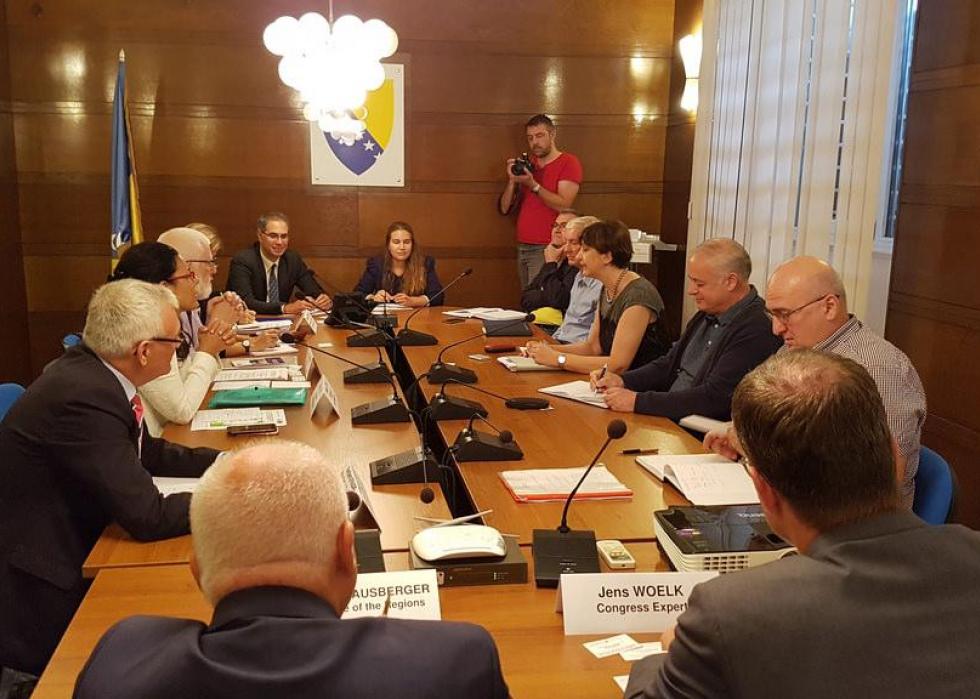 16 / 50
Congress of local and regional authorities // Flickr
#35. Bosnia and Herzegovina
Political empowerment index score: 0.275
Women in parliament: 0.279% (Rank: #72; Female/male ratio: 0.27)
Women in ministerial positions: 22.2% (Rank: #56; Female/male ratio: 0.29)
Years with female head of state (of the last 50): 10.7 (Rank: #13; Female/male ratio: 0.27)
Overall gender gap rank: #66 (Score: 0.702)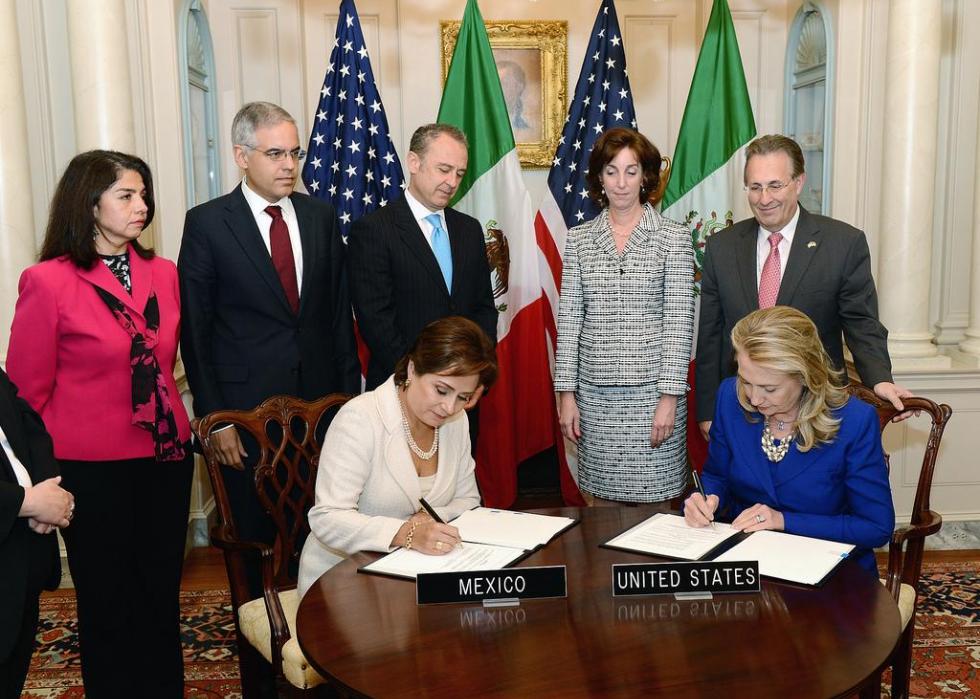 17 / 50
US Department of State // Flickr
#34. Mexico
Political empowerment index score: 0.276
Women in parliament: 42.6% (Rank: #7; Female/male ratio: 0.74)
Women in ministerial positions: 15.8% (Rank: #88; Female/male ratio: 0.19)
Years with female head of state (of the last 50): 0 (Rank: #69; Female/male ratio: 0)
Overall gender gap rank: #81 (Score: 0.692)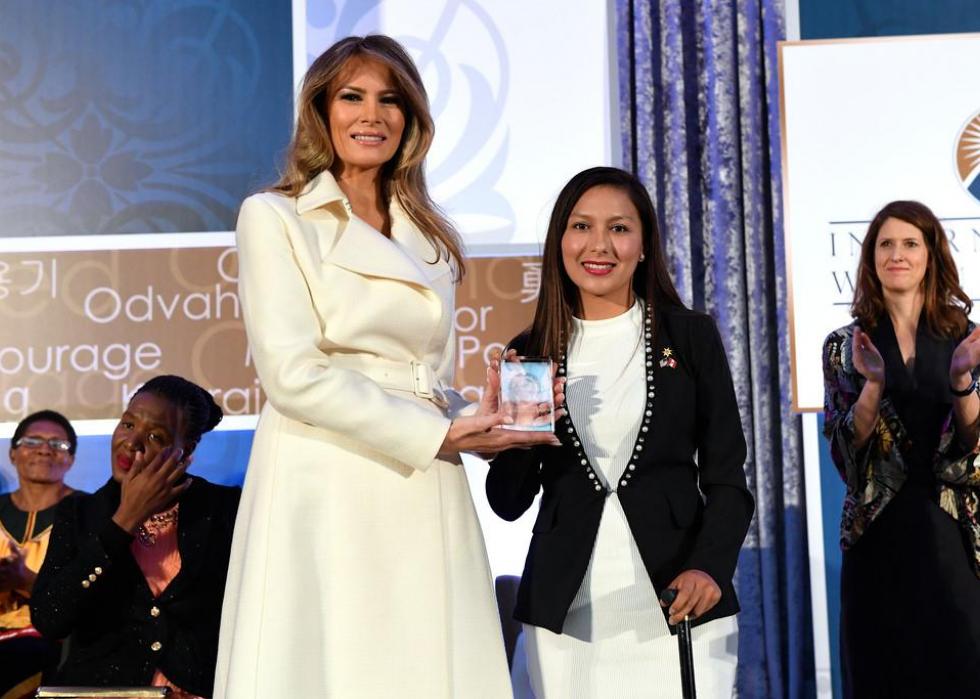 18 / 50
US Department of State // Flickr
#33. Peru
Political empowerment index score: 0.277
Women in parliament: 27.7% (Rank: #49; Female/male ratio: 0.38)
Women in ministerial positions: 36.8% (Rank: #17; Female/male ratio: 0.58)
Years with female head of state (of the last 50): 1.5 (Rank: #47; Female/male ratio: 0.03)
Overall gender gap rank: #48 (Score: 0.719)
19 / 50
National Assembly of Ecuador // Wikicommons
#32. Ecuador
Political empowerment index score: 0.283
Women in parliament: 38% (Rank: #20; Female/male ratio: 0.61)
Women in ministerial positions: 27.5% (Rank: #30; Female/male ratio: 0.38)
Years with female head of state (of the last 50): 0 (Rank: #69; Female/male ratio: 0)
Overall gender gap rank: #42 (Score: 0.724)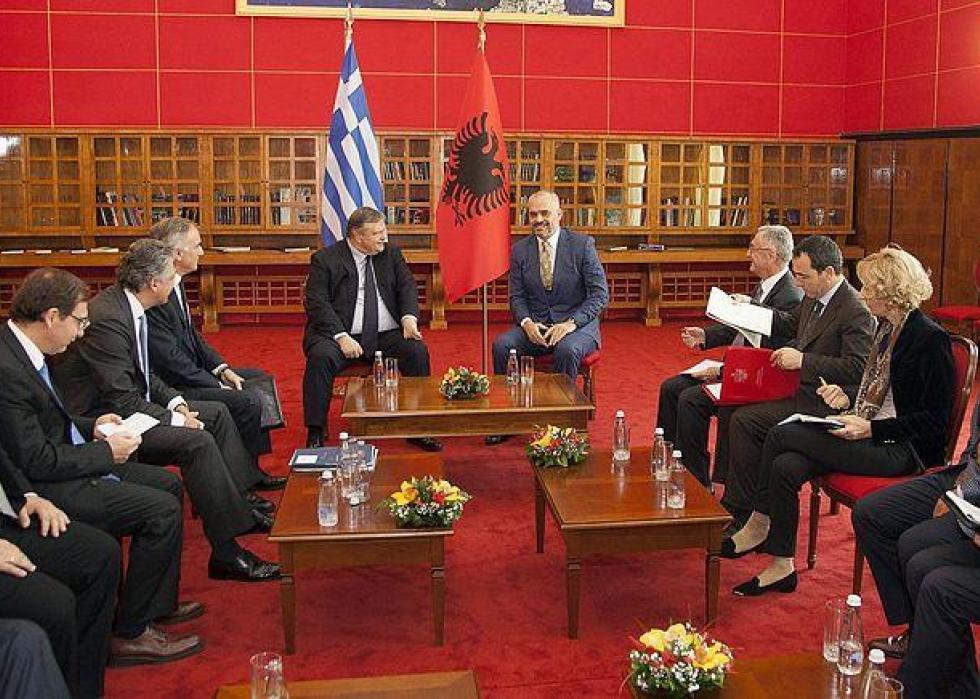 20 / 50
Υπουργείο Εξωτερικών // Wikicommons
#31. Albania
Political empowerment index score: 0.284
Women in parliament: 27.9% (Rank: #48; Female/male ratio: 0.39)
Women in ministerial positions: 40% (Rank: #10; Female/male ratio: 0.67)
Years with female head of state (of the last 50): 0 (Rank: #69; Female/male ratio: 0)
Overall gender gap rank: #38 (Score: 0.728)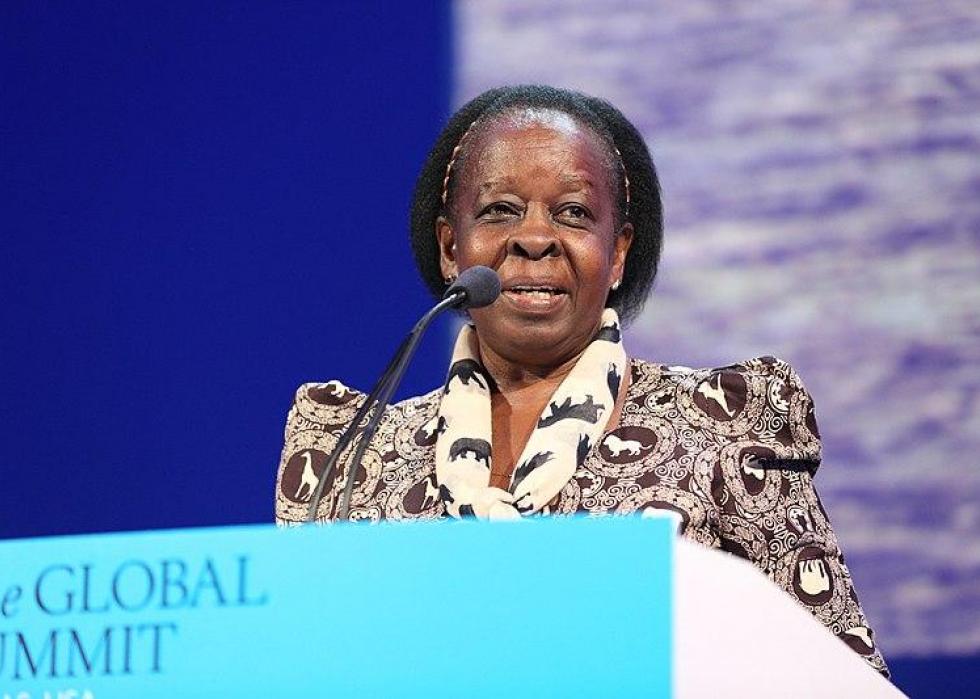 21 / 50
World Travel and Tourism Council // Wikicommons
#30. Uganda
Political empowerment index score: 0.305
Women in parliament: 34.3% (Rank: #31; Female/male ratio: 0.52)
Women in ministerial positions: 36.7% (Rank: #18; Female/male ratio: 0.58)
Years with female head of state (of the last 50): 0 (Rank: #69; Female/male ratio: 0)
Overall gender gap rank: #45 (Score: 0.721)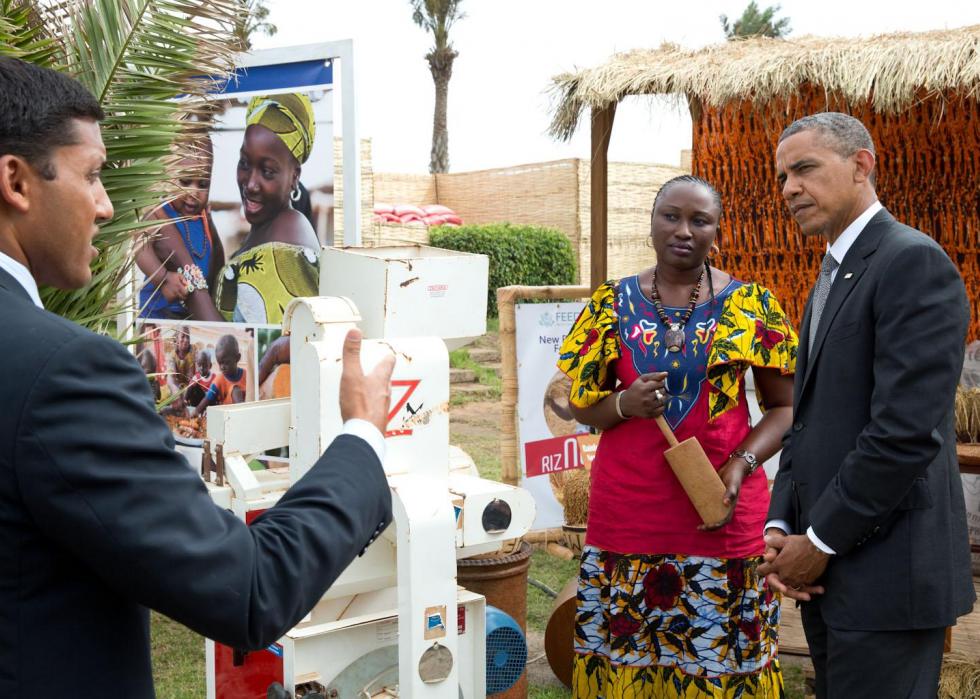 22 / 50
Pete Sousza // White House Archives
#29. Senegal
Political empowerment index score: 0.308
Women in parliament: 41.8% (Rank: #9; Female/male ratio: 0.72)
Women in ministerial positions: 20% (Rank: #68; Female/male ratio: 0.25)
Years with female head of state (of the last 50): 2.5 (Rank: #39; Female/male ratio: 0.05)
Overall gender gap rank: #91 (Score: 0.684)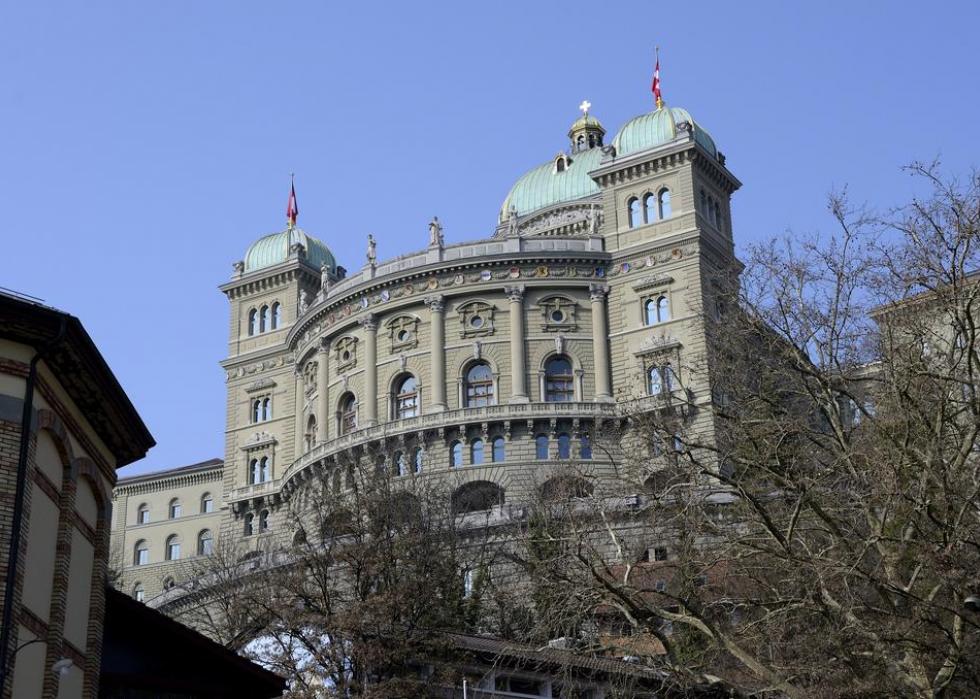 23 / 50
#28. Switzerland
Political empowerment index score: 0.314
Women in parliament: 32.5% (Rank: #35; Female/male ratio: 0.48)
Women in ministerial positions: 28.6% (Rank: #27; Female/male ratio: 0.4)
Years with female head of state (of the last 50): 6.5 (Rank: #20; Female/male ratio: 0.15)
Overall gender gap rank: #21 (Score: 0.755)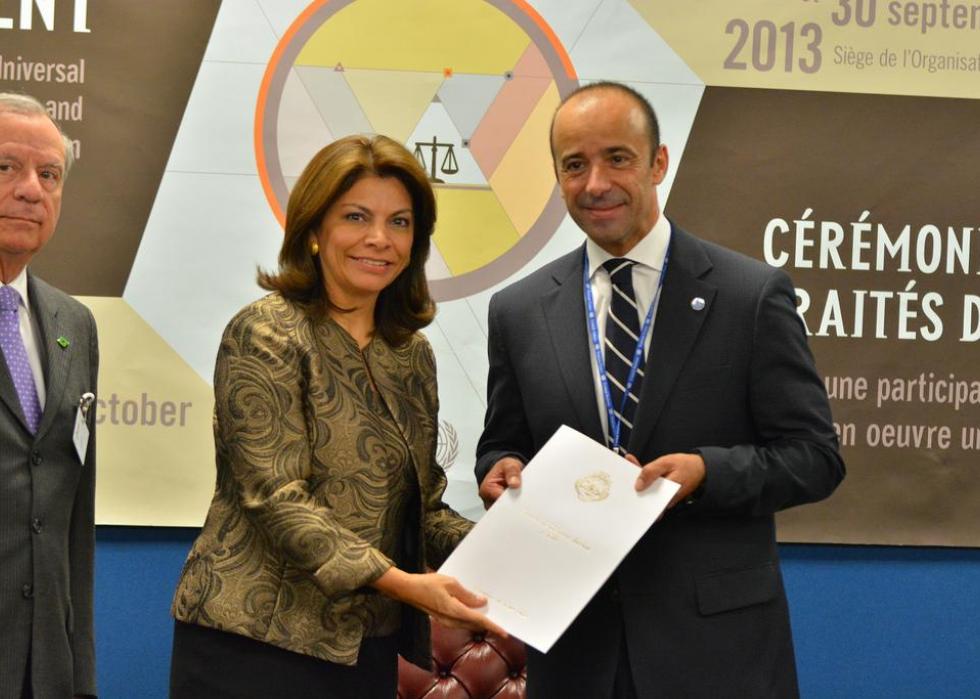 24 / 50
#27. Costa Rica
Political empowerment index score: 0.314
Women in parliament: 35.1% (Rank: #27; Female/male ratio: 0.54)
Women in ministerial positions: 30.4% (Rank: #25; Female/male ratio: 0.44)
Years with female head of state (of the last 50): 4 (Rank: #30; Female/male ratio: 0.09)
Overall gender gap rank: #41 (Score: 0.727)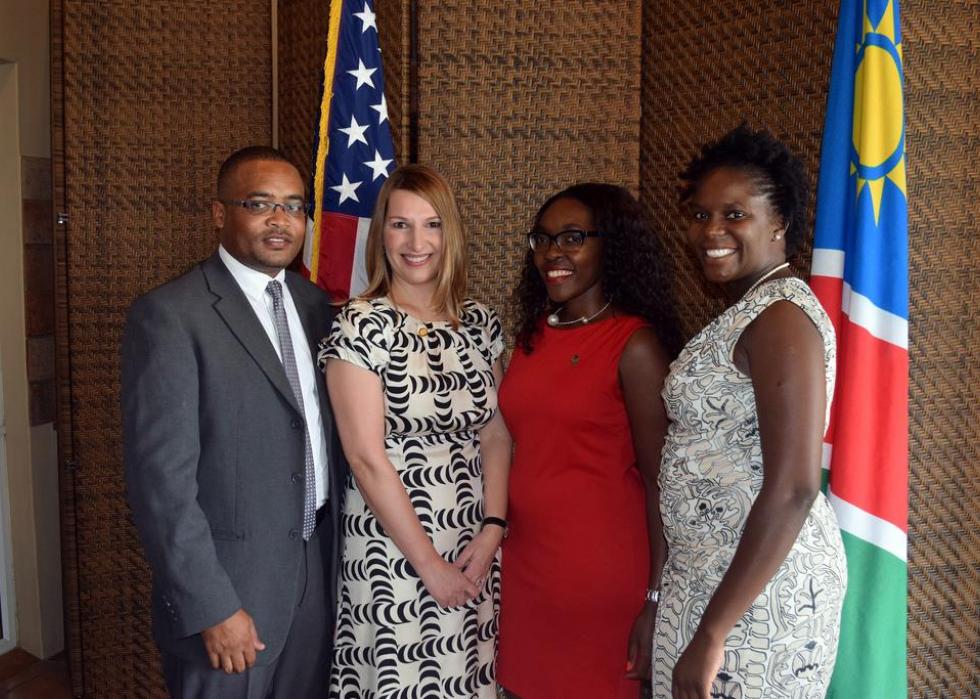 25 / 50
US Deparment of State // Flickr
#26. Namibia
Political empowerment index score: 0.318
Women in parliament: 41.3% (Rank: #11; Female/male ratio: 0.7)
Women in ministerial positions: 24% (Rank: #44; Female/male ratio: 0.32)
Years with female head of state (of the last 50): 2.3 (Rank: #41; Female/male ratio: 0.05)
Overall gender gap rank: #13 (Score: 0.777)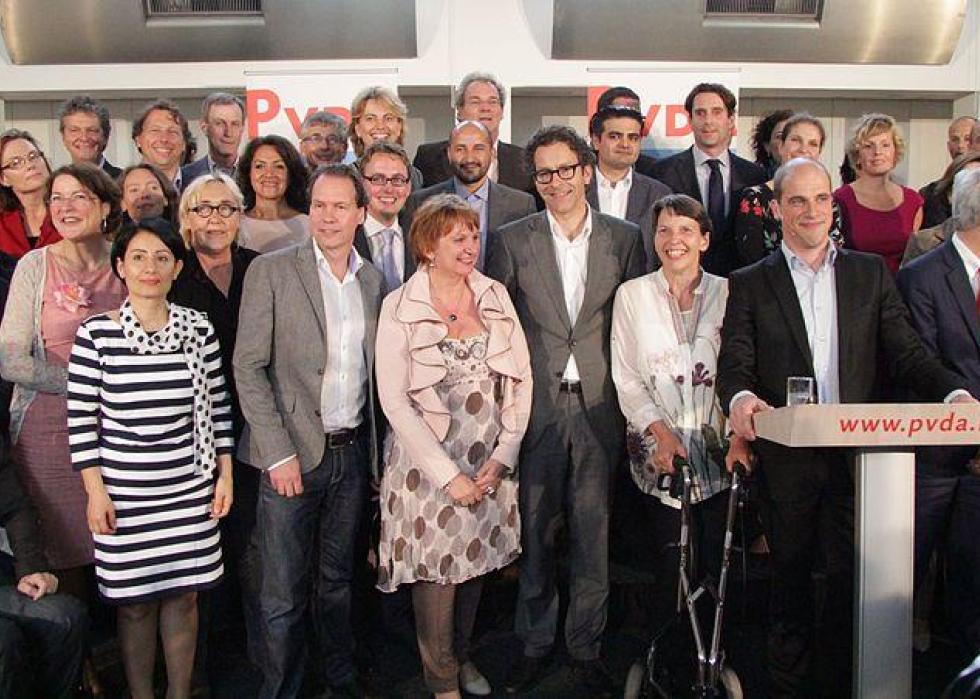 26 / 50
Partij van de Arbeid // Wikicommons
#25. Netherlands
Political empowerment index score: 0.323
Women in parliament: 36% (Rank: #26; Female/male ratio: 0.56)
Women in ministerial positions: 37.5% (Rank: #15; Female/male ratio: 0.6)
Years with female head of state (of the last 50): 0 (Rank: #69; Female/male ratio: 0)
Overall gender gap rank: #32 (Score: 0.737)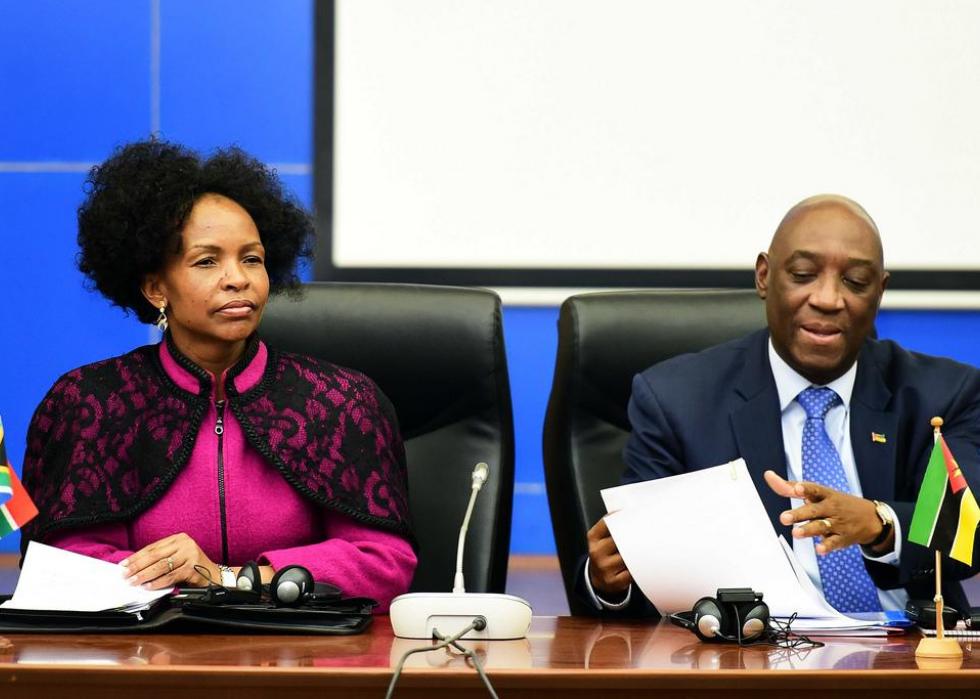 27 / 50
#24. Mozambique
Political empowerment index score: 0.34
Women in parliament: 39.6% (Rank: #13; Female/male ratio: 0.66)
Women in ministerial positions: 23.8% (Rank: #46; Female/male ratio: 0.31)
Years with female head of state (of the last 50): 5.9 (Rank: #21; Female/male ratio: 0.13)
Overall gender gap rank: #29 (Score: 0.741)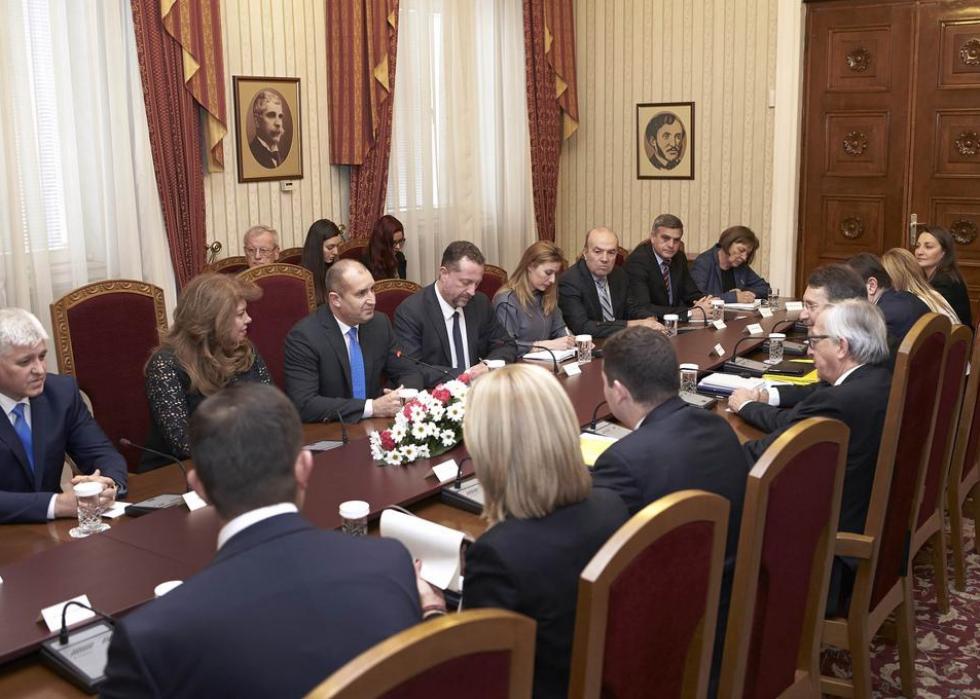 28 / 50
Bulgarian Presidency Photostream // Flickr
#23. Bulgaria
Political empowerment index score: 0.346
Women in parliament: 23.8% (Rank: #63; Female/male ratio: 0.31)
Women in ministerial positions: 52.9% (Rank: #1; Female/male ratio: 1.13)
Years with female head of state (of the last 50): 0.3 (Rank: #61; Female/male ratio: 0.01)
Overall gender gap rank: #18 (Score: 0.756)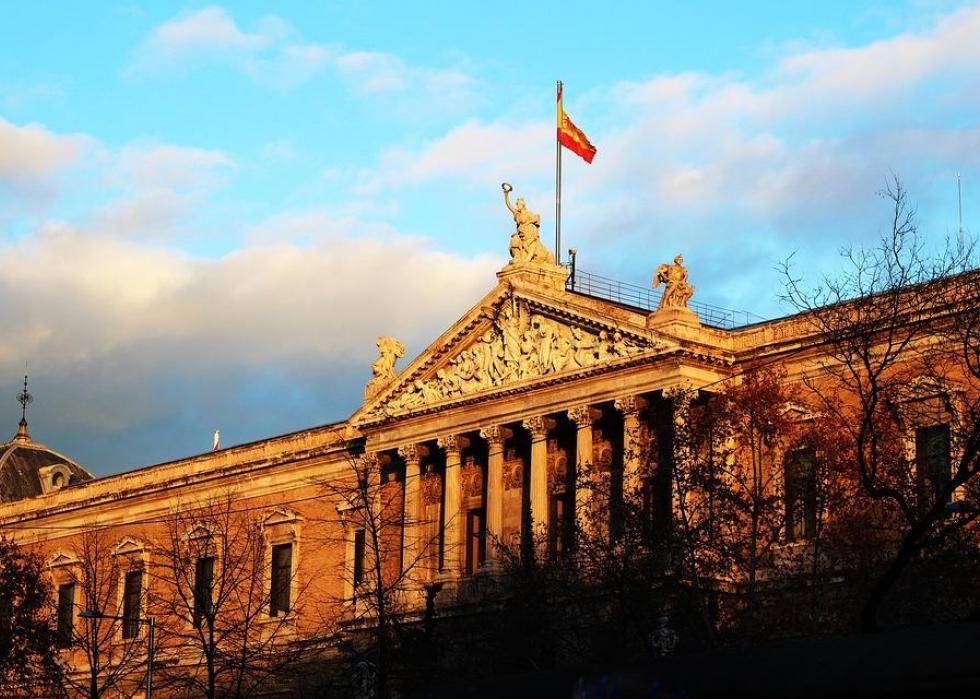 29 / 50
Carlotta Silvestrini // Pixabay
#22. Spain
Political empowerment index score: 0.354
Women in parliament: 39.1% (Rank: #14; Female/male ratio: 0.64)
Women in ministerial positions: 38.5% (Rank: #13; Female/male ratio: 0.63)
Years with female head of state (of the last 50): 0 (Rank: #69; Female/male ratio: 0)
Overall gender gap rank: #24 (Score: 0.746)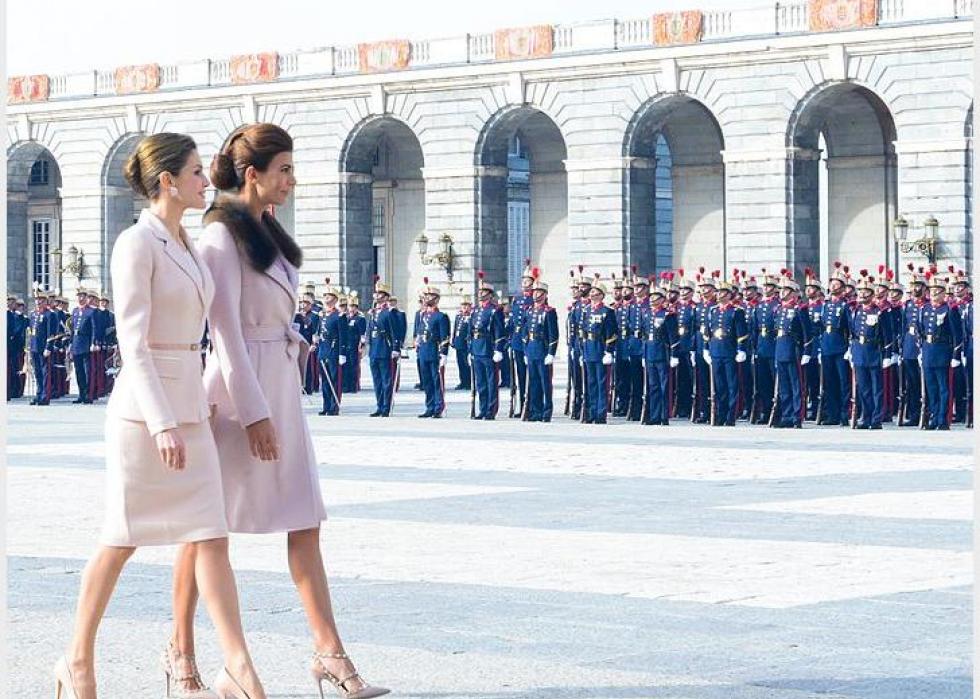 30 / 50
Casa Rosada // Wikicommons
#21. Argentina
Political empowerment index score: 0.356
Women in parliament: 38.9% (Rank: #16; Female/male ratio: 0.64)
Women in ministerial positions: 17.4% (Rank: #81; Female/male ratio: 0.21)
Years with female head of state (of the last 50): 9.7 (Rank: #15; Female/male ratio: 0.24)
Overall gender gap rank: #34 (Score: 0.732)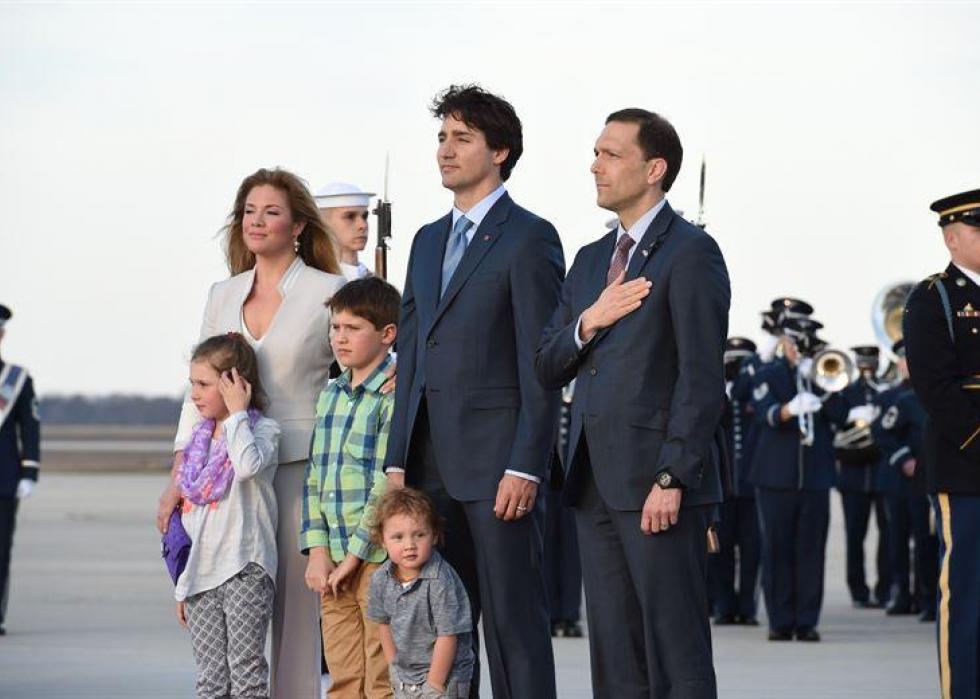 31 / 50
Joshua Dewberry // jba.mil
#20. Canada
Political empowerment index score: 0.361
Women in parliament: 26.3% (Rank: #56; Female/male ratio: 0.36)
Women in ministerial positions: 51.7% (Rank: #1; Female/male ratio: 1.07)
Years with female head of state (of the last 50): 0.4 (Rank: #59; Female/male ratio: 0.01)
Overall gender gap rank: #16 (Score: 0.769)
32 / 50
Marco Zanferrari // Wikicommons
#19. Cuba
Political empowerment index score: 0.382
Women in parliament: 48.9% (Rank: #3; Female/male ratio: 0.96)
Women in ministerial positions: 25.9% (Rank: #37; Female/male ratio: 0.35)
Years with female head of state (of the last 50): 0 (Rank: #69; Female/male ratio: 0)
Overall gender gap rank: #25 (Score: 0.745)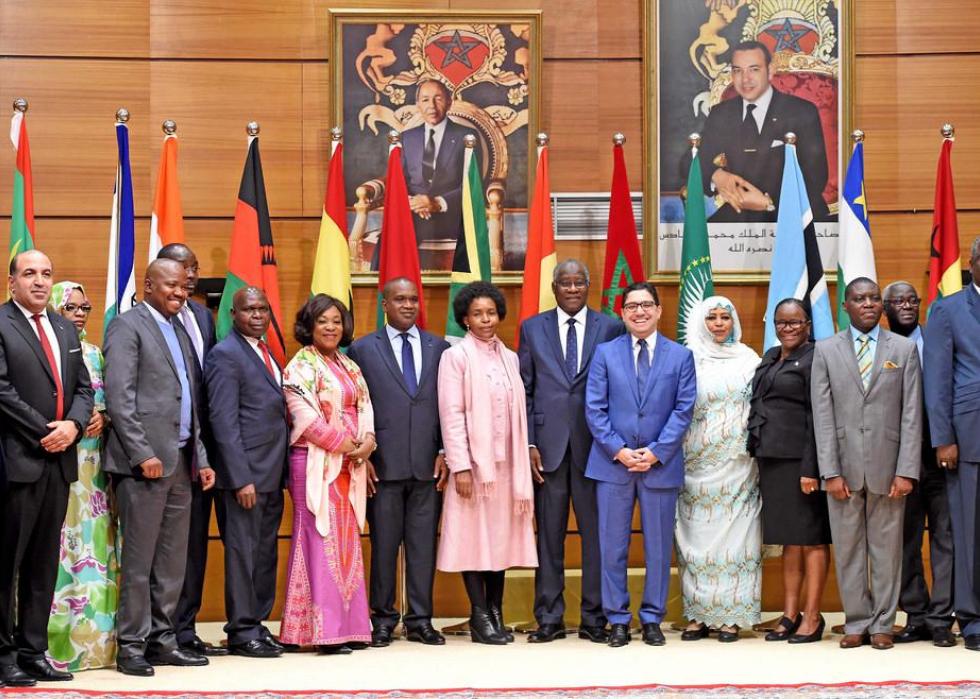 33 / 50
#18. South Africa
Political empowerment index score: 0.399
Women in parliament: 41.8% (Rank: #10; Female/male ratio: 0.72)
Women in ministerial positions: 41.7% (Rank: #9; Female/male ratio: 0.71)
Years with female head of state (of the last 50): 0 (Rank: #68; Female/male ratio: 0)
Overall gender gap rank: #19 (Score: 0.756)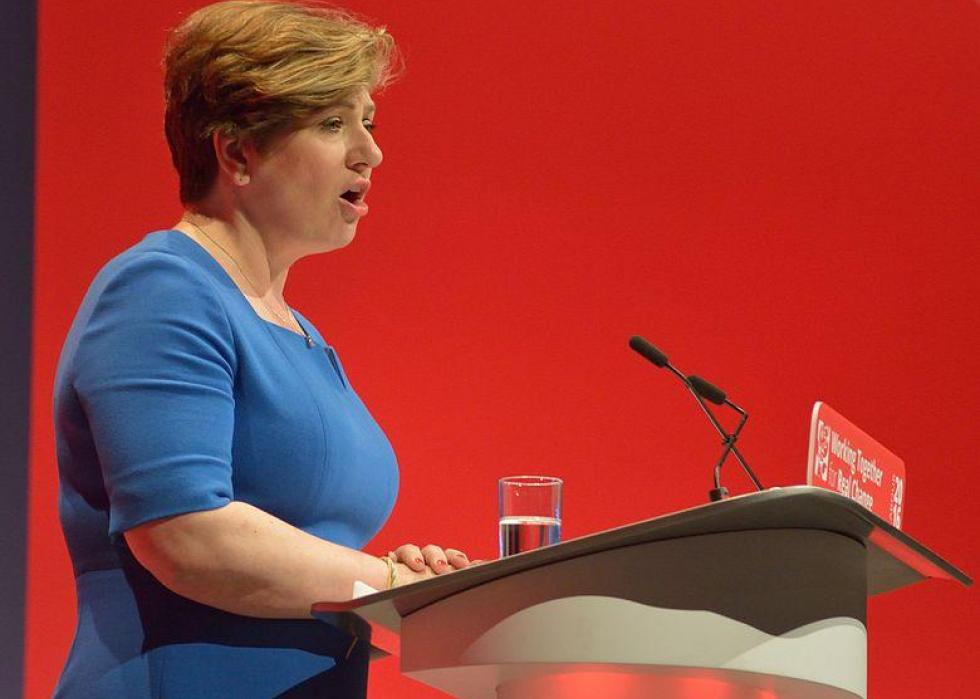 34 / 50
#17. United Kingdom
Political empowerment index score: 0.404
Women in parliament: 32% (Rank: #38; Female/male ratio: 0.47)
Women in ministerial positions: 30.8% (Rank: #23; Female/male ratio: 0.44)
Years with female head of state (of the last 50): 12.5 (Rank: #8; Female/male ratio: 0.33)
Overall gender gap rank: #15 (Score: 0.77)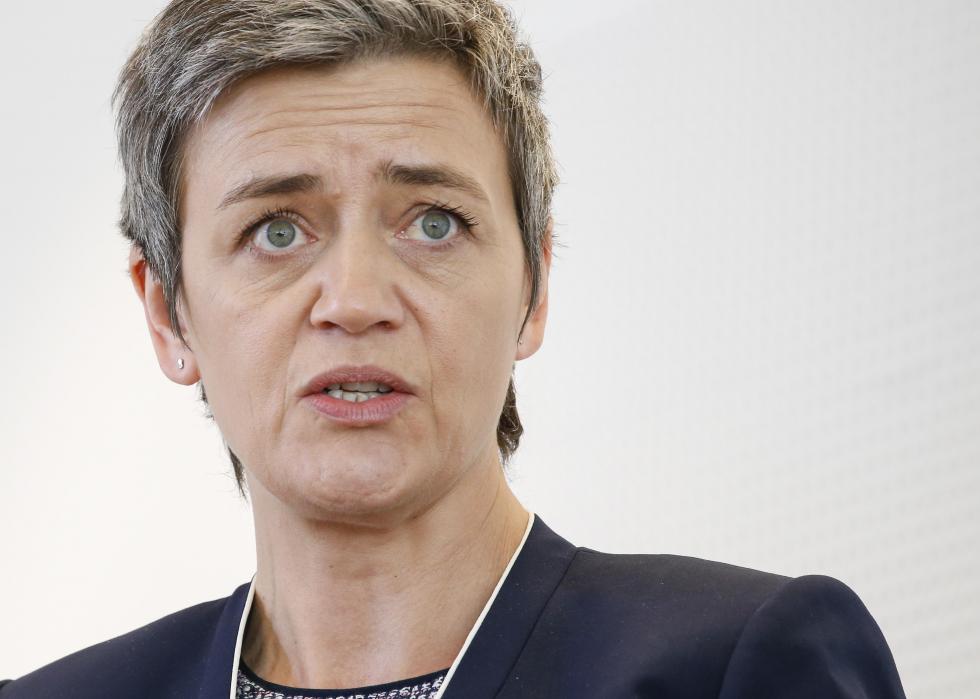 35 / 50
Friends of Europe // Wikicommons
#16. Denmark
Political empowerment index score: 0.406
Women in parliament: 37.4% (Rank: #21; Female/male ratio: 0.6)
Women in ministerial positions: 42.9% (Rank: #8; Female/male ratio: 0.75)
Years with female head of state (of the last 50): 3.7 (Rank: #32; Female/male ratio: 0.08)
Overall gender gap rank: #14 (Score: 0.776)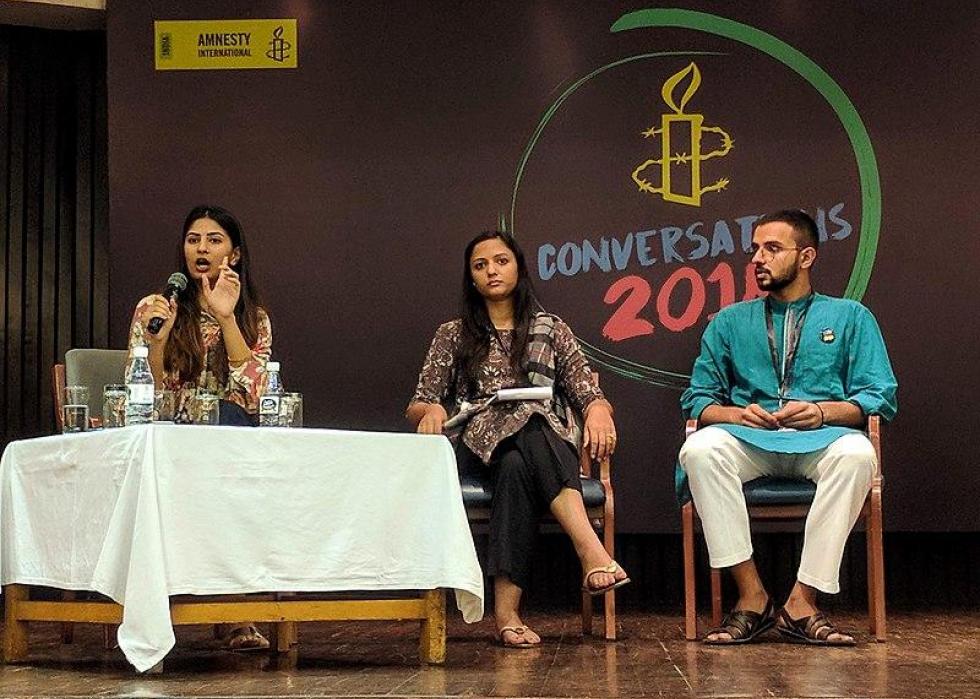 36 / 50
Pulakit Singh // Wikicommons
#15. India
Political empowerment index score: 0.407
Women in parliament: 11.8% (Rank: #118; Female/male ratio: 0.13)
Women in ministerial positions: 18.5% (Rank: #76; Female/male ratio: 0.23)
Years with female head of state (of the last 50): 20.5 (Rank: #3; Female/male ratio: 0.7)
Overall gender gap rank: #108 (Score: 0.669)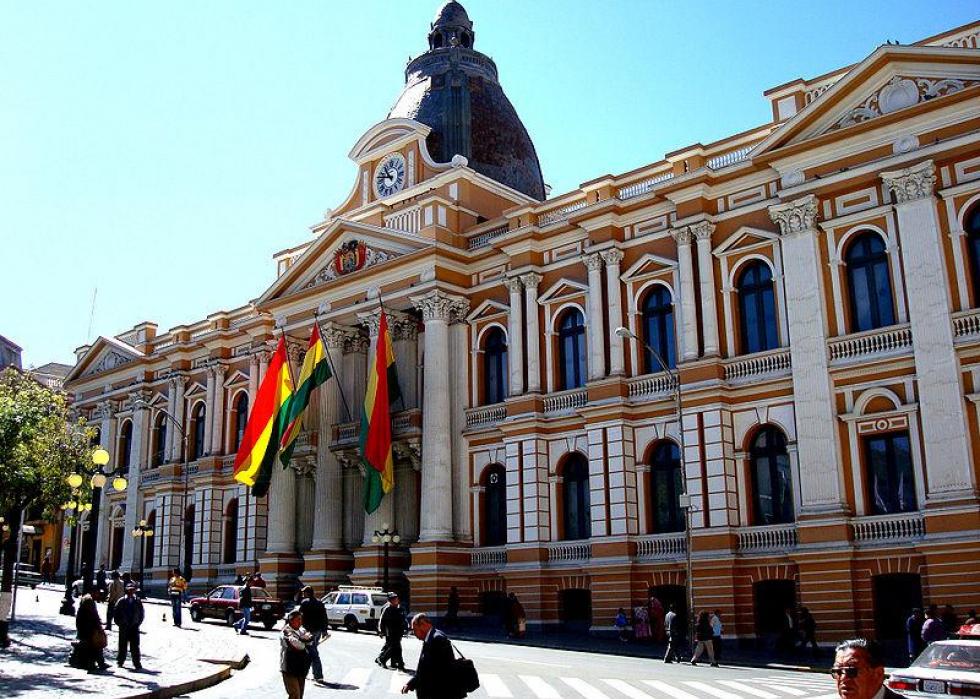 37 / 50
Rodrigo Acha // Wikicommons
#14. Bolivia
Political empowerment index score: 0.408
Women in parliament: 53.1% (Rank: #1; Female/male ratio: 1.13)
Women in ministerial positions: 27.3% (Rank: #31; Female/male ratio: 0.38)
Years with female head of state (of the last 50): 0.7 (Rank: #55; Female/male ratio: 0.01)
Overall gender gap rank: #17 (Score: 0.758)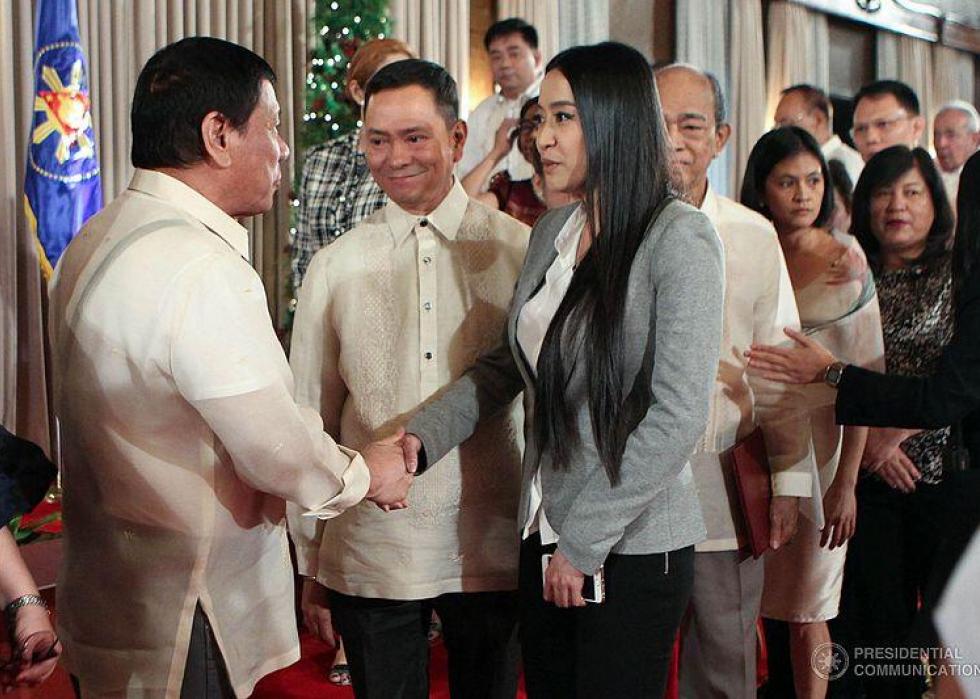 38 / 50
Robinson Ninal // Wikicommons
#13. Philippines
Political empowerment index score: 0.416
Women in parliament: 29.5% (Rank: #44; Female/male ratio: 0.42)
Women in ministerial positions: 25% (Rank: #39; Female/male ratio: 0.33)
Years with female head of state (of the last 50): 15.8 (Rank: #5; Female/male ratio: 0.46)
Overall gender gap rank: #10 (Score: 0.79)
39 / 50
Governor-General of New Zealand // Wikicommons
#12. New Zealand
Political empowerment index score: 0.43
Women in parliament: 34.2% (Rank: #32; Female/male ratio: 0.52)
Women in ministerial positions: 37% (Rank: #16; Female/male ratio: 0.59)
Years with female head of state (of the last 50): 11 (Rank: #12; Female/male ratio: 0.28)
Overall gender gap rank: #9 (Score: 0.791)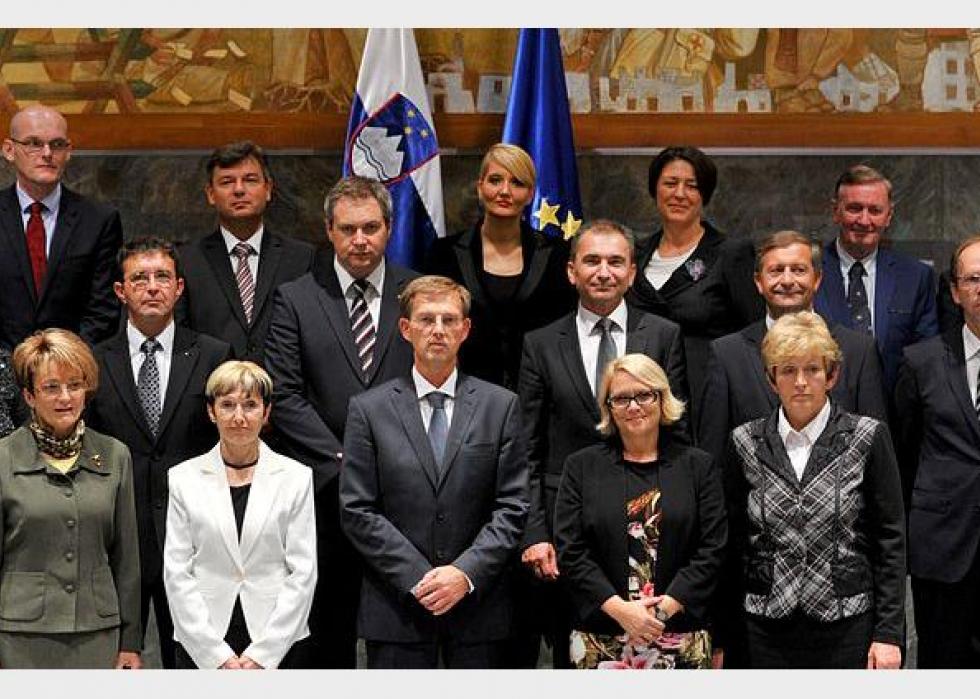 40 / 50
Tamino Petelinsek // Wikicommons
#11. Slovenia
Political empowerment index score: 0.44
Women in parliament: 36.7% (Rank: #23; Female/male ratio: 0.58)
Women in ministerial positions: 50% (Rank: #1; Female/male ratio: 1)
Years with female head of state (of the last 50): 1.5 (Rank: #48; Female/male ratio: 0.03)
Overall gender gap rank: #7 (Score: 0.805)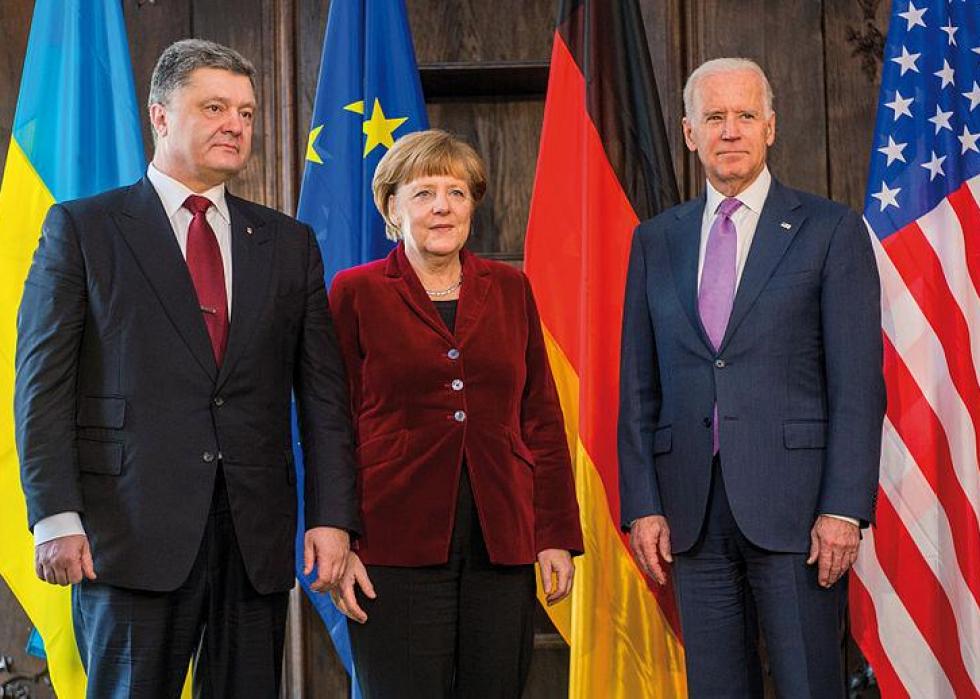 41 / 50
MArc Muller // Wikicommons
#10. Germany
Political empowerment index score: 0.447
Women in parliament: 37% (Rank: #22; Female/male ratio: 0.59)
Women in ministerial positions: 33.3% (Rank: #22; Female/male ratio: 0.5)
Years with female head of state (of the last 50): 12.1 (Rank: #10; Female/male ratio: 0.32)
Overall gender gap rank: #12 (Score: 0.778)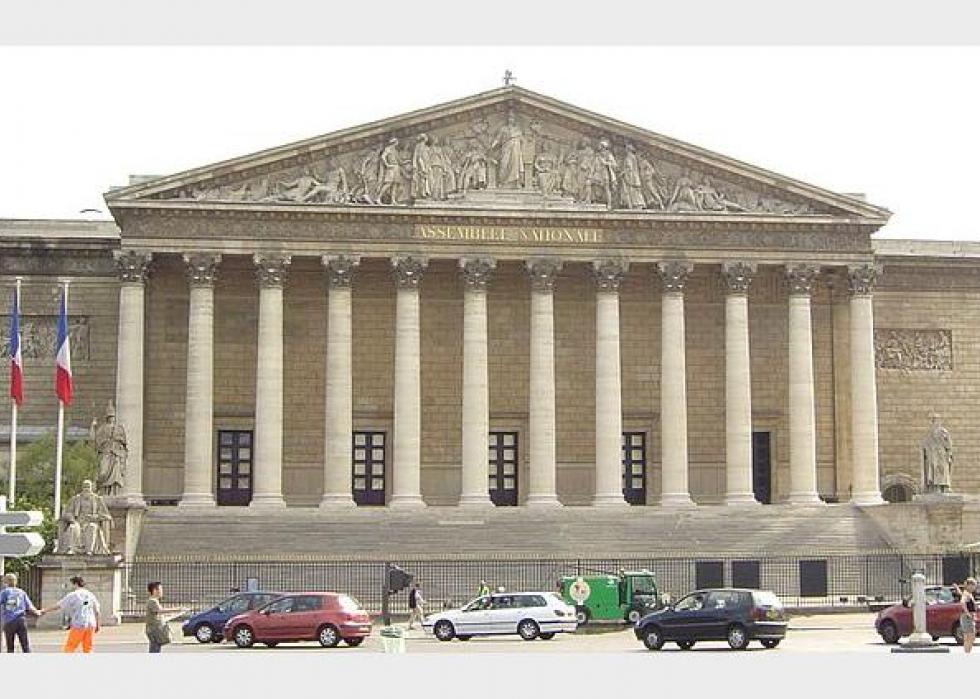 42 / 50
David Monniaux // Wikicommons
#9. France
Political empowerment index score: 0.453
Women in parliament: 39% (Rank: #15; Female/male ratio: 0.64)
Women in ministerial positions: 52.9% (Rank: #1; Female/male ratio: 1.13)
Years with female head of state (of the last 50): 0.9 (Rank: #52; Female/male ratio: 0.02)
Overall gender gap rank: #11 (Score: 0.778)
43 / 50
Johann Schiff // Wikicommons
#8. Sweden
Political empowerment index score: 0.486
Women in parliament: 43.6% (Rank: #6; Female/male ratio: 0.77)
Women in ministerial positions: 52.2% (Rank: #1; Female/male ratio: 1.09)
Years with female head of state (of the last 50): 0 (Rank: #69; Female/male ratio: 0)
Overall gender gap rank: #5 (Score: 0.816)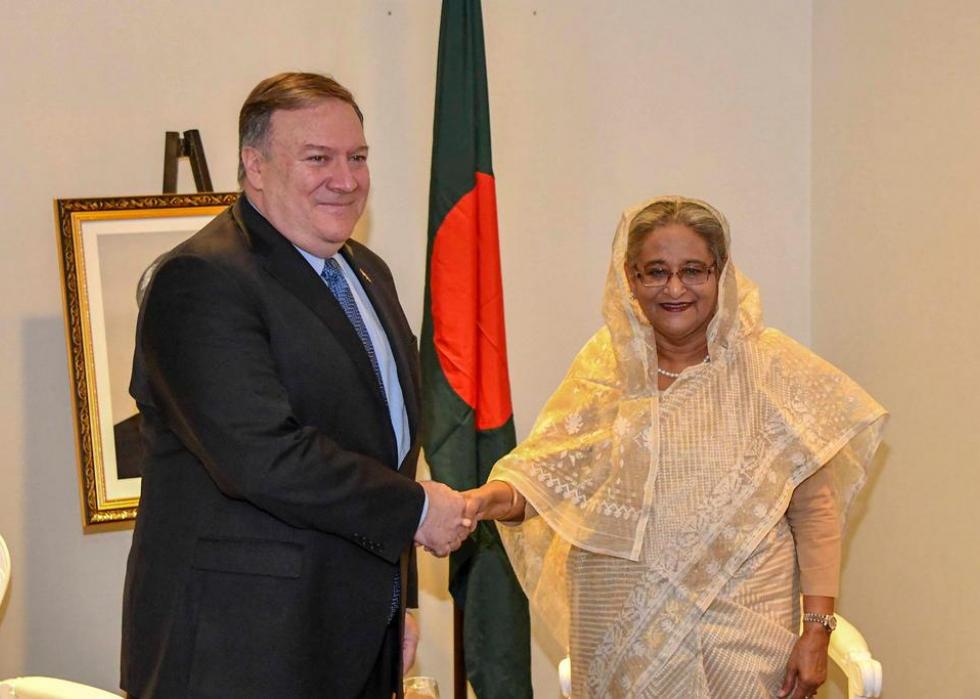 44 / 50
US Department of State // Flickr
#7. Bangladesh
Political empowerment index score: 0.493
Women in parliament: 20.3% (Rank: #78; Female/male ratio: 0.25)
Women in ministerial positions: 6.3% (Rank: #122; Female/male ratio: 0.07)
Years with female head of state (of the last 50): 26.4 (Rank: #1; Female/male ratio: 0.9)
Overall gender gap rank: #47 (Score: 0.719)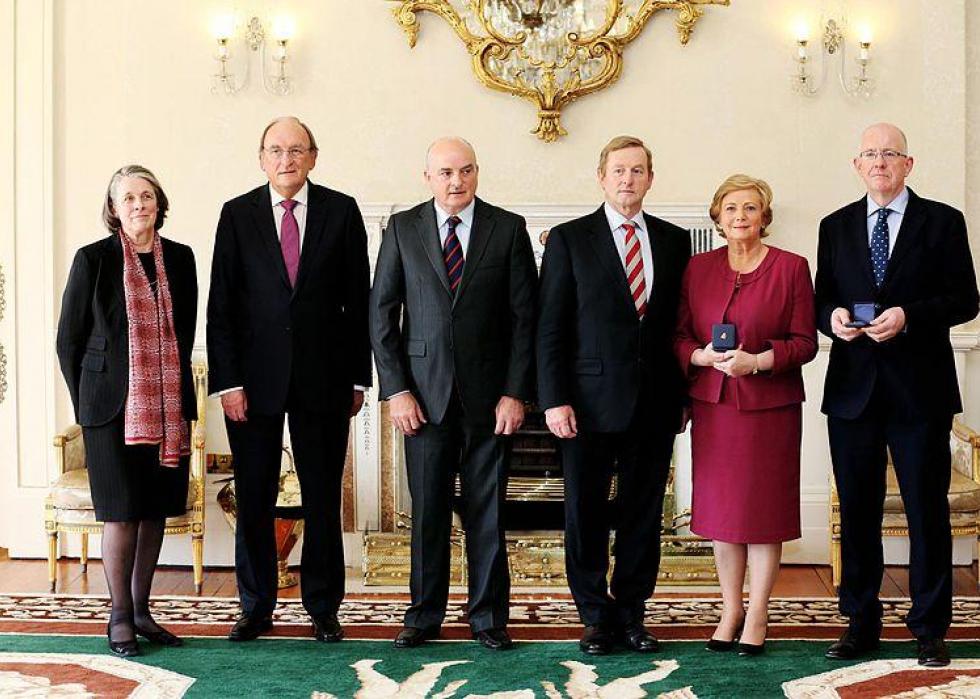 45 / 50
Dept. of Children and Youth Affairs // Wikicommons
#6. Ireland
Political empowerment index score: 0.493
Women in parliament: 22.2% (Rank: #70; Female/male ratio: 0.28)
Women in ministerial positions: 26.7% (Rank: #33; Female/male ratio: 0.36)
Years with female head of state (of the last 50): 20.8 (Rank: #2; Female/male ratio: 0.71)
Overall gender gap rank: #8 (Score: 0.794)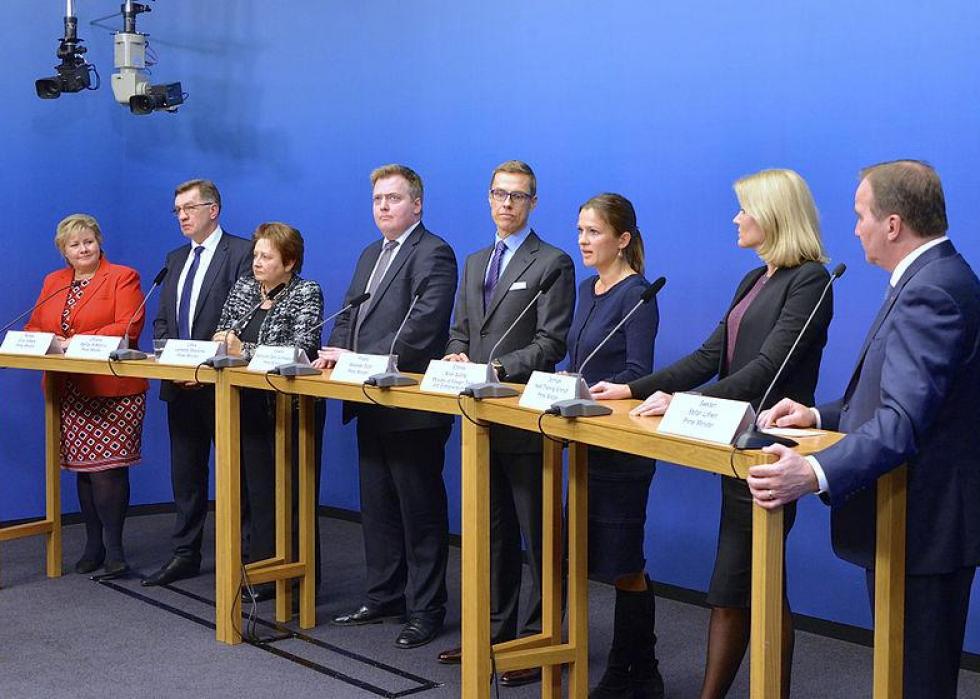 46 / 50
Frankie Fouganthin // Wikicommons
#5. Finland
Political empowerment index score: 0.519
Women in parliament: 42% (Rank: #8; Female/male ratio: 0.72)
Women in ministerial positions: 38.5% (Rank: #13; Female/male ratio: 0.63)
Years with female head of state (of the last 50): 12 (Rank: #11; Female/male ratio: 0.32)
Overall gender gap rank: #3 (Score: 0.823)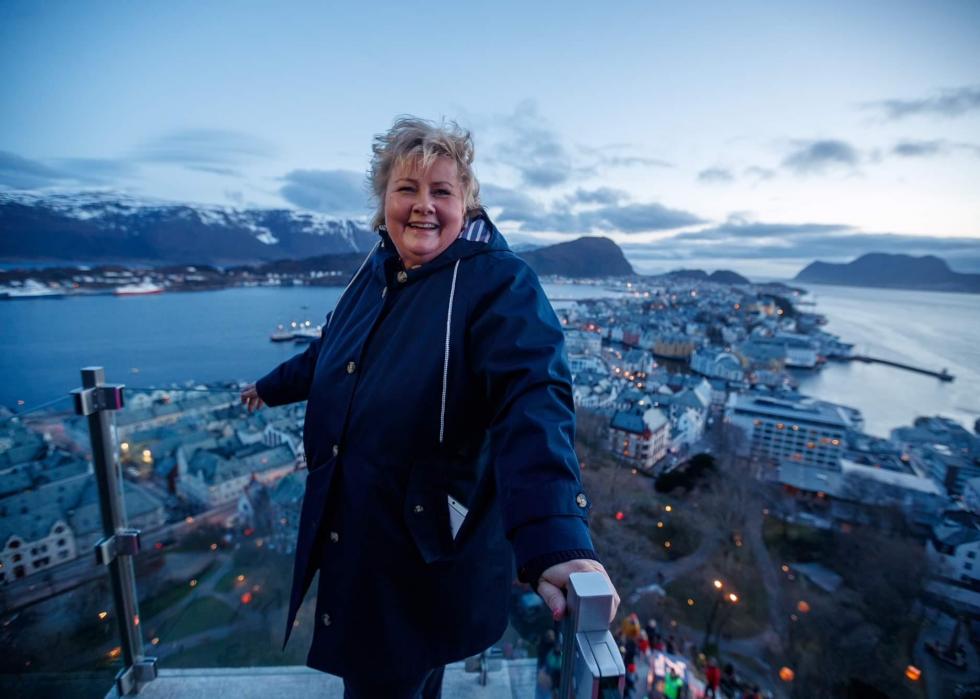 47 / 50
#4. Norway
Political empowerment index score: 0.53
Women in parliament: 39.6% (Rank: #12; Female/male ratio: 0.66)
Women in ministerial positions: 38.9% (Rank: #12; Female/male ratio: 0.64)
Years with female head of state (of the last 50): 13.8 (Rank: #6; Female/male ratio: 0.38)
Overall gender gap rank: #2 (Score: 0.83)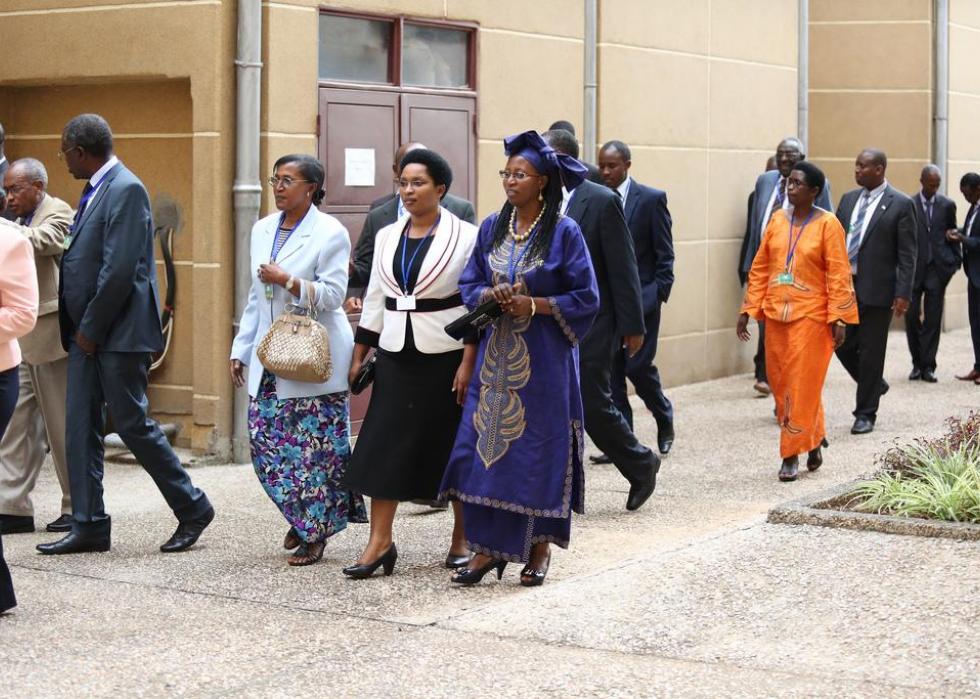 48 / 50
Rwandan Government // Flickr
#3. Rwanda
Political empowerment index score: 0.539
Women in parliament: 61.3% (Rank: #1; Female/male ratio: 1.58)
Women in ministerial positions: 47.4% (Rank: #7; Female/male ratio: 0.9)
Years with female head of state (of the last 50): 0.7 (Rank: #53; Female/male ratio: 0.01)
Overall gender gap rank: #4 (Score: 0.822)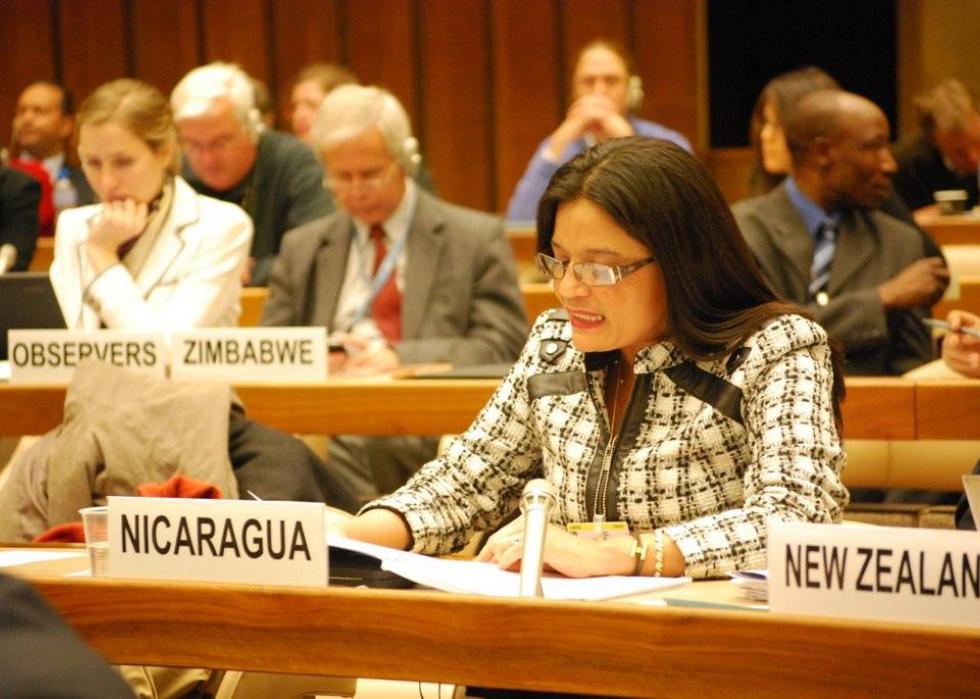 49 / 50
Mine Ban Convention // Flickr
#2. Nicaragua
Political empowerment index score: 0.576
Women in parliament: 45.7% (Rank: #5; Female/male ratio: 0.84)
Women in ministerial positions: 52.9% (Rank: #1; Female/male ratio: 1.13)
Years with female head of state (of the last 50): 6.7 (Rank: #19; Female/male ratio: 0.16)
Overall gender gap rank: #6 (Score: 0.814)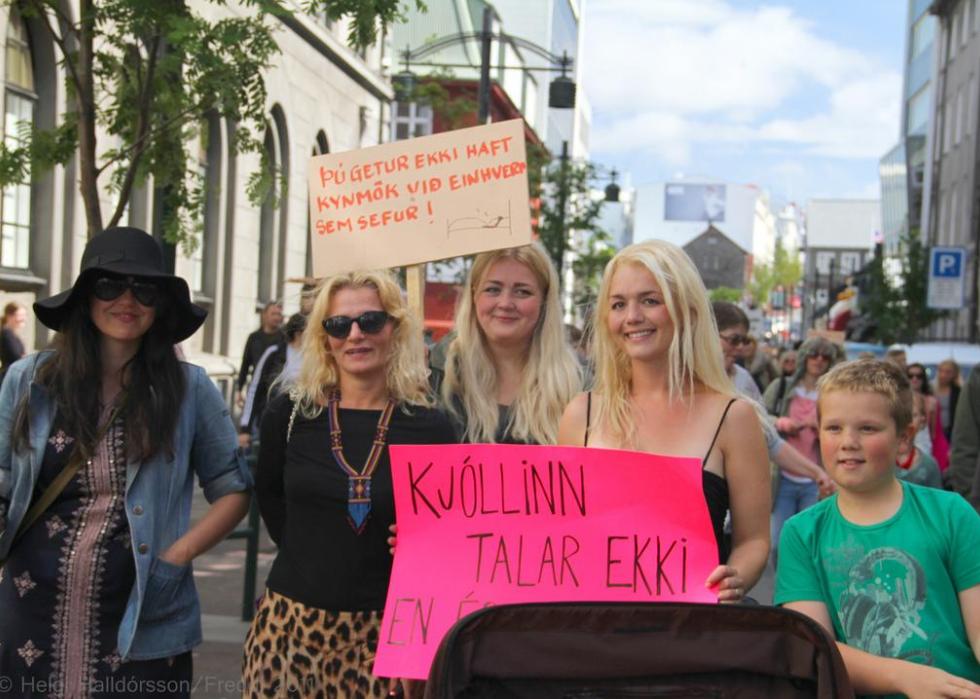 50 / 50
Helgi Halldorson // Flickr
#1. Iceland
Political empowerment index score: 0.75
Women in parliament: 47.6% (Rank: #4; Female/male ratio: 0.91)
Women in ministerial positions: 40% (Rank: #10; Female/male ratio: 0.67)
Years with female head of state (of the last 50): 20.3 (Rank: #4; Female/male ratio: 0.68)
Overall gender gap rank: #1 (Score: 0.878)