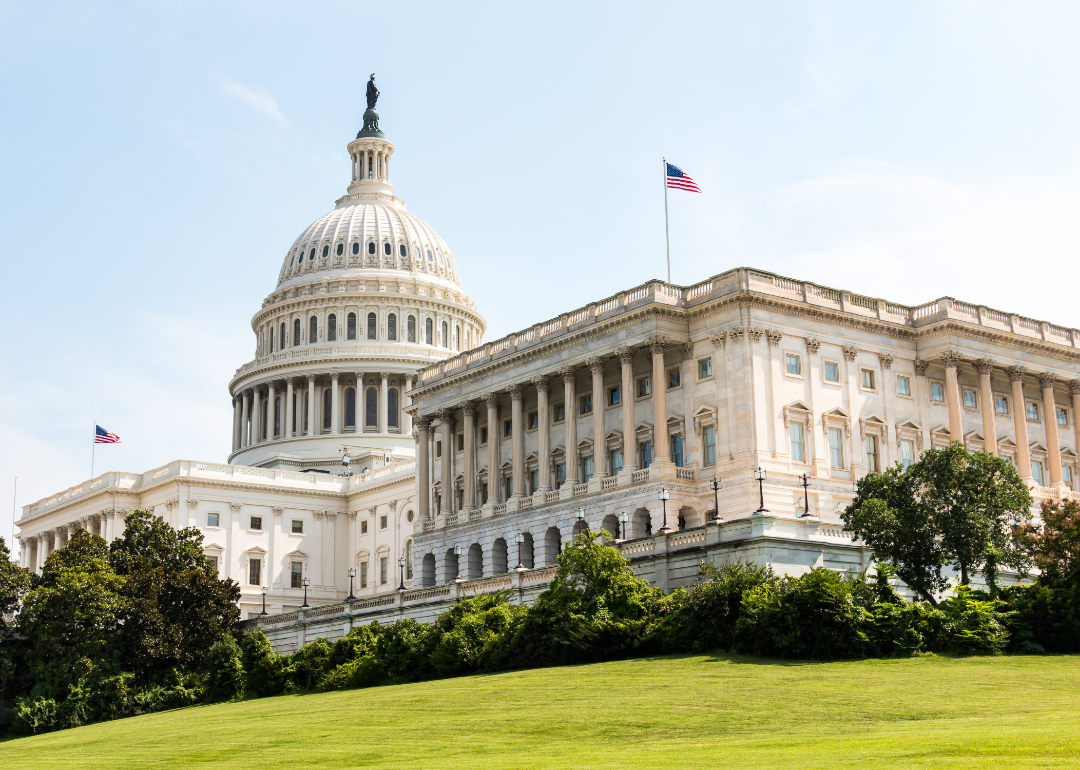 How congressional control has changed over the past 100 years
How congressional control has changed over the past 100 years
With partisan divisions and rancor filling the headlines, it seems like a miracle that Congress can get anything done.
Party control of Congress makes a difference, but not always in predictable ways. When one party holds majorities in the Senate and House of Representatives and holds the presidency, it's not necessarily easier for all to agree on legislative remedies and reforms. By the same token, when the congressional chambers are split, or the executive is in the opposing party, plenty can be accomplished.
Stacker consulted government records, news reports, historical archives, and research data as of Jan. 7 to look at how party control of Congress has affected outcomes in the past century and how it has changed. Data from the official websites of the U.S. House of Representatives and the U.S. Senate, as well as data from Ballotpedia and 270toWin, was used to look back on the past 100 years of Congress. Each slide represents a House term of two years and breaks down how many Democrats and Republicans were in each chamber of Congress.
Split congresses dramatically overhauled the nation's tax code when Ronald Reagan was president, passed landmark legislation addressing equal pay in the workplace, and ended the "don't ask, don't tell" policy toward gays and lesbians serving in the U.S. military.
But acrimonious relations between a Republican Congress and Democratic President Bill Clinton forced the government to grind to a halt—twice.
Along expected party lines, Republican-controlled congresses have limited immigration, ordered the construction of giant energy projects, and created the Central Intelligence Agency. But Republican-controlled congresses also have protected workers' rights to organize unions, created the Department of Health, Education and Welfare, and rejected energy proposals by fellow Republican President George W. Bush.
Democrat-led congresses gave their hearty approval to President Franklin Delano Roosevelt's New Deal measures to help America recover from the Great Recession, but less than two decades later, rebuffed efforts by President Harry Truman to follow up with plans called a Fair Deal. Democratic Congresses created the Social Security Administration to help the elderly, the first federal minimum wage, and the Peace Corps but rejected energy reforms by fellow Democratic President Jimmy Carter.
In one unpredictable extraordinary election year, Republicans won control of the House, but by the time Congress convened, 14 House members had died. Democrats took control in the special elections held to fill their seats.
With the runoff election in Georgia giving narrow control of the Senate—in addition to the House of Representatives and the presidency—to the Democratic Party, only time will tell how members of Congress and incoming President Joe Biden will use this party control to their advantage. At stake are a number of polarizing social and economic issues, the most urgent one being the COVID-19 pandemic and its effects on both health care and the U.S. economy.
You may also like: Do you know the mayors of these major cities?